Building Strength, Stamina and Teamwork!
I suspect a lot of very advanced level coaches — in many sports, athletic directors, and strength coaches are going to like what I'm about to share at the end of this entry.  In the meantime…
I've always called myself lucky in my work, because I (somehow?) get to know about some really cutting edge things.  I know I do my part by remaining open minded about new training ideas and gadgets.  At the same time, those with great ideas seem to find me.
Such has been the case with numerous training devices I ultimately incorporated into my teams' or clinic workouts, and I'm talking about some gear that few others in my profession even knew about.  And, as you've probably already surmised, recently lucking into yet another pretty fascinating piece of strength training equipment got me thinking about the subjects at hand.
– Dennis Chighisola
Building Strength, Stamina and Teamwork!
As most members know, I like to present as much as I can in practical terms, and with as much common sense as I can.  For sure, I know the sciences of training.  However, since I deal mostly with amateur players, their parents, and their volunteer coaches, my aim is to never snow anyone, or to heap a ton of Latin or medical terms on their heads.  With that, let me share some advice when it comes to building strength, stamina, and — believe it or not, teamwork…
Of course, I could start nearly any discussion about physical qualities with a picture of the human cell, as well as the idea that the human body has a fantastic ability to adapt.  Even more so do I feel the need to introduce these when I talk about strength training…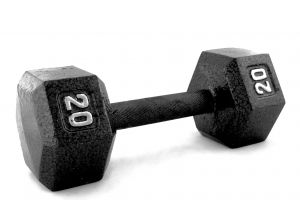 Just so you know, the cells that make up your body right this instant are a result of all you've done to this point in time.  I mean, your body is adapting every single minute, hour and day, according to the workload you've prepared it for.  So, since the current discussion has to do with strength development, remember that your body — and especially its muscle cells — are constantly adapting.
Most strength coaches would tell you that your muscles need to be "overloaded" in order to spur growth.  In other words, you need to work slightly harder today than you did previously in order to cause the earlier noted cell adaptations.  I'm sure that adding resistance to a given movement immediately comes to the reader's mind, but doing added repetitions with the same weight also brings about muscle cell growth.  (I might add that changing the intensity of a given exercise also has a bearing on the muscles.)
So, here's the gist of what happens surrounding a strength workout…  Overloading a muscle causes its cells to break down.  Our remarkable body, realizing it has to now ready for even greater workloads than in the past, goes about the process of building bigger and more efficient cells to meet the new demands.  If there are a couple of things I've noticed overly eager hockey players doing wrong, it's their failing to realize the body's need for rest and proper nutrition in order to build the bigger and more efficient cells.  They bust their buns — maybe too often, and can't understand why they never gain size, weight, better efficiency, etc.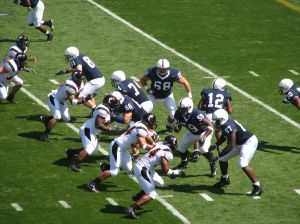 Stamina?  I sometimes refer to it as staying power, or the ability to keep working while others might drop by the wayside.  With that, let me begin with a couple of stories…
As a young coach, one of my idols was the late, great football coach, Vince Lombardi, who preached, "Fatigue makes cowards of us all."  Think about that one, if you will.  For, I'm going to suggest that, when two athletes do battle, the one in the best shape is going to win out most of the time.
A number of years ago, a really "with it" figure skating coach asked me if I'd run an off-season program for her skaters.  Part of the reason I thought her "with it" was because she had a Psyche Degree, and I could tell she used that in her teaching presentations.  Yet another reason I thought she was my kind of thinker is because the first thing she asked me to do for her skaters was to improve their stamina.  Of course, figure skating is a far cry from the kind of team sport and face to face matchups Lombardi was referring to.  On the other hand, my skating coach friend knew full well that an athlete loses his or her technique — and especially the fine motor skills — as he or she tires.  In my sport of ice hockey, a tiring player can eventually be just a tad off on his puckhandling, passing or shooting accuracy; I think gridironers can mishandle the ball and miss connections on passes when they're tired, and I'll suggest that the same happens to tiring basketball players.
Then, here's something that I thought about as I studied the new training device I'll tell you about later…  I'm an old guy, but I still try to get some exercise in each day.  Being a former athlete and a long time coach, I also tend to think about some things as I experience them…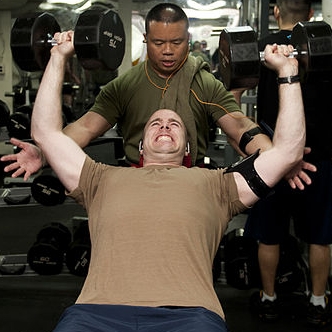 Living in Florida now, I try to make it to the pool nearly every day.  I've also gotten into the habit of swimming under water cross-pool a number of times, at a distance that's probably close to the length of most family sized pools.  Again, I'm an older guy, so I'm kinda proud of how long I can hold my breath.  Anyway, I mostly make it across the pool with plenty of air to spare.  Yet, once in awhile I've wrongly calculated the distance, I'm surprised that I might have another 15′ to go, and I kinda panic to the surface for air.  The more I've thought about that, the more I've come to believe that the only difference is my mental state.  I mean, I begin most laps with roughly the same amount of air, and the width of the pool certainly doesn't change.  So, what else could it be but something mental?
I also love working out on my Whole Body Vibration machine.  Again, as an older guy, I'm mostly into performing isometrics and dumbbell exercises on that device, and I'm also into higher reps instead of heavy weights.  It's the reps thing I've found interesting, though, and I don't think it differs much from what happens to me on occasion at the pool.  What I've discovered is that I start feeling the burn during each set when I hit about the last 5 reps.  And, while you might think this is natural, how about if I lower the reps for a given exercise but still feel like I'm maxing out over the last few?  Yes, I'm thinking it's a mental thing, with my mind telling my body, "I only have a few more to go," no matter how much weight or how many total reps I'm doing.
Okay, so how does teamwork fit in this conversation?  Well, under normal conditions, probably not at all.  Since I came across that new training device, however, working together has everything to with strength development and stamina.  First, though, let me tell you about my experiences in this particular area…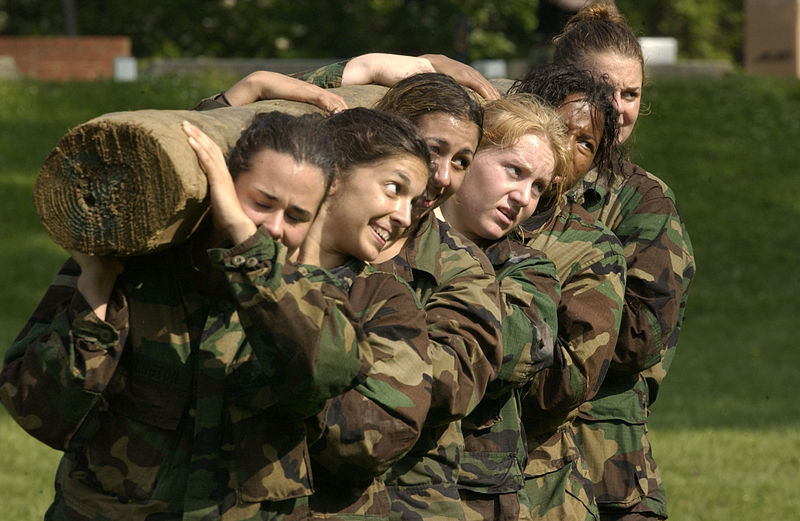 Believe it or not, there is an entire industry based on "team building".  Major corporations and even smaller companies hire specialists in this area to come in and run a day of both indoor and outdoor games.  Not unlike our sport teams, businesses see the merits of everyone pulling together towards a common goal.  (Picture competitions like three-legged races, that might be played at the typical company outing, and envision folks from different departments — or folks who don't even know each other well, working together and cheering for each other.)
It's only been in recent years that I've realized my hockey teams are really a mish-mash of players from all over.  Some are outgoing, while others are quiet (and find it harder to make friends).  Worse yet, school teams can become caste systems, with groups of guys often keeping to themselves based on their grade or popularity.
Little wonder I ultimately started searching the Internet for ideas aimed at promoting teamwork.  Of course, few of the games or competitions I found were even close to my sport.  Adapting many of them wasn't hard, though.  Relays, for example, will work — in hockey, football, basketball, soccer, lacrosse and most other sports.  And I've found that in no time, kids get laughing like crazy and cheering each other on.
Then, as for that last part — about rooting for others…  Right from the start, I knew I had to pair kids in ways that would break down barriers and help them be better teammates.  Let's face it, everyone — and I mean EVERYONE — has to depend on someone else in our real games.  So I matched shy kids with outgoing ones, older guys with younger ones, as well as kids I sensed didn't really like each other.  And, just as I'd hoped, the pairs and small groups started laughing and pulling for each other.
Okay, my hope is that every reader has benefited at least a little from all the above, no matter his or her sport, and no matter the age group he or she works with.  However, as I hinted in the start, I've all along been making my way towards a special new training device I believe can enhance the three critical attributes described above.  Yes, and once you watch a video I have for you, I think you'll appreciate how older, higher level teams can vastly improve their strength, stamina, and teamwork with just one machine.
The device I'm talking about is best suited for teams or training partners — since guys (and gals) always have to work in pairs.  The types of teams I envision using it would at least include high school and older hockey players, footballers, b-ballers, rugby guys, and certain track and field athletes.  It's also a large and fairly costly piece of equipment, so it's best suited for a high school, college, pro team or specialty training facility (if you own a facility that preps players for their "combines", you absolutely NEED at least one of these).
With that, I highly recommend that advanced level coaches, strength specialists and athletic directors click this link:  Building Strength, Stamina and Teamwork!