Contributor: Seth Dussault, MA, USA
Drill Category: Shooting, Screening, Deflecting, Rebounding, Defending Slot and Goaltending
Rebound Control Drill

*
Drill Description:
Thinking about most drills — the ones that aren't expressly designed for
goalkeepers often aren't very helpful for them. When most drills involve
the goalkeeper, it's only to stop an initial shot, and nothing else, but
what's just as important as making the initial save is getting in the
habit controlling where rebounds go. Too often, drills designed for
forwards will allow goalies to leave ugly rebounds. Why not design a drill
that helps forwards and defensemen work on important skills and forces the
goalkeeper to do the same all at once?
To that end, this simple drill will help goalies with rebound control as
well as two other important skills, seeing through screens and dealing
with deflections. At the same time, it will help your forwards with
attacking rebounds and creating tips and deflections, and your defensemen
with protecting the crease in such situations. I call this the "Rebound
Control Drill."
Set up your goalie in his/her crease with two forwards at the top as well
as a defenseman. Everyone else should be set up in an arc around the
offensive zone, with one puck each. (see diagram of set-up below)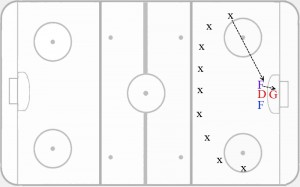 Now, as with a normal warm up shooting drill, the players will shoot one
at a time. However, we have bodies in front this time. The forward nearest
the puck will attempt to tip the shot, and both will go after rebounds if
there are any. The defenseman's job is to prevent the forwards from
grabbing the rebound if a bad one does come back. Once the puck has been
knocked out of the front of the crease, reset and the next player shoots.
Repeat until everyone has shot.
What you'll hopefully find is that the goalie will learn to either put the
rebound out of reach of the players in front (i.e. deflect it to the
corner) or catch the puck, rather than kick a rebound out into the middle
where a second chance can be had. If you do this at both ends of the rink
and have four or five shooters per end, you can rotate through and have
everyone work on defending and attacking pretty quickly.
No video is available for this drill.
Ironically, a request just came-in for a drill to help hockey players be more aggressive.  I say ironically, because one of the dads from my AAA Mite team also asked the same thing a few weeks back.
The dad was concerned that his son wasn't battling enough for loose pucks.  So, since helping one boy usually also helps everyone else on the team, and because I'd started noticing the same shortcoming in a number of my kids, I created the following — very simple drill — to accomplish just that.
– Dennis Chighisola

A Drill To Help Hockey Players Be Aggressive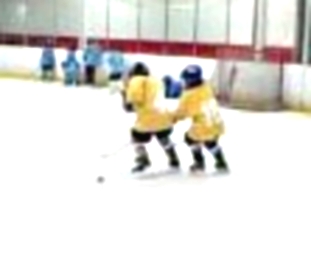 Well, I said the drill was simple.  So…
All I do is form two lines of players out near a blueline, with the first player in each line laying prone (just to get a fair start between competitors).
I then call, "Go!" and send a puck towards a corner, at which time two players race towards the puck.  (By the way, whistles for are stopping action and not for starting it.)
The objective is for the players to do a little battle, with the winner eventually gaining possession of the puck and firing a nice pass to my stick.  (Although not heard so much as I'm taping the following video, I'm usually very vocal in my feedback, giving high praise for doing things right, and expressing disappointment if something went wrong.)
The drill only lasts a few seconds.  And, with two coaches and lines working on opposite sides of the ice, a lot of players can stay involved in a fairly short period of time.
Anyway, take a look at a few of my kids giving this drill a try during one of my ADM segments…
Loading...
I did make a few adjustments after running this drill once or twice…
I'm not crazy about the dangers of having two players going full-tilt towards the boards, so I now more often slide the loose pucks so they sit a ways away from the boards.
I also started changing my position on the ice — after I'd dumped the puck, just so the kids have to find me with their passes.
Later still, I discovered that we could return to working along the boards, if I just shortened the distance the kids skated (the aim was to prevent them from flying a long distance and risking going out of control).  I did this by starting the lines and dumping the pucks from only about 8′ off the boards.
This hockey drill is an old standby many members might already recognize.
I've actually used it for years with my older players.  However, having seen the need to help my young Mite AAA's with their passing game, I thought I'd give it a try with them (if only as a test).
As you're going to see, though, I am sticking with this drill with my young kids — for a long time to come.
– Dennis Chighisola

Circle Keepaway
The drill is simple enough to assemble…  Just place a small group of players around a circle, and then place one player in the middle.  The objective is for the kids on the circle to move the puck around while not allowing the player in the middle to steal the puck.  A player who makes a poor pass or loses the puck because he mishandles the reception has to swap places with the one in the middle.
As an aside…  I prefaced the real drill by having my Mites initially just pass the puck around the circle.  Once they understood that part, I then introduced the player in the middle, and explained the consequences of not executing their passes correctly.
Now, before showing you a brief clip of the action, let me tell you that I especially love drills that force players to do some problem-solving.  And, in this regard, I was actually totally surprised at how well my group of fairly young kids did just that.
I mean, within a few minutes I saw kids attempting flip (or saucer) passes, and I even noticed a bunch of them realizing they shouldn't telegraph their passes.  In other words, they ultimately started to look or fake one way, then they shuttled the puck in an opposite direction.  Unbelievable! 
Okay, have a look at a brief video clip, and I'll make another suggestion right after…
Loading...
Now, I said at the start that I use this drill with older hockey players — and I've used it with my high school guys and my old college team.  So, it certainly seems a good drill to use for enhancing the passing and receiving skills of all the levels between Mites and Bantams.
Actually, I will quite often introduce one-touch passing skills to my older guys, long prior to using the above drill.  Then, with that, I can eventually ask those more advanced players to use their tap-passing skills during the Circle Keepaway drill.
Please see Drill Submission Rules and Help areas.
A short story from yours truly (Dennis Chighisola) before I get into this new drill…
Every so often I sense a local coach is grabbing a lot of my methods to bring home to his own team or his own kids.  Of course I find that flattering, and I also welcome the chance to share my experiences with others.
At the same time, I wonder if the coach (or whomever) thinks that what he or she grabbed at that moment in time is all The Old Coach has in his bag of tricks.  I mean, if he or she thought my drills from 2- or 3-years ago were "IT", they'd be dead-wrong.  Oh, a lot of my practices could LOOK alike — because I surely do keep the best drills for as long as they're useful.  At the same time, however, I can tell you that my stuff evolves almost every time I run a practice.  (I must have invented about 5 new drills for my little guys' and gals' hockey school this summer.)

With that, let me show you what I'm getting at as I present what I believe is…
A Great New Headmanning Drill
Contributor: Dennis Chighisola — Whitman, MA USA
In my estimation, the character on my High School Prep team has changed from last season to the current one.  Gone are some extra-strong puckhandlers, even though I have a ton of very talented young players back for this year.
Actually, because I've had a string of teams led by some highly skilled kids, we played a similar style for a number of consecutive seasons.  However, I thought, this year's squad needed a whole new approach.
Oh, I wanted to keep our emphasis on quick puck movement.  However, this year I figured we could do that better by emphasizing two things:
we would be in FAR better condition than any opponent, and
we'd base our attack on really, REALLY quick advancement of the puck (by passing, I mean).
As an aside here, understand that I haven't abandon any of the skills work I've always felt important to my kids as they readied for their their high school tryouts.  If there's been a change this off-season, it's been that I've just changed the emphasis a bit.
Drill Category: Passing, receiving, headmanning the puck
Drill Description:
Okay, I think everyone knows the fastest way to advance the puck is to pass it.  In hockey jargon it's called "head manning" or "headmanning" or passing the puck quickly ahead.

So my thinking on the current drill was to get my kids used to advancing the puck ahead without much fiddling.  In other words, take a pass and quickly relay it to a teammate up-ice without doing much stickhandling in between.  One guy gets the puck and bang! — he sends it ahead, the next guy gets the puck and likewise quickly sends it up-ice.
The first sketch shows my layout of players in the basic headmanning drill.  I first introduced the drill during the mid-summer, so we were short some skaters with some families being on vacation, whatever.  Actually, one night we were really shorthanded, and I used 3-players on one side of the ice with 4-skaters on the other.  No matter; the drill still worked fine.  And I know I can run the same drill with three or four lines of skaters when the need arises.
Now, before I show you a video of this drill, let me describe what you're about to see…  My guys will be breaking-out of the zone at the top of the screen, and the drill is started by player #1 positioned with a puck toward the lower blue line.  #1 begins the drill by dumping the puck and retrieving it quickly, then relaying it to #4.  All of the players start moving moving on the attack as #4 quickly passes to #3, #3 passes to #2 who is then in position to start the drill again with a new dump-in.  I don't show it in the video, but the same thing can be going on in the other line toward the right of the screen.
Okay, here's the video…
Loading...
Now, here's where my mind starts to racing, and where a drill starts to evolve…

For, you see, it soon struck me that the kind of passes we were doing in the original drill were NOT ideal — I mean, I don't like players trying to advance the puck to a guy who has his back turned to him.
(Can you smell something burning? 
)
Of course, the "high percentage" passes — or the ones that have the best chance at a completion — have a potential receiver slashes across, curling toward, or moving straight across in front of the puck.  Oh, that basic drill was okay for the kids.  Still, with an eye towards teaching better game playing principles, I soon changed things to have a guy from the opposite line slash on something like a 45-degree angle to the puckcarrier for the final pass.
And here's a video of that drill option in action…
Loading...
To be honest, I don't think either of the above drills were any strokes of genius; hey, they just helped accomplished what we needed to get work on.  That said, though, my mind has been absolutely racing the past few days as I see that basic drill format evolving into something really, really good.  I'm not going to say anything further at this time.  However, can you see the possibilities?  I hope so, because having a little (or a lot of) imagination is a very good thing in coaching.
*
Please let me know what you think of this drill.  And, by all means, please let me and other coaches know if you have any ideas in this area.
Please see Drill Submission Rules and Help at the bottom of the Free Drills page (all coaches would appreciate your contribution).
Contributor: Dennis Chighisola – Whitman, MA, USA
Drill Category: Skating, Passing, Pass Receiving, Attacking, Screening, Deflecting, Rebounding and Goaltending
Please first see the basic set-up of this drill as described under the free Drills section.  For, from that basic format, some really awesome offensive and defensive variations have already been shown.  (Click here for the basic drill, "Russian Circle Passing".)




– Dennis Chighisola
Russian Circle Passing – Variations #6
Drill Description:
Comments:
Just about any of the previously shown setups can be used and then enhanced by just one little change.
What I am about to propose is that the last player to attack from a line can stop at the net and then prepare to screen and deflect (and pounce on a rebound) for the next attacker to come.  That process continues, with an attacker shooting, and then going to the net to setup a screen.
PS:  I do this often with many other shooting drills, merely having the shooter eventually going to the net.
Benefits:  Obviously, players should become adept at all three skills – as in screening the goaltender, deflecting shots, and then reacting to possible rebounds.  However, I think the addition of this component to any attacking/shooting drill also gets players in the habit of following-up their shots and going to the net.
Running the drill:  Before this drill begins, I will usually place a screener/deflecter out in front of the net.  Once the drill gets underway, the last shooter replaces the player at the net.
No video is available for this drill.
Please see Drill Submission Rules and Help below.
Contributor: Dennis Chighisola — Whitman, Massachusetts, USA
Drill Category: Skating and Puckhandling
Comments: Every coach uses pylons (or other kinds of obstacles) from time to time.  However, I wonder how many coaches have considered the following…
Benefits:
For sure, there are huge benefits to be gained by using pylons or other barriers in various patterns.
At the very youngest levels, an obstacle course forces players to weave as they might need to do in their games.  As importantly, having to frequently turn left and right as they move through a course gives us a chance to teach them how to use both sides of their stick-blades.
I even find various courses beneficial for older players, but with some reservations…
Those Reservations:
When I use pylons (tires or my foam dots) with older players, I warn them that slow meandering through the course isn't going to help them with their game; in fact, it might hurt them to practice in a way that isn't related to the way they want to play.
I even take the time to compare the typical course to computer based games — you know, the kinds that can be approached at different levels or at different speeds.  And I'll go on to explain that a game is usually easy when the twists and turns come at you slowly, while the real challenge lies in having the winding road or obstacles really flying at you.  That established, I constantly remind my guys that they have to supply the challenges.  In other words, if they move at breakneck speed through the course, the obstacles come at them at a pace that will actually help them with their game.
Of course, there also comes a time — when kids get older — when the real-life pylons are trying to kill them (or at least put a pretty good hurt on them). 
  And this is all the more reason for older players to approach any given course as quickly as they would rival checkers during a game.
If you click on the nearby photo you'll see a video I previously posted in an entry about passing.  Yes, part of the drill was aimed at helping my NEHI Jr HS kids connect on passes.  But, I also incorporated a straight line of tires that had my young guys executing some pretty sharp cuts with a puck.  So, have a look before going on.
Now, one last point before showing you a few of the course designs I've used over the years.  You see, I think whatever kind of a course we use, it ought to fit a certain purpose, with our players understanding exactly what that purpose is.
For example, using a straight course for young players would be worthwhile for them if we first explained how the obstacles represent the "other team's players" we want to go in and out of, and that it's important that we use both sides of the stick to accomplish this.  Later on we might want to have them start using cross-overs to move themselves from side to side.
At the other end of the spectrum might be the kids you just saw in the above video…  Ya, most of those kids are attacking the tires as if they're attempting to perform a highlight reel goal in an over-time game.
All that said, the following are some pylon course layouts I've used fairly regularly:
1)  The most obvious and most used course consists of just a straight line of obstacles.  Again, as noted above, that course is what you make of it.
2) Over recent years, this pattern has been one of my favorites.  I talk in terms of speed and highlight reel moves as the kids ready for this course, and I really push and prod them to attack it as fast as they can possibly go.
3) With an even number of pylons, a coach can pull every other one out so that players have to zig-zag and cup the puck with each cut.  Speed in this simple course can be adjusted according to the age and caliber of skater.
4) This can be a fairly advanced course, owning to the fact that players have to make very sharp cuts — with their skates and with a puck.  And again, speed should be adjusted per the level of our players.
Finally, such courses really are what we make of them.  And so do our players reap benefits according to the way they negotiate them.
*
Have questions or suggestions concerning this entry?  Please leave a Comment below.
Please see Drill Submission Rules and Help below.
Contributor: Dennis Chighisola — Whitman, Massachusetts, USA
Drill Category: Skating, Passing, Pass Receiving, Attacking and Defending
Drill Description:
Comments: This is perhaps one of the most versatile drills I have ever used.  In it's basic form, Russian Circle Passing is a great up-tempo drill that includes fast skating, great puck movement, and any form of attack on net a coach chooses.  Better yet, CoachChic.com members will be treated to numerous variations of this drill that include all sorts of offensive and defensive match-ups (please see the link to drill variations down below).
Benefits:
Again, this is a great up-tempo drill that incorporates fast skating, the need to provide good stick targets, and the need to connect on passes as receivers move through circular patterns.
Running the drill:
- In the basic set-up, skaters are lined-up along the boards and behind a blue line on both sides of the ice.
- The drill begins with one player skating (without a puck) around the center face-off circle and providing a good stick-target for the first player in the other line.
- The first player in the other line hits the circling player with a pass, and the pass receiver then continues on to attack the goal in any way the coach prescribes (either shooting or deking the goaltender).
- Upon making a pass, a player leaves his or her line to circle and receive a pass from the other line.
Obviously, this drill should be run so that the players circle to the left (as shown), and then to the right (by just moving the lines to the opposite side boards).
Click image below to see a short video on the basic drill. (CoachChic.com members may click on this link for numerous other Variations on Russian Circle Passing.)
Please see Drill Submission Rules and Help below.
Contributor: Dennis Chighisola — Whitman, MA USA
Drill Category: Forward & Backward Skating, Passing and Receiving
Drill Description:
Please see the Straight Line Cycling Drill for details on the initial set-up.
As for the variation…
The drill runs exactly like the basic one, with this exception…  The passer carries the puck to mid-ice, then begins skating backwards.
About half the distance back to his starting place, that player initiates a pass cross-ice while still skating backwards.
Objective of the Drill:
Backward skating and puckhandling are involved in this variation.
Better yet, the most difficult pass to make in hockey is one done while moving backwards, so this drill forces players to work on that skill numerous times within just a few minutes.  (A player doesn't have the chance to use his or her full body to generate force in this kind of pass.)
Running the drill:
Please watch the video linked below to see the variation in progress.
Click image below to see a short video.
*
Have questions or suggestions concerning this drill?  Please leave a Comment below.
Please see Drill Submission Rules and Help below.
Contributor: Dennis Chighisola — Whitman, MA USA
Drill Category: Skating, Puckhandling, Passing and Receiving
Drill Description:
Groups of threes perform this drills across the ice.
All players can (and should) participate in this kind of drilling, from forwards to defensemen to goaltenders.
Two players assume start positions on one side of the ice, with one of these players having a puck
A third player begins at the other side boards.
The player with the puck carries it to mid-ice, and then fires a firm, flat pass onto the stick-target of the man on the other side of the ice.
The passer follows his pass and takes the place of the pass receiver.
The pass receiver now carries the puck to mid-ice and makes a good pass to the man on the other side boards.
(The sketches shows the layout of players, while the video below accomplishes more than I could do in words.)
Objective of the Drill:
It's a sound practice for players to follow their passes.
So is it helpful for players to work on their passing skills while moving.
This drill makes it necessary for the passer to be extra accurate when sending the puck, since his or her target is in a stationary posture.
As an added benefit…  I find that with the passer moving towards his or her target, a fairly firm pass requires the receiver to have really soft hands in executing the catch.
FYI…  We do our weekly individual skills session on a mini-rink (shown in the video below), so the short distance across the ice dictates less skating and quicker passes than when we do the same drill later in the week on a regulation sized ice surface.
Running the drill:
Please see the video below to see how the drill looks in progress.
Click image below to see a short video.
*
Have questions or suggestions concerning this drill?  Please leave a Comment below.
PS: Watch for a variation on this drill within a day or so.
Please see Drill Submission Rules and Help below.
Contributor: Dennis Chighisola — Whitman, MA USA
Drill Category: Team Defense, Backchecking
Drill Description:
Comments: I've only used 3 pairs of players per drill because it's easier to keep an eye on and inspect the efforts of a few at a time.  Also, all positional players — both forwards and defensemen — take part in both offensive and defensive roles.
Backcheckers:  Lie facing away from attackers so that no plans can be made ahead of time on which defender will cover which attacker.
Attackers:  Begin the drill by lying face down; on command, circle the back obstacle in order to make it more difficult for the backcheckers to sort whom they'll cover.  (With younger players, or to initially teach the drill concepts, I might not have the attackers circle an obstacle, but instead have them go on the attack on the command.)
Coach:  Holds a puck at side boards and ultimately (maybe after about 3- to 5-seconds) feeds to an open attacker.
Objective of the Drill:
The attackers attempt to get open for passes (from the coach and then from open teammates) to attack the net, while all defenders attempt to cover their men so tightly that passes can't be made to them.
As an extra benefit, the attackers tend to work extra hard to get themselves open for passes or scoring opportunities.
Running the drill:
Usually the drill lasts about 10-seconds, or until the coach is satisfied that the backcheckers completed their tasks (or didn't).
Click image below to see a short video.
Please see Drill Submission Rules and Help below.
Contributor: Deb K. — Boulder, CO
Drill Category: Fun, Conditioning (oh, boy!), Skating
Drill Description:
All kids start at the goal line and skate to center ice, they leave their sticks there, next skate to the far blue line, touch up, skate to center ice again, leave a glove, skate to the near blue line, touch up, skate to center ice, leave the other glove, then to the blue line, touch up and retrieve all equipment in the order in which they dropped it, then race to the goal line.
This note from Dennis Chighisola…  Coach K seems to have a knack for fun oriented drills.  Ya, her approach to the game always seems to make me smile, and I can just imagine that her players look forward to what she might have planned next.
My take on such drills?  I firmly believe we can have a balance when it comes to strict teaching drills and fun ones.  As a matter of fact, I think at least one of these would be good for somwhere near the end of a practice (hey, why not have your players leave the ice laughing?).

I might also add that a drill like the above one isn't only suitable to younger players.  I mean, think about it…  Even a high school or college coach could use it, but with something at stake, or something that results in bragging rights, whatever.  Again, picture it, with older guys absolutely killing themselves while also laughing their heads off.  No, not a bad way to end a practice at all.
Sorry, no video for this drill.  Actually, Coach Chic found it dizzying trying to create one (LOL)!
I have to apologize here, but there are going to be a few drills that won't make it into this free section.  Such will be the case for those deemed to be "the best drill I know for _______".  Again, sorry, but membership does have some special privileges.




If you are a member, however, just click here Defenseman's Slot Coverage Drill to gain immediate access.


– Dennis Chighisola
Please see Drill Submission Rules and Help below.
Contributor: Coach Chic – Whitman, MA
Drill Category: Skating, Strength
Drill Description:
Comments: This drill is really a variation of Deb K's Chariot Races, but perhaps with some added benefits and uses.
Benefits:
Perhaps the major difference between this drill and Deb's is that the player on the ice represents a whole lot more resistance because he has far more of his body creating friction against the ice (whereby the player's shinguards in Deb's drill makes it a little easier for the player to be towed).
Variations:
- I use this drill at times like Deb does, aiming to help players with their forward body leans, and with helping them learn to get a good grab with their skate edges.  To do this — or to emphasize technique, I keep the length of the drill relatively short, say across ice or between the blue lines.
- I also sometimes use this as a "finisher" near the end of a practice with older players.  And as a finisher, I mean the kind of drill that is sure to have my players leaving most of their energy out on the ice.  For this effect, I might lengthen the course players will work along, perhaps even from goal line to goal line.
By the way…  Although it's certainly easier to be dragged rather than to do the dragging, there IS some effort required of the player on the ice and holding onto those sticks.
Running the drill:
In either application, one partner pulls the length of the course, and they switch roles to return back to the starting point.  When it comes to the finisher-type of drilling, I'm on my players to make quick exchanges in roles so there's little lag time during the drill.
Click image below to see a short video.
Please see Drill Submission Rules and Help below.
Contributor: Cameron F. — Niverville, Manitoba, Canada
Drill Category: Fun, Offense, Goaltending
Drill Description:
Comments: Many drills require nearly a full team to execute during a practice. This is a drill I like to use when we are short players. The drill itself needs 3-5 players plus a goalie and does not take up a lot of room on the ice surface.
Benefits:
FUN!
Forwards: This drill brings into focus nearly every aspect of goal scoring: accurate shooting, fast hands, quick decisions, and shot selection.
Goalies: This drill is designed to work on fast twitch muscles, balance, and recovery while under pressure.
Set up with shooter in the middle of the ice, at the hash marks with pucks. Other players are lined up towards the net, on both sides, in line with the edge of the crease.
Goalies must stay inside the crease for the first shot. As an added challenge, have the goalies start within 6 inches of the goal line.
Objective of game:
Players – score – 1 point
Goalie     – cover puck – 1 point
- puck goes behind the goal line – 1 point
- puck goes outside the blue line – 1 point
- puck touches side boards – 1 point
Running the drill:
P1 shoots the puck, G makes save and attempts to cover or direct rebound away from players.
After initial shot, players are allowed 1 pass before shooting. Progress to one-touch passes and one-timer shots to best simulate game situations.
After point is awarded, set up the drill and run again. Play to seven points (suggested).
Click image below to see a short video.
Please see Drill Submission Rules and Help below.
Contributor: Deb K. — Boulder, CO
Drill Category: Fun, Conditioning, Skating
Drill Description:
All the kids line up in pairs on the goal line. One kid remains standing, the other is on his knees. The standing player holds the blade end of both sticks, while the kneeling player holds the butt-end. On my cue, the standing players race, pulling their teammate down the ice. We try this with forward skating and backward skating and of course we switch the players around at each end of the ice so they both get the fun of being dragged
In this drill, the kids really have to dig in, so they eventually figure out keeping the skates forward (I call it running man style) doesn't allow them the propulsion they need, and they start turning their skates out to really dig in.
Click image below to see a short video.
Please see Drill Submission Rules and Help below.
Contributor: Cameron F. — Niverville, Manitoba, Canada
Drill Category: Fun, Offense, goaltending
Drill Description:
Comments: This drill needs at least 7 players for flow and one end of the ice from the hash marks to the boards.
Benefits:
Forwards: This drill works on driving the net, accurate passing, timing, and shot selection.
Goalies: This drill is great for working on plays that come from below the goal line and lateral movement.
Set up:
Two lines, one on each boards at the hash marks. One line has pucks. One player below the goal line on the strong side.
Running the drill:
P1 passes to P2 who is below the goal line.
After pass, P1 and P3 drive to the net from each side of the ice.
P2 can pass to either P1 or P3 for a shot on net. **Progress to P1 or P3 has option to make another pass before shooting**
After shot, players exit drill area through middle of ice so next group can run as soon as goalie is set.
Players can change their approach to the net to experiment with angles of attack and the related timing.
Click image below to see a short video.
One of my favorite all-time NHL coaches was the late, great Roger Neilson (I hope I remembered the spelling correctly).  They used to call him "Captain Video".  And — I mean this in the nicest way…  Having met Roger numerous times, I can tell you that his mind was often off on another planet.  (Again, I mean that in a very positive way, so perhaps I should temper it, in that my impression was that he thought WAY outside the proverbial box.)
Those two things in mind — that Roger was a video nut, and that he seemingly liked to look at things in new and very different ways, you might also have a sense of why I loved him.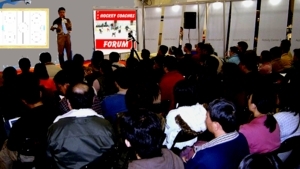 Anyway, one time as he was introducing a new topic at his popular coaching clinic up in Windsor, Ontario, Roger began with, "Coaches love drills."
Why do I remember that statement from more than a dozen years ago?
Well, for one thing, he was about to describe my MP Drill Format (talk about an ego boost for me).
As importantly, though, he really made me think.  I mean, I can recall from just about every coaching seminar I've ever been to, that almost all I'd hear during breaks had to do with drills.  Some coaches would be swapping them, most would be thrilled at the new ones they'd just learned in the lecture hall, and a few would be moaning because they hadn't yet discovered anything new to take home with them.
Hmmmmmmm…  Ya, I guess you'd say that, "Coaches love drills."
Actually, I'm seldom at a loss for drills, and I've either explained or shown elsewhere here how Todd Jacobson and I have oftentimes created our own.  Yet, every once in awhile I will feel a need for help (that's right, I'm no different than anyone else when it comes to experiencing an occasional mental block).
That was the case this past week when I was trying to think of some fun-oriented drills — you know, the kind that might break-up the monotony of a practice while still teaching the players something.  Or, the kind of drills that might get my guys working a little harder just because there's a slightly new tease, whatever.
So, what did I do in my time of need?  I did as I've done a lot lately, sending out short SOSs to all my hockey friends on Twitter and Facebook.  And it didn't take long to get some really nice responses.  (Aaaah, it seems I can always depend on my social media friends.)
As an aside here…  Of course, if you've been through CoachChic.com at all, you know there are already hundreds of drills in the various categories (with new ones being added every few days).  Most of those are very specific to a topic, however.  This area will be aimed at drills alone.

A second thing also caused me to strongly consider this new category…  I mean, among my hockey friends and within the CoachChic.com membership are some extremely bright coaches.  I know they know their stuff, and their drill ideas could be invaluable to others.
Then, there's a third reason I believe this area is going to be useful…  As I've stated numerous times elsewhere, I was once a young coach, and I craved a medium in which to show my stuff.  (Think how awesome I felt making a presentation to the NHL Coaching Symposium in 1980, how I felt when Roger described my MP Drill Format that day, and what it was like for speakers at a few other major coaching seminars to recognize this then-young coach sitting in the audience.  Ya, those kinds of things spur a guy or gal on.  And I'm thinking that this new Drills section will give some new bright young guys a chance to show their stuff.
Now, while a lot of the content on this site is reserved for CoachChic.com members, I'm planning on keeping this area open and free to the public.  Call it my (actually our) way of giving back to the best game on earth.
Along that same line of thinking, I'm going to welcome drills from members as well as non-members.  Again, the gist is for us to just share drill ideas.
Then, two final points…
- In viewing the first few drills to come-in, I can see that this area is going to require an awful lot of work on my part.  For sure, sketches sent me could be posted rather quickly.  At the same time, drills described in text are going to take me quite a lot of time to recreate — either in a sketch or by video-taping some players demo-ing.
- An undertaking like this is going to require a few rules for participation (to make it workable and so it doesn't get abused).  Those rules and some help are provided below.
Well, that's it for now.  From here onward it's up to us to make this seemingly worthwhile area work — for everyone.
Drill Submission Rules & Help
The true purpose of this section is for coaches to ultimately have a vast number of new drills at their disposal.  (It's also a great area for contributing coaches to show their creativity.)
Obviously, the easier it is for Coach Chic to understand and prepare a drill for posting, the sooner he can publish it to the on-line collection.
A drill must be accompanied by a full name and the state or province in which the contributor resides.  (This is just to give you fair credit, and you may ask that only your first name and last initial be publish.)
You needn't have invented your drill submission, although Coach Chic would love to know if you did.  Again, the main purpose here is to just provide coaches with lots of good drills.
No email addresses or website links will be posted with a submission.
Coach Chic IS into promoting individual coaches for their work; he is NOT into promoting hockey schools or other business ventures.  Sorry.  (However, if there's a question about this, please do email Coach Chic.)
Diagrams can be sent as attachments.  Text descriptions are easier handled from within the body of an email.
Please indicate a drill submission in the Subject area of your email.
Since drills might eventually be grouped according to their main theme (ie, attacking, defending, shooting, breakouts, etc), please indicate what you believe the main purpose or benefit is.
Coach Chic will likely alter or convert a drill presentation into either a text, diagram, motion diagram or a video format.  The contributing coach still gets all the credit.
If you wish, the following diagram can be right clicked and you can Save As (to wherever you'd like to work with it).  Use your Paint or a similar drawing program to add players, lines, what have you.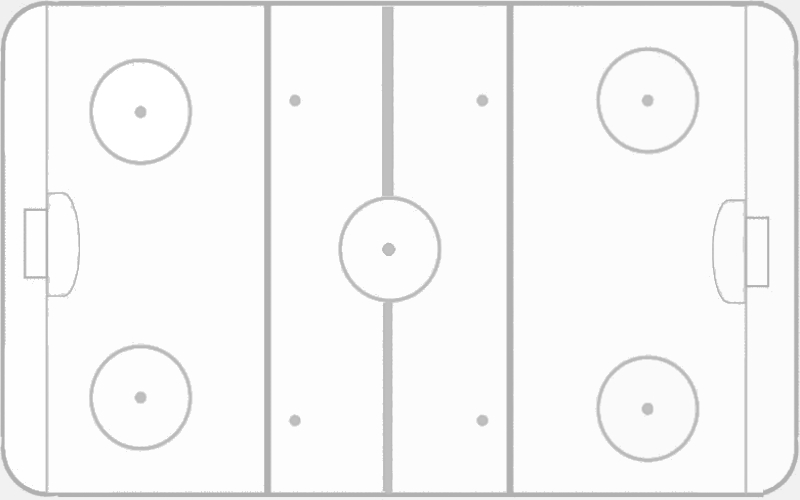 ————————————————————-
A Quick Checklist:

Use a rink diagram whenever possible.
Include your name and state/province (but you may ask that only your first name and last initial be published).
Note if the drills is/isn't your own creation.
Provide what you see as the drill's main benefit/s.
Send diagrams as attachments; send text descriptions in the body of your email.
Put "Drill Submission" in the email Subject line.