One would think that I'd be shocked by some things that come across my laptop screen — ya, one would think.  No, I guess after all the years I've spent in the game, not that much surprises me anymore.
What I'm getting at this time is an email that arrived yesterday, that from the parent of an Atom (or Squirt) player from Western Canada, describing the title theme…

– Dennis Chighisola
After Game Punishments
The dad, who prefers to remain anonymous, started by wishing the old coach good morning.  He then went about describing what he'd recently witnessed:
"I am fairly new in the grand scheme of things when it comes to coaching.  However what I witnessed last night made me go "is this really necessary?"
The winning team was out doing laps after the game.  I can only presume because their coach thought they had not played well enough.  Or perhaps they didn't beat us by enough goals.  I personally don't see the point to this type of discipline.  The parents of the kids in question didn't seem to have a problem with what they saw after the game or if they did they were not saying anything.  (They're 9-10 yr olds doing stairs in full gear after a hard game in full view of anyone at the rink.)
I know if it was my kid being forced to run after a poor game I'd been hard pressed to hold my tongue to the coach in question.  I have heard at clinics of worse things than this happening.  Seems to me this guy shouldn't be a coach.
What's your take on this?
Did I say earlier that nothing surprises me anymore?
Well, one of my long time students told me it happened to him, but it was while playing Junior hockey in Western Canada.  I know that team was hand picked to vie for the national championship later that year.  So, with all the talent, I can see the coach keeping his thumb on that group, and keeping their minds on business.
Some on-ice sprints after a game — and after the lights had been turned off — wasn't the worst of it, though.  No, not by a long shot.
As I heard it, the team was returning one night from a distant away game, when the coach asked the bus driver to stop a few miles outside the team's hometown.  I understand that the snow was coming down pretty good right then, too, as the coach ordered everyone off the bus.  Yup, he had each player grab his gear from down below, toss it over his shoulder, and trudge those few miles home to town.
Cruel?  Abusive?  I guess.  However, I guess no ones life was put in jeopardy that night, I guess there was probably some decent bonding that took place between teammates, and I guess the number of guys from that squad who went on to play high level college and pro hockey afterward may have even thought such things helped with their toughness, whatever.
Don't get me wrong…  I'm not condoning that stuff, but maybe just rationalizing it a bit.

As for Squirts/Atom or any other youth level, I say, "No dawgone way!"
As an aside here…  We don't know for sure what actually happened between the above described team and their coach.  I mean, if there was a behavioral problem that took place during the game, I suppose some sort of punishment might be in order.
Also, I'll let hockey parents in on a little something here…  For, certain coaches can growl and make it seem like they're being mean, but they're not really.  In other words, a few runs up and down stairs can or might not be really hard on the players.  I've done a few things with my players (but not young ones), where some were actually hiding giggles as they endured my supposed punishment.
From my perspective, though, here's the real problem with what that hockey dad described…  I have left more than one game bench where I was hot, and wanted to kill my players.  Given the time to wend my way from the bench to the dressingroom, however, always gave me time to think — or to pinch myself, and realize that right after the game wasn't necessarily the right time to let into kids.  Naw, I could mention what I thought went wrong, and suggest that we'll have to work on that at our next practice.  The kids go home in fairly good spirits, that way, while I have a day or so to think about if I'm going to kill them or not. 
This is actually a continuation of a conversation begun in a previous post, "Troubleshooting a Hockey Breakout".  In that one, I tried to help Jeff W, the coach of an Alaskan Squirt team, with the difficulties his kids were having, mainly centered around moving the puck out of their own end.
Jeff is a new CoachChic.com member, he's a Squirt coach in Alaska, and he is also the owner of my book, "How to Coach a Young Hockey Team".
I always find it encouraging when a coach writes to say one of my books or videos or articles is helpful, and Jeff made me feel plenty good with news that my book is helping him quite a bit with his current team.
Still, I (or anyone else) can only go so far in a book, and I could within about 70-pages treat only so many foreseeable problems that might befall a young team and their coach.
So, with that, let's see if I can help Jeff with something that just recently arose with his team's breakouts.
– Dennis Chighisola
Troubleshooting a Hockey Breakout
*
Jeff begins by saying that a number of ideas from my manual have already worked well for his kids, and I think he also referred to getting help from a video posted here on being aggressive for the puck and moving it sharply to a waiting coach (or teammate).
Still, he now has to go on to some problem solving, so he continued in his email with…
"Here is my question/challenge.
On the breakout, my squirt team is really taking to your concept of "showing a target" to their teammates with the stickblade on the ice. The problem is on the breakout when my guys miss a pass, or the puck goes to the opposition and my guys block a shot and gain possession again in the defensive zone whether it's a forward or defenseman, their first instinct is to almost pass the puck to the other team! or they will throw a weak dribble to the opposition defense where they wing it in and the whole process starts over again. My guys have a weird fetish with throwing the puck up the middle or just 'giving" it to the other team.
We have used a promethean board, run a very simple breakout, and I have tested the kids on paper and under practice pressure, they get what they should do, but seem to give the puck away. We have been getting outshot at a ratio of 3 to 1, and today was no better 45/15 SOG.
Thanks as always for your help…any advice would be most appreciated."
Let me begin by saying that I very much respect Jeff for using all the resources available to him — including the interactive whiteboard and written quizzes, and I also think he's on the right track by running his breakouts under varying degrees of pressure.  (When I judge other coaches, I quite often weigh whether I think they are lazy, just going through the motions, etc.  And I can tell that Jeff is far from being or doing either.  Said yet another way, he obviously cares.
As for what Jeff is seeing — and I'm guessing that he's described them fairly well, I can imagine his kids dealing with two main problems…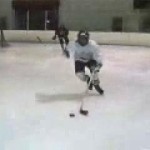 1)  Does it make sense to my readers that there could be a drastic individual skill difference between Jeff's team and another squad that is able to out-shoot his kids 45 to 15?  Of course, I'm better than 3000-miles away, but…
I can picture that, if Jeff had the best two or three players on the ice at a given time, they could probably move the puck out of their end without any breakout plan.  Oh, I'm not advocating this, but do you appreciate what I'm getting at?
Picture along with me further…  One not-so-skilled player starts to move with the puck and he's eaten alive by a better skilled checker.  On the other hand, picture a highly skilled puckhandler moving on that checker, and just imagine how the skilled kid is likely to leave the defensive player in his tracks.
With the above, I'm going to echo something I say often — as a matter of fact, I'm almost positive I said this in my manual…  I mean, we as coaches have to remember that our X's and O's are ultimately replaced by human beings.  So, while our system might seem good on paper, we're going to look like geniuses or dummies, depending on how well our players are able to execute what we're asking of them.
In a game like ours, a lot of mental and physical traits go into attaining positive results.  However, when we're talking about breakouts at the Squirt/Atom level, I'd say that a) individual skills are important, and b) at least some thinking or decision making is necessary.
I said above that I visualize having to deal with two problems.  So…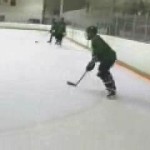 2)  It sounds to me as if Jeff's kids are doing okay in the execution of a typical breakout.  Of course, he'd like to see them miss-connect less on passes, and that should come with more practice (hey, even pros miss-connect).  Where the real problem seems to lie is when the kids find themselves in less familiar situations, or in situations that don't look exactly like they've seen on a whiteboard or drawn on paper.
With that, I think it's time Jeff shows his kids that so-called "breakouts" aren't just prettily designed patterns.  In other words, while we grownups (and even the kids) can probably picture right now what a typical breakout might look like, our players must realize that moving the puck out of their zone can start anywhere and involve quite a few carrying or passing options.
What I'm getting at — and I think what Jeff has been describing — is his kids needing to deal with situations where a basic breakout has broken down, and they have the need to recognize new situations and weigh new options.
I might be inclined to treat the latter in an off-ice setting first…
I'd also first try to get the point across that "stuff" is going to happen.  In other words, even when the kids are doing a lot right, there will be turnovers in their end, what have you.
I'd next show the kids a broken play or a play gone wrong, with a new scenario…
Jeff seems to have described a number of problem occurrences, with some of these resulting in his team not having the puck, others happening where his kids do regain the puck.  And this causes me to consider that we are dealing with 9- and 10-year old kids here.  I mean, I might not mix the two drastically different circumstances right off the bat, but instead deal with them separately — maybe even spending quite a few practices dealing with getting the offense going again, and then later addressing the need to quickly shift to defensive roles on a turnover.  Getting these things solved separately, they could ultimately be worked on together in subsequent practices.
I might show the kids on a board a typical breakout in progress.  At some point, however, I'd show that a pass suddenly miss-connected, and they are then faced with a new situation.  (Just this might be a revelation to young players — that they have an entirely new situation, I mean.)  I'd next ask the kids to help me solve it on the board…  If we regained the puck, perhaps kids have to see new passing options.  I think this might also be a good place for them to see whether they have placed themselves in good spots to support their puckhandling teammate.
I would then take the kids to an open off-ice area for a simulation of the above.  And, just as had been done on the board, I'd show them how a broken play represents a new problem, I'd ask them to troubleshoot with me, and I'd have them help me inspect for the passing options, good puck support, etc.
Only after getting the kids familiar with everything would I start using valuable ice-time for something similar.  What I might do is ask the kids to begin their breakouts, and then be prepared for the command for them to, "Freeze!"  With that, Jeff can move the puck to a new location, and then ask the kids how they'd deal with that.
In time, he just might be able to create a new drill…  With 5-kids Retreating back into their defensive zone, he might yell, "Breakout!" before they get even partway into the zone.  From there he can toss a puck to one player, and see if the group can move out in possession of the puck.  In time, maybe one or two later arriving opponents (or coaches) can provide some pressure to this drill.
I know I've only dealt with regaining the puck in this last sequence.  However, I think Jeff (and other coaches) can arrive at a similar approach to defending against a turnover.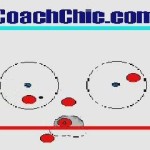 Then, summing it up, I think the fact that Jeff really cares is going to matter — a lot.  If anything, I'll suggest that he remain patient and look long term, and I'll also suggest that he let his team's parents know what's happening, and how he intends to improve their kids — over time.  For sure, he has to devote a good part of each practice to ensuring his kids match physically with opponents, I'd try that sequence of dealing with turnovers or the need to defend after a failed breakout, and I'd also suggest he take a look at an awesome video I have here for "(Teaching &Troubleshooting) Basic Breakouts" (unfortunately, it's something I could never include in a book).
Lastly, Jeff's email arrived less that an hour ago, so the above is what I came up with on the spur of the moment.  I've been thinking while writing this, though, that other coaches might have some equally as good or even better ideas for Jeff.  After all, that should be part of what happens here at CoachChic.com — with coaches helping each other.
With the youth hockey season now underway in many parts of the world, I think this might be a good time to revisit something I see as an age old problem, not only in hockey, but in other team sports, as well.
– Dennis Chighisola
Should Young Hockey Players Be Paid to Score Goals?
Although I'm going to relate this topic to a couple of stories from recent generations, I seem to recall parents offering their kids bribes going back to my childhood, and most certainly to my son's earliest years in the game, a good 40-years ago.  (I'll return to my use of that term, "bribe", in a little while.)
I can't tell you how many times I've been in a lockerroom following a youth hockey game, when I've seen dads (or especially dads) peel off bills from their wad, much to the satisfaction of their own child, and oftentimes to the chagrin of nearby parents and players.  Ya, before we even get into other ways this practice affects a youngster and his or her team, maybe parents who've done this suddenly have a different perspective on how they might be perceived by those around them.
Aaaaaah, yes, the "team"…  For those who might just be getting into hockey, and don't really appreciate the game's niceties, perhaps he or she should realize that players of all ages have numerous responsibilities during a game…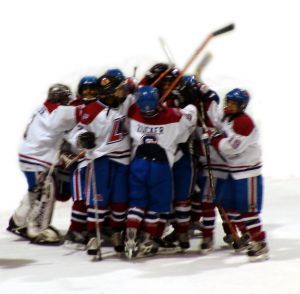 Even when I've coached a young team, I've talked to my kids at practices and showed them how we should perform various plays.  I've also always reminded them later — in the pre-game lockerroom, and again at different times from the game bench — about the way to play our game rightly.
In other words, players of all ages have responsibilities as a game goes on and, because ours is a team sport, the fulfillment of our duties — or the lack thereof — usually impact on those around us.
I'm shaking my head right now, as I recall a player from about a decade ago…
As a young teen defenseman, I initially thought he had some real potential.  With his great individual skills, I suspected he was going to be a high school star, and I even thought he'd be able to go on further.  That, however, was my first impression; within a few months, I was wondering if he really had the head to play at a very high level.  I mean, at times, he would do some really, really dumb things.
Of course, I love potential in young kids.  So, I'd work with him often, especially in the area of decision making.  I thought he was the kind of "D" who was capable of running our offense and our powerplay — his skills were that good.  And, because my program was all about development, I figured the boy's future coaches were going to love a skilled player who could also think the game.
Ugh.  As it turned out, the boy's dad had other plans.  Believe it or not, the son was 14-years old, and his dad was still paying him for each goal he scored.  Remember, that I was frequently scratching my head wondering what was going on in that kid's noggin'.  And it took another team parent to clue me in on what was really happening.  Oh, the dad swore up and down that he wasn't paying his son for goals, but the boy ultimately told me it was so.  (Nice, huh, that the dad would lie in front of his kid?)
Needless to say, the boy eventually disappeared from the hockey scene.  I think he did fairly well as a high school player, but he didn't come close to achieving what I thought he could.
Was the simple act of being paid for goals what did him in?  Naw, I wouldn't say so.  What I think was his undoing was the fact that he never really got a chance to concentrate on the right things, as many of his teammates were.
As I said in the start, players are being asked to do a lot of things on the ice that parents can't be totally aware of.  Worse yet, most parents don't really appreciate all the thinking — or reading and reacting — their youngsters have to do in the heat of battle.  And, there is absolutely no room in a player's thought processes for extraneous pressures.
To carry that one a little further…  A player moving up-ice with the puck has to assess all that's happening in front of him or her, and then make the right choice — whether to pass, keep carrying, or maybe dump the puck.  On something like a 2 on 1 rush, the player with the puck should ultimately make the right decision when it comes to which guy or gal should get the shot.  And similar decisions have to be made as a pointman attempts to either (wrongly) go for the long distance goal, or (rightly) try to put a low shot into traffic in front of the net.  So again, can you appreciate the internal wrestling a kid is experiencing, between making the right play or pleasing his or her parent?
Of course, while the above story suggests ways both a team and an individual player can be thrown off their game, let me share this one, if only as food for thought…
When my grandson was about 5-years old, that thing about other dads paying their kids for goals reared its ugly head in his team's post-game lockerroom.  Yup, there was a dad — not quietly — flashing the green.
My guess is that most other families had to deal with this the same as I, as in answering our own youngster's plea, "Why can't I get five dollars for scoring a goal?"  (Have I said, "Ugh!" yet?)
When young Anthony hit me with that one, I had to do some long, hard thinking — well, maybe it wasn't all that hard…
What I eventually did was ask if he got a thrill when he scored a goal.  Thank God, he did.  Actually, even in the team's practices, I noticed he couldn't leave a puck hanging near a crease without whacking it home.  And, should he miss the first time, he'd go back and whack it again, until that little black thing found its rightful resting place.
Anyway, once Tony C acknowledged that it did excite him to score, I suggested that that's all the reason in the world to do it, and to keep playing the game.  For, somewhere in there, I think I also told him that, "If you don't get psyched when you score a goal, maybe you ought to give up hockey and look for something else."
To be honest, I haven't a clue if our brief discussion had anything to do with my grandson being a top scorer to this day (right up through college for now).  It may have helped some, although I recall that he still wasn't happy with my explanation at the time.
Lastly, that thing about the bribe…
I can almost appreciate a parent wanting to reward his or her youngster for the very first goal.  In a way, it's a milestone, and it's something a lot of folks want to get out of the way.  (I watched a televised MLB game yesterday,  and a big deal was made out of a young rookie achieving his first Major League home run.)  As a teaching coach, I can also see dangling a carrot out in front of a young one as incentive, then praying that little guy or gal will love the feeling of burying the biscuit.
On the other hand, I've suspected on too many occasions that the hockey parent teased his or her youngster for very selfish reasons.  And the more one does that — beyond the first goal, the more it looks like a bribe to me — as in, "Come on, son (or daughter), give your dad (or mom) something to brag about at work tomorrow!"  What would cause the dad of a 14-year old AAA player to keep it going?  Hmmmmmmm…
As with a lot of philosophical discussions here, you can take what I say with a grain of salt.  Are the ramifications of paying a youngster for scoring goals real?  I firmly believe so.  Is there a better way to handle things than I did?  I firmly believe that's possible, too.  So, if you've managed to solve what I see as an age old problem, perhaps you can share that below with other members.
Audio clip: Adobe Flash Player (version 9 or above) is required to play this audio clip. Download the latest version here. You also need to have JavaScript enabled in your browser.
For more information, visit Mental Edge Today
For those of you who follow My Weekend Hockey Reading List, I hope you had the chance to watch a longer video on the potential virtual reality has in influencing our society.  (That longer version can be found here:  "How Virtual Reality Games Can Impact Society, Encourage Prosperity") 
As an older, very Conservative kind of guy, some of its uses frighten me, mainly because I believe the term "Impact" could easily be replaced by a more threatening one, "Brainwash".
That aside, I began picturing some of the positive things that could be done to help an athlete — a hockey player — become more effective in his or her game.
– Dennis Chighisola
Virtual Reality and Hockey Training
Truly, I think the longer version video (linked above) gives one a far greater — and scarier — understanding of this subject.  However, just to provide members a quick overview of how it works, take a look at this very short video…
Now, if that short video didn't make the point — about how influential virtual reality can be, I'm sure the longer video will.  What I'm getting at is just how real the virtual experience is to the subject, and thus how much it can change his or her thought patterns.
Okay, so towards the positive side, I happen to believe that such a process has both mental and physical applications…
Before going further, I'd like to refer members to another video I recently posted, that one called "Finding Hockey Diamonds in the Rough".   For, while the narrator highlighted "3 simple lessons" we need to know about searching for talent, one part that made an impression on me was the fact that we don't always know the right criteria upon which to judge an athlete.
In other words, although many major sports use "combines" to measure certain physical qualities, who can really say that those are the right qualities upon which to judge — a future pro footballer, a future NHL player, a future NBA-er?  Personally, I've always questioned the 40-yard dash as a true indicator of speed or quickness.  Also, if you'll recall, that video brought into question the intelligence test used to evaluate future NFL quarterbacks.  And, I'm even on record as suggesting that pro scouts are wrong in their evaluations as often as they're right.
Still, while appreciating the possibility we could be wrong about the traits that mark a good hockey prospect, I guess we do have to go on what we know at the moment.
Based on the last statement, I'm guessing a group of specialists could ultimately define (within reason) the mental traits seen in some of hockey's best players.  My guess is that they could study the team captains from each team, when it comes to leadership, desire, mental toughness, etc.  And, we all know players who only survive on our local pro team's roster purely because of their mental makeup.  Better yet, who wouldn't want to create a mental clone of a Steve Yzerman or a Bobby Clark?
Could certain behavioral problems be dealt with in a virtual reality setting?  Hmmmmmm…  Based on some of the videos I've watched on the subject, I'm betting those could be handled better in that kind of lab than anywhere else.
Of course, enhancing the physical side of our sport through the use of virtual reality might be more difficult.  However, be aware of the study that started the visualization craze several decades ago.  In that, study groups were compared — with one only visualizing shooting basketball free throws, another only physically practicing those shots, and a third group doing a combination of visualization and physical practice.  And, don't you know, it was the group that used a combination of both practice methods that won out.
As I suggested earlier, I sense that many of hockey's physical skills — because they're pretty complex — might be harder to practice in a virtual reality lab.  Still, I think it would ultimately be do-able, for skating, puckhandling, passing and receiving, shooting and finishing.  And I suspect a goaltender's skills could also be enhanced in that kind of lab setting.
Where I sense progress could really be made would be in areas like reading and reacting and playing within a given system.
Before ending this discussion, I want to say that I'm not really into producing teams loaded with mindless, robot-like clones.  I've always loved the spirit that makes certain athletes unique, and I've also loved the athletes who have played their sport with creativity, and even invented some moves that others hadn't previously thought about (Bobby Orr comes to mind in our game).
In closing, I really do fear what virtual reality games could do if placed in the wrong hands.  On the flip side, think about the ways an individual player could be helped with these kinds of practices on his or her side.
Hardly a day goes by that I don't see a hockey connection with something that is far from hockey related.  Such was the case as I came across a Facebook post by my good friend and CoachChic.com member, Michael Mahony.  Mike is very much into fitness and strength training, and I can usually rely on him for some great motivational posts, including the following video featuring Arnold Schwarzenegger.
Perhaps depending on the reader's age, he or she might know Schwarzenegger as a world famous bodybuilder, a movie actor, or the Governor of California.  As you'll learn from Arnold himself, however, there's a common trait that helped him transition from one to another, and excel in each of those roles.
– Dennis Chighisola
Where There's a WILL, There's…
I'm not going to say a lot about this video, because Schwarzenegger does awesomely in telling his story.  The reason I posted this, though, is so that members might use it for their own motivation, or for the motivation of others.  In other words — in reference to the latter, this is the kind of video a coach might show his or her team, or a parent might share (or watch with) his or her youngster.
Enjoy…
The other night I had an old hockey friend ask my feelings about protecting a lead — on, of all places, dawgone Twitter!  Ya, on Twitter, where one is trapped to just 140 characters. 
So, I ask you…  Can you imagine this extra-opinionated old hockey coach answering such a question in just a sentence or two? 
  No way!
– Dennis Chighisola
Protecting a Hockey Lead (or Not?)
Before I get to answering this tricky one, let me suggest that hockey is a very, very difficult game to discuss…
Perhaps more to the point is that it's very difficult to express any hockey opinion in a one size fits all manner.  Ask me anything, and I'll have to first know whether we're talking about a beginner, a Squirt, a Pee Wee, a high school kid or a pro, because it's quite possible that the right answer for each of those players would be quite different.  Said yet another way, what I might advise you about a young player would very likely be far different from what I'd suggest for an older guy.
Come to think of it, the ability to discern between various ages and levels of talent is probably one major difference between good coaches and not so good ones.  In fact, I'll hear that complaint often in some of the advanced level forums I belong to, in that it's hard to deal with the youth parents or coaches who believe there's only one answer to a given problem (and theirs is usually the wrong one).
All that understood, please appreciate my suggestion that the discussion at hand shouldn't even take place surrounding a Mite or Atom, or probably even your average Pee Wee team.  Why?  Well, if I really need to answer, it's because I believe that getting toooooo much into a very defensive style of play takes the game away from the kids.
For sure, there are certain levels within our game where winning is important.  And if I have to define those, they'd be the levels where a coach's job is on the line.  Although that shouldn't be the case, I know it is true at some older AAA youth levels.  Where it likely is so — and probably needs to be — is at the high school, Juniors, college and pro levels.
All that stuff out of the way, I still do believe it will help the coach of a younger team to understand some of the thinking that might take place at older levels.
*
Now, what evidently got my Twitter friend going was that his favorite team, the Edmonton Oilers, had jumped to a big lead early in a game last week.  And he put it too me with something like, "Coach, leading 4-0, do you try different things?  Give your 3rd (4th?) line more time?"
Trapped to Twitter's 140 Rule, about all I could say back in a number of responses was that my gut would probably have me doing different things at different times.  In other words, something inside one night might have me telling my guys to keep pouring it on.  On another night, I might choose to pull in the reins, and switch to something ultra conservative.   Yet another night I might sense something in between is needed, or even something really off-the-wall.
In reference to the latter, you're going to love this one…
I recall many years ago my son telling me about a tactic one of his favorite minor pro coaches used.  Actually, my son said that the guys on the team had a blast doing it.  Showing that the coach had a sense of humor, I believe he called that strategy their "Kamikaze Play".
Basically, the idea was for a unit of players to bust their buns to get the puck up-ice and to the red line, where they'd dump it and then quickly change.  The next unit would jump over the boards, pressure the puck, and get a change as soon as they achieved one dump-in.  And so it would go, with each unit busting their buns to do the job and get off.
Hopefully you can sense what would take place here.  First, I think that each group would be super-motivated.  (I also doubt anyone would want to be part of a unit that gave up a goal.)  Secondly, the objective was really, really simple:  again, bust your buns, get a dump-in, and get off.  Thirdly — and the part I sense my son liked best, was that guys were usually only on the ice for a matter of seconds, but it wasn't too long before their unit was called upon to head right over the boards again.
If there's something wrong with that old coach's special play, it might be that it probably couldn't be used for very long.  In other words, the kind of necessary focus and intensity would probably wane after a certain amount of time, which suggests that it would only be effective for something like the last 5-ish minutes of a period or a game.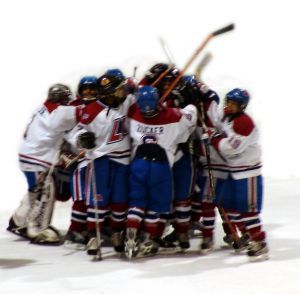 Just so you know, there are certain things that can (and should) be done to smartly protect a lead.  But, maybe a couple of scenarios will help make those points…
A few years ago I watched a college squad gain a lead on a team they had no right beating.  They'd worked hard to a point, and played smartly, too.  If there was a problem, they suddenly lost their discipline, which was all their more potent opponents needed.  On a rush, all three forwards moved deep into their enemy's zone, and all three even eventually got trapped down near or behind the enemy goal line.  Bang!  With all the forwards trapped, their opponents sprung onto the attack, they popped in the tying goal, and they were off to the races from that point onward.
Yet another college game I saw a few years back reached a similar point — with the underdogs clinging to just a small lead.  This time the team out front lost their discipline in a different way, by taking penalty after penalty after penalty — most of them of the stupid variety.  Once again, that's all the better skilled team needed, as they proceeded to pump in a number of powerplay goals.
One night, my own college team worked our plan to a tee for nearly two periods.  Our line-up had been devastated by illness and injuries, and we were also down to our third string goaltender.  Playing things smartly, though, we managed a 2-0 lead as the second intermission neared.  Unfortunately, it only took one wrong move to undo it all, as one of our forwards attempted to stickhandle through two defenders at the opposition's blue line.  Seconds later, that turn-over ended up in our net.  Suddenly our opponents came alive, we could hear them hooting and hollering in their dressingroom during the flood, and they blew our doors off over the final 20-minutes.
What can we learn from all that?  For sure, protecting a lead calls for discipline — as a team, and to a man.  As you should have noticed, one mistake is all it might take to excite a previously sleeping giant.  It calls for keeping at least one forward high or back during rushes, and perhaps even two.  It calls for never putting the puck in jeopardy at either blue line, and surely not attempting to carry the puck far when out-manned.  Nor can a team afford to give their opponents many powerplays.   Most especially, it's important to be aware of the so-called "Big Mo", or momentum…  As happened in each of the above described games, a sudden slip gave a trailing team reason to believe in itself.
Personally, I've used three forechecks with my high school and college teams.  My own version of the 2-1-2 is usually the primary one, and the way my teams use that makes it a fairly aggressive one.  That's usually backed up by a rather conservative — or defensive — 1-2-2, sometimes referred to as a "wing on wing" forecheck.  We're also prepared to go with an ultra-conservative 1-4 for only short stretches.
As I've mentioned in another recent post, I like to make our opponents worry about us, and I feel that my guys doing their jobs well can make that happen.  Mixing up those forechecks can help keep opponents off-balance, or constantly trying to adjust to what we've just thrown at them.
That arsenal also makes it possible for me to go with my gut when we're protecting a lead.  In other words, I can ask my guys to keep pouring it on with the 2-1-2, or I can have them switch to one of the more conservative forechecks if I think that'll help eat some of the clock.  And, since the earlier mentioned Kamikaze Play doesn't really require practice, I've been known to even slip that in on a rare occasion.
I'm sure you know that the game clock is important, whether ahead or behind…  When we're trying to play catch-up, it seems like the clock is running too fast; when we're protecting a lead, minutes seem like hours.
Sitting on a lead, I'll usually go up and down our bench and remind my guys that each dump-in is probably worth a good 15-seconds off the clock.
Ironically, I just caught myself with something, because I don't think that "sitting on a lead" is exactly the way we want to look at things.  In fact, being oblivious to game conditions — as that phrase implies — is courting disaster.
For sure, we coaches (as well as players and fans) are always aware of the score.  However, I must also glance up at the clock 50 or more times over the course of a game.  Late in the game, though, there's a lot more to be aware of…
A big part of that gut feeling thing I've mentioned comes from sensing the way the game is going.
Basketball coaches get a number of time-outs they can use to alter the swing or tempo in a game, while we have to use our single time-out very, very wisely.
Throughout the 60-minutes, I'll always ask my goaltenders to judge the pace of a game and act accordingly.  In other words, get tie-ups at times when the opposition seems to be buzzing, and try to keep the action going when our guys are flying.
Okay, one last thing…  Quite some time ago, I mentioned seeing a college game in which a team blew a 4-goal lead in the third period of a loser-goes-home playoff game.  I mentioned at the time that I felt for the coach of that team, and I couldn't really blame him for the strategies he used over the last 20-minutes.  I mean, it's one of those "damned if you do, damned if you don't" things, whether he asked his guys to put the pedal to the metal or to back-off and play things safely.  More than 40-years in the game has taught me that one way will work one night — and a coach looks like a genius; the exact same approach fails the next time — and the coach is a bum.
With all that, smart hockey principles are the right way to go, no matter what…  So, I repeat:  discipline is important — in not getting players trapped behind the puck, keeping the puck safe, and staying out of the penalty box.
As many members know, I'm kinda famous for straying outside the proverbial box when it comes to studying.  After all, how can I ever be an innovator, if I only look into what other hockey coaches or trainers are doing?
For that reason, you'll find me exploring training procedures for sprinters, rugby players, footballers, martial artists, and so many others.  I'll dig into what famous generals and honorable political types have done when it came to motivating or directing their kinds of "teams".  And so will I delve into the X's and O's used by the world's top coaches, no matter their sport.
It's the latter urge, then, that got me recently reading (for probably the eighth time) an insightful book about college basketball's most successful coach, the late John Wooden.
– Dennis Chighisola
K.I.S.S. In A Hockey Playing System
The book I just closed the covers on is called "The Wizard of Westwood:  Coach John Wooden and His UCLA Bruins".  And, while it's not an X's and O's type manual, the author couldn't really describe the inner workings of the UCLA basketball program, nor the complexities of the man in charge, without touching upon the things that helped make him and his Bruins teams so unique.
Okay, so about this article's title — Keeping It Simple (Stupid?) In A Hockey Playing System…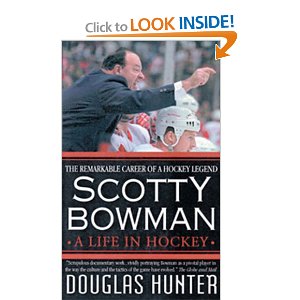 Now, my guess is that a lot of folks think that the more successful a coach is, the more sophisticated his or her playing system might be.  Truth be known, that's what I thought when I first got into hockey coaching some 40-ish years ago.
Don't get me wrong here, because we can be sure that guys like John Wooden, Scotty Bowman and Bill Belichick know just about every trick in the X's and O's book.  And, why shouldn't they?  They've been working at their trade for a lifetime, they've reached the pinnacle of their trade, and they've also reached a point where they have just about every resource needed to do things in sophisticated ways.
That said, might you find it interesting that Wooden's approach to b-ball is described as pretty simple?  I might have, if I hadn't heard similar stories over all the years I've been studying such guys.
In fact, the author and countless former UCLA players described Wooden's typical practices being more about fundamentals than X's and O's.  So, while maybe some of his opponents were scratching their heads about how to beat his Bruins with new tactics and strategies, Wooden's teams were moving, dribbling, passing, receiving and shooting them to death.  Yes, basics — like running, dribbling, passing, receiving and shooting.
Oh, and Wooden coached teams also ran their opponents into the ground, because conditioning was the one other thing he spent a bulk of his practices on.
Now, although Wooden's teams seemingly had all the typical strategies down pat and at their disposal, I guess I didn't find it very surprising that the old coach seemed to prefer going head to head with opponents.  Said yet another way, I recall him being quoted more than a few times within that book something to the effect that, "I'd rather other teams worry about what we're doing instead of us worrying about them."  (Actually, that's been my philosophy for a lot of years, but more on that a little later.)
I doubt you'll find it surprising that I've also pretty much devoured just about everything written about or by the great Vince Lombardi.  And I mention him here because Lombardi's approach to the game was the first thing I thought of as I read Wooden's philosophy about strategical matchups.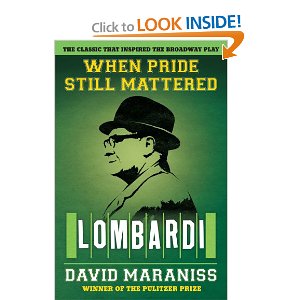 Oh, did this long ago influence the way I approach such things…  For, it's said that Lombardi knew "his system" so well that he could instantly spot one little thing going wrong within it.
Think about that if you will…  For the most part, he was coming right at you with a play or tactic that he knew would work, IF his players executed properly.  So — and this sounds a lot like Wooden's approach, Lombardi was pretty much saying that his guys only needed to execute properly in order to be successful.
And this all reminds me of something pretty basic that I heard at a coaching seminar a kzillion years ago…  What the speaker suggested was that, it's far better to be able to successfully apply one strategy (like a single forecheck), than to use a bunch of them with moderate or poor results.
As an aside here…  None of the above is meant to suggest that available talent shouldn't dictate a lot of what a team's system looks like.  I mean, a coach has to make certain system adjustments, if his or her team is highly skilled, not so well skilled, small and quick, big but slow, and so forth.  Hey, accommodations also have to be made when certain strengths or weaknesses fall within given positions.  (I'm sure that Wooden adapted to having a pair of future NBA Hall of Fame centers arrive at his school, and I'm sure Lombardi changed things at least somewhat as various All Pros graced his Green Bay Packers lineup.)
That said, I'm going to still suggest that some things never changed within either Wooden's or Lombardi's overall approach to their games.
Then, because I know someone is going to ask…
Over about the past decade, my teams' defensive system revolved around my own version of the 2-1-2 forecheck and zone coverage in our end of the ice.  (I wouldn't necessarily stick with those at other levels, but they were ideal for the fairly talented high school kids I worked with.)  A lot like my coaching idols, I got so I could recognize one hair out of place in either end of the ice.  And so did my players get so they could execute their system with their eyes closed.
Were we able to make adjustments?  Absolutely.  Our version of the 2-1-2 is super-aggressive.  So, as my players fairly well mastered that, I introduced them to a rather less complicated conservative forecheck, the 1-2-2.  Later still, they learned an even less complicated, ultra-conservative 1-4 forecheck.
In my mind, our look didn't change a lot from night to night:  We were always a 2-1-2 team with an aggressive mentality, and it was up to our opponents to prove they could beat that.  Still, at any time I chose, we could toy with our opponents, or get them off-balance, with one or the other secondary forecheck.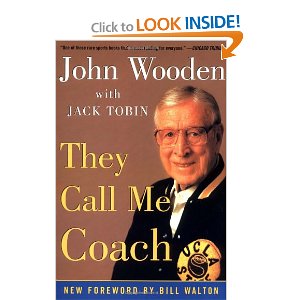 Now, I know that this entry is being read by members from all different levels of our game.   That means you're reading it with different experience levels, a different understanding of the game, and different ways the enclosed knowledge might or might not affect your future experiences around the game.  My main concern here, however, is how it'll be interpreted by member coaches…
The latter in mind, here's what I suggest…  Apply this (and other such knowledge) as I have.  In other words, think about what seems to be applicable to your level, and applicable to the kinds of players you normally deal with.  True, that we'd like to think we have a little Belechick, Bowman, or Wooden in us, and we each probably do.  However, we don't have their players, and it's doubtful we have the resources to accomplish with our players what they can with theirs.
So, again, let's all of us be aware of how the great coaches think, and let's even borrow what we can from them.  At the same time, let's be wise enough to know where we are, who our players are, and what they can fairly be asked to do.
Lastly, getting back to that KISS principle…  Let's keep in mind that long ago seminar speaker, who appeared to be right in line with guys like Wooden and Lombardi.  For, it seems to me that we can only expect our players to become masters of a set number of plays or strategies.   Give them one or just a few, and I'm betting they'll execute with pretty good precision.  Ask them to master more and more, and I'd be willing to bet that their success rate will diminish exponentially.
*
Yes, I do have an affiliate association with Amazon, and do profit in the sale of books.  However, I also have all the books I mention in my library, and they are among my favorites.
We coaches — in almost all sports — might be considered a rather odd lot.  We study and study our game, and we analyze and maybe even over-analyze just about every aspect of play.  And trust me, that I'm no exception. 
  Back home in Massachusetts, I was (lovingly, I'm sure) referred to by many hockey parents as "The Nutty Professor".  Ya, I've been known to come up with some of the wildest drills anyone has ever seen.

Still, I'd never change the approach I've taken in my work.  Even a study as outside the box as the following one has proven hugely beneficial — to my players and to me.
– Dennis Chighisola
What We Can Learn from Hockey Penalties
I'm guessing it was sometime in the early 1980′s when the subject of this post first crossed my mind.  I know it was during one of my first seasons as a college head coach, and I can even remember the two players who caused me to think there was a connection between penalties and some other playing difficulties.
Actually, both guys were pretty good players.  However, one was returning from an injury, while I suspected the other didn't have the kind of stamina I expected.  Of course, upperclassmen that they were, and good players that they were, you might imagine that they put up quite a stink when I suggested their playing time might be reduced for an upcoming game.
I do recall, however, that I gave both guys a chance once the next game started.  The one returning from the injury didn't last too long into the game before he had to call it a night.  On the other hand, the guy I suspected of being out of shape at least tried to take a regular shift.
Okay, so the Nutty Professor tends to come out in me when I do something mindless, like driving home from a game — rehashing and rehashing things in my mind, and trying to make sense of some things that many others might not even consider.
The morning after, I contacted one our team's volunteer stats people, and asked if she could go through all of our games to that point in the season, and provide me with the types of penalties taken by each of our players.  On the drive home the previous night, I couldn't help but think about the penalties both of the guys in question had taken.  It wasn't that they took a lot — it was probably a combined total of three, but it was the nature of those penalties that had gotten me into Nutty Professor mode.
Now, think along with me, if you will…  I already knew what penalties the suspected out of shape kid had taken in that recent game.  However, since his conditioning had seemingly been off for the entire early season, it was his whole body of work that I was really interested in seeing.  In other words, if we were 7- or 8-games into our schedule, I had a feeling that all the penalties he'd amassed up through the last game would be similar, and they'd tell a certain story.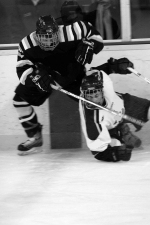 Bingo!  Beside that young guy's name was listed calls like hooking, tripping and holding, and he probably had at least two of each.  Among knowledgeable hockey coaches, a hooking penalty is frequently seen as a sign of laziness.  In other words, instead of hustling and skating his buns off, the player gives less effort than necessary, he coasts, and then just reaches for an opposing puckcarrier with the stick.  In my player's case, however, while being out of shape can make one lazy, I believe he was running out of gas and just not able to catch his man.  And I quickly saw the other penalties in the same light…  My guy reached out often with his stick to take some tripping penalties; and he also lost tussles along the boards, these resulting in holding calls.
Not stopping there, and with the entire roster in front of me, I scanned down to see if I could spot any other unusual groupings of penalties.
Sure enough, another of my players spent time in the box for calls similar to the first guy.  I didn't see him being out of shape, however, although I could easily understand why his rather large body and slowness of foot caused him to take a number of hooking and holding penalties.  And so was there another young guy who wasn't exactly known for his footwork listed as taking a batch of similar penalties.
Ye Old Professor wasn't done there, either.  For, with some time to kill, and a couple of pages of stats at my disposal, I scanned down through the rest of our roster to see if I could connect those with other player tendencies.
Oh, could I ever…  For example, here are the types of penalties our resident (self proclaimed) goon amassed:  roughing, charging, cross-checking, boarding, slashing…  Need I say more?
As interesting as all the rest, though, was our second most penalized player, who had totaled only a few less minutes than the team's supposed tough guy.  His penalties seemed to be all over the board, with calls like charging, hooking, cross-checking and tripping.
Okay, so you could be wondering what the big deal is here, and how it could be that there is something to be learned from studying a player's penalties.  Well…
First, I think it's important that coaches, parents, players

and the media

keep statistics in a certain perspective.  Professional teams and agents for the pros might like to beat each other over the heads with stats at contract time, but I'm just using whatever I can gather to suggest to me some tendencies, or even some maybes.
Over the 20-plus years since I first conducted that (very unscientific) study, I've found that the types of penalties players get do give me some insight into what's happening with a given player.  At times, I've even been able to use that as evidence in the event I want a guy to make some changes to his game or to his preparations for the game.
I've discovered that there can be several reasons why a player gets called for certain kinds of penalties.  Again, the types of penalties he takes are only helpful in suggesting he has a problem.  It's up to the player and me to figure what that problem might be.
In other words, I have to know the player — or watch him more closely — to decide whether penalties like hooking, holding and tripping mean he is injured, out of shape, or maybe just lacking the speed or skills to keep up with quicker or more agile opponents.
In much the same way, the guy taking all the roughhouse kind of penalties may either be playing selfishly and being overly aggressive, or he might be the type who is trying to hustle and dig but just has subpar body-checking skills or technique.
In closing, I'm going to suggest that anyone can use this information to some advantage — from other coaches to parents to adult players.  I'm even thinking it might have an application in some other sports.  Again, though, let me caution you about only using it to look for indications something might be wrong, or to gain an idea of whether a given player might need help in a certain area of his or her game.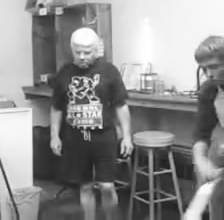 I said over on Facebook a little earlier today, that I have great friends there, and they so often send me some great stuff.  The reason I said that was because our good friend — and fellow CoachChic.com member, Jerry Z, sent me a video this morning I saw as appropriate to some recent Junior hockey goings on.  However, if you don't think there's plenty in here for parents and coaches of younger kids, guess again… 
– Dennis Chighisola

Three Types of Hockey Players
Actually, the video Jerry sent me was entitled "3 Types of Players", and you can take a look at that at your leisure (for as long as it's available).  The featured coach in that video is a basketball guy, but what he describes is as true in hockey as it is in any other sport.  In fact, school teachers might say they find the same groups within their classrooms.

Take a look at the chart to the left, and see if you don't notice most of the players you're familiar with falling into one of those three groups.  It's possible you might envision a given player lying a little between one group or another.  However, I think that b-ball coach was right-on with the way he drew that chart, and that we'll ultimately see every single player falling into one of those three categories.
As far as I'm concerned, that video presentation wasn't created just for the fun of it.  No, there are things to be learned from those groupings — or their definitions, like it or not…
Type 1 players are described as the greatest players and hardest workers, with the coach suggesting that "… you don't coach very many of those."  I'm picturing a Steve Yzerman, a Michael Jordan, a Ray Bourque, or a Larry Bird here.  For sure, those guys were talented, probably beyond mere mortals.  At the same time, however, those all-time greats were as well known for their work ethics.
Recalling what the b-ball coach said about us not coaching very many of those Type 1 players, there's little doubt that nearly all others fall into the other two categories…
I'm skipping now to the Type 3 players, mainly because they're so near and dear to me.  Actually, they're usually near and dear to every coach they ever play for, and they're likely loved by their teachers and their future employers, as well.  In a way, is there anyone who doesn't admire someone who starts out lacking in some talent, but works his or her butt off to ultimately do the job right?
And, man, does that coach strike a chord with me when he describes these kids…  For, at least a half-dozen times each hockey season, I have a parent thank me for working with his or her youngster.  And my answer back to that parent is always the same, "Naw, your son is the kind of kid who makes me look good as a coach!"
Two groups down, now's the time for my stomach to turn…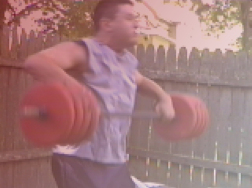 I begin by asking whether it seems right to you that some players possess A-level talents, yet their attitudes or mindsets don't come close to that level.  I've heard those Type 2 players assessed in coaching staff meetings, too, often with someone shaking their head and murmuring, "What a waste."  Ya, what a waste, when a player has some God-given talent, but not the heart or willingness to really apply that talent.
In the video, they're called "coach killers", and it's also mentioned that "they can't play".  Why so?  Well, in my estimation, it's because both basketball and hockey are team sports, and they're also transition sports.
Hey, some big-time responsibilities come with being a member of a team — as a player, and as a human being.  And, since constant turn-overs of a ball or puck require quick reading and reacting skills, the player who fails to train himself or herself in these areas is almost always a step behind the play, or usually heading in the wrong direction.
Then, I hate to be cruel here, but I often refer to the Type 2 player as a "professional powerskater".  In other words, their solid physical skills allow them to cruise around like worldclass athletes, but their inability to think the game has them looking to folks in the know as if they're lost out there on the ice.
All that said, I'm going to offer my opinion on how these different groups tend to evolve.  Actually, I'm going to throw these your way, and ask you to tell me differently (should you be so inclined)…
Since moving to Florida, I've come to the conclusion that a lack of depth in some programs — or a lack of really strong competition — can give a young player a false sense of security (not that I didn't see similar occurrences in certain levels back in New England).  In other words, if a youngster can get away with marginal skills and thinking abilities against lesser players, well…
As an aside, I've never been satisfied with my team's record when it comes to practice planning.  Naw, as a head coach, I'm looking at a bigger picture, and I'm trying to get my guys ready for a day down the road when each of them will have to compete against the very best — in future games, as well as at future tryouts.  As a matter of fact, a frequent topic of conversation with my older Massachusetts guys has always had me prodding them to think about a future adversary who is working on his game that very day — on some far off frozen Canadian farm pond, on an outdoor rink in Moscow, or in an off-ice gym in Sweden.  Trust me, that just beating up on the kids from a neighboring town isn't likely to get you a starting spot someday — in Juniors, in college, or anywhere beyond.
Oh, boy, now a tough one, mainly because it's going to be a bitter pill for some to swallow…  But, you see, in my 40+ years of working with players from beginners to pros, I have yet to see an instance where there wasn't a correlation between a player's attitude and that of his or her parent/s.  That might not always hold true when it comes to likability, because one can be likable while the other is not.  On the other hand, where I see parents influencing the most is when it comes to their youngster's willingness to work, or more importantly, when it comes to their youngster's knowing that he or she has to work in order to improve.
Allow me to once again revert back to that idea of a player prepping for the day when he or she has to compete for a spot against some unknown talent…  I'm not talking about getting paranoid here, but I think a parent either helps or hinders his or her youngster in this department.  So, while I think it's okay to have some laughs over scoring 6-goals amid modest talent, don't think for a moment that such accomplishments put a kid on an NHL fast track.  No, 'tis better to inspire a youngster to keep on working — and working and working and working.
If you know someone who would benefit from this article,
go ahead and share away.
Okay, I've never been one to pull any punches, so I hope you didn't expect me to do any differently on this topic.  Just as surely, though, I enjoy your feedback, even if it's contrary to my beliefs.
*
If this is your first visit to CoachChic.com, maybe you're getting the feeling
there's a lot more good stuff within the 600-ish posts here.  It's true, and it's the kind of stuff that should help separate your knowledge base from all others in your hockey circle.
My son has been staying with me for a few days, as he moves into a new hockey job close by.  With that, you can imagine the hockey conversations that go on (and you'd probably love being a fly on the wall for some of them). 
Anyway, a few minutes ago, I leaned across the back patio table and said to Mike, "Ya know, more questions come to me having to do with people skills than those involving hockey play." 
Am I thrilled at that?  No.  But, do I think such questions are necessary, or valid?  Yes, I do.  In fact, still learning at my age, I sense that there's something to be appreciated about such questions — by me, and by the powers that be within youth hockey's higher ups.
– Dennis Chighisola
Why Am I Involved In Hockey?
Dave's question came via email, explaining about some problems he's recently had with one of his players…
In a nutshell, he's now second guessing himself about appointing a new player as an Assistant Captain prior to getting into his team's season, because — despite the kid demonstrating great work ethics in the early going, he seems to have come with some serious excess baggage.  Readers are going to cringe when I tell them that Dave says the kid has been bullying some teammates.  (Like some kids of similar ilk that I've coached, I can believe Dave when he says that most of the boy's improper actions take place when adults aren't watching.)  And, with that giving us a fairly good sense of his character, it should come as no surprise that the boy also is known to take some stupid penalties at times.  Sad to say, one Assistant Coach has resigned, at least partly because the boy's parents "…can't promise the kid will change…"  Trying to steady a team that is already struggling, Dave wonders about removing the "A" from the boy's jersey, suspending him for a game, whatever.
Just wondering, but is anyone else's blood boiling right now?  I'll tell you, that I steamed as I read Dave's initial email, and I'm hot again as I type.  Over 40-years of coaching all levels, I've been there, done that, and all this does is bring back a lot of very bad memories.  Ya, I love coaching — and teaching the game, but there are those very few individuals who take all the fun out of trying to help kids.
Okay, my being equally upset doesn't help Dave one iota.  So, after reading his email a number of times, I somewhat cooled, and tried to see this mess in a whole new perspective.  And, the first thing that came to mind was something close to this article's title, in that, "Why the heck is this kid even playing hockey?"  I later changed that a bit, wishing to ask the boy's parents, "Why do you even encourage your son to play hockey?"
Not exactly the greatest definition I've ever heard, yet it did give me the key word or phrase I was looking for.
For, within that single sentence, it says that hockey is played between "two TEAMS"!  It doesn't say anything in there about satisfying the twisted wants of an individual player, nor does it say anything about parent opinions!
So, I scrambled back to the on-line dictionary again, just to make sure I'm not wrong here:
I'm sure my readers (and Dave) know where I'm going with this.  For, although it's probably not spelled out enough as one of the qualifications for enrolling in ice hockey, there's little doubt that one is signing up to become a member of a team.  And, in case a parent has other ideas, he or she should understand that his or her son's (or daughter's) commitment is to the team.
As an aside here…  A very long time ago, I coached a kid who I considered almost a second son.  Actually, he was a gem, as were his parents, but he was a bit of a loner, and maybe not exactly cut out to play a team sport.  As an older teen, he made a choice on his own, and he became more famous than most of my other star players while participating in another, slightly related individual sport.  My only point here, is that not every youngster has what it takes to give of himself or herself, and be a good team sport member.
So again, I'd rephrase my question to that boy's parents, and ask them, "Does your son really want to be part of team — and to give somewhat of his individuality to be a good team member?"  Oh, I can imagine the argument.  However, there is no arguing with a definition that has been in existence for eternity, and one that won't vary no matter where you look it up.  In a nutshell, there is an understanding that comes with enrolling ones son on a team.
From there, I'll suggest that the parents in question need to have the same conversation with their son:  "Do you know what it means to be part of a team?"
Personally, I never enter into conversations like the above with anything but the hope that all will work out rightly.  I mean, I would love for the parents in this case to ultimately understand what I'm asking them, and I'd pray that the boy might realize he's been wrong by not blending with all of his mates, and by not handling that "A" with the utmost respect.
Will what I suggest work?  Man, my guess is that we're all going to win some and lose some.  The shame of it all is, it's been my expeerience that, the parents are going to determine everything in the end.
Okay, I guess everyone has an understanding of how I'd deal with this in 2012, this after reflecting on the various successes and failures I've had with similar situations in the past.
For sure, I would suspend the wayward boy for one game, no matter the outcome of any future deals.  Hopefully, what's done is done, but it also carries with it the one game suspension.  And, I would let it be known that every subsequent infraction will carry a similar suspension, until the player changes his ways.  (There is no need for a single player in a lockerroom to feel fear or any other discomfort because of a teammate.  And, lest anyone blame the coaches for not being present every second the team is at the rink, I can tell you that that is virtually impossible, and that a kid who wants to do something rotten is going to find his or her chance.)  An apology to his teammates wouldn't be out of the question as far as I'm concerned.
I would suggest to Dave that he use the "A" as a bargaining chip, or do as he feels most comfortable.  If the family sincerely comes on board with the team concept, perhaps the boy will also be the Assistant Captain Dave had hoped.  That honor can be stripped away at any time.
Lastly, there can be a tendency on a coach's part to question himself or herself, as in, "What could I have done differently?"  And my answer would be, "I doubt very much."  Dave and other head coaches have a ton of responsibilities, and they're responsible to a ton of  players, not just one.
As a PS here, I would do anything I could to get the Assistant Coach back.  Good men — and willing men — are hard to find.
Try to have this conversation with a red blooded teenage hockey player, and you're liable to see a rolling of his (or her) eyeballs, and hear a, "Ya…  Ya…  Ya…"  To which I might say, "Take a spot down the end of the bench, and just pray I remember your name someday." 
– Dennis Chighisola

Keeping an Even Keel in Hockey
That introduction out of the way, let's talk about how things really ought to be…
I happen to have spent most of my life in a small town called Whitman, Massachusetts.  It might make sense then, that I grew up a fan of the Boston Red Sox, Boston Bruins, Boston Celtics, and New England Patriots.  It might make further sense that, having been involved in my profession for as long as I have, I've studied closely the ways of those teams' most successful managers and coaches.  And, lucky I am, having been able to either daily or weekly study the likes of Dick Williams, Tito Francona, Harry Sinden, Don Cherry, Red Auerbach, Bill Parcells and Bill Belichick.
Aaah, Bill Belichick…  When it comes to displaying an even keel, I can't think of a better example, nor a better example of how keeping that even keel has at least partially contributed to a coach's success.  To some — and especially to fans from other cities, Belichick might seem emotionless.  You seldom see him smile on the sidelines, and I don't know if I've ever seen him be outwardly angry.  No, my way of describing him would be to say that he's very businesslike, and always on that proverbial even keel.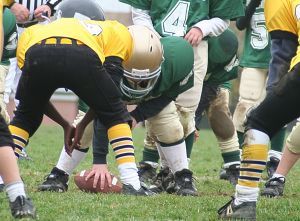 Belichick's extension on the field is a quarterback named Tom Brady.  Talk about businesslike and focused — I mean unbelievably focused.  Brady's laser-like glare tells the story, no matter where or when a camera catches him.   In fact, watching the Patriots' offense tally 45-points this past Sunday, I swear that Brady's expression didn't change, from the game's first set of downs to his last snap.  Again, businesslike, and on an even keel.  Actually, while fans will catch the occasional high-five or after-touchdown spike, I almost know that the entire New England organization accepts that on an even keel approach, waterboys to the front office.
Okay, so what do I mean by such an approach?  In general, I'd say that it suggests we limit extreme highs and extreme lows.  As a matter of fact, I recall learning from a long ago lecture by one sport psychologist that, it's not so good for an athlete or a team to ride that kind of up and down roller coaster.  (I sorta liken this to the quick high one might get from a sugar-boost, because we have to know it's just a matter of time before we drop to an inevitable low.)
Perhaps the first time I ever noticed the calm and businesslike approach to a hockey game was when I watched the old Soviets, beginning back during the 1972 Showdown at the Summit.   Of course, much was said in those earliest years as North Americans rushed to study the guys from The Big Red Machine — but it was mainly in awe of their skills, the speed at which they could execute those skills, and the unbelievable pace they could play due to superior conditioning.  That the coaches and scientists from the USSR had even delved deeply into the psychology of our game ultimately came out, though, and I became as fascinated with that.
If you're old enough to have seen any early Soviet games — or later videos of them, you had to notice the emotionless expressions on the players' faces.  Stoic, really, and a lot like Tom Brady, in that you seldom saw any more than a quick hug after a goal, and you would never see any outward indication of the way a game was going.  Yup, stoic, or emotionless.  In fact, their coaches of that era weren't any more demonstrative, at least on the game bench.
Of course, I've often said over recent years, that North Americans started playing more like Europeans in subsequent seasons, and today I think we see many pro level Russians and other European players playing a North American style, and also doing their goal scoring dances and banging their sticks after giving up a goal.
Now, although I'll suggest later that even youngsters should learn to play on an even keel, I'm really talking to those at competitive levels — maybe from about Pee Wees on up, and especially those who are in their teen years and into their early 20′s.  And, while you might think I'm directing all this towards just players, I have to tell you that I see parents and coaches holding a great deal of influence in this area.
Okay, so there's more than a little bit of Bill Belichick in me, along with the need to be a bit of a control freak.  And in the latter regard, I've been known to ask my team's parents to cheer like crazy, but not yell directions to my players or get on the game officials.
With the help of a great sport psychologist, I posted the article, "Up The Boards, Johnny", and produced a video of the same name. The two of us were making slightly different points in that article, but the one I want to share here is the fact that players can't listen to verbal instructions, process those, and then act as quickly as hockey requires.  No, we're better off teaching the players how to read and react smartly in their practices, and then trusting them to do what comes instinctively once they hit the game ice.
As far as me being a control freak goes, though, let me just say that, I would love to have a mute button in my pocket that allows me to quickly stifle the crowd anytime I feet the need.  And the need most often arises when someone on our side believes we've been done in by a game official…
No one cares that the crowd gets "a little" rowdy with what they believe is a bad call.  However, as soon as a single voice or two starts to get personal with a ref, I feel it starts to hurt me as a coach, as well as my team.  At times like I'm describing, I'll quite often want to talk to the ref for a sec.  I might not even be upset, but instead just want a clarification on something.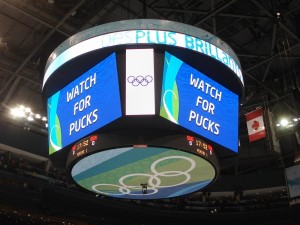 As far as a clarification goes…  Oftentimes, games played at your typical local rink don't include the penalties being announced.  And they don't usually have the space on the scoreboard to list more than a few penalties.  So, without knowing that kind of information — like the type of penalties, their duration and expiration times, it's virtually impossible for a coach to plan his or her next shifts.  Refs who understand the simplicity of my requests have had no problem whatsoever coming over and explaining things to me.  On the other hand, the official who is already turned off by personal attacks from the stands, is going stay as far from my bench as he can, because he figures he's just going to get another earful from me.
Having already said plenty about wanting my players to keep on an even keel, you can imagine how I feel about any of them acting up over a referee's call.  First, as one coach mentioned to me recently, he's never seen an official change his call because a player yips all the way to the penalty box.  Secondly, getting heated over a call is a waste of valuable energy.  Third, while that player is momentarily off his or her game — or, lost his or her focus, you can bet that he or she has also thrown teammates off their game.
This aside…  Everyone who has ever skated for me knows not to follow my suit when it comes to my demeanor on the bench.  Much of the time I'm pulling a Belichick, calm and on an even keel.  However, if I suddenly pull a nutty and yell at a ref, there's a good chance I'm not even upset; it's just a ploy.  At yet another time, I might resort to my half-smiling even keel, but I'm really seething inside; again, what you see on the exterior is just an act, or just a ploy.  My point to this is that I'm going on gut instincts, and dealing with the game officials in a way that I sense will help us in the long run.  It's nothing personal, one way or the other.
Then, perhaps one of the greatest lectures I've ever attended was by a famous sport psychologist, Dr Jim Loehr, that presented during the NHL Coaches Symposium in Montreal, in 1980.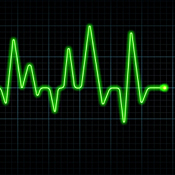 Dr Loehr brought with him some feedback devices to use during the earliest part of his presentation…  Simply, he hooked electrical sensors to a number of volunteers from the audience, and he explained how the devices would make a beeping sound to indicate the amount excitement experienced by each volunteer.
I remember him really getting us all into the experiment by asking the (male) volunteers to picture the most beautiful woman they could.  And, man, did we all roar, when the feedback devices started beeping like crazy.  I mean, they must have beeped about 50 times in about 5-seconds.
As the laughter died down, the good doctor switched the volunteers' focus to something more relaxing or a lot less exciting.  And, with that, the beeps slowed to maybe one to every couple of seconds.
The experiment surely made its mark — with me, and with most others, and I hope it's making the point with member players, parents and coaches.  In such a simple experiment, it was proved that our bodies react to whatever we're giving our attentions or focus to.  Pretty easily, it was shown that we can raise our heart rate by being excited, but we can just as easily relax ourselves by thinking peaceful thoughts.
Another very interesting part of his lecture included the description of a young Swedish tennis player who was so excitable that he was at one time banned from further competition.  We were told that the youngster was seen as world class, yet he was rendered nearly ineffective due to his frequent temper tantrums.  With nowhere to turn, the teen star sought help from some sport psychologists, and turned his life — and his tennis fortunes — around.  As Dr Loehr explained at the end, Björn Borg became known as one of the coolest customers to ever grace a tennis court.
Now, just so you know, typical relaxation exercises slow the heart rate considerably.  In fact, a quick search on-line shows most experts agreeing that, relaxation exercises can:  slow your heart rate, lower blood pressure, slow your breathing rate, increase blood flow to major muscles, reduce muscle tension and chronic pain, improve concentration, reduce anger and frustration, and boost confidence to handle problems.  (You can find other techniques to practice relaxation, but they're all pretty similar to this one:   Quick Relaxation.)  My suggestion:  Every old enough player should seek a relaxing technique that works for him or her.  Over time, one tends to become familiar with the way stress feels, as well as how if feels to be stress free.  Over time — and through practice, one can also learn to somewhat shortcut the long process of achieving a relaxed state, so that he or she can ultimately snap into it in a matter of seconds.
I know I suggested the above to every "old enough" player — which, to me, probably means Pee Wees on up.  I'm not sure kids younger than that can handle the formal approach to typical relaxation methods.  At the same time, is it ever too young for a player to learn calmness?  I don't think so.  I do sense that most coaches of young ones have the right idea, trying to encourage them to have fun.  Still, though, in trying to figure what I'd do with a kid who seems extra hyper, I might just suggest to him or her that, "Ya know, you seem to play much better when you're nice and calm."  (Have a better idea about this?  Please share it down below.)
In summary, I hope every member appreciates that the mental side of our game is as much a skill as skating and shooting.  And, as such, it has to be practiced just as often.  For, whether players realize it or not, future coaches will see you as a total package, and hoping you're both physically and mentally ready to play the higher level game.
PS:  For probably the past 20-years, I've shared one of Freddie Shero's favorite expressions with my players:
"Always act like a duck — calm and unruffled on the surface, while paddling like hell underneath."
Position Assignments for Young Hockey Players
Okay, I know, I know…  The prevailing belief in most national governing bodies nowadays would suggest throwing all the kids out there and allowing them to play an indoor version of pond hockey.  In other words, don't pigeonhole a kid to be a centerman, winger, D-man, whatever.  Actually, some might even wonder whether there should be a dedicated goaler at the Squirt/Atom level.  Hmmmmmmm…
Before going further, let me say that I have kinda fallen in love with the idea of 3 versus 3 cross-ice games.  I had the opportunity to work with a Massachusetts-based ADM program for a few seasons, and I had the chance to see the skills that resulted from such games, as well as some of the problem solving even young kids were doing under such conditions.  Truly, the concept of tossing 3 youngsters (and a goalie) out there — and letting them play a little pond hockey — does have its merits.  Ya, I'm a believer.
It should come as no surprise then, that I have always tried to give players on my youngest teams some consistency when it comes to positional assignments.
Borrowing a phrase we hear often nowadays within professional sports, I try to give such kids "the best chance to succeed".   In other words, if I sense that a kid will do well and feel good about himself as a defenseman, I'll slot him there, and I'll do the same for kids I see as ultimately playing well at center or out on a wing.
As an aside…  My son played a lot of years as a minor pro winger, and my grandson is now setting a batch of scoring records at his college, at both center and wing.  What members might find interesting is that both started playing for me in their earliest years, and I had both initially play defense.  They were both pretty good skaters and especially strong puckhandlers at 8-years old, so they added a great deal of stability back there for the team's sake.  For their own benefit, I wanted them to get the unique view of our game that's only possible from the rearguard position.
Only last season, I did what I considered the same favor for a pair of young Mite AA's.  The parent of one questioned that only slightly, and I asked her if she'd just trust me.  I'm not sure the mom was ever totally convinced, but the proof in that pudding probably won't be seen for a few years, as it becomes evident her son sees the ice better than many other kids.  Oh, by the way…  Those two boys actually led their team in scoring — not one of our forwards, mind you, but those two young defensemen.
I also usually assembled set forward lines and defense pairs early in the season.  Again, the idea was to provide some stability for the kids.  And, while my assistants and I would show them some of the nuances of playing their positions, an awful lot of our practice time was spent on "generic" skill development.
Don't get me wrong about that term generic, because I'm not talking about so-called vanilla drills, or just run of the mill stuff.  What I am saying is that all of my skaters have always been taught to fly, and to fly with the puck on their sticks.  Said yet another way, my defensemen have always been trained to be as athletic and as shifty with the puck as their teammates up front.
In a way then, my kids have never lost anything in the way of development because of the positions they played.  And, I'd be willing to bet that — come their next season, my kids could successfully play any position for their new coach.
In effect, I'm suggesting a couple of things here:  1) that the 10- or 12-shifts my kids got in their games paled to the work they got in our practices, and 2) my kids probably were more capable of playing other positions well because of what we accomplished in practices.
Now, with all that said, there might be some other things to consider before leaving this topic…
To be perfectly honest, I think Squirts or Atoms — or kids who are 9- and 10-years old — are plenty old enough to start learning the game beyond what we'd give to 7- and 8-year olds.  I'm not suggesting that kids have to be "slotted", as if they're going to play a given position for the rest of their lives.  Trust me, though, in that I've yet to see a player hurt in his or her development by playing any of the 5 skating positions.  In other words, no one needs to panic — as if a kid is going to lose his scoring touch — just because he spent a year or so playing the blue line.
If the team in question plays in-house versus going out on the road to travel and play in tournaments, I might temper the above.  I mean, I might shrug, think it's more about fun than long term development, and just let 5 kids at a time roll out the door.
No matter how competitive their level, however, I think whomever is getting on the kids about positioning ought to cool his or her jets — until the youngsters are actually taught well enough what they're supposed to do in given situations.
If that team is part of an ADM program — as my last few young teams were, I'll suggest that a lot of skill development should get accomplished between that and the team practices, allowing the games to be more about actually learning to play, learning some important game playing principles, and learning to play a given position.
Although I've never done it, I suppose that the kids could be slotted at one position for a portion of the season, and then allowed to play elsewhere during the next fairly long stretch.
Lastly, there's yet another reason I dared slot kids in one position for an entire season.  For, to be honest, I think youngsters gradually start noticing what's happening around them.  I mean, even though each kid is playing a set position, he usually gets to the point where he knows pretty understands what all the other kids on the ice are doing.
*
Talk about cause to smile…  First, I've been sitting out on my back patio here at my new home in Kissimmee, Florida — it's about 9:30pm, it's nice and warm, I'm dealing with a pile of email, and I'm also getting around through my favorite social media areas.  And, although that's reason enough for me to usually smile, a Facebook message came through moments ago that really did the trick.
– Dennis Chigisola
Doing a Hockey Coast-to-coast
That message was from the mom of one of my AA Mite players from last season back in Massachusetts.   And what she wanted to convey to me was a message from her 8-year old son, a little guy who was developing into a pretty nice young defenseman.  Anyway, what she wrote was…
"(He) wanted me to email you to tell you that he had his first "coast to coast" goal tonight at his hockey game.  He remembered how you said that one day he would get one. "
Actually, I started chuckling before I even finished reading the first sentence, because I recalled having teased him about that.  He'd almost done it several times last season — lugging a puck from deep in his own zone, winding through a batch of defenders, and almost putting the goal home at the other end.  And it was seeing him get a little frustrated that caused me to suggest that, "One day you will get your coast-to-coast goal!"
Okay, you have to know that this entry really isn't about a Mite defenseman, nor is it really about players going to coast-to-coast with the puck.  So, what is it all about?
First, it's about my long time feeling that I want my players to be uninhibited initially, before I'll start asking them to play with increasingly more discipline.  Think along with me, if you will…
If we put handcuffs on our players early, they'll never develop to the point of being able to play both ways.  In other words, we'll have them so conscious of playing defense that they'll never dare to get involved in the attack.
I may have told this story elsewhere, but it's appropriate here, and it might just make an impact on parents and coaches…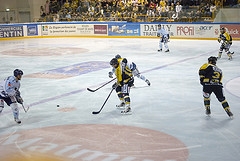 My college team was playing at home one night years ago, and the opposition was giving us headaches with a very conservative forecheck.  In essence, every time one of my defensemen would grab a puck in our end and pass it up to a nearby forward, that forward would get crushed and we'd lose the puck.  Hey, no biggie; teams at that level always play a little cat 'n mouse with the X's and O's, and it's up to the other team to adjust as soon as possible.
On this night, I could see that our only recourse was to have the D start carrying the puck up-ice until they drew an enemy checker, which then might free a forward.  Again, no biggie, right?
Well, most of my blueliners could do it, but one of my most talented young guys was still throwing the puck up to a forward, and still playing into our opponents' hands.  Ugh.
I don't doubt that I grumped at him a few times when he came back to the bench.  But I could see that he was frustrated, I cooled it a bit, and then I asked him what was wrong.  Again, ugh.
This young guy had to be close to 20-years old, I've already said that he was pretty talented, yet he spoke with tears in his eyes as he spilled out the frustration, "Coach, all my life I've been yelled at for lugging the puck, now you're asking me to do it, and I can't!"  Wow!  Can you picture me wanting to kill some of the guys who coached my player along the way?  For the third time, ugh!
Hopefully that story gives you a better idea of what I'm getting at.  If I had that guy through his developmental years, I'd have worked the whole thing the other way around…  I'd have encouraged him to go, go, go, and then I'd have gradually tried to bring him under control, and teach him when to and when not to keep going with the puck.
Continuing with my work in developing young defensemen, I will suggest that all of my guys — or say six of them on a given team — are usually at different stages of development, or at different stages of being able to think the game or make adjustments.  And, if you're getting the sense that I'd deal with each of my kids differently, that is definitely so.
That was usually the case with my NEHI High School Prep team that long time members had a chance to follow over recent years.  If you can imagine it, four of the six were probably still at the point where they lacked the confidence or skills to carry a little further up the ice.  However, for the one or two who were ready, I'd handle them like so…
I'd first tell them not to push it.  I mean, don't just get it into your head that you're going to go, because the opposition just might make you look awfully foolish.  Instead, I'd suggested that they will start to recognize the hole — almost like a runningback in football recognizes the hole he should run through.  "It'll be there," I'd tell them, "you'll see it, and you'll know that's the time to go to it!"  So again, I'd tell them not to just get it in their heads ahead of time, but wait until they recognized that (usually) gaping hole.
Of course, I've just described working with college and then high school players, but can you now see where I was going with that little AA Mite guy, the one who finally managed to go coast-to-coast?  Actually, there were two more experienced young D on that team with him last year, and one of them — the oldest D-man — got the next step pretty quickly.  The other kinda struggled with it at first, but he also ultimately got the idea — of not forcing anything, but instead waiting until he saw the time was right to keep going with the puck.
I got myself embroiled in some interesting troubleshooting a few weeks ago on Facebook.  A dad questioned his son's youth hockey coach for yelling that he'd shot the puck from the point on a given powerplay, even though the boy scored.  Skipping all the things that went into most folks feeling the coach was right on that one, a guy who is interested in that youngster as a Junior player suggested that he'd like to see the kid shoot the puck more.
Think about that, if you will, because it's very much connected to all I've mentioned to this point.  A ton of us agreed that the boy should have dished the puck off on that particular play; it was the right thing to do from purely a hockey playing standpoint.  At the same time, the Junior coach was looking at that kid long range, and from a developmental point of view.
So I jumped in to the Junior guy's way of thinking…  If that boy is actually shy about shooting the puck, that's probably the first thing to cure.  In other words, encourage him to shoot, shoot, and shoot some more.  Then, like the other examples I've used, we could ultimately help that youngster make better decisions.  The thinking is, he'd be making those later decisions with a great deal of confidence, and he'd also feel capable of either shooting or passing.  (I mentioned that conversation in more detail in a previous post, in "Having the Hockey Skills to Make It".)
Now, you may have noticed that I've only been talking about D-men here.  That's because that coast-to-coast example is an easy one for me to explain, and it's also because I had a few stories relating to defensemen that helped me make my point.  However, I'm telling you that I deal with all the positions — from the goaltenders to defenders to forwards — in the exact same way.  I want to first turn 'em loose, and then gradually pull in the strings or teach them to play with better discipline or more smarts.
The second point — you now know — is that this approach can be used with all ages.  No, we might not be talking with beginners about going end-to-end, or looking for holes.  But, we do want them to develop all the time, and we do want to get them to first be little daredevils before even thinking about pulling in the reins.
Lastly, you ought to know that I've wrestled with where to place this post — either in the Mental Training section or under Thinking the Game.  Hmmmmmmm…
To be honest, I believe this piece really has a lot to do with the mental side our game.  I mean, I want my guys to be confident, and I'm not going to build my players' confidence if I make them paranoid about defense or getting rid of the puck right off the bat.  Let's face it:  the best player is the confident one, and it's up to us coaches to help nurture that during the players' developmental years.  There's plenty of time to hold their feet to the fire once they have their skills and heads in the right places.
That said, I've placed this in the General Positional Advice area under Thinking the Game.  There are some good tips here for teaching by principles, and I sense more coaches will find (and read) it here.
This topic actually arose during a late night bull session that included a couple of Junior level coaches and yours truly.  We were gathered outdoors around a large table, relaxing after a long day of recruiting and such, discussing Tropical Elite Hockey League business, and eventually — as coaches often do — drifted off into various teaching philosophies.
– Dennis Chighisola
Hockey's X's and O's Versus Playing Principles
At one point, a young coach admitted that he wasn't all that much into exotic forechecking systems, and more interested in teaching his guys important — need-to-know — playing principles.  If I put his words into my own, I'd probably say that he wants his kids to ultimately "think the game" at a high level.
That concept immediately brings to mind my late old friend and idol, Roger Neilson.  Roger and I traveled similar paths in  the game, and we both got deeply into the use of video for coaching at about the same time (like in the late 1970′s and early 1980′s).  Most coaches reading this would die for the 50 or so lectures I recorded and saved from past hockey seminars, and I'm sure you'd especially enjoy a cassette I have featuring Neilson talking about forechecking according to principles.  In other words, he described what a first forward into the offensive zone might be thinking as he approaches an enemy puckcarrier, then he goes on to explain what the next guys into the zone should be observing, weighing and then doing as they arrive.
The point I was just trying to make is that the concept of teaching by principles is not a new one, and it's obviously been used by coaches at very high levels.  A funny thing, however…  If you go watch my video on Implementing A Simple Forecheck – The "L", you'll discover that I've used X's and O's, but I've also explained how each player must think as he or she moves into the offensive zone.  In other words, I demonstrate a given type of forechecking, but I also encourage its execution according to sound hockey playing principles.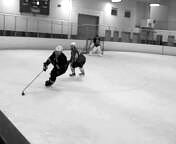 Okay, so what if a coach wants to implement something like the 2-1-2 forecheck?  I'll suggest that just showing your players the layout of X's and O's accomplishes absolutely nothing.  I mean, the various roles have to be filled by human beings — your players, and it's imperative that we explain to each where he or she should initially go, what he or she should look for, how his or her duties should be carried out, etc.
Then, while various approaches to a forechecking system might have been raised by a fellow TEHL coach, and although the lecture Roger Neilson once presented involved forechecking, the idea of combining X's and O's with thorough explanations of the involved principles should be used in every phase of a team's playing system.  In other words, we have to arm our players with how to think their roles all over the ice — in backchecking, defensive zone coverage, breakouts, on the attack, and so forth.
One final word…  Don't take lightly what I said about combining the layout of your players with how they have to think and ultimately execute.  I know that clear explanations of playing principles are lacking in most books and other literature or media that's supposed to help coaches and players understand positions or playing systems.  However, just looking at the way players should be positioned in a given phase of play helps little in gaining a true understanding of our game, and just the X's and O's minus the principles involved makes most systems almost useless.
PS:  Although I've met Mike Smith, a brilliant hockey guy, and I tell everyone that his book on hockey systems is the best there is, it also lacks the type of playing advice I've mentioned above.  I'd like to think, on the other hand, that I continuously explain such things throughout the CoachChic.com website.
We receive hundreds of messages about ourselves everyday. There is a constant stream of other peoples' impressions bombarding us. Some of these messages are verbal and some are non-verbal and it doesn't take a rocket scientist to notice the look of disappointment or disapproval along with other messages that can impact us.  From the time we get up until the time we go to sleep we are forced to make sense out of what is coming at us from teachers, bosses, spouses, friends, coaches, and ultimately, ourselves. For many that I work with the process they use to make sense out of the hundreds of messages they receive seems to determine their perception of themselves as well as the belief they have in their abilities.
When working with a young athlete recently, I explained a strategy for making sense out of these messages that seemed to work for her and I want to share it with you.  Messages we receive fall into one of two categories. First, there is opinion. An opinion is a conclusion that someone has arrived at based on whatever limited amount of information they are integrating to develop their conclusion. It seems as though everybody has an opinion and most are unafraid to share them freely and without an awareness of the impact they have on the listener. Second, we have facts. Facts are conclusions that have been tested and have become reliable pieces of information that allow for trust and confidence. Facts are hard to come across but are critical to form a truthful, solid, and reliable conclusion.
A critical skill for anybody is to distinguish the difference between opinion and fact. The importance of this is huge. A person that is unable to do this will experience insecurity, a lack of confidence, and most likely an overall undefined sense of self. We all have to come to our own conclusions about ourselves and the more we can build our sense of self around conclusions that are factual, and not opinions, the more secure and internally defined we will feel and be. Here are two steps to take to differentiate between an opinion and a fact. First, reflect on whether or not the information you are hearing has been tested. Is the person sharing their thoughts knowledgeable about you? Second, is the source of the information sharing a thought that is in your best interest or are they trying to hurt you? The quality of the thought and the intent and heart behind the thought are both important for you to consider in determining the importance of the thought shared.
My bottom line is do not be afraid to internally test the information you hear about yourself. You decide whether or not the information has value to you and, if so, take it and use it to better yourself.
*
The Mental Edge is committed to training kids through these types of experiences. To begin your life training process give us a call today 763-439-5246.
Shaun Goodsell
I'm always psyched when I can provide our CoachChic.com members with more great advice from my good friend, Shaun Goodsell.
And, while I suspect that Shaun is talking to hockey parents in the following television interview, my feeling is that we coaches can also use this information to get more out of a team full of players.
– Dennis Chighisola

5 Performance Keys
Loading...
CoachChic.com membership DOES have its benefits.  For, despite the fact that the following information is free to the public, most hockey coaches, parents and players will never find it.  In fact, most hockey folks don't even realize this type of science exists at all, or that it even matters.

Actually, a pro hockey coach called me the other night to tell me about this (he likes to share such things with this old coach).  Evidently the team he works with has used this questionnaire and others like it.
So, with that, let's get into…
– Dennis Chighisola
A Guide to Hockey Learning Styles
Long-time members would likely recall that I've written a few posts on this subject, especially for the sake of other coaches.  The real point to all this is that all humans have different learning styles, and it's important that these be known.
Probably better than a decade ago I worked with a mental training specialist for the St Louis Blues organization.  He'd developed a test for individual athletes, to discover how each of them learned best.  At the time I was corresponding with that good doctor, it was known that there were at least three different ways we learn, while there was also a belief that there might be more than three.  (The last I heard there are at least seven, but I believe they're mostly a combination of three main ways.)
I've always been of the belief that the more we know about ourselves, the better we function in this world.  So, while CoachChic.com is geared towards athletes — and especially hockey players, I think the current subject could prove extremely useful to member businesspeople, homemakers, students, or just anyone.
Getting back to the ways we learn…
I can tell you that I hate to be inundated with words —
.  I mean, don't stop me in a busy and noisy rink lobby and expect that I'm going to retain specific details about our conversations (in other words, don't expect that I'll remember that Johnny is going to miss our practice three Mondays from now).  In most instances, I'll ask you to, "Please email me."  Why?  It's because I'm a "visual" guy, and I need to "see" things in order for them to register.
For that very reason, I'd rather deal with a sketch or chart or watch a video in order to learn a new hockey play, assess statistics, etc.
Oddly enough — and despite the fact that I hate being bombarded with auditory stuff, I do very much enjoy listening to taped recordings or podcasts.  ???  How could this be?  My guess is that I have control over the situation — like my car's CD player, so that I can re-listen to the information countless times until I get it.
Yet a third type of learning has to do with our opportunity to interact during the learning process.  Actually, my grandson took the previously noted test (also given to the Blues), and it was discovered that he fell in this category.  Little wonder, I thought, that Anthony Chic seemed to love my team's weekly discussion session, and that he was almost always the first player to raise his hand or blurt-out an answer.
Now, before sharing a little gift with you, here's what I see as the implication to all this…
As a parent, I don't believe we should assume that our young hockey player either thinks or processes information in the same way we do.  No, while you might enjoy seeing new information as I do, your son or daughter might be more like Tony C, or he or she may rather read through long text or listen to the information.
There is a HUGE message in all this for us coaches.  For, we don't deal with just one type of learning preference, but it's more likely that we have a sprinkling of all types of learners within our squad.  How do we satisfy such a wide variety of needs?  Well, my suggestion is to constantly rotate the way we describe things to our kids — sometimes using a greaseboard, sometimes providing handouts or written materials, sometimes doing a physical demonstration, and sometimes holding brief bull sessions.  (Hey, nobody ever said our job would be easy!)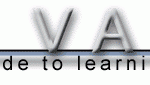 With all that, I'm going to direct you to a site that provides a free questionnaire aimed at helping the quiz taker discover his or her own learning preferences.  (I just took the test, and the results were dead-on — or exactly what I've come to know about myself after a kzillion years on this planet.)  If there's a problem here, the quiz seems a little beyond young hockey players (bummer), but I'm wondering if an adult might possibly help his or her youngster with the questions.  As for older humans, I think the test can be hugely beneficial.  As I suggested in the start, "… the more we know about ourselves, the better we function in this world."  (Now, just click the graphic to the left to take the test.  You'll also notice that there are some other great options you can also explore on that website.)
PS:  As can happen with a lot of outside links, the one above might not be there forever.  And, if you do discover it no longer works, please Email Me to let me know.  Enjoy.
This question arrived via my new friend from Italy, Stefano.  And let me tell you that it's a tricky one.
What I mean by tricky — at least in this case — is that there's probably no exact answer to it.  But, let me explain…
– Dennis Chighisola

A Hockey Defenseman's Decision-making
I'll begin by including Stefano's question here:
"It often occurs in our practice games that when my team is into the offensive zone, one of the opponent's forwards is roaming in his neutral zone (in order to get the pass and break free) instead to stay in the zone, covering one of the d-men.  That forces me (or my linemate) to take a step back and cover the guy, in order not to be caught out of position in case of a quick transition or a breakaway pass.  I realize this backstepping is taking me out of the offensive contribution and I'd rather be productive on both ends of the rink.  As a blueliner, I'm primarily supposed to stop players and pucks, but in modern game a solid offensive contribution is necessary as well.  What should I do?  Cover the guy or focus on the offensive?
As an aside, I'd like to let other coaches know that I've actually used the roaming forward option as an offensive ploy.  What caused me to resort to that was a long ago opponent of my old college team.  That team was relentless in their forecheck, they pinched their defensemen in ways that just got my wingers hammered, and they would often keep us trapped in our own end for minutes at a time.  So, what I ultimately did was to designate a forward on each line to roam the neutral zone, and I asked my defensemen to look for that guy as their first option on the breakout.  My thinking was to make the enemy D worry about my breakaway man — much like Stefano describes, and to at least somewhat make them hesitant to pinch.  And, if we got just one breakaway early-on — whether we scored on it or not, the chance it would happen again would weigh heavily on our opponents' minds.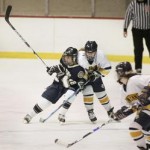 With that, you ought to have a sense of what Stefano is now going through.   And, while I've already said that there's no exact answer to this problem, here's what I've had my defensemen do…
First, it's obviously important that our D be aware of roaming forwards.  (There's nothing worse than our blueliners being surprised by a long bomb pass to a man behind them.)
Secondly, remember the old hockey principle, "Head on a swivel".  I mean, while in their defensive roles, every one of our players should be quickly glancing back and forth — at the puck location, at the man they're supposed to cover, back to what's happening with the puck, and so on.
While they're keeping their heads on swivels, I've had my defensemen also keep sliding along their offensive blue line to always stay in-line between their man and the puck.  In other words, if the enemy does try to launch a long pass towards neutral ice, there's a good chance one of my men will knock the pass down so we can quickly transition to offense.
If we're able to pull that play off, we actually have a powerplay within the offensive zone.  And, just like I tried to do against our old college rivals, making our opponents pay for a given tactic can oftentimes result in their abandoning it.
In closing, let me state again, that this isn't any sort of rule, and it's quite probable another coach out there may have a different and even more successful way of handling this somewhat tricky challenge.  That's one of the benefits I see here at CoachChic.com, in that there are apparently lots of great hockey minds within our membership.  So, please do chime in!
I don't doubt that many hockey parents and coaches get frustrated, waiting for certain new skills to kick-in with their players.  (And I don't doubt some adults wonder the same thing when it comes to their game.)
So, since I'm trying to infuse a bunch of new plays into the games of both my AA Mites and AAA Bantams, I thought I'd share some of my thoughts on the subject.
– Dennis Chighisola

When Will New Hockey Skills Kick-in?
I begin here with a story that might just frustrate some members…
Some 30-plus years ago, I happened to be coaching a local Mite A team in what was billed as the Massachusetts Mite State Championship.  We were probably the least known of all the teams there, but we were peaking at just the right time.  Little did I know then that I was also coaching a couple of kids amid those 7- and 8-year olds who would go on to play quite a bit of pro hockey.
Honestly surprising to me, we managed to knock-off each opponent in the preliminary round, we won our semi-final match, and then found ourselves facing an undefeated "big city" team in the tournament finals.  Even more surprising to me was that we flip-flopped the lead with the tourney favorites — either leading or trailing by a goal throughout the 60-minutes of regulation play.
Okay, so here's the more interesting part…  With only minutes to play in regulation, my top scorer sent the game into over-time with a beautiful "wrap around" goal.  Man, did our fans go nuts.  Shortly after that kid scored, I found him sitting in front of me on the bench, and I kinda thought out loud to him, suggesting, "That was a beautiful goal.  Over the summer, though, you ought to practice faking towards one post on that play, and then quickly coming back and tucking the puck in on the other side."  My thinking was that the goaltender would go all-out to protect against the initial move, and never have time to react back to the other side.
You know what I'm thinking here…  The summertime was the right time to add something new to a youngster's game.  I'm even thinking now that I was out of line distracting an 8-year old from the unbelievable pressures at hand.  I mean, we were heading into OT in what was probably the most exciting atmosphere my little group of country kids had ever experienced.
Still, if you haven't guessed it already…  That youngster found himself with the puck behind the enemy net on his first over-time shift, he makes a mad dash towards one post, the opposition goaler dives to make the stop, and my little guy comes back to tuck the tournament winner into an almost empty net.  Un-be-lieve-able!
Now, I tell that story as an example of the exception, definitely not the norm.  Few mere mortals would have been able to clearly think like that in what I've already described as a pressure cooker.   Just imagine.
At the same time, I've elsewhere in these pages described Wayne Gretzky and a few others as being so highly skilled that they could think on a different plain than most others.  In other words, while most 8-year olds in the above described game were in varying degrees of panic mode when they touched the puck, my young forward skated and lugged the biscuit with such confidence that he was able to devote more energy to thinking things through out there.  Or, as you've probably often read about some top performers in numerous sports, the game probably slowed down around him, and he was actually able to relax and think at a level most other youngsters couldn't.
Then, having suggested the above story might frustrate many of you, what I meant is that we coaches and parents can't usually expect the same kind of results with all our kids.  No, for most it'll take time to bring a new play into their game.
Okay, what got me on this subject is that it's relatively early in the season for my young Mites and Bantams.  And, back in practice, each group is working on a number of plays that I want to ultimately kick-in to their games.  Actually, a lot of what we're doing back at practice is planned in this way.  However, knowing you'd like a hint at some of these, well…
A couple of times per week, I'm having a Mite puckcarrier move back and forth behind a net, while a teammate moves similarly out in front — stick down in readiness for a pass.  You can imagine how sloppy my kids looked in our earliest practices, but how much better things are clicking in recent attempts.  Still, no one has come close to trying that play yet in a game.
There are two things that quickly come to mind when I'm thinking about my older Bantams…  I've given them several attack plays to use on 3 on 2 rushes, and I also have a special play I like to use with older defensemen on our breakouts.  (I call the latter play the "drop-off", because one D swings behind the net to draw an enemy forecheck, and then he forcefully drops the puck back to his partner who is swinging in the opposite direction.)
I said earlier that none of my Mites have come close to using their special play yet in a game.  Well, that's only partly so.  Just yesterday, one of my little guys did carry the puck behind our opponents' net, but he either ignored or didn't see his teammate waiting out front for a pass.  So, when he returned to the bench, I asked him if he had a better option in that situation, to which he responded, "Pass to the guy out front?"  Bingo.
And I'll suggest that the little discussion with that forward is one of the natural steps on the way to all of my kids ultimately getting it.  In other words, that forward just might remember to look for an open teammate the next time he holds the puck in that situation.  Or, it might be another kid I talk to who finally nets us a big goal.  And, when that happens, I'm going to make a really big deal of it.  My hope is that other kids will see it, and likewise make the connection between our practice drill and the live game action.  Of course, they'll also be looking for me to make a similarly big deal out of their play.
I'll be attempting to do the same thing for my Bantams.  I mean, we'll do certain drills countless times in practice, I'll talk to them as games are played — trying to connect the practices to their games, and I'll make a big deal out of the earliest times the plays finally kick-in.
And that's pretty much how things have to work for most players.  For sure, the more individual skills they have on automatic, the better they'll be able to think during the heat of battle.  However, I see my role as a coach being to teach all of my kids, not just the advanced ones.
Again, the progressions are kinda natural, meaning that I have to just stick with the repetition, keep talking to the kids — before, during and after games, making a big deal out of the times when the plays start working, and then move on to new plays.
Lastly, while I've mostly described this process through the eyes of a coach, I've also used this method as a hockey parent and grandparent.  Consequently, I've never been impatient at all as I watched my own work on something at home in hopes of having it later kick-in during a game.  I know it will come, so long as I just allow the natural process to play out.
I've seen versions of the following numerous times over the years.  And, while each point is valid, I'll suggest that key "commandments" in hockey probably aren't limited to just ten (in fact, I'll someday let you know my rather extensive list).
Anyway, I happened upon the following graphic on Facebook yesterday.  And, although I shared it with my many friends on that site, I thought I'd try something a little bit differently for my CoachChic.com faithful.
With that, I'll show the original graphic down below, and then I'll do what I can to better explain each of the ten listed points.
– Dennis Chighisola

The 10 Commandments of Hockey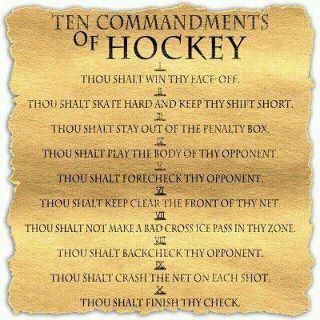 Those 10 Commandments of Hockey — Coach Chic Style

1) Without doubt, face-offs ARE important.  For sure, young players tend to dismiss them as necessary evils — like, "Come on, ref, just drop the puck so we can play!"  Still, I sometimes see that same mentality carrying over to older guys and gals, almost as if a given face-off isn't important.
Of course, draws become more crucial the closer they're held to our own net.  However, every face-off quickly determines who is going to control the puck next.  And, since the object of a game is to score more often than our opponents, it makes sense for us to want to control the puck more often than they do.  So, yes, thou SHOULD concentrate on every drop of the puck — from the centerman to every other player on the ice for us.
2) In general, this one is obviously correct.  If I had to question it — just a hair, it would be that a player usually needs to coast at times, then burst all-out, with a typical shift being a series of alternate coasts and bursts.  By all means, though, shifts should be kept short, with players staying intently focused for something like 30-seconds or so.
Personally — when it comes to keeping shifts short, I've always had as much concern for players on my bench as I do for those on the ice.  In other words, if players stay out too long, there's the chance that the guys who are sitting are getting cold, and they're especially getting out of the flow of the game.  (This is never so evident as when a team takes a series of penalties, forcing some players to sit for a very, very long time.)
3) Ha.  Penalties can just kill a team.  I've noted one way this can happen in the previous paragraph, but needless penalties can also be huge momentum killers or shifters.   Of course, some penalties can't be avoided.  At the same time, I've written elsewhere within this site how most penalties can be categorized — as showing a lack of discipline or selfishness, or demonstrating a mismatch in skills between two players (in other words, if a player is slow or out of shape, he or she is very likely to take penalties like tripping, holding or hooking).
4) Obviously, this one relates more to those levels where body-checking — or at least some body contact — is permissible.  And it's as important a principle as any for a player who finds himself or herself closest to a rival puckcarrier.  In fact, if you want to play right into a fancy puckhandler's hands, just look down at the puck for a second and see how he or she turns you inside out.  Ya, focus on the man's body if you're the closest player to a puckcarrier.
5) I don't have a lot to add to this thing about forechecking, except to share some points I often talk to my older players about…
If you think about it, our opponents want to do what they want to do as they gather a puck in their own end of the ice.  An enemy defenseman might want to feed a nice pass up to a near winger, and that winger might want to relay that pass to the centerman swinging by.  Yup, all neat and clean, and a nice way for them to begin a rush towards our net.
My guys, on the other hand, want to force the enemy out of their comfort zone — and make 'em do what we want them to do, until we're able to gain the puck back.
For sure, there has to be a design and a purpose to our forecheck, and that's the job of a coach.  From there, all 5-skaters have to know the different roles by heart — or apply them by instinct, knowing each teammate depends on the success of others.  Yes, forechecking is a 5-man job, with its true success depending on each player being able to do his or her own job exceedingly well.
6) Without question, a successful team protects its goaltender, and gives him or her freedom to move in the crease area and a clear view of the puck.  I tend to get really into this aspect of play, adding these pretty important principles…
First, "enemy sticks score goals".   Consequently, any enemy stick not somehow negated around the goal is very likely to catch a pass, deflect a shot, bang home a rebound, or prevent your goaler from covering up a loose puck.
Secondly, our guys covering in front of the goal must do so according to the location of the puck.  In other words, if an opponent controls the puck in a corner, the main danger is a pass to his mate out front.  On the other hand, when the puck is located out at a point, our defenders must clear the area — to prevent deflections, and to allow our netminder to  see the puck.
7) Ugh (because this one has already happened several times in my Bantam team's first few games)…   I'm kinda surprised, in a way, that this happens too often in older level games.  I'd have thought the principle of not making cross-ice passes in front of ones own goal would have been taught very early-on.
No matter, I actually take that a step further, by borrowing from the great Anatoli Tarasov, who suggested that straight-ahead and lateral passes are safest in your own zone, while long diagonal passes are rather dangerous.  In other words, that long diagonal pass crosses too many lanes and likely goes by too many enemy stick-blades.
Oh, ya, Number 8…  Thou shalt dawgoned backcheck!  In fact, every player coming back should realize how important he or she is — from the first backchecker to the very last one coming into our zone (I think we've all seen a fourth or fifth attacker go to the net and whack home a rebound).  And, going back to an earlier point, let me suggest that any one of our checkers who nears our net should be negating the stick-blade of their man.  Again, enemy sticks score goals.
9) You'd think it would be instinctive for our players to crash the net when they see the puck move that way.  Ya, you'd think.  Yet, I see far too many supposed attackers sit back as observers and miss some great scoring opportunities.  Of course, we coaches wish our players would react in the right way.  However, I accept part of the blame here if my players don't.  I mean, I'm the coach, and it's up to me to create drills that instill the proper reactions.
10) Hmmmmm…  Finish thy check…
For the longest time, I've blamed television commentators for confusing this issue, mainly because they tend to use that "finishing the check" expression when a big hit occurs, or when the hitee is knocked down.  To my way of thinking, though, the idea of finishing a check is to tie up the former puckcarrier so that some other things may or may not happen.
If the puck is still nearby, the body-checker's job is to focus on his man's body, and to keep him momentarily tied up so that a teammate may grab the loose puck.  On the other hand, if your man just dished off the puck to a mate, finishing the check — or staying on your man for an extra few seconds — prevents him or her from jumping back into the play for a return pass.
*
Okay, that's my two cents worth when it comes to these important playing principles.  Do you have any further ideas, or can you expound on what I've said?  I won't be offended in the least if you can add to (or argue with) any of these.
My friend Shaun Goodsell and the folks from Mental Edge just keep coming with the gems, and the following article fits in that category.
So, as always, I'm psyched that Shaun shares his stuff — with me, and with all CoachChic.com members.
– Dennis Chighisola

A Message to Hockey Parents: Training versus Trying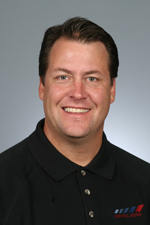 By Shaun Goodsell
*
I see a trend emerging in our young people that is troubling. Actually, I see many trends that are troubling but for purposes of this article I want to highlight one.
If you study athletics it doesn't take long to understand that one vital aspect of becoming more skilled and a more experienced athlete is you HAVE to TRAIN. Training involves repetitively immersing yourself in the components of the sport to progressively improve and prepare oneself in an attempt to meet the demands of the sport. The focus here is on a process that involves ongoing discipline, commitment, sacrifice, and yes, deep struggle. Training is not a quick fix, it often has many ups and downs and these ups and downs provide opportunities for learning that build the solid baseline of learning for long term growth and self mastery. To truly improve and see that improvement stick when tested requires a mindset and lifestyle of training. To engage in this style of life you have to give up the addiction to comfort and embrace a lifestyle of struggle which provides the underlying basis for TRAINING.
Contrast this against the short term cramming effect that encourages people to believe they can make up for lost time by simply trying hard. We even have an education system that would rather have kids memorize facts, details, and formulas than to teach them how to think. Many kids live lazily for 5 days during the week and then "CRAM" for the final in an attempt to pull out a grade. Our athletes do this as well. They eat junk food constantly, practice relaxation continually, miss practices because they had too many sleepovers, and then wonder why they couldn't meet the demands of the sport. Once this has occurred then excuses come. "My son or daughter is over worked", "To much on the plate and coach expects to much" are all part of the masterful system to protect our young people from the sacrifice, dedication, and training that is required to legitimately cultivate a deep unshakeable confidence. I am not talking about those few that truly are over committed and need to learn the art of rest and relaxation. However, I see many young people that believe they can live comfortably in the summer and some how expect that they will have the "spot" they had last year. In my mind every young person, athlete or not, should be training themselves in some manner. They should have to be accountable, push themselves to be uncomfortable. The world does not allow you to cram. Success requires a "Training Program", a strategy for helping you earn through dedication and sacrifice those accomplishments that are most purposeful and embedded in your being.
Let's engage in long-term training. Put yourself in situations that force you to deal with disappointment, failure and doubt. This is when you build confidence that is unshakable. When this happens you have truly trained yourself for long-term success.
If you would like to provide your young person with the gift of confidence that is unshakable, call us today at 763-439-5246 or click here to sign up for a free consult. You will not be disappointed.
PS: We have designed Parent Challenge Questions to accompany this article to help you have quality conversations with your kids. Click here for the questions.
You don't believe the above title and the subject of the video below have to do with hockey?  Please have a look at that video before you read my impressions down below.
– Dennis Chighisola

Multitasking and Hockey Coaching
To begin, understand that Mr Carr is talking about ALL human beings here. And I mention that because it often seems to me that we grownups (like hockey parents and coaches) don't translate such knowledge to young (or even older) hockey players. The truth is, the very challenges Nicholas Carr describes in the video impact greatly on a hockey player's ability to focus — in skills training and in game related tactical execution.
Far too often I'll witness coaches inundating young students with a host of things to consider when they're attempting to try a new skill. Wrong! Wrong! Wrong! Give young players a batch of things to think about and they'll accomplish none of them! In fact, in my motor learning studies, I was taught to begin with the "grossest" or largest problem, help an athlete overcome that, and then move on to the next grossest problem.
I've also adapted Mr Carr's line of thinking to the early part of my team's hockey season, only asking my players to concentrate on one or two areas of our system or game-play technique during a given game. In other words, while we might be practicing a wide array of tactics and strategies behind the scenes, I'll ask my players in an early game something like, "Let's just concentrate on our breakouts tonight."
Again, any new information we discover having to do with all mankind really does have to do with the way we should handle hockey players.
Ravi, one of our long-time and very active members, suggested I address something here at CoachChic.com.
What brought us to discussing this was the flurry of trades that took place before, during and after the recent NHL Draft.  More specifically, some not-so-nice things came to light in the media, once a guy had been traded.  Interestingly, we never seemed to hear those negatives before the given trade.  Once a guy was shipped out of town, however, it seems all his behavioral issues were fair game.
Some of what we've recently heard had to do with the players' off-ice activities, and some of them intimated that a certain player wasn't as good a teammate as he could have been.

Ravi and I talked on Facebook about that stuff, until he finally asked me to address it here.  I told him that I'd just recently watched a video done by our good friend, Shaun Goodsell.  And, while this doesn't deal with late-night carousing issues, it offers the best advice I've ever heard when it comes to being a good guy or gal in the lockerroom.
– Dennis Chighisola

Being A Good Hockey Teammate
Loading...
I don't know about you but, that stuff really meant something to me.
I don't think I've ever coached a team — youth to college — whereby players didn't at least somewhat pay more attention to teammates they knew well, and less to those they didn't know so well.  That, at least to me, is human nature.  So, I can't necessarily fault kids for doing what comes comfortably to them.  Of course, what Shaun had to say is an awesome way to look at that, and I'd highly recommend that every coach (and parent) make their young player aware of that viewpoint.  Just imagine what a lockerroom would be like if every player took that approach.
Then, just to give you a hint of something I'm working on — and maybe suggest something other coaches might try…  I'm digging through Google right now to find ideas for "bonding", or "ice breaking".  A lot of companies are now doing this, calling in specialists who will run all sorts of games that tend to get folks laughing and working together.  A lot of what we'll find in that regard involves purely mental tasks.  But, what I'm looking for are games involving small groups, these intended to get participants depending upon one another, and cheering for each other.  After all, that's what we look for during a game.
Anyway, I hope this gets everyone thinking — about how hockey players can be good teammates.
This topic really isn't a new one.  Still, the way a former pro player phrased the question (or his statement) sent me right to typing a pretty long, detailed reply.
How it started was that the guy Messaged me through Facebook, suggesting that, "The hockey invention no one has come up with yet would be priceless."  That new invention, gleaned from his having watched the Bruins win the Stanley Cup this week, was something that would "instill heart and desire in a player…"  He ended with, "Someone could make millions!"
  Okay, if you know this old coach by now, you know that got me going.  And, when I was done answering my friend, I just knew I had to share my thoughts with you.
– Dennis Chighisola

Instilling Heart and Desire in a Hockey Player
Now, believing in myself as I do, I wrote back to say that I see it as relatively easy to accomplish — with a couple of IFs.   Ya, a couple of dawgoned IFs…
My first need would be to get the players rather early, or while still young and mold-able.  (No way could I change the playing personality of a kid who is 10 or 12 or 15 or older.)
Secondly, I'd need the parents to be a help and not a hindrance.  (You don't think that matters?  Well, last year while I tried to enhance certain skills with a group of Mites, I had three  sets of parents tell me they didn't like the way I prodded their kids to try harder.   Now, to survive all these years as a coach, I have to be a pretty compassionate guy, and a pretty good teacher.  So the real problem, I'll suggest, is that the boys' moms were bothered a whole lot more by my methods than their kids.   My prediction:  all three boys will be out of the game within a few years — or at least out of very competitive levels, IF they're not allowed to grow with their teammates.)
Okay, so I'm boasting a bit as I write back to the former pro, telling him I know exactly how I like to start infusing a little heart or desire into the young players in my charge.  And, reverting back to a few drills I've mentioned previously in these pages, I suggested that I'd do it with some combative-type games…
I always begin with 1 on 1 keepaway.  Hey, how much closer to real game conditions can you get than to ask two youngsters to compete against each other for possession of the puck?
The second game I like to play is very similar to keepaway, except I'll send two young players into a corner after a dumped puck, and ask the kid who gains the puck to as quickly as possible put a good pass right onto my stick.
As you should appreciate, 1 against 1 games — of any kind — tend to really magnify the participants' desire for the puck.   Oh, sure, it can boil down to skills, too.  So, I have an answer for that…
Although every player on a roster should be able to ultimately do well against most teammates, I think we both know that the best skilled players will win most of the earliest contests.
This in mind, I'll suggest that it would be a good idea to purposely arrange match-ups in the early going.  Picture it, for example, that we pit the weakest two players against each other.  Both should feel they have a chance at winning, and both are more likely to give their all than if either was matched again a far more talented player.  At the other end of our roster, I'll suggest that the two best players probably won't act lazily if paired in such a game.  Ya, the last thing I want is for a player to either just go through the motions or totally give-up before the drill even starts.
As I intimated earlier, my friend was writing me with some Boston Bruins forwards in mind.   So I suggested to him that such guys — having reached that level of play, had had lots of successes as they climbed the hockey ladder.  In other words, it's pretty likely they won lots of battles along the way, many of them just like I've described above.
I raise that point to suggest that no one learns from failing more than they succeed.
I also felt the need to mention the numbers game that tends to take place in sport.  I mean, for every player we see competing at a high level, there were literally thousands of others he or she passed by.  The reasons athletes drop by the wayside can be pretty varied.  But, my thinking is that a lot of kids drop-out once they feel they can't compete anymore.  And, once again, we're talking about the kind of competing that takes place in my little 1 against 1 games.
Now, although I probably should have addressed a couple terms from the outset, I purposely decided to handle them at the end.
Actually, we in sport tend to toss terms around rather loosely, perhaps not exactly using the right words, or not explaining ourselves as well as we should.  Anyway, with that…
I think we all have a sense of what my young friend meant when he cited the importance of "desire".  In other words, he (and I) feel that it's extremely important for a player to want the puck — badly, to desperately want a certain valuable position on the ice surface, etc.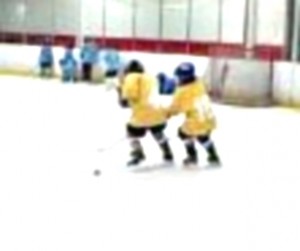 All I've suggested above is that we can start relatively young players on a path towards believing in themselves when it comes to battling opposition players.  And, to accomplish that, tasks must be do-able, at least in the start.  (If I challenge you to jump the Grand Canyon, you're going to walk away, and I haven't done a thing to help your self-confidence.)  Fairly even match-ups like I've described above give at least half a roster the chance to be successful, and it's quite likely even more than half of the kids will win some of those battles.
Along the way, even young players will start to sense that they accomplish more with added effort, and that the occasional extra grunt often spells victory.  At least that's what we should be hoping as we supervise those little battles.
I'm also going to suggest that even a single season spent doing these types of combative drills can stick with individual players for a very long time.  Little by little, the lessons learned mount-up, as does the confidence.  And, it will take a lot of setbacks in subsequent years to undo the belief a kid has in himself (or herself).
Oh, ya, there's one more term to address here.  And that's the matter of "heart".   Hmmmmmm…
I know my friend at the other end of this discussion had the best of intentions when he used that word.   And, it might even be appropriate to use if we're discussing professional players (although I even doubt it).  For my money, every youngster who goes out to try his or her hand at the game has heart.   I dare anyone to argue with me on that.
As a matter of fact, I'm guessing most kids also initially take to the ice with a batch of desire, too.
If there's anything that can go wrong with all this, it's probably that we adults — we parents and coaches — leave the kids to their own devices, and don't use methods that enhance their skills and confidence.
To begin, I like to use drills that simulate real game conditions.
Secondly, I like to use drills that sorta force players to deal with problems, consequently forcing them to solve those problems on their own.
Thirdly, I'll quite frequently just toss players into a set of conditions and let them initially sink or swim without any help.  However, once they experience the challenges — as a frame of reference, the advice I'll then provide tends to mean all the more to them.
– Dennis Chighisola
The Value of Keepaway Games in Hockey
I hope the above sequence makes sense to hockey coaches and parents.  I mean, I don't think players truly appreciate the value of our advice until they've experienced the problems we'd like to help them solve.  Make sense?  If not, I will take some time to re-explain that line of thinking a little later.
For now, let me suggest that a game of keepaway (as shown in the following video) very much simulates conditions players regularly deal with in real game hockey action.  Hey, hockey is all about 1 against 1 and 2 against 1 battles!
In keeping with my second point above, I've thrown some of my young students into the drill you'll see without much of an explanation at all.  In other words, I pretty much just told them, "Go keep the puck away from the other guy for as long as you can!"
With that, see if you can identify some of the things these kids are learning on their own.  I'll add my own thoughts after you've had a chance to watch the video…
Loading...
Perhaps not evident in these clips, one of the things I noticed was that the little puckhandlers frequently looked over their shoulders to locate the checker.  Good for them, because this is an extremely important hockey principle.
Similar to the latter point, I think we can see evidence that a puckhandler at times could almost "feel" or "sense" the location of the checker.
I also spotted times when a puckcarrier would realize he had a better chance of keeping the puck if he skated for open ice, or far from his checker.  To be honest, too many kids remain right along the boards, thusly giving the checker an advantage.
Please appreciate that the video shows my kids' second attempt at this 1 on 1 keepaway game.  So, they are still just feeling their way, and perhaps only gradually arriving at some ideas for handling the challenges at hand.  Still, I noticed several youngsters starting to get the idea of keeping their body between a checker and the puck.  In other words, they've already begun learning to "protect the puck".
Then, while we probably all tend to watch the kid with the puck during these kinds of confrontations, a review of that video might show how a checker is also learning certain basic defensive skills — like pokechecking, angling his man, etc.
Okay, I said in the beginning that I just threw the kids into this drilling without any real advice.  And I'm going to do things that way for another practice or so.  However, that previously noted protecting the puck skill is one I'm going to emphasize pretty shortly.  As for examples of this, notice a kid usually losing the puck as he turns towards the checker, thereby exposing the puck, or putting it within easy reach of that man.  On yet other occasions, a little guy has kept the puck because he cut away from his check — again, protecting it by placing his body between the man and the puck.
By the way, here's how I'll usually approach things when I'm ready to help my kids solve a problem…
I'll gather them after a bout with a given drill, and then begin with something like, "Has anyone here had THIS problem?"  When it comes to that puck protection thing, I'll explain — and probably demonstrate — how turning into the checker allows that guy to swipe at the puck.  With that, I might even ask the kids to help me find an answer, my hope being that they'll tell me to cut away from the checker.
*
Okay, any thoughts, questions or Comments on all this?
You know I love talking the game with you guys!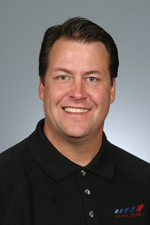 If ever there was an audio program players, parents and coaches should listen to, it's one like this.  I mean, at one time or another, all three parts of the hockey population wrestle with important decisions, large and small.
And, while I'd like to think there is already plenty of help here within these CoachChic.com pages, it's awesome when we're able gain yet more insight from someone like a pro scout.
As always, I'm indebted to my friend Shaun Goodsell for providing this interview.
– Dennis Chighisola

How Pro Hockey Scouts Think
Gordie Roberts was drafted in the third round, 54th overall by the Montreal Canadiens in the 1977 NHL Amateur Draft. His professional career started in 1975 when he was signed as a 17-year old underage junior by the WHA New England Whalers. He represented the Whalers in the 1977 and 1978 WHA All-Star Game and was still with New England when the NHL and WHA merged in 1979.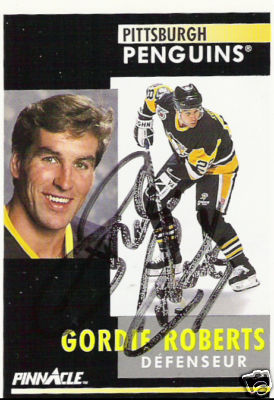 In 1980, the Whalers traded Roberts to the Minnesota North Stars for Mike Fidler. He remained a North Star for eight seasons before moving to the Philadelphia Flyers in 1988, who promptly traded him to the St. Louis Blues after only 11 games. During this time, Roberts also played for Team USA in the 1984 Canada Cup as well as the 1982 and 1987 Ice Hockey World Championship tournaments.
Roberts won 2 Stanley Cups with the Pittsburgh Penguins in 1991 and 1992 and became the first American player to appear in 1000 NHL games in 1992. He played for the Boston Bruins during his final two years in the NHL.
Post Playing Career
Roberts served as the player/coach of the 1994-95 International Hockey League Chicago Wolves as well as the assistant coach of the Phoenix Coyotes for the 1998 and 1999 seasons. In recent years, he has worked as a pro scout for the Montreal Canadiens, specializing in pro scouting evaluating teams / player in the NHL and AHL to consult with GM on trades and free agents. The Mental Edge is proud to have Gordie as a Mental Edge Coach that specializes as an Advisor to hockey players in their player development and possible future hockey career.
Awards and achievements

Inducted into the United States Hockey Hall of Fame in 1999.
As an Insider, you have a front row seat as Shaun and Gordie talk about his NHL Career, post NHL Career and how he's now helping hockey players!  (Just press the arrow below to listen to the interview.)
Audio clip: Adobe Flash Player (version 9 or above) is required to play this audio clip. Download the latest version here. You also need to have JavaScript enabled in your browser.
Shaun and his staff have many other awesome interviews available (at no charge) over on the Mental Edge website, and I highly recommend CoachChic.com members take advantage of those.
– Dennis Chighisola

The initial post has expanded with each recent day, now finishing as a 3-part series…
I've struggled with doing this entry — but only because it's rather difficult to address the needs of all the different levels of our game within one post.  Yet, I thought I might talk a little bit, in general here, about the things I've been working on with one of my youngest teams this week.  And, while it might not be appropriate for all, perhaps it still can provide everyone some food for thought.
– Dennis Chighisola

Playoff Hockey Preparations 1
I've been fortunate to actually have my young AAA Mite Majors skating five practices this week.  Oh, they're not all traditional practices, because two of them are skill-oriented ADM sessions where I only have my kids rotate to me in a station for about 10-minutes.
Now, I thought long and hard about what I'd do with my players during those ADM sessions.  For several months now I've built-in drills for them that would support (or plant seeds for) the things we'd do in our regular practices (and hope to ultimately do in our hockey games).  So, what I did was to sketch a rough idea of what I planned for the practices, and then I went from there…
I continued a drill that has my forwards feeding a puck from behind the opposition goal to a mate who fires a quick shot on-net.  (If you can picture the Mite level, good passing, a quick shot, and a hunger to bury the puck can really make a difference.)  In our regular practices — where we have more space, the boy behind the net also feeds to a defenseman who is sliding into the slot from his point position.
My team — although finishing in third place overall — led our league in the lowest goals-against.  And I think that's a pretty good sign.  From the season's start, I attempted to put together and nurture six pretty good young defensemen, our goaler has developed well, our forwards backcheck better than most young kids, and we also possess the puck a lot with our offense (hey, if we have it a lot, the bad guys don't —
).  With that, I abbreviated a larger (5 on 5) practice drill in the ADM sessions by having one of my players keep covering another for about 8-seconds (as I hold a puck for a possible pass).   All the while I've been yelling, "Backcheck!  Backcheck!"  The idea is to connect that drill to what the kids frequently hear from us coaches on the game-bench.
I also tossed in a quick game of keepaway, sending pairs of kids off in our designated area, all at the same time.  Again, asking you to think about this a bit, a lot of the Mite game is almost a game of keepaway, with the best players holding the puck lots longer than the lesser ones.  Oh, my kids pass the puck to each other — plenty.  But, not panicking and not just throwing the puck away is what I'm aiming for with this kind of drill, as well as developing their skills to protect the puck.

Our three more traditional practices this week — one each on a full sheet of ice, on half-ice, and then in one zone — cover most of the basics, from skills to our strategies in each zone.
However, over the past few weeks — and especially this week, I'm focusing more on the so-called "little things" that tend to sway games…
I think there is one opposition goaltender who can stop our attack if we meet this weekend (he's a pretty nice little butterfly netminder with a quick right-hand glove).  So, without yet connecting that boy with what I'm doing, I've hung two targets to the right side of a practice net — one just over where that boy's pads would be in the butterfly position, and the other up over his blocker.  Both of these are aimed at shooting away from the boy's quick glove-hand.  To get my kids to focus, I've promised to start the line that hits the targets most often this week.
Over the past few months, I've slowly built-in three offensive face-off plays the kids have become very good at executing.  We've had a few goals off these, but more than anything, we've gained possession of the puck on most offensive draws, and we've had tons of near-misses.  My thinking here is that offensive face-off plays are almost like "free kicks" in soccer — it's especially true with little kids, and not all that untrue with older players.
Just this week I've installed a defensive face-off coverage, and this also has the potential of giving the fastest forward on each of our lines a breakaway.  Ya, if there's a loose puck around the circle, there's a good chance one of my kids is going to be roaring through, splitting the enemy D, and on his way to the opposition goal.
If you get my drift on those last two paragraphs, I believe that some trick plays will work — in a playoff, and (at least) in the youngest levels of our game.
Believe it or not, I have actually built a little powerplay unit over the past few month, too.  Oh, we haven't had enough full-ice to really practice it a lot, and I can't expect 8-year old to really execute like my older guys would.  However, there are two benefits I see in this:  1) I have some of my best offensive players on the ice (or I have kids in "role positions" where they should do excellent jobs); and 2) I've also given them a structure in which they should get plenty of shooting opportunities.  On the latter…  Again, not that they're going to execute a basic "umbrella" like older players.  However, just the layout of diggers-for-the-puck, the movement of the puck around penalty-killers, and the placement of all shooters on their "off wings" should get us some scoring chances.
Oh, and since a few powerplay kids have been selected because they fit certain roles well, that leaves us still a very strong line to come-out right after that unit exits.  In other words, there should be no let-down or drop-off in talent right after a powerplay expires.
Not that the above special situations mean I won't be working on the basics of our system.  Far from it.  We've brought our forecheck to a point where we smother most opponents in their own end for long stretches, and we do a pretty good job of moving the puck out of our own zone.  Honest to God, my young kids now even gain the red line, dump the puck, and get changes on-the-fly as well as most of the older teams I've coached.  I mean that!
Then, a reflection on what had to transpire earlier in our time together…  For sure, some of the kids often came to the games having been instructed by their moms (or whomever).  I mean, Johnny initially arrived for the games forcing plays and trying to satisfy someone other than his teammates and coaches.  So was there a little (I hate this term) "puck hog" or two in the crowd during our earliest weeks.  A coach has a choice when he or she recognizes such, so I did what I believed to be best 1) for the team and 2) for each boy.  I sat them for a shift or two (which seems an eternity to an 8-year old), and I managed to bring most of them in with the rest of their team.  (God only knows what still goes on in the different family cars on the way to our games, but that will be a topic for one of my soon-to-come blog posts!)
Well, I guess that's it.  And I hope this sheds at least a little light on the way I view readying for our coming playoffs (I'll let you know more on how we did after this weekend is over).
*
A funny thing happened on the way to my team's last practice tonight…
You see, I've been negotiating with a guy named Doug Bench in reference to some unbelievable audio programs he has for coaches (more on that later).  Anyway, I slapped into the deck of my SUV a CD of the program I ultimately want you to hear, and it totally altered my approach for later.

Playoff Hockey Preparations 2
Okay, just so you have a sense of what I'll ultimately be getting at, I have a little treat for you, this being a short video featuring the grandfatherly (but very sharp) Mr Bench…
Loading...
Now, while that video isn't exactly on the topic of this entry, I think it might have given you a sense of how far science has come in recent years when it comes to the brain and learning.
With that, maybe you can also appreciate my hanging on every word Doug uttered on that CD.  I mean, he was suggesting ways to get more out of practices, how to really send our players into competition, and he was making me rethink tonight's practice with every mile I drove.
This aside…  I wouldn't say these were earth shattering ideas — after all, he sounds (and espouses) many of the things my dad used to say), and I've also had the benefit of learning from the likes of Shaun Goodsell and other great sport psychology guys and gals.  But, I would say Doug Bench put a lot of what I already knew in a brand new context.
As I unloaded gear in the rink's parking lot a little later, one of my assistant coaches stopped by for a sec.  And, as we were about to head inside, I mentioned that I was going to go with a lot of the things we'd done in the previous practice, but with a slight twist.
Ya, a slight twist…  What I did was to convert almost all of the drills on my clipboard to little competitions.  We played lots of keepaway, and then we did tons of attacking drills that were treated more like shoot-outs.  In other words, we attacked the net in 1 on 0′s, 2 on 0′s and 3 on 0′s, with successful scorers (or groups of scorers) returning to attack again, while those who missed were eliminated from the competition.
I had two things in mind as I did these, both stemming from Mr Bench's program on coaching:  1) the slight pressures of those contests were closer to game conditions; and 2) the kids were laughing a lot and bantering back and forth in friendly ways with each goal, near goal or miss.
Not that I didn't sprinkle in a few serious things we needed to refresh — like our face-off plays or coverages and our powerplay.
Finally — trying to think of a way to end things with a lot of laughing, I decided to hold a competition for the wildest attacking move.  And, man, you should have seen the crazy stunts the kids tried (and you should have heard the cackles each crazy move brought from teammates).  Yes! 
Oh, I almost forgot…  I huddled the kids in a corner of the rink at the very end, just to ask who they thought had the wildest moves (which brought more cackles and lots of friendly barbs).  Then, I suggested that tomorrow's playoff game should be fun, and that our opponents ought to be worrying that we'd beaten them in our last meeting.  Do I know those things to be true?  Of course not.  But, I sense that's how Doug Bench would have handled things.
*
Okay, as I said at the top, I felt it right to continue adding to the original entry, now providing you the final one…
– Dennis Chighisola

Playoff Hockey Preparations 3
Well, after coaching my little Mighty Mite team in an early game in Bridgewater, MA, I had plenty of time to take a leisurely drive to Rhode Island for my AAA Mite Majors' first playoff game.  And, don't you know, I continued listening to Doug Bench's audio series in what would be about a 40-minute ride.
"Stay positive!" I had to keep reminding myself as I arrived at the rink (even if a few of my families  ultimately sauntered into our lockerroom about 30-minutes later than everyone else).
Over the past few days I'd done some note-taking…
Owing to the above mentioned audio programs, I'd listed four things I wanted to reinforce with my kids, and I'd also visualized how I'd give each a very positive spin.  So, I tried to relax everyone in our pre-game lockerroom, and then I reminded them about their duties on our offensive face-offs, how the offensive plays should go, how our forecheck should look, and the way they needed to cover as they backchecked.
I also had made some notes in readiness for special situations that just might occur in a playoff game — like the attackers I'd want out if we entered a shoot-out, or which players I might want on the ice should we need to pull our goaltender in the end for an extra skater.
Although I thought we played well during the initial period, we trailed, 1-0, at the end.  I kinda thought we had the win as we ended the second frame up, 2-1.  However, we lost in the end, 3-2, not being able to muster the game-tier with the goalie off.
As with any meaningful game, there were some things that could have gone better for us.  Perhaps the kid who was our biggest offensive threat had been ill over the few days, and he wasn't himself for this game.  And, with the refereeing being rather lax all season long, it was sort of a shock that they called everything extremely tight on this day.  Still, a coach can't cry about such things; he or she can only coach in the moment — with the talent he or she has on hand, and with any unique conditions that arise.
Speaking of crying…  I entered our post-game lockerroom to find a lot of my kids in tears.  Hmmmmmm…  I hadn't expected a group of 8-year old to take a loss so hard.  (Doug Bench to the call here…)  So, I grasped very quickly for some things that might at least help change a few of those wet faces to grins.  I especially pointed to the great games we had over the long winter, as well as the great friendships they'd all developed with the kids that sat around them on this day.  Was I bummed?  You bet.  However, that didn't seem to matter at this time.  I want these kids still playing — and still loving the game — long after I'm gone.
*
I (and I'm sure lots of other members) would love to hear what YOU are doing or have done in readiness for your final push!
Thank God I have some of the nicest (and sharpest) hockey friends in the world!  And you can count among them my friends at the Mental Edge.
– Dennis Chighisola

Mental Training Interview Series
Thanks to my good friend Shaun Goodsell and his Mental Edge staff, CoachChic.com now has available a series of interviews with a number of extremely insightful National Hockey League players.  I mean, these aren't your typical interviews (for the fans' sake), but instead they're loaded with ideas on how various professional players prepare for hockey and keep themselves mentally in the game.
Now, the following is an interview the Mental Edge's Justin Johnson did with the New Jersey Devils' Paul Martin.  Then, if you like that as a sampling, click on the link provided below to gain access to numerous more great interviews.
Audio clip: Adobe Flash Player (version 9 or above) is required to play this audio clip. Download the latest version here. You also need to have JavaScript enabled in your browser.
Now, gain access to more great (and FREE) interviews by clicking the following link…  Mental Edge Insider Interviews
*
With most hockey leagues around North America now nearing playoff time, I thought I'd treat members to a special *Gift, this being Shaun Goodsell's advice on Mentally Preparing for Playoffs.  It's this month's free *Gift, and you can access it (if you're a member) by clicking either of those links.  Enjoy.
Well, if you guessed I'm busy at researching again, you'd be right about that.
Anyway, take a look at what I found for you (it's really good stuff)…
– Dennis Chighisola
Olympic Motivational Speaker Ruben Gonzalez
I have my good Facebook friend Frankie S to thank for pointing me towards the following video.  (Hey, I can't do all the research by myself! 
)
As you'll soon see, it contains a pretty good example of an important hockey principle (or the violation of such), as well as another suggestion for high level play.

– Dennis Chighisola

Hockey's Last Man Back
Okay, before I get into any sort of discussion on this topic, I think it best for you to first watch the video.  It's short…
Now, as I so often do when analyzing a pro level game-tape, I need to say that every player you can spot in that video is among the tops in the world –  I mean, the absolute cream of the crop.
That said, everything is relative within a given playing level — as Mites match with other Mites, Pee Wees with other Pee Wees, and worldclass players vie with other wordclass players.
I needed to say the latter, you see, because the mistakes made by the mistake made by that poor defenseman probably wouldn't have even been noticed had the checker (and ultimate goal-scorer) been of lesser skill and guile.
Okay, so the main principle that may have been violated here, plus another to at least be considered…
1) If you can picture it, a forward far up-ice with the puck has the luxury of taking some risks.  Hey, we have to figure that he has four skating mates and a goaltender capable of covering-up for him should he lose the puck.
Not so for the defenseman in that video.  He is the last guy back for the offensive team, and one of the most important principles in hockey states that he must protect the puck and move it to a teammate up-ice as soon as possible.
Again, I'll ask you to picture something — that the D's skate-lace came undone, he tripped on a rut in the ice, or the puck just took a crazy bounce off his stick…  I don't care if someone opened a door to the arena and a strong gust blew him off his feet.  The problem is, the last guy back should not be handling the puck for very long, or especially if an opponent is closing-in or within striking distance.
2)  I wouldn't necessarily say that this next one is a well accepted tenet in hockey, but I know it is a choice among a lot of high leveler coaches…
What I'm getting at is that a lot of coaches would prefer that their deep guys — like the defensemen on breakouts — not send passes from their backhands.  If you think about it, almost every skater's forehand is more accurate or more trustworthy than the backhand.  And, of course, if ever there are critical passes made during a high level game, they're ones that take place deep in one's own end.
Let me temper this part of the discussion a little, however…  I have not asked my players to do this — even through high school and college.  I noticed that most of my college guys used mostly their forehands, anyway.  Down through the lower levels, though — from Mites through my high school kids, I figured (and still do see it this way) that their overall skill development was far more important.  In other words, better that they be able to originate their passes equally well off either side of their sticks, instead of taking shortcuts.
Hopefully members got my main point, though:  that the last guy back had better be VERY protective of that puck, and move it up-ice — safely — as soon as possible.
*
Have anything to add to this discussion — or any other thoughts?  My main aim here isn't to dictate, but to instead encourage every CoachChic.com member to think the game better.
I'd like you to know that this series was inspired by a number of members.  Actually, I thought it was going to be an easy job — following different positional players around the game ice.  But, for a reason I'll save for the final installment, it's been a whole lot more difficult.
Anyway, for the time being, let's follow a centerman around the ice.
– Dennis Chighisola

A Hockey Center's Defensive Role
Beginning with a game-opening draw, I ask my centermen to move nearly all face-offs back towards their rear.  There's a far better chance of gaining control of the puck if it's pulled back amid teammates.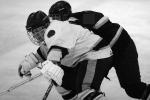 Immediately after the draw, a centerman should tie-up his counterpart, at least for a few seconds.  (I can't tell you how many ways that guy can hurt you.  But, to name just a few:   a free center can steal the puck and head straight towards our net; or he could break through to pounce on one of our players with the puck.)
Thereafter our centerman will likely defend in all three zones as I've shown in the following video…
Loading...
Okay, as you should have noticed, I couldn't be specific about the way a given forward should move in the offensive zone, mainly because it would depend on the forecheck that forward's team is using, as well as the player's specific role within that forecheck.  I have two great videos within these pages when it comes to forechecks, so you might refer to the 2-1-2 or my "L" forecheck for some good ideas.  All forwards are interchangeable in both of those schemes, while I only use one forecheck — the "wing on wing" (or a 1-2-2) — that designates specific roles for each winger and the centerman.)
All players — including our centers — must help by backchecking an enemy rush through the neutral zone and into our own end.  And it's important for all of our players to know the rules our team follows for covering the various numerical rush situations.
Then, in my usual way of covering in our defensive zone, I ask a defenseman to deal with a puck-toting opponent in a corner, while my centerman backs-up that teammate.  If need be, he can help his mate in the corner.  However, I especially want my center to be the last line of defense to our net, in the event the enemy puckcarrier is able to walk out of the corner.  And, as shown in the video, our centerman has to move from side to side in our end, backing-up a defenseman in either corner.
I want to remind members that there's an awesome series of videos covering all aspects of the defensive game, and it begins with "Checking — the REAL Definition".
Finally, the centerman comes to mind when I think about something I always take into consideration as I put together any playing system (and I have to encourage other coaches to do the same)…   What I'm getting at is the need to share the workload fairly evenly among players.  What I'm thinking about right now is the possibility that someone like a center might be asked to be the first guy down the ice applying the forecheck in a corner, and then require that same player to hustle back to work deep in his defensive zone.  It's not fair, of course, and it surely is going to wear-out a player in short order.
I've often mentioned here about spending a good deal of time digging for new ideas.  What members might not know is the variety of that research.
I hope you appreciate that this really isn't the time for me to look too much into new drill ideas (unless I'm asked a specific question, or unless my own players need help with a certain problem that might require a fresh approach).  No, the spring is when I head into my "bunker" to investigate new training methods, the very latest in science, as well as some new drill ideas.
Still, I am constantly on the lookout for things that will help us — hockey players, parents and coaches.  And, while I'll soon announce here why I was off on the following tangent early today, I thought the following would be pretty interesting for you to see.  And, it also gives me the chance to share some advice I'd like ALL of my hockey friends to appreciate.
– Dennis Chighisola
Teamwork and a Winning Attitude
Now, I have a feeling you'll be surprised when you discover where I'm ultimately going to go with the meat of the following video.  So, at least as you go into it, I ask that you listen from several angles…
I mean, I know there will be some business types who will get a lot out of this.  And so will we players and coaches.  However, I'd really later like to talk about this video as it applies to each parent's young player.  So, with that in mind, have a watch (and listen)…
Now, grown-ups who have played their fair share of team sports should surely appreciate all that gentleman said — about you, about me.  Ya, for sure, as young athletes we learned so much about teamwork.
From there, however, let's switch to looking at this line of discussion from a parent's or coach's viewpoint.  And, in so doing, let's see how we might help the hockey players in our charge strive for the right things…
Of course, teamwork means getting along — but not always necessarily with just those mates we like or know well.  And, hockey — probably more than most other team sport — requires giving-up one's own body in order to make a given play, sharing the puck with a mate who is in a more advantageous position, etc.  Yes, there's a lot of selflessness required to be a truly effective hockey player.
The speaker said athletes "have stamina", although I'll twist that a bit to suggest that they learn "staying power", or the ability to keep going under some pretty difficult circumstances.  Personally, I've seen a lot of none athletes who accepted defeat far to early, or far too easily, while former athletes just wouldn't quit.
I found it interesting that the video highlighted an athlete's desire to learn "the game" (not just the job).  Actually, I've often put that into my own words, suggesting that one get into "the spirit of what we're trying to really accomplish" — in a given drill, or within the context of our playing system.
Of course, athletes DO learn to play by the rules, which to me makes them all the easier to deal with in later life than those who never learned such.
And, the good ones are always looking to better themselves, or always raising their own personal standards.  Ya, even within a team game like hockey, it rests on the shoulders of every individual member to make himself or herself better and better.
Then, I purposely moved one of the speaker's earliest ideas to last, mainly because it's the one I'd like to expand upon just a bit more…  What the speaker said was that athletes tend to make victory a habit.  They know what winning feels like, and they have a sense of how to repeat it.  Yup, true enough.
As true as the premise of that last paragraph is, however, I feel the need to point-out that athletes early-on also learn to experience losing, disappointment, failure.  And, while that surely isn't our aim as we enter any game, it surely is one of the most important things we'll ever, ever experience.  If you think about it, they'll never truly appreciate the excitement of winning unless they've been through just the opposite.
Still, there's yet another point I want to make — especially with parents…  For, you see, while none of us want to see our youngsters hurting, I think we do them an even greater disservice by overly protecting them.  Every kid is at some point going to feel he was the game's goat, and every player is likely to at some point be benched, be short-shifted, or told not to dress for a game.  So, those things being somewhat inevitable, it seems to me our job – as a parents or coach — is to teach them how to deal with such occurrences…
Hey, did you know that Michael Jordan ended his NBA playing career as the leader in only one category — that of missed shots?  (Yes, he is high in many others, but that's the only category where he's Number One!)  And, did you know that Babe Ruth (at least last I knew) holds the record for the most strikeouts in Major League Baseball history?  Hmmmmmm…
I've actually heard it said that Jordan's record is the one he's most proud of.  But, then again, he often speaks about being cut from his high school basketball team, as well.  Ya, Michael Jordan, I believe, is proudest of overcoming setbacks — learning how to bounce back from missing a key shot, whatever.  And so must Babe Ruth have learned to blot-out his latest failed at bat, once more strutting to the plate with supreme confidence.
Yes, great players learn to deal with setbacks.  And, my message to those overseeing their youngster's development is to at least not overly protect them.  Instead, see if you might help them put recent disappointments into perspective,  share stories with them like those of Jordan or Ruth, and suggest to them that it's what they do after a setback that determines what sort of athlete (and person) they really are.
Finally, even if a youngster ultimately makes it to hockey's highest rung, he'll likely be retiring long before the age of 35.  Ya, even NHL-ers eventually have to go out and get a job.  So, of course, are the rest of us — the mere mortals.  My point:  that we're likely to help our young guys and gals be all the better suited for any sort of life after hockey IF they gain along the way all the things our game truly offers.
There might be a visitor or two who doesn't think the following videos belong on a hockey website.  Oh, man, I beg to differ!
I don't care what line of work we're in, or our favorite pastime, I don't believe we should be limited — by others — when it comes to dreaming, and when it comes to striving.  (Like the baseball pitcher mentioned in the first video, no one has the right to tell us that we can't ultimately make our dreams come true.)
– Dennis Chighisola
Having Hockey Dreams
Okay, so why did I really introduce this video — or this subject?  Well, for one thing, I'll bet I take at least one telephone call or email per week from a parent who begins with, "I'm not looking for my kid to make it to the NHL, but…"
I guess I understand why they feel the need to say that — or, perhaps I don't.
Ya know, I think it ironic that it's okay if a kid says, "Daddy, I want to grow-up to be president!"  And they'll get plenty of support if they tell a grown-up they want to be an astronaut, a doctor, whatever.  However, just let a kid outwardly dream about being something like a major league pitcher, and a nearby adult is too often going to grimace and suggest otherwise.
Now, I'm not saying that every youngster has a chance to become a pro athlete.  For sure, the odds are against him or her.  But, so are the odds against becoming president, becoming the CEO of General Motors, the head of the United Nations, and we could probably list a kzillion other hard-to-land jobs.  My only point — at least in this paragraph — is that becoming a pro athlete is probably no more difficult than a lot of other special lines of work.
Then, having suggested there's more to this, I can only suggest that lowering a youngster's expectations IN ANY GIVEN AREA is most likely going to affect other aspects of his or her life.  I mean, I don't think it's possible to tell him or her they CAN'T attain one goal, but they CAN another, equally difficult one.  It seems to me that success is a mindset, and one is either encouraged or discouraged from having a positive outlook.
PS:  Reason one last thing with me, if you would…
Isn't it likely that a kid's dreams will change quite a bit through the years?  (Countless kids seem to want to be firemen when they're very young.)   So, what the heck…  Why not let 'em dream, and let them get a few of those out of their system on their own?
Actually, in my youth, TV programming was filled with westerns, which had all of us young boys of that generation at least initially wanting to be cowboys…
My point, of course (hoping you at least endured my humor):
Lou and Marie Chighisola let me dream all I ever wanted, probably realizing full-well that Dennis never was going to grow-up to be a cowboy. 
*
Okay, once again I've probably struck a chord with some of my hockey friends.  I encourage your (opposing?) views on this subject, though — honestly.  So, just leave a Comment below, and let's talk this out further.
One of my assistant coaches raised this subject just recently, suggesting we use the plus/minus stat with our players.
Hmmmmm…
Actually, I told him I'd always used it with my college, high school and junior high school hockey teams, that I'd thought to introduce it to our younger team, but then "something" got in the way.
My main concern, however, is that I firmly believe our team's players and parents have to have a firm understanding of that +/- statistic before we ever put it into effect.
So, since I'm going to do that shortly — try to explain it to our AAA Mite Major parents and players, I thought I'd also share those thoughts with my friends here at CoachChic.com.
– Dennis Chighisola

Hockey's Plus/Minus Stat
To begin, this stat has been used for ages within professional hockey circles.  However, I believe it was kept rather quiet for a long time in the NHL, and only in more recent years have you been able to see team plus/minus ratings listed in publications like The Hockey News.
And, while I can't swear to this, I've heard that such a stat was (or still is?) used on occasion during player-club contract discussions.  (Sure, if a guy ended his last season with a lousy rating, you can be sure a team is going to use it as a bargaining tool!)
Okay, so here's how the Plus/Minus works; it's simple enough…
To begin, it's only in effect when teams are playing at even strength (but a shorthanded team does get a +1 for scoring, while the scored upon team with a man advantage gets a minus <= we can thank Ravi for reminding us of this in his Comment below).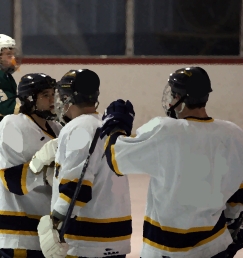 With that, when a team scores a goal, every skater on the ice for the goal-scoring team is awarded a plus.
At the same time, every player who was on the ice with the team that gave-up that goal would be charged with a minus.
(Occasionally a little luck comes into play, which sometimes distorts the +/- stat — as in a player just stepping onto the ice as a goal is scored and still being assessed either a plus or a minus!  Oh, well…  I guess these things even-out over the course of a very long season.)
As even strength goals mount-up, individual players will be found to have accumulated quite a few pluses and quite a few minuses.  And, of course, the most desirable situation is for a player to be way over on the plus-side, or to have a really high plus-rating.
Now, I'm not sure the plus/minus stat is always fair, or always an indication of a player's true worth.  (At some levels, certain players are asked to play on "checking lines" where their job is to always cover the opponents' top scorers.  Actually, I find it amazing that some "checkers" still manage to have decent plus/minus stats.)
More than anything, though, I believe this stat can quite often provide the hockey coach with a pretty good idea of what's going on — with an individual player, with a line of forwards, with a defense pair, etc.
Here's a story about how it gave me an indication one night long ago…
My college hockey team had just lost a hard fought battle to a pretty good team up in New Hampshire.
In a rush to call the local media back home — so they could have something to write-up for the next day's newspapers, I asked our stats girl to give me a list of our scorers for the night.  She hastily scribbled them for me, which allowed me to then focus on one forward who'd had 2-goals and an assist.  Pretty good, huh?
Well, on the long bus ride home, our staff of stats people ultimately provided me everything they had, including our plus/minus totals for the night.  And, guess what…  The guy who had those three points in our game?  The guy I made such a big deal out of to the press?  Well, he was actually a -2 for the game!  In other words, while he may have been out there helping us score three goals, he was also on the ice as our opponents scored a whopping five!
Now, I suggested earlier that the plus/minus stat can be helpful in providing us coaches an "indication" of a player's effectiveness.  And, knowing the above player pretty well, I can tell you that his +/- numbers said a lot about him.  I mean, he thought a whole lot more about scoring goals than he did about helping on defense.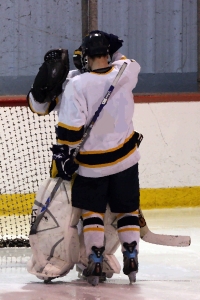 On a personal level, I introduced my son and then my grandson to that stat fairly early in their playing days — maybe when my son was a Pee Wees, and far earlier when my grandson came along.  I knew they were both ultimately going to be scoring wizards, but I also wanted them to play "with balance" (see my article on "Playing With Balance").  In other words, while they might have their hand in numerous team goals, I wanted them to be honest players, and to be mindful of their defensive responsibilities.  (Thankfully, both would almost always be way over on the plus-side in their stats.)
In contrast to the latter, envision a little guy who initially gets it into his head that his only on function in the game is to score goals.  Hmmmmm…  That might be good in the beginning, 'cause I'd rather have a hungry player than any other sort.  Still — that established, his next step has to be towards playing smarter, and playing by hockey's well worn principles.
Again, envisioning that little guy (or gal)…  He grabs the puck in his own end and attempts to barrel through or around the entire enemy line-up.  Ugh…  Sometimes he's going to succeed, but more often than not — under those circumstances — he's going to cough-up the puck and allow his opponents to get quality scoring chances.  (This kind of player also tends to put his or her linemates to sleep — or turns them into spectators, because they soon realize they'll seldom get the puck.)
Quite obviously, the player I just described is more than likely going to end-up on the minus side of the ledger.  And that's where I like to make use of the plus/minus stat — as a teaching tool (not a punishment tool, mind you, but something relatively concrete that the coach and player can work together with).
Okay, so you're a hockey coach, and you're now thinking of employing +/- stats…
- This can be a nightmare to administer or record.  In other words, someone in the stands is going to really have to be on his or her toes to quickly record the five players on the ice as a goal is scored (be it for a plus or a minus).
- I have eased that burden quite a bit, but not for that specific reason…  What I've done over many years is to skate my players in 5-man units.  So — as an example, my three units of AAA Mite Majors practice in red, yellow and blue jerseys, and they skate together in shifts throughout the games, with few exceptions.  This, of course, makes it easy for us to keep pluses and minuses, because we can usually immediately give one or the other to an entire unit when a goal is scored.  (By the way…  One of the reasons I like to use this stat with my units is so that they'll gain more pride as a unit.  There's some peer pressure involved in this — hey, keep-up your side of the bargain with our unit.  But, it probably also eases the burden on one player, at least a tad.)
Finally, I don't think it a bad idea for individual parents to at some point introduce their own youngster to this way of evaluating his or her worth to a team.  I think it really does keep him or her honest, or encourage him or her to play with some balance.  At the same time, I implore youth coaches to use the plus/minus rating with a degree of fairness (or kindness).  As I suggested in the beginning, it might not always be a true indicator of a player's worth, but it can be a pretty useful tool.
Please appreciate that I'm never really knocking a pro (or other) player when I show him making a mistake here.  It's almost always a great player (and one of the best in the world) we're looking at.  I think we also have to appreciate that great players make mistakes having to deal with other great players.  In fact, I've caught many future Hall of Famers making blunders.
That said, I think we can all learn a little from the following clip.
– Dennis Chighisola

A Hockey Defensive Zone No-no!
Okay, I think the following video shows a borderline sample of something I want all young players and their coaches to appreciate.
The rule that's broken states that a player should never attempt to pass the puck across his or her own zone, or across in front of his or her own net.  Furthermore, I do not like diagonal passes in our own end, because these take an even longer route, and pass by too many enemy sticks (or gloves).
Again, Marc Savard flubs a pass that I'm guessing he didn't intend to go up the middle of the ice, and I'm sure he meant to saucer the puck high and over the reach of any opposition checkers.  Things didn't work out the way he'd hoped, however.
So, have a look, and I'll comment further right after…
Okay, Number One — and as I mentioned earlier, any diagonal pass across a team's defensive zone almost always has to go by a number of opponents.  Young players who make this mistake — and aren't able to get the puck high in the air — are surely passing the puck in front of a lot of enemy stick-blades.
Number Two, notice that the color commentator mentioned the Bruins' goalie needing to quickly get out on the proper angle.  Ya, that's almost always the problem when it comes to any turn-over.  I mean, the puckcarrier's teammates are mostly thinking offense, with most of them leaning forward.  Bang — suddenly the give-away happens, and guys can't react back to their defensive positions quickly enough.
Since that turn-over resulted in the winning (or losing) goal, I'm sure Savard felt badly about muffing the technical part of the play, or about not being able to loft the puck high enough to avoid interception.  At the same time, even a lower pass would have probably avoided that kind of trouble had Savard not 1) passed the puck diagonally, or 2) passed it (at least somewhat) across his defensive zone.
Always trying to respond quickly to member questions, the following one just came-in moments ago.  Actually, the real question (that wouldn't fit in the title area) is whether an injured or tired player who is stuck behind the play should come-off the ice.
– Dennis Chighisola

Replacing a Tired or Injured Player
First, it would probably be helpful that I describe my "basic rule" for changing on the fly…
A player looking to come-off the ice should always make sure the puck is safe before doing so.  Or, in general, he or she would want to be absolutely sure there isn't going to be a threat to his or her net within the few seconds it'll take to make the player exchange.
Now, under normal conditions, a player who is very far behind the play should still really hustle back.  It's pretty likely that the only opponent left uncovered will be an enemy point-man, and those guys (or gals) oftentimes DO — left uncovered — get their chances at walking to our net for a rebound or pass.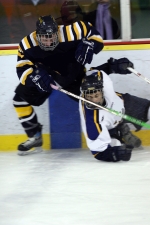 That said, I guess every rule is meant to be broken.  Or, in this case — with a player overly tired or injured, I think we have to use a little common sense…
- Frankly, that sort of player is probably no immediate use to us.
- For safety purposes, we probably won't want an injured player to stay on the ice, anyway.
- As for the guy or gal who is really dragging, it probably would be a good idea that he or she get to the bench.
Of course, there's always a gray area in all of these types of situations.  And, within the few seconds it usually takes for a player to limp back towards his or her end, I've often been able to communicate with him or her.  In other words, it's quite likely I would call or wave for that player to get to the bench as a fresh player speeds onto the ice and towards our zone.
This just happens to be another of those frequently asked questions — about when or IF a player should hold his or her hockey stick in one or two hands.  So, always aiming to please, here's my recommendation…
– Dennis Chighisola

Two Hands or One on the Hockey Stick
The short answer to part of that question is that, a player absolutely has to control his or her stick in two hands at certain times, and then in one hand at certain other times!
Given that, I always separate the rest of this question into two parts — as in when a player is on offense, and when he or she is on defense.
Stick Grips While On Defense
When our opponents control the puck and we're away from the opposition puckhandler, there are generally two things we can do…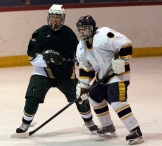 In one instance we may be matched with an open opponent, which calls for us to control his or her body and stick to prevent a pass from connecting.
At yet other times we may be positioned to intercept a pass between the opposition puckhandler and his or her open teammate.
In both instances, it's obviously necessary for the defender to have both hands on the hockey stick.
When our opponents control the puck and we're responsible for dealing with the puckcarrier, I feel it can be hugely beneficial to use one hand on the stick for a period of time…
Whether we're in a body-checking or non-checking game, it's necessary for a defensive player to veer the puckcarrier in a given direction (usually towards the outside, towards the boards, or generally towards an area where he or she is easier to trap).  This steering is best down while approaching from an angle and also holding the stick in one hand — using it sort of like a steering tool.  Nowadays, however, with the new checking rules, I recommend that the defender switch to two hands as he or she closes-in on the puckcarrier.
By the way…  The use of one hand on the stick is also necessary as a backward skating defenseman plays an attacker in a 1 on 1 situation.
Stick Grips While On Offense
Any time an offensive player wants to be available for a pass, it's obviously important for him or her to give a stick-target and to ultimately try to receive a pass while holding the stick in two hands.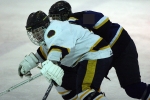 That said, the rules change drastically for a puckhandler as he or she tries to deke an enemy defender.  Oh, for sure, an attacker can make some decent fakes with the stick held in two hands.  However, his or her reach — or the extent of his or her deke — is extremely limited with this sort of stick grip.  For that reason, you'll see our game's most dangerous attackers "dangle" the puck far outward with the stick held only in the top hand.  Then — if the defender takes the bait, the puck can be quickly pulled back a pretty long distance in the opposite direction.
In yet another 1 against 1 situation, it is often easier for a player to protect the puck by holding it far out and away from a nearby defender (as in the above photo).
So, as I hope you'll appreciate, there are different times during the game action when it's advantageous for a hockey player to hold his or her stick in either one hand or two.
Most coaches agree:  that just beating the opponents' first checker is going to greatly help the success of a team's breakout.  That being the case, why not make a drill out it?
– Dennis Chighisola

Beating the First Checker on the Breakout
Whether coaching my high school team or my current Mite AAA's, my assistant coaches and I take turns dumping a puck and then pressuring a 5-man unit on their breakout.
We coaches frequently wear similar colors — or similar warm-up suits.  So, as in the videos you'll soon see, I tell my kids to just spot the coach "in black", and move the puck away from him.
I intentionally have a unit execute the breakout three times in succession.  I don't know if I can explain myself well enough about this, but let me try…  I've always figured that a group has the luxury of "thinking" on their first attempt at a given challenge.  However, each subsequent repetition has to be done rather quickly, which forces the player to "react" a whole lot more.
Okay, in the following video you're also going to notice a coach purposely doing a few things…  Sometimes we'll move quickly right down the back of a player who is picking-up the puck, this forcing him to move the puck to his partner (for example).  At yet other times we'll go directly towards an open man — like the near winger or the defenseman's partner, which signals the puckhandler's need to move the puck away from that area…
Loading...
Loading...
Now that you've seen the drill, I'd like to point-out a couple of things…
One of our D misfired on a pass, and it almost cost him a clean breakout.  You have to understand that I truly appreciate a kid's efforts on such a play, since I care more about his intentions than his success — at least right now.  Hey, this is practice, he knows the right thing to do, and more practice is only going to help him get better.
God bless my little guys, but…  Not long ago I introduced one-touch passing.  So, I thought it was unbelievable that our young winger in the second video several times taps his pass right to the centerman coming by.  Awesome, huh? 
State of Mind
If you think you are beaten, you are
If you think you dare not, you do not
If you like to win but think you can't
It's almost certain you won't
If you think you'll lose, you've lost
For out in the world you find
Success begins with a fellow's will,
It's all in a state of mind
Full many a race is lost
Before a step is run
And many a coward falls
Before the works begun
Think big and your dreams will grow
Think small and you'll fall behind
Think that you can and you will,
It's all in a state of mind
If you think you are out-classed, you are
You've got to think high to rise
You've got to be sure of yourself
Before you can win a prize
Life's battles don't always go to the stronger or faster man
But, sooner or later the man who wins
Is the man who thinks he can,
It's all in the state of mind.
-Anonymous
Compliments of…
WWW.ATHLETESEQUATION.COM
Thanks to Jason Price and his Athletes Equation team, you may download and print a more attractive copy of this message:
As I've mentioned numerous times before, I develop a lot of my drill ideas from following either a team's or an individual player's movements — from zone to zone, and depending on whether the team or individual is in possession of the puck.
With that, this first post in a series of related ones is going to trace the movements of a defenseman through all three zones while the opposition controls the puck.
Again, though, the main idea for doing this is to arrive at ways of helping a blueliner perform his or her job well.
– Dennis Chighisola
Following a Defenseman Through His/Her Defensive Duties
The first thing I need to emention is that almost every thing in this section should seem pretty obvious.  The second thing I feel compelled to say is that far too many hockey folks skip the obvious.  Thirdly, if there's a reason I often get really good results in helping my players, it's because I make absolutely sure they can execute the very basics perfectly.
Now, don't worry about the following defenseman's movements whizzing across your screen rather quickly.  You can watch it a number of times if you'd like.  Besides, I'm going to next cover each of these one by one…
Loading...
Now, for whatever reason/s, I personally always begin my studies in the zone furthest from my team's net.
Doing so, I suggest that a defenseman's movements across the offensive blueline are critical.
Loading...
I want my D — in this kind of forchecking system — to move quickly from a stick's length off their own side boards to a spot in-line with the net post on their side of the ice.  Perfection is what I look for here (and everywhere else), with each defenseman being ready to corral any loose puck and any time.
As for developing a drill for this…
- A coach might just call-out key commands — like, "Forecheck left!" and "Forecheck right!" to have the players react.  The coach could also have the defensemen react to a puck being passed from one corner to the other.
- I ultimately make this even more game related by occasionally sending pucks out the D's way — up the boards, or towards anywhere within their movement patterns.
A defenseman's pinch can be executed a little differently, depending on the forechecking system used.  It can be more difficult for the D to pinch straight down the boards as in the above point positioning.  On the other hand (although I messed-up the following video by placing the defenseman too close to mid-ice), D in my 2-1-2 position in-line with the face-off dots, which makes it easier for them to trap the near winger by approaching from about a 45-degree angle.
Loading...
- For a drill, I will usually fire pucks around the boards from the far side corner, this signaling to the defenseman to move toward the near winger.
Sad to say, our opponents are at times going to start carrying the puck out of their zone.  And with that, our defensemen must be very quick getting off the mark.
Loading...
- This is a biggie to me, and I especially think this is important to my HS Prep defensemen as they ready to go off for the high school tryouts.  So, the following video shows just one drill I developed to put my D under game-like pressure.  (Actually, as you'll see, I'm also trying to get my forwards to practice moving the puck as quickly as possible.)
Loading...
- FYI…  The idea of that drill wasn't for my defenseman to really "play" the forward.  All I wanted was for him to concentrate on his speed of execution, or to beat the forward in a race to the rink's center-line.
As defensemen retreat through neutral-ice and into their defensive zone, they must be well versed in playing each unique numerical rush.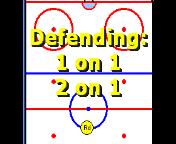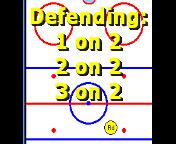 The photo to the left shows typical match-ups a single defender might face, while the photo to the right shows the situations a pair of D must prepare for.
Not shown here are the situations where a backchecking teammate's help slightly alters what the defensemen might do.
Once back in their own end, a pair of defenders usually have to rotate from covering a puckcarrier in their own corner to guarding in the slot area.  So, a lot like the point rotation movements shown at the start, I like to also have my D work on quickly moving between their two main stations (the corner and the slot).
Loading...
Is there a silver bullet for perfecting a defenseman's play?  I think not.  There's a lot to be perfected from the above, and just doing that — mastering each of the described movements — is going to make a defender pretty valuable to his or her team.
If anything, there is quite a bit of explosive skating and agility required in many of these movements.  And as such, older players should practice them for short durations at maximum intensity.  I mean, like fly across the offensive blueline, and then react back; fly across, react quickly back.
Finally, long ago I described something called my "MP Drill Format", which is an awesome way to practice all of a team's movements — from forechecking to backchecking to playing numerical rushes to defensive zone coverage, and then on to the offensive side of the game.  So, I highly recommend members review that system of drilling, and put it to use.
——————
I was able to gather some new video a few days after I initially posted this article.  So, having shown you an off-ice version of my defensemen working on their quickness off the blueline, I thought I'd add for you some footage of the same guys working on the ice…
Loading...
PS:  The timing of this drill is tricky — in order to get a meaningful foot-race going between the forwards and the D.  At the same time, I had to later prod my forwards to work on their speed, since they're not helping their defensive teammates by going less than all-out.
I like to respond quickly to member requests (hey, being here for YOU is what I and CoachChic.com should be all about).
I mention this because Tim T just wrote and asked, "What are some situations where a coach would have players back off from an aggressive forecheck?"
Ah, what an awesome question, and it's one that I actually wanted to address with my members sometime this month…
– Dennis Chighisola

A Flexible Hockey Forecheck

Actually, that title is not the way I usually present this line of thinking to my players.  I happen to call it "Facing-up",  while I know some other coaches refer to it as the "Logo Forechecking".  Both make sense, as you'll soon discover.
Now, in case you don't totally appreciate Tim's question, I think the best way to begin is to share something I witnessed a few years ago while watching one of my grandson's high school hockey games…
He played in a pretty high caliber league back then, which not only included a lot of great players, but also a lot of pretty sharp coaches.
Anyway, one evening The Good Guys played a very talented and well coached team from Rhode Island.
Every so often I'd hear some fairly loud communications going on down on the ice below me, this usually happening as the RI team dumped the puck and moved into their forecheck.
It only took a few instances for me to understand what the yelling was all about.  You See, if my grandson's team was able to quickly gather the dumped puck, there was the likelihood that they could begin their breakout before the RI group could move into their aggressive forechecking positions.
Now, think about that a little more if you need to…  In other words, as Tim T has suggested, an aggressive forecheck is going to get stuck — or trapped — any time the opponents are able to start their breakout quicker than the aggressive forecheck can be deployed.
As I recall, the RI team was using a version of the 2-1-2 as their basic aggressive forecheck.  However, what I'd hear one or more of their forwards yelling at times was, "One!  One!"  Yup, upon seeing certain conditions unfolding in front of them, at least one lead forward would alert everyone else as to the need to abandon their aggressive 2-1-2, and to instead move into a more conservative scheme that had only one forward pressuring the puck.
Okay, so you're wondering where the "logo" or "facing-up" designations come in?
Well, as I've heard other coaches say, one good way to determine whether it is safe to be aggressive or not is spot whether the earliest forechecker/s can see the logo on the front of the rival puckcarrier's jersey.  Said yet another way, if an enemy puckcarrier has good control of the puck — and he's already facing-up ice — as you're moving into the offensive zone, it might not be wise to be aggressive.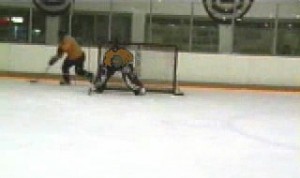 Again, I think the use of the term "logo" is fine.  However, as I attempted to teach related principles to my high school prep team a few years back, I wanted whatever key word or phrase I'd use to cover a number of things…
As I mentioned just moments ago, an opponent's good control of the puck is as important in this read as is his posture (like facing-up the ice).  I mean, if you can see that player's logo but he's fumbling with a puck in his skates (or whatever), there might still be a chance to check aggressively.
Then, while I've never heard this kind of reading and reacting mentioned by hockey color commentators during television broadcasts, I can assure you that every high level team employs some form of this decision-making.  They use it as I've described above, and they'll at least use it while in the midst of a line change.
Of course, the first question I expect from member coaches will have to do with the age groups that might be able to deploy this kind of tactic.  So, in my opinion, it should at least be used by teams from Midgets and high schools on up through juniors, colleges and pros.
Could pretty headsy Pee Wees and Bantams use it?  I think so.  The main criteria, as far as I'm concerned, would be that a team be able to understand and effectively apply two drastically different types of forechecks — one being aggressive, the other being conservative.
Oh, and one last thing…  Within this "Thinking the Game" category, you're going to hear me frequently refer to the need for players to play with balance, and to be able to think and skate at the same time.  Ya, as a player moves up the hockey ladder, he or she can't just run around without a purpose.  And ultimately, he or she is going to need to read and react to various situations much like I've described here.
Young hockey players are fortunate in this day and age, what with the likes of YouTube.com and similar sites offering them the chance to learn form some of the best in the world.  And I am always on the lookout for additional videos (beyond my own) any time I feel they will benefit CoachChic.com members.
Now, before you watch the following video, I want to emphasize something that's hinted at late in the video, in that all face-off situations are slightly different.  So, a centerman must take into consideration things like how he and his counterpart hold their sticks, as well as where the face-off will take place.
With that, have a look, because this video contains some VERY good advice…
– Dennis Chighisola
Tips for Winning Face-offs
Most long-time members should know my strong belief in "visualization" or "mental imagery".  In fact, while most hockey folks put the majority of their eggs into their on-ice skills basket, Shaun Goodsell and I are forever urging our CoachChic.com friends to pay just as much attention to enhancing their mental skills.
I think long-time members will also recall my love for several social media sites.  Yes, Twitter and Facebook are where I've met some of the best and brightest advisers one could ever find, and those sites are where a lot of my current day friends reside.
Such is the case with a new on-line friend, Dr. JoAnn Dahlkoetter.  She's a Sports Psychology Expert, and I'll tell you a little more about her once you've had the chance to see her special video.
– Dennis Chighisola
Visualization-Performance Coaching Tips for Sports
Okay, after many years of espousing the virtues of mental imagery, I finally came across someone who explains pretty well the techniques we might use when planning our own visualization sessions.  So, have a look and listen to what Dr JoAnn has to offer…
Now, since I'm guessing mostly adults will watch that video, I'm wondering if any of you got the feeling those methods would work in areas beyond sport, or beyond hockey.  I mean, how about in our work?  Actually, how about in our personal lifestyles?
Yup, that's powerful stuff, and I'll suggest it will work anywhere IF we follow The Good Doctor's advice!
Okay, Dr JoAnn can be found all around the Internet.  However, besides looking into some of her other YouTube videos, here are some other ways you might follow her awesome advice…
Dr. JoAnn Dahlkoetter
Sports Psychology Expert
Our good friend Ravi made an unbelievable contribution in a Comment (below), providing us all a link to a video showing Mike Cammalleri using visualization in his own way.  That video was so good (as was the narration by Don Cherry) that I thought I'd embed it right here within this post just to make it easier for members to see.  Thanks again, Ravi!
– Dennis Chighisola
By the way, folks…  The "Bobby" Don Cherry is talking about in that video is none other than the great Bobby Orr.  So, Cherry is saying that Orr used similar visualization methods, but he'd practice his in the lockerroom long before games.  Wow!
Man, does Old Coach Chic have something to offer in THIS department!
I can't put my finger on the time I realized the importance of what Shaun Goodsell is about to share with you, but my guess is that it was about 10-years ago.  (You could make that 25- to 30-years ago if you count my reading back then how the old Soviet coach, Anatoli Tarasov, would have his team practice amid recordings of loud fan noise, just to prepare his guys for playing in North American rinks.)
Anyway, the following is awesome advice, and I'll have a little more to add right after…
– Dennis Chighisola

The Speed of Learning
Athletes invest enormous amounts of time in practice.  Go to a football field, a hockey rink, a baseball diamond and you will most likely see coaches and athletes preparing for an upcoming contest. Many report that practice seems insignificant and boring leading some to quit and many to disengage, believing that the cost is simply not worth the perceived benefit.  The question is, what are the vital principles of meaningful and effective practice that enhance the development of the athlete? It just so happens that researchers have uncovered some targeted principles that have been proven to enhance preparation as well as game-time performance.  This article is intended to highlight one of them.
More and more, researchers are learning that optimal brain functioning enhances the speed of learning and development. Researchers have discovered that those athletes, as well as others, that practice consistently with intensity — defined by practicing their skills at the edge of their ability level, making more mistakes, and leading to greater frustration — develop 300% faster than those that go through meaningless and countless comfortable repetitions.  Daniel Coyle in his excellent book "Talent Code" refers to this as "Deep Practice". The brain releases an important chemical called Myelin within this style of practice. This chemical speeds up the brain's capacity to build connections and therefore learning is enhanced and sped up. What this means is that our development is often dictated more by our ability to learn from our mistakes in a pressure-oriented environment than by simply executing a skill or task without any pressure.
With time constraints becoming a significant challenge, and more and more required in the classroom from our student athletes, this groundbreaking information gives hope that, with creativity and purpose, athletes do not need to invest hours and hours of comfortable practice to improve.  In fact, this type of practice may do more to un-prepare the athlete than actually help them prepare for the pressure-laden contest they are likely to encounter.
I want to end this article by saying that those athletes that can learn to handle frustration and see the learning inherent within mistakes often learn at a more rapid rate then those that are derailed by disappointment and frustration. Often some "mind skills" training might be needed to engage in this highly intense type of practice.  Next time you go to practice, remember, making mistakes is crucial to your growth.  So fail huge!
The Mental Edge is committed to training kids through these types of experiences. To begin your life training process give us a call today 763-439-5246.
Before anyone thinks the following is going to be just for coaches, I want to point-out that I'll be sharing some of my thinking behind the drills I'll list.  Hopefully then, a lot of this will prove valuable to older hockey players and to parents of younger ones.
– Dennis Chighisola

A Sample Hockey Practice Plan
I might begin by telling you how I arrive at some of the topics I'll cover in a given practice.  Actually, they're derived from two main sources:
If you go to my video on "Breaking Down Hockey Strategies", you'll discover that I use something like a checklist of all the tactics and strategies my players will be expected to know and ultimately master.  Sometimes I need to go to my written notes for reminders, but oftentimes I can visualize the plays — as my players have or don't have the puck (or they're on offense or defense), and according to what zone the play is in.  So, that kind of self-talk might go something like, "Forechecking…  Backchecking…  Covering enemy rushes…  Defending in our end…  Breakouts…"
I am forever taking notes (see the intro for a category titled A Coach's Notebook).  And as I prepared the following practice plan, I was falling back on some notes I'd jotted after our last hockey game.
I'll usually use a piece of scrap paper to initially list all the things I'll want to accomplish in a practice.  With that, I'll ultimately re-order the drills in the following way…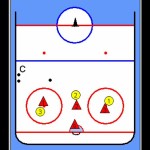 To be honest, this wasn't my idea; I happened to see it mentioned a lot of years ago by another coach and I thought it made a lot of sense.  What I'm getting at is the concept of grouping certain drills into offensive and defensive categories.  The aim of doing it this way is to get my players thinking defense for a certain amount of time, and then shifting them to thinking offense for another stretch.  I wouldn't say I have a preference for putting one before the other, but with the sense that defense takes a lot more work and a lot more concentration, I might often put that group of drills first so that we ultimately finish with the fun stuff (or some offensive drills).
The Drills
Warm-ups We almost always begin every practice with a sequence of drills I've designed to ready us for games AND PRACTICES.  I have to tell you more about this sometime soon.  But for now, these are a collection of simple drills that I feel will really lift my kids' game as hundreds of repetitions are done over the long season, and they're also sequenced to bring my players from a resting heart rate to being game ready.
The Strength Position In anticipation of starting this practice with some defensive drills, I  first showed my kids how they can get the most strength on their skates — with their feet spread, sitting a bit to lower their centers of gravity, keeping their heads up, with their sticks held firmly on the ice and in two hands.
Stick Lifts You might think that players need to be shown how to lift an opponent's stick.  However, I find far too many place their hands too close together, thereby having almost no strength whatsoever.  Really lowering the bottom hand, however, can make it possible for the smallest player to raise the stick of a much bigger guy (or gal).
Covering an Open Man With the rough basics in place, I next held some equal strength battles…  I sent so many attackers towards a net with an equal number of defenders attempting to cover them.  I wanted my defenders to control the sticks of intended pass receivers as an assistant coach fed a pass into the slot.
Actually, the above included three separate drills, with 1 on 1, 2 on 2 and then 3 on 3 match-ups.  The last progression is a tough one for defenders, because they have to scan the ice and communicate with teammates so that all three attackers get covered in man-to-man fashion.
Wide Dribbles on the SMG Switching to offense next, my players attacked our simulated goalie (or the SMG) as if on a breakaway, and I asked them to use the wide dribble move we've been working on lately in our skills sessions.
As an aside…  I've noticed some of my players being a bit too casual lately while attacking that SMG.  So, I think I'm going to put a little punishment in soon in the event anyone hits that stationary goaler.
Really, the word "punishment" is a little strong for what I intend.  What I truly want to do is to just connect some sort of negative to their misfiring, or make my kids very conscious of what they're doing on their way to the goal.
2′s and 3′s Attacking the Net Next we went with pairs and then groups of threes attacking the SMG.  My emphasis here was more towards the kids giving good targets and making good passes, as well as moving towards the net in proper formations.
On the latter, I'm talking about two attackers going to their own net-posts, or three attackers doing the same with a trailer behind the first two.
5 on 1 Keepaway Again, passing is the aim in this one, while I also want to get my players to stay moving — or getting open for passes, keeping their eyes up and making sure they keep the puck far away from the lone defender.
Okay, a couple of things I ought to let you know before I finish here…
Number one, a lot of what I'm doing in recent practices is geared towards helping my players prepare for a 3-on-3 league that they're currently playing in.  Oh, much of what we're doing will also help — tons — when we switch to regulation games in a few months.  But, helping them be successful right now will help morale and also help all the players learn some great playing basics.
Secondly, while some folks might think that the above includes an awful lot of drills for one practice, I'm going to suggest that I get half as many more drills accomplished in a longer session (this one was only 50-minutes).  A lot of the drills were fairly new to my kids, also, which means they took extra time to explain and set-up.  Once drills become familiar with players, though, I can get them going quickly, and thusly get far more accomplished for the night.
Number three, I don't know if you've thought about this as I've been describing the drills.  However, all of the above was designed for my 8-year old AAA Mite team.  Yup, I respect those little rascals as much as I do all my older guys, and I'm teaching them the game as I would anyone else.  About the only difference might be the way I communicate with them (because they're young), or the slower way I introduce the fairly high level tactics.  Again, though, as I've said countless time throughout this site, I truly respect hockey players OF ALL AGES, and I aim to teach all of them what they need to know to move up the hockey ladder.
Oh, one final note…  We have been hugely successful in our first two weeks of 3 on 3 games (which include a jamboree type round robin of three games).  And I'm quite pleased at us amassing 4-wins, 2-ties and zero losses.
What I'm even more thrilled about is the fashion in which  we've played.  I mean, my little rascals are unbelievably aggressive on the puck, and they are making terrific passes to open mates.  In most instances, our practice work against the SMG is also paying-off, with nearly every team member tucking at least one goal into an open corner.
Ya, as I so often joke (as I borrow a line from the TV program, "The A-team")…  I just love it when a plan comes together!
*
I'm hoping the above stirs some conversation or questions.  So, just fire away in the box below.

Despite all the advice I share within these hundreds of pages, I'm going to suggest that the following is as important as any aspiring hockey player (or any human) will ever receive.
Yes, the following was inspired by one of Jerry Z's recent progress reports — and it's even connected to a conversation I had the other day with one of my high school players.  But, I wouldn't want a single player, parent or coach to miss it; I think it's THAT important.

– Dennis Chighisola
Some Serious Hockey Advice (for Jerry Z, et al)
Oftentimes Jerry's weekly updates sound as if he's a little discouraged.  Hey, he's an older beginner, which doesn't make progress as easy as if he were 8-years old.  And he's quite frequently measuring himself against guys who are probably much younger, more athletic, and far ahead of him in hockey playing experience.
As an aside here, I can understand how things go in a game.  I mean, Jerry can feel he's holding his own for a time, but then he might suddenly feel he's been embarrassed by a given player, either offensively or defensively.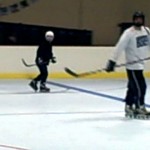 Over recent weeks I've tried to get my buddy focused back to thinking about why he's playing this game (in his case, roller hockey).  And we also had to give some meaning to the way he's working so hard behind the scenes to improve his game.  For sure, many of my students have some really challenging goals in mind — maybe surviving the first cuts as high school freshmen, perhaps making their high school varsity team, maybe getting to play in college, or maybe even getting a sniff from the pros.  But, quite obviously, none of those are on the horizon for Jerry or the guys he plays with or against.  (Actually, I am frequently joking back when Jerry writes me about an opponent who takes things far too seriously,  suggesting that, "Those guys should realize there aren't any NHL scouts in the stands!")
All that aside, Jerry ultimately reasoned for himself that his main goal should be to have some fun.  And, really, what other reason would there be to go to the rink several nights per week (beyond getting a little exercise, perhaps).
Now, I don't know if I've ever shared with you an exchange I've had with my mom through the years… 
  (I guess family members appreciate that I know my stuff when it comes to weight loss, exercising and such, and they'll contact me whenever they have a related question.)
Whether comical or sad, the greatest problem I've had with my mom through the years was in keeping her motivated — or keeping her spirits up — as she attempted to trim down a bit.
The typical scenario has mom trying my ideas for a week, after which time she'll complain that it didn't work.  Of course, one doesn't have to be an exercise science authority to know that a week isn't long enough to measure the results of anything.
Actually, I told mom to hide her bathroom scale (that's how she judges results), and to instead go by how she feels.  I mean, in the short term, a scale can lie for so many reasons — including changes in water retention and the fact that muscle weighs more than fat.
So, if you see where I'm going with this — for Jerry's sake, you'll appreciate that I'd prefer that he look long-term for results.  Let's face it, he can't expect to drag his Tow-trainer up and down the roadways twice in a week, and then go blow-by all the other skaters the next Tuesday night.  Naw, progress takes time.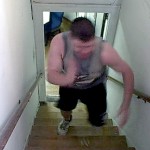 Now, as for my young high school player…  I'd like you to appreciate that I try to study each of my players with a couple of major things in mind.  I have to gain a sense of where they'll be trying-out next winter, I want to list the strengths I'll want them to build upon, as well as itemize any glaring weaknesses we'll have to overcome.
In the case of the young forward in question, I think he brings to the table all the things that are typically honed in youth hockey — such as hard skating and aggressiveness.  Not so surprisingly, he also demonstrates several of the shortcomings I almost always see as the result of a typical youth hockey upbringing — namely in the areas of puckhandling, passing, receiving and shooting.
So, last Friday night I was leaving our practice rink.  And, spotting that youngster exiting a different door, I yelled down to him, "How are you feeling?"  His reply, "Not so good."
Ugh…  You know I couldn't let things go with that — hey, I don't want this kid heading home for the weekend with those kinds of feelings.  So, I intercepted him and his mom as their car neared where I was.  Ya, I pretty much had to nip things in the bud right then and there, and tell my young buddy (and his mom) something that I'd later share with Jerry Z.
You see, attempting to make any sort of change has to be done with the long-term in mind.  Moreover, I wanted my high school player and Jerry to understand that there HAVE TO BE some bumps in the road in between.  Actually, my way of phrasing it is that a player generally takes two-steps-forward and then one-step-backward, kinda going up and down as he or she attempts to make changes.
I've seen this happen in weightlifting, I've seen it happen in speed training, and I've seen it with folks like my mom when they're attempting to lose weight.  In other words, one senses progress, then he or she feels like they've gone backwards a bit; they sense more progress, and then they might feel a little discouraged because the next jump forward doesn't come fast enough.
Getting back to that high school boy again, I am really trying to improve his offensive skills.  Along the way he is struggling sometimes with his shot, and he's frequently mishandling the puck.  (Trust me, that these occurrences are typical.)  It's the proverbial one-step-backward part of the equation in my mind, and something that is absolutely necessary to his ultimately taking two-steps-forward.
With that, Jerry Z wrote me this morning with an update covering his games of the past week.  And I could read the (reserved?) excitement in that email, as he described a number of goals he'd scored, as well as a few defensive plays he felt he'd done rightly.
Now, although I shared similar messages with the two guys described above, I'll suggest that there's something quite different in the timetables they're each on…
It should make sense that Jerry just wants to enjoy the game more and more as time goes along.
On the other hand, my high school-er should have only one goal in mind, and I made this abundantly clear to him and his mom…  Massachusetts high school winter sports seasons begin on the first Monday after the US Thanksgiving holiday.  So, everything I do with my HS Prep team is aimed at having them totally ready — I mean above and beyond ready — for that special day.  And, do you want to know something?  It doesn't matter one iota how good a high school kid is in June, in July, in August, whenever.  All that matters is that he or she is absolutely ready to fly on that special Monday.  (And, let me tell you that that philosophy is awfully hard to sell to a lot of kids, as well as their parents.)
Okay, so you know how my two friends differ in their objectives.  Yet, here's how their thinking has to be very close to the same…
I hope that they (and everyone else within ear-shot) will subscribe to the old adage that has the turtle ultimately overtaking the hare.  Yup, work slowly and methodically, and I promise you'll eventually pass a lot of hares.
As difficult as it might be, a player (or maybe his or her parents or coach) has to realize that the "one-step-backward" thing is going to happen.  I hate to say it this way, but you just have to "get over it".  If there's some good news, it's that I can almost guarantee you a "two-steps-forward" phase lies just around the corner.
As happened to Jerry Z this past week, every player should expect that all his or her efforts will ULTIMATELY kick-in.  Oh, I can't say when, even with 40-plus years in the game.  One just never knows when that's going to happen.  Unfortunately, though, a lot of folks (including my mom) give-up too early.  That's why I took the time to encourage that young high school player, that's why I wanted Jerry to understand what might have just happened to him, and that's the reason I've taken all this time to share these things with you.
Finally, I can always trust someone over on Twitter to supply me an appropriate quote, this one coming from the notable diva, Beverly Sills:
"There are no shortcuts to any place worth going."
*
Have anything to add to this discussion?
You know how I (and lots of other members) enjoy your input!
I have only one thing to mention as I introduce this article authored by the Mental Edge's Brady Greco…
We are all sportsmen.
Yes, some of us are hockey people, some of us are into baseball.  But, we should all first see ourselves as sportsmen.  And, oh…  If we could all be sportsmen in the mold of an Amando Galarraga.
– Dennis Chighisola
The Perfect Game

By Brady Greco
Performance Coach
The Mental Edge
*
*
One of the finest displays of perspective in all sports was witnessed this past month by Detroit Tiger pitcher Armando Galarraga.  Galarraga had retired 26 of 26 opposing batters without allowing a hit, walk, or hit batsmen.  All he needed was one more out to become only the 21st pitcher ever in Major League history to throw a "perfect game".  This feat is one of the toughest to accomplish by any athlete in any sport.  It is what Little Leaguer's stay up at night dreaming about in their beds.
As the 27th batter dug-in to face Galarraga, 30,000 screaming fans were waiting to witness history.  What was to follow in the moments after will be forever remembered as one of sports most all time "botched" calls by an umpire, official, or referee.  The batter hit into a routine grounder in which Galarraga had to cover first-base.  The first baseman flipped Armando Galarraga the ball for the last out of the game, etching in history his "perfect game".  Unfortunately umpire Jim Joyce saw the play differently and called the batter safe at first, ultimately blowing Galarraga's "perfect game".  After one look at the replay, it was evident the runner at first base was out and Joyce had made the wrong call on the field.  Since baseball does not have the luxury of having instant replay, the call on the field stood.
In an instance like this, with so much emotion attached to the situation, anyone in their right mind would have RIPPED umpire Jim Joyce a "new one"!  Nevertheless, Armando Galarraga composed himself and brushed the call off with a "you gotta be kidding me" smirk, and went back to the mound to complete the game.  After the game, a petition was delivered to Bud Selig (commissioner of MLB) to over-rule Joyce's 'bogus' call and to award Galarraga with a "perfect game".  However, Selig would stand by the call Joyce made on the field that night and did not acknowledge the "perfect game" thrown by Galarraga.
The following game, Galarraga (who was not pitching that day) made it a point to hand deliver the team's line-up card to Jim Joyce who was umping behind the plate.  Galarraga wanted to make sure that Joyce was okay and to let Joyce know he had no negative feelings towards him.
When Galarraga was questioned about the blown call Joyce made, he simply responded with, "I know myself that I threw a perfect game, and that's all that matters."  This type of perspective is what athletes striving to make it to the next level must learn.  Galarraga understands that baseball is bigger than he is.  He understands that humans make mistakes.  He understands that he is lucky and honored to be able to play the sport he loves on a daily basis.  He knows that if he dwelled on the situation, he would end up mentally beating himself up.  Above all else, Armando Galarraga realizes that life is full of wonderful things and baseball is just a fraction of what the entire world has to offer.
The character, integrity, and sportsmanship displayed by Armando Galarraga was much greater to witness than watching ANY other pitcher throw a "perfect game".
Brady
Like this?  When you're ready to live life with this kind of perspective, simply email us to get started.
We've been very fortunate to have a number of great guest writers over the first year of CoachChic.com.  Most of them have come from friendships I've developed over on my favorite social media site, and all of them have been from among the small group I refer to as "Twitter's Best and Brightest".
That said, let me introduce you to one of the very brightest in Twitterland, Dr Mollie Marti.  And, proving she's a woman who really knows how to take a bite out of life, let me share just some of her extensive experiences:
Mollie is a performance psychologist and founder of BestLifeDesign.com, a life design resource that provides tools, advice, and inspiration in all areas of life design, including health, fitness, relationships, finances, career, spirituality, and success.  Mollie is a successful entrepreneur and coach with a prestigious list of clients, including Olympians and business superstars. She is widely published in academic journals, and also shares her work in numerous peak performance and success books.  As a psychologist, lawyer and trained mediator, Dr. Mollie has years of experience in conflict resolution, negotiation, facilitation, group dynamics, team building and alignment, motivation, performance effectiveness, communication strategies, strategic planning and change management.  With her unique ability to combine the science of success with the art of living well, Mollie is a popular trainer and speaker. She is a frequent resource for local and national media, including Self, Newsweek, Parents Magazine, and the Montel Williams show. She lives with her husband, 3 children, and large family of pets on an apple orchard in scenic northeast Iowa.
Now, besides getting to know her well over the past year or so, I subscribe to her newsletter and – whenever I need a lift or a bit of motivation, I'll put on my headphones and listen to one of Mollie's audio recordings.
Does an old hockey coach need that kind of help?  How about a parent?  An athlete?  My answer to all of those is, "You bet!"  As a matter of fact, Here's an endorsement by another pretty high level coach:
"As a head coach, I am always trying to get the most out of myself, my staff and my team. Mollie has provided tremendous expertise and tools to help each member of our team improve. From goal setting to communication to decision making, she has made a great difference. She has helped our team truly understand that individual success and team success are one in the same. Mollie is our X Factor."
– Lisa Bluder, Head Coach
University of Iowa Women's Basketball
2010 Big 10 Coach of the Year
With all that, the following arrived in my inbox today, and I immediately knew I had to share it with my favorite hockey people.  Again, I find Dr Marti's writings helpful to me, and I suspect the following piece will be appreciated by other coaches, other business types and older players.  Enjoy!
– Dennis Chighisola
Self-Discipline: Paying Yourself Forward!
by Dr. Mollie Marti
"Decide what you want, decide what you are willing to exchange for it.
Establish your priorities and go to work."
– H. L. Hunt
For many, the word "discipline" sounds like punishment. Who would guess that such a word, when applied to one's self, actually creates unlimited rewards and freedom?
Self-discipline is the regulation one's Self.  It is a way of investing in your future – and it is a key factor in helping you achieve all you want in life.
Once upon a time, Americans were all about self-discipline. George Washington made it a personal challenge to rise before the sun did. Benjamin Franklin said, "The person who has self-discipline is very powerful." Countless colonists read and followed the precepts published in Poor Richard's Almanac, which was loaded with advice related to the value of self-discipline and which Franklin published every year between 1732 and 1758 (now that's self-discipline!).  Immigrants who came to and strengthened the fabric of this great country were highly self-disciplined, persevering through immense trials and tribulations.
So what happened since? Maybe things got a little too easy for us and we settled into choosing comfort over discipline. The good news is that I am seeing resurgence in a desire to better oneself and positively impact our world. Now more than ever people want to serve others and leave a strong legacy, and they realize that they need self-discipline to do this.
Self-discipline is a habit anyone can acquire with a little practice. Go easy on yourself as you're building this success skill.
Here are a few tips to get you started:
Self discipline can be best summed up in a single word: UNTIL. You simply do whatever "it" is until it is done.
You can BEHAVE your way to success. The key is to focus on one area of improvement at a time.  Pick one target behavior, like getting up one-half hour earlier than you do now to go for a walk or write that book you say you'll write "some day." Then do it every day until it becomes second nature – a habit.
If you happen to be human, you will mess up. Build this into your expectations. Don't buy into all-or-nothing thinking, which leads to throwing in the towel. Forgive yourself and start over. Go back to item 1 and begin again.
Break down your goals. If you set a single goal of completing a marathon and you only fit in one-half hour of walking each day, you will quickly get discouraged. If you set an initial goal of walking for one-half hour each day, mixed with running for one minute every 10 minutes, you can steadily work up to this level and quickly see results. Stop going for the home run and start working your way around the bases.
Stay vigilant. When you find yourself beginning to succeed, you also may find yourself saying, "I wonder if I really need to…"  If so, STOP. Recommit.  Affirm your new habit with emotion. Say it aloud!  "Exercising each day makes me feel great. Off I go!"
Most importantly, don't quit. You and your dreams are worth fighting for. Keep going and you'll quickly find that the temporary pain of self-discipline will be more than offset by the pride and pleasure of achieving your long-term goals!
*
Now, if that isn't something every one of us can use.  As a matter of fact, the timing of Dr Marti's message couldn't be better for us hockey types.  I mean, I have been suggesting over recent weeks that our off-season is a time when we can catch or pass others.  And Mollie makes two points that will truly help towards that end…
First, focus on a small part of your game and work to bring that to a high level.
Secondly, stick with it.  As a matter of fact, I suggest that a player not even worry about results at first.  Just keep plodding away — with discipline, and see what happens near summer's end.  I promise you'll see results.
Finally, as soon as you get a chance, visit Dr Mollie Marti's website at http://www.BestLifeDesign.com, and get on her newsletter list.  Like me, you'll be glad you did.
– Dennis Chighisola
*
As always, we REALLY enjoy your Comments!
The Truth About Choking

Shaun Goodsell, MA
President and CEO of Mental Edge

Is all choking created equally? When an athlete is not able to find the internal resources under pressure to be their best, is it always for the same reason? Many would say it is, because they choked, lacked confidence, or they were mentally lacking focus. The problem with all these labels is that they are over used clichés that lack the clarity that could potentially lead to a breakthrough for the athlete or one looking to improve his or her performance.
I recently came across an article by Malcolm Gladwell, an expert thought leader in the world of psychology, describing what often happens under pressure that leads athletes to "fall apart", choke and panic. He started by talking about how, in the beginning, athletes are extremely deliberate and thoughtful about learning skills.  Most invest a tremendous amount of time and energy to acquire mastery in relevant skills.  The beginning is marked by a focus on deliberate and repetitive practice.
The learning that occurs during this phase is known as "Explicit " learning. As this learning takes root, another type of learning occurs that allows the athlete to spend less mental energy in detailed deliberate thought. This learning becomes more unconscious and there is more focus placed on the finer points of the task, such as touch and timing. This is known as "Implicit " learning. Athletes often perform their best when implicit learning has taken root and they are relying on instinct, creativity and flow to guide their performance.
Interestingly enough, as pressure begins to mount, some athletes become more inwardly thoughtful and consequently become more focused on what they were thinking when they were first learning the game. This results in a more deliberate internal focus that appears to turn a creative approach into a self-focused, fear-of-failure approach.  The noticeable change is a more fearful, tentative, and robotic approach which mirrors that of a beginner.
Contrast this with when an athlete starts to panic. Panic is a heightened state of anxiety that often leaves the athlete with no awareness of quality thought at all, resulting in missing some of the most basic aspects of the game. Some of these are so troubling because the athlete may have done them repetitively in the past.  So, on one hand as someone "OVER-THINKS" during a performance, they regress back to when they were a beginner, because of increased, internally focused thinking. When an athlete is panicked,  he or she lacks any connection to thought all together. Many athletes deal with the challenges associated with both conditions.
The skills needed to overcome these challenges are different, and simply telling them to focus, work harder, or be more confident not only does not help but, in some cases, actually make the challenge worse.
If you are dealing with either of these two challenges, let us help you overcome them.  Simply email us to get started!
Shaun
Although this post certainly could have gone under the Highlight Reel Skills heading (and Puckhandling), the following footage provides some insight into an equally important part of any effective move.
You see, no move is really going to work unless an attacker first sets-up the defender.
So, thanks to YouTube.com, we're able to first watch Denis Savard make his patented spinorama move two different times, both at full speed and in slow-mo, and from several different viewing angles.
As you watch, I'd like you to notice that Savard makes a slight motion towards his right before peeling off to his left…
I hope you saw how the backpedaling defensemen either froze or they almost started to turn the wrong way, which gave Savard all the more time and space to spin out and around.
And let me point out one more thing, that being the matter of respect.  For, I'm going to suggest that Denis Savard's speed moving towards those defenders struck a bit of fear in their hearts, and this gave him all the more time and space to make his play.
Now, the next video shows an equally famous move that should further make my point.  This is the breakaway goal scored by Pavel Datsvuk against Marty Turko…
You probably don't have to re-run that one again, because you were likely looking for the way Datsvuk set-up that play.
Anyway, what the slick Red Wing forward did was to hold the puck out towards his side — seemingly forever, thusly freezing Turko for the coming shot.  Of course, Datsvuk never did intend to shoot.
Now, the reason I'm trying to make my point so strongly, is because I sense that a lot of young attackers feel as though "the move is everything".  However, that's hardly the case.  No, a move isn't going to work unless the puckcarrier first makes a pretty believable fake in advance of the real move.  And, it doesn't hurt if a defender really fears the attacker in advance of any move (as in the case of Denis Savard's skating speed).
——————————————————————————-
Later Addition to the Original Post:
Thanks to GKelly's awesome comments, I thought it might be helpful for me to add that goal he speaks about — the 4/21/10 overtime winner matching Satan versus Miller.  So, courtesy of YouTube and the NHL, have a look…
As GK says (and as I'd previously suggested), Satan shows one thing to make the defender (Miller) commit a certain way, then he executes the next move.
Actually, there's another thing going on here that I'd previously mentioned in a post about dealing with breakaways and shootouts, in that most advanced players nowadays prefer to show the goaltender a shooting posture first.  My take on this is that most smart attackers feel the goaler becomes more vulnerable if he's made to come out to cut down the shooting angle (but I wouldn't mind hearing from experienced attackers and goalies about this).
Watching that play again just now, I think Satan also demonstrates yet another mark of a great goal-scorer.  I mean — if you watch the slo-mo replay, you'll see that he is "cool as a cucumber", and he holds the puck for what seems like an eternity.  A lot of players rush themselves in these circumstances.  But again, the goal-scorers have ice water in their veins, and they are cooooool.
As always, thanks a ton, GK!
*
Your Comments are truly welcomed here (in fact, they really help me)!
The Role of a Centerman, Winger and Defenseman in Hockey
By Dennis Chighisola
I get asked about the above a lot – I mean, how I perceive the role of a hockey playing centerman, a winger or a defenseman.  Oh, as most CoachChic.com members probably know, I'm hardly ever at a loss for words (or for an answer to any hockey related question).  But, defining those terms presents a real challenge.  And, here's why…
Until one gets into the real X's and O's of our game, he or she might believe that there is some generic way of playing.  In other words, every centerman – Mites to Pros – is asked to do the same things, both offensive and defensively.  And every winger and blueliner also plays close to the same game at every level.  Aaaaah, far from it…  In fact, teams that are well coached might even require players at similar positions to play very different roles.  (In other words, you know your local NHL team has a star forward who is probably given plenty of latitude to "do his thing".  At the same time, there's probably a "checking line" forward at the same position who has to perform an extremely different role.)
As an aside here, I recall having one member of the Esposito-Hodge-Cashman line (from Boston Bruins fame) visit my hockey school eons ago.  And, during a discussion session with all our campers, the guy told about how the trio began sharing the load according to what they each did best.  In other words, one guy was extremely good at digging in the corners, another was an awesome playmaker, and another could shoot like crazy.  So, they figured, why have guys worrying too much about their weaknesses, when playing mostly according to their strengths would make them very hard to contend with.

*

I tell this story because I noticed a lot of youth teams in those years following suit – or at least trying to, despite the kind of talent they possessed.
Really, I don't have a problem with a coach teaching very young kids something like I describe in "Implementing a Simple Forecheck – the L".  As you'll discover in the video, it's a little like the way that old Bruin described his line's distributing of the workload.  There is one exception, however, in that most amateur teams ask their players to share the load a little more evenly.  In other words – and like in my video, roles are filled according to which player can get the job done the quickest.  (Said yet another way, I'm not going to designate my left winger to go into the left offensive corner all the time; after all, sometimes he might be the furthest player from that area, and we just can't wait for him.)
Now, I don't mean to send you all over this website chasing different videos.  However, if the above video gave you a sense that THAT forecheck is the only one, take a look at a drastically different scheme I recommend to coaches of older teams…  For, "The 2-1-2 Forecheck" deploys players in totally different ways, and it has totally different objectives from the "L".
Actually, there are countless forechecking systems, among them ones you've probably heard mentioned during NHL game telecasts – like, the "leftwing lock" and the "neutral zone trap".  I might also mention that every coach on the planet tends to make subtle adjustments to whatever system he or she employs, so that something like Coach Smith's "2-1-2 Forecheck" works a little (or a lot) differently than the one used by Old Coach Chic.
Then, just so those at the younger levels know, most fairly good high schools and then just about all junior, college and pro teams can use a different system for each game/opponent, or even several different forechecks within a given game.  (Down the road, I'm going to ultimately share a concept with the coaches of older teams, whereby adjustments are even made within each shift, so that decisions are made – according to certain criteria – as to which forecheck should be used.)
Okay, so I've mainly talked about forechecking here.  However, teams can also cover enemy rushes in different ways, and they can also assign players differently in their own end of the ice when their opponents control the puck there.  (Actually, if you want to know more about these different playing options, I invite you to go through a series of videos on the subject of team defense, beginning with "Checking – The Real Definition".)
Now, there's another reason I told that earlier story about the old Boston Bruins.  Because, for the longest time, it seems that Boston area youth teams also followed suit by slotting kids with certain skills into certain forward positions.  Ya, there always needed to be a sniper (or shooter) on one side, a mucker (or digger) on the other side, and then a fancy, play-making guy in the middle.
In most instances, I think a lot of higher level coaches now look at player roles quite differently.  I, for one, prefer to have a pretty strong guy playing the middle, mainly because he so often joins our defensemen to battle enemy attackers down low in our end.  (In other words, I usually look at my centermen as our third "D" out there.)  And, if you have some speed, I'm most likely going to get your wheels out into the wide open spaces (and make you a winger).
As another aside…  I perceive my purposes with a team mainly aimed at getting them to the next level.  So, I'm looking at a junior high kid and trying to figure how a high school coach will see him.  And, I'm looking at my best high school players and attempting to plot a way for them to continue playing into juniors or college.  Sometimes that requires a position change a kid's previous coaches didn't think about.  Again, though, that's my (actually OUR) job.
Oh, before leaving the forward positions, let me also mention one other thing…  How fair do you think it is to ask a given player to work deep in his (or her) own zone – like helping the "D", and then require him (or her) to be one of the first players down-ice to pressure the puck in an offensive corner?  Not very, huh?  I appreciate that problem in advance, and sort of expect that my centerman at least might frequently be one of the last guys into the offensive zone.  That's also why my forechecking systems have forwards filling roles according to how quickly they can do each given job.
Funny that I should build some of this piece around the old "Big, Bad Bruins".  For, when it comes to talking about defensemen, I think everyone will agree that Bobby Orr totally revolutionized that position.
I can't argue with the (long-standing?) concept of pairing an offensive-minded defender with a defensive-minder one.  Do note that "minded" part, though.  I mean, some guys (or gals) just have something ticking inside of them that makes them love to lug the puck up-ice, while some tend to be a lot more conservative by nature.  So, pairing two players who might cover for each other seems a pretty smart thing to do.
That said, however, please don't ever think ANY blueliner can play our game without REALLY good offensive skills.  I'm not necessarily talking about scoring potential here, or shooting ability, although both would be a plus.  What I am getting at is the need for ANY defenseman to be able to handle the puck under pressure – with his or her eyes up, and to be able to avoid enemy checkers, hit open teammates with good passes, or carry the puck up-ice when necessary.
As an aside to the thing about a defenseman's offensive capabilities…  On a few occasions, I've needed to deal with a roster emergency by playing a forward at "D".  And, much to my surprise, the forward often played as well as (or maybe even better than) some of our experienced defensemen.  Hmmmmm…

*

I think one reason is the fact that a lot of young "D" are raised according to some really old (barbaric?) training methods.

*

For example, did you know that the Czechs long ago did a study to discover just how often a defenseman skates backwards during a game?  And, while I can't remember all the stats from that study, I can tell you that the "D" don't skate backwards all that often.  Truth.  What I will suggest is that a defender mostly skates backwards at critical times.  So, while their lives aren't spent back-pedaling, they may live or die on being able to handle 1 against 1 attacks pretty well.

*

And this brings me back to the idea of a forward oftentimes being able to do very well in a defenseman's role.  My thinking?  It's because his puck-toting abilities are often far better than the defense-only-trained kids, and he is forever getting us (or the puck) out of trouble and out of our end of the ice.
Speaking of playing various numerical rushes…  There are and aren't some generic ways to defend against them.  I say there are, because some time-tested methods suggest handling 1 on 1's , 2 on 2's or 3 on 3's in certain ways.  However, there are really differing opinions on how to cover rushes like 2 on 1's or 3 on 2's – due to a coach's preference, or maybe because an experienced player has a preference.  (I've even talked to an NHL defenseman who suggested that certain star opponents would cause him – and teammates – to play a given rush differently than normal.)
One final aside…  If you compared the two forechecks I've shown in the videos, you've likely noticed that I ask my defensemen to perform drastically different roles from one system to the other.  In the case of my older kids playing the 2-1-2, I've intentionally given them that system and encouraged them to pinch a lot.  Again, I'm thinking of the future for these kids, and I know it's going to be easier for a future coach to rein-in an aggressive "D" as opposed to getting an inhibited kid to open-up and suddenly become aggressive.
Okay, so you stopped by this page for some answers, and all I've likely done is dump more questions into your lap.  Sorry 'bout that.  If you're a player or parent, what you should have discovered from the above is that the role of a given positional player is pretty much dictated by his or her coach.  Then, if you're a coach, let me share a few more ideas…
- Within these pages you might see some articles and videos about my '09-'10 Mighty Mites.  These kids had never played prior to coming together last fall, so I have NOT given them any type of "system".  What I have noticed, however, is that these kids have oftentimes solved problems on their own.  I mean, I've watched them learn to spread-out, and I've noticed a bunch of the kids gaining their own sense of where the puck might be going next.  (It really has been a learning experience for this old coach to see those things come about.)  On rare occasions, I've suggested something to the kids, but we've never had the opportunity to practice team-type stuff.  (My kids only practice within the skills session known as my Learn-to-play clinic.)
- I am just completing tryouts for my Bandits AAA Mite Major team, and I'm still wrestling about what I'll do in the way of a system for them next season.  For sure, I owe them some structure to play within.  So, while I have plenty of time to think further on this, here's what I'm considering right now…  I will probably make it a requirement that parents and players study that series of "checking" videos together.  I can't see a better of way for them to all gain a really firm grasp of the game's basic defensive principles.  From there, I am wrestling between the "L" and the "2-1-2".  And, I just might have to give you a further update once I've decided.
- My NEHI junior high school kids played two different systems this past winter.  The "2-1-2" is sort of a staple for my teams, mainly because most of their high school coaches will use some variation of that.  The other forecheck was an extremely conservative one (my own version of a 1-4) that actually shut-down some really powerful teams.  The only reason I used that, by the way, was so the kids could discover other forechecks exist, and so they also get the chance to think the game a little bit differently.  (A lot of what I call "pond skaters" are going to be going to the same tryouts my kids will, and those pond skaters usually can't skate and think at the same time.)
- My High School Prep squad likewise used the "2-1-2" (for the reason stated above), and they also used a more conservative "1-2-2".
- Then, for laughs, I ought to tell you that my last college teams played a system I borrowed from the old Soviets.  The rough idea of that system actually has been — over the past few years — the rage in international play, and dubbed the "Torpedo".  I don't have the space to go into that at this time.  But, if we return to the original theme for this article, you can imagine how "un-generic" playing roles must have been if I had only two forwards – a #1-man and a #2-man, two halfbacks, and then a middle (or "stopper") "D". 
Ya, let me say it again…  There really is no generic way to play our game.
When you get into the first paragraph of the following article, you're likely to wonder why I've chosen to post it at this time, rather than on New Year's Day.  Well, as you're also likely to discover, Justin Johnson's piece is timeless, in that his suggestions would serve us well at absolutely any time of the year.




That said, I think that NOW is a very critical time in a hockey player's year.  As many of us CoachChic.com writers suggested last spring, this is a time for reflection, or for taking an account of how we did this past season.  And so is it a time to plan ahead — so that we might improve upon some of our shortcomings, and to build further upon our strengths.




– Dennis Chighisola
*
*
*
Justin Johnson, Performance Coach
*
*
*
Pulling Away From the Pack
As many athletes return to school from break and we stare down another year, I wanted to lay down a challenge to all and any youth athletes and non athletes reading this, especially, those contemplating New Year's resolutions. Whatever your area of activity, be it in school, friends, family, church, or in athletics: Separate Yourself. Be special, dare to be different, lead the pack, go big or go home.  However you would like to say it or phrase it, I ask you to be bold enough to do it.
Few athletes exemplified this mindset more than baseball's Babe Ruth; he swung for the fences whether it was on the field, at the dinner table or in his life off the field. "I swing big, with everything I've got," Ruth said. "I hit big or I miss big. I like to live as big as I can." As a result, for many years Ruth held the record for most home runs and for most strikeouts. He saw strikeouts as part of the deal. He actually said, "Every strikeout brings me closer to my next home run."
By this time you may be asking yourself how can I, little average old me, do such a thing? Here is how you get started. Find one activity you do regularly in your life. School, sports, church and friends are all good venues. Then give more effort, care, time and energy to that activity. Use your time in that activity to do it better and longer than others around you. The result, over time, is that you build a sense of pride and fulfillment within yourself. This feeling will only propel your drive to continue to separate yourself.
There is one other way you will know you have begun to separate yourself. Others will question you and urge you to stop! They may even make fun of you or criticize your increased efforts. This is exactly what you want! You see, there are far too many of us stuck in the center of it all. Risking little, gaining little, and losing little.  Yet this is not the way we were meant to live. Others will feel threatened by your new found feeling of fulfillment and your new status separate from the center, and they will do what they can to urge you back to the pack. Don't let them! Dare to be special, dare to be great and continue your efforts to do so regardless of what others say.
If you are looking to make some changes this new year, or even capitalize on some momentum built in '09, then make sure you are willing to be special. Don't be afraid to separate yourself to go after what you want. I assure you, you deserve it and you won't regret it.
If you would like help in taking the first step, or when others begin to urge you back to the pack, please call us…we'd love to help you with your success 763-439-5246!
Justin
*
Members might find this interesting…  I've written a hockey advice column for "Hockey/USA" magazine for close to 20-years.  And, over that span, I've changed the focus of my articles about four or five times.  However, for about a 5-years, the title of that column was "Dare To Be Different!"  Ya, as Justin might say, I was suggesting to my readers that they should separate themselves from the rest of the pack!




I have no doubts that member hockey players and coaches know right now what is needed for them to jump far beyond all their competition next fall.  Following Justin's advice RIGHT NOW is one sure fire way to get what you want.  There's a long time between now and the start of next season, you know, and all those months offer you plenty of time to make huge changes in your game.  In so doing, remember one of my favorite lines, in that, "By the inch it's a synch!"




– Dennis Chighisola
By Dennis Chighisola
Just a short time ago I critiqued another spectacular (minor league) pro goal in a little more detail.  So, I highly recommend that you take a look at what I titled "Good Offense or Bad Defense?". I think you'll find it interesting, and a very good introduction to the things I plan to address here.
As for that Pratrice Bergeron match-up with Chris Pronger, let me begin by stating that both of these guys are among the best in the world.  But, that's going to be part of my point, in that even the very best slip-up.  (My guess is that some digging would probably uncover another video showing Pronger taking advantage of Bergeron.  Ya, to me, it just tends to work that way.)
That said, let's get to the video (thanks to YouTube, the National Hockey League and NESN)…
*
Now, I've said it often here – that great puckhandlers – or real "danglers" — can sometimes mesmerize good defenders.  And, Bergeron versus Pronger – at least in this instance – surely makes that point.  I think it's pretty obvious that Pronger commits a cardinal sin as a defensive player, as Bergeron (somehow) causes him to look down at the puck.
So, here's more of what I want to convey at this time…  I've known and worked with a lot of pro defensemen through the years, and I can tell you that guys who reach the status of a Chris Pronger are overly aware of their need to focus on their man's body (their chest, their jersey logo, whatever).  And I can tell you that those guys also constantly work on their 1 on 1's in practice.  I mean, it's THAT important for them to make that play correctly in their games, mainly because it's a huge part of what solid "D" do.
All that said, why is it that I so often get that eyes-glazing-over look as I talk to young defenders about their 1 against 1 skills?  Oh, I have a good hunch here…  It seems to me that young blueliners – as well as young forwards – sincerely believe they can turn it on and turn it off in a game.  Or, despite the fact they're looking down or lunging at pucks in practice, I think many young players believe they can just change their ways once a game starts.
That's not true, of course.  There's little time to think in the heat of battle, so most of what players do happens instinctively.  Or, using the latest coaching terminology, they need to "read" a given play and then instantly "react" in the correct way.
Knowing my stuff when it comes to motor learning and such, I'll suggest that a player usually reacts in a way that corresponds to whatever he or she has done the most in the past.  In other words, if the defender has been lazy in some practices – and works sometimes rightly, sometimes wrongly, there's a pretty good chance his or her game play will reflect that.
Returning to Pronger again, let me say that he could play for me — any day.  And I'm guessing most pro GMs feel the same.  Yet, with all Pronger knows, and with all the thousands of times he's likely practiced the right way to handle an oncoming attacker, we have him caught on video getting pretty much undressed by Bergeron.  Ya, as I said earlier, even an experienced defender can sometimes be mesmerized by a dangler.
And this all brings me to the real reason I've written this piece…  My hope is that hockey coaches and parents will show this post to any young defensemen (and even forwards) they have the chance to influence.  Actually, I'm going to do the same for my Team NEHI guys.  Hey, we have to figure that if a guy as good as Pronger can get burned, well…
*
Do you have any feelings on the above?  I love your comments, ya know!
There's usually a history to just about everything I do.  So, here's the background to the video I'll show you in just a little while…




A few years ago, a mom who was regularly bringing her two sons to The MOTION Lab happened to mention the fact that one son was having real difficulties on breakaways.  Being well aware of the way I tease shooters who put pucks into a goaltender's belly, she joked that, "He hits the goalie every time!"




That little guy was a skilled player (even though only 7-years old), so I knew talent wasn't the issue.  I then promised the mom that I'd think on the problem for awhile, and I'd see if I could arrive at a solution.

– Dennis Chighisola
Scoring on Breakaways or Shootouts
Now, one problem on such a play can be that the skater looks down at the puck too much, thereby preventing him or her from really seeing the options ahead.
The next problem — even if the player does look up while approaching the net, is that he or she might not know what to do if the goaltender acts in one way or another.  And, that "one way or another" thing usually refers to his or her either coming far out of the net to cut-down the shooter's angle, or backing-up (possibly because he or she isn't confident about leaving the safety of the net).
As an aside here…  I've worked plenty with goal-scorers and goalers from beginners to pros, and I can tell you that some of what I just said changes drastically at the college and professional levels.  There's a cat and mouse game going on between elite attackers and goaltenders, with the goalies oftentimes even showing an opening and then quickly taking it away as the attacker readies to shoot.
Things are usually quite different at the younger levels.  I mean, just as I said in my video on "Creating the Early Goal-scorer", the littlest goalies have all they can do to move around in their bulky gear.  And, as that difficulty wanes with age, players up through high school might even fear leaving the safety of their net, or they just might not move very well.
Okay, so I promised that mom from the Lab that I'd arrive at an answer for her son.  And, that I did…
What I did was create a DVD that could be plunked in one of our Lab players for my students to watch.  Actually, that was our first step — having them just watch the video so that they could get a firm grasp of the decision process required in "reading" young goaltenders.  As the following video will explain, a goalie coming far out of his or her net (shown on the left) likely doesn't show much visible net to shoot at.  On the other hand, a goaler who has backed-up into his or her net (shown to the right) is going to show a lot of open spots to shoot for.  So, the decision is pretty simple:   if the goalie comes-out, the attacker should make a fake to one side and then tuck the puck in on the other side; if the goalie backs far in, the attacker should pick an open corner and nail it with a shot.
Of course, leave it to me to make a drill even more challenging or more realistic.  And, to do this, I had my kids spread-out in an area in front of the DVD player to dribble small balls as they watched the video.  Ya, just picture that, as they dribbled — needing to keep their eyes up — and make the right calls, to either shoot or deke.
Okay, so now you ought to watch that video to get a sense of what it's about.  I'll have a few more comments at the bottom.
Loading...
Now, although there are physical skills involved here (especially if the viewer is dribbling a ball or puck), the above video is really intended as a mental exercise.  In other words, a skater has the opportunity to practice his or her "reads" of a goaltender countless times on his or her own.  And that's what I'm suggesting, feeling that the player's ability to ultimately react correctly in these situations will improve with each viewing (or each practice).
I pray that there's a safe space in front of your computer where a player could do as my students do in The MOTION Lab, dribbling a ball and keeping the eyes up while reading each situation.
Oh, one other thing…  Although a very young player was the inspiration for the above video, I would highly recommend it for those at least up through Pee Wees, as well as for adult players.
Finally, I have a special treat for CoachChic.com members…  The downloadable version of this video is going to be kept available to you in the *Gifts section for the month of March, 2010.  In that way you might save it, burn it to a CD (whatever), and use it on numerous computers long after it's removed from this site.  (This entry will always remain here, and the downloadable version may be made available periodically in the future.)  Oh, and I've added yet another bonus tip over in the members' section, this about how an attacker should hold the puck on his or her way in towards the net.
Good luck!
*
I would REALLY like your feedback on this post, especially after you've had a chance to try the video program.
Just as all sportsmen (and sportswomen) take a little break from their normal routines each time the Olympic Games roll around, I've sorta done that here at CoachChic.com.  Ya, I may have held-off on some of the usual types of posts and videos, just because I felt it was appropriate to catch what we could from the Olympic action while the time was right.




Due to the many and varied TV offerings, and due to our very differing schedules, I'm guessing we all watched very different sports (beyond ice hockey, I mean).  Sometimes – even when we're not really into a given sport, there's a personal story or something else intriguing enough to cause us to follow an event we know little about.




And it's that last part – about us getting into the lives and training methods of non-hockey athletes that I was at least partially alluding to in the first installment of "Use the Olympics as a Learning Experience", as well as during the follow-up I did on Apolo Ohno, entitled "Games! Games! More Games!". I know I learned a lot from watching whatever speed skating event I could.  And I'm hoping my friends here also gathered a lot from the videos I posted about Ohno and an aerial skier named Ryan St. Onge.  Ya, the average hockey player, parent and coach isn't ordinarily exposed to such insight as was contained in those videos, so that's why I wanted to warn you ahead of time, to be on the lookout for those up close and personal type segments.




Okay, most of my recent posts had to do with slightly related sports.  So, before holding our own closing ceremonies here, I thought I'd take just a little time to talk some serious hockey.




– Dennis Chighisola
Use the Olympics as a Learning Experience
In all honesty, there are probably only a couple of places where we can gather solid advice about playing the game smartly.
Of course, I'll suggest that CoachChic.com is the best place of all! 
Another avenue might have you a searching through a kzillion websites to find whatever you feel you need.
Then, although it's catch as catch can, TV telecasts can actually help us gather insight into the way hockey is thought at its highest levels.  What I'm really getting at are those little tidbits of advice offered by analysts or color commentators.  And, the more that's at stake, the more you'll tend to hear some really good stuff.
For sure, most of the Olympic hockey broadcasts featured games with a lot on the line.  So, even an old war horse like yours truly paid close attention to what the analysts were saying.
Just thinking back to some of those games now, I'm finding it interesting the way – or the timing of — such insight comes about.
I mean, prior to each game we learned what the two teams had to do in order to be successful, and we sometimes were made privy to what the commentators felt were the strengths and weaknesses of each team.  That, I thought, was great information – not only for fans – but for us coaches.  For, you can be sure that whatever was shared with us came from good sources – such as the coaches or other higher-ups from each team.  Some of what we heard mirrors the way serious coaches have to approach important games, taking into account their opponent's stronger and weaker players, as well as their overall strengths, weaknesses and playing style.
Perhaps at given breaks during a game, the analysts also provided us thoughts about the adjustments the two combatants were going to have to make.  And, I'll suggest that their comments weren't very much unlike what was going on in the minds of the two opposing coaches and their surrounding brain trusts.  Periodic adjustments ARE important to our game, you know, and this has to do with personnel changes, and well as tactical and strategic adaptations.
Aaaaaah, late in a game – and particularly late in a very tight game – is when we frequently hear some of the really good stuff.  In such situations every little thing matters, and every little execution or non-execution can spell the difference in the game's outcome.
Lastly, a game's recap can sometimes be telling.
Okay, so how about some of the things were heard said over the past week?
I know that very much was made about corner play during the late stages of the Gold Medal Game.  In other words, the very experienced minds of the analysts evidently viewed the winning or losing of those little, isolated battles as critical to either team's ultimate success.
On numerous occasions over the past week I heard comments about how critical play would be in the areas surrounding each blue line.  Ha, that's also a biggie to me, and it's actually one of my "Rules for Winners" (these now on the CoachChic.com drawing board and planned for released later this month).  Partly, this is a territorial thing, in that it truly matters if a team is able to attain the attacking zone, or able to chip the puck out of their own defensive end.  As critical – at least in my eyes – is the danger of making a mistake with the puck as one carries over either blue line.  For sure, a turn-over high in your own zone can be a killer.  However, I've seen just as much damage done when an attacker loses the puck while trying to enter the rival's zone.
That latter point is also tied to something else we heard often, as in each team's need to prevent odd-man rushes – like 2 on 1's, 3 on 2's or even breakaways.
If you can recall, much was made about play in the all-important slot area.  Ya, against great goaltending, a team isn't likely to score unless they have bodies and sticks moving in front of the net.  Moreover, I recall an awful lot of goals being scored on rebounds, which means that at least some offensive players were driving hard to the net and looking to pounce on the loose pucks.  And, of course, there was as much made of the need for defending teams to get adequate coverage in front of their net.
Speaking of goaltenders…  A commentator at least hinted that the Canadian netminder might have been slightly off his game during the Gold Medal match.  So, his suggestion was for the US Team to put as many shots on-goal as possible.  Personally, this one irks me at times – with my own teams, especially when my guys fiddle too much and try to make perfect plays against a goalie who is obviously struggling.
Okay, so I mentioned early-on that all this stuff was great fodder for a coach.  In reality, however, it's just as valuable for a player and a hockey parent to absorb, appreciate and understand these kinds of things.  You'll hear me mention it often within these pages, that highlight reel skills will usually get a player noticed, while hockey smarts is what usually get a player's name called when the chips are on the line.  Oh, and while all of the above had to do with the Olympics, I'll suggest that your local NHL telecasts can contain just as much valuable information; we just have to realize the opportunity is there, and then listen carefully for the good stuff.
*
As always, I'm dying to know what you think, or if you heard anything good that I may have missed!
Not that I needed any incentive to tackle this topic but, legendary Boston University hockey coach, Jack Parker, expressed my feelings (exactly) in a recent interview with The Boston Globe.




The real question posed to Parker had to do with the recent decline in the number of Massachusetts guys found on Division I college rosters, as well as on recent Team USA squads.  In other words, the Globe writer was asking Coach Parker what he thought might be the cause of this.




Oh, I'm not going to give you the answer to that one so quickly, instead coming in by the back door as I sometimes do here.




– Dennis Chighisola
Games! Games! More Games!
If you haven't yet had a chance to see the YouTube video I posted recently on how Apolo Ohno prepared for Vancouver's Olympic Games, I highly recommend it to you.  Besides being appropriate to the following topic, TIME's Sean Gregory did an awesome job putting that piece together.
If you're in a hurry, though, Eric Johnson — of KOMO Seattle – also does an excellent job in another YouTube video, this one following Ohno through a typical daily workout in Olympic training (with different exercises than shown in the other video).  Have a look, if you would, because it's going to set the tone for the rest of this piece…
Next, we get the chance to follow TIMEs's Sean Gregory again, this time as he follows World Champion aerial skier Ryan St. Onge…
*
Now, if you want to know what Jack Parker suggested as a reason Massachusetts based hockey has slipped, it's that kids today play too many games.  Oh, I can attest to that, also adding my own two cents worth, in that, I think kids today spend too many hours in a car on their ways to far away games!
Not to sound too sarcastic here but, I sense that some hockey parents would have Ohno skating and racing for 8-hours per day.  And they'd probably prescribe a full day of ski jumping for St. Onge.  Ya, competition – at least to some – is what makes an athlete better!
Ha, and NOT!
As Ohno's coach mentioned, he didn't show us everything the great skater does in his daily training routine.  Yet, did you make note of how much time was devoted to off-ice training?  And, let me remind you of what we saw in the earlier video on Ohno, in that he did an off-ice drill my guys do in The MOTION Lab, he spent some time on the ice, and then finished with a grueling stair routine.
I hope you also noticed that a lot of the off-ice work Ohno does is FAR more strenuous than anything he could possibly do on the ice.  That's just one of the benefits of getting away from the ice, and it's part of the theory I express in my long ago video post on "Some Food for Hockey Thought".
Of course, you also got to see both athletes work on technique (with that previous post showing Ohno doing those "turnbuckle" exercises).  And that can be yet another huge benefit to working away from the ice.  In fact, it's oftentimes easier to work on proper muscle memory in a very controlled environment.  For, on the flip side, a game or other kind of competition frequently causes (or allows) an athlete to resort to and practice all the wrong techniques.  (To me, games are where kids try to look good in front of family and friends, and for some it's where they just barely survive.)
Technique work in mind, let me re-raise a point my dad made many years ago as a baseball coach, this in answer to why he preferred to practice his teams, rather than have them scrimmage…  As dad would put it, "I can hit an infielder 40 or 50 grounders in just a couple of minutes, while there's no guarantee he'll get a single ball hit to him in a game!"
True enough.  And, when it comes to a player polishing his fielding, nothing works better than repetition.  In other words…  Move, scoop the ball and throw…  Move, scoop the ball and throw…  Move…
Of course, the same can be said about out sport, hockey.  And, just think about the skills we could enhance with proper repetition.  God, I can think of a ton of 'em — including deflecting the puck, passing it, receiving it, shooting it, saucer passing, one-touch passing, shooting off the pass, handling a man in the slot, tying a man up along the boards, defending in various numerical situations, or attacking in those same situations.  And, while players could attempt to learn and then get better at each of those skills, an abundance of practice would make it possible for him or her to truly master just about any skills he or she is willing to work long and hard at.
So, let me echo my dad's words once again, in that a player just can't get that kind of practice (or repetition) in a game.
Then, let me echo Jack Parker's sentiments, in that young players today play too many games.
Of course, between the lines what Parker is obviously saying is that current day kids don't practice enough.
As an aside here…  Most scientific folks who study such things (as well as most high level coaches) will tell you that the era of specialization was an absolute failure.

*

My take on this?  While players of that time may have become fairly proficient at game-like skills — my mainly practicing their sport year-round, there was (and still is?) something drastically lacking in their athletic abilities.

*

Worse yet, some studies I've come across suggest that one-dimensional players tend to be more prone to injury.

*

And, in case it hasn't struck some readers yet, gaining more athletically qualities very likely calls for less hockey game-time and a lot more off-ice activities.
Now, you've likely heard before the prescribed ratio of practices to games.  Obviously, it's not a scientific equation but, you'll still hear most of those concerned with development suggesting either 2 or 3 practices for every game played.  (Over the past decade or so, my Team NEHI players have practiced three times per week to one game.)
Before closing, let's revisit that thing about off-ice training…
To my way of thinking the only argument parents or coaches might arrive at is that it's difficult to get extra practice time.  But, I'm here to suggest that some form (or forms) of off-ice training is the answer.
You might find it interesting that The MOTION Lab can accommodate almost every drill you saw Apolo Ohno do in those two videos.  No, we don't have all the weights or a large trampoline like St Onge used, purely because we don't have the space.  However, my kids do perform just about every exercise you saw.
I only raise this point, though, to suggest that a lot of improved physical development can be accomplished by an individual in a relatively small basement or garage.  And, when the weather cooperates, in-lining and outdoor skill work can be limitless.
For anyone who is responsible for a team, here's yet another idea…  If you visit the post about my MP Drill Format, you'll get a glimpse of how I've used different venues to teach and refine positional play to teams — from beginners through college players (and you'll also discover that even NHL coaches have borrowed that drill idea).  With that, I'll suggest that a no-cost local school gym, tennis court or parking lot could be the answer to extra practice time for my fellow coaches.
Finally, this site is absolutely loaded when it comes to off-ice practice ideas.  In the end, though — like Ohno and St Onge, it really comes down to one's want to go for the gold.
*
Please give me your feedback, huh?  I'd love to hear how you feel about all this!
Ever since my Soviet studies long ago, I've kept an eagle-eye out for unique training methods, particularly those done by international competitors.  There's usually a ton of science behind the training methods used by those athletes.  And, with that, nothing satisfies my thirst for new ideas as much as the Olympic TV broadcasts.




– Dennis Chighisola
Use the Olympics as a Learning Experience
Now, the video below features the Russian National Team prepping for their 2008 World Cup appearance.  But, you get a pretty good idea of what I'm talking about — I mean, the way we can learn just from getting a glimpse here and there of what a team of that caliber might be doing to ready for world class competition…
Ya, for sure, the pros also apply all the science known to man in the training of their athletes – be it in hockey, baseball, football, basketball and numerous other sports.  And I'm sometimes lucky enough to be privy to their methods.  However, the Olympics (and some World Cup broadcasts) tend to prove awesome for fans (as well as to yours truly).
What I'm really getting at are those up-close-and-personal kinds of segments whereby the television crew shows clips of an athlete training at home or behind the scenes.
And, I'm not just talking about the times they focus on ice hockey players.  In most instances, there are a lot of things done by athletes in other sports that we can learn from, and a lot of training techniques are used in most sports, including ice hockey.
By the way…  CoachChic.com members are probably going to get a kick out of seeing Olympic athletes doing some of the things I've shown in From The MOTION Lab or in video clips on my teams' off-ice practices.  And, my Team NEHI players are probably going to say numerous times over the next week or so, "Hey, we do that all the time!"
Anyway, keep your eyes open for those close-ups of all the athletes, and perhaps watch them through the different kind of perspective you should have gained as a member here.  Also, since my coaching schedule is going to prevent me from watching a lot of telecasts this year, I'd love to learn from your observations.
*
Use the Comment box to fill me in on what you see, huh?
One of my favorite CoachChic.com members, Craig Shaw, recently added a few great Comments under the "Troubleshooting the Tight Turn (or Boston Turn)" article. In the latest one, he asked me to "do a YouTube search for a Victoria Salmon Kings goal," suggesting it will "knock your socks off".




As it turned out, my grandson had sent me a link to that play about a week ago, but it was worth it for me to see it once again (and maybe again and again).




As I watched the video one last time, however, it struck me that, while it was loaded with some unbelievable offensive moves by the Salmon Kings, there had to be a kzillion defensive mistakes made by their opponents. (Ya, if I was coaching the other team, I'd have likely suffered 32 heart attacks on the one goal!) So, I thought a study of this video might just best be undertaken under Thinking the Game – Defensively.




– Dennis Chighisola
Good Offense or Bad Defense?
Remember that I'm a hockey coach, so I see things a little differently than the typical fan. Oh, when wearing my skills coaching cap, I love the kind of puckhandling and passing demonstrated in the following video. Still, I've also been a team coach for most of my adult life, and over the past decade I've been readying my Team NEHI players to do well at the higher levels of our game. So, that means I work on both highlight reel skills AND smart playing principles (many of them having to do with the defensive side of hockey).
That said, take a look at the following video. For sure, you'll be entertained (and it might even knock your socks off).
Now, after you've marveled at the offensive skills demonstrated in that video, try to go back and watch it at least once from a defensive perspective.
As an aside… I have the technical ability to work within videos like those offered on YouTube.com – to copy them, break down the plays, and run them in slo-mo, stop-action, whatever. But, I don't believe it would be either legal or ethical to show that here. So, you might need to go back and forth between this page and the above video to follow along with me. Sorry 'bout that. (But, hey, I'm just thankful the likes of YouTube, TSN and the NHL make these kinds of videos available to us.)
Hopefully you've now watched that video from a defensive perspective, and I'm also hoping it's opened your eyes to what a coach might see (and agonize over).
As another aside… When we're working on the defensive side of our game, I am forever telling my players that good puckhandlers can be absolutely mesmerizing. Actually, the great offensive players just die for moments when they can get defensive opponents to do some of the things I'll note below.
So, the following is MY defensive breakdown of this play:
If I might let any defender off the hook in this mess, it would be the first guy. He initially had good inside positioning on the first puckcarrier, but he just got physically out-muscled. (I tend to be a lot more understanding when it comes to physical mistakes versus mental ones. But, that's just me.)
From there onward, everything goes downhill — fast… The second defender makes an attempt to take the puckcarrier's body (or cross-check him?), but he lunges far outside his center of gravity and has almost no strength as he makes contact. Missing the hit, he looks down at the puck from then on. My guess: The mesmerization has begun (as evidenced by the second defender being beaten several times after the attempted body-check).
The third defender may have started okay, as he tries a pokecheck. However, it becomes obvious that he had his eyes down and was looking at the puck when the second attacker beats him – badly — with a deke or two.
If you freeze the video right after the pokecheck, you should see a scene that includes four dark jerseys and only two white shirts. Darn, but the checkers should have had the advantage here. Ya, they should have. What I tell my players to do in this situation is to grab a man and totally negate him. That would have worked here, but that's not how the defensive team played it. And that's why the original puckcarrier is wide open for a return pass.
Now, the one-touch pass from the first white player to the eventual goal-scorer helps to make another point I try to impress upon my players… If you watch things leading-up to the goal, you might sense (as I do) that the defender in front of the net is stuck because of what his teammates have done (or not done) to that point. In other words, if his mates had grabbed and eliminated an attacker (or two), he could stay at home to just pay attention to his own man (that guy near the goal-mouth). However, he is stuck in what I see as a 2 on 1 here, with a puckcarrier moving towards the net and a man behind him open at the backdoor. Ugh.
I will say this again: that really good puckhandlers can entice a defender into doing things he doesn't want to do. And, in certain cases – as in this one, the whole thing can snowball and throw a bunch of players into total disarray. (Actually, I'll tell my players that, "If you don't do YOUR job, the guys around you are going to have a hard time doing there's!")
Then, one last point… Realize that we've been watching pros here. (I interviewed three different times for ECHL head coach/GM jobs, I've coached many guys who have attained that level, and I can tell you that all the guys in that video are REAL players.) Moreover, I guarantee you can find NHL players making the same mistakes as I've outlined above (just find a highlight reel video on-line, and then look at it from a defensive viewpoint). All things are relative in our game, you know. So, an attacker who has reached the NHL can, at least sometimes, tantalize an equally gifted defender to look down at the puck and look stupid. And, if that's true – that the best players in the world can make such mistakes, appreciate that younger players need even more help with their defensive discipline and technique.
*
I would REALLY like your Comments on this one!
*
*
*
Shaun Goodsell, MA
President and CEO of Mental Edge
*
*
Imagination
imag·i·na·tion  i-ˌma-jə-ˈnā-shən  1 : the act or power of forming a mental image of something not present to the senses or never before wholly perceived in reality 2 a : creative ability b : ability to confront and deal with a problem c : the thinking or active mind  3 : a creation of the mind
What has happened to the imagination of our youth athletes? Many hit a roadblock and it not only seems to stop them in their tracks…it appears to stifle and paralyze them for a long time.
Recently, I was talking with a young player that has been experiencing some personal challenges with his team. He is performing at a high level and enjoying some of his greatest success. When I asked him if he was having fun he replied, "Not really". I immediately felt sad for this young person. I thought to myself, "What skill would help him overcome his lack of enjoyment and allow him to experience fulfillment and accomplishment for the all hard work he's put into his sport?"
At this point it occurred to me that he would need to utilize his power of choice to craft and create new meanings from the events that were getting him down. He was stuck in his current negative and pessimistic meanings, which lead him to despair, to live in a constant state of disappointment and a lack of personal power. How does one do this?
This is done through imagination. Imagination is the ability to creatively bring into being something that has yet to be formed.  Every change that one makes occurs because of the ability to gain a vision for a different reality. When we can imagine a different response and meaning to events that, in the past, have resulted in unempowered responses we reacquire control of the quality of our lives. The inability to be imaginative costs many their sense of well-being, quality relationships, improved performance, and most significantly a sense of personal power.
Becoming imaginative and creative grants us incredible power to shape and create the quality of life we want regardless of the events that might be taking place around us. In becoming imaginative we become people of possibility rather then pessimism.  This is not to say there are not events that are difficult and realities that should not be dealt with.  But many people underestimate the capacity they have to utilize their imagination to navigate and manage the journey of sport and life.
If you would like help sparking your imagination, give us a call today 763-439-5246!
Until next time, here's to your possibilities!
Shaun
*
This note from Coach Chic…  Although Shaun and his staff do an unbelievable job of talking to our playing members, I'd like to suggest that coaches like me also need to heed their advice.  Hey, with the long hours we put in, and with the challenges we so often face (alone?), we coaches surely do need the kind of positive advice offered above.




Then, since I am into such stuff, I'd like to paraphrase an appropriate saying (that I've heard attributed to a number of great thinkers), in that..




"No great idea ever materializes unless it is first conceived in the mind."
Please see Drill Submission Rules and Help at the bottom of the Free Drills page.
Contributor: Stirling Wright – Virginia & Maryland, USA
Drill Category: Skating, Passing, Pass Receiving, Attacking and Goaltending
Please first see the basic set-up of this drill as described under the free Drills section.  For, from that basic format, some really awesome offensive and defensive variations are possible.  (Click here for: "Russian Circle Passing".)




Stirling has added quite a few great variations to the basic drilling.  So, I'll let him take it away from here…




– Dennis Chighisola
Russian Circle Passing – Variations #3
Drill Description:
Comments:
The set up is the same as the basic drill, but the first player starts with a puck and is skating backwards. As he gets to the red line, passes the puck back to the line he came from, and continues backwards until the apex of the circle, where he opens up his stick to get a pass from the other line.  He quickly transitions to forward, now attacking the net.
Benefits:  Players become more aware of the transition space in the neutral zone, and able to transition the puck forward twice in the same drill.
Running the drill:
- In the basic set-up, skaters are lined-up along the boards and behind a blue line on both sides of the ice.
- The drill begins with one player skating backwards (with a puck) around the center face-off circle.  Nearing the red line, he passes the puck back to the original line.
- Continuing on, he pivots from backwards to forwards near the bottom of the circle, and then receives a pass from the other line.
- That player then continues to attack the far goal.
*
*
*
Click image below to see a short video of this drill in action.
PS:  If you set your video player to "Loop", the drill will play over and over again.


Russian Circle Passing – Variations #4
Contributor: Stirling Wright – Virginia & Maryland, USA
Drill Category: Skating, Passing, Pass Receiving, Attacking, defending and Goaltending
Drill Description:
Comments:
This next variation is the same as #3, except that the second person in line becomes a defenseman for a 1 on 1.
I've altered Stirling's variation a bit here, placing a line of defensemen next to each line.  In this way, "D" get to handle each rush.  (To be honest, I also did this so that the video would be a little clearer.)

– Dennis Chighisola
Benefits:  All the previous skills are honed, along with the addition of players getting to work their 1 against 1 skills.
Running the drill:
- In the basic set-up, skaters are lined-up along the boards and behind a blue line on both sides of the ice.
- The drill begins with one player skating backwards (with a puck) around the center face-off circle.  Nearing the red line, he passes the puck back to the original line.
- The first skater continues on to take a pass (as in the earlier drill), while the second player in the original line (or the red defenseman in my sketch) jumps out to defend against the first skater.
*
*
**
Click image below to see a short video of variation #4 in action.

Russian Circle Passing – Variation #5
Contributor: Stirling Wright — – Virginia & Maryland, USA
Drill Category: Skating, Passing, Pass Receiving, Attacking, and a faster pace on the Goaltenders
Drill Description:
Comments:
From the same set up as all the rest, but this time the second person in line takes the pass from the first player and immediately heads straight in on goal for a scoring chance. This keeps the pace up and both goalies staying very busy. (Remember to allow time for goalies to recover, but keep in mind that speed drills are not just for skaters.)
Benefits:  All the previous skills are honed.
Running the drill:
- In the basic set-up, skaters are lined-up along the boards and behind a blue line on both sides of the ice.
- The drill begins with one player skating backwards (with a puck) around the center face-off circle.  Nearing the red line, he passes the puck back to the original line.
- The first skater continues on to take a pass (as in the earlier drill), while the second player in the original line quickly attacks the net..

*
*
**

*
Click image below to see a short video of variation #5 in action.
Variation #6 coming soon!
Please first see the basic set-up of this drill as described under the free Drills section.  For, from that basic format, some really awesome offensive and defensive variations are possible.  (Click here for: "Russian Circle Passing".)

– Dennis Chighisola
Russian Circle Passing Variations – Basic Set-up

- From the basic set-up, I will occasionally have the last attacker stop at the net and then attempt to screen, deflect or pounce on the rebound on the next attacker's shot.
*
- Also from the basic set-up, I like to send two players at a time from each line, thusly having them attack 2 versus the netminder.  At times, I'll ask the attackers to weave — or criss-cross — on their way to the net.
*
- When I'm looking to mix a little conditioning into this drill (as well as work on our attack triangle pattern), I'll send three attackers from each line.  Man, do the guys run out of gas quickly, since there's little time to rest as groups of threes return to line.
————
Russian Circle Passing Variations – Set-up with "D"

The next phase of this drill requires positioning forwards and defensemen as shown in the accompanying sketch.  From this layout, numerous different match-ups can be practiced.
*
- Clicking on the image to the left will show how 1 on 1′s work from this set-up.  As the sketch shows, defensemen are stationed at the opposite side red line as they await playing an oncoming attacker.  I tend to like this way of practicing such match-ups, mainly because each play is preceded by a pass to the attacking forward, which forces him or her to catch and control the puck in anticipation of confronting a defender.
*
- From this set-up, all the various numerical rush situations can be practiced — from 1 on 1′s to 2 on 1′s to 2 on 2′s to 3 on 2′s to 3 on 3′s.  All the coach needs to do is send the appropriate number of players from a given line.
And, as suggested in the initial drill description, it's important for the coach to frequently change the direction in which players circle (either towards their left or towards their right).
*
Might you have any further ideas for making this drill format even more useful?  I'd love to hear from members — either in the Comments box below, or from your following the directions provided for drill submissions (found in the free Drills area).
Although I had my share of notoriety and recognition as a young football player, I'll tell you — right up front — that I wasn't all that hot.  However, I did have great hands (from my baseball background), and I could run like a deer (from honest to goodness great genes)! 




That said, I always was kind of a "thinker", even as a kid, and even as a football player.  Oh, by the way, I also had one of the region's best high school football coaches — far ahead of his time, I think he was, and he later went on to coach a string of championship semi-pro teams before settling in as a game film rater for the New England Patriots.




Anyway, the reason I mention all this is so that I can introduce the topic at hand.  For, one day during a defensive segment of a team practice, my old high school head coach described that "angle of pursuit" thing to his players.




You don't have to totally understand this, because I'll explain it better and show you later how this relates to our game.  But for now, what my coach was suggesting had to do with defenders needing to watch a ball carrier's route — or anticipate where that route would take him, and then meet him at some point along that route.  Again, I'll explain that far better in a minute.  However, just so you know, I was playing The Thinker again that day, inwardly shaking my head, and wondering to myself, "Does anyone really have to be told this?"  Oh, well…




– Dennis Chighisola
The Angle of Pursuit
Now, the answer to my question actually came by way of a video I watched just a few years ago, this from the Centre for Hockey Excellence in Calgary, Alberta, Canada.  For, in that video, former Canadian National Team coach, Dave King, took quite a bit of time explaining that very concept, and almost in the same way my old high school football coach had.
Okay, so here's the gist of it, as it relates to our game…  If you click on the adjacent photo, you'll see one player dump a puck that is destined to go around the boards and arrive near the opposite corner.  What you'll also see is a skater from the other team chasing the puck in the wrong manner.  Go ahead, and watch that short video before you read on.
Confounding me, but giving validity to Dave King and my old football coach, I've come to realize that some athletes actually do follow behind in the pursuit of a puck or opposition player.
That out of the way, I'm sure my late-coach would appreciate the animation I've just created to show a little smarter way to pursue that same puck.  So, please click on the (left) photo to watch that video.
Now, it has been a long time since I viewed that piece by Dave King.  But, I recall him suggesting that we (hockey) coaches can run drills to show the merits of pursuing the puck rightly.  So, my next video shows two players taking different routes as they race for the loose puck (click on the photo below to view that).
You're probably wondering what caused me to raise this "angle of pursuit" issue tonight.  Well, as I've been standing back and watching my young Mighty Mites team, attempting to drink-in as much as I can — about their specific needs, and about the way they learn.  And, I've been fascinated by a number of things…
- In one instance I watched a little 4-year old race back out of our offensive zone for a puck that had been tossed out to neutral ice.  The little tyke was skating right towards where I stood on the bench that afternoon, so I had a great view of what was to happen.  For, as he began to approach the puck, I saw him turn his head about halfway, this so he could see if anyone was nearby.  He next snatched the puck and made his exit in the direction opposite from the nearest rival.  Unbelievable or what?  The truth is, I actually run drills to ingrain that looking-over-their-shoulder thing in my older players, and most of them take quite awhile to make it a regular part of their game.  ???
- On a number of occasions I've seen members of that Mighty Mite team gain the puck along the side boards in their offensive end, and somehow realize they weren't on the greatest shooting angle.  With that, they kept moving towards mid-ice with the puck, finally sending it on-goal once they reached a better angle.  And again, I felt this to be really good thinking for little guys who had only played a handful of games.
- Then, that old angle of pursuit thing…  I shot the following video really only as an example of how the game action looks in that instructional league.  I'm not sure you can pick-up anything special in this brief clip, but I'm going to suggest that some kids are moving laterally at times, just to keep themselves in the path of a rival puckcarrier, or — as if they knew enough to anticipate it — right in the path of a possible pass up-ice.  Go ahead; click on the photo (below), just so you can see some of their game action (my kids are in black, with our opponents in dark blue).
Now, I've written this entry for a number of reasons…
First, if you never had cause to think about or teach the correct angle of pursuit, perhaps I've armed you with some valuable knowledge.
Secondly, I hope the observations I'm sharing about my youngest team members awakens you (as it has me) to the fact that all of our players are growing organisms.  And, as such, we coaches and parents have the awesome responsibility of guiding them in that growth.
Then, from what I learned on that long ago football practice field, it's important to appreciate that some players do certain things instinctively (or seemingly so), while those same things evidently don't come naturally to others.  And, while it might be easier to coach the gifted ones, I believe the true measure of a "teaching coach" is in our ability to help the players who really need it.  (Come to think of it, it's only since I've grown older that I realized my old high school football coach dealt with us in that way.  So, God bless, Coach, and thanks so much.)
*
You know how much I appreciate your feedback.  So, please do add your Comments here!
For sure, breakaways are among hockey's most exciting plays.  That being the case, I'm really surprised at how often I notice these — and related skills — being taught wrongly.  Anyway, hear me out, huh?  I think what is to follow should make sense.





– Dennis Chighisola
Proper Breakaway Skills
Every time I approach this subject with my students or players, I begin by having them envision us holding footraces out in the rink's parking lot.  That picture planted in their minds, I'll then ask which runner they'd like to be — the one with his hands in his pocket, or the one allowed to use his hands as he runs.
Of course, it doesn't take but a few seconds for everyone to agree, that anyone can run faster if he's able to pump his hands and arms while sprinting.
The reason I raise this point is because I frequently see coaches teaching their kids to hold a puck on their sticks as they race down the ice on a practice breakaway.  The adjacent photo shows what I mean…  The sample player holds his stick in one hand with the puck kept right on his stick-blade, which means that he can really only pump one hand.  If you click on the photo you'll see a slow-mo video of that youngster in action.  Oh, by the way, I sense that he's initially doing things the way he's been taught elsewhere; but, he ultimately starts doing things a little differently when I yell to him.
Again, did you notice that he could initially only pump his left arm, but then he eventually shifted to my way of doing things (I guess you can tell at which point I yelled, huh)?
Now, the next photo pretty much shows what I recommend…  First, I want my players to achieve maximum speed by having both hands free to pump — almost as if they don't even have a puck ('cause they don't).  Secondly, my guys don't really need to control the puck on their way down the ice.  In fact, I'll suggest to them that, "You and (most likely) a chaser are going to have a footrace to a point just inside the offensive zone, and all you have to do is beat him there and have the puck!"  In other words, there's absolutely no reason to stickhandle or make dekes on the way down ice; all one needs to do is go straight and have the puck in the end.
And that brings me to the suggestion that a player tap the puck far ahead, and then use both arms to speed towards the puck.  Actually, I've studied numerous of my top students — high school players to pros, and I've found that the best of them only need to touch the puck three times from about the top of a defensive face-off circle to about the middle of the offensive zone.  In other words, they tap the puck straight towards the net, fly up to it, tap it straight ahead again, fly up to it, and then grab the puck in readiness to attack the goal.  Nothing fancy in between, but everything just aimed at being speedy on a straight line.  Okay, so click on the photo up above to get a sense of what I've been saying (and decide for yourself if this isn't the fastest way to get down-ice).
This next player is a pretty good one, and he's awfully quick down the ice.  He had a problem on the rush I video-taped, however, which gives me a chance to show you something that often goes wrong on these plays…
Once you (click on the photo to the right and) watch the video, notice that near the end of his rush — after he's done pretty nicely, this youngster finds the puck almost in his feet.  Purposely, I've really slowed the video at the end, just so you can see that my guy is nearly upright.  And, you know he can't be going at full speed in that posture.  So, the lesson to be learned from this?  A player needs to gain a certain "feel" for tapping that puck ahead — not so far that he can't get to it, but not so short that it's going to break his stride.  Again, about three touches of the puck seems to do it, in order to cover the distance I've described.
Next, let's deal with grabbing the puck and attacking the goal…
The photo to the left shows my guy just after he's picked-up the puck about mid-zone.  Now, I can appreciate both sides of the argument — for carrying the puck the rest of the way out in front of the body or off to the forehand side.  For a lot of years I'd taught the latter, but more recently I think a player can hide his or her intentions better with the puck held out-front.  Again, though, both arguments make some sense, and I think the best answer is that the attacker have an idea of what he or she wants to do in the end.
My final bit of advice is to suggest that a player NOT move his or her body left and right in order to make the goaltender move.  Sure, a player can make head and shoulder fakes, but I don't advise skating side to side.  For, I believe that the stick (with puck in-tow) can travel faster and farther, and the goaler has to respect that as much as if the attacker moved his body (after all, netminders line-up on the puck, and nothing else).  In other words, if the attacker is able to move the goaltender towards one side with just a wide deke, he or she should be able to move the puck quicker across to the other side than the goalie can react back.
Finally, while I've covered a lot here, the one thing I want to emphasize is that long dash towards the far end NOT being slowed by much handling of the puck.  Tap it ahead, fly, tap it ahead, fly…
*
Have any questions or arguments with what might be some controversial territory?  You know I really appreciate your Comments!
Like a lot of adult members, I wear many hats.




For sure, I'm thinking hockey nearly 24/7; that's what I love, and that's what I love to immerse myself in.  At the same time, I'm a businessman.  And, whether I like it or not, I can't keep doing what I really love to do unless I keep succeeding in that area, too.  Then, if there's something that really keeps me on my toes, it's the fact that so many hockey people rely on The Old Coach for guidance.




All that said, you might appreciate my need to devour books, manuals, videos and audio programs of all types.  Ya, even when I'm working on a hockey project, there's a good chance I have a recording of some kind running in the background.  (Multi-tasking is my middle name.)




Of course, the New England Hockey Institute library is something most hockey folks would die for.  I mean, it's just loaded with all sorts of training manuals and videos I've gathered over 40-ish years.  (Actually, a member has recently requested I share with others a list of my favorite hockey books and videos, and I've promised to do that here pretty shortly.)




What might surprise you, however, is that I've delved as much into the life stories of greats from outside hockey, or even from outside the sports world.  For, there's something to be said for understanding the likes of famous statesmen, military leaders or businessmen (and women).  In fact, if they're leaders in just about any field, I want to know how they think and how they function.




And there's also something to be said for getting a daily spiritual boost — from my well worn Bible, as well as from a myriad of motivational speakers.  Yup, nothing picks me up and gets me going quicker than some good, honest positive talk.




And this all brings me to the subject at hand…  About a year ago I began following a pretty interesting guy on Twitter.  Billy Cox is his name, and his bio describes him as "…one of the most dynamic and entertaining authors and speakers in the world."  And, as Billy says, his "Goal is to Energize People to Action and Inspire Positive Change!"




Anyway, today I needed a little energizing and inspiration, so I looked-up Mr Cox.  And, once I got into his presentation, I realized how much his words could help a good many of my CoachChic.com friends.  So, borrowed here from YouTube.com is what I think is an awesome video…




– Dennis Chighisola
Reacting to Adversity
( Billy Cox's video title is "PERFORM BETTER")
As a final preface to this video, I'm going to suggest that every one of us gets down at one time or another — I mean, it happens to everyone, from business people to parents to coaches to athletes.  And, as I so often share with my grandson, "I think the measure of any great person (or player) is seen in the way he or she reacts in tough times, or in times of adversity."  (More to say on this at the very end!)
Okay, here's that Billy Cox video.  And, while he's obviously talking to a room full of business people here, this speech just as easily could have been staged in your team's lockerroom or mine….
(If you visit YouTube.com, you'll find a number of other similarly themed Billy Cox videos.)
Okay, so how do those Three P's relate to our game of hockey?  Well, here's my humble opinion:
Preparedness – Practice!  Practice!  Practice!  You know, I'm an incessant long-range planner, and I'm always asking those in my charge to look ahead.  Right now, for instance, you likely know about an important tryout that's coming-up.  Or, there's something you'd like to achieve by this season's end.  In either case, you should have a feel for what needs to be done, and you also know exactly how much time you have to accomplish that.  From there, it's a matter of attacking the long-range goal in small increments.  Ya, just lop those intermediate steps off, or…  Practice!  Practice!  Practice!
Persistence – I'll tell you a funny story…  By the time I was an older teen, I'd failed at countless strength programs.  Ugh.  Then, one day, like out of the blue, I told myself that I was going to stick with a program just to see if all that I'd read really worked.  In other words, I'd read that after about 90-days I was guaranteed results.  So…  Hmmmm…  So, I stuck with that program — six days per week, and I never missed a session no matter what.  I also did all the other things rightly — this time, including sticking to a special diet.  So, what happened?  One night — not even 90-days into that lifting program, another teen spotted me with my shirt off in the gym lockerroom, and he asked me, "What do you do to get such a big chest?"  (Huh?  Is he talking to me?)  Shortly after, while out riding with a bunch of friends, the two guys on either side of me started complaining that my shoulders were taking up the whole back seat!  Ya, I'd realized by then that I'd gotten big — huge, in fact.  So, how did my earlier attempts at strength building differ from the one that worked?  It surely wasn't the difference in the routines.  No, the reason my earlier tries failed was because I looked for quick gains, and I was too easily discouraged when they didn't come.  And, the reason the last one worked was because I gave it an honest to goodness chance.  Man was I persistent — and faithful, to the max.
Playing the numbers – I like Cox's stories about Ruth, Edison and Colonel Sanders, each suggesting that those men couldn't be totally discouraged by setbacks.  So, another quick story…  I attended a special lecture one time when I was in college, this on the art of job hunting.  The guest speaker, a famous author on the subject, made one point clear enough that I still remember it to this day, suggesting to the audience that, a certain number of turn-downs should be expected before we'd likely hear that first, "Yes!"  In the end, he rationalized (and I paraphrase), "Why not get all those turn-downs out of the way so you can hurry to the answer you're really looking for?"    Just think about that one for a sec…  After all, that's the way Edison and The Colonel handled such matters!
So, in closing…  If you're not currently getting the results you want, prepare yourself even better for future tries, be persistent, and play the numbers (as in getting all the setbacks out of the way so you can get on to the good stuff)!
Oh, and speaking of learning about how some of the great minds think, here's an appropriate quote from General George Patton:
"I don't measure a man's success by how high he climbs but how high he bounces when he hits bottom."
Finally — and since there's the likelihood we'll all feel a little discouraged from time to time, why not save this page among your favorites?  I know I'm going to be revisiting that video often.
*
If you liked this — or even if you didn't, I'd love to hear your feedback or Comments!
Man, where has this article — or this line of thinking — been all my coaching life?
!!!
Now, I'm going to bite my tongue (for as long as I can stand it), and let you read this unbelievable piece by Mental Edge's Shaun Goodsell.  Thereafter, you know I'm going to have LOTS to say!
– Dennis Chighisola
Shaun Goodsell, MA
President and CEO of Mental Edge
Blinded by Winning

As the winter sports kick-off I am preparing for the many questions I will field as teams and individual athletes seek to chase their ideal success.  Athletes, coaches and parents will invest enormous resources of time, energy and money to climb that ladder of whatever they are chasing that defines success. Some will determine success by wins and losses; others will use a post-season appearance or a championship and still others will dig deep to frame success in ways that cannot be defined in visible ways. However each team or individual defines success, there is no doubt there will be ups and downs along the way.  The small successes and disappointments experienced on the journey are significant in dictating the overall success at the end of the season.
Recently, I have been looking for a mental paradigm that can help people look at their season in a way that helps to prepare them and their teams to play better at the end of the season than at the beginning. Here is the challenge as I see it:
For years I have been hearing that each time a team or player sets out to perform they should be their best. Coaches talk about bringing your best game day in and day out. Parents go watch in the hopes of seeing a quality performance and a win. There is no doubt that watching a winning performance is fun and exciting. However, winning can at times blind us to what makes us vulnerable as an athlete and as a team. It is as though chasing the Win becomes the goal instead of seeking to use the contest as a learning opportunity to reveal to us what requires work to make us most invincible at the end of the season. Wins, although important, often blind teams and individuals to vital points of development that if not fixed sabotage teams and individuals from the ultimate goal they may be chasing. What might be true is that a well timed loss or short term disappointment may be more critical leading to success of the team because of the focus it creates on what makes a individual and team vulnerable later on in the season.
We need to value the learning that can occur through points of defeat and disappointment. To do this requires us to lessen our focus on winning and increase our emphasis on learning. Every athlete and team should ask themselves after a win or loss, "What did we learn about ourselves and our team?" Subsequently, "What do we need to do in order to get better in that aspect of the game?" Becoming seduced by the short-term success of a win can alter our ability to learn crucial lessons about ourselves that can be bridges to long-term success. Every moment needs to be seen as part of a bigger picture. Doing this allows learning to be a viable goal each time we perform.
This season consider learning from disappointments and team losses and resolve to use them to improve yourself and your team. You will find that you will elevate your game with this mindset when in the past you had become frustrated and disappointed and missed those vital points of learning that kept you stuck.
At Mental Edge we desire to challenge people to experience breakthrough in their lives by establishing new thinking skills and thought patterns leading to a renewed energy for their lives and what is possible. If you are ready to make breakthrough changes in your life, please call Dawn to take the first step at 763.439.5246!
Until next time, here's to your possibilities!
Shaun
*
Okay, let me begin by saying that a "young Coach Chic" would have taken the "W" over anything else.  Thank God I changed my ways by the time I started working with my second generation of players!
Now, let me tell you a few things that should help validate Shaun's comparison of wins versus losses (or learning experiences:
I started using video-tape back in 1979.  And, back in those days, I had a great dad who followed my high school hockey teams, and he was also really into video.  So, we arranged that he'd tape all the games he could attend, while I spent countless hours studying those tapes.  A funny thing happened very early-on, however.  I discovered that games in which we won big were of almost no value to me.  I mean, it seemed as if only tough opponents really exposed our weaknesses or showed me the things I had to do to help my kids back at practice.

By now, members know my penchant for note-taking.  In fact, there's an entire category here that allows me to share some of the things I record.  Anyway, much like what I discovered from the study of videos, I've come to realize that my notepad is nearly blank after an easy win, and it is crammed full whenever we suffer a setback.  Ya, again, it takes a stronger opponent to expose the things we really need to work on.

Next, I need to say that a combination of things have helped me become a better coach…  Number One — and what I see as a main part of Shaun's article — is that This Old Coach has had to be open to learning.  Secondly, and as you should have gathered from the first two points, I've needed to face some tougher opponents each season in order to learn or to grow.  (In actuality, I don't think I've have ever arrived at some of my training inventions or training manuals unless I first found I was failing at something.  Ya, think about that one, if you would.)

Lastly, I know my players are better today than they were on opening night, mainly because of the very "mindset" Shaun describes.  Thankfully, I have managed to convince my players and (most of) their parents (as well as myself) that "Development comes first."  If you think about it, "winning at all costs" usually requires shortcuts, or shortchanging players.  You know what I mean:  a coach only skates certain kids in a tight game, he or she arranges lines or defense pairs solely for the sake of winning, or a coach pays more attention to the best players during the practices because they're the ones who spell "W-I-N-S" for him or her.  On the other hand, I can't tell you what a relief it is to put development first…  With that, I probably pay a hair more attention to the kids who need to catch-up with the rest of our roster; our practices are mainly dictated by what the kids need for the long-term; I spread my talent evenly over all the lines so that kids are learning from each other; and — until the last minute or so of a close game, I just keep rolling my lines with no regard for the "W".  (FYI…  I do one thing each week that might seem like it's for the sake of winning, in that we do have a set powerplay unit for each game.  However, that's actually used as a reward for practice attendance!)
As for my comment about "where has this article been all my life?"  Well, I've lost a few hockey families through the years, mostly due to the fact that I couldn't convince them that long-term gains were far more important than stats, championships or trophies.  And, while I wish I had Shaun's article to help sway them back then, I plan on using it to save some future folks in need.
*
Double-dare you to argue this one in our Comments area! 
As much as I work on it (and harp on it during games), my older (even high school-aged) players still end-up waltzing with a partner or two in the bench doorway as they change on the fly. I mean, the kids coming off the ice think that's as important as the fresher kids coming on, so they often get stuck and entangled, and they quite often delay us in getting fresh legs onto the ice.




Now, I'm thinking that the mob-scene-at-the-door thing is a learned trait, and one that's been ingrained over an older kid's decade or so of playing the game (without my kind of discipline). So, when it came time for me to organize my new Mighty Mite team (of first-time players), I thought I'd start them rightly…

– Dennis Chighisola
Buzzer Hockey Line Changes
Actually, the above didn't strike me until I heard the buzzer that ended the first shift of our very first Mighty Mite game. On the spot, though, it hit me that I could start my little guys off on the right foot by getting them into a really good habit.
This was my thinking…
For changes on the fly, I like my older guys to come and hug the boards in front of our bench until the replacement skaters have hit the ice. That's all that's required for a legal change like this – for my guys to be "at the bench". And, with them against the boards and away from the doorway, fresh guys can jump quickly into the play.
Of course, there's no changing on the fly in buzzer hockey (instead there are timed 2-minutes shifts in my little guys' league). But, these kids DO have to switch roles – one 5-player unit leaving the ice with another 5-players coming on to replace them. So, I decided to get my kids in the habit of doing as is shown in the accompanying photo – with the kids coming off the ice lining-up in front of our bench until replacements have entered the ice.
If you click on that photo (above) you'll see a brief video of our player exchange. And, while I sense this action isn't quite automatic to them yet, I suspect that within a few more weeks it will be. Again, I'm talking about habit here, and I'm hoping this small group of players will ultimately have this ingrained in them. Better yet, perhaps I'll suggest that the organization these kids are headed to in future years might help reinforce this in their next few age groups (maybe through Mites and into Squirts).
Any thoughts on the above?  Your Comments really help me!
Dennis Chighisola here, with what I feel is one of the most important posts I"ll ever make within these pages.




To begin, despite my inclination to frequently think outside the proverbial box, I"d like members to know that I don"t make hockey related decisions without a lot of serious thought. In fact, over my forty-ish years in coaching, I"ve mostly relied upon a set of standards I"ve come to call…
The Nature of Our Game
"Hmmmmmm," you say. "The nature of our game?"
Well, I"m sure you"ll agree that playing ice hockey is very unlike trying your hand at the likes of chess, sumo wrestling, or cricket. And, although we might share some similarities with other games — like basketball, soccer, and the other skating sports, there are probably far more differences.
Yes, every game has its very own nature. Factors like unique rules, a special playing surface and the specific aims for each game make this so.
That said, I"ve always felt that the ability to analyze a given game or sport — to understand the true challenges and demands on its participants — is critical to preparation. For, with this we can go to work on developing the proper traits needed to excel in that specific sport.
Now, I feel the need to add this side note, since I"m famous for borrowing lots of training ideas from other sports. I mean, I incorporate sprint training in my teams" off-ice practices, I use lots of football-type agility drills and ideas for explosiveness, and the list of training methods I"ve obtained from other sports goes on and on. As I said in the opening, though, I don"t take such decisions lightly. No, I"m more often than not asking myself the simple (or sometimes not so simple) question, "Does this really relate to the challenges my players face out there in the game action?"
If you think about it, training time is extremely limited — especially for amateur players. So, to go off on tangents that have little to do with our game isn"t such a good idea. Moreover, to incorporate training methods that don"t fit with the nature of our game just might hinder a player.
Now, I probably could write a book on this topic. However, to give you the gist of that nature thing, let me at least briefly touch upon the determining factors I noted earlier.
To begin, consider the surface we play on…  The rink is surrounded by boards and glass, these aiding a player in trapping an opponent or banking the puck around or over defenders. And, while basketball players might be able to scale a ball the length of their playing surface, our rink's lines and related rules influence quite a different approach.
Actually, those rink lines deserve more consideration here, in that hockey teams use them for the development of strategies and tactics. I mean — a lot like military tacticians, teams work hard to defend each line as their opponents attempt to attack, while attacking teams work just as hard to gain each zone on their way up-ice. (Thus we also have forechecking schemes, breakouts, defensive zone coverage, etc.)
While we"re on the subject of our playing surface, consider this… Supposing our game was played on a rink measuring about 20″ by 60″, but still included 5-skaters and a goalie per side. How much fast skating and stickhandling would take place? Not much, huh? In fact, we"d probably recruit sumo-sized guys, and develop plays that look more like rugby scrums. On the other hand, what if we played on a rink the size of a football field? Ha, there would hardly be any physical contact, and the star players would likely be fast skaters and great puck-movers. Of course, our game is played on a surface somewhere between those two extremes, suggesting that the most desirable players should probably be both quick and strong.
Also appreciate the fact that soccer, basketball, lacrosse, field hockey and our game are considered so-called "transition sports". In other words — and in contrast to games like baseball and football, the ball or puck is constantly up for grabs. And, this kind of continuous action puts a premium on players who can quickly switch roles, from offense to defense to offense to defense, and so on.
Even something like a roster size influences the nature of our game. For, given a certain number of players, coaches deploy them in waves, with traditional set-ups (for the sake of discussion) using three roulette spielen ohne anmeldung forward lines and two to three pairs of defensemen. Oh, some might take this lightly. However, that kind of player rotation is where the prescribed work-to-rest ratio comes from — as in a player typically practicing so he or she can efficiently work for x-seconds, and rest for twice that time. (In other words, a unit goes out for a brief shift, then rests while two other units do their thing.)
Now, I"ll bet I wrote and lectured on the following at least 30-years ago, although it"s been only recently that I"ve seen it documented in some scientific studies. What I"m getting at is that the typical on-ice shift is really a series of alternating bursts and coasts. In fact, some of the studies I"ve read lately state that the better players cruise with both skates on the ice for a great deal of they"re time out there. Of course, how well one coasts is not the measure of a hockey player. However, that coasting phase is important, allowing him or her to briefly rest in anticipation of going all-out. And, make no mistake about it: the most consequential plays — either offensively or defensively — are carried out in a matter of seconds, during those brief spurts.
The latter two paragraphs should give us fairly good guidelines for conditioning a hockey player… Yes, he or she should be aerobically (long distance) fit. But, I"ll suggest, not to the point of robbing the anaerobic (explosiveness, quickness) system. Remember: It"s the brief, all-out confrontations that usually spell a player's — and a team"s — success.
Of course, our sport includes its fair share of collisions and incidental contact (whether we"re playing in a body-checking league or not). So, besides the areas of strength development that aid in skills like skating and shooting, the nature of our game suggests that a player be very stable on the skates, as well as be able to safely deliver or withstand heavy hits.
That said — about the need for strength in our sport, I"ll suggest that there"s a tricky balance required — between the want for strength, speed, agility and smooth, efficient movements. Just being strong doesn"t make one an effective player, nor does just being fast, just being pretty, just being…
Even our decisions about hockey equipment should be influenced by the nature of our game. For, as I just suggested, a solid player needs to possess a number of different physical qualities. And it"s important that the gear helps. Quite obviously, the first consideration is that it should protect the player. However, equipment has to also be light enough to aid quickness, as well as allow for smooth movements.
Then, while I"m hoping all the above noted physical traits make sense to you, a study of our game wouldn"t be complete without considering the mental aspects. For, an ice hockey player surely does have to be able to think and skate at the same time. And, if our game is a "read and react" sport, it"s important for a player to instinctively know what to do in each unique confrontation. Moreover, smart players can follow a game plan, and they have awareness when it comes to the game-clock and the score. And, while some might feel otherwise, I happen to believe thinking skills CAN be taught — IF players are helped early enough. (Actually, I"ve developed several drill formats to help enhance this area in my players.)
Then, just briefly let me suggest that training for other important game skills — like puckhandling, passing, receiving and shooting — should also pass that nature of our game test. And, here are two of my observations… First, all of those skills have to be accomplished in combination with other skills (or amid lots of problem solving). Secondly, the best players are able to execute all of those skills in unbalanced postures (with defenders draped all over them, whatever).
Finally, the above is a combination of science, personal observation and experiences; so take it for what it"s worth. Still, I think it should be helpful that players, parents and coaches have some frame of reference when it comes to the daunting number of choices we have to make. So, hey, maybe this is one of those pieces you"ll want to clip and save!
Be a friend:  Your worthwhile Comment helps Coach Chic!
What is Consistency?
By Brady Greco, Performance Coach — The Mental Edge
A common performance concept that is rarely taught but always referred to by coaches is playing a more consistent game.  You hear coaches all the time say, "play with more consistency day in and day out."  There is no problem if a coach makes this statement and communicates to the team about what needs to take place in order to become more consistent.  However, the majority of coaches fail to explain in detail what consistency even entails, making it impossible for a player to understand how to become more consistent in their play.
Consistency can be described in the sport's world as a level of quality play over an extended period of time.  Every competitive athlete has experienced a game where they performed very well. In turn, every athlete has encountered what it feels like to perform poorly, making the concept of consistency very tricky.  Here is a checklist of five keys to focus on as an athlete that will help maintain consistency throughout your personal journey as an athlete:
Awareness: Reflect on your performance and determine what areas you did well in and what areas you need to improve upon.
Good Habits: Practice good habits throughout the athletic season.  This means staying disciplined and remembering to do the 'little' things both on and off the athletic field or arena.
Pre-game Routine: For an athlete to become mentally prepared for a game/practice, they must take the proper procedures.  This means an athlete must find a comfortable and effective personal routine they go through on days of games/practice.  Establishing a good pre-game routine will enable an athlete to be prepared mentally which will create a better chance of optimal performance.  Don't be afraid to 'mess around' with your routine if you feel something is not working.
Imagery: Imagine yourself accomplishing the task at hand.  Picture yourself already playing the game and making the right plays in every situation.
Positive Self-Talk: Don't be afraid to talk to yourself.  Tell yourself 'I am the best, I am the best'.  This will create encouraging thoughts to flow through your mind to remain positive.
At the Mental Edge, we can teach you mental toughness skills like these to empower you on your journey as an athlete.  Simply call Dawn to start at 763-439-5246.
Brady
Please see Drill Submission Rules and Help below.
Contributor: Dennis Chighisola — Whitman, MA USA
Drill Category: Team Defense, Backchecking
Drill Description:
Comments: I've only used 3 pairs of players per drill because it's easier to keep an eye on and inspect the efforts of a few at a time.  Also, all positional players — both forwards and defensemen — take part in both offensive and defensive roles.
Backcheckers:  Lie facing away from attackers so that no plans can be made ahead of time on which defender will cover which attacker.
Attackers:  Begin the drill by lying face down; on command, circle the back obstacle in order to make it more difficult for the backcheckers to sort whom they'll cover.  (With younger players, or to initially teach the drill concepts, I might not have the attackers circle an obstacle, but instead have them go on the attack on the command.)
Coach:  Holds a puck at side boards and ultimately (maybe after about 3- to 5-seconds) feeds to an open attacker.
Objective of the Drill:
The attackers attempt to get open for passes (from the coach and then from open teammates) to attack the net, while all defenders attempt to cover their men so tightly that passes can't be made to them.
As an extra benefit, the attackers tend to work extra hard to get themselves open for passes or scoring opportunities.
Running the drill:
Usually the drill lasts about 10-seconds, or until the coach is satisfied that the backcheckers completed their tasks (or didn't).
Click image below to see a short video.
One of my NEHI HS Prep assistant coaches called me the other day with something he'd noticed in some of our closer games.  (Actually, anything that goes wrong tends to only become noticeable when we lose or when a game is close.  Seldom can anything be learned from a lopsided win.)




Both of the points made by Mike H were taken seriously, and they're both worth talking to our players about (over and over and over again).  So, I've done just that this week — going over the following, in anticipation of a really tough game this coming weekend.

– Dennis Chighisola
Preventing Odd-man Rushes
Rightly so, Mike feels our next opponents are really quick at transitioning onto the attack.  And both of his observations had to do with our once-in-awhile tendency to allow quick odd-man rushes towards our goal:
There have been times when our defensemen have headed to their bench before they've made sure the puck was buried fairly deep in our opponents' end.  And that's an absolute must.  What happens a lot of times is that a D gets it into his head that he's going to get off the ice at the first opportunity.  With that, he sorta guesses that the time is right, even when it's not.  Sometimes a teammate's dump-in initially looks good, the defenseman starts off the ice, and then the puck doesn't find its way deep into the zone.  At yet other times a defenseman wrongly thinks a teammate is going to carry the puck safely and deep, and he never follows the puck long enough to ensure that actually happens.  In either case, a turn-over in neutral-ice — or high in the oppositions' zone — provides those opponents the chance for a quick counterattack and a man-advantage rush.
Actually, Mike's second point involves the comments I just made about puckhandlers erring in neutral-ice or at the oppositions' blue line.  But, let me deal with this in two parts…
As I point-out in my video on "Dumping the Puck" (I really suggest you watch this), he absolutely must get the puck all the way through traffic and deep into an offensive corner.
As importantly, puckhandlers must make wise decisions as they carry through neutral-ice.  Headmanning the puck is always the first option, and carrying further would be the second.  As a player carriers, however, he should only do so if resistance is light.  A player should never try to carry when out-manned by the defenders.  No, the wise thing to do then is to dump the puck.
Be a friend:  Your worthwhile Comment helps Coach Chic!
Understand that scientific declarations aren't easily arrived at.  I mean, in order to state something to be scientifically so requires extensive testing under some pretty strict rules.  I have to start this piece in such a manner just so members appreciate that the following hasn't been tested or proved in any way.




That said, I did think you might find the following very, very interesting.

– Dennis Chighisola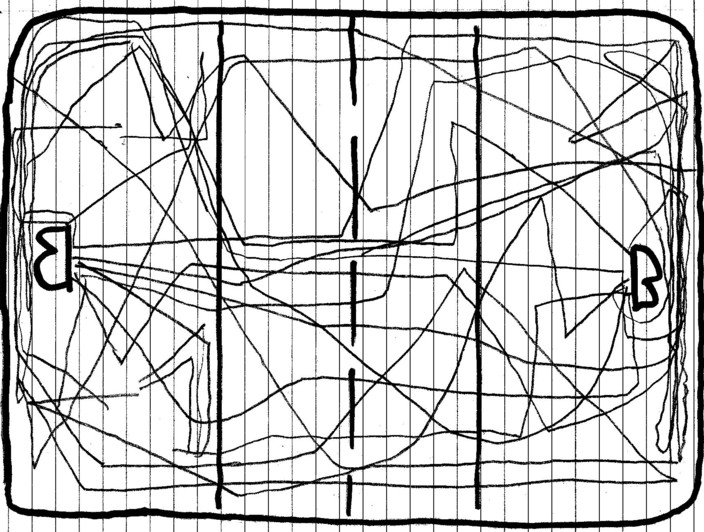 To begin, a friend happened to mention recently that he'd at one time heard or read about something a young Wayne Gretzky did.  And my friend further suggested that this may have enhanced The Great One's ability to (supposedly?) better anticipate puck movement during game action.  Of course this intrigued me, and it sent me scurrying towards an Internet quest for more information.  Hey, I'd like to know everything a young Gretzky, Orr, Ovechkin or Howe did as a youngster, figuring there have to be some intriguing keys to their future success buried away there.
As an aside…  I hate some of the expressions used by a lot of sportscasters, no matter the sport we're talking about.  In this case, the one about "seeing the ice" really doesn't say much.  In other words, the wordsmiths toss such phrases at us, and they leave it up to the listener to fill-in his or her own meaning.  Still, what we have to guess these guys or gals are talking about — in reference to seeing the ice well — is a player's ability to anticipate coming conditions, or to sorta picture in advance what is likely to happen.  That said, most superstars in most sports are given credit for that rare ability, and probably most of us would feel that's a huge part of what separates them from mere mortals.
Well, I have my own take on that "seeing the ice well" issue, and I once had a friend and former NHL-er confirm at least some of my suspicions…  At the time I was readying to write one of my magazine columns on this subject.  And as a premise, I was about to declare that Gretzky could "see the ice" better than most other players because his basic skills were so advanced in comparison to others.  Oh, I took more time to explain it to my friend, a former LA King, but it only took him a second to think about his experiences with The Great One and reply, "Bingo!"
Now, please hear me out on something…
I'd like you to recall back to the very first time you drove an automobile.  Can you remember?  Your hands were probably gripping that wheel so hard!  Everything about the moment was likely pretty tense, and you probably went through a checklist in your head (like a pilot readying for take-off): "My seat needs adjusting…  the mirror needs fixing…  the…"  Again, you should appreciate what I'm getting at here, about everything being pretty tense and consequential.
Next, fast-forward to having years of experience behind the wheel…  Lord knows the things a long-time driver does while motoring down the highway — from changing radio stations to reading a GPS to checking his or her hair in the mirror to talking on a cell phone to (God forbid) texting or shaving or apply makeup.
What I'm suggesting here is that days and days and then years and years cause the everyday operation of that vehicle to become almost automatic, or the movements are almost as involuntary as breathing and blinking.  What else could it be that helps us swerve or brake in just the right way, except that we mastered our driving skills far beyond the beginner?
And that's what I was suggesting about Gretzky in my magazine column…  He no longer has to think about his footwork or puck control as he moves down the ice; those movements are as automatic to him as his breathing and blinking.
Yet another aside…  Don't get me wrong; every NHL player is able to skate without thinking, puckhandle with his eyes up, etc.  But what I'm really getting at is that these things are relative.  In other words, the guys we see as superstars have their basic skills sooooooo on automatic that they can deal with matters others don't get the chance to even see.
Along this same line of thinking, I recall long ago a great young quarterback entering about his third NFL season and saying something to the effect that, "The game has really slowed-down for me!"  Yes, another one of those expressions that leave us guessing as to what's really meant.  But in this case, I know the guy was talking about the fact that he'd learned to read pass rushes so much better than when he first entered the league.  If you can envision it, his first season was probably spent in absolute panic with all those 300-pound linemen coming his way, and with his receivers running patterns that were yet not so familiar (probably not unlike our first driving experiences).  Over time, however, he learned to recognize most of the keys — or what to really look for, which made it all the easier for him to pick the opposition defense apart.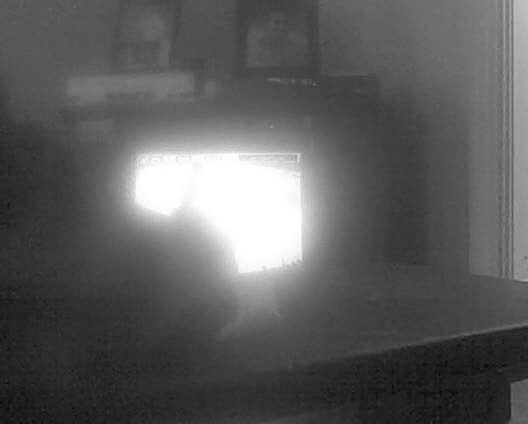 Okay, so now for the story that inspired this post…  What my friend had related to me had to do with Walter Gretzky evidently having his very young son follow the flow of televised games in a certain way, perhaps aimed at Wayne honing those "seeing the ice" kinda skills.  What I discovered instead — in an on-line article from *The Arizona Republic by David Vest — was that the whole thing was actually Wayne's idea.  Evidently a 7-year old Wayne would sit in front of the TV and trace the movement of the puck throughout a televised hockey game.  In fact, Vest quotes the senior Gretzky during a 2005 interview, "I remember saying: 'What are you doing, Wayne?" Wayne's reply to Walter was, "Look, Dad, see all these dark spots? That's where the puck is most of the time."
As Walter described it, Wayne drew a rink — complete with lines and nets and such, and then kept his pen or pencil on the sheet of paper throughout the game action, continuously following the movement of the puck.  Hmmmmmm…  My guess is that Wayne was a real thinker even at a very young age.
Still, my relatively educated guess is that the actual results of Wayne's early studies aren't all that useful, if even valid.  But, that would be another very long discussion.
For now, however, I'd like to suggest that the young Gretzky may have benefited quite a lot just from those frequent exercises.  I mean, how often have we wished our own young players would "really get into the game" or "really study the high level guys"?  So, here was Wayne, only 7-years old, following the actions of his boyhood idols (among them maybe all-time greats like Gordie Howe, Frank Mahavolich and Jean Béliveau?).  If you get what I'm suggesting here, it's that Wayne — even as he was following the puck — couldn't help but mentally record all the things going on with and around the puck.
As a final aside here…  I hope my long-time CoachChic.com friends don't become bored by my occasional references to Anthony Chic.  It's just helpful to me, oftentimes, if I can personalize a given experience or observation.  The reason I feel the need to once again tell a Tony C story is because my grandson has for the past few years been a YouTube.com fanatic.  I don't think he's missed a "Greatest Goals" video over that span, and I can't tell you how many times he's called me to watch over his shoulder to inspect a frame-by-frame breakdown of some incredible move by one of today's great scorers.  Is there learning going on during such an exercise?  I'm betting there definitely is.  In fact, I'm betting the physical moves he's watching are actually being internalized by Anthony, and I'm also betting he can almost sense how it feels to perform each of those moves.
So again, I'm not sure Gretzky's arrival at certain puck movement patterns was all that beneficial to his later playing success.  But, I bet he was taking-in a ton of peripheral information, and he was quite likely internalizing the moves of his boyhood idols.
All that said, I might try such an experiment if I was once again the dad of a young player.  And, I might even find a way to have one of my teams try this.  What I'd likely do with today's resources is prepare a large rink as a master, and then run-off some copies to keep on hand for my player/s.  Whatever you or I do with this idea, though, we can't allow our kids' work with those rinks seem like a drudgery.  The last thing we want is to tie the watching of a hockey game with any sort of negative thoughts.  I don't immediately have an answer to that, but I do know I have a lot of bright and creative friends here at CoachChic.com.  So, I'm hoping lots of you might offer your thoughts or suggestions down below.
* Gretzky's father recalls origin of hockey genius (by David Vest The Arizona Republic Oct. 17, 2005 12:00 AM)
Did you know your Comments really help me?  So, please get involved.  Just use the box below to offer your thoughts, questions or suggestions.  And thanks — a bunch!
The Best Slot Coverage Drill I Know!
Why is this "the best slot coverage drill I know"?  It's because it deals with what I believe are the two most important aspects of a defenseman's work in that critical area.  As a side benefit, forwards get the chance to work on their toughness and other offensive skills in that area.

– Dennis Chighisola
Although I'm going to introduce this drill in two phases, you'll later see how it combines those phases into a drill that forces defensemen to adapt to our game's constantly changing conditions.

The Drill Set-up
Create lines as shown, with forwards split between the outside two lines, and the defensemen lining-up in the middle.  Here the forwards on the right have pucks, but the drill can — actually it should — be run from both sides.  Also, as the forwards complete their roles coming from one line, they should then move to the other line.
Phase One

The drill begins with a forward moving into the offensive zone and circling behind the net with a puck.  This player has only one duty in this drill:  to make a pass.  Thereafter he must exit the play after making a pass (we don't want to confuse things by making this a 2 on 1 for the defender).
As the drill begins, the forward from the other line drives to the net, while the first defenseman backchecks that man to the net.
As the player with the pucks emerges from behind the net, his first option would be to pass to his teammate who has moved to the slot.  Only the defender's success at covering his man will prevent a pass to him.  (Click the sketch to the right to see a video of Phase One.)
Phase Two

This drill moves to Phase Two if a pass can't be made to the forward in the slot.
In Phase Two, the player with the puck then passes to the second defenseman in line.
As the puck moves to the point, the role of our slot-area defenseman changes drastically.  No longer should he be as concerned with the pass, since the new problem is that his goaltender is now in danger of losing sight of the puck and facing a possible deflected shot.  (If you click-on the sketch to the right, it will show the full drill, as it flows from Phase One to Phase Two.)
Putting the Two Phases Together
Really, the drill runs as shown in the second video…  As you saw, the puckcarrier quickly moved through his pattern and the defenseman is forced to deal with the problems as they occur:  covering for a pass with the puck down low, and then quickly driving his man outward and controlling his stick if the puck moves to the point.
As I said in the beginning, what makes this such an awesome drill is the fact that the defensemen ultimately learn to deal differently with the different threats.  I happen to use this drill fairly often in my practices, and it has served me well for over a decade (maybe twice that long).  It's that good, at least to me, and I urge every coach (of players probably older than 10-years) to give it a try.

– Dennis Chighisola




If you either agree or disagree — about this being one of the best drills ever, please let me know what you think in the Comment area below.  And thanks so much!
Okay, I have to start with a huge smile here, because I've just finished what I'll call — for the lack of a better name — a "tryout" for a new 5- and 6-year old team coming from my winter Learn-to-skate/Learn-to-play program.  Ya, they were an adorable lot, with a 4-year old even being one of our better little guys.  Anyway, for the sake of those who might be forming a similar kind of team right now, I thought I'd share some of my thoughts here, as well as some of the "drills" we started with today…

– Dennis Chighisola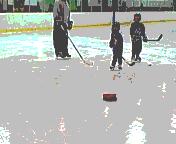 Now, it shouldn't surprise you at all that almost all of what I'll share here can already be found elsewhere within the CoachChic.com site.  The reason is that I really DO practice what I preach.  I mean, if I've said, "This is how we should teach _______," it's because that's what I've found over 40-ish years will really work.  And I don't care if it has to do with beginners or elite level players; that's how I'd do it.
As far as "my babies" go, I told a few of their parents beforehand that it wouldn't take more than a few minutes to get a sense of whether a youngster belongs on that team.  In a way — and not much different from older kids, most of us can usually spot a hockey player as he or she comes out the door.  There's just something about the way he or she carries himself or herself.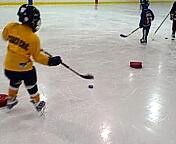 Of course, it might take a drill or two more to gain a sense of whether a very young one is ready to take a few instructions.  Understand that I was only going to start planting the seeds in this first gathering.  In a way, I wanted to get a head start on some things I'll want the kids to ultimately learn.  But I also knew that those kinds of drills would actually give me an idea of whether the kids — at their young ages — could focus and understand some verbal instructions and brief demonstrations.
Now, here's what guided me in my drill selection…
The younger players are, the more malleable they are, and the more a really good "teacher" can influence them.
Defensive play may be a factor in the kids' success down the road.  Sure, there might eventually be a time when youngsters can start appreciating a forechecking scheme, different kinds of coverages, etc.
But, right now the only thing that will really capture these little guys' attention and enthusiasm — and probably the only thing they can really understand — is offense, as in scoring goals.
That in mind, I grabbed a number of ideas from my "Creating the Early Goal-scorer" video (and you might also scan " The Idea(s) Behind Those Goal-scoring Gadgets").
Of course, my current youngsters are true beginners at the game, which makes them slightly less experienced than the players I was really aiming to help in that video.  So, while I did try a few of the ideas demonstrated there, I had to use another important teaching technique I've mentioned a few times elsewhere.  I mean, what I had to do was create some even easier to do lead-up progressions to start easing my new kids towards the more difficult skills.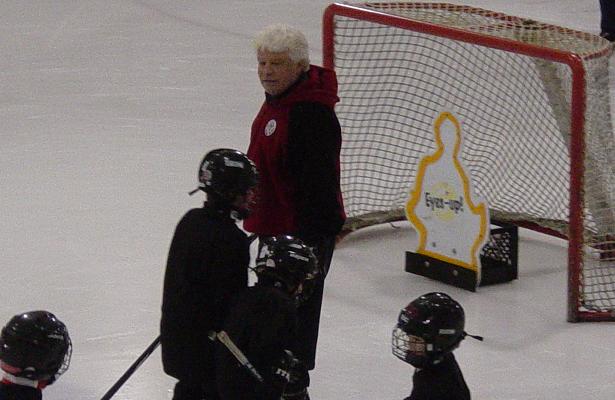 Remember:  Really young ones aren't into too much structure or discipline.  So I started things by just tossing pucks out onto the ice and encouraging the kids to just have some fun.
Also remember:  Since these ARE really young ones, it's not right for me to immediately talk to them like older players.  So, I quite often during this session called them into a little group by announcing, "Okay, kids, let's have a really important meeting here."  And, getting them on their knees and focused (for about the 20-seconds their attention spans will allow), I'd frequently start with some kind of question — maybe about the row of pylons we were going to attack, or about the "simulated goaltender" sitting in the net-crease.
I also loosely applied the Whole: Part Method of structuring drills…  For example, each little guy got to attack the make believe goalie in one drill, we had 2-player races towards that goalie — this to encourage more speed in their attack, we practiced going in and out of pylons (which I referred to as "the bad guys"), and at one point we played a simple game of keepaway with a puck.  At the end of the morning session, I put a couple of the earlier practiced "parts" together by having them — one boy at a time — weave in and out of the pylons at a decent speed, and end by scoring on that simulated netminder.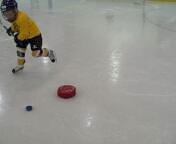 Oh, and you know my penchant for taking notes…  So, at one point during that session I made a note to myself to bring some weights to use for strengthening their stick grips, passes and shots.  (What I plan on doing can be found in the "Passing Basics in Hockey" video, in the section on "Discovering Stick-strength".)
Finally, at one point during our session — while the kids were playing keepaway, I mentioned something important to two dads who were out on the ice helping…  Both dads had themselves played to pretty high levels, so I thought it a good idea to share the distinctions I see.  Or, as I said while we watched the keepaway going on, "That's really what THEIR game is all about, you know."  And I went on to suggest that it's not about the leftwing lock, defensive zone coverage or a powerplay.  No, THEIR game is about getting the puck and keeping it away from their opponents.  It's about weaving in and out of those "bad guys", and it's about beating a little goalie who is usually no more agile than the plastic one we'll use at our practices.  And, as I've also said at numerous times in these pages, our jobs — as parents and coaches — is to help our youngsters be successful at THEIR level.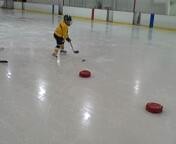 Now, before ending I have to say that there's yet another reason I was smiling — or even chuckling — as I reflected on this morning's tryout session.  As I noted above, these "babies" are as malleable as players can be, and they can be changed rather quickly under the guidance of a really good teaching coach.  And while I have a strong belief in my own abilities, I also know I can almost triple our teaching efforts by helping my assistants to be nearly as effective.  Oh, my reason for chuckling?  It's because I can only imagine what our games are going to be like when every single young member on our team is able to stickhandle through their opponents and cooly tuck the puck into their opponents' nets.  Oh, boy…  I suspect we're going to be creating some hockey monsters this coming winter!




If you like this article, or if you have any questions about it, please do Coach Chic a favor and add a Comment below.  Thanks!
I know this is going to be a rather touchy subject.  Yet, I want you to hear-out a couple of extremely qualified guys.




In the following audio presentation, Lisa Cohn interviews Dr Patrick Cohn and noted baseball coach, Tommy Weber, on that very topic — about the possibility that parents should back-off when it comes to their youngster's hockey training.




Again, I'd like you to hear Coach Weber's side of this argument, then I'd like to add a few of my own comments a little later.

– Dennis Chighisola

Why Sports Parents Should Back-off

with Patrick J. Cohn, Ph.D. and Tommy Weber
Click the arrow below to play:
Audio clip: Adobe Flash Player (version 9 or above) is required to play this audio clip. Download the latest version here. You also need to have JavaScript enabled in your browser.
Okay, so you should have gotten a pretty good sense of how one very experienced sport coach and a noted sport psychologist feel on this subject.  And, I'd have to agree with all that's been said in that interview.   At the same time, we hockey folks have a slightly greater challenge than families in most other sports…




For one thing, ice hockey rinks are usually built in pretty remote locations.  So, it isn't like our youngsters can just hang their gear over the handlebars of a bike and head-off to practice on their own.  In other words, parents must help transport their kids and all that heavy gear, and it just makes sense that they're going to hang around for the hour or so of practice time.




And, while it's not necessarily an excuse for hanging around for practices, hockey families do invest an awful lot more money in their youngsters' practice time than those in most other sports.




I might add my own reason for staying for a practice, in that I've always really enjoyed watching my guys have fun — as they played or as they practiced.  (Actually, that's one of the things I miss so much today, since my son has long retired and my grandson now practices far away at college.)




Okay, so I've given my hockey brethren plenty of reasons to ATTEND their youngsters' practices.  However, I don't think it's the attending practices that Dr Cohn and Coach Weber are really getting at.




No, as a matter of fact, I think it's more a matter of us parents needing to give our kids — and their coaches — some space that's really at issue.




I actually addressed that subject in an earlier video (in "Up The Boards, Johnny!") with a message I really want my friends here to appreciate.  I mean, it is not possible for your son or daughter to serve more than one master at a time.




Please think about that one again…  Nothing but confusion comes from a youngster needing to please both the coach and his or her parents (not to mention teammates).  In fact, I firmly believe a lot of the fun can be taken out of the playing experience if a youngster is forced to please too many.




Then, a personal note…  On rides home from games, my young guy would almost always ask me, "Well, what did you think?"  I simply answered that with several questions of my own, as in "I don't know; what do you think?" or "What did your coach have to say?".  You have to understand — and I wanted my guy to also understand — that it didn't really matter what I thought.  Hey, only one guy (or gal) gets to name the next group of players to go over the boards and onto the ice, and that's the coach.


– Dennis Chighisola

Click here for more great audios like this one!
Youth Sports Psychology by Peak Performance Sports
407-909-1700/888-742-7225
This special note from Coach Chic…




If your son, daughter or team is at the stage where they need to learn hockey's basic rules and positioning, this is the video for them.  No, it's not for grown-ups, as I'll soon explain.  But it's been written and produced in a way that seems to really work for 5- to 7-years old.  And, as you'll see, it's awesome for helping very young kids learn about off-sides, icing and where to line-up for face-offs.
Now, I've coached all levels of our game — up through high school and college, and I even had several minor league pro interviews.  I've also helped a number of students reach the NHL or other elite levels.
That said, perhaps one of the things I'm best at is in knowing where I am at a given time.  I mean, I don't treat high school guys like kindergardeners, and I don't talk over the heads of my littlest students.  No, in fact, I go into what I jokingly refer to as my "Mr Rogers impression" when I teach my Learn-to-skate and Learn-to-play clinics.
And that's what I felt the need to do as I prepared to write the script for the following video.  As I said already, I wasn't writing it for you, the parent or coach.  (Actually — and I'm chuckling at myself a bit here, because I felt pretty stupid doing some of the audio.  But, I knew "baby talk" and a lot of bells and whistles were necessary if I was to keep the attention of little ones.
If you'll notice, this video was created a number of years ago (it still has my old CoachChic.com introduction).  Actually, I produced it as a gift to a number of students I had in a summer hockey school back then, sort of as a supplement — or home study program — for the things we were working on on the ice.
Frankly, I held my breath as I waited for feedback from my camp parents.  But, every single follow-up comment was unbelievably positive.  In fact, a number of parents told me that their kids practically wore-out the CD I'd given them.  And, some told me their youngsters knew the video by heart.
Okay, so why don't I let you take a peek at it right now.  Then, once you've had a chance to view it, I'll add a number of further comments and some advice down below (there seems to be something slightly off with the timing of audio and video when face-offs are covered — it's hardly noticeable; but I promise to fix that as soon as possible)…
Loading...
Okay, is it silly?  Yes.   But, does it work?  Absolutely — because it's just what a young player needs!  And, as I suggested in the video, countless viewings are going to prove a whole lot more effective than just a few.
As I also suggest, a parent can enhance the learning experience by asking questions of the youngster, perhaps testing him or her in a fun way (and even using a little tool I'll make available here pretty shortly).
For both parents and coaches, I think you ought to also consider that kids aren't ever going to truly understand their playing positions without first knowing their left from their right sides.  So, I would make it a point to frequently quiz or otherwise help your youngster/s in this area.
As for coaches of very young teams…  I have done a simple drill — off-ice and on the ice — that really reinforces the off-sides rule.  So, here goes…
Either mark a line (with chalk) on the lockerroom floor or out in the runway, or use a section of the blue line on the ice.
Have a coach be a partner for one kid at a time as they both approach the offensive blue line.  In this way, the coach gets to totally control over the drill.
The coach will want to alternate his her approach to this drill.  In other words, sometimes you might move at a slow, sure pace, and put the puck on-side ahead of your young partner.  At yet other times, the coach should pretend to have difficulty advancing the puck, at which time the young skater must know enough to delay until he or she sees the puck cross the line.
Oh, by the way, parents could easily run that drill at home.  Just be creative about locating a mock blue line.
Then, here's a little insight into my reason for solving the problems dealt with in that video…  When my grandson was a 6-year old Mite C in the local youth program, I used to cringe at the amount of ice-time that was wasted in his games.  I mean, kids would mill around for what seemed an eternity, searching for where they should line-up for a face-off.  Worse yet, few of the little guys understood the rules of off-side or icing, which meant there were countless more face-offs than there should have been.  So, if there is a very good reason for solving these problems — or for having your youngster or team watch the video countless times, it's to give them more real playing time within an hour of ice, and to thusly make the game more fun for them.
Finally, here's our deal, and a good reason why I'm currently making this video available to non-members:

I NEED YOUR FEEDBACK!




Down below is a box for "Feel free to leave a comment… ".





What I'd really like to know is if the video seemed to work — with an individual, or with a team.  And, while it would be nice to have a commenter's name and organization, I would at least like to know the age of the youngster/s using the program, as well as your position (as a parent or coach).




Oh, and yes you can share this page and video with teammates or friends.  Just send them a link to the CoachChic.com home page (that works best), and tell them to scan the free stuff for "Learning Hockey — with Coach Chic & Chomper".




Thanks for stopping by.  And, I look forward to helping you further as your little one grows in the game.

– Dennis Chighisola
Shaun Goodsell, MA
President and CEO of Mental Edge
For years I have wondered what part innate talent plays in the success of athletes. Growing up aspiring to be a pro athlete I thought on many occasions, "I wish I were talented enough to be as good as others."  In fact as I have progressed in business I have also believed that success is a by product of the genes you get and some are lucky while the rest of us are scrapping and clawing to rise to the success of others.  While attending the PGA Championship last month I started thinking about the pathway these athletes took to get to where they are. Could there be more to it than simply genes?
Recently, I came across a book that challenges the significance of innate talent in the success of athletes, musicians, and business leaders. Geoff Colvin has written a book titled "Talent is Overrated: What Really Separates World Class Performers from Everybody Else". Colvin makes a compelling case that THE ART OF DELIBERATE PRACTICE is what differentiates world-class performance from others.  He then goes on to describe this compelling concept:
"People who engage in intensive deliberate practice push themselves slightly beyond their current limitations physically and mentally."
Doing this leads to greater perception, greater knowledge, and greater memory of what they know.  Practicing in this manner over a long period of time leads to the brain and body literally changing. When one learns to perceive more they are able to focus in on vital information that is significant when looking to creatively chart a course of success. For example, being aware of facial expressions in young athletes gives clues as to how they are receiving certain points of teaching. Often times a young athlete's ability to be coached is closely connected to the closeness they feel to their coach. If a coach is not picking up on these subtle cues they miss information that is vital to their ability to influence a young life. In the same manner, learning to read important cues during a competitive situation gives athletes an advantage on their competition. It is this information that many athletes seem to miss.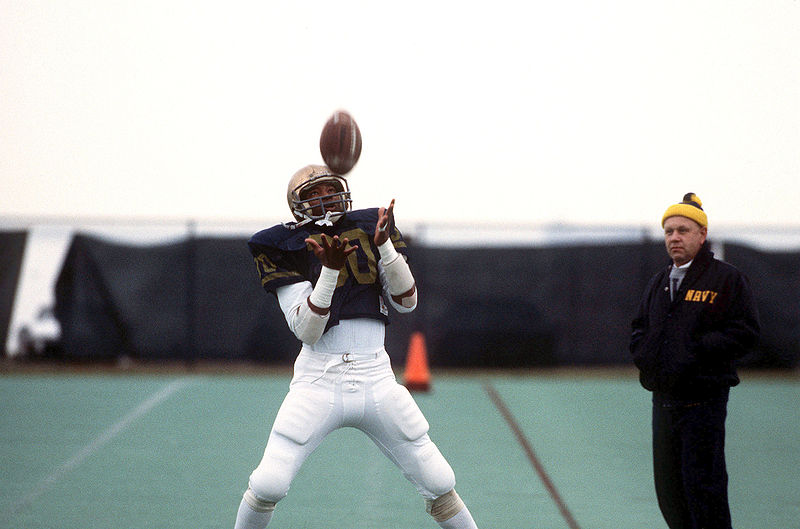 Intensive deliberate practice not only improves an athlete's level of perception but also increases their "working' knowledge within their sport. It is as though an athlete's knowledge base grows with each opportunity to play and practice in this manner. This dove tails with other performance coaches who encourage athletes to make sure they are always in the process of learning with each situation. Increasing their data base helps to inform them as to how to predict and approach different situations with greater mastery.  With this increased knowledge making decisions becomes easier and confidence in that process is increased.
Lastly, intensive deliberate practice improves an athlete's memory of what they have learned in past performances. When they intentionally go into situations with this mindset their memories of the working knowledge they have acquired increases and they draw on this to acquire an edge on their competition.
It turns out the mental aspect of performance is vitally important and learning to approach our performance opportunities with a deliberate intensive approach gives us the secret many champions use to create the Mental Edge!
Be a friend:  EVERY worthwhile Comment helps Coach Chic in the search engines!
Some time ago I discovered the benefits to just slightly changing any given drill to shock my players' concentration.  Substituting another object in place of the puck can do this.  And, I've more recently tried — with some success — the use of big balls, like those used in basketball or soccer.

– Dennis Chighisola
Okay, I know the above claim needs a whole lot more explaining, so here goes…
Let me start by reminding my CoachChic.com friends that "repetition (surely is) the best teacher".  However, "boredom is the greatest threat to effective teaching".  In other words, doing the same exact drill, over and over again, IS great for creating muscle memory.  Still, that's only good to a point, since overdoing the same drill is likely to eventually cause our players' eyes to glaze-over.  I mean, at some point, our players will start just going through the motions in zombie-like fashion.  And this is when poor technique and poor decision-making — along with the wrong kind of muscle memory — start creeping in.
Let me also remind you that it's at a time like this when there's a need to get a little creative, or "artful".  (If there's a caveat here, it's that we have to continue reinforcing proper techniques, and not just go to another form of drilling for the sake of change.  In other words, while players have to feel a drill is new, parents and coaches have to be careful in choosing a substitute drill.)
Now, one of the earliest posts I contributed to this site had to do with using a small ball for teaching passing techniques.  As I described in that one, pairs of players move while passing the ball back and forth to each other.  As I also suggested, proper passing and receiving fundamentals can be reinforced while this drill runs.  The receiver can be reminded to give a good target, and we coaches can reinforce a need for the passer to lead his or her teammate and to put the pass right on-target.
If you get where I'm going with this, you might also sense, as I do, that players usually won't see the above described drill as being anything like the same old, same old ones we've done so many times before.  In fact, I often see my players refreshed by this approach, and they tend to give more of themselves just because the drill does seem new to them.
As another example…  Late last winter I started to get the impression that my junior high school team kids were just going through the motions during our breakout drills.  (Actually, things were getting pretty ugly.)  How could I blame them, though.  We must have done those same old drills hundreds of times over the long season.  So, I decided to bring a soccer ball to our next off-ice practice session.  And, it did the trick.  Suddenly the kids seemed to brighten-up, and they were suddenly focusing again, too.  Their concentration was back, and they once again began attempting to place passes right to their teammates' hands.
Now, once I see something works, I salt that idea away for future reference.  Ya, switching to small ball passing (as described earlier) probably crept into my drill repertoire some 15-years ago, and it's always been there for me to fall back on as the need arose.  So has the big ball idea been available for me since late last season.
That said, I want to insert here another thought…  In strength training circles there is a relatively new approach referred to as periodization.  And, for all the science that might be used to describe that mouthful, my oversimplification of that term is this:
While sticking with a given training routine for a considerable length of time will produce positive results, there will ultimately come a time when progress either slows or almost stops.  (This is often referred to as "plateau-ing".)  So, the idea of periodization is to avoid plateaus — in advance — by periodically changing an athlete's routine.  In other words, we know a routine is ultimately going to lose its effectiveness.  So, why not switch to some alternate exercises beforehand?
So, does this line of thinking sound anything like my idea of using alternative drills in our hockey practices?  I definitely think so.  And, borrowing from the idea of periodization, I've even begun inserting substitute drills BEFORE the traditional ones start losing their effectiveness.
As an aside here, and as a way of introducing a few new drill ideas for you…  I don't think we should get stuck on any given type of substitute for a puck.  At certain times small balls work; at others times I've found it wiser to use a big ball, because it slightly slows the action, or because it in some other way makes a drill run better or safer.  And, I don't doubt that either you or I might arrive at something even better to use sometime down the road (I don't know; frisbee, anybody?).
Now, late this summer I felt the need to reinforce offensive 2 on 1 principles with my Team NEHI guys.  I think players tend to like games of keepaway, probably because there's competition involved, and also because these contests aren't very different from real game action.  Of course, I like keepaway games because they force real game decision-making, proper passing and receiving skills, and because they can be performed in a small, easily observed area.  In other words, it's pretty easy for participants and coaches to see if choices and skills have been performed successfully.
Shown to the right are my guys playing games of 2 on 1 keepaway (roughly) within the end face-off circles.  (If you click on the photo you'll see a video of my guys in action.)  Actually, we played these games on-ice during the week with pucks, then used a soccer ball in our weekly off-ice practice.  If you can appreciate it, the same principles and techniques were reinforced in both venues, while the kids reaped the benefits of seemingly different drills.  In the video you might notice the kids laughing a bit, or being fairly animated (suggesting they're enjoying the competition).  Also, notice the two young kids (our junior high school goalies) in the second group, as they actually try to get open and they also use some eye fakes to fool the checker.  And, done enough, I'll suggest that these things will gradually transfer into their game play.
Shown in the second photo are some of my NEHI HS Prep guys doing the same drill.  (Click on the photo to see that drill in action.)  You'll notice I've added a little incentive (or consequences) to their success or failure in the game.  Hey, there are consequences if we lose the puck in a real game, so — on an honor system — kids who cause a turn-over quickly do 5 push-ups.
This brief sidebar…  I tell my guys ahead of time that I don't want the push-ups to be seen as a real punishment.  The reason I'm only asking them to perform five quick ones is so that they'll at least associate a small amount of pain(?) or embarrassment(?) with losing the puck or ball.  (If you think about it, most of the drills we coaches run during our practices don't have the same kind of results-oriented consequences as our games.)
The final photo shows some of my kids working on their offensive zone man-advantage plays.  I'll get plenty into powerplay tactics down the road.  But, for now let me say that an effective powerplay can often be the great equalizer when/if our team is struggling in other areas.  Also, if you think about it, powerplay skills and principles tend to trickle-over into many areas of a team's 5 on 5 play.  I say all this to let you know that we spend a pretty good amount of time working on man-advantage situations.  Understandably then, we REALLY need alternative forms of practice to avoid all the issues associated with boredom.
(Click the photo to see action drilling on our powerplay.)  This clip was taken early in the kids' learning my version of the umbrella formation.  So, while they certainly haven't yet gotten to the point of executing plays in this video, they are quickly learning to recognize where teammates should be, where opponents likely are, and where their passing options might be.  Again, though — aside from the teaching aspects, this form of drilling makes it possible for me to practice powerplay tactics — A LOT.
In closing, I hope players, parents and coaches appreciate my concerns for practicing plenty while also trying to keep focus or concentration.  I'll suggest there's a delicate balance required in our drill selections — between traditional ones and alternatives.  The use of small and big balls can help towards this aim.  But, they're by no means our only options.
Be a friend:  Your worthwhile Comment helps Coach Chic in the search engines!
Before getting into the following video, I mention in it that there's a simpler forecheck — more suitable for younger or less experienced players — offered elsewhere on this site.  So, if you happen to be coaching a team that fits such a description, I'd really suggest you try the old "L" forecheck.  I've found even young Mites capable of learning it and executing it well.
Now, although I define this as THE 2-1-2, I should really say that it's MY version of that forechecking scheme.
You see, by saying it's a "2-1-2″, I'm really only describing the layout of players — as in 2 guys working in deep, one guy back high in the middle, and 2 defensemen positioned as the third wave.
Coaches all around the world use the layout I've just described.  And, while most of us probably teach a lot of the same tactics within this formation, I'll suggest that every coach adapts each role to his or her liking (or philosophy).
All that said, here is MY version of the basic 2-1-2 forecheck…
Loading...
Be a friend:  Your worthwhile Comment helps Coach Chic in the search engines!
As a preface, I want to explain my need to place this entry in three different "Thinking The Game" categories.  For, while it surely does involve some General knowledge, the drill format I'm going to explain and show here is awesome for perfecting both the Offensive and Defensive sides our game, as well as for helping our players improve their transitions from one phase of play to another.
Now, I'll once in awhile joke that some of the biggies in our game follow what this old coach is doing.  And the start of this video might give you an indication of how that probably started.  (Oh, I've given them plenty more cause through later years, but…)
As I said in the preface, my MP Drill Format is truly awesome for teaching, practicing and then perfecting nearly every phase of a team's playing system.  As I also suggest in the video, my MP has continually evolved through the years, and I've found ways to adapt it to all sorts of practice conditions (like off- or on-ice), and with all the different age groups.  I will even suggest that member coaches should seek ways to alter the concepts to meet their own teams' needs.  That's okay; I don't believe the MP Drill Format is done evolving yet.
Loading...
By the way…  A few years ago, I went to a far different type of forecheck than that depicted in the video.   And this presented some real challenges as I tried to fit it into my MP.  Again, though, coaching is all about troubleshooting.  And, as I said previously, the MP can — and should — be adapted to meet a given team's needs.  So, sometime in September I'm going to show you a simple but rather interesting thing I added over the past summer.  For now, however, get your own MP Drill Format going.  You won't be sorry.
PS:  No, that isn't me shown coaching in any of the video clips.  I'm always stuck with the camera.    Instead, the most prominent guys shown are two great former NEHI camp coaches, Dave P and Rich B.
Be a friend:  EVERY worthwhile Comment helps Coach Chic in the search engines!
Core Confidence
Justin Johnson
Mental Edge Performance Advisor
One of the best feelings an athlete can have is when you stand on the playing field and have no doubt you will be able to achieve your objective. The most consistent finding in athletes who perform at a peak performance level is the direct correlation between their confidence and success. Every year from pre-game chalk talks to post-game interviews you hear about the importance of having the confidence in your ability to succeed. Yet for many athletes regardless of their level or past experiences have a weekly struggle with their confidence. The primary reason this occurs is that athletes tend to place too much importance on external results rather than their inner belief in their abilities.
As an athlete you gain confidence from two segments: external and internal.
External confidence is often the easiest to recognize and what you are most likely familiar with, making a big play, encouragement from a coach, or wining a big game for your team gives you an instant dose of confidence. It is easy to gain confidence from such events and the feeling is often very powerful. However there is a very real danger in staking all or even too much of your confidence on external events. The reason athletes struggle with confidence is because they fail to realize they do not have complete control over external events. Instead, your focus should be on elements you can control in order to influence events in a way that results in your favor. For example as a baseball hitter you don't have complete control over whether you get a hit, because the pitcher decides where to throw the ball. You can, however, influence the chance of getting a hit by working on your swing technique and by deciding to swing at quality pitches.
So, how do you know if you are an athlete who places too much emphasis on external confidence? Chances are, if you only feel confident when you make a big play, or when coaches are encouraging you, or when you are winning, you tend to place too much emphasis on external confidence.
To avoid the rollercoaster feeling of having your confidence at the mercy of positive or negative outcomes, you must learn to develop your internal or core confidence. Core Confidence is developed from two sources, the movement towards mastery of skills and by engaging in quality thought. If you are a goaltender, for example, developing crisp movement, solid positioning, and smart save selections, these are skills you have complete control over. Core confidence comes from an inner assurance that when needed you can execute these skills to stop the puck. This is why many coaches suggest going back to the basics to reclaim your confidence. By setting aside a portion of time in practice to concentrate on basic skills you allow yourself to focus on the areas you have control over. This results in a higher level of assurance that you are capable of executing the skills of the trade.
The second source of core confidence is having quality thoughts. Much has been said about the importance of positive thought, so much so, that this has become a cliché of sorts to many athletes. What few athletes realize is that quality thinking is a skill, just like any other physical skill in athletics. Because it is a skill, the more you work on it the better you become at it! Core confidence is built by the quality of thoughts you have about what is going on around you. An athlete who engages in quality thought notices their strengths and successes and looks at failures or shortcomings as a skill or opportunity that has not yet been fully developed. Remember thoughts are very powerful, so powerful in fact that they dictate how you feel which in turn tells your body how you should act. So, in order to perform in a confident manner you must have the type of thoughts that produce confident play. As you develop your quality thinking skills less effort will be required and the foundation of your core confidence will be built.
Quality Thoughts = Quality Emotions = Quality Actions
So how do you develop your core confidence? In order to build core confidence you must:
Identify and focus on what you can control You don't have control over events; instead focus your energy on the thoughts and actions that will influence events to occur in your favor.
Devote time to the physical basics Skill refinement allows you to build your assurance that you can do the job.
Train yourself to think quality thoughts You have control over your thoughts so choose quality thoughts, which will lead to quality performances.
Simply put, you know you have core confidence when you believe you can make the play, instead of, because you made the play.
Simply one of the best articles to appear on CoachChic.com to date!

– Dennis Chighisola
Shaun Goodsell M.A.
Senior Performance Coach
Mental Edge
After 8 years of working with athletes of all ages I have concluded that there isn't enough failing taking place.
Now this might sound strange to hear because of our insatiable need to always perform with perfection and excellence. Without a doubt the number one fear and driving force in the mind of many athletes is how their current performance is being seen by a parent or a coach. When this happens the athlete stops being aware of the environment around them and hyper focuses on the opinion and thoughts of the person they are trying to please. This critically injures their capacity to play decisively and aggressively because they are ultimately afraid of displeasing or disappointing their parent or coach. This type of environment stifles the athlete from taking the necessary risks that often result in development and growth.
Ideally, the athlete would be free to learn about what adjustments to make, and what skills need development by focusing on what the game teaches them, when to take a risk, when to hold back, when to stay still and when to move. They are not aware of these important cues when their focus is on pleasing the coach or a parent; they become frozen with fear that something they do will result in disappointment or punishment. Competition will teach the athlete if they are open to taking in what is there to learn and the environment rewards taking risks by communicating with the athlete about what they are trying to do and why. Often times the intention is right on but the execution is lacking. I was watching a soccer game recently and the young player had a really good intention but failed to execute the play. That moment could be used to learn that the skills needed to complete that play need work but the thought behind the play was good.
If you are an athlete that is hampered by a fear of failure I have some tips for you that will help you break free from this disabling state of mind:
Focus your attention on mastering your skills. These skills are what you will need to create greater competency in your sport and earn you more and more opportunity in competitive situations.
Evaluate yourself by your own set of standards. Determine what your goals are, work for them.
Take risks. Risk taking helps us increase our understanding of our abilities and helps us see where we need to work in order to improve. Without taking risks we will never reach our full potential.
For every "Failure" there is a potential positive outcome. If you are successful with the risk then there is positive if it doesn't work out then it doesn't happen. To make big plays you need big risks and sometimes that means failing.
Set out to take risks. Not stupid risks, just risks. The biggest asset you have as an athlete is to use your mind and courage to see what you can do during competition. So next time you are preparing to compete get yourself to fail huge!
*

Having thought long and hard about Shaun's words — or about his theme, something ultimately struck me…  My guess is that each of us has a favorite pro player or idol.  I know I have several of them.  And, the ironic thing is that I think the one quality I admire most in each of them is their daring.  (I mean, can we picture an Ovechkin here?)  Think about your own favorites — in any sport.  Consider how often they dare to fail.  And, consider that THAT just might be a great quality to emulate!

– Dennis Chighisola
As you'll discover over time, I make a big deal out of face-off plays.  And, although I'll cover this statement in much more detail at another time, I almost view face-offs — particularly those held deep in either end zone — as I would soccer style free kicks.
For now, though, I believe every team should have a few offensive face-off plays.  As I'll say in the video, there are numerous plays that could be worked down deep in your rivals' zone.  At the same time, perfecting just a couple is probably a lot better than having a bunch of them that aren't nearly as effective.
So, here are a few that have worked well for my teams…
Loading...
I hear you chuckling as your read that title.  Sure, everyone knows that hockey sticks are ultimately responsible for putting the puck in a net.  Yet, the following video is going to give you a better idea about why I make such a big deal out of such a simple premise.
You might also get a hint here about my (unique?) teaching method.  Because, despite all the things that go into preventing a rival player from scoring, I try to give my guys a very simple and clear end-goal to accomplish that.  Said yet another way, I've found that my players are ultimately able to measure their own successes or failures in this area because I've given them this clear cut responsibility.
Oh, by the way…  Member coaches should see a couple of drills I use to work on this "stick controlling" skill, and I highly recommend you borrow these for your practices…
Loading...
This entry is really sort of a follow-up to an earlier post, RESPECTING Young Hockey Players.  And I also want to pose a few questions to members at the very end.
Now, as you might recall, I talked some about my fun approach to training in that earlier piece.  And, although I didn't mention my work with older players very much, I need to say right now that most of our more advanced level work (or work with older kids) should also end-up being enjoyable to those in our charge.
That said, a major part of my year-round work involves coaching — and actually guiding the development of — two NEHI teams.  One group is of junior high school age, the other made-up of high school-ers.
For a number of reasons, I have to slightly adjust my ways with them — due to their ages, their general age-specific personalities (if you know what I mean), and because of their presumed aims in the game.  And in reference to the latter, each is assumed to be dreaming of making a high school team someday, and they ultimately want to do really well at that level.
So — as I jokingly refer to it, I'll sometimes have to wear my "high school coach's hat".  I mean, if you think about it, athletes don't only succeed by having great skills and hockey smarts.  No, each team candidate is a whole package, with yet another key ingredient being the way they handle themselves emotionally.  (Just ask Shaun Goodsell and his Mental Edge staff if that one isn't so.)
Anyway, at different times during our practices and games, I'll put on that high school coach's hat and grump and grumble a little.  I actually warn the kids about it, even telling them, "I love you guys, so I'm preparing you as best I can for what's ahead, even if it comes-off sounding mean."
Oh, and by the way…  Sometimes I have to fake it — not really being upset with them at all, but instead wanting to ensure they're going to be able to deal with the mix of positives and negatives that are sure to be thrown their way down the road.
As for the subject of "doing the right thing"…  Don't you know that I slightly "lost it" at practice the other night, only hours after I'd sent-in the earlier referenced article.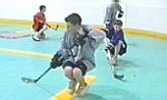 What had happened was that a lot of my long-time players were acting a little too comfortable as we drilled.  They are senior members of the group, they know a lot of what's coming in some of the basic drills, and they were half-listening or half-working as the practice went along.  More than anything, I worried that they were showing our new team members the wrong way to apply themselves in a practice.
So, at some point I began turning the screws on them.  And I sorta nailed the offenders for anything and everything they did wrong.  Ya, I got their attention — and that of the new guys, too.
Still, comes the time to end practice, and I'm thinking about a few things…  To a kid, they love the game.  I mean, they are all great kids, and they really are into getting better.  And, here they are at a "voluntary" practice on a warm summer night, while some other kids aren't even there to work on their game.  If you get my drift, I'm thinking that — while the whipping was necessary, I couldn't send a single player home wishing he hadn't come.  Make sense to you?
And that caused me to gather everyone together at the very end of practice, to sit everyone in a circle, and to rehash the events of the night.
As close as I can recall, I said, "Hey, I need to explain a few things to you guys…  I think you guys know I love you, and I only do things that will help you in the end.  You also know I love teaching the game.  So, if there are things going on that prevent me from teaching, I'm going to let you know about it."
Oh, I'm sure I said more than that over about 5-minutes, but that was the gist of it.  No way was I apologizing for holding their feet to the fire.  At the same time, however, I wanted to ensure future practices ran as they should, and I also wanted to give those kids reasons to come back for future practices.
So, my questions — to older players, parents and other coaches…  How do you feel about a coach holding his or her players' feet to the proverbial fire?  And, how do you feel about explaining oneself as I did?  Further, since I will at least once or twice per year tell my players that I made a coaching mistake (or whatever), how do you feel about that?
A Teleseminar for Athletes!
Shaun Goodsell, MA
As you likely know, there are countless forechecks being used at all the various levels of our game — some very aggressive, others more passive.
Still, I find the "L" forecheck to be the simplest of all, and easy enough for most beginners and intermediate players to eventually understand and execute.
Better yet, as you'll soon discover, this forecheck is great for teaching basic playing principles.
Also, I think my explanation of this strategy provides some insight into the way I deal with our game (and the way you can expect me to deal with most other areas).  I mean, a lot of coaches will just dump a sketch in your lap and expect you to go out and immediately teach it.  As you'll see, however, there's a lot more that should be understood about any given tactic or strategy, including the thought processes or decisions each player encounters.  And, once he or she has gotten into the following, I think any member coach will have the confidence to implement — and even troubleshoot — this simple way to forecheck.
Loading...
If you didn't know already, I'm really into the social media site, Twitter.  It's not for everyone, but it truly is great for my special interests.
My work happens to have me spending a lot of time alone.  So, the thousands of other soloists in Twitterland offer me plenty of cyber-friends I can bounce ideas off, or just plain commiserate with.
Then, talk about the chance to share ideas…  With my rather outside-the-box approach to hockey training, I find it awesome to meet and talk with specialist from all kinds of fields — like track, strength training, mental training, nutrition and so many more.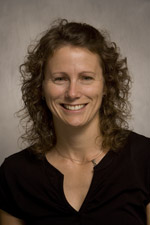 Better yet, I've for a very long time said that Twitter members are some of the best and the brightest in the world.  And, among the best and brightest is one Nicole M LaVoi (photo to right).
Dr LaVoi is an Education specialist at the University of Minnesota's School of Kinesiology, and she's an expert when it comes to youth sports, especially when it comes to the interactions of players, coaches and parents.  In fact, she has authored or co-authored a number of articles on the latter subject (two of these cited below).
As an aside here…  Having just finished reading one of those studies, I know that the authors had some very serious concerns in mind — like the ways abusive coaches, unsettled homes, and confrontations between parents influence young kids trying to play "a game".
Yet, a March 15, 2009 Twitter post by Dr LaVoi really struck a chord with me.  You see, I've for a very long time been bothered by parents who attempt to coach their kids from the sidelines (or from a rink's bleachers).  So, I really took notice when she commented that (based on studies), "…kids say 'coaching from sidelines' is the #1 bad parent behavior they don't like."
Now, if you're unfamiliar with Twitter, you should know that members are confined to 140 characters per comment.  So it's sometimes difficult to put things in plain English.  Still, there's no doubting what Nicole was relating from that study — pretty much to the effect that, "Kids say they hate it when parents attempt to coach from the sidelines!"
Again, I'll suggest that this sort of parent behavior probably pales to some of the other things discussed in that study.  Yet, interference by parents during team activities really is a biggie when it comes to the coach-player relationship.
As examples…
Parents usually haven't a clue what has been agreed upon in a team's pre-game talk or at various times during the game.  Nor do they know what changes in roles may have been asked of certain players.  And, as kids climb the ladder in our game, it's likely that team related strategies will change pretty often, even from shift to shift.  So, my first point:
It's quite possible that parents are calling for their youngsters to do the exact opposite of what's really expected of them — by their coach, by their teammates.
Then, consider that our game is one of transition.  In other words, player roles change in a heartbeat — from offense to defense, from defense to offense.  Said yet another way, our game calls for instant reading of a situation, followed by an equally quick — and proper — reaction.  We're talking about playing on instinct here, really.  And that brings me to my second point:
There's no time to really think under these conditions, and there's surely no time for a player to listen to verbal instructions, process the information, and then react accordingly.
Finally — and thanks to Dr Nicole M LaVoi, et al, there's a third point, in that:
We now know that the calling of directions from the sidelines by parents can be especially unsettling to the kids.
But, I'm getting ahead of myself, and telling you the gist of the short video to follow.  Actually, I created this for my Team NEHI parents a few years ago, hoping to encourage them in one area while discouraging in another.  And, as always, I ask you to have a look and listen to "Up the boards, Johnny!", then let me know what you think…
Loading...
If you'd like to know more about the studies referenced above, please see:
Omli, J., & LaVoi, N.M. (2009). The perfect storm: Background anger in youth sports. Journal of Sport Behavior, 32(2), 242-260.
Shields, D.L. Bredemeier, B.L., LaVoi, N.M., & Power, C.F. (2005). The behavior of youth, parents, and coaches: The good, the bad & the ugly. Journal of Research on Character Education, 3(1).
Shaun Goodsell, MA
Senior Performance Coach
Mental Edge
As we participate and engage in life there is a constant exchange of information. We send energy into the environment and we get it back. From a competitive perspective, we attempt to impact our environment through our actions and hopefully allow ourselves to be open to feedback we are getting. However, it is also very important that we evaluate the relationship we cultivate with the information from outside of us to determine whether or not we are learning the lessons present to make the adjustments in our performance that helps us move towards improved performance.
With this in mind, I want to compare two types of responses and how they impact performance.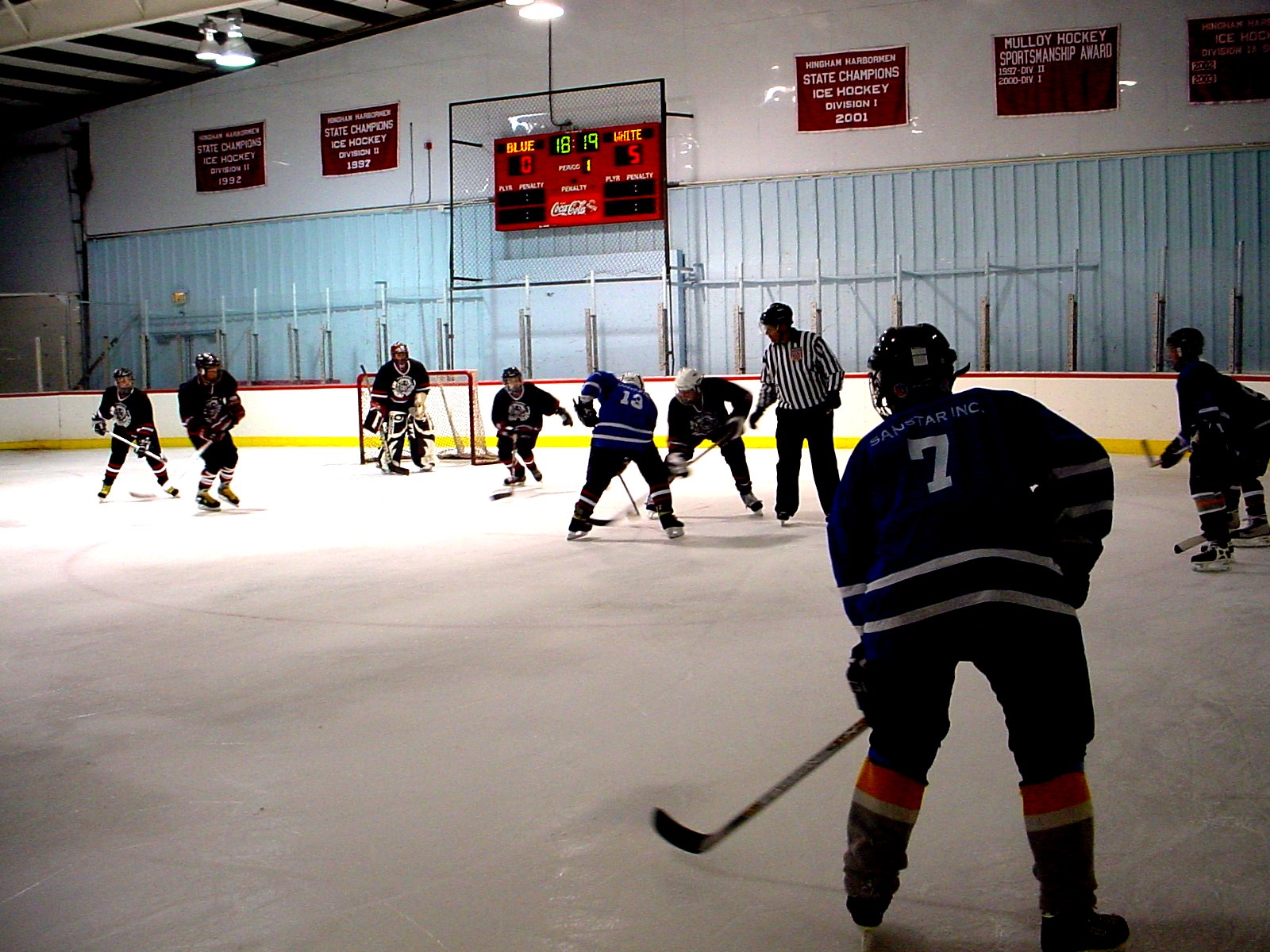 The first response is FIGHT. When we fight with the information from outside of us we often have an underlying expectation that things should be going different and we are entitled to a different fate or outcome. When people engage in a fight response they often become disappointed, anxious, and some become more determined to work harder and more diligent, while others disengage because they become pessimistic about their ability to dictate a different outcome. This over time creates significant discouragement and leads to a reduction in motivational energy. There are many possible examples of this but when an athlete's performance falls short at any moment the game will give them information that they have to make sense of. When they FIGHT this information is when a series of thoughts flow and the fight response is in full function.
Another way to deal with the feedback we get from our performance is to engage in FLOW. At the core of this relationship with our environment is the ability to absorb, accept, and make emotional and physical adjustments using the moment as a learning opportunity leading to enhanced performance… using what is happening in the here and now. Expectations stay realistic and our response is focused, relaxed and very intentional. I have found that teaching athletes to learn from the information they are getting from around them truly empowers them to find advantages on their opponent as well as enhance their performance, utilizing not only their bodies but also their minds.
At the Mental Edge we are committed to helping athletes learn to FLOW with the environment around them leading to an enhanced experience as well as improved performance in sport and in life.  We have launched an Audio Series that will give athletes a tool to perform in sport and in life with FLOW — staying away from fight! Our new Audio Series is called Mind Strength: an Edge on your Competition by Mastering Five Mental Toughness Skills To Become a Winner on the Field and in Life.
We all need ways to organize.  And my personal learning style requires me to be very, very clear in plotting my teaching plans.  (My guess is that I grew-up with A.D.D., long before there was a name for it.
!)
In my case, I don't want to miss covering a single aspect of the game.  So I've devised several ways to arrive at checklists — for team strategies and positional tactics, as well as for the individual skills that help my players execute those well.
Now, you might find it interesting the way I've arrived at the various categories here at CoachChic.com.  Actually, though, that's also pretty close to the way my personal coaching notebook is arranged for next season.
All that said, the following video probably over-simplifies things a bit (and it might be a little boring to some).  But that's the way I am…  For the sake of my players — and for YOUR sake, I just don't want to risk glossing-over anything or missing a single step.  So, here goes with a look at "Breaking Down the Game"…
Loading...
For sure, breakout plays can be designed to be pretty sophisticated.  However, ask any high level coach about the real key to breakout success, and he or should will likely tell you it relies heavily on execution.
That said, I'd like member players, parents and coaches to pay particular attention to the so-called "little things" I point-out in the following video.  For, I think an awareness of these skills — from both a physical and mental perspective — can make a profound impact on any individual's or team's ability to move the puck out of their end.  Then, once you've seen the video, I'd like to add a few more comments (below)…
Loading...
Now that you've had a chance to watch that video, I'd like to emphasize a few things…
As you'll catch me saying often, playing the game well calls for great skills and an ability to think the game.  (Believe it or not, I occasionally run across folks at local arenas who feel players can avoid one or the other and still excel.)
As I said in the video, skill-wise a player needs to be able to skate his or her position, handling the puck under pressure is essential, and it's also an absolute necessity that players make and catch passes.
It should also be evident that players can't just close their eyes and fire the puck in some general direction.  In fact, I made the point that we would like to fool the opposition forecheckers when possible, and that the first pass in our zone is especially important.
Finally, because the breakout is actually a combination of many skills and thought processes, look for me to add a number of new videos in coming months, these focusing in more depth on each small breakout part.
The following is another great question sent me via the Youth Sports Coalition.  As with many others, it's a real challenge.  More importantly. I believe my answer is something every CoachChic.com member ought to consider.

– Dennis Chighisola
Q: Anonymous asks a pretty tough question, and one for which there probably isn't a right or wrong answer.  As the parent of a second year Bantam describes the situation, his/her son is currently extremely small compared to others in his age group.  Perhaps repeating some medical advice, Anonymous does state that, "…it will be several years before he will start to catch up size wise to his peers."  With that, the parent asks for advice on two hockey playing options for next year — one offering more practices but possibly less game-time, the other likely to give the boy more playing time but less practice.  Oh, then he/she suggests a third possible option, as in, "Is it time to just give up on hockey?"
A: If anyone wants my opinion when faced with a choice between games and practices, I'll always opt for more practices.  Practices are where players get to hone their skills; no one ever improved from playing in a game (I could write the equivalent of "War and Peace" on this subject).
That said, the mentioning of a third option by Anonymous bothers me a little.  I mean, I'm wondering if the idea of packing it in is just something that's crossing the parent's mind, or is it a feeling the youngster has openly expressed.  No matter, please read on…
Actually, I can't help raising a point I think about often.  You see, all winter long I get to watch the guys coming and going from a local senior league that plays next door to where my team practices.  It's a night-out for those older guys — feeling part of a team again, getting some exercise, hanging long after their games to have a few beers, swap war stories and have some laughs.  The funny thing is, the teams are a mix of former NHL players and other old pros, long ago college players and probably some guys who didn't play that high when they were younger.  Plenty of my former high school and college players are there too, which brings me to sense that they must have really loved the game if they're still at it.
And that's the point I want to raise for Anonymous' sake, in that, on a Monday night in Hingham, MA, it seems to matter not where the guys had been long before.  As a matter of fact, it appears to me that all of those senior league members have returned to where they began, just playing the game for the love of it.  And if we think about it further, the guys who reached fairly high levels only stayed there for a fraction of all the time they've played.  Or, said yet another way, they've spent most of their lives playing just for the love of it.
Now, if Anonymous can agree with what I've said to this point, perhaps the most important next step is to resolve his/her son's reason for playing.  Oh, hockey isn't for everyone, and there are countless other things a young teen can do for enjoyment.  However, if the boy feels as I suspect — still loving the game, this might at least help ease some current bumps in the road.  Perspective is everything, you know.  And by that, I'll suggest that the best and the least players on any young team had better not be going to the rink on a given night with visions of the NHL (whatever).  No, I think it better that every youngster head-out with a smile, and mainly just for the love of it.
I hope Anonymous understands why I dealt primarily with the larger question here.  For, that solved, it'll probably become clearer which team his/her son should aim for.
Then, despite my 40-ish years in the game, I wouldn't dare predict which young players will or won't "make it" in the end (and I'll further suggest that professional scouts couldn't do any better).  Sure, anyone can spot the kid with potential on a given night.  But things change rapidly in a youngster's life — physically and interest-wise.  Besides, it's hard to measure what's inside a young player, beginning with his love of the game.
As many of you might know by now, I run 2-teams under the New England Hockey Institute banner.  The high school guys are with me from late-May until Thanksgiving (when the local school teams begin), and my junior high school aged kids are with me for almost 11-months.
For sure, I do a lot for my players when it comes to their skills and playing smarts, but I also do quite a bit to improve their psyche.  And it's the latter — trying to help my kids carry themselves and act like true athletes — that I'd like to comment on here.  In particular, I'd like to share with you something I frequently try to convince my older guys about…
You see, this is something I always felt from my experiences as a long-time high school and then college head coach, in that skills tend to get a player noticed — and they tend to help a kid make his or her team; thereafter, however, hockey smarts tend to get a player ice time.  Think along with me, if you will…
About all that's really recognized at tryouts is whether a player fits — skill-wise.  All sorts of drills are conducted for this purpose, without there being much a coach can do to discover whether the players can think and skate, or play the game according to sound hockey principles.
Once his or her team is named, a coach goes about the next steps, which include filtering players towards their positions or roles, and then teaching them his or her playing system.  And it's at this time that hockey smarts (or a lack thereof) start to show.
As an aside…  Of course, a player's skill capabilities enter into the amount of ice time he or she gets.  But, for the sake of this discussion, let's envision that most team members are in the ballpark when it comes to skill oriented capabilities.
Actually, that process — of assessing and re-assessing each player's ability to think the game or play the system — continues throughout a season.  In other words, make dumb plays with the puck in your own end, and you might expect to sit.  Forget your assignment on a face-off, and you might not hear your name called for a long, long time.
So again, if you can appreciate my point…  Great skills are sure to get a player noticed — and probably picked — during a difficult tryout process.  In a way though, a new process starts right after tryouts end, this one involving the battle for ice time.  And, while skills are still a factor in logging lots of ice, so are hockey smarts and an ability to execute the coach's playing system.
Yet another aside…  At least once each year, one of the bull sessions I hold with my older guys involves a focus on the minor league team that feeds the hometown Boston Bruins.  The NHL team's AHL affiliate is only down the street, in Providence, RI.  So I know that most of my kids have seen plenty of P-Bruins games with their parents, or they've at least followed the progress of young, budding players who are just dying to get a call from the big club.
You might wonder, as my kids do, why some guys seem to excel on the minor league team, yet they don't get that call.  And I'll suggest that it's usually because they lack the final polish or the trustworthiness to play at the next level.  For sure, they have the potential — and most likely the skills; that's why they're seen as prospects.  But they don't yet have the mental skills to displace someone up above.    
Finally, I've come to believe that understanding the above really has to be a part of each developing player's mentality.  And I also believe this mind set is best taught early — again, convincing him or her to build highlight reel skills, but at the same time realizing the need to be smart and adaptable (to whatever strategies and tactics a new coach might want to employ).
This is a great follow-up to the last Mental Training entry.  (So please be sure to read that first!)

– Dennis Chighisola
Shaun Goodsell, MA
Senior Performance Coach
Shaun@MentalEdgeNow.com
If you scan or read most articles describing the success or failure of an athlete, inevitably, somewhere in the article there will be the mention of confidence as the crucial factor dictating success or failure. Why is it that so many believe that confidence is so important? I think it is because we are addicted to feeling good and believe that everything begins with feeling good. If someone succeeds we think it is because they believe they can. If they fail it is because they do not believe they can. The fact is that it is much more complicated then this.
What dictates a person's level of success is whether or not they have the skills to be effective, not how deeply they believe in themselves. Although a belief in oneself is helpful, it is not the determining factor in one's level of effectiveness. The time athletes spend developing their skills and their subsequent mastery of those skills is the most significant factor in determining their level of success. When an athlete masters skills and transfers their mastery to competitive arenas then a deep level of belief forms. Cultivating this deep belief starts with believing that specific skills are the vital difference makers in competitive situations and the application of those is what is responsible for success.
One story that highlights this concept happens often in the sport of baseball. When a pitcher is unable to get hitters out there might be any number of reasons for that. They are not hitting their spots, changing speeds, lacking velocity, or simply not studying hitters and learning how to get them out.
In football it could be a lack of speed, execution, or game planning. In hockey it could be some fundamentals are lacking making it difficult to create success.
The belief that a person has in their ability to be effective and successful is completely tied to their level of skill development and this is one of the vital factors that goes into helping young athletes shape the kind of mindset that helps them compete successfully as well as enjoy doing it. So next time you are tempted to believe that it was confidence that dictated an outcome, maybe look a bit deeper and see if skill application wasn't what dictated the outcome.
If the above article causes you to sense that Shaun and The Old Coach might be  on the same wavelength, beleve it.   Actually, I was think all the time I read it that just about every drill and game playing tip on this website was initially developed with a player's confidence in mind.  And my suggestions to go slowly and to master each step before taking on the next is also aimed at building confidence.  Confidence IS that important.  With it, a guy or gal is a real player; without it, welll…


– Dennis Chighisola
This will conclude the 4-part series on Checking — or, an overall view of the defensive side of hockey.  The first section includes the application of these principles within a team's playing system, followed by a brief summary.
Once again I apologize for the fact that the following video was produced just prior to the drastic changes made to rules involving body contact and such.  And again, I promise to do an update in time for your new season next fall.
Also, this VERY important note…  When I think about a smart player, checking — or the defensive side of his or her game — comes quickly to mind.  It's that important, and it's a major part of our game's X's and O's.  So, while players and parents should certainly know this information, I truly believe the dedicated coach has to understand these principles well enough to convey them well to his or her players…
Loading...
I happened to be browsing the Mental Edge website this morning, and I ran across the following.  Something just struck me about the words, but I'll tell you a more about that a little later.  For now, please have a read…

– Dennis Chighisola
EXPERTS AGREE one's mental approach can separate the ordinary achiever from the exceptional one. A positive mental approach is also strongly correlated with those individuals who derive a positive experience from their participation in athletic competition.
However, the skills required to achieve individual goals are often overlooked because the primary focus for development is concentrated more on physical attributes than mental approach.
At Mental Edge, our mission is to increase personal achievement and elevate the experience of individuals through mentoring and the teaching of competencies necessary to achieve a positive experience, on and off the field of play.
We believe personal satisfaction is fundamental to participation in sports … and in life.
I have to thank Mental Edge's Shaun Goodsell for those words.




Now, the real reason I think this short piece is so important to our members?  It's because I feel he's right-on in his observation — in that "the primary focus for development (among most youth hockey parents) is concentrated more on physical attributes".  Yes, I see an awful lot of parents carting their kids from skills program to skills program, oftentimes helping create what I (only half-jokingly) refer to as "professional powerskaters".  Come to think of it, I've noticed an awful lot of youth coaches running skills-only kinds of practices, too — whipping their kids up and down the ice, but never really helping them learn the game.




Oh, I suspect that isn't EXACTLY what Shaun was getting at up above, although I am sure he meant to say that much more emphasis is placed on physical skills than the mental side of a player's game.




Which brings me to a few things involving my NEHI players…




At least a few times per season I purposely have a talk with my older kids about the thinking side of their game.  And I'll frequently use two levels of play I'm sure most of them are familiar with — in that they've all seen a number of Boston Bruins games, as well as games played by Boston's highest minor league team, the nearby Providence Bruins.  Through a back and forth discussion, we'll try to reason why some highly talented guys down on the farm never get a chance to crack the parent team's line-up. Again, there are some highly skilled players down there on the "Baby B's," yet they never get an NHL call-up. ???  What we ultimately arrive at is the fact that some of those young guys can't yet be trusted to think the game at a high level.  They may not be able to stay focused on the task at hand (see my "Think 'n Skate" Program for more on this), or they might not possess the mental skills Shaun Goodsell is talking about.
Just near the end of my grandson's first college exhibition season, he called to ask if I'd do him a huge favor.  He remembered some "visualization" tapes I'd created years ago for my hockey school students.  What I did was to make audio cassette tapes for each of the three skating positions, and then I had the kids lie back — eyes closed, relaxed, and then "picturing" themselves performing their various duties during a typical shift.  Anyway, Tony Chic was asking if I might recreate one for his center position, so that he could transfer the audio to his IPod.  (Darn, good for him, huh?)  And, hmmmmm…  Did I just suggest to myself a new project that might benefit CoachChic.com members?  I mean, would you someday like to have access to visualization audio programs like I've just mentioned?  Let me know, huh?

Then, back briefly to one last comment on skills training and the like…  Without question, greatly enhanced skills bring with them a substantial boost in confidence.  So, daring to put words in Shaun's mouth on this one, I think we'd both tell you to keep working hard on those individual skills.  Actually, the point here isn't to suggest backing-off on physical work; the idea IS that appropriate attention has to also be given to the mental side of a player's game.




Finally, I'll suggest that there are (at least?) two parts to an athlete's mental preparation…  As I've noted above, a transition sport participant must learn to combine great physical skills with an ability to play smartly (and that's what our "Thinking the Game" section is all about).  For the rest, I gladly defer to the real experts, Shaun Goodsell and his Mental Edge staff.

– Dennis Chighisola
To this point we've covered a lot of theory.  Now, for a little more on the thinking side, along with the physical skills required to play solid defensive hockey.
Oh, apologies in advance…  This video was produced just before the sweeping new changes came into effect involving physical contact.  So, please take what you can from that area, and trust that I'll create an updated version in time for you're next season.
Loading...
As Justin Johnson will explain shortly, he took some time last August to visit with athletes and to discuss with them their approaches to a just completed off-season.  And I thought reflecting back on these should be interesting — and very helpful — as CoachChic.com members plan their own spring and summer training programs.

Dennis Chighisola
Justin Johnson
Mental Edge Performance Advisor
As I've traveled around this past month discussing with athletes about how they have spent their summer, I've stumbled across an interesting phenomenon. A great number of athletes, of all abilities mind you, have decided to take on a Quantity over Quality approach in their off-season. In their pursuit of excellence athletes find themselves practicing sport-specific skills sometimes up to four or more hours a day, six days a week. Pile on top of that, games, lifting, and for many others, a summer sport or camp. As an athlete you begin to wear very thin.
It is amazing when you sit down with a group of athletes and ask them about what they have learned or gained from all of these hours of activity. The response ranges from a puzzled look to a list of three or four things. By physically participating in all of this activity and training, the athlete has been forced to move from an intense focused form of training, which yields the most results, to a more conservative way of training so they have enough energy to get them through the entire day or week.
The reason so few athletes have a response to what they have learned is because mentally they move in a zombie- like state from one activity to another. Not remembering how or what they did last week in their game or practice. So an ironic situation occurs, despite all of the activity athletes are involved in only a select few are gaining any experience from their involvement.
How can you combat this? Well, it's simple; set some time aside to reflect. Take a few minutes after each activity you partake in and ask yourself a few questions:
What did I learn?
What could I have done better?
What did I do well?
What should I try next time?
Was that fun?
You can also write in a daily or weekly journal to keep track of the activities you are doing and what you are gaining from them. This journal will be an incredibly valuable asset as you move through the summer compiling all of the great learning experiences. As you look back over your entries throughout the summer you will begin to get a sense of what is working for you and what isn't. The journal will also help you in the following off season. Depending on how detailed you are you should have a great blueprint for what you should and shouldn't sign up for and participate in. This way you can look forward to a more efficient and effective off season as well as the knowledge that you have become a more experienced athlete.
As sort of a PS to Justin's great piece…

I think older players and parents of young players should come away with the idea that some planning will really help make the coming off-season more productive and even more fun.  Justin's 5-point checklist should aid in that.

But I'd like to especially emphasize the fun part here…  You see, I believe there's a fine line between a routine being fairly enjoyable or being a flat-out drudgery.  And, besides my concerns for how a player feels during his or her off-season, I'm overly worried about his or her mental and physical states as the new hockey season approaches.  I mean, the last thing we want is for a player to be already spent — either physically or emotionally — come next Labor Day.  Actually, the best case scenario would have them entering the fall just dying to get back on the ice.

So, for the time being, I hope you'll just consider the broad ideas outlined to this point.  More help in this area is on the horizon.
No doubt someone is going to wonder why I'd expend the time and effort to explain the (supposedly simple) task of dumping the puck.  Well, one of our members, David L., evidently knows the significance of this tactic, because he recently requested I undertake this project.  I totally agree with David.  And, as you'll soon see, an effective dump-in serves an important purpose, and it actually requires some skill and some hockey smarts…
Loading...
As a brief follow-up…  When it comes to dump-ins, I've noticed higher level strategies evolving over the years.  And, don't be surprised if they continue to do so.
There was a time when dumps were usually carried out just as I've described them in the video — I mean, hard around the boards or softly to the opposite corner.  Then there was a time when higher level teams shied away from sending their dumps around, because goaltenders got pretty good — and mobile enough to stop those pucks.  In more recent years, I've noticed teams again daring to fire the puck hard around.  As a matter of fact, a lot of teams are sending the puck in so hard that it travels around and through both end corners so that a teammate can grab it along the boards and fairly high in the offensive zone.  My real point, though, is that the ideas I've mentioned in the video are valid for most levels.  However, a clever coach just might make some slight adjustments as he or she sees the game change.