As many members know, I'm kinda famous for straying outside the proverbial box when it comes to studying.  After all, how can I ever be an innovator, if I only look into what other hockey coaches or trainers are doing?
For that reason, you'll find me exploring training procedures for sprinters, rugby players, footballers, martial artists, and so many others.  I'll dig into what famous generals and honorable political types have done when it came to motivating or directing their kinds of "teams".  And so will I delve into the X's and O's used by the world's top coaches, no matter their sport.
It's the latter urge, then, that got me recently reading (for probably the eighth time) an insightful book about college basketball's most successful coach, the late John Wooden.
– Dennis Chighisola
K.I.S.S. In A Hockey Playing System
The book I just closed the covers on is called "The Wizard of Westwood:  Coach John Wooden and His UCLA Bruins".  And, while it's not an X's and O's type manual, the author couldn't really describe the inner workings of the UCLA basketball program, nor the complexities of the man in charge, without touching upon the things that helped make him and his Bruins teams so unique.
Okay, so about this article's title — Keeping It Simple (Stupid?) In A Hockey Playing System…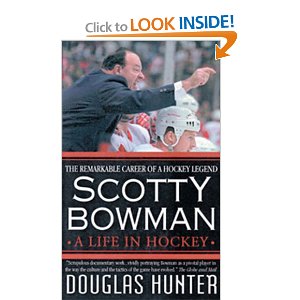 Now, my guess is that a lot of folks think that the more successful a coach is, the more sophisticated his or her playing system might be.  Truth be known, that's what I thought when I first got into hockey coaching some 40-ish years ago.
Don't get me wrong here, because we can be sure that guys like John Wooden, Scotty Bowman and Bill Belichick know just about every trick in the X's and O's book.  And, why shouldn't they?  They've been working at their trade for a lifetime, they've reached the pinnacle of their trade, and they've also reached a point where they have just about every resource needed to do things in sophisticated ways.
That said, might you find it interesting that Wooden's approach to b-ball is described as pretty simple?  I might have, if I hadn't heard similar stories over all the years I've been studying such guys.
In fact, the author and countless former UCLA players described Wooden's typical practices being more about fundamentals than X's and O's.  So, while maybe some of his opponents were scratching their heads about how to beat his Bruins with new tactics and strategies, Wooden's teams were moving, dribbling, passing, receiving and shooting them to death.  Yes, basics — like running, dribbling, passing, receiving and shooting.
Oh, and Wooden coached teams also ran their opponents into the ground, because conditioning was the one other thing he spent a bulk of his practices on.
Now, although Wooden's teams seemingly had all the typical strategies down pat and at their disposal, I guess I didn't find it very surprising that the old coach seemed to prefer going head to head with opponents.  Said yet another way, I recall him being quoted more than a few times within that book something to the effect that, "I'd rather other teams worry about what we're doing instead of us worrying about them."  (Actually, that's been my philosophy for a lot of years, but more on that a little later.)
I doubt you'll find it surprising that I've also pretty much devoured just about everything written about or by the great Vince Lombardi.  And I mention him here because Lombardi's approach to the game was the first thing I thought of as I read Wooden's philosophy about strategical matchups.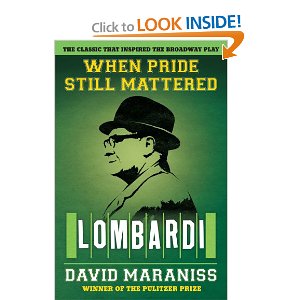 Oh, did this long ago influence the way I approach such things…  For, it's said that Lombardi knew "his system" so well that he could instantly spot one little thing going wrong within it.
Think about that if you will…  For the most part, he was coming right at you with a play or tactic that he knew would work, IF his players executed properly.  So — and this sounds a lot like Wooden's approach, Lombardi was pretty much saying that his guys only needed to execute properly in order to be successful.
And this all reminds me of something pretty basic that I heard at a coaching seminar a kzillion years ago…  What the speaker suggested was that, it's far better to be able to successfully apply one strategy (like a single forecheck), than to use a bunch of them with moderate or poor results.
As an aside here…  None of the above is meant to suggest that available talent shouldn't dictate a lot of what a team's system looks like.  I mean, a coach has to make certain system adjustments, if his or her team is highly skilled, not so well skilled, small and quick, big but slow, and so forth.  Hey, accommodations also have to be made when certain strengths or weaknesses fall within given positions.  (I'm sure that Wooden adapted to having a pair of future NBA Hall of Fame centers arrive at his school, and I'm sure Lombardi changed things at least somewhat as various All Pros graced his Green Bay Packers lineup.)
That said, I'm going to still suggest that some things never changed within either Wooden's or Lombardi's overall approach to their games.
Then, because I know someone is going to ask…
Over about the past decade, my teams' defensive system revolved around my own version of the 2-1-2 forecheck and zone coverage in our end of the ice.  (I wouldn't necessarily stick with those at other levels, but they were ideal for the fairly talented high school kids I worked with.)  A lot like my coaching idols, I got so I could recognize one hair out of place in either end of the ice.  And so did my players get so they could execute their system with their eyes closed.
Were we able to make adjustments?  Absolutely.  Our version of the 2-1-2 is super-aggressive.  So, as my players fairly well mastered that, I introduced them to a rather less complicated conservative forecheck, the 1-2-2.  Later still, they learned an even less complicated, ultra-conservative 1-4 forecheck.
In my mind, our look didn't change a lot from night to night:  We were always a 2-1-2 team with an aggressive mentality, and it was up to our opponents to prove they could beat that.  Still, at any time I chose, we could toy with our opponents, or get them off-balance, with one or the other secondary forecheck.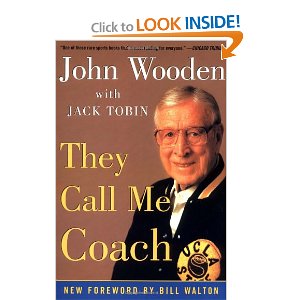 Now, I know that this entry is being read by members from all different levels of our game.   That means you're reading it with different experience levels, a different understanding of the game, and different ways the enclosed knowledge might or might not affect your future experiences around the game.  My main concern here, however, is how it'll be interpreted by member coaches…
The latter in mind, here's what I suggest…  Apply this (and other such knowledge) as I have.  In other words, think about what seems to be applicable to your level, and applicable to the kinds of players you normally deal with.  True, that we'd like to think we have a little Belechick, Bowman, or Wooden in us, and we each probably do.  However, we don't have their players, and it's doubtful we have the resources to accomplish with our players what they can with theirs.
So, again, let's all of us be aware of how the great coaches think, and let's even borrow what we can from them.  At the same time, let's be wise enough to know where we are, who our players are, and what they can fairly be asked to do.
Lastly, getting back to that KISS principle…  Let's keep in mind that long ago seminar speaker, who appeared to be right in line with guys like Wooden and Lombardi.  For, it seems to me that we can only expect our players to become masters of a set number of plays or strategies.   Give them one or just a few, and I'm betting they'll execute with pretty good precision.  Ask them to master more and more, and I'd be willing to bet that their success rate will diminish exponentially.
*
Yes, I do have an affiliate association with Amazon, and do profit in the sale of books.  However, I also have all the books I mention in my library, and they are among my favorites.
Position Assignments for Young Hockey Players
Okay, I know, I know…  The prevailing belief in most national governing bodies nowadays would suggest throwing all the kids out there and allowing them to play an indoor version of pond hockey.  In other words, don't pigeonhole a kid to be a centerman, winger, D-man, whatever.  Actually, some might even wonder whether there should be a dedicated goaler at the Squirt/Atom level.  Hmmmmmmm…
Before going further, let me say that I have kinda fallen in love with the idea of 3 versus 3 cross-ice games.  I had the opportunity to work with a Massachusetts-based ADM program for a few seasons, and I had the chance to see the skills that resulted from such games, as well as some of the problem solving even young kids were doing under such conditions.  Truly, the concept of tossing 3 youngsters (and a goalie) out there — and letting them play a little pond hockey — does have its merits.  Ya, I'm a believer.
It should come as no surprise then, that I have always tried to give players on my youngest teams some consistency when it comes to positional assignments.
Borrowing a phrase we hear often nowadays within professional sports, I try to give such kids "the best chance to succeed".   In other words, if I sense that a kid will do well and feel good about himself as a defenseman, I'll slot him there, and I'll do the same for kids I see as ultimately playing well at center or out on a wing.
As an aside…  My son played a lot of years as a minor pro winger, and my grandson is now setting a batch of scoring records at his college, at both center and wing.  What members might find interesting is that both started playing for me in their earliest years, and I had both initially play defense.  They were both pretty good skaters and especially strong puckhandlers at 8-years old, so they added a great deal of stability back there for the team's sake.  For their own benefit, I wanted them to get the unique view of our game that's only possible from the rearguard position.
Only last season, I did what I considered the same favor for a pair of young Mite AA's.  The parent of one questioned that only slightly, and I asked her if she'd just trust me.  I'm not sure the mom was ever totally convinced, but the proof in that pudding probably won't be seen for a few years, as it becomes evident her son sees the ice better than many other kids.  Oh, by the way…  Those two boys actually led their team in scoring — not one of our forwards, mind you, but those two young defensemen.
I also usually assembled set forward lines and defense pairs early in the season.  Again, the idea was to provide some stability for the kids.  And, while my assistants and I would show them some of the nuances of playing their positions, an awful lot of our practice time was spent on "generic" skill development.
Don't get me wrong about that term generic, because I'm not talking about so-called vanilla drills, or just run of the mill stuff.  What I am saying is that all of my skaters have always been taught to fly, and to fly with the puck on their sticks.  Said yet another way, my defensemen have always been trained to be as athletic and as shifty with the puck as their teammates up front.
In a way then, my kids have never lost anything in the way of development because of the positions they played.  And, I'd be willing to bet that — come their next season, my kids could successfully play any position for their new coach.
In effect, I'm suggesting a couple of things here:  1) that the 10- or 12-shifts my kids got in their games paled to the work they got in our practices, and 2) my kids probably were more capable of playing other positions well because of what we accomplished in practices.
Now, with all that said, there might be some other things to consider before leaving this topic…
To be perfectly honest, I think Squirts or Atoms — or kids who are 9- and 10-years old — are plenty old enough to start learning the game beyond what we'd give to 7- and 8-year olds.  I'm not suggesting that kids have to be "slotted", as if they're going to play a given position for the rest of their lives.  Trust me, though, in that I've yet to see a player hurt in his or her development by playing any of the 5 skating positions.  In other words, no one needs to panic — as if a kid is going to lose his scoring touch — just because he spent a year or so playing the blue line.
If the team in question plays in-house versus going out on the road to travel and play in tournaments, I might temper the above.  I mean, I might shrug, think it's more about fun than long term development, and just let 5 kids at a time roll out the door.
No matter how competitive their level, however, I think whomever is getting on the kids about positioning ought to cool his or her jets — until the youngsters are actually taught well enough what they're supposed to do in given situations.
If that team is part of an ADM program — as my last few young teams were, I'll suggest that a lot of skill development should get accomplished between that and the team practices, allowing the games to be more about actually learning to play, learning some important game playing principles, and learning to play a given position.
Although I've never done it, I suppose that the kids could be slotted at one position for a portion of the season, and then allowed to play elsewhere during the next fairly long stretch.
Lastly, there's yet another reason I dared slot kids in one position for an entire season.  For, to be honest, I think youngsters gradually start noticing what's happening around them.  I mean, even though each kid is playing a set position, he usually gets to the point where he knows pretty understands what all the other kids on the ice are doing.
*
Talk about cause to smile…  First, I've been sitting out on my back patio here at my new home in Kissimmee, Florida — it's about 9:30pm, it's nice and warm, I'm dealing with a pile of email, and I'm also getting around through my favorite social media areas.  And, although that's reason enough for me to usually smile, a Facebook message came through moments ago that really did the trick.
– Dennis Chigisola
Doing a Hockey Coast-to-coast
That message was from the mom of one of my AA Mite players from last season back in Massachusetts.   And what she wanted to convey to me was a message from her 8-year old son, a little guy who was developing into a pretty nice young defenseman.  Anyway, what she wrote was…
"(He) wanted me to email you to tell you that he had his first "coast to coast" goal tonight at his hockey game.  He remembered how you said that one day he would get one. "
Actually, I started chuckling before I even finished reading the first sentence, because I recalled having teased him about that.  He'd almost done it several times last season — lugging a puck from deep in his own zone, winding through a batch of defenders, and almost putting the goal home at the other end.  And it was seeing him get a little frustrated that caused me to suggest that, "One day you will get your coast-to-coast goal!"
Okay, you have to know that this entry really isn't about a Mite defenseman, nor is it really about players going to coast-to-coast with the puck.  So, what is it all about?
First, it's about my long time feeling that I want my players to be uninhibited initially, before I'll start asking them to play with increasingly more discipline.  Think along with me, if you will…
If we put handcuffs on our players early, they'll never develop to the point of being able to play both ways.  In other words, we'll have them so conscious of playing defense that they'll never dare to get involved in the attack.
I may have told this story elsewhere, but it's appropriate here, and it might just make an impact on parents and coaches…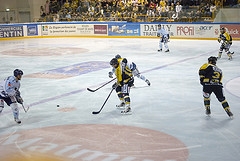 My college team was playing at home one night years ago, and the opposition was giving us headaches with a very conservative forecheck.  In essence, every time one of my defensemen would grab a puck in our end and pass it up to a nearby forward, that forward would get crushed and we'd lose the puck.  Hey, no biggie; teams at that level always play a little cat 'n mouse with the X's and O's, and it's up to the other team to adjust as soon as possible.
On this night, I could see that our only recourse was to have the D start carrying the puck up-ice until they drew an enemy checker, which then might free a forward.  Again, no biggie, right?
Well, most of my blueliners could do it, but one of my most talented young guys was still throwing the puck up to a forward, and still playing into our opponents' hands.  Ugh.
I don't doubt that I grumped at him a few times when he came back to the bench.  But I could see that he was frustrated, I cooled it a bit, and then I asked him what was wrong.  Again, ugh.
This young guy had to be close to 20-years old, I've already said that he was pretty talented, yet he spoke with tears in his eyes as he spilled out the frustration, "Coach, all my life I've been yelled at for lugging the puck, now you're asking me to do it, and I can't!"  Wow!  Can you picture me wanting to kill some of the guys who coached my player along the way?  For the third time, ugh!
Hopefully that story gives you a better idea of what I'm getting at.  If I had that guy through his developmental years, I'd have worked the whole thing the other way around…  I'd have encouraged him to go, go, go, and then I'd have gradually tried to bring him under control, and teach him when to and when not to keep going with the puck.
Continuing with my work in developing young defensemen, I will suggest that all of my guys — or say six of them on a given team — are usually at different stages of development, or at different stages of being able to think the game or make adjustments.  And, if you're getting the sense that I'd deal with each of my kids differently, that is definitely so.
That was usually the case with my NEHI High School Prep team that long time members had a chance to follow over recent years.  If you can imagine it, four of the six were probably still at the point where they lacked the confidence or skills to carry a little further up the ice.  However, for the one or two who were ready, I'd handle them like so…
I'd first tell them not to push it.  I mean, don't just get it into your head that you're going to go, because the opposition just might make you look awfully foolish.  Instead, I'd suggested that they will start to recognize the hole — almost like a runningback in football recognizes the hole he should run through.  "It'll be there," I'd tell them, "you'll see it, and you'll know that's the time to go to it!"  So again, I'd tell them not to just get it in their heads ahead of time, but wait until they recognized that (usually) gaping hole.
Of course, I've just described working with college and then high school players, but can you now see where I was going with that little AA Mite guy, the one who finally managed to go coast-to-coast?  Actually, there were two more experienced young D on that team with him last year, and one of them — the oldest D-man — got the next step pretty quickly.  The other kinda struggled with it at first, but he also ultimately got the idea — of not forcing anything, but instead waiting until he saw the time was right to keep going with the puck.
I got myself embroiled in some interesting troubleshooting a few weeks ago on Facebook.  A dad questioned his son's youth hockey coach for yelling that he'd shot the puck from the point on a given powerplay, even though the boy scored.  Skipping all the things that went into most folks feeling the coach was right on that one, a guy who is interested in that youngster as a Junior player suggested that he'd like to see the kid shoot the puck more.
Think about that, if you will, because it's very much connected to all I've mentioned to this point.  A ton of us agreed that the boy should have dished the puck off on that particular play; it was the right thing to do from purely a hockey playing standpoint.  At the same time, the Junior coach was looking at that kid long range, and from a developmental point of view.
So I jumped in to the Junior guy's way of thinking…  If that boy is actually shy about shooting the puck, that's probably the first thing to cure.  In other words, encourage him to shoot, shoot, and shoot some more.  Then, like the other examples I've used, we could ultimately help that youngster make better decisions.  The thinking is, he'd be making those later decisions with a great deal of confidence, and he'd also feel capable of either shooting or passing.  (I mentioned that conversation in more detail in a previous post, in "Having the Hockey Skills to Make It".)
Now, you may have noticed that I've only been talking about D-men here.  That's because that coast-to-coast example is an easy one for me to explain, and it's also because I had a few stories relating to defensemen that helped me make my point.  However, I'm telling you that I deal with all the positions — from the goaltenders to defenders to forwards — in the exact same way.  I want to first turn 'em loose, and then gradually pull in the strings or teach them to play with better discipline or more smarts.
The second point — you now know — is that this approach can be used with all ages.  No, we might not be talking with beginners about going end-to-end, or looking for holes.  But, we do want them to develop all the time, and we do want to get them to first be little daredevils before even thinking about pulling in the reins.
Lastly, you ought to know that I've wrestled with where to place this post — either in the Mental Training section or under Thinking the Game.  Hmmmmmmm…
To be honest, I believe this piece really has a lot to do with the mental side our game.  I mean, I want my guys to be confident, and I'm not going to build my players' confidence if I make them paranoid about defense or getting rid of the puck right off the bat.  Let's face it:  the best player is the confident one, and it's up to us coaches to help nurture that during the players' developmental years.  There's plenty of time to hold their feet to the fire once they have their skills and heads in the right places.
That said, I've placed this in the General Positional Advice area under Thinking the Game.  There are some good tips here for teaching by principles, and I sense more coaches will find (and read) it here.
This topic actually arose during a late night bull session that included a couple of Junior level coaches and yours truly.  We were gathered outdoors around a large table, relaxing after a long day of recruiting and such, discussing Tropical Elite Hockey League business, and eventually — as coaches often do — drifted off into various teaching philosophies.
– Dennis Chighisola
Hockey's X's and O's Versus Playing Principles
At one point, a young coach admitted that he wasn't all that much into exotic forechecking systems, and more interested in teaching his guys important — need-to-know — playing principles.  If I put his words into my own, I'd probably say that he wants his kids to ultimately "think the game" at a high level.
That concept immediately brings to mind my late old friend and idol, Roger Neilson.  Roger and I traveled similar paths in  the game, and we both got deeply into the use of video for coaching at about the same time (like in the late 1970′s and early 1980′s).  Most coaches reading this would die for the 50 or so lectures I recorded and saved from past hockey seminars, and I'm sure you'd especially enjoy a cassette I have featuring Neilson talking about forechecking according to principles.  In other words, he described what a first forward into the offensive zone might be thinking as he approaches an enemy puckcarrier, then he goes on to explain what the next guys into the zone should be observing, weighing and then doing as they arrive.
The point I was just trying to make is that the concept of teaching by principles is not a new one, and it's obviously been used by coaches at very high levels.  A funny thing, however…  If you go watch my video on Implementing A Simple Forecheck – The "L", you'll discover that I've used X's and O's, but I've also explained how each player must think as he or she moves into the offensive zone.  In other words, I demonstrate a given type of forechecking, but I also encourage its execution according to sound hockey playing principles.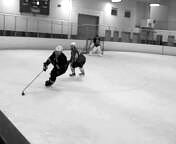 Okay, so what if a coach wants to implement something like the 2-1-2 forecheck?  I'll suggest that just showing your players the layout of X's and O's accomplishes absolutely nothing.  I mean, the various roles have to be filled by human beings — your players, and it's imperative that we explain to each where he or she should initially go, what he or she should look for, how his or her duties should be carried out, etc.
Then, while various approaches to a forechecking system might have been raised by a fellow TEHL coach, and although the lecture Roger Neilson once presented involved forechecking, the idea of combining X's and O's with thorough explanations of the involved principles should be used in every phase of a team's playing system.  In other words, we have to arm our players with how to think their roles all over the ice — in backchecking, defensive zone coverage, breakouts, on the attack, and so forth.
One final word…  Don't take lightly what I said about combining the layout of your players with how they have to think and ultimately execute.  I know that clear explanations of playing principles are lacking in most books and other literature or media that's supposed to help coaches and players understand positions or playing systems.  However, just looking at the way players should be positioned in a given phase of play helps little in gaining a true understanding of our game, and just the X's and O's minus the principles involved makes most systems almost useless.
PS:  Although I've met Mike Smith, a brilliant hockey guy, and I tell everyone that his book on hockey systems is the best there is, it also lacks the type of playing advice I've mentioned above.  I'd like to think, on the other hand, that I continuously explain such things throughout the CoachChic.com website.
This question arrived via my new friend from Italy, Stefano.  And let me tell you that it's a tricky one.
What I mean by tricky — at least in this case — is that there's probably no exact answer to it.  But, let me explain…
– Dennis Chighisola

A Hockey Defenseman's Decision-making
I'll begin by including Stefano's question here:
"It often occurs in our practice games that when my team is into the offensive zone, one of the opponent's forwards is roaming in his neutral zone (in order to get the pass and break free) instead to stay in the zone, covering one of the d-men.  That forces me (or my linemate) to take a step back and cover the guy, in order not to be caught out of position in case of a quick transition or a breakaway pass.  I realize this backstepping is taking me out of the offensive contribution and I'd rather be productive on both ends of the rink.  As a blueliner, I'm primarily supposed to stop players and pucks, but in modern game a solid offensive contribution is necessary as well.  What should I do?  Cover the guy or focus on the offensive?
As an aside, I'd like to let other coaches know that I've actually used the roaming forward option as an offensive ploy.  What caused me to resort to that was a long ago opponent of my old college team.  That team was relentless in their forecheck, they pinched their defensemen in ways that just got my wingers hammered, and they would often keep us trapped in our own end for minutes at a time.  So, what I ultimately did was to designate a forward on each line to roam the neutral zone, and I asked my defensemen to look for that guy as their first option on the breakout.  My thinking was to make the enemy D worry about my breakaway man — much like Stefano describes, and to at least somewhat make them hesitant to pinch.  And, if we got just one breakaway early-on — whether we scored on it or not, the chance it would happen again would weigh heavily on our opponents' minds.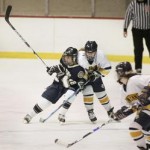 With that, you ought to have a sense of what Stefano is now going through.   And, while I've already said that there's no exact answer to this problem, here's what I've had my defensemen do…
First, it's obviously important that our D be aware of roaming forwards.  (There's nothing worse than our blueliners being surprised by a long bomb pass to a man behind them.)
Secondly, remember the old hockey principle, "Head on a swivel".  I mean, while in their defensive roles, every one of our players should be quickly glancing back and forth — at the puck location, at the man they're supposed to cover, back to what's happening with the puck, and so on.
While they're keeping their heads on swivels, I've had my defensemen also keep sliding along their offensive blue line to always stay in-line between their man and the puck.  In other words, if the enemy does try to launch a long pass towards neutral ice, there's a good chance one of my men will knock the pass down so we can quickly transition to offense.
If we're able to pull that play off, we actually have a powerplay within the offensive zone.  And, just like I tried to do against our old college rivals, making our opponents pay for a given tactic can oftentimes result in their abandoning it.
In closing, let me state again, that this isn't any sort of rule, and it's quite probable another coach out there may have a different and even more successful way of handling this somewhat tricky challenge.  That's one of the benefits I see here at CoachChic.com, in that there are apparently lots of great hockey minds within our membership.  So, please do chime in!
I've seen versions of the following numerous times over the years.  And, while each point is valid, I'll suggest that key "commandments" in hockey probably aren't limited to just ten (in fact, I'll someday let you know my rather extensive list).
Anyway, I happened upon the following graphic on Facebook yesterday.  And, although I shared it with my many friends on that site, I thought I'd try something a little bit differently for my CoachChic.com faithful.
With that, I'll show the original graphic down below, and then I'll do what I can to better explain each of the ten listed points.
– Dennis Chighisola

The 10 Commandments of Hockey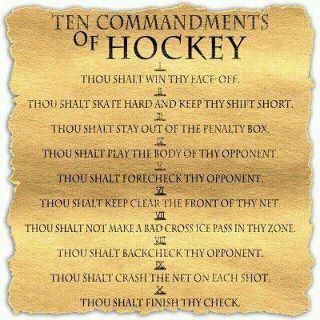 Those 10 Commandments of Hockey — Coach Chic Style

1) Without doubt, face-offs ARE important.  For sure, young players tend to dismiss them as necessary evils — like, "Come on, ref, just drop the puck so we can play!"  Still, I sometimes see that same mentality carrying over to older guys and gals, almost as if a given face-off isn't important.
Of course, draws become more crucial the closer they're held to our own net.  However, every face-off quickly determines who is going to control the puck next.  And, since the object of a game is to score more often than our opponents, it makes sense for us to want to control the puck more often than they do.  So, yes, thou SHOULD concentrate on every drop of the puck — from the centerman to every other player on the ice for us.
2) In general, this one is obviously correct.  If I had to question it — just a hair, it would be that a player usually needs to coast at times, then burst all-out, with a typical shift being a series of alternate coasts and bursts.  By all means, though, shifts should be kept short, with players staying intently focused for something like 30-seconds or so.
Personally — when it comes to keeping shifts short, I've always had as much concern for players on my bench as I do for those on the ice.  In other words, if players stay out too long, there's the chance that the guys who are sitting are getting cold, and they're especially getting out of the flow of the game.  (This is never so evident as when a team takes a series of penalties, forcing some players to sit for a very, very long time.)
3) Ha.  Penalties can just kill a team.  I've noted one way this can happen in the previous paragraph, but needless penalties can also be huge momentum killers or shifters.   Of course, some penalties can't be avoided.  At the same time, I've written elsewhere within this site how most penalties can be categorized — as showing a lack of discipline or selfishness, or demonstrating a mismatch in skills between two players (in other words, if a player is slow or out of shape, he or she is very likely to take penalties like tripping, holding or hooking).
4) Obviously, this one relates more to those levels where body-checking — or at least some body contact — is permissible.  And it's as important a principle as any for a player who finds himself or herself closest to a rival puckcarrier.  In fact, if you want to play right into a fancy puckhandler's hands, just look down at the puck for a second and see how he or she turns you inside out.  Ya, focus on the man's body if you're the closest player to a puckcarrier.
5) I don't have a lot to add to this thing about forechecking, except to share some points I often talk to my older players about…
If you think about it, our opponents want to do what they want to do as they gather a puck in their own end of the ice.  An enemy defenseman might want to feed a nice pass up to a near winger, and that winger might want to relay that pass to the centerman swinging by.  Yup, all neat and clean, and a nice way for them to begin a rush towards our net.
My guys, on the other hand, want to force the enemy out of their comfort zone — and make 'em do what we want them to do, until we're able to gain the puck back.
For sure, there has to be a design and a purpose to our forecheck, and that's the job of a coach.  From there, all 5-skaters have to know the different roles by heart — or apply them by instinct, knowing each teammate depends on the success of others.  Yes, forechecking is a 5-man job, with its true success depending on each player being able to do his or her own job exceedingly well.
6) Without question, a successful team protects its goaltender, and gives him or her freedom to move in the crease area and a clear view of the puck.  I tend to get really into this aspect of play, adding these pretty important principles…
First, "enemy sticks score goals".   Consequently, any enemy stick not somehow negated around the goal is very likely to catch a pass, deflect a shot, bang home a rebound, or prevent your goaler from covering up a loose puck.
Secondly, our guys covering in front of the goal must do so according to the location of the puck.  In other words, if an opponent controls the puck in a corner, the main danger is a pass to his mate out front.  On the other hand, when the puck is located out at a point, our defenders must clear the area — to prevent deflections, and to allow our netminder to  see the puck.
7) Ugh (because this one has already happened several times in my Bantam team's first few games)…   I'm kinda surprised, in a way, that this happens too often in older level games.  I'd have thought the principle of not making cross-ice passes in front of ones own goal would have been taught very early-on.
No matter, I actually take that a step further, by borrowing from the great Anatoli Tarasov, who suggested that straight-ahead and lateral passes are safest in your own zone, while long diagonal passes are rather dangerous.  In other words, that long diagonal pass crosses too many lanes and likely goes by too many enemy stick-blades.
Oh, ya, Number 8…  Thou shalt dawgoned backcheck!  In fact, every player coming back should realize how important he or she is — from the first backchecker to the very last one coming into our zone (I think we've all seen a fourth or fifth attacker go to the net and whack home a rebound).  And, going back to an earlier point, let me suggest that any one of our checkers who nears our net should be negating the stick-blade of their man.  Again, enemy sticks score goals.
9) You'd think it would be instinctive for our players to crash the net when they see the puck move that way.  Ya, you'd think.  Yet, I see far too many supposed attackers sit back as observers and miss some great scoring opportunities.  Of course, we coaches wish our players would react in the right way.  However, I accept part of the blame here if my players don't.  I mean, I'm the coach, and it's up to me to create drills that instill the proper reactions.
10) Hmmmmm…  Finish thy check…
For the longest time, I've blamed television commentators for confusing this issue, mainly because they tend to use that "finishing the check" expression when a big hit occurs, or when the hitee is knocked down.  To my way of thinking, though, the idea of finishing a check is to tie up the former puckcarrier so that some other things may or may not happen.
If the puck is still nearby, the body-checker's job is to focus on his man's body, and to keep him momentarily tied up so that a teammate may grab the loose puck.  On the other hand, if your man just dished off the puck to a mate, finishing the check — or staying on your man for an extra few seconds — prevents him or her from jumping back into the play for a return pass.
*
Okay, that's my two cents worth when it comes to these important playing principles.  Do you have any further ideas, or can you expound on what I've said?  I won't be offended in the least if you can add to (or argue with) any of these.
This topic really isn't a new one.  Still, the way a former pro player phrased the question (or his statement) sent me right to typing a pretty long, detailed reply.
How it started was that the guy Messaged me through Facebook, suggesting that, "The hockey invention no one has come up with yet would be priceless."  That new invention, gleaned from his having watched the Bruins win the Stanley Cup this week, was something that would "instill heart and desire in a player…"  He ended with, "Someone could make millions!"
  Okay, if you know this old coach by now, you know that got me going.  And, when I was done answering my friend, I just knew I had to share my thoughts with you.
– Dennis Chighisola

Instilling Heart and Desire in a Hockey Player
Now, believing in myself as I do, I wrote back to say that I see it as relatively easy to accomplish — with a couple of IFs.   Ya, a couple of dawgoned IFs…
My first need would be to get the players rather early, or while still young and mold-able.  (No way could I change the playing personality of a kid who is 10 or 12 or 15 or older.)
Secondly, I'd need the parents to be a help and not a hindrance.  (You don't think that matters?  Well, last year while I tried to enhance certain skills with a group of Mites, I had three  sets of parents tell me they didn't like the way I prodded their kids to try harder.   Now, to survive all these years as a coach, I have to be a pretty compassionate guy, and a pretty good teacher.  So the real problem, I'll suggest, is that the boys' moms were bothered a whole lot more by my methods than their kids.   My prediction:  all three boys will be out of the game within a few years — or at least out of very competitive levels, IF they're not allowed to grow with their teammates.)
Okay, so I'm boasting a bit as I write back to the former pro, telling him I know exactly how I like to start infusing a little heart or desire into the young players in my charge.  And, reverting back to a few drills I've mentioned previously in these pages, I suggested that I'd do it with some combative-type games…
I always begin with 1 on 1 keepaway.  Hey, how much closer to real game conditions can you get than to ask two youngsters to compete against each other for possession of the puck?
The second game I like to play is very similar to keepaway, except I'll send two young players into a corner after a dumped puck, and ask the kid who gains the puck to as quickly as possible put a good pass right onto my stick.
As you should appreciate, 1 against 1 games — of any kind — tend to really magnify the participants' desire for the puck.   Oh, sure, it can boil down to skills, too.  So, I have an answer for that…
Although every player on a roster should be able to ultimately do well against most teammates, I think we both know that the best skilled players will win most of the earliest contests.
This in mind, I'll suggest that it would be a good idea to purposely arrange match-ups in the early going.  Picture it, for example, that we pit the weakest two players against each other.  Both should feel they have a chance at winning, and both are more likely to give their all than if either was matched again a far more talented player.  At the other end of our roster, I'll suggest that the two best players probably won't act lazily if paired in such a game.  Ya, the last thing I want is for a player to either just go through the motions or totally give-up before the drill even starts.
As I intimated earlier, my friend was writing me with some Boston Bruins forwards in mind.   So I suggested to him that such guys — having reached that level of play, had had lots of successes as they climbed the hockey ladder.  In other words, it's pretty likely they won lots of battles along the way, many of them just like I've described above.
I raise that point to suggest that no one learns from failing more than they succeed.
I also felt the need to mention the numbers game that tends to take place in sport.  I mean, for every player we see competing at a high level, there were literally thousands of others he or she passed by.  The reasons athletes drop by the wayside can be pretty varied.  But, my thinking is that a lot of kids drop-out once they feel they can't compete anymore.  And, once again, we're talking about the kind of competing that takes place in my little 1 against 1 games.
Now, although I probably should have addressed a couple terms from the outset, I purposely decided to handle them at the end.
Actually, we in sport tend to toss terms around rather loosely, perhaps not exactly using the right words, or not explaining ourselves as well as we should.  Anyway, with that…
I think we all have a sense of what my young friend meant when he cited the importance of "desire".  In other words, he (and I) feel that it's extremely important for a player to want the puck — badly, to desperately want a certain valuable position on the ice surface, etc.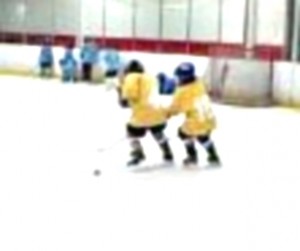 All I've suggested above is that we can start relatively young players on a path towards believing in themselves when it comes to battling opposition players.  And, to accomplish that, tasks must be do-able, at least in the start.  (If I challenge you to jump the Grand Canyon, you're going to walk away, and I haven't done a thing to help your self-confidence.)  Fairly even match-ups like I've described above give at least half a roster the chance to be successful, and it's quite likely even more than half of the kids will win some of those battles.
Along the way, even young players will start to sense that they accomplish more with added effort, and that the occasional extra grunt often spells victory.  At least that's what we should be hoping as we supervise those little battles.
I'm also going to suggest that even a single season spent doing these types of combative drills can stick with individual players for a very long time.  Little by little, the lessons learned mount-up, as does the confidence.  And, it will take a lot of setbacks in subsequent years to undo the belief a kid has in himself (or herself).
Oh, ya, there's one more term to address here.  And that's the matter of "heart".   Hmmmmmm…
I know my friend at the other end of this discussion had the best of intentions when he used that word.   And, it might even be appropriate to use if we're discussing professional players (although I even doubt it).  For my money, every youngster who goes out to try his or her hand at the game has heart.   I dare anyone to argue with me on that.
As a matter of fact, I'm guessing most kids also initially take to the ice with a batch of desire, too.
If there's anything that can go wrong with all this, it's probably that we adults — we parents and coaches — leave the kids to their own devices, and don't use methods that enhance their skills and confidence.
To begin, I like to use drills that simulate real game conditions.
Secondly, I like to use drills that sorta force players to deal with problems, consequently forcing them to solve those problems on their own.
Thirdly, I'll quite frequently just toss players into a set of conditions and let them initially sink or swim without any help.  However, once they experience the challenges — as a frame of reference, the advice I'll then provide tends to mean all the more to them.
– Dennis Chighisola
The Value of Keepaway Games in Hockey
I hope the above sequence makes sense to hockey coaches and parents.  I mean, I don't think players truly appreciate the value of our advice until they've experienced the problems we'd like to help them solve.  Make sense?  If not, I will take some time to re-explain that line of thinking a little later.
For now, let me suggest that a game of keepaway (as shown in the following video) very much simulates conditions players regularly deal with in real game hockey action.  Hey, hockey is all about 1 against 1 and 2 against 1 battles!
In keeping with my second point above, I've thrown some of my young students into the drill you'll see without much of an explanation at all.  In other words, I pretty much just told them, "Go keep the puck away from the other guy for as long as you can!"
With that, see if you can identify some of the things these kids are learning on their own.  I'll add my own thoughts after you've had a chance to watch the video…
Loading...
Perhaps not evident in these clips, one of the things I noticed was that the little puckhandlers frequently looked over their shoulders to locate the checker.  Good for them, because this is an extremely important hockey principle.
Similar to the latter point, I think we can see evidence that a puckhandler at times could almost "feel" or "sense" the location of the checker.
I also spotted times when a puckcarrier would realize he had a better chance of keeping the puck if he skated for open ice, or far from his checker.  To be honest, too many kids remain right along the boards, thusly giving the checker an advantage.
Please appreciate that the video shows my kids' second attempt at this 1 on 1 keepaway game.  So, they are still just feeling their way, and perhaps only gradually arriving at some ideas for handling the challenges at hand.  Still, I noticed several youngsters starting to get the idea of keeping their body between a checker and the puck.  In other words, they've already begun learning to "protect the puck".
Then, while we probably all tend to watch the kid with the puck during these kinds of confrontations, a review of that video might show how a checker is also learning certain basic defensive skills — like pokechecking, angling his man, etc.
Okay, I said in the beginning that I just threw the kids into this drilling without any real advice.  And I'm going to do things that way for another practice or so.  However, that previously noted protecting the puck skill is one I'm going to emphasize pretty shortly.  As for examples of this, notice a kid usually losing the puck as he turns towards the checker, thereby exposing the puck, or putting it within easy reach of that man.  On yet other occasions, a little guy has kept the puck because he cut away from his check — again, protecting it by placing his body between the man and the puck.
By the way, here's how I'll usually approach things when I'm ready to help my kids solve a problem…
I'll gather them after a bout with a given drill, and then begin with something like, "Has anyone here had THIS problem?"  When it comes to that puck protection thing, I'll explain — and probably demonstrate — how turning into the checker allows that guy to swipe at the puck.  With that, I might even ask the kids to help me find an answer, my hope being that they'll tell me to cut away from the checker.
*
Okay, any thoughts, questions or Comments on all this?
You know I love talking the game with you guys!
The initial post has expanded with each recent day, now finishing as a 3-part series…
I've struggled with doing this entry — but only because it's rather difficult to address the needs of all the different levels of our game within one post.  Yet, I thought I might talk a little bit, in general here, about the things I've been working on with one of my youngest teams this week.  And, while it might not be appropriate for all, perhaps it still can provide everyone some food for thought.
– Dennis Chighisola

Playoff Hockey Preparations 1
I've been fortunate to actually have my young AAA Mite Majors skating five practices this week.  Oh, they're not all traditional practices, because two of them are skill-oriented ADM sessions where I only have my kids rotate to me in a station for about 10-minutes.
Now, I thought long and hard about what I'd do with my players during those ADM sessions.  For several months now I've built-in drills for them that would support (or plant seeds for) the things we'd do in our regular practices (and hope to ultimately do in our hockey games).  So, what I did was to sketch a rough idea of what I planned for the practices, and then I went from there…
I continued a drill that has my forwards feeding a puck from behind the opposition goal to a mate who fires a quick shot on-net.  (If you can picture the Mite level, good passing, a quick shot, and a hunger to bury the puck can really make a difference.)  In our regular practices — where we have more space, the boy behind the net also feeds to a defenseman who is sliding into the slot from his point position.
My team — although finishing in third place overall — led our league in the lowest goals-against.  And I think that's a pretty good sign.  From the season's start, I attempted to put together and nurture six pretty good young defensemen, our goaler has developed well, our forwards backcheck better than most young kids, and we also possess the puck a lot with our offense (hey, if we have it a lot, the bad guys don't —
).  With that, I abbreviated a larger (5 on 5) practice drill in the ADM sessions by having one of my players keep covering another for about 8-seconds (as I hold a puck for a possible pass).   All the while I've been yelling, "Backcheck!  Backcheck!"  The idea is to connect that drill to what the kids frequently hear from us coaches on the game-bench.
I also tossed in a quick game of keepaway, sending pairs of kids off in our designated area, all at the same time.  Again, asking you to think about this a bit, a lot of the Mite game is almost a game of keepaway, with the best players holding the puck lots longer than the lesser ones.  Oh, my kids pass the puck to each other — plenty.  But, not panicking and not just throwing the puck away is what I'm aiming for with this kind of drill, as well as developing their skills to protect the puck.

Our three more traditional practices this week — one each on a full sheet of ice, on half-ice, and then in one zone — cover most of the basics, from skills to our strategies in each zone.
However, over the past few weeks — and especially this week, I'm focusing more on the so-called "little things" that tend to sway games…
I think there is one opposition goaltender who can stop our attack if we meet this weekend (he's a pretty nice little butterfly netminder with a quick right-hand glove).  So, without yet connecting that boy with what I'm doing, I've hung two targets to the right side of a practice net — one just over where that boy's pads would be in the butterfly position, and the other up over his blocker.  Both of these are aimed at shooting away from the boy's quick glove-hand.  To get my kids to focus, I've promised to start the line that hits the targets most often this week.
Over the past few months, I've slowly built-in three offensive face-off plays the kids have become very good at executing.  We've had a few goals off these, but more than anything, we've gained possession of the puck on most offensive draws, and we've had tons of near-misses.  My thinking here is that offensive face-off plays are almost like "free kicks" in soccer — it's especially true with little kids, and not all that untrue with older players.
Just this week I've installed a defensive face-off coverage, and this also has the potential of giving the fastest forward on each of our lines a breakaway.  Ya, if there's a loose puck around the circle, there's a good chance one of my kids is going to be roaring through, splitting the enemy D, and on his way to the opposition goal.
If you get my drift on those last two paragraphs, I believe that some trick plays will work — in a playoff, and (at least) in the youngest levels of our game.
Believe it or not, I have actually built a little powerplay unit over the past few month, too.  Oh, we haven't had enough full-ice to really practice it a lot, and I can't expect 8-year old to really execute like my older guys would.  However, there are two benefits I see in this:  1) I have some of my best offensive players on the ice (or I have kids in "role positions" where they should do excellent jobs); and 2) I've also given them a structure in which they should get plenty of shooting opportunities.  On the latter…  Again, not that they're going to execute a basic "umbrella" like older players.  However, just the layout of diggers-for-the-puck, the movement of the puck around penalty-killers, and the placement of all shooters on their "off wings" should get us some scoring chances.
Oh, and since a few powerplay kids have been selected because they fit certain roles well, that leaves us still a very strong line to come-out right after that unit exits.  In other words, there should be no let-down or drop-off in talent right after a powerplay expires.
Not that the above special situations mean I won't be working on the basics of our system.  Far from it.  We've brought our forecheck to a point where we smother most opponents in their own end for long stretches, and we do a pretty good job of moving the puck out of our own zone.  Honest to God, my young kids now even gain the red line, dump the puck, and get changes on-the-fly as well as most of the older teams I've coached.  I mean that!
Then, a reflection on what had to transpire earlier in our time together…  For sure, some of the kids often came to the games having been instructed by their moms (or whomever).  I mean, Johnny initially arrived for the games forcing plays and trying to satisfy someone other than his teammates and coaches.  So was there a little (I hate this term) "puck hog" or two in the crowd during our earliest weeks.  A coach has a choice when he or she recognizes such, so I did what I believed to be best 1) for the team and 2) for each boy.  I sat them for a shift or two (which seems an eternity to an 8-year old), and I managed to bring most of them in with the rest of their team.  (God only knows what still goes on in the different family cars on the way to our games, but that will be a topic for one of my soon-to-come blog posts!)
Well, I guess that's it.  And I hope this sheds at least a little light on the way I view readying for our coming playoffs (I'll let you know more on how we did after this weekend is over).
*
A funny thing happened on the way to my team's last practice tonight…
You see, I've been negotiating with a guy named Doug Bench in reference to some unbelievable audio programs he has for coaches (more on that later).  Anyway, I slapped into the deck of my SUV a CD of the program I ultimately want you to hear, and it totally altered my approach for later.

Playoff Hockey Preparations 2
Okay, just so you have a sense of what I'll ultimately be getting at, I have a little treat for you, this being a short video featuring the grandfatherly (but very sharp) Mr Bench…
Loading...
Now, while that video isn't exactly on the topic of this entry, I think it might have given you a sense of how far science has come in recent years when it comes to the brain and learning.
With that, maybe you can also appreciate my hanging on every word Doug uttered on that CD.  I mean, he was suggesting ways to get more out of practices, how to really send our players into competition, and he was making me rethink tonight's practice with every mile I drove.
This aside…  I wouldn't say these were earth shattering ideas — after all, he sounds (and espouses) many of the things my dad used to say), and I've also had the benefit of learning from the likes of Shaun Goodsell and other great sport psychology guys and gals.  But, I would say Doug Bench put a lot of what I already knew in a brand new context.
As I unloaded gear in the rink's parking lot a little later, one of my assistant coaches stopped by for a sec.  And, as we were about to head inside, I mentioned that I was going to go with a lot of the things we'd done in the previous practice, but with a slight twist.
Ya, a slight twist…  What I did was to convert almost all of the drills on my clipboard to little competitions.  We played lots of keepaway, and then we did tons of attacking drills that were treated more like shoot-outs.  In other words, we attacked the net in 1 on 0′s, 2 on 0′s and 3 on 0′s, with successful scorers (or groups of scorers) returning to attack again, while those who missed were eliminated from the competition.
I had two things in mind as I did these, both stemming from Mr Bench's program on coaching:  1) the slight pressures of those contests were closer to game conditions; and 2) the kids were laughing a lot and bantering back and forth in friendly ways with each goal, near goal or miss.
Not that I didn't sprinkle in a few serious things we needed to refresh — like our face-off plays or coverages and our powerplay.
Finally — trying to think of a way to end things with a lot of laughing, I decided to hold a competition for the wildest attacking move.  And, man, you should have seen the crazy stunts the kids tried (and you should have heard the cackles each crazy move brought from teammates).  Yes! 
Oh, I almost forgot…  I huddled the kids in a corner of the rink at the very end, just to ask who they thought had the wildest moves (which brought more cackles and lots of friendly barbs).  Then, I suggested that tomorrow's playoff game should be fun, and that our opponents ought to be worrying that we'd beaten them in our last meeting.  Do I know those things to be true?  Of course not.  But, I sense that's how Doug Bench would have handled things.
*
Okay, as I said at the top, I felt it right to continue adding to the original entry, now providing you the final one…
– Dennis Chighisola

Playoff Hockey Preparations 3
Well, after coaching my little Mighty Mite team in an early game in Bridgewater, MA, I had plenty of time to take a leisurely drive to Rhode Island for my AAA Mite Majors' first playoff game.  And, don't you know, I continued listening to Doug Bench's audio series in what would be about a 40-minute ride.
"Stay positive!" I had to keep reminding myself as I arrived at the rink (even if a few of my families  ultimately sauntered into our lockerroom about 30-minutes later than everyone else).
Over the past few days I'd done some note-taking…
Owing to the above mentioned audio programs, I'd listed four things I wanted to reinforce with my kids, and I'd also visualized how I'd give each a very positive spin.  So, I tried to relax everyone in our pre-game lockerroom, and then I reminded them about their duties on our offensive face-offs, how the offensive plays should go, how our forecheck should look, and the way they needed to cover as they backchecked.
I also had made some notes in readiness for special situations that just might occur in a playoff game — like the attackers I'd want out if we entered a shoot-out, or which players I might want on the ice should we need to pull our goaltender in the end for an extra skater.
Although I thought we played well during the initial period, we trailed, 1-0, at the end.  I kinda thought we had the win as we ended the second frame up, 2-1.  However, we lost in the end, 3-2, not being able to muster the game-tier with the goalie off.
As with any meaningful game, there were some things that could have gone better for us.  Perhaps the kid who was our biggest offensive threat had been ill over the few days, and he wasn't himself for this game.  And, with the refereeing being rather lax all season long, it was sort of a shock that they called everything extremely tight on this day.  Still, a coach can't cry about such things; he or she can only coach in the moment — with the talent he or she has on hand, and with any unique conditions that arise.
Speaking of crying…  I entered our post-game lockerroom to find a lot of my kids in tears.  Hmmmmmm…  I hadn't expected a group of 8-year old to take a loss so hard.  (Doug Bench to the call here…)  So, I grasped very quickly for some things that might at least help change a few of those wet faces to grins.  I especially pointed to the great games we had over the long winter, as well as the great friendships they'd all developed with the kids that sat around them on this day.  Was I bummed?  You bet.  However, that didn't seem to matter at this time.  I want these kids still playing — and still loving the game — long after I'm gone.
*
I (and I'm sure lots of other members) would love to hear what YOU are doing or have done in readiness for your final push!
One of my assistant coaches raised this subject just recently, suggesting we use the plus/minus stat with our players.
Hmmmmm…
Actually, I told him I'd always used it with my college, high school and junior high school hockey teams, that I'd thought to introduce it to our younger team, but then "something" got in the way.
My main concern, however, is that I firmly believe our team's players and parents have to have a firm understanding of that +/- statistic before we ever put it into effect.
So, since I'm going to do that shortly — try to explain it to our AAA Mite Major parents and players, I thought I'd also share those thoughts with my friends here at CoachChic.com.
– Dennis Chighisola

Hockey's Plus/Minus Stat
To begin, this stat has been used for ages within professional hockey circles.  However, I believe it was kept rather quiet for a long time in the NHL, and only in more recent years have you been able to see team plus/minus ratings listed in publications like The Hockey News.
And, while I can't swear to this, I've heard that such a stat was (or still is?) used on occasion during player-club contract discussions.  (Sure, if a guy ended his last season with a lousy rating, you can be sure a team is going to use it as a bargaining tool!)
Okay, so here's how the Plus/Minus works; it's simple enough…
To begin, it's only in effect when teams are playing at even strength (but a shorthanded team does get a +1 for scoring, while the scored upon team with a man advantage gets a minus <= we can thank Ravi for reminding us of this in his Comment below).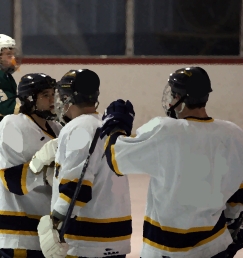 With that, when a team scores a goal, every skater on the ice for the goal-scoring team is awarded a plus.
At the same time, every player who was on the ice with the team that gave-up that goal would be charged with a minus.
(Occasionally a little luck comes into play, which sometimes distorts the +/- stat — as in a player just stepping onto the ice as a goal is scored and still being assessed either a plus or a minus!  Oh, well…  I guess these things even-out over the course of a very long season.)
As even strength goals mount-up, individual players will be found to have accumulated quite a few pluses and quite a few minuses.  And, of course, the most desirable situation is for a player to be way over on the plus-side, or to have a really high plus-rating.
Now, I'm not sure the plus/minus stat is always fair, or always an indication of a player's true worth.  (At some levels, certain players are asked to play on "checking lines" where their job is to always cover the opponents' top scorers.  Actually, I find it amazing that some "checkers" still manage to have decent plus/minus stats.)
More than anything, though, I believe this stat can quite often provide the hockey coach with a pretty good idea of what's going on — with an individual player, with a line of forwards, with a defense pair, etc.
Here's a story about how it gave me an indication one night long ago…
My college hockey team had just lost a hard fought battle to a pretty good team up in New Hampshire.
In a rush to call the local media back home — so they could have something to write-up for the next day's newspapers, I asked our stats girl to give me a list of our scorers for the night.  She hastily scribbled them for me, which allowed me to then focus on one forward who'd had 2-goals and an assist.  Pretty good, huh?
Well, on the long bus ride home, our staff of stats people ultimately provided me everything they had, including our plus/minus totals for the night.  And, guess what…  The guy who had those three points in our game?  The guy I made such a big deal out of to the press?  Well, he was actually a -2 for the game!  In other words, while he may have been out there helping us score three goals, he was also on the ice as our opponents scored a whopping five!
Now, I suggested earlier that the plus/minus stat can be helpful in providing us coaches an "indication" of a player's effectiveness.  And, knowing the above player pretty well, I can tell you that his +/- numbers said a lot about him.  I mean, he thought a whole lot more about scoring goals than he did about helping on defense.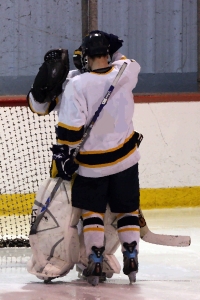 On a personal level, I introduced my son and then my grandson to that stat fairly early in their playing days — maybe when my son was a Pee Wees, and far earlier when my grandson came along.  I knew they were both ultimately going to be scoring wizards, but I also wanted them to play "with balance" (see my article on "Playing With Balance").  In other words, while they might have their hand in numerous team goals, I wanted them to be honest players, and to be mindful of their defensive responsibilities.  (Thankfully, both would almost always be way over on the plus-side in their stats.)
In contrast to the latter, envision a little guy who initially gets it into his head that his only on function in the game is to score goals.  Hmmmmm…  That might be good in the beginning, 'cause I'd rather have a hungry player than any other sort.  Still — that established, his next step has to be towards playing smarter, and playing by hockey's well worn principles.
Again, envisioning that little guy (or gal)…  He grabs the puck in his own end and attempts to barrel through or around the entire enemy line-up.  Ugh…  Sometimes he's going to succeed, but more often than not — under those circumstances — he's going to cough-up the puck and allow his opponents to get quality scoring chances.  (This kind of player also tends to put his or her linemates to sleep — or turns them into spectators, because they soon realize they'll seldom get the puck.)
Quite obviously, the player I just described is more than likely going to end-up on the minus side of the ledger.  And that's where I like to make use of the plus/minus stat — as a teaching tool (not a punishment tool, mind you, but something relatively concrete that the coach and player can work together with).
Okay, so you're a hockey coach, and you're now thinking of employing +/- stats…
- This can be a nightmare to administer or record.  In other words, someone in the stands is going to really have to be on his or her toes to quickly record the five players on the ice as a goal is scored (be it for a plus or a minus).
- I have eased that burden quite a bit, but not for that specific reason…  What I've done over many years is to skate my players in 5-man units.  So — as an example, my three units of AAA Mite Majors practice in red, yellow and blue jerseys, and they skate together in shifts throughout the games, with few exceptions.  This, of course, makes it easy for us to keep pluses and minuses, because we can usually immediately give one or the other to an entire unit when a goal is scored.  (By the way…  One of the reasons I like to use this stat with my units is so that they'll gain more pride as a unit.  There's some peer pressure involved in this — hey, keep-up your side of the bargain with our unit.  But, it probably also eases the burden on one player, at least a tad.)
Finally, I don't think it a bad idea for individual parents to at some point introduce their own youngster to this way of evaluating his or her worth to a team.  I think it really does keep him or her honest, or encourage him or her to play with some balance.  At the same time, I implore youth coaches to use the plus/minus rating with a degree of fairness (or kindness).  As I suggested in the beginning, it might not always be a true indicator of a player's worth, but it can be a pretty useful tool.
Young hockey players are fortunate in this day and age, what with the likes of YouTube.com and similar sites offering them the chance to learn form some of the best in the world.  And I am always on the lookout for additional videos (beyond my own) any time I feel they will benefit CoachChic.com members.
Now, before you watch the following video, I want to emphasize something that's hinted at late in the video, in that all face-off situations are slightly different.  So, a centerman must take into consideration things like how he and his counterpart hold their sticks, as well as where the face-off will take place.
With that, have a look, because this video contains some VERY good advice…
– Dennis Chighisola
Tips for Winning Face-offs
Before anyone thinks the following is going to be just for coaches, I want to point-out that I'll be sharing some of my thinking behind the drills I'll list.  Hopefully then, a lot of this will prove valuable to older hockey players and to parents of younger ones.
– Dennis Chighisola

A Sample Hockey Practice Plan
I might begin by telling you how I arrive at some of the topics I'll cover in a given practice.  Actually, they're derived from two main sources:
If you go to my video on "Breaking Down Hockey Strategies", you'll discover that I use something like a checklist of all the tactics and strategies my players will be expected to know and ultimately master.  Sometimes I need to go to my written notes for reminders, but oftentimes I can visualize the plays — as my players have or don't have the puck (or they're on offense or defense), and according to what zone the play is in.  So, that kind of self-talk might go something like, "Forechecking…  Backchecking…  Covering enemy rushes…  Defending in our end…  Breakouts…"
I am forever taking notes (see the intro for a category titled A Coach's Notebook).  And as I prepared the following practice plan, I was falling back on some notes I'd jotted after our last hockey game.
I'll usually use a piece of scrap paper to initially list all the things I'll want to accomplish in a practice.  With that, I'll ultimately re-order the drills in the following way…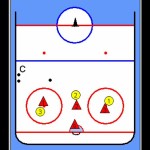 To be honest, this wasn't my idea; I happened to see it mentioned a lot of years ago by another coach and I thought it made a lot of sense.  What I'm getting at is the concept of grouping certain drills into offensive and defensive categories.  The aim of doing it this way is to get my players thinking defense for a certain amount of time, and then shifting them to thinking offense for another stretch.  I wouldn't say I have a preference for putting one before the other, but with the sense that defense takes a lot more work and a lot more concentration, I might often put that group of drills first so that we ultimately finish with the fun stuff (or some offensive drills).
The Drills
Warm-ups We almost always begin every practice with a sequence of drills I've designed to ready us for games AND PRACTICES.  I have to tell you more about this sometime soon.  But for now, these are a collection of simple drills that I feel will really lift my kids' game as hundreds of repetitions are done over the long season, and they're also sequenced to bring my players from a resting heart rate to being game ready.
The Strength Position In anticipation of starting this practice with some defensive drills, I  first showed my kids how they can get the most strength on their skates — with their feet spread, sitting a bit to lower their centers of gravity, keeping their heads up, with their sticks held firmly on the ice and in two hands.
Stick Lifts You might think that players need to be shown how to lift an opponent's stick.  However, I find far too many place their hands too close together, thereby having almost no strength whatsoever.  Really lowering the bottom hand, however, can make it possible for the smallest player to raise the stick of a much bigger guy (or gal).
Covering an Open Man With the rough basics in place, I next held some equal strength battles…  I sent so many attackers towards a net with an equal number of defenders attempting to cover them.  I wanted my defenders to control the sticks of intended pass receivers as an assistant coach fed a pass into the slot.
Actually, the above included three separate drills, with 1 on 1, 2 on 2 and then 3 on 3 match-ups.  The last progression is a tough one for defenders, because they have to scan the ice and communicate with teammates so that all three attackers get covered in man-to-man fashion.
Wide Dribbles on the SMG Switching to offense next, my players attacked our simulated goalie (or the SMG) as if on a breakaway, and I asked them to use the wide dribble move we've been working on lately in our skills sessions.
As an aside…  I've noticed some of my players being a bit too casual lately while attacking that SMG.  So, I think I'm going to put a little punishment in soon in the event anyone hits that stationary goaler.
Really, the word "punishment" is a little strong for what I intend.  What I truly want to do is to just connect some sort of negative to their misfiring, or make my kids very conscious of what they're doing on their way to the goal.
2′s and 3′s Attacking the Net Next we went with pairs and then groups of threes attacking the SMG.  My emphasis here was more towards the kids giving good targets and making good passes, as well as moving towards the net in proper formations.
On the latter, I'm talking about two attackers going to their own net-posts, or three attackers doing the same with a trailer behind the first two.
5 on 1 Keepaway Again, passing is the aim in this one, while I also want to get my players to stay moving — or getting open for passes, keeping their eyes up and making sure they keep the puck far away from the lone defender.
Okay, a couple of things I ought to let you know before I finish here…
Number one, a lot of what I'm doing in recent practices is geared towards helping my players prepare for a 3-on-3 league that they're currently playing in.  Oh, much of what we're doing will also help — tons — when we switch to regulation games in a few months.  But, helping them be successful right now will help morale and also help all the players learn some great playing basics.
Secondly, while some folks might think that the above includes an awful lot of drills for one practice, I'm going to suggest that I get half as many more drills accomplished in a longer session (this one was only 50-minutes).  A lot of the drills were fairly new to my kids, also, which means they took extra time to explain and set-up.  Once drills become familiar with players, though, I can get them going quickly, and thusly get far more accomplished for the night.
Number three, I don't know if you've thought about this as I've been describing the drills.  However, all of the above was designed for my 8-year old AAA Mite team.  Yup, I respect those little rascals as much as I do all my older guys, and I'm teaching them the game as I would anyone else.  About the only difference might be the way I communicate with them (because they're young), or the slower way I introduce the fairly high level tactics.  Again, though, as I've said countless time throughout this site, I truly respect hockey players OF ALL AGES, and I aim to teach all of them what they need to know to move up the hockey ladder.
Oh, one final note…  We have been hugely successful in our first two weeks of 3 on 3 games (which include a jamboree type round robin of three games).  And I'm quite pleased at us amassing 4-wins, 2-ties and zero losses.
What I'm even more thrilled about is the fashion in which  we've played.  I mean, my little rascals are unbelievably aggressive on the puck, and they are making terrific passes to open mates.  In most instances, our practice work against the SMG is also paying-off, with nearly every team member tucking at least one goal into an open corner.
Ya, as I so often joke (as I borrow a line from the TV program, "The A-team")…  I just love it when a plan comes together!
*
I'm hoping the above stirs some conversation or questions.  So, just fire away in the box below.

The Role of a Centerman, Winger and Defenseman in Hockey
By Dennis Chighisola
I get asked about the above a lot – I mean, how I perceive the role of a hockey playing centerman, a winger or a defenseman.  Oh, as most CoachChic.com members probably know, I'm hardly ever at a loss for words (or for an answer to any hockey related question).  But, defining those terms presents a real challenge.  And, here's why…
Until one gets into the real X's and O's of our game, he or she might believe that there is some generic way of playing.  In other words, every centerman – Mites to Pros – is asked to do the same things, both offensive and defensively.  And every winger and blueliner also plays close to the same game at every level.  Aaaaah, far from it…  In fact, teams that are well coached might even require players at similar positions to play very different roles.  (In other words, you know your local NHL team has a star forward who is probably given plenty of latitude to "do his thing".  At the same time, there's probably a "checking line" forward at the same position who has to perform an extremely different role.)
As an aside here, I recall having one member of the Esposito-Hodge-Cashman line (from Boston Bruins fame) visit my hockey school eons ago.  And, during a discussion session with all our campers, the guy told about how the trio began sharing the load according to what they each did best.  In other words, one guy was extremely good at digging in the corners, another was an awesome playmaker, and another could shoot like crazy.  So, they figured, why have guys worrying too much about their weaknesses, when playing mostly according to their strengths would make them very hard to contend with.

*

I tell this story because I noticed a lot of youth teams in those years following suit – or at least trying to, despite the kind of talent they possessed.
Really, I don't have a problem with a coach teaching very young kids something like I describe in "Implementing a Simple Forecheck – the L".  As you'll discover in the video, it's a little like the way that old Bruin described his line's distributing of the workload.  There is one exception, however, in that most amateur teams ask their players to share the load a little more evenly.  In other words – and like in my video, roles are filled according to which player can get the job done the quickest.  (Said yet another way, I'm not going to designate my left winger to go into the left offensive corner all the time; after all, sometimes he might be the furthest player from that area, and we just can't wait for him.)
Now, I don't mean to send you all over this website chasing different videos.  However, if the above video gave you a sense that THAT forecheck is the only one, take a look at a drastically different scheme I recommend to coaches of older teams…  For, "The 2-1-2 Forecheck" deploys players in totally different ways, and it has totally different objectives from the "L".
Actually, there are countless forechecking systems, among them ones you've probably heard mentioned during NHL game telecasts – like, the "leftwing lock" and the "neutral zone trap".  I might also mention that every coach on the planet tends to make subtle adjustments to whatever system he or she employs, so that something like Coach Smith's "2-1-2 Forecheck" works a little (or a lot) differently than the one used by Old Coach Chic.
Then, just so those at the younger levels know, most fairly good high schools and then just about all junior, college and pro teams can use a different system for each game/opponent, or even several different forechecks within a given game.  (Down the road, I'm going to ultimately share a concept with the coaches of older teams, whereby adjustments are even made within each shift, so that decisions are made – according to certain criteria – as to which forecheck should be used.)
Okay, so I've mainly talked about forechecking here.  However, teams can also cover enemy rushes in different ways, and they can also assign players differently in their own end of the ice when their opponents control the puck there.  (Actually, if you want to know more about these different playing options, I invite you to go through a series of videos on the subject of team defense, beginning with "Checking – The Real Definition".)
Now, there's another reason I told that earlier story about the old Boston Bruins.  Because, for the longest time, it seems that Boston area youth teams also followed suit by slotting kids with certain skills into certain forward positions.  Ya, there always needed to be a sniper (or shooter) on one side, a mucker (or digger) on the other side, and then a fancy, play-making guy in the middle.
In most instances, I think a lot of higher level coaches now look at player roles quite differently.  I, for one, prefer to have a pretty strong guy playing the middle, mainly because he so often joins our defensemen to battle enemy attackers down low in our end.  (In other words, I usually look at my centermen as our third "D" out there.)  And, if you have some speed, I'm most likely going to get your wheels out into the wide open spaces (and make you a winger).
As another aside…  I perceive my purposes with a team mainly aimed at getting them to the next level.  So, I'm looking at a junior high kid and trying to figure how a high school coach will see him.  And, I'm looking at my best high school players and attempting to plot a way for them to continue playing into juniors or college.  Sometimes that requires a position change a kid's previous coaches didn't think about.  Again, though, that's my (actually OUR) job.
Oh, before leaving the forward positions, let me also mention one other thing…  How fair do you think it is to ask a given player to work deep in his (or her) own zone – like helping the "D", and then require him (or her) to be one of the first players down-ice to pressure the puck in an offensive corner?  Not very, huh?  I appreciate that problem in advance, and sort of expect that my centerman at least might frequently be one of the last guys into the offensive zone.  That's also why my forechecking systems have forwards filling roles according to how quickly they can do each given job.
Funny that I should build some of this piece around the old "Big, Bad Bruins".  For, when it comes to talking about defensemen, I think everyone will agree that Bobby Orr totally revolutionized that position.
I can't argue with the (long-standing?) concept of pairing an offensive-minded defender with a defensive-minder one.  Do note that "minded" part, though.  I mean, some guys (or gals) just have something ticking inside of them that makes them love to lug the puck up-ice, while some tend to be a lot more conservative by nature.  So, pairing two players who might cover for each other seems a pretty smart thing to do.
That said, however, please don't ever think ANY blueliner can play our game without REALLY good offensive skills.  I'm not necessarily talking about scoring potential here, or shooting ability, although both would be a plus.  What I am getting at is the need for ANY defenseman to be able to handle the puck under pressure – with his or her eyes up, and to be able to avoid enemy checkers, hit open teammates with good passes, or carry the puck up-ice when necessary.
As an aside to the thing about a defenseman's offensive capabilities…  On a few occasions, I've needed to deal with a roster emergency by playing a forward at "D".  And, much to my surprise, the forward often played as well as (or maybe even better than) some of our experienced defensemen.  Hmmmmm…

*

I think one reason is the fact that a lot of young "D" are raised according to some really old (barbaric?) training methods.

*

For example, did you know that the Czechs long ago did a study to discover just how often a defenseman skates backwards during a game?  And, while I can't remember all the stats from that study, I can tell you that the "D" don't skate backwards all that often.  Truth.  What I will suggest is that a defender mostly skates backwards at critical times.  So, while their lives aren't spent back-pedaling, they may live or die on being able to handle 1 against 1 attacks pretty well.

*

And this brings me back to the idea of a forward oftentimes being able to do very well in a defenseman's role.  My thinking?  It's because his puck-toting abilities are often far better than the defense-only-trained kids, and he is forever getting us (or the puck) out of trouble and out of our end of the ice.
Speaking of playing various numerical rushes…  There are and aren't some generic ways to defend against them.  I say there are, because some time-tested methods suggest handling 1 on 1's , 2 on 2's or 3 on 3's in certain ways.  However, there are really differing opinions on how to cover rushes like 2 on 1's or 3 on 2's – due to a coach's preference, or maybe because an experienced player has a preference.  (I've even talked to an NHL defenseman who suggested that certain star opponents would cause him – and teammates – to play a given rush differently than normal.)
One final aside…  If you compared the two forechecks I've shown in the videos, you've likely noticed that I ask my defensemen to perform drastically different roles from one system to the other.  In the case of my older kids playing the 2-1-2, I've intentionally given them that system and encouraged them to pinch a lot.  Again, I'm thinking of the future for these kids, and I know it's going to be easier for a future coach to rein-in an aggressive "D" as opposed to getting an inhibited kid to open-up and suddenly become aggressive.
Okay, so you stopped by this page for some answers, and all I've likely done is dump more questions into your lap.  Sorry 'bout that.  If you're a player or parent, what you should have discovered from the above is that the role of a given positional player is pretty much dictated by his or her coach.  Then, if you're a coach, let me share a few more ideas…
- Within these pages you might see some articles and videos about my '09-'10 Mighty Mites.  These kids had never played prior to coming together last fall, so I have NOT given them any type of "system".  What I have noticed, however, is that these kids have oftentimes solved problems on their own.  I mean, I've watched them learn to spread-out, and I've noticed a bunch of the kids gaining their own sense of where the puck might be going next.  (It really has been a learning experience for this old coach to see those things come about.)  On rare occasions, I've suggested something to the kids, but we've never had the opportunity to practice team-type stuff.  (My kids only practice within the skills session known as my Learn-to-play clinic.)
- I am just completing tryouts for my Bandits AAA Mite Major team, and I'm still wrestling about what I'll do in the way of a system for them next season.  For sure, I owe them some structure to play within.  So, while I have plenty of time to think further on this, here's what I'm considering right now…  I will probably make it a requirement that parents and players study that series of "checking" videos together.  I can't see a better of way for them to all gain a really firm grasp of the game's basic defensive principles.  From there, I am wrestling between the "L" and the "2-1-2".  And, I just might have to give you a further update once I've decided.
- My NEHI junior high school kids played two different systems this past winter.  The "2-1-2" is sort of a staple for my teams, mainly because most of their high school coaches will use some variation of that.  The other forecheck was an extremely conservative one (my own version of a 1-4) that actually shut-down some really powerful teams.  The only reason I used that, by the way, was so the kids could discover other forechecks exist, and so they also get the chance to think the game a little bit differently.  (A lot of what I call "pond skaters" are going to be going to the same tryouts my kids will, and those pond skaters usually can't skate and think at the same time.)
- My High School Prep squad likewise used the "2-1-2" (for the reason stated above), and they also used a more conservative "1-2-2".
- Then, for laughs, I ought to tell you that my last college teams played a system I borrowed from the old Soviets.  The rough idea of that system actually has been — over the past few years — the rage in international play, and dubbed the "Torpedo".  I don't have the space to go into that at this time.  But, if we return to the original theme for this article, you can imagine how "un-generic" playing roles must have been if I had only two forwards – a #1-man and a #2-man, two halfbacks, and then a middle (or "stopper") "D". 
Ya, let me say it again…  There really is no generic way to play our game.
Just as all sportsmen (and sportswomen) take a little break from their normal routines each time the Olympic Games roll around, I've sorta done that here at CoachChic.com.  Ya, I may have held-off on some of the usual types of posts and videos, just because I felt it was appropriate to catch what we could from the Olympic action while the time was right.




Due to the many and varied TV offerings, and due to our very differing schedules, I'm guessing we all watched very different sports (beyond ice hockey, I mean).  Sometimes – even when we're not really into a given sport, there's a personal story or something else intriguing enough to cause us to follow an event we know little about.




And it's that last part – about us getting into the lives and training methods of non-hockey athletes that I was at least partially alluding to in the first installment of "Use the Olympics as a Learning Experience", as well as during the follow-up I did on Apolo Ohno, entitled "Games! Games! More Games!". I know I learned a lot from watching whatever speed skating event I could.  And I'm hoping my friends here also gathered a lot from the videos I posted about Ohno and an aerial skier named Ryan St. Onge.  Ya, the average hockey player, parent and coach isn't ordinarily exposed to such insight as was contained in those videos, so that's why I wanted to warn you ahead of time, to be on the lookout for those up close and personal type segments.




Okay, most of my recent posts had to do with slightly related sports.  So, before holding our own closing ceremonies here, I thought I'd take just a little time to talk some serious hockey.




– Dennis Chighisola
Use the Olympics as a Learning Experience
In all honesty, there are probably only a couple of places where we can gather solid advice about playing the game smartly.
Of course, I'll suggest that CoachChic.com is the best place of all! 
Another avenue might have you a searching through a kzillion websites to find whatever you feel you need.
Then, although it's catch as catch can, TV telecasts can actually help us gather insight into the way hockey is thought at its highest levels.  What I'm really getting at are those little tidbits of advice offered by analysts or color commentators.  And, the more that's at stake, the more you'll tend to hear some really good stuff.
For sure, most of the Olympic hockey broadcasts featured games with a lot on the line.  So, even an old war horse like yours truly paid close attention to what the analysts were saying.
Just thinking back to some of those games now, I'm finding it interesting the way – or the timing of — such insight comes about.
I mean, prior to each game we learned what the two teams had to do in order to be successful, and we sometimes were made privy to what the commentators felt were the strengths and weaknesses of each team.  That, I thought, was great information – not only for fans – but for us coaches.  For, you can be sure that whatever was shared with us came from good sources – such as the coaches or other higher-ups from each team.  Some of what we heard mirrors the way serious coaches have to approach important games, taking into account their opponent's stronger and weaker players, as well as their overall strengths, weaknesses and playing style.
Perhaps at given breaks during a game, the analysts also provided us thoughts about the adjustments the two combatants were going to have to make.  And, I'll suggest that their comments weren't very much unlike what was going on in the minds of the two opposing coaches and their surrounding brain trusts.  Periodic adjustments ARE important to our game, you know, and this has to do with personnel changes, and well as tactical and strategic adaptations.
Aaaaaah, late in a game – and particularly late in a very tight game – is when we frequently hear some of the really good stuff.  In such situations every little thing matters, and every little execution or non-execution can spell the difference in the game's outcome.
Lastly, a game's recap can sometimes be telling.
Okay, so how about some of the things were heard said over the past week?
I know that very much was made about corner play during the late stages of the Gold Medal Game.  In other words, the very experienced minds of the analysts evidently viewed the winning or losing of those little, isolated battles as critical to either team's ultimate success.
On numerous occasions over the past week I heard comments about how critical play would be in the areas surrounding each blue line.  Ha, that's also a biggie to me, and it's actually one of my "Rules for Winners" (these now on the CoachChic.com drawing board and planned for released later this month).  Partly, this is a territorial thing, in that it truly matters if a team is able to attain the attacking zone, or able to chip the puck out of their own defensive end.  As critical – at least in my eyes – is the danger of making a mistake with the puck as one carries over either blue line.  For sure, a turn-over high in your own zone can be a killer.  However, I've seen just as much damage done when an attacker loses the puck while trying to enter the rival's zone.
That latter point is also tied to something else we heard often, as in each team's need to prevent odd-man rushes – like 2 on 1's, 3 on 2's or even breakaways.
If you can recall, much was made about play in the all-important slot area.  Ya, against great goaltending, a team isn't likely to score unless they have bodies and sticks moving in front of the net.  Moreover, I recall an awful lot of goals being scored on rebounds, which means that at least some offensive players were driving hard to the net and looking to pounce on the loose pucks.  And, of course, there was as much made of the need for defending teams to get adequate coverage in front of their net.
Speaking of goaltenders…  A commentator at least hinted that the Canadian netminder might have been slightly off his game during the Gold Medal match.  So, his suggestion was for the US Team to put as many shots on-goal as possible.  Personally, this one irks me at times – with my own teams, especially when my guys fiddle too much and try to make perfect plays against a goalie who is obviously struggling.
Okay, so I mentioned early-on that all this stuff was great fodder for a coach.  In reality, however, it's just as valuable for a player and a hockey parent to absorb, appreciate and understand these kinds of things.  You'll hear me mention it often within these pages, that highlight reel skills will usually get a player noticed, while hockey smarts is what usually get a player's name called when the chips are on the line.  Oh, and while all of the above had to do with the Olympics, I'll suggest that your local NHL telecasts can contain just as much valuable information; we just have to realize the opportunity is there, and then listen carefully for the good stuff.
*
As always, I'm dying to know what you think, or if you heard anything good that I may have missed!
Not that I needed any incentive to tackle this topic but, legendary Boston University hockey coach, Jack Parker, expressed my feelings (exactly) in a recent interview with The Boston Globe.




The real question posed to Parker had to do with the recent decline in the number of Massachusetts guys found on Division I college rosters, as well as on recent Team USA squads.  In other words, the Globe writer was asking Coach Parker what he thought might be the cause of this.




Oh, I'm not going to give you the answer to that one so quickly, instead coming in by the back door as I sometimes do here.




– Dennis Chighisola
Games! Games! More Games!
If you haven't yet had a chance to see the YouTube video I posted recently on how Apolo Ohno prepared for Vancouver's Olympic Games, I highly recommend it to you.  Besides being appropriate to the following topic, TIME's Sean Gregory did an awesome job putting that piece together.
If you're in a hurry, though, Eric Johnson — of KOMO Seattle – also does an excellent job in another YouTube video, this one following Ohno through a typical daily workout in Olympic training (with different exercises than shown in the other video).  Have a look, if you would, because it's going to set the tone for the rest of this piece…
Next, we get the chance to follow TIMEs's Sean Gregory again, this time as he follows World Champion aerial skier Ryan St. Onge…
*
Now, if you want to know what Jack Parker suggested as a reason Massachusetts based hockey has slipped, it's that kids today play too many games.  Oh, I can attest to that, also adding my own two cents worth, in that, I think kids today spend too many hours in a car on their ways to far away games!
Not to sound too sarcastic here but, I sense that some hockey parents would have Ohno skating and racing for 8-hours per day.  And they'd probably prescribe a full day of ski jumping for St. Onge.  Ya, competition – at least to some – is what makes an athlete better!
Ha, and NOT!
As Ohno's coach mentioned, he didn't show us everything the great skater does in his daily training routine.  Yet, did you make note of how much time was devoted to off-ice training?  And, let me remind you of what we saw in the earlier video on Ohno, in that he did an off-ice drill my guys do in The MOTION Lab, he spent some time on the ice, and then finished with a grueling stair routine.
I hope you also noticed that a lot of the off-ice work Ohno does is FAR more strenuous than anything he could possibly do on the ice.  That's just one of the benefits of getting away from the ice, and it's part of the theory I express in my long ago video post on "Some Food for Hockey Thought".
Of course, you also got to see both athletes work on technique (with that previous post showing Ohno doing those "turnbuckle" exercises).  And that can be yet another huge benefit to working away from the ice.  In fact, it's oftentimes easier to work on proper muscle memory in a very controlled environment.  For, on the flip side, a game or other kind of competition frequently causes (or allows) an athlete to resort to and practice all the wrong techniques.  (To me, games are where kids try to look good in front of family and friends, and for some it's where they just barely survive.)
Technique work in mind, let me re-raise a point my dad made many years ago as a baseball coach, this in answer to why he preferred to practice his teams, rather than have them scrimmage…  As dad would put it, "I can hit an infielder 40 or 50 grounders in just a couple of minutes, while there's no guarantee he'll get a single ball hit to him in a game!"
True enough.  And, when it comes to a player polishing his fielding, nothing works better than repetition.  In other words…  Move, scoop the ball and throw…  Move, scoop the ball and throw…  Move…
Of course, the same can be said about out sport, hockey.  And, just think about the skills we could enhance with proper repetition.  God, I can think of a ton of 'em — including deflecting the puck, passing it, receiving it, shooting it, saucer passing, one-touch passing, shooting off the pass, handling a man in the slot, tying a man up along the boards, defending in various numerical situations, or attacking in those same situations.  And, while players could attempt to learn and then get better at each of those skills, an abundance of practice would make it possible for him or her to truly master just about any skills he or she is willing to work long and hard at.
So, let me echo my dad's words once again, in that a player just can't get that kind of practice (or repetition) in a game.
Then, let me echo Jack Parker's sentiments, in that young players today play too many games.
Of course, between the lines what Parker is obviously saying is that current day kids don't practice enough.
As an aside here…  Most scientific folks who study such things (as well as most high level coaches) will tell you that the era of specialization was an absolute failure.

*

My take on this?  While players of that time may have become fairly proficient at game-like skills — my mainly practicing their sport year-round, there was (and still is?) something drastically lacking in their athletic abilities.

*

Worse yet, some studies I've come across suggest that one-dimensional players tend to be more prone to injury.

*

And, in case it hasn't struck some readers yet, gaining more athletically qualities very likely calls for less hockey game-time and a lot more off-ice activities.
Now, you've likely heard before the prescribed ratio of practices to games.  Obviously, it's not a scientific equation but, you'll still hear most of those concerned with development suggesting either 2 or 3 practices for every game played.  (Over the past decade or so, my Team NEHI players have practiced three times per week to one game.)
Before closing, let's revisit that thing about off-ice training…
To my way of thinking the only argument parents or coaches might arrive at is that it's difficult to get extra practice time.  But, I'm here to suggest that some form (or forms) of off-ice training is the answer.
You might find it interesting that The MOTION Lab can accommodate almost every drill you saw Apolo Ohno do in those two videos.  No, we don't have all the weights or a large trampoline like St Onge used, purely because we don't have the space.  However, my kids do perform just about every exercise you saw.
I only raise this point, though, to suggest that a lot of improved physical development can be accomplished by an individual in a relatively small basement or garage.  And, when the weather cooperates, in-lining and outdoor skill work can be limitless.
For anyone who is responsible for a team, here's yet another idea…  If you visit the post about my MP Drill Format, you'll get a glimpse of how I've used different venues to teach and refine positional play to teams — from beginners through college players (and you'll also discover that even NHL coaches have borrowed that drill idea).  With that, I'll suggest that a no-cost local school gym, tennis court or parking lot could be the answer to extra practice time for my fellow coaches.
Finally, this site is absolutely loaded when it comes to off-ice practice ideas.  In the end, though — like Ohno and St Onge, it really comes down to one's want to go for the gold.
*
Please give me your feedback, huh?  I'd love to hear how you feel about all this!
Ever since my Soviet studies long ago, I've kept an eagle-eye out for unique training methods, particularly those done by international competitors.  There's usually a ton of science behind the training methods used by those athletes.  And, with that, nothing satisfies my thirst for new ideas as much as the Olympic TV broadcasts.




– Dennis Chighisola
Use the Olympics as a Learning Experience
Now, the video below features the Russian National Team prepping for their 2008 World Cup appearance.  But, you get a pretty good idea of what I'm talking about — I mean, the way we can learn just from getting a glimpse here and there of what a team of that caliber might be doing to ready for world class competition…
Ya, for sure, the pros also apply all the science known to man in the training of their athletes – be it in hockey, baseball, football, basketball and numerous other sports.  And I'm sometimes lucky enough to be privy to their methods.  However, the Olympics (and some World Cup broadcasts) tend to prove awesome for fans (as well as to yours truly).
What I'm really getting at are those up-close-and-personal kinds of segments whereby the television crew shows clips of an athlete training at home or behind the scenes.
And, I'm not just talking about the times they focus on ice hockey players.  In most instances, there are a lot of things done by athletes in other sports that we can learn from, and a lot of training techniques are used in most sports, including ice hockey.
By the way…  CoachChic.com members are probably going to get a kick out of seeing Olympic athletes doing some of the things I've shown in From The MOTION Lab or in video clips on my teams' off-ice practices.  And, my Team NEHI players are probably going to say numerous times over the next week or so, "Hey, we do that all the time!"
Anyway, keep your eyes open for those close-ups of all the athletes, and perhaps watch them through the different kind of perspective you should have gained as a member here.  Also, since my coaching schedule is going to prevent me from watching a lot of telecasts this year, I'd love to learn from your observations.
*
Use the Comment box to fill me in on what you see, huh?
As much as I work on it (and harp on it during games), my older (even high school-aged) players still end-up waltzing with a partner or two in the bench doorway as they change on the fly. I mean, the kids coming off the ice think that's as important as the fresher kids coming on, so they often get stuck and entangled, and they quite often delay us in getting fresh legs onto the ice.




Now, I'm thinking that the mob-scene-at-the-door thing is a learned trait, and one that's been ingrained over an older kid's decade or so of playing the game (without my kind of discipline). So, when it came time for me to organize my new Mighty Mite team (of first-time players), I thought I'd start them rightly…

– Dennis Chighisola
Buzzer Hockey Line Changes
Actually, the above didn't strike me until I heard the buzzer that ended the first shift of our very first Mighty Mite game. On the spot, though, it hit me that I could start my little guys off on the right foot by getting them into a really good habit.
This was my thinking…
For changes on the fly, I like my older guys to come and hug the boards in front of our bench until the replacement skaters have hit the ice. That's all that's required for a legal change like this – for my guys to be "at the bench". And, with them against the boards and away from the doorway, fresh guys can jump quickly into the play.
Of course, there's no changing on the fly in buzzer hockey (instead there are timed 2-minutes shifts in my little guys' league). But, these kids DO have to switch roles – one 5-player unit leaving the ice with another 5-players coming on to replace them. So, I decided to get my kids in the habit of doing as is shown in the accompanying photo – with the kids coming off the ice lining-up in front of our bench until replacements have entered the ice.
If you click on that photo (above) you'll see a brief video of our player exchange. And, while I sense this action isn't quite automatic to them yet, I suspect that within a few more weeks it will be. Again, I'm talking about habit here, and I'm hoping this small group of players will ultimately have this ingrained in them. Better yet, perhaps I'll suggest that the organization these kids are headed to in future years might help reinforce this in their next few age groups (maybe through Mites and into Squirts).
Any thoughts on the above?  Your Comments really help me!
Dennis Chighisola here, with what I feel is one of the most important posts I"ll ever make within these pages.




To begin, despite my inclination to frequently think outside the proverbial box, I"d like members to know that I don"t make hockey related decisions without a lot of serious thought. In fact, over my forty-ish years in coaching, I"ve mostly relied upon a set of standards I"ve come to call…
The Nature of Our Game
"Hmmmmmm," you say. "The nature of our game?"
Well, I"m sure you"ll agree that playing ice hockey is very unlike trying your hand at the likes of chess, sumo wrestling, or cricket. And, although we might share some similarities with other games — like basketball, soccer, and the other skating sports, there are probably far more differences.
Yes, every game has its very own nature. Factors like unique rules, a special playing surface and the specific aims for each game make this so.
That said, I"ve always felt that the ability to analyze a given game or sport — to understand the true challenges and demands on its participants — is critical to preparation. For, with this we can go to work on developing the proper traits needed to excel in that specific sport.
Now, I feel the need to add this side note, since I"m famous for borrowing lots of training ideas from other sports. I mean, I incorporate sprint training in my teams" off-ice practices, I use lots of football-type agility drills and ideas for explosiveness, and the list of training methods I"ve obtained from other sports goes on and on. As I said in the opening, though, I don"t take such decisions lightly. No, I"m more often than not asking myself the simple (or sometimes not so simple) question, "Does this really relate to the challenges my players face out there in the game action?"
If you think about it, training time is extremely limited — especially for amateur players. So, to go off on tangents that have little to do with our game isn"t such a good idea. Moreover, to incorporate training methods that don"t fit with the nature of our game just might hinder a player.
Now, I probably could write a book on this topic. However, to give you the gist of that nature thing, let me at least briefly touch upon the determining factors I noted earlier.
To begin, consider the surface we play on…  The rink is surrounded by boards and glass, these aiding a player in trapping an opponent or banking the puck around or over defenders. And, while basketball players might be able to scale a ball the length of their playing surface, our rink's lines and related rules influence quite a different approach.
Actually, those rink lines deserve more consideration here, in that hockey teams use them for the development of strategies and tactics. I mean — a lot like military tacticians, teams work hard to defend each line as their opponents attempt to attack, while attacking teams work just as hard to gain each zone on their way up-ice. (Thus we also have forechecking schemes, breakouts, defensive zone coverage, etc.)
While we"re on the subject of our playing surface, consider this… Supposing our game was played on a rink measuring about 20″ by 60″, but still included 5-skaters and a goalie per side. How much fast skating and stickhandling would take place? Not much, huh? In fact, we"d probably recruit sumo-sized guys, and develop plays that look more like rugby scrums. On the other hand, what if we played on a rink the size of a football field? Ha, there would hardly be any physical contact, and the star players would likely be fast skaters and great puck-movers. Of course, our game is played on a surface somewhere between those two extremes, suggesting that the most desirable players should probably be both quick and strong.
Also appreciate the fact that soccer, basketball, lacrosse, field hockey and our game are considered so-called "transition sports". In other words — and in contrast to games like baseball and football, the ball or puck is constantly up for grabs. And, this kind of continuous action puts a premium on players who can quickly switch roles, from offense to defense to offense to defense, and so on.
Even something like a roster size influences the nature of our game. For, given a certain number of players, coaches deploy them in waves, with traditional set-ups (for the sake of discussion) using three roulette spielen ohne anmeldung forward lines and two to three pairs of defensemen. Oh, some might take this lightly. However, that kind of player rotation is where the prescribed work-to-rest ratio comes from — as in a player typically practicing so he or she can efficiently work for x-seconds, and rest for twice that time. (In other words, a unit goes out for a brief shift, then rests while two other units do their thing.)
Now, I"ll bet I wrote and lectured on the following at least 30-years ago, although it"s been only recently that I"ve seen it documented in some scientific studies. What I"m getting at is that the typical on-ice shift is really a series of alternating bursts and coasts. In fact, some of the studies I"ve read lately state that the better players cruise with both skates on the ice for a great deal of they"re time out there. Of course, how well one coasts is not the measure of a hockey player. However, that coasting phase is important, allowing him or her to briefly rest in anticipation of going all-out. And, make no mistake about it: the most consequential plays — either offensively or defensively — are carried out in a matter of seconds, during those brief spurts.
The latter two paragraphs should give us fairly good guidelines for conditioning a hockey player… Yes, he or she should be aerobically (long distance) fit. But, I"ll suggest, not to the point of robbing the anaerobic (explosiveness, quickness) system. Remember: It"s the brief, all-out confrontations that usually spell a player's — and a team"s — success.
Of course, our sport includes its fair share of collisions and incidental contact (whether we"re playing in a body-checking league or not). So, besides the areas of strength development that aid in skills like skating and shooting, the nature of our game suggests that a player be very stable on the skates, as well as be able to safely deliver or withstand heavy hits.
That said — about the need for strength in our sport, I"ll suggest that there"s a tricky balance required — between the want for strength, speed, agility and smooth, efficient movements. Just being strong doesn"t make one an effective player, nor does just being fast, just being pretty, just being…
Even our decisions about hockey equipment should be influenced by the nature of our game. For, as I just suggested, a solid player needs to possess a number of different physical qualities. And it"s important that the gear helps. Quite obviously, the first consideration is that it should protect the player. However, equipment has to also be light enough to aid quickness, as well as allow for smooth movements.
Then, while I"m hoping all the above noted physical traits make sense to you, a study of our game wouldn"t be complete without considering the mental aspects. For, an ice hockey player surely does have to be able to think and skate at the same time. And, if our game is a "read and react" sport, it"s important for a player to instinctively know what to do in each unique confrontation. Moreover, smart players can follow a game plan, and they have awareness when it comes to the game-clock and the score. And, while some might feel otherwise, I happen to believe thinking skills CAN be taught — IF players are helped early enough. (Actually, I"ve developed several drill formats to help enhance this area in my players.)
Then, just briefly let me suggest that training for other important game skills — like puckhandling, passing, receiving and shooting — should also pass that nature of our game test. And, here are two of my observations… First, all of those skills have to be accomplished in combination with other skills (or amid lots of problem solving). Secondly, the best players are able to execute all of those skills in unbalanced postures (with defenders draped all over them, whatever).
Finally, the above is a combination of science, personal observation and experiences; so take it for what it"s worth. Still, I think it should be helpful that players, parents and coaches have some frame of reference when it comes to the daunting number of choices we have to make. So, hey, maybe this is one of those pieces you"ll want to clip and save!
Be a friend:  Your worthwhile Comment helps Coach Chic!
One of my NEHI HS Prep assistant coaches called me the other day with something he'd noticed in some of our closer games.  (Actually, anything that goes wrong tends to only become noticeable when we lose or when a game is close.  Seldom can anything be learned from a lopsided win.)




Both of the points made by Mike H were taken seriously, and they're both worth talking to our players about (over and over and over again).  So, I've done just that this week — going over the following, in anticipation of a really tough game this coming weekend.

– Dennis Chighisola
Preventing Odd-man Rushes
Rightly so, Mike feels our next opponents are really quick at transitioning onto the attack.  And both of his observations had to do with our once-in-awhile tendency to allow quick odd-man rushes towards our goal:
There have been times when our defensemen have headed to their bench before they've made sure the puck was buried fairly deep in our opponents' end.  And that's an absolute must.  What happens a lot of times is that a D gets it into his head that he's going to get off the ice at the first opportunity.  With that, he sorta guesses that the time is right, even when it's not.  Sometimes a teammate's dump-in initially looks good, the defenseman starts off the ice, and then the puck doesn't find its way deep into the zone.  At yet other times a defenseman wrongly thinks a teammate is going to carry the puck safely and deep, and he never follows the puck long enough to ensure that actually happens.  In either case, a turn-over in neutral-ice — or high in the oppositions' zone — provides those opponents the chance for a quick counterattack and a man-advantage rush.
Actually, Mike's second point involves the comments I just made about puckhandlers erring in neutral-ice or at the oppositions' blue line.  But, let me deal with this in two parts…
As I point-out in my video on "Dumping the Puck" (I really suggest you watch this), he absolutely must get the puck all the way through traffic and deep into an offensive corner.
As importantly, puckhandlers must make wise decisions as they carry through neutral-ice.  Headmanning the puck is always the first option, and carrying further would be the second.  As a player carriers, however, he should only do so if resistance is light.  A player should never try to carry when out-manned by the defenders.  No, the wise thing to do then is to dump the puck.
Be a friend:  Your worthwhile Comment helps Coach Chic!
Understand that scientific declarations aren't easily arrived at.  I mean, in order to state something to be scientifically so requires extensive testing under some pretty strict rules.  I have to start this piece in such a manner just so members appreciate that the following hasn't been tested or proved in any way.




That said, I did think you might find the following very, very interesting.

– Dennis Chighisola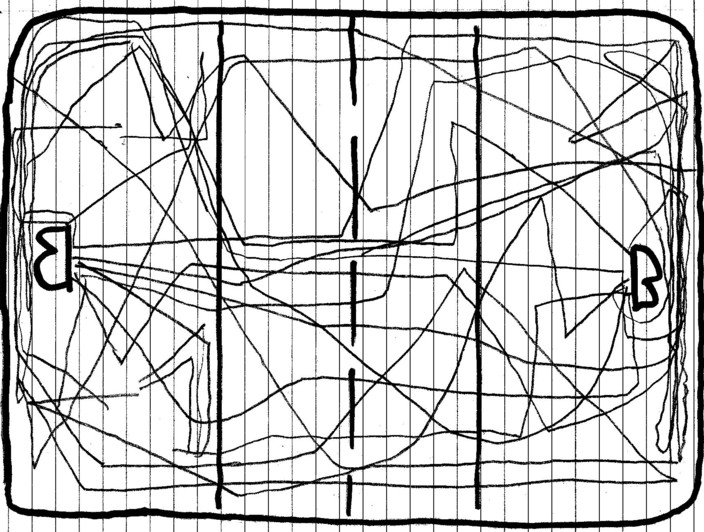 To begin, a friend happened to mention recently that he'd at one time heard or read about something a young Wayne Gretzky did.  And my friend further suggested that this may have enhanced The Great One's ability to (supposedly?) better anticipate puck movement during game action.  Of course this intrigued me, and it sent me scurrying towards an Internet quest for more information.  Hey, I'd like to know everything a young Gretzky, Orr, Ovechkin or Howe did as a youngster, figuring there have to be some intriguing keys to their future success buried away there.
As an aside…  I hate some of the expressions used by a lot of sportscasters, no matter the sport we're talking about.  In this case, the one about "seeing the ice" really doesn't say much.  In other words, the wordsmiths toss such phrases at us, and they leave it up to the listener to fill-in his or her own meaning.  Still, what we have to guess these guys or gals are talking about — in reference to seeing the ice well — is a player's ability to anticipate coming conditions, or to sorta picture in advance what is likely to happen.  That said, most superstars in most sports are given credit for that rare ability, and probably most of us would feel that's a huge part of what separates them from mere mortals.
Well, I have my own take on that "seeing the ice well" issue, and I once had a friend and former NHL-er confirm at least some of my suspicions…  At the time I was readying to write one of my magazine columns on this subject.  And as a premise, I was about to declare that Gretzky could "see the ice" better than most other players because his basic skills were so advanced in comparison to others.  Oh, I took more time to explain it to my friend, a former LA King, but it only took him a second to think about his experiences with The Great One and reply, "Bingo!"
Now, please hear me out on something…
I'd like you to recall back to the very first time you drove an automobile.  Can you remember?  Your hands were probably gripping that wheel so hard!  Everything about the moment was likely pretty tense, and you probably went through a checklist in your head (like a pilot readying for take-off): "My seat needs adjusting…  the mirror needs fixing…  the…"  Again, you should appreciate what I'm getting at here, about everything being pretty tense and consequential.
Next, fast-forward to having years of experience behind the wheel…  Lord knows the things a long-time driver does while motoring down the highway — from changing radio stations to reading a GPS to checking his or her hair in the mirror to talking on a cell phone to (God forbid) texting or shaving or apply makeup.
What I'm suggesting here is that days and days and then years and years cause the everyday operation of that vehicle to become almost automatic, or the movements are almost as involuntary as breathing and blinking.  What else could it be that helps us swerve or brake in just the right way, except that we mastered our driving skills far beyond the beginner?
And that's what I was suggesting about Gretzky in my magazine column…  He no longer has to think about his footwork or puck control as he moves down the ice; those movements are as automatic to him as his breathing and blinking.
Yet another aside…  Don't get me wrong; every NHL player is able to skate without thinking, puckhandle with his eyes up, etc.  But what I'm really getting at is that these things are relative.  In other words, the guys we see as superstars have their basic skills sooooooo on automatic that they can deal with matters others don't get the chance to even see.
Along this same line of thinking, I recall long ago a great young quarterback entering about his third NFL season and saying something to the effect that, "The game has really slowed-down for me!"  Yes, another one of those expressions that leave us guessing as to what's really meant.  But in this case, I know the guy was talking about the fact that he'd learned to read pass rushes so much better than when he first entered the league.  If you can envision it, his first season was probably spent in absolute panic with all those 300-pound linemen coming his way, and with his receivers running patterns that were yet not so familiar (probably not unlike our first driving experiences).  Over time, however, he learned to recognize most of the keys — or what to really look for, which made it all the easier for him to pick the opposition defense apart.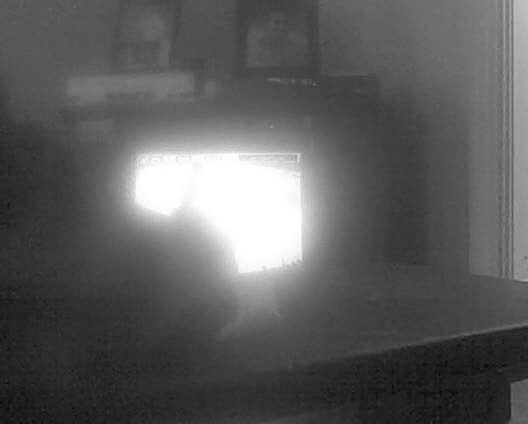 Okay, so now for the story that inspired this post…  What my friend had related to me had to do with Walter Gretzky evidently having his very young son follow the flow of televised games in a certain way, perhaps aimed at Wayne honing those "seeing the ice" kinda skills.  What I discovered instead — in an on-line article from *The Arizona Republic by David Vest — was that the whole thing was actually Wayne's idea.  Evidently a 7-year old Wayne would sit in front of the TV and trace the movement of the puck throughout a televised hockey game.  In fact, Vest quotes the senior Gretzky during a 2005 interview, "I remember saying: 'What are you doing, Wayne?" Wayne's reply to Walter was, "Look, Dad, see all these dark spots? That's where the puck is most of the time."
As Walter described it, Wayne drew a rink — complete with lines and nets and such, and then kept his pen or pencil on the sheet of paper throughout the game action, continuously following the movement of the puck.  Hmmmmmm…  My guess is that Wayne was a real thinker even at a very young age.
Still, my relatively educated guess is that the actual results of Wayne's early studies aren't all that useful, if even valid.  But, that would be another very long discussion.
For now, however, I'd like to suggest that the young Gretzky may have benefited quite a lot just from those frequent exercises.  I mean, how often have we wished our own young players would "really get into the game" or "really study the high level guys"?  So, here was Wayne, only 7-years old, following the actions of his boyhood idols (among them maybe all-time greats like Gordie Howe, Frank Mahavolich and Jean Béliveau?).  If you get what I'm suggesting here, it's that Wayne — even as he was following the puck — couldn't help but mentally record all the things going on with and around the puck.
As a final aside here…  I hope my long-time CoachChic.com friends don't become bored by my occasional references to Anthony Chic.  It's just helpful to me, oftentimes, if I can personalize a given experience or observation.  The reason I feel the need to once again tell a Tony C story is because my grandson has for the past few years been a YouTube.com fanatic.  I don't think he's missed a "Greatest Goals" video over that span, and I can't tell you how many times he's called me to watch over his shoulder to inspect a frame-by-frame breakdown of some incredible move by one of today's great scorers.  Is there learning going on during such an exercise?  I'm betting there definitely is.  In fact, I'm betting the physical moves he's watching are actually being internalized by Anthony, and I'm also betting he can almost sense how it feels to perform each of those moves.
So again, I'm not sure Gretzky's arrival at certain puck movement patterns was all that beneficial to his later playing success.  But, I bet he was taking-in a ton of peripheral information, and he was quite likely internalizing the moves of his boyhood idols.
All that said, I might try such an experiment if I was once again the dad of a young player.  And, I might even find a way to have one of my teams try this.  What I'd likely do with today's resources is prepare a large rink as a master, and then run-off some copies to keep on hand for my player/s.  Whatever you or I do with this idea, though, we can't allow our kids' work with those rinks seem like a drudgery.  The last thing we want is to tie the watching of a hockey game with any sort of negative thoughts.  I don't immediately have an answer to that, but I do know I have a lot of bright and creative friends here at CoachChic.com.  So, I'm hoping lots of you might offer your thoughts or suggestions down below.
* Gretzky's father recalls origin of hockey genius (by David Vest The Arizona Republic Oct. 17, 2005 12:00 AM)
Did you know your Comments really help me?  So, please get involved.  Just use the box below to offer your thoughts, questions or suggestions.  And thanks — a bunch!
Okay, I have to start with a huge smile here, because I've just finished what I'll call — for the lack of a better name — a "tryout" for a new 5- and 6-year old team coming from my winter Learn-to-skate/Learn-to-play program.  Ya, they were an adorable lot, with a 4-year old even being one of our better little guys.  Anyway, for the sake of those who might be forming a similar kind of team right now, I thought I'd share some of my thoughts here, as well as some of the "drills" we started with today…

– Dennis Chighisola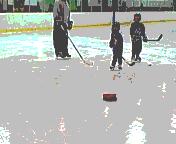 Now, it shouldn't surprise you at all that almost all of what I'll share here can already be found elsewhere within the CoachChic.com site.  The reason is that I really DO practice what I preach.  I mean, if I've said, "This is how we should teach _______," it's because that's what I've found over 40-ish years will really work.  And I don't care if it has to do with beginners or elite level players; that's how I'd do it.
As far as "my babies" go, I told a few of their parents beforehand that it wouldn't take more than a few minutes to get a sense of whether a youngster belongs on that team.  In a way — and not much different from older kids, most of us can usually spot a hockey player as he or she comes out the door.  There's just something about the way he or she carries himself or herself.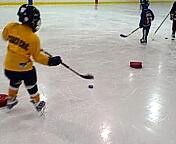 Of course, it might take a drill or two more to gain a sense of whether a very young one is ready to take a few instructions.  Understand that I was only going to start planting the seeds in this first gathering.  In a way, I wanted to get a head start on some things I'll want the kids to ultimately learn.  But I also knew that those kinds of drills would actually give me an idea of whether the kids — at their young ages — could focus and understand some verbal instructions and brief demonstrations.
Now, here's what guided me in my drill selection…
The younger players are, the more malleable they are, and the more a really good "teacher" can influence them.
Defensive play may be a factor in the kids' success down the road.  Sure, there might eventually be a time when youngsters can start appreciating a forechecking scheme, different kinds of coverages, etc.
But, right now the only thing that will really capture these little guys' attention and enthusiasm — and probably the only thing they can really understand — is offense, as in scoring goals.
That in mind, I grabbed a number of ideas from my "Creating the Early Goal-scorer" video (and you might also scan " The Idea(s) Behind Those Goal-scoring Gadgets").
Of course, my current youngsters are true beginners at the game, which makes them slightly less experienced than the players I was really aiming to help in that video.  So, while I did try a few of the ideas demonstrated there, I had to use another important teaching technique I've mentioned a few times elsewhere.  I mean, what I had to do was create some even easier to do lead-up progressions to start easing my new kids towards the more difficult skills.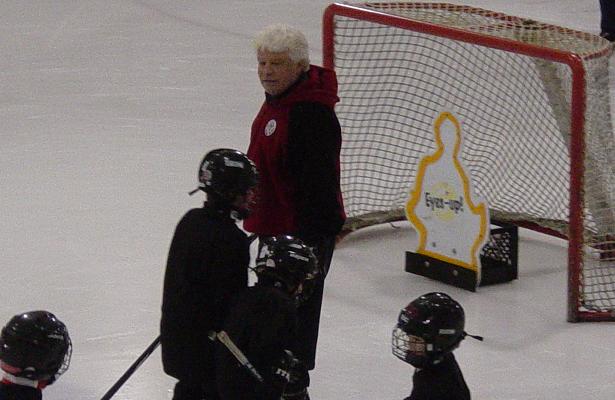 Remember:  Really young ones aren't into too much structure or discipline.  So I started things by just tossing pucks out onto the ice and encouraging the kids to just have some fun.
Also remember:  Since these ARE really young ones, it's not right for me to immediately talk to them like older players.  So, I quite often during this session called them into a little group by announcing, "Okay, kids, let's have a really important meeting here."  And, getting them on their knees and focused (for about the 20-seconds their attention spans will allow), I'd frequently start with some kind of question — maybe about the row of pylons we were going to attack, or about the "simulated goaltender" sitting in the net-crease.
I also loosely applied the Whole: Part Method of structuring drills…  For example, each little guy got to attack the make believe goalie in one drill, we had 2-player races towards that goalie — this to encourage more speed in their attack, we practiced going in and out of pylons (which I referred to as "the bad guys"), and at one point we played a simple game of keepaway with a puck.  At the end of the morning session, I put a couple of the earlier practiced "parts" together by having them — one boy at a time — weave in and out of the pylons at a decent speed, and end by scoring on that simulated netminder.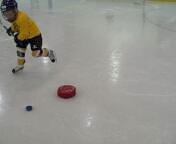 Oh, and you know my penchant for taking notes…  So, at one point during that session I made a note to myself to bring some weights to use for strengthening their stick grips, passes and shots.  (What I plan on doing can be found in the "Passing Basics in Hockey" video, in the section on "Discovering Stick-strength".)
Finally, at one point during our session — while the kids were playing keepaway, I mentioned something important to two dads who were out on the ice helping…  Both dads had themselves played to pretty high levels, so I thought it a good idea to share the distinctions I see.  Or, as I said while we watched the keepaway going on, "That's really what THEIR game is all about, you know."  And I went on to suggest that it's not about the leftwing lock, defensive zone coverage or a powerplay.  No, THEIR game is about getting the puck and keeping it away from their opponents.  It's about weaving in and out of those "bad guys", and it's about beating a little goalie who is usually no more agile than the plastic one we'll use at our practices.  And, as I've also said at numerous times in these pages, our jobs — as parents and coaches — is to help our youngsters be successful at THEIR level.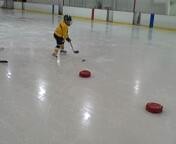 Now, before ending I have to say that there's yet another reason I was smiling — or even chuckling — as I reflected on this morning's tryout session.  As I noted above, these "babies" are as malleable as players can be, and they can be changed rather quickly under the guidance of a really good teaching coach.  And while I have a strong belief in my own abilities, I also know I can almost triple our teaching efforts by helping my assistants to be nearly as effective.  Oh, my reason for chuckling?  It's because I can only imagine what our games are going to be like when every single young member on our team is able to stickhandle through their opponents and cooly tuck the puck into their opponents' nets.  Oh, boy…  I suspect we're going to be creating some hockey monsters this coming winter!




If you like this article, or if you have any questions about it, please do Coach Chic a favor and add a Comment below.  Thanks!
This special note from Coach Chic…




If your son, daughter or team is at the stage where they need to learn hockey's basic rules and positioning, this is the video for them.  No, it's not for grown-ups, as I'll soon explain.  But it's been written and produced in a way that seems to really work for 5- to 7-years old.  And, as you'll see, it's awesome for helping very young kids learn about off-sides, icing and where to line-up for face-offs.
Now, I've coached all levels of our game — up through high school and college, and I even had several minor league pro interviews.  I've also helped a number of students reach the NHL or other elite levels.
That said, perhaps one of the things I'm best at is in knowing where I am at a given time.  I mean, I don't treat high school guys like kindergardeners, and I don't talk over the heads of my littlest students.  No, in fact, I go into what I jokingly refer to as my "Mr Rogers impression" when I teach my Learn-to-skate and Learn-to-play clinics.
And that's what I felt the need to do as I prepared to write the script for the following video.  As I said already, I wasn't writing it for you, the parent or coach.  (Actually — and I'm chuckling at myself a bit here, because I felt pretty stupid doing some of the audio.  But, I knew "baby talk" and a lot of bells and whistles were necessary if I was to keep the attention of little ones.
If you'll notice, this video was created a number of years ago (it still has my old CoachChic.com introduction).  Actually, I produced it as a gift to a number of students I had in a summer hockey school back then, sort of as a supplement — or home study program — for the things we were working on on the ice.
Frankly, I held my breath as I waited for feedback from my camp parents.  But, every single follow-up comment was unbelievably positive.  In fact, a number of parents told me that their kids practically wore-out the CD I'd given them.  And, some told me their youngsters knew the video by heart.
Okay, so why don't I let you take a peek at it right now.  Then, once you've had a chance to view it, I'll add a number of further comments and some advice down below (there seems to be something slightly off with the timing of audio and video when face-offs are covered — it's hardly noticeable; but I promise to fix that as soon as possible)…
Loading...
Okay, is it silly?  Yes.   But, does it work?  Absolutely — because it's just what a young player needs!  And, as I suggested in the video, countless viewings are going to prove a whole lot more effective than just a few.
As I also suggest, a parent can enhance the learning experience by asking questions of the youngster, perhaps testing him or her in a fun way (and even using a little tool I'll make available here pretty shortly).
For both parents and coaches, I think you ought to also consider that kids aren't ever going to truly understand their playing positions without first knowing their left from their right sides.  So, I would make it a point to frequently quiz or otherwise help your youngster/s in this area.
As for coaches of very young teams…  I have done a simple drill — off-ice and on the ice — that really reinforces the off-sides rule.  So, here goes…
Either mark a line (with chalk) on the lockerroom floor or out in the runway, or use a section of the blue line on the ice.
Have a coach be a partner for one kid at a time as they both approach the offensive blue line.  In this way, the coach gets to totally control over the drill.
The coach will want to alternate his her approach to this drill.  In other words, sometimes you might move at a slow, sure pace, and put the puck on-side ahead of your young partner.  At yet other times, the coach should pretend to have difficulty advancing the puck, at which time the young skater must know enough to delay until he or she sees the puck cross the line.
Oh, by the way, parents could easily run that drill at home.  Just be creative about locating a mock blue line.
Then, here's a little insight into my reason for solving the problems dealt with in that video…  When my grandson was a 6-year old Mite C in the local youth program, I used to cringe at the amount of ice-time that was wasted in his games.  I mean, kids would mill around for what seemed an eternity, searching for where they should line-up for a face-off.  Worse yet, few of the little guys understood the rules of off-side or icing, which meant there were countless more face-offs than there should have been.  So, if there is a very good reason for solving these problems — or for having your youngster or team watch the video countless times, it's to give them more real playing time within an hour of ice, and to thusly make the game more fun for them.
Finally, here's our deal, and a good reason why I'm currently making this video available to non-members:

I NEED YOUR FEEDBACK!




Down below is a box for "Feel free to leave a comment… ".





What I'd really like to know is if the video seemed to work — with an individual, or with a team.  And, while it would be nice to have a commenter's name and organization, I would at least like to know the age of the youngster/s using the program, as well as your position (as a parent or coach).




Oh, and yes you can share this page and video with teammates or friends.  Just send them a link to the CoachChic.com home page (that works best), and tell them to scan the free stuff for "Learning Hockey — with Coach Chic & Chomper".




Thanks for stopping by.  And, I look forward to helping you further as your little one grows in the game.

– Dennis Chighisola
As a preface, I want to explain my need to place this entry in three different "Thinking The Game" categories.  For, while it surely does involve some General knowledge, the drill format I'm going to explain and show here is awesome for perfecting both the Offensive and Defensive sides our game, as well as for helping our players improve their transitions from one phase of play to another.
Now, I'll once in awhile joke that some of the biggies in our game follow what this old coach is doing.  And the start of this video might give you an indication of how that probably started.  (Oh, I've given them plenty more cause through later years, but…)
As I said in the preface, my MP Drill Format is truly awesome for teaching, practicing and then perfecting nearly every phase of a team's playing system.  As I also suggest in the video, my MP has continually evolved through the years, and I've found ways to adapt it to all sorts of practice conditions (like off- or on-ice), and with all the different age groups.  I will even suggest that member coaches should seek ways to alter the concepts to meet their own teams' needs.  That's okay; I don't believe the MP Drill Format is done evolving yet.
Loading...
By the way…  A few years ago, I went to a far different type of forecheck than that depicted in the video.   And this presented some real challenges as I tried to fit it into my MP.  Again, though, coaching is all about troubleshooting.  And, as I said previously, the MP can — and should — be adapted to meet a given team's needs.  So, sometime in September I'm going to show you a simple but rather interesting thing I added over the past summer.  For now, however, get your own MP Drill Format going.  You won't be sorry.
PS:  No, that isn't me shown coaching in any of the video clips.  I'm always stuck with the camera.    Instead, the most prominent guys shown are two great former NEHI camp coaches, Dave P and Rich B.
Be a friend:  EVERY worthwhile Comment helps Coach Chic in the search engines!
If you didn't know already, I'm really into the social media site, Twitter.  It's not for everyone, but it truly is great for my special interests.
My work happens to have me spending a lot of time alone.  So, the thousands of other soloists in Twitterland offer me plenty of cyber-friends I can bounce ideas off, or just plain commiserate with.
Then, talk about the chance to share ideas…  With my rather outside-the-box approach to hockey training, I find it awesome to meet and talk with specialist from all kinds of fields — like track, strength training, mental training, nutrition and so many more.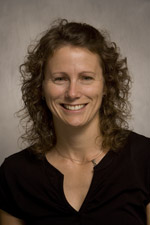 Better yet, I've for a very long time said that Twitter members are some of the best and the brightest in the world.  And, among the best and brightest is one Nicole M LaVoi (photo to right).
Dr LaVoi is an Education specialist at the University of Minnesota's School of Kinesiology, and she's an expert when it comes to youth sports, especially when it comes to the interactions of players, coaches and parents.  In fact, she has authored or co-authored a number of articles on the latter subject (two of these cited below).
As an aside here…  Having just finished reading one of those studies, I know that the authors had some very serious concerns in mind — like the ways abusive coaches, unsettled homes, and confrontations between parents influence young kids trying to play "a game".
Yet, a March 15, 2009 Twitter post by Dr LaVoi really struck a chord with me.  You see, I've for a very long time been bothered by parents who attempt to coach their kids from the sidelines (or from a rink's bleachers).  So, I really took notice when she commented that (based on studies), "…kids say 'coaching from sidelines' is the #1 bad parent behavior they don't like."
Now, if you're unfamiliar with Twitter, you should know that members are confined to 140 characters per comment.  So it's sometimes difficult to put things in plain English.  Still, there's no doubting what Nicole was relating from that study — pretty much to the effect that, "Kids say they hate it when parents attempt to coach from the sidelines!"
Again, I'll suggest that this sort of parent behavior probably pales to some of the other things discussed in that study.  Yet, interference by parents during team activities really is a biggie when it comes to the coach-player relationship.
As examples…
Parents usually haven't a clue what has been agreed upon in a team's pre-game talk or at various times during the game.  Nor do they know what changes in roles may have been asked of certain players.  And, as kids climb the ladder in our game, it's likely that team related strategies will change pretty often, even from shift to shift.  So, my first point:
It's quite possible that parents are calling for their youngsters to do the exact opposite of what's really expected of them — by their coach, by their teammates.
Then, consider that our game is one of transition.  In other words, player roles change in a heartbeat — from offense to defense, from defense to offense.  Said yet another way, our game calls for instant reading of a situation, followed by an equally quick — and proper — reaction.  We're talking about playing on instinct here, really.  And that brings me to my second point:
There's no time to really think under these conditions, and there's surely no time for a player to listen to verbal instructions, process the information, and then react accordingly.
Finally — and thanks to Dr Nicole M LaVoi, et al, there's a third point, in that:
We now know that the calling of directions from the sidelines by parents can be especially unsettling to the kids.
But, I'm getting ahead of myself, and telling you the gist of the short video to follow.  Actually, I created this for my Team NEHI parents a few years ago, hoping to encourage them in one area while discouraging in another.  And, as always, I ask you to have a look and listen to "Up the boards, Johnny!", then let me know what you think…
Loading...
If you'd like to know more about the studies referenced above, please see:
Omli, J., & LaVoi, N.M. (2009). The perfect storm: Background anger in youth sports. Journal of Sport Behavior, 32(2), 242-260.
Shields, D.L. Bredemeier, B.L., LaVoi, N.M., & Power, C.F. (2005). The behavior of youth, parents, and coaches: The good, the bad & the ugly. Journal of Research on Character Education, 3(1).
We all need ways to organize.  And my personal learning style requires me to be very, very clear in plotting my teaching plans.  (My guess is that I grew-up with A.D.D., long before there was a name for it.
!)
In my case, I don't want to miss covering a single aspect of the game.  So I've devised several ways to arrive at checklists — for team strategies and positional tactics, as well as for the individual skills that help my players execute those well.
Now, you might find it interesting the way I've arrived at the various categories here at CoachChic.com.  Actually, though, that's also pretty close to the way my personal coaching notebook is arranged for next season.
All that said, the following video probably over-simplifies things a bit (and it might be a little boring to some).  But that's the way I am…  For the sake of my players — and for YOUR sake, I just don't want to risk glossing-over anything or missing a single step.  So, here goes with a look at "Breaking Down the Game"…
Loading...
As many of you might know by now, I run 2-teams under the New England Hockey Institute banner.  The high school guys are with me from late-May until Thanksgiving (when the local school teams begin), and my junior high school aged kids are with me for almost 11-months.
For sure, I do a lot for my players when it comes to their skills and playing smarts, but I also do quite a bit to improve their psyche.  And it's the latter — trying to help my kids carry themselves and act like true athletes — that I'd like to comment on here.  In particular, I'd like to share with you something I frequently try to convince my older guys about…
You see, this is something I always felt from my experiences as a long-time high school and then college head coach, in that skills tend to get a player noticed — and they tend to help a kid make his or her team; thereafter, however, hockey smarts tend to get a player ice time.  Think along with me, if you will…
About all that's really recognized at tryouts is whether a player fits — skill-wise.  All sorts of drills are conducted for this purpose, without there being much a coach can do to discover whether the players can think and skate, or play the game according to sound hockey principles.
Once his or her team is named, a coach goes about the next steps, which include filtering players towards their positions or roles, and then teaching them his or her playing system.  And it's at this time that hockey smarts (or a lack thereof) start to show.
As an aside…  Of course, a player's skill capabilities enter into the amount of ice time he or she gets.  But, for the sake of this discussion, let's envision that most team members are in the ballpark when it comes to skill oriented capabilities.
Actually, that process — of assessing and re-assessing each player's ability to think the game or play the system — continues throughout a season.  In other words, make dumb plays with the puck in your own end, and you might expect to sit.  Forget your assignment on a face-off, and you might not hear your name called for a long, long time.
So again, if you can appreciate my point…  Great skills are sure to get a player noticed — and probably picked — during a difficult tryout process.  In a way though, a new process starts right after tryouts end, this one involving the battle for ice time.  And, while skills are still a factor in logging lots of ice, so are hockey smarts and an ability to execute the coach's playing system.
Yet another aside…  At least once each year, one of the bull sessions I hold with my older guys involves a focus on the minor league team that feeds the hometown Boston Bruins.  The NHL team's AHL affiliate is only down the street, in Providence, RI.  So I know that most of my kids have seen plenty of P-Bruins games with their parents, or they've at least followed the progress of young, budding players who are just dying to get a call from the big club.
You might wonder, as my kids do, why some guys seem to excel on the minor league team, yet they don't get that call.  And I'll suggest that it's usually because they lack the final polish or the trustworthiness to play at the next level.  For sure, they have the potential — and most likely the skills; that's why they're seen as prospects.  But they don't yet have the mental skills to displace someone up above.    
Finally, I've come to believe that understanding the above really has to be a part of each developing player's mentality.  And I also believe this mind set is best taught early — again, convincing him or her to build highlight reel skills, but at the same time realizing the need to be smart and adaptable (to whatever strategies and tactics a new coach might want to employ).
No doubt someone is going to wonder why I'd expend the time and effort to explain the (supposedly simple) task of dumping the puck.  Well, one of our members, David L., evidently knows the significance of this tactic, because he recently requested I undertake this project.  I totally agree with David.  And, as you'll soon see, an effective dump-in serves an important purpose, and it actually requires some skill and some hockey smarts…
Loading...
As a brief follow-up…  When it comes to dump-ins, I've noticed higher level strategies evolving over the years.  And, don't be surprised if they continue to do so.
There was a time when dumps were usually carried out just as I've described them in the video — I mean, hard around the boards or softly to the opposite corner.  Then there was a time when higher level teams shied away from sending their dumps around, because goaltenders got pretty good — and mobile enough to stop those pucks.  In more recent years, I've noticed teams again daring to fire the puck hard around.  As a matter of fact, a lot of teams are sending the puck in so hard that it travels around and through both end corners so that a teammate can grab it along the boards and fairly high in the offensive zone.  My real point, though, is that the ideas I've mentioned in the video are valid for most levels.  However, a clever coach just might make some slight adjustments as he or she sees the game change.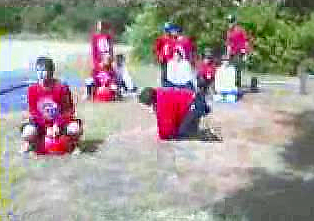 Although I'd pondered something like this for a number of years before, I think my last college team was the real inspiration for this very different kind of training.  Here's just one reason why…
One freezing cold winter night my team traveled north to New Hampshire to do battle with a very tough opponent.  Worse yet, the flu bug had hit my squad, leaving us without several top skaters and my two best goaltenders.
Still, my assistant coaches and I concocted a pretty good game plan.  We were going to ask our guys to play super-conservatively, and we were going to ask them to do everything smartly.  (More on the smartly part in a moment.)
As luck (and my players' hard work) would have it, we scored two quick goals that night, and we were limiting our opponents' shots from far out and from bad angles.  We even managed to keep that lead — and that style of play going — through almost two periods on foreign ice.
Now, besides employing a very conservative forecheck, I'd ask my guys to do some other things that were absolutely necessary to the predicament we were in.  For example, I suggested that we had to eat at the game clock as much as possible.  And I also advised the guys to dump the puck most times, and to only think offense when our opponents made mistakes, or when we had a really good chance of scoring.
Actually, by taking a quick lead, we'd created  conditions that frustrated our rivals.  And they did start making the kinds of mistakes teams make when they can't seem to generate any offense.  Sure enough, they started taking chances with the puck, and they forced passes numerous times right to my guys' sticks.
Ya, everything was going according to plan, and we'd managed to kill nearly two-thirds of the game while clinging to that slim lead.
So, what happens late in that second stanza is that one of my very offensive minded forwards eventually steals the puck in neutral ice, and he starts carrying towards the NH team's zone.  We'd been over this situation countless times to this point — back home in our last practice, in our pre-game talk, and as recently as the last intermission.  What my guy had to read was his honest-to-goodness chances of successfully carrying the puck on towards the goal.
Darn, but he had to see that there were three enemy defenders in front of him, and that the only sane thing to do was to dump the puck so we could move into our forecheck.  Not this time, though…  Instead he barged right into those defenders and immediately coughed-up the puck.  The opponent who stole the puck relayed it up-ice to a streaking winger who fired a slapshot into our goal.
And don't you know that that one goal lit a fire under our rivals, and they managed a 2-2 tie just before the period ended.  Oh, and we could hear them hooting and howling in the dressingroom down the hall.  They were believing in themselves again, and they were ready to blow our doors off in the final period.
Okay, so what did I think really went wrong?
In a way, I couldn't fault my young forward. I felt what happened wasn't intentional, but more a difficulty he — and countless other players — had developed in their earliest years.  I mean, our game is kind of fast, wild and tense (to list just a few adjectives).  And just by its very nature, I can appreciate how players can momentarily lose their heads or make a wrong decision in the heat of battle.
Still, I couldn't stop thinking about that turning point in our game — all the bus ride home, and for the days, weeks and months after.  You see, although I've coached teams for numerous years, I'm really a skills coach inside.  So, when I've seen good and bad plays at the higher levels, I've always felt I could design something for younger guys and gals to help them when they reach those higher levels.
And what I thought I'd been seeing with a lot of older players was a difficulty in dealing with a physical challenge while also keeping a clear head and staying with a plan.
So, with a summer hockey school starting a few months after that college season ended, I set-out to design a program that would help young players learn to "Skate 'n Think" at the same time.  In other words, my idea was to give the kids a simple physical challenge, while also asking them to deal with a mental problem.
With that, the following video shows what I've done with my idea through the years since then. (Although I created this form of drilling in the late 1980′s, you'll notice that I only produced this video a few years ago.) Once you've watched it, see below, because I have a lot more to add…
Loading...
Now that you have an idea of the program I ultimately designed, let me go back to the initial problem — as I see it…
Do you recall those young teenagers hopping across the lawn on large balls?  (I also used a photo of it at the top of this page.)  Well, one of those kids took a pretty nasty spill halfway through the drill.  I just happened to be holding the camera near the end of the course and I was able to see his face as he arrived and readied to give his coach the answer.  The fact is, if ever they had to put a "deer caught in the headlights" sample in a dictionary, there would be none better than the look on that poor boy's face.
What had happened was that he got messed up by the fall, and he lost all train of thought.  Little wonder he'd forgotten the mental problem he was asked to deal with.
So, I have to ask you…  Do hockey players face similar challenges in their games?  You bet.  They get spun around, tripped-up, they take awful spills and ferocious body-checks.  And, is there a chance they're going to have that deer in the headlights moment, just like my young camp student?  Or is there the chance they're going to recover and forget the game plan, the score, the time remaining in a period?  Again, you can bet at least some players will.
Then a few short asides…
Within my other videos, you'll often see my kids tumbling while performing another skill.  I have them do it for other purposes too, but one good reason I mix this skill with others is to artificially cause a little confusion.
Ironically, as I was doing a little research earlier today, I found an on-line article describing some rather unorthodox methods used by old Soviet coaches.  It seems Anatoli Tarasov and other USSR coaches knew their players had to be prepped for the numerous adversities that take place in a game.  So, the Russian coaches would actually — purposely — trip or otherwise foul players during practices or apply some last minute off-the-wall rules to drills and scrimmages.
Finally, I am going to start using this form of drilling again once my players return to The MOTION Lab this spring, and I'll continue it when we later move to the ice.  Yet, even though this seems like a team-type activity, a parent could easily create a "Think 'n Skate" set of problems for his or her youngster to do at home.  And, an older player could just as easily use some imagination to take advantage of these combined physical and mental challenges.
The other night I really enjoyed watching a local college hockey game.  And, although I was mainly there socially, I couldn't help but occasionally see things through a coach's eyes.
In the early-going, the supposedly weaker team (henceforth the home team) performed seeming miracles by shutting down their stronger opponent.  In fact, the first period ended with the home team holding a nice 2-0 lead.
As is customary at such a level, the home team initially opened the second stanza with a very conservative forecheck.  Actually, all was going well — at first, with the visitors seeming to be pretty frustrated.
Now, as a coach, I frequently have the feeling that there are "turning points" in a game.  I mean, flow might be going in favor of one team, when suddenly something happens to drastically shift the momentum.  And, that's what I'm sure I saw occur about 5-minutes into that second period…
What happened at about that time is that the home team had a nice offensive rush.  All three home squad forwards went hard to the net, with the puck eventually trickling behind the goal-line.  From there a home team forward made what I think was a blind pass towards the front of the net.  Also at that point I think the momentum of the game turned drastically.
For, a visiting player scooped the errant pass, which led to a man-advantage rush and then a ton of shots down the other end.  So strong was the pressure on their goaltender that a home team defenseman was ultimately called for a penalty.  Within seconds on the powerplay, the visitors netted their first goal.  Minutes later — probably on a high from their sudden resurgence — the visitors potted another.  Tie game!  And, with the home squad now on their heels, the visitors took the lead for good.
Ironically, I cringed when I first noticed that huge mistake, although I had no idea at the time if it would prove as fatal as it did.
So, what really went wrong?  First, a team has to play a little differently when protecting a lead.  And, I'd have to say that a team that is probably less talented than their opponents had better play all the smarter — and more conservatively — when they're ahead.
Actually, what went wrong was really a two-parter…  Sure, the team in the lead would have loved to have added another goal.  But, not at the expense of taking risks.  And it was probably an unwarranted risk at the time to have all three forwards go too deeply into the offensive zone.  Worse yet, a blind pass backwards — or towards their opponents' end — was just asking for trouble.  I mean, these are the kinds of passes that are so often picked-off to result in 2 on 1′s or 3 on 2′s the other way (don't forget that all three home team forwards were down low in the zone at that time).
And so it happened that night.  Of course, we'll never know if things could have worked out differently — IF all three attacking forwards weren't buried in their end, IF the opponents hadn't snatched the risky pass, IF the opponents weren't able to immediately get sustained pressure at the other end, IF, IF and IF…
Still, now you might appreciate the snowball effect — or at least the potential for that — if higher level players don't play game situations by long-standing hockey principles.  And, while so-called turning points can just as often come from great extra efforts, they're doubly frustrating if they're just a matter of thinking the game a little smarter.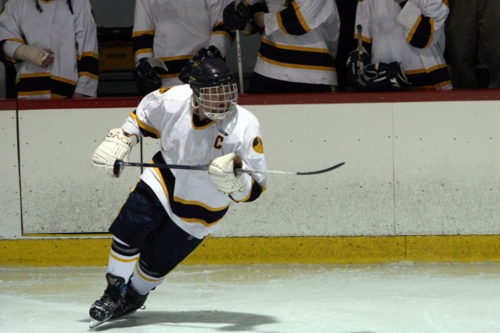 I usually hate the crazing terms that arise in hockey coaching circles, because most of them hardly describe the technique or principle they've been applied to.  That, however, isn't the case with the expressions "read" and "react".
To me, "reading" a play is a mental skill, and it also requires a high degree of alertness.  I'm sure you can appreciate what I mean by alertness, so let's just move on to explore reading skills…
First, a player must recognize the numerical situation he or she is facing.  For, whether on the attack or defending, totally different tactics are needed in 1 on 1 and 2 on 1 match-ups.  (All other match-ups — like 2 on 2′s and 3 on 2′s — are really just combinations of the previously noted ones.)
Secondly — and beyond just recognizing each situation, there's the need to know EXACTLY how to deal with each.  Oh, those new to the game might think that there's some generic way of playing all the situations.  But, that's the furthest thing from the truth; each requires a specific handling (and I promise to address all the various situations in future posts).
Reading accomplished, the next step is for a player to physically do the right things.  Defensively, this mostly involves "reacting" with effective skating technique and body positioning, while attacking can include all the offensive skills, like skating, puckhandling, passing, pass receiving and shooting.
Now, I suggested in last month's post (Playing with Balance) that reading and reacting skills can set a player apart from others.  And, this is surely so.  Just think about it…  I'd doubt we'd argue the value of alertness when it comes to beating other players.  So is smartness critical to applying the right solution to a given problem.  Then, of course, it's the cat-like player who gains the upper hand with great — and quickly applied — individual skills.
As you'll likely discover from my comments in numerous other areas, I'm really big into allowing very young skaters to play as free as birds.  Said another way, I'd love for little guys and gals to play wide-open, offensive hockey, at least at first.  It's just great for their skill development (and it probably helps encourage aggressiveness).
At the same time, there has to come a point in their development whereby skaters learn to play with a little more balance.  I mean, a typical hockey game ultimately requires them to split their duties between offensive and defensive roles.  And, as I'll describe in next month's entry, this entails the concept of "reading and reacting".
As an aside here…  I've always felt that players should be able to skate with certain information — or a theme — in their heads.  For example, the higher levels of our game often include tactical matches  of skill and wit — with one coach's X's and O's aimed at stifling the other team's approach to the game.  Those X's and O's are also often changed a number of times during a game, which means that players might need to correspondingly adjust their approach.  And so does the score and the time-remaining change throughout, this requiring players to make similar adjustments (please see "Turning Points" for an example of this).
As for that "balance"…  I'm of the opinion that a player should always keep another theme in his or her head, realizing that the very next instant might require a quick change in his or her role — from offense to defense or from defense to offense.
In particular, I'm concerned with the first application, the reaction from offense to defense.  For, if (depending on game conditions) more than one or two players go overboard on the attack, there's the likelihood the rest of the team is going to be caught undermanned if the puck is suddenly lost.
Also, as you'll discover next month, the best players tend to be those who can quickest — mentally and then physically — change their roles.
On any face-off where two opposing players are matched on a circle, I want my player to hide his intentions until the puck is just about to be dropped. Then, I want him to quickly swing his stick over the stick of his opponent, and to exert a little down-pressure. That action tends to lock-up the opponent momentarily, giving my guy just enough time to gain an advantage in whatever next move he has to make.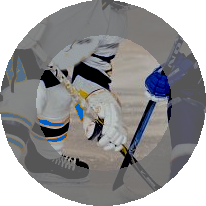 The other night I happened to notice one of my centermen reversing his lower hand on his stick just before moving in to take a face-off.  I'm sure you know what I mean…  He switched his lower hand in the opposite direction, supposedly to gain more strength for pulling the puck rearward.
The good part of this was that my young guy was at least mindful of drawing the puck back amid his teammates.  However, the bad part of this ploy actually reared its ugly head once the puck was dropped.
You see, for a lot of years now, most coaches have steered their face-off men away from this technique for a couple of very good reasons:
Going in with that kind of a hand arrangement is a dead giveaway as to what a centerman plans to do;
(as happened in the ensuing play) that sort of grip gives a player almost no chance in the battle for a loose puck.
Yes, the latter is exactly what happened…  After an initial swipe at the puck, the biscuit remained between the two combatants until the rival centerman walked away with it.
So again, while a face-off man might be able to gain more strength from that grip, the negatives seemingly far outweigh the positives.