This is actually a continuation of a conversation begun in a previous post, "Troubleshooting a Hockey Breakout".  In that one, I tried to help Jeff W, the coach of an Alaskan Squirt team, with the difficulties his kids were having, mainly centered around moving the puck out of their own end.
Jeff is a new CoachChic.com member, he's a Squirt coach in Alaska, and he is also the owner of my book, "How to Coach a Young Hockey Team".
I always find it encouraging when a coach writes to say one of my books or videos or articles is helpful, and Jeff made me feel plenty good with news that my book is helping him quite a bit with his current team.
Still, I (or anyone else) can only go so far in a book, and I could within about 70-pages treat only so many foreseeable problems that might befall a young team and their coach.
So, with that, let's see if I can help Jeff with something that just recently arose with his team's breakouts.
– Dennis Chighisola
Troubleshooting a Hockey Breakout
*
Jeff begins by saying that a number of ideas from my manual have already worked well for his kids, and I think he also referred to getting help from a video posted here on being aggressive for the puck and moving it sharply to a waiting coach (or teammate).
Still, he now has to go on to some problem solving, so he continued in his email with…
"Here is my question/challenge.
On the breakout, my squirt team is really taking to your concept of "showing a target" to their teammates with the stickblade on the ice. The problem is on the breakout when my guys miss a pass, or the puck goes to the opposition and my guys block a shot and gain possession again in the defensive zone whether it's a forward or defenseman, their first instinct is to almost pass the puck to the other team! or they will throw a weak dribble to the opposition defense where they wing it in and the whole process starts over again. My guys have a weird fetish with throwing the puck up the middle or just 'giving" it to the other team.
We have used a promethean board, run a very simple breakout, and I have tested the kids on paper and under practice pressure, they get what they should do, but seem to give the puck away. We have been getting outshot at a ratio of 3 to 1, and today was no better 45/15 SOG.
Thanks as always for your help…any advice would be most appreciated."
Let me begin by saying that I very much respect Jeff for using all the resources available to him — including the interactive whiteboard and written quizzes, and I also think he's on the right track by running his breakouts under varying degrees of pressure.  (When I judge other coaches, I quite often weigh whether I think they are lazy, just going through the motions, etc.  And I can tell that Jeff is far from being or doing either.  Said yet another way, he obviously cares.
As for what Jeff is seeing — and I'm guessing that he's described them fairly well, I can imagine his kids dealing with two main problems…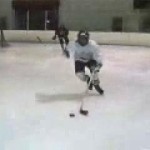 1)  Does it make sense to my readers that there could be a drastic individual skill difference between Jeff's team and another squad that is able to out-shoot his kids 45 to 15?  Of course, I'm better than 3000-miles away, but…
I can picture that, if Jeff had the best two or three players on the ice at a given time, they could probably move the puck out of their end without any breakout plan.  Oh, I'm not advocating this, but do you appreciate what I'm getting at?
Picture along with me further…  One not-so-skilled player starts to move with the puck and he's eaten alive by a better skilled checker.  On the other hand, picture a highly skilled puckhandler moving on that checker, and just imagine how the skilled kid is likely to leave the defensive player in his tracks.
With the above, I'm going to echo something I say often — as a matter of fact, I'm almost positive I said this in my manual…  I mean, we as coaches have to remember that our X's and O's are ultimately replaced by human beings.  So, while our system might seem good on paper, we're going to look like geniuses or dummies, depending on how well our players are able to execute what we're asking of them.
In a game like ours, a lot of mental and physical traits go into attaining positive results.  However, when we're talking about breakouts at the Squirt/Atom level, I'd say that a) individual skills are important, and b) at least some thinking or decision making is necessary.
I said above that I visualize having to deal with two problems.  So…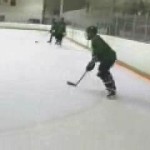 2)  It sounds to me as if Jeff's kids are doing okay in the execution of a typical breakout.  Of course, he'd like to see them miss-connect less on passes, and that should come with more practice (hey, even pros miss-connect).  Where the real problem seems to lie is when the kids find themselves in less familiar situations, or in situations that don't look exactly like they've seen on a whiteboard or drawn on paper.
With that, I think it's time Jeff shows his kids that so-called "breakouts" aren't just prettily designed patterns.  In other words, while we grownups (and even the kids) can probably picture right now what a typical breakout might look like, our players must realize that moving the puck out of their zone can start anywhere and involve quite a few carrying or passing options.
What I'm getting at — and I think what Jeff has been describing — is his kids needing to deal with situations where a basic breakout has broken down, and they have the need to recognize new situations and weigh new options.
I might be inclined to treat the latter in an off-ice setting first…
I'd also first try to get the point across that "stuff" is going to happen.  In other words, even when the kids are doing a lot right, there will be turnovers in their end, what have you.
I'd next show the kids a broken play or a play gone wrong, with a new scenario…
Jeff seems to have described a number of problem occurrences, with some of these resulting in his team not having the puck, others happening where his kids do regain the puck.  And this causes me to consider that we are dealing with 9- and 10-year old kids here.  I mean, I might not mix the two drastically different circumstances right off the bat, but instead deal with them separately — maybe even spending quite a few practices dealing with getting the offense going again, and then later addressing the need to quickly shift to defensive roles on a turnover.  Getting these things solved separately, they could ultimately be worked on together in subsequent practices.
I might show the kids on a board a typical breakout in progress.  At some point, however, I'd show that a pass suddenly miss-connected, and they are then faced with a new situation.  (Just this might be a revelation to young players — that they have an entirely new situation, I mean.)  I'd next ask the kids to help me solve it on the board…  If we regained the puck, perhaps kids have to see new passing options.  I think this might also be a good place for them to see whether they have placed themselves in good spots to support their puckhandling teammate.
I would then take the kids to an open off-ice area for a simulation of the above.  And, just as had been done on the board, I'd show them how a broken play represents a new problem, I'd ask them to troubleshoot with me, and I'd have them help me inspect for the passing options, good puck support, etc.
Only after getting the kids familiar with everything would I start using valuable ice-time for something similar.  What I might do is ask the kids to begin their breakouts, and then be prepared for the command for them to, "Freeze!"  With that, Jeff can move the puck to a new location, and then ask the kids how they'd deal with that.
In time, he just might be able to create a new drill…  With 5-kids Retreating back into their defensive zone, he might yell, "Breakout!" before they get even partway into the zone.  From there he can toss a puck to one player, and see if the group can move out in possession of the puck.  In time, maybe one or two later arriving opponents (or coaches) can provide some pressure to this drill.
I know I've only dealt with regaining the puck in this last sequence.  However, I think Jeff (and other coaches) can arrive at a similar approach to defending against a turnover.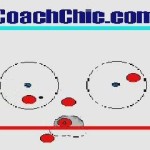 Then, summing it up, I think the fact that Jeff really cares is going to matter — a lot.  If anything, I'll suggest that he remain patient and look long term, and I'll also suggest that he let his team's parents know what's happening, and how he intends to improve their kids — over time.  For sure, he has to devote a good part of each practice to ensuring his kids match physically with opponents, I'd try that sequence of dealing with turnovers or the need to defend after a failed breakout, and I'd also suggest he take a look at an awesome video I have here for "(Teaching &Troubleshooting) Basic Breakouts" (unfortunately, it's something I could never include in a book).
Lastly, Jeff's email arrived less that an hour ago, so the above is what I came up with on the spur of the moment.  I've been thinking while writing this, though, that other coaches might have some equally as good or even better ideas for Jeff.  After all, that should be part of what happens here at CoachChic.com — with coaches helping each other.
I have my good Facebook friend Frankie S to thank for pointing me towards the following video.  (Hey, I can't do all the research by myself! 
)
As you'll soon see, it contains a pretty good example of an important hockey principle (or the violation of such), as well as another suggestion for high level play.

– Dennis Chighisola

Hockey's Last Man Back
Okay, before I get into any sort of discussion on this topic, I think it best for you to first watch the video.  It's short…
Now, as I so often do when analyzing a pro level game-tape, I need to say that every player you can spot in that video is among the tops in the world –  I mean, the absolute cream of the crop.
That said, everything is relative within a given playing level — as Mites match with other Mites, Pee Wees with other Pee Wees, and worldclass players vie with other wordclass players.
I needed to say the latter, you see, because the mistakes made by the mistake made by that poor defenseman probably wouldn't have even been noticed had the checker (and ultimate goal-scorer) been of lesser skill and guile.
Okay, so the main principle that may have been violated here, plus another to at least be considered…
1) If you can picture it, a forward far up-ice with the puck has the luxury of taking some risks.  Hey, we have to figure that he has four skating mates and a goaltender capable of covering-up for him should he lose the puck.
Not so for the defenseman in that video.  He is the last guy back for the offensive team, and one of the most important principles in hockey states that he must protect the puck and move it to a teammate up-ice as soon as possible.
Again, I'll ask you to picture something — that the D's skate-lace came undone, he tripped on a rut in the ice, or the puck just took a crazy bounce off his stick…  I don't care if someone opened a door to the arena and a strong gust blew him off his feet.  The problem is, the last guy back should not be handling the puck for very long, or especially if an opponent is closing-in or within striking distance.
2)  I wouldn't necessarily say that this next one is a well accepted tenet in hockey, but I know it is a choice among a lot of high leveler coaches…
What I'm getting at is that a lot of coaches would prefer that their deep guys — like the defensemen on breakouts — not send passes from their backhands.  If you think about it, almost every skater's forehand is more accurate or more trustworthy than the backhand.  And, of course, if ever there are critical passes made during a high level game, they're ones that take place deep in one's own end.
Let me temper this part of the discussion a little, however…  I have not asked my players to do this — even through high school and college.  I noticed that most of my college guys used mostly their forehands, anyway.  Down through the lower levels, though — from Mites through my high school kids, I figured (and still do see it this way) that their overall skill development was far more important.  In other words, better that they be able to originate their passes equally well off either side of their sticks, instead of taking shortcuts.
Hopefully members got my main point, though:  that the last guy back had better be VERY protective of that puck, and move it up-ice — safely — as soon as possible.
*
Have anything to add to this discussion — or any other thoughts?  My main aim here isn't to dictate, but to instead encourage every CoachChic.com member to think the game better.
Please appreciate that I'm never really knocking a pro (or other) player when I show him making a mistake here.  It's almost always a great player (and one of the best in the world) we're looking at.  I think we also have to appreciate that great players make mistakes having to deal with other great players.  In fact, I've caught many future Hall of Famers making blunders.
That said, I think we can all learn a little from the following clip.
– Dennis Chighisola

A Hockey Defensive Zone No-no!
Okay, I think the following video shows a borderline sample of something I want all young players and their coaches to appreciate.
The rule that's broken states that a player should never attempt to pass the puck across his or her own zone, or across in front of his or her own net.  Furthermore, I do not like diagonal passes in our own end, because these take an even longer route, and pass by too many enemy sticks (or gloves).
Again, Marc Savard flubs a pass that I'm guessing he didn't intend to go up the middle of the ice, and I'm sure he meant to saucer the puck high and over the reach of any opposition checkers.  Things didn't work out the way he'd hoped, however.
So, have a look, and I'll comment further right after…
Okay, Number One — and as I mentioned earlier, any diagonal pass across a team's defensive zone almost always has to go by a number of opponents.  Young players who make this mistake — and aren't able to get the puck high in the air — are surely passing the puck in front of a lot of enemy stick-blades.
Number Two, notice that the color commentator mentioned the Bruins' goalie needing to quickly get out on the proper angle.  Ya, that's almost always the problem when it comes to any turn-over.  I mean, the puckcarrier's teammates are mostly thinking offense, with most of them leaning forward.  Bang — suddenly the give-away happens, and guys can't react back to their defensive positions quickly enough.
Since that turn-over resulted in the winning (or losing) goal, I'm sure Savard felt badly about muffing the technical part of the play, or about not being able to loft the puck high enough to avoid interception.  At the same time, even a lower pass would have probably avoided that kind of trouble had Savard not 1) passed the puck diagonally, or 2) passed it (at least somewhat) across his defensive zone.
Most coaches agree:  that just beating the opponents' first checker is going to greatly help the success of a team's breakout.  That being the case, why not make a drill out it?
– Dennis Chighisola

Beating the First Checker on the Breakout
Whether coaching my high school team or my current Mite AAA's, my assistant coaches and I take turns dumping a puck and then pressuring a 5-man unit on their breakout.
We coaches frequently wear similar colors — or similar warm-up suits.  So, as in the videos you'll soon see, I tell my kids to just spot the coach "in black", and move the puck away from him.
I intentionally have a unit execute the breakout three times in succession.  I don't know if I can explain myself well enough about this, but let me try…  I've always figured that a group has the luxury of "thinking" on their first attempt at a given challenge.  However, each subsequent repetition has to be done rather quickly, which forces the player to "react" a whole lot more.
Okay, in the following video you're also going to notice a coach purposely doing a few things…  Sometimes we'll move quickly right down the back of a player who is picking-up the puck, this forcing him to move the puck to his partner (for example).  At yet other times we'll go directly towards an open man — like the near winger or the defenseman's partner, which signals the puckhandler's need to move the puck away from that area…
Loading...
Loading...
Now that you've seen the drill, I'd like to point-out a couple of things…
One of our D misfired on a pass, and it almost cost him a clean breakout.  You have to understand that I truly appreciate a kid's efforts on such a play, since I care more about his intentions than his success — at least right now.  Hey, this is practice, he knows the right thing to do, and more practice is only going to help him get better.
God bless my little guys, but…  Not long ago I introduced one-touch passing.  So, I thought it was unbelievable that our young winger in the second video several times taps his pass right to the centerman coming by.  Awesome, huh? 
Although this post certainly could have gone under the Highlight Reel Skills heading (and Puckhandling), the following footage provides some insight into an equally important part of any effective move.
You see, no move is really going to work unless an attacker first sets-up the defender.
So, thanks to YouTube.com, we're able to first watch Denis Savard make his patented spinorama move two different times, both at full speed and in slow-mo, and from several different viewing angles.
As you watch, I'd like you to notice that Savard makes a slight motion towards his right before peeling off to his left…
I hope you saw how the backpedaling defensemen either froze or they almost started to turn the wrong way, which gave Savard all the more time and space to spin out and around.
And let me point out one more thing, that being the matter of respect.  For, I'm going to suggest that Denis Savard's speed moving towards those defenders struck a bit of fear in their hearts, and this gave him all the more time and space to make his play.
Now, the next video shows an equally famous move that should further make my point.  This is the breakaway goal scored by Pavel Datsvuk against Marty Turko…
You probably don't have to re-run that one again, because you were likely looking for the way Datsvuk set-up that play.
Anyway, what the slick Red Wing forward did was to hold the puck out towards his side — seemingly forever, thusly freezing Turko for the coming shot.  Of course, Datsvuk never did intend to shoot.
Now, the reason I'm trying to make my point so strongly, is because I sense that a lot of young attackers feel as though "the move is everything".  However, that's hardly the case.  No, a move isn't going to work unless the puckcarrier first makes a pretty believable fake in advance of the real move.  And, it doesn't hurt if a defender really fears the attacker in advance of any move (as in the case of Denis Savard's skating speed).
——————————————————————————-
Later Addition to the Original Post:
Thanks to GKelly's awesome comments, I thought it might be helpful for me to add that goal he speaks about — the 4/21/10 overtime winner matching Satan versus Miller.  So, courtesy of YouTube and the NHL, have a look…
As GK says (and as I'd previously suggested), Satan shows one thing to make the defender (Miller) commit a certain way, then he executes the next move.
Actually, there's another thing going on here that I'd previously mentioned in a post about dealing with breakaways and shootouts, in that most advanced players nowadays prefer to show the goaltender a shooting posture first.  My take on this is that most smart attackers feel the goaler becomes more vulnerable if he's made to come out to cut down the shooting angle (but I wouldn't mind hearing from experienced attackers and goalies about this).
Watching that play again just now, I think Satan also demonstrates yet another mark of a great goal-scorer.  I mean — if you watch the slo-mo replay, you'll see that he is "cool as a cucumber", and he holds the puck for what seems like an eternity.  A lot of players rush themselves in these circumstances.  But again, the goal-scorers have ice water in their veins, and they are cooooool.
As always, thanks a ton, GK!
*
Your Comments are truly welcomed here (in fact, they really help me)!
There's usually a history to just about everything I do.  So, here's the background to the video I'll show you in just a little while…




A few years ago, a mom who was regularly bringing her two sons to The MOTION Lab happened to mention the fact that one son was having real difficulties on breakaways.  Being well aware of the way I tease shooters who put pucks into a goaltender's belly, she joked that, "He hits the goalie every time!"




That little guy was a skilled player (even though only 7-years old), so I knew talent wasn't the issue.  I then promised the mom that I'd think on the problem for awhile, and I'd see if I could arrive at a solution.

– Dennis Chighisola
Scoring on Breakaways or Shootouts
Now, one problem on such a play can be that the skater looks down at the puck too much, thereby preventing him or her from really seeing the options ahead.
The next problem — even if the player does look up while approaching the net, is that he or she might not know what to do if the goaltender acts in one way or another.  And, that "one way or another" thing usually refers to his or her either coming far out of the net to cut-down the shooter's angle, or backing-up (possibly because he or she isn't confident about leaving the safety of the net).
As an aside here…  I've worked plenty with goal-scorers and goalers from beginners to pros, and I can tell you that some of what I just said changes drastically at the college and professional levels.  There's a cat and mouse game going on between elite attackers and goaltenders, with the goalies oftentimes even showing an opening and then quickly taking it away as the attacker readies to shoot.
Things are usually quite different at the younger levels.  I mean, just as I said in my video on "Creating the Early Goal-scorer", the littlest goalies have all they can do to move around in their bulky gear.  And, as that difficulty wanes with age, players up through high school might even fear leaving the safety of their net, or they just might not move very well.
Okay, so I promised that mom from the Lab that I'd arrive at an answer for her son.  And, that I did…
What I did was create a DVD that could be plunked in one of our Lab players for my students to watch.  Actually, that was our first step — having them just watch the video so that they could get a firm grasp of the decision process required in "reading" young goaltenders.  As the following video will explain, a goalie coming far out of his or her net (shown on the left) likely doesn't show much visible net to shoot at.  On the other hand, a goaler who has backed-up into his or her net (shown to the right) is going to show a lot of open spots to shoot for.  So, the decision is pretty simple:   if the goalie comes-out, the attacker should make a fake to one side and then tuck the puck in on the other side; if the goalie backs far in, the attacker should pick an open corner and nail it with a shot.
Of course, leave it to me to make a drill even more challenging or more realistic.  And, to do this, I had my kids spread-out in an area in front of the DVD player to dribble small balls as they watched the video.  Ya, just picture that, as they dribbled — needing to keep their eyes up — and make the right calls, to either shoot or deke.
Okay, so now you ought to watch that video to get a sense of what it's about.  I'll have a few more comments at the bottom.
Loading...
Now, although there are physical skills involved here (especially if the viewer is dribbling a ball or puck), the above video is really intended as a mental exercise.  In other words, a skater has the opportunity to practice his or her "reads" of a goaltender countless times on his or her own.  And that's what I'm suggesting, feeling that the player's ability to ultimately react correctly in these situations will improve with each viewing (or each practice).
I pray that there's a safe space in front of your computer where a player could do as my students do in The MOTION Lab, dribbling a ball and keeping the eyes up while reading each situation.
Oh, one other thing…  Although a very young player was the inspiration for the above video, I would highly recommend it for those at least up through Pee Wees, as well as for adult players.
Finally, I have a special treat for CoachChic.com members…  The downloadable version of this video is going to be kept available to you in the *Gifts section for the month of March, 2010.  In that way you might save it, burn it to a CD (whatever), and use it on numerous computers long after it's removed from this site.  (This entry will always remain here, and the downloadable version may be made available periodically in the future.)  Oh, and I've added yet another bonus tip over in the members' section, this about how an attacker should hold the puck on his or her way in towards the net.
Good luck!
*
I would REALLY like your feedback on this post, especially after you've had a chance to try the video program.
Please see Drill Submission Rules and Help at the bottom of the Free Drills page.
Contributor: Stirling Wright – Virginia & Maryland, USA
Drill Category: Skating, Passing, Pass Receiving, Attacking and Goaltending
Please first see the basic set-up of this drill as described under the free Drills section.  For, from that basic format, some really awesome offensive and defensive variations are possible.  (Click here for: "Russian Circle Passing".)




Stirling has added quite a few great variations to the basic drilling.  So, I'll let him take it away from here…




– Dennis Chighisola
Russian Circle Passing – Variations #3
Drill Description:
Comments:
The set up is the same as the basic drill, but the first player starts with a puck and is skating backwards. As he gets to the red line, passes the puck back to the line he came from, and continues backwards until the apex of the circle, where he opens up his stick to get a pass from the other line.  He quickly transitions to forward, now attacking the net.
Benefits:  Players become more aware of the transition space in the neutral zone, and able to transition the puck forward twice in the same drill.
Running the drill:
- In the basic set-up, skaters are lined-up along the boards and behind a blue line on both sides of the ice.
- The drill begins with one player skating backwards (with a puck) around the center face-off circle.  Nearing the red line, he passes the puck back to the original line.
- Continuing on, he pivots from backwards to forwards near the bottom of the circle, and then receives a pass from the other line.
- That player then continues to attack the far goal.
*
*
*
Click image below to see a short video of this drill in action.
PS:  If you set your video player to "Loop", the drill will play over and over again.


Russian Circle Passing – Variations #4
Contributor: Stirling Wright – Virginia & Maryland, USA
Drill Category: Skating, Passing, Pass Receiving, Attacking, defending and Goaltending
Drill Description:
Comments:
This next variation is the same as #3, except that the second person in line becomes a defenseman for a 1 on 1.
I've altered Stirling's variation a bit here, placing a line of defensemen next to each line.  In this way, "D" get to handle each rush.  (To be honest, I also did this so that the video would be a little clearer.)

– Dennis Chighisola
Benefits:  All the previous skills are honed, along with the addition of players getting to work their 1 against 1 skills.
Running the drill:
- In the basic set-up, skaters are lined-up along the boards and behind a blue line on both sides of the ice.
- The drill begins with one player skating backwards (with a puck) around the center face-off circle.  Nearing the red line, he passes the puck back to the original line.
- The first skater continues on to take a pass (as in the earlier drill), while the second player in the original line (or the red defenseman in my sketch) jumps out to defend against the first skater.
*
*
**
Click image below to see a short video of variation #4 in action.

Russian Circle Passing – Variation #5
Contributor: Stirling Wright — – Virginia & Maryland, USA
Drill Category: Skating, Passing, Pass Receiving, Attacking, and a faster pace on the Goaltenders
Drill Description:
Comments:
From the same set up as all the rest, but this time the second person in line takes the pass from the first player and immediately heads straight in on goal for a scoring chance. This keeps the pace up and both goalies staying very busy. (Remember to allow time for goalies to recover, but keep in mind that speed drills are not just for skaters.)
Benefits:  All the previous skills are honed.
Running the drill:
- In the basic set-up, skaters are lined-up along the boards and behind a blue line on both sides of the ice.
- The drill begins with one player skating backwards (with a puck) around the center face-off circle.  Nearing the red line, he passes the puck back to the original line.
- The first skater continues on to take a pass (as in the earlier drill), while the second player in the original line quickly attacks the net..

*
*
**

*
Click image below to see a short video of variation #5 in action.
Variation #6 coming soon!
Please first see the basic set-up of this drill as described under the free Drills section.  For, from that basic format, some really awesome offensive and defensive variations are possible.  (Click here for: "Russian Circle Passing".)

– Dennis Chighisola
Russian Circle Passing Variations – Basic Set-up

- From the basic set-up, I will occasionally have the last attacker stop at the net and then attempt to screen, deflect or pounce on the rebound on the next attacker's shot.
*
- Also from the basic set-up, I like to send two players at a time from each line, thusly having them attack 2 versus the netminder.  At times, I'll ask the attackers to weave — or criss-cross — on their way to the net.
*
- When I'm looking to mix a little conditioning into this drill (as well as work on our attack triangle pattern), I'll send three attackers from each line.  Man, do the guys run out of gas quickly, since there's little time to rest as groups of threes return to line.
————
Russian Circle Passing Variations – Set-up with "D"

The next phase of this drill requires positioning forwards and defensemen as shown in the accompanying sketch.  From this layout, numerous different match-ups can be practiced.
*
- Clicking on the image to the left will show how 1 on 1′s work from this set-up.  As the sketch shows, defensemen are stationed at the opposite side red line as they await playing an oncoming attacker.  I tend to like this way of practicing such match-ups, mainly because each play is preceded by a pass to the attacking forward, which forces him or her to catch and control the puck in anticipation of confronting a defender.
*
- From this set-up, all the various numerical rush situations can be practiced — from 1 on 1′s to 2 on 1′s to 2 on 2′s to 3 on 2′s to 3 on 3′s.  All the coach needs to do is send the appropriate number of players from a given line.
And, as suggested in the initial drill description, it's important for the coach to frequently change the direction in which players circle (either towards their left or towards their right).
*
Might you have any further ideas for making this drill format even more useful?  I'd love to hear from members — either in the Comments box below, or from your following the directions provided for drill submissions (found in the free Drills area).
For sure, breakaways are among hockey's most exciting plays.  That being the case, I'm really surprised at how often I notice these — and related skills — being taught wrongly.  Anyway, hear me out, huh?  I think what is to follow should make sense.





– Dennis Chighisola
Proper Breakaway Skills
Every time I approach this subject with my students or players, I begin by having them envision us holding footraces out in the rink's parking lot.  That picture planted in their minds, I'll then ask which runner they'd like to be — the one with his hands in his pocket, or the one allowed to use his hands as he runs.
Of course, it doesn't take but a few seconds for everyone to agree, that anyone can run faster if he's able to pump his hands and arms while sprinting.
The reason I raise this point is because I frequently see coaches teaching their kids to hold a puck on their sticks as they race down the ice on a practice breakaway.  The adjacent photo shows what I mean…  The sample player holds his stick in one hand with the puck kept right on his stick-blade, which means that he can really only pump one hand.  If you click on the photo you'll see a slow-mo video of that youngster in action.  Oh, by the way, I sense that he's initially doing things the way he's been taught elsewhere; but, he ultimately starts doing things a little differently when I yell to him.
Again, did you notice that he could initially only pump his left arm, but then he eventually shifted to my way of doing things (I guess you can tell at which point I yelled, huh)?
Now, the next photo pretty much shows what I recommend…  First, I want my players to achieve maximum speed by having both hands free to pump — almost as if they don't even have a puck ('cause they don't).  Secondly, my guys don't really need to control the puck on their way down the ice.  In fact, I'll suggest to them that, "You and (most likely) a chaser are going to have a footrace to a point just inside the offensive zone, and all you have to do is beat him there and have the puck!"  In other words, there's absolutely no reason to stickhandle or make dekes on the way down ice; all one needs to do is go straight and have the puck in the end.
And that brings me to the suggestion that a player tap the puck far ahead, and then use both arms to speed towards the puck.  Actually, I've studied numerous of my top students — high school players to pros, and I've found that the best of them only need to touch the puck three times from about the top of a defensive face-off circle to about the middle of the offensive zone.  In other words, they tap the puck straight towards the net, fly up to it, tap it straight ahead again, fly up to it, and then grab the puck in readiness to attack the goal.  Nothing fancy in between, but everything just aimed at being speedy on a straight line.  Okay, so click on the photo up above to get a sense of what I've been saying (and decide for yourself if this isn't the fastest way to get down-ice).
This next player is a pretty good one, and he's awfully quick down the ice.  He had a problem on the rush I video-taped, however, which gives me a chance to show you something that often goes wrong on these plays…
Once you (click on the photo to the right and) watch the video, notice that near the end of his rush — after he's done pretty nicely, this youngster finds the puck almost in his feet.  Purposely, I've really slowed the video at the end, just so you can see that my guy is nearly upright.  And, you know he can't be going at full speed in that posture.  So, the lesson to be learned from this?  A player needs to gain a certain "feel" for tapping that puck ahead — not so far that he can't get to it, but not so short that it's going to break his stride.  Again, about three touches of the puck seems to do it, in order to cover the distance I've described.
Next, let's deal with grabbing the puck and attacking the goal…
The photo to the left shows my guy just after he's picked-up the puck about mid-zone.  Now, I can appreciate both sides of the argument — for carrying the puck the rest of the way out in front of the body or off to the forehand side.  For a lot of years I'd taught the latter, but more recently I think a player can hide his or her intentions better with the puck held out-front.  Again, though, both arguments make some sense, and I think the best answer is that the attacker have an idea of what he or she wants to do in the end.
My final bit of advice is to suggest that a player NOT move his or her body left and right in order to make the goaltender move.  Sure, a player can make head and shoulder fakes, but I don't advise skating side to side.  For, I believe that the stick (with puck in-tow) can travel faster and farther, and the goaler has to respect that as much as if the attacker moved his body (after all, netminders line-up on the puck, and nothing else).  In other words, if the attacker is able to move the goaltender towards one side with just a wide deke, he or she should be able to move the puck quicker across to the other side than the goalie can react back.
Finally, while I've covered a lot here, the one thing I want to emphasize is that long dash towards the far end NOT being slowed by much handling of the puck.  Tap it ahead, fly, tap it ahead, fly…
*
Have any questions or arguments with what might be some controversial territory?  You know I really appreciate your Comments!
Some time ago I discovered the benefits to just slightly changing any given drill to shock my players' concentration.  Substituting another object in place of the puck can do this.  And, I've more recently tried — with some success — the use of big balls, like those used in basketball or soccer.

– Dennis Chighisola
Okay, I know the above claim needs a whole lot more explaining, so here goes…
Let me start by reminding my CoachChic.com friends that "repetition (surely is) the best teacher".  However, "boredom is the greatest threat to effective teaching".  In other words, doing the same exact drill, over and over again, IS great for creating muscle memory.  Still, that's only good to a point, since overdoing the same drill is likely to eventually cause our players' eyes to glaze-over.  I mean, at some point, our players will start just going through the motions in zombie-like fashion.  And this is when poor technique and poor decision-making — along with the wrong kind of muscle memory — start creeping in.
Let me also remind you that it's at a time like this when there's a need to get a little creative, or "artful".  (If there's a caveat here, it's that we have to continue reinforcing proper techniques, and not just go to another form of drilling for the sake of change.  In other words, while players have to feel a drill is new, parents and coaches have to be careful in choosing a substitute drill.)
Now, one of the earliest posts I contributed to this site had to do with using a small ball for teaching passing techniques.  As I described in that one, pairs of players move while passing the ball back and forth to each other.  As I also suggested, proper passing and receiving fundamentals can be reinforced while this drill runs.  The receiver can be reminded to give a good target, and we coaches can reinforce a need for the passer to lead his or her teammate and to put the pass right on-target.
If you get where I'm going with this, you might also sense, as I do, that players usually won't see the above described drill as being anything like the same old, same old ones we've done so many times before.  In fact, I often see my players refreshed by this approach, and they tend to give more of themselves just because the drill does seem new to them.
As another example…  Late last winter I started to get the impression that my junior high school team kids were just going through the motions during our breakout drills.  (Actually, things were getting pretty ugly.)  How could I blame them, though.  We must have done those same old drills hundreds of times over the long season.  So, I decided to bring a soccer ball to our next off-ice practice session.  And, it did the trick.  Suddenly the kids seemed to brighten-up, and they were suddenly focusing again, too.  Their concentration was back, and they once again began attempting to place passes right to their teammates' hands.
Now, once I see something works, I salt that idea away for future reference.  Ya, switching to small ball passing (as described earlier) probably crept into my drill repertoire some 15-years ago, and it's always been there for me to fall back on as the need arose.  So has the big ball idea been available for me since late last season.
That said, I want to insert here another thought…  In strength training circles there is a relatively new approach referred to as periodization.  And, for all the science that might be used to describe that mouthful, my oversimplification of that term is this:
While sticking with a given training routine for a considerable length of time will produce positive results, there will ultimately come a time when progress either slows or almost stops.  (This is often referred to as "plateau-ing".)  So, the idea of periodization is to avoid plateaus — in advance — by periodically changing an athlete's routine.  In other words, we know a routine is ultimately going to lose its effectiveness.  So, why not switch to some alternate exercises beforehand?
So, does this line of thinking sound anything like my idea of using alternative drills in our hockey practices?  I definitely think so.  And, borrowing from the idea of periodization, I've even begun inserting substitute drills BEFORE the traditional ones start losing their effectiveness.
As an aside here, and as a way of introducing a few new drill ideas for you…  I don't think we should get stuck on any given type of substitute for a puck.  At certain times small balls work; at others times I've found it wiser to use a big ball, because it slightly slows the action, or because it in some other way makes a drill run better or safer.  And, I don't doubt that either you or I might arrive at something even better to use sometime down the road (I don't know; frisbee, anybody?).
Now, late this summer I felt the need to reinforce offensive 2 on 1 principles with my Team NEHI guys.  I think players tend to like games of keepaway, probably because there's competition involved, and also because these contests aren't very different from real game action.  Of course, I like keepaway games because they force real game decision-making, proper passing and receiving skills, and because they can be performed in a small, easily observed area.  In other words, it's pretty easy for participants and coaches to see if choices and skills have been performed successfully.
Shown to the right are my guys playing games of 2 on 1 keepaway (roughly) within the end face-off circles.  (If you click on the photo you'll see a video of my guys in action.)  Actually, we played these games on-ice during the week with pucks, then used a soccer ball in our weekly off-ice practice.  If you can appreciate it, the same principles and techniques were reinforced in both venues, while the kids reaped the benefits of seemingly different drills.  In the video you might notice the kids laughing a bit, or being fairly animated (suggesting they're enjoying the competition).  Also, notice the two young kids (our junior high school goalies) in the second group, as they actually try to get open and they also use some eye fakes to fool the checker.  And, done enough, I'll suggest that these things will gradually transfer into their game play.
Shown in the second photo are some of my NEHI HS Prep guys doing the same drill.  (Click on the photo to see that drill in action.)  You'll notice I've added a little incentive (or consequences) to their success or failure in the game.  Hey, there are consequences if we lose the puck in a real game, so — on an honor system — kids who cause a turn-over quickly do 5 push-ups.
This brief sidebar…  I tell my guys ahead of time that I don't want the push-ups to be seen as a real punishment.  The reason I'm only asking them to perform five quick ones is so that they'll at least associate a small amount of pain(?) or embarrassment(?) with losing the puck or ball.  (If you think about it, most of the drills we coaches run during our practices don't have the same kind of results-oriented consequences as our games.)
The final photo shows some of my kids working on their offensive zone man-advantage plays.  I'll get plenty into powerplay tactics down the road.  But, for now let me say that an effective powerplay can often be the great equalizer when/if our team is struggling in other areas.  Also, if you think about it, powerplay skills and principles tend to trickle-over into many areas of a team's 5 on 5 play.  I say all this to let you know that we spend a pretty good amount of time working on man-advantage situations.  Understandably then, we REALLY need alternative forms of practice to avoid all the issues associated with boredom.
(Click the photo to see action drilling on our powerplay.)  This clip was taken early in the kids' learning my version of the umbrella formation.  So, while they certainly haven't yet gotten to the point of executing plays in this video, they are quickly learning to recognize where teammates should be, where opponents likely are, and where their passing options might be.  Again, though — aside from the teaching aspects, this form of drilling makes it possible for me to practice powerplay tactics — A LOT.
In closing, I hope players, parents and coaches appreciate my concerns for practicing plenty while also trying to keep focus or concentration.  I'll suggest there's a delicate balance required in our drill selections — between traditional ones and alternatives.  The use of small and big balls can help towards this aim.  But, they're by no means our only options.
Be a friend:  Your worthwhile Comment helps Coach Chic in the search engines!
As a preface, I want to explain my need to place this entry in three different "Thinking The Game" categories.  For, while it surely does involve some General knowledge, the drill format I'm going to explain and show here is awesome for perfecting both the Offensive and Defensive sides our game, as well as for helping our players improve their transitions from one phase of play to another.
Now, I'll once in awhile joke that some of the biggies in our game follow what this old coach is doing.  And the start of this video might give you an indication of how that probably started.  (Oh, I've given them plenty more cause through later years, but…)
As I said in the preface, my MP Drill Format is truly awesome for teaching, practicing and then perfecting nearly every phase of a team's playing system.  As I also suggest in the video, my MP has continually evolved through the years, and I've found ways to adapt it to all sorts of practice conditions (like off- or on-ice), and with all the different age groups.  I will even suggest that member coaches should seek ways to alter the concepts to meet their own teams' needs.  That's okay; I don't believe the MP Drill Format is done evolving yet.
Loading...
By the way…  A few years ago, I went to a far different type of forecheck than that depicted in the video.   And this presented some real challenges as I tried to fit it into my MP.  Again, though, coaching is all about troubleshooting.  And, as I said previously, the MP can — and should — be adapted to meet a given team's needs.  So, sometime in September I'm going to show you a simple but rather interesting thing I added over the past summer.  For now, however, get your own MP Drill Format going.  You won't be sorry.
PS:  No, that isn't me shown coaching in any of the video clips.  I'm always stuck with the camera.    Instead, the most prominent guys shown are two great former NEHI camp coaches, Dave P and Rich B.
Be a friend:  EVERY worthwhile Comment helps Coach Chic in the search engines!
As you'll discover over time, I make a big deal out of face-off plays.  And, although I'll cover this statement in much more detail at another time, I almost view face-offs — particularly those held deep in either end zone — as I would soccer style free kicks.
For now, though, I believe every team should have a few offensive face-off plays.  As I'll say in the video, there are numerous plays that could be worked down deep in your rivals' zone.  At the same time, perfecting just a couple is probably a lot better than having a bunch of them that aren't nearly as effective.
So, here are a few that have worked well for my teams…
Loading...
For sure, breakout plays can be designed to be pretty sophisticated.  However, ask any high level coach about the real key to breakout success, and he or should will likely tell you it relies heavily on execution.
That said, I'd like member players, parents and coaches to pay particular attention to the so-called "little things" I point-out in the following video.  For, I think an awareness of these skills — from both a physical and mental perspective — can make a profound impact on any individual's or team's ability to move the puck out of their end.  Then, once you've seen the video, I'd like to add a few more comments (below)…
Loading...
Now that you've had a chance to watch that video, I'd like to emphasize a few things…
As you'll catch me saying often, playing the game well calls for great skills and an ability to think the game.  (Believe it or not, I occasionally run across folks at local arenas who feel players can avoid one or the other and still excel.)
As I said in the video, skill-wise a player needs to be able to skate his or her position, handling the puck under pressure is essential, and it's also an absolute necessity that players make and catch passes.
It should also be evident that players can't just close their eyes and fire the puck in some general direction.  In fact, I made the point that we would like to fool the opposition forecheckers when possible, and that the first pass in our zone is especially important.
Finally, because the breakout is actually a combination of many skills and thought processes, look for me to add a number of new videos in coming months, these focusing in more depth on each small breakout part.
The good part of this Q and A section is that I'm getting to make some great new friends, and the ones I've answered here so far have submitted some great questions.  If there's a tough part about this, it's that I'm already getting overwhelmed (the first month into this new site)!  So, please be patient with me (hey, I'm trying to hurry – LOL); I intend to answer each and every question — promise!

– Dennis C
Q: Jackson H. asks for some ideas for timing his team's breakout, especially when it comes to when his off-side winger starts moving down the ice.  The immediate problem, as Jackson notes, is that, "We have one winger on our team that always seems to leave a little too early, making it difficult for the centre or puck side winger to pass to him."  In particular, Jackson is looking for some sort of a cue to give kids in that position, as in, "Don't cross the _____ before _____…"
A: Right off the bat, I have to give Coach H. credit in looking for simple cues.  That's what our job should be about as coaches, simplifying the game for our players any time we can.
That said, I think much of what we'd want here should be based on what we're trying to accomplish with the far-side guy.
So, being not-so-simple at first, let me provide a little insight into what I like to do…  For, both defensively and offensively, I like to create depth in the deployment of my 5-skaters.  As this translates to my breakouts, it would likely have two defensemen back aways at first, a puck-side winger and centerman moving mid-defensive zone, and the far-side winger moving into neutral ice.
I think one cue that would help Jackson's guy quite a bit (and his currently not doing this is likely the real problem), is that the off-side winger shouldn't take-off until he's absolutely sure the puck is being moved safely to the second wave (the other winger or the center).  That, in of itself, will probably prevent a far-side guy from getting too far ahead of his mates.
I might add a second thought here, as well…  I've noticed some of my lead breakout guys sometimes moving so far ahead of their teammates that their stick-blades are blocked by a rival defenseman.  I mean, my centerman or winger with the puck is trying to feed that guy with a cross-ice pass, but an opposition defender — or the defender's stick lies in the way.  Really, it's just a matter of inches — or at most, a few feet, but a clear path MUST be seen from the passer's stick-blade to the blade of the potential receiver.  As simple as that sounds, however, a lot of young players just don't seem to grasp the concept.
Well, I hope that helped you, Jackson, at least somewhat.  If not, though, please don't hesitate to clarify your question even further.
(Please also see: Reading a Defenseman on the 1 on 1 (Tip 1)
At body-checking levels, certain cues can be spotted as to a back-skating defenseman's intentions.
For example, a smart attacker can watch a defenseman's skates for a hint of what that guy wants to do.  I mean, those skates are almost always a dead give-away…
On the one hand, a back-skating defender might keep the skates under his body in order to stay moving backwards and to stay mobile.
On the other hand, a defenseman will almost always start to spread his skates in order to gain strength and stability in anticipation of a body-check.  So, when an attacker reads this cue, it's a good time to put on the jets and  blast around that D.
Just as attackers learn to read what a goaltender is attempting to do, a smart puckcarrier should attempt to look for indications of a back-skating defenseman's intentions.
In almost all instances, a defender will try to guard either the ice behind him or her or the ice in front.  In other words, the "D" will back-up rather quickly (to guard behind) or hold his or her ground in neutral ice (to protect in front).
One way or the other, it's usually a good idea for the attacker to take what the defenseman gives away…
If the defender quickly back-skates, the attacker can allow him or her to continue until he or she can be used as a screen.
If the defender stalls in neutral ice — trying to stop the rush early, the attacker would be wise to toss the puck behind the defender and then attempt to quickly get around to retrieve it.
So again, it just makes sense to take whatever area the defender concedes.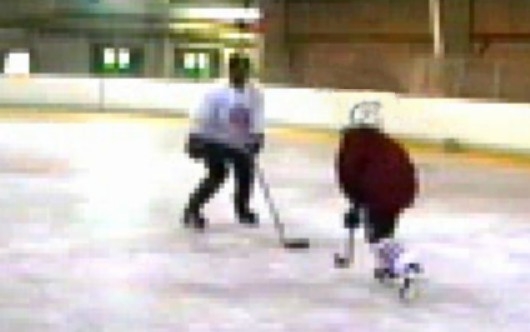 Actually, this one is really covered well in The Offensive "Bag of Tricks".  The point in that piece is that an attacker must gradually accumulate a vast array of offensive moves (or tricks, I call them), these to be used anytime he or she finds himself or herself in a 1 against 1 match-up.
As you'll notice me often pointing-out, each kind of match-up is unique, thereby requiring a unique approach.  And, as that applies to the offensive side of a 1 on 1, I'm going to suggest that the attacker is really on his or her own to somehow beat the lone defender.
In a way, I think successful one against one guys and gals also have a special kind of mind set.  I mean, most of them take unbelievable pride in their success, and that seems almost always to be reflected in the way they practice.  Yes, they absolutely hate being beaten, in a game or in a practice.
A little story to help make that point…  I can recall some 20-ish years ago a coach on my camp staff repeating something an old-timer told him, in that, "If you want to know who the stickhandler is in your group, just blow the whistle and look for the one who doesn't stop dribbling!"  You might be smiling at that one, just as I am right now.  And you probably also get the point to that observation, in that offensively minded skaters love playing with the puck, they tend to like experimenting with it, and in the long run they become pretty dangerous, even pretty exciting attackers.
So, while I'm going to ultimately share tons of great 1 on 1 attacking ideas (because it's one of my favorite topics), I'll leave with these few reminders:
As we discovered in the segment on

"Read" and "React" Skills

, 1) a puckcarrier must quickly recognize when he or she has a 1 on 1 match-up, and 2) he or she has to know how to attack in that unique situation.

A player must take the attack side of a 1 on 1 personally.  After all, it is just him or her against the sole defender.

The attacker's success in 1 on 1 match-ups usually boils down to his or her offensive bag of tricks.
Oh, and I forgot three more keys to 1 against 1 success…  Practice!  Practice!  Practice!
While watching an older level youth hockey game, a player on the team that trailed by 3-goals attempted to dump the puck.  Unfortunately, a whistle followed, with the ensuing face-off — for icing — being held down deep in the offending team's zone.  That said, don't take the following lightly, since I noticed some of my college players making the same mistake years ago…
What I'm really getting at here is the need for players to know where they are on the ice.  Or, as in the case of the above described players, I'm talking about 1) realizing that you're only a step or two from the red line, and 2) realizing that just a little more effort could have resulted in an effective dump-in and no icing infraction.
As a PS…  I often wonder — when something like the above happens in a game, if the coaches make note of it and later go over it with all of their players.  That's my suggestion to other coaches.  And, if you're a parent of a player making any of the mistakes found under "Thinking The Game", I'd make it a point to discuss them with him or her.  Oh, and by the way…  Those "little things" I see happening in a game are the reason I long ago started jotting the problems you'll often find here or in "A Coach's Notebook".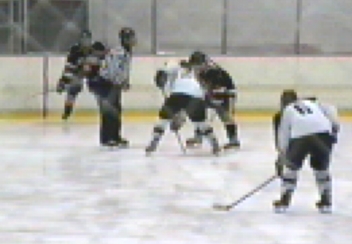 There are some very good reasons we might accept an occasional defensive zone face-off.  However, neither this month's or November's are really worthy of putting our net in jeopardy.
Okay, I know the following suggestion is going to seem obvious to some.  Yet, I can't tell you how many times it appears not to cross a given player's mind.  So, here's the scenario I'm getting at…
One player attempts a long-bomb pass to a teammate flying through the neutral zone.  The problem is that the pass is off its mark by several feet, and the potential receiver gives-up chasing it.  Of course, that team is called for icing, and the ensuing face-of is brought back down in front of their goal.
Now, to me, that's a significant penalty to pay for something that just might have been avoided.  Oh, there are times when I feel that an icing call is justified (and I'll go into that at another time).  On the above play, however, I think it's well worth the extra effort to save us from that infraction.
That's part of the reason I usually discuss this topic a few times per season with my players, suggesting that busting their buns to just make contact with an errant pass on the offensive half of the ice is going to help us big-time.  And, besides saving us from a possible icing penalty, a tipped puck is going to eventually fall somewhere in the offensive zone.
So, while some of the above might seem like it doesn't need saying, I've discovered these  concepts aren't always understood by all players.