Just in case you still might doubt this old coach is ahead of the curve…
– Dennis  Chighisola
Don't be the Last in Hockey to Discover Innebandy!
Some of your favorite European players, who are showing their stuff in the NHL today, grew up with innebandy (or floorball).  As you'll discover in the following video, the National Hockey League is getting into it, Hockey Canada started using the sport about 8-years ago, while I learned about it and started promoting it — as a great cross-trainer for hockey players — about 3- or 4-years ago.
With that, don't take my word for it, but check out this video…
Now, long time members know I've forever been steering my students, players and you away from year-round hockey, or specializing too much in that sport.  As I've suggested, playing ice hockey for close to 12-months out of the year tends to limit a developing youngster's growth in athleticism, and I even believe it ultimately subjects players to certain kinds of injury.
So, probably since about 1980, I've been recommending that players put their skates away for at least a few months, and undertake the likes of dryland exercises, strength training, and certain track events, as well as sports like baseball, basketball, soccer, lacrosse, and roller hockey.   For sure, I'm thinking about the physical benefits involved here, but I'm also very much concerned about the awesome mental distractions — and mental challenges — these activities promise.  Better yet, I like my guys to get away and try something else so that they ultimately die to return to the ice.
Now, along comes innebandy — or floorball, offering a myriad of physical and mental challenges that are close to hockey yet far enough removed to make an off-season fun and extremely productive — especially for young hockey players.
So, want to find a floorball program in your area?  Or, might you consider starting a program yourself?  Stay tuned, because I think I (and a number of others) will be able to help you very soon!
This late update (June 14, 2013):  About a week ago, when I posted this article, I felt it served two purposes:  1) to promote a great new sport, and 2) to call this new sport to the attention of my loyal hockey following. 
Now that this post has taken off, though, and now that it's probably received as many comments as any hockey related piece I've ever produced, I think I have to talk with my CoachChic.com members one more time…
First, I am a "hockey guy", I have been since I was about 9- or 10-years old, and I'll remain one until God assigns me a new lockerroom. 
On the other hand, I have fallen in love with floorball — for that new game' sake, for the wonderful people I've met within that game already, and most importantly, for your sake.  Yes, if you take a few minutes to scan the Floorball category I set up (under Highlight Reel Skills) a few years back, you will find some interesting articles, and especially some interesting videos.  And, if you try to watch those through my old eyes, you should see how I envision that game enhancing a young hockey player's stick skills, offensive and defensive thinking, and conditioning.  In fact, I'll also suggest that floorball encourages the trait of athleticism better than a lot of games we Americans traditionally play. 
With all that, here's the article…
—————————————-
The title question is one I hear often these days.  But the fact that hockey people in the United States have been exceedingly slow in getting on the floorball bandwagon doesn't surprise this old hockey guy one bit.
Before digging into this subject, appreciate that I am mostly going to attack this from the youth hockey perspective.  In the end, though, I'll try to also address the problems related to floorball's introduction to adults, and to the general public or non-hockey people.
Oh, and while I always attempt to deal fairly with any subject, know that I can't help expressing a lot of my personal feelings when on a subject like this.
– Dennis Chighisola
Why Are US Hockey Folks Slow to Embrace Floorball?
Earlier today I made mention through the various social media sites about working on this article.  A long-time hockey friend from Texas messaged shortly after that, informing me that, "This should be interesting
"  I knew quite well what he was getting at, because I guess I have become rather well known for calling things the way I see 'em.  With that, here goes…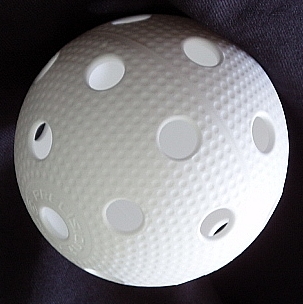 If you want my personal (and professional) opinion, and a short answer to the above question, it's that most hockey folks tend to be slow to get on board with anything new, and they're especially slow when it involves anything outside their comfort zone.
To be even more blunt — but as honest as I can be, I'll suggest that the youth hockey masses tend to be sheep-like, and tend to only follow when someone they know has dared to try something new, and then recommends it to them.
I am not putting down my fellow American hockey friends.  I'll always love them.  However, I have found the above to be true in countless circumstances.
Now, in recent years, I guess I've been known for pioneering a number of new approaches to hockey training.  The label, "pioneer", wasn't my idea, but instead it came from a lot of others who either did or didn't join me in exploring new ways to do things.
This aside…  Many years ago, I read from a pretty wise man that, "You can always tell the innovator.  He's the one with arrows in his back."
  Oh, did I ever know what he was trying to say, because I'd already accumulated a closet full of bloodied shirts.
What happens when one proposes something new, is that folks come out of the woodwork to shoot him or her down.  It's not the regular hockey guy or gal who does it, but more probably a few with agendas of their own.
Ya, those with agendas of their own…  No matter what an innovator might be proposing, there's always someone out there seeing any kind of change as a threat.  For some, it's a threat to their pocketbooks, while to others it's a threat to their status or ego — in that someone else has the gall to steal a little of the limelight and maybe help quite a few of their followers.
I saw that stuff happen when I returned from my 1979 studies in the old USSR.  I brought home with me some ideas for off-ice training, plyometrics and over-speed training that would take a good 15-ish years to become relatively accepted in US youth hockey circles.  Of course, coaches at the highest levels of North American hockey were adopting the Soviets' training methods, ever since the '72 Showdown at the Summit.  But there were as many less aware skills instructors who were afraid of change, and they were bashing anything that wasn't done a kzillion years ago, by the likes of Cyclone Taylor, Eddie Shore or Rocket Richard.
And, oh, did the powerskating gurus scream when I unveiled the best skating invention ever.  Of course, perky little figure skaters who'd found a home (and a lot of bucks) in hockey, screamed because they hadn't a clue about the science behind my Skater's Rhythm-bar.  So did the local skating gurus — who were actually climbing off telephone poles or out from under lube jobs — fear that opening folks' eyes to the science of skating would undermine their loyal following.
Ironically, I don't think the fallout was quite as bad when I recommended using in-line skates for ice hockey training.  As for the pioneering, I didn't invent in-lines, nor did I cause the craze that had ice players twirling around nearly every driveway and parking lot from coast to coast.  What I did do was discover that I could teach almost everything I'd previously done on the ice with future pros and college stars, without the need for costly ice.  Better yet, I'd discovered that — with a few caveats — there were some physical qualities that could actually be gained easier on wheels than on blades.
Trust me, that there were more instances where I'd attempted to convey a better way for hockey training — or cross-training, and that some group always seemed to take offense, spread falsehoods about the new idea, and prevent a lot of players from becoming even better.
Two other factors also tend to undermine the general acceptance of new ideas…
Old wives' tales drive me crazy.  The problem is, as off the wall as most of them are, they're real and true in the minds of those who continue to spread "the word".
So are the loud ones in the stands or lockerrooms oftentimes dangerous, as they freely spread advice — as if it was gospel — from someone who has less of a clue than they.  In other words, a guy who really doesn't know what he's talking about tells another who is absolutely lost who tells another who hasn't a clue.
My point to all the above is that the naysayers do a lot of harm, and they're quite often responsible for slowing the progress of America's hockey development.
Now, just so you know, I don't just believe every new idea that comes down the pike.  So, don't think that's what I'm suggesting here.  However, I do give just about everything a chance, I try to compare it to what I know about the sciences, and I also attempt to use some common sense in evaluating the new idea.  My hope is that I do just the opposite of those earlier described naysayers, and get the word out about things that can help players, parents and/or coaches.  I hope I never hype anything or shoot it down purely for selfish reasons.
All that said, how about floorball?
It's quite possible there are some out there who are talking it down — because it might hurt their business, or because they don't understand what that sport might be able to do for a lot of ice players.  The wives' tale thing might be in effect some, with old-time coaches and parents thinking a game isn't good unless it's hockey.  I'll argue both points, though, believing floorball could be extremely helpful to our game (in ways you may not have realized), and also believing more good can come from that relatively new sport than any harm.
On the latter…  With all the hype about floorball's potential for enhancing offensive skills, my mind has been racing lately with the ways I could reinforce defensive principles and positioning within the floorball game.  I'm serious; just watch some floorball action to see what I mean.
Still, I sense that floorball isn't getting the resistance some other new hockey related activities have.  Instead, I think that most hockey people don't even know it exists.  Ya, in other words, I'm partly blaming some of the problems on the floorball people who need to somehow find more or better ways to promote the game.
Personally, I grumped quite a bit when I first became interested in floorball.  I mean, strongly believing in the way it could help ice players, I was willing to promote it — with a little help.
My way of seeing things led me to believe that the floorball equipment companies were going to benefit greatly in the end from my efforts.  Yet, they weren't willing to help one iota, maybe with some discounted sticks and balls, for example.  That seemed penny wise and pound foolish, if you ask me, that they wouldn't seed their sport in as many areas as possible.  After all, they'd stand to gain hugely once leagues and training programs were established.
And my take is that leagues aren't going to get going without some prior exhibitions.  So my thought was to invite a bunch of kids local to a given area, give them some quick skill demonstrations, maybe show a short video on what the game looks like at higher levels, and then dump a bunch of sticks and balls out for the kids to fool around with.  I'd do other things, too, but I'm sure you get the general idea.  You're probably also sensing that a lot of kids would have a blast fiddling with a stick and ball, and they'd surely love playing a brief game.  So, why one equipment company wouldn't see the same value in that is beyond me.
Oh, excuse me…  There ultimately was a great guy from Texas who visited with me back in MA, and I was so grateful for the help he promised that I planned to dig right in.  The prospects of moving and coaching hockey in Florida waylaid that, however, and I'm bummed that it did.
FYI…  I think that guy I met last year has something going down there in Texas, and I know my friend, Mike B, has done a great job in promoting floorball up in Wisconsin.  I understand there's also something going on south of me here in Florida.  Still, that's not enough.  It's awesome that the guys I've mentioned have done what they've done, but the promotions have to be done on a far greater scale to really sweep the nation.  (Oh, if I could have grabbed the floorball promotions by the horns way back when.)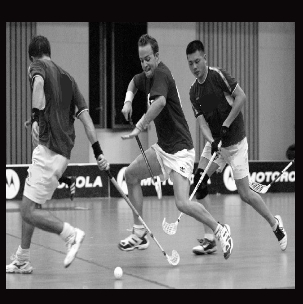 Now, having given my impressions of what has really slowed the expansion of that awesome sport, let me share a few more thoughts on the subject…
First, if there happens to be a backward thinking rink owner or USA Hockey exec reading this, I know there's the possibility that you — like some of the earlier noted nawsayers — might believe a new sport will take some money out of your pockets.  Ha.  To me, that's a small way of looking at things.
I'd much prefer to consider a mom or dad who is a hockey fan, but either can't afford youth hockey payments for their child, can't afford ice hockey gear, can't make the commitment required for an ice team, or just isn't sure whether the child will like the sport or not.  Floorball offers an answer to all of those problems, being far less expensive to outfit and play, it likely requires an easier commitment, and it basically gives anyone a chance to experience near-hockey action without skating as a prerequisite.
I'll suggest that three things are going to happen once youngsters get involved in floorball…  1) They may not like it and they'll drop out.  2)  Some will find it their cup of tea, and they're going to stick with the sport for a long, long time.  3)  More than a few are going to excel, and both they and their parents are going to begin wondering how they'd fair on the ice.  Hmmmmmm…  Could it be that floorball is a perfect stepping stone or intermediate step towards ice hockey participation?  I think so.
And, while I've mostly focused on youth players here, I'll suggest that floorball is an awesome sport for men and women.  Just watch some game action to see how it could be a blast for hockey enthusiasts, and great exercise for those looking to stay fit.  Better yet, I think the same three things noted above could happen with adults, and I also suspect that parents who play floorball would be inclined to get their children involved in that sport or the ice version.  Again, we're creating more hockey fans through floorball, and we're also offering a similar experience to ice hockey for any NHL fan who gives floorball a try.
This late entry…  My Facebook friend, Kevin S, made a very valid point today, and one I completely forgot about when I composed the original article.  Kevin reminded me/us that thousands of guys already play another version of off-ice hockey, variously labeled as dek hockey, street hockey or ball hockey.  I'm sure his inference was that most of those participants are satisfied with their game, and that they wouldn't be interested in a new one.  I have a slightly different feeling, and I'd just love to put a floorball stick in some of their hands — let them fiddle with a ball a bit, and just see if they aren't psyched to try the new game.
Secondly, I don't think most ice (or roller) hockey players realize just how close they might be to making a US National Team.  Yup.  Our country already has such a thing for floorball, and I'm guessing that the competition isn't nearly as intense right now for that team as it will be down the road (or as it would be to make the National or Olympic teams on-ice).  Right now, I think experienced ice hockey players have an advantage moving into floorball — with both puck-skills and an ability to think the game.
It also kinda makes sense to me, that the floorball door is wide open to athletes across this great continent.  (How many kzillion is that, anyway?)  In other words, I'd surely invite ice and roller players to give it a try, but without the need for skating skills or expensive gear, the floorball powers that be should look to attract any youngster or oldster willing to give the game a try.
As far back as I can remember, I've heard the plaint about US hockey not attracting as many great athletes as other sports.  I'm sure you can appreciate that.  Youngsters (often encouraged by their parents) in places like Canada and Russia, among others, die to play their country's favorite sport.  And with that, many of their nations best athletes play hockey.  On the other hand, it's more likely that kids in the US (encouraged by their parents) are more likely to think baseball, football and basketball first.  Add to this hockey's cost, and the fact that it tends to be played more in pockets spread across the land, and it's probably easy to understand why a Michael Jordan, a Mickey Mantle, or a Jerry Rice didn't think to play ice hockey.  And, if any of the above made you think "inner city" or cooler climates, consider that floorball can be played just about anywhere.
One last note…  I know that floorball has been gradually catching on as a gym type sport within Canadian school systems.  I can see that, since it's a safer indoor game than ball hockey, and it also lends itself well to coed games.  I'll suggest that that's an easier sell north of our border, too, just because of its closeness to hockey.  I don't see it being as easy a sell here in US school systems.  Naw…  First, varsity coaches down here — many of whom are Phys Ed teachers — push for their own sports to be played in gym classes.  With that, my guess is that floorball will likely have to be popularized elsewhere before schools think to take it on.
In closing, I totally agree with my floorball friends, in that it's a shame such a great sport just hasn't caught on yet here in the states.  However, I don't believe all the usual problems associated with a new sport or a new form of cross-training are in play with floorball.  Instead, I'm kinda blaming the floorball people — from enthusiasts to equipment companies — for shooting themselves in the foot.
I often joke that I deal with hockey folks from around the world.  And I do believe I've either helped or exchanged ideas with guys (and even gals) from just about every hockey playing nation in the world.  India, though? 
As members should know, I've for a lot of years been using other sports to enhance my players' ice hockey skills, and I even pioneered the use of in-lines for a very different way of cross-training.  And it's no secret that I'm into floorball lately, even hosting a special section on that awesome new sport right here on CoachChic.com.
Maybe it was for that reason Mrinal Naugain contacted me for help in developing a floorball league in his native India (or maybe it was also because I have over 15,000 social media contacts who might be able to help the both of us in this endeavor).
With that, here's where Mrinal needs our help…
– Dennis Chighisola
Help for a Floorball Man in India
Here's a message from Mrinal that surely made me smile: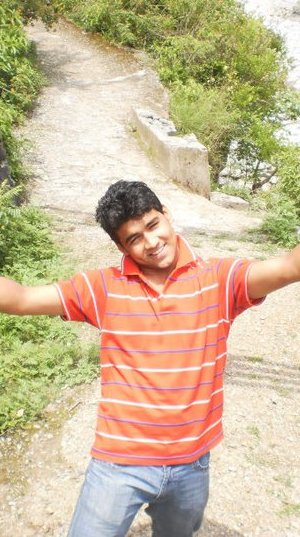 Hi Mr.Dennis,
My name is Mrinal, I Play Floorball for Delhi State Team in INDIA and train Kids in Schools and Universities with an Academy.  As U are a well known figure in Sports with lots of experience, I was thinking that may be U could suggest me and give some advice..
We are Planning to form a Floorball League for School Kids and want to make it interesting for the kids as well as their parents.
I'll appreciate it if U could Help Me With that with Ur Knowledge.
Regards
Mrinal Naugain
Actually, the day before posting this, I sent Mrinal some ideas of my own.  A lot of folks who undertake a project like this make note of the most important things, while they often fail to list the simplest or most obvious ones.  On the other hand, I shared with Mrinal my way of using visualization to not miss a thing.  For example, with eyes closed or not, I'll envision various events that would take place in a typical day of floorball.
Before a team even gets underway, it'll have to have a table of organization — in a school setting that might include a director of athletics, a head coach, perhaps an assistant coach or two, someone qualified to care for injuries (like an athletic trainer), and maybe a team doctor.  Since Mrinal's league would include schools, each probably already has a team nickname, logo and traditional uniform colors.  But the new floorball team will likely require home and away uniforms, and the equipment required to play the game — from sticks to goalie gear to nets to lots of practice balls to a first aid kit and other related tools.  Spare gear ought also be considered, along with special balls to be used for games.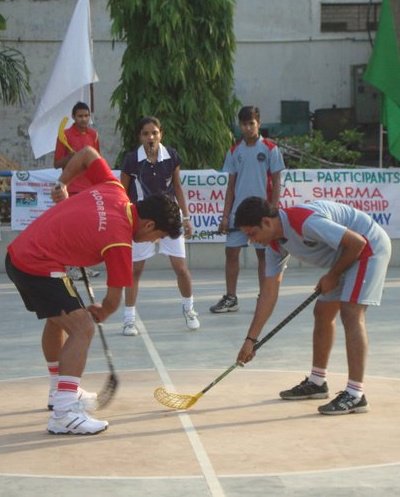 Envisioning league operation, it would be beneficial to have someone in charge — like a league commissioner, to help with the early organization, to pull everyone together, and then to oversee the season-long adherence to league bylaws and rules.  And the latter suggests that a meeting of league organizers will have to decide on whether to join an international group or federation (if there is one), and to draft or sort out the bylaws, as well as review the rules the league will play under.  My guess is that there aren't many (if any) experienced floorball referees floating around India, so it's possible a stable will need to be recruited and then trained.  A league commissioner could surely assign game officials, but most ice hockey leagues have a referee in chief take care of that.  A league playing schedule with a playoff format also has to be devised.  And in this day and age, a league website seems a necessity, and so could each member team have an on-line presence.
Sitting back and picturing a typical game day, travel to away games has to be planned, perhaps with the added costs of meals or even overnight accommodations.  Hosting a home game can go from basic to fancy, but at minimum the playing arena will need a working scoreboard and clock, along with an official scorer.  Some leagues in ice hockey require an on-site athletic trainer and/or other emergency medical staff.  At the completion of each game, there should be a designated method for conveying official stats to the league office, with results and other pertinent announcements ultimately being posted on the league website.
Phew…  That's it for me.  Having had my say, I know quite a few floorball experts pass through here, and I would love their input.  (Administrative types from either ice or roller hockey might be able to help, as well.)
And, besides needing to hear any corrections on what I've said or missed, there are a few things I sense those more qualified than I could offer young Mr Naugain…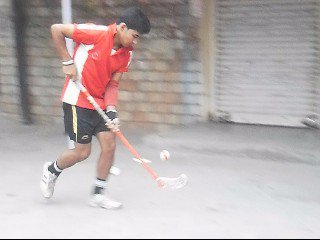 - Has anyone ever created a checklist/s for running any phase of a team or league — for either hockey or floorball?
- Can you point Mrinal towards some sample bylaws, and/or special rules you may have used for a floorball league?
- Even if you don't have any written materials, perhaps you could let Mrinal know of any problems you've seen that he might be forewarned about.
Again, this is a chance to help a fellow sportsman, while also helping advance a great new game.  So, please leave your advice and comments below.  ~ Thanks, from Mrinal and me.
I have my friends at the Sports Connection to thank for this extremely informative article.
I love that they've provided a brief history for floorball, and that they go even more into the rules than other articles I've published here.
So thanks, Sports Connection!  And I hope my CoachChic.com friends find this enjoyable and helpful!
– Dennis Chighisola

Floorball: The Fastest Growing Team Sport
Floorball originated in the Scandinavian region in the 1970′s. Floorball is a fun,fast paced hockey game that is played on foot with lightweight sticks and a plastic ball. One of the absolute advantages of Floorball is that it is very easy to become a player. Anyone regardless of age, physical condition, or gender can grab a floorball stick and join in the fun. The object is to score a goal by directing the ball into the opposing team's goal. This sport is growing fast and
becoming very popular. Floorball is most popular in Sweden, Finland, and other European nations. It is actively played around the world in over 50 countries, including Australia, Japan, Canada, and the United States. The game is safe and fun for everyone.
It is commonly recognized that the roots of Floorball are to be found in the game of street hockey that was being played in Canada and The United States during the 1960′s and 70′s. Following the growth of the National Hockey League (NHL), street hockey developed as a cheap alternative to ice hockey for youngsters.
A Brief Introduction to Floorball
Game Area:
Floorball can be played indoors or outdoors, preferably using a rink of size 40 x 20 meters (131 x 65 ft). Height of the surrounding board is 50 cm or 20 inches. The goal is 115 cm high and 160 cm wide (45" x 63").
Play Time:
Just like ice hockey, the game time is made up of three 20-minute periods with a 10-minute intermission between each period.
Teams:
A team is allowed 20 players on its roster. Five field players per team are allowed in the rink plus a goalie who plays without a stick. You can play without a goalie in which case the team can play with 6 field players. Each field player has a stick and attempts to pass and shoot a plastic ball which weights 23 grams and is 7 cm in diameter (2-3/4").
*
*
*
Rules:
If a field player commits one of the following infractions, a referee will award a free shot to the opposing team or remove the offending player from the rink to serve a 2-minute minor penalty:
–Holding, shoving, checking, blocking or tripping an opponent
–Hitting, blocking, lifting, pushing down or kicking an opponent's stick
–Hitting the ball with the stick or foot above the level of the knee
–Lifting the stick above waist level
–Kicking the ball twice
–Touching the ball with the hand
–Jumping up to reach the ball
–Playing the ball with any part of the body other than feet
Equipment:
Field players have a stick which can range from 65 to 104 cm long. When buying a new floorball stick, the length is very important. The stick should reach your belly button or just a little above. If the stick is too short, you have less playing range and it adds stress to your back since you will be constantly leaning over. If the stick is too long, your stick handling will be slower and you will lose power in your shots.
When determining shaft stiffness or flex, we are referring to how much the shaft is bent when you apply force to the stick. For all floorball manufacturers, the force is standardized at 30Nm. Stiffness is measured in millimeters of bend. The less the shaft is bent for the given force, the stiffer it is. Flex range for our sticks ranges from 24 for an extra stiff stick to 36 for a soft stick.
Face, Lie and Cavity:
These refer to various blade categories. Blade face ranges from 2X to 7X and indicates the curvature of the blade from heel to toe. An open face allows you to get the ball up in the air more easily. Too much open face might lead to shooting the ball too high. Cavity is a measure of the curvature of the blade from top to bottom when held horizontally. More cavity increases the ball velocity when firing wrist shots. Less cavity improves
passing ability. You can modify the face and cavity of your stick by heating the stick with a hair dryer and forming it around a solid ball. Lie is the angle between blade and shaft. With a higher angle, you play the ball closer to your body.
Not just a team sport! Pro's all over the NHL are using floorball sticks as training aids or warm up tools to helps "soften" their hands before a game. Its a great way to SAFELY work on stick handling indoors or outdoors. Best of all, Mom and Dad's drywall will be safe!!
Although I've certainly enjoyed many of the videos I've seen on floorball, the camera work often proved distracting, as did the audio tracks (like awful music).
On the other hand, I think the following video shows this great game in all its beauty.  And wait until you see some of the skills demonstrated by the world's top floorball players.  (Ya, I'd love every young hockey player to learn the skills and the playing principles nurtured in this relatively new sport.)

So, enjoy, and let me know (in the Comments area below) what you think…
– Dennis Chighisola

Scenes from the World Floorball Tournament
2010 FINAL FINLAND-SWEDEN 6-2
I have my good friend, Michael Borg, to thank for sending me the link to this one.  And, besides the beauty of this game, I think the following video shows the excitement of this awesome tournament…
By the way…  Just so members gain a sense of how this old coach views such things, I couldn't help but make some mental notes as I watched the above game action.  I mean, I am already thinking about some drills I'll run with floorball-ers.  Better yet, I suspect I'm also going to ultimately show you the way I'll use those drill ideas with my ice hockey players.

With the help of others, I continue to study this exciting new sport.
I was fortunate to find the following video, which is an interview with an elementary school principal.
As my title suggests, it offers some valid reasons why floorball might be a better choice than floor hockey or street hockey.  However, I like some of the insight offered (between the lines) about equipment options and the way the game is played.
– Dennis Chighisola

Just a Few Reasons to Start a Floorball Program
I have our friend Michael Borg to thank for the following video.  And, as you'll see, there's some added information offered in this one…
– Dennis Chighisola
Another Introduction to Floorball
I just ran across this collection of floorball rules.  I have a feeling they are an over-simplified version, and that they've been doctored by various authors across the Internet.  That pretty much explains why I'm not sure who to attribute these to (although it does say down below that they were "prepared by the Ontario Floorball/Inihockey Federation").
Anyway, I think they'll prove helpful for all of us who are new to this seemingly great sport, and they just might give us a place to start if we're considering organizing a team or a league of our own.
– Dennis Chighisola

Simplified Floorball Rules
Prepared by the Ontario Floorball/Unihockey Federation
1. Games can be played with three to five players and a goalie on the court for each team. The goalie may be substituted for an additional player if desired. For an official game, five players and a goalie for each team is required.
2. No catching ball or hands on ball, except for goalie, infraction results in a 2 min penalty.
3. No foot passes to another player, infraction results in a possession change, but players may kick the ball once onto their own stick.
4. No jumping (one foot must be on the ground when receiving the ball), infraction results in a free hit.
5. Players may not go down on two knees to make plays or block shots. Only the goalie may play from their knees, infraction results in a 2 min penalty.
6. Ball must be received on a stick below knee level, infraction results in a possession change. If contact is made with the ball above the knee, infraction results in a 2 min penalty.
7. Sticks must stay below waist level when shooting with a similar follow through allowed. Stick above waist on a shot will result in a 2 min penalty.
8. No stick checking, lifting, or slashing. A minor infraction results in a possession change, an infraction in a scoring position or repeated infraction results in a 2 min penalty.
9. No holding of stick, players, or shirt or general interference, infraction will result in a 2 min penalty.
10. No playing your stick between another player's legs. Results in a possession change.
11. No body contact with the exception of incidental shoulder contact, infractions will result in a 2 min penalty.
12. No playing the ball with the head – infraction results in a 2 min penalty.
13. Face-offs: Face offs will be used to start the game at the beginning of each period and to re-start after each goal or if the ball is damaged. For a face-off, stick blade must be on the ground and perpendicular to centerline, feet parallel to centerline ball and the middle of the two players' sticks. Players cannot reverse their grip or hold the stick below the face-off line. Play starts with a whistle blow.
14. Possession changes: Occurs in the situations cited above. Ball is played as a direct free shot similar to a soccer free kick, where the offending players must be 3 meters away and the ball must be shot or played to another player upon the officials whistle blow with a solid hit – not a sweeping motion.
15. Substitutions may occur at anytime.
16. Repeated infractions result in a 2 min penalty.
***
Floorball Rule Clarifications
To help us all better understand floorball, I am going to ask a number of current coaches (or otherwise experienced people) to clarify each of the 16 points shown above.  So, keep checking back, as these should be added every day or so.
Over coming weeks and months, I sense we're going to hear a lot of stories about how new North America-based floorball clubs are being formed.  That ought to be a really good thing, because I also sense that a lot of us readers (me included) are going to want some ideas, some advice, and some inspiration.
Thankfully, Craig Shaw has been a very active member here at CoachChic.com, adding numerous great Comments and even authoring a previous article for us.
With that, I knew that Craig was experimenting with the idea of getting a floorball program going in his area, so I asked him if he might let us know how things have gone so far.
– Dennis Chighisola
THE VICTORIA MUSSELS FLOORBALL CLUB IS LAUNCHED
By Craig Shaw
During the past year, the idea of floorball has been gradually making its way into my consciousness.
As hockey-mad young boys growing up on the balmy west coast of Canada, playing ice hockey outside was usually not an option for my friends and me.  Our parents thought that we were crazy, but we yearned for the cold, dry winters found in places like Saskatchewan.  Indoor ice was in short supply. As necessity is the mother of invention, we found other ways to play hockey any way we could: street hockey, field hockey, floor hockey, ball hockey (orange ball in a rink without the ice), basement hockey, attic mini-hockey, table hockey, kitchen hockey and roller hockey (back in 1979, there were four of us who skated for hours on our rollerblades … ordered them from a Hockey News ad … people had never seen such things)!  Some of my fondest memories of hockey are not ice hockey, but the wide-open, fast-paced games that we played that had their roots in ice hockey.  If we had floorball, I'm sure it would have been our favourite variation of our national winter game.
Flash forward thirty years: my five-year-old son is not only hockey-mad, but he is sports-mad.  During the past year, I have coached him in ice hockey, t-ball, field hockey, lacrosse and soccer.  As you can imagine, I talk to a lot of parents.  Many of these parents are hesitant to enroll their children in hockey for the usual reasons: cost, early mornings, crazy parents and injuries.  But their children adore hockey and hockey is a big part of Canadian culture….  Enter floorball.
While surfing the net looking for field hockey drills, I happened across floorball.  A local sports store owner mentioned it to me several months earlier, but I did not think much of it.  After researching floorball on Wikipedia and watching videos on the net, I became a bit of a convert without ever actually holding a floorball stick!
I decided to invite similarly sports-mad five and six-year-olds to a local gym once a week for 20 weeks to play floorball.  I had no trouble finding interested families.  Of the eleven players, six have played organized ice hockey and the others have played organized sport of one type or another.  We booked the gym, ordered the sticks and balls and named the team "The Victoria Mussels."  Being a fan of Long Term Athlete Development, I modeled the practice sessions very similarly to the American Development Model  (www.admkids.com).  There would be no goalies as the players would shoot on mini-nets.  There would be no formal games, but plenty of informal three-on-three competitions without keeping score.  These 10-15 minute games would be inserted in between 10-15 minute skill sessions.   There are no uniforms, but I did invest in some pinnies.  The players were all asked to wear the protective glasses worn by squash players.
We have had four sessions now and the kids and parents love it!  It is fun, safe and accessible.  Even the less-athletic players love it.  The word is spreading and other players are asking to join.
I believe that the light weight of the stick and ball promotes fine motor control and 'softer hands' for ice hockey.  I have been playing a lot of floorball in our kitchen with our son and feel that my ice hockey puckhandling has never been better.  I played one afternoon with some university players, a few being experienced floorball players from Europe.  Not only was it a great workout and a lot of fun, but the speed at which the ball travelled from stick to stick promoted very quick decision-making and hand-eye coordination.
As someone who has been obsessed with ice hockey for three decades, I didn't expect to find a new, arguably better, version of the game I love.  I suspect there will be many hot, sweaty nights running around after a little white high-end wiffle ball in the future!
By the way…  If you noticed Craig using a few scientific terms, it's because his background is in the sciences — ya, he REALLY knows his stuff when it comes to motor learning and such.  It should also be helpful for you to know that he played ice hockey to a fairly high level, so it's likely he knows which athletic traits best transfer from floorball to ice hockey.
Do you have a story about how floorball is being organized in your area?  I know we'd all love to hear it.
Today, October 1, 2010, brings a new and exciting category to CoachChic.com.
I'd like to think that I've pioneered a number of truly helpful alternative hockey training methods over my 40-years in our game, beginning way back in the 1970s with some unique hockey skills training sessions, later showing all those in (at least) the New England area new concepts in Soviet style off-ice training, and still later promoting the benefits of in-line workouts.
So, sensing I know something hot and hugely beneficial when I see it, today gives me great pleasure to begin spreading the word about floorball.  And, no one could help me do that better than my good friend, Greg Beaudin.
– Dennis Chighisola
An Open Letter to the North American Hockey Community

By Greg Beaudin
Introduction
Five Years ago, I learned about Floorball from Hockey Legend Borje Salming.  At that time, I picked up a Floorball stick and felt the future of Hockey in my hands.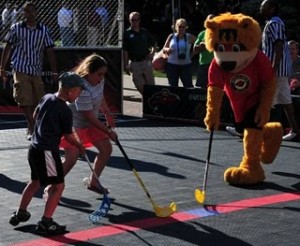 Some observations:
When introducing Floorball to new people, as I have done so many times, a common first reaction is to dismiss aspects of the game; The Stick is too short, The Ball is too light, The goalies have no stick?, But where is the ice? I would say a typical Canadian reaction to learning about Floorball is to pick it apart.  Maybe that's why we are the best Hockey Nation in the World, I don't know, we are sensitive about our brand of hockey, and so we should be.
The key points get blurted out, affordability, accessibility, easy to play, a sport for everyone, the soccer of Hockeys, all you need is a stick and ball, it's fast, fun, and safe, no hacking and whacking, adaptable, global, an Olympic provisional sport, professional leagues in Sweden, Finland, Switzerland, The Russian Olympic Hockey team used Floorball to get ready for Vancouver, NHL stars like the Sedins, Sellanne, Gaborik, the Hossa brothers all played Floorball growing up and many still play in the Summers…blah, blah, blah….the points come out, in staccato like fashion, and the words become just that — words.
And then, we take a shot… and it rips top shelf with a flick of the wrist.  Then we stickhandle and feel, and tap, bounce and twirl, adjust, and shoot, and attempt to corral the ball, at first mostly getting air.  For Canadians, this is not the Floor Hockey stick of the past, the one we all grew up with, it's something new, fresh, cool, hip, ergonomic, familiar yet distant — It's a Floorball stick, a "euro thing" that permeates through the hockey communities of Sweden, Finland, Switzerland, The Czech Republic and beyond.
…there is something about a Floorball stick, a certain magic to it.
Canada does have a national federation that belongs to the International Floorball Federation, it's called Floorball Canada.  There are Provincial organizations, leagues, Hockey Academies, Hockey Schools, Elementary Schools, Secondary Schools, Indepedent Schools, Universities, Private Clubs, Corporate sport groups.  There is a National Championship, and a few big tournaments that take place every year.
Canada is becoming a Floorball nation, and it's happening, virtually under the radar, with no funding, no corporate support, and very little media recognition.  We need to talk about this, we must discuss why Floorball is succeeding wherever it goes, and why our Hockey Canada Skills Academy talent, AAA girls and boys, across the country, are honing their skills in school gyms and local rec centers with Floorball.
Recently, I conducted two week long Floorball Camps where parents would approach me afterwards and say that they preferred Floorball to Hockey, citing violence, the cost, and the early morning practices.  The smiles, the sweat, the drills, the games, the growth that their kids displayed just validated to them that there could be an alternative to Hockey, that is technically Hockey without the skates and the smelly bags.
Many Parents feel mixed emotions about floorball because they played Hockey growing up and it shaped them as people like nothing else could, and although they want their own kids to learn about Team, Hard work, Dedication to Sport, Canadian culture and all of the wonderful things that Hockey brought them, they see so much madness connected to the game now.  They crave the simpler times of Hockey, where it just happened without all of the big expense and the big fuss…and enter Floorball.   Floorball is going to provide tens of thousands of Canadians an opportunity to "feel" Hockey and the sensations of scoring a big time goal and making a poetic pass.
No matter how much doubt and scrutiny you throw at the stick and the sport of Floorball, as it relates to Hockey, it counters back with an explanation, a smart take, a scientific observation, and a model of proof from blossoming Hockey communities like Gothenburg, Helsinki or Zurich.
For here is a version of indoor hockey that requires minimal equipment- a stick and a ball.  It is played as a team game, it is very high tempo, high scoring, high energy, physical but safe, it's easy to learn yet develops amazing skills.
Floorball should be in every school in Canada.  Floorball is currently being utilized as an off-ice training system for Hockey Canada Skills Academies, coast to coast.  Do your homework people, You will see!  Floorball has arrived in Canada but needs a helping hand, as Floorball is a Sport for Everyone.
I remember reading the summary from the last Hockey Summit in 1999, and am happy to see the 11 recommendations come forward in a real way to develop Hockey players and enrich the Hockey experience.
I have personally witnessed thousands of smiles of bewilderment, as Young Canadians, New Canadians, Old Canadians, Disabled Canadians, pick up a Floorball stick for the first time.  At first play, the ball is bouncing everywhere and you can see the power shift from the hockey players to the newbies. from the hack and whackers to the runners and the thinkers….it's a mind shift that provides agility and skill to the Hockey player that already has the strength and force, and it's empowering to an athlete who has never skated, and now can "snipe" one from 30 feet at 90km+/hr.
Floorball is an exhilarating game.  It speaks to everyone.  It enhances skills in a Young Hockey player and it brings skilled players into Hockey.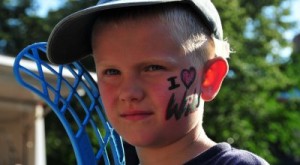 Canada has the infrastructure, the will and the desire to breed Hockey talent like no other nation.  You will see Floorball as a solution at every school, rec center, sport club, minor hockey program, skills development center, high-performance academy, Olympic training program, and corporate fitness programs.     Floorball is an important component of the Player Development matrix. It is also a potential gateway sport to assist many Hockey enthusiasts who are a bit hesitant to enter the world of Hockey participation.  I have had many discussions with families that are using Floorball to hedge their bets that their children will one day wish to play Ice Hockey.  So, by developing Hockey Smarts and Skills through Floorball, a young player can join-in on Ice Hockey years down the road, if the interest and/or passion is brimming.
Yes, Floorball is a global sport and it is used by Professsional Hockey players to maintain fitness and enhance skills.  At the Top level, Floorball is vying for a permanent spot in the Summer Olympics.  Universities dole out scholarships, and there is even opportunity for elite players to advance to Professional levels.  However, this is not why I write this letter to you…
This letter is a call to action, it's to initiate discussion about Floorball and other types of off-ice Hockey.  As a nation, it's like we are still skiing on wooden skis, when other countries have switched over to high tech parabolic ones or playing Tennis with "Bjorn Borg woodies" whilst there are oversized carbon graphite ones.
Author Profile:
Greg Beaudin is the founder of Modern Hockey, a forward thinking Hockey company with deep roots in Ice Hockey and Floorball.  Modern Hockey has worked with dozens of Hockey Canada Skills Academies to develop their Floorball cross-training programs.  Greg is the son of the "Original Jet" Norm Beaudin, and grew up in a household where Finnish, Swedish and Swiss Hockey was always highly respected.  Like the Oilers of the 'eighties, Greg's hockey philosophies were also shaped by the formidable International elements of the Winnipeg Jets of the seventies.  It is this base knowledge that brings Modern Hockey to Floorball and why the push is on to grow Floorball in Canada.
To visit Greg's site:  ModernHockey.com
Oh, and just in case you're wondering if floorball could help some of your hockey play (and your overall athleticism), take a look…