Grrrrrrrrrrrr…  Actually, despite being a head coach for most of my adult life, and despite needing to deal with plenty of tough situations and tough customers, I think that most folks would say that I'm a pretty easy going guy.  Only once in awhile will I lose it, and this might be one of those times…
– Dennis Chighisola
The Goalie is Your Teammate!
I'm kinda shaking my head, thinking about a few times I had to raise the roof with my old high school or college players…
Just picture, if you would, that I happen to glance from another pre-game duty to see my starting goaltender bent over in pain off to the side of his net.  Ya, some knucklehead had dinged our guy off the mask when he was barely warmed up.
At yet other times I'd see some of my skaters making themselves feel good by lasering shots to the corners during our pre-game warmups.  Right.  They evidently felt their egos needed boosting by firing pucks from like 5′ out.  (If there was anything remotely funny about this, it's that the guys who needed such an advantage during the warmups usually couldn't even register a shot on goal once the puck dropped for real.)
As if that wasn't enough, I recall one guy who couldn't put a shot on the net in either warmups or the games.  I mean, I can't tell you how many times he'd hit the clock that was hanging some 20′ up on the wall behind the net.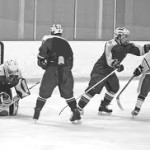 Just so you know, I coached a lot of great kids — or great guys — over all those years.  And, for the most part, the crazy occurrences described above usually happened before I put things into a better perspective for them.
It usually started with a common sense question…  "If you guys have an influence on your goaltender entering a game, would you prefer that he be confident or shaken?"
Is there any doubt how my guys would answer?  To a young man, they all wanted their buddy to feel good about himself.  If there was a problem to that point, it seems that few of my skaters had ever had this kind of picture drawn for them.  I'm pretty sure they wanted to do the right thing, but…
One quick aside, just in case some readers don't know why it bothered me that a guy hit the clock on a number of warmup shots, or that others acted selfishly with their shots…
What a goaltender would really like is a batch of pucks directed at his stick, at his leg pads, at his blocker and at his catching glove.  He wants to get "a feel" of the puck during the warmups, and shots that knock out people in the rink lobby just don't do anything for him.
Teammates should also want their goalie to feel good about himself, and torching him during the warmups surely doesn't boost his confidence any.
Okay, long time members know there had to be something that got me all riled and on this subject.  What it was, though, most of you probably won't believe…
The way it was related to me by a Florida local, was that a young Pee Wee goalie came to his team's bench between periods the other night, much like most goalers do.  If there was a difference this time, it's that the game had turned lopsided –  not in his team's favor, and the young guy had tears pouring down his cheeks.
Of course, even that might not be uncommon in games when a young netminder feels overwhelmed.  That, though, wasn't the problem.
No, amid the sobbing, he related to his coaches that teammates were skating by the front of his net and (so I've heard) they were telling him something like, "You suck!"
Now, how's that make you feel — fellow coaches, hockey moms, hockey dads, and older players?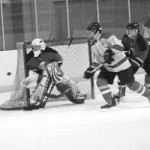 Yet another aside…  I think there's something inside many of us adults that tends to give some space to young kids.  In other words, like my old high school and college guys, those 11- and 12-year olds might not have initially realized the damage they were doing to one of their own.
And, just like I'd dealt with such things with my old teams, the head coach in me would have turned that into another of those proverbial "teaching moments".  At least one would think that a good idea, huh?
Ya, one would think…  The problem, as I hear it, though, is that the head coach of that Pee Wee team said absolutely nothing.  He didn't take the bull by the horns, he didn't console his goalie, and he didn't set his skaters straight.  Bottom line:  The young goalie quit the team (or his parents pulled him).
Relating this story to a friend over dinner just awhile ago, we both agreed that the whole incident smacks of bullying.  That, however, is probably a topic for another time.
Anyway, with my heart rate ever so slowly coming down, I'm trying to think about how the above described situation could have been handled a little better…
Number One, I think a head coach would have to realize what happened was wrong.  (If he or she doesn't, God help us all.)
Ironically, I'm reading often lately that a big part of youth sports is supposed to be about learning life's lessons.  And, if the above incident doesn't involve a life's lesson, I don't know what does.
Truly, such behavior has to be nipped in the bud — I mean, quickly.
And, if one is thinking about the team here, or about winning hockey, I'm going to suggest that a squad with those kinds of problems is going nowhere but down the tubes.  There will be a new scapegoat once that goalie is gone, you can bet on it.  And there will be at least a handful of kids who will believe forever and ever that someone else is always at fault for the team's failings.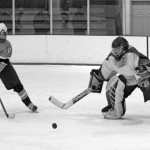 With all that, I never get into these things without telling you exactly what I'd do.  And, although I may have already suggested that in the very start, here goes…
I think the whole thing should have been diffused the instant a problem was recognized.  In other words, I'd have consoled the young goaltender right there at the bench, I'd have briefly chomped on the entire team, and I'd have let all the skaters know that I'd be looking for just one player to do the wrong thing again that night.
However, I think the real problem would have to be handled pretty close to the way I'd done it with my old high school and college teams.  I'd have to put it to the entire roster, asking if they wanted a goalie who was focused on the opponents and trying his best, or if they wanted him to worry more about what they thought.  (If the young goaler has in fact left the team, I might have each of the skaters rotate in goal for now on, just to give them a taste of how difficult the position is.  Having heard that the team in question gets smoked in most games, I might also enlighten everyone about the fact that it's the skaters' fault if the team is giving up a kzillion shots on net each game.)
And, make no mistake about it, I would feel compelled to "fix" anyone who didn't act like a good teammate henceforth.  However, before you think that's because I'd want to be mean or sound tough, naw…
Understand that a coach isn't doing a kid a favor by letting bad behavior go.  Do you think a higher level coach is going to want a problem player?  Do you think future coaches will want someone who isn't a good teammate?  In fact, as I hinted at earlier, a player who blames everyone else for losses — and doesn't realize his own shortcomings, is basically done growing in his game.
Of course, I'm going to keep my ears open in hopes of a better outcome than what's transpired so far.  In the meantime, I'm reminded of an old political expression I've found the need to use on occasion in hockey.  So it goes, "A fish rots from the head."
In this case, I understand that the team is part of an organization that is owned and overseen by the local rink.  Beneath the rink owners is a manager, a hockey director, someone else who the head coaches evidently answer to, and then the head coach.
Lastly, CoachChic.com members know that I've been around the rinks for an awful lot of years, and you probably also know there's little that happens nowadays that I haven't seen before, probably countless times.  With that, I'm going to leave off here feeling for that young goaltender, as well as for the rest of the kids on that team who likely need better guidance.
Knowing we have quite a following of former goalies, goalie coaches and goalie parents, I'm just dying to hear their feedback.
Then, because I sense there's a lot more to this story than meets the eye, I'm going to add a Part Two down below in the form of a PS.
*
PS:  Again, if you're looking to point a finger, I've suggested already how that Pee Wee fish started going bad at the head.  In other words, the rink owners or upper-management has to ultimately be held responsible.
On the other hand, I believe the folks at the very top wouldn't be thrilled about looking so badly.  So, for that reason, I have a sneaking suspicion they'll never know what really happened.
No, somewhere in that rabbit's hole of middle managers, I'm guessing the truth is going to be either totally buried or twisted quite a bit.
From my perspective, three things can possibly happen now:
1) the head coach gets canned immediately;
2) the head coach and other powers that be come to a resolution that pretty much mirrors the (positive) suggestions I made above;
3) the entire thing gets swept under a rug.
The tell-tale sign to me is if those in charge opt for the last one.  Why?  It's because one or several folks within the chain of command can't admit that they're wrong without putting their own jobs in jeopardy.
In fact, if that incident does get swept under a rug, I think we can start to look at that rotting fish from the other end…  I mean, the coaching director either does or doesn't condone what took place.  With that, the hockey director could — and should — step in and deal with both people in his charge.
Oh, one other thing here…  It seems to me that a rink manager shouldn't care about anything BUT whatever is right for the business.  True?  Heck, anyone or anything that is costing the rink money — or damaging its reputation — ought to call for immediate action.  Right?  Well, ya, IF this latest incident isn't just one of many that have already cost the rink quite a few other customers.
As most members know, I'm an incessant reader (I'm not into novels or the like, but anything that remotely broadens my mind for work).  So I always have at least one book in progress.
The pages in those poor books are dog-eared throughout, or crammed with slips of paper reminding me of a section I want to review again (and again and again).  Most of those have to do with things that happen to set off some sparks, maybe for a new drill that came to mind, whatever.
Anyway, I've read about three or four books in a row now having to do with the 1972 meeting of the NHL All-stars and the old Soviet Union National Team, with the recent one written by former NHL goalie, Ken Dryden.
– Dennis Chighisola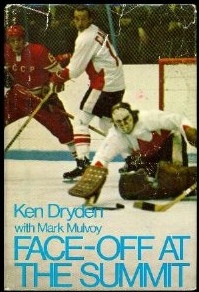 Thinking About Today's Goaltending
The book I completed recently (for about the third time) is titled, "Face-off At The Summit", and it's about goalie Ken Dryden's experiences as a member of the NHL All-star team in that '72 series.
Like most of the other books I've read on that series (NHL All-star coach Harry Sinden's is another good one), Dryden's is in the form of a diary, whereby he shares his feelings and experiences leading up to, during and right after that memorable tournament.
Probably of benefit to the reader is the fact that Dryden himself experienced some real ups and downs over the 8-game span.  I mean, he shares with us what it was like to have some puck stopping difficulties, to endure the sometimes circus atmosphere surrounding those games, and to find solutions to the unique challenges such a series presented.
The point I want to bring to light today has to do with Dryden's late series thought that he might be positioning himself wrongly as the Big Red Machine attacked.
I have to take a long aside here right now, to give you my impressions of international level hockey, first with the way things were way back then.
I think it's common knowledge that the 1970′s style of North American hockey was basically very physical and involved a lot of dump and chase.
The European game, played mostly on huge ice surfaces, was far less physical, and tended to include far more passing.   And, from the readings I've done by "The Father of Soviet Hockey", Anatoli Tarasov, it didn't make sense for his team to give away the puck (like on a dump-in) in order to try to get it back again.  No, basing a lot of their tactics on soccer, the Soviets more often almost played keepaway with the puck.
In fact, it's said to have driven the NHL All-stars crazy, that the Russians would wait for the perfect scoring opportunity instead of shooting at every opportunity, as NHL-ers did.  (I know it was groaned by numerous Canadians — from coaches to players to fans — to, "Shoot the puck, dammit!")
Once deep into the series, Dryden realized that the Soviet forwards were getting a lot of goals from down low.  In other words, they'd move the puck low, draw the goaler's attention toward one side of the net, and then shuffle the puck across to an open mate at the other net-post.  As I was reading, all I could envision were close-in, backdoor plays, where the ultimate scorer would hide somewhere (probably behind the net), only to arrive at the right spot in time for the easy score.
What Dryden further reasoned was that typical North American type positioning might not be the best approach for playing the Soviets.  In the NHL, where team success was often thought to hinge on the number of shots it could generate, netminders had to telescope out of their nets to play the angle on a lot of long shots.  That, however, played right into the Russians' hands.
This second aside, about the international game of today…  Back during the 70′s, there were drastic — and I mean drastic — differences between the North American and Soviet games.  Within a few years of frequent competition between those two powers, however, both schools began borrowing from each other.
With that, I'm going to suggest that today's NHL looks much like the Soviets of 40-years ago.  Puck possession is more important, regrouping is standard, and Tarasov's "umbrella powerplay" is probably the most popular in all of North America.
As much as we've borrowed from the Russians and other European nations over the years, we now see nearly as much once solely Canadian style play incorporated into the former USSR team's game.
My guess is that the two once drastically different styles have now become close to the same, although the differences in ice surfaces will still probably tend to encourage some uniqueness in each school's game.
Okay, so Dryden's answer to the Soviets' in-close play was to stay a little deeper in his crease.  And, it worked for him.
With that, and with all I've mentioned about how the two schools of hockey have become very much alike, I think I'm noticing a lot of NHL goalies also playing deeper in their nets.  Let's face it, backdoor plays have become prevalent in North American hockey, and it makes sense — at least to me — that a goaler play deeper in his net at times.
Of course, if there's one thing for sure, I'm by no means a specialist when it comes to goaltending.  So, what I'm really doing here is throwing out some food for thought, in hopes a whole bunch of more knowledgeable hockey folks will comment below.
Okay, I don't think the above title is really a great description of the young lady I'm about to introduce.  However, suggesting she has "head problems" probably got your attention, and it at least somewhat hints at some things that are troubling her.
Actually, as I was putting the final touches on this article, it struck me that the circumstances described below are probably more the norm in youth hockey rather than the extreme.  However, I'll let others be the judge that.
With that, let's let Kendra H start things off.
– Dennis Chighisola
A Goalie With "Head Problems"
In her own words, Kendra says, "i am a goalie.  It is my first year of playing on a midget team. I am 15 years old and have been a goalie for 4 years now."
My guess is that Kendra is also playing on a team that includes mostly boys, since I believe the "midget" designation is seldom used on all-girls teams.  I raise this point, because it can at least sometimes be harder on one or two girls who are mixed with a mostly male team.  Can it be equally as hard for male coaches who are used to dealing primarily with boys to suddenly relate to young lady athletes?  Hmmmmm…
Maybe confirming what I'm suggesting here, she continues, "This year i got some really mean coaches and they try to change how i play and they get mad if i don't do anything that they don't wanna do."
A funny thing…  I've been coaching for 40-years, I've sent countless former students or players on to the NHL, and I've head coached through the college level.  Yet, I never tampered with a goalie, except for the way I wanted him to work within our team system.  Could I help a Mite or Squirt/Atom goaltender?  Ya, I know enough of the very basics to probably do that.  However, would I tamper with a Bantam or older goaler?  I very much doubt it.
And that's what I'm wondering about here, as Kendra tells us about being at odds with her coaches.  Do any of her coaches really have any goalkeeper knowledge — beyond the very, very basics?
Ultimately, Kendra gets into the part that REALLY bothers me.   For, as she says, "… and they got in my head so now that's all i am worried about when I play.  I cant get my mind back in the game."
Amazing, huh?  Ironically, I just finished an article on "Designing A Pre-game Warm-up Routine", and I mentioned in there how important it is for my skaters to help build their goalie's confidence during that pre-game period.  God, if nothing else, I and my guys want our netminders to enter a game feeling good about themselves, and like they can stop anything!
Understandably, Kendra states that, "I am really starting to not play good at all."  And, making me really feel for her, she adds, "… i don't have anybody really on my team that helps me out."
In the end, she pleads, "So my question is, is there any thing you would suggest i try to get my head back in the game?"
Ugh!
I'm going to say my piece here for Kendra's sake, but I'm going to immediately after open this discussion to a bunch of friends I know in the goaltending area.  I sense a number of them will come through for her by commenting down below.
As for my feelings…  I'm going to get tough with the young lady for a moment, but only for her sake, or her wellbeing.  And I'll start by suggesting that Kendra had to know all along that netminding is a rather lonely position.  As such, I think she has to take it upon herself to develop some habits that work for her.  I think she has to know that she will frequently be surrounded by idiots, and almost always surrounded by coaches, teammates and fans who haven't a clue what a goalie goes through — night to night, and even minute by minute.
What I'm getting at is for her to develop her own psyche, or inner toughness.  Again, others probably aren't going to understand, so there's no sense in beating that dead horse.  What's more important is for her to understand it, let it go, and work from within.
I think mental preparation is even more important to goaltending than it is to all the other playing positions.  And in this regard, I suggest that Kendra (or her parents) seek help from one or more of the many out there who deal in both sport psychology and goaler training.  (Our own Shaun Goodsell of the Mental Edge; and my former high school goalie, John Haley, have some home study or visualization programs that can surely help her.)
As for dealing with her coaches, again ugh…  I think that I can only help Kendra by suggesting she not go head to head with her coaches, but just roll with them.  Oh, I'm not taking their side when I offer this approach, but it might just be better for all if she smiles, or grins and bears their negativity.  Perhaps, she'll even win them over at some point, and ultimately gain the more peaceful, positive interactions she obviously longs for (and deserves).
I might also advise Kendra's parents to find her a local goalie coach.  The immediate benefits should be obvious, but what I'm also thinking is that the outside counselor might prove helpful as an intermediary between Kendra and her team coaches.  In other words, while those coaches might not be thrilled to hear the opinions of a 15-year old in their charge, they'd probably welcome some advice from an outside specialist.  And, quite obviously, that outside goalie coach might just (nicely) suggest that the coaches stay off her back.
Summing up my thoughts, I'm just looking for a way to make a bad situation at least tolerable.  And, since it's unlikely anyone is going to immediately change the thinking of Kendra's coaches, I believe she could make things easier for herself by slightly altering her own outlook and approach.
Good luck, Kendra!
*
Okay, so is there anyone out there who feels for this girl, and has some ideas to help?  If so, please let your thoughts be known in the comments area below.
Although this post falls in the Goalies section, I'd like every parent (and coach) of a young player to drink in what I'm about to say.
The following came by way of our Ask The Coach link up above, it's about an 8-year old netminder, and I think my answers might ultimately provide some good food for thought for folks involved with any hockey playing position.
– Dennis Chighisola
Help for an Overwhelmed Young Hockey Goalie
Let me begin with some of the highlights from Todd J's email…
"My question is regarding my son…  he is 8 years old and plays goalie on a Novice team (this is his second year as a novice goalie).
He has amazing reflexes, and from day one has re-directed pucks and made blocker and glove saves.  He will take a puck in the mask, chest, legs, and not flinch a bit, but much to mine and his coaches dismay he will not 'drop down' or 'butterfly' to make saves, and rarely does so after he blocks a shot.
His team this year has several new to hockey players and it has been hard to watch him getting lit up. His last game was really tough, over 30 SOG, and the mercy rule kept the score board from showing the score, but after the first period it was 12-0. Bless his heart he stood in goal for the whole three periods and did make some great saves, but the fact he rarely drops to cover the puck = rebounds and the fact no one was there to clear the pucks allowed many 2nd, 3rd, and 4th shots, which of course usually means goals.
After the game, their coach kinda let into them a little, as they were standing around a lot and not moving. He told them they are better than what they played out there today. He also told my son he really has to do better and start covering the pucks. A point he makes clear…  during the games! I am afraid my son has 'shut down' and is now going through the motions just because he has to. I told him after that last game I was really proud of him and it took a lot guts and heart to hang in there and not to quit. I told him I didn't care, win or lose, as long as he tries and gives 100% that's what's important. I told him winning is awesome but we can learn more sometimes from losing, he seemed to take all this in stride, but after all he is only 8 years old!
In his defense, our association places much more emphasis on offense and scoring…  Practices usually consist of 15-20 minuets of skating drills, followed by some sort of development drills, and usually the last 15 minuets or so of the hour long practice is spent scrimmaging. There is no designated goalie coach or anything like that. Sometimes the goalies will get some one on one with one of the coaches, but no real technique training or basic skills instruction. Often the goalies are just cannon fodder for drills and such. I don't want to 'coach from the stands' as I don't skate or play myself, but it is frustrating to see him becoming more and discouraged without being shown the basics that might help him succeed.
What can I do to help my son?"
Well, Todd, while our CoachChic.com goalie coach — our own Todd J — is off with his Junior team right now, I'm going to ask him if he might take a few secs to comment from his perspective (I already suspect he's going to have a heart attack reading some of the above).  In the meantime, I'll be offering my own opinions as somewhat of a long time movement specialist and head hockey coach at numerous levels…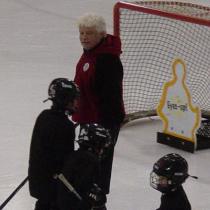 Before getting underway, I'll say that it's hard to totally criticize a young goaltender who spends a great deal of the time on his or her feet.  My old friend, Joe Bertagna, a noted goalie expert, used to begin every seminar lecture on the position by suggesting that (I paraphrase), "The ideal netminder is the one seen on the table hockey game — you know, the one that is frozen in an upright position and just slides back and forth."  ;)
I will suggest that the game — and the position — has changed a lot in recent years, with top flight goalers using variations of the butterfly style, laying the stick down across the ice, and doing whatever else it takes to stop shots that are on or near the ice.
Personally, however, I'm thinking that there are points in a young goalie's development whereby his or her body does or doesn't cover a lot of space while down in a butterfly posture.  In other words, I'm not sure a little one's legs span very far across the crease, nor can the smaller youngster reach the net's upper corners with the mitt or the blocker.  Again, though, that is purely my thinking on the topic.  Moreover, I'm not suggesting young goalies shouldn't play the butterfly style; I'm only offering that it might be more effective when their bigger bodies help cover more net.
Looking at things initially with my movements hat on, Todd, something doesn't quite make sense as I read the first few paragraphs of your email.  I mean, it doesn't quite fit — that your son has great reflexes, and that he often handles shot after shot, but then he doesn't react downward to handle pucks that need to be covered.  ???
In yet another aside, Todd Jacobson and I have had conversations over recent years concerning first shots and successive ones.  And, not wanting to put words into Todd's mouth, I say that the first shot is all about technique — like having the right posture, getting on the proper angle, and thus covering as much net as possible.  With that, I'm thinking more and more that stops of a second and third and (God forbid) fourth shot become more and more about athleticism, reactions, and maybe even instincts.  Can movements from one posture to the next and the next be practiced and perfected? Absolutely.  However, I still say that those just noted three qualities play huge parts in a goaler making the follow up saves.
Now, being about 2000-miles away from you guys, Todd, I'm wondering three things, each of these at least possibly contributing to your son's unwillingness (or even fear) of moving up and down:
1)  What's the chance that your son is still wearing "skater's skates"?  The rounded blades on those kinds of skates serve an important purpose to forwards and defensemen, but they can make it very difficult for a youngster to perform typical goaltending moves.  I even think a few falls with the rockered blades could discourage a kid from wanting to move very much — be it sideways or up and down.
2)  What's the chance that your son is on the chunky or hefty side?  For sure, I've seen a lot of relatively heavy young netminders really labor with getting up and down.
3) What's the chance that your son's skating isn't really up to snuff?  I know a lot of youngsters gravitate towards what they believe is the safety of the small crease area, only to — little by little, maybe — discover that their lack of skating mobility really limits the area they can cover.
Please don't be offended by those questions, Todd.  I always begin with the simplest and usually most obvious questions.  So, while it's possible I hit the nail on the head with one or even two of those, it could also be comforting to you in knowing that at least those three things are in your son's favor. Furthermore, it may prove extremely helpful to other readers if they're able to go through that short checklist.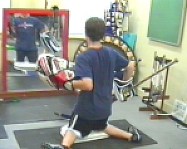 Switching to my head coaching hat at this time…  I think one of the things that Todd Jacobson will find frustrating is that your son's team doesn't have a volunteer goalie coach at every practice (as well as at the games).  Just so you know, I have head coached at as many youth levels as I have where I could hire special assistants, and I don't believe I've gone one season in over 40-years without having a goalie coach available for my kids.  At the youth levels, I'd either find a dad who had played a little goal, or I'd find one who might be interested in just studying the position and helping my kids.  At other times, I've found a local Midget or older goaltender who would be willing to come to our practices most every night.  (A lot of guys that age just love returning to help younger players.)  As Coach Jacobson would likely tell you, goaltending is a key to a team's success, yet it's ignored by far too many youth level teams.
By the way, Todd, I love your positive approach with your son, as well as your appreciation of his coach/es.  That said, you might still have a talk with his head coach, let him know that you're going to try to get your son some help, and that you're hoping the coach will find a way to keep encouraging the boy until things have a chance to get better.
With that…  If you could find it within your schedule and pocketbook, there is likely a good goalie coach for hire at your home rink or a neighboring one.  A once per week clinic would be awesome for a young goaler, but even occasional private sessions should help.
Then, something I really want to share — with you, and with other dads who feel a little helpless (regardless of the position their son or daughter plays)…  Depending on your learning preference, there are some great manuals and videos out there on teaching goalies (and other positions).  For your sake, Todd, you might scout around to find something basic, or something geared to where your son is right now.
The fact that you don't know much about the position — and the fact that you don't skate — shouldn't matter.  I can tell by your email that you're intelligent enough to stay ahead of an 8-year old when it comes to goaltending knowledge.  And, that's all you really have to do:  read up on or study a video that gives you the info you need to help your son for where he is right now.  If you think about it, that's what any of us parents have had to do to help our kids with their schoolwork — just keeping ourselves one step ahead of the latest homework assignment.  (If you'll take a glimpse at the last photo above, it shows a high school aged goalie Todd Jacobson and I trained in our off-ice training center.  Trust me, that tons of things could be done right at home with your son, especially having to do with his going down, recovering, etc. )
Although I probably don't need to say this, a lot of coaches might joke that, "There's nothing more dangerous than a hockey parent who knows just a little about the game."  So, those deciding now to study hockey ought to at least keep that in mind.
Lastly, I'm kinda hoping that you'll let me know what you think on all this, Todd, and maybe even answer some of the questions I've posed.  I'd love for members to jump in and help here, and it would also be helpful if anyone knows of a good goalie training manual or video Todd might find helpful for this stage in his son's development.  Then, as soon as I post this, I'm contacting Todd Jacobson to see if he'll weigh in on what I believe is a very worthwhile topic.
*
PS:  I hope those passing through don't overlook the help provided in these 600-ish pages.  Membership to CoachChic.com is about equal to the cost of one skate sharpening per month.
I just love that Cynthia introduces a new concept in this entry, this having to do with her recommending two different sized weights in the following exercise.  I'm kinda hoping that skaters — and parents or coaches of skaters — will make note of this, and think about how such an idea can be incorporated in their various routines.
– Dennis Chighisola 
Goalie Specific Off-ice Exercise 5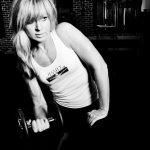 UNEVEN SINGLE LEG REVERSE FLIES
with Cynthia King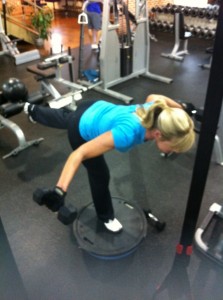 Center one foot on the flat side of a BOSU Ball.  Hold 2 different weights, i.e 10 lbs in the left hand and 5 lbs in the right, and bend at the waist.  Keeping the abdominals pulled in tight to protect the back and help with balance, raise the arms out to the sides in reverse fly form.  Elbows will stay slightly bent.
Complete one set of 8-10 reps then switch weights to the other hand.  Complete another set of 8-10 reps and then switch weights back.  After this second set, switch LEGS and complete 8-10 reps, then switch hands and complete another 8-10 reps.
By using 2 different sized weights, you must use your stabilizing muscle groups to balance properly for the exercise.  I suggest using this method periodically in any exercise where dumbbells are used.  Always challenge your balance in some form during every workout.
Goalie Specific Off-ice Exercise 4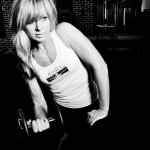 BOSU BALL, STABILITY BALL PUSH UP WITH AB CURL
with Cynthia King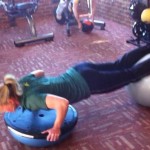 This exercise will definitely engage those core muscle groups!  You will need a BOSU ball and a stability ball.
Grasp the sides of the BOSU ball — there is a bit of a handle on each side.  Situate the stability ball under your shins.  The closer the stability ball is to your knees, the easier.  Make it more difficult by placing the ball back towards feet.
You should begin with your body elongated.  Do a push up then pull in stability ball so that your knees are near your chest.  Roll stability ball back to starting position and repeat push up.  Continue your push ups and curls until failure.
It may take a few times to steady yourself, but keep at it.  You will master the move in no time!
As Cynthia King's third entry came in today, I'm awaiting word on getting back into a high level of hockey coaching.  Not that every coaching assignment I've ever had hasn't been important; it's just that this one might return me to coaching some older, higher level players.
Anyway, while the kind of stuff Cynthia proposes is right for all ages, perhaps it's even more appropriate for those goalies who are extra competitive, and motivated to play at higher levels.
With that, here's yet another in her series of outstanding off-ice, off-season exercises for goaltenders.
– Dennis Chighisola

Goalie Specific Off-ice Exercise 3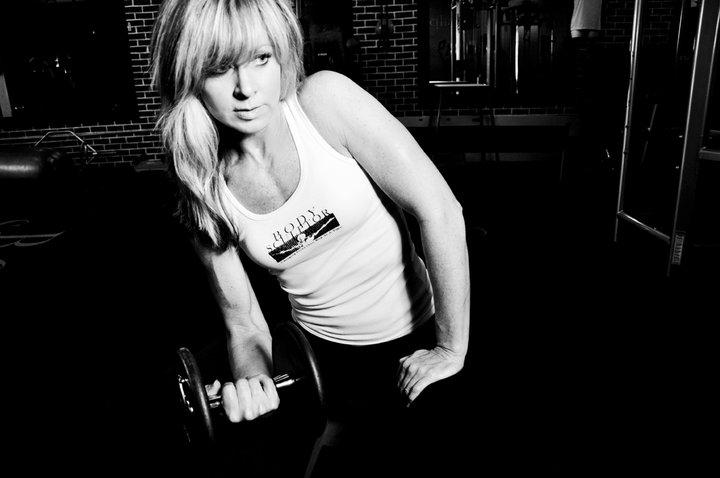 BOSU BALL SINGLE LEG DEAD LIFTS
with Cynthia King
BOSU balls are perfect for balance and stability exercises.  Although I use them for goalies, I suggest all players incorporate them into their workout for engaging the stabilizing muscles.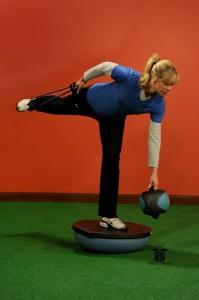 Stand on one foot in center of inverted BOSU (flat sided surface).   Make sure foot is centered.  Holding a medicine ball, bend at the waist and slowly lower ball along base leg to foot.  Raise back leg as you lower medicine ball.  Return to a standing position, only touching back toe to BOSUl.  Incorporate the hamstring of base leg as you rise to starting position.  For added stretching, wrap a resistance band around back foot and hold taunt the entire set.  Make sure to breathe and hold in the abs.  This will help with stability.  Make movements slow and controlled.
Happy Training!
Here's yet another in Cynthia King's awesome monthly series on off-season, off-ice training for goaltenders.  Enjoy!
– Dennis Chighisola
Goalie Specific Off-ice Exercise 2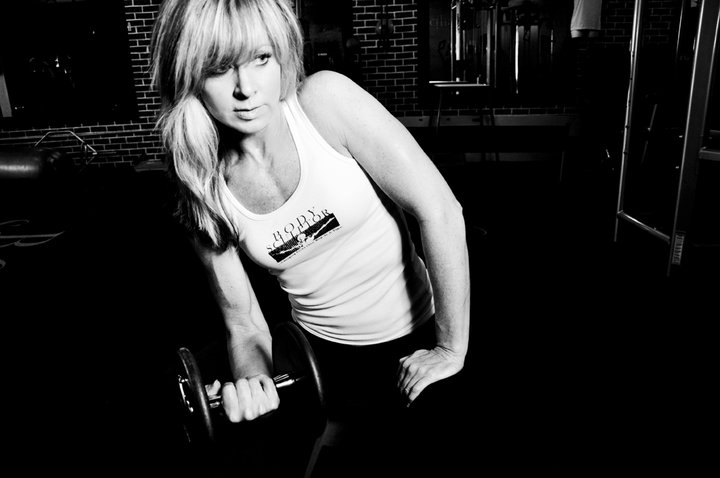 BOSU Balls for Goaltenders
With Cynthia King
I love BOSU balls.  They really force you to use your stabilizers and core muscle groups.  Balance will be greatly improved.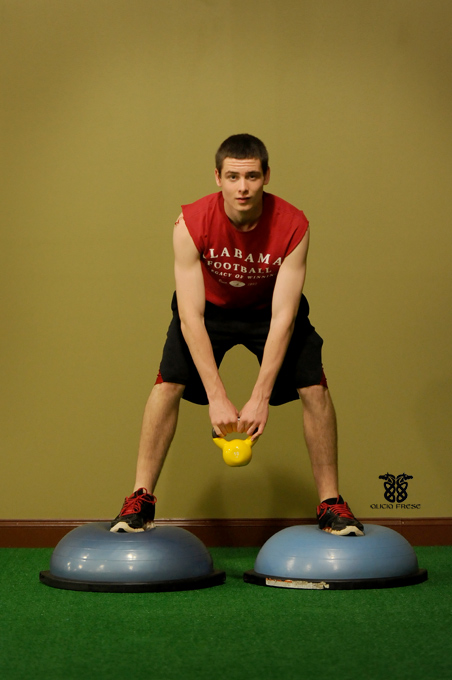 Place 2 BOSU balls, flat side down, next to each other.  Stand in the center of each one.  Hold one kettlebell (lighter weight than you would use if standing on ground) in both hands.  Keeping your upper body upright, lower into the squat position.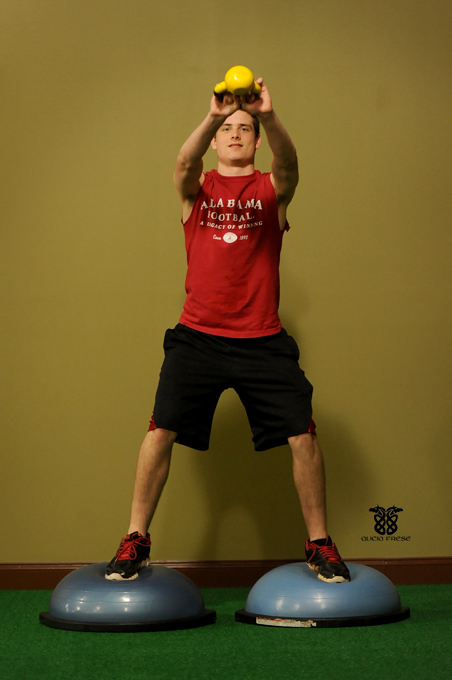 The swing will start low, between the legs at the squat.  As you rise to standing position, swing bell to shoulder height.  Make sure to hold in abs.  You will notice your inner thighs engaging as you hold BOSUs together.
If you do not have BOSUs or a kettlebell, hold a dumbbell and stand on your toes as you squat and swing.  The idea is to use your stabilizers, core and inner thighs as you control your swing
As promised in her introductory article in February, Cynthia King now kicks-off a once monthly entry of goalie specific off-ice exercises anyone should be able to do at home.
Actually, I'm thinking just how lucky we are right now, in that these exercises come just as most goaltenders are finishing their hockey seasons and looking for new ideas to ready them for next fall.  For sure,  these exercises are going to ultimately give goalers of all ages the basis for an awesome off-season routine, and I'll further suggest that these exercises could be used right through next season and for many seasons to come.
Oh, and if you missed Cynthia's opening article, I highly recommend you give it a read:   "Goalie Off-ice Training (from an unlikely source)!"
– Dennis Chighisola

Goalie Specific Off-ice Exercise 1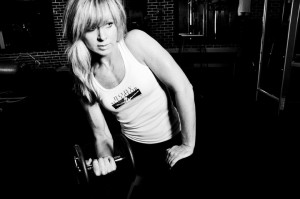 By Cynthia King
One of my favorite goalie specific exercises is the Medicine Ball V's.  This will target the lower back, glutes, inner thighs, obliques, shoulders and stabilizing muscles.  You will need a mat and a weighted medicine ball (although a dumbbell will also work).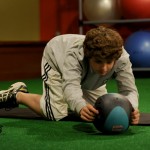 Use the weight of your choice for the medicine ball, or no ball for beginners.  Place the ball at the top of your mat.  Position yourself about halfway down the mat with your knees the width of the mat.   For the most benefit, lift your toes off the mat so that your stabilizing muscles really participate.  For beginners, rest toes on the mat.
Bend over as low as you can and hold the ball in both hands, arms outstretched.  Deeply bend to the left and tap the ball, rising only high enough to make the movement.   Keep knees stable and hips squared and facing forward at all times.   Move back to the center (at the top of the mat) and tap, then to the right and tap. Continue back to the center, left, center, right, center, etc.  This forms the "V".
Make sure that you hold in the abdominals at all times.  This will help strengthen the core.  It is very easy to protrude the abs.  Remember that they are muscles and can be trained in a direction we do not want.  Never relax them.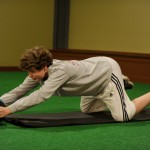 I created this exercise with the lower back in mind.  However, I quickly found many muscles engaged.  MOVEMENTS SHOULD BE CONTROLLED!  FORM IS CRITICAL!
CHALLENGE MOVE :  Take knees out farther than width of mat
CHALLENGE MOVE :   After center tap, rise upright and back down, then continue V
Although I did develop this for goalies, I believe that skaters benefit as well.  Lower back and core are important to everyone.
Wishing y'all a healthy, successful season!
Cynthia
Well, those who haven't yet gotten with the social media craze ought to think again, since I met a number of our top guest writers through either Twitter, Facebook, or Google+.  Such was the case with this article's author, the personable and very bright Cynthia King.
Actually, this article kicks off a special series Cynthia has in store for us…  Each month, henceforth, she'll provide a new exercise specific to goaltender training.
With that, the following acts as an introduction to Ms King, along with a basic philosophy that should carry over to those future monthly articles.
– Dennis Chighisola

Goalie Off-ice Training (from an unlikely source)!
By Cynthia King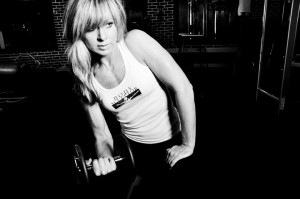 As I was gathering my thoughts to write this article, my first concern was, "Who is going to listen to goalie off-ice training advice from me?".  There are a few reasons why I asked myself this question.  The first is that I am from Mississippi originally and had never seen hockey until 2004.  I reside in the Atlanta area now, and a family friend is the majority owner of our local ECHL team.  He introduced my sons and myself to the game, courtesy of the Gwinnett Gladiators (www.gwinnettgladiators.com).  The second reason is that I am a 45 year old Southern mom.  The third reason is that I am just a personal trainer.
However, when you combine all 3 of my concerns, you get 3 very important pieces to a puzzle that is still being assembled.
Shortly after seeing our first hockey game, my youngest son gave up being a baseball catcher and became a hockey goalie. Simply having said son explains concern number 2.  Concern 3 was eased a bit as I train, and have for years at a fantastic fitness center, Body Plex of Newnan, GA and I spent 2010 training with one of TV's current Biggest Loser trainers.  Concerns 2 and 3 led me to an amazing opportunity which gets me here.
In July of 2011, I was offered a chance to help with off-ice training at Pro Tek Goaltending Camp in Montreal, Canada (www.protekgoaltending.com).  My son was participating in the camp.  My mind was in overdrive trying to figure out how in the world was I going to prove myself around the professionals that I was about to join.  Yet from day 1 of camp, I knew I was just given a gift and realized that THIS is just what I wanted to do.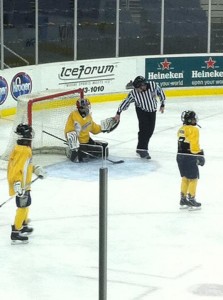 My first order of business was getting 70 French speaking goalies to say "Bonjour y'all".  They complied and that became our greeting everyday.  After that, I knew that talking to these goalies and asking them questions was my best way of understanding exactly what their specific training issues are.  As a trainer, I already had an idea of what needed to be strengthened and stretched.  Watching them on the ice and discussing their specific, or lack of, training methods, allowed me to tweak some of what they already do and introduce them to new goalie specific workouts.  I particularly enjoyed working with players at the Junior level.  They were eager to learn and apply the new techniques to their training program.
An obvious point of concern for goalies is the lower back and core.  I was rather shocked to learn that so many do not realize the importance of good core strength.  With so much emphasis placed on legs, goalies may not understand the role of stabilizing muscles in their often sudden, quick bursts of play.  I use medicine balls, BOSU balls, bands, and ropes to help improve balance and engage the core.  If your core routine only consists of sit ups, then you are severely limiting the power and stability that is afforded with solid core strength.  Conditioning the lower back is IMPERATIVE  to a goalies overall performance and injury reduction.  I incorporate all of the equipment listed above when targeting the lower back.
I like to work on different stretching movements for inner thigh.  As you know, groin injuries are prominent with goalies.  They can be reduced or heal faster if inner thigh regions are properly stretched and strengthened.  I like to use certain cable exercises that can help target some of the harder to reach muscle groups that are so easily injured.  There are several variations of lunges that I also prefer to help engage inner thigh muscles.  Each muscle group must be utilized during a session to give a goalie his best defense at warding off the dreaded groin injury.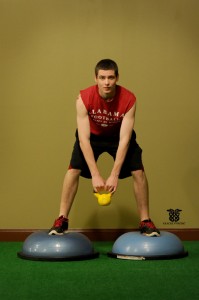 As I continue to learn this sport, I am in awe of the athleticism that is required.  Even as I watch the youngest on the ice, I appreciate the fact that I could never be even a mediocre hockey player.  To achieve professional level astounds me.  I congratulate you all who have.  As a trainer,  I truly enjoy learning and improving  hockey specific training…especially goalie specific.  I really love talking to coaches and players and understanding their needs.  I must say that I do smile when I, of all people, can show a coach or a player a new move and they realize the value of that move.  I always enjoy exchanging ideas and thoughts with those coaches and players and working together on ways to improve their longevity in this sometimes brutal sport.  Learning from those who actually play, helps me as a trainer to gain more insight into their off-ice needs.
It is my hope that you understand the importance of core conditioning.  A strong core is vital to your performance as a goalie.  Even though I'm just a hockey mom from Mississippi and at first glance, an unlikely source, I am always happy to help any way that I can.  Until then, Bonjour Y'all!

See our Goalies section for all of Cynthia's drills! * * *
Cynthia King – NFPT Certified Personal Trainer/NFPT Certified Advanced Weight Training Specialist
I've said it numerous times here before, in that I'm in no way a goaltending specialist.  No, I have to leave that kind of stuff to guys like Todd Jacobson.
At the same time, I'm kind of a "movement specialist", and I've also coached hockey teams for about 40-years.
So, it's in the latter capacity that I feel the need to share the following.
– Dennis Chighisola

Goalers as Part of a Team System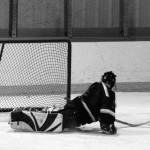 In the modern day game of hockey, coaches often refer to team play as "Six on the attack, six in defense of our net!"
In other words, all six players — from our goaltender to defensemen to forwards — have to be involved in moving the puck down-ice, and all six players have to band together to defend our goal.
In most instances, that expression is probably used to motivate skaters — for example, to let our forwards know how important they are to coming back and helping the D and their goalie in their own zone.  At the same time, I don't think it's used often enough to remind our netminders of just how important they are in numerous aspects of their team's playing system.
"Six on the attack!"
For sure, today's game is FAR different from its earliest days when goalers stayed at home and mostly worried about minding their net.  For a good decade or more, advanced netminders have roamed far from the safety of their crease to gather in loose pucks, and to even engage further in their team's offense.
Really strong skating goalies can act almost like third defensemen on a penalty kill, and I've seen many a young youth hockey goalers become good enough with the puck to fire long, breakaway passes to teammates up-ice.
Even if a young goaltender isn't confident enough to roam far or fire long passes, he or she should be adept at helping the team on breakouts.   What I'm getting at here is that retreating defensemen have lots to worry about as they attempt to pick-up a dumped-in puck.
With enemy forecheckers fast coming, the D can be helped by the goaler communicating things like, "Plenty of time!  Plenty of time!" or "On you!  On you!  On you!"
As importantly, a retreating defenseman can be helped immensely if he or she doesn't have to dig the puck off the boards or net, or deal with accumulated snow.  So, as shown in my video on "(Teaching and Troubleshooting) Basic Breakouts", I ask my goalies to "tee-up" the puck about a stick's length off a post and just a hair behind the goal line.  This not only makes the puck easy for a D to grab, but it also allows him or her to take an exit route of choice.  (Again, this is covered in greater depth in my video on breakouts.)
Then, before leaving this section, I'd like to suggest that there can be more ways a goaler can help his or her team, especially when it comes to communicating with nearby teammates.
"Six in defense of our net!"
It goes without saying, that a goaltender is hugely responsible for defending the net.  What's not often considered at the lower levels of our game is the goalie's need to be incorporated into the numerous parts of a team's defensive game.
Now, I don't want to turn this particular entry into an X's and O's session.  However, as an example, I work frequently on combining my goaltenders and defensemen in the defense of a 2 against 1 attack.   My team's aim, in the end, is to achieve two 1 on 1′s, with my netminder handling the shooter, and the D taking away the open man.
And there are, quite obviously, other areas of our defensive game where the coordination of goalers and skaters can help quite a lot, this probably depending on a given team's age and experience level.
In closing, I feel the need to suggest that all the above really needs to become "a mentality" or "mindset" for a goaltender.  In other words, he or she has to look beyond just his or her own netminding responsibilities, and see himself or herself as a part of the team — both offensively and defensively.  And, I'll further suggest that, the earlier this takes place, the better.
The following just came in via the CoachChic.com "Ask The Coach" box.  And, although it's kinda late at night, I felt for the young guy who sent it, and I wanted to offer some thoughts as soon as I could.
With that as an intro, I've removed just a few things from the following question, just to protect the young goaltender's identity…
– Dennis Chighisola

"I need some advice, big time. I played high school hockey as a goalie the past couple of years and did great. this year I tried out for the local junior empire team. Despite playing incredible along with the other top goalies at the tryouts i didn't make the team, at the the moment I'm at community college part time, thinking i was going to get my big break. but I didn't. It seems like no one is giving me the chance even though i know i can take my game to the next level. I feel like I'm coming to the end of my career, end of the line and i don't know what to do, i still want to keep playing competitively but i always feel like the underdog. what should I do?"
Help for a Discouraged Hockey Goaltender
Ironically, I often write or say that, "Others will tell you when your hockey playing days are over."
That IS usually true.  Yet, I don't think there's anyone on the face of the earth who can really tell anyone else his (or her) playing days are over — until the player wants it to be that way.  I mean, even if one is rejected numerous times, there are still usually plenty of other places to play.
I also tend to think that goaltenders can mature later than skaters.  So, there is always the chance that a goalie can get better and better with age, and that he could pass by all the rest a few years down the road.
As an aside…  Obviously, the latter is hardly do-able without a ton of work.   And the kind of work I'd be envisioning would be Rocky Balboa style (if you know what I mean).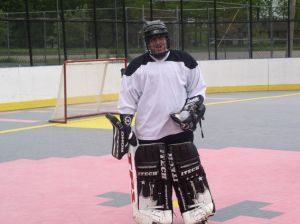 As far as future opportunities go, I will suggest that nearly everyone is a "walk-on" at Division II and III college hockey tryouts.  In other words, there are few guarantees at those levels, and it's more a matter of a player showing what he can do at the tryouts.   Walk-on goalers have been known to make it at Division I schools, although the chances probably aren't all that great.  Then, minor league professional hockey leagues abound — across North America and abroad, and these provide further opportunities for players to extend their playing days.
All that said, the day comes for all of us when we feel we've gone as far as our skills and energies will take us.  And, when that day comes, I always like to see a player leave the competitive game with a good feeling — like he gave it his best, he attained the highest level he could, and he had a hell of a time along the way.  (I'd also like to see him have a college degree in his back pocket.)  For some of us, coming back to coach keeps us close to a game we grew to love, and it at least partially fills a certain void.
*
To be honest, I don't think I'm any sort of an authority on this subject.  So, I would love for others to jump in here, in hopes you might shed a different light on this subject, and perhaps give this young man some even better advice.
– Dennis Chighisola

I'm creating this entry for a lot of reasons…
First, I didn't find the following information; actually, a good friend who knows my unique interests sent me the initial link, which led me to many more interesting pages on this subject.
Secondly, the device demonstrated in this post — and the scientific thinking behind it — is pretty typical of the stuff I like to get into.  Do I tend to run ahead of the curve?  Ya, I think so.
Lastly, although I like to make sure all the basic hockey concepts are covered within these pages, I have an equal need to keep you on the cutting edge.
With that, get a load of the device and theory shown below.
– Dennis Chighisola

Vapor Strobe Training
Let's begin with a video that ought to really get you thinking…
Loading...
What do you think?  Is Nike onto something here?  You bet!  Just common sense says it'll work to enhance a number of athletic qualities — for goaltenders and for skaters.
If you're interested in buying your own strobe glasses, they're easy to locate through a Google search.  I think the ones I found for sale were about $280.   (For the time being — at that price, they're on my wish list — LOL!)
Urging members to purchase these is not my point here, however.  What I do want to do is expand your thinking, or open your mind to what's out there.
I also want to suggest to you that the competition will soon be using these and other pretty sophisticated gear and training methods to jump ahead of you, your child or your team.  That's the way it's best over recent years — everyone seeking just the slightest edge.
With that, I'll leave you with a couple of videos I located over at YouTube.com, these showing the strobe glasses in use…
I have been saving this video for the longest time.
In my estimation, it's revolutionary.
With that, there really isn't much for me to say in print form, because the history to this unique type of drilling is spelled out in the video — how I arrived at the idea, how Todd Jacobson finally took the proverbial bull by the horns, and so forth.  There are even several versions of this goalie's exercise routine included, as well as an in-line application.
– Dennis Chighisola

The Goaler's Dance
Loading...
*
As always, Todd and I really appreciate your questions and feedback!
Not too long ago, a faithful CoachChic.com member and I were having a conversation about his son's seemingly running out of gas late in his hockey games.  After awhile, I came to understand that his son is a young goaltender, and his games were being played in almost non-stop action (like lots of current day 3 on 3 or small games are).
Exploring further, I wondered if the youngster was getting enough fluids.  I mean, my thinking was that the skaters would be able to replenish their fluids as they took frequent trips to the bench, but what about our friend's goalie son?
As it turned out, not only did the youngster not have water nearby, but his dad wasn't aware of the water bottle arrangements most older netminders usually use.  Hmmmmm…
– Dennis Chighisola

A Goalie's Water Bottle
Oh, one thing I failed to mention up above is that our CoachChic.com friend is from the United Kingdom.  Not that it should necessarily make a difference here.  However, I'm sure it's possible that some trends take time to travel the globe.  And, it was certainly possible that other goalers in that family's home rink weren't affixing bottles to their nets, or my friend maybe wasn't noticing some of those who did.
Anyway, I'm not the type to let any details go unexplained, no matter how small.  So, calling upon both YouTube.com and another great CoachChic.com friend, I share the following with all our goaltender members (and the team coaches who work with them).
Actually, while the TV cameras gave us a pretty good glimpse of that goaltender's water bottle, it probably didn't show the arrangement as it really should be.  No, quite obviously the outer foam part is (rightly) affixed to the net, while the bottle itself should be stored inside that foam outer liner.  My guess is that the goalie had left the bottle loose on top of the net.
Okay, and the following photos are courtesy of Mike Mahony (his son Matt is a topnotch teen goalie in California)…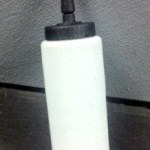 T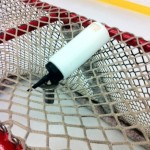 o the left you see Matt's water bottle as it sits alone, and to the right is shown the bottle affixed to the top of Matt's net.
Then, as I talked to various older goaltenders and the parents of goaltenders, I came to understand that bottles are now made specifically for those unique positional players.  I wasn't able to find any on-line to show you, although I think the ones depicted in both the video and the photos provide a couple of good examples.
Finally, when goalies first started tying their bottles to nets, they'd wrap a skate lace around the bottle, secure that with several wraps of hockey tape, and then tie the lacing to the net's webbing.
I've been doing a little research lately for a special program I'm reading to advertise.  That kind of stuff often brings your favorite "Nutty Professor" to some areas other coaches just wouldn't ever consider exploring.
Actually, I wasn't looking for goaltending ideas as I surfed the Net today.  However, when I ran across the following video, well…
— Dennis Chighisola

Let's "Think" Goaltending!
Now, you ought to know that our resident goalie coach, Todd Jacobson, is off with his Notre Dame Academy ladies' hockey team for a few months.  So, while he's away, I thought we might start a little interaction among members.
In other words, what I'd like us all to do (including myself) is to watch this video once or twice, and then see how we feel this kind of training might benefit a hockey goaltender.   So, take a look, and I'll comment more right after…
Now, if you felt that some of the shown training would be helpful, but some of it wouldn't, I'd totally agree with you.  (More on that later.)  And, if you feel some of the above could be adapted to help quicken a goaler's feet as well as his hands, I'd similarly agree.
Okay…  All that said, how about if we use the Comments section to make any suggestions — in the ways we might be able to borrow from this form of training for a netminder's sake.
Ready…  Set…  Let's think (like a Nutty Professor)!
Hey, despite there already being thousands of great tidbits of hockey advice here, I'm not opposed to going outside CoachChic.com when it comes to finding help for you.  In other words, I hope to save you tons of time by doing the research for you.
As for this post, Jukka Ropponen is a noted Finnish goalie coach with plenty of great ideas when it comes to goaltender training.  And, a popular drill used by Ropponen to help a netminder move across his or her crease — or to recover from one side to the other — is the following…
– Dennis Chighisola
Ropponen (Goalie) Recovery Drill
Just click on the YouTube.com logo to see more drills by Ropponen.
A lot of local customers through the years have dubbed me "The Nutty Professor". 
  Hey, I can buy that, and I take it as a compliment, knowing full well that their intent is to suggest that I dare to think outside the proverbial box.
To be perfectly honest with you, I am forever looking for an edge for the players in my charge, be it a big or small one.  So, I quite often see things others don't.
– Dennis Chighisola

A VERY Different Approach to Hockey Goaltending
Now, a recent theme here the past few days has been the fastest growing sport in the world, floorball.  And, while much has already been said about the benefits that sport's skills bring to ice hockey for skaters, no one has yet to suggest that floorball practice and playing might also greatly enhance an ice hockey goalie's game.
So, I'd like you to take a look at the following video and let me know what you think.  Keep an open mind, if you will, much like The Nutty Professor might.  And then let me know what you think in a Comment — either with a thumbs-up or thumbs-down.  Again, though, keep that open mind…
Having seen that, might you envision how a goalie's hands would be quickened, how his or her angles would be reinforced, how the leg movements would be sped-up, and even how much gut wrenching there would be (for enhanced core strength)?
Oh, I am not saying that a goaler should abandon on-ice work; what I am suggesting is that the combination of both kinds of practices could make a netminder really, really awesome!
Great Hockey Conditioning Ideas – Part 3
By Dennis Chighisola
This is really just going to be a short post for a couple of reasons.
First, I've already shown you the basic exercises we're using to get my high school guys ready for their coming team tryouts.
Secondly, I've also shown you how it all works — like stringing the exercises together and pacing them to simulate on-ice shifts.
That said, I highly recommend you quickly review the short video I prepared for Great Hockey Conditioning Ideas – Part 2, just so we'll be on the same page as I introduce a couple of upgrades or recent adjustments I've made to that routine.
1)  One thing you ought to know is that it's important to spread certain kinds of training over the course of  a week.  For example, I help these high schoolers with their skills and situational stuff on Monday nights — and I go easily on conditioning, just because I know my boys are going to get a real whipping the next night.  Then, after that Tuesday night whipping in The Motion Lab, they get a night off to rest before we go fairly hard on the roller floor in Lakeville, MA.  (That session at the roller rink actually includes some sprint training and part of the conditioning routine we do in the Lab, these done before we put on the in-lines.)  We've had some weekend ice over the early fall, which has allowed us to do things similarly to Monday nights.  However, during some future weeks — when we won't skate on either Saturday or Sunday, I'll make some adjustments to what we do on Monday, Tuesday and Thursday.
2)  By the way…  Some consistency is good, while change is also good.  What I'm getting at is that one's body starts to adapt to a certain training routine, and actually gets accustomed to it.  (That's the idea of working hard and forcing the body to adapt to the new challenges.)  The problem arises when getting used to an exercise makes that exercise easy to perform.  So, an occasional change in the way practices are spread over time and paced can provide a new and even greater challenge.  Remember:  the main thing is to force the body to constantly adapt and grow — in skills, speed, strength, conditioning, and more…
3)  Building on what we've been doing all along, I substituted sandbags last night (in place of their hockey sticks) as my guys did the various kinds of jumps (shown in the video) — onto and over a lower box than we'd previously used with a lighter load.  Both the change in load and the change in height will provide my guys new challenges.
4)  I've recently adapted a kettlebell type of exercise and placed it near the end of the guys' Lab routine.  And, I can tell that this is a real killer for them, especially in their legs.  I tend to call this kind of exercise a "finisher".  In other words, once they've done that, there isn't much more they can give.
5) Last night, for the first time this training season, we went to 20-second shifts.  (Most previous routines had the kids working for 10- or 15-seconds, with twice as long to rest.)  And, despite the fact that my players were definitely cooked by the end of about 40-minutes, I can tell they are in unbelievable shape.  In fact, I complimented each group last night, suggesting that they'd probably just worked the equivalent of two periods at a pace that is far beyond what most guys would actually skate in a game.
6) I'd like to insert a belief that I've shared in numerous other ways here, including in my "Food for Hockey Thought" video, suggesting that quite often we can do a better job training off the ice than we can on it.  For example…  On-ice sprints get pretty old with players, and there's ultimately the chance that they'll start to cut corners in their on-ice efforts.  On the other hand, I tend not to see as much coasting when we're doing a routine similar to the one I'm now discussing.
7)  Okay, those who came to this post via the Goalies link have to be wondering at this point when I'm ever going to get to them.  Sooooo…
Well, over the spring and summer months, Todd Jacobson has always handled our goalers — on the ice, at the in-line facility, and up in The Motion Lab.  And his work with them during those times was almost always position-specific.  However, this year I've had our high school netminder join a regular (typically for skaters) training group FOR VERY GOOD REASON.  So, if you can envision some of the drills you saw my skaters doing in that video, imagine how helpful they can be for a goaltender.  Yes, our guy is in unbelievable shape, and I think we can owe it all to this kind of training.
Then, last night, as a group was doing their jumps up onto a box while holding a sandbag in their arms, I decided to have our goalie do a different exercise for his third and final set…  What I had him do was quick ups and downs from his butterfly stance with a sandbag clutched to his chest.  Man, I know it was a killer for him, but he did it awesomely, and in great spirit.  Thereafter, because we do four different types of exercises using a box, he went off to the side and did his special exercise for each third set.
Finally, I'm kinda bummed that I didn't shoot any video last night — especially showing that goaler exercise and the one that's kinda like a kettlebell movement.  However, I will try to get some for you next week.
*
As always, your Comments mean a lot to me and to other members.
_______________
Update
_______________
I had to miss a recent High School Prep on-ice hockey practice, so I setup my assistant coaches to run something close to a 3 on 3 one-zone game.  I had two reasons for doing this:
First, at this time of year high players have all sorts of problems when it comes to practice attendance — from the latest flu bug to school functions to church commitments.  So, I figured that working low numbers of players at a time would make things easier to administer if we happened to have guys missing from that specific practice.
Secondly — and the real reason I wanted to do this, "small game" contests tend to really push the players.  I mean, they don't like to be beaten, so they really do push themselves.
Anyway, the word back from my top assistant was that the guys didn't even seem to be tired at the end of the hour+ skate. 
  I have to love that.  And, with still two full months to go before my kids go off to their high school hockey tryouts, I just know they're going to be lean and mean when they do leave.
If you like this article by Justin Johnson, and if you think it might benefit your goaltender, feel free to email it to his or her coach.
By Justin Johnson
Performance Coach, Mental Edge
This past fall I traveled across the state of Minnesota conducting goalie coaching clinics for youth hockey associations. During the two-hour sessions I consulted with coaches about ways they can increase the likelihood of their goaltenders having a positive experience in the game of hockey. What I discovered is there are many coaches who are on the right track with their goalies and their development. There are also a few who have trouble communicating with their goalies. Even more struggle with how they should orchestrate practices and games in a way that encourages goaltender development.
In an effort to shed some light on how coaches can set their goalies up for success, I have included four common pitfalls to avoid. My aim is to inform coaches about the ways they harm their goaltenders' mental development, oftentimes without even knowing it!
1.)  Not sure what to say, so say nothing
Issue:
Historically head coaches and their staff have struggled with how to coach, challenge and develop the goaltenders on their team. Many coaches haven't played the position, so they feel paralyzed when trying to address technical information and fundamentals. This lack of goalie know-how, typically leads to frustrating conversations or even an avoidance of conversations because it doesn't land in the coaches' comfort zone.
Advice:
I encourage coaches to make an effort to positively impact every player on the team, including goaltenders. Rather than keep quiet, sit down with your goaltender(s) to learn about what they need to be successful. Many goaltenders, even as young as squirts, know what should have been done differently on goals they gave up. As a coach, ask them what you can do to make practices better to address the situations you are seeing in games. Goalies need to feel a part of the team and process – ignoring them because of your ignorance can shake their trust, confidence and ultimately negatively impact on their experience.
2.)  Pulling the goalie without giving explanation
Issue:
Eventually a game will get out of hand or an off-night will come around where it is in either the team's or the goaltender's best interest to pull him or her from the game. I believe that the pulling of a goalie is a necessary part of the game and one that if done correctly builds character and a winning spirit in an individual. If done incorrectly you may have a disruptive issue that lasts all season, and negatively impacts the mindset of your goaltenders for quite some time. I have witnessed and even been a participant in many ugly pullings, where coaches yell at the goalie on the way to the bench or display incredibly poor body language that sends the wrong message to all watching.
Advice:
When you decide to pull your goaltender, doing so correctly comes down to two items:
Conduct yourself in a calm and professional manner, including body language, by continuing to coach your team in a positive way.
You must not let that goaltender leave the arena without knowing why you pulled him or her and/or how you intend to help them have a better outing next time. (As a side note, I feel it is acceptable to tell the goalie on the bench why you pulled him if it was done to help change team momentum. If it was simply a rough night for the goalie, it is better to discuss that in private after the game.)

3.)  Shouting instructions from the bench
Issue:
Rarely have I seen great coaching advice that makes an immediate impact on a goalie's performance by being yelled from the bench for all to see and hear. Other than encouragement or to signal the goalie to come to the bench, coaches should never yell to a goaltender. The repercussions of yelling include embarrassment, confusion, frustration, and a fear of making mistakes, all of which deter a quality mindset and performances. In other words, whatever gem of advice you may have and result you get, it will be eroded by a mindset that requires the goaltender to play for you rather than themselves and their instinct.
Advice:
If a persistent issue is occurring, there are a number of ways to communicate more effectively. You can wait until there is an intermission, relay the message to a mature player you feel will communicate it to your goalie with the correct tone and message intended, or call a time-out.
4.)  Waiting right before the game to designate the starter
Issue:
Perhaps the most common mistake coaches make without knowing it is waiting to decide or inform which goalie will play. Coaches fail to understand that goaltending is a position that requires a significant amount of preparation. If a goalie does not know, that preparation is undermined, resulting in a less than prepared, less confident goaltender. Coaches have stated they use this tactic to judge who looks best in warm-ups or to make sure both goalies are ready. Both of these tactics are mentally counterproductive and will create negative effects, not only for your goaltenders but also for the rest of the team.
Advice:
I suggest coaches give notice to BOTH goaltenders as to who will be playing a night in advance, if possible, or the morning of the game, at the latest. This should provide plenty of time for your goaltenders to prepare, giving your team the best chance of a quality performance. This is a simple request and one that will be greatly appreciated by your goaltenders.
Remember, if you are good to your goalies they will likely be good to you and your team!
For more information, contact Justin@MentalEdgeNow.com
Again, feel free to email this article to a coach who might benefit from it's great advice.
*
And, as always, we REALLY appreciate your Comments!

Answering a comment from my new friend, Nicky R (that's her avatar below), caused me to think about something…
Actually, what happened is that I finished replying to Nicky, and I next saw the heading for a recent post entitled Resisted Shooting.  From there, I've mentioned before about how the fireworks go-off in my brain, with one thing making me think of something else.  (I'll leave it to you to decide whether that's a good thing or not —
!)
Well, what I got to thinking about was the fact that member goalers (and those who work with goalers) shouldn't just stay within the Goalies section, or discount all the things available to them in all the other various categories.
Take, for example, that Resisted Shooting idea…  Is it necessary for modern day goaltenders to handle the puck — and even shoot it up-ice?  You bet!  And, in their attempts to fire the puck up-ice, is it possible they're going to at the same time be mauled by opposing players?  You can bet on that one, too!  So, a drill such as Restricted Shooting would be just as useful for netminders as it is for defensemen and forwards.
And, come to think of it, so would almost all the skills that are covered here help a goalie,  so would the strength training ideas, and so would a good many of the tips offered under Thinking The Game!
*
So, what do you think?  You know I love to see your Comments!
Todd Jacobson is still off with his women's team at Notre Dame Academy for the next few months.  Of course, that won't prevent him from occasionally sending us updates, ideas or further insight into goalie training.




In the meantime, my Team NEHI kids keep practicing and playing, and I'm still here to show you a little of what we're doing.  And, picking-up from where we left-off in Part 3 of this series, I'm going to show you another step in those 2-puck Drill progressions.




– Dennis Chighisola
Creative Training Ideas for Goalers! Part 4
If you haven't already, please take a quick run through the earlier post on this topic.  (It would be a good idea if you view the previous "Creative Training Ideas for Goalers" entries, just so you have an idea of how the next drill evolved.)
Now that our goalies can tumble and find one ball with pretty good regularity, it's time to move them on towards a REAL challenge.
I mean, we all thought that 2-puck Drill was pretty difficult, huh?  Well, wait until you get a look at this one…
Here a netminder is tumbling, but he's confronted with having to find and catch two balls at the same time!  Not easy folks, but it's awesome to help a goalie deal with all the craziness that happens around him, and with the need to find a puck amid chaos.
So, have a look at the video (just click on the photo below)…
Well, to date that's it for progressions along this line.  But, I'm still thinking, and I'm hoping you are, too.
Actually, maybe you can help with some new ideas.  Todd and I would love your Comments or suggestions!
As a postscript, I'm posting a link to this video from the Highlight Reel Skills section, mainly because the young goalie in this video demonstrates something I want all of my players to have.  I mean, did you notice his reaction when he failed one time?  Sure, I think he felt a little embarrassed.  At the same time, however, I think he was laughing at himself, knowing full well that he can eventually lick that challenge.  So again, that's an awesome training attitude to have, the ability to laugh at oneself as you try new challenges.  And it's something I always noticed about the kids I had who went on to make a name for themselves in the game.

– Dennis Chighisola

Todd Jacobson is still off with his women's team at Notre Dame Academy for the next few months.  Of course, that won't prevent him from occasionally sending us updates, ideas or further insight into goalie training.




In the meantime, my Team NEHI kids keep training, and I'm still here to show you a little of what we're doing.  And, picking-up from where we left-off in Part 2 of this series, I'm going to show you another step in those 2-puck Drill progressions.




– Dennis Chighisola
Creative Training Ideas for Goalers! Part 3
If you haven't already, please take a quick run through the earlier post on this topic ("Creative Training Ideas for Goalers! Part 2").
Now, this particular drill does not employ 2-pucks, but there's a reason for that…
You see, Todd and I like to bring our players along in slow, do-able steps.  So, all Team NEHI players learn to tumble (forward and backward) when they first join us.  And from there, we can add tons of new and challenging twists.  That said, we had to get the forward roll and finding a ball skills in before going on to the next problem.
In this drill, one goalie tumbles while another lobs a ball to hang in the air just above where the tumbler will arise.  And, a lot like happens in a game, the goaler has to quickly orient himself and find that ball.  Oh, I said "orient" himself on purpose, because a player will get a little disoriented during the roll, which makes it all the harder to find that ball (and maybe even harder than it would be for him in a game).
So, click on the (below) photo for a neat video showing a really into it goalie tackling these problems.
As stated earlier, we have some other progressions to show you shortly.
Can you help with further challenges along these lines?  Todd and I would love your Comments or ideas!
Todd Jacobson is off with his women's team at Notre Dame Academy for the next few months.  Still, that won't prevent him from occasionally sending us updates, ideas or further insight into goalie training.




In the meantime, my Team NEHI kids keep training, and I'm still here to show you a little of what we're doing…




– Dennis Chighisola
Creative Training Ideas for Goalers! Part 2
Tennis balls continue to be a great (and sometimes safer) way to enhance our netminders' reactions, both on and off the ice.
Actually, the following drill isn't an NEHI creation, but one we found some time ago on the Internet (my apologies for not recalling whom to credit).  It's called the 2-puck Drill, but we often substitute small balls for the pucks…
Loading...
If you notice in the accompanying video, there's a lot for a player to deal with as two balls travel towards him, and I especially like the way this drill forces a player to multi-task and also use split vision.  So, have a look  at two of my HS Prep goaltenders in action (by clicking on the above photo).
Awesome, huh? 
By the way, this drill has actually evolved into other progressions with even more difficulty.  But I'll show you some of those fairly soon.
Got a better idea for increasing the difficulty of this drill?  Todd and I would love your Comments or thoughts!
I should have prefaced my previous post (Goaler Warm-ups) with a reminder, in that our goaltenders start learning to juggle on their very first days with us.  Most of them need to start with one ball, and then very slowly progress to a second and a third.
Yes, a little at a time, the degree of difficulty should be increased — for any drill.
That said, take a look at this one…
– Dennis Chighisola
A REAL Goaler Challenge!
I hope you'll agree with me, that the game of hockey is pretty wild.  I mean, there are all kinds of things going on out there in the game action, which causes our players to have to very often deal with more problems than one.
Knowing this, I create a lot of drills to meet this challenge by combining several previously learned skills into one new drill.  (Let me repeat:  The drills that are combined have been fairly well mastered by a player or players, which signals the need to increase their difficulty.)  Such is the case with the following.
As the adjacent photo shows, our goaltenders are using the long jumprope, and at the same time juggling two pucks.  (Down the road we'll follow the same kind of progressions noted earlier, moving to three pucks!)
Ya, this surely is an unbelievable challenge.  But, click the photo to see a video of our young NEHI HS Prep goalie doing a pretty good job.
By the way…  Can you envision how this might help a goaltender in the wildness of an older level game?  After all, they so often have to move and bob and weave to see through a maze of sticks and bodies, while at the same time needing to keep focused on that puck.
*
Did you know your Comments really help me?  So, please get involved.  Just click the "Comment" link above to offer your thoughts, questions or suggestions.  (And thanks — a bunch!)
I like to pre-program (if that's the right term) a number of things that 1) get a given job done with my players while also 2) freeing me to get done what I need to.




Such is the case with my Team NEHI pre-game warm-ups.  My team captains know where to find the special card I created that lists our dynamic stretch routine and warm-ups, so they can run these on their own.  That, in turn, allows me to ready for the game in my own way.




In reference to this, my HS Prep team's goalie is seeming to be someone special.  Actually, I thought he struggled quite a bit during the early part of our season.  But, I now truly believe he's one of the most dedicated workers I've coached in recently years.  I mean, he's one of the first players to arrive for anything, he's one of the first to be dressed and ready, and he's proving to be all business when it comes to his pre-game preparations. (Over recent weeks, I've felt he's often carried his team on his back as they climbed to first place in their league.)




– Dennis Chighisola
Goaler Warm-ups
As you should have figured from the above, our goaltenders should do their normal warm-up with their teammates.  However, their position is unique, which means they should have some added exercises specific to the way they play.
So, early in the year I gave my goaltenders some ideas for their own warm-ups — beyond the regular team ones.
As should be noticed in the adjacent photo, young Josh is using a wall outside our dressingroom to perform some hand-eye drills.  If you click on that photo, you'll see Josh doing a drill that few other goalies in these parts can do.
Actually, he's juggling the tennis balls while at the same time bouncing them off that wall.  At times, though, he's also attempting something I added on this day — asking him to range a little further outward towards each side so that the balls are closer to where he frequently has to catch or blocker them.
An awesome job for a young guy, huh? 
*
Did you know your Comments really help me?  So, please get involved.  Just click the "Comment" link above to offer your thoughts, questions or suggestions.  (And thanks — a bunch!)
In fairness to Todd, his very interesting article is based on a quick question I shot his way as we were recently talking — in the dark — outside The MOTION Lab.  In a way, though, I'm glad he didn't have all the info, because the route he takes in trying to solve the problem at hand is exactly what every other coach and parent likely faces in their search for answers.




So again, I find the following a very interesting read.  Better yet, I think you're probably going to (as I surely did) associate with some of the frustrations Todd experienced in his search for answers.




– Dennis Chighisola
Can Goalies Improve Without A Coach?
By Todd Jacobson
Coach Chic mentioned to me recently that a dad had posed a question to him, this having to do with a dad not being happy because his goaltender son probably wasn't going to improve much this coming year.  As I understand it, the real problem is that the boy doesn't have anyone within his current team's coaching staff helping him with goalie specific training.
I initially thought this would be a pretty easy topic to tackle. Well, I was wrong. This is a great concern for this dad and his son, and the more I thought about it the more concerned I became. So I figured I would attack this article much differently than I have most others.
Like many other hockey coaches, I have a stubborn side (to be successful you have to be at least a little bit stubborn), and every once in a while I try to fight that urge. This time I fought it and won!
I instantly went to my favorite search engine, Yahoo (I'll be waiting for my royalty check from them for the advertisement), and I typed in the question, "Can a goalie improve without a coach?"  The results were pretty interesting.
The first page that came up was one that had an interview with a Finnish goalie coach named Jukka Ropponen.  And while the interview was interesting and informative, it really didn't shed any light on the problem at hand. Coach Ropponen did use a quote in which I think many coaches can relate to: "You can't win without good goaltending."
The next page I opened was an article from goaltending coach Steve Carroll of the Carroll Goalie School.  And while he didn't quite answer the question, the title of the article was very telling, and the info inside was such that every coach at every level should read it. The article was titled, "Goalies should not be shut out from coaching".  To sum it up, Carroll speaks to coaches who don't really work with the goalies, and he suggests they really should spend some time training them instead of just using them as practice targets. Coach Carroll dives deeply into the fact that so many coaches out there don't really know the details of the position, so they typically spend most of their time working with the skaters (while giving hardly any time their goalies).
I thought about this for a long time, and I know it to be true. When I was a young 19 year old looking to get into the coaching ranks there weren't a lot of open positions. I had to find a way to get my foot in the door.  And what area was the most neglected?  You guessed it, it was providing help for goaltenders. I had a little inside edge here, with my father being a long time goalie coach (and I'd played the position if only for a very short time). I knew that if I really learned the position I could be an asset to a coaching staff somewhere, and I'd also have an easier time landing a coaching job. I again was correct.
As time went on, the majority of my younger coaching years were spent as a goalie coach.  And as the game changed, so did that position, including the areas of emphasis, as well as the way training should be conducted.
Going back to that second article, it still didn't answer the specific problem, so I continued to look further.  The third page I opened (I think by Mitch Korn) had some absolutely innovative and creative training aids for goalies. Most were very large and bulky however, and I could see that being an issue for a coach, lugging those things around to numerous rinks.  Worse yet, within the typical 1 hour practice, maybe a goalie would get the chance to use one of those for 15 minutes or so.  Still, these training tools were fabulous (I know Coach Chic has come up with some similar training tools, and he'd have gotten kick out of seeing these).  Yet another unfortunate part is that you really can't use these items by yourself (they need to be used in a team or multiple player type setting). So again I didn't get the answer I was looking for within that third web site.
All in all, I waded through many more web pages, many of them containing a lot of great info on goalie training.  But the question posed by that dad never was really answered.
So, after all that searching, I really didn't want to write another article about working independently and being creative, because that has been the theme of so many of my past writings.  In the end however, that seems to be the only answer.
I would suggest that the dad who raised that question speak with his son's coach (or coaches) on a professional level. Be courteous and just plant the seed — that he'd really like to see his son get some one on one coaching. I also would suggest he go back to some of my past articles.  There are a lot of great ideas to help a goalie work on his or her own, as well as how to make and use some inexpensive devices.
On a final note, it might not be a bad idea to seek out a goaltending coach to work with on the side (maybe that dad will get lucky and find a young, eager man or woman looking to get into this unique area of coaching, just as I had done so many years ago).  I know it could possibly be costly to send your boy to a professional goalie coach or a weekly clinic.  Still, when you really think about it, every season lost due to a lack of growth can be even more costly.
Yours in Hockey, Coach J.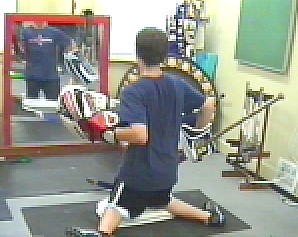 Now, even Todd doesn't know (until he reads this) that I actually took a different route in search of an answer, and still arrived at exactly the same conclusion he did.  Of course, I had the benefit of knowing the CoachChic.com member who first tossed the problem our way, and I also knew a little more of the background. With that, I have a feeling Todd's and my combined ideas should prove extremely helpful…




One thing I knew was that my friend's son had a seemingly great goaler coach back with his old team.  The dad and boy evidently liked and trusted that guy, and I also sensed through some discussions that the previous coach was kind of a forward-looking type.  (In other words, it seemed he wasn't locked in the dark ages, and he was open to new and creative ideas.)

So, what I proposed was that the dad and the former coach find a small space they could use (or rent?) for supplemental off-ice training.  In effect, I was suggesting they put together a mini-version of The MOTION Lab, but this one designed just for helping goalies.  I even hinted at the thought that they could make that facility pay for itself — and their labors, but advertising it to other goalies in similar need for help.




Hey, take a moment to think about what I just said…  Todd scoured the Internet and basically found one consistent fact, in that goaltenders mostly get ignored during typical youth practices.  So, does that suggest to my friend — and to every other reader — that there's a dawgone market for goalie help?




And while I'm on the subject of business, let me introduce some economics here…  You see, I can run about 40-skaters through a skills type session, and I can give them a heck of a workout while also easily paying for the ice-time and my time.  Try to do that with goalers, though.  No, it's had to pay for an hour of costly ice-time unless you can find a way to get a pretty high number of players out there.




Small group sessions are what work best for netminders, and that's why I've suggested some sort of off-ice facility for their supplemental training.




As for training ideas?  I wouldn't just limit them to those currently offered by Todd.  Oh, they're awesome, and there are plenty of them.  However, I'd also recommend taking a read through Craig Shaw's articles, because those are loaded with great exercises.  And so are many of my pieces listed under several different skill oriented categories.

Then, presuming the goalies training in the Lab-type venue are seeing all the shots they need during regular on-ice practices and games, I'd reserve the off-ice work to "movement" exercises of all sorts.  To me, the ideas are really endless, to include quickness work, footwork, hand-eye coordination, core strength work, and I could go on.  (As you might see from the photos I've chosen to include, not a lot of space is required to enhance a ton of important goaler qualities.)





So, I borrow this bit of advice from a well worn slogan:  "There's nothing to it but to do it!"




Finally, I got to doing some serious thinking as I read Todd's article and then added my own two cents worth…  You see, I've had a lot of little visions within the main one for CoachChic.com.  In other words, although my primary aim has been to put together a hockey resource area that will ultimately be the most thorough in the world, I can now also see it as a place for those with individual needs to do some really serious research.  If you think about it, Todd spent considerable time chasing through that rabbit hole known as an Internet search.  And all the while there was probably more buried within our site's pages than he (or anyone else) could find elsewhere.




Ya, hmmmmmm…




Did you know your Comments really help Todd and me?  So, please get involved.  Just use the box below to offer your thoughts, questions or suggestions.  (And thanks — a bunch!)
Goalies:  Readying For Your Season
By Todd Jacobson
It's now late August and you're most likely looking to head back to school. For youth hockey or club players, your practices and games begin in a few weeks. High school players, on the other hand, are either looking forward to a fall sport like football or soccer, or your half season town or club team is about to get underway. So I'll break this up into two parts, one for the youth player and one for the high school player, plus I'll add a few reflections from a coach's perspective.
For youth or club team members:
There really isn't a lot of time between your first practice and your first game. (As a long time youth coach I used to hate the way the schedule was formed. You're lucky to get any practices in before you put on the jersey for your first real game. Personally, I found it took a good six to eight practices to really be ready as a team, and this depended on how practice attendance went.)

The one thing I did notice as a coach was who worked out or did that little extra in the summer. It usually was pretty evident in the first few drills, and sometimes it was as easy as seeing the guy come through the rink door and onto the ice (it was that obvious). Hopefully you did do some training in the spring and summer months so that the coach will see that you're ready to play. (As a youth coach with two goaltenders I would usually let my goalies rotate between starting and finishing the game, but sometimes I would step in and make the decision for them. Typically I would want my stronger goaltender playing in the second half of the game, hoping the first could keep us close, while the second goalie would give us the chance to close out the win.)

So while most goaltenders at these levels aren't competing for time, I am sure many coaches out there have a sense of which goaltender they want to use in the clutch. Do you want to be that goaltender? If you are serious, many of the training ideas we have spoken about in the last few months could still be done throughout the season. It just takes a small amount of time and commitment to stay sharp. And the respect you get over the coming season just might boil down to some simple choices:  While maybe the other goalie is watching TV at his home, you could be improving your game on your own in an unstructured environment. The best players make themselves better in their free time. So keep working on the little things, like juggling or some of the hand quickness drills we previously discussed.  And won't your coach be happy with your level of commitment and your level of play come game time.
The high school goaltender faces a different kind of challenge:
While I know many will be competing with at least one other goaltender, some of you might be in a battle with numerous other goalies.

As a high school coach, I'm pretty sure every candidate can pretty much stop a puck.  So I look for two things that tend to separate the serious players from the pretenders.  Number one with me is work ethic in practices (because typically the one who works harder in practice usually works harder in the games).  Secondly comes a host of intangibles (what else can the goaltender do to help the team?)

Going further into those intangibles, I much prefer the aggressive goalie who likes to play the puck and make clearing passes, compared to the goaltender who sits in the protection of his or her net. Communication falls in this category, too.  So I like a goalie who directs traffic in front of the net, and one who talks with his or her defensemen?  Focus is also important, even when the puck is down the other end of the rink. (Yes, "little things" like these will impress a coaching staff.  And when it comes down to picking a starter, coaches like that guy to be a leader out on the ice.)

So while you may still have three months to prepare for your season, don't sit around waiting for good things to happen for you.  Keep working on your own in a creative setting.   You probably won't have much time to impress a coach in tryouts, so you have to take advantage of every opportunity. Be sharp when you show up for tryouts, especially as a goaltender.  Most coaches can't afford to wait for a goalie to play himself into shape, so you could win a job just by being ready at the first tryout.
Then, to end with a quick story, way back when I started coaching high school we were about four days into our tryouts when a sophomore goaltender came to me.  Mind you, we only had one day of tryouts left, when he asked, "Coach, what do I need to do to make the Varsity Team?" My immediate answer was, "You probably should have asked that back in March!" And, while my answer might have been a bit harsh, it did reflect the reality of high school hockey.  Still, there was a happy ending to that story.  That boy did end up being a varsity backup, while playing in most of our JV games.  At the end of the season I put together a program for him to do over the off season (with some of those drills being the same ones I've shown you). Wouldn't you know that same kid won the starting varsity job his junior and senior years, he led us to the state tournament both years, and had an absolutely phenomenal senior year in which he was a main part of our success. Amazing what a little work and focus on your own can do.
Keep working, and good luck,
Coach J.
Dustin Pedroia's Hand-eye Coordination
By Dennis Chighisola

By now, everyone knows that I'm into keeping an eye on other sports.  I'll dig into anything that will help me coach our game better.  At the same time, I'm a real baseball and football fan (in particular, a devout Red Sox and Patriots follower), and I usually get into the basketball playoffs if the local Celtics are involved.
So, this being a warm, lazy Saturday morning in August, I spent a little time reading on-line about my beloved Bosox before tackling a more serious todo list.
As you likely know, one article can lead to another, as did the write-up on the Sox' thrilling win last night eventually bring me to an MLB Pro Blog by Steve Hyder.
Now, I also love ESPN's Peter Gammons.  So, when I noticed Hyder's recent blog entry was about his interview with Gammons, I really got into it.  And I really got into the part where Gammons expressed his admiration for Red Sox second baseman, Dustin Pedroia.  As he said, "What makes Pedroia special is his hand-eye coordination.  As a boy, he played a lot of tennis and pingpong.  The other thing that sets him apart is his incredible will to win…"
Oops, back-up…  He played a lot of tennis and ping pong as a boy?  Hmmmmm…  That's something that deserves some discussion with my friends at CoachChic.com!
So, I hope you're thinking along with me on this one…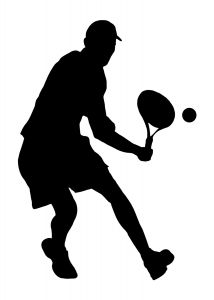 Pedroia has great quickness from side to side, and I'm thinking he really does react in the way a tennis player would.  You learn to be light on your feet in that sport, and you learn to be cat-like in pouncing towards any of four directions.  (I'm reminded of two hockey players I recommended tennis to a few years back.  One was a goalie and the other a forward, and they both lacked that lightness on their feet, or those cat-like reactions.  Both players — or their parents — seemed not to heed my advice, though.  And, since "what we refuse (ultimately) defines us," both boys are now out of the game.  Ya, I win some and I lose some.  Darn.)
As an aside here…  There's a difference between speed and quickness, you know.  I mean, speed usually refers to longer distances, while quickness has more to do with one's reactions.  So, while Pedroia doesn't possess very good speed on the base paths, I think he's extremely quick in small areas.  (Someday I'm going to get into the way I see speed and quickness in hockey.  But for now, I'll suggest that true success in our game has more to do with how well a player deals with short sprints and in-close battles.)
Pedroia also has what I call "hands".  Yup, he gobbles-up just about every ball he can reach.  Ping pong, huh?  That's what I'm guessing.  And, if you've ever seen a high level match in that sport, you know there's as much footwork and body control required as there is in tennis.
As yet another aside…  When I was an older teen, handball was at the height of its popularity (on the courts where squash is now played).  I played it often at the local YMCA.  The beauty of handball — and how I see it as being such a great skill enhancer, is that the ball can be hit with either hand.  Consequently, Todd Jacobson and I have our goalies play a lot of this against the boards at our weekly off-ice sessions.
Now, there's one thing Gammons didn't mention, probably because it has little to do with Pedroia's hand-eye coordination.  But, I'm guessing that the young second-sacker's throwing arm was being strengthened every time he took a swipe with either a racquet or a paddle.
Okay, I have to get on to a lot of other stuff now.  Still, I thought this insight into the little things that might go into an ultimate elite athlete was worth sharing with you (even if it is a warm, lazy Saturday morning in August —
!)
PS:  While I hope CoachChic.com will include every bit of hockey and athletic advice you'll ever need, I really do encourage you to pay attention to what athletes from other sports are doing (or have done).
Oh, if you want to catch Hyder's blog, it's at:
http://shyderblog.mlblogs.com/archives/2009/06/youve-gotta-love-gammons.html?obref=obnetwork
Inventing new drills being sort of a theme for this month, Todd Jacobson offers some truly great ideas here for things he's currently doing with our Team NEHI goaltenders.  And, while goaltending isn't really my area of expertise, refining movements surely is.  So, I'll be adding a few of my own thoughts below (in italics).  This is awesome stuff.

– Dennis Chighisola
Creative Training Ideas for Goalers!  Part 1
By Todd Jacobson
As a player I grew up in Coach Chic's camps in the early 1980's, and one of my favorite things about attending the old coach's programs was the creative and inexpensive yet very effective training aides he and his staff used.
Now, I know there are companies out there showing off some incredible training tools that can be great to use and very beneficial.  But I doubt many of us are able to shell out a few thousand dollars for something like an ice skating Hockey Treadmill.
My point is that there are so many ways to train effectively without spending money (or at least a lot of money). So below I am going to show you some off-ice exercises for goaltenders that are not only creative, but inexpensive or carry almost no cost at all.
Dennis' Note:  A number of years ago I looked into a computer driven device that was a very pricey version of what Todd almost simulates in his first drill.  That very expensive gadget consisted of a large board mounted on a wall, with computer generated lights flashing all over its surface.  An athlete (or anyone needing quicker reactions) taps each light as it appears, and ultimately he or she gets a read-out on his or her success.  Of course, besides the price of that (I think) very worthwhile gadget, there's the fact that it's hardly portable.  On the other hand, anyone who works with goalers could surely afford and tote around the following Todd Jacobson creation…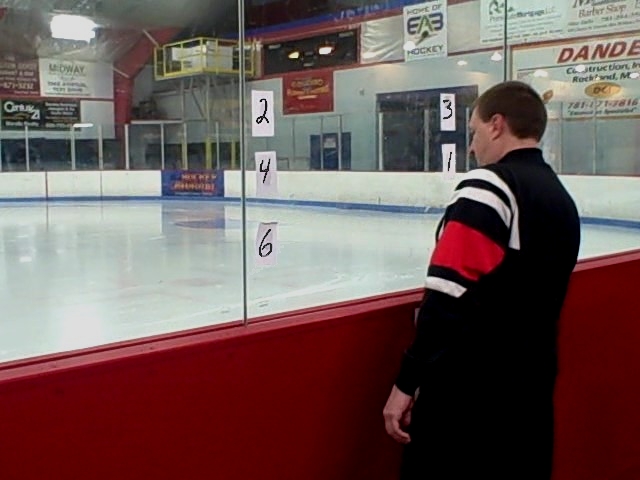 #1 – Quick Hands Drill Before practices we have our NEHI goaltenders do a drill that works on quick hands, and it also forces them to think. I take 6 index cards and (with a thick marker) write 6 numbers on them (fairly large in size).  On the back of each card I apply two-sided tape, which makes it easy for me to arrange them on the glass (3 on the left side and 3 on the right).  (The distance and number pattern can be changed very easily by moving the cards to different spots.) Then, I have the goaltender, standing in the middle, quickly hit each number in sequence using only the hand that is on the side of the glass with the corresponding number. These cards are simple to make, and the drilling helps enhance hand quickness and multi-tasking (the pattern and the hand movements)…
Loading...
Dennis' Note:  The great Soviet netminder, Tretiak, was known for performing some extremely challenging off-ice training routines, long before they became fashionable in North America.  Todd uses many of those exercises with our older goaltenders, but he has also developed some easier, lead-up drills to start the kids on their way to enhanced movements, coordination and reactions.  (As Todd implies, the drill described and shown below is just one of many our goalers do with tennis balls.)
#2 – Tennis Ball Movements At our first on-ice get together this summer I gave the goaltenders 3 tennis balls each. (Tennis balls aren't that costly.  But, if you need a lot of them, know that local tennis clubs usually discard balls after only a little use.) Now, in the following video you'll see one of my goalies doing a leg movement drill.  He's first stepping to one side while tossing a tennis ball at the glass.  He then catches the ball with the same hand he threw with. I'll have him do this consistently back and forth for about 20 to 30 seconds with reasonable rest provided between periods of work. (Our goalers learn to juggle tennis balls in the air as well, this to further help with their hand-eye coordination. Once the juggling skills get pretty good I add some movements, so that they have to juggle while squatting, balancing on one leg, etc.)…
Loading...
Yours in Hockey, Coach J.
Look for two more exercises to be unveiled soon by Todd as Part 2 in this series.
Good friend, Joe Coulter, just submitted an awesome article for the My Hockey Experiences section, and I believe goalies and even non-goalers alike are going to love it.  So, take a look when you get a chance — at "Goaltending — Canadian Style"!
Michael Mahony once again contributes some great insight, this time for goalers!

– Dennis Chighisola
Strength Training and Your Player
By Michael Mahony
I have been extremely active in bodybuilding and strength training for several years now. At the same time, my son has been climbing the ladder to higher and higher competition as an ice hockey goaltender.
His job on the ice is extremely demanding, both physically and mentally. So last season we asked his goalie coach what would make him an even better goaltender.  The answer wasn't what we expected.  "He needs to get a little bit older," the coach said.
I was not really content with the answer, so I delved deeper with the coach. I was finally able to get him to explain that for most kids, speed and quickness is an issue, but it resolves itself as they hit puberty and gain in strength. Gaining strength — that sounded right up my alley.
I sat my boy down and discussed his goals with him. Upon hearing everything he had to say, I asked him how he intended to get there. He commented that he'd like to join me in the gym. I was excited because a) I love lifting weights, and the thought of sharing that with my oldest son was amazing; and b) he was telling me that he wanted to get better on the ice, and was willing to work hard to do so.
The following morning we headed to the gym together (at 4am!).
I started him out on a basic strength training program popularized by Mark Rippetoe. I had my son doing squats, bench presses and overhead presses one day (workout A), and squats, bent over rows, and deadlifts on another day (workout B). We would work out three days a week, alternating every other day between workout A and workout B.
My son's capacity for how much he could lift on these exercises progressed quickly. It wasn't long before that 135 lb. boy was deadlifting 150 lbs with relative ease. However, his success was not only in the gym.
On the ice he became much stronger. The leg strength he developed from squats was translating into faster and stronger butterfly slides. He could push himself from one post to another in far less time while down on the ice. His focus increased tremendously (this being an offshoot of his having to focus intensely while training with weights). He became more disciplined at practice, learning that what you do in practice translates into game situations. And his stamina increased because the pain of pushing harder didn't bother him any longer.
Weight training really transformed my son as an athlete. And, summarizing the benefits he received:
Greater strength
More focus
Increased discipline
Increased pain threshold
So, if your child wants to improve at hockey (or any other sport), get him or her into the gym. The lessons learned there will translate into the sport they play. And they will become much better athletes as a result.
The "Mental" Side of Goaltending
By Todd Jacobson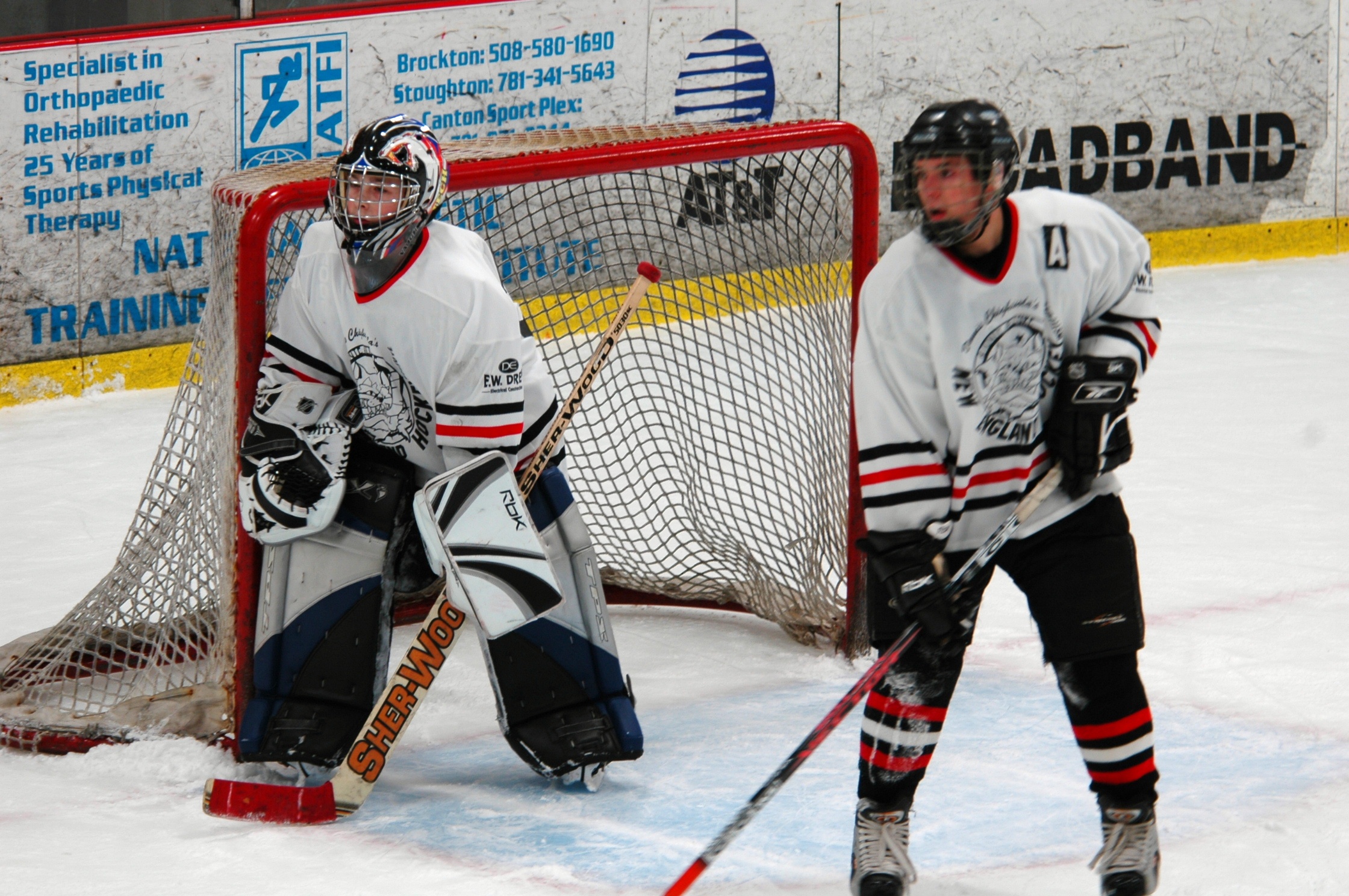 If you look up the meaning of the word "Mental" in the dictionary, you get a pretty clear cut answer: of or pertaining to the mind.  (When I typed "Hockey Mental Training" into a search engine, 14 million links were found.  Now, we all know that many of these links won't help us.  But it shows that this side of the game is becoming used more and more.)
This is certainly the case in the position of hockey goaltending.  Most times the goaltender is on an island of his/her own.  Whether before, during or after the games, he or she is left to train and work at a position unlike any other in hockey.
Over the last few years, hockey has become more and more about training outside of the 200 foot by 85 foot ice surface.  Of course, there's off-ice training, strength and weight training, agility training, plyometrics, and now — more and more so — mental training.  In fact, the mental side of their position has become a mainstay for goaltenders, all the way down to the youth levels.
Mental training is usually cost free (with time being the exception).  Oh, it can be boring, it can be unchallenging, it can be slow.  But in the end, it can pay (huge?) dividends.
As a goaltender, focus for long durations is necessary, while a skater has to only be mentally zoned in for 30 seconds to a minute before a break of about twice that long.  Yes, the goaltender must be focused for the entire game, with few mental breaks.
All that said, over the following paragraphs I will make some suggestions on how to become more "Mentally" dialed in to your position:
Proper Technique is something every goaltender wants to have.  And what better way to practice any part of your game than to imagine it being done perfectly?  So, try lying in bed at night for 10 minutes or so, and go over how to play a breakaway with every possible move a shooter could make.  And picture your reactions to counter each move, running it over and over again, like hitting the replay button on your VCR (sorry, I'm a little old fashion when it comes to technology).  Don't you think that after practicing in this way that you'd react in the same way during the live action?  You can bet on that.  And, is it possible you could you use this in a number of other scenarios that happen in a game?  Again, you bet.
Quickness is another part of the goaltenders game that everyone strives for.  And, while quickness is usually increased by physically practicing the movements at a high rate of speed, it can also be enhanced by mentally running through it — over and over again — in your mind. If you imagine quickness and practice quickness, you can only have better results when it comes time to dawn the pads on the ice.
Now, I could add just about any part of the goaltenders game and you should be able to imagine a hundred scenarios for each.
For another example, practice a simple stick save movement off the ice, and then take some time to visualize that same movement (over and over again). In your mind you see a perfect stick save, which is ultimately going to lead to a more fluid action when you later perform it on the ice.
Then, in the last article I suggested you think about the goaltender you might be competing against for a job, and consider what is he or she doing right now.  Are they mentally training as well as physically practicing?  Are they using all their time wisely to be better prepared for the season?  Either way, would you like to find out the hard way, come the beginning of the season, or do you want your coach to say, "Wow! There is someone who did some work in the off season!"
In ending, I'd like to share a quick story:
I'm quite familiar with a pair of high school goaltenders a year a part in their school.  I have coached them both in the past, and I know they will be battling each other for the starting job again this season at a local public high school.

When one was a freshman and the other a sophomore, the sophomore was clearly a better goaltender and won the starting job.  The freshman goaltender worked hard in the off season — doing camps, playing in leagues and doing the extra off ice training to get better, while the sophomore didn't.  So when the next high school season started — and while the junior still held onto the starting job, the sophomore was now very close on the heals of the older guy.

The same pattern continued in the next off-season.  And when the hockey season arrived, the job became a toss up.  Both goaltenders split time early in the season, and about halfway through, the coach made the decision to go with the younger goaltender for the important games and into the state tournament.

Having witnessed the work of these two goaltenders, it became very evident that the one who worked the hardest was the better goaltender in the end.  And this was recognized by the school's coaching staff.
Understand that hockey at the highest levels can be a cruel place, but a rewarding one as well.  So, do you want to look back someday and say, "I wish I had worked a little harder in the off season?"  Or, would you prefer to look back and say, "I'm glad I did all that work, because it did pay off in the long run!"
Give mental training a try.  Remember, it doesn't cost you a penny.  But, it can make your game that much more fulfilling come next fall.
Yours in Hockey, Coach J.
Off-season Off-ice Goalie Training Ideas
By Todd Jacobson

Last month we asked you to do some homework on what you think your biggest needs are as a goaltender, or what areas you want to see improvement in.
Below I have given some outlined ideas with some creative suggestions for training off the ice away from structured practices:
Hand Eye Coordination

M

aybe the biggest asset a goaltender can have, and one that can be worked on in the comfort of your own home. My first and most favorite way to brush up on this skill is

Juggling

whether it be starting out with one or two balls and just tossing them up and catching them, to the all-out 3 ball juggle, or the harder 3 ball juggle off the wall (some may remember seeing this in the movie "Miracle").  When talking about hand eye coordination it brings to mind the last few nights reading the online stories of the NHL playoffs and seeing the accompanying photos along with the stories. I was amazed at the clarity and focus of the goaltenders eyes constantly seeking and finding the puck amongst the traffic and in the middle of the constant chaos in front of the goal.

Proper Stance Technique

is another key area of the goaltenders game. If your stance is off, shooters at the higher levels will recognize it and take advantage. I would suggest finding a mirror — one where you can see yourself in your stance. This way you can make your own corrections. Are your knees bent and your rear end down? Are your gloves leveled with each other and out in front of the body? Are your legs in an inverted "V" with the top of the pads just slightly touching? Can you see the holes that the shooter sees? Is your chin up? Is your stick out slightly angled away from your body? I have always felt that if a goalie could see what the shooters see they would never give up any goals. Just practicing holding your stance in a mirror can do wonders for a goaltender. Try holding your stance in different positions in front of the mirror, seeing what the shooters see, and maybe appreciating what the shooters are looking for.

Movements

are the key to a goaltender playing for a long time. If the movements are smooth and quick, then you're likely to have a long career. Too many times I see goaltenders doing their best "Gumby" impression (for you older folks, you might remember the little green guy whose limbs moved crazily in all different directions as he moved). This could be another area to use with the mirrors. Simulate basic movements slowly and smoothly at first. Work on the following moves in both the right and left directions:  short shuffle, long shuffle, t-glides, half circle stick saves, half circle blocker saves, glove saves, butterfly, up's and down's. Do the movements look smooth, or is something missing?  Is their a piece of equipment not moving in sync? Are there large holes opening up during these movements? The more you can see yourself doing the smooth movements, the easier it is to see what those pesky shooters are seeing.

Quickness

is going to be the life saver for the goaltender down the road. As the goalie gets older the skaters get faster, the shots get harder, the passes swifter, the skill level and accuracy more honed.  And quickness is going to save you much of the time. Goaltenders at the higher levels have practiced so much of the basic stance and smooth fluid movements that these become second nature.  Quickness and athleticism then come into play. How quick can you recover after the first save? How quickly can you get from point A to point B, all the while being under control with smooth movements? Mirrors can again be used here, but the main thing is quickness. How fast can you get up from the butterfly? How quickly can you get from the top right of the crease to the left post and vice versa?

Athleticism

is now one of the number one factors in a goaltender's game. Way back, it was a position that was played by the kid who couldn't skate.  Not anymore. Goaltenders are usually the most athletic players on their teams nowadays.  They have to be. When I talk of athleticism I use Coach Chic's old message of "just go nuts". Try firing a ball off the wall from close range and see if you can get to it, try balancing on a two by four inch block of wood, try keeping your balance while moving all around on one leg.  It's now all about combining quickness with the agility and control.

Agility

kind of goes along with athleticism and quickness.  You don't necessarily need a fancy agility ladder.  How about some chalk squares on a driveway? Work on foot quickness — and again "go nuts".  Plenty of work on quick foot movements will help once you get back on the ice.

Angles

Sometimes just being in the right place can make a goaltender a lot of stops over a long career. Look at the likes of Patrick Roy or Martin Brodeur.  Neither one of them were ever a shown on a regular basis of highlight film saves, yet they made more saves and won more games than any other pair of NHL goaltenders. They were however always in the right spot. Mirrors for angles are good as well. It only takes a goaltender being off a few inches for a sniper to find the openings. Whenever practicing angles you would like to be able to draw an imaginary line from the center of the puck to the center bar of the net and have that line directly between your legs. Also coming out of the net eliminates the corners that the shooters so love to aim for.
So in the end, some of these practiced on your own — in a creative way, or in a challenging setting — can really give your game that added boost. When you get back on the ice your skills will be improved. I say for any player to be better they need to be creative and committed to becoming better. If you wait for only those on ice structured practices, someone will pass you by at some point. So get creative, get committed and think of the long haul. Also think of that goaltender who you might be competing for a job against.  Are they sitting around, or are they working on improving their game? Don't wait until it's too late to find out the answers.  Get out there and start fine tuning your game!
Yours in Hockey, Coach J.
Marking the Practice Ice
By Dennis Chighisola
My good friend Joe (known as "Coulter" here at CoachChic.com) mentioned something in a comment some time ago that I promised to eventually address.  So, here goes…
A lot of years ago, I wished I could make markings on the ice.  In my case, I wished I could define an area where a given drill would take place, or even trace a skating path for my guys to move through.
As luck would have it, I mentioned this to a local figure skating instructor, and she told me she and many others in her profession actually used large markers they bought at stationery stores.  I found some, just as she'd said, and they were huge MagicMarker types, with the applicator portion being at least an inch across.
Now, the thing that made these special markers usable on the ice was the fact that they were water-based (not your typical kind of marker).  And they worked awesomely!
If there was a problem, those kinds of markers were hard to find.  So, I frequently bought-out the store when I did locate some.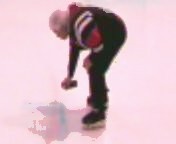 A few years down the road, I had difficulty finding any of those — anywhere.  By this time, Todd Jacobson (our NEHI goalie coach) and I had gotten hooked on using them.  So, in desperation, I started reasoning some things…  What made those markers work on ice was their being water-based.  I further reasoned that I might be able to find some water-based spray paints at the local hardware store.  And, sure enough, Todd and I have been using latex (or water-based) spray paints ever since!
Then, a few things you might want to know about their use…  I've tended to buy red or blue to show well on the ice, although just about any color — other than white — is going to work.  And, lest you think a rink's management will care about your spraying paint on their ice, it's really just superficial — and it usually gets picked-up on the Zamboni's first pass, or scratched-off by lots of skate traffic.  Oh, if there is a problem with this kind of paint, know that it's liable to freeze if left out in your vehicle in extra cold weather.
So, I'd add this to your little bag of coaching tools.  It really can come in handy.
Recognizing A Goalie's Needs
By Todd Jacobson
In some of my forthcoming articles I will go more into detail on what a goalie's focus should be at different stages of his or her off season.  Right now I want to talk about the different roles in goaltending — as either a coach, a player or a parent.  Your season is winding down, and most youth hockey or club programs are starting their tryout sessions in a week or so, which signals the end of your 2008-09 season. Whether you are a college starting goaltender or a first year squirt looking to improve your game, everyone has some part of their game that needs work. Some areas are stronger than others, and typically the focus is different depending on age and skill level.  As for those different roles:
As A Coach…
You have to look at many different players and evaluate what will help them in their off season.
Different players need different help.  (As for my high school players, they need to start focusing on the Monday after Thanksgiving right now.)
I would say this to the Older Goaltender…
Look back at your season (don't wait too long because you might forget).
What were the areas of your game you felt could use work?
Where did you get beat most often?  Was it a lack of quickness in the recovery after a first save? The five hole? Low blocker side? Top shelf? Skating? Handling the puck? There are numerous areas of an experienced goaltenders game that could probably use a little tweaking.
Possibly, if you play at a higher level, there are some videos of your games, and it maybe not a bad idea to get your hands on them. Be honest with yourself (like you are a coach and looking at another goaltender).
List the areas of work and rank them from most needed to least.
If you are The Parent of a Younger Goaltender…
List the things you would like to see the most improvement in.
I always start with the younger guys on stance, then steady upper body and glove position.
I move next into smooth, properly executed movements.
And then I ultimately like doing all those things with some speed and athleticism.
So your only assignment for this session is to put together a list of areas that you feel need the most improvement. The next article we will focus on the beginning of your "off season" training.
Yours in Hockey, Coach J
It's with great excitement that I welcome Todd Jacobson as a guest writer to CoachChic.com.  You might find it interesting that Todd's dad, Dave Jacobson, was a long-time goaltending coach in my New England Hockey Institute hockey schools, and later my goalie coach at Stonehill College.  Todd attended those camps beginning back in his early elementary school years, and he's been our NEHI goaler coach for the past decade, as well as the Notre Dame Academy Head Ice Hockey Coach.  Enough from me though, because Todd does a great job of introducing himself.  Welcome aboard, buddy!

– Dennis Chighisola
An Introduction
by Todd Jacobson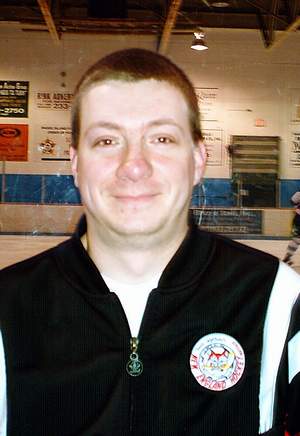 I thought I'd begin by giving you a brief background and some of my credentials so that you can better understand the guy behind the keyboard.
I have 18 seasons of coaching behind me, and I have coached just about every age level from learn to skate all the way through adult programs. I have 10 years of high school coaching, both as an assistant and as a head coach of both boys and girls programs. I also have coached every level from "C" through "AAA" and from JV to Varsity.  And I've coached every individual position from Forwards to Defense to Goaltenders in various age and skill level camps.
So, you are probably thinking that this guy is middle aged and is probably stuck in a 70's way of thinking and coaching. Not so! I am about to turn 37 years old and I have been coaching since I was 18.
When I got out of high school — and not looking to go to college right away — I jumped right into the work force.  The itch to be involved in competitive ice hockey was made stronger by playing in poorly organized men's leagues that just didn't do it for me. I needed those competitive edges, that drive for the highs of success and the willingness to work harder after disappointment. I got lucky when an old coach of mine was looking for help working with goaltenders in his camps, and I also had an older friend of mine who was coaching a Pee Wee "B" team who was looking for someone to work with his struggling goaltender.  So I jumped at the chance to get involved.
While I hadn't played the goaltending position all that much, I knew that this was my chance to get my foot in the door in one of the hottest hockey hotbeds in the USA (Massachusetts). I went to the library and took out books (remember in 1991 there wasn't much help via the Internet).  I taped games on my VCR and I studied Ed Belfour and his little known backup (some guy named Dominic Hasek). I was amazed at the difference in styles yet the same outcomes. They both could stop the puck — Ed Belfour in his standup style with a hint of an early butterfly style creeping into his game, Dominic Hasek a goaltender built like the old cartoon character "Gumby", with moves and quickness to match.
I knew I had found my niche in the goaltenders game, a position in hockey different from all others, a position that really could ultimately win you or lose you a championship. The Goaltender was a position in which coaches' jobs were won and lost, and in the end they were either the hero or the goat, depending on the outcome of one or two plays.
I returned to school a few years later and received a degree in business, I am married and have twin daughters who are 8 years old, and all three of the ladies in our house are hockey players. I work in management for one of the largest aftermarket auto parts distributors in the country.
So as we move forward, I thought it would be helpful if you had a better understanding of who I am and where I have been.
Without further ado then, let's start to build this Goaltending section like I teach all my teams, methodically and with a lot of passion and tact.  I have always had an open mind and a willingness to look at the changes in the positions and the game over time, and I constantly adjust to using the newest training ideas.
One final note…  What members will soon come to notice and appreciate about Todd Jacobson is his sincerity.  (I also find it interesting that all our goalies love him — beginners to the oldest, elite guys.)  Actually, it's a prerequisite that you really care if you're going to work with NEHI players, and Todd cares — a lot!

– Dennis Chighisola

(Look for Todd's first bit of advice tomorrow, 4/2/09)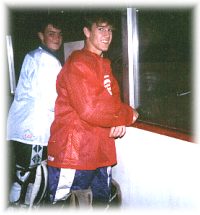 Evidently help for goaltenders is lacking out there, because The Old Coach has been inundated with requests for a special section dealing with that unique position.  So, because the aim here at CoachChic.com is to provide exactly what YOU want, a netminder's category is in the works — right here and right now!
As of now, our New England Hockey Institute goaler coach, Todd Jacobson, is readying material to help interested parents, coaches and players wind-down from the current winter season and gear-up for an outstanding next season (please see "A Year-round Hockey Training Plan" for more information on this approach to training; it's in the Timely Advice area).
Coach Todd will be the guiding force behind the new goalie section, but he'll also be joined by other popular instructors.
Yours truly (good old Coach Chic) will also contribute some advice here…  Mainly I deal with goaltenders within a team structure, so I'll offer some tips in that area, as well as provide some ideas on how I think goalers should be handled in game and practice settings.  Further, since my specialty is motor learning, I'll have plenty of suggestions when it comes to quickening or strengthening a give movement.
So, if things go according to plan, look for this section to kick-off in April, 2009!
Now, to make things even better, you ought to send your questions in to Ask the Coach as soon as possible and I'll steer it to the right specialist.  Again, much of what we hope to offer is help where you really need and want it!