For some players the countdown has already begun.  They know the rough dates of their advanced level tryout camp, and they also know the clock is ticking, probably with little time to spare.
My take on older players is that their individual skills are close to where they'll always be.  In other words, they are what they are when it comes to skating style and speed, puckhandling ability, passing hands, shooting ability, etc.  Their size, within reason, is what it is, or it probably isn't going to change a lot over the next few months.
With that, I think there's one area of training camp preparation that can spell the difference between a player making the cut or not.
– Dennis Chighisola
Readying for an Advanced Hockey Training Camp
Two advanced level skaters come to mind as I write this entry…
One is a graduating Junior player who is hoping to impress the coaches of a major college hockey program, hoping to show them that he is worthy of being kept around for a longer look-see, and to perhaps someday win a regular roster spot and maybe a scholarship from his current "walk-on" status.
That's right, he's a non-scholarship athlete heading to a level where the scholarship players get treated pretty well, and the non-scholarship guys are often asked to act as pylons for thfe chosen ones.  Not an admirable position for most guys, although a walk-on or two does occasionally pull of what this young guy is aiming to do.
I think the best way to describe this 20-year old is to say that he's pretty dawgone good in most skill areas.  If there's something wrong with that, most of the elite level players he'll compete against possess near world class status in one or more of their skills.  So, while I hasten to say that this young forward is average, his skills — as they'll be compared to other guys in that tryout camp — make him just about that.
What he has going for him is that he's a working fool, and he's a coach's player.  And, by the latter, I mean that his past coaches will tell you that he'll do absolutely anything he's asked.
Asked by his current Junior coach for advice on prepping him for those tryouts, I suggested he'd have to enter like the Energizer Bunny, and he'll have to still be doing that bunny thing at the end of each session.
Here's something to consider for this guy's sake…  All things being equal, he loses to the slightly better skaters, puckhandlers and shooters.  And he also loses to those who are bigger and stronger — again, with all things equal.  On the other hand, conditioning can be the great equalizer.  I mean, elite level skills can tend to diminish as a player tires, and that player can eventually look average in comparison to someone who is in far better shape.  Thus my idea about the Energizer Bunny approach.
The second player is another forward, but this guy is graduating from a small college hockey program and he's about to take a shot at minor pro hockey.  Maybe the opposite of the other guy, he's highly skilled and a pretty dangerous scoring threat.
Much like the other guy, in his early 20′s, his skills are what they are.  Trying to emphasize that point again, I'm just saying that his skills aren't going to change much over the next few months, no matter how much he works on them.  So, what I'd like to see him be able to do is put his already great skills to work — harder and faster and longer.  Ya, the Energizer Bunny idea would work for him, too.
Now, this site is loaded with great training ideas, and I'm going to especially direct members' attention to the two categories titled "From The MOTION Lab" and "Conditioning for Hockey".  Within those two areas can be found all sorts of ideas — many in video or picture form.
If you'll notice, I've also added a video down below.  A Russian friend posted it in a hockey forum earlier today, and I wanted to share it with you.  Have a look, and then I'll make a few suggestions…
Maybe all of those exercises can't be used for conditioning, but most surely can.  And, while those clips show the exercises being done on the ice, I'll tell you that I've adapted most of them so that my players could do close to the same things in The MOTION Lab or in a gym.
Then, I think everyone does those kinds of drills in different ways.  I generally use my own simple format that I think has both science and common sense on its side…
- I design a conditioning routine to simulate the typical work:rest ratio a player will skate during a game.  No matter how long the work period might be, a player gets to rest for twice as long before going on to the next bout of work.  (In other words, on a team with three lines, a forward would be out on his shift for x-amount of time, and then he'd come off and get to rest for roughly twice as long while the other two lines skate their shifts.
- I might put out around five training aids — or have five stations, so that there's some variety for the players, although I'll likely have them perform each exercise for two simulated shifts before moving on to a different exercise.
- I've done this form of conditioning with an entire team, with a small group of players, and with individuals.  The main thing was to keep the players on the right work:rest ratio.  So, it was necessary for me to have five training aids ready as each five man unit moved through in their simulated shift.
- I would vary the length of work segments from night to night — sometimes at 15-seconds, a little more often at 20-seconds, and even more often at 30-seconds.
- I would also have the players vary the tempo.  For example, on nights when the shifts were shorter, I might have them go all-out — I mean REALLY all-out.  Then, on the nights when the players would work a little longer, I'd ask them to constantly change the tempo during a shift — as if they were coasting or cruising around for a few seconds, then like they were sprinting, back to coasting, etc.
- I always knew our target date.  And, with that, I was able to ease my guys into that program at first — maybe with shorter shifts, shorter simulated games, and perhaps with just one session like that per week.  Over time, I'd lengthen things, and I'd also move from the single game to two per week to three per week.
- Despite the way that last paragraph sounds, I would change the routine about a week prior to the players going off to training camp or tryouts.  That's not the time for them to feel beat up or dinged, and I didn't want my guys heading into an important few days being drained.  Rather, I wanted them to be hungry and to feel loaded for bear.  Oh, they'd sweat plenty during that last week with me, and I'd also find ways to keep them laughing.
Of course, going about a tryout camp is a totally different thing, and there's some science to know if one is to stay fairly fresh during a given workout, and there is plenty to know in order to rebound quickly after a draining workout.  So, I've always advised my guys well when it came to that.
I know some members might not totally believe their favorite old hockey coach has often been waaaay ahead of the proverbial curve. With that, though…

– Dennis Chighisola
New Workout Apps For Hockey
If you don't know, I spent a number of (miserable) years working as a civil engineer.  As I used to describe it, "There's no ingenuity in engineering." 
  Ya, I guess I felt stifled in a field where most things were done using formulas, and where there was little opportunity to be creative.
Anyway, I ultimately was granted the chance to switch to coaching hockey full-time, and you'd better believe I jumped at it.  In fact, I cashed in all my engineering school credits, started working on my Physical Education & Coaching Degree, and the rest is kinda history.  Except…
Ya, except that even my time back in college had plenty of exciting moments.  I had already been coaching hockey for better than a decade, I was already a high school head coach, and I was also already pretty well known as a hockey skills instructor.  So don't you know that I presented a challenge for some of my professors, our philosophical discussions (or arguments) were often spirited, and some of the projects I turned in shocked a number of them.
Such was the case when my Physiology of Exercise prof asked our class to design a new drill having to do with conditioning.  Hmmmmmm…  I'm sure the guy was interested in something more of the aerobic variety, but I was thinking hockey all the time, and I was heading towards something far more interesting.  Mind you, this was in the early 1980′s…
I'd not long before that class bought a portable VHS video recorder that showed a stopwatch down in a lower corner of the screen.  And I'd already begun using that feature to measure stride rate and stride length as my hockey school kids sprinted between a rink's two blue lines.  (If you didn't know, those are the two components of speed, be it running or skating.)
Away from the ice — and in an era long before anyone was wearing fancy watches to help with this, I'd started thinking that athletes really didn't know how fast they were training.  Oh, they might think they were busting it on a given day, but were they really?  After all, the results of their run (or whatever) wouldn't be known until the finish line.
That in mind, I next turned to the idea that there had to be a way to dictate "pacing".  And the closest I could envision this was to have some sort of sound govern each step (as in running).  In other words, the athlete's stride rate could be controlled by his or her need to match some pre-recorded sounds.
So, that's basically what I arrived at for my new drill idea…  (Chuckling to myself as I think about the old, heavy Walkman type players of the 80′s…)  What I proposed was that an athlete would wear a headset that played a cassette tape (LOL) containing pre-recored beats.  We used a metronome to time various things in the Phys Ed lab back then, so I thought to use the recorded sounds from such a device to get the exact right beats — as in beats per minute.
I further envisioned that a coach would have to know a lot about an athlete's capabilities as he or she built the audio programs.  For, in my way of seeing things, a coach has to know where the athlete is as a program starts, as well as where the athlete is capable of being in x-amount of time.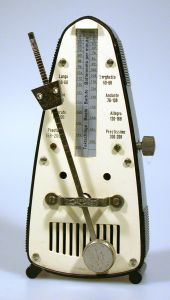 Of course, the designer of such a program would also have to understand the pace required to achieve a certain high level, and that would require knowing how many of the athlete's stride lengths would be needed to cover a certain distance.  I mean, it should be possible to say that a given athlete who travels so far with each stride needs to move at a specific rate in order to cover a distance in a desired time.
My guess is that an athlete would have to be brought slowly through a program like that.  In other words, he or she would likely need some time to get used to matching his or her strides with the audio beats.  And, even back then, I was thinking in terms of periodization, or alternating different paces over the course of a week or month or whatever.
Fast forward to the late 1990′s and into the turn of the century, and I put that line of thinking to different use…
You may have guessed already that I absolutely hate boring or repetitive stuff.  And that even goes for some of the great hockey drills that really need to be done, whether they excite me or not.
That was the case with an awesome warm-up routine that I'd designed to start all my High School Prep team's off-ice training sessions.  Again, it included great stuff for my guys — and it was developed from some of what I'd learned in my Soviet studies, as well as some of what I knew about sprint training.  My frustration was that it was exactly the same for every off-ice session.
It was also a pain in the butt to administer.  I mean, the exercises had to be changed frequently, which meant I had to constantly look down at notes.
My answer to that was to place a boombox off to the side of the gym, on which CDs containing instructions for our routine could be played.  I rotated 3 different CDs, each with the same timed directions, but with different music playing in the background.  Each CD would take care of the sequencing or pacing of drills, with my recorded voice calling out something like, "Duck walks!" at the exact right time.
The real beauty of this arrangement, at least for me, was that I could be free to move through the work area, and I could continuously provide feedback to my kids.  I could clap my hands to the beat of the music — as the old USSR coaches would, and I could keep my attentions focused on the players, without the need to carry notes.
Okay, so about those cell phone apps (and other related things)…
During the years when I ran The Motion Lab adjacent to my downtown office, I'd often put my high school players through some pretty intense off-ice workouts.  One great segment (described elsewhere on this site) was aimed at conditioning my guys by simulating the various intensities of a typical on-ice hockey shift.
What I did was to divide my players into three groups and — like in a game, have two groups resting as the other players worked their buns off.  The work:rest ration had to be timed, too, maybe with each group working for 30-seconds and resting for a minute.
Perhaps you see it coming, in that paying attention to the large clock on the wall wasn't exactly what I wanted to do.  As with my team's off-ice warm-ups, I wanted to get involved — to actually push and prod and provide plenty of feedback.
No, I never did make a CD for that purpose, although I probably should have.  However, that story does brings me to the real topic at hand, or those workout applications.
You see, I've been hearing a lot lately about a form of drilling that is all about intense work, adequate rest, and especialy timing.  I'm really liking the concept, especially based on the research I've read so far.  (I plan on testing this with some hockey applications sometime down the road, and I also hope to write a little more about that form of training here.  In the meantime, here's a great explanation:  What is Tabata Training?
What I also found interesting — if not comical — is that others have come around to developing timers similar to those I've described above.  One such timer is designed specifically for a Tabata routine, signaling when an athlete should begin working, shift to resting, and then begin working again.
The Internet being such a wonderful place, a quick Google search brought me to a site hosting a free timer.  Here it is:   a free on-line Tabata Timer.  Just so you know (if you haven't already scanned the above article), Tabata is based on a 4-minute program done 4-times per week, with each program divided into 20-second work segments and 10-seconds of rest in between.
As I was putting the final touches on this story, I was thinking that some readers might even create their own timers — such a device can be a huge help in the training process.  I was also thinking that it might help for those who are engaging in Jeremy Weiss' S-3 Formula.
PS:  If you do an Internet search, you can find numerous timer tools for what is normally called interval work (or the alternating of work and rest).
Awesome help for your
hockey off-season training!

I sometimes joke that Jeremy Weiss reminds me of a younger Coach Chic — okay, a VERY much younger me. 
  We both have the same passion for studying the game, although I sense that we oftentimes get into different areas.
That's my reason for calling on Jeremy to tell you about a subject I'm not really well versed in:   nutrition.  He's done his homework in this department, so we're together sharing a video that should not only help hockey players, but also the grownups who'll view it.
I've thought for awhile about whether to hide this for members only.  However, considering myself that I might like to share it with some players I know, I decided to leave it freely accessible so that other coaches might send it to their teams, too.
– Dennis Chighisola          
Special Help For Your Hockey Off-season
Loading...
Noticing Jeremy mentioned there are free calorie counters available on-line, I thought I'd chase a couple of them down for you.  I haven't tried either yet, so you might look further into these, or do your own search:
Free Android Calorie Counter            Free Ipad Calorie Counter
At the end of the video, you'll notice Jeremy adds a plug about his S3 Formula program.  You can look more into that by clicking on the following link.  If you get it, I guarantee a player, coach or parent won't need to wonder what exercises or what else should be done this off-season.  And, if a player dedicates himself or herself to a program like this, he or she is going to be off to the best season ever come next fall…
Click here for more on the S3 Formula program
*
*
*
Sorry, the recent (Black Weekend) deal is over,
but please check back for new ones!
The owner(s) of this web site receive compensation when products and services featured herein are purchased.
Most members know this is the time of year when I'm rummaging virtually everywhere for new hockey training and playing ideas.  And, while I've been known to dig through plenty of on-line and off-line manuals, as well as scientific research papers, a site like YouTube.com can prove an equally valuable resource.
In all honesty, I don't like following what other hockey coaches are doing, mainly because most of them still do stuff straight from the '70′s or '80′s.  Still, I will check on them, and maybe borrow something that I can adapt to modern day needs.
Where I get the most inspiration is from checking on what folks in other sports are doing.  Perhaps because of their work environment — amid scientists, the likes of college track, tennis and football coaches are usually on the cutting edge.  But so are many independent martial arts instructors, strength coaches and boxing trainers.
That said, I've several times found the videos offered by Coach Miletto to be of special interest.  Take a look at the one below to see what I mean.
– Dennis Chighisola
Modern Hockey's Frantic Pace
Now, as I've watched the recent Stanley Cup playoffs, I've come to the realization that older generations of players just couldn't have ever kept up the frantic pace played today.  Oh, I believe the greats of the past would still be great today.  But then, they'd have different role models before them and around them, and they'd also have science on their side when it comes to training.
And it's that science I'm really thinking about…  I mean, the National Hockey League guys are unbelievably strong, they are fast, and they're in remarkable shape.  A lot like the Energizer Bunny, they just keep going and going and going.  And, although many within youth hockey aren't yet aware of it, most of these traits are owed to some really, really intense off-season off-ice workouts.
With that, I'd like you to take a look at the following video before I make any further comments…
"Suspension training" — as demonstrated in that video — is something relatively new (at least I've only seen it taken to this level over the past few years).  And, if I'm correct on this, it's sudden rise in popularity probably coincides with our want to enhance our athletes' core strength.  Ya, for sure, anything done hanging from ropes is going to REALLY tax the core muscles.
I might also mention that an athlete's arms and shoulders and back — and even his or her lower body — can be further isolated when hung in this manner.
Okay, now my personal tips, as I consider adding this type of training to The MOTION Lab…
I'd have to study this form of training for quite awhile to decide on how close the above demonstrated routine would help my hockey players.  I'm pretty certain I WOULD make lots of adjustments — in the exercises I select, their duration, intensity, and so forth.  Remember:  we're readying our players for hockey.
For God's sake, be careful when overseeing a program like this.
I'm sure you can search the web to find some fairly expensive suspension devices.  I doubt I'll do that, though.  Naw, I'm more likely to make my own, just as I have numerous other Lab gadgets.  In most instances, I need to make each new contraption fit with the limitations of the Lab, or with a unique way I want to use it.
As I joke often, "New England Hockey (or CoachChic.com) recycles!" 
  In the case of building my own suspension devices, I know I can combine some strong rope and used bicycle inner tubes to get the desired training effects.  Trust me, that the owner of a bicycle shop near you is going to be thrilled that you'll take a box full of old tubes off his hands.
You may not have thought of this before (because I initially hadn't), but tires and tubes come in all sizes and shapes.  So, it's likely you'll have access to long, thin ones, short and fat ones, and several types in between.  It might not be a bad idea to grab a number of each, since you'll want to test them later to match their elasticity with the strength of a given player or group of players.
As you sort through a batch of used tubes, inspect each one carefully for cuts and holes.  (Hey, there was a reason they were discarded.)  I continue to inspect these prior to each use, because there's always the possibility one will start to tear as it's subjected to lots of stress.
When cutting each tube, I usually begin by snipping a few inches to each side of the valve stem.  With that piece gone, what usually remains is a pretty long stretch of rubber.
In closing, one reason I like new gadgets is because of my concerns with the balance between repetition and boredom.  Oh, I love to challenging my older players, and helping them gain the same frantic capabilities their older counterparts now achieve.  And, it's likely I could get this done with a limited amount of gear.  Still, players like change, and they especially like to fight against some new tool they haven't seen much before.  So, while science might suggest that one gadget or another can do the job, we coaches have to remember that it's our artful approach to training that often spells the difference.
*
As always, I'd love to hear your feedback on this subject!
At the end of the last post in this section — in Part 4, I mentioned that I was thinking about giving my guys a little break from a routine that they've been doing for quite awhile.  Oh, I've made plenty of subtle changes as we've gone along, just to help avoid boredom, and to cover all the bases when it comes to hockey conditioning.  However, what I really planned to do very soon was something kind of off the wall, or something that represented a MAJOR difference in what we'd been doing.
I also said previously that I'd likely pull something out of my hat when it was needed, this a reference to how I can get pretty creative when I need to.
Well, I decided to make those changes sooner than later, and last night ended-up being the night!
– Dennis Chighisola

Great Hockey Conditioning Ideas – Part 5
Now, what I'd really like my hockey friends to know is that I had two major aims as I headed into last night's training session in The MOTION Lab…
First, there was that mental break I intimated above.  I mean, it was time that my guys came to the Lab to do something totally different, or something a lot different from what they expected.
Secondly, I wanted to shock my players' systems more than a little.  You see, one's body tends to get used to a certain kind of training over time.  And, while that's good — as in the body adapting to get stronger, more efficient, whatever, the body also adapts such that the same-old, same-old kind of training has less and less effect.  So again, my second aim was to give my guys the kind of physical workout that was really a lot different than they'd been doing for quite some time.
A major difference in last night's (off the wall?) training was going to be the pace.  In other words, rather than doing very intense "simulated shift training" — for 20- or 30- or 60-seconds, I thought I'd have my players go at a rather moderate pace for a very long stretch — as in about 40-minutes.
If there was any consistency to what we'd do, it would be to keep focusing on the legs and core muscles.
So, with all that said, take a look at some video I shot last night, and then I'll mention a few more things right after…
Loading...
Well, what do you think?  Is that routine quite different from the ones I've been showing you for the past few months?  And, do you think — going nearly non-stop for 40-ish minutes — really DID tax the guys' legs and midsection?  Ha!
A funny thing, though…  One of the dads who watched a session last night commented that, "You're going kind of easy on them, aren't you?"  Oh, man, I'm guessing those kids were pretty sore puppies this morning as they attempted to climb out of bed! 
Just as a recap…
The first drill you saw showed the guys skipping with a fairly heavy weighted jump rope.  That was near the end of our warm-ups, which included skipping a light rope, and doing some exercises that simulated the skating movement.
Next, you saw them doing a REALLY tough core exercise I call "Stepping Stones", whereby each player balances on two objects (bricks in this case), and they move forward by balancing on one "stone" while bending and placing the other one slightly ahead.  The boys did this exercise for about 20-minutes straight (think about that).  However, I kept variety in there — and added some new challenges — by having them carry a stick or a weight, and sometimes exchange the variously sized weights as they moved.  And, as I always do when the kids question my next directive, I just advised them to, "Deal with it!"  Ya, a lot of what my kids do involves solving problems.
More balance and midsection work was the aim of that stickhandling drill atop the two crossed sticks (or described in another video as part of my "Chopped Stix").
The remainder of our Lab time had the players rotating through stations that included those (for a lack of better name) "air pillows" and the mini-trampoline.  Here, too, the challenge was changed from time to time — over 15-minutes time, with several variations shown in the video.
Then, of course, we did a little cooldown followed by some static stretching.
Again, if you take another look at that video, you'll see the kids' legs and torso really being worked.  At the same time, I didn't allow an exceptional amount of stress.  In other words, I didn't have them jumping and pounding (except on the very forgiving mini-tramp), but instead I had them do tons of balancing — and really wrestling — over one leg at a time.
You should know that I constantly looked for ways to break the monotony of a given drill.  For example, while I knew we would be going for a very long time on those Stepping Stones, I kept distracting the guys by adding some weird new challenge.  And, while the focus of the last few drills was to have my players balance on the air pillows and hop on the mini-tramp, I kept their mind partly off the pain they must have been feeling at the time by having them dribble a ball.
Now, as for the future…  Two nights after the above described workout, we will go to our usual Thursday night in-line training session.  As you saw in a previous video, we've usually done some sprint and agility work there, plus a shorter but usually more intense version of what we did in The MOTION Lab.  However, I can tell you right now that I'm going to change things quite a bit for tomorrow night.  Oh, I'm not sure what we'll do just yet, but something off the wall is sure to come to me… 
As promised, I'm going to show you more in this area of off-ice conditioning.  And I especially want to show how so many of the earliest exercises can be adapted to suit numerous and varied situations.  So, here goes…
– Dennis Chighisola

Great Hockey Conditioning Ideas – Part 4
If I haven't mentioned this previously, my High School Prep guys are now doing off-ice conditioning twice per week — or ever since we switched from our summer schedule to our fall one (right after the American Labor Day).  In my mind the spring and summer is about slowly improving skills and slowly rounding into shape, while the fall is a time for really gearing-up.
For sure, I've wanted to keep some consistency from session to session.  At the same time, boredom is always a huge danger if we keep doing the same-old, same-old stuff.
You've previously seen a video ("A Great Hockey Conditioning Routine") showing a basic idea of how we undertake shift simulations in The MOTION Lab.  Oh, I change that routine a little every week or so — rotating different exercises in and out, as well as altering the length of time my guys do each one.  Still, there is some consistency there.
With that, I arranged our weekly schedule so that my players had a night off before I brought them to our local roller hockey rink.  (In effect, they had close to 48-hours of rest time before having to go hard again.)
Now, as I said above, there had to be some consistency from one off-ice training session to the other.  So, I've constantly used a handful of the same Lab exercises — or a slight variation — 2-nights later at the roller rink.  Still, I also said I wanted to avoid boredom, and this prompted me to add new wrinkles to the in-line floor routine.
More recently, what I've done is have the players go for a longer time and through a string of exercises — one right after the other, to come even closer to the challenges of a typical on-ice shift.  Like in The MOTION Lab, we've gone for 20- or 30-seconds most nights.  However, more recently I've extended that time to a number of 1-minute simulated shifts.
The following video shows a group of 4-players rotating through four different stations.  So, what you'll see is a player repeatedly tumbling so many times, another doing straddle hops up onto a low bench, another doing a variation of Turkish up-downs, and another player hopping laterally over a high bench. And as you'll see, the guys rotate to the next station after completing the prescribed reps at one.  I've then added more stress to this circuit, telling my guys that they have to sprint to the rink's near blue line when they've completed all four stations.  In other words, the winner was the one who crossed that line first.
Okay, I'd like you to see that video so that I might add some other comments right after…
Loading...
First, I think you have to love those players for the way they're pushing themselves.  I mean that; they are really pushing themselves, and I've had to say little to motivate them.
As always, I wanted to stay with the one:two work:rest ratio.  So, I had an assistant coach (shown in the video as a red blur by the net) timing the each simulated shift.  And, once he knew how long the kids had worked, he gave them twice that time to rest.
You ought to know that I was guessing a bit when I set the number of repetitions per exercise, hoping that the completion of all four stations — plus the sprint for the blue line — would come fairly close to 1-minute.  And, as luck would have it, we were right around that each time the kids performed their routine.
In fact, while each shift fluctuated within a few seconds of a minute, my players actually cut their time by a little on the very last shift.  And that is telling me that they are rounding into unbelievable shape.
As sort of a PS here…  I am thinking that my guys are about ready for a little break in all this, just to further short-circuit any chances of boredom.  I'm not exactly sure what I'll pull out of my hat yet.  But, I'll be sure to let you know as soon as I arrive at something. 
– Dennis Chighisola

Great Hockey Conditioning Ideas – Part 3
By Dennis Chighisola
This is really just going to be a short post for a couple of reasons.
First, I've already shown you the basic exercises we're using to get my high school guys ready for their coming team tryouts.
Secondly, I've also shown you how it all works — like stringing the exercises together and pacing them to simulate on-ice shifts.
That said, I highly recommend you quickly review the short video I prepared for Great Hockey Conditioning Ideas – Part 2, just so we'll be on the same page as I introduce a couple of upgrades or recent adjustments I've made to that routine.
1)  One thing you ought to know is that it's important to spread certain kinds of training over the course of  a week.  For example, I help these high schoolers with their skills and situational stuff on Monday nights — and I go easily on conditioning, just because I know my boys are going to get a real whipping the next night.  Then, after that Tuesday night whipping in The Motion Lab, they get a night off to rest before we go fairly hard on the roller floor in Lakeville, MA.  (That session at the roller rink actually includes some sprint training and part of the conditioning routine we do in the Lab, these done before we put on the in-lines.)  We've had some weekend ice over the early fall, which has allowed us to do things similarly to Monday nights.  However, during some future weeks — when we won't skate on either Saturday or Sunday, I'll make some adjustments to what we do on Monday, Tuesday and Thursday.
2)  By the way…  Some consistency is good, while change is also good.  What I'm getting at is that one's body starts to adapt to a certain training routine, and actually gets accustomed to it.  (That's the idea of working hard and forcing the body to adapt to the new challenges.)  The problem arises when getting used to an exercise makes that exercise easy to perform.  So, an occasional change in the way practices are spread over time and paced can provide a new and even greater challenge.  Remember:  the main thing is to force the body to constantly adapt and grow — in skills, speed, strength, conditioning, and more…
3)  Building on what we've been doing all along, I substituted sandbags last night (in place of their hockey sticks) as my guys did the various kinds of jumps (shown in the video) — onto and over a lower box than we'd previously used with a lighter load.  Both the change in load and the change in height will provide my guys new challenges.
4)  I've recently adapted a kettlebell type of exercise and placed it near the end of the guys' Lab routine.  And, I can tell that this is a real killer for them, especially in their legs.  I tend to call this kind of exercise a "finisher".  In other words, once they've done that, there isn't much more they can give.
5) Last night, for the first time this training season, we went to 20-second shifts.  (Most previous routines had the kids working for 10- or 15-seconds, with twice as long to rest.)  And, despite the fact that my players were definitely cooked by the end of about 40-minutes, I can tell they are in unbelievable shape.  In fact, I complimented each group last night, suggesting that they'd probably just worked the equivalent of two periods at a pace that is far beyond what most guys would actually skate in a game.
6) I'd like to insert a belief that I've shared in numerous other ways here, including in my "Food for Hockey Thought" video, suggesting that quite often we can do a better job training off the ice than we can on it.  For example…  On-ice sprints get pretty old with players, and there's ultimately the chance that they'll start to cut corners in their on-ice efforts.  On the other hand, I tend not to see as much coasting when we're doing a routine similar to the one I'm now discussing.
7)  Okay, those who came to this post via the Goalies link have to be wondering at this point when I'm ever going to get to them.  Sooooo…
Well, over the spring and summer months, Todd Jacobson has always handled our goalers — on the ice, at the in-line facility, and up in The Motion Lab.  And his work with them during those times was almost always position-specific.  However, this year I've had our high school netminder join a regular (typically for skaters) training group FOR VERY GOOD REASON.  So, if you can envision some of the drills you saw my skaters doing in that video, imagine how helpful they can be for a goaltender.  Yes, our guy is in unbelievable shape, and I think we can owe it all to this kind of training.
Then, last night, as a group was doing their jumps up onto a box while holding a sandbag in their arms, I decided to have our goalie do a different exercise for his third and final set…  What I had him do was quick ups and downs from his butterfly stance with a sandbag clutched to his chest.  Man, I know it was a killer for him, but he did it awesomely, and in great spirit.  Thereafter, because we do four different types of exercises using a box, he went off to the side and did his special exercise for each third set.
Finally, I'm kinda bummed that I didn't shoot any video last night — especially showing that goaler exercise and the one that's kinda like a kettlebell movement.  However, I will try to get some for you next week.
*
As always, your Comments mean a lot to me and to other members.
_______________
Update
_______________
I had to miss a recent High School Prep on-ice hockey practice, so I setup my assistant coaches to run something close to a 3 on 3 one-zone game.  I had two reasons for doing this:
First, at this time of year high players have all sorts of problems when it comes to practice attendance — from the latest flu bug to school functions to church commitments.  So, I figured that working low numbers of players at a time would make things easier to administer if we happened to have guys missing from that specific practice.
Secondly — and the real reason I wanted to do this, "small game" contests tend to really push the players.  I mean, they don't like to be beaten, so they really do push themselves.
Anyway, the word back from my top assistant was that the guys didn't even seem to be tired at the end of the hour+ skate. 
  I have to love that.  And, with still two full months to go before my kids go off to their high school hockey tryouts, I just know they're going to be lean and mean when they do leave.
Great Hockey Conditioning Ideas – Part 2
By Dennis Chighisola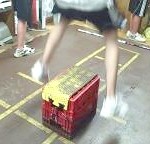 I think it's important to mention a few things before actually showing you what we've been up to.
In order for this program to help my players, each exercise and its method of execution is going to have to be as close to their on-ice needs as possible.
My kids struggled a number of times when they were working at something that required fine motor skills — like the rope skipping.  So I advised them not to get frustrated…  I told them that their fine motor skills are the first to abandon them as they tire, and that they'll be less and less affected by that as their conditioning improves.  (By the way, the fine motor skills involved in their game play would include eyesight, stickhandling, and their passing and shooting accuracy.  Ya, maybe a goaltender wouldn't focus on a speeding puck as well as he'd like, and perhaps a skater might flub the puck or miss on a shot he'd otherwise nail.)
At one point during the upcoming video, you'll hear me tell a player to "Keep going!"  Yes, I explain to my guys that they are forming habits of all kinds during their practices — even up in The MOTION Lab, so I advise them to keep teaching themselves to not stop and sulk for even an instant whenever they experience a problem — in a game or in a practice.
Okay, so what I've done is to design almost a simulated game for my high school guys.  Oh, they're not going to be playing, but they are going to condition themselves in game-like fashion.
During our first week of doing this sort of thing, I told my guys to go fairly easy with the exercises.  "Hey," I promised them, "by Thanksgiving you'll be able to skate rings around everyone else!"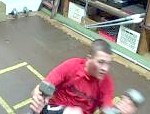 Following some exercises that doubled as warm-ups, they enhanced their footwork or puckhandling with some of the drills seen in the video, "A Sneak Peek at My HS Prep Hockey Team's Training").
Warm-up accomplished, I started my guys with 7 exercises that were really going to tax them.
Rope Skip with Lateral hops – A player skips the rope at a good pace while also hopping from side to side.
Front Jumps to Box - Keeping their sticks low (when they have them) and holding a decent posture, each player jumps forward and up onto the box, back down, and so forth.
Lateral Jumps to Box – Like above, a player hops up onto the box, but from side to side (which simulates the push-off during skating).
Straddle Hops to Box – Again, a player hops up onto the box, but while performing straddle hops (which also includes some later pushing).
Continuous Rolls – This one is a real killer, as a player executes roll after forward roll.  Players usually become a little dizzy at the end of their turn (to which I'll often say, "Good, now the game will be easy for you!")
Coach Chic's Up/Downs – Similar to the popular exercise known as Turkish Up/Downs, my version has a player holding a weight (and sometimes two weights or a sandbag) in both hands.  In this way I get what I want, which is for the player to get up and go down without the use of his hands.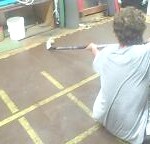 Sit-ups & Dribble — I wanted my guys to do some sit-ups during this routine, but I thought I'd also get their minds off the core work while also improving their puckhandling.  So, as you'll see in the video, my guy is dribbling a ball as he does quick sit-ups.
Following that pretty tough workout, the guys cool and do static stretching in hopes they'll bounce-back quickly.
Okay, here are some video clips of that training I've strung together.  I'll have some further comments to add at the end, as well as an even better description of how I run things…
Loading...
(I hate to say it but, it's pretty noticeable who is and who isn't in shape at the start, just by observing the pace they work at.  Still, we do have several months to bring everyone along.)
Now, how did I arrive at those particular drills?  Really, what I was looking for were exercises that challenged the whole body.  So, while a number of them are hockey specific, I'm sure my members could come-up with a number of other really challenging movements that involve a player's total body.
Then, as far as operation goes…
- My kids report to The MOTION Lab in small groups.  No matter, everything is based on us having three playing units in a game.  So, we simulate that same work:rest ratio — or, X-seconds work followed by 2X-seconds rest.  (On a night when we had only two players, we'd just pretend a third guy was there so we could keep the same 1:2 work:rest ratio.)
- I usually had a team dad watching the clock and calling out for the kids to "Change!" (so I could keep focused on the work area).  The players knew they had to make changes quickly — on-the-fly, and you can hear me in the video at least once pushing a youngster to hurry on the twitch.
- I think we may have begun with 10-second shifts during the first weeks.  However, I've gradually increased the work times to 15-seconds and then 20-seconds.  The most we'll probably ever do these drills will be 30-seconds, although I'm not sure that's necessary.
- To get a decent workout, we usually did two sets of each exercise (but that could be increased if we wanted come even closer to real game length).
- Most of the above drills could be made even more taxing by adding weights or increasing the existing weight.  So, we could actually adjust both the time and resistance for a given movement and get a totally different training effect.  (I likely would lessen the length of a drill if I was going to add more weight.)
- We only do the Lab workouts once per week…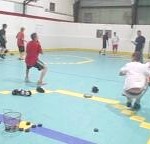 - Of course, this stuff has to blend with our other training sessions — at our other off-ice facility and during our on-ice practices.  So, the accompanying photo shows how a full team can be spread in an open area to do similar drills timed in similar fashion.
- As you may have gathered from some of my other writings, I'm not really a big fan of traditional type aerobic workouts.  What I do try to get is an aerobic training effect in all my practices — off-ice or on-ice.  For example the routine you just watched — although mainly focusing on anaerobic shift work — actually has a cumulative effect.  In other words, the players in that video are aiding their aerobic capacity (and more hockey related) because they stay going for nearly 45-minutes per session.  And I look to do the same on the ice, pushing my players at a fairly rapid pace, from drill to drill to drill, with all that work adding-up over nearly an hour.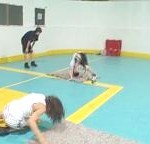 Finally, when I mentioned "youngster" up there somewhere, it reminded me to caution you about subjecting a young body (and even a youngster's psyche) to a routine like this.
*
Hey, you know I love your Comments, observations and questions.  Just use the box down below to join me and other in a great hockey conversation!

Members can expect that I'll slowly but surely explain each of the different drills you'll see highlighted in this hockey video.  As I like to do, I'll let you know WHY I'm having my kids do a given drill (or form of drilling), and I'll usually also let you know the important teaching points that go along with each drill.  For the time being though, let me just entertain you a bit with a sneak peek at what we've been doing so far…
– Dennis Chighisola

(Part 2 of this special subject was added on August 28, 2010.  However, more on this will be explained at the end of this article.)
Yes, I'm an old(er) coach.  Still, I've hardly ever been stuck in the dark ages.  In fact, while I never want to abandon any training ideas that are working well, you can almost be sure that I'll make some changes to my teaching approach, even if they are only subtle (or hardly noticeable).
Such is the case as I ready my High School Prep guys for their coming season.  For, although conditioning has always been a priority when working with them — so they can enter their tryouts skating rings around everyone else, I've decided to pick it up a notch (or two or three) as we approach this coming season.
– Dennis Chighisola

Great Hockey Conditioning Ideas - Part 1
Before getting into this subject too deeply, I want to suggest that there are almost always some other lessons to be shared within a given area of training, without these having to necessarily be connected to that training.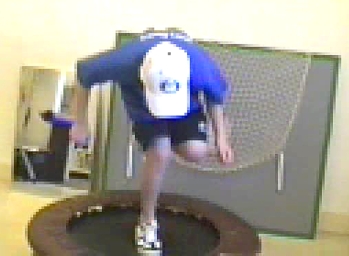 Three great "teaching moments", as I like to call them, arose during the taping of the following video, two of them coincidentally happening when a player faltered with his jump rope.  But, let me explain…
At one point, I sensed that a kid was getting kind of frustrated as he got tangled in his rope.  So, wanting to encourage him, I stopped things and took the time to comfort him and the other kids with, "It's not your fault." And I went on to explain that, "Your fine motor skills will be the first to abandon you as you tire — things like your eyesight, your stickhandling, your shooting and passing accuracy…  And, yes, even your ability to deal with that rope."  Of course, I also encouraged him and the others with the thought that everything will be easier as our training takes hold.
At yet another time, a different young guy tripped on his rope and paused for awhile.  Hmmmmmm…  So, what better time to address that issue?  I mean, habits are being formed every second of our training, and it was important to convey that to my players.  And, that goes for the way they respond to adversity.  So, I suggested that they wouldn't want to teach themselves to stop and sulk — even for an instant — should they have a difficulty in their games.  No, we're talking critical mini-seconds here, as in a player recovering quickly enough to help his (or her) team on the attack or on defense.
Then, yet another slight problem arose on a very different drill (I'll explain in a few days), this providing us another great teaching moment…  You see, my kids were executing repetitive forward rolls, and by the end of each string of tumbles, the player was staggering pretty good (not unlike being spun around numerous times).  Actually, having asked one kid if he felt dizzy, my reply to his nod was, "Good!"    Of course, I explained to him and the group that they actually experience similar conditions in a game.  Oh, maybe not quite so severely, but they do get tangled or spun or tripped-up or stung during their games, and my feeling is that they'll recover quicker if they can endure even tougher challenges in our practices.
Now, I want this particular topic to be at least a two-parter.  So, I'm going to begin things by telling you only a little about it, I'm going to point you towards that video, and then I'm going to toss a little quiz your way.  (We did this with an earlier post of mine, and it worked well by getting numerous members involved.)  A few days from now, I'll answer questions, address your Comments or opinions, and I'll also explain the entire concept of this routine.
Now, the following video shows a couple of my high school kids skipping rope.  A little differently from normal, I've asked them to do these things:
only go for 15-seconds (at which time another player will jump-in for his 15-seconds of work, and so on);
jump laterally, rather than the customary rope skipping in-place way;
during your 15-seconds, alternate the intensity, from a slow pace to a really frantic one.
Okay, so take a look at the video, and I'll then toss a few questions your way…
Loading...
Not bad, huh?  And, as you might guess, it's a heck of a workout.
Oh, if you can take a look at that footage again, you might notice that each boy — maybe one more than the other — is having difficulty changing his pace — I mean, from slow to helter-skelter.  And you might want to know that I find too many players having the same difficulty when they're on the attack and trying to disrupt a defender's timing of the rush.
Anyway, with that, let me pose a few questions that I hope will prove a good lead-in to the second part of this discussion.  Mainly…
Why do you think I've asked my kids to rotate (actually, they will be rotating in threes)?
Why the specific 15-second timing of this work?
Why have I asked the kids to jump laterally?
Why have I asked the guys to alternate their pace?
Okay, the ball (errrrrrr… the puck) is in your court.  So, let's have as many as possible jump-in, and let's get talking about hockey-specific conditioning!
I can't thank my CoachChic.com friends enough for contributing their ideas and Comments on this topic.  I know I didn't give you a lot of information to work with, and I may have even tricked you a bit.  However, I hope I also spurred your interest.
That said, Great Hockey Conditioning Ideas – Part 2 is now posted (as of 8/28/10).  Here's a link:   A Great Hockey Conditioning Routine
Two of my all-time favorite Twitter friends are responsible for the following video.
First, Mike Mahony hosts an awesome site called The Muscle Building Fat Burning Video Blog, where he promises to help regular folks (like you and me) cut through all the information overload we might be getting from all the so-called fitness experts out there today.
Secondly, this post features the star of a previous CoachChic.com entry ("A Different Kind of Hockey Warm-ups"), Maryse Senecal.
Actually, the two, both Maryse and Mike, worked together to put this video together, and I'm extremely grateful that they've allowed me to show it to my CoachChic.com members.
– Dennis Chighisola

Guarding Against Obesity
Okay, while obesity might not be a problem for many hockey players, we all know that it surely is within the general population — in Maryse's native Canada, and across the United States.
So, when I had a chance to see the following video over on Mike's site, I thought it a good idea to share it with my friends here.
In particular, I really like Maryse's common sense approach to things.  But, you judge for yourself…
If you get the chance, visit Maryse Senecal's site over at Myo-Precision for tons more health tips!
And, get to know Michael Mahony on his site, Fitness Expose for lots more fitness tips.
*
Hey, do the old coach a favor, and cheer-on our two contributors, huh — especially Maryse, who still thinks she's everything but awesome in front of a camera!
Dennis Chighisola here, with what I feel is one of the most important posts I"ll ever make within these pages.




To begin, despite my inclination to frequently think outside the proverbial box, I"d like members to know that I don"t make hockey related decisions without a lot of serious thought. In fact, over my forty-ish years in coaching, I"ve mostly relied upon a set of standards I"ve come to call…
The Nature of Our Game
"Hmmmmmm," you say. "The nature of our game?"
Well, I"m sure you"ll agree that playing ice hockey is very unlike trying your hand at the likes of chess, sumo wrestling, or cricket. And, although we might share some similarities with other games — like basketball, soccer, and the other skating sports, there are probably far more differences.
Yes, every game has its very own nature. Factors like unique rules, a special playing surface and the specific aims for each game make this so.
That said, I"ve always felt that the ability to analyze a given game or sport — to understand the true challenges and demands on its participants — is critical to preparation. For, with this we can go to work on developing the proper traits needed to excel in that specific sport.
Now, I feel the need to add this side note, since I"m famous for borrowing lots of training ideas from other sports. I mean, I incorporate sprint training in my teams" off-ice practices, I use lots of football-type agility drills and ideas for explosiveness, and the list of training methods I"ve obtained from other sports goes on and on. As I said in the opening, though, I don"t take such decisions lightly. No, I"m more often than not asking myself the simple (or sometimes not so simple) question, "Does this really relate to the challenges my players face out there in the game action?"
If you think about it, training time is extremely limited — especially for amateur players. So, to go off on tangents that have little to do with our game isn"t such a good idea. Moreover, to incorporate training methods that don"t fit with the nature of our game just might hinder a player.
Now, I probably could write a book on this topic. However, to give you the gist of that nature thing, let me at least briefly touch upon the determining factors I noted earlier.
To begin, consider the surface we play on…  The rink is surrounded by boards and glass, these aiding a player in trapping an opponent or banking the puck around or over defenders. And, while basketball players might be able to scale a ball the length of their playing surface, our rink's lines and related rules influence quite a different approach.
Actually, those rink lines deserve more consideration here, in that hockey teams use them for the development of strategies and tactics. I mean — a lot like military tacticians, teams work hard to defend each line as their opponents attempt to attack, while attacking teams work just as hard to gain each zone on their way up-ice. (Thus we also have forechecking schemes, breakouts, defensive zone coverage, etc.)
While we"re on the subject of our playing surface, consider this… Supposing our game was played on a rink measuring about 20″ by 60″, but still included 5-skaters and a goalie per side. How much fast skating and stickhandling would take place? Not much, huh? In fact, we"d probably recruit sumo-sized guys, and develop plays that look more like rugby scrums. On the other hand, what if we played on a rink the size of a football field? Ha, there would hardly be any physical contact, and the star players would likely be fast skaters and great puck-movers. Of course, our game is played on a surface somewhere between those two extremes, suggesting that the most desirable players should probably be both quick and strong.
Also appreciate the fact that soccer, basketball, lacrosse, field hockey and our game are considered so-called "transition sports". In other words — and in contrast to games like baseball and football, the ball or puck is constantly up for grabs. And, this kind of continuous action puts a premium on players who can quickly switch roles, from offense to defense to offense to defense, and so on.
Even something like a roster size influences the nature of our game. For, given a certain number of players, coaches deploy them in waves, with traditional set-ups (for the sake of discussion) using three roulette spielen ohne anmeldung forward lines and two to three pairs of defensemen. Oh, some might take this lightly. However, that kind of player rotation is where the prescribed work-to-rest ratio comes from — as in a player typically practicing so he or she can efficiently work for x-seconds, and rest for twice that time. (In other words, a unit goes out for a brief shift, then rests while two other units do their thing.)
Now, I"ll bet I wrote and lectured on the following at least 30-years ago, although it"s been only recently that I"ve seen it documented in some scientific studies. What I"m getting at is that the typical on-ice shift is really a series of alternating bursts and coasts. In fact, some of the studies I"ve read lately state that the better players cruise with both skates on the ice for a great deal of they"re time out there. Of course, how well one coasts is not the measure of a hockey player. However, that coasting phase is important, allowing him or her to briefly rest in anticipation of going all-out. And, make no mistake about it: the most consequential plays — either offensively or defensively — are carried out in a matter of seconds, during those brief spurts.
The latter two paragraphs should give us fairly good guidelines for conditioning a hockey player… Yes, he or she should be aerobically (long distance) fit. But, I"ll suggest, not to the point of robbing the anaerobic (explosiveness, quickness) system. Remember: It"s the brief, all-out confrontations that usually spell a player's — and a team"s — success.
Of course, our sport includes its fair share of collisions and incidental contact (whether we"re playing in a body-checking league or not). So, besides the areas of strength development that aid in skills like skating and shooting, the nature of our game suggests that a player be very stable on the skates, as well as be able to safely deliver or withstand heavy hits.
That said — about the need for strength in our sport, I"ll suggest that there"s a tricky balance required — between the want for strength, speed, agility and smooth, efficient movements. Just being strong doesn"t make one an effective player, nor does just being fast, just being pretty, just being…
Even our decisions about hockey equipment should be influenced by the nature of our game. For, as I just suggested, a solid player needs to possess a number of different physical qualities. And it"s important that the gear helps. Quite obviously, the first consideration is that it should protect the player. However, equipment has to also be light enough to aid quickness, as well as allow for smooth movements.
Then, while I"m hoping all the above noted physical traits make sense to you, a study of our game wouldn"t be complete without considering the mental aspects. For, an ice hockey player surely does have to be able to think and skate at the same time. And, if our game is a "read and react" sport, it"s important for a player to instinctively know what to do in each unique confrontation. Moreover, smart players can follow a game plan, and they have awareness when it comes to the game-clock and the score. And, while some might feel otherwise, I happen to believe thinking skills CAN be taught — IF players are helped early enough. (Actually, I"ve developed several drill formats to help enhance this area in my players.)
Then, just briefly let me suggest that training for other important game skills — like puckhandling, passing, receiving and shooting — should also pass that nature of our game test. And, here are two of my observations… First, all of those skills have to be accomplished in combination with other skills (or amid lots of problem solving). Secondly, the best players are able to execute all of those skills in unbalanced postures (with defenders draped all over them, whatever).
Finally, the above is a combination of science, personal observation and experiences; so take it for what it"s worth. Still, I think it should be helpful that players, parents and coaches have some frame of reference when it comes to the daunting number of choices we have to make. So, hey, maybe this is one of those pieces you"ll want to clip and save!
Be a friend:  Your worthwhile Comment helps Coach Chic!
Yes, it struck me that we were missing something, and that would be hockey specific conditioning.  So, beginning this month — September of '09, I'll start adding some very usable stuff to help players go longer, harder and faster in their games!
Be a friend:  Your worthwhile Comment helps Coach Chic in the search engines!