I say it often enough, that I love my work in hockey, especially because of the great people it allows me to meet.  Then, since the day I set foot (or fingers) onto Twitter, I've said pretty much the same thing:  that I've met some remarkable people through social media.

Carole Lockwood Taylor, of Tyler, Texas, is such a find for me, a really nice lady I happened to meet through Facebook.   More interesting, though, is the way Carole and I really got to know one another.  More fascinating still, is her connection with our game, ice hockey.

– Dennis Chighisola

Transitioning from In-line Hockey to Ice Hockey
Over a week or so, I'd noticed that a lady named Carole had "Liked" my different Facebook posts, and she'd even made some brief comments on a few rather general observations or comments I'd made.  What really got my attention, however, was the day she added her feelings on a video I'd posted, this highlighting my summertime Mite & Squirt (primarily off-ice) Hockey School.  I mean, after evidently watching it, Carole said about my video message, "THIS IS ABSOLUTELY TRUE !!!"
Huh?  Why in the world would a young lady from Texas be telling me so absolutely that the principles I'd noted in the video — about how in-line skating can help hockey players — were true?
You have to know that I wrote right back to Carole and asked if she was involved in hockey, or if she was a hockey mom.  And she quickly responded, "Being a former Inline Speed Skating Coach, I can tell you THIS IS ABSOLUTELY TRUE !!!"
We went back and forth from there, and I at some point let her know that I kinda pioneered the use of in-lines for ice hockey players here in my home area, and that I'd seen the miracles those efforts had produced.
The real shocker came in a later message from Carole, however…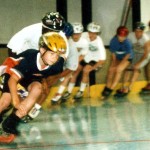 My son won many awards, even at Nationals, speed skating on inline skates…  Then some coach called me and asked if Jeff could play on an inline hockey team…  he could out skate anyone, keep his head up, and all he had to learn was the finesse  of stick handling.  WHICH HE DID.   In the driveway, in the house, in the street…  he slept with the stick and puck.  He would play 4 age divisions at Inline Hockey tournaments…  12u,14u,16u,18u adult, when he was 12 years old.  That continued until he was 18 and now coaches atoms, mites, bantams, and the Pro Inline team he is on.  He tried out for and made an Elite AAA Ice Team from Houston when he was 13, having only been on the ice for the first time about 4 hours prior. I would drive him to practice in Houston from Tyler (4 hours one way)…
Carole went on to say that the extreme costs and some personal matters ultimately ended those long trips.  However, she finished with an update on her son, Jeff, in that "… he lives in Houston doing what he loves!!!
Now, I know there's a danger that some readers will scan that first paragraph and miss what truly took place.  Oh, for sure, Carole's son was obviously unique in his desires to do well in hockey, and he was also pretty lucky to have a mom like her.  At the same time, the things he accomplished would seem pretty unrealistic to anyone who doesn't believe that in-line training can — and surely does — transfer to the ice.
Then, while Carole ultimately thanked me… "for pioneering the way for inline skaters transitioning to ice," I think my CoachChic.com friends might find it even more interesting how I actually lucked into the earliest stages of in-line training.
Actually, my son was given the first pair of in-line skates I'd ever seen — I think by a college coach or a local pro scout.  They were an Erect-a-set (if that's how it was spelled) kind of contraption, with an ugly frame, nuts, bolts and wheels that had to be riveted onto the bottom of hockey boots.  Genius that I was(n't), I never paid much attention to those skates, except to think that they might be useful for conditioning during the summer months.
Next, a young lady named Nancilee entered the picture…  In fact, she's become famous in many of my writings, mainly because she was the inspiration for my invention, the Skater's Rhythm-bar.
Telling the short version of the story here, a 21-year old Nancilee called my office to see if I would give her private lessons and take her from an absolute beginner to making a local ladies' hockey team a few months down the road.  Hmmmmm…
Hardly looking forward to our first meeting, Nancilee in advance had told me that she'd never been on the ice before.  (Ugh!)  Yet, she left the doorway onto the ice that first day and promptly twirled a quick loop around the rink surface.  Whaaaat?  ???
Scratching my head, I called her in, and Nancilee almost ran over me. 
  Explaining it all — including her ability to stride — as well as her inability to stop, she simply giggled, "I in-line a lot!"
Yup, that was my REAL indoctrination to in-line skating.  And, man, did my mind race from that day forward…  I mean, I'd seen for myself that someone could train exclusively off the ice and at least fairly well be able to skate on the ice.  So, what if a combination of wheels and blades could be used to better train my hockey students?  Hmmmmm…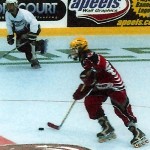 By now, most long-time members know about my studies back in the old USSR.  That's where I learned about the true value of off-ice training.  But that's also where I discovered that the old Soviets HAD to train away from the ice because of their drastic shortage of indoor rinks.  The more I thought about that, though, the more I realized that most North American amateurs have nearly the same problem.  Ya, it's hard to make headway as a youth player in our game if we're not able to practice regularly.  For sure, off-ice training — or dryland — can help immensely with that.  But, then, how about being able to actually skate without the need for costly or hard-to-get ice-time?
Well, sadly, the so-called in-line craze ultimately subsided in many parts of North America.  However, it's my understanding that roller hockey is alive and well in many southern and western areas of the US.  In fact, a number of recent NHL Draft choices over the past few years have grown-up in California, and they're on record as having spent a great deal of time in their formative years on wheels.
So, I'm not saying that in-line training is dead, by any means.  I know if I wanted to hold a roller practice with my ice hockey players this weekend, I could be pretty sure they all have a set of in-lines at home.  And one of the reasons I hold that little guys and gals hockey school each summer is for all the reasons Carole and I have mentioned to this point.  In the case of those little ones — and their young parents, however, I want to be sure I'm starting them off right, and making sure they appreciate the benefits of in-line training, and how much that actually does transfer to their on-ice game.
*
PS:  Over the last 2-ish years, I've become similarly fascinated by another cross-over sport called floorball.  No, that game doesn't involve skating, so it's not going to totally make slideboards, wheels and ice blades obsolete.  However, floorball does promise to help develop a number of other important hockey qualities.  So, who knows…  Maybe I'll someday soon pioneer yet another great way to train without the need for costly ice-time.
*
PPS:  For those wondering about my occasional mention of the Skater's Rhythm-bar, I'd like you to know that I've been working for months on how to get you all the information you'll need to make your own.  It's not an easy process for me, so please be patient.
  "Like" this page if you want to be alerted when it's ready:  Perfecting the Forward Skating Stride
At the end of every week, our friend, Jerry Z, usually sends me an email update on his roller hockey goings on.  And, this week was no exception.
What I especially like about these is that Jerry's reports very frequently point to a few things that are fairly prevalent in my line of work:
1) that I'm obviously dealing with an intelligent guy;
2) that he often shows me some remarkable insight; and,
3) that he is quite often wrong. 
Actually, that last one wasn't really a swipe at Jerry at all.  More often the incorrect stuff he relays to me comes from various guys Jerry skates with.  Wives' tales I'm talking about here, or the kind of advice we could all do without.
Anyway, before I get too carried away, I think I'd better get into the topic at hand…
– Dennis Chighisola
Troubles with Hockey Passing & Receiving
To begin, here's a quick piece from Jerry Z's latest email, these few sentences taken from an account of his second of two games this past week…
"…on Saturday, I was working with another guy before the game to help corral passes with the puck. It's getting better, I'm starting to understand the muscle memory it takes to cradle the puck as it comes to you."
Now, this isn't one of those wives' tales at all.  In fact, Jerry is pretty much right — in that most sports movements involve muscle memory (of either the good or the bad variety), and that a player has to use soft hands in gathering-in a firm pass.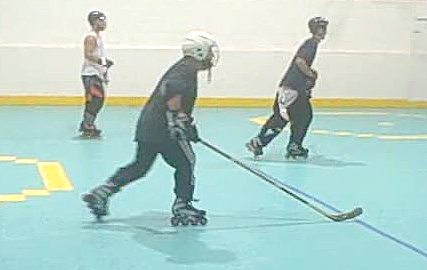 As a quick aside, I need to share with members the fact that there have been some changes in Jerry's activities of late.  What I'm getting at is that he played on a rather small roller hockey court when I first started working with him, while he's more recently started playing on a surface that is pretty close to the size of an ice hockey rink.
Of course, skating is going to become a far greater factor on the larger floor than it was in the little bandbox.  However, Jerry is also discovering that there is also a huge difference in his moving from playing with a ball to playing with a puck.
And it's the latter part — about the difference between playing with a ball or a puck — that I want to make clear from the start…
You see, almost no strength or leverage is needed to either catch or propel a very light ball.  Let me say that again:  one could stand in the worst possible posture and still stop or fire a lightweight ball.  However, it takes a bit more strength and more stability to handle a slightly heavier puck.
That said, if you think I want to talk about skating tonight, you're correct.  For, in almost every instance, the inexperienced skater tends to stand upright.  And, while he or she might get away with handling a ball from that posture, they're going to have some difficulty once a heavier puck is introduced.  (Oh, Jerry has come quite a ways in the time we've worked together.  However, he still does skate fairly upright.)
At this point, I know that someone out there is going to be scratching his or her head, thinking that there isn't that much difference in weight between a ball and a puck.  And, although that might be so, I guess what I'm really getting at is the combination of weight and the force at which a given object travels that really spells the difference.  In other words, either passed or shot pucks have to be sent with a considerable amount of force to be effective.  And, on the receiving end, a player has to deal with the heavier puck arriving pretty forcefully.
Okay, Jerry mentioned the need to catch the puck with soft hands as it arrives.  Still, despite the fact that I spend lots of time drilling my players on such passing and receiving technique, I'm going to suggest right now that there's something else that's causing Jerry's passing and receiving woes.
Pardon this brag for a moment, folks, but I'm about to explain a trait that tends to separate me from a lot of other skills coaches…
You see, I accept the textbook stuff and the long established understandings of our game, at least for the most part.  However, I hardly ever stop there.  Naw, I'm forever looking for underlying causes of problems, and I quite often find them (far from where others would even think to look).  That describes a lot of what you'll find here within the hundreds of pages in CoachChic.com (or, at least I hope so).
And that little sidebar brings me to something I discovered at one of my summer hockey schools probably 20-plus years ago…
I happened to notice that even some of my older players were struggling with their passing and receiving, and even in some very simple drills.  So, I pulled out my camcorder that day, and I taped numerous pairs of players moving down the ice and executing passes that were only about 5′ or 6′ long.
Later that night, I studied and studied those pairs, and I especially ran and re-ran the segments where a pass was flubbed, it missed its mark, and for whatever reason the puck began flipping and rolling.
In every single case where those things occurred, I finally found a common condition.  And, while you won't believe me — until I explain it, the poor passes or catches almost always stemmed from a single skating problem.
As a preface to what I want to really tell you, let me first explain that a player's "give" with the stick — or his cushioning of the incoming puck — calls for a considerable reach with the stick-blade at the start.  In other words, he or she has to reach a ways outward towards the puck at first, "give" with the pass next, and then continue that "give" beyond the midpoint of his or her body.  (Can you picture this?)
And the same thing goes for a decent pass, in that the player has to pull the puck off towards one side before he or she begins a long sweeping motion that also extends beyond the middle of his or her body.  In fact, just as in shooting, the longer the follow-through, the better ones accuracy.
Now, do you see where I'm going with this?  For, what countless hockey school video clips showed me was that the poorer passers and receivers weren't able to reach very far outside their centers of gravity (or they at least weren't very comfortable in doing so).
By the way…  Some of the kids I'd video-taped were pretty decent teenage players.  Yet, they still seemed uncomfortable as I've just described.  And the point I want to make here is that all things are relative.  I mean, Jerry can be having his passing and receiving problems as a fairly inexperienced player, but so can far more experienced guys who might not have had the right kind of training.  Sure, the latter guys can likely motor around the rink.  But, extending their hands and arms outside the center of gravity is quite another matter.  (Maybe you can appreciate now why I spend so much time developing athleticism in my players.)
Oh, yes, one other thing when it comes to not daring to reach far outward…  What I discovered within that video footage was that all the bouncing and rolling pucks resulted from the same problem, whether it was in the act of making or trying to catch a pass.
For, what happened is that a passer who didn't dare to reach very far would chop at the puck with a very short motion.  And, when it came to catching a pass, that kind of player would brace himself with the stick held stiffly at mid-body.
In both instances — from either the stiff catch or the chopping send-off, the puck would bounce, wobble or roll immediately after contact.
And this all brings me back to my buddy, Jerry Z.  Oh, for sure he should continue working on "cradling" his catches.  However, I'm hoping this piece will give him further insight into the REAL problem.  Yup, improved skating is going to help his game in numerous ways, including his passing and receiving.
PS:  I recently suggested that Jerry spend more time working on his puckhandling.  Why — when his skating needs work, as does his passing game, his shooting, his defending, etc?  Well, my feeling is that extra puck work will actually get him chasing the puck or ball, and thusly get him moving more on this skates.  Then, from my Building Blocks view of our game's skills, you might recall that I see puckhandling as a prerequisite to better passing, receiving and shooting.
This happens often, so I guess I shouldn't always think it's so ironic that I have very similarly themed conversations with different hockey folks within a matter of minutes or hours.




That's actually what happened from yesterday morning to later in the afternoon, and then just now in an email exchange.  That email exchange, by the way, was with our in-lining hockey friend, Jerry Z.




So, let's explore Jerry's question, and also relate that to my earlier conversations…



– Dennis Chighisola
A Difference in Hockey Teaching Levels
To begin, I consider myself extremely fortunate to be able to work with players at all the different levels of our game.  Some might think this is a negative, in that I might be a Jack of All Trades but Master of None.  Ya, you might think.
However, it's worked-out to be a huge plus for me, and here's how…
One example might be a former pro player (and current pro coach) I worked with for a good many years.  You see, despite the levels he ultimately reached, he had a skating flaw that was virtually impossible to correct or override by the time he became an adult.  I suspect that flaw crept in during his very first times on the ice, and he just reinforced it and reinforced it over about the next 20-plus years of skating.  The huge benefit for me — and to the hundreds (if not thousands) of beginners I've had in subsequent years — was that I knew that problem was possible — but preventable — if I did certain kinds of drills with my Learn-to-skate kids.
The above, of course, is just one example of how going back and forth between levels has benefited me and my students or players.  And I can tell you that it's worked in both directions — from elite player traits helping younger kids to the experiences with young players helping my oldest guys.
Okay, so now, about that email from Jerry…  We've gotten in the habit of communicating about once per week, especially if we haven't had the chance to work together for awhile.  Anyway, within his most recent report to me, he included the following:
"A friend made an interesting observation about my last video (posted on the CoachChic.com site), the one where I'm skating with the old skates and stick. He said I skate as if I'm afraid to fall. I thought that was an interesting observation and am looking into falling more on purpose so I know what to do when I'm careening out of control…"
With that, I need to mention here that I have for years conducted beginner hockey sessions — for toddlers, and for adults.  And, while our game's basic skills are obviously the same, I actually run those clinics in drastically different fashions.
A conversation with one of my Learn-to-play parents at rink-side Sunday morning helps explain part of this…  And he totally agreed and understood as I explained my reasons for having my little ones roll on the ice, do bellyflops and backslides, and initially jog their way across the rink.
I really got into this a great deal more when I bumped into a high level figure skating coach outside a local store hours later…  We're birds of similar feathers, that young lady and I, both of us thinking and looking far, far outside the proverbial box when it comes to helping the skaters in our charge.  Anyway, when the conversation turned toward our creating outgoing or flamboyant "personalities" in our athletes, I described the way I try to create little daredevils in my Learn-to kids' very first times on the ice.  Ya, I'm talking about the diving and rolling and flops again, and the way I give the kids high-fives when they do a crazy fall.
Okay, so I'm presuming you have the gist of how I approach my "baby groups".  And you have to be thinking I'm just going to walk into a beginner adult class and run a carbon copy of the little ones' lesson plan.  Huh, hardly.
Number One, adults know too much.  I mean, my babies will flop around with absolutely no thoughts or fears of hurting themselves (and that mentality usually stays with them for all their years in the game).  My adult guys and gals, on the other hand, are thinking to themselves, "Hey, I'd better go easily here…  I could break a leg or somethin'!"  Probably even more often, they're thinking, "Hey, I have to go to work in the morning!"
Ya, adults know too much, and they are almost always holding back quite a bit — or a lot, if we're comparing them to their toddling counterparts.
And this brings us back to Jerry's friend's observation, in that he looks in that video as if he's afraid to fall.  Ya, our buddy just turned 50-years old the other day (Happy Birthday, JZ!).  And, while it doesn't have to be a conscious thing on his part, there is definitely a conversation going on in his head — as in, "Hey, I could get hurt here!"
Having dealt with probably a thousand or so adult beginners, I've found most of them — including Jerry — to be willing workers.  Only rarely have I had a student who totally held back (which caused me to wonder why the heck they were even on the ice).  Yes, Jerry and most others do really try, and they usually try pretty hard.  Still, with each slight wobble or near fall, I don't think he or many other adult beginners can resist that ever present internal voice which warns them, "Hey, I have to get up and go to work tomorrow morning!"
All that said, I've noticed that confidence grows as adults master given skills.  So, while there's a point in the early going where Jerry or another beginner might turn pale in the middle of a very basic movement, it's pretty likely that he and others will eventually whistle and not worry doing the very same thing a month or so later.  Sure, there is probably always going to be something new that rattles them, at least a bit.  But, even those fears can probably be overcome with time.
Oh, that Jerry suggests in his email that he might try "falling more on purpose"?  I sense that is a good thing.  I highly recommend it (just not when I'm around, and not when my liability policy is on the line — LOL).
Then, one final reflection, this having to do with age…  A lot of the adult groups I've worked with over the years have been teams, and they've been a mixture of guys and/or gals, some in their 20′s and some much older.  And it should make sense to the reader that the 20-somethings quite frequently take to the ice in hell-bent-for-leather fashion.  Those young people are probably also playing street hockey, basketball or flag football with buddies, and they're still acting — and especially thinking — like kids, with not much concern for their physical well being.  At the other end of the spectrum — and, at 50, Jerry surely is far at the other end, well, the older guys know too much, and the voices are likely screaming at them! 
*
Have you ever heard those voices, or had similar experiences?  Please share your Comments below with Jerry and me!
ON SALE!
Ya, that's pretty much what the pitchman said on the radio this morning…

– Dennis Chighisola

On Sale:  Hockey Skates & Sticks!
  The reason I've decided to comment on this particular advertisement is because I immediately thought of our buddy, Jerry Z, as I heard it!
Actually, the sponsor was a well known hockey equipment super store, but the message wasn't really for us serious hockey players, coaches or parents.  Naw, what they were peddling was "pond hockey gear"!  I mean that, and that's exactly the expression the announcer used: "pond hockey".  And, as best I can recall, that equipment was/is selling for $40 to $60, or thereabouts.
Now, why did I choose to raise this issue here?  It's because Jerry owns two pairs of in-lines skates, with one pair being of pretty good quality and the other pair being rather questionable.  (You can go back and see about our previous exchange on Jerry's sticks and skates by clicking here.)
Okay, I know that sophisticated members usually know exactly what they want when they enter an equipment shop or store.  But I can't blame any new hockey player or parent from being confused when he or she sees the wide array of products carried by some merchants.  (I suspect that's what happened to Jerry his first time around.  In fact, why would a new skater even realize that some of the stuff made by a reputable company could be junk?)
Anyway, that's the point of this article, to help save anyone who might be fairly new to such things.  And, if I had to advise new players or parents of new players, here are a couple of things that come to mind immediately…
1) Even though a company might be known for their high quality gear, there's the likelihood that they also produce low quality equipment for recreational type players.
2) Most of the pro shops (or those located inside local rinks) primarily carry gear that is more suitable to competitive players.  They may have some lower priced articles for real young players or adult rec skaters, but even that gear should meet player needs for a time.
3) It should make sense for a customer to ask plenty of questions wherever he or she does shop.  Armed with the above information (and loads of other equipment advice distributed here at CoachChic.com), he or she ought to have a better sense of what's needed before even arriving at the store.
4) All that said, I'm going to share one more thing I've noticed…  A lot of the so-called super stores hire athletes to wait on their customers.  That's the good part.  Perhaps the not-so-good part might be if a family is trying to get "expert hockey help" from a tennis player or swimmer.  This again probably suggests going to a rink pro shop when you need advice.  They're almost always manned by current or former players, and usually by people who really like what they do.
As you might recall, a big part of the reason I took-on Jerry Z (as sort of a private project) was that I felt this would greatly help you.  Of course, Jerry has said that our work together has also helped him plenty.




My reason for raising that point again is that the following should give you further insight into the ways I study a player (or players), as well as how I tend to arrive at given solutions.  Ya, I think it should help both beginners and advanced folks if you can follow this old coach's thought processes.




– Dennis Chighisola
Improving Your Hockey Skating at Home

Now, I'd like to begin by showing you a fairly recent clip of our friend moving around the roller hockey floor.  (Understand that there's virtually no difference in the way I view an in-line skater versus an ice hockey player.)  So, please click on the first photo (to the left) and watch that video before going on.
From my viewpoint, Jerry is miles from where he was when we first met.  He actually doesn't do badly moving around that floor nowadays.  Still, my old but experienced eyes tell me there's more that can be done to enhance his movements.  And, in this case, I'd like you to watch that video again — this time concentrating on the slo-mo part at the end, to see if you can notice how his arms and legs are still just a little bit out of sync.
With that hopefully established, there's something else at play here, and it's something I think should help other skaters even more.  You see, between our conflicting schedules (that make it hard for us to meet often) and the onset of winter here in New England (which undermines his outdoor training), Jerry is going to have to lean more and more on practicing indoors, at home, and in fairly small areas.  So, as I just suggested, there might be some things you can borrow from what we're now doing.
Okay, as we get into my trying to help sync Jerry's movements, please click on the next photo (below) and keep referring to this video for awhile…
It begins with him working with my Skater's Rhythm-bar in The MOTION Lab.  (Even better than video, the large mirror he's using throughout this clip should give Jerry instant feedback.)
Now, over time, the R-bar will help loosen a skater and bring him or her into sync.  So, that's the point of my sticking with that form of training, as well as incorporating some of the things shown in the next parts of that clip.
Actually, as I was shooting that segment with the Rhythm-bar, I noticed that Jerry was still too tight or too rigid.  So, I had him set aside the bar, and I asked him to just try to relax (be kind of "loosey-goosey" is how I put it).  If you can appreciate it, any tenseness is going to rob Jerry — or any skater — of valuable energy.  Oh, for sure a player has to do some things forcefully as he or she skates.  At the same time, clenching the hands or tightening the upper body for no reason is definitely not good.
Lastly in the above video is a clip that shows Jerry wearing a weighted vest and jumping laterally for a short distance.  Of course, skating isn't just about the legs, and it isn't just about pumping the arms or shoulders.  No, skating is a full body motion  (or at least it is if one wants power and maximum efficiency).  And that's what we're attempting to work on with Jerry doing that jumping exercise.  If you'll notice, he didn't really put it all together in his first trip down the floor.  However, I think my giving him a mental picture — telling him to "really coil-up" — helped him look really good on his next attempt.
So, that's about where we were early last week when Jerry visited the Lab again.  And, still looking to pull everything together for him, I adapted a drill I normally use with my fairly advanced players, this incorporating the bungee cord I described in a recent post ("New England Hockey Recycles!"). Now, if you click on the photo to the right, you'll see Jerry doing that lateral jumping movement again, but this time supported by the bungee.  In reality, I've asked him to jump for a point just a little ahead, this to create some tension in the rope.
For your sake (and so Jerry can see), I've also included a slow-motion version of the above video.  Clicking on the final photo you should notice how the rope's supporting him is probably helping to sync the movements (or it's probably making it easier for him to move in the right way).  That said, there's one more point…  Like all relatively new skaters (and some more experienced ones), a good knee bend is a problem.  I mean, I've probably sounded like a broken record to Jerry through these past months, constantly reminding him to sit low, or bend his knees.  However — and maybe it's because he's working against a little resistance, but it surely looks to me as if he IS bending his knees a little more in that video!
Finally, that bungee skating approach truly is effective — for working on mechanics or form, and it can be adapted to enhance strength and/or conditioning for more advanced skaters.  As I've explained in the earlier linked article, it's really easy to make your own training device, and the materials can usually be obtained at no cost.  Of course, as with all training devices, safety should be your first concern.
Now, I'm always worried that a more sophisticated member might discount things like I've noted above.  That in mind, let me tell you about something that came to mind as I was writing this piece…
Years ago I used to frequently cross paths with local NHL scouts.  Back in that time, I happened to read about a young tough guy who was borderline in making the jump from a minor league roster to the big club.  The knock on him:  His skating wasn't up to NHL caliber.
Actually, I'd seen that player skate a few times, and I knew that his problems weren't unlike those I've described above.  Sure, that guy was only one notch away from the big time.  But, that's the point I'm trying to make here, in that very experienced skaters can have similar problems to near beginners.  And, I can tell you that that out-of-sync thing is exactly what was holding the young pro back.

Well, to finish the story…  I called the scout associated with that kid's team, and I offered to square away his skating stride.  The scout answered, "That would be great, but we just traded him (to wherever)!" 
*
Want a professional device that's even better than the rubber bands Jerry is using?  Take a look at these Techni-cords!
*
Your Comments are truly welcomed here!
Okay, while I'm certainly celebrating Jerry finally investing in a better, lighter stick, I can appreciate how you wouldn't necessarily jump for joy at that.




Still, some of the discussions he and I have had surrounding his new stick — and his change in skates — should provide some interesting food for thought for members at all levels of the game.




– Dennis Chighisola
Jerry Z's New Stick
For sure it's taken some time to convince Jerry that a new stick would make a difference in his ball handling (remember, he's a roller hockey and deck hockey player). So, he finally took the plunge, and here's an excerpt from his first email back to me:
"I had a game on Thursday night. It was the first time I used the composite stick. Even though the stick is too long — I haven't cut it down to size yet– I can feel the difference. You woulda laughed… I had a goal where I pushed the ball between the defender's feet and got it on the other side, then shot high — hit the goalie's shoulder pads and in. Later I had a pass I sent a guy from pretty much one face-off circle to the other one and he one-timed it in for a goal. The stick is light and allows me to do things I haven't been able to do before."
Geeeeeze, Jerry, I've been telling you that for weeks!
Days later my good friend wrote me with this:
"I cut the new stick down to a smaller size than I'm used to, so it's lighter and I can stickhandle with it better. It also forces me to bend the knees while skating. I don't think my shots go any faster than with a wooden stick, maybe slightly slower? And with a puck it seemed like I didn't get solid contact at all, especially on one-timers. I need more experience with it.
Okay, some very good observations from Jerry, and ones that are worthy of discussion here.
Although a lighter stick might ultimately whip quicker into a puck or ball on the slap shot, a shorter stick does usually result in a slightly slower shot. If you can envision it, Jerry's lever arm — which is the stick-shaft — is slightly shorter, and thusly creates slightly less force than a longer one. Here's the trade-off, though… Most poor puckhandlers just don't get-off that many shots (they're just too slow getting open and tee-ing the puck). So, what I advise players to do is to use a short stick until puckhandling becomes a strength. With that, the player can trade-off a little of that skill — by going to a slightly longer stick, in order to get a little harder shot.
As for Jerry's difficulty in contacting a puck, I'll suggest that the ball is easier to drive than a puck. Thusly, he probably notices more the fact that he isn't making perfect contact with the puck.
Then, because he is still trying to get some outdoor practices in — and, because he's still experimenting back and forth between two different pairs of in-line skates, Jerry added this to his most recent email:
"I'm using the (enter brand name) skates that we decided to banish from the games. (If member will recall, I found one pair of his skates to be of nice quality, the other pair real cheapies!) These seem slow and loose in comparison. Do you think I'm hurting myself practicing with these clodhoppers? I'm upset at (enter brand name) for these.
Okay, a couple of things needed addressing here…
I wrote back to suggest that Jerry stay with the good quality skates whenever he can. I figure he's going to be able to do more — and improve more — in those. If there's a problem here, outdoor use will ultimately wear the wheels and require earlier than normal replacement. Still, wheels are relatively inexpensive.
I told him not to be upset with that skate maker. Most companies make quality skates for competitive players and not so good ones for purely recreational use.
I also suggested that his stumbling upon poor quality skates was the result of his initially shopping at places other than a pro shop where other, more serious skaters shop. Let's face it, department stores are going to stock their shelves with cheaper, rec type gear, while pro shops generally deal in quality.
I usually suggest the latter approach to new hockey players and parents, as well, especially if they need help of advice on selection or fitting. Once a shopper gains experience, he or she can likely find some deals at yard sales!
In closing, I'm hoping members are finding it interesting as I attempt to help Jerry improve upon his game. After all, he asks great questions and makes some interesting observations. And, as many of you might be discovering, he and I are forced to do some of the same kinds of troubleshooting so many hockey players, parents and coaches face.
Can you help me by posting a Comment or question here? And thanks — a bunch!
Our friend Jerry visited The MOTION Lab tonight.  And, while he warmed to do some new stickhandling tricks, something struck me — that I needed to share with him, and also with you…

– Dennis Chighisola
Eyes-up Puckhandling (or Not?)
As Jerry did a little light dribbling in anticipation of learning some new puckhandling tricks, I noticed that he was trying to keep his eyes-up.  Aaaaah, good for him — that he remembers to work on that often.
At the same time, I mentioned to him that I usually have to emphasize or de-emphasize that stuff, depending on what I'm having a player (or players) do.  And that usually depends on where we are with a given puckhandling skill.
For example, if we're working on the beginning level of any given skill, that usually requires total attention.  And my feeling is that a player usually has enough to worry about without taking his or her eyes off the puck or ball.
Of course, the time ultimately comes when I feel a player has pretty much mastered that skill.  And, it's at that time I believe he or she has to start doing it without looking downward.
(Just click-on the photo above to see Jerry working on his ball dribbling while doing a pretty good job of looking out and around.)
Be a friend:  Your worthwhile Comment helps Coach Chic!
Although I'm a little late in making this special entry, I'd like members to know that I've been evaluating Jerry's roller hockey gear from Day One. If you can appreciate it, one can't learn to move around the roller court (or the ice) if the skates aren't right; nor can a player dribble or pass or shoot very well if the hockey stick and surrounding protective gear are holding him or her back.




What's delayed things to this point is that my observations have been ongoing, and because one piece of gear, in particular, has been a sticking point for me. But, let me explain that in a little more depth…

– Dennis Chighisola
Evaluating Roller Hockey Gear
As it turns out, Jerry Z dresses like most guys who play roller hockey recreationaly. I mean, he dresses on the light side as far as gear goes, wearing most the bare necessities.
As an aside here, it might not be a bad idea for the reader to view some of what I've written or shown in some videos when it comes to "over-speed training". To give you a shortcut version, though, let me point-out that:

heavy or bulky gear is going to slow a movement (or movements); and,
however we practice a movement (be it slow or fast) is going to be the way we ultimately do it.
That in mind I watched Jerry as he moved around the floor in our first few sessions together, and I noted that nothing really obvious was either slowing or inhibiting his movements. (For the most part — and I'm sure Jerry would agree, his early struggles had mostly to do with inexperience.)
Now, I mentioned earlier that my assessment of hockey equipment is an ongoing thing, and this is true no matter the atmosphere or the player. Younger players outgrow gear quickly, or they replace pieces without letting us coaches know.
Then there's another reason I keep re-evaluating Jerry — or any other fast improving player… What I mean is that certain things might not matter when a player is at one level, but they could suddenly have a great impact as a given player improves. And, such has been the case with Jerry over more recent weeks.
Okay, I have to chuckle a bit as I type this, because my roller hockey buddy has driven me a little crazy ever since he started feeling better about himself in his Thursday night games. Oh, I mean that in a nice way, but he did start telling me about some of his offensive and defensive plays, and he's also recently begun asking me some questions about the game's X's and O's.
The reason I raise this point, however, is to suggest that I soon felt the need to help Jerry with his puckhandling and a few other areas of his game. And, while I'll have no problem showing him the right things to do to improve in this area, something now has to be done about that log of a stick I've let him get by with for a time. Ya, it's a full-grown sequoia, and I'm often heard to mutter something about maybe hurting myself when I chance to hold that thing. Right now he's resisting me on a move to something lighter. But, real positive change is not going to take place until Jerry's stick allows his hands to move much, much quicker. (For great advice in this area, please see my video on "YOUR Hockey Stick".
Now, I mean to tell you that Jerry has really come a long way in his skating. In fact, I started giving him some greater challenges about a month or so into our work together. And, here again, some gear that was okay in the beginning suddenly looked like it was holding him back.
What I'm talking about are Jerry's in-line skates. You see, in the early going I think Jerry had enough to worry about just striding around the rink. The most we'd done beyond that in the earliest sessions was some very basic crossing-over and a little bit of cutting towards the left and towards the right. Suddenly, however, his skates — or should I say the configuration of his wheels — began seemingly holding him back.
In this aside, I need to say that I pretty much pioneered the use of in-lines for the training of ice hockey players as soon as they became available to the masses. Long-time members know how much I value off-ice training (ever since my 1979 studies in Moscow of the old USSR). But, as much as I love using dryland to enhance a player's game, imagine my excitement at my students ultimately being able to skate away from costly ice-time. Yes!




My son actually owned the first pair of in-lines in our house, these having an old Erector Set kind of arrangement that held the wheels under a real hockey boot. My first pair weren't quite as nice. In fact, I felt like a beginner in them, which caused me to seek the help of an old friend and former student, Olympic speed skating Silver medalist, Eric Flaim. Eric owned a pro shop in Boston at the time, and he knew tons about in-lines, having used them as part of his speed skating training.




The difficulty I was having with department store in-lines had to do with a flat configuration of the wheels. So, Eric made for me a special frame that allowed the four wheels to be raised and lowered. And, with that, I could come very close to simulating the rocker — or radius — shape of my on-ice skates.




By the way… Since my students didn't have the kind chassis Eric introduced me to, I suggested they simulate the radius of their ice blades by putting slightly larger diameter wheels in the middle and slightly worn or smaller ones on the back and front.
Back to troubleshooting Jerry's problems, I was noticing that he had difficulty making really sharp cuts. And he really struggled in his attempts to pivot on either skate — from forward to backward to forward.
Now, understand that various ice skate blades are designed to meet the unique demands of their sport. (For lots more on this, please see my article on "Comparing Hockey, Figure Skating and Speed Skating".) I'm sure you already realize that speed skates are long and flat to accommodate most long, straight ahead skating with minimal turning; while figure skating blades make it easier for athletes in that sport to spin and cut. Hockey skate blades, on the other hand, are shaped almost like the figures blades, but just a little flatter to facilitate more straight ahead speed.
I mention all that so you might appreciate what I thought I was seeing as Jerry attempted to spin. For, once I noticed his difficulties in that area, I got down on my hands and knees to inspect the way his wheels contacted the roller hockey floor. And, sure enough, all four wheels on each skate were touching. In effect, he was trying to perform figures or hockey moves with the equivalent of speed skates. Or, as I've said to Jerry, it's like he's trying to do sports car moves while driving a tractor trailer.
It's nice to have friends in high places (as with Eric Flaim). So this time I touched base with an old friend I consider "The Man" when it comes to in-line hockey equipment. And Mike W confirmed my suspicions, along with adding a ton of additional advice. As it pertains to the problem at hand, though, Mike suggested the kind of chassis arrangement that has bigger wheels in the back and smaller ones towards the front.
New problem: Jerry had that exact so-called Hi-Lo configuration. Hmmmmmm…
Interestingly, a group of really good in-line players followed us onto the court one Saturday. And, man, could those guys skate. So, chancing to ask a couple of the better players, they told me they had no problems with the Hi-Lo arrangement. So again, hmmmmmmmm…
Back to working with Jerry, something else struck me: My older Team NEHI players move just as nicely as the guys I just mentioned, and they do it with store-bought skates (or without having to make the adjustments I used to recommend). So, could it be that experience matters? I mean, others are doing awesomely while Jerry surely isn't.
Then, Jerry mentioned that he had another pair of in-lines — his "back-ups" he called them, IF I'd like to see those. Geeeeze, would I ever!
As it turns out, what Jerry referred to as back-ups were really, really nice skates. Better yet, I discovered that only one or two wheels touched as I ran them across a flat surface. Bingo!
Then, one thing I'll share with you that I also mentioned to Jerry, in that the less blade or wheel touching the ice or floor, the less glide. In other words, there's a trade-off. With only a small area to spin on, he should have a lot more mobility. At the same time, he'll lose just a little straight ahead speed. And, considering the (small) size of the floor he usually plays on, I'm thinking this is a very, very worthwhile trade.
As a final aside here… Jerry's two pairs of skates are made by the same company, and one noted for great roller hockey gear. Still, the skates I like look a lot better than the others in more ways than just the chassis. Ya, my guess is that the ones I like are the real thing, while the others may have been made for less serious — hobble with your girlfriend for a stroll — skaters.
Okay, so that's it for now… Jerry and I have a lot more work to do together. And, I'll be sure to keep you posted on his equipment escapades and lots more.
Be a friend: EVERY worthwhile Comment helps Coach Chic in the search engines!
If you've ventured-off into training for other sports, you've likely come across sled-like devices that are used for adding resistance against the running motion.  In fact, such a gadget is usually called a "sled", and I've seen them used by sprinters, football players and rugby players, and I'm sure they're being used by athletes in lots of other running sports.
So, why couldn't such a training aid be used to add resistance against the skating motion?  Well, the difficulty is that the metal "runners" seen on most sleds are made to be used grass or pavement, and they just wouldn't work well on the ice.
Thankfully, about a dozen years ago, I saw a demonstration by a Swedish hockey player using something like the gadget shown in the photo below…

Of course, I couldn't have run out to a local store and purchased such a thing.  So, I took the next best step and built four of my own.  Ya, I built more than one of what I dubbed a "Tow-trainer" because I frequently work with groups of players — in a hockey school, in a clinic environment or with a team.  Oh, and by the way…  As you'll soon discover, the material at the bottom of my training aids allows them to be used on the ice as well as on pavement, on grass, or on a roller hockey floor.
There's actually a reason my Tow-trainer is the subject of an article and videos right now.  You see, as I've been working with Jerry Z, I've noticed that the next step in his development is to get him leaning forward and driving forward.  Members who have been following Jerry's progress should appreciate what I'm doing here, in that we've already solved a number of basic shortcomings in his game to this point, so it's time for me to look for the next "grossest" problem.  And that forward drive is it.
Now, Deb K — in a drill she calls Chariot Races — suggests that to apply resistance to the skating motion aids in two ways:  1) a player is almost forced to lean forward to gain momentum, and 2) a player is forced to turn the skates outward in order to achieve a decent grip on the ice (or pavement or floor).  I totally agree with Deb on those benefits, and you should be able to see them actually happening in the videos to follow.
If you click on either of the  two photos below a video will open for you in a new window.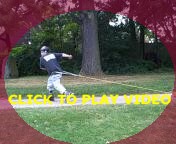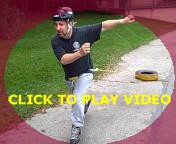 Notice in the first video that Jerry Z must wrestle more than a little to get the Tow-trainer going.  Yes, trying to get momentum at the start is difficult — with the device, and with the extra weight he's added to it.  (The bus sighted at the end of the second clip will be featured in a new agility drill to be shown later! 
  )
Members ought to know that I loaned that Tow-trainer to Jerry after a recent session in The MOTION Lab.  So I could only give him some rough suggestions on its use.  The reason I mention this is because I'd have made some adjustments to the ways he used that device had I been at his first workout with it.
For one, I'd probably lessen — by about half — the amount of weight he put in there.  As you can see, the load he used caused a motion that really wasn't natural.  Oh, it might be good for his leg strength, but not for our intended aims.
I would also likely use only a part of the hill he's on, or that part that isn't drastically steep.  Ya, a slight incline would probably be good, but not too much.
I would also ask Jerry to shorten the distance for that drill.  As I mention when it comes to using something like a slideboard, I prefer that serious skaters not work on their stride for longer than a period in which they can really focus on mechanics.  For, once the concentration wanes, the skater starts to practice the wrong techniques.
Safety Suggestions
Oh, and here are some serious safety tips I've learned from experience…
Be extra careful with a Tow-trainer's use on a slick surface — such as on ice or on a SportCourt-like roller hockey floor.
Once a skater gets momentum, the sled will keep going after he or she has stopped.
I also now avoid having a skater do turns or cross-overs unless I can really control the training area.  For, the device is going to really whip outward during such movements.
*
Now, those members who are here during the month of October, 2009 are fortunate to find directions for making your own Tow-trainer/s very easily and VERY inexpensively.  You'll find those directions in the *Gifts category.  However, if you missed them, I plan to rerun past gift offerings at later dates.  Promise.
*
Ya know, as I add content to this site, I truly wonder if any of these kinds of advice, drills or training devices can be found anywhere else on the Internet.  I don't know; what do YOU think?  I'd really like to know — in the Comments below — if you've found anything here you don't believe you'd have ever found elsewhere.




Thanks a ton!

– Dennis Chighisola
Well, it's been some time since I first introduced our new buddy, Jerry z.  Actually, about a month.  But, he and I have needed that time together.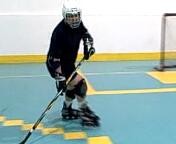 I needed some time to sorta sit back and get a sense of where he was — personally, as well as in comparison to the guys he regularly plays with.  But, I'll explain that more a little later.
I also had to get a sense of how much Jerry could do between our sessions together.  (I'm chuckling to myself right now, but I recall giving some homework assignments to a young lady who lived in a 2nd floor apartment, and man did her downstairs neighbor scream at the pounding from above.  Oh, well…)  Thankfully, Jerry was able to do the things I prescribed as homework, and he even had access to some outdoor venues — including a nearby tennis court and a local high school track.
Anyway, let's get on to the video I'd done about Jerry.  After you've seen that, I'll have a few more comments to add…
Loading...
Now that you've seen the video, allow me to back-up a bit…
You see, I'd like this to be a learning experience for a broader audience than just in-liners.  So, I'm going to share some of the problem-solving techniques I commonly use with players — be they roller or ice hockey participants.
As I mentioned in the video, overcoming his greatest overall problem is going to make the most impact on Jerry's playing ability. So, that was my major concern when we met for the first time.
As an aside in this area, I can't tell you how many folks I see inspecting beginners and immediately fixating on some little, picky thing that has hardly any bearing on that experience level.  In other words, it doesn't make sense to look for a minute mechanical flaw when a player is suffering from a much more basic one.  In fact, if you want to really frustrate an inexperienced player, force him or her to worry about the angle of this or that, his or her weight distribution, or the likes.
With that, my assessment was that Jerry mainly lacked time on his wheels, and along with that the comfort and energy efficiency seen in more experienced skaters.  Of course, I could have told him to just skate more, and send him on his way.  However, there was still some solid advice I could provide him, including how to move through a pattern similar to what he'd experience in a game.
For sure, that pattern had to include changes in direction.  So, parts of our next few sessions included me helping Jerry with pivots, sharp cuts and cross-overs (and you might notice his improvement in those areas as the above video progressed).  I also showed him how to stop in in-lines.
Now, had a glaring equipment problem jumped out at me in the very first meeting, I'd have dealt with it immediately.  However, it wasn't until Jerry tried doing some fairly sophisticated moves that a stick and a skate problem came to light.  (I want to go into a little depth on those topics, so I plan on addressing them soon in another post.)
In closing — for now, I hope you noticed Jerry's progress from the first sessions to the last.  I surely did, and it's been even more noticeable up close and in person.  As a matter of fact, as I watched the end of that video, I realized Jerry had new needs.  Oh, he'll still benefit from doing some of the basic drills.  However, I have a couple of new gadgets I want to tell you about shortly, these aimed at bringing Jerry's game to yet a higher level.  So, stay tuned…
Be a friend:  Your worthwhile Comment helps Coach Chic in the search engines!
I think members are going to absolutely love this new area (and I'm kinda psyched at the prospects)!
What's happened is that a local guy, 49-year old Jerry Z, recently contacted me to ask for help with his in-line skating.  After a brief get-together, Jerry and I decided to use his experiences — as a fairly new roller hockey player — to help CoachChic.com members (both in-liners and on-ice players).
As you'll discover along the way, my new friend is REALLY new to skating — of any kind, so he wrestles a bit with his comfort over those wheels.  At the same time, though, he's a really good sport — a nice guy, and he is seemingly willing to do the things I prescribe as "homework".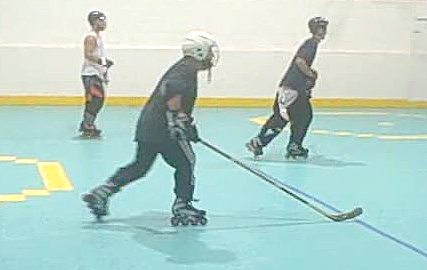 Speaking of being a good sport and a nice guy…  I'm not sure we could find many volunteers out there to do this sort of thing.  I mean, Jerry has to be willing to look a little foolish at times in order to improve (and he is already making progress).  Worse yet, he has to do it in front of a whole bunch of new friends here at CoachChic.com.  My guess is that you all are going to learn to love him and to really appreciate his efforts.
As for a little background, Jerry tells me he's always been a true hockey fan…
He played street hockey since about the time he was 8-years old, but he never played on any truly organized team or had any formal coaching through those early years.  I think typical beginner woes discouraged him from staying on the ice very long as a youngster, so he stuck to running on a floor or pavement — through middle and high school, in some youth programs, a few camps and clinics, in college intramurals, and then with some pick-up groups.  For about the past decade he's participated mostly in deck hockey leagues (a formal version of street hockey), more recently skating with some in-line pick-up groups.
Of course, all that just sets the stage for where we are right now.  For, as you'll see — and as he freely admits, Jerry struggles sometimes to keep-up with more experienced guys.  However, as you'll also ultimately see, he is more than willing to endure the bumps, bruises and pains that come with paddling his way in a new sport.
That as our backdrop, I think a lot of members are going to learn from the way I troubleshoot Jerry's problems.  And you ought to really enjoy seeing his progress.
As we head into this new venture, I also want members to keep a few important things in mind…
Jerry's main aim is to increase the amount of fun he's having playing amid his roller hockey friends.  But then, isn't that the reason all of us here are working on our playing, coaching or parenting skills?
The only reason I took on this assignment is because Jerry seems a willing worker.  Actually, in just a week I've seen some improvement in the way he moves around the roller court, this I attribute to his doing the little homework challenges I've asked of him.
As I hammer at in What Is A Practice Really For, a player has to be willing to stretch himself or herself in drills.  In other words, Jerry has to be willing to dare a bit — or to break through his current comfort zone.  And that is also something he seems more than willing to do.
I'll tell you a lot more about Jerry Z as time goes along.  As you'll soon discover he's a great personality, and you're going to be pretty impressed with what he does for work.
Finally, I don't want all my "ice" hockey friends thinking there isn't going to be a lot to gain from watching Jerry and I work together.  Almost everything I do with him is going to be transferable to the ice.  And, if you do as I and my Team NEHI players do, you'll use your wheels as a means of awesome cross-training for the ice.