This is just a short post, but I took a little video during my high school team's recent practice, and I thought I'd not only show you a specific drill, but I also wanted to tell you about my reason's for doing it.
– Dennis Chighisola
Hockey's High Flip Passes
Just so you know, most of the drills I use with my players — from the very beginners through to my oldest guys — are ones that I've deemed necessary to their development.  In other words, I may have noticed a flaw in their game, and I'll come-up with something that should help.  (Sometimes it's just the needs of a single player that cause me to do this, but even catering to the needs of one kid will usually end-up helping quite a few others.)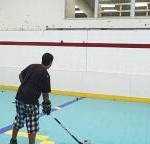 Yet at other times, there are little extra skills I want to get into my players' games.  Often they're things that most other coaches don't even think about.  But, as I told a few of my guys the other night (while doing a different drill), 'This just broadens your effectiveness."  In other words, the new trick or skill might not necessarily be all that noticeable in a game — to the fans.  But a coach is very likely to appreciate one of my guys because he has a knack for doing the "little things" that help win games.
Okay, so what did I have my guys trying the other day?  It was the high flip pass that can be used to sail a puck up and over some oncoming opponents.
As you'll see in the following video, I sorta just gave my high school players some rough guidelines, and then I allowed them to experiment.  In this case, we were at our roller rink facility which has a high wall along one side.  And, conveniently painted on that wall is a long red line that's probably about 6- or 7-feet above the floor, and it acted as a spot for my guys to aim.  So again, I told my kids to take their time and get a feel for the movement.  That's all I can expect in their first go at it…
Loading...
You may have noticed that the young fellow featured at the beginning and end of that clip has fairly soft hands.  Not that the other guys don't, but it's pretty pronounced in that one boy.
And that brings me to another point, in that a lot of the drills we do with one purpose in mind also aid the development of another skill (or several others).
More than anything, though, I want to emphasize three other points…
First, if you hadn't already, you now realize that a skill like this one is pretty handy.  Oh, as I suggested before, it's not a necessity, by any means.  But it sure is good to have within your bag of tricks.
Secondly, I hope you noticed one of our goaltenders working on the very same skill.  I know lots of other coaches would exclude him or her from this kind of stuff, but not me.  I want my netminders to (within reason) have the same skating, puckhandling, passing and shooting capabilities as my skaters.
Third — and really most importantly, I'm using this post to lobby for a little built-in practice time where your skaters can just relax and experiment with a given skill.  Oh, I'm as driven as any coach to run fast-paced practices, and to do lots of stuff with discipline.  However, today's kids — at least from my point of view — lack the chance to freelance and experiment like a lot of earlier generations did on local ponds and rivers.
Lastly, while our off-ice facility is a great place for the guys' first tries at a new skill, you can be sure we'll take this drill to the ice shortly, and probably at some point even have the players try to execute the skill under some game like pressure.
*
As always, I love (and greatly appreciate) your Comments.  Just use the box below.

The following was initiated by a conversation I had with one of my long-time advanced students.  That's as much as I really want to say about him, because to go more into it would likely embarrass many of his teammates.  Of course, that's not my aim here at CoachChic.com; what my aim IS, though, is to share certain things with my hockey friends that can change their game — A LOT.
– Dennis Chighisola
Underlying Problems in Hockey Passing
Now, I want to re-establish the fact that the above conversation centered around older guys who play an advanced game, or even what most folks would consider an elite level.  <= THAT, I'll suggest, is going to be an important point for all members to consider as I move along here.
What arose in our brief talk was the fact that a lot of concessions evidently had to be made for my young friend's numerous teammates who could not catch passes.  Ya, you read that correctly; most of them can't easily handle a pass so they can quickly get-on to the next thing they have to do (like shoot or whatever).
As an aside, our conversation also included a little about passing — as in most of those guys not being able to thread a firm, flat pass right onto a teammate's stick-blade.
That said, I eventually had to add my own two cents worth…  What I need to share — with anyone who will listen — is that there are always underlying reasons for the problems older players experience.
As yet another aside, let me point-out that NHL players have their own skill deficiencies.  That's why there's a difference between any pro roster's top player and the guy or two who is just hanging-on.
In just about every case, the shortcomings of older players have to do with how they were raised in the game.  And that's what I told my young friend…  In his case, I said that his teammates as far back as in Mites, Squirts and Pee Wees were instructed on the tactical aspects of passing — like, "Don't hog the puck!" or, "Head-man it as quickly as you can!"
Very seldom do I see youth coaches actually take the time to instruct their players on the "skills of passing and receiving".  (Actually, the young player I was talking with had to think a bit about that one, because he was fortunate enough to be under my tutelage during those critical skill building years.)
Like so many other individual skills, proper passing and receiving techniques have to be second-nature, or instinctive.  And that means learning them as early as possible, mastering them, and then constantly refreshing them.  (Okay, it might not be as easy as that when it comes to the passing game, because a properly instructed player would best be raised in accordance with the conditions I describe in my Building Blocks Approach to Skills.)
If there's one huge mistake I see made at our game's developmental levels, it's the notion — among parents and coaches, that, "A kid will get it sooner or later."  And, I'm here (as your trusted adviser?) to tell you it ain't going to happen.  What will happen is that a player who has had certain skills glossed-over will ultimately learn how to hide those shortcomings.  Oh, sometimes they get him or her cut from a team at some point; sometimes the player just keeps surviving — even at the NHL level.  But, make no mistake about it:  that kind of player IS going to suffer, and he or she is going to spend plenty of frustrating nights out on the ice.  (Come to think of it, so are a lot of teammates going to be frustrated at that player's lack of skill.)
Okay, so what to do about all this…
- I think we really do need a change in attitude among lower level youth coaches and parents.  Please — from this point forward, know that the little things do matter, and please don't fall back on that old "A kid will get it sooner or later."  The chances for that aren't very good.
- I had thought to make a new video for you on this subject, but I quickly realized I'd already covered most of what needs to be known when it comes to passing and receiving.  So, as soon as you get the chance, I'll suggest you go here:  Passing & Receiving.  Scroll down to the bottom of that page and work your way upward.  Again, you'll find a ton of information there — for the player, coach and parent.  And, who knows?  You just might take care of the underlying problems in your youngsters' passing game before it's too late.
*
As always, I love (and rely upon) your Comments!
It's nice that the questions keep coming in.  And, while the most recent one asks for "a" simple head-manning drill, I'm going to try to do a little better than that…




– Dennis Chighisola
Some Simple Head-manning Drills
Now, I never just skip ahead, or presume that every member knows every bit of hockey jargon.  So, let's begin by discussing the term, "head-manning".  (Is there anyone out there — like me, who wonders how such words and phrases ever came into being?  Oh, well…)
It should make sense that the puck can be advanced up-ice much faster with a pass than by having a player skate it over the same distance.  In fact, the following principles are pretty widely accepted, as they govern the decisions a puckcarrier should make while moving up the ice and through the neutral zone:
Whenever possible, advance the puck quickly over a long distance by passing it to a teammate who is closer to the opposition goal.  (This is what's referred to as "head-manning" the puck, or passing it ahead to a man up-ice).
If there's no immediate chance to head-man the puck, continue carrying.
If at some point the puckcarrier faces a rival defender or defenders, these things should be considered…  A confident attacker might attempt to beat a single defender, 1 on 1.  However, should he or she be confronted by more that one defender, smart hockey principles dictate that the puck be dumped.  (Hey, it's wiser to gain the opponents' zone and move the puck ahead some 60-plus feet, rather than risk a turn-over in neutral ice.)
There can be a fourth option for the skilled puckhandler, in that he or she might be able to move away from the defenders — or enter the offensive zone far from traffic, and then protect the puck and wait for teammates to arrive.
All that said, I don't know of a single head-manning drill, but I do try to precede most attacking plays with some sort of pass.  And, many of these would be considered among the head-manning variety.  So, here are three:
Spring the Wing – I just created and started using this drill to accomplish a number of things.  I use it early in our practices as a way of warming our goaltender with some long shots (I had to recently abandon the two drills shown later in favor of this version, because we have had only one goaler at practices).  As you'll see in the video (click on the adjacent photo), this drill starts with a long pass to a player flying up the wing-boards.  I ask my kids to help their mate keep flying (not to slow him with the pass).  If you'll also notice, I'm trying to get my young guys to cut quickly while carrying the puck in and out of opponents (in this case a row of small tires).
Long Pass, Long Shot – This is a basic warm-up drill I like to start most practices with (when I have at least 2 goalies).
As in the earlier shown drill, the passing and skating and shooting on-the-go are great for my skaters, while I want them to view the shot as actually helping warm their goalers.
As shown in the photo (to the left) and in the video (click on the photo), skaters with pucks are positioned in two rink corners.  A skater flies towards neutral ice, receives a long, hard pass from the far corner, and then takes a long shot on net from about the blue line. (Obviously, this drill can and should also be run from the opposite corners.)
Now, I especially like drills like this and the next one for developing soft hands on a catch, because the force of a long pass is increased when the skater is moving towards the pass.
Breakaway Passes – This is just a variation on the previous drill, but it probably better satisfies a coach's desire for a good head-manning drill.  In this one, a skater moves to neutral ice looking for a breakaway pass, catches the long pass from the other end, and then turns to attack the net at his own end.   (Click on the photo to see the video.)
(This drill should also be run from the opposite corners so that skaters get to loop in both directions.)
*
Do you have any drills that even better help this member in need?  Just send your idea/s along according to the directions offered under "Drills".
My Facebook friend (and CoachChic.com member), Kathy C, couldn't have posed a more timely question.  For, it's mid-October, beginner hockey players are flocking to learn-to-play type clinics all over North America, and a lot of new hockey parents are scratching their heads as they attempt to outfit their youngsters.




More specifically, Kathy jokes that I get to settle an ongoing debate — between her, her husband and the local pro shop guys — in determining which way her 4-year old son should hold a hockey stick.




Fortunately for Kathy (and any other new hockey parents), I've been dealing with this issue for a good 30-years or more.  So, with that, here goes…

– Dennis Chighisola
How Should a Beginner Hold a Hockey Stick?
Up front, I'll suggest that there is an easy way out of this dilemma, that being to purchase a stick that has a flat blade, and then let the chips fall where they may.  This, however, is not my personal preference.  Over recent years I haven't seen a decently constructed flat bladed stick, with most of them being hunks of tree limbs that are far too heavy for kids in the toddler to 5-year old range.  Moreover, a slight curve in a stick's blade encourages my young students to carry the puck just as I'd like them to — between the blade's midsection and its heel.  Oh, and there's something else I like about most curved sticks that I've held, in that they have a nice (but perhaps undefinable) "feel" to them.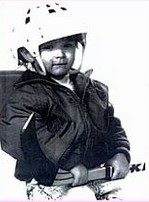 That out of the way, here are two tidbits of background information that really are meant just as FYIs:
Quite often, one holds a hockey stick just as he or she might hold a broom or a shovel.
Quite often, one will feel more comfortable with the dominant hand holding the top of the stick.  (I get a kick out of new parents who scratch their heads at their kids being right handed while holding the stick to their left side.  But that would be natural, as you see, with the dominant hand used to steer the stick-actions from the top of the shaft.)
Still, notice that I said "quite often" in both instances.  For, although these are relatively common occurrences, THEY ARE NOT RULES.  Every player still needs to seek his or her own comfort in handling a hockey stick.
Now, I actually chuckled to myself as Kathy said something to the effect that one shouldn't ask her son which way he shoots.  She is right-on about that, since asking a young one how he or she shoots is going to cause him or her to think too much.
That said, I think we have two different situations when it comes to the which-way-should-he-shoot question…
In Kathy's case, I know that her little guy has been playing around the house with a flat bladed stick for some time now.  So, I'd suggest that she and her husband just quietly observe the boy as he bats at a ball (or whatever).  Whatever he's doing during that time — not knowing he's being watched — is pretty likely to be natural.
On the other hand, there are those who find themselves at a local pro shop and suddenly faced with the need to buy a stick.  Hmmmmm…  What I'll often suggest in that situation is that the parent roll-up a piece of paper into a ball, and then encourage the youngster to shoot it around the shop for awhile.  Then, doing just as I've suggested to Kathy and her husband, the parent can step back and quietly observe his or her youngster doing whatever comes naturally.
Finally, although the purchase of a youngster's first hockey stick seems traumatic, consider the fact that he or she will probably ultimately own dozens upon dozens of sticks through the years.  So, while my suggestions still only give a first-time hockey parent a 50/50 chance at being right, beginner sticks are inexpensive enough that re-thinking things a few months down the road isn't going to be too painful.
Just so new members appreciate what I'm trying to do here…  Kathy sent me that question this morning and I had an answer posted a few hours later.  I want to do that for my members (and friends), providing you answers when you need them!



Did you know your Comments really help me?  So, please get involved.  Just use the box below to offer your thoughts, questions or suggestions.  (And thanks — a bunch!)
Some time ago I discovered the benefits to just slightly changing any given drill to shock my players' concentration.  Substituting another object in place of the puck can do this.  And, I've more recently tried — with some success — the use of big balls, like those used in basketball or soccer.

– Dennis Chighisola
Okay, I know the above claim needs a whole lot more explaining, so here goes…
Let me start by reminding my CoachChic.com friends that "repetition (surely is) the best teacher".  However, "boredom is the greatest threat to effective teaching".  In other words, doing the same exact drill, over and over again, IS great for creating muscle memory.  Still, that's only good to a point, since overdoing the same drill is likely to eventually cause our players' eyes to glaze-over.  I mean, at some point, our players will start just going through the motions in zombie-like fashion.  And this is when poor technique and poor decision-making — along with the wrong kind of muscle memory — start creeping in.
Let me also remind you that it's at a time like this when there's a need to get a little creative, or "artful".  (If there's a caveat here, it's that we have to continue reinforcing proper techniques, and not just go to another form of drilling for the sake of change.  In other words, while players have to feel a drill is new, parents and coaches have to be careful in choosing a substitute drill.)
Now, one of the earliest posts I contributed to this site had to do with using a small ball for teaching passing techniques.  As I described in that one, pairs of players move while passing the ball back and forth to each other.  As I also suggested, proper passing and receiving fundamentals can be reinforced while this drill runs.  The receiver can be reminded to give a good target, and we coaches can reinforce a need for the passer to lead his or her teammate and to put the pass right on-target.
If you get where I'm going with this, you might also sense, as I do, that players usually won't see the above described drill as being anything like the same old, same old ones we've done so many times before.  In fact, I often see my players refreshed by this approach, and they tend to give more of themselves just because the drill does seem new to them.
As another example…  Late last winter I started to get the impression that my junior high school team kids were just going through the motions during our breakout drills.  (Actually, things were getting pretty ugly.)  How could I blame them, though.  We must have done those same old drills hundreds of times over the long season.  So, I decided to bring a soccer ball to our next off-ice practice session.  And, it did the trick.  Suddenly the kids seemed to brighten-up, and they were suddenly focusing again, too.  Their concentration was back, and they once again began attempting to place passes right to their teammates' hands.
Now, once I see something works, I salt that idea away for future reference.  Ya, switching to small ball passing (as described earlier) probably crept into my drill repertoire some 15-years ago, and it's always been there for me to fall back on as the need arose.  So has the big ball idea been available for me since late last season.
That said, I want to insert here another thought…  In strength training circles there is a relatively new approach referred to as periodization.  And, for all the science that might be used to describe that mouthful, my oversimplification of that term is this:
While sticking with a given training routine for a considerable length of time will produce positive results, there will ultimately come a time when progress either slows or almost stops.  (This is often referred to as "plateau-ing".)  So, the idea of periodization is to avoid plateaus — in advance — by periodically changing an athlete's routine.  In other words, we know a routine is ultimately going to lose its effectiveness.  So, why not switch to some alternate exercises beforehand?
So, does this line of thinking sound anything like my idea of using alternative drills in our hockey practices?  I definitely think so.  And, borrowing from the idea of periodization, I've even begun inserting substitute drills BEFORE the traditional ones start losing their effectiveness.
As an aside here, and as a way of introducing a few new drill ideas for you…  I don't think we should get stuck on any given type of substitute for a puck.  At certain times small balls work; at others times I've found it wiser to use a big ball, because it slightly slows the action, or because it in some other way makes a drill run better or safer.  And, I don't doubt that either you or I might arrive at something even better to use sometime down the road (I don't know; frisbee, anybody?).
Now, late this summer I felt the need to reinforce offensive 2 on 1 principles with my Team NEHI guys.  I think players tend to like games of keepaway, probably because there's competition involved, and also because these contests aren't very different from real game action.  Of course, I like keepaway games because they force real game decision-making, proper passing and receiving skills, and because they can be performed in a small, easily observed area.  In other words, it's pretty easy for participants and coaches to see if choices and skills have been performed successfully.
Shown to the right are my guys playing games of 2 on 1 keepaway (roughly) within the end face-off circles.  (If you click on the photo you'll see a video of my guys in action.)  Actually, we played these games on-ice during the week with pucks, then used a soccer ball in our weekly off-ice practice.  If you can appreciate it, the same principles and techniques were reinforced in both venues, while the kids reaped the benefits of seemingly different drills.  In the video you might notice the kids laughing a bit, or being fairly animated (suggesting they're enjoying the competition).  Also, notice the two young kids (our junior high school goalies) in the second group, as they actually try to get open and they also use some eye fakes to fool the checker.  And, done enough, I'll suggest that these things will gradually transfer into their game play.
Shown in the second photo are some of my NEHI HS Prep guys doing the same drill.  (Click on the photo to see that drill in action.)  You'll notice I've added a little incentive (or consequences) to their success or failure in the game.  Hey, there are consequences if we lose the puck in a real game, so — on an honor system — kids who cause a turn-over quickly do 5 push-ups.
This brief sidebar…  I tell my guys ahead of time that I don't want the push-ups to be seen as a real punishment.  The reason I'm only asking them to perform five quick ones is so that they'll at least associate a small amount of pain(?) or embarrassment(?) with losing the puck or ball.  (If you think about it, most of the drills we coaches run during our practices don't have the same kind of results-oriented consequences as our games.)
The final photo shows some of my kids working on their offensive zone man-advantage plays.  I'll get plenty into powerplay tactics down the road.  But, for now let me say that an effective powerplay can often be the great equalizer when/if our team is struggling in other areas.  Also, if you think about it, powerplay skills and principles tend to trickle-over into many areas of a team's 5 on 5 play.  I say all this to let you know that we spend a pretty good amount of time working on man-advantage situations.  Understandably then, we REALLY need alternative forms of practice to avoid all the issues associated with boredom.
(Click the photo to see action drilling on our powerplay.)  This clip was taken early in the kids' learning my version of the umbrella formation.  So, while they certainly haven't yet gotten to the point of executing plays in this video, they are quickly learning to recognize where teammates should be, where opponents likely are, and where their passing options might be.  Again, though — aside from the teaching aspects, this form of drilling makes it possible for me to practice powerplay tactics — A LOT.
In closing, I hope players, parents and coaches appreciate my concerns for practicing plenty while also trying to keep focus or concentration.  I'll suggest there's a delicate balance required in our drill selections — between traditional ones and alternatives.  The use of small and big balls can help towards this aim.  But, they're by no means our only options.
Be a friend:  Your worthwhile Comment helps Coach Chic in the search engines!
I'm half joking about the above title.  I mean, you probably don't believe we should have to get very technical about how to hold a stick blade when readying for a pass.  Yet, I find passes being muffed so often that I feel compelled to get into this subject pretty deeply.  In fact, once or twice per season you're likely to find me down on my hands and knees on the ice, holding a stick blade in various fashions, and explaining exactly what I'll share right now…



If you'll click this Stick Targets link, it'll open a short video in a new window.  Go ahead, and please take a look…
It's pretty common sense stuff, huh?  If the blade of a stick faces anything but perpendicular to the path of the coming pass, the puck is going to deflect away from the stick.  No if, ands or buts.  Nor is there any question that the puck has its best chance of sticking IF the blade faces directly at the oncoming puck.
It's all obvious, right?  You know it and I know it.  Yet, a lot of players are forever carrying their stick blades lazily, with little regard for whether their targets are really facing the puck.  And, when a pass does go bouncing 8′ off their sticks, they just bang their sticks or shake their heads as if the hockey gods had let them down.  Ha, hardly.
As a brief aside here, I truly believe one of the biggest mistakes we coaches and parents can make is to ignore the obvious, or skip-over the very basics.  Again, you and I often know this kind of stuff.  But, we're doing our players a huge disservice if we don't make absolutely sure they know it too.
Oh, one other thing in reference to good stick targets…  If you can visualize a potential receiver travelling along and holding his or her stick blade any way other than perpendicular to the puck, there's a good chance the guy or gal who wants to pass can't really see the target.  In other words, with the blade held uncaringly at a drastic angle, the player with the puck is probably only seeing part of it.  On the other hand, the passer is sure to see where the receiver really wants the puck IF he or she shows the whole face of the blade.
As an introduction to the following video, I'd really like you to review the article I did on my Russian Half-sticks.  In particular, I'd like to remind you about the conversation I had with my Soviet interpreter one special day in Moscow, and how that brief exchange changed my views on passing forever.
I also hope this video gives you a little insight into the way I get into most skills.  I mean, quite often the problem in a given area really stems from a slightly hidden issue.
Anyway, I hope you enjoy the following.  And, as always, I welcome your feedback or comments…
Loading...
*
Two years after posting the above entry and video, I ran across something pretty interesting in reference to my using weights to help my kids gain a better understanding of their passing strength.
Actually, I was doing some research on plyometrics this morning (for a new training program I'm about to advertise), and I ran across this (rather old) video featuring the famous Dr Michael Yessis.
At one point he explains his reason for having a young football quarterback throw a weighted ball in preparation for heaving a regulation one.  As Dr Yessis suggests, the increased resistance forces the thrower to recruit more muscle fibers into the movement.  So, while I've known for a lot of year that sliding a weight would help hockey players pass the puck more forcefully, there now seems to be some scientific validity to my simple drill…
Q: Sid, a hockey coach from Ontario, notes that his team's passing skills "weren't all that great" over the past season, and he's asking for any sort of help I might be able to provide towards improving that skill with next year's team.
A: I have a great video on that subject that I promise to post as soon as I can.  In the meantime…
Recalling my long ago studies in the old USSR, I'll never forget a lunchtime break I spent outside the Spartak Sports Complex in Moscow, this with a couple of my study group buddies and a former Soviet player who was acting as our interpreter.  For, the moment I mentioned passing, Nikita's eyes lit-up, and my views on that subject began to change forever.
In most instances, North American youth hockey parents and a lot of youth coaches view passing as purely a tactical ploy.  Oh, for sure, it is an important part of our game's X's and O's — advancing the puck up-ice quickly, moving the puck to an open teammate, etc.
What lots of folks fail to really think about — and what Nikita made me overly aware of — is the great skill required to make good passes, to get open properly, and to then receive the pass.  (For a good reminder on where passing falls within our game, I highly suggest reviewing CoachChic's Building Blocks Approach to Skills.)
Now, Sid, as it so happens I felt kids on my recent junior high school team were also struggling with their passing game.  A good many of them were new with me, so they brought with them the aforementioned problem — of seeing it less as a skill and more a matter of tactics.
Thankfully, I thought back to something I didn't see in Moscow but did hear about.  What I understand is that some Soviet coaches had their players practice with sticks that had about half their blades missing.
I decided to try this approach with my kids, and I gave them and their parents a few weeks warning.  In other words, I asked them to be on the look-out for discarded sticks with just a portion of the blade missing, and then gave them a target date for when we'd begin using them.  I also asked parents to trim the blades — or smooth them so they posed no real safety hazard.
The following video shows one of my players working with his half-stick at a weekly off-ice practice.  Once you've had the chance to see the stick in use, I'll add a few more comments below…
Loading...
What I realized in our first attempts with the half-sticks was that my kids really had to concentrate.
Thankfully, passers seemed to care more about sending good passes, perhaps because they understood how difficult it was going to be for their partners at the other end to make a catch.  From the video, you might notice how much care my young demonstrator makes in sending his passes with long, sweeping motions.
You ought to have also noticed how careful the demonstrator was about catching the pass.  I mean, he really had to soften his hands and give with each catch.  (I now sense that a full blade sometimes allows the kids to act lazily on their catches.)
By the way…  I believe the best passes — and even the best receptions — are made with the heel-to-middle area of a stick-blade (one almost always creates a wobbling pass when sending it from the toe of the blade).  So, these half-sticks had a way of forcing my players to only use that heel-to-middle area.
As far as using those sticks…  I asked my kids to carry them to every practice session.  And, I'd ask my players to switch to those sticks whenever we did a puckhandling or passing drill that didn't require a slapshot at the end.  Interestingly, the kids seemed to like them, because I'd often have individuals ask if they could use their half-sticks at other times.
So, I suggest Sid try these next season with his team, and other coaches should likewise consider giving them a try.  Furthermore, I think older players and parents of younger players could find ways to incorporate half-stick training — in team practices or while practicing away from a team.
Searching for ways to gain more repetition with a given skill (just to avoid doing the same drills over and over again), I especially like substituting "hand passing" — with a beanbag, a ball or a puck — as a way of reinforcing basic passing skills.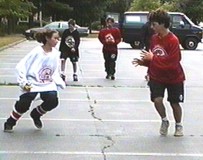 And, the reason I KNOW this form of drilling meets my aims is because I find myself making almost the exact same corrections and comments as when we're doing traditional-type passing drills!
By the way…  Although I usually do this type of drilling away from the ice, it can be done on practice ice, so long as necessary safety precautions are in place so that hand injuries won't likely occur.
A lack of passing strength isn't only common to defensemen but, it's with my younger blueliners that it usually jumps right out at me…
Before going on, let me suggest that very firm, flat passes are best for advancing the puck out of our own zone. And, from my point of view, I'd rather an extra hard pass go for icing than to have a soft pass intercepted.
Now, one of the problems I've seen with my D's passing comes about when they're in an unbalanced posture. In other words, they have the strength to pass firmly with the feet spread and planted, but they get nothing on their passes if they have to send them while balanced on one skate, or while having to lean in one direction or another.
The difficulty stems from some young players not yet having learned to get leverage through their stick-blades. So I have my defensemen work in pairs — off-ice and on-ice — passing light weights over a fair distance. That resistance against their stick initially forces them to search for a way to generate strength. Then, once they've gotten a feel for that, I make the drill a little tougher… What I do is have them pass while kneeling on one or both knees, or I even have them pass while sitting down.
The idea of those last two drills is to take away the players' ability to use their legs. Or, said another way, they're forced to generate power with just their core muscles and their upper body. Understand that the idea of these drills isn't to actually make my players stronger; the idea is to teach them how to generate substancial force through their sticks while in some unbalanced postures.