As often as I mention my beliefs on this topic, I always sense that there are some folks who don't quite get what I'm saying.  As recently as in my last article, "Helping a Young Hockey Team Generate Offense", I was trying to convince Jeff W (and other members) that kids who struggle to move the puck — or to even want to steal it from opponents — need a special kind of fire within them.
With that, let me try explaining my puckhandler's mentality thing from yet another angle.
– Dennis Chighisola
Reaffirming that Great Puckhandling is a Mentality!
Now, I'm guessing that most hockey fans have by now heard about yet another rising NHL star, Tomas Hertl.  I'm also guessing most fans have seen the following goal, probably countless times.  Still, I'd like members to watch it once more before I add my two cents worth…
Okay, I don't blame an outside observer for calling that overkill (hot-dogging it in an 8-2 win), and I wouldn't blame the Rangers for taking offense.  Still…
I hope you can set that aside and consider where such a move came from.  I mean, Hertl didn't just invent that on the spot.
Those who have watched pro basketball for a time might be able to envision a Larry Bird, a Magic Johnson, or a Michael Jordan heading towards the hoop.  And, while we might all guess that such players have an idea of what they might do on the way, instincts soon take over and usually control the last few seconds.  At the last moment, an enemy hand goes in their face, towards the ball, wherever.  And it's at that last moment when instincts usually lead that special athlete to reading and then reacting in just the right way.
The Wayne Gretzkys, the Sidney Crosbys — and yes, the Tomas Hertls — do much the same.
So, my guess is that Hertl found himself slashing across the goal mouth from left to right, after having been in that position hundreds (if not thousands) of times before.  He obviously knew that movement tends to drag the goaltender across his crease, with the just vacated area of the net being wide open.  And, what better way to put the puck in that area than the way he ultimately did?  (My guess is that he'd resort to something else approaching the net from straight-on, or moving from right to left.)
More than anything, though, I want to emphasize that part about Hertl (Gretsky, Crosby, and a bunch of other so-called gifted scorers) practicing given moves hundreds and maybe thousands of times.  And the same went for Bird, Johnson and Jordan (with more on Bird in a little while).  Those kinds of players tend to love fiddling with a ball or puck, and they also usually love inventing new moves.
Speaking of loving to fiddle…  I had an old friend who told me, "If you want to find the stickhandler in a group, just blow the whistle, and watch to see which player can't stand still." 
  Yes, my buddy was absolutely right.  Stickhandlers love fiddling with a puck, and they're going to do it whether we coaches like it or not.
With that, let's take a peek at a few more guys who seem pretty comfortable with the puck…
Now, I have to ask you…  Do you think any of those players invented those tricks on the spot?  Not on your life.  Those moves were practiced over and over again, until they became almost instinctive.
Even more importantly, I'd have to ask if a certain mentality was necessary in order for a player to even think along the lines of doing some crazy stunts with a puck.  And my answer?  Absolutely.
As my old friend suggested, the puckhandler can't hold a puck without wanting to do something with it.  Right there, within a group of kids, one can spot those with a certain mentality.  And yes, I did say "those", because I'll suggest that the puckhandling mentality is in a lot of kids, but to just different degrees.  In other words, there is likely one kid who gets really excited playing with that little black thing, while there are probably also a handful of other kids who kinda like doing that.
All that said, I hope you're now wanting to ask me an even more important question — like, "How does one encourage a puckhandling mentality?"
Having dealt with hockey parents and hockey coaches for an awful lot of years, I have to first state that they can often be the first obstacle.  Yup.  For, while they're sometimes showing their jealousies by criticizing their team's best puckhandler, they don't realize that they're discouraging a bunch of other kids from developing their skills to the same level.  Ugh…
Hear me now, folks…  In case you're among those I've just described, and in the event you haven't yet followed an older child to a high level, let me tell you that the puckhandlers on most younger teams are the ones most likely to be scooped by higher level coaches.
For the most part, my high school and college teams needed guys who controlled the puck well — to make our offense work, and to also get our powerplay going.  And so can puckhandlers help eat up the clock on penalty-kills.  So, if you can appreciate it, I was never looking for kids who coughed up the puck as soon as they met pressure.
Yes, everyone wants a player who can pass, catch passes and score some goals.  However, if you'll check my "Building Blocks Approach to Skills", you'll discover that puckhandling is a super-important prerequisite to all the other offensive skills.
Parents and coaches on board, the next thing is to foster practice conditions where creativity is encouraged.
By the way, some basic puckhandling drills are rather boring, or they need to be done slowly and deliberately.  Still, they are necessary for younger players — so that those kids become comfortable — with handling the puck on both sides of their stick, executing basic dribbles and cuts, etc.
Both basic and creative drills can be done during the same time in development, though.  In other words, some crazy puck moves can be tried within the same practices that deal with puckhandling basics.
Actually, I've found that some of the best drills for fostering a puckhandler's mentality are done away from the ice.  Throughout this site you'll find some fun and interesting challenges — like dribbling a balloon in the air (a precursor to dribbling a puck in the air), dribbling three balls at the same time, or dribbling a ball while jumping, jogging, skipping and while being in odd postures like on one knee or two.
The key to this kind of drilling is to keep kids laughing and not worrying about failing.  When I'm teaching such a practice segment, I'm forever teasing the kids — and getting them laughing, while also continuously using my favorite puckhandling phrase, "Go nuts!"
Going a bit beyond that last one, I'll at some point ask a group of kids if they can create a new trick.  And, if I've hooked them into the puckhandling mentality, most of those kids will immediately get to work finding something to impress their old coach (and it's usually a rush to see who can gain my attention first).  Finding a good move, I'll have its inventor show it to the other kids so they can try it, too.
Growing up just South of Boston, MA, I was a diehard Boston sports fan.  And I recall reading several times about Celtics star, Larry Bird, and his off-season practice routine.
Bird had a basketball court built in his yard back home in Indiana, and it's said that he vowed to learn and master one new offensive move every single summer.  Hmmmmm…  I believe I counted 13-seasons that he played in the NBA, which hints at why he was such a handful for most opponents to defend against.
Can we say that Bird had a "ballhandler's mentality"?  Ya, I'd say so.
As I'm about to close here, I'm almost hoping that you'll go back and watch that second video again, but this time while pondering the ideas I've just noted.  You'll have to consider whether Pavel Datsyuk's youngest teams tried to discourage or encourage his creativity.  Try to imagine the kinds of practices a young Tomas Hertl must have experienced during his earliest years.  Then, wouldn't you just love to know who planted the creative puckhandling seeds — or the puckhandler's mentality — in a Sidney Crosby?
Lastly, while there are a few North Americans shown in that second video, have you at all found it interesting how many Europeans made that (and most other) highlight reel videos?  I'm not.  For, the Swedes and Finns and Russians and Czechs are big into off-ice practices, and they're also big into off-ice skill work.
By coincidence, I guess, I'd watched a YouTube.com video recently having to do with the subject of puck protection.  Then, a couple of nights later, I had the chance to see a local youth practice where that skill really could have used some addressing.
To be honest, this is a skill that is absolutely necessary to high level play, but it's one that is sorely lacking among youth level players.
– Dennis Chighisola
Hockey Puck Protection
I've actually mentioned this skill in other offensive game posts, but only in a cursory way.  As a refresher, though, let me suggest the following options a puckcarrier has (usually on his way up-ice on the attack)…
1)  For sure, the fastest way to advance the puck is to headman it, or pass it to a teammate closer to the net (it should make sense that a puck will travel further faster if it's passed instead of carried).
2) Just as surely, there are times when no teammate is clearly open.  That's when I suggest he carry the puck further until mates get the chance to break free from cover.
3) If all fails while heading up-ice on the way to the offensive blue line, and if his opponents are blocking entry with superior numbers, the only likely option is to dump the puck.  (I'll go along with a good puckhandler trying to beat a single defender, but I'll call it foolhardy if he tries to wade through two or three opponents.)
4) I'll give the really good puckhandler a fourth option, this to skate far from any defenders, get into the offensive zone with the puck still in control, and then continue to move and protect the puck as teammates enter and try to get open.
I'm going to suggest that puck protection might have been perfected on a personal level by Bobby Orr — man, he could sometimes kill-off an entire penalty by himself, by ragging the puck all over the ice.  Yet, it might have been the old Soviets who first incorporated this into their game on a strategic level.  I mean, the architects of their game didn't like giving the puck away on dump-ins, and they also didn't like rushing their scoring attempts with low percentage shots.  (The North American game of that time put a premium on shot totals, maybe figuring more shots eventually equaled more goals.)
No matter how this ploy crept into hockey's basic attack options, the art of protecting the puck is used all over the ice nowadays, for buying time in any of the three zones.
With that, I found the following video that includes a brief sample of puck protection in the offensive zone…
Before getting deeper into this, those who might climb all over a kid who is seen as a so-called "puck hog", should know that we higher level coaches are looking for players who have great confidence in their puckhandling abilities.  The idea IS to make plays, you know, and we're certainly not looking for guys who panic with the puck every time they touch it.  Anyway, the commentator, Mike Milbury, says as much at the end of that video.
One more thing…  What I see too often among younger players is their swinging the stick and the puck out where it's easily reached by an enemy defender.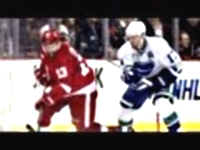 Now, whenever possible, the attacker should skate away from the nearest checker.  Still, that checker is going to follow our puckcarrier, just as the guy in white pursued Datsyuk in that video (or as is shown in the photo to the right).
Oftentimes it's necessary to keep your back to the checker, although one can also move side by side with that man.
The main idea is to continuously keep your body between the defender and the puck, so he can't easily reach in for it.
At the same time, the attacker has to extend the stick-blade out as far as possible away from the checker, so that's it's virtually impossible for him to reach the puck.  The guys I've worked with who were the best at this skill often handled the puck and stick in one hand while holding the checker off with the other.  And, since the checker will likely try to approach from either side, we'll find the best puckhandlers are able to switch the stick as needed to keep it furthest from that checker.
Oh, and returning to the first point — about skating away from the defender…  The best at puck protection are also able to feel the pressure of the checker.  So, while switching the stick from hand to hand can be used here, so should the puckcarrier slide to the left as he feels the man climbing in from the right, and move away to the right as the checker attempts to reach in from the left.
So do the best puckhandlers almost have eyes in the backs of their heads.  In reality, however, they are constantly glancing over one shoulder and the other, and trying to locate an open teammate.  (A popular catchphrase nowadays is "puck support", which means that teammates shouldn't just stand and watch their puck toting mate, but they should continuously move to get themselves open for a pass.)
As for drills…
I'd first make absolutely sure all players understand the entire concept of puck protection.  Trust me, that a lot of kids may be hearing these things for the very first time.
Games of keepaway played in relatively large areas might be a good way to start, since the open spaces give puckhandlers plenty of room to skate away from their checker.  Actually, several pairs of players could compete in these 10-second long contests at the same time within one zone.
In yet another drill, I'd match a pair of kids — one the designated puck protector, and the other the designated checker, and I'd ask the checker to just apply moderate pressure "to help his partner learn".  This I do in a relatively limited amount of space, so it's easier to inspect for the subtleties of protecting the puck.  Always holding the puck far away from the checker, the coach can encourage the puckcarrier to move away when he feels pressure from one side, and the coach might also encourage the better players to switch hands on the stick as needed.  (By the way, this is a drill that a parent and player could actually try at home.  There really isn't a need for ice when learning all the necessary principles of puck protection.)
In yet another drill, I'll set two checkers (or coaches) on the opposite sides of a face-off circle, and ask them to stay just inside the circle and pokecheck as puckhandlers go by.  With that, the puckcarriers, one at a time, skate around the circle and do what's needed to resist the pokes of those checkers.  Having a player skate around the circle twice works for me, with the next puckcarrier ready to jump in as the previous guy leaves.  Of course, the drill should be run in both directions around the circle.  This is an awesome drill for players to practice pushing the checker's stick away with one hand while extending the stick and puck far outward with the other.
Lastly, since this skill is a relatively advanced one, it should make sense that it relies heavily on a player having mastered many basics beforehand (and work on such basics should remain ongoing).  As far as I'm concerned, there's no reason why every player on a roster can't eventually be good at handling the stick in one hand to either side.  If you noticed, Milbury also commented on smaller players being strong when protecting the puck, and that's because even the slightest player can be strong on his skates if he learns how to spread the feet and sit low in contact situations.
I don't use these pages to sell things to my CoachChc.com members, and that's not my purpose in this posting.
That said, I do have to show you a video I've been getting around to others, mainly because there's some important stuff in it I'd like you to know.
So, right after you watch the video, let's have a conversation about a game you may or may not have heard about.
– Dennis Chighisola

(Re-)Introducing "Box Hockey"
Although that game — box hockey — may be new to you, you should have discovered that it's actually been around for about 100-years.  Only recently has there seemed to be a re-emergence, maybe because several companies have decided to mass produce nice looking game boards like the one shown in that video.
As for me, I stumbled across the game some 15 or so years ago — and I can't for the life of me remember how that came about.
Anyway, at a time when my hockey schools were booming around the New England area and beyond, I carried a trailer full of unique training equipment to each venue.  I had wild off-ice gear, equipment to run two different video stations, and even a ton of on-ice stuff that I occasionally try to show my members.
Better than a decade ago, then, I built my own box hockey game that we used in an outdoor station.  And, let me tell you, kids of all ages fought to get their turns on that.
My kids' enthusiasm for that game wasn't the only thing I noticed, however.  No…  For, what I saw each day was kids really battling — I mean REALLY battling — to move the puck up the box hockey surface.  And I'd stand back to be really fascinated by how much that game encouraged aggressiveness.  (Actually, my grandson was only a young Mite when we used that gadget a lot, and I now have to wonder how much that had to do with him being so aggressive for the puck through his older youth, high school, prep and college years.)
As an aside here…  You can imagine how many questions I get from hockey parents and coaches over the course of any given week.  What you really need to know, though, is how helpless some moms and dads sound when it comes to dealing with their kids' lack of aggressiveness.  I mean, I feel badly for them — partly because they usually live too far away for me to personally help, and partly because the only thing that would really help is if a coach ran some drills that specifically encourage the youngster at that.  Even with all the troubleshooting I've done for such things, I can't for the life of me think of a drill that can be done at home to help that area of a kid's game.
Hopefully, you can picture how excited I was when I connected with the people at HBox.  I mean, I knew that game would help anyone who wanted to instill a hunger for the puck in their youngster.  And now, I am able to point them right to the gadget that will help get that done.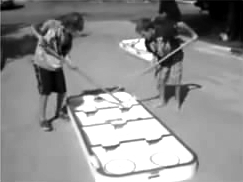 As yet another aside…  My homemade box hockey board was busted a few years ago by some workers who had access to my equipment storage room (Grrrrrrrrrrrrr!).  Fortunately, I have a new HBox version right now, and I'm itching to use it.  I've just picked my new AA Mite team for next year, and I'm just beginning to design plans for our off-season and beyond.  And I'm just thinking, how difficult my little guys will be to deal with, IF they all get lots of work at that game.  I'm talking about all of my kids here, too, top of the roster to the bottom, being willing to fight you tooth and nails for the puck.  Oh, and I'm also thinking something else…  I know it's always difficult to get everyone to practice on time.  However, if they have the incentive to play box hockey before each on-ice practice, I have a feeling my little guys will be driving their parents nuts to get them to the rink rather early! 
Okay, I said from the start that I'm not trying to sell you anything.  So instead, what I am suggesting is that you do as I once did, and make a box hockey game of your own.  One sheet of plywood would probably do it.  And, there aren't any dimensions that are critical, other than to make sure the puck fits through the various holes — in the dividers, and in the end goals.
Then, just in case you would prefer to take the easier route, an HBox game can be purchased through my affiliate link (which means I get credit for the sale):  Just Click Here
In most instances, we use that expression — "out of the mouths of babes"– in reference to young kids saying the darnedest things.  In this case, however, the enclosed video was sent me by an adult lady friend I've met through Facebook.  Much like we'd envision young kids, however, my friend is purely a casual hockey fan, but, as you'll discover, a pretty insightful one.
With that, she's going to help me reinforce a couple of principles I've stated over and over again within these pages.

– Dennis Chighisola

Out of the Mouths of Babes
Our Facebook dialogue began with my friend asking me if I'd seen the penaltyshot goal scored by a member of her favorite team, the Montreal Canadiens.  No, I hadn't caught Lars Eller's sensational move, but CoachChic.com members have to know that I'm always dying to see any kind of new and exciting offensive play.
Once you watch this video, we're going to discuss it on two levels — one from a quick philosophical perspective, and the other from a fairly close look at what really went into Eller's play working.  (Oh, as my lady friend said, "Look at this shot… amazing !!!!")
Okay, so here's where that "out of the mouths of babes" thing comes into play.  For, my friend followed the sending of that video with the observation that, "…that is exactly what the HABS need… there's not enough of twist like that with the hockey stick."  Ya, her terminology isn't quite the same as we'd use to describe the move — or the difference in Eller's approach to many other players.  But, at the same time, I think you're sensing exactly what she was trying to say.
I'm sure CoachChic.com members now believe deeply in the benefits of off-ice training, as well as the great positive transfer of skills that can take place from dryland to the ice.
In preface to this entry, I'd like you to watch (or review) the video on Sprint Training for Hockey Skating Speed, because it provides some great background, and because there is an overlap in the drills I incorporate in both sprint training and agility ladder work.
With that, there isn't much need for me to say more in type — the two videos that follow will explain everything.
– Dennis Chighisola

Using an Agility Ladder for Hockey Quickness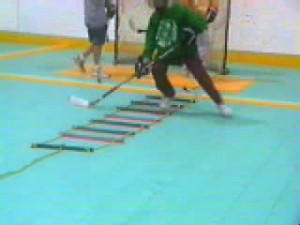 Video 1 — Introduction…
Loading...
Video 2 — Ladder Training – Coach Chic Style
Loading...
From there, there's nothing to it but to do it!
Well, I love it that one of our newest members has taken advantage of my offer to help, any time it's needed.
I'm talking about Sandy N, asking me a question about measuring a hockey stick…
– Dennis Chighisola

Hockey Stick Measurement Help
Sandy began with the following:
Hi Coach Chic,
Sorry to bother you but I've been searching your site and have not had any luck on finding the info for sizing a hockey stick.
By now, I hope Sandy knows she wasn't bothering me at all.  Again, I invite all of my hockey friends to bother me in that way. 
Sandy also gives me the opportunity to point-out the Search box that's available at the top of each page.  For sure, searches can be tricky.  But I suspect she should have found a lot here within CoachChic.com when it comes to stick measuring.
I found some other web sites say it should come to the players nose but then they conflict by saying it should be when the player has his skates on or off.
No surprise there — that she might find a bunch of conflicting recommendations.  Why?  To my way of thinking, this is one of those areas that gets bombarded by wives' tales.
I mean, I've heard or read that a hockey player should measure his or her stick to the nose, the chin, the mouth, the whatever.  And, like Sandy, I've also discovered various authorities(?) suggesting these measurements be taken when the player is either wearing or not wearing skates.  Hmmmm…
Did I suggest these are all wives' tales?
Just for the heck of it, does holding the stick upright to measure it take into account a player's unique stance?  And, does it bring into the equation the "lie" of the stick?  (The lie of the stick is the angle at which the stick's blade and shaft meet, and this varies from stick to stick.)  Oh, in the event you weren't able to answer those two questions, I'll give you the answers:  No!  No!
Now, before finishing here, let me say that I spent quite a bit of time searching for a video that might show advanced level players holding their sticks in an upright position.  The best I've ever found for doing this is to scan an NHL bench while players are standing for their national anthem.  Unfortunately, I wasn't able to find many videos that stayed focused on a bench area for very long.  However, I'm hoping the following one will accomplish what I'm aiming for…
Okay, as I said earlier, there weren't any great views of a bench area, or prolonged shots where we could really study ALL of the players.  Actually, the players I spotted in the above video ran the gamut in the ways they cut their sticks…  A few were up near the chin, while a few were much lower.  And, while we wouldn't be able to find each team's "stickhandler", I assure you they'd be leaning on sticks that came to about the middle of their logos.
Anyway, Sandy ultimately closed with:
Can you clarify or do you suggest a different method?
Thanks and have a great New Year!
Sandy N________

What I did was to send her to a video that shows and tells the viewer just about everything he or she would need to know about a stick — from selecting one to measuring it to eventually doctoring it in various ways.  That video:  "YOUR Stick".  Within that short film, I explain a simple way to measure a hockey stick that takes into account the player's unique stance, and the lie of his or her stick.
Oh, in closing, I hope I've inspired you to ask me questions.  I love fielding them, and helping you always makes me feel kinda good.
This just happens to be another of those frequently asked questions — about when or IF a player should hold his or her hockey stick in one or two hands.  So, always aiming to please, here's my recommendation…
– Dennis Chighisola

Two Hands or One on the Hockey Stick
The short answer to part of that question is that, a player absolutely has to control his or her stick in two hands at certain times, and then in one hand at certain other times!
Given that, I always separate the rest of this question into two parts — as in when a player is on offense, and when he or she is on defense.
Stick Grips While On Defense
When our opponents control the puck and we're away from the opposition puckhandler, there are generally two things we can do…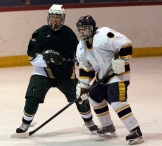 In one instance we may be matched with an open opponent, which calls for us to control his or her body and stick to prevent a pass from connecting.
At yet other times we may be positioned to intercept a pass between the opposition puckhandler and his or her open teammate.
In both instances, it's obviously necessary for the defender to have both hands on the hockey stick.
When our opponents control the puck and we're responsible for dealing with the puckcarrier, I feel it can be hugely beneficial to use one hand on the stick for a period of time…
Whether we're in a body-checking or non-checking game, it's necessary for a defensive player to veer the puckcarrier in a given direction (usually towards the outside, towards the boards, or generally towards an area where he or she is easier to trap).  This steering is best down while approaching from an angle and also holding the stick in one hand — using it sort of like a steering tool.  Nowadays, however, with the new checking rules, I recommend that the defender switch to two hands as he or she closes-in on the puckcarrier.
By the way…  The use of one hand on the stick is also necessary as a backward skating defenseman plays an attacker in a 1 on 1 situation.
Stick Grips While On Offense
Any time an offensive player wants to be available for a pass, it's obviously important for him or her to give a stick-target and to ultimately try to receive a pass while holding the stick in two hands.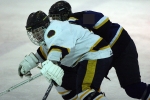 That said, the rules change drastically for a puckhandler as he or she tries to deke an enemy defender.  Oh, for sure, an attacker can make some decent fakes with the stick held in two hands.  However, his or her reach — or the extent of his or her deke — is extremely limited with this sort of stick grip.  For that reason, you'll see our game's most dangerous attackers "dangle" the puck far outward with the stick held only in the top hand.  Then — if the defender takes the bait, the puck can be quickly pulled back a pretty long distance in the opposite direction.
In yet another 1 against 1 situation, it is often easier for a player to protect the puck by holding it far out and away from a nearby defender (as in the above photo).
So, as I hope you'll appreciate, there are different times during the game action when it's advantageous for a hockey player to hold his or her stick in either one hand or two.
Thanks to YouTube and a Facebook friend, the following video shows a great example of attacking one of the defender's open triangles.
Especially helpful in this video is the fact that so many views are provided, as well as some nice slow-motion replay.  In other words, it gives us the chance to really study the way Lemieux beat the backward skating defenseman.
– Dennis Chighisola
Mario Lemieux Attacks the Open Triangle
Given the chance to watch that a number of times, I noticed that Lemieux does something we ought to study again…
I mean, I am forever suggesting that the set-up of a move is as important as the move itself.
In this case, notice the huge fake Lemieux makes towards his left, dangling the puck far out that way, and making the defender believe he really is heading to the left.
Yes, only with that exaggerated deke is a slip of the puck through the defenseman's legs going to work.
Also, if young players are watching this, I'd to point-out that Lemieux makes a beautiful pass to himself, angling the puck so that it arrives just where he needs to pick it up a split-second later.
Aaaah, man, I love the opportunities we have today to study and study some of hockey's all-time greats.
Every time I get to talking about puckhandling with someone, I almost always find the need to suggest that "it's a mentality".  Said maybe another way — that'll help you better understand, I should probably say that it's a "mindset".
And, while the majority of hockey people might feel the fancy dangler is just a natural — or that he or she was born with that ability, I'm here to tell you that I know I can teach it.
Okay, before offering much more, let's have a look at one "sick" goal by Jarod Palmer.  After that, I'll catch you on the other side.
– Dennis Chighisola
Puckhandling Is A Mentality!
Jarod Palmer Sick Shootout Goal (July 18 2010)
Okay, I'm a little old to have the word "sick" in my vocabulary — at least in the above context.  But if ever there was a play that deserved some wild adjective, that surely was IT!
About my title theme, though — that puckhandling is a mentality…
Well, as I watched that play a number of times, all I could think about was the creativity that went into arriving at such an idea.  Just think about that yourself.  And, think about the mentality that Palmer (and any other slick puckhandler) has to have in order to think-up at such an idea.  Unbelievable.
By the way, I don't know if you noticed how believable young Mr Palmer was as he took that fake shot.  And, did you even hear the supposed shot?  Actually, that might be one of the most remarkable things about that play.  Then, although it was difficult to detect, even in slow-motion, I think Palmer also kicked the puck from behind with his left skate.  And he did that without ever looking downward and giving the goaler a hint that he hadn't really shot.
Of course, I'm all about teaching, as well as sharing with you all that I know about the teaching process.  So, I'm going to suggest these two things for anyone who wants to become a dangler, or anyone who wants to encourage a player to become slick with the puck…
For sure, disciplined drills form the foundation for good puckhandling.  So, a player should absolutely master all the basic moves.
Along with the discipline, however, there has to be some creative time.  In other words, a player should just hot dog with the puck for awhile — just fiddling and diddling, and having some fun.  In my clinics, I'll usually encourage my students or players to just "Go nuts!"  For, this is where the mentality or the mindset begins.
Again, although that goal by Jarod Palmer surely was sick (LOL), I'm even more fascinated by the creativity that young athlete surely had in devising such a move.
*
Todd Jacobson (our CoachChic.com goalie coach) just sent me a link to the following video.  And, as I was watching and shaking my head, I was also telling myself that, "That is just another example of great puckhandling stemming from a special kind of mentality!"  Here you go…
I love that Craig Shaw got me going on this topic (see our earlier exchanges), and he also inspired the post I ultimately did on "Exploring the Benefits of Floorball".
With that, here's …
– Dennis Chighisola
More on Floorball & Hockey
As every long-time member knows, I'm always looking for ways to help my players.  However, there's more to that short statement than one might believe.
For sure, I'm always looking for ways to help my players take their games to new levels.  (Of course, that was a given.)
At the same time, I'm forever searching for ways to help my players become truly unique.  And, that one just might need a bit more explaining…
What I'm getting at is that I'd like my guys to ultimately be able to do things that no one else can do.   Hey, I'm guessing Bobby Orr developed a lot of his never-before-seen moves out on the river in Parry Sound, Ontario.  I sure would like to know when the likes of a Boom Boom Geffrion got the idea to blast the first known slapshots.  And, I'd love to know who the player was — or what the circumstances were — that initiated things like the stickhandling move called the toe-over pull.
Ya, my hope is that by virtue of my players training differently — or doing some things that are quite beyond what others might do, they could just bring to the game an equivalent of the toe-pull, spinarama, or slapshot.
Oh, I'm not aiming to create the next Orr or Geffrion.  But, I think it is possible to encourage players to be unique in some ways.
Anyway, those who venture to my blog, Coach Chic's Hockey Diary, might know that I'm really into a couple of social media sites, Twitter and Facebook.  Well, don't you know that I was wondering around Facebook earlier today and laughed out loud when I came across a group devoted solely to Floorball (<= check it out)!
I doubt the owners of that page would mind if I copied and pasted some of the introduction from there.  So, here goes…
Floorball, a type of floor hockey, is an indoor team sport which was developed in the 1970s. It is a fast paced sport, with limited physical contact allowed. Floorball is most popular in areas where the sport has developed the longest, such as the Czech Republic, Finland, Sweden and Switzerland. The game is played indoors on a gym floor, making it a year-round sport at the amateur and professional levels. There are professional leagues, such as Finland's Salibandyliiga and Sweden's Svenska Superligan.
While there are 49 members of the International Floorball Federation (IFF), the Czech Republic, Finland, Sweden and Switzerland have finished in most of the coveted 1st, 2nd and 3rd places at the Floorball World Championships.
In addition to those four countries, floorball is gaining popularity in countries such as Australia, Canada, Japan, Singapore and the United States.
Yes, evidently, that sport is gaining popularity in Craig's country (Canada) and mine (the United States).  A quick search on Google showed the following US based programs…
Austin Floorball Club – Austin, Texas.
Caltech Floorball Club – Located in California.
EBC Floor Hockey – Located in Michigan.
Innebandy Chicago – Floorball league located in Illinois.
MIT Floorball Club – in Massachusetts.
NYC Floorball – New York City.
Triangle Floorball Club – Raleigh, North Carolina.
The Valhalla Warriors – In Mountain View, California.
I find it interesting that the Massachusetts Institute of Technology is only about 30-miles away from me, in Boston, MA.  (Ironically, I used to provide hockey skill instructions to the MIT Women's Hockey Team.)
Okay, so you want to know about my fascination with that sport (and Craig's)?  Just have a look at another stick-skills demonstration borrowed from YouTube.com…
Now, having seen that (and the video I showed you in the previous post), does it remind you of the college goal that had the hockey world abuzz several years ago — I mean the one where the player held the puck on his blade just before slinging it over the unsuspecting goaltender's shoulder?  And, that's what I was getting at up above, when I said I'd like my players to be creative like that, and possibly even come-up with a new and surprising move like that one.
Finally (if there ever can be a finally on this type of topic), I'm going to suggest a few things — to Craig and all my other CoachChic.com friends…
If I had a very young player at home, I might be inclined to seek a league for him or her, or maybe even start one.
If you have an older youth player (or if you're an adult player), I'd probably gather a number of those videos available over on YouTube.com, and see if the creative juices start flowing from watching those.
If you work with a number of different age groups, as I do, I'd probably suggest the second approach.  Ya, that's what I think I'm going to do — I'll collect a few of those stickhandling videos and post them to each team's site, and then prod my players to copy some of those moves.
PS:  As an afterthought, I just did a quick Internet search for "floorball equipment", and I grabbed the first site with a recognizable name.  (Actually, Craig, I noticed a site located out your way, in British Columbia.)  And, I was surprised that the gear seems easily available and rather inexpensive…  Floorball Equipment That's just a sample site, though, and I'll bet you can get even better buys with a little more searching.
Let me begin by thanking a really active member of CoachChic.com, Craig Shaw, for reminding me about this truly fascinating sport.  And, yes — to two things:
1) I've actually known about this game for a number of years;
2) "floorball" truly is a "sport" (as you're about to see)!
Exploring the Benefits of Floorball
To be honest, the term "floorball" didn't really strike a chord with me — until I looked it up.  (Actually, I think most of the print and narration was in every language BUT English when I long ago ran across that game.)
Of course, I'm sure Craig would believe anything about this old coach by now — like, the further something is from tradition, the more likely I've explored it. 
That said, you just have to take a look at the following video to realize that floorball is NOT your typical street hockey game played in a gym.  As a matter of fact, the following is from the World Floorball Championships (yes, "WORLD Championships").  But, take a look before I go on further…
Aha, I hope you found that game as interesting as I did when I first stumbled upon it (probably 6- or 7-years ago).
By the way…  It appears to me that floorball playing nations are as passionate (or maybe as nuts) about their sport as many soccer-serious countries are about their game.  And, if you don't believe me, I think you'll get a kick out of all the trash talking going on in the Comments area for that video over at YouTube.com.
Back to my initially discovering the game, though…  You should know that it wasn't the sport itself that caught my fancy…  Naw, the skills exhibited by some of the floorball players was what really got me thinking.  So, take a look at just one example of what I mean…
Now, most long-time friends know that my grandson, Anthony Chic, is somewhat the magician with a puck (or ball).  But, the day I discovered a batch of videos like the above one, I asked him if he could do those tricks.  "No way!  That's impossible!" was his reply.
Really, I was only teasing Tony C.   From what I can gather, the floorball stick is lighter than our ice hockey sticks, it's obviously shorter, I know that the blade has holes in it — probably to allow air to flow through, and I sense that the ball is considerably lighter than what a North American kid would typically fiddle with.
Finally, Craig asked if I thought floorball skills would help an ice hockey player.  Ha!  I would say, "Absolutely!"  (Hey, Craig, why do you think I long ago burned a whole bunch of videos like those above to CD, and added them to my New England Hockey Institute library?)
*
Well, what do you think, folks?  Please leave a Comment below and let me know!
Aaaaah, finally I found a sample of a quality I've long felt is the mark of a great goal-scorer.  I'm talking about patience — or coolness — with the puck, and it's something demonstrated by every outstanding playmaker and finisher.
But, let's take a look at this Stanley Cup goal by David Krejci before going on…
Now, I'm kinda bummed that this video didn't run a little longer for you, because as I watched the live broadcast yesterday, I believe the color commentator stayed on the topic of patience for a little while longer.
Of course, some of you might be wanting to ask me how a player can develop that kind of coolness with the puck.
Well, I'm going to suggest that this trait mainly stems from plenty of work with a puck (or ball) — as in puckhandling, puckhandling, puckhandling, until a player can handle that biscuit in his or her sleep.
I might also recommend that players practice plenty of "asymmetric puckhandling".  In other words, because there's an awful lot of craziness going on around a puckhandler, he or she should prepare for that in advance by dribbling and dealing with some other physical challenge at the same time.
Going back to the Incredible Stickhandling series of videos would be a great start.  And, since this IS the off-season, I'd suggest staying away from the ice for awhile, instead trying all those tricks off the ice with a stick and lively ball.
Then, in order to get the asymmetric part in there, a player could mix his or her puck tricks with some hopping (on one or both feet), and rising up and down to and from the knees.  Really, though, there's no prescribed second challenge, as far as I'm concerned.  In other words, a player (parent or coach) should just use his or her imagination.  Remember:  getting better is all in the doing!
Ya, like there was only one — or "THE" Bobby Orr move. There were probably more like a hundred of them. However, for the sake of helping my NEHI players to add one more move to their offensive bag of tricks, I several years ago dubbed a certain Orr move "The Bobby Orr Move".




Now, I'm going to soon go into an analysis of that special play. But first, I think it's time to resurrect Number 4′s memory. Yes, I'm wondering right now if a generation of young players (maybe more) only knows the name. So, for their sake, and also for those who recall how much fun it was to watch him, here's a little something special borrowed from YouTube.com…






Next, as you perhaps wipe away your own tears, please go back to the 20-second mark of that video and watch the play that follows. That, my dear friends, is what I refer to as…
THE Bobby Orr Move
By Dennis Chighisola
Over the next few minutes you may just want to review that portion of the video again. At the same time, let me explain what I'm seeing there.
Countless times as I watched Orr during his years in Boston, he'd freeze the man covering him by faking a slapshot. Just the sight of Orr raising his stick usually caused the defender to brace-up — as if to block the shot, which then allowed Orr to perform further magic.
In that brief clip of Orr's special move at the point, he walked around his cover and then fed a teammate cross-ice with a nice pass. At yet other times, I saw Orr take a slapshot as soon as he'd broken free from his check.
Of course, I'm here to tell you that this move — or this string of moves — can actually be learned by a younger player. In fact, if you click on the photo below you'll see a video of one of my outstanding young Team NEHI Junior HS kids doing a pretty good imitation of the all-time great…
Now, I've sometimes mentioned elsewhere in these pages how I break down such a fancy move so that I can teach it to younger players. In fact, that's how the boy above and many of his teammates learned this play — from my dividing the more complex skills into several easier, fairly do-able steps. Okay, so let's explore those steps:
Step 1 is the Fake
I'm talking about a real fake here! I mean, if you can appreciate it (and I talk to my players often about this), a defensive player — be he a goaler or a skater — is NOT going to go falling on his face just because an attackers wills it, or prays it. Naw, a deke has to be believable! And, if it is, the defensive player will likely to do what the attacker wants him to do. So again, the whole thing starts with a big, believable slapshot motion.
Step 2 is the Pull
In a way, this is the spinarama move made famous by another offensive great, Denis Savard. In this case, however, I have my players do as Orr did, by only pulling the puck around on the backhand. (My personal belief is that spinning around from the backhand is easier and quicker to execute, it might carry the attacker wider around his man, and it also brings the attacker to a great shooting angle once he's gotten around the checker. By the way, this is one reason I like to play my defensemen on their "off-wing" side.)
Step 3 is to Go Wide
And, as in Step 1, I really mean that a player has to do this step to his or her max — or to exaggerate it. As I'll so often say to my kids, any fake is going to only last so long, and then the checker is going to try to recover and get you. (Think about that, if you would… An attacker takes the bait, but that has that "Oh, my God!" moment, at which time he or she desperately lunges back into the play.) So, the wider our attacker swings, the safer he or she is going to be.
Step 4 is to Penetrate
Actually, I'll ultimately give my attackers all the usual options here. However, as we started practicing Orr's move, I at first limited my young guys to just quickly getting around the imaginary checker and unleashing a slap on-goal. In due time, I asked my players to read the goaltender — and to shoot if they saw open net, or to move-in if the goaler had come-out on the angle. Down the road, I'm going to add a teammate to the play (probably over on the weakside backdoor), just so the guy doing the Orr move has the third option to pass.
Now, the following snapshots are linked to more action videos (so just click on each). And, in the case of the first one, I hope you get a kick out of our youngest player doing the same move as a righty shooter (because I surely did). In fact, I think he demonstrates the move awesomely!
Here's a video taken from a front view, just to give you a different perspective (click on the image).
And, the final video is in slow-mo so that you might see the big guy again from the front view (click on the photo below).
Now, from all the above I'm kinda hoping you might come-away with a number of impressions…
The greatness of guys like Bobby Orr is that they pioneered some amazing moves. Years later, however, it's possible for fairly skilled young players to perform those very same moves.
Complex moves aren't quite so complex if we study them and then break them down into easier, do-able steps.
In many instances, some of those steps require real emphasis — as in the case of Orr's move, where it's extremely important to make a believable fake, and just as important to swing far-out and away from a recovering defender.
Now, I had what I hope you'll see as an interesting conversation with my assistant coach the other night, this while our kids were practicing this move. For, I mentioned to him that each of the players was going to get something slightly different from what they were doing. Oh, I'm going to bet that two or three of my kids will try that move in a game over the next few weeks. At the same time, a number of my players aren't quite ready to do that — just yet. So, what's in it for the latter group? I think that working on such a move is an awesome skill drill for every one of them. Just picture it: They're working on faking, pulling the puck in a spinarama, learning to swing wide around a defender, and trying to get their shots off as soon as possible. So again, I think inserting something like this into a fairly skilled team's practice is a very worthwhile endeavor — for all of the players.
Finally, once I've given you enough time to put this drill to good use, I'll then show you another favorite move of mine, this one made famous by the great Guy Lafleur!
Now, this has really been fun!  A number of avid members offered their thoughts on the following problem (begun over at "The Tight Turn (or Boston Turn"), and I got to interact with them (which is always the most fun).




Anyway, to recap things, just in case you're jumping in late here…  The first photo below shows my young buddy and grandson, Anthony Chic, protecting the puck and making a tight or Boston turn around a defender.  And, although he's one of the best at this ploy, the camera catches him making one glaring mistake — at least at the moment that photo was taken.




From there, a bunch of my CoachChic.com friends tried to figure what this zany old coach was getting at.  And, while most seemed to be coming kinda close to what I was seeing, no one really hit it dead-on.




With all that, I'm going to do my best below to explain myself.



– Dennis Chighisola
Troubleshooting the Tight Turn (or Boston Turn)
Okay, it's quite possible that a lot of my great friends here are ultimately going to slap their foreheads and mutter to themselves, "That's what I meant!"  And, while many of you — especially Jerry Z, Ravi and Ozzy — almost sounded as if you were hinting at what I'll suggest, I don't think anyone really said what I was looking for.  (After I'd prepared this piece, Michael G actually came as close to the answer as anyone.)
Anyway, (to the left) let's start here with the original photo of Tony C fighting off that defender.  I'm showing this again, just so we'll have a frame of reference.
Next, to give you a sense of how this old coach sees such things, let me show you the same picture (below), but with the defensive player removed…
What I'll normally suggest (or joke about) to one of my students who strikes a pose like this is that, "If someone opens a door and a little breeze enters the rink, you're going to fall on your dawgoned ear!"  Can you see it?  Anthony's skates are both FAR outside his center of gravity.  And in such a posture, he has no strength — or no stability — whatsoever!
Then, I've doctored that photo again (below), but this time moving Tony C's inside foot/leg closer to under his center of gravity.  So, take a look, and see if he just might be a whole lot stronger in that stance.  (Moving parts around within that photo wasn't easy, and it's not exactly how I'd like it to look.  But, it still should give you a sense of what I'd be aiming for.)
Now, in reality, I've solicited Comments and withheld my thoughts for a time so that I could address some other common issues when it comes to a move like this.
You see, there are a kzillion hockey "wives tales" forever circulating around the rinks — and particularly within youth hockey circles, with a number of them either raised or hinted at in the accumulated Comments.  So, please allow me to tackle some of those, because I think these points will help an awful lot of my friends deal with some of those so-called wives tales:
If you have the time, go over to YouTube and watch a few of the highlight reel goals.  I guarantee you'll find most of your favorite players — from Ovechkin to Crosby to Datsyuk — making big-time plays

with one hand on their sticks

.  You see, a player can only make very narrow dribbles and dekes with the stick held in both hands.  And, while I've picked on Anthony here because I found a flaw at one moment in time, he is actually doing a ton of things right in that play.  For example, notice how he is able to extend his reach with the stick held in one hand, so that the defender doesn't have a prayer of getting to that puck.  As importantly, Anthony is able to fend-off his man because his other hand is free to do so.  Oh, and by the way…  Because all of my students and former players can do everything both ways, Tony C would be just as comfortable extending the stick far out in his left hand and holding-off his man with the right.
I think a lot of the wives tales — or false impressions — stem from players or youth coaches "thinking" they see something they really don't.  And one thing I sense a lot of folks around the rinks believe is that the skates should be arranged one behind the other when executing a quick cut like this one.  Oh, for sure, the inside skate must lead — a little — in the tight turn.  But, to move with the skates in a straight line also removes strength and stability.
I loved that one of my NEHI HS Prep kids jumped in on this conversation.  And I also love the chance it gives me to address something else…  I mean, you will hardly ever hear me say or see me write, "Keep your HEAD up!"  Why?  It's because the EYES are the important thing when it comes to puckhandling!  Actually, the best attackers in the hockey world look down at the puck; one can't carry for very long without occasionally checking on it.  That said, can you just imagine a great puckcarrier bobbing his or her head up and down as he or she moves down the ice?  Geeeeeeze…  What a good attacker should really do is hold the head fairly steady, use split vision to see almost everything, and occasionally just move the eyes with quick glances — down, up, etc…
I am going to suggest here that our game is one of constant adjustments.  And I'll further suggest that any given technique might be good at one moment and not so good at another.  As an example, I'll often joke to my older students that they can skate like figure skaters in open ice, but they'd better drastically change their posture as they enter traffic.  In other words, large and pretty cross-overs or an upright stance might be okay with no one around you; but, you'd better sit low and spread those skates as soon as there's a chance for body contact.  Said yet another way…  Within just a few seconds, we might see a player in a speedy or graceful posture suddenly shift to a bracing stance; he might go back to an open ice stride, and then quickly return to the strong and stable position.
Oh, and one more thing about those wives tales…  Supposing a young player or youth coach spotted Anthony's photo and presumed that — since he's a pretty dangerous attacker — his technique is one to emulate — to a tee.  Well, you and I now know that it's true in many regards, yet it's definitely not in at least one other.  If they picked-up on his method of protecting the puck, I'd say they're on the way to better skills.  However, if they hung their hats on the way he's been caught in his foot placement…  Well, can you imagine a coach teaching that method for the next 10-years?  And that's what I'm getting at about a lot of those so-called rink wives tales.  They were based on a wrong assumption in the first place, but nonetheless keep being spread and spread and spread.
Finally, I can't tell you guys — Jerry, Scott, Ravi, Wilder, Ozzy, Mike and GKelly — how much I appreciate you jumping in here.  Honest to God, I couldn't have done this piece without your help, and I'm praying I haven't discouraged you (with a few of my teases) from weighting-in on future conversations.  I love you guys!
Oh, as for a prize…  I was originally thinking about an all-expenses-paid trip to Pluto.  As it turns out, I can't afford that.  So, I'm hoping Jerry, Ozzy and Mike will settle for a shorter ride — maybe to Jupiter? 
  (Thanks again, guys; you're the best!)
*
PS:  Anthony Chic recently told me that the defender in that photo actually took a penalty on the play.  So, while I'm suggesting that he could have fallen on his own, an official evidently blamed the ensuing spill on the defensive player.  Ya, there are some advantages to being tricky out there on the ice, including drawing a lot of penalties.  Oh, well…
*
No way should the conversation end here.  So, please DO add your Comments below!
Some new pylon course ideas are soon to be unveiled here at CoachChic.com.  Not that there's anything new about different configurations, or that it's unusual to rearrange the pylons to create different kinds of skating or puckhandling patterns.  Still, as I'll suggest in that entry, various layouts should really be aimed at enhancing specific kinds of skills.




Now, if you go back to my earliest Mighty Mite post ("Our First Mighty Mite Hockey Practice"), you should see that I used a straight row of obstacles as a very simple of way of showing my babies how to go in and out of opposition players.  (In my case, I carry around foam dots instead of pylons.)




Still, while a good many of those youngsters maneuver fairly well through that course now, and while most of them are starting to instinctively use both sides of their stick-blades to change directions, I've felt lately that something new was needed to bring these skills to at least a slightly higher level.  So, with that, I changed my dots a little and created the following…

*

– Dennis Chighisola
A New Mighty Mite Pylon Course
To begin, there are plenty of good things to be said about using a basic straight-line course, and I'll continue to use that layout with my Mighty Mites.  At the same time, I wanted something that would cause the kids to cut more sharply, as well as a design that might force them to use both sides of their stick-blades more.  In actuality, I ultimately want my little guys to be able to make sharp cuts with the puck, something like one of my former junior high school team kids is doing in the photo to right.  (Wanna bet those little rascals won't be able to do that by this coming spring?)
A straight-line course can be made all the more difficult just by moving every other pylon outward a bit.  The photo to the left illustrates that, with the arrows showing how I moved a pair of cones (or foam dots) slightly to the left.  The photo to the right helps show how drastic the cut now has to be (in comparison to a straight-line course).
As I mentioned above, some of my kids still need a lot of work to make handling the puck on their backhands more instinctive.  And you should be able to see that in the video (just click on the above right photo), with some getting it, and others not (at least yet).  But, that IS what teaching and practice are all about, huh?
As an aside here…  You will quite often hear my voice in the background of that video, and you'll hear either me or other coaches providing constant feedback throughout the videos hosted on this site.  Yup, constant feedback is important, and it's one of the key elements in an "artful" way of coaching.
*
Please share your thoughts on the above.  You know I love hearing from my CoachChic.com friends!
Although I call this a defenseman's drill — because it does help enhance some blueliner-specific skills, I actually have all of my players work at it.  And, although I've placed this in the Puckhandling section, this drill really does help improve skating mobility, mobility with the puck, as well as passing and receiving skills.




– Dennis Chighisola



Defenseman's Figure-8
While skating and puckhandling… I initially have individual players practice this drill on their own, learning to skate the figure-8 pattern, and to carry a puck with them as they move through that pattern.  (Younger players might attack these skills separately at first, initially learning the skating portion, then later trying to carry a puck along.)  As stated above, this really is an awesome drill for skating mobility and for moving in numerous ways with the puck.
As the above sketch shows, a player places his gloves about 8′ apart, and then moves in a figure-8 pattern around those gloves.  The challenge to this particular drill, however, is that the skater must face one side of the rink at all times, thusly having to execute numerous pivots — from forward to backward to forward, etc. — as he moves around the gloves.
For skating, puckhandling, passing and receiving… I ultimately turn this into a passing drill, positioning two players with their gloves arranged parallel, and the two players facing each other.
One player performs the skating and puckhandling part of the routine first, as his partner rests and gives a target for a pass.  After about 8-seconds, the puckhandler passes the puck to his partner, whereby the two players switch roles.  (To see the drill in action, just click on the photo below.)
Now, I ask you:  Is this a pattern defensemen frequently have to skate (and handle a puck through) in a game?  You bet!
PS:  There is one little technical matter required to make this drill work well…  As players stickhandle around, they must move forward through the middle of their gloves and backward around the outsides.  This makes it a little easier for them to make a pass moving down through the middle and towards their partner.  Oh, and it wouldn't be a bad idea to have the players change direction each time they do the drill.
*
Do you like this drill?  Will it prove helpful to YOU?  Please let me know in the Comments box below.
For anyone who stopped by here thinking that I'm going to be talking about one-touch passing, naw; that's a subject for another time.




What I do want to share with you is my feelings on the passes players often make to themselves.




– Dennis Chighisola
Soft "Touch" Passing
Just supposing a player is going to push the puck through a defender's skates, then go around that defender to retrieve the puck on the other side.  Well, I can't tell you how often I've noticed attackers treating that puck rather roughly as they send it, which usually brings about new problems when they go to retrieve it.
The first thing I usually do in dealing with this is to suggest to my players that they are actually making passes to themselves.  I don't know, but most of the time this method seems to help in getting them to look at that kind of play a little differently.  Actually, once I get them to realize that it is a pass — and that the pass is to themselves, they tend to pay closer attention to the technique required.
By the way…  Making passes to oneself happens more often than some might think.  It's required along with nearly all the different dekes or maneuvers players use to get around a defender on 1 against 1′s (as in the drill I described above).  And a pass to oneself is also what's happening when a player banks a puck off the boards and around a defender.  And so is it a major part of the way I teach breakaways (so see my article and videos on "Proper Breakaway Skills").
Anyway, once that's established — that the pass is to oneself, I next try to get my players to appreciate that it takes a certain kind of "feel" or "touch" with the puck to make that pass.  In just about every instance, the attacker wants the "pass" to arrive in a certain location.  And in every instance he or she wants the puck to just sit there, nice and flat (not rolling or wobbling around).  So again, the attacker doesn't want to treat the puck roughly on that pass ahead, but instead "place it" with a nice soft "touch".
Of course, talking about the problem only gets us part way in establishing a better touch or feel for that kind of pass.  So, I've developed a number of drills to help my kids develop such skills.
Now, as members know by now, I have the luxury of both on-ice and off-ice practices throughout most of the year.  And for that reason I've had to create drills that can be done in both venues.
The first photo (on the left) shows a drill I created long ago to enhance a number of qualities in my players.  Tumbling — or any gymnastics — is great for athleticism, and it also puts my kids in a slight, momentary state of confusion, not unlike the frequent collisions they have in games.  The reason I initially created this drill was so that my players could learn to find the puck quickly coming out of a roll.  So — as described elsewhere here at CoachChic.com, I'd have my kids roll and then quickly find a puck that had just been introduced by a coach.  And that drill certainly has helped them in the ways that I'd hoped.
More recently, however, I've expanded the drill to help encourage the skill at hand.  So, clicking on that first photo (above) will open a short video I shot at a recent off-ice practice.  It shows players pushing the puck ahead, tumbling, and then having to find the puck so he can perform the next challenge (to either tumble again or shoot).  Go ahead, watch the video before going on.
Hmmmm…  If you don't mind watching that video again, I just caught the first little rascal doing something I hadn't noticed before, and it's something that truly does make my point here. 
  For, as he comes out of his last tumble, he doesn't shoot his own puck at all.  No, he fires a different one, because the one he brought down the course wasn't ultimately placed nicely, or where he really needed it to be!
Now, the second sequence hopefully shows that soft "touch" pass a little better.  (You should know that I purposely spaced the tumbling mats the way I did, just so each player had to be pretty accurate in placing his pass.  For — as you'll see in the next video, that pass had better fall close to the right location if the player is going to be able to immediately take-on the next challenge.)  So, click on the second photo and see what I mean.
Now, between the lines, I'm kinda hoping that you've noticed how I try to make drills simulate the craziness of our game.  Just in the shown drill, for example, I've at least slightly recreated the confused state that comes with falls or collisions, and I've also tried to recreate the urgency necessary between challenges.
As an aside, I've previously joked in other entries about how the little firing mechanisms in my noggin' tend to make me think of something new as I'm working at another project.  So, don't you know, I just arrived at a new drill for pass-receiving as I wrote that last paragraph.  I'll be sure to show you that once I breathe life into it.  However, just as a hint…  It drives me crazy that a lot of my players are too casual about catching passing during drills, and this results in far too many lost pucks during our games.  So, why not insert a give and go between tumbles (or other challenges) as an adaptation to the above drill?  Hmmmmm…
Okay, as for an on-ice application to the above drill…  We don't often do tumbling on the ice.  So, what I'll usually do is have by players execute continuous spins down the length of the ice.  In other words, a player will tap the puck ahead, then spin to find and grab it; he'll tap the puck ahead again, and spin in the opposite direction next, etc.  And, much like the off-ice version of that drill, a player must make his pass with some "feel" in order to have the puck lie where — and in the way — he needs it in order to continue on to the next challenge.
Finally, I hope you also noticed that the two physical challenges featured in the drill examples are drastically different.  With that, I'd like you to appreciate that the rolls or spins (or shots) are purely things that need to be done before or after a pass to oneself.  However, make not mistake about it:  Those passes have to be done with a nice "touch" in order to make the next move possible.
*
Can you help me make this site all the better by adding to the discussion?
For sure, breakaways are among hockey's most exciting plays.  That being the case, I'm really surprised at how often I notice these — and related skills — being taught wrongly.  Anyway, hear me out, huh?  I think what is to follow should make sense.





– Dennis Chighisola
Proper Breakaway Skills
Every time I approach this subject with my students or players, I begin by having them envision us holding footraces out in the rink's parking lot.  That picture planted in their minds, I'll then ask which runner they'd like to be — the one with his hands in his pocket, or the one allowed to use his hands as he runs.
Of course, it doesn't take but a few seconds for everyone to agree, that anyone can run faster if he's able to pump his hands and arms while sprinting.
The reason I raise this point is because I frequently see coaches teaching their kids to hold a puck on their sticks as they race down the ice on a practice breakaway.  The adjacent photo shows what I mean…  The sample player holds his stick in one hand with the puck kept right on his stick-blade, which means that he can really only pump one hand.  If you click on the photo you'll see a slow-mo video of that youngster in action.  Oh, by the way, I sense that he's initially doing things the way he's been taught elsewhere; but, he ultimately starts doing things a little differently when I yell to him.
Again, did you notice that he could initially only pump his left arm, but then he eventually shifted to my way of doing things (I guess you can tell at which point I yelled, huh)?
Now, the next photo pretty much shows what I recommend…  First, I want my players to achieve maximum speed by having both hands free to pump — almost as if they don't even have a puck ('cause they don't).  Secondly, my guys don't really need to control the puck on their way down the ice.  In fact, I'll suggest to them that, "You and (most likely) a chaser are going to have a footrace to a point just inside the offensive zone, and all you have to do is beat him there and have the puck!"  In other words, there's absolutely no reason to stickhandle or make dekes on the way down ice; all one needs to do is go straight and have the puck in the end.
And that brings me to the suggestion that a player tap the puck far ahead, and then use both arms to speed towards the puck.  Actually, I've studied numerous of my top students — high school players to pros, and I've found that the best of them only need to touch the puck three times from about the top of a defensive face-off circle to about the middle of the offensive zone.  In other words, they tap the puck straight towards the net, fly up to it, tap it straight ahead again, fly up to it, and then grab the puck in readiness to attack the goal.  Nothing fancy in between, but everything just aimed at being speedy on a straight line.  Okay, so click on the photo up above to get a sense of what I've been saying (and decide for yourself if this isn't the fastest way to get down-ice).
This next player is a pretty good one, and he's awfully quick down the ice.  He had a problem on the rush I video-taped, however, which gives me a chance to show you something that often goes wrong on these plays…
Once you (click on the photo to the right and) watch the video, notice that near the end of his rush — after he's done pretty nicely, this youngster finds the puck almost in his feet.  Purposely, I've really slowed the video at the end, just so you can see that my guy is nearly upright.  And, you know he can't be going at full speed in that posture.  So, the lesson to be learned from this?  A player needs to gain a certain "feel" for tapping that puck ahead — not so far that he can't get to it, but not so short that it's going to break his stride.  Again, about three touches of the puck seems to do it, in order to cover the distance I've described.
Next, let's deal with grabbing the puck and attacking the goal…
The photo to the left shows my guy just after he's picked-up the puck about mid-zone.  Now, I can appreciate both sides of the argument — for carrying the puck the rest of the way out in front of the body or off to the forehand side.  For a lot of years I'd taught the latter, but more recently I think a player can hide his or her intentions better with the puck held out-front.  Again, though, both arguments make some sense, and I think the best answer is that the attacker have an idea of what he or she wants to do in the end.
My final bit of advice is to suggest that a player NOT move his or her body left and right in order to make the goaltender move.  Sure, a player can make head and shoulder fakes, but I don't advise skating side to side.  For, I believe that the stick (with puck in-tow) can travel faster and farther, and the goaler has to respect that as much as if the attacker moved his body (after all, netminders line-up on the puck, and nothing else).  In other words, if the attacker is able to move the goaltender towards one side with just a wide deke, he or she should be able to move the puck quicker across to the other side than the goalie can react back.
Finally, while I've covered a lot here, the one thing I want to emphasize is that long dash towards the far end NOT being slowed by much handling of the puck.  Tap it ahead, fly, tap it ahead, fly…
*
Have any questions or arguments with what might be some controversial territory?  You know I really appreciate your Comments!
Okay, while I'm certainly celebrating Jerry finally investing in a better, lighter stick, I can appreciate how you wouldn't necessarily jump for joy at that.




Still, some of the discussions he and I have had surrounding his new stick — and his change in skates — should provide some interesting food for thought for members at all levels of the game.




– Dennis Chighisola
Jerry Z's New Stick
For sure it's taken some time to convince Jerry that a new stick would make a difference in his ball handling (remember, he's a roller hockey and deck hockey player). So, he finally took the plunge, and here's an excerpt from his first email back to me:
"I had a game on Thursday night. It was the first time I used the composite stick. Even though the stick is too long — I haven't cut it down to size yet– I can feel the difference. You woulda laughed… I had a goal where I pushed the ball between the defender's feet and got it on the other side, then shot high — hit the goalie's shoulder pads and in. Later I had a pass I sent a guy from pretty much one face-off circle to the other one and he one-timed it in for a goal. The stick is light and allows me to do things I haven't been able to do before."
Geeeeeze, Jerry, I've been telling you that for weeks!
Days later my good friend wrote me with this:
"I cut the new stick down to a smaller size than I'm used to, so it's lighter and I can stickhandle with it better. It also forces me to bend the knees while skating. I don't think my shots go any faster than with a wooden stick, maybe slightly slower? And with a puck it seemed like I didn't get solid contact at all, especially on one-timers. I need more experience with it.
Okay, some very good observations from Jerry, and ones that are worthy of discussion here.
Although a lighter stick might ultimately whip quicker into a puck or ball on the slap shot, a shorter stick does usually result in a slightly slower shot. If you can envision it, Jerry's lever arm — which is the stick-shaft — is slightly shorter, and thusly creates slightly less force than a longer one. Here's the trade-off, though… Most poor puckhandlers just don't get-off that many shots (they're just too slow getting open and tee-ing the puck). So, what I advise players to do is to use a short stick until puckhandling becomes a strength. With that, the player can trade-off a little of that skill — by going to a slightly longer stick, in order to get a little harder shot.
As for Jerry's difficulty in contacting a puck, I'll suggest that the ball is easier to drive than a puck. Thusly, he probably notices more the fact that he isn't making perfect contact with the puck.
Then, because he is still trying to get some outdoor practices in — and, because he's still experimenting back and forth between two different pairs of in-line skates, Jerry added this to his most recent email:
"I'm using the (enter brand name) skates that we decided to banish from the games. (If member will recall, I found one pair of his skates to be of nice quality, the other pair real cheapies!) These seem slow and loose in comparison. Do you think I'm hurting myself practicing with these clodhoppers? I'm upset at (enter brand name) for these.
Okay, a couple of things needed addressing here…
I wrote back to suggest that Jerry stay with the good quality skates whenever he can. I figure he's going to be able to do more — and improve more — in those. If there's a problem here, outdoor use will ultimately wear the wheels and require earlier than normal replacement. Still, wheels are relatively inexpensive.
I told him not to be upset with that skate maker. Most companies make quality skates for competitive players and not so good ones for purely recreational use.
I also suggested that his stumbling upon poor quality skates was the result of his initially shopping at places other than a pro shop where other, more serious skaters shop. Let's face it, department stores are going to stock their shelves with cheaper, rec type gear, while pro shops generally deal in quality.
I usually suggest the latter approach to new hockey players and parents, as well, especially if they need help of advice on selection or fitting. Once a shopper gains experience, he or she can likely find some deals at yard sales!
In closing, I'm hoping members are finding it interesting as I attempt to help Jerry improve upon his game. After all, he asks great questions and makes some interesting observations. And, as many of you might be discovering, he and I are forced to do some of the same kinds of troubleshooting so many hockey players, parents and coaches face.
Can you help me by posting a Comment or question here? And thanks — a bunch!
Our friend Jerry visited The MOTION Lab tonight.  And, while he warmed to do some new stickhandling tricks, something struck me — that I needed to share with him, and also with you…

– Dennis Chighisola
Eyes-up Puckhandling (or Not?)
As Jerry did a little light dribbling in anticipation of learning some new puckhandling tricks, I noticed that he was trying to keep his eyes-up.  Aaaaah, good for him — that he remembers to work on that often.
At the same time, I mentioned to him that I usually have to emphasize or de-emphasize that stuff, depending on what I'm having a player (or players) do.  And that usually depends on where we are with a given puckhandling skill.
For example, if we're working on the beginning level of any given skill, that usually requires total attention.  And my feeling is that a player usually has enough to worry about without taking his or her eyes off the puck or ball.
Of course, the time ultimately comes when I feel a player has pretty much mastered that skill.  And, it's at that time I believe he or she has to start doing it without looking downward.
(Just click-on the photo above to see Jerry working on his ball dribbling while doing a pretty good job of looking out and around.)
Be a friend:  Your worthwhile Comment helps Coach Chic!
My Facebook friend (and CoachChic.com member), Kathy C, couldn't have posed a more timely question.  For, it's mid-October, beginner hockey players are flocking to learn-to-play type clinics all over North America, and a lot of new hockey parents are scratching their heads as they attempt to outfit their youngsters.




More specifically, Kathy jokes that I get to settle an ongoing debate — between her, her husband and the local pro shop guys — in determining which way her 4-year old son should hold a hockey stick.




Fortunately for Kathy (and any other new hockey parents), I've been dealing with this issue for a good 30-years or more.  So, with that, here goes…

– Dennis Chighisola
How Should a Beginner Hold a Hockey Stick?
Up front, I'll suggest that there is an easy way out of this dilemma, that being to purchase a stick that has a flat blade, and then let the chips fall where they may.  This, however, is not my personal preference.  Over recent years I haven't seen a decently constructed flat bladed stick, with most of them being hunks of tree limbs that are far too heavy for kids in the toddler to 5-year old range.  Moreover, a slight curve in a stick's blade encourages my young students to carry the puck just as I'd like them to — between the blade's midsection and its heel.  Oh, and there's something else I like about most curved sticks that I've held, in that they have a nice (but perhaps undefinable) "feel" to them.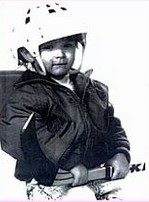 That out of the way, here are two tidbits of background information that really are meant just as FYIs:
Quite often, one holds a hockey stick just as he or she might hold a broom or a shovel.
Quite often, one will feel more comfortable with the dominant hand holding the top of the stick.  (I get a kick out of new parents who scratch their heads at their kids being right handed while holding the stick to their left side.  But that would be natural, as you see, with the dominant hand used to steer the stick-actions from the top of the shaft.)
Still, notice that I said "quite often" in both instances.  For, although these are relatively common occurrences, THEY ARE NOT RULES.  Every player still needs to seek his or her own comfort in handling a hockey stick.
Now, I actually chuckled to myself as Kathy said something to the effect that one shouldn't ask her son which way he shoots.  She is right-on about that, since asking a young one how he or she shoots is going to cause him or her to think too much.
That said, I think we have two different situations when it comes to the which-way-should-he-shoot question…
In Kathy's case, I know that her little guy has been playing around the house with a flat bladed stick for some time now.  So, I'd suggest that she and her husband just quietly observe the boy as he bats at a ball (or whatever).  Whatever he's doing during that time — not knowing he's being watched — is pretty likely to be natural.
On the other hand, there are those who find themselves at a local pro shop and suddenly faced with the need to buy a stick.  Hmmmmm…  What I'll often suggest in that situation is that the parent roll-up a piece of paper into a ball, and then encourage the youngster to shoot it around the shop for awhile.  Then, doing just as I've suggested to Kathy and her husband, the parent can step back and quietly observe his or her youngster doing whatever comes naturally.
Finally, although the purchase of a youngster's first hockey stick seems traumatic, consider the fact that he or she will probably ultimately own dozens upon dozens of sticks through the years.  So, while my suggestions still only give a first-time hockey parent a 50/50 chance at being right, beginner sticks are inexpensive enough that re-thinking things a few months down the road isn't going to be too painful.
Just so new members appreciate what I'm trying to do here…  Kathy sent me that question this morning and I had an answer posted a few hours later.  I want to do that for my members (and friends), providing you answers when you need them!



Did you know your Comments really help me?  So, please get involved.  Just use the box below to offer your thoughts, questions or suggestions.  (And thanks — a bunch!)
Just a note — in case you're local to me and Pilgrim Arena in Hingham, MA…

My new Puckhandling Course starts on Monday night (10/05/09), and it'll run throughout the winter.  It's at 7:15pm, in Rink B.

If there's one thing I'm famous for, it's that all of my long-time players and students can REALLY handle that biscuit!!!  And, to me having really good puck-skills is a huge confidence booster!

– Dennis Chighisola
I thought I'd give everyone a break from the Incredible Stickhandling series to show you something that is absolutely awesome for puckhandling (not to mention core strength, balance, and a host of other physical skills).  (Trust me:  There are plenty more Incredible Stickhandling drills to come!)
As the following video points-out, I feel compelled to problem-solve.  And I also feel for parents' pocketbooks — as well as their available resources — as I head towards a solution.
Here you'll also discover ways a lot of previously mentioned drills and training gadgets can be made and used in a relatively small area.
So, take a look, enjoy the video, and please DO make a set of Chopped Stix to have handy around your house…
Loading...
By the way…  As a coach, I am preparing to make a batch of these so that my guys can use them in our weekly off-ice training sessions.  (More recently I discovered The Home Depot has bundled stakes — dirt-cheap, and all one needs to do is saw-off the pointed ends to have about a dozen ready-made Stix!)
Be a friend:  EVERY worthwhile Comment helps Coach Chic in the search engines!
Ready for some really challenging puck tricks?  Here goes…
Loading...
As promised, we're moving on from the Incredible Stickhandling series to some skill drills that are surely BEYOND those.  Hopefully you've kept working on the early skills, because you'll need those as a foundation for some very challenging new drills.  So here goes, with an introduction and the first new puckhandling problem…
Loading...
Now, if there's one person who is bashed often at most rinks, it's the so-called "puck hog".
Ya, parents can be especially tough on that guy (or little girl), which very frequently trickles down to teammates eventually mimicking their (sometimes pretty cruel) comments.
I actually find it interesting that no other skill seems to attract such scrutiny.  I mean, folks seem to admire you if you're a good skater, they certainly appreciate it when you pass the puck (especially to their kid), and most fans even accept you if you shoot better than others.  But, just handle the puck beyond a few seconds — make one nifty move, and you're liable to really hear an earful.
From my kzillion years around the rinks, it seems the abuse starts pretty early — with 20- and 30-something parents getting on the likes of 7- and 8-year olds.  And I have to think there's at least a little emotional scarring taking place with those little ones.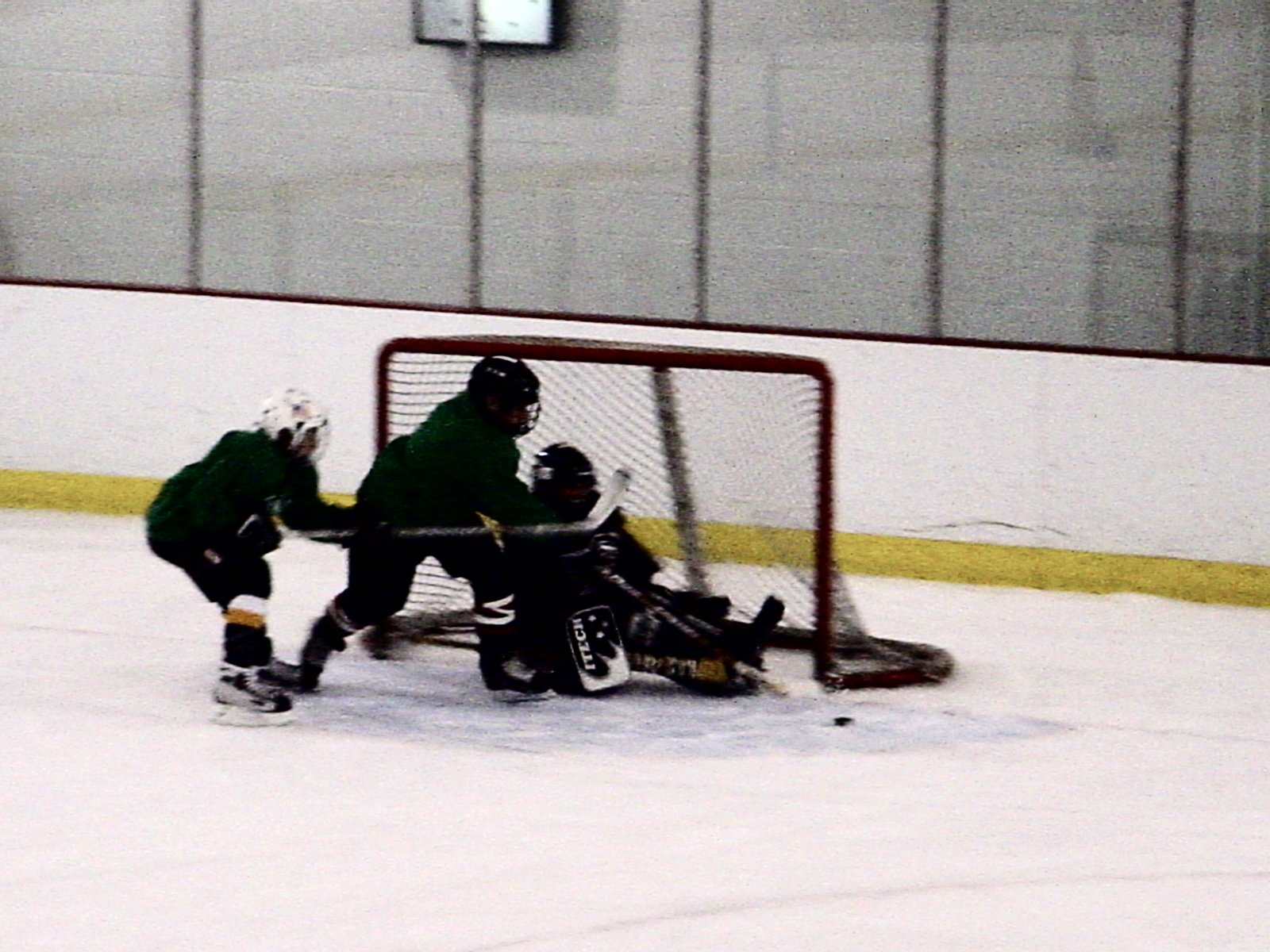 Now, this subject gives me the chance to touch upon some (hopefully interesting) related areas, all of these having to do with fairly young guys' and gals' hockey…
Picture, for instance, that a young shooter throws the puck on-net with the puck ultimately hitting a flailing goaltender in the chest.  The folks go nuts in the stands, with at least someone yelling out, "Great save, Joey!  Great save!"
No!  No!  No!  First, young goalers probably cover less than a third of the net, which means there were tons of open spots towards which the shooter could have sent the puck — IF he or she had only been able to handle the puck and look-up.  Secondly, young goalies — at least usually — don't move that well, remember:  they don't cover much of the net, so the so-called save was only made because the shooter blew his or her opportunity.  (Oh, conditions totally change at the slightly higher levels, with smart, skilled netminders playing their angles well enough to make shots hit them — on purpose.)
In yet another for instance, a poor skating, poor puckhandling young player barely touches the puck before it squirts to someone who can skate and tote the biscuit pretty well.  The skilled youngster goes on to score a goal, which brings at least one voice from the stands (guess who) to call-out, "Great pass, Jimmy!  Awesome pass!"
Ya, right.  You know what I'm getting at here…  Jimmy had little to do with the resulting goal.  In fact, the team is probably lucky he ultimately got out of the way so someone else could put the puck home.
One quick aside here…  I'm not condoning selfishness with the puck; never have, never will.  But it's been my experience — or I've mostly observed — that few kids under 8- or 9-years old have a selfish bone in them.  I have noticed some kids not able to handle the puck and look-up, which causes them to miss all the passing opportunities around them.  And I have seen young kids who had to keep carrying the puck because other mates weren't able to keep-up or get into proper position.
Anyway, this line of thinking also brings me to a conversation Todd Jacobson and I were having the other night, this obviously having to do with gifted puckhandlers.  From my side, I was sharing with Todd my experiences as a college coach, especially late in games when the outcome was still hanging in the balance.  And I was telling him that I'd been on both sides of the problem.  In other words, I'd had that good feeling late in some close games, because I knew I had someone really deadly cruising around the ice.  Oh, but I'd also suffered that sick-to-the-stomach feeling some years, knowing our opponents had their own slick guy just hanging in the weeds.  "Game breakers" I call them, or those players who just have a way of making good things happen on an attack.  And, to a man, those game breakers were always unbelievable puckhandlers.
Okay, it's time for me to apologize if I've been a little cruel to those who have been at least as cruel to young kids.  But, as always, there are several good reasons I raise a given issue…
First, I need to warn parents and coaches of young ones that future coaches are going to select players who are skilled enough to compete at the higher levels.  The Jimmys of the hockey world aren't going to make it, nor are the ones who consistently send shots into goaltenders' bellies.  (And you can ask Todd Jacobson what he thinks about the chances of a goalie making it if he or she isn't smart enough and skilled enough to play the angles well and cover a lot of net.)
Secondly, I frequently feel the need to point members towards Coach Chic's Building Blocks Approach to Skills.  And, while my placing of puckhandling as the second most important offensive skill will surprise some, my real hope is that members understand the reasons I make this claim.  For, once you do, you'll probably appreciate why capable puckhandlers can make better defensemen — especially during breakouts, and why a higher level coach might lean towards a number of better puckhandlers on his or her powerplay.
Thirdly, North American readers probably know that most Major League Baseball players were usually the top performers on their Little League through high school teams, and that a majority of those guys played the key positions on their younger teams, probably pitching and playing shortstop most of the time.  Only later did they end-up specializing, quite often in a very different spot.  The same can often be said of future pro football players, with the likes of many defensive backs and other skilled guys actually being quarterbacks on their high school or even college teams.  And the same can often be said about a lot of future NHL-ers who end-up specializing — maybe as defensive forwards, penalty killers, etc.  Appreciate that those lower profile guys weren't the Jimmys in high school, college or juniors; they could play.  And, although they might not get the chance to demonstrate dazzling skills once in the pros, those guys are no slouches — as skaters, passers, receivers, shooters or puckhandlers.
Finally, I'm going to blame one of my favorite CoachChic.com members, Ravi, for setting me on fire this 4th of July holiday —
.  You see, Ravi just sent me the following link, suggesting that I might find it interesting (did I ever)…  Click here once you're ready.
What you'll discover is that the above link takes you to a YouTube video with a young Tomas Jurco demonstrating some wild stickhandling moves (and I do mean wild).  What I found interesting — and you should, too — is that Jurco is a top Slovakian prospect considered to go fairly high in the 2011 NHL draft.  What we should also get from watching Jurco is the obvious time he's spent on his stick-work.  Oh, I'm quite sure he can do most other things pretty well if he's currently rated so high.  But, I think we should also get the hint that puckhandling skills — particularly within the modern game — must rate fairly high with the scouts.
Then my last two points…
I want to remind you that this entry is really all about young kids.  I'm talking developmental ages here, or the ages with which we — as parents and coaches — can have the most impact on their thinking or outlook.
I hope I've also convinced my favorite hockey people that the young guy or gal currently considered a hog should probably be viewed in a different light.  For, I'll suggest, he or she is really the model for others — to emulate or try to catch-up with.  In the long run, I think parents and coaches who deal with very young players will later be pretty glad they did that for those in their charge.
PS:  Those who have been itching for more puckhandling challenges should know that the "Beyond Incredible Stickhandling" program will be starting shortly.  In the meantime, however, how about giving a few of Jurco's tricks a try? 
Interestingly, this question arrived from the Youth Sports Coalition at a time when I really wanted to share a few special thoughts with my members in reference to puckhandling.

– Dennis Chighisola

Q:  Susan, the mom of an 8-year old, says that her son is just starting out in a local house league program.  And, while he seems to take to skating quite easily, she notes that, "…he struggles a bit with puckhandling."  From there, Susan asks, "Are there any drills (The Old Coach) would recommend to help him build his puckhandling skills?"
A:  First, as an aside, I smiled that the mom of a new player already refers to the skill as "puckhandling".  That's my preference, since "stickhandling" tends to focus only on the stick-work part of puck control.
That said, it would be difficult to totally outline a thorough course here — in limited space and solely in writing.  At the same time, I have what I think are a couple of great ideas for getting that young guy off on the right foot…
You see, over my many years in the game, I've noticed that there's a certain sort of "mentality" common to good puckhandlers.  I mean, real puckhandlers love playing with that little black thing (or practically anything they can get their sticks on), and they seem to just love experimenting.  (As a friend once observed, "Blow a whistle when a group has pucks, and the true puckhandler is the one who can't stop fiddling!")
The good news for Susan and her boy is that I've found this mind set to be teachable — IF the seeds can be planted early enough.
Actually, a lot of years ago, I had baseball-sized balloons made to include on them my New England Hockey Institute logo and my favorite puckhandling expression, "Go nuts!"  And I've tended to use (and use and use) that expression through the years, as my kids have toyed with either a balloon, a ball or a puck.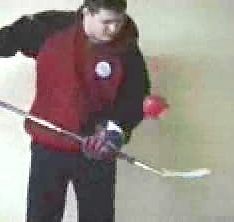 As shown in the photo, most balloon dribbling is done in the air.
The idea of the balloon?  Practically anything a kid wants to try with it is do-able.  It's big, it's light, and it tends to be slightly slow in moving.  Still, almost every time a balloon is tapped, it tends to spin-off in an unpredictable way.  And this causes one to have to react rather quickly with the hands and stick in order to make the next tap.
There's yet another reason I like to include small balloons in a player's puck-work.  For, in my mind, one needs the same kind of dexterity with the stick as he or she might have with a folk or pencil.  In other words, the stick has to ultimately become an extension of him or her.  And the characteristics of a balloon just seem to help that.
Next, I introduce my students or players to small, wooden Swedish Stickhandling balls.  Golf balls are an acceptable substitute, although the wooden balls are a little safer (or slightly less bouncy).  Yes, given the luxury of working with my kids in person, I do ensure they are able to perform side-to-side dribbles and a number of other basic movements, and I do ultimately teach some pretty wild moves.  For Susan's sake, however, I believe just experimenting with a small ball will help put her young guy on his way to developing better puck skills.  (Ultimately, he might try bringing the ball through and around each foot, and even combine stick dribbles with passes off one foot and then off the other — just "Go nuts", if you know what I mean!)
Then, a few more thoughts…
Notice that I've opted for lightness when it comes to selecting substitutes for a puck.  I do this because quick hand movements are the mark of a good puckhandler, and the right props will allow — or even encourage — quick reactions.  And this points to similar needs when it comes to the desired weight, size and fit of a player's gloves, sticks or any other pieces of gear that can affect hand, arm and shoulder movements.  Trust me on this, that lighter is always better.
Also notice the ease in which the above program could be undertaken.  The cost for a small bag of balloons would be negligible, a used golf ball should be easy to come by, and it should also be easy enough to find a spot to safely practice these skills.
Finally, I encourage Susan (and every other reader) to borrow my expression, "Go nuts!"  Or, come-up with your own way of encouraging creativity, experimentation, and that special kind of puckhandler's mind set.  Trust me on this one, too, in that IF a youngster gets the puckhandling bug, he or she isn't going to be able to stop dribbling even when someone blows a whistle!
PS:  Sometime after writing this article, I produced a home training course that introduces all the basics of puckhandling, plus quite a few fancy moves.  Again, all the drills can be easily done at home and in a small space, and I've also used almost all of these drills on the ice (if you're a coach looking for some great puck-drills).  This video course also helps encourage what I refer to as a "puckhandler's mentality".  Just click this link to download "Incredible Stickhandling" in my on-line store.
Well, this is it for phase one in the Incredible Stickhandling course (have no fear, there are still plenty of new drills coming).
Now, the skill demonstrated in the following video can be pretty challenging, but it will surely give you soft hands if you can master it.
As the video will suggest, it's a good idea to go back through all the drills for the next few weeks.  Mix them up or jump around, and prove to yourself that you have in fact mastered each one.  For, as I'll tell you in that video, there are even tougher challenges coming (around the first of July).
Good luck!
Loading...
Well, we're nearing the end of phase one in Incredible Stickhandling, and you're going to want to have the puck-skills necessary to go on either further.  So, be sure to master all the drills to this point — even keep going back to polish and perfect some of the earliest skills.  You'll be glad you did!
Loading...
Okay, I hope you've been really working to master the earlier steps in this series of Incredible Stickhandling drills, because things are going to get a little trickier — and more challenging — from here onward.  Good luck!
Loading...
I can't emphasize enough the need for a player to truly master the various steps as they've been presented to this point.  In a way, each is a prerequisite to the more advanced skills that will come soon enough.  Be patient, and think about how awesome you can be next fall…
Loading...
FYI…  As I was just putting together the next drils, I thought to myself, "I sure hope my members are working to perfect the earlier skills, because things are going to get pretty challenging from here onward!"
Although "Incredible Stickhandling — Skills 4 – 6" has just been added, Coach Chic suggests that those overseeing the training of a really young player make sure the first 3 skills are truly mastered before moving on.  Once they are, it might not be a bad idea to just add one new puckhandling skill every so often.
Coach Chic's suggestion is for a player to now go back and forth between these new drills and a few of the earlier ones.  And remember:  the idea is to truly MASTER each skill.  Good luck!
Loading...
Q: Megan B. thanks the old coach for answering her previous question (but hey, that's what I'm here for!).  Then she goes on, "I'm wondering now about how to develop better vision on the ice when I'm handling the puck… I tend to get tunnel vision when I try to break the puck out of the zone, which – frankly – drives me, my coaches, and my teammates nuts. The problem only shows up when I have the puck on my stick. Otherwise I play quite well… There's just something about the puck that narrows my field of vision. Advice?
A: Actually, Megan, you can put yourself in with countless other players I see in my rink travels, including guys playing at some fairly high levels.  What I'm talking about are players who can skate like the wind and play good defense, but their game slows almost to a halt once they have a puck on their stick.
Now, I'm going to once again refer to my Building Blocks view of offensive skills, suggesting that puckhandling is the Number Two skill, right after skating.  For, how else can a puckcarrier control that little black thing and at the same time scan the ice for enemy checkers and open teammates?
Next, this brief aside…  To begin, try to remember your first time driving a car.   In all likelihood your hands were squeezing the juice out of the steering wheel, your eyes were glued straight ahead, and your body was so rigid you could hardly stand it.  Remember too, trying to remember where everything was — I mean the brake, the turn signal switch, the…?  (Got you giggling, Megan?)  Next, fast-forward to today…  For, you likely tune your radio, check your hair in the mirror, take a sip of coffee and fish for something in your briefcase without even thinking about driving the car.  Why so?  It's because you've driven a car so many times that the movements and reactions are almost on automatic — they've almost become involuntary movements akin to breathing.
Of course, you've probably already guessed where I'm going with this…  For, right now I'm suggesting that you're puckhandling skills are pretty close to where you were as a rookie driver.  Chances are your puck movements aren't anywhere near involuntary status yet; if fact, my guess is that you have to look down at the puck a lot, and you probably panic a bit as soon as a rival checker comes your way.
Okay, so how do we fix all that?  For sure, experience with the puck is going to solve a lot of your problems — just like experience behind the wheel ultimately helped with your driving skills.  Better yet, the new Incredible Stickhandling course I've just posted is aimed at taking you from beginner to advanced over the summer months (so that you'll be more than comfortable with a puck next fall).  I suspect that course will be fun for you (and it should be).  And trust The Old Coach by doing things his way, like not rushing to get through the exercises.  Then, there is ultimately going to be a series of exercises in that course that are going to deal specifically with the vision issue.  (They're so easy a lot of folks are going to wonder why they hadn't thought of them!)
Honest to goodness, that course will solve anyone's puckhandling problems.  It's likely to make a patient follower extremely strong with the puck, and it's surely going to make fall's games more fun.  (I promise, Megan!)
Please be absolutely sure to follow the advice outlined in the introductory post; a player's success depends on it!
Next, work to perfect these simple movements.  In about 2-weeks, a new collection of drills will be posted to bring you ever closer to Incredible Stickhandling!
Loading...
Members may have been surprised at my tabbing puckhandling as the second most important offensive skill.  However, besides the reasons I outlined in my Building Blocks Approach to skill development, all my years in the game have taught me that successful puckhandlers have more fun at the game.  Hey, let's face it, the guy or gal who is good with the puck tends to have it a lot, and he or she is more often making plays, scoring goals, and gaining a good deal of positive feedback.

– Coach Chic
Those involved at all levels — from beginners to intermediates to advanced — should watch this Introduction to Incredible Stickhandling.  Then, please heed the advice I've shared, because a player's success is going to depend on his or her using the tips and tools I've suggested.
Loading...
Now, I can absolutely guarantee incredible stickhandling skills by the start of next season — IF a player undertakes this program faithfully, and IF he or she undertakes it in true "Coach Chic fashion"…
Although most of the included drills can be performed indoors or outside, it's suggested that a small indoor area always be available so that practice isn't dependant on weather or sunlight.
Work on the first 3 skills for two weeks (at which time another 3 skills will be introduced.
As more and more skill-drills are offered, work on the new ones, but also go back and continue to perfect the previous ones.
I honestly don't believe that home practices should be a drudgery (particularly for beginner level players).  Besides, the best puckhandlers always seem to have fun (just fiddling and fiddling and fiddling).
Even an advanced player should

never skip steps

!  The idea is to master each and every skill, and in the order in which they're introduced.
Trust The Old Coach here — that some pretty wild moves are going to ultimately be introduced.  And, I promise that a player who undertakes this program faithfully is going to have a whole lot of fun playing the game!
If you think about it, our game is rather chaotic.  I mean, it's wild and crazy out there on the game ice, with players needing to constantly read and react to quickly changing situations.  And players also oftentimes need to bob and weave (and save their lives against body-checks) while at the same time lugging a puck.
So, how well will comfortably dribbling a puck or ball in place really prepare a player for that kind of game action?  I'd say, not very.
Oh, beginners need to learn almost every skill in place, and at a relatively slow pace.  However, if a player is preparing for real game-like challenges, he or she would be wise in learning to deal with numerous problems at once.  In fact, you may have noticed some examples of this sort of training among the short video clips I included in Critical Periods in Motor Learning.  (Take another look at that video if you want some immediate ideas.)
To be honest, I don't think it matters all that much what other challenge we add to puckhandling; the point is for a player to just deal with more than one physical problem at a time.
As an aside here…  I recall hearing a coach address this issue some time ago, suggesting something to the effect that, "We have to really overload our players' nervous systems!"
So, through the years, I've mixed puckhandling with all sorts of other simple challenges –  even ones as simple as jogging or hopping.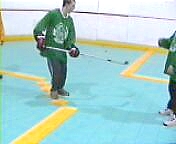 Although difficult to see in the above photo, that young fellow in green is jumping a long rope being twirled by two teammates.  AND, at the very same time, he's dribbling a golf ball, on the floor and even in the air!  Talk about dealing with more than one challenge at a time!
Building on something I strongly suggested last month — about helping a player to be a success at his or her own level, I'm going to share a video I produced a few years ago, this aimed at "Creating the Early Goal-scorer."  For, if you want to give a youngster confidence, and help him or her gain a real love for the game, there's no surer way than to help him or her put the puck in the net on a regular basis.
This video also introduces the concept of giving young players just a few, DO-ABLE challenges at a time.
Finally, I placed this topic in the Intermediate category for good reason.  By all means, a player is going to need a number of basic skills in place in order to execute the moves I'm going to show.  So, I'll suggest that a player should fall somewhere between the fairly skilled 8-year olds and young teens seen in the following video.
Loading...
At times, this one seemed humorous. Yet, it really was sad…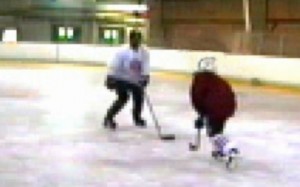 What I'm getting at are my observations of a long ago college guy who once played for me.  Actually, he was a pretty talented forward.  At the same time, he would sometimes get absolutely killed because he was what one might call a "one-trick pony".  I mean, he had this one move that he'd pull on a rival defender early in most games, and he'd usually make that guy look foolish.  A little later in the game he might try it again, this time with a lot less success.  Still, he'd try it again and… Bang!  A defender would put him in orbit!
So, how does a player NOT become a one-trick pony?  The answer is to gradually — and I mean very gradually — build a full bag of offensive moves.
As an aside here…  The college guy I mentioned above could have added to his bag of tricks by just learning to make his patented move in the opposite direction.  In other words, once he'd mastered faking right and cutting left, he'd have been a lot trickier if he could have occasionally deked left and then cut to the right.
Continuing the latter point, an attacker can easily double his or her tricks by just learning to do each one in both directions.
As a starting point, I only need direct you to my very basic video, Creating the Early Goal-scorer.  Oh, I know I'm talking to advanced level folks here.  However, everyone needs a starting point, so those simple attack moves are a good way to at least begin building a fairly deep bag of tricks. Then, over subsequent posts, I'll add hundreds (if not thousands) of additional moves!