I hope CoachChic.com members enjoy that I remember a lot of what I've seen in the past, and I hope that you also ultimately benefit from what I've seen others do (or not do). 
With that, the following centers around a brief conversation I had with another hockey parent some 30-ish years ago.
– Dennis Chighisola
The Cost for Hockey Success
Up front, let me say that my reference to "Cost" in the above title doesn't necessarily mean a financial one, although it sometimes can.  Just as often there's a "price" one needs to pay in the way of commitment, effort, or extra discipline, if one wants to be successful — at anything.
Now, as I think about that long ago conversation, I'm also reminded of some other things that were going on around that same period…
Every time I envision the era in which my story takes place, I can't help thinking about a lady who was a frequent visitor to the rink I was working at.  Actually, you couldn't miss her whenever she did show, because she always looked like she was ready for a magazine photo shoot.  Come to think of it, I did see her in magazines, modeling some of her family's pretty expensive furs — furs, by the way, that likely went for more than my car was worth.  Of course, I didn't drive a Jaguar as she did.  None of those things are the reasons I remembered here, though.  No, it was because part of my job as the resident hockey guru for that rink was to also help advise folks about their equipment purchases at our pro shop.  And an even bigger reason for me to remember her was because her young son played the game in pure agony, because she wouldn't spring for anything beyond the cheapest pair of skates I could find on our shelves.  I know…  I know…  I shouldn't be so judgmental, and I'm not usually that way.  Still, you decide if she was being fair to that boy, weighing diamonds and furs and the Jag versus a pair of almost cardboard-like skate boots.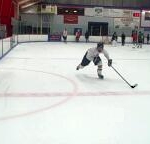 Surrounding that same time period, I was running a weekly skills related course that some might call "powerskating" (ugh).  One thing that was unique about that program was that it ultimately counted as members a bunch of future NHL draft choices, a handful of future AHL players, tons of future Division I college players, with all the rest at least becoming high school and Junior hockey stars.  There were a couple of other fascinating things about those sessions, too, including the fact that they attracted kids from as far away as 30-miles, and that they took place at the ungodly hour of 6:30am (which makes you wonder what time those kids had to get up each Saturday morning).  Of course, the earlier example of a cost for some success was dollar related; this one, however, really wasn't.  My classes were only $5 per session, and purely on a pay-as-you-attend basis.  So, what parents had to weigh on their side was the value of the commitment, plus whether they could maintain the discipline to attend often.  The players, on the other hand, had to decide if they were willing to put in the effort under a fairly demanding coach.
My final memory of that time concerned one of my long time students from the above hockey skills program.  The kid matured to be an Adonis, at about 6′ 1″ and maybe 195 pounds, while having the skills usually associated with a smaller guy.  He was smooth, too, and he could really fire a puck.  So, don't you know, he's drafted as he's leaving the local high school, at 18-years.  If there was a problem, the NHL team that selected him didn't know what the heck to do with him over the next 3-years or so — as he was expected to grow and develop for their big club.  He didn't have the grades to get into a major college, so that was out.  Nor was he mature enough to enter the pro club's minor league system.  So, they instead found him a spot in Canadian Major Junior hockey where it he could blossom into what they expected.  Or, so they thought.  As the story goes, though, the boy reported to that Junior team, dressed for one game, took a punch in the mouth, and decided that wasn't for him.  Needless to say, a whole bunch of kids in my class envied him, as did many of his high school teammates.  So, the rest of that story goes, he returned home to ultimately partner with his dad in a small, family run service business.  As for categorizing the cost to succeed here, I guess it would have to do with commitment and effort, although I'm not sure how one judges the need to take some physical abuse on the way to achieving a possible big-time payout.
Before leaving those stories, I have to say that I've only given my own impressions as I was watching things unfold.  To be honest, however, I think it's fair to say that there's no such thing as a right or wrong answer to any of the decisions the described players or parents had to make.  I really mean that.  God still loves us whether we wear quality skates or not, I'm quite sure there were plenty of successful young men who didn't attend my early morning skills sessions, and it's quite possible that former 3rd round draft pick is totally content with his life today.
Okay, so how about the conversation that started me on this long rant?
Well, I happened to be off duty one night — not coaching, but instead watching my son skate in a local hockey skills clinic.  I'm guessing he was about Squirt/Atom or Pee Wee age at the time, and he was taking advantage of a free program his organization was offering on some summer ice the rink had given them.

That it was a freebie must have been sticking in one hockey mom's craw, because she ultimately leaned toward me and whispered something to the effect that, "It's a shame how many kids are missing these sessions."  And, proving she at least knew something about the game, she added, "And it's the ones who could really use this kind of help that are missing!"  Right she was.
I know that I didn't add any question marks at the end of her sentences, but you can be sure she was waiting for my opinion on what she'd said.
With that, I politely agreed with her observations, while also suggesting that, "Things need to be this way."
Seeing her nose wrinkle some, I added that, "A little at a time kids will be sorted, with them all going one way or another, based on the decisions they make over several years."
Obviously, there's no rocket science behind what I said then, or what I'm suggesting now.  The equation is pretty simple, as a matter of fact:  make a lot of decisions in one direction, and you're days are likely numbered in the game; be willing to meet certain conditions, and the chances are at least a little better that you'll have some say in your final fate.
Actually, I guess everyone I've described in this piece had a say in his or her final fate.  Still, returning to something I said a little earlier, there's likely no right or wrong to any hockey related decision.  What might be wrong — as happens in most other areas of our lives — is the notion that we can succeed without paying some sort of price.
Always looking to add more benefits to CoachChic.com membership, I've just created a (members-only) Chat Room!
I've linked that here, but a link will also always appear up to the left on the topmost menu bar.
Don't you know that I was immediately asked what the difference is between the Comments that appear below various posts, and what can be attained in a chat session.  The answer, I think, is easy…
Comments tend to come in the form of statements, with no further conversation necessary.  Sometimes others will — but maybe they won't — comment further.
Our chats should be totally different.  First, they're in real-time.  Secondly, within those sessions we should be able to go back and forth on various problems, as well as share ideas for ways to resolve them.  I'm hoping members feel it a benefit that I'll be available for the length of a session.  However, I think it should be just as helpful that we have a lot of very experienced members here who can add a great deal more to the conversation.
As sort of a test, I'm going to hold the first chat session on this coming Thursday night, at 7pm ET.  Over coming days I'd love to get feedback from members, perhaps giving me ideas for something more convenient.
Now, I hope you'll put that time slot on your calendar, and also jot down a few things that you might like to toss around.  I'll be up for it.
– Dennis Chighisola
PS:  With the Thursday "test session" out of the way, and knowing everything works okay, I'll be moving that chat to Tuesday nights for now on — same 7pm time slot.
Hopefully members will take some notes on problems they see during this weekend's games, and bring them along to hash over.
UPDATED EACH WEEKEND…
One of my favorite Internet marketing gurus does this for his followers — to frequently publish his recommended reading list, I mean.  And, I've enjoyed it so much I thought to do the same for my friends here at CoachChic.com.

Actually, I can read dozens of articles over the course of a week, and ones that I previously never got the chance to share with you.  However, these weekly entries seem an awesome format to even further increase the information offered within this site.

– Dennis Chighisola
PS:  I'll leave all the old posts here as new ones are added each week.  However, there's no guarantee that links will work beyond a point in time.  (If you let me know about a problem link, I'll try to fix it or remove it.)
My Weekend Hockey Reading List
9/27/13 ————————————————————————————–
"Why do we warm up?" – I don't know what else I can say but that this is an awesome, pretty in depth article that includes a lot of material even I wasn't aware of.  So, I'm guessing that this information will put my member friends far ahead of most others.
"Applying Good to Great Principles to Coaching" – As the intro goes, Good to Great by Jim Collins is one of the great business books ever penned.  It's been on the best seller list for what seems like forever.  But while the author of this article believes it should be recognized as one of the best football books ever written, I'm going to suggest that it's just as appropriate for us hockey coaches (as especially those who work with higher level organizations).
"3 characteristics of the best athletes" – I can't tell you how many arguments I have nowadays with those who want to distort almost every North American youth sport.  In the name of who-knows-what, they seem to want to stop kids from competing, trying to win, whatever.  Lucky for me (and lots of others), articles like this one come along fairly regularly to highlight at least some of the traits that should be developed in youth sports.
9/20/13 ————————————————————————————–
"Attention coaches, parents: Minor hockey is for the children" – Over my many years in working with all ages, I've found this author/coach's observations right on the mark, and both enlightening and sad.  If I had to add just a tad to this subject, I'd suggest that it's especially so when dealing with young kids.
"Why injured athletes need to return at 100%" – I think a lot has changed in this area over the past decade or so.  And, as a Major League Baseball fan, I've noticed lately that teams at that level are overly protective of their talent.  Of course, those teams get the advice of the top doctors in the world — and, they listen to them (while others obviously don't heed this advice).
"How dangerous a sport?" – I don't really like dwelling on this kind of stuff.  However, I think we all — especially as coaches and parents — have to be aware of the potential dangers inherent in our sport.
9/7/13 ————————————————————————————–
"Failing to find the right level of college sports can ruin your experience" – Ironically, much of this is the advice I gave my grandson as he began his college search.
"What Makes A Good Hockey Coach?" – Good friend and fellow coach, Warren Nye, offers 5 points that will help any coach be better at what he or she does.
"Are You Good Enough To Apply For An Athletic Scholarship?" – As in the case of the first entry here, I suggest players (and their parents) begin exploring colleges early.  This actually isn't an article, but instead a very informative YouTube video.
8/30/13 ————————————————————————————–
"THE CHARACTERISTICS EVERY WINNING PLAYER POSSESSES" – Despite this being a football article, let me tell you that winning players are winning players, no matter the sport.  So, I suggest that players try to model themselves after the traits described here, while coaches and parents should share these characteristics with the players in their charge.
"Being Uncommon" – As the author to this one begins, "Look around. The world is full of common people. Everywhere you turn you can find the ordinary. Most of the time there's nothing wrong with the ordinary, or average. However, for myself, I fear being average. I don't want to be average because no one remembers average."
"Hockey Growth Opens New Career Doors" – A great article on career opportunities in hockey.  And, while the author concentrated on the NHL, I added a comment below that points to far more jobs existing in minor pro hockey.
"How to Create a Strength Training Program For Young Athletes" – My guess is  that this is just the kind of information many of my members can really use.  It's about the basics of strength training, including how to arrive at the proper number of reps, sets, how much weight to use, etc.
"3 Popular Mental Training Myths" – Must I say more?
"Sochi Olympics: No skating no problem for Team Canada as off-ice camp opens" – As it turned out, I read much the same a few days later about the US Olympic Hockey Team, in that the cost of insuring billions of dollars in talent prevented both teams from engaging in on-ice activities.  This article, though, tells what the Canadian coaches decided to do with the time they had with their players.
8/23/13 ————————————————————————————–
"What Makes A Good Hockey Coach?" – With the summer fast coming to a close, and hockey season just around the corner, my good friend, Warren Nye, offers some awesome tips to volunteer coaches.  (I even notice he's given this old coach a nice plug in the middle of his article. 
)
"Annual IIHF survey shows growth of hockey worldwide" – This is truly fascinating stuff!  It gives you a comparison in the hockey playing populations among hockey playing nations, the number of indoor and outdoor rinks in each country, and so much more census-type information — again, all having to do with comparing the different hockey playing nations.
"Internet-Based Psychotherapy Actually Works" – A study from the University of Zurich in Switzerland and the University of Leipzig in Germany published in the Journal of Affective Disorders found that internet-based psychotherapy could be just as beneficial as therapy of the traditional lying-on-the-couch variety. In the longer term, it could even be more effective.  The reason I'm sharing this with my readers, however, is to suggest that such a study likely means that the work done by some of my sport psychology friends (like Shaun Goodsell) could also help athletes long distance and via the Internet.
"What's The Right Amount of Involvement To Be A Great Sports Parent" – Hmmmm…  As the author suggests, he needs to think about this as much as any other parent (and I can tell you that I needed to read this article as much as anyone).
8/16/13 ————————————————————————————–
"Is Playing a Game with No Winner Good for Youth Sports Programs?" – Boy, did this one spark a lot of conversation within the LinkedIn group where it first appeared!  And, every single respondent so far — over about a week — has argued in favor of keeping score in games.  Let's see what you think, though.
"Study: Children's Poor Motor, Social Skills Linked To Too Much Television Watching" – Sad to say, this study found that, "…even one hour more a day can diminish a preschooler's vocabulary and math skills as well as classroom attention."
"Alhambra High School Coaches Fired After Players Given Performance Enhancers" – I think I've read about a half-dozen similar stories over recent weeks.  And, in many cases it seemed that it wasn't the so-called "enhancers" that got the coaches in trouble — because they were over-the-counter products.  Instead, it was the coaches' failure to communicate with school superiors and/or parents beforehand.  (Jerks that some of them were, I guess a few also tried to make a little money off the sales.)
"Fundamentals of Youth Fitness Training – Fitness Is the Way to Life" – I actually espoused this theory a good 5- or 6-years ago, finding research similar to this article's author, in that, "Children can start weight training at any age as long as there is proper supervision, the youth has been educated in the proper technique, and the equipment being used is adaptable to their size and shape."
8/9/13 ————————————————————————————–
"How Would Your Athletes Describe You?" – For coaches only, this is actually the title of Coach Your Best's most recent podcast.  So kick back, and have a listen.  Good stuff in here.
"Ten Commandments for Parents of Athletes" – I honestly think every single CoachChic.com parent and coach should read this.  I only wish I'd owned a copy when my son and then my grandson was starting out.  Nice.
"Invent The Game" – Partly a review of Ken Dryden's book The Game, the article's author provides some pretty interesting ideas for developing young hockey players, with his title (Invent The Game) suggesting the players be creative.
8/2/13 ————————————————————————————–
"How youth sports made me a better startup founder" – With all the mamby-pamby negative stuff out there concerning youth sports, it seems as those I've given you about one article per week that highlights the good that playing on a team does for future adults.
"Is Your Daughter's ACL At Risk?" – If you have a daughter playing sports, you ought to know that her body isn't structured the same as a boy's, her strength isn't the same, and she might be at risk for injuries you wouldn't normally think about.
"Great tips for sport parents" – Although this was put out by "Canadian Sport for life", I sense that it comes from Russia (I tend to recognize the way they talk about the sciences).  And, it is pretty good scientific advice, broken into the stages of development in youth sports.
"Summer Reading For Sport Coaches" – And some good reading it is, including…  Sport Psychology for Youth Coaches, Coach Like A Mother, and Coaching Myths: Fifteen Wrong Ideas in Youth Sports.
"How to be the perfect team captain?" – Not only did I find this 10-point list great for team captains, but I'll suggest that any team member would be wise to have these leadership and good teammate qualities.
"Intense, Specialized Training in Young Athletes Linked to Serious Overuse Injuries" – If the title doesn't scare you, hmmmmmmm…  And, as this old coach has tried to advise you for a number of years now, it's a good idea to help your youngster to be an athlete first, which will help him in the long run to be a great hockey player.  Also, this scientific piece seconds my advice about playing another sport or two for a time besides hockey.

 ————————————————————————————–
"What to do when your child says: "Coach Doesn't Like Me!" – My friend, Jodi Murphy, is pretty good at advising parents on such issues.
"Smells Like Team Spirit" – A really nice article — by a football and basketball coach — on what it means to be part of a team.
"3 Ways You Can Be A Great Assistant Coach" – Although I could add a few more points to this one (having quite a few assistants over 40-years in head coaching), Jody Murphy surely hits the highlights here.
"Bauer Hockey Announces Preliminary Findings of Grow the Game Research" – Just for your information, really…  This research was conducted to better understand why approximately 90 percent of Canadian children and their families choose not to play  ockey.  The full and final results of the research will be announced August 1 in Toronto, along with targeted pilot programs designed to attract youth players who are not playing the sport.
"Incredible Body Metrics" – I had to zoom in on these charts, but I found them interesting.  Among the things you'll see:  calories burned per hour during various activities (including playing hockey), how heart rates change as we age, and how hormones dictate our 24-hour cycles.
"What Does It Take To Be A Leader" – Another of my friends — and a fellow high level hockey coach — talks about the skills needed to be an effective coach.
"How Virtual Reality Games Can Impact Society, Encourage Prosperity" – The video contained on this page is both scary and eye-opening.  It's about the way virtual reality can be used to influence societal behaviors, but you know I was watching and thinking all the while about its potential use in sport.  Hmmmmmm….
6/28/13 ————————————————————————————–
"Personality profiling is latest method coaches are using to evaluate potential recruits" – It's the wave of the future, really, that teams will be using tests to determine which potential players will thrive under pressure, respond when challenged and fit smoothly in the locker room.
"Have You Overscheduled Your Youth Athlete?" – This is one of my pet peeves, and this article offers reasons why it just might backfire.
"The Fastest Way to Get Ready to Lift in the Gym" – Here is a series of moves that get you ready to train, don't take a lot of time, and that you can perform while standing in the same place.
"European goalie ban on agenda" – What does it say when Canadian Major Junior Hockey considers banning non-Canadian goaltenders?  It suggests to me that Canada can't train it's own goalers well enough to be better than the Europeans.
"Hexoskin" – This is an advertisement, but you have to see the video and also see how sophisticated training equipment is becoming.  As the ad says, this product "… provides the integrated system to monitor, track and analyze athletes' training and play—anywhere, anytime."  Wouldn't any individual or team love access to something like that!
6/21/13 ————————————————————————————–
"Elite Athletes Also Excel at Some Cognitive Tasks" – Although this article might be about elite athletes, I'll suggest that the same traits found in this study are being formed as our young hockey players are using their minds in hockey.
"Army Rangers Jacket A Unifying Force For Bruins In Postseason Run" – Most successful teams do use some gimmick to pull players together, and I think this is a cute idea that could be modified for any team.
"Balancing Sports and Family: 13 Tips for Parents" – As the introduction says, "f you feel like sports are taking too much of your and family's time and money, if you are ready to exclaim, 'Stop the world, I want to get off,' you need to restore some sanity and find a better balance."  And, really, I think something like this is the route to helping a player get better at a sport — minus the insanity!
6/15/13 ————————————————————————————–
Happy Father's Days!
"A True Hero: Dad, This One's for You" – This kinda makes me wonder how I'll be remembered — as a dad and a granddad.
"The Antidote To Murphy's Law of Project Execution" – If this one doesn't have a connection to hockey playing, hockey coaching, and hockey parenting, nothing does! 
"Your Words Have Power" – Some of the things we tell ourselves (or the things our athletes tell themselves) might be undermining our/their real aims.
"Taking Mental Toughness Beyond The Game" – "… there comes a time in every young athlete's career when the last game of their very last season comes to pass.
5/31/13 ————————————————————————————–
"5 rules for creating a high performance" – The website is called Managing the Mist, and I found that list to be great for higher level coaches who want to get up to speed on handling modern day athletes.  It's a quick read, with each of the 5 points described in a sentence or two.
"How Meditation Might Boost Your Test Scores" – Yes, this is about a scientific study, but it isn't a bad read.  And, while many of us might want to know how to help our athletes with their academic studies, you know I always read these types of articles so that I can adapt the methods to helping my players focus better under stressful game conditions.
"Ten Tips to Ease Springtime Allergies" – I'm including this one because I've found more and more of my young players are affected with sports induced asthma and all sorts of allergies.
"When Is Your Child Ready To Play Sports?" – If you have a very young one coming along, this short article not only answers the title question, but suggests how parents might select the kind of sport best suited for that youngster.
"Reasons Not to Stretch" – I told members about this probably about 5-years ago, and he's even more proof why those in explosive sports (like hockey) should never do static stretching prior to games or practices.
"Strength training:  OK for kids?" – Interestingly, the famed Mayo Clinic answers an age old question I happened to answer for my members several years ago.  Still, of all the articles here, I recommend this one the most, at least for those with youngsters who haven't yet reached puberty.
5/24/13 ————————————————————————————–
"There's an advantage to focusing on European goaltenders" – "It's no secret that an ever-increasing percentage of NHL goaltenders come from Europe.  Less known is the fact that the new collective bargaining agreement gives teams substantially more flexibility when it comes to drafting goaltenders developed in Europe than in North America."
"22 Things Happy People Do Differently" – Although the intro to this article suggests that it's article is not intended to address those with clinical depression or other mental illnesses, I'll suggest that it's for all of us.  As it opens, "There are two types of people in the world: those who choose to be happy, and those who choose to be unhappy."
"Harness your brain's neuroplasticity and train your way to a brighter life" – This link actually brings you to the site, Luminosity, where one can play "brain games" and stimulate his or her brain.  Try it; it's fun!
"Tips On How To Recover From Mistake Or Choke From Sports" – Negative thinking surely can undermine any young athlete's performance.  Here, Jen Croneberger, a Mental Game Coach for the Women's Professional Softball Team recommends ways coaches (and parents?) might help their players deal with such.
5/17/13 ————————————————————————————–

"In Defense of Coaches Who Yell – Man, can I associate with this one, because I yell a lot during practices and games.  I do it for good reason or for good effect most times, as many other coaches do.  As you'll discover in this article, though, there are good and bad ways of using this coaching tool. 
"New Biochemical Acupuncture Athletic Performance Research" – As this article begins, "New research reveals that acupuncture stimulates the release of biochemicals that relieve athletic fatigue due to intensive endurance exercises. Researchers found that acupuncture applied to specific acupuncture points increases antioxidant activity and decreases biochemical releases that are markers for oxidative stress."
"Older and Wiser: Hockey Parent Don'ts" – Long time members might recall me saying much the same thing as this article's author, in that I was a far better and wiser hockey dad my second time around.  So, this article contains a lot of tips that can save first-timers from making some really big mistakes.
"Are You Fighting Your Youth Athlete's Battles?" -  It seems as though a lot is being said lately about the parent's role in youth sports, and it's obvious that this is another one.  I highly recommend parents read it.
"Step By Step Guide On Tabata Training" – This is a very, very interesting new-ish form of exercising (or that's the best way for me to describe it right now), and I'm readying a post right today that will contain several references to it.  So, while it might be a good idea for members to get some advanced knowledge about Tabata, I'll suggest that knowledge might especially help players with their off-season training.
"Helmet-maker Riddell responsible in $11.5 million suit" – I've included this on my reading list purely because it involves current day concerns about concussions.  This suit has to do with football helmets, but you know the same things are likely to go for hockey and other sport headgear.
"Nutrition Advice: Carb Back-Loading Explained" -  This site contains more than articles — it also has some decent videos, and it doesn't limit the discussion to carbs.  Oh, I know some will skip this kind of topic, but I'm here to tell my CoachChic.com friends that there are three components to building a mean hockey playing machine.  Of course, everyone wants to do their exercises.  However, serious gains aren't going to be made without adequate rest and nutrition.
"The Art of Russian Hockey" – Here's the article that was the most fun for me to read this week, and we have my friend and your fellow CoachChic.com member, Tim Taylor, to thank for sending it my/our way.  Enjoy (and thanks, Tim)!
5/11/13 ————————————————————————————–

"Letter for a Volunteer Coach" – You've probably seen or heard about this one already, because it's gone viral among coaches in all different sports.  If you're a volunteer coach, you'll probably want to make a copy to save.  If you're a hockey parent, you ought to read it.  (You'll need to belong to Facebook in order to have access to this article.)
"Geno Smith continues to get bashed by anonymous league execs, scouts" – The odds aren't great that our own son or anyone we're currently coaching is destined to be drafted high by an NFL team, or an NHL team.  As far as I'm concerned, however, this article can prove invaluable to any youngster who wants to be wanted by any team — beginners to pros.  As was stressed in an article last weekend, players need to be "coachable", and they definitely don't want to scare away future coaches, scouts or GMs because they come-off as being aloof, rude or whatever.
"NCAA Fails to Address Biggest Concern in Recruiting" – As the introduction states, "The NCAA suspended rule changes passed at the beginning of 2013 that would allow unlimited text messaging, which has been prohibited since 2007, and the next recruiting regulation that needs to be addressed is the recruiting of high school freshmen and middle school athletes…"
"STOP THE DRAMA!" – If you work with female athletes, you're going to want to visit this page (actually, I found it interesting for my work with guys).  This link actually takes you to a sales page for a coming coaching seminar.  What I found invaluable, though, were the several paragraphs of information leading up to a seminar sales pitch.  I'd never thought about some of the stuff mentioned there, but I know it to be true after coaching several women's hockey teams in the past.
"Similar Cerebral Motor Plans for Real and Virtual Actions" – Okay, I've saved this one for last, because it's not exactly easy reading.  In fact, this study is conducted by a team of scientists, it outlines their methods and findings, and it doesn't really make for exciting reading.  What might be exciting are the actual findings, at least to those who believe — as I always have — that there's something to the visualization of physical movements.
5/4/13 ————————————————————————————–
"NCAA Hockey: The more things change, the more they won't be the same" – A rundown on all the changes being made with NCAA Division I leagues.
"Deal With Pressure To Win In Sports" – If you're dealing with young athletes — as a parent or coach, this is a great article (plus a video) on helping them deal with pressure.  This site deals with baseball players, but I can find many ways to relate the tips here to our game of hockey.
"Coachable" – Man, if there's one trait we want to send our own youngster on with, or something we'd like to instill in all the kids in our charge, it's that they be "coachable".   As the author of this piece suggests (and I'll second), "I'll take a mediocre athlete who is coachable over a great athlete who is not any day of the week."
"Hurray for Boston" – In the aftermath of the Boston Marathon bombings, my friend Stephen Heisler shares his feelings on the way the folks in MA rallied.
"Jock advantages" – You've probably caught me saying and writing this a number times with CoachChic.com, in that, "Student athletes are more successful academically compared to regular students because of skills acquired through their sports."  This actually echoes an article I posted a few weeks ago entitled "Why Ex-Athletes Are More Successful".
4/20/13 ————————————————————————————–
"5 Ways Football Prep Stars Can Connect With College Coaches"- These 5 methods of connecting might have been drafted for another sport, but I can tell you from my years of experience that all one needs to do is substitute "hockey" for "football" and a high school or Junior star will have a great head start on connecting with college coaches.  (Oh, ya, and don't forget to enroll in our Junior Hockey Scouting Service as well!)
"Plateau Buster: Elevate Your Fitness to the Next Level"- Actually, this article includes several of the ways I recommend athletes break through so-called plateaus or sticking points in their training.  In fact, reading this reminds one of a way we've talked often about on the CoachChic.com site for preventing those plateaus before they happen.
"Five things to tell young athletes' parents" – As the introduction states, "The phenomenon of 'pushy parents' is often cited as a reason for youngsters dropping out of sport.  The actions and expectations of parents can often place extra and undue pressure on their children resulting in many youngsters' enjoyment diminishing and ultimately leading to them leaving sport altogether."  Read this short article for some great suggestions on avoiding all that.
"Is the media to blame for the brain injuries of hockey players?" – This one stems from researchers from the Injury Prevention Research Office and the Division of Neurosurgery at St. Michael's Hospital in Toronto who wondered whether the media was helping to encourage the type of aggressive play that makes TBI more likely.  Judge for yourself.
"The Fountain of Youth Is the Frozen Pond" – A kinda fun article about over-50 rec hockey.
"Peak Performance and Mental Toughness For Sports" – Is it possible to teach such toughness to today's generation Y student-athletes, many of whom are accustomed to instant gratification from being able to tweet, text and post instantly?
4/13/13 —————————————————————————————

"Why Ex-Athletes Are More Successful" – In a time when traditional institutions are often bashed, it's interesting to discover that there are, in fact, great benefits to growing up in sport.
"Censor or Educate? U of Virginia Student Athlete Calls for Help on Social Media Rules"  – If you think this isn't going to ultimately affect high school, Junior and college hockey players, think again.  Everyone is watching your social media posts, including a kid's current coach and even his or her future coaches or scouts (I've even read where college admissions officers are checking Facebook posts — ugh).
"Excel Speed and Fitness Training" – Knowing that there's a correlation between fast running and fast skating, I spend a lot of time searching for new sprint training ideas.  I lucked upon this piece by a former NFL player, and I also liked the ideas I found for new drills in the two accompanying videos.
"Athletes Need to Train Their Brains" – Not only are the days of the "dumb jock" gone, but I've been saying for quite some time now that, "The mental side of sport is the last frontier."  That in mind, here are some ways to keep our brains functioning properly.  (Also see "Develop Your Brain Game".)
"Can Sports Save Mankind?"  – I was pretty surprised at this presentation put together by the United Nations, suggesting that "… sporting activities not only improve our health but are also efficient educational tools."  I found of special interest that, " Sport can also contribute to economic development and promote peace."
You have to know I think of you guys (and gals) before all others.  And, in this case, it's to invite you to that new website I've been talking about for some time.
There's nothing to buy there, but instead I'd like you to roam around and kick the tires a bit.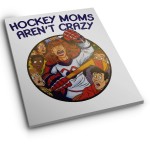 I know my friends here wear many hats around the rink.  So, in this regard, you're going to find a write-up about your home state (if you're from the US), you're going to find a poll and a contest, you'll find forums for discussions on equipment, hockey coaching, arena management, and being on a youth board of directors.  I suspect hockey moms are going to love interacting with Jody Lind-Anderson, author of the book, "Hockey Moms Aren't Crazy", and hockey history buffs ought to really enjoy Mary Ann Massengale's section on that subject.  We've also built a pretty extensive list of hockey tournaments across North America.
Currently, we have one hockey company contributing a neat gift for the winner of our monthly trivia contest.  However, a number of other companies have already said they'd like to get involved, which means it's likely there will be a number of ways to win prizes or gain gifts if you return in a few more days.
As I said above, I really would like you to kick the tires.  In other words, get involved in as many areas as you'd like, or at least in the one or two areas that really interest you.  Ask a question or make a comment in a forum, and you'll be doing me a favor — just getting the ball rolling.
And, since my partners and I truly want that site to be run by those who use it, there are a number of ways you can provide feedback, criticism or advice.  And, trust me, that we really do want that.
Finally, here you go…  Welcome to American Youth Hockey – Coast to Coast…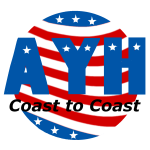 You know I always get to have all the fun. 
  After all, I'm constantly asked to do something new in hockey, and most of those things turn out to be a blast for me.
Anyway, let me tell you about my latest undertaking.
– Dennis Chighisola
Something New Coming to Hockey
Over recent months, I've been working with a small group of hockey enthusiasts in hopes of developing something that maybe was long overdue.
What I'm talking about is a website that is almost an on-line magazine about US youth hockey.    Oh, I know USA Hockey has a fine site, several states have a presence where they feature hockey within their boundaries, and there are obviously a number of places that try to match CoachChic.com in solving hockey training problems.  None of them, however, cover grassroots hockey in the US on a state by state, coast to coast basis.
As for my involvement, I believe I will have a short space where I'll offer some hockey tips.  Looking to expand my horizons, though, I'll get to deal directly with fifty state correspondents and a few feature writers, and I'll also have my first real experiences working with advertisers.
For obvious reasons, we can't spill the beans too much more right now.  At the same time, as we near launch time, we do need to get some information out to anyone who might like to become involved…
With 50 US states to cover, we could still use a few more volunteer writers in a number of states.  Experience isn't as necessary as enthusiasm and a willingness to gain a pulse on what's happening in your home state.  I'll help with some great resources or contacts, while I have a suspicion that hockey people will seek out our correspondents once we get underway.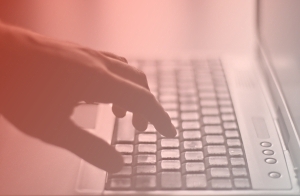 Once the big launch does take place, we'll also be willing to accept worthwhile youth hockey articles from anyone.  (We even expect to share some great stories from the Canadian provinces and other hockey playing nations.)
Oh, and we plan on also ultimately having something special for hockey moms, coaches, game officials, league and organization administrators, arena managers and state officials (we'll help spread word to your USA Hockey or AAU members).
Because we want this site to be an awesome new resource for everyone involved in youth hockey — from beginners through Midgets, we'll relay certain public service announcements, and especially keep teams abreast of things like tournaments going on (at least) across North America.
For profit groups will also have rather inexpensive access to what we expect to be a huge readership.  Local companies may focus their messages toward those in their home states, while national and international businesses will have the opportunity to reach readers from around the world.
Anyway, I thought I'd tell all my CoachChic.com friends about this new venture, as well as give them the chance to become involved.  So, in the event you're interested in any of the above, please Email Me as soon as possible.  If you'd like to be a correspondent for your state, please Click Here to receive much more information.
Oh, did this old hockey coach really screw up!
I was supposed to change the price on this book several days ago, and just totally got lost in a number of other project!
With that, I've decided to leave the price as it is right now (at $19.97), and keep it that way as sort of a Labor Day gift for all my hockey friends.
I do have to go up on Tuesday morning, though, so take advantage if you think this manual can help your hockey coaching.
– Dennis Chighisola
If you've been waiting for the re-release of my hockey coaching manual, "HOW TO COACH A YOUNG HOCKEY TEAM", it's on the cyber bookshelves right now!  Not only that but, there's a $5 discount and Bonus Audio for those purchasing within the first few days.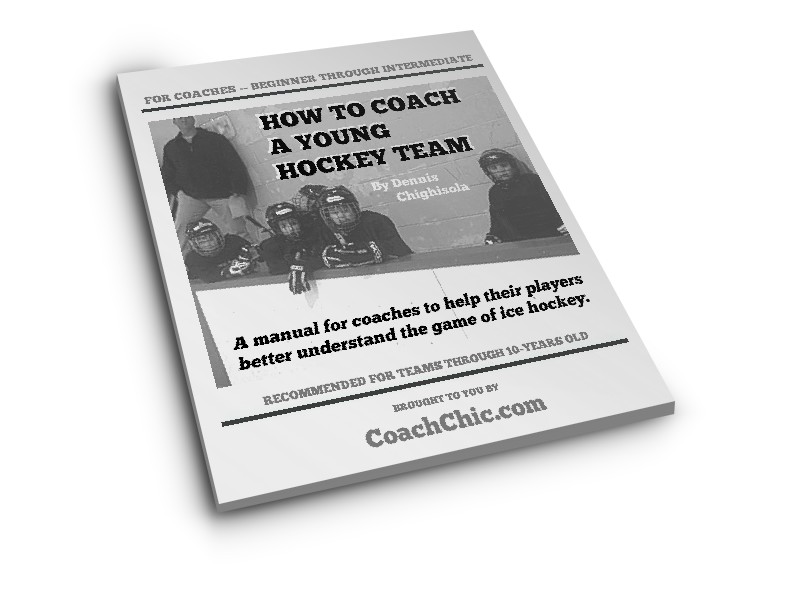 Want to know a little about the background to that manual?  See the article on "Naming A Hockey Manual Ain't Easy"!
Then, if you'd like to grab a copy before the discount time expires — and if you'd like that bonus item I'm including, just go to the Hockey Tips & Tricks Store's digital download section right now!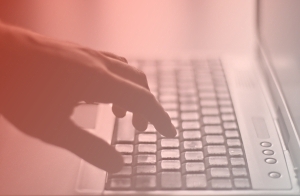 As the title hints, a new and exciting venture is about to launch, and there's a need for at least one hockey correspondent or reporter from each of the fifty US states.
Plenty of details can be found by clicking the photo to the left.  Again, this is a new concept, and pretty exciting.
– Dennis Chighisola
PS:  After battling with some lost information over past weeks, I've been able to finally update My Weekly Hockey Reading List (for members only).  There's some awesome stuff there, including a video on virtual reality that might both scare and excite you.
We've been doing a lot of behind the scenes work on the CoachChic.com site.  As often happens, numerous positive changes tend to come with a few glitches.
Unfortunately, a change in the area where we store all the media files has caused a number of videos and photos to not appear within their respective posts.  I've begun the task of looking for those and repairing them.  However, it's virtually impossible for me to find every single one within over 600 entries.
With that, I wonder if members will comment under any post where they stumble upon a video and/or photo missing.  I'll be sure to fix it right away, and I'll be eternally grateful for your help.
Thanks,
Dennis C
Ugh…  I hate questions that require more philosophy than science.  However, since I'm the guy folks most often turn to when they're scratching their heads over a hockey matter, I won't duck the tough questions — like this one.
– Dennis Chighisola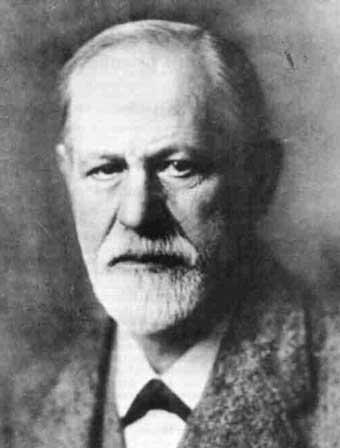 Why Do Hockey Players Switch Teams?
The latest toughie comes from Carolyn B, a hockey mom from the Southwestern US.  She has three children playing the game, and she's quite obviously seen enough players jumping around to pose the following (slightly edited) email:
"Hi Coach Chic,
… I have three sons ages 13, 11, and 9 who play hockey.    I have what I think is a simple question for you.
Why do so many kids hop teams/rinks?
Short back story…  My two sons  are going on their 6th year of playing travel hockey.   They have played all six years for the same organization…   They are the last two remaining kids from their respective Mite A and Mite B teams that are with the organization.  I realize that travel hockey is a business and people can go where they want but it seems that so many get stars in their eyes like their kids are going to make it in the big leagues.    Only my 13 year old has asked if he could possibly try out for (another organization) as that is where his best friend has gone to play.   I simply tell him that as a mom of 4 who lives 7 minutes from our home rink I am not driving across town so that he may be able to win a few more games.   Am I wrong?
We are trying to teach our kids life lessons here…  How to be responsible, how to be organized, how to be a good teammate, how to be a leader, how to win graciously and lose graciously (not an easy one for my oldest).   They have learned that many friends come and go but those who are your true friends will remain so even though they may play somewhere else.  They have witnessed terrible parent behavior in the stands and my oldest has even been sworn at by a coach during a game.
This is a new year approaching.   My oldest was so happy that he made the Bantam AA team that he jumped for joy.   Now, he's watched three of those players peel off to another organization because those parents feel the other team will be "better".   My oldest said it best when I asked him how he felt about it…  'It's not a big deal mom, it's just for fun!'
I don't feel that everyone should just play at the rink near their house.   But, I do question parents motives who move from team to team…searching for the big win.  I WANT my  kids to win and lose.   It's easy to win.  It's a lot harder to lose.
Sorry, guess this wasn't so short but I see it happen every year to my kids with their friends peeling off and it bothers me.
Thanks and have a wonderful day!
Sincerely,
Carolyn B"
Actually, I'm glad Carolyn went into such detail in her email, because she'll help me later explain at least a little of what I've seen in youth hockey over my many years.
As for the things I've seen, let me suggest that there are a lot of reasons families leave one youth hockey program for another.  Some reasons are good, and some not so.  I think Carolyn also reminds us that families are involved in hockey for a myriad of reasons.  From where I sit, however — and within reason, I find it hard to judge what another family chooses to do — with their time and with their money.
Before going any further, I guess I have to explain my frequent use of the term "family", instead of always talking about the player or players.  In most instances, decisions to stay or go usually involve a family commitment based on a lot of things.  Besides, kids don't write checks, kids don't drive the car to rinks near and far, and kids don't usually get to weigh the difference in one commitment or the other.
And here's something I've always said (or written)…
I honest to God believe there's a spot in hockey for all sorts of approaches.
At one end of the spectrum, I can totally understand a youngster (with the help of his or her parents) wanting to go as far as possible in the game.  Can anyone truly blame him or her?  And, can anyone blame a parent for helping a youngster who displays a great deal of interest — in anything, be it scouts, go-carts, chemistry studies or hockey?  (More on that last sentence in a few secs.)
But I love just as much the kids (or families) who can get all they want from hockey in a lower-key, fun approach to the game.  Truly, you don't have to be a hockey nut for me to like you, and you don't have to eat, drink and sleep the sport to make me happy.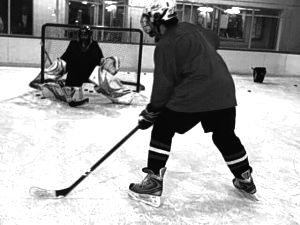 Again, I think there's a spot for all different approaches or attitudes towards hockey.  If there's ever a problem with that, it's when the two extreme mentalities are forced together on the same team.  In other words, there's bound to be a clash when several families want to do the extras and another segment of the roster is satisfied with the bare minimum.
Something just came to mind as I wrote that last paragraph…  In most instances, youth organizations I've dealt with have had several competitive levels within a given age bracket.  That's a good thing for a lot of reasons, including usually separating families of different intensity levels.  I mean, the more into-it players usually make the A team, while the less into-it usually play on the C's.
What just struck me is that some more intense players might want to strive for a AA or AAA team, and that often requires moving to another program.
Then, before getting to the heart of this topic, let me mention one more problem I see far too often.  Actually, this is probably one of two things that drives me crazy the most.   For, there are some out there who say they're serious about hockey, but their commitment level tells a different story.  You can identify this one — usually led by an overbearing parent who wants his or her child on the highest level team.  The problem is that the parent knows in his or her heart that the family won't show a serious commitment once the teams are picked.  (Heart be still… 
)
Then, pardon my crudeness for suggesting that moving, solely to play on a winning team, is pretty close to idiotic.  I say it's close, since it might make sense if a kid is one of the top players on a top team — and there's a chance he or she might have some sort of future in the game.  On the other hand, if a youngster is on the lower third of a successful roster, there's the likelihood he or she is a non-factor, and can be replaced with almost anyone.  Oh, it might sound good when mom or dad brags at the office watercooler, but the reality is that there aren't usually that many great players on a great team.
What I also can't handle is the kid or family that moves a lot, either because they're never happy, or because they can't get along with others for more than one season.  My prediction for those types is that their so-called careers are over before they've even begun.  Down the road, no coach is going to want to touch them with a ten foot poll.
Okay, so what are some of the good reasons hockey players (or families) switch teams?
I'd say that the best — and maybe the only really good — reason is that the family is looking for a better bang for their buck (although money doesn't have to enter into this).  Just as American's move to a pricier neighbor or switch to a luxury car when conditions warrant, I see nothing wrong with a hockey family deciding to "move up" — to what they perceive is going to include better coaching, better practices, a more competitive playing schedule, etc.
Very much connected with the above is the fact that kids change as the years pass by, and this is something I think Carolyn has to understand…  In most organizations, 50 or 60 smiling little tykes attend a beginner clinic on close to the same level.  Over time, however, some kids take to the sport more seriously, some seem to be naturals or they work hard and excel, while some others remain average or just a hair to either side of average.
What I'm getting at here is that it should make sense for children to change with each new season, and that their needs, wants and aspirations should change accordingly.  Again, I said earlier that I appreciate all the different approaches to hockey, and I'm suggesting right now that we should respect any family's interest in either staying or going elsewhere, to find either a faster or slower paced program.
Now, Carolyn seems like a great lady, and I'm not about to give her a hard time here, especially since she's entrusted me with answering her question.  Still, there are a couple of things in her email that need addressing…
For whatever reason, it's become fashionable for folks to bash any youngster who takes the game extra-seriously, or for the parent/s who try to help their youngster excel at something he or she loves.  I presume it's still politically correct to tell a kid that he or she can grow up to become president, and it's likely okay to tell him or her that becoming a doctor or lawyer or architect is okay.  On the other hand, we're evidently not supposed to ever mention a kid's want to be a professional athlete of any sort.
Actually, I don't encourage kids to think about the pros, myself.  I don't discourage them, though, either…   I will support a youngster who wants to strive for a high school and/or Junior team.  And, if they find success in Juniors, they have every right to aim for playing at a good college.  Of course, a kzillion things enter into a player being worthy for the pros a little later, including luck.   But again, if Carolyn is willing to tell one of her kids that he or she has no right dreaming about becoming president, I guess I can tell hockey players henceforth that they have no chance at playing pro.
Oh, and there's one more thing…  I know I at least hinted at this a little earlier, in that I see no reason for one family to second guess another when it comes to staying or going.
Oh, I totally agree with Carolyn's desire to find the best situation for her entire family, and that includes picking a program and rink that is convenient to her home.  Why go elsewhere if she doesn't have to?  Of course…
Ya, of course…  If we respect her decision to remain with the home program, year after year, wouldn't it also be fair to respect the decisions other families are making?
What I'm hoping isn't happening is that Carolyn is looking for company in her misery.  In other words, the choice to remain close to home seems important to her, but she can't hold it against others if they're not seeing things in the same way.  And, by what her email is suggesting to me, those who are moving elsewhere seem to be in the majority.
Lastly, something else has been bothering me as I've typed this piece.  For, I've been thinking more and more with each paragraph that there's perhaps something wrong with Carolyn's home program and something right — or more attractive — to the place or places her boys' teammates are going.  If that's the case — and if Carolyn really cares, it might be a good idea that she not only stay at home, but also stay and fight.  I mean, if her home program is lacking in some areas, perhaps it's worthwhile for her and some others to make things right.  The effort, I'll suggest, just might be worth it.
I've been working on three entries over the past few days (and nights), all with a common theme, as in the value of knowing as much as we can about a given topic.  For sure, that's what my first article, "Knowing Lots of Hockey Facts", was about; that one set the tone for "All You'll Ever Need to Know About Skate Sharpening" (coming soon); and it surely forms the background for this one.
Up front, let me tell you that this will be more than just an advertisement for my new on-line venture.  I'm instead adding lots of good food for thought for anyone who might like to someday do what I do, or for anyone who oversees a rather large hockey organization. 
With that, let's explore my recent experiences in the Junior hockey game.
– Dennis Chighisola
A New Junior Hockey Scouting Service
I'm sure most members know that I got back into Junior hockey coaching last spring, and that I also doubled as the team's General Manager for my brief time on the job.  That's the way duties are usually assigned, ya know — from Juniors and on up into minor pro hockey.
Most of you also know that I never really got out of that mindset — even when my team's owner went off the deep end, or even when the fledgling league went belly-up.  No, I continued helping some of the teen players I'd originally recruited, and then I continued to help recruit for two other Florida-based Junior teams.
As an aside here…  I always considered myself lucky when I ran hockey schools and clinics, because I'd gotten to see the game from both extremes — helping beginners from what I'd experienced with pros, and actually sometimes helping the pros because I understood how some of their strengths and deficiencies began decades earlier.
What I'm suggesting is that my years of working on both sides of the Junior level also helped me a ton.  I mean, it helped immensely that I dealt with recruiters as a former high school coach, and I ultimately became a pretty good recruiter myself when I later head coached in college.  In fact, so did it help me as I followed my son through all the steps until he reached the pros, and then later followed my grandson through a similar path.  (Actually, I also ran a summer Junior team for AHAUS back when I was coaching my high school team.)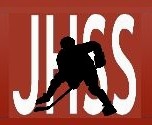 Anyway, once I did get on the job down here in Florida, I made note of everything that worked and didn't work in the recruiting game.  I also built "systems" that I knew would not only work for our startup, but also ones that would work for a lot of years down the road.
When I say systems, in this regard I'm talking about arriving at methods that were written down and deemed repeatable.
Documenting how things should work included spreading certain steps on a calendar that spanned a year (although most of the vital stuff would take place over a six to nine month period).
I've mentioned a number of times elsewhere within these pages that my dad was a successful baseball coach, and that I was scouted a bit (probably by a blind guy) as a pretty speedy,  switchhitting short stop.  My high school football coach was also ahead of his time, and he went on to rate recruits for the New England Patriots via college game films.  So, beyond knowing about talent "scouts" — the big boys, I also knew a lot about so-called "bird dogs", or the guys who really beat the bushes for talent.  Consequently, I built a system of bird dog types who promised to keep their eyes open for me in just about every corner of the hockey world — or from across both the US and Canada, and into most European hockey hotbeds.
What I learned in my few months on the job as a Junior team GM and coach would prove even more valuable to my latest endeavor.  For, not only did I get to gain by my own day to day experiences, but I probably learned as much from my frequent interactions with guys in similar posts.
Quite obviously, those other guys were experiencing some of the same problems I was (some of them to a greater degree).
For sure, I learned from the other guys in our league.  However, I think the seeds for running my own Junior Hockey Scouting Service first sprouted when I discovered what hockey execs in other leagues were willing to do in order to fill their rosters with good players.
Make no mistake about it:  inking a single player to a Junior roster is a time consuming and expensive proposition…
Even if a worthy player initiates contact with the club, and expresses interest in signing, there's much to be done to officially bring him into the fold.  And I'd say the same for returning players from the previous year's team who are eager to re-up.
The easy ones out of the way, though, an awful lot goes into completing the roster, with a lot coming out of the staff's hide — with repeated phone calls, emails and social media messaging.  Smart teams have impressive websites, and the smartest of them have a promotional video showing highlights of the organization, the home town, the home arena, and any extra amenities (like a team bus, off-ice training facilities, and more).

A team's budget can take a pretty good hit when it comes to sending members of the staff to summertime showcases (or tournaments) where Junior eligible players are attempting to demonstrate their skills and game savvy to potential suitors.  I've heard about some recruiters doing well at such showcases, while I know an equal number who have come up empty after spending quite a sum — on flights, car rentals, hotel rooms and lousy meals.
So do some teams or leagues run tryout camps yielding mixed results…  If there's something sad about these, it's that such camps are run with drastically different things in mind:  with some organizations having legitimate openings; while some need few or no players, and they're only operating to pad their wallets.
Among the things I personally learned on the job is the fact that a lot of players lie.  Yup, that's right, even if they'd be doing themselves a favor by telling the truth.  Here's what I mean…
I don't blame a kid one bit for hoping to make a really high level or a very prestigious team.  And so would I understand if he's hoping to stay closer to home by making a local team.  What I don't appreciate is the boy lying about it.
Of course, what the kid might not realize is that I (and lots of other coaches) catch on to that stuff pretty quickly.  So, at least in my case, I sometimes pretended to hold a spot for a player I knew was telling me stories, while I'd written him off after about the second or third excuse.  On the other hand, I was willing to do anything for the kid who told me right out of the gate that he was waiting to attend a very high level tryout camp, or waiting to hear from a specific team.
I think readers who haven't yet been involved with Junior hockey might find one other thing fairly interesting, that having to do with the funding behind various levels of the game…
There are only a handful of leagues in the US and Canada where players don't have to pay to play.  In fact, the players in those leagues are treated extra well.  For the most part, teams in those leagues play in great arenas and in burghs where a Junior hockey game is close to the only show in town.  If you can appreciate it, such organizations can operate like mini-NHL franchises, with similar revenue streams — like ticket sales and some pretty lucrative sponsorship deals.
The greatest number of Junior teams across North America, however, are considered "pay to play".  In other words, while most teams in that category might bring in some revenue from ticket and ad sales, the bulk of their budgets are derived from what the players pay.
Consequently, a comparison of the two main types of leagues ought to suggest to you which kind requires the most effort to fill a team roster.  Sure, execs at the highest levels have to do a great job at evaluating talent, but every player in the land wants to play for them.  On the other side of the ledger, those recruiting for the pay to play type levels have to bust their buns to fill their rosters and ensure they have a season's worth of operating capital.
If you understand the latter described group, perhaps you'll appreciate the pressures I and my fellow Tropical Elite Hockey League GMs were under.  I mean, we had to recruit between 20 and 25 players in order to satisfy our owners, outfit and equip our players, pay our own salaries, contract for all our home game and practice ice, fund the team's travel to various showcases, and more.
Despite the fact that I'd signed more players than any other GM in our new league, it's well documented how my owner panicked and ultimately limped back to Alaska.
If there's anything I'm grateful for in all that transpired, it's all the extra things I learned about the recruiting process, most of it described above.  In particular, I discovered the relative costs of acquiring a player.  And that kind of knowledge is what's led me to form the Junior Hockey Scouting Service.  As a matter of fact, I mentioned elsewhere on-line within the past few days that, a service such as the JHSS might not have only saved my job and my team, but it very well may have saved our entire league…
I mentioned earlier how much it costs to secure a player — in time, and in chasing around the country to various showcases and camps.  Yet, what if I could pay a small fee for access to hundreds of players who say they want to join a good Junior hockey program.  Hmmmmmm…  It's true, ya know, that there are likely thousands of kids out there right now who want a home, there are tons of organizations in need of good players, and the only real problem is in connecting the two.  So, in essence, that's what I've created within the Junior Hockey Scouting Service.
Lastly, as for the tie-in between this piece and those other two articles…  Once again, I hope you see how learning more and more about a given topic helps one solve problems.  In my case, the past year's experiences showed me that there is in fact a problem, and that problem extends pretty much across North America, within USA Hockey and within AAU affiliated leagues..   Better yet, knowing more and more about the Junior hockey recruiting process helped me reason with better and better founded common sense.  Ya, knowing a lot of hockey facts definitely does help one become a better problem-solver.
Update:  Only a few days old, the discussions in this group are already proving to be on a good high level, with a lot of very insightful posts and comments.
—————————————————
Talk about something that just had to come, sooner or later…
As much as I like to stay positive — about hockey, and everything else in my life, the bulk of what I hear — around the rinks, on the telephone or on-line — tends to be a little towards the negative.  Ya, parents are paying a lot of money, so they have certain expectations; the coaches are asked to meet some rather high expectations; and game officials struggle to meet their own responsibilities.  Then, stuck in the middle, obviously, are the players.
So, as you'll soon see, I've created what I hope is an awesome outlet for all us.
– Dennis Chighisola
What's Wrong With Amateur Hockey?
A big fan of social media, and especially appreciative of the options provided within Facebook, I've created a new "group" setting I've dubbed "What's Wrong With Amateur Hockey?"  Here's what I've said about it in the description:
"My hope is that we — hockey coaches, parents, players and I — can explore this topic with some seriousness. Chances are we'll find it easy to list our complaints — and that will give us a good start. Maybe down the road, however, we'll even arrive at better solutions than those currently entrusted with that job."
In a way, I'm almost looking at that group as an extension of Coachchic.com, and here's why…
Feedback is critical to me keeping a pulse on your hockey lives.  Sure I love to hear about your accomplishments or how the information here might have helped you or your player/s.  Still, I mainly deal with problems, or the things that aren't going so well for you.  As you've likely heard me say numerous times here, "I see my job as a problem-solver."
With that, here's a link to that new group on Facebook…  What's Wrong With Amateur Hockey?
If you're on Facebook, just go to that page and ask to join the group.  I'll be sure to get you in, as soon as I see the request.

As members will come to realize, I laugh at myself plenty.  Actually, I've always said that was a common trait among my many students who went on to play in the NHL or other elite levels.  Hopefully (and I actually know) it serves me well in all that I do — in hockey, in business, and in my personal life.
I say that because I was probably the least techie guy you'd have ever met some 20-ish years ago.  As I've written often, a good hockey friend (Roland Lacey of MediaRight Technologies) and some members of the MIT Women's Hockey Team dragged me kicking and screaming onto the Internet.
Rolly Lacey is the one who really did it for me, though, and he actually built this site (and it's forerunner) probably a dozen years back.  You should have seen my face, though, the day Rolly told me that this site was almost complete, but that his own work was becoming so demanding that he'd have to "turn over the keys" to me.  Gulp!  (No, I'll never forget those words, about his turning over the keys to me!) 
Miracles of miracles…  I've done okay for myself in catching up, as Rolly said I would.  And I've even gradually dared try some new things within CoachChic.com.  I've also more recently gotten to discover more about the guts to WordPress, or the inner workings of this site, thanks to my social media friend, Mike Mahony.
No fault of his, Rolly could only take care of those things that were needed to run a pretty darn good membership site.  Still, I've just started discovering yet some other things — beyond the real essentials — that can help make CoachChic.com work all the better.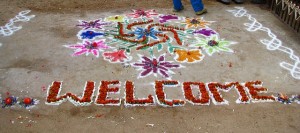 Until just recently, I never knew that new members could receive anything more than a thank you note when they joined.  Forever, though, I'd wished that first-time members could be advised on how things should really work here, and I especially wanted them — or you — to know how to get the absolute most — from this site, and from me.  Soooooo… 
What I just discovered is a way to henceforth have a Welcome Letter delivered to each new member upon signup.  If there's a problem, long time members never received an introduction to the way things should work, or advice for getting the absolute most from their membership.
With that, I hope everyone (including non-members) will click the following link and scan that new Welcome Letter.
– Dennis Chighisola
PS:  Don't forget to tell me if you use either a smartphone or a computer to view this site.
This topic of discussion began via a whole bunch of message exchanges over on Facebook (more on that in a few secs).  However, while my conversation was with a head coach, and it concerned dealing with an assistant coach, I'm going to suggest that the ideas presented below have as much to do with any support staff who might be connected with a hockey team.
– Dennis Chighisola
Assistant Hockey Coaches
I felt badly for the young head coach as he shared the latest circumstances involving his team.
Up front, my friend is an experienced coach with quite a few years on the job, and he's also formally educated in our line of work.  I mention that last part to suggest that he knows what a professional is supposed to act like, even if he is currently in a volunteer coaching position.  If there's a reason he occasionally bounces some ideas or some problems off me, it's probably because he figures I've been through the hockey wars a little longer than he.
With that, his latest question was a lot more serious than some of the philosophical conversations we've had over the past year plus.  What troubled him was that he felt an assistant coach with his Pee Wee team was undermining him.  More specifically, my friend knows the value of keeping things positive with his kids, and he's caught that assistant coach far too many times demeaning the players and swaying their emotions in a totally different direction.
The young head coach started the conversation by asking if I'd ever had the need to fire an assistant.  My answer, "Yes, I have."  I went on to explain that I chose to let a paid assistant go one time years ago, but his problems had more to do with his lack of motivation than him actually undermining me.  The fact that my friend was talking about a volunteer position had little to do with his current circumstances, but a whole lot more to do with something needing to be done right now-ish.
I'm kinda hoping that you've been thinking all along what you might do under such conditions.
As for me, I advised my friend to have a talk with that assistant, and to lay everything on the line.  From my perspective, the assistant should know that it's an either/or:  either he changes his ways immediately, or he'll be asked to leave.
The young head coach and I went back and forth through another eight or ten messages, I think finally agreeing that he should sleep on it all (that usually works for me).
Now, here's the real problem, at least as I see it…  When anyone takes the top position anywhere, it's their name on the line — or their reputation that could get muddied, and it's their neck in the noose.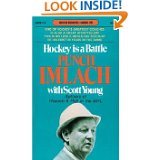 That's my reason for long ago adopting as my own motto something I first heard from former Maple Leafs coach, Punch Imlach, in that, "I'd rather be shot for a lion than a lamb."
Ya, and that goes right back to it being my (or Imlach's) name on the line.  Sure, lots of people have other ideas on how to do something, and some of those ideas might even be worthwhile.  If there's a difference, those with other ideas aren't always willing to put their own necks in the noose.  In fact, while those types might have an abundance of ideas, you can almost be sure they don't want to accept responsibility for anything.  No, it's someone like my friend — a head coach — who will either be embarrassed or fired when things don't work out.
Well, tonight — a couple of nights after we'd first talked on the subject, my friend messaged me to say he'd asked the guy to step aside.  I got the feeling there wasn't a meeting at all, but that the young head coach had just decided that was the best way to handle things.
To be honest — and despite the fact that I'd suggested a meeting before going further, I really do agree with the way he handled things.  Why?  It's because leopards seldom change their spots.  In other words, that guy wasn't likely to change his attitude towards the kids, no matter how many times he promised to do so.  That he lacked the kind of attitude to work with kids is most likely just the way he is.
The rest of the follow up from my friend almost sounded like a humongous sigh of relief, as he told me how upbeat his kids were in their first game with the assistant gone.  It almost reminded me of the old joke, "That guy can light up a room, by leaving it, I mean!"
Now, there's the chance that more hockey parents and folks in other support positions are reading this than assistant coaches.  If that's the case, I'd like to at least suggest that the same thing can go wrong in numerous relationships surrounding a hockey team.  As I've mentioned so many times already, there's usually only one person with their name on the line or their neck in a noose.  And, like it or not, he or she deserves the final say on anything and everything.  Offer suggestions, of course, if you're in a support position.  However, if you want the last word, it would be fairer if you go on record or become responsible for the final outcome.
Let hockey folks know their services are needed!
If you have a hockey related position available in your organization, please use a comment box below to explain.  Also be sure that your post includes all of the following:
List the position title, including the level of play if that's applicable.
List just a brief outline of duties necessary to that position.
Note whether this is a paid position or whether it involves volunteering ones time.
Note the starting date (month and year) that position must be filled.
Note the location of this position, as well as whether travel is involved.
Include minimum requirements for a successful applicant.
Please advise applicants on a way for them to contact you.
Your posting must include a valid email address (a telephone number is optional).
This should be just a cursory posting announcing the basics.  It's presumed a thorough investigation into an applicant's qualifications will be carried out after initial contact.
All comments must be approved prior to posting.  So, please allow one day between submission and its appearance here on the site.  If there are problems within your posting, we'll need your email address to clarify matters.
We reserve the right to change the above conditions at any time.  We also reserve the right to screen job listings for anything that might be offensive or illegal.  We further reserve the right to bar advertisements, information or applications from obvious CoachChic.com competitors.
Click here to see a listing of hockey people who have already expressed interest in a specific position.
Good luck…
Don't panic, CoachChic.com members, if this home page starts looking a little different. 
In the start, some categories might disappear.  However, trust me, that they're not gone, but just being redone and reorganized.
The reason for the changes?  There are a few VERY exciting NEW categories coming!
Should I let you in on those new categories?  Hmmmmmmmm… 
Aaaaaw, what the heck…
For starters, I've received a lot of contacts from coaches (and other hockey personnel) who are looking for jobs.  I've also had more than a few organizations asking me if I know of any good people who might fill key roles in their programs.  So, one new category is going to be something on the order of a "Hockey Job Fair".
My duties over the past months have also changed considerably, ever since I moved to Florida to assume the GM/coaching reins for a Junior hockey organization.  Oh, the league I came to ultimately folded, but I've hardly missed a stroke, working behind the scenes to help my son with his Junior team, especially in the area of scouting and helping him recruit new players.  Over that time, I've seen some unique needs arise — for players at that level, for those who run teams at that level, as well as for those who recruit from that level for their college or minor pro teams.  So, look for a new section here aimed mainly at helping those involved in Junior hockey.  
Knowing all that, I'm hoping current members and those passing through will spread the word.  If all goes according to plan, I'll have the new stuff in place within a day or two.
– Dennis Chighisola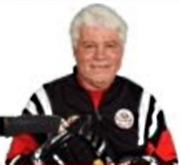 I'd like to take this opportunity to welcome a number of new members who joined CoachChic.com over recent days.  And, in so doing, perhaps I can also remind our many long time members about just a few of the benefits that exist here.
I know that some members like to quietly digest and apply what's found in the many articles, videos and audio programs published within these pages, and that's okay.  I understand.  However, I really do like to get to know all of you — if I can.
One way you and I can do that is by you leaving a comment on any posts you might either question, agree with, or have something further to add.  Those are the exchanges you see taking place off to the right of this page.
Yet another way is to email me with a question or a suggestion for a new site entry.  Just contact me any time at all, and I'll usually get back to you within a few hours.  My email address can always be found up above by clicking on the Ask The Coach link.
I feel blessed and amazed that we seldom lose members.  However, on those rare occasions when we do, it's almost always been someone who didn't get involved very often.  That's why I'm encouraging each of you to truly take advantage of this site, and take advantage of me.  In a way, it's up to you as a member to gain every advantage you can.
Lastly, I've been in our game for over 40-years — as a player, coach and hockey parent, so I know quite well the problems that arise, and I know they happen on a regular basis.  Don't go it alone as I so often had to.  Again, just ask, and give me the chance to help.
Again, welcome new members, and a special thanks to all my friends here,
*
*
Dennis C
I feel like I've been on kind of a roll lately, having added a great many new posts over the past few weeks.  Not that I haven't always tried to keep the good content coming for my members — it's up to nearly 600 articles, videos and audio programs right now.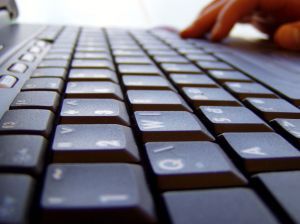 The reason I've been on that roll?  It's because of you.  It's because you've asked me to deal with some really meaningful questions lately, and it's because you've also contributed some awesome comments after the various posts.  And, trust me on the importance of those comments, because they always add a great deal more value to the topic at hand.
A couple of things that bother me, however…
First, I want every single one of you to use your membership to the max.  If the content here already suits your needs, that's okay.  At the same time, I know that every hockey coach, parent, and adult player finds himself or herself challenged at some point.  And, that's what I'm here for:  to answer your questions or help you over a hurdle.  Sometimes, as a few higher level coaches have told me, it can also be nice to have me to bounce your ideas off.
Secondly, while I'll always be sure to pass along information I believe you should know, I'd also like you to steer the conversation.
Thirdly, even though non-members don't have access to all the content here, a lot of folks don't realize that I do welcome your questions.  No matter where the questions come from, they're bound to help lots of folks, including CoachChic.com members.
All that said, here's my plea:  Please don't be shy, please get involved, and let's work together to make this the best hockey resource site in the entire world!
Also, remember that you can use the link up above (Ask The Coach) to submit any questions or difficulties you might have.
Yours in hockey,
Dennis C
I belong to quite a few hockey (or related) groups within social media, including a Facebook group called the Hockey Coaches & Players Drills Forum.  It's a great place to find some new drill ideas, as well as to get involved in some interesting hockey coaching discussions.
What got me typing away here today is a post by group member, Dan P, who expressed his concerns about the inconsistencies he's seeing this season as he coaches a Squirt AA team.  With that, my juices got flowing, and I just knew I had to address this issue with my CoachChic.com friends.
– Dennis Chighisola
Hockey Refereeing Inconsistencies
Getting the ball (or puck) rolling, here's what Dan had to say:
"The long battle of ref consistancy continues!  Coaching my Squirt AA team last weekend (this is still bothering me) one of my smallest, quickest players took a checking penalty.  However, he made the body contact exactly as he was taught. We have been teaching "stick to stick; hips to hands".  The ref said he called the penalty because the player "dropped his shoulder" and he would continue to call every player on our team that did it.  First issue I have with this is that we have followed the guidelines set forth by USA Hockey (from what I have taken from the rule change) that is talked about at every coaching clinic and have gone over the USA Body Checking Rule section on the USA Hockey website.  Do the officials watch the same videos showing what is legal and illegal?  I haven't done an officials clinic in probably 10 years.  Anyone else having similar issues?"
Now, not having been at the game in question — or seen the call, I'm not going to get involved in the exact situation Dan described.  I do, however, see tons of stuff within the above paragraph, that should give us plenty of meat for discussion.
As an aside…  Dan is (rightly) concerned with the refereeing inconsistencies as they affect his kids and his ability to teach them well.  So am I.  As a matter of fact, I'm constantly reminded of an incident I was involved in many years ago whenever this issue rears its ugly head.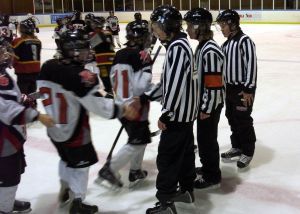 I was actually coaching my old high school team back in the early 1980′s when I found myself — and my players — heading to the dressingroom as frustrated as could be.  Feeling much like Dan, I'd seen several questionable penalties called late in the game, and they had cost us the win.
As we all filed towards the lockerrooms, it suddenly struck me that my kids were going to be asking me a lot of questions.  So I veered from that course, and headed straight for the referees' room.
Now, when the refs made their calls, they knew I was scratching my head over on the game-bench.  Yet, whether purposely or not, they stayed far enough away so that I never could get the answers I was looking for.
In reflection, I probably could have lost my job over what I did next, but I nearly tore the hinges off the ref's room door as I entered, and I was already ranting as the door swung open.  In effect, I told them, "I am a teacher first, and when I go back into my team's room, those kids are going to want answers!"  Man, was I hot.  Thank God, though, that those guys knew me for better times and better manners, and cooler heads did prevail.
I tell that story to suggest that Dan might consider himself lucky that the officials at his game at least spoke to him.  I also tell that — and the next story — in hopes it might actually be helpful to referees out there…
At least a year or so later, I was again coaching my high school team when an odd whistle blew and halted my team's powerplay.  To be honest, I had been slightly distracted talking with a player and hadn't seen the play.  My assistant coach and several players hadn't a clue what the whistle was for, so I tried to ask the ref who made the call.  Of course, that guy moved himself quickly to the face-off circle which starting me seething.  Thankfully, the other ref backed up to our bench — so that few in the arena would notice, and he said just loud enough for me to hear, "Coach, the play was off-side."  I immediately slapped my head, apologized for asking, and added, "I am an idiot!"  (Ya, by his one small gesture, he had diffused a situation that could have easily gotten nasty.)
That ref just happened to be the class of the league, and he'd done games as high as the old World Hockey Association.  What got him to the high levels was a firm knowledge of the rules, a feel for the game, and some common sense.  Enough said?
Now, while you might think I went off on a tangent there, I was really speaking to Dan's main concern, in that we coaches have to go back to our kids and have answers for them.  Oftentimes we can take care of that on our own, but sometimes we need the help of the game officials.
And that brings me to a notion I've had for a good many years…  For, I can't understand for the life of me why refs aren't seen as part of the teaching process when it comes to our game's youngest levels.  Yes, there's a need to act impartially when it comes to tournaments, more competitive levels of play, etc.   On the other hand, I've always fostered that we're-in-this-thing-together approach when I've had refs work in my hockey schools and in certain teaching leagues I've designed.  I'd ask them to look at things that way, I'd sometimes arrange for them to have a brief classroom session with the players, and I asked them to explain everything they could to "our kids".
I'm glad Dan mentioned about the referee adding that, "…he would continue to call every player on our team that did it."  I know a lot of guys who enter younger level games with something in their heads — like it's their pet peeve, or their peeve of the day, and they aren't about to change their minds.
I happen to love the old guy I'm going to speak about now, but we've had our share of friendly arguments…
His "thing" happens to be protecting young goalies.  Is he right?  Ya, I can totally appreciate that.  However, I can't appreciate it to the point where it distorts the game, or causes me to teach the game other than the way I think things ought to be.
I think our first conversation on this topic arose one of the first times he worked a hockey school for me.  He watched how I was teaching my attackers to be aggressive going to the net, and he jumped in with his feelings on protecting the netminder.  Ugh.  I explained that a lot of my kids could ultimately play at some very high levels.  However, if I taught them to back off and not go to the net hard, they were never going to make it beyond rec hockey.
As I said, that guy has been a good friend for a lot of years, so you can imagine that we've had that conversation a kizillion times.  So, I eventually reasoned that I'd continue to teach what I feel is the right way, and just take my chances that a penalty might be called on my kids at least once in awhile.
And that's kinda my suggestion to Dan…  I honestly believe he is teaching the right way, and there's no reason to do anything differently.  Sure, he could monitor the kids' elbows and hands back at practice.  However, he just can't be getting all paranoid about what the next referee's pet peeve might be.  As I do myself, I'd suggest he teach the kids properly, and take a chance that one or two might be called for something a little off the wall from time to time.
As yet another aside…  I sense that refs doing numerous games on a given day can cause some problems.  Oh, I'm not trying to stir things, but…
I've for years had cause to run from one rink to another.  And, I still recall seeing a pair of refs coast one night while doing a Division III high school game in one rink, and then skate their buns off shortly after at another rink while officiating for two of the best high school teams in the state.  Were they resting in the early game with the knowledge that they had their work cut out for them in the later one?  I thought so.
I know that youth leagues schedule their officials in different ways.  However, I've often wondered what effect it has on a ref's psyche when he's gone from a slower game to a faster one, or from a faster one to a really slow one.
For sure, it's impossible for players, coaches or officials to do their jobs to perfection.  Hey, we're all human.  If there's a problem, it's that we're all depending on one another.  Oh, I know we're never likely to get perfection, which suggests to me that that's where good communication skills come into play.
That in mind, I'd suggest a couple of things to Dan…
He might hold a meeting with his players and parents, and explain to them that it will take a little time for there to be consistent calls under the new contact guidelines.  I'd further reason with them that the best thing to do would be to just concern themselves with what the players and coaches can control, and to not be thrown off by an occasional strange penalty.
It wouldn't be a bad idea to remind the kids about that last point each time they head out for another game, "Just relax, play the game the way you've practiced, don't be bothered by an odd penalty, and we'll talk about it all afterwards."
Just prior to this season's earliest games, I might be inclined to talk to the refs about what the kids have been learning in their practices.   With that, I'd ask if they'll be looking for anything in particular, and then I'd even ask for their help or advice once the game is over.
This could have just as easily have been titled "As Seen Through A Scout's Eyes".  That's where the following observations came from. 
Actually, another scout and I were watching some local Junior level games not long ago, when some of the following was discussed. 
Then, just recently having shared these ideas as part of an advertisement on my new Florida based website, it struck me that I just had to share this information — and quite a lot more — with my CoachChic.com members.
– Dennis Chighisola

Having the Hockey Skills to Make It!
Before continuing on…  Let me mention that I often take breaks in my writing — to stretch the limbs or to rest my eyeballs.  I also take mental breaks, which oftentimes have me checking on the latest goings on at Twitter, LinkedIn, Google+, etc.  And as it so happened, a check on Facebook got me embroiled in troubleshooting a hockey problem posed by the dad of a pretty good 15-year old.  So, I'll include a little about that discussion in here as well..  
Here's how things began…  During a break at that Junior tournament, the other coach vented a little frustration at what he'd seen over two nights of play, mumbling something to the effect that, "Those kids are horrible."  He didn't really mean that, because the kids weren't exactly horrible.  What he was really expressing was a bit of frustration at the things he was seeing, and probably about the things he'd have to correct if he dared sign one of those players.  Personally, I was thinking, "Few people up in the stands realize what our eyes are seeing that theirs don't."
Here's what I think (or really know) was going wrong…
Although players and fans (rightly) get excited about a spectacular goal or a thunderous hit, scouts are usually watching a player throughout his entire shift, and we're watching intently, even when a given player is far away from the puck.
Unfortunately, a lot of players don't know how to make themselves useful when they don't have the puck.  This too often translates to them almost standing still or gliding around without purpose, when there really should be some purpose.  This game is all about pulling together 6-players to attack the opposition net, and 6-players in defense of their own net.  (Yes, I even include the goaltender in helping us launch offensive attacks.)
I hate to suggest the following, yet it's true…  Sometimes even pretty good players don't "look good" as they move around the ice.  I almost know that's a part of what was happening as my fellow coach made his observations — in that most of the guys we watched just didn't move comfortably, and they didn't "look like" the experienced hockey players they probably are.
I sense I have a pretty intelligent audience here, and folks who have an idea about what I just said.  With that, I hope you can picture along with me…
What I was seeing was team after team of kids with poor skating postures.  At times I'd see them moving while almost standing straight up, few of them seemed comfortable moving with their sticks (more on this shortly), and they too often entered collisions not seeming very prepared.
Oh, those hockey sticks…  If my fellow coach voiced one of his pet peeves that night, it was about the way the kids were carrying their sticks.  As a former pro player, he was critical about the number of guys who went into collisions or body-checks with their sticks held high.  But as a long time skills coach, I was as bothered by the fact that most of them seemed uncomfortable with their sticks, in general, and they seemed not to change their grips according to whether they were on offense or defense, or whether defending against a puckcarrier or away from the puck.
In answer to some of that last paragraph, I'm in the process of posting a new drill for you.  At this writing, I still need to gather some video footage and photos to demonstrate it.  As for much of the other problems we saw with sticks, I highly recommend that members go through the various articles and videos found in this Skills section.
Unfortunately, I sense that too many "vanilla drills" have been used with a lot of the players we were watching.  And by vanilla drills, I mean the types of drills that might look good to the folks up in the stands, but aren't worth much towards the players' future development, or towards the players' true needs.
I long ago authored something entitled the "500 Drills" manual, and it was purchased by NHL teams and coaches from other high levels.  Yet, I only revert on occasion to any of the old drills I know.  The reason:  my current players have unique needs, which calls for me to find or create a drill process that helps them.
If you get my drift here, I don't make a nightly practice plan by just grabbing drills from Category A, Category B, etc.  Instead, I'm constantly making note of what difficulties my players are having, and I find a drill to help them.  If one doesn't already exist, I'll use a little imagination and create one.
The main idea of a good drill is repetition, or repetition of the right mechanics.  So, when it comes to those Junior players again, I'm thinking that they haven't done a whole lot of stuff other than pretty looking vanilla drills.
Now, I kinda hate just talking in negatives here.  So, let me at least do my best to turn this towards a positive, or at least provide you some positive advice…
What I'm suggesting is that players, parents and coaches take a look at some game video of a favorite pro, or even watch some of my videos — like on body-checking or breakouts.  Watch how a given player "moves" around the ice — like in a seated posture, with the stick always down on the ice, and noticing when the stick should be carried in one hand or two.  That, in itself, should help most of you quite a lot.
As for that Facebook exchange I mentioned earlier — with the dad of the 15-year old…   It had to do with the dad questioning whether his boy should have been corrected after he scored during the practicing of his team's powerplay.  Hmmmmm…
What made that play a hard one to discuss with the dad was that the boy was successful in the end.  In other words, even though he evidently did something that didn't please his coach, he did score the goal.  And I can envision the boy saying, "But, I scored, Coach!"
Well, I can also envision a lot of the Florida kids we were watching the other night (and their parents) thinking similar thoughts to themselves — as in, "Hey I'm a pretty good player amongst my peers!"  The problem is, a couple of pretty savvy pairs of eyes watching from rinkside are thinking, "You don't have what it takes to crack the next level!"
For sure, it's great for a player to have confidence.  At the same time, he has to always be willing to learn more and be able to do more.  So should parents want to encourage their youngsters to have good attitudes in that regard, and so do coaches want to constantly rethink what they're doing or teaching.
Now, as with a lot of philosophical articles like this one, I may have raised as many questions in your mind as provided answers.  In that case, I am dying for your questions.   Most of what you'll find here at CoachChic.com is a combination of my experiences and the things you tell me you need or want.
Lastly, that new drill idea is finally completed, it's something so simple it can be done with Mites to Juniors, it can be done off-ice or on, and you can find it in my latest post, "The Importance of Hockey Specific Drills".
If ever there was a bit of advice I'd like every single CoachChic.com member to keep present in his or her mind, it's the following.  In fact, while this contains lots of what I'm always harping on with older players, I think it's a good idea that younger kids (with the help of their parents and coaches) get this stuff firmly fixed in their heads.
– Dennis Chighisola
Endearing Yourself to Hockey Scouts
Talking to scouts in recent weeks — and hearing about other coaches' conversations with scouts, there's little doubt that a potential recruit's playing ability is buried amid lots of equally desirable qualities.  In fact, here's the first question many scouts tend to ask about a player:
"Is he a good kid?"
Please think about that one…  For, you'll soon realize that it matters not whether a potential recruit is 6′ 6″ and goes 225 pounds, IF he is also an egghead.  What good is it that a goaltender is big, quick and agile, IF a coach can't get through to him?  How much is it going to help a team, IF a gifted forward can't get along with his mates?  And, does a college coach really want to invest in a puck moving D-man, IF that guy is out partying at every opportunity?
Now, let me suggest that nearly every college head coach in the land has been through it all, probably more than once.  I mean, they have had to deal with dummies, lazy guys, troublemakers, and alcoholics-in-the-making.  And, while they might have at one time thought they could help a kid turn his life around, I'm willing to bet that most experienced coaches ultimately discovered that it just wasn't worth the effort.  Ya, and nowadays there are enough talented players around so that a coach can easily afford to bypass a problem child.
Grades are yet another hurdle on a young guy's (or gal's) way to playing college hockey.  NCAA has set minimum guidelines, and then so does each school.  However, don't think college coaches aren't also concerned about a player's track record when it comes to school work.  Let's face it, the coach has to feel pretty sure a player is going to stay eligible, and that he (or she) is likely to make it in the classroom over the long haul.
Okay, so that brings me to the way I deal with college recruiters…  And I am going to tell you that I am not lying for anyone — I said anyone!  All I have is my word with the scouts, and I am not going to throw away my integrity for a kid who can't follow directions, be a good teammate, get to bed at a decent time, or pay attention to his grades.
Said yet another way, a wayward player can't think like his (or her) situation is a one-time deal (as in, "Hey, Coach, just stretch the truth a little bit for me?").  I mean, guys like me will be asked hundreds of times about other players over future years, and our believability will always be based on how right — or how straightforward — we were about previous kids.
That in mind, it only makes sense that it all falls on the player's shoulders.  And in that regard, I've asked my guys in the past to, "Make it easy for me to brag about you!"  Make it easy for me to tell everyone what a great young guy you are.  Make it easy for me to tell anyone who'll listen how motivated you are — about improving your game, about attaining good grades, etc.
Then, with those things helping to ease a scout's mind, we can go on to show him (or her) what kind of player you are.  And, want to know something?  I'm going to suggest that many scouts will be willing to take the good kid and good student who has some slight playing flaw.  If the player is a good person, a willing worker and not brain-dead, he just might be worth the effort.
Finally, having been around this block too many times, I have to say that both good and bad traits start when players are young.  It's pretty hard to change a guy (or gal) once he (or she) has reached the late teens.  Quite obviously, then, young players need the help of their parents and coaches from the start, to steer them in the right direction — in hockey and in life.
A lot of members have written to ask if there will be changes to CoachChic.com, now that I'm moving from my past duties to those involved in my role as the General Manager and Head Coach of the St Cloud Thunder Junior "A" team.
– Dennis Chighisola
There'll Be Hockey Changes — But Not Many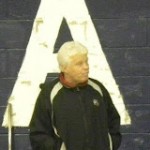 I've written often here, that I might be more fortunate than any other hockey coach in the world.  You see, for close to 40-years, I've been able to go back and forth between all the various levels of hockey, and this is an experience even the most noted coaches in our game have never had.
What I'm getting at is that, even the Scotty Bowmans and Jack Parkers haven't had the need to troubleshoot problems experienced by beginner skaters, Pee Wees, Bantams, and so forth.  No, they basically get the cream of the crop, and then work their magic from there.
Nor have guys of that ilk had the chance to note the good, the bad and the ugly of their players, and then go back to influence the development of younger kids.
So again, I've had what I consider to be a luxury…  Probably 20 or so of my former students went on to play in the NHL, with hundreds of others reaching the higher levels of college or minor pro hockey.  So have I been asked to help many high level players fix small problems in their game.  And, with all that, I'm one of the few who gets to turn around and work with younger kids (or their parents and coaches) based on what I've seen in those older guys.
Okay, so here I am moving on to work with a squad of pretty high level young guys from about ages 15 to 20…
Having already begun evaluating players and offering certain ones contracts, I've come to realize that many of the kids I'll have are only a year or so away from being drafted or being offered a slot in a quality college program.
Despite my respect for their current abilities, however, I'm going to try to look at each for both their strengths and their weaknesses.  As I've also written often within these pages, I want to help them build upon — or magnify — their unique strengths, while I'll also try to help them overcome any of their shortcomings.
And it's that latter point that should help CoachChic.com members immensely.  In other words, parents or coaches of beginners through Midgets ought to benefit from the way I'll deal with each, and outline my ideas within these pages.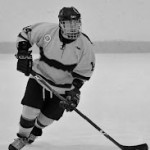 Oh, and by the way…  Without stepping on any of the toes of those who currently work so hard within the Kissimmee-St Cloud area, I've already offered to help the local youth organization in any way I can.  Ya, you know me…  I love working with younger kids of all ages, I love advising their parents as best I can, and I also just might look for a way to help the local coaches, too.
Anyway, perhaps you can see how things might not change a whole lot here at CoachChic.com.  On the other hand, I have a new crop of fairly elite level players to evaluate and help, and I suspect members will benefit plenty as they follow me doing just that.
I don't doubt some folks will glance at the title, and perhaps take the expression a little lightly. Trust me, however, that this could possibly be one of the most important messages any hockey parent or coach could read.
– Dennis Chighisola
When the Proverbial Light Comes On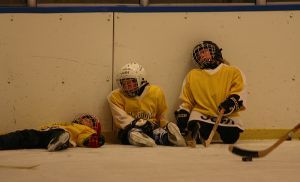 In time, I'm going to connect this subject with some older players. However, because the changes that can occur with young players are so easy to observe, let me use some of my youngest little rascals as examples of what I'm talking about.
Right now, we're in the middle of my Mighty Mite League, a league I designed just to transition very beginner kids — from about 5- to 8-years old — from their ADM or Learn-to clinics to playing their very first games.
If you can picture it, I often find it difficult to answer questions posed by the parents of very young ones, especially when they ask if I think their son or daughter is capable of playing in the league. In most instances, I'll encourage those with their basic skills in place, and I'll do the same for those who seem to be extra aggressive — those kids always seem to get the hang of things fairly quickly. But again, it really does bother me that I have to almost predict whether a 5- or 6-year old is going to benefit from that league.
Okay, so I said we're near the midpoint of that league, and I'm now getting the chance to see where I was right or wrong. And, while I'm discovering that I was right more than wrong, I don't think any of the kids are losing a bit by playing in the league.
With that, let me describe a little of what I've seen so far…
There was a spunky little 5-year old in my Learn-to-skate clinic who ultimately deserved a crack at moving up to the Learn-to-play level.
Even at his young age, I found I could prod him to perfect his stops and backward skating, so that I'd allow him to play in the mostly older kids' 3 on 3 games.  Every so often, he'd backslide, and discover he didn't get promoted from the basic clinic.  And every next Sunday he'd come back and do things just right, so he'd get another chance to play in the game. (Hey, I don't yell at little ones.  However, I surely do use the "carrot versus stick" approach to inch the little rascals along.)
Okay, so when an opening existed in our new beginner league, I had a gut feeling that little guy would catch on — eventually.  Would I be proved right? Hmmmmmm…
Trust me, that he didn't catch on to things very quickly.   In fact, over the earliest weeks, he looked much like a little tripod, trying to stay steady while braced by his two skates and stick.  He also almost always fell down with each transition of the puck.
No matter, that little guy is one of the inspirations for this piece. I mean, yesterday morning was when I saw that light come on for him. In just a matter of a few weeks, he was keeping up to the play, and I'll bet he got his stick on the puck close to 20 times. Oh, he's probably not ready to tote the biscuit faster than some of the 7- and 8-year olds, but he is now getting into the middle of nearly every skirmish. And, marked by the sudden changes I saw occurring yesterday, I'll say he's now on his way to being a hockey player.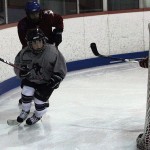 My next example involves a player who was plenty old enough to join the league, and skilled enough, too. I think he also played decently enough in the earlier games, in spite of what his dad may have thought. Ya, the dad… Honestly, he's a great guy; I just think he needs to slow down a bit, and perhaps realize that his boy is only at the beginner stage.
I've actually watched the boy a lot during the earliest games, and noticed that he'd been going up and down in his play. I'd also go along with his dad, in that the boy's interest level seemed to also go up and down.
Suddenly, however, that light came on… The youngster had his team's only two goals yesterday, but that wasn't our only reason to be excited. The boy played much of the game as if possessed, and he actually made both of those goals happen with a lot of hard work and a real want for the puck.
A lot like the first boy I described, there was another tiny tyke I wasn't sure about encouraging towards that league. If there was a problem, this boy is older, and he probably needs to get into the swing of things before it gets too late for him.
Actually, this youngster has mirrored the other little one right through our earliest games, with one exception: the light has not come on for him yet. To be honest, he's been a little slow reacting to puck movement, and he hasn't often been involved in plays for the puck. The other day I prodded him a bit during the game action — to go get the puck, and his answer to me was, "I'm trying!" (Aaaah, gotta love him for that!)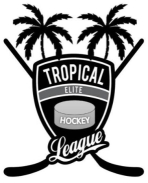 Okay, I started by saying that I would also tie this discussion to the development of older players. Well, I hinted at that in my recent article about the new Tropical Elite Hockey League.  (If you have or know a good player aged 15- to 20-years of age, be sure to let him know about the announcements contained in that article.)
What I'd suggested was that a lot of players — including older ones — still need some time to come into their own. In that regard, I mentioned how the new league might actually act as a second (or third or fourth?) chance for players who weren't able to crack line-ups in other Junior leagues.
Being involved in our sport at all levels for so many years, I've come to know this to be so — that some players just need a chance to show their stuff.
For example, years ago, I know I would cringe at the thought of losing one of my better college players to an injury or illness. Yet, I also knew that another player would likely rise and thrive from increased ice-time and responsibilities.  Oftentimes, that would even be an underclassman who wouldn't ordinarily have had a prayer of getting regular playing time.
If you follow the various pro leagues, you've probably also noticed how some new stars emerge once thrown into the fire.  It just always seems to happen, that someone will emerge, once given a chance.  We hear it as often in the music industry, where a group or solo artist spends years working smaller venues, only to one day become a seeming overnight success.
As luck would have it, I caught a TV special today that highlighted the career of former Boston Red Sox pitcher, Tim Wakefield.  Among the things I didn't know…  Wakefield quit his first college team, but was drafted from his second.  He rose fast through the Pittsburgh Pirates' organization, became the ace of their Major League staff, and then was sent to the minors with arm problems.  The Red Sox gave him a chance, and he really experienced some drastic ups and downs in Boston.   Yet, he endured, and ultimately retired last season with 200 wins.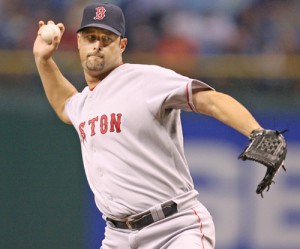 If you can appreciate what I've been getting at, most players need time to get their game together, or a chance for that proverbial light to come on.
If we use Tim Wakefield as an example, the Red Sox would have missed a 200-win pitcher, IF the knuckleballer had let himself become too discouraged by his first college experience, IF he had quit after being demoted to the low minors, or IF he didn't see things through when the Sox so frequently changed his role from starter to reliever to starter.
Thus my recent warning to Junior eligible players, in that they might be destined to play in college or beyond, IF they don't call it quits beforehand.
And, while you and I might think 5- or 6- or 7-years old is a little early for a kid to pack it in, it happens far too often.   Seldom is it the little boy or girl who makes that decision, of course.  Naw, it's a (mom or) dad like the one I described earlier, who pulls the plug because he (or she) is too impatient about that light coming on.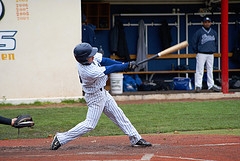 Then, if all the above wasn't enough…  A number of my buddies and I arrived at our high school's varsity baseball tryouts having been all-stars at every level on the way.  (I pitched our Little League All-star game, and batted cleanup in the order.)  Most of us did well in high school, and I had great success, starting at short stop as a sophomore, and batting lead-off most of the time.  That said, one of our friends kept trying out through the early years, and he was cut more times than kept for a team.  He arrived in high school still big, gangly and rather uncoordinated, and spent a fair amount of time on the junior varsity team.  Then…  Ya, then…  I think the light came on for him rather late in his sophomore season.  A pitcher, he'd suddenly gotten that big body under control, and he began throwing faster than most high school-ers could swing a bat.  I mean, he got so he could throw absolute smoke.  And, guess what…  For all the all-star games and other recognition the rest of us had gotten over the years, our tall, aspirin throwing buddy was the last man standing when the pro scouts came around.  Yup, he signed a contract with the New York Yankees when we graduated, and he spent a number of years in their minor league system.  As importantly, I hope he acts as an inspiration for other athletes here, in that honors hardly matter during the earliest years.  No, I suspect it's far better for that light to come on later, when high school, junior, college or even pro people make more consequential evaluations.
Oh, by the way…  I'm hardly ever just talking about just hockey when I write something like this.  Hey, I'd encourage any young person to follow his or her dream, no matter what that might be.  Personally, I believe the best approach — in any endeavor — is to just wear the competition down, and be the last man (or woman) standing in the end.
I'll say again, that this could be one of the most important messages I could ever share with you — as parents, coaches, or even adult rec players.  Don't sell yourself or youngster short too soon.  Keep plodding away, and give that light a chance to ultimately come on.
Besides answering member questions and providing the best possible advice on things that have worked for me, I feel compelled to share with my faithful members anything I run across that might just help.

Of course, I'm forever digging into scientifically oriented literature, and hockey sites of all kinds.  But then there are my 14,000-ish social media contacts who so often lead me to some real gems.
Such was the case with the following article that came by way of my LinkedIn participation in a special group devoted to sports parents.  As I hinted above, I think this one is a real gem.
– Dennis Chighisola

Six Words Hockey Parents Need to Say
For those who feel hurried, I'll cut right to the chase by pasting in a few lines, plus those six words hockey parents should commit to memory and say ever single day…
"… College athletes were asked what their parents said that made them feel great, that amplified their joy during and after a ballgame.  Their overwhelming response:  'I love to watch you play.'"
Just think about it…  So much has been written about and talked about lately, in reference to that (sometimes dreaded) ride to and from the rink.  I mean, about the way some parents browbeat their kids or push and prod them to do everything but enjoy the game or practice.

Beyond that, I'm going to suggest something else…  I think most of us parents actually do experience that very sensation, of loving to watch our kids play.  It's just that we don't say it often enough, or let those feelings be known to our youngsters.
Moreover, I'm going to suggest that there's some psychology involved in the use of such a phrase — as in the power of positive thinking.   Ya, picture the kid who heads into the rink with his or her head down, tail between the legs.  Fearing failure is no way to enter a battle, and it's no way to enter an activity that's supposed to be fun.   Picture, on the other hand, if we send our young ones off with something akin to those magic words, "I love to watch you play."  That just has to be uplifting — before a hockey game, and doubly so if repeated after a game (no matter what really took place).
All that said, I really do recommend reading the complete article…  Six Words You Should Say Today
I'm kinda chuckling to myself as I think about the last time I explained the following (it was actually about 3-weeks ago).
You see, the organization I do a lot of work for likes me to focus on the youngest kids, or those in the developmental stages.  I can appreciate that, since I can usually mold those little ones faster and better than most others.  I also enjoy those kids immensely.
About the only time I get frustrated is when I have to wait for elite and then AAA level coaches to make their picks, so that I can finally get to work with the leftovers.
Well, this being the third year I've had to sit back and watch as another group of coaches seemed to agonize over making their picks, I decided to explain to them exactly what I'll now share with you.
– Dennis Chighisola

Some Hockey Tryout Advice
I began (three different times) with, "Can you envision a bell curve?"  I think two of the guys knew what I was talking about, while the other understood once I drew an imaginary curve in the air.
I'm not poking fun at anyone here — at least as it pertains to knowing or not knowing about the configuration.  Those well versed in math would probably be more familiar with such a graph, and I know that's where I first came across it (probably back in my high school or early engineering studies).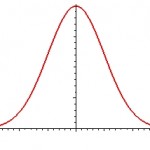 Anyway, once I got the different coaches picturing the unique shape of the bell, I suggested to them that every group of tryout players can be spread over the curve.  In other words, those who are almost automatic "cuts" would fall on one end of the graph, while the no-brainer automatic "keepers" would fall on the other end.
I'm sure that makes perfect sense to you, as it did to my fellow coaches a few weeks back.  Still, also a lot like them, you're probably wondering what this has to do with making the tryout process any easier.  Hmmmmmm…
Well, I'll suggest that that part of the tryout process is now complete, just because we're admitting that we have a certain number of players who will be kept, and a certain number of kids who need to be let go.
More importantly — with the above decisions made — and recognized, it should make sense that the real tryout takes place among the group of players who fall in the middle of the bell.
I don't care how many players are involved in any given tryout, and I don't care how many players fall in either of the three segments of the bell…  No matter, a certain number can be decided within a day or so (if not within minutes), while the real focus has to eventually be placed on the group of players who fall in the middle.
Now, almost everyone wants to resist me on this one, but…  My feeling is that players need to somehow be removed from the tryout process as soon as they're designated to either make or not make a team.  Keeping them around beyond a point really muddies things, or those so-called automatics just get in the way and detract from the players who really need to be seen.
The way I like to do it is to arrive at a point where everyone has had a fair chance at showing themselves.  With that, the easy cuts and keepers can be told that, "You're all set, and we'll let you know how you placed within a few days."
The beauty of removing the sure things from the mix is that new players will immediately begin emerging from the remaining group — a few being recognized as standouts, and a few noticeably lesser skilled than the rest.  And so the lopping-off goes, until a roster is full.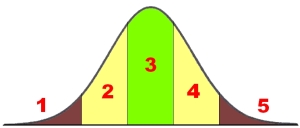 In the graph above, the sure keepers might be represented by #1, the sure cuts fall in group #5, and the players in the middle are the real tryout candidates.  In the end, those in group #2 and some from group #3 will make the team, while the the rest of group #3 and group #4 will be let go.
Now, I kinda described the above as if a tryout was for one team.  However, I've used that formula to distribute numerous players from a hometown program to an A Team, B Team and C Team within a level.  Referring to the bell curve again, better players would be gradually moved to the A-roster, while easily recognized lesser players would be quickly assigned to the C's.  And so the lopping-off continues, until a B Team remains in the middle of the curve.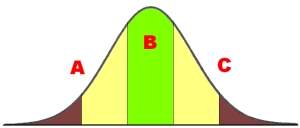 Similar to the earlier graph, the obvious keepers will fall to the left, with the best players ultimately designated as A's, the least as C's, and the remaining players comprising the B Team.
Lastly, I mentioned earlier that I've received some flack for sending kids home before the tryouts are done.  However, the above method is the fairest one for the kids who are really tryout out.  Again, neither the best or the least are ever going to change their status by hanging around longer; they'll just ultimately get in the way.  The kids who deserve the most attention — for the fairest tryout, are those who fall in the middle.
Having shared the above with my fellow coaches a few weeks back, I thought one or two of them arrived at a decent alternative to my method…  They kept all the kids around until the end, but they found ways to more often pit kids from the middle group against each other.
*
PS:  I find it amazing sometimes how we are able to arrive at a truism under some extreme circumstances, and I consider myself pretty dawgoned lucky when such a thing happens to me.
Anyway, a few years ago, a logistical foul-up caused me to be in a room with a bunch of kids and parents that included those who I intended to keep and those I had to cut.  Hmmmmmmm…  How to survive that thing without having some pretty disappointed kids and/or parents?
Well, it struck me that that was one moment in history when I saw kids in certain ways.  I mean, just for that one Thursday night, I saw one group of kids as deserving to make my team, and yet another group of kids who were not quite up to the task.  And I truly felt that way, too.
I went on to tell everyone that, "It's quite possible a player who is cut tonight will ultimately be the best of the lot."
Again, my evaluations were based on one night — or a couple of nights — in history.
I'm hoping my hockey friends noticed the "THE" in my title, because I truly meant to type it that way.  Yes, I feel that in the overall picture of being a hockey coach or hockey dad — or even if I was an adult rec player, the coming days, weeks and months are as important as any in the entire year!  In a way, what we do over that span is going to determine how we (or our player/s) will perform next fall.

Oh, by the way…  It's very possible that I'll leave this particular article available to the general public.  In a small way, perhaps, I'm at least alerting as many hockey people as possible as to the importance of the coming weeks.  As always, though, I'll save the meaty stuff — or my exact recommendations — for my members only.

– Dennis Chighisola

THE Most Important Hockey Season Is Coming Up?
I've covered this topic — in depth and in many ways — elsewhere within CoachChic.com.  To save you the time in chasing one important view of the spring months, however, let me at least outline the way most advanced level organizations and trainers break down an entire year…
In-season – your regular playing season
Post-season – the period immediately following the playing season
Off-season – something like the middle of that time away from your regular season
Pre-season - the weeks leading into your regular playing season

We all (including yours truly) tend to paint the entire time away from our regular schedule as the "off-season".  However, advanced level hockey types know that each of those four separate parts of our year should be treated very, very differently.
There should be little doubt that most amateur leagues have completed their regular seasons by now, and we're currently in what the above shows as our "Post-season".
Okay, so why is it I suggested we're now into "THE Most Important" hockey season?  Well, in a nutshell, it's because I see it as our one chance to make corrections in what we're doing, so we can get it even closer to right by next fall!
If you're a hockey coach, I'll suggest the first thing you do is perform some really serious soul-searching…
How about communication?  Did the team (or team parents) conform to set team rules?  Could those rules need expanding upon, or some slight altering or updating?  Dealing with the players, might there be better ways to get our idea across — say, with added media or teaching tools?
And, how about the way your team came along…  Even after coaching all the years I have, I know I've already recognized a few areas of play that could have been treated differently.  (Yes, even I constantly re-evaluate my coaching, mainly because I intend to keep getting better and better at what I do.)
If you're a hockey parent — and you truly want your youngster to enter the next season even better than the last, I'll suggest the following…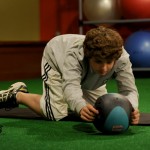 Be honest in an evaluation of his or her weaknesses.  If the player is old enough, see if he or she agrees with what you're saying, and if he or she is willing to do a little work to overcome those shortcomings.
Also be honest in seeking your youngster's strengths (or more likely, a main strength).  That could be speed, aggressiveness, size, puckhandling, shooting, whatever.  For, as I've written elsewhere here, future coaches (and even scouts) most often get attracted by strengths before they start to look for weaknesses.  So, for example, if a player has a hard shot, it probably wouldn't hurt that his or her shot be brought to the point of being absolutely frightening to opposition goalies.
I honestly believe adult rec players could do a similar self evaluation…  I don't know if dwelling on a strength would be my main priority but, I wouldn't discount it.  Mostly, though, I notice that a great many recreational skaters would benefit lots by eliminating their weaknesses.  Ya, you've got to "accentuate the positive", as the old song goes.
Those who know me probably realize how much I value time — as in the amount of time I have to accomplish a given task.  So, just take a look at the coming Post-, Off-, and Pre- seasons through my eyes for a sec, and appreciate that we now have the luxury of 5-months to ready for next fall.  Yup, count 'em:  April, May, June, July and August, IF we don't piddle that precious time away!
Oh, by the way…  I can almost bet that half the non-members reading this are going to revert to what they've always done — like chasing tournaments all over the countryside, attending the most popular hockey school, or enrolling for the usual spring and/or summer league.  Oh, one of those might not kill a player, but I doubt any of them will help solve the things you consider as playing weaknesses or strengths.  In fact, if one keeps doing what he or she has always done in the past, it's very doubtful any significant results can be achieved.
All the above gives you a hint of what I have in store (for members) over the coming months.  A lot of it is going to involve ideas for off-ice training (and training at home), because I've found that these types of overlapping activities not only help a player's hockey game, but they also expand his or her physical — and even mental — abilities quite a bit.  That said, I promise that I'll still be adding some on-ice ideas to help all my friends reach their goals for when the puck drops again in earnest next fall.
Then, this final tip…  Most elite level programs and instructors (as well as wise hockey parents) know that a player takes quite a physical and mental pounding over a long winter In-season.  So, while those in the know never allow those in their charge to suddenly become couch potatoes, they do back-off on the heavy training for a short time.  In elite circles, the kind of physical stuff done during this period is known as "passive activity".   And, in my mind, this is the one time during an entire year when — if things are done right — a player's love of the game can be greatly renewed.  Tournaments, camps and off-season leagues don't do that, but I'll be telling you soon just what will.
I received a phone call yesterday, from a hockey mom wanting to know if I might give her son a recommendation.  Hmmmmmmmm…
So did my email inbox contain a pair of similar requests – one wanting my opinion on a certain hockey coach, and another from a coach asking about a player I'd recently had on my team.  There was another one in there, too, this asking if I could recommend one of my players for a rather exclusive team that was being formed over the spring and summer months.
Even while I was working at the local rink this past week, two different coaches asked my opinion on given players.
– Dennis Chighisola

A Hockey Reputation Matters
Yes, 'tis the season when a hockey player's reputation matters more than ever.  And it's a time when a player's, parent's or coach's track record either helps or hinders his or her next step up the hockey ladder.  Consequently, it's a time when doors can either open or close for anyone involved in our game.
Actually, I probably shouldn't make this sound like one's past history only comes into play at this time of year.  However, with so many organizations looking ahead to the next season right now, it makes sense that a whole bunch of folks are seeking more input – about new coaching applicants, or about potential players.
Unfortunately – at least for some, as one hockey parent put it in a recent Facebook message to me, "Hockey seems a pretty small world."  And she was right.  Word travels fast in hockey circles.  (As I so often joke, I can sneeze at my desk here in Whitman, MA, and I'll shortly after receive an email — from somewhere like Rhode Island — offering a, "God bless you!")  Oh, and while news does travel pretty fast within hockey circles, bad news probably travels faster and stays out there longer than anything good we've ever done.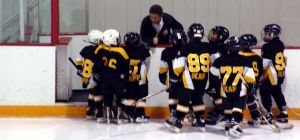 Now, some folks might think this rather unfair – that even young players' reputations follow them, and likely help or hinder them as they strive to make a higher level team.  However, isn't that life?  I mean, that's the way things will go in school as students seek special recognition, and it's the way things are going to go for them once they're out in the job market.
What a lot of hockey parents fail to realize is that their youngster's reputation is pretty much a family affair.  To be honest, in my 40-ish years in coaching, I haven't known very many bad kids.  On the other hand, I've had to deal with quite a few kids who were negatively swayed by their parents, some to the point where they were nearly uncoachable.
Really, I don't want to go into all the horror stories most of us have already heard enough times.  Still, my sharing the following story just might explain an oft used expression of mine, in that, "the hockey family is a package deal"…
A few years ago, I accepted onto my team a youngster who came with quite a bit of so-called excess baggage.  It wasn't something I looked forward to, but instead I was doing it as a favor for a friend.
The interesting thing was that the boy reported smiling, he willingly did everything asked of him, and he seemed a pleasure to coach.  Not trusting my own take on the matter, I eventually garnered the same impression from my two assistant coaches.  They felt he was a great kid, and willing to do anything they asked of him.  Hmmmmmmm…  The parents?
As I soon discovered, the mom was the family spokesperson, and I found she was at least a little "rough around the edges".
As you might suspect, she wanted to lead our first telephone conversation, and I did let her release some seemingly pent-up feelings.  Pretty shortly, though, I asked her if she was ready to do some listening.
Now, I probably had something going for me that a lot of younger coaches don't (yet), in that I've really been around, and most hockey parents at least know where I've been and what I've done.  (Hey, even if they don't like me, most know they ought to listen to what I have to say.)
Thankfully, the mom seemed to be with me – as I explained my feelings about a family being a package deal, and that her son's problems may be her doing.  And she even accepted the fact that others might not like her son – or want him on a team – just because they didn't like her.
With that, I suggested we try to erase the past, give her son a clean slate, and perhaps help him build a new reputation that would help him in the future.
I can't leave that last story without mentioning a gut feeling about that whole situation…  You see, while I never had one tiny problem with that boy, I believe the things I heard from past coaches to be true – that he didn't get along with teammates, that he wasn't all that easy to coach, and that he took numerous needless or foolish penalties.  What I think happened, however, is that he was being coached behind the scenes at home – and probably on rides to and from the rinks, and that the parents – or the mom – convinced him to play a selfish game.  Oh, the boy didn't change his stripes when he reported to me; I think he was always a good kid at heart.  But, as I'm trying to warn my faithful friends here, his problems most likely stemmed from someone other than his past coach or team.
I led off with that story to help me make my point when it comes to subtler, but still similar situations, where parents have more influence over players than their coaches.  Hey, let's face it, we coaches are lucky to have the kids' attention for a couple of hours per week.  And it's doubtful we can undo in that short span all that's been ingrained at home and on those drives to the rink.
For example, when I was recently asked by another coach about one of my players, the first thing that came to mind was that he has been late for almost every team function, practice or game.  And over the course of a season, his game has slipped accordingly.  So, when the other coach asked if he was my best player, all I could say was, "He may have been at the start of our season, but not anymore."
Another youngster has also been asked about by higher level coaches, and all I could think about as I answered was his unwillingness to share the puck with linemates over recent months.  Oh, and it wasn't like he was one of our studs – I expect those types to handle the puck a little more, and to even take the shots if they have them.  But he's a middle of the pack player, who needs to dish the puck off more and then break to an opening for a better scoring chance.
The examples don't stop there…
I've also heard some "cute"(?) things on my youngest team's game bench over the course of this past season… Take, for example, a little guy mumbling something about ice-time on a team that just rolls two lines.  I mean, first, it would be hard to short-shift anyone when the lines operate that way.  But, can you imagine someone in the neighborhood of 7-years old coming up with that question – about ice-time? Give me a break!
Here's yet another one…
On a young team, kids go off-side without thinking — errrrrrrr, or do they…  Well, on both of my teams this season, I've seen a few instances where I really had to wonder if a player went off-side on purpose.  You know the trick:  get the rush blown dead because you thought your mate should have passed to you.  Is that the kind of thing I'd tell another coach about?  Naw.  However, I can tell you from my perspective that the kid who truly does that on purpose has a larger body of work that falls in the same category.  In other words, if a player is pulling that kind of nonsense, you can be sure the rest of his or her game is also a little on the selfish side.
Anyway, where does the idea of going off-side on a teammate stem from?  Ha.  Few kids think that one up on their own, so you can be pretty sure a parent is behind that (and most of the other selfish play).
Oh, one more beauty…
I'm sure other coaches get bombarded with lots of calls or emails in reference to special teams being put together over the off-season.  I get them often, asking if I might have a player deserving of strutting his stuff in a "showcase" kind of tournament.
Such was the case not long ago, and it caused me to sit back in my chair to envision my roster.  Hmmmmm…  Just one player at the time seemed to have the skills and physical maturity to hold his own in such a format.  But then…  Ya, but then…
In the game freshest in my mind, I recalled that we were trying to mount a comeback with precious minutes remaining on the clock.  With that, I see a game official escort my guy to the penalty box, and I discover that the guy who is supposed to be one of our best weapons has taken a 10-minute misconduct penalty.  Worse yet, the ref coasts by our bench and softly lets me know that the kid took exception to some rough slot play by saying, "Ref, you suck!"
Well, you'd have to know the parents to appreciate that the boy cared more about himself than his teammates or the game they were playing.  Was he a bad kid?  Not really, but…
Okay, these last few points…
As I intimated above, I've seen few bad kids in my 40-ish years in coaching.  Instead, I've come to realize that kids don't drive themselves to the rink or plan the day in a way that gets them there late on a regular basis.  And kids – at least usually – care more about being liked by their mates and coaches, so they're not – again usually – born with the need to hog the puck, take selfish penalties, or not get along with game officials o their coaches.  Nor, I'll suggest, do they count seconds in their shifts.
I've written this piece in hopes of letting parents know that it's never too late to help their youngster develop the kind of reputation that will get them raves when a new opportunity comes along.
I think members realize that I love kids — of all ages, and I'm not about to purposely hurt anyone.  The problem, however, is a need to be truthful any time I'm asked about a given player.  That's what I want when I ask the opinion of another coach.  Moreover, my reputation is on the line every time I recommend a player.  I don't think I'm unique in this matter, either.  No, your son's or daughter's coach is most likely going to want to speak honestly when asked about him or her.  So, it seems up to the parents to help mold the kind of player everyone will love to recommend.
I boast often about the quality of our membership.  I mean, we have some really into it guys and gals here who not only take advantage of this site's content, but they also contribute a great deal to our hockey discussions, and thereby drastically increase CoachChic.com's value.
One such member is Tim Taylor, for whom I am hugely grateful.
As it pertains to this post, Tim happened to run across something I hadn't seen yet, he alerted me about this exciting event, and I thought I'd get the word out to all our members as quickly as possible.
So, thanks, Tim!

– Dennis Chighisola

NBC Brings 'Science of NHL Hockey' to TVs and Classrooms
Before going any further, here's a video clip from that series…
Now, here's a link to the article Tim sent me (which also includes the above video):
NBC Brings 'Science of NHL Hockey' to TVs and Classrooms
It appears to me that NBC wants these videos to get a wide distribution, for the sake of science — this because they've included an embed code within this first video.
With that, I'd suggest that each of our members share this (and maybe other videos from this series) with their team members.
As for me — and if it's permissible by law, I'll try to post more from the series here.
Freezing cold temperatures have been slow to arrive in the Northeaster United States this winter, which should explain the lateness of this post.  If I'd have had my thinking shoes on, however, I'd have probably helped my member friends all the more by giving them some time to plan.  In other words — for reasons I'll explain later, perhaps the best time to start thinking about a backyard rink is during the summer or early fall.
Yet another reason I'm posting this right now is because my good friend Christopher has been working on his own backyard rink, and — running into a bit of difficulty with that — he just wrote me seeking some help.
Actually, I'm a bit embarrassed that I don't have a quick answer to Christopher's question, despite having long ago built a dozen or so rinks for my son and grandson.  So, I'm thinking that this post might prove a great way for all of us to share ideas or experiences on this subject.
– Dennis Chighisola
Build a Backyard Hockey Rink
This project caused me to scurry through YouTube.com to see what others had done so far in this area.  To be honest, almost all the various videos on backyard rinks are nearly the same, with most of them only varying in extras — like lights, high boards, doors in the boards, etc.
I finally settled on the following video, mainly because it's a really basic set up, and because it gives a pretty good view of everything.  So, please have a look before we go further on the subject.  (Don't panic that you don't hear a soundtrack; there is none for this video.)
Having built a number of these, I can tell you that finding a truly level area is critical to preparing for a backyard rink.  And, that's part of the reason I suggest planning things earlier in the year, when the ground is still soft and workable.  Truly, spending some time in the warm weather leveling the planned area for your rink might be the best thing you ever do.
I also suggest erecting the boards section of the rink while the ground is still relatively soft, so that some stakes can be driven into the ground to hold the boards in place.
I highly recommend thinking about disassembling the rink as you plan its assembly.  I mean, large screws and metal brackets can make things a whole lot easier to take the boards apart at season's end, rather than using large nails or spikes.
I might also offer the idea of buying the plastic liner beforehand, just so that you can design the rink's measurements accordingly.   (There's nothing worse than discovering you have to piece together several sections of plastic in order to get coverage, knowing full well that there's a strong chance the thing is going to leak with each thaw.)
*
As an aside here, you know I'm all about teaching, or development.  So, let me share a philosophy I've held for a good many years…
The kind of discipline I provide in my clinics and practices is essential to players acquiring all the skills and smarts necessary to play at a high level.  Hey, there are proper ways to move on the ice, puckhandle, pass, receive, shoot, check, deal with critical situations, what have you.
Beyond that, however, I've always said that the mark of a "real player" is based on what he or she does in his or her spare time.  In other words, gain discipline from proper instruction, but then go freelance as much as possible to truly separate yourself from the pack.
In-lines can help us do that during the warm months, as can dryland training and even floorball.  However, I think the backyard rink is an awesome place for a youngster to really experiment — or hotdog a bit — during the hockey season.
*
Okay, from here onward, let's consider this YOUR post, or a place where anyone can share ideas, ask questions, etc.  I'm even going to leave this available to the public, just so we can gain even more input.
Christopher will actually kick things off, since I'll post his current problem first.  Hopefully, we can find some help for him and many future rink builders to follow.
*
The singer of this song actually stopped by here to suggest that I share his video with other backyard rink enthusiasts.  So, enjoy (and, thanks, Geoff)…
Perhaps members recall me getting into and having a little fun with a new video program that allows me to use a couple of robots to get my messages across to YouTube.com and social media friends.
So, at the risk of boring (or maybe slightly amusing) you, I've included a recent one down below as sort of a backdrop to a very important topic.
Hopefully, within a few minutes, you'll discover why.

– Dennis Chighisola
'Tis the Time to Think About Tryouts
Okay, as I hinted at above, there's a method to my madness in creating those robot featuring videos for other areas on the Internet.  In the case of the following one, it was produced to: 1) get folks thinking about tryouts far ahead of when most others will, and to 2) let them know about my soon to be leased Skater's Rhythm-bar.
As a member, you don't have to worry about the latter, because I'll be sure to keep you abreast of any such developments.
However, it's the former — or all that stuff having to do with tryout prep — that I feel the need to expand upon for your sake.  In a way, I think my short video will raise as many questions as it will provide answers.  So, my aim here is to do my very best at explaining everything for you.
That said, let's have a look at that video first…
Loading...
If you know me at all by now, you know I hate the idea of spring tryouts.  Still, I can't change the (hockey) world, so instead I have to go with the flow and do what's best for my players.
And, if you do know me, you've come to realize that I like to take a long range view on absolutely everything.  I mean, something as important as a tryout isn't to be taken lightly — heck, a player is going to live or die for an entire season based on the team he or she ultimately makes.  So, I've always taken tryouts seriously — for my students' and players' sake, and well as for the benefit of my own son or grandson.
As an aside…  I think it absolutely absurd that some local rinks or organizations will advertise a week-long program to be held just days before, these aimed at getting players ready for tryouts.  Geeeeeeeze…  A player is hardly going to be changed much at that point, and I'll even suggest that more harm can be done than good if players are pushed to their limits and enter their tryouts either bumped, bruised or tired.
And that brings me to the importance of taking the long-range approach instead.  With still months to go, some positive changes can be accomplished.  And so can players even be given a few days off prior to tryouts so that they enter the fray feeling fresh, both mentally and physically.
Now, in that video, it's said that individual skills are the most noticeable in a tryout atmosphere.  And, think along with me on that one if you will…
If we're talking about young players, coaches tend to use a lot of skill drills to get a good look at the kids, one by one.  If the coaches go to scrimmaging, there's little doubt the the best skaters, puckhandlers and shooters will stand out.  Then, if it's a "small game" — like 3 against 3, a shifty and nifty player is most likely going to really stick out.
When we're talking about tryouts for older players, most coaches resort to lots of scrimmaging.  And, once again, it's the great skater, stickhandler, passer, receiver, thumper and scorer who is going to attract the most attention.
Of course, you're probably wondering about when a player's smart positional play is going to stick out, and I'm going to suggest that it's hard for a coach to recognize much of that during a scrimmage atmosphere.  Oh, sure, a coach might spot a little of that, but I can tell you from all my years of experience, that it's the flashy player who catches the coach's eye first, and probably makes a lasting impression.
Okay, so what about that stuff I mentioned in reference to the Skater's Rhythm-bar?  Well, it really is so — that coaches notice the player who cruises nicely around the ice.  He or she can't help it, really.  There's just something impressive about the smooth, powerful, seemingly energy efficient skater, because it suggests to a coach that a player has practically lived on the ice, and that all the hockey movements likely come naturally to him or her.
Finally, I'm not saying that any of the above is right or fair.  All I am saying is that it is the way it is.  Coaches don't get the chance to necessarily know what a player is truly like.  And it's probable that a coach will only discover if a kid is smart (or dumb as a rock) once the selected players begin working within a team practice setting and then in games.  Until that time, all the coach can go on is how the player "looks" in the tryout setting, or how he or she looks relative to all the other players.
I feel it at least a small part of my duties here to keep members apprized of new gadgets that may help them, or may ease their learning or teaching experiences.  So, I was psyched that I received an email this morning showing something that should do just that for you.
Actually, this isn't exactly about a gadget, but instead an app aimed at transforming your iPhone or iPod Touch into what the TechSmith company calls "the ultimate coaching tool".
– Dennis Chighisola
PS:  I am not affiliated with this product or the maker in any way.  I just figure it's a neat idea and something my friends here might like to know about.

A Cool Video Gadget for Hockey Coaches & Parents
Here's some a wording borrowed from this morning's email…
Coach's Eye is a coaching app that will transform your iPhone or iPod Touch into the ultimate coaching tool!
Slumps, bad habits and poor technique can be recorded with Coach's Eye to point out problems, and review as needed.  It's like having your own, personal coach who never misses a thing.
Sign up to find out when Coach's Eye is available and you could win a t-shirt cannon for your team, organization, or school.  Then share out the unique URL you get after you sign up to increase your odds – you'll get an extra entry for each person that signs up using your link!
With that, I'll share the video showing the Coach's Eye, just so you don't have to chase to find it…
Loading...
Just so you know, I won't likely be getting one of those apps, mainly because I love my Flip and other similar cameras, and I've become so familiar with using those that I can practically work with them in my sleep (there is something to that "old dog" story, ya know —
).
Oooooh…  Should any member know more about this app, or should anyone get to try it, I think the rest of us would really like to know your feelings or experiences.
The above question is forever gracing my email inbox, or I'm stopped in a local rink lobby and asked basically the same thing.  It most often comes from the parent of a hockey student I've taught for awhile, and on occasion from someone I don't even know.
The reason I'm commenting at this time — and the reason I've placed this in the "Timely Advice" category — is because a lot of players in the program I currently work with are being asked to move-up right now.

To be honest, every situation is slightly different.  However, my answer to most hockey parents is usually pretty much the same, and it's just about the way I'll describe to you down below.
– Dennis Chighisola

To "Skate Up" or Not
To begin, here's (a slightly edited) copy of an email I received not long ago…
"Hey Dennis, i think i already know your answer, but i will run it by you.  (My son) is on the 04 elite team as a complete stud scoring just about everytime he gets the puck im really proud of him.  The mite major 03 elite team are looking for a guy, (and my son's) name came up.  (The 03 coach) is supposed to talk to me.  Do i play him up a year with unbeleivable talent to make him better for next year or do i keep him on the 04 team and probably be the best kid in the league.  (An assistant coach) invited us to practice tommorrow for the 03 team."
  As an aside here, isn't it comical how illiterate texting can make us look?  I assure you my friend is far from that.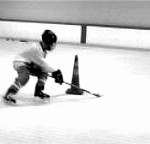 The following is my (similarly edited) reply, which I submit to CoachChic.com members as at least some good food for thought…
"Hmmmmmm…
My first thought would be to try it for awhile, without losing your son's spot on the '04 team.  I'm sure the 03 coach will go along with that — he may even prefer it.  (Check with others, but I believe there's also a number of games — like 10? — whereby a kid can skate-up so many times before he can no longer go back down.)
Now, the good part of tearing up at his own level…   Your son will gain more and more confidence, and even dare to try things in games that he wouldn't be able to do at a higher level.  So, his individual skills are also being greatly enhanced where he is right now.
The good and bad parts about playing up…   Probably the best part is being able to practice at a higher level, mainly because the higher level coach can usually run better practices with a more sophisticated group.   Your son would also probably learn to execute things at a faster pace, although it's not so good if he suddenly starts playing the game in what I refer to as "panic mode".   Quite probably, the down side to skating up would be that he wouldn't get to grow in the way I described in the previous paragraph.
So again, maybe asking to be able to go back and forth for a few weeks would help quite a bit, and it'll also allow you to get a better sense of which level will be the best over the long run.
Let me know if that makes sense."
Now, back to talking to you, my good CoachChic.com friends…
For, the one thing I want to emphasize from above is the damage that can be done if we just throw a kid into a level where so-called panic mode takes place more often than not.  And, to describe that better…
My friend stated that his son is really tearing up at his current level.  Having seen the boy training with me and playing some here and there, I can define that as his winding in and out of opponents with the puck, picking corners of the net around over-matched goalies, and sometimes undressing those netminders with wild stickhandling moves.
The exact opposite of that is for a kid to be slightly afraid with the puck — sometimes even throwing it away, after having stronger or faster opponents numerous times stealing the puck or bumping him or her off the play.
Make no mistake about it:  Either one of those regular occurrences will eventually get into a youngster's head.  And, before you know it, the player either thinks himself or herself invincible, or he or she has hardly any confidence with the puck at all.
And, that brings me to ask:  Which would you prefer for your son or daughter?
Then, I noted above that every situation can be slightly different.  In other words, for some kids the choice to move up might be worthwhile, while under different circumstances it can be very, very damaging.  That in mind, here's my unscientific view on the choice…
IF a youngster's promotion places him well into the top third of the stronger roster, I might say, "Go for it!"
IF it's more likely the move up means a kid is suddenly one of the lesser players, I would suggest that he or she is in for a long season, and one that isn't going to do an awful lot for his or her skills or confidence.
Of course, a parent's ego can sometimes come into play during such decisions.  I mean, it might be nice to go to the office on Monday morning and brag about your son or daughter being so highly thought of.  At the same time, I'm one of those delayed gratification kind of guys, and I'd rather do my bragging a few years down the road — having done things right, and seeing my own youngster really make it when it counts.
I don't think I've ever done this before — pointing our CoachChic.com members to a specific blog post.  At the same time, I think the following is rather special, and it should prove to be hugely helpful to some older players, parents, coaches and hockey administrators.
I went on sort of a tear the other day, that leading to a special "Coach Chic's Hockey Diary" post which ignited some interesting feedback.  So, not only might you read my original entry, but you ought to keep checking back, because the earliest Comments have been as good as my original.  As a matter of fact, I'd love your feedback too!

Just click on the link below to start.
– Dennis Chighisola

An Open Letter to All AAA Hockey Teams
Okay, I don't want to come off as if I'm THAT smart that I can totally fulfill what's suggested in the above title.  At the same time, a lot of what I like to do here is provide my good friends and members some serious food for thought.
You probably also ought to know that I'm a firm believer in The Law of Attraction — partly because it has its roots in the Bible, as well as within the teachings of numerous wise men throughout our planet's history.  What I'm getting at is that I don't like to constantly talk about illness until I or those close to me ultimately get sick, and I don't want to overdo this thing about hockey injuries until readers fulfill that prophesy.
At the same time, I do want to share some observations I've made over many years, this in hopes of helping prevent as many lost practices and games as possible.
– Dennis Chigisola
The Root of Most Hockey Injuries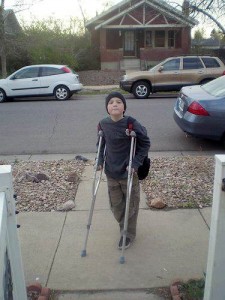 Speaking of The Law, I've actually witnessed the children of doctors and nurses being either ill or injured more often than any of my other players.  Honest to God.  This goes back some 30-ish years to when the son of a famous local sports medicine surgeon kept telling me that he thought he just pulled his _________ (fill in the Latin term for some oft injured ligament or muscle).   It wasn't until I'd seen the same thing happen to other doctors' kids that I began making the connection.  Ya, quite likely the topic of discussion at dinner often had to do with the latest injury the dad had seen, or the latest operation he'd just performed.  And it wasn't until years later that I noticed the same thing happening to the children of nurses.  Don't you know I ultimately got up the nerve to ask those parents if my theory was true, and most of them sheepishly laughed and shook their heads and nodded to the affirmative.  So, going back more than a quarter century, I believe I was seeing the old Law of Attraction in action.
What really got me going on this subject, however, is that we've already had several injuries occur with members of my AAA Bantam Minor team — this only a few games into our fall schedule.   Not that there has to be some big connection between these injuries and what I'll add here.  But…
The Bantam age level is one in which growth spurts happen rather unexpectedly, or they almost creep up on parents until they notice their youngster is 4″ taller today than he or she was a few months ago.  What I'm getting at here is the likelihood that players in this age group can quickly find their gear no longer protecting them very well.  So, just as examples, the slightest leg growth likely leaves gaps between shin guards and pants, and longer arms can leave a lot of open space between the elbow pads and gloves.
So can just the move up from one level to another render certain gear less protective.  In other words, pads that were okay in a non-body-checking level might be totally useless as the heavy hitting starts, or the pads that once were able to protect a kid against easy shots might not be so helpful against absolute rockets.
Thinking about my Bantams again, I know that all of the kids are at different stages of development.   I mean, some are still sort of babes, while a few others are almost the size of an average man.  And those two types of kids have to play against each other over a long season.   Please don't take this one lightly, either, because some kids in this level are skinny as rails, while some can be pretty hefty.  So, when a collision happens, I'm betting it's the frail wrist, arm or leg bone that is most apt to snap.
Next, let me tell you that certain players are sitting ducks.  I mean, they're slow in reacting, so they're easily lined up to be nailed by a better skilled or craftier opponent.   What I'm also getting at here is a player's ability to see what's coming, and then to have the skills to negotiate away from trouble.  A great example of staying out of danger was Wayne Gretzky.  I mean, few opponents ever got a full piece of him — first, because The Great One probably had world class awareness out on the ice, secondly, because he could handle a puck with his eyes up, and thirdly, because he had the great skating and puckhandling skills to maneuver his way quickly out of danger.  (I remember joking back and forth with my late dad years ago…  He'd say, "Why don't they just hit Bobby Orr?"  And I'd tease back, "Because they can't catch him!")
With all this, I'm not implying that any of my current players' injuries HAVE to fall under any of these headings.   As I said in the start, I don't want to come off as being so wise as to be able to predict such things.  And, hey, all of us are at one time or another going to take a spill, whatever.
On the other hand, I have mentioned a number of things that might save a lot of kids (or even adult players).
This will be a short post.  However, since my two teams kicked-off their seasons this past weekend, I thought I'd share a bit about what's on my mind.
– Dennis Chighisola


Just Some Hockey Musing (About Skills)
*
My AA ('03) Mites
Following USA Hockey's ADM recommendations, my young team begins their long winter schedule with a number of 3 on 3 games.  Our league's format is interesting, in that four teams report to a rink, and they go about playing each other in three 20-minute games.   Scores are kept as games are in progress, but the final stats are recorded as 1-0 wins/losses, or 0-0 ties.
My little guys won their first contest in convincing fashion, they lost the next in a rather lopsided game, and then lost the finale in a fairly close battle.
Now, let me tell you how I view those three different match-ups…
As far as I'm concerned, our convincing win is done, in the books, and totally forgotten as far as I'm concerned.
That last game loss is something to ponder, but not for that long.  Taking care of the next item will solve any problems we had in this one…
No, it's the middle game — where we kinda got killed — that I'll use in a ton of ways.  In other words, THIS is the game that will teach me, my players and their parents the most.  For the time being, at least, our opponents in that game are the model for where we want to be down the road.  How long it will take to reach that status I can't be sure.  But, we are going to keep aiming for that team's skills, strength, speed and so forth.
My AAA ('98) Bantam Minors
Due to a ton of personal and professional conflicts, I had to miss my team's first game of the season.  (Darn, I was sick over this, mainly because it's rarely happened to me over 40-years in coaching, and I feel it as embarrassing.)  I did, however, get a number of what I'd consider reliable reports upon which I can base some early assessments on a 10-2 loss.
Separate from what I really want to get at in the end, is the sense that my older team has not yet grasped the concept of playing together.   I'm not talking about selfishness so much here, but instead, something that seems too widespread in youth hockey circles.
I've written often on this subject in numerous other CoachChic.com posts, but there appears to be a sense within the youth hockey community that there is some generic way of playing the game.  In other words, if the puck goes into an offensive zone corner, every team will do the exact same thing (although few youth hockey parents and coaches can tell me how that goes).  Many seem to believe that all breakouts look pretty much the same, etc.
Not so, of course.  In reality, a team must have it's own plan to accomplish something like regaining the puck in their offensive zone (this referred to as a forecheck).  There must be a plan for what the first player into the zone should do, a plan for what the second and third guys should do, and further plans for what the defensemen should do when they arrive.  And the plans change as players read what happens henceforth, and then react accordingly.
And, contrary to what most folks in the stands can appreciate, everything that goes on depends on how successful each player is in performing his/her own role.  We lose if the first guy doesn't do his job, we all lose if the second guy isn't there to do his, and so forth.  So, as I suggested earlier, every single player really depends on those around him or her.  Furthermore, since my kids have seemingly played without purpose for most of their hockey lives, it's a struggle to suddenly get them skating and thinking the game at the same time.
(Of course, it should be understandable that hockey gets more complicated as I compare my Bantams' needs to those of my younger team.)
Back to the main topic here…  What I really tried to glean from those who saw the game was how my Bantams compared to their first opponents.  And in this regard, observers seemed to believe that our opening day opponents fit near the top of our league, or somewhere in the top three or four teams.
In a way, that's good news for me. In other words, I have a sense of where we're starting out, and a sense of how much we will or won't be able to close the gap on such opponents.
If there's some frustration on my part, it's that our summer practices weren't nearly as fruitful as I'd hoped they'd be, owning to so many players missing due to other commitments.  Said yet another way, we're really starting from Square One entering our fall practice schedule, and we're only going to catch some of our future opponents if we're able to make up a lot of ground over the next few months.
The Common Denominator
Ah, yes, the common denominator…  CoachChic.com members have no doubt heard me say or seen me write how a team's players aren't just a bunch of X's and O's scratched on a piece of paper or greaseboard.  Naw, they're human beings.
In other words, the X's and O's don't win or lose battles, but individual players do.   And a highly skilled player is going to win far more battles than the lesser skilled one.
As suggested above — in the brief review of my Bantams' game, how well they think and skate is going to ultimately matter.  And, to a slightly lesser degree, so will it matter with my littler guys.  Still the REAL common denominator…
Ya, the real problem right now — and the area that can help us gain the most ground on rivals — has to do with individual skills.  In other words, both of my teams are being beaten in 1 on 1 match ups when pitted against strong teams, and that highlights our shortcomings when it comes to skating and puckhandling.  (Sure, other skills — like passing, receiving and shooting will need honing, too.  But, first things first, as far as I'm concerned.)
Skating oftentimes — or almost always? — boils down to agile footwork and body control.  And, while it helps to skate smoothly during game action, what I'm really getting at is the need for my Mites and Bantams to be able to skate under pressure.
I mean, an enemy puckcarrier may make a number of shifty moves, so our checker is only going to be able deal with him if he can skate — or react — with him.
I see the same kind of match ups occurring with the puck…  In other words, with the latter roles reversed, my players need to be able to out maneuver enemy checkers to advance or protect the puck.
What I'm talking about, of course, is my players' need to win 1 against 1 battles, or to be able to compete under relatively intense pressure.  And, while I'll be considering a number of other drills to help my kids, the "Two-step" and "Snaking" drills (both shown in the Advanced Skating Drills video) will be among those I'll use regularly, as will be some games of tag and keepaway.
Lastly, this post is all about closing the gap on better teams.  In no way do I want to imply that I'll vary far from an overall plan I have in place for my kids.  The Bantams will still keep working to perfect their forecheck, covering rushes, defending in their zone, breaking out, cycling, and so much more.   I'll also continue to very slowly introduce my Mites to hockey's basic strategies and tactics.  However, greatly elevating each kids' individual skills is going to also ultimately help them better perform those X's and O's.
The title for this piece might be "Goal Setting in Hockey".  However, I (and likely Shaun Goodsell) would tell you that the principles contained in the following video would serve one well in any sport, in the classroom, at work, and even in our personal lives.  As a matter of fact, having heard Shaun's presentation several times already, I came to the realization that his ideas will help me in my coaching, in my business, and in my own personal relationships.
Now, I'd like to think that a huge benefit to this CoachChic.com site is that it contains numerous videos that you can watch over and over again.   Still, you might want to have some paper and a pen available as you watch this one, because some really good stuff is to follow.
– Dennis Chigisola

Goal Setting in Hockey
With The Mental Edge's Shaun Goodsell
Loading...
I think I've mentioned several other times how I like to listen to interesting podcasts or audio recordings as I drive to and from the rinks.  And, since Shaun's presentation lends itself to such, I actually captured the audio portion of that video so that I can listen to it numerous times henceforth.  Ya, if you think about it, there are a lot of good things to be reminded of in there.
I haven't forgotten you in that regard, though.  In fact, I've also made a copy for you, and I've placed it over in this month's *Gift section.  Just go there when you have a minute, and I'll give you directions on downloading the audio so that you can also listen to it on the go.
Oh, boy, do I have a story to tell.  But, let me do that after you've had a chance to see the video and hear this special song…
Loading...
Please DO share this page with anyone you think would enjoy the video (especially hockey moms and hockey dads?).
And please DO add your Comments below in the provided box.
If you'd like to immediately download the song, "Tommy's First Pair of Skates" (minus all the crazy sound effects), just CLICK HERE — in the event you'd like to play it lots of times yourself, or if you'd like to give it as a gift to someone special.

Okay, as long-time CoachChic.com members may have gathered, I'm breaking a little with tradition here — because *Gifts are normally reserved for you only.  In fact, if you don't mind, I'm going to keep this one available to the entire hockey world, mainly because I believe it deserves that kind of attention.
I'm hoping this makes sense to you, because my dream is to give this song a chance to become a hockey standard.
Of course, I couldn't ever do something like that alone.  So I'm hoping you'll help, and possibly share this page with anyone you know in our game.  (Come to think of it, you might have the chance to be a part of hockey history here, being one of the very first to hear John's song, and also being a part of spreading the word.  Actually, you can even go on record as one of the very first ever, just by leaving a Comment below.)

As always, thanks in advance for all your help!
– Dennis Chighisola

As for the Story Behind the Story…
Several years ago my youngest brother sent me a collection of songs he'd written, composed and sung for me to use as background music in some of my videos.  Those who have seen the video featuring me and Chomper (the NEHI mascot) have heard my brother on that soundtrack, and you probably also know that he's a real pro — using the stage name John Stevens, and entertaining regularly on cruise ships and around Orlando, Florida, at Universal Studios and sometimes at Disney World.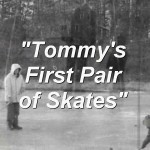 Anyway, the CD John sent me sat for a week or so before I had a chance to browse it for a video I was planning.  So, there I tinkered in my office studio, all alone at about 2 o'clock in the morning, as the third song started to play.
Gulp…  Almost immediately I got a lump in my throat and my eyes began to water.  Ya, it was — it is — THAT kind of song.
It didn't take long for me to know what I wanted to do with something so special.  However, it has taken me forever (like almost three years) to gather the right video footage and photos, and to envision exactly how things should go together.  And it's even taken me about the past month to work with all the assembled resources in hopes of releasing something hockey folks will truly enjoy.
As far as your enjoying it goes, well…  That's for you to decide, and perhaps tell me about.  I know several hockey moms have already written to let me know they cried hearing that song.   So, if you might use the box below, I'd love to hear you impressions, or even how my brother's story relates to your own.   Again, I'd really, really appreciate hearing from you.
I know lots of my friends here are tech-savvy.  At the same time, I can appreciate those who are not (personally, I'm good at some technical things, not so good at others).
Anyway, I'd hate to think that there's a single member who misses a new hockey post when it initially hits CoachChic.com (or one of its sister sites).
With that, let me make sure everyone is up to speed on a few conveniences that might not be all that noticeable…
– Dennis Chighisola
Never Miss Another Hockey Post — Again!
CoachChic.com


Right up at the top-right of this page are two orange buttons.  The left-most — and the one shown in the adjoining photo — when clicked upon, will make sure you're alerted every time I or a guest writer posts a new article or hockey video to this site.
Not shown in the photo is the right-most button, which when clicked will make sure you're alerted each time a new Comment is added here at CoachChic.com.  (This can especially help anyone who has Commented already and is patiently — or impatiently
— awaiting a follow-up.)
Coach Chic's Hockey Diary
If you look at the links located at the top of any CoachChic.com page, you should see one that goes to "Dennis' Blog".

My hockey diary is located at a different site, mainly because I address some issues there that are only slightly hockey related, or perhaps don't have a lot to do with the teaching/coaching process.  In many instances they're opinion pieces.  Still, members should find most entries interesting, if only food for thought.

Anyway, clicking on that link — to Dennis' Blog — will get you there.  Then, once you arrive at that site, you have similar options as I described earlier, except that that blog's format shows them in a slightly different way.  I've listed quite a few helpful links to the right of that blog, this to include writings by some truly great hockey people from across North America.  Partway down the page you'll see that header that says "Subscribe", and under that the links that will allow you to be notified about new Posts and new Comments.
Hockey Tips and Tricks
This can be yet another helpful site, my on-line store where lots of hard-to-find hockey aids can be explored.

Once again, the opportunity exists for you to be notified any time a change is made to that site — just press the orange button.  (You might especially want to know whenever a new product is added.)
The other two symbols are a little different…  The small "t" will bring you to my Twitter homepage, while the small "f" takes you to my Facebook page.  And, hey…  I'd like to get to know you in yet other ways, so please do connect with me!
All the CoachChic.com Category Links
If you've never taken the time to explore all the various areas within CoachChic.com, at least be aware that they can be accessed through those two rows of links that sit atop each page.

Finally, I thank my lucky stars that my techie partner long ago selected WordPress — for your sake and for mine.  Yes, Roland Lacey made it so easy for us to host videos, audio and writings, and it really should be easier for you to negotiate this site than in most other formats.
Still, that said, please let me know if anything here ever confuses you (or whatever).  Your experiences should be as easy and enjoyable as they are informative.
I've wanted for the longest time to help you all with this subject, but it took me quite a while to decide how I could best approach it.
What I'm talking about is my recommendation that teams have their own website.  Oh, I'm sure many of you are using generic sites like Eteamz.  However, I have a different suggestion.
Oh, and by the way…  While I control my teams' site as a head coach, I'm going to suggest here that members who aren't coaches might offer the following ideas to their favorite coach, and maybe even help with the process.

– Dennis Chighisola

Hockey Coaches: Build a Team Website
If you don't currently have a site, I'm going to point you towards a free service offered by Blogger (which is actually operated by Google).  You'll need a Google account — as will your team members, but this is also free.
Okay, just to give you a sense of how I've developed my team sites, let's take a look at the page I created for my three Boston Bandits Teams…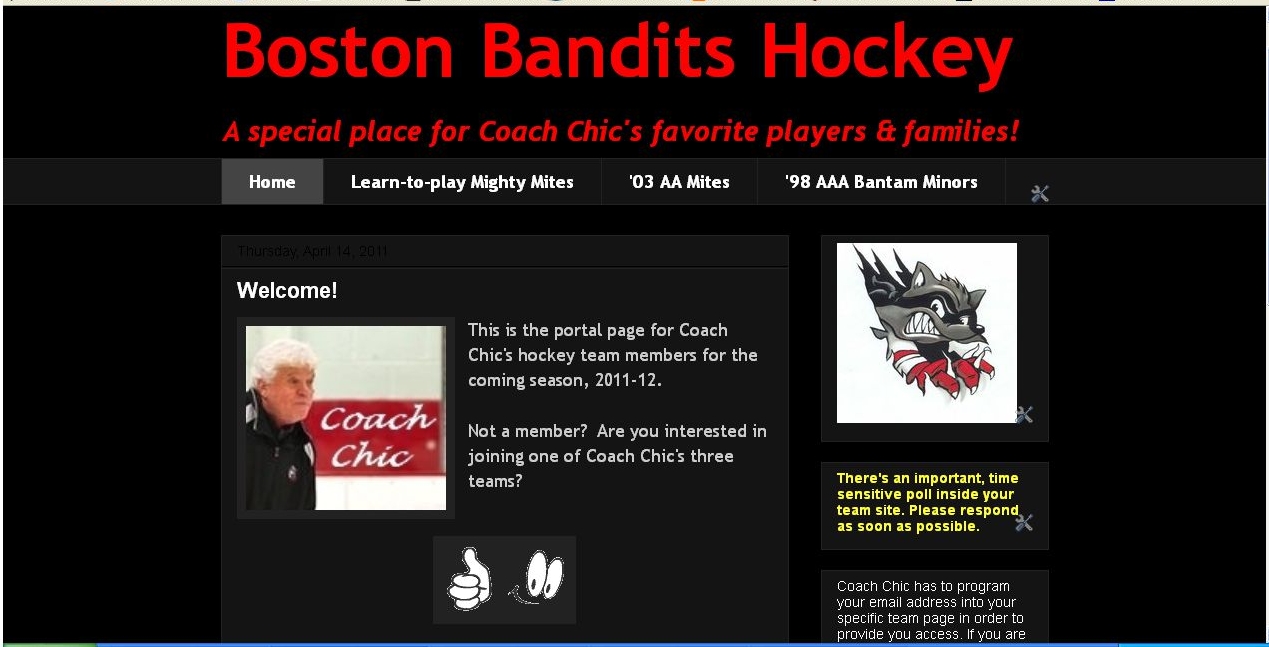 (You can click on the above image to go to that webpage.)
As fancy as all the above might appear (to someone who hasn't worked with a website before), it was really easy to create.  Many programs now use something called a WYWIWYG Web Builder.  Oh, it sounds pretty scary, but those letters actually stand for "what you see is what you get".  In other words, you don't need to know how to program and use html ('cause I'd be cooked if those were necessary).  In a way, once one goes behind the scenes, it's very much like working in a word processing document.  (Better yet, I'm going to include a link below to some awesome Blogger tutorial videos!)
Now, I'm going to be coaching three different teams for the 2011-12 season, so I've created one front page for all of my hockey families to first visit…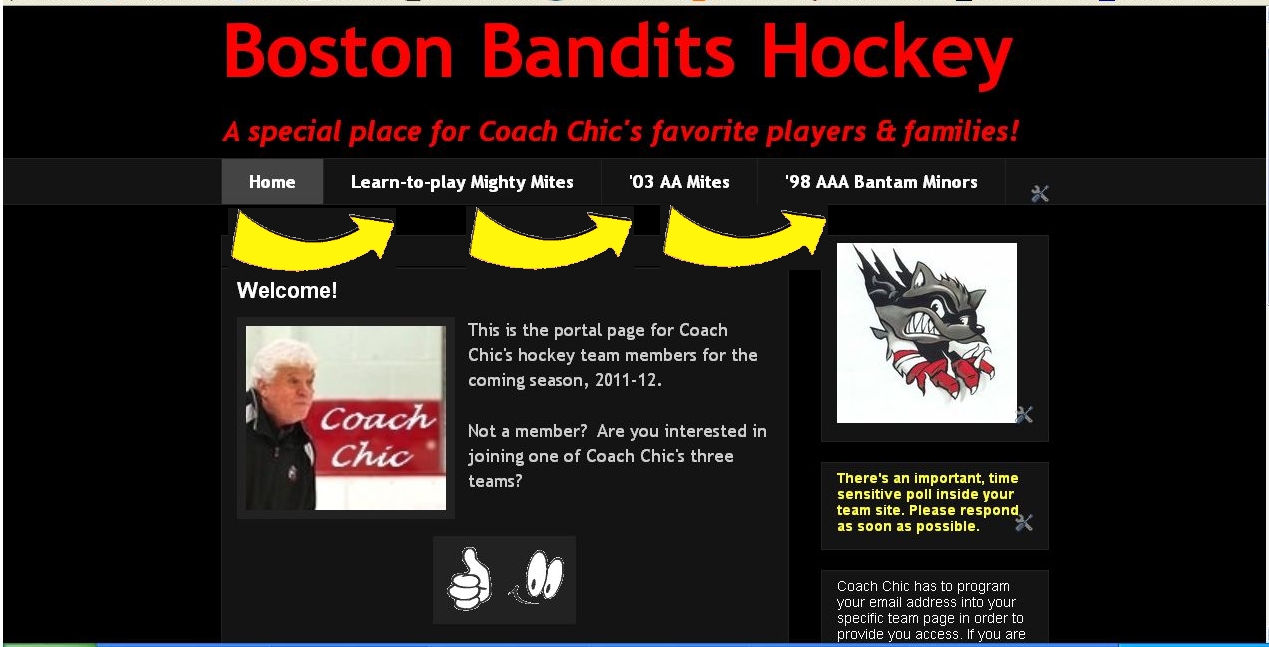 I've just pasted in those yellow arrows for your sake, so you can see where I've placed links to my three different teams.  My thinking here is that I'd like one main page, having everyone arrive there, in hopes they'll see any special — or time sensitive — announcements I might have for them.  Once they've scanned that Home page, they can click on the link to their own site, which contains very team-specific information.  (Although I do have a few announcements posted off to the right, I know they are rather hard for you to see.)
There is yet reason I wanted to begin with a main page…  You see, the pages containing special information are going to be hidden from the public (more on that later).  At the same time, I really do want other hockey people to stumble upon this site.  For your sake, I've used three yellow arrows again, this time to point towards some announcements I DO want outsiders to see (have a read and see what I mean)…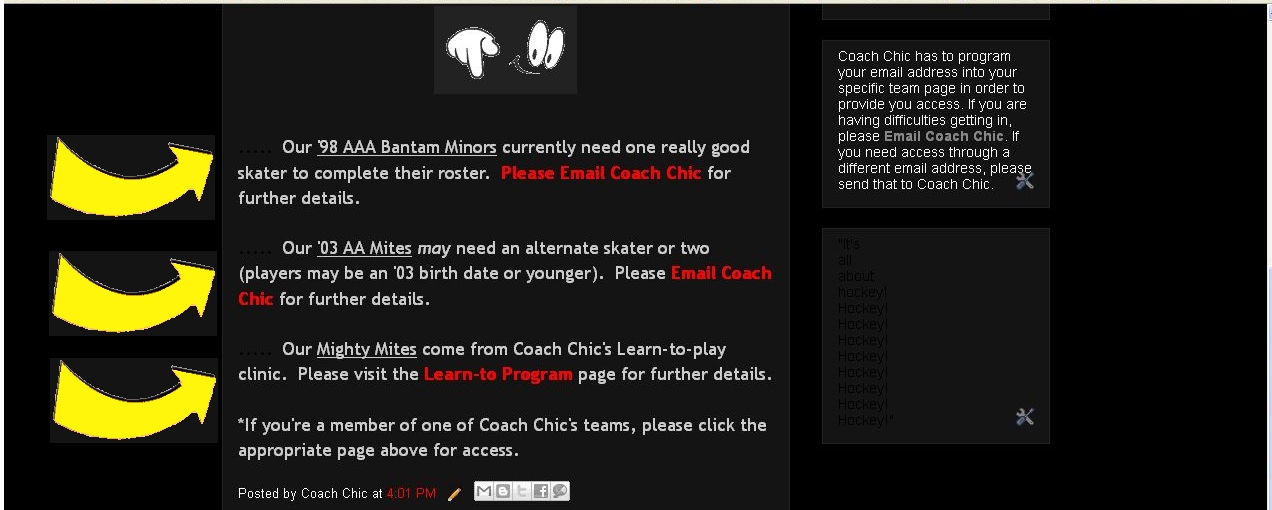 Okay, now about including and excluding visitors to certain pages…
For a time, let's isolate my new AA Mite team.  And, let's say that two different people click on the link to that special page.  A team member is going to get right through, while anyone I haven't programmed in will be told they don't have access.
The screenshot below shows what the inside of that Mite page looks like.  More specifically, though, I've pointed to the area where I can make "Settings", and I've then gone to the section that allows me to control "Permissions".  In that area, you should be able to see that I am the only "Blog Author" (although I could grant equal rights to a Team Manager or Team Mom if I chose to do so.)  The list below that (and purposely blurred) contains all the email addresses I want to allow into this blog/page.   That's how Blogger does it — I mean it grants access to the site according to a visitor's email address.  And, if extra addresses need access — like for home and work or moms and dads, it's easy enough to plug those in as well.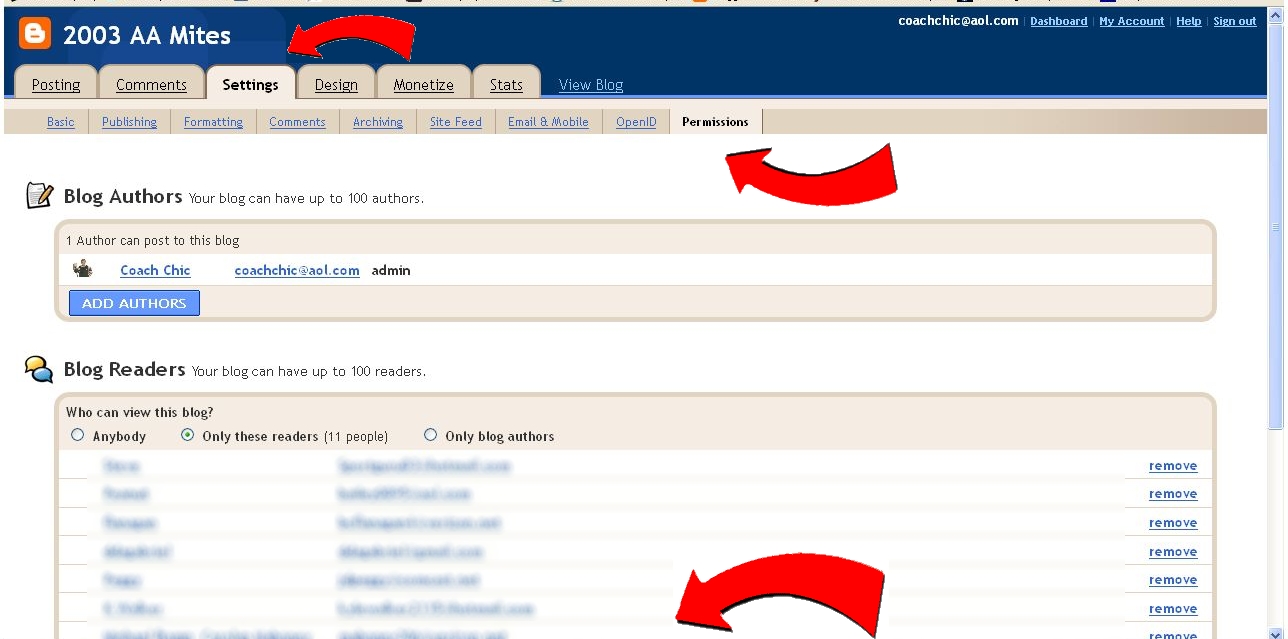 Okay, here's why I really like creating these kinds of sites with Blogger (besides the fact that they're free, they're easy to use, and they allow me to limit access)…
I know that players love videos.  Better yet, the audio and visuals can really help in their ability to understand information.  And, Blogger provides free and unlimited storage of the video files.
I'm kinda lucky, in that I have a lot of ready-made videos on hand to show many skills and some of the X's and O's I'll use with my teams.  You don't have that capability?  No problem!
Video sites like YouTube.com have thousands upon thousands of hockey videos containing both instruction and examples of plays.  (You might have to study it a bit, but one can copy the "embed code" from most such videos, and paste that right into your site.)
As a matter of fact, I'm going to put the following video on my AAA Bantam Minor site later tonight, because it provides a pretty nice background to the powerplay I'll later show them…
Loading...
As you can see, the video is a pretty good one for my purpose — in that it's a good way of getting my older kids thinking about the powerplay, and it also highlights the kinds of skills they're going to need to play on that unit.
Just to give you a little insight into what I've done so far…  My Mites and Bantams have both been given spring rope skipping and home puckhandling assignments.  Hey, it'll be nice if those skills are being developed right now, before we even come together as a team.  My goaltenders also have a page of their own, and they've been treated to some videos on juggling instruction.  (You've likely seen my goalies juggling in Todd Jacobson's charge, and my new netminders are going to also do many of the other specialized skills Todd's kids have demonstrated in that special section.)
Three final things…
Here is a link to the Blogger Tutorial Videos (I think they're pretty good).
Although there is a video on this subject in the above noted collection, I'm thinking that I'll one day do a post here that will show the exact steps and resources I use to create most of my videos.
As you may have sensed from all this, mine is not a run-of-the-mill team website.  No, it's not so much for organization as it is for teaching.  Actually, our organization runs a very professional site with rosters and schedules and all that stuff.  My "team sites", on the other hand, are sort of required reading or viewing, IF a player wants to be up to speed on all we'll be doing this coming season.
*
As always, I'd love your feedback on this post!
I sometimes ask myself if I really need to write something like this.  Then, moments later, I realize it's an absolute necessity.
Oh, my guess is that long-time CoachChic.com members already know what I'm about to say (although they may not mind a brief reminder).  On the other hand, I'm betting a lot of folks who just pass through here would be helped by knowing that success in our game really does need to start about now.
–  Dennis Chighisola
Winning Hockey Starts Right Now!
In a way, I don't blame anyone whose been through a long, grueling season for wanting a break.  I'm no different, and I haven't even been subjected to the bumps and bruises players have taken, or as many stresses as some coaches and parents have felt.  Ya, I think everyone needs a little time off.
On the subject of taking a break, however, let me remind members of the article I placed here long ago, about the old Soviet's design of "A Year-round Hockey Training Plan".  I've gone into quite a bit of depth in that earlier post, and you really should read it.  However, the part of the plan I'd like to highlight right now — for any player's sake — is what we all refer to as the "post-season" part of that 12-month cycle.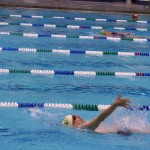 For, in reference to that time immediately following the regular season, a lecture I caught in Moscow years ago suggested players use that as a period of "active relaxation".  In other words, while some time is needed to heal the wounds — be they physical or mental, USSR coaches didn't want their players to go backwards in their development over those weeks or months.  So they had them engage in all sorts of fun yet challenging activities.  Better yet, players who undertake a well thought-out approach to active relaxation can often be on their way to huge physical (and even mental) gains.
As a brief aside…  Over the past few weeks, I've had several similarly themed conversations with the parents of my littlest hockey players — like the clinic kids who are 5- to 7-years old.  And, I've (as gently as I could) warned those parents about what I've seen happen to players who take extended time-off.  In almost every case, those kids arrived far behind their former classmates once the fall came, and they frequently lagged behind their friends for the entire next season.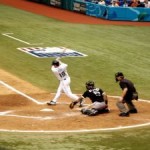 Now, I mentioned that last problem just to draw a distinction between those who take a short break and those who abandon their game for a 5 full months (count 'em:  April, May, June, July and August).  (It's my hope that the kids in my charge will get the best of two worlds, because I'm designing a sane off-season routine for them, but I'm still going to have them flying as they enter their next season.)
I'll not go into too much detail here — about what to do during those many spring and summer months.  Every player is different, and consequently he or she has different needs.
With that, the last statement — about players having different needs — leads me to something I really do want to discuss in greater length.  After all, the late winter and into early spring is the right time to reflect on the past season, and it's the right time to use what we've learned to set a new course.
I'm sure I and a host of guest specialists have provided members tons of help within the 400-plus posts found here.  So, a player or parent should be able to scan through the various category headings to find exactly what he or she needs.  And, if you don't find it, I want you to let me know.
Next, I'm going to slide my focus towards coaches.  And I have to return to the way I opened this discussion, worrying that a lot of my hockey brethren will put their coaching hats away until it's almost time to hit the ice again in the fall.  To this I say, "No!  No!  No!"  And I'll also restate the title of this piece, as in, "Winning Hockey Starts Right Now!"
Actually, I go into this topic in some depth in my new hockey coaching manual, "How to Assemble & Teach A Basic Hockey System".  In a nutshell, though, I describe the hockey coach as somewhat an architect.  And, with that, I'll suggest that he or she has to design very detailed plans that just can't be scribbled in a night or two.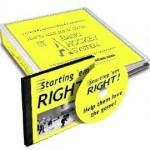 In fact, I'm using that manual as an outline right now…  Oh, some of that book talks far over the heads of my youngest team, while it doesn't include all the more sophisticated X's and O's I'll use with my older team.  Still, the outline I've used for that manual would probably provide some reminders of things I'd want to consider at nearly any level — beginners to pros.
Again, I'm already into that phase right now, especially as I look ahead for the sake of my older guys, a AAA Bantam Minor team, as well as individual players I'll oversee within my Hockey BootCamp.  (As I hinted at above, their planning is going to have to be far more elaborate than the way I'll aim to ready my little guys.  Not that the youngest ones won't need plenty for me to ready; it's just that the older guys will require a whole lot more.)
Lastly, let me emphasize the pace I'm hinting at here…  If players wait until close to the start of their season, I think you'll agree that they'll arrive totally unprepared (and out of shape).  Going slowly and steadily, though, is sure to have them ready by next fall.  From the coaching side of things, I'm not looking to panic in the end — like sometime in August, just so I can have something together.  Naw, I and my players are starting right now, so that we can be totally prepared when we need to be.
*
Just so members know, my work with local students and teams provides lots of unbelievable fodder for CoachChic.com entries.  In other words, members will get to follow me as I deal with the numerous things that arise over the coming year — be they my need to troubleshoot problems, our sometimes successes, and our sometimes failures.
I'll be working with junior high, high school and adult members in that Hockey BootCamp.  A lot different from my teams, I'll be looking at each player as an individual.  I'll try to let you in on the way I analyze their skating strides and skills, I'll let you know what I'm doing differently for unique body-types, and I'll also let you know how the various age-specific conditioning goes.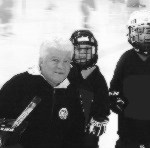 Next fall should mark about my kzillionth year of running a Learn-to-skate/Learn-to-play program.  That's where I do my "Mr Rogers" impression, and gradually bring those little rascals from "snow eaters" to "daredevils on the ice"!
One "Mighty Mite" team will be formed out of those Learn-to clinics.  So, those who will be coaching a similar team might benefit from the way I introduce little ones to their first games, their first experiences at dealing with hockey's rules, face-off positioning, even sitting on a team bench.
A notch up from that team is a Boston Bandits Mite AA team.  These little guys will be pretty good, but not quite as mature as the AAA Mite team I coached this past winter.
The oldest team I'll run next season will be a Boston Bandits AAA Bantam team composed of all first-year Bantams, or Bantam Minors.
I actually start with the latter two (Boston Bandits) teams next week, holding a get-together known as the team "Meet & Greet"  — where I'll go over team related rules and such with the parents, and then later skate with my players.
The biggest challenge of the two will be my older team, which evidently struggled pretty badly last season.  Not pinning the blame on anyone here, let me say that I've needed to at least slightly change the character of that team without having to cut every single returning player.  So, I suspect members should find it interesting to see how I try to turn that team around.
Anyway, I mention these things because CoachChic.com members should enjoy — and hopefully benefit from — the way I deal with so many situations over the coming year.
*
I just thought I'd add a timely update here…
Most of my next year's AA Mite team members are playing for me in a rink-run spring Mighty Mite league.
Part of the reason I'm loving this is because I now have the opportunity to assess the kids who are currently with me.  One assessment has to do with the positions I'll ultimately slide each player towards, while another involves me taking notes on their needs, both individually and as a group.
For sure, some of the readings I'm taking on these kids have to do with their skills.  So, already I've started planning some drills that are sure to help them reach a higher level.
What some members might not think about, however, is the importance of noting each kid's individual playing personality.  In other words, some will tend to be naturally conservative, while others are super-aggressive.  Oh, I have ways to bring some aggressiveness out of the ones who need it.  But, we coaches (and parents) shouldn't believe we're going to greatly change a kid's innate personality.
So, with the latter point in mind, I'll filter a lot of the kids towards specific playing positions based on whether I sense they'll want to sit back a bit, or maybe go hell bent for leather.  (If you think about that stuff, I'm sure you'll also start thinking about where it might be best to play given personality types.)

One thing I also have to decide pretty shortly is how much systems play I'll give this team.  In other words, can they handle the "L" forecheck I usually prescribe for young teams, or will I need to go to something else that's even easier for them to learn?  Actually, I've had some thoughts swirling around in my head lately, and I'll be sure to let members know more if I decide to go another way.
*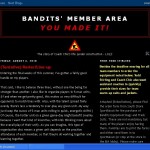 A few years ago, I was probably one of the few hockey coaches to communicate with his players and their parents via a website.  My guess now, however, is that lots of you are currently doing this.  I also know that a lot of you are using sites that have been prepared by other companies specializing in such offerings.
No matter, I'm going to soon provide members only a brief rundown on the way I create a site for one of my teams.
In anticipation of that, I'd really like you to take a look at Blogger (<= click there).  Blogger is actually a free website service provided by Google.  It costs nothing to create websites there, it costs nothing to create a Google Account, and then there are a number of other reasons I tend to use it — especially when it comes to my teams.
So, if you don't yet have a team site, and you'd like to create one, I think Blogger just might be right for you.
*
As always, I love it when you Comment on a post — with either your personal feelings or questions.
Much to my chagrin, most youth hockey organizations will soon be holding tryouts.  (My feelings about springtime hockey tryouts are well documented — within CoachChic.com and over on my blog, Coach Chic's Hockey Diary.  Ugh.)
Anyway, while I've previously mentioned many suggestions when it comes to prepping for tryouts, there's one I want to re-emphasize right here and now…
– Dennis Chighisola

An IMPORTANT Hockey Tryout Tip
Without question, I think the Number One thing each player has to know about a tryout is that all the coaches' (or raters') eyes are on him or her.  Sounds too obvious, does it?  Or, maybe the grown-ups or older players reading this believe every player already knows this?  Ha.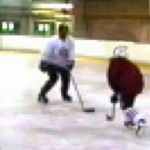 When it comes to very young hockey players, I'll suggest that most of them are thinking more about their nearby friends than they are about impressing anyone.  In fact, while their parents may have warned them minutes ago — in the car or in the lockerroom, I'd be willing to bet that the very young ones have forgotten the gist of that on-ice session before they've taken a twirl or two around the rink.  That said, I have always constantly reminded Mites and Squirts several times during any drill that I'm supervising to, "Make sure you show those guys (or whomever) up there how good you can do this!"  Again, those of us running the on-ice drills should see it as part of our responsibilities to encourage the youngest players to show themselves well.
Then, in the case of older hockey players…  What I've found is that many of those in the Pee Wee through high school ages are as concerned about their buddies as they are about impressing coaches.  In other words, they'll go easy as they tussle with a friend along the boards, and they'll even hold back at times in fear of being considered a show-off.  Oh, you don't believe this to be true?  Well, I know it to be, from both observing and talking to numerous kids in those age groups.  For sure, there are players who are going to take to the ice with the idea of impressing everyone in the building.  But, there are still just as many who will hold back a bit, and really never show all that they have.  Consequently, I think parents and tryout supervisors have to remind the players about this.  And, at the same time they have to let the older kids know that they shouldn't hold back against supposed "teammates"; naw, they aren't teammates at all until a coach adds their names to a roster.
My friends here at CoachChic.com might be interested to know that I had a plan concerning members going into this venture.
I'd set a certain number of early sign-ups that I would refer to as "Charter Members", and I'd reward them with a special, reduced membership fee.
Having reached that magic number a few weeks back, I then set January 31, 2011 as the closing date for Charter Memberships (yes, the monthly fee goes up as of February 1).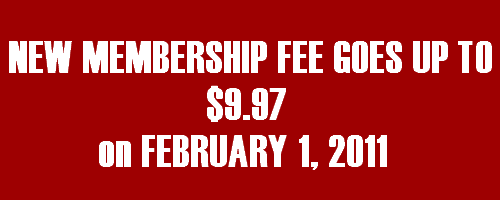 Those currently enrolled at CoachChic.com will remain at the lowest rate as long as they remain members.
Then, always looking to give back to the game I love — and to my favorite people on the planet, members should expect even more within the CoachChic.com website over coming months (and years).
Thanks so much for your support;
I love you folks!

– Dennis Chighisola
For those outside the United States (and for those who aren't familiar with at least the way tryouts work in Massachusetts and most other New England States)…
High school hockey tryouts could officially get underway here in MA on the first Monday after the US's Thanksgiving holiday.  In other words, that's when the interscholastic fall sports seasons should be completed, and when all winter sports are permitted to get underway.
It's nail-biting time for a lot of players (and their parents), and it's also a tense time for me.  I mean, I've spent the last 6-months trying to ready a group of local high school hockey players for their respective tryouts, and I'm sweating that everything turns out okay for each of my kids.
Of course, most of them (and their parents) followed my suggestions and our practice schedule to the letter, while a few probably did a little of what I recommended and a little of what made them feel good (oh, well).
So many other factors come into play here…  Not every school team is the same — in competition for slots, I mean.  And, for sure, each of my kids left with their own unique strengths and (hopefully diminished) shortcomings.  Then (as happened with one of my kids, who along with his entire family caught a flu bug last weekend), other crazy "stuff" can happen.

Anyway, all that said as an introduction, let me share some thoughts on life "After High School Hockey Tryouts".
– Dennis Chighisola

After High School Hockey Tryouts
As yet another preface to what I'd like to share…
Just prior to their leaving me, I took some time to give my guys a pretty valuable lecture on how they should undertake their tryouts.  And I'm talking about how they should prepare ahead of time — at home, upon arriving at the rink, and as they ready for the ice.  I also suggested how they should "show" themselves, and especially when it's most important to show-off.  Not done there, I offered advice on how to finish one workout in preparation for the next.  (Ya, just based on that one, many other players will return in pain on the second day of tryouts, while my guys should have been as fresh as daisies.)
I mentioned in the introduction about my kids all trying-out under totally different situations.  In other words, some will compete at schools where the talent is pretty deep, while some others are vying for spots where little more than a heartbeat is needed to make the varsity squad.  That said, most of my guys know their fate by now (this being 4-days after the initial tryout).  Or, do they?
The reason I say that is because:  1) it'll be a given that some of my guys make their varsity team, 2) it might be a given that a very young player of mine is assigned to a lower team, 3) a player could get cut from the entire program (but not one of mine should), and then 4) a few kids could find themselves assigned to a lower level (freshman or junior varsity) team on what most likely is a temporary basis.  And it's both points #2 and #4 I was referring to moments ago when I said, "Or, do they" (really know their fate).
It's also the latter point I really want to focus on in this CoachChic.com entry.  After all, the guys who "made it" should be okay.  So now it seems appropriate to help those who find themselves on the proverbial cusp.
I think it appropriate to first point-out how I see most hockey talent pools — and this seems to hold true at every level of our game — from Mites right through to the pros…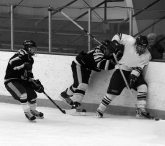 You see, all the players who report for a given tryout can usually be plotted on a "bell curve".
In other words, there will be a few stars at one end, a few obvious cuts at the other extreme, some close-to-stars, some close-to-cuts, and then a whole bunch of players in the middle.
When it comes to tryouts, I think this picture makes some placements pretty obvious (as far as "keepers" and "cuts" go), while it also draws attention to the fact that there are usually a ton of players in a so-called "gray area".
If I'm conducting a tryout, I know the above, and I focus my attention where it's most needed — on those players in the middle.
As for the kids who find themselves there — in the middle of the pack, they probably ought to know that they could likely be seen as potential third, fourth, fifth or sixth liners in a deep program.  And, depending on how many lines a given program carriers on the top team, a youngster could find himself (or herself) on a lower varsity line or a higher JV line.
And what I'm really getting at in that last paragraph is that — aside from the jubilation or disappointment experienced by an individual player, there might not be a whole lot of difference between his (or her) making one team or the other.
Again, I'm not suggesting a player has to like being assigned to a lower team.  But, at the same time, I am suggesting that a coach might just have to flip a coin when choosing between a bunch of third, fourth, fifth and sixth liners.
A couple of points in reference to a coach's decisions — or a coach's choices between a bunch of fairly similar players…
A lot of times the last few players on a roster are selected based on their abilities to fill certain roles.  In other words, given a lot of players to choose from, the coach might look for so-called "character players" (or certain personalities), for more physical players, for penalty-killing types, and so on.  And, in case you haven't ever noticed, a lot of pro coaches select their fourth liners for these very reasons.
Of course, no player should want his or her fate to be decided on something akin to a coin toss.  And it troubles me something awful that players — or usually their parents — don't take measures long in advance to fix that.  I mean, they go with the crowd all through youth hockey and during their immediate preparations for those tryouts, and then they can't understand why they're ultimately seen as just one of the crowd once the tryouts begin.  Geeeeeeeeze…
Okay, now for some specifics — as in two of my players currently being assigned to their program's junior varsity teams.  One is an upperclassman who took ill a few days before the tryouts (ugh, I can just imagine how difficult it was for him to cough and wheeze as he tried to show his best), while the other player is a very young one with tons of promise.  So, let me deal with each of these sample cases separately…

For the upperclassman who attempted tryouts with the flu, I'm going to guess that the varsity coach actually liked him, he knows the boy wasn't able to show his best, so he assigned him to the JVs to earn his way back to varsity.  Why do I guess this?  It's because coaches of strong programs don't usually keep older players if they're not seen as ultimately helping the big team.  In other words, expendable older players are cut, so that younger players can get the extra ice-time and attention.  This in mind, I've advised my guy to get well soon, and to then start blowing away the junior varsity level.  He's a good kid, he'll do anything a coach asks of him, he's pretty skilled, he can finish-off around the net, and I believe he's at least third line material for the strong program he's in.
As for my younger student, he is absolutely loaded with talent, he's huge for a freshman (or for any age), yet he handles his body (and his feet and his hands) with all the grace of a smaller guy.  Ya, I think this youngster is going to be something special within a few years.  And, I sense his varsity coach knows this, too.  In fact, I am guessing that the boy's coach is actually protecting his prized freshman for the time being, looking to slowly ease him onto the varsity roster.  If there's something funny — or kinda good — about all this, it's that my young buddy is ticked that he didn't make the varsity immediately. 
  Oh, I know he'll keep a good attitude as he starts with his program's JVs, and his parents are sure to keep him grounded.  But, as I mentioned to the boy's mom yesterday, I'd prefer to see him bothered by the seeming slight, rather than not caring.  (Actually, if there's one thing that might have been lacking in that boy, perhaps it's a bit of nastiness.  So, the fact that he's in a bad mood right now might be just what the doctor ordered!)
Okay, so here's my wrap-up on this topic, or some points I'd like CoachChic.com members to take away from all this…
1) I only had the older of the two described boys for this past season — from June until late-November.  And, while he DID make major changes in his game over that span, I can only imagine how good he'd be if he was able to take a more serious approach a few years earlier.  The freshman I described is really right on-track, and his assignment to a JV team — at least for now — is totally expected.  I've had him for about 3-years, and there isn't a skill, athletic quality or thinking part of his game that isn't superior to most kids his age.
2) I hope parents of younger players make note of the above paragraph, along with something I said earlier.  For, it doesn't make sense to start prepping for important tryouts at the very last minute (or even in just the year prior).  And, as I've already stated, going with the crowd is NOT going to separate a player from the rest; naw, it's going to leave him or her smack-dab in a sea of players, and purely trusting his or her fate to luck or whatever.
3) As much as a junior varsity assignment may seem like a real bummer to some players, I think a player's ultimate outlook is going to depend on how he or she perceives their future chances.  In other words, it's how he or she sees their (physical and mental) abilities in comparison to those around them.  So, there are going to be a number of kids who know they're lucky just to be kept on any team.  At the same time, there will be those — including my two young guys — who know they're varsity caliber, and that it's only a matter of time before they get the call-up.
You wouldn't believe how many people arrive here at CoachChic.com having searched Google and elsewhere for help on how to hold a hockey stick!  So, besides having provided some serious answers to this question already, I thought I'd also host a poll on how experienced hockey players HOLD and CONTROL their sticks.
What I've done is made it a two-part question, asking where they (YOU) place the dominant hand, and then which hand — dominant or non-dominant — is used to actually control the stick's actions.
So, if you'll just look up above for the page link — or click here…  POLL, it only takes a second or two to register your vote.
And, won't it be interesting to follow the results?  (I'll say!)
– Dennis Chighisola
Oh, by the way…  Anyone can vote (either as members or non-members).
I hope hockey parents and coaches of younger players take advantage of this month's free gift (it's under *Gifts up above).  For, my Model Rink and movable Men have proven awesome for teaching newer hockey players things like face-off positions, off-side and icing rules, as well as basic game playing strategies.  So, if you're a CoachChic.com member (yes, only members receive these), go grab your downloadable gifts before they're gone.
*
A lot like in the game of Monopoly ("Bank error in your favor" — LOL), some technical glitches on my side of things have prevented me from changing the offer.  Oh, it has to get done, with the price increasing.  But, until I solve those tech problems, you have the benefit of still ordering my "Incredible Stickhandling" video for the no-brainer price of $9.00 (and you can still receive the bonus video entitled "The Best Stick Drill EVER!").   By the way, I think you might get a kick out of the promotional video I've made about this…
Only 100 units will be sold under the stated special conditions!
While I'm extremely pleased by all the hockey folks who have joined our mailing lists to this point, I know some are going to be disappointed shortly that they haven't done so yet.
The reason for my latter statement?  It's because I'm also very excited to announce at this time that I am soon going to begin offering on-line webinars.  And, for those who don't totally understand what a webinar is, it's basically an on-line classroom presentation.  These are popular in the business community.  However, they are also the future when it comes to education.
Of course, because I might be pioneering the use of webinars for the sharing of hockey information, I'll likely veer considerably from what others (or business types) have done.  Ya, I'm talking more like a hockey classroom, or an on-line coaching seminar.  And, this means I'll be combining video samples and chalktalk demonstrations in order to ensure my hockey friends totally understand the given topic.
Okay, so what's the problem with your not being on one of my mailing lists?
1)  As it appears right now that a given free version of each webinar will only be aired on a single date.  So, if you don't get the word, you're apt to miss something that might have helped you — maybe even a lot.
2) In advance of a given broadcast, I am going to solicit questions.  So, if you want ensure that I cover a given area, I'll need to have your question in by a certain date.  (Chasing down the appropriate video samples, for example, could take me a considerable length of time.)
3) The two points above suggest that the best way for me to get the word to you — about webinar dates and times, and about your question deadlines, is for me to email you.  And (according to the new anti-spam laws), I can't do that unless I have your permission!
***Join one of my email lists NOW (using one of the links below)!
All that said, I think you're going to want to get on one of the following email lists pretty soon.  (Again, many of you HAVE already joined a list, so you won't need to join again.  If you're already receiving the "You Don't Need Ice!" video series, you know you're already enrolled.)  Here's my suggestion for joining the appropriate list:
Those who live in the Eastern Massachusetts and Rhode Island areas should click the following and SIGN-UP HERE;
Those who live OUSTSIDE the Eastern Massachusetts and Rhode Island areas should click the following and SIGN-UP HERE;
Lastly, after you have completed the 21 day challenge you will be on your way to a better quality of life, because you will have a framework for change that is simple, and giving you significant power to attack other areas of your life.
We truly hope you'll join us in this unique challenge.  Live simply, live powerfully!
*
Shaun and Dawn
Mental Edge
Mental Edge, 12922 196th Lane NW, Elk River, MN 55330, USA
Just a reminder to my favorite hockey people, in that two time-sensitive gifts will only be up and available for a short time…
1) April's free *Gift — the downloadable video aimed at helping young attackers deal with "Breakaways & Shootouts" — was purposely left available a little longer because it appeared rather late.  However, I'll shortly be replacing that with yet another gift.  If you haven't seen it yet, I promise the visualization, reading, reacting and problem-solving techniques used in that video absolutely work.  And so does our aim to encourage young puckhandlers to keep their eyes up as they move on the attack.  So, even if you might not use it immediately, I highly recommend that you save that video to disk, just so you have it when the time IS right.
2) If you haven't yet caught the announcement, I've offered a free 7-part video series* about off-season off-ice training to members and non-members alike.  (To explain that, I really want YOU to have that information, because it provides some helpful background to other advice I offer here on the site; at the same time, that series gives me a chance to introduce myself and CoachChic.com to a lot of new folks who might just pass by.)  Trust me, that the information offered in that series is proven, and it's guaranteed to work.  And, as with all the information I offer here in these pages, it makes for some worthwhile food for thought, even if you're not going to apply all of it.  (Actually, I don't want viewers to apply all of it; instead, I highly recommend that players, coaches and parents select just a handful of ideas that seem appropriate to their needs, and then run with those.)
*Oh, then something very related to the latter…  If I had the opportunity to do one thing over again, I'd have gained a lot more information about each individual member — from Day One.  For sure, I've come to know some of you due to your frequent Comments (thanks for that!).  At the same time, I know I could better focus my new content or advice differently — or better — if I knew your special interests, your role in hockey, what level you mainly deal with, etc.  So, if you'd be so kind as to complete this, I've finally created a SIGN-IN FORM that should answer all of those questions for me.
– Dennis Chighisola
FINALLY! THAT VERY SPECIAL ANNOUNCEMENT IS READY AT THE END OF THIS POST!
– Dennis Chighisola
Spring Has Sprung for Hockey Players!
Ya, spring has sprung – meaning that the regular hockey season is over for most North American amateurs, playoffs are done, and most kids have even completed their tryouts for next year's teams.  This also, it seems to me, sparks another rather unusual occurrence.
You see, every year since I've been working on-line, I've noticed that hockey related cyber traffic dies-off a little (or even more than a little).  Oh, I can't argue with those who feel they need a break after a long, grueling winter season.  At the same time, I have a slightly different take on this.
Actually, my suspicion is that only the "fringe hockey people" drop by the wayside when their hockey season ends.  Sure, the really-into-it ones also alter their activities this time of year, but self-improvement is still always present, if only in the backs of their minds.
Okay, so here are two short videos I did some time ago.  Please take a look…
Loading...
Loading...
If you noticed, I placed a lot of emphasis on skill development, whether it be for younger players or more established ones.  For, considering that there are more than four months from now until next Labor Day (when most teams come together again), that represents enough time for serious players to make HUGE changes in their game.  And, I'll suggest, the younger a player is, the more he or she can change.
In the case of young players – maybe beginners through Squirts/Atoms, I would emphasize improved skating, puckhandling and shooting skills.  I say this, because any improvement in those skills is going to jump a player beyond a lot of teammates and opponents.
I wouldn't discount individual hockey skill training for older players.  However, since the (fine motor skills) die is pretty much cast for players beyond puberty, I always recommend that they devote more time to being able to do things faster, harder and longer.  In other words, they might work on speed development, undertake a strength program, and definitely work on their conditioning.
Okay, as for that special announcement…  I said awhile ago (in the "Coming" section), that I'd found a ton of great stuff that had been packed away during the office move I had to make last spring.  And, did I ever find some treasures buried deep in a few boxes.
Some of what I found will be introduced to members over coming weeks and months.  But, one special series of videos is going to go out via emails — to members and non-members alike.  (In the case of those non-members, my hope is that those who pass by here might discover how different CoachChic.com is from most other hockey sites.)

Finally, just to give you a hint of what to expect, those videos will take hockey players, parents and coaches from a glimpse at my long ago studies in the Soviet Union to a number of suggestions you'll want to consider for your off-season training.  Enough said for now, though.  Just take the link below and you'll be on your way to receiving them.
*

As for that special announcement…  It's a 7-part video series entitled "You Don't Need Ice!", and it's all about the things dedicated players, coaches and parents might do to pass everyone else during the coming months.  And, my suggestion:  the sooner you receive and implement this valuable information, the more drastic those positive changes can be.
Now, I apologize to members that my sign-up form takes about 5-seconds to complete.  But, as you should know by now, there's ALWAYS a method to The Old Coach's madness! 
Please CLICK HERE to begin receiving your (every other day) installments of "You Don't Need ice!"
*
As always, I love your Comments (and they truly help me)!
I owe the following to two great CoachChic.com members, and two guys I really appreciate for being so active here.




You see, both Craig and Mike have very talented little 4-year old boys who I suspect will be extremely good players down the road.
(I hope other members take notice of the above, because I would love to focus some of my articles and videos towards YOUR specific needs!)

The other reason — and it's important to my story — is that they live about 3000-miles apart.  (Yes, this will be significant as I get into the meat of my message.)




Okay, hoping that I've caused you to scratch your head a little about what I've said to this point, let me now get into a very serious discussion…




– Dennis Chighisola
PS:  Although I've just mentioned young players as my inspiration, the following is really intended for very competitive players.
Who is Your REAL Hockey Competition?
At least once per season, I sit down with my Team NEHI players to discuss something of supreme importance.  Oh, they might not all believe me when I paint my little picture.  But, I can guarantee them that's it's going to prove true.
I might also mention here — to my faithful CoachChic.com members — that my kids tend to be with me because they're serious about the game (and their parents are also willing to give them a chance to SANELY follow a dream).
What I try to convey to them is that they don't really know their future competition, or the guys (or gals) they'll ultimately compete with for a spot on a high level team.
This can be so — even at the high school level — if my kids are going to a private, Catholic or prep school.  But it's even more so if they someday hope to claim a spot on a junior team or in college.  (And, while my aim isn't to put anyone into the pros — that kind of thing tends to take care of itself, what I'm about to explain is surely going to be true about each year's NHL draft.)
I can recall one of my talks during our weekly discussion session a few years  ago…  I drew the attention of my top players at that time, suggesting that there was another 16-year old kid in Moscow — at that very moment — who was also dreaming of the spot they hoped for.  And I went on to describe what that Russian boy might be doing right then — maybe pumping iron, maybe running steep hills, maybe shooting 100 pucks.
I went on further to suggest that everyone wants things to different degrees.
Stories about under-privileged boxing prospects certainly abound, and it should make sense that some of them have/had every reason to give every ounce of their being to succeed.

Actually, there's a famous story about hockey's Sutter Family…  Evidently, when they were young, an early exit from their respective playoffs meant the boys had to report home early to toil on the family's farm.  That kind of work wasn't fun, I guess, so each of them busted their buns to live just one more day at a hockey rink.
I'm sure you get my point, in that there can be some huge motivational forces working for some athletes, while a lot of kids can take or leave their dreams.  (I'm not suggesting here that dreams aren't important to all kids; what I am suggesting is that there's a huge difference between losing and still having a great life, or losing to live in poverty, whatever.)
What I always try to convey to my Team NEHI guys is the size of the hockey talent pool nowadays.  In other words, where most higher level positions in our game were taken by Canadians and Americans a generation ago, hockey is now being played to a high level in countless nations.
Just to make the latter point, you might find it interesting that Anthony Chic was sitting-in on some of those bull sessions a few years back.  And, as he grew in the game, my words came true at every step up the ladder…

By the time he reached a local Catholic high school, that school's hockey roster was dotted with kids from about 20 different towns.  And, while he probably knew a few of those players, I'd be willing to bet that he'd never before seen most of them.

Of course, when he went to prep school, the talent pool widened all the more, with candidates coming from all over New England (and, as I recall, even one Scandinavian country).

Now, at this writing, Tony C is at a small, Division II college.  Yet, my earlier advice still rings true…  There, players from all over the US and Canada are vying for positions each year, and there's even a forward on the squad from Japan.  (Ya, just think about it…  While I was giving that talk to a young Anthony and his teammates years ago, there was a boy in the Far East — at that very moment — working to claim the same slot Anthony was hoping for.)

Finally — about Tony C…  He is probably going to want to try his hand at a little pro hockey after graduation.  I don't think he's ever put that ahead of his true aims, one being to work in a pro front office someday.  But, if and when he does enter a professional tryout camp, you can be sure his competition won't come from just down the street (like in Whitman, Ma).  Naw…
Okay, so let's return to those two 4-year olds…  Thankfully, I can tell that both dads have their heads on straight, in keeping with my preferred "sane" approach to climbing the hockey ladder.  (In other words, I truly believe one can "have a life" while also working toward some future dream.)
I also want to point-out that we've had some fun exchanges here at CoachChic.com, with Craig and Mike and I going back and forth with various training ideas.  So, in that regard, they — or their boys — aren't really in competition with each other — YET.  Yup, I'm going to suggest right now that it's conceivable young Sam and Chris could actually meet someday down the road.  (From what I've said, do you doubt it's possible?)
I guess what I'm really trying to suggest here is that a dreaming young player not be toooooo satisfied that he or she is the best on a local team, or one of the best in a local league.  Again, his or her real competition is likely hidden away somewhere, and not to be seen until years down the road, when it's time to fight for a most desirable roster slot.
Finally, here's a suggestion on how I'd use the above information…
Just knowing this should be helpful to Craig and Mike as dads of very young ones.  Again, just salt it away, guys, and keep it in the backs of your minds.  A little bit at a time, though — and as players (or parents see their youngsters) climb the hockey ladder, I think it's a very good idea to think more and more about what I've said.  Hey, I've seen it come true countless times, and our shrinking hockey world seems likely to make it more and more probable.
*
As I said in the beginning, I really enjoy your feedback, input and questions.
So, please DO join-in here!
I sometimes wonder if my friends at CoachChic.com appreciate the unique topics discussed here.  Oh, I don't mean to sound like I'm patting myself (or our other awesome writers) on the back when I say that.  However, there are some — perhaps not so hockey specific — subjects that I never see mentioned elsewhere, despite the fact that they can impact hugely on a hockey player's skill development, safety, and more.  Anyway, I think the following topic is an important one.  But, I'll let you be the ultimate judge of that.




– Dennis Chighisola
The Effects of Growth Spurts on Hockey Players
Right now, a number of my Team NEHI junior high school kids are in a funk.  In other words, while they're pretty nice players, little things are going wrong in their execution.  (Well, sometimes there are more than just little things going wrong, but…)
Ironically — and despite my having seen this happen for going on 40-years, it always seems to take a few weeks for me to notice.  Thereafter, it might take me even a little while longer to recognize the real problem.
The reason I mention my junior high team kids is because they're in the rough age group where growth spurts so often take place.  I mean, growth is obviously happening with my littlest students, and also with my high school guys.  But, that group of kids from about 12- to 14-years old is really something else.  And, of course, some of the kids in this age bracket are also experiencing the effects of puberty, which further magnifies what I'm about to discuss.
Now, let me offer a personal story here (and maybe give you another opportunity to laugh at this old coach).  For, probably a good 25-years ago, I was sitting in the stands at one of my son's pre-season hockey games, and I'm watching a previously highly skilled boy fall all over himself.  I mean, he'd made one of the top high school teams in the country — as a freshman, mainly because he had wheels, he could do tricks with the puck, and he could shoot absolute bullets.  Yet, just prior to his sophomore season, he was now skating like he'd never had a lesson in his life, and he couldn't handle a puck beyond a couple of dribbles!  Man, I mean to tell you that he was awful.  (You should have heard me whisper to my wife that night, like, "I teach dawgoned skills for a living, and my son can't even skate!")




Thank God, in that the effects of his latest growth spurt didn't last into the regular high school season.  Phew!




Okay, so was it just a short bout he had with this thing?  I'm guessing not.  More likely the effects of that spurt began way back in the spring months, but they just weren't as obvious during our off-season clinics and hockey camps.
So again, quite a few on my current team are in a funk, some of them looking an awful lot like my son did at the height of his struggles.  Yet, a few of the kids are just a smidgeon off in their body control.  And, my fairly educated guess is that there are a number of reasons why those in my small group are currently facing slightly differing challenges:
I'm sure that every individual does experience growth spurts in different ways, and to different degrees;
I'm sure that all of the kids are at different points in their current growth spurts;
I'm sure that they'll all struggle through these for differing lengths of time.
I think those three points (and there are probably more) contribute to why it takes me a length of time to recognize what's happening with any given player.  After all, it shouldn't be surprising if he or she has a bad game (or two or three).  Hey, even most pros aren't all that consistent, so pre-teens should be expected to go a little up and down in their play.  However, what catches my attention is when a player is drastically off his or her game for a stretch, or when that rough stretch starts to go on for a considerable length of time.
Okay, so what do we do during such times?
First, I have to remember that I was in my team parents' shoes some 25-years ago.  So, I've most recently talked to the ones with players who are struggling a great deal.  I don't want them to overly worry about what they're seeing, and I especially don't want them to be overly hard on their kids if those kids aren't exactly performing up to snuff.
In the case of the older players who are now suffering through tough times, I've actually had short talks with them, and I've tried to ease their minds a bit, and even suggest that they'll be far better players than they were before, as soon as they get used to their new bodies.  (And that's what the difficulty is, you know, in that such kids are climbing — or falling — out of bed every morning with a totally new body!)
Because so many on my current roster are in the same boat, I've been gradually switching back to a lot of coordination type drills.  (That's the only thing I've sensed that helps at such times.)  So, footwork, puck control, passing and timing their shots have been high on my drills list.  And, we've been doing a lot of tumbling and ball-playing activities lately in our off-ice sessions, while I'm going to start getting everyone back to twirling their jumpropes soon, as well.
By the way…  Have you noticed that most of the exercises I've prescribed would be good for all of my kids, and not just those who are struggling through growth spurts?  That's the way I feel about most of my troubleshooting efforts, in that putting a couple of drills or exercises into a given practice or routine for a few doesn't hurt the other kids at all; in fact, I'll suggest that approach helps everyone.  (Actually, while some might not yet be into a growth spurt — quite yet, what's the likelihood they will be very shortly?  I'd say, pretty darn good.)
Now, there's another concern I want to raise about kids who are experiencing growth spurts, and it just might be as important as all I've said to this point.  For, with some players seemingly sprouting inches overnight, there's the distinct probability that they're quickly outgrowing various pieces of hockey equipment.  Worst of all, parents may be too close to the situation, and tending not to notice such things.  Also, I think parents get into a rhythm about gear purchases, expecting to make most of the larger ones in the spring or summer.  During their son's or daughter's earliest years, there probably wasn't the need to replace pants, shin guards or gloves mid-season.  However, those are the items I most often notice being too small on kids who have suddenly grown.
Then, a third point…  If you've followed things here for very long, you probably recall my concerns when it comes to the effects gear has on skill development.  Tight or restricting equipment can cause a player to perform skills differently, most often in the wrong way.  And, all he or she has to do is practice the movement wrongly enough times, and that becomes the way he or she is going to do it until the muscles are retrained in the right way.
Finally, while I've spent a lot of time on the way sudden growth spurts can impact on player performance, and I've also brought to light some safety and developmental issues, I think there's one more thing that's pretty important to consider.  After all, I've noticed that even very good players can get down on themselves during times when their skills suddenly fail them.  That should be as understandable as anything else I've said to this point.  Sure, little setbacks here and there are part of the learning process — and I'll suggest they're one of the huge benefits to our growing-up in sports.  At the same time, you and I don't ever want any sort of setback to really devastate a youngster.  So, that in mind, I think we coaches and parents have to first recognize when a growth spurt might be affecting a player.  Thereafter, I believe a combination of 1) explaining things to them and 2) giving them some worthwhile exercises will make all the difference in the world.
Okay, so I'm going to end as I began, wondering if you'd ever find this kind of information anywhere else.  (In a way, I guess it's an inner drive in me — to be as thorough as possible — that gets me so much into a topic like this one.)  But, of course, I'll have to leave the value of all that up to you.
*
Okay, so tell me what you think (by adding a Comment below)!
Having noticed a number of my Mighty Mite players losing their footing this past Saturday in their game, it struck me that a lot of folks — from any hockey playing age group — might not realize the following.  So, I'm recycling a post I made last winter around this time.  Enjoy, and please be aware of this…




– Dennis Chighisola

While I sometimes call undisciplined hockey "pond hockey", taking a twirl outdoors on the bogs, lakes or rivers can be awesome for a player's skating and conditioning.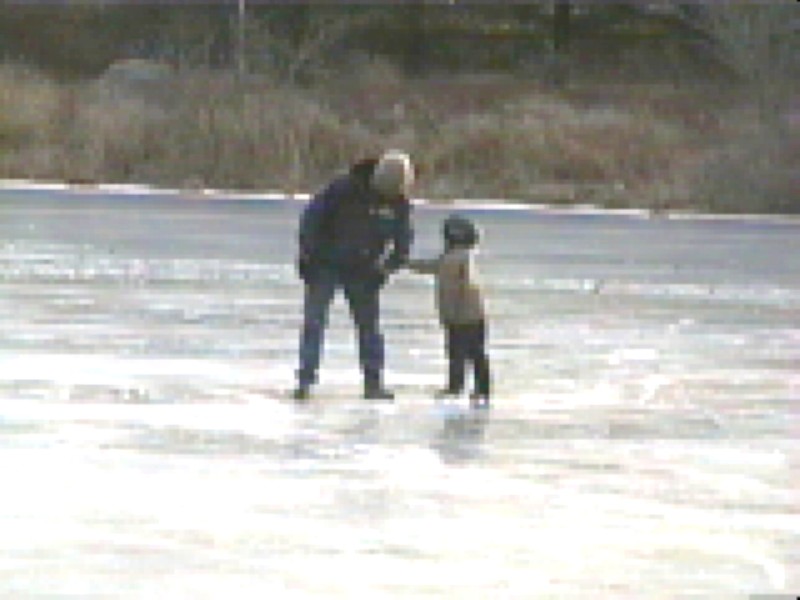 If there's one thing I have to warn outdoor skaters about, it's the abuse the skate blades take on that kind of ice.  You see, tiny, wind blown dust particles usually coat the ice.  And, it's extra hard, having been frozen at extremely low temperatures.
So, after having skated on a pond or river for even a brief time, I highly advise players to have their skates resharpened before heading back to indoor ice.  Better yet, it's a great idea to use a second (perhaps used) pair of skates just for playing outdoors.
What this entry is partially about is the potential for using such a great resource as YouTube. Ya, we have to be thankful to the NHL and sites like YouTube.com for the opportunity to study some of the world's greatest players.
Now, as for Sturm and company… I happened to pick-up on something as "the goal" was being scored. However, I'd like you to review this brief video clip before I comment further…
Actually, I didn't realize that the broadcast's color commentator made mention of what I'd noticed. But, that's good, in that Patrice Bergeron deserved a great deal of the credit for that goal being scored.
What happened is that Bergeron looked away from his intended passing target, which made most of the Philadelphia players at least briefly focus their attentions elsewhere. And, that's all he and Sturm needed to combine for a nice goal.
That "look away" technique is something that can be (and should be) practiced, you know. And I'll quite often teach that skill to my older guys. The way I'll run the drill is to have pairs or groups of threes skate down the ice together, with each puckhandler glancing quickly elsewhere before he makes a pass.
Did an earlier coach teach Bergeron that technique? I have no way of knowing. However, I think we can be pretty sure that it's a skill he made part of his game through plenty of practice over the years. And that's part of what I'm suggesting here — in that teams or individuals can now add this technique to their bag of tricks. All that's needed is enough practice so that a play such as that ultimately becomes second nature (or instinctive).
Then, looking at the bigger picture here, I want to suggest that we coaches, parents and players can take almost any short highlight clip and study it. I mean, watch closely for the "little things" the elite players do.
*
You know how much I appreciate your feedback. So, please do add your Comments here!
By Dennis Chighisola
Last week I lightened the training for my NEHI High School Prep guys.  Hey, they were in good enough shape (actually, better than good enough), so I just wanted to keep them working some without risking a last minute injury or sending them off to their respective school team tryouts being either physically or mentally drained.
We did plenty of puck work and shooting at our last on-ice skills session, and our last mid-week X's and O's practice has traditionally been a fun oriented intra-squad thing I call our Red vs White Game (involving both high school and junior high members).
So, what should we do with our very last get together — the weekly off-ice training session?  Well, over recent years it's become another tradition that we play all sorts of crazy games, many of these while the kids wear their in-line hockey skates and other gear.  Oh, by the way, the key word in that last sentence is "crazy". 
Ya, I want everything to be a little off-the-wall.  It just makes sense — to get the guys laughing and feeling loose, while at the same time giving them an opportunity to work-up a good sweat.
Anyway, using the tools at our disposal (like a roller hockey rink complete with hockey nets and even four basketball nets), I organize games of soccer, basketball, and European handball.  Of course, that's nothing; the real reason the kids laugh so much is that we often have a couple or three games going on at once.  Yup, I might have a b-ball game taking place across the rink, with the handball or soccer game (or both) going on lengthwise while using the hockey nets.  And, if I think the kids need to be shaken-up a bit more, I might tell them that they can play in either game once we get underway.  In other words, a player might be defending in the soccer game, and suddenly take-off with the basketball that just bounced his way.
In effect, there are few rules, no rules, or whatever rules might pop into my (sometimes pretty sick) mind.
With that, click on the photo to see a brief video showing my older and younger teams mixed in a warm-up game of basketball on in-lines.  (Things would get a little crazier after this footage was shot.)
First, I must say, thank God my guys are hockey players, 'cause they sure are terrible b-ballers!
Secondly, though, while I know my friends here come from all ages and levels, and that you're not all headed towards high school tryouts, I'm really telling you about this for a very different reason.
You see, things can get pretty stale over the course of a long winter.  In fact, the kind of boredom I'm suggesting has a way of sneaking up on us coaches (or parents), with our kids starting to suffer the effects without us even noticing.
So, my real point here is to suggest that we — coaches, at least — look for ways to shake things up before boredom has a chance to rear its ugly head.
Oh, understand that I absolutely hate to waste a minute of valuable practice time.  At the same time, it might be wise to do something a little off-the-wall once in awhile in order to make the next practices all the more effective.
Now, I've mentioned elsewhere about using basketballs and soccer balls to practice our breakouts and powerplays.  I've done that at times, however, in order to get my kids to be more creative (than they would be with a puck), and to encourage them to think more about the overall principles of our given plays.  Still, here's an even better idea…
From my long ago Soviet studies, I learned that their hockey teams often engaged in versions of soccer and basketball during the off-season, with these games played mostly by hockey rules.  So, for example, we might choose to have our kids play soccer, but this would be done with five free moving players per side — plus a goalie, and to include rules like off-side and icing.  I can envision even giving extra points if a team is able to execute something we've been working on lately (maybe like a regroup or a face-off play?).  Even special teams play could be included, huh?
My point, really, is that a mental break is needed every so often.  And, I'll also suggest that there is a lot to be gained in the learning process if our players get the chance to mix their hockey tactics with some other form of play.
*
Be a friend:  EVERY worthwhile Comment really helps Coach Chic!
Although Jason Price has in mind those athletes who will be enduring the likes of some pretty tough outdoor activities under the hot summer and fall sun, I'm going to suggest that the following represents an extremely timely collection of advice for hockey players.  Sure, we play and practice in cooler — often very cold — environs.  But that's misleading.  Actually, hockey players should have a number of the concerns Jason raises here.  (This article was written last month.  But, it'll remain timely for hockey players from now until next spring.)




– Dennis Chighisola
Heat Illness and Hydration Tips
By Jason Price – MS, CSCS, ATC, LAT, CPT, USAW Club Coach
jason.price@athletesequation.com
---
With August nearly half over most High School and College Athletes are either back into or on their way to pre-season practice. Where most athletes go into the season prepared from a summer of training they often find themselves getting into trouble with conditions of August two-a-days with decreased performance or far worse.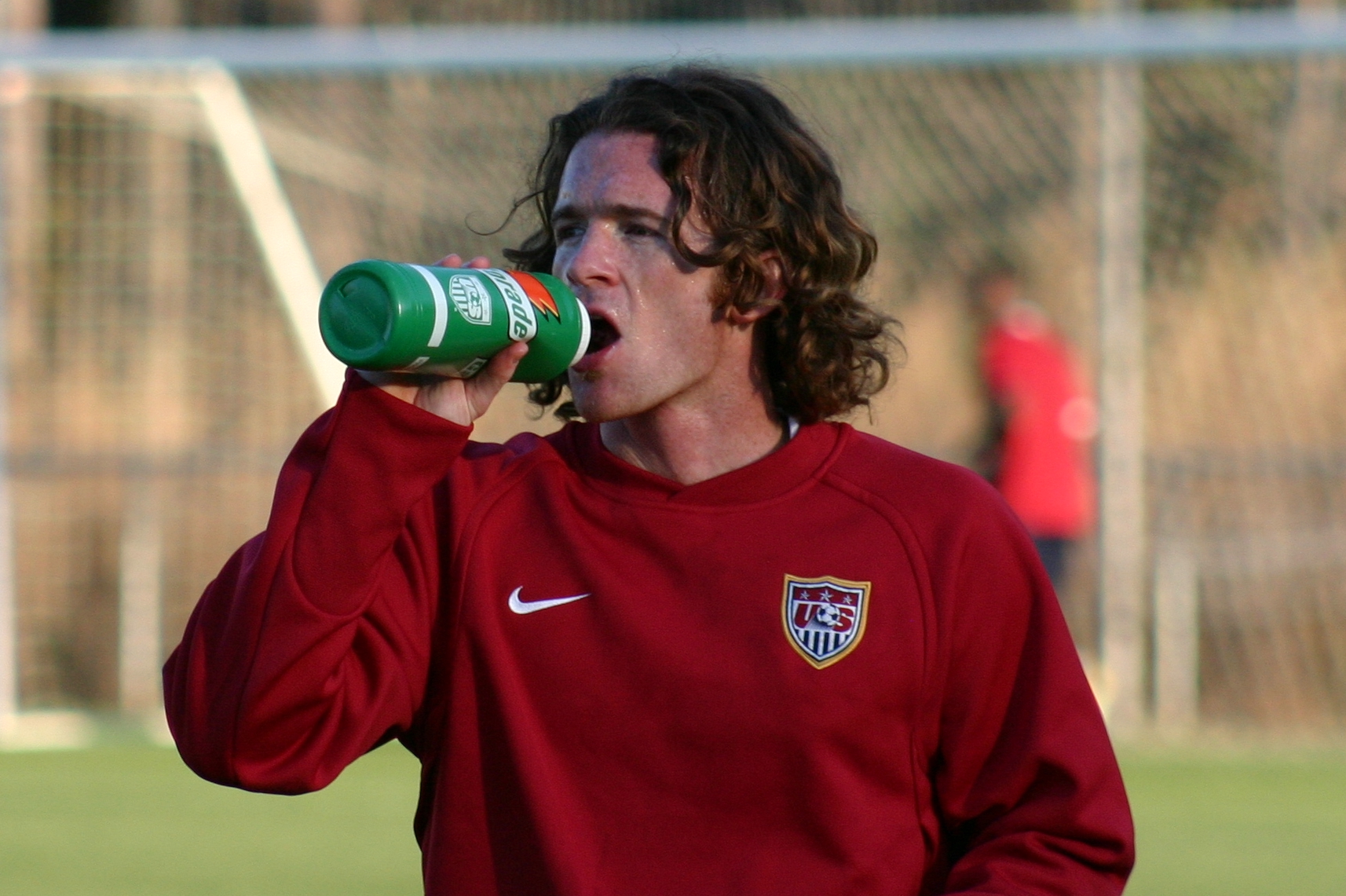 Most athletes prepare for the season working out in hot conditions and this gives them a false sense of security when approaching preseason practice. They feel they are acclimatized to the conditions but facts are facts. Most athletes may train at the most 2 hours a day and if they go everyday that is impressive. Most are taking days off in between training sessions.
Now look at the facts of the preseason. Multiple hours of multiple training sessions a day, increased stress of fighting to make the team or earn a position, and practices strung together for days at a time. That is a recipe for disaster for an athlete if they do not take the right approach into the preseason.
Heat Illness is one of the only injuries that is 100% preventable. All it takes is awareness, it is that simple. Awareness from the coaching staff, athletic trainer and athlete, and all it takes is one of those people to be ignorant to the dangers of training in heat to cause a potentially tragic situation. The book "Junction Boys", about the preseason camp run by Paul Bryant at Texas A&M, does a great job of describing how heat illness can ravage a team because of ignorance towards it.
First, let's discuss heat illness and what can happen from it. There are three heat related conditions of primary concern for coaches, athletic trainers, and athletes. In order by how dangerous the condition is, they are
3- Exercise-Associated Muscle Cramps

2 – Heat Exhaustion

1 – Heat Stroke.
Again these three conditions are 100% preventable. Symptoms of the three conditions can overlap and often one condition will move on to the more serious one. So, athletes who start having exercise-associated cramps will often ultimately put themselves into a condition of heat exhaustion and then even heat stroke.
Failure to treat these conditions can cause serious dehydration and the complications that come with that (even possible death)!
Now, I am not saying athletes should not train in the heat. Most Athletes have no choice.  All it takes to avoid problems is being aware of the dangers and knowing how to keep oneself protected.
So, how can you tell if someone is suffering from heat illness? They will demonstrate signs of thirst, fatigue, lethargy, flushed skin, headache, and visual disturbances. Anyone showing signs of heat illness should be treated as a medical emergency.  For, if the proper treatment isn't given them, they are in a potential life threatening situation. Again, Heat Illness is 100% preventable.  If someone shows signs of heat illness, and if they are treated appropriately, they have an excellent prognosis for full recovery.
The table below outlines how you can differentiate between heat exhaustion and heat stroke. Heat stroke is by far the more serious condition, it's potentially life threatening, and the individual should be transported to the nearest medical facility for treatment.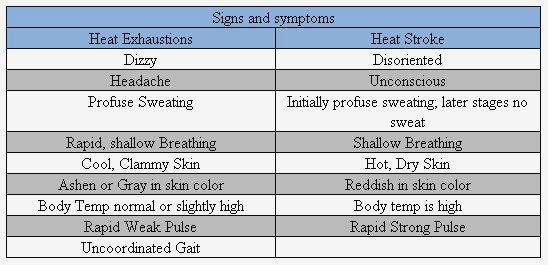 Who is at risk of heat injury? Healthy individuals, children, elderly, those with excessive muscle mass, the obese, those with low body fat, the poorly acclimatized or poorly conditioned, those with a previous history of heat illness, anyone who is dehydrated, one who is sleep deprived or those with acute illnesses (flu, allergies, colds, etc). Obviously, this includes a good many individuals.
So, how can you prevent the risk of heat related conditions? First and for most, stay hydrated. Hydration is key. If you wait until you are thirsty to drink then it is too late and you are highly at risk. If you wait until practice to hydrate, then you are highly at risk. So, here is the best strategy to fight heat illness:
Drink 8-12 8oz of fluid at least 24 hours prior to an event
Drink at least 16oz of fluid 2 hours prior to exercise and again 20 min before exercise
Have fluid available during training and practices (unlimited water breaks should be given; if an athlete says he or she needs water, let them get it).
When exercising for more than an hour, drink at least 5-10 oz of fluid every 15-20 minutes.
Drink cool fluids containing less than 8% carbohydrate.
Use individual water bottles to monitor fluid consumption.
Check Urine color for hydration status (see Urine Color Gauge)
Take weights prior to and after practice to measure loss of fluid in the body.
Replenish lost fluid with at least 24 oz of fluid for every pound of body weight lost due to exercise.
Avoid caffeine, alcohol, and carbonated beverages.
Allow 10-14 days to get acclimatized
Reduce intensity of prolonged exercise
*By fluid I am inferring to water or a watered down sports drink. Fruit Juices, energy drinks, and other beverages are not good fluids to hydrate with.
So, with this knowledge of heat illness and a strategy and how to prevent it, you are prepared for taking on the heat as you prepare for the fall sports season.
Reference:   Anderson, Marcia; Hall, Susan; Martin, Malissa. Foundations of Athletic Training. New York: Lippincott Williams & Wilkens. 2005.
*
As a wrap-up here, hockey players, their parents and their coaches at least seem not to be as concerned about hydration issues as they should.  No, we don't usually practice and play under extremely hot conditions.  And, no, we're probably not in danger of the most severe heat related illnesses.  At the same time, hockey players are very much in danger of reduced performance if they don't hydrate properly.  After all, while environmental temperatures surely are a factor in water loss, so is exertion, as well as stress.  So again, hydration — or frequent water intake — is important to a hockey player.




Finally, I'd like to emphasize one point Jason made, in that once a player gets thirsty, the fluids he or she takes-in at that point won't help for a considerable length of time.  That's the reason he suggests starting the hydration process long before the practice or game.  In other words, stay ahead.

– Dennis Chighisola




Be a friend:  EVERY worthwhile Comment really helps Coach Chic!
The idea for this piece actually stems from an exchange I recently had with a good friend from Twitter.  Apparently his son's hockey team started its new season with a tournament, and my friend was bemoaning the fact that a few games were lost due to some recurring mistakes.  (So, what's new in the world of youth hockey?  LOL!)




Of course, talking back and forth about the tournament — and hearing my friend's observations — was fun, except… Ya, I said except…




You see, very soon into our conversation I started sensing that my friend feared his own son's long-term goals might be hindered by his team's shortcomings.  Hmmmmm…




Okay, my friend is a really bright guy, and I know he immediately understood the way I put a different slant on this subject.  So, while I'm sure he's now okay — and he has his mind in "the right place", I think this is a very worthy topic to share with all my CoachChic.com friends.

– Dennis Chighisola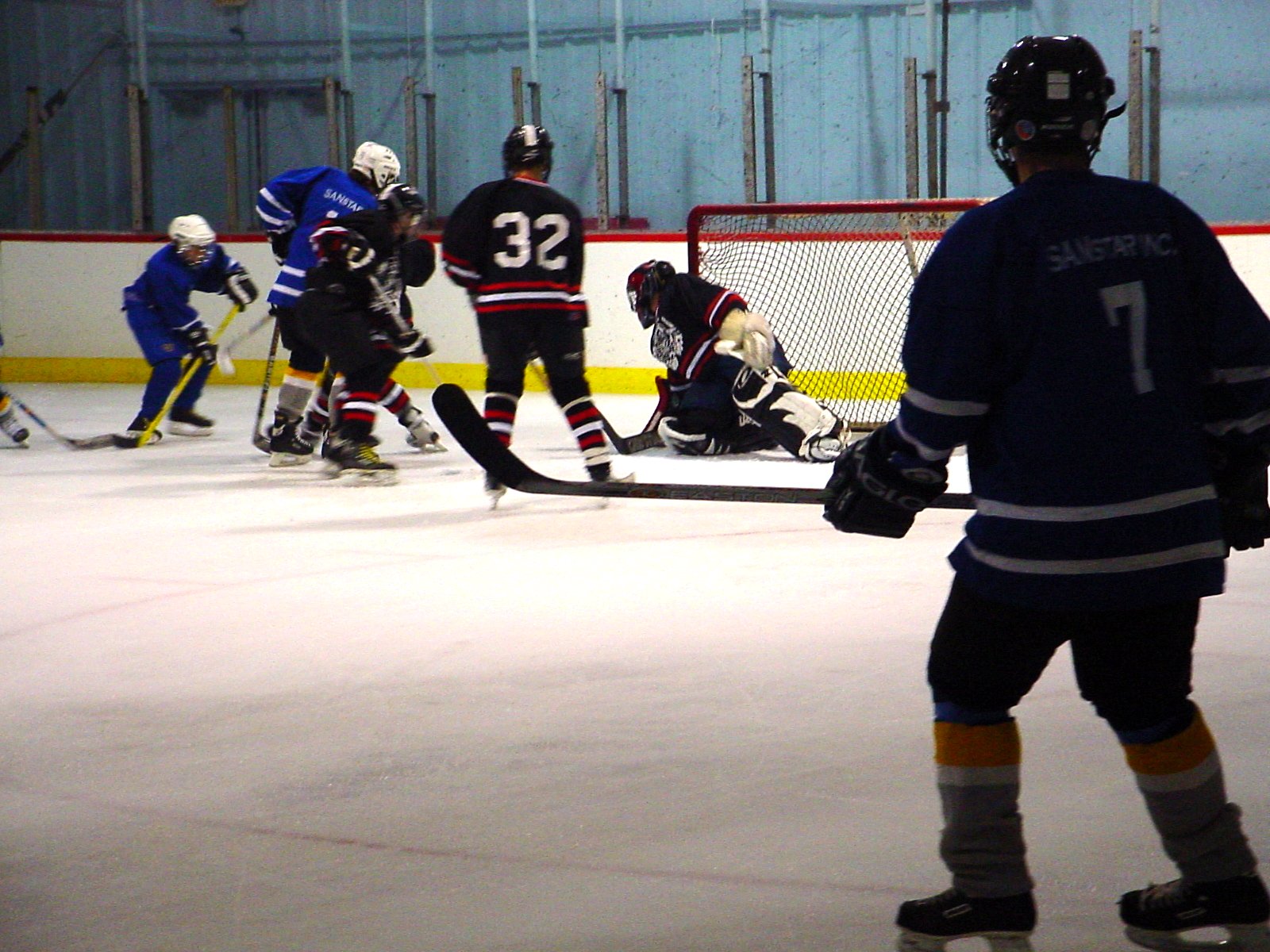 Briefly, let me re-state the scenario here…
We parents probably get to watch our kids play in a kzillion games over a long hockey season.  And, there's nothing wrong with the fact that we live a little with the wins, and we probably die a little with each loss.  In a way, that's at least part of the fun in following a team.
Some of us have probably watched enough hockey to even know where our favorite team's problems lie when things go wrong.  (No problem with that one, either, as long as we keep those kinds of opinions to ourselves.)
Now, returning to my initial point, I want to suggest that we parents wear at least two hats when we go to the arena.
Of course, we're moms and dads first, and we want to do everything we can to help our own be comfortable and ready to play.  Ya, that includes helping younger ones get their gear ready, or sending our older guys off with our traditional well wishes — like, "Keep your head-up, son!"  And from there — if you're anything like me, you probably climb the bleachers and proceed to slide left and right, trying to help your son or daughter avoid a check, make the shot, block a puck, whatever.  Oh, and of course, you have to cheer plenty if your youngster finds success in any way.
Secondly, we should be fans of the whole team.  If you think about it, most of the kids down on the ice are our sons' or daughters' friends, and it's pretty likely our kids care plenty about the successes or failures experienced by their buddies.  So again, cheer loudly for your youngsters' teams, if only because it's right.
Okay, where do we go from here?  Is it possible our team's coming season is going to unveil some real downers?  You bet.  Is it possible some volunteer coaches might not have the answers to their team's shortcomings?  Ha.  And, is it likely our youngster's team will be a mix of stronger and weaker players?  That's a fact — from the local Mites to your favorite NHL entry, so get over it.  And, is it possible any of these things will have an impact on your son's or daughter's ultimately making the team of his or choice down the road?  NOT in a million dawgoned years!
In answer to the latter, I do believe very much in the old adage that suggests, "If you're any good, the scouts (or whomever) WILL find you."
Realistically, the first major goal for US-based players is to make the high school team of their choice.  (I highly suggest you pause here and listen to my very short audio on A Player's First Real Goal.)  In Canada — and in some US areas, a junior team is the next step from youth hockey.  In any case, the selection process for these teams involves a tryout.  And, make no mistake about it:  A tryout is purely an individual thing.
Let me say that in yet another way…
Supposing your youngster is a goaltender, and he or she is battling 6 or 7 other netminders for a few limited slots.  During the tryout process, your guy or gal is down there on the ice and in the spotlight, with other tryout candidates firing rockets or attacking in two and three man waves.  And I have to ask you:  Does the coach overseeing these tryouts care one iota what your youngster's record was back in Mites?  Does he or she care if your child's team won or lost in the finals of some long ago Pee Wee tournament?  And, does he or she really care what your kid's goals-against average was as a Squirt or Atom?  Naw, it's a "show me what you can do today" thing at a tryout, and you can toss-out everything from the kid's past EXCEPT the skills, work ethic and personality he or she has honed over many years.
And I would say the same for skaters…  In a tryout setting, a coach isn't watching combinations of players; he or she is watching individuals — for the same aforementioned skills, work ethic and personality.  If a player stinks because he or she hasn't paid the appropriate dues, there's nowhere to hide, and there's no saving him or her from going down the proverbial river.  If, on the other hand, a player demonstrates all the necessary skills, he or she will be hard to miss.  In either case, the kid's stats back in Bantams aren't likely to matter, nor are the number of trophies sitting back on the family mantel.  It's a one time shot — or maybe a couple of days, and the decisions are going to be based solely on what the player can — and can't — do right then and there.
All right, so let's go back to my earliest couple of points, in that we have two basic roles — one as a parent, the other as a fan.  And let me add to that one more…  For, I'm here to suggest that we parents are the ones truly responsible for our youngsters' long-term development.  (Actually, this is where I usually come-in — in local hockey circles, and right here at CoachChic.com.)
Now, from a personal perspective, I always tried to keep some time free during my young guy's winter hockey schedule.  In other words, I wasn't going to allow him to be so trapped to someone else's schedule that it left no time for extra work — on athleticism, on skills, on strength development, or on whatever else he may have needed AS AN INDIVIDUAL.
Over the years, some youth coaches were great, some not so.  Over those years, my own guy was surrounded by players of poor to great skills.  (Did it all matter?  Ya, but only in the quality of team practices.  Good coaches usually run good practices.  At the same time, sometimes poorly skilled players prevented a coach from running a slightly more intense or more upbeat session.)  But, in the long run, and in having been through this over at least two generations, I can tell you that past coaches and past teammates had almost no effect on my two guys' future chances in the game.
Commenting more on the need to personally oversee our own youngster's development…  If you think about it, just doing whatever others are doing — or, just entrusting development to a team — is going to put your youngster smack dab in the middle of a huge pack.  And, that does not bode well if he or she plans on attending a really competitive tryout someday.  The answer to that, of course, is for a parent to somehow supplement the youngster's training with something well beyond what the team offers.
Again, little in the very end is influenced by teammates or youth coaches.  As I stated previously, a player can't bring his or her newspaper clippings, trophies or stat sheets to a tryout.  Of course, some readers might find the above a drastically different kind of mindset.  But, I'm going to suggest to all my friends here that it's the type that works for players over the long-run.
Be a friend:  Your worthwhile Comment helps Coach Chic in the search engines!
Two recent news events cause me to bring a few thoughts to members' minds…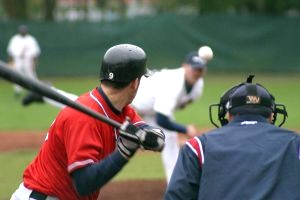 I heard this morning that a new batting helmet is now being tested in Major League Baseball, this in hopes of protecting hitters from 100mph fastballs.  And, of course, the Dallas Cowboys' new overhead scoreboard is also in the news, this because punters are already dinging it.
Starting with that scoreboard, I wonder if casual football fans know that the one in Big D was hung 5′ higher than the NFL's rules dictate.  That's right, the league states that they must be at least 85′ above the playing surface, while the one in Dallas actually hangs at 90′.  What I've also heard is that the 85′ rule is a little old, and that it should really be evaluated.  (Why so?)
Then, thinking back to my younger days, it was rare to see a guy throw in the high-90mph range.  Sure, there were the Bob Fellers, the Herb Scores and the Nolan Ryans.  But, on average, I recall that most big league pitchers heaved that rawhide in the mid- to high-80′s.  And, just as I did in reference to the NFL's need to reassess their scoreboard placements, I have to ask why MLB has to rather quickly rethink their defense of batters.
The answer, I believe, is two fold.
I think the advancement of technology — particularly when it comes to the use of video — has hugely improved player technique.  And computer generated stick-figures can be used to study the biomechanics of any single athletic movement.  I mean, a frame-by-frame analysis can be performed on the likes of a thrower or punter to arrive at the exact motions needed to achieve maximum power.  (I actually own a computer based program that does this, although hockey motions aren't as easy to define as the ones I've noted here.)
Of course, the answer you probably expected is that trainers today really know their stuff when it comes to building speed and strength.  And, do they ever.  Over recent years there have been unbelievable advancements, with many of the latest techniques explained here within the pages of CoachChic.com.
As a quick aside…  Yes, "We've come a long way, baby!"  For, I'm recalling my younger years again, about a time when barbells were taboo for skilled athletes.  Having played and then coached a lot of baseball way back when, I can even remember scouts saying that hitters with large shoulders were hampered in their swings.  And I suspect that tennis players, sprinters, wide receivers, most backs in football, soccer players, basketball players and the likes were also steered from touching weights.
Of course, I'm never really talking about those other sports here at CoachChic.com.  But I do believe that it's right to keep watching what's happening elsewhere.  Let's face it:  Whatever is found to work with one kind of athlete is eventually going to aid a lot of others, including ice hockey players.
Then, I might mention one other thing…  Just as I described in my video, "Some Food For Hockey Thought", I'll suggest that most major gains in the areas of speed, strength and agility are taking place far away from playing surfaces.  Yup, I've seen big-name baseball hitters improve their hand-eye coordination and quickness with computer gadgets, I've seen a similar device used with goaltenders, and I've watched videos showing baseball pitchers gaining arm and shoulder strength using weighted balls and mini-trampolines.  (Down the road, I'm going to tell you about a new shoulder strengthening device I just came across.)  And, while I know little about it, from interviews with new pitchers who've joined the local MLB entry, I've frequently caught references to the benefits gained in a special throwing program currently used by the Boston Red Sox.
My point to all this is to recommend that my CoachChic.com friends continue mixing on-ice and off-ice workouts — throughout the year.  Yes, ice-time is needed for certain skills work.  However, I don't believe a modern day hockey player can move beyond the masses (<= please think about that one) without the benefits of scientifically based off-ice training.
Hmmmmmm…  This late-breaking item…  I was just interrupted by a telephone call from a long-time student.  He's trained lots before in The MOTION Lab, so he knows the benefits.  Anyway, it seems he's just received a starting date for his minor league pro training camp, and he wants to get working in the Lab again.  I had to also smile when he said he wanted an old student of mine to be his training partner.  It seems that friend said something to the effect that, "If Coach Chic can't prepare me for my college season, no one can."  Ah, nice to hear.  But it's doubly nice that two young guys appreciate what can be gained through off-ice training.
Be a friend:  Your worthwhile Comment helps Coach Chic in the search engines!
I just received a question from a long-time Twitter and Facebook friend, Sandi, and this topic seems as timely as one can get.  And, although it has to do with tournament prep, I'd have advised much the same if she was headed to an important tryout)…
You see, Sandi and her son are on their way to a hockey tournament a few states away, and she thought she might swing a little out of her way on the drive to have her son's skates sharpened a little differently than usual.  (Sandi had read elsewhere about my interest in a new sharpening method.)  Thankfully she asked my opinion on this BEFORE venturing off-track.
My advice to Sandi was to NOT do anything differently from the norm as she sends her boy into the tournament fray.  In other words, I suggested that she do everything to make her son feel comfortable, which includes doing everything as usual.
If you can appreciate what I'm saying here, there are times when experimentation can be helpful, and there are times when I would definitely avoid doing anything outside the norm.  Many — or probably most — hockey movements require fine motor skills, and these can only be thrown-off by different equipment or different equipment alterations.
In my humble opinion, the right time to experiment — or to break-in new gear — is when there are several weeks (or even months) to acclimate oneself to a different "feel".
Ultimately I suggested that Sandi and her son visit that new kind of skate sharpening shop on their way home from the tournament.   At least the boy could try the results of that sharpening at home at a practice.  From there, he could experiment and judge better whether he wants to continue using it in future games.
If you happen upon this article prior to December of 2011, I'm planning an awesome tournament for Mite "B" teams, that will take place during the week right after Christmas.  Email Me if you're interested in joining us.
PS:  I plan on explaining the skate sharpening process in a coming post.  It'll be pretty in depth stuff aimed at helping my member friends really know their stuff in this area.  My hope is that you'll henceforth be able to also troubleshoot any blade problems when they arise.  Then, when I'm really sure about the new sharpening process Sandi and I talked about, you'll be among the first to know my recommendations.
Be a friend:  EVERY worthwhile Comment helps Coach Chic in the search engines!
Although this post SEEMS like it's entirely geared toward very young skaters, I'd like those who deal with older guys and gals to please drink-in the gist of it.  I'll have a further comment for you at the very end.

– Dennis Chighisola
Okay, I'm not going to go and get toooooo scientific on you.  At the same time I do want to first make you aware of a study just released in this Tuesday's (7/14/09′s) issue of the journal Child Development.
The reason I cite this is because I did quite some time ago make reference to certain beliefs in my earliest posts that dealt with "Critical Periods in Motor Learning".  (The two entries should have frightened those dealing with very young athletes into appreciating the fact that certain windows of opportunity arise during a human's earliest years, and that once those periods pass, learning given skills can be very difficult, if not impossible.)
Anyway, researchers in the Netherlands now say they've found evidence that fetuses have short-term memory of sounds by about the 30th week of pregnancy, and that they develop a long-term memory of sound after that.
Again, I'm not going to get overly scientific here (you can Google this and related studies if you have further interest).  And I'm not going to suggest to you that we should all start preparing prenatals for careers in hockey (or any other sport).
What I do want members to appreciate is that learning begins very early in a human's life, and that some learning even begins prior to birth.
Then, beyond all I've said in my earlier two entries (and several others), there's yet another thing on my mind this morning…
You see, while I think all very young kids are adorable, I'm sometimes turned-off by coaches of very young ones who overdo it in reference to their kids' "cuteness" (or whatever).
What really troubles me about this?  It's that such coaches can oftentimes use that cuteness as a reason — or an excuse — not to teach the kids in their charge.  And, in my mind, they fail to R-E-S-P-E-C-T their young players' abilities — and maybe their wants — to truly learn more.  Yes, I believe little ones WANT to learn.
Now, I hate to bash other coaches, and that's not really my intent here.  What I feel the need to do, however, is to ask them not to accept that cuteness as a reason not to have a plan.  Yes, we coaches — and parents — want to see our players gradually move from Point A to Point B over a given span, and there's nothing to say that we shouldn't be aiming for Points C and D.  That, to me, is respecting our players, or respecting their abilities to learn.
All that said, let me suggest that both parents and coaches combine the best of both worlds…  If you get the chance to watch my video on "Must-do Skating Drills for Beginners", you might notice that I keep that cuteness-thing very much in mind.  I mean, I do my fun-loving Mr Rogers routine, and I keep my kids laughing throughout a clinic.  What the kids don't realize — and there's no need for them to really know it — is that I have a very serious, scientifically-based lesson plan in place.  Actually, I'm betting my kids sense that I respect them (as I take them closer to Points E and F?).  Yet, I pull it off without any pressures whatsoever.
Finally, the rest of this site is aimed at helping anyone — in this case, parents and coaches — design a training routine based on the very latest in science and the art of teaching.  All that information is worthless, though, unless we first have a certain kind of respect for our youngsters' abilities to learn.
PS:  Although this entry appears aimed at very young players, I'd like coaches of older guys and gals to think seriously about that respect-issue.  Yes, most older players also have a burning desire to learn more.
Not that any of us are aiming for the NHL (but not that any of us can't)…
Yes, the NHL draft will be televised this coming weekend.  And, as an FYI, you might know that I have for a good many years watched — and even video-taped — the 1st round of each NHL Draft.  As I've noted in several other posts, we can learn a lot from what commentators, scouts and GMs have to say about the various draft choices.  They'll usually offer opinions on why certain kids dropped or rose over time, or why certain guys were or weren't selected.
By listening carefully, we can gain a pretty good understanding about what the higher-ups are thinking lately, and perhaps adjust our approach accordingly.
Again, not that we're necessarily shooting for the pros.  But, just having an understanding about what elite level folks are thinking can help influence the way we might view the game, or the way we might encourage younger players to prepare themselves.  (Hey, at least some of what is happening at the NHL level is sure to trickle-down to the colleges, high schools and even the developmental levels.)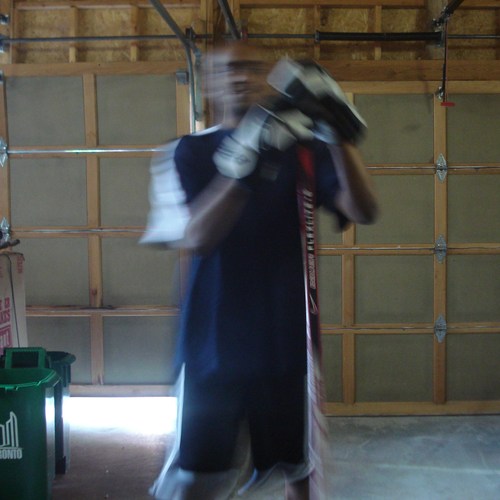 First, let me introduce a long-time charter member here at CoachChic.com, my Twitter-buddy, Ravi.  Yes, that's where we first met, on Twitter.
Ravi is a Canadian college student plus an adult league hockey player, and we first started going back and forth on that social media site discussing his early season shoulder injury.
Anyway, over about the past year, I've found him to be a pretty insightful young guy.  He also seems to know himself quite well (something I feel is a huge mark of maturity).
Next — and in keeping with a topic currently emphasized here, Ravi responded to the poll on learning preferences.  Better yet, he "tweeted" me with the following personal observations…
In describing what he feels he needs to really get a handle on information, he notes that, "It's always a mix of the three. With anything physical (ie, a golf swing) I prefer video first, then reading."
Ravi goes on to note that, "I learn more from reading, but the video provides a base for mental visualization."
Then, he really describes his most comfortable (and likely his most effective) way of learning, with, "My method is to watch, read, practice… I watch your vids, then read the articles.  But like you say, everybody learns differently."
Is that insightful or what?  And, because he's already gotten a grip on his personal needs, I'd be willing to bet that Ravi learns more, retains more, and retains longer than anyone who hasn't yet recognized their own needs.
Ravi also brings to light the fact that most of us learn from a combination of senses.  Yes, there's likely one that's more needed than the others.  Yet, I think most folks, like my Twitter buddy, need a little of each — seeing, hearing and interacting — to really grasp the information.
Finally, about the accompanying (rather fuzzy) picture…  When I saw it, I just had to ask his permission to post it here.  For, that indoor pose (looks like in his garage), suggests to me that Ravi also knows something I'm frequently prodding about here, in that, "A great many hockey skills could be enhanced in a dawgoned closet!"  (LOL!)
Ya, I've been moving my office across town over the past month, and trying to do so without it tooooo badly affecting my work here at CoachChic.com.
Unfortunately, the building I've been in for the past 18-years was sold — the new owners are converting it to condos or whatever. Of course, that's sent about a hundred business owners scrambling for new space, then going through the awesome task of moving.
In my case, a new spot came quickly and easily. However, sorting through 18-years worth of "stuff", then reducing my space from 8-rooms to 5-rooms is not such an easy matter.
The office part of the move has been simple. However, rebuilding The MOTION Lab and building a new library has taken T-I-M-E.
Having more to do with my CoachChic.com friends… You wouldn't believe what it's taking to relocate my audio/video studio. Oh, moving the gear is nothing. However, try to envision 4-PCs — with all their attachments, a couple of VCRs, a number of cameras, an audio mixer, microphones and a lot more. For, the back of that set-up looks like a huge mass of black spaghetti. So. getting everything connected in a way that makes in hum for me is the real challenge. (Oh, by the way… The new set-up is going to give me even better/more video capabilities, and I'm really psyched about that!)
Anyway, if there's a brief delay in getting my next radio show and some videos on-line for you, perhaps you'll at least understand what I'm going through. My promise, though: Once I'm set-up (within a few days), you can plan on me producing more great content — with a vengeance!
Now, here's hoping a live! LOL!
I just received this interesting question from the Youth Sport Coalition, and I'm placing it along with my answer in this section mainly because it is so timely…
Q:  Tim, a hockey dad, notices that, "Hockey is virtually a year round sport" nowadays.  So he's wondering what he can do for his son over the coming summer months.  Then, echoing the sentiments of most other hockey parents, Tim would like advice on things he might do so his son doesn't lose his skills, but he also doesn't want to subject the boy to burn out.
A:  If there's one problem, Tim didn't tell me how old his son is.  That being the case, let me make a few suggestions for the various age groups.
Before I get too far into this though, let me suggest that the off-season shouldn't be devoted to just sustaining skills.  No, I believe it's possible to actually make huge gains during the spring and summer months, WITHOUT THE DANGER OF BURN OUT.
To begin, I believe very young players grow the most by enhancing their fine motor skills and their overall athleticism.  Participation in a warm weather sport can help with both of these traits, and it also can help a youngster learn to deal with different kinds of mental challenges (because of the different rules, different strategies, etc.).  An active youngster is going to be better-off next fall, mainly because most backyard games help enhance motor skills and athletic qualities.  Rope skipping — especially if a youngster works at it — can really carryover to on-ice footwork, balance and more.  And so can just horsing around on in-line skates transfer to a young kid's on-ice abilities.  As far as improving hockey-specific skills, I'd suggest that Tim set-up his son with a stick and golf (or Swedish stickhandling) ball, and then (borrowing one of my favorite expressions) encourage the boy to "Go nuts!" with that thing!  Yes, puck-skills can really separate young players, and so can shooting ability, if Tim can arrange a convenient net and a handful of pucks for his son.  As for formal training, I might suggest that Tim enroll his son in a once-per-week skills oriented on-ice program, and then an end-of-summer hockey school.  The weekly sessions will tend to maintain the boy's legs and skills over the summer, while the one-week program should make the first fall skates seem easy.
Next, skipping to the extreme, I'll suggest that older teenagers pretty much "are what they are" when it comes to motor skills and athleticism.  At this time in life then, a youngster might be better served by working to do things harder, faster and longer.  (In other words, I'd recommend strength training, some sprint and agility work, plus some hockey-specific conditioning.)
Now, I dealt with the two extremes first because the middle age groups would likely benefit from a little of each.  I mean, 11- to 13-year olds would likely benefit from mixing some of what I recommended for very young kids with a little work on those physical traits I mentioned for older teens.  And, should Tim's son fall in this category, he might adjust this spring's and summer's training according to whether the boy falls towards the younger or older end.
Then, on the dangers of so-called burn out…  My take on this is that "work" is what one makes of it.  In fact, I think even most college and pro players — or those guys and gals who have to do some pretty heavy off-season workouts — can find ways to make those workouts enjoyable.  As Tim may recognize in his own day-to-day activities, there's a huge mental difference between those things he feels he "has" to do and those things he "chooses" to do.  That in mind, I see nothing wrong with blowing-off a given clinic or workout in favor of a day- or night-off, a vacation, whatever.  And, as I've often suggested to my players, sometimes it can be more beneficial to "just go dawgoned fishing!"  Yes, having seen it all over nearly 40-years as a coach, I've noticed that most players come back loaded for bear just from taking that kind of short break.
Finally, I want to thank Tim for the very timely question.  And, if I haven't totally answered it (because I wasn't sure about his son's age), I sincerely welcome a follow-up.  Thanks again!
Episode 29 of Coach Chic's Hockey Secrets — or a review of the past month's top subjects — is now available on the Radio Show page.  Give a listen, huh?
I know, hockey seasons are winding down right now.  And, although a lot of folks view hockey time as something like September to March (or April), I have to share a different — very important — slant on that.
From a coaching perspective, there hasn't been a lot new that I could do with my players over the past month (and probably longer).  Mostly we've been keeping up our conditioning, polishing the same old skills, and just fine tuning our X's and O's.  All the while — in the back of my mind — I've been making mental notes about the sweeping changes I'll install next season.  And, make no mistake about it, sweeping changes usually do have to wait.  (For some coaches, new approaches might have to be delayed until you meet with your teams next fall.  In my case, I'm lucky, in that my next year's teams start working out pretty soon — in late May.)
As a hockey parent, let me use my grandson as an example (as I so often do)…  Since he reported to school last September, Anthony has been in the charge of his college coach.  Yes, my young buddy has had a commitment to his coach and to his teammates, and that isn't going to end until he returns home in mid-May.  If you see what I'm getting at here, there's only one time of the year when Anthony can make some major changes in his game — on an individual basis, and that time is during the off-season.  Once again, come about Labor Day, he'll be the property of his college program.
How about adult players?  Well, although you and guys like Anthony can work on your games a little during the winter, the greatest changes can only come when you're not confined to team obligations.
As I and all our other great writers have advised, recent weeks were the right time to take an accounting of a player's or a team's needs.  Oh, there's still some time to do that, but I wouldn't delay.  For, armed with that information, we're going to shortly take some major strides together — as parents, coaches and players.  So, be ready!
For sure, we're going to share numerous skill ideas and ways to improve qualities like speed, strength, endurance and so forth.  However, I'm going to soon kick things off with great ideas about research and planning.  So again, be ready.
Finally — and this is the reason I've chosen to write you right now…  While an awful lot of folks are going to put hockey out of their minds for a time (and while a short break from the game is good), now is the time when a lot of US can pass by everyone else.  I mean, a player can blow right by all those who will be sitting on their hands all spring and summer, and a coach who starts studying and organizing pretty shortly is going to find himself or herself far ahead of others when the fall arrives.
PS:  If you're worried that CoachChic.com isn't going to address your specific needs, why not use our Ask The Coach feature to tell me (or other writers) exactly what you'd like to see?
Ya, with all due respect for fixing hockey shortcomings, let me tell you something I've come to understand after a kzillion years in the hockey wars…
For sure, a player doesn't want to have any glaring weaknesses.  Yet, want to know what draws the most attention to a player — and what very often wins him big-time recognition?  Well, it's one HUGE strength (and I'm talking about as close to world class as one can get)!
What I'm talking about is speed that is frightening, or a shot that makes goaltenders tremble.  And while those aren't the only qualities I could list, I hope you get my meaning here, in that it has to be something that'll cause a coach or a scout to go, "Wow!"
Come to think of it, the NHL Draft will be coming up in a few months, and that usually represents a chance for others to gain an appreciation of exactly what I'm suggesting.  For, sure as anything, we're going to hear NHL execs touting their latest selection as "…an unbelievable _______-er, but he still needs a little work on his _______."  (Yup, the pros take all sorts of players with shortcomings, so why must we waste too much sleep over that?)
Yes, talent raters — be they scouts or tryout coaches — like to be wow-ed.  Or, said yet another way, they like to see something they can build a dream upon.
Okay, there's a good chance I just upset your applecart with all the above.  So, let me try to put this thing into perspective…
Of course, any long-time member should know that I'm really into our game's basics, and that I want my players to be fundamentally sound, through and through.  At the same time, I don't build players to be "Joe Average".  Naw, it's pretty likely I can see at least one strength in a kid, and I'll — besides working on his basics — look for a way to really bring out that strength.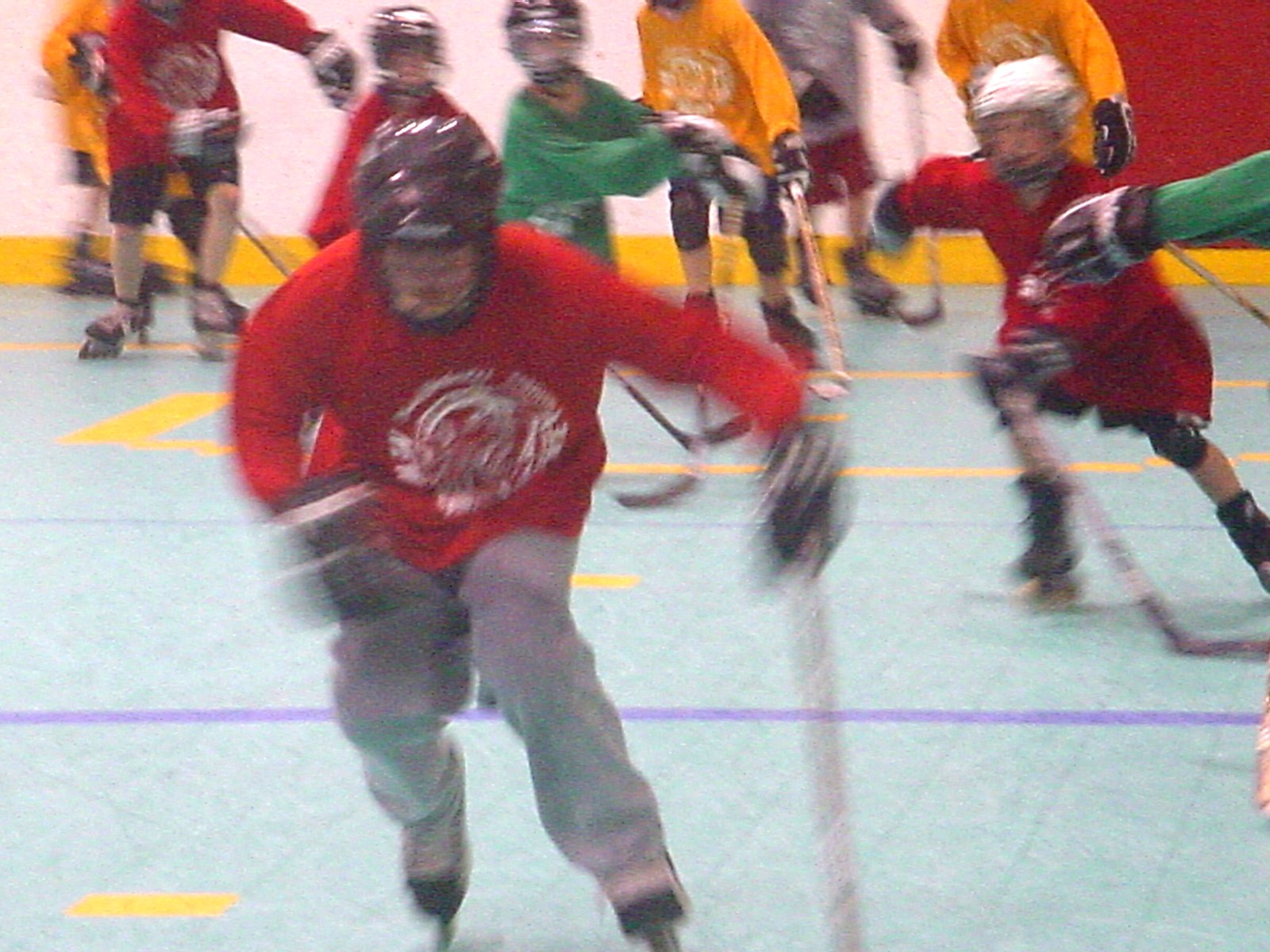 Take, for example, the different body types…
Besides later (after puberty?) starting to work on his body strength, why dwell on the fact that a player is on the small side?  Quite often such kids handle their bodies better than bigger guys, and they're frequently a little quicker or better in fine motor skills (like footwork and/or puckhandling).  So, I'd find one or two of those good qualities and start enhancing it or them.  And I'd aim to help him or her undress defenders with stickhandling moves or frighten them with blazing speed.
And how about the really big guy — the one who has more difficulty handling his body than some of the littler players, but he does do well in the tough going?  Oh, I'd really work on his skating and other fine motor skills, but I'd also try to help him become "hell on wheels" (if he was willing).  I mean, have every opponent on the ice looking over their shoulders and worrying about this guy cruising around.
Can you appreciate what I'm getting at?  It does no good to bemoan a kid's shortcomings — beyond a point.  And to ignore his strengths while dwelling on his weaknesses is likely to keep him or her hidden in the middle of the pack.  And what I'm also suggesting is that a kid's strength (or few strengths) is the only thing he has that can break him out of that proverbial pack.
Once again, though, just to be sure I'm not misunderstood…  I am saying that a player should work hard to improve upon his or her shortcomings.  At the same time, however, he or she HAS to magnify the one thing that might ultimately carry him or her to much higher levels.
I've been writing an advice column for "Hockey/USA" for nearly 20-years now.  Anyway, when my publisher recently asked that I do a piece on "picking a hockey camp", I thought I'd try something a little different from what other writers might.  So, what I ultimately called that column — and the advice I had for my readers — was (to) "Have An Objective".
AS A HOCKEY PARENT
Don't forget that I've been a hockey parent, and I'm now a hockey grandparent.  So, let me give you a little insight into the way I've handled the off-seasons for young Tony C over the past 15-ish years…
Being the obsessed note-taker that I am, I've always kept a slip of paper and a pencil handy as I've watched my young guy's games.  (Sometimes, I've been able to also gather valuable ideas while I've watched his practices.)
The main idea is to note any hockey playing deficiencies.
Those shortcomings might be skill related — like in the player's skating, puckhandling, passing, shooting, whatever.  But — and especially with older players, these might involve physical qualities — such as speed, strength, agility, conditioning, etc.
RIGHT NOW is the time to gather that off-season training fodder, and in a few weeks it will be time to start drafting a plan to use the off-season wisely.
There will be plenty of help for you here at CoachChic.com — in the way of off-season skills training and for ways to greatly increase certain physical qualities.  And, if you fear I won't be covering an area where you see a need, please just let me know.  Hey, this is really YOUR site!
AS A HOCKEY COACH
Of course, we hockey coaches wear many hats.  So, let's address this topic in according to our various roles…
A) Whether we're moving up to a different tier or remaining at the same one, it's a good idea to assess whether our playing system fits where we'll be coaching.  In other words, I'm suggesting we evaluate — or re-evaluate — the appropriateness of our all the elements in our team defense, our team offense, and our special teams.  The off-season is a great time to re-evaluate such things, and to research some new options.
B) Being in charge of our players' development as we are, I think it important to make a late season evaluation of our kids' individual skills and general physical qualities.  Although I've described this approach (above) as a parent might do for his or her player, we could do the same sort of assessment for our entire roster.  In fact, if we studied each and every one of our players, it's likely we'd find a lot of common denominators, or areas where our entire roster would likely benefit.
Whether you're able to work with your players during the off-season or not, I believe you could keep your players growing over the spring and summer…  In any case, use some of the ideas you'll find here over coming months.
C) RIGHT NOW is the time to list the various administrative problems you've had over the past season (or over past seasons).  Handling in advance is the only way.  For, here's what I've discovered…
If we react to a problem when it happens — like a player constantly showing late for team functions, whatever we do is going to seem personal.  I mean, that player or that family is going to feel as if you're only getting on them (and in a way, you are).  However, if certain team rules or guidelines are introduced and agreed upon before next season, most folks will go along with them, and it'll be hard for any later offender/s to take them personally.
So, get on that stuff now.  Make a list of how things need to be next fall, and consider over the coming months how you might best introduce them.
AS AN ADULT PLAYER
Your game should be all about fun.  (Why else would you play — LOL?)  So, would it benefit you to take your own late-season accounting?  You bet!  For, you should find that just a little bit of effort over the spring and summer months can translate into a whole lot more fun next fall and winter.
Now, while our Thinking the Game section will arm you with plenty of ideas for improving your positional play, I think the fastest gains — at least at the adult levels — come with drastically improved individual skills and better conditioning.  So, if you want to take this old coach's advice, yours truly is suggesting you pay particular attention to the programs I'll soon be offering to improve your skating, puckhandling and shooting skills.
Finally, two points…

The reason I mentioned my recent "Hockey/USA" column is to suggest to you that it's super-critical to have an objective these next few months.  The worst thing I've seen is for a player or coach to meander through the off-season without any aims, or to find they're no further ahead when the next fall rolls around.  Just think about it:  It's a long time from May to September, and a ton can be accomplished if one has a plan.  So, make that plan now, and just slowly lop-off your needs or shortcomings in a systematic way.

Then, as noted previously, I plan on arming you with tons of great off-season advice.  Again though, if you fear I might not include what you need, don't be shy about letting me know (sorta early).  After all, THIS REALLY IS YOUR SITE!
As members will discover — and hear a lot about in the future, I long ago studied at the Moscow Institute for Sport and Physical Culture in the old Soviet Union.  And, boy, was my time there eye-opening.
Just one thing I learned was the Soviets' (then) unique way of viewing an entire year of hockey training.  (I inserted "then", because I've noticed that in recent years almost every elite level hockey program follows a similar design, and I sense that this is also used today by coaches in numerous other high level sports programs.)
Basically, the Russians divided a 12-month period into 4 special segments:
The IN-SEASON obviously represents a team's (or individual's) regular season, and there's probably little that needs to be said about that right now.
The POST-SEASON is that time immediately follow the regular season.  I recall one Russian lecturer describing this as a period of "active relation".  In other words, while players get pretty physically (and mentally?) beat-up over the course of a long hockey season — and they do need an immediate break, USSR coaches didn't want their players to go backwards too much in their physical development.  With that, their players would engage in all sorts of fun yet challenging activities, including slightly adapted games of soccer and basketball.
The OFF-SEASON comes next, with players often working as individuals — and based on individual needs — in areas that might include hockey skill work, as well as strength, speed and quickness training.
The PRE-SEASON should sound familiar, as that part of the year when players start coming together and gearing-up for their coming IN-SEASON.
Now, all that said, what I like to do is gather the very best information I can find — like that above, and then adapt it to the players I work with.  Said yet another way, I think it's important to use some common sense when applying such knowledge.  And in this regard, I think that those of us in charge have to realize that most amateur hockey players have numerous other commitments, including but not limited to:  school and homework, family obligations, perhaps work, and a healthy social life.
Oh, by the way…  I don't don't see the need to have set dates for either of the four segments.  Sure, there's going to be a drastic difference between the end of a regular season and the start of the post-season.  However, I'll design a lot of workouts — like strength training, sprint and agility work and plyometrics — to overlap each other and to span over several spring and summer months.  Still, there will be a difference in my players' winding-down from a long winter season and their gearing-up for the next fall.
Then, although I probably qualify as a certifiable hockey nut, you'd be surprised what I recommend for my players during their post-season or spring months.  For, because they're popular and readily available where my guys live, I really like to see them play either baseball or lacrosse as post-season activities.  Tennis and track are also good alternatives (although I'd prefer to see my hockey players engage in short-distance or anaerobic track events).  My thinking is three-fold… 1) My hockey players are going to get a great mental and physical break just being away from the rink for a few months,  2) I believe a number of physical skills will transfer from the likes of baseball, lacrosse, tennis or track, thereby making my players all the more athletic when they do return to the ice.  3) I think there's something to be said about the problem solving abilities players develop as they work at another sport.  (Just think about that one for a moment.)
If there's a problem I still haven't quite resolved yet, it's the difficulty in hockey players trying to participate in a fall sport.  Understand that I played high school and semi-pro football, so I obviously don't have anything against that sport.  And I think there are a ton of soccer skills that can transfer towards the positive for a hockey player.  The difficulty I find — and again, this is just my personal observation — is that a hockey player loses his or her entire pre-season by engaging in a fall sport.  And, while he or she is missing out on getting their hands and footwork ready for the coming hockey season, they're also conditioning themselves in a way that's not exactly hockey-like.
And here's yet another personal feeling…  I know that some parents and coaches like the idea of spring and summer games, and even tournaments.  I'm not a big fan, though.  If you haven't had a chance to listen to my two audio programs on "Russian-style Skills Emphasis", please do so.  (They're under The Early Years In Skill Development category.)  There you'll discover the problems caused when a player attempts to use games as a learning experience.  Moreover, I can still remember the long ago words from a Division 1 college coach, something to the effect that, "It's tough for us to motivate players who have already played a hundred of the biggest games of their lives!"  Yes, just think about it:  Is some summer league game really worth making a life or death proposition?  In my book, I want to foster a love for the game.  And, I think that can only be accomplished if we somehow make hockey games almost a delicacy.
Finally, why did I introduce this subject at this time?  I have two good reasons in mind…  First, the information I'll be posting over the coming months will be aimed at arming you with lots of post-season and off-season advice.  Yup, you're going to soon discover a lot of things that can be done at home and away from the ice.  Secondly, I'd like to recommend that each member do a little accounting — about where a given player or group of players stands now, and where they would really like to be by next fall.  That's an awful long time, you know — from about April to September, IF we plan that time and use it wisely!
You know, if there's one trait that might give me an advantage in teaching/coaching, it's an inner drive to keep planning for the future.  And, although I've for a long time spoken and written against spring tryouts, that's one thing I'm constantly thinking about at this time of year for the sake of my students.  Let's face it, with at least 3-months to go to the time when most kids will be put to the test again, an awful lot can be accomplished if we use that time wisely.
So, what I recommend is that parents (of young players) or older players take stock in their game about this time of year.  What I'm suggesting is that an honest evaluation be done on where the player is right now.  Next, perhaps better armed with all the information found in this site, any player can begin moving through a slow, steady course towards where he or she wants to be in late-March.
Do it — now.  For, the price one pays (or doesn't pay), is going to determine where he or she lands for all of the next season!