I actually have the coach from another sport to thank for inspiring this one…
In a LinkedIn forum, a coach from another sport just asked passers through if they had any tips to share with other coaches.  My guess is that the guy was putting a collection of these together for an article or a book.
About twenty tips down, a young guy — I believe a soccer coach — suggested that other forum members do a personal accounting immediately after a team game or practice.  And I promptly told him (and the others) of something I once liked to do.
– Dennis Chighisola
The Hockey Coach's Visualization
As much as I enjoy company on a long drive, even the nicest company can be a distraction when I'm on my way to or from a hockey game.  Actually, as I recall, I fell into a certain way of doing things in my youngest years as a coach, because I'd almost always be leaving my engineering job and making a fairly long trek to a rink by myself.
The reason I needed to be by myself?  It's because I got into the practice of visualizing the upcoming game.  I mean, as I wound the country roads to my team's home rink, I would begin picturing everything that would — or maybe should — be happening over the next few hours.
I'm talking about imagining myself walking into the rink, setting up my coaching tools and readying the team's needs, and then my mind would next move to visualizing the kids arriving.  And I would mentally walk through my team doing its off-ice warmups, I'd think about what I'd want to say during the pre-game talk just before heading to the ice, and I'd continue thinking about how the on-ice warmups should go.
Believe it or not, I wouldn't stop there, because I could almost sense how the first few shifts would go, how my lines would match with their opponents for that night, and I'd even have a pretty good sense of the cat and mouse games the opposing coach and I would play during those earliest shifts and into the heart of the game.  In a way, I could smell the rink, and I could feel what it would feel like patrolling the bench.
Now, the young coach who started me thinking on this was actually talking about reviewing a game or practice afterwards, and I did that, too.  Don't forget that I was making the trip alone, so I had plenty of time to reflect on things that had gone both right and wrong during that night's game.
As an aside here…  Long time members know that I'm famous for my game notes, and there's actually a section here devoted to that.  However, the time I'm talking about right now was even before I'd come to take notes on the bench.
That young coach was right, of course…  It's a great idea to reflect on what had just happened.  For, as someone once said (something to the effect that), "Those who ignore history are doomed to repeat it."  And what I'm suggesting is that letting things go that we knew went wrong means we're bound to let those same things go wrong again (and likely again and again).
Okay, but here's something I really want to share with my member friends that I did not share earlier today in that forum…  Would you believe that a lot of what I visualized on the way to my games actually happened?  I kid you not.
And I'm not talking about the pre-game stuff, although most of that always went according to plan.  No, what I'm talking about are the matchups that would occur, and I'm talking about actually foretelling the way good things would happen for my guys throughout those early shift.  Where I had envisioned our star player beating a given defenseman in a certain way, it actually happened just like that.  And so did my next unit amazingly accomplished the things I'd envisioned for them.  And, as crazy as it sounds, I could even usually sense the final score.
Now, is someone out there thinking Law of Attraction here?  I don't know; it could be.  What I'm really thinking, though, is that those combination drives and visualization sessions brought me to the point where I really, really knew my players and their capabilities.  I probably knew our opponents pretty well, too, and that quiet time lost in thought probably helped me somewhat understand what they were likely to do, so that I was hardly ever surprised by anything.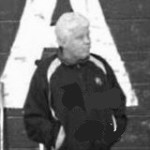 All that said, I'd like to finish by telling you that I continued to use that method of pre-game preparation for the next near-40-years.  Unfortunately, however, I did not.  "Stuff" happens, I guess.  In other words, in subsequent seasons I didn't make as many of those pre-game trips alone.  Oh, I'm not begrudging my company, in the slightest.  At the same time, the right conditions presented themselves less and less often as time went on, until I got totally out of the habit of doing the same kind of pre-game preparations again — I mean, ever again.
In a way, I could kick myself.  At the same time, I'm glad I'm able to share this with you, and it's hoped that some young coach is going to borrow my idea and even perfect it beyond what I did.  If you do, I'd love hearing about it.
I met my Russian friend and fellow coach, Alex, within another mutual friend's awesome Facebook group, the Hockey Coaches & Players Drills Forum.  There, we and a host of other hockey coaches often share articles, drills, tips, and videos (like the one below).
– Dennis Chighisola
An Unbelievable Hockey Workout — Russian Style
To begin, let me advise my fellow coaches that much of what you'll see in Alex's video is pretty stressful, some of the drills are liable to be dangerous, and the entire workout is mainly geared for older players — I'd say at least Bantams and older.
I wanted to show you this videos for a couple of reasons, though.
First, I think it will give the head coach of an older team some interesting — and maybe even fun — ideas to mix with the same old, same old hockey drilling (I think my players have gotten a whole lot more from exercises that were different, and from ones that maybe even caused them to laugh as they busted their buns).
Secondly, although your first impression might be that you can't afford the gear being used in this video, guess again.  Most of it can be made at little to no cost.
Third, while Alex offers some great clips within the video, I think I might be able to help you further by suggesting ways you can actually administer the various drills.
So, with that, let's take a look at some awesome footage, before I offer my two cents worth…
1) In the first exercise, we saw individual players swinging what appear to be sandbags (I'm sure they are).  That there would be some slight strength gain — and some good core work — should be obvious.
But to me the main idea is for a player to learn to deal with external forces in/from many different directions.  I mean, on the latter, there are going to be jolting movements as each swing of the sandbag ends, and the player has to deal with those, just as he would during game action.
If you noticed, the players had to wrestle with their balance on their skates, as well, both in place and while on the move.  Again, the external weight is moving, which causes the player to have to constantly adjust.  (Man, can you feel those core muscles wrenching?)
2) In just a brief segment, pairs of  players are shown tossing and catching what appears to be a smaller sandbag or medicine ball.  This is a common plyometric and core exercise, with separate benefits in generating force to toss the bag and then receive it.
3) Although bungee cords have always been a staple in my hockey schools and team practices, incorporating the shooting motion as shown in this video is new to me.  I kinda like that one.
For sure, there's more core work going on here.  My guess is that a player also has to generate quite a bit of force — and he has to do it quickly — while he's simultaneously wrestling with the rope.
However, what I really like is the way dealing with the bungee rope sort of simulates the difficulties of shooting during real game action.  In other words, players seldom get to stand prettily and shoot during a game, but more often have to pull the trigger quickly under all sorts of conditions.
4) In another short segment, we see a player skating away from the boards against the resistance of a bungee rope.  I've used this one plenty, oftentimes to help a player build leg strength as he works against the rope.  If you watch that sequence again, though, you ought to notice a number of added benefits.
Appreciate that any time a player is being aided by that large elastic — in this case being pulled backward, there is a brief over-speed training effect.  In other words, the rope is giving the player the sensation of going faster than he would without assistance.  I'm not saying that there's much over-speed work going on in this particular exercise — I don't think that's the point.  But I do want to let you know that I've turned my players around in the bungees on occasion, whereby they skate forward while getting kinda sling-shotted out at a faster than normal speed.
As I mentioned in some of the other exercises, the player is also being jerked a bit at times as he changes directions.  I've heard that old Soviet coaches used to have some control over the ropes in a similar exercise, and they'd exert a really forceful jerking motion on a player so as to simulate his taking a body-check.
Lastly, although I've never done it before, I'd be inclined to use an exercise like this one for conditioning.  Watching it again, I see how stressful it is, and imagine that having a player keep doing those movements for a good 20-seconds or so would really prepare him well for the game.
5)  Once again, a player is attached to a bungee, this time quickly demonstrating his agility and touching one post, another, and another.  What you can't see (and might not be able to replicate) are computer run lights that are going off at the top of each post.  In other words, the player is watching a given light go off, he reacts and tags it, and then reacts again to tag the next light.  With that, the computer is able to read how quickly the player is able to react within that course.  (I saw a similar computerized device in Moscow many years ago, but it was being used to test basketball player reactions.)
6) In yet another brief clip, we see two players reacting to the computerized lights while also playing tag.
I mentioned the benefits of playing tag in another recent post, but let me reaffirm that here.  For, as far as I'm concerned, that simple game is the closest we can come to simulating all the crazy movements and reactions a player has to do during a game.
7) Aaaah, I love it that the next segment shows pairs of players reacting to the computerized lights and then executing a body-check any chance they get.
If you think about it, situations like the dodging and weaving shown in the earlier drill, and the body contact shown in this one, happen in a blink of any eye.  So, while you might not have access to the computer device shown here, it might do some good to think long and hard about somehow recreating similar conditions.  I mean, have a pair of players slightly distracted by one challenge, while at the same time offering an opportunity for the two to body-check one another (or to avoid the other's attempts at a hit).
8) Yet another clip shows using the computerized lights to time players doing rink-long sprints and other skating maneuvers.  And again, trying to think of a way to get by without the expensive gear, I'd probably suggest the coach use a whistle to have players quickly react in various ways.
9) Once again the computer is used, this time for timing players over the length of the ice.  Of course, there is some human error in using a stopwatch to time such an event.  However, I've actually used the stopwatch feature on one of my video cameras to get exact measurements.  And, with the video, I can later even count the number of strides a player used over the distance, and — knowing the distance covered, I can compute his stride length and stride frequency.
10) I don't blame my friend for showing off his computerized system once again.  However, with a little more work, we could measure our player's quickness through a similar zig-zag agility course.
*
Okay, not every coach is going to have access to my friend's Fitlight, but we can make a number of the training aids shown in his video, and quite likely wow both our players and their parents…
I've made many of my own sandbags, and in numerous ways…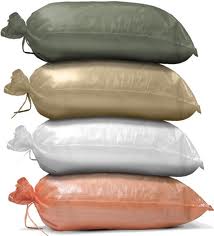 A few years ago, I ordered a huge quantity of vinyl, woven bags on-line, these sold to be filled with sand and used for damming flood areas, what have you.  If there's a problem with these bags, the mesh fabric allows the sand to escape rather easily.  So, I filled small plastic bags with sand first, and then stuffed those inside the larger sandbag.  I kept a scale close by, so that I could make bags in various weights (with the weight written on the outside of each bag).  Once a bag was sealed, I used Duct Tape to strengthen the ends.
I actually filled a couple of bags a little differently…
In one arrangement, I'd leave lots of extra room inside the larger bag, so that the smaller bags of sand could actually shift around as the player moved.  Picture that challenge, if you will, in that the player had to additionally deal with surprise shifts in the load as he was concentrating on the main exercise.
I also made some closer to a tube shape, this so a player could drape the bag around his neck (or more specifically, across his shoulders).  Care must be taken so as not to place a load on the spine, meaning that jumping or performing some other movements could be dangerous using a loaded barbell.  Sometimes I'd have my players wear weighted vests for such exercises, but I felt the tube type bag was also fairly safe.

Believe it or not, I also made bags that looked an awful lot like those shown in the earliest drills.  For this, I cut an auto tire inner tube in half, I threaded some nylon rope through it, filled the inside of the half-tube with sand, and then fastened the ends with automotive hose clamps.  Once again, I secured the outside ends with Duct Tape.  And, like the bags shown in that video, the rope through the tube formed a loop that could be held like a handle.
Medicine balls aren't as expensive as one might think.  The problem is in having enough on hand to satisfy what needs to get done.  So, while I had quite a few of these in different weights in The Motion Lab back in MA, I think I'd make my own this next time around here in Florida — and I'd make them similar to the above one, but fatter, and minus the ropes.
Aaaaah, the bungee ropes…
The very first ones I owned were purchased for A LOT OF MONEY from a local marine supply store.  As I'd learned, elasticized ropes — of all different thicknesses and strengths — are used often on boats.
A number of years later, I caught my good friend, the late John Cunniff, giving a presentation on dryland training.  What John had his young demonstrators using were homemade bungees, composed of bicycle tubes tied together in whatever length he needed.  Since then, that's all I've used.  In fact, I kept of tub of old tubes on hand in The Motion Lab, so that I could quickly make any kind of new bungee type device that came to mind.
In closing, one of my many favorite mottoes is, "Where there's a will, there's a way."  Of course, that begins with the premise that, "A coach has to really care in order to give his or her players the very best training possible."
A number of years ago, I did a post here jokingly titled, "We Recycle!"  What that was really about was the way I'd often build some awesome training aids from materials that would otherwise be thrown out.  And, trust me on this one, in that your local auto mechanic will be thrilled if you'll take a bunch of used tubes or tires off his hands.  So would the local bike shop owner be glad to give you all the tires and tubes he has on hand.  In most instances, such establishments now have to pay to have such materials removed from their premises.
If you think I'm funnin' around here, know that I'm not.  I have it from some very reliable sources that, small area games can do all that and even more.

– Dennis Chighisola
Can Small Area Games Really Cure All the Hockey World's Ills?
Up front, let me tell you that I've come to really love LinkedIn, and it's quickly becoming my favorite social media site.  For one thing, most of the conversations there are pretty stimulating, and I've also been fortunate to meet some great guys and gals over there — including other hockey coaches, sports medicine folks, and specialists in areas like strength training and mental training.  Just as has happened through Twitter and Facebook, a number of those LinkedIn people have actually become my good friends.
The LinkedIn group format generally allows for better communications within certain kinds of enthusiasts.  Twitter's 140 rule surely doesn't allow that.  And, while Facebook lets us pretty much write as much as we want, it's hard to have a deep, meaningful discussion with countless other friends and family members jumping in and out.
On the flip side, I have to say that a lot of the LinkedIn discussions have also frustrated me quite a bit.  Why so?  Ugh, read on…
I guess I have to start by suggesting that it's the way certain members toss around their favorite modern day buzz-words that tends to annoy me.  It's not really the words themselves — at least usually, but I'll explain that momentarily…
Those who just happened by here might not know that I studied in the old Soviet Union many years ago, and I actually had the chance to see some early, scientific forms of "dryland" in Moscow and its surrounding communities.  I actually learned about "plyometrics" long before folks on this side of the pond even heard about that form of drilling, and I got to witness an "over-speed" workout when I actually wasn't supposed to.
Of course, those were buzz-words of their time — or considered more like magic bullets, and there have been quite a few others since then.  And, to varying degrees, it was said about each of those — at least by some youth coaches and parents — that they could cure what ailed any hockey player.
Now, my personal take is that new, less experienced hockey coaches like two things.
Actually, maybe even more experienced coaches seek the first one, in that they tend to love new drills.  In fact, go to any coaching seminar and you might find a good many coaches snoozing during lectures on nutrition, physiology, and the likes, while you'll see nearly everyone frantically taking notes when a presenter starts drawing new drills on the board.
Enter the next buzz-word or hot item known as "flow drill".  This kind of drill has 200 hockey players moving at the same time, 42 pucks flying around, and the whole circus affair impresses the parents in the stands no end.  Yup, and it doesn't matter if their Little Johnny misses every pass made to him, it doesn't matter if he makes horrible passes to his mates, nor does it matter if he seldom has a puck by the time he arrives at the net (and he misses that by 8′ should he have a puck).  The main thing is that there's plenty of activity — it looks awesome, and again the folks up in the bleachers are impressed like heck.
The second thing at least some newer coaches like is a drill that helps hide their lack of game knowledge, and maybe even helps hide the fact that they're a little lazy when it comes to coaching responsibilities.
Come to think, flow drills tend to help satisfy both of those needs.  I've seen it, ya know, when coaches would start the flow, step back and sip on their coffee, and shoot the bull with other coaches for the next 10-minutes.  That's the nature of those drills, in that there's not a lot of room for a coach to jump in the middle and provide feedback or guidance to the players.  In fact, it's virtually impossible — with all the craziness going on — for even the caringest coach to get involved and "teach".
And that brings me to the very latest in youth hockey buzz-words or magic bullets, in those good old "small area games".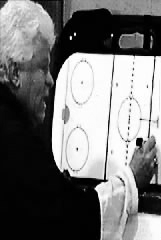 The way I hear it, they're known to cure acne, they can bring your old girlfriend back, and they can easily fix anything you say is wrong with your hockey team.  How do I know?  It's because every question ever asked in a LinkedIn hockey related forum ultimately gets around to small areas games being the answer.  Yup, just have your kids play a few small area games, and everything turns rosy.
For sure, small area games cover some other important criteria…  I mean, they are easy to run, they surely dupe uneducated observers, and they free the lazy coach from having to do much.  For, as small area game disciples are known to say, "This form of drilling allows the kids to solve problems on their own."
Okay, I try never to leave a subject without lending some positive thoughts.  So, since I've bashed the notion that small area games are some sort of magic bullet, let me tell you what I think about those and the other buzz-words I've mentioned to this point…
Honest to God, I believe in small area games, and I've been known to use them — often.  If there's a problem, it's that they are not a cure-all, or the end all to be all.  They are but one small group of tools an effective coach should have at his disposal.
Believe it or not, I also sprinkle flow drills into my older guys' practices.  The way I run things, the teaching is rather deliberate.  So, I think it helps to shake my guys from an isolated slower drill by having them flow all over the place for a few minutes.  As a matter of fact, when I was recently considering running a training camp next summer for pro players, a number of flow drills came to mind as a means of keeping those guys moving and readying them for their game action.
Having mentioned plyometrics and over-speed concepts earlier, let me just say that those are constantly on my mind.  In particular, the idea of over-speed training influences the gear I recommend to my kids, as well as the way I structure some of my drills.
Then, since I can just sense someone is going to read this piece and mumble to himself or herself, "You can't do plyometrics with young kids," guess again…  Would you allow your little one to skip rope?  Plyometrics.  Would you allow your youngster to hop and skip?  Plyometrics.  So, like a lot of other terms in coaching circles, this one is misunderstood, and the idea of avoiding "heavy plyometrics" work with young kids is taken waaaay, waaaay out of context.
As I said above, so is over-speed training part of my teaching plans, either directly or indirectly.
Oh, but there is one more buzz-word I can't stand.  I mean, what's with "touches" — as in small area games tend to get kids a lot of touches?  That statement is such a crock, and if you ever hear me use that term (other than here), just shoot me…
Put 5 versus 5 out on the ice, and the best players will have the puck most of the time.  Make it 4 versus 4 or 3 versus 3, and I'm going to suggest that the same exact thing is going to happen — the guys who need puck work hardly get it, and the guys who don't need the work have the puck all the time.  Geeeeeeeze…  Touches?
How about we instead give every kid his or her own puck and see how many so-called touches each gets.  Better yet, coaches might do as I often do with young players, and have one with the puck attempt to try his or her moves against a slightly passive defender?  Of course, this would mean we'd be doing drills instead of games, but…
Winding down here, let me make a further comparison…  Just supposing my young defensemen need some work on their slot coverage.  I know I can create a drill that gives them each probably 15 reps in about 8-minutes.  In my form of drilling I'm able to be right there to provide feedback, and I can stop things at any time to make corrections or offer some advice.  You run your small area game and hope you come close to those reps in 20-minutes, and you really can't stop things often in the spirit of what you're supposed to be doing.  I could say the same thing in reference to just about every other small "part" of our game.  (Actually, the "Whole:Part Theory" is one of the important motor learning principles I learned in my favorite Physical Education & Coaching course, and a willing-to-work coach would be wise to find a book on that subject.)
This aside…  Coaching is actually hard work — it can be fun for guys like me, but nonetheless it takes a lot of effort.  I can put in a good couple of hours designing one night's practice plan, and then my assistants and I will always bust our buns cramming as much teaching as we can into our allotted time with the kids.
Lastly, please do me a favor and argue with me (if you can).  And you might also argue with my theory about those small area games and the idea of teaching with stations:   because I've had a feeling that they were created in order to make up for a preponderance of poor coaches at the youth levels.  In other words, if most youth hockey coaching is ineffective, encouraging kids to stay moving and competing for the bulk of their practices is probably better than nothing.  As for me and my member friends here at CoachChic.com, we have over 600 articles, audio programs and videos to guide us, and they're all aimed at taking the smartest and most effective route, be it the easiest or not.
I know I handled this topic once before, a very long time ago.  However, a recent conversation with some coaches in social media made me believe I might tackle that one again, perhaps from a different angle.
As I've said often, no two teams are ever alike.  So, while I've actually written a book called "500 Drills", I find myself very seldom going back and using many of those.  Yes, all 500 of those drills were/are good; they just might not be EXACTLY what I need to help my current players.
With that, let's look at a typical hockey problem, and then work our way back towards a resolution.
– Dennis Chighisola
How I Create My Own Hockey Drills
That recent discussion — over on Facebook — began with me sharing one of the free drills from this site, that having to do with a 1/2 ice drill aimed at helping my team with backchecking.  Having mentioned in the start that I create many (if not most) of my own drills, that conversation ultimately turned to the idea that most drills have progressions — from a very basic concept to maybe a more complex or more challenging form.
Let's back up a bit here at first, though, and let's begin with the problem…
There's a good chance that I saw a goal scored against my team one night as one or more of my guys stood idly by.  Oh, don't get me wrong, because it's more than likely that my guys were busting their humps to "come back"; they just didn't do their job/s in the end.
Now, I don't know whether I'm unique in this regard or not, but I almost always begin a new drill sequence at its very end.  In other words, it would do us absolutely no good to start a backchecking drill from the far end of the ice, and have my guys skate and do battle for 180′ of ice, when the real outcome is likely to take place in the very last seconds, or maybe within the last few feet.
If you can appreciate it, I want my players to — over and over again — focus on those last few seconds, or what I see as the most critical part of the problem.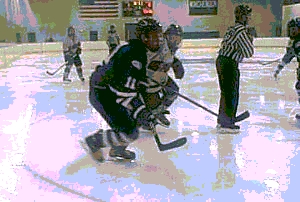 I'm a very involved, animated coach, and I provide plenty of feedback — to the combatants, as well as to anyone else within ear-shot (including the parents in the stands who might need to know what I expect from their youngsters).  So, I might mark a spot about 12′ out from the goal, and then have pairs of players come from there to do battle at the goal mouth.  The pairs get to try, fail and succeed every few seconds from there, while the waiting pairs also get to observe and hear how the current pair has done.  So again, there's frequent repetition with the end problem handled this way, and there's a pretty good chance my guys are going to ultimately master that part of the problem.
You can look elsewhere for more advice in this area (under Thinking the Game – Defensively), but I'll just let you know now that I'm on my guys about two main things:  1) that they should gain the inside track and force their man away from the net, and 2) that, "Sticks score goals!"  In other words, having to do with the latter, "All the work in the world isn't going to help you and your goaltender if your man is allowed to have his stick free — to catch a pass, deflect it, or ram home a rebound.
By the way…  While you're probably envisioning forwards being our primary "backcheckers", I have our forwards and defensemen mix on all of these drills.  Hey, the D also often come back and have to cover a man in the ways I'll describe.
Hopefully, with that stuff firmly established and in my guys' heads, I'll back the drill up to start just outside our defensive zone.
Perhaps it'll be helpful to you, however, if I explain the fact that I'm usually asking myself an important question about now, as in, "Where does this play actually come from?"  In other words, while the end problem might occur at the goal, the players likely came from somewhere, or the play began developing a little earlier and from somewhere else on the ice.
It's comical in a way, but offensive players often work harder in a drill to beat one of their buddies than they do in the real game action.  I mean it's true, that the guy going to the net for a pass on this drill is going to bob and weave and do everything possible to get himself open for the pass.  So, while it tends to present a bit of a nightmare for our backcheckers, a side benefit to this kind of drilling is that it also encourages all of our guys to be more aggressive in going to the net.
If you haven't pictured it by now, there are more things going on in this second progression, with a longer stretch of ice needing to be negotiated, as well as some serious jostling for position.
I like it that these new challenges are introduced, because this makes the drill much, much more game-like.  Two skaters battle their way towards the net, and then our backchecker has to make sure he's achieved good positioning on his man, and he also has to somehow negate that man's stick — not only for the initial play, but for a few seconds after the play is over ("finish your check," as they say).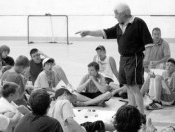 Phase III of this problem solving usually calls for me to spend a little extra time with my players, in a classroom or in a lockerroom chalkboard session.   I actually ask my guys to perform backchecking duties differently from zone to zone, and I normally need a little time to explain that thinking, and to handle any questions my players might have.
That said, the next progression has us starting the drill in the far zone, with an attacker laying prone where he might be on a breakout (likely near the weakside boards), and our backchecker lying in the vicinity of where our high man might be in a given forecheck.  What I want is to give my guys a sense of where they might immediately find their man.
I might mention that the first two progressions of this drilling had a coach somewhere in the defensive zone ready to feed a pass to the charging attacker.  In this third progression — because it spans three zones — I'll have at least one more coach (and sometimes two) hanging in neutral-ice with pucks ready.  In other words, our backchecker not only has to deal with his man over three zones, but he also has to keep an eye out for a possible pass through both the middle zone and then down deep in the defensive zone.
I frequently use a variation of this drill, once players know their duties fairly well.  I'll place pairs of attackers and defenders in two opposite, diagonal corners of the rink, and then have pairs race for the far end at set times.  The offensive player in the far, diagonal corner has a puck ready to feed to the attacker coming towards the near net.  Once his pass is made, that guy can take off for a pass down the other end.
If you haven't noticed, I usually try to do something to prevent cheating on a drill.  In the second one, players started on their bellies, so the attacker didn't get an advantage.  In this last drill, an attacker couldn't leave his line until he'd made a pass.
Okay, so I said earlier that I always try to figure where a play might originate from, or how it might develop.  I kinda accomplished that by starting pairs just coming in over the defensive blue line, and I also accomplished that by having my players come from our forecheck versus the opponents' breakout.
However, one of the most dangerous attacks for any team to handle is when a team has turned over the puck in their own end.  It frequently happens when something goes wrong on a breakout, and it happens so quickly that a lot of players are too slow in reacting to their new defensive roles.
Worse yet, there's a matter of communication.  I mean, suddenly we have five enemy players on the attack in our zone, and we have our five skaters and our goaler scrambling to defend.  Who does one cover?  Ugh…  Too often we'll get two of our guys on one of theirs, with another of theirs being wide open for a scoring chance.
With that, I arrived at the progression explained in the above linked drill (in my introduction), and there's also a video of the drill on that page.  I will explain it roughly here, though…
In much the same way I designed other drills, I keep three attackers honest by putting them on their bellies, looking at the zone away from where play will actually take place.  Our three defenders will lay facing the opposite way, so that they can't see the problem they have until a coach tells them to go.
As you can imagine, there is some chaos at the start.  The offensive guys jump up and they're doing their usual extra-aggressive thing, while our three defenders get up and scramble to figure what to do.
In time, I think our checkers solve a few problems on their own…
It's always best if guys grab someone (anyone) close by, and stake claim to him.  That might leave only one other backchecker scrambling to find the remaining open attacker.
Sometimes I have to tell them, but usually the kids start talking — or communicating — on their own.
If  a puck is introduced into this drill early, you'll discover that the defenders usually do okay with their coverage.  Where problems arise is if the attackers are given more time to keep moving all around the zone.  That's when real breakdowns occur, and when your checkers will need more help about switching-off with a teammate.  That in mind, I always ask the coach who is feeding pucks into the drill to do it quickly as the guys are learning, and then alternate taking more or less time as the players get better and need a greater challenge.
Is the above drill sometimes a little unrealistic?  Ya, I'd say that we sometimes hold on the pass to a point where it really isn't like what would happen in a game.  Yet, I find my guys have always really busted their buns trying to cover their men, and the real games almost seemed easy for them later on.
Okay, so I've lost track of how many progressions I've given you for this one skill known as backchecking.  No matter the number, I'll suggest that a coach initially use these — or introduce each one — in the order I've described.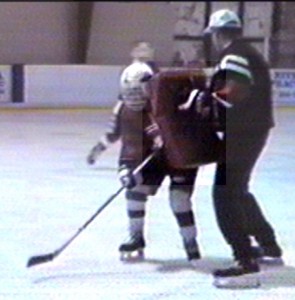 A time will come, however, when all the players at least know their roles, even if they haven't yet physically mastered them.  The latter part of that sentence suggests that players will get better — at any tactical measure — if we're at the same time working on their individual skills.  In the case of backchecking, we're mainly talking about skating speed, agility and strength.
Again, presuming your players will ultimately reach a point when they know the hows and wherefores of a given challenge, I'd then go about rotating all of the different progressions, in and out of future practice sessions.  Actually, there's nothing wrong with including a form of backchecking practice nearly every night; the way to keep the repetition working while not making things boring is to use a different variation of the drilling at least every so often.
I selected backchecking for this example, purely because it was fresh in my mind from the recent social media discussion.  Really, though, any team tactic can be treated in much the same way…
First, define the problem that needs correcting or perfecting.  If you can't define it, how will you solve it?
Secondly, begin and perfect the thinking and skills required at the most critical part of the problem area.
Thirdly, attempt to define how this problem usually develops, or where it comes from.  Some problems only originate from one location, but most — like the need to backcheck — can start almost anywhere.  With that, back the drill up a bit, and combine a short distance skate — as if the problem started there, and then have the players combine the new problems with the ultimate ones.
Fourth, once your players have become familiar with how to deal with all the variations, start alternating the different drills into your nightly practice plans.  As I say often, "Repetition is the best teacher, but boredom is the greatest threat to effective teaching."
Fifth, while it's necessary that kids know how to handle a given problem, they're not going to be really good players unless they have the skills to physically perform all that's necessary to handling the challenge.  So, stay on the skills, throughout a season.
Lastly, because I'd like this to become the definitive advice on drill creation, I could really use your help.  Shoot your questions my way via the Comments box below.  Chances are that others have the same question or the same problems understanding some of this, and you'd be doing them a favor by letting me know.
Maybe some of my hockey friends will find the following amusing, while others might not appreciate my sense of humor.  No matter, I really do need some help, from other CoachChic.com members, as well as from all my friends in social media.  As the title above states, naming a hockey manual ain't all that easy.
– Dennis Chighisola
Naming a Hockey Manual Ain't Easy!
Actually, the hockey manual in question just might be released for the third time (although I can't promise that).  As for the earlier two…
About a decade ago, it was printed in hardcopy, and shipped to hockey coaches around the world.  Then, a few years ago — when the ink and paper version of that manual finally ran out, I decided to make it available in ebook form.
As you can imagine, the printed copies sold well — and sold out, but so did the downloadable ones do well — for awhile.  Ya, for awhile…
Maybe it was more me than anything else.  However, I decided to pull the second version of that manual not long after it first started selling, mainly due to a couple of exchanges I had with other coaches in a LinkedIn hockey forum.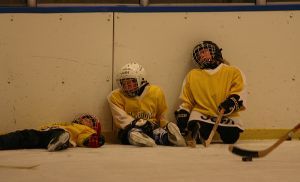 Now, perhaps because I see some others do it rather shamelessly, I've always tried to avoid plugging one of my books, videos or whatever in those kinds of venues.  I figure hockey folks are looking for honest help or advice there, and I'm not about to steer the topic off towards one of my products.  I did do it once, though…
What happened was that a seemingly new coach was asking for some ideas for running his young hockey team, and I noticed a bunch of early comments recommending to him a few decent manuals and videos.  If there was a problem, I didn't think any of those products were what he really needed.  Again, he was looking for help on coaching a team, and the stuff being recommended to him had more to do with disconnected drills or drills having to do with skill development — helpful, sure, but not what he was asking for help on.
That's when I said something to the effect that, "I hate mentioning my own manual here but, it might be just what's needed."
Unfortunately, the original title of my manual contained the words "playing system", which caused a couple of guys to jump all over me.  Ugh.
Most of you know that I'm not the shy type, and I've spent the better part of 40+ years defending what I know to be right in hockey coaching.  You might also know that I'm able to string words together well enough that I can undress just about anyone in a written exchange.
Surprisingly — perhaps to both you and me, I let the first attack go.  I figured the loser in the whole exchange was the poor guy who was asking for help, but I feared causing a scene if I did snap back at the guy who criticized me (or my book).
The second guy who tried to embarrass me wasn't nearly as lucky.  No, I took him for kind of a mamby-pamby, politically correct type, as well as a guy who didn't have a clue — about hockey, about coaching, or about much else.
One thing those two did bring about was my decision to not promote that manual again until I'd done some real serious thinking, mainly about that "playing system" part of the title.
Part of the my problem, as it turned out, was that USA Hockey's ADM Program had reached the masses by then.  I mean, there were seemingly a kzillion (mostly inexperienced) youth coaches so high on the USA Hockey Kool Aid that they couldn't see that there's more to coaching a young team than to toss a puck in the middle of a "small area game"  Nor did they have the good sense to understand that a couple of on-ice stations won't get the rest of the teaching job done.
If I had to define those types, I'd suggest that they're too literal — in believing that the latest thing they've heard at a coaching seminar is gospel, or that it's some sort of magic bullet.  The second guy — or the one I lit into — couldn't be reasoned with at all, which ultimately had me believing that he fell into yet another group.  Ya, the other group needs something like the ADM Program as a crutch, because those kinds of guys can't coach in a traditional sense.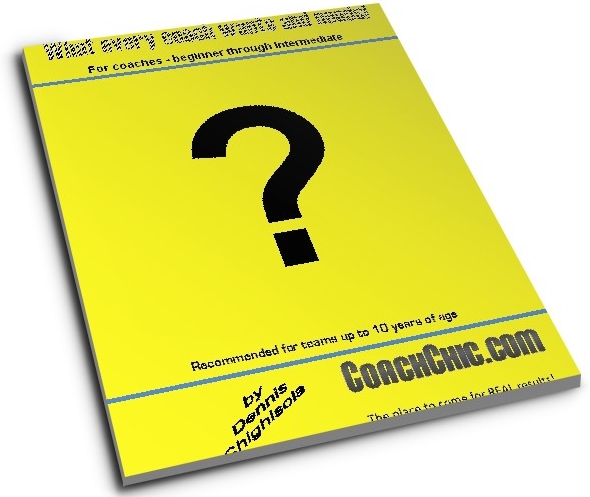 Okay, so about my manual…  I wrote it as if I was talking to the young Coach Chic, or the young guy who found it awfully difficult to get help.  Back then, when I first switched to the other side of a clipboard, I'd have just died to have someone tell me, "This is exactly what to do!"
Moreover, my way of sharing information  has never been to only tell someone how to do it, but I've always wanted to arm them with why things probably should be done in a given way.  I think that builds a young coach's confidence, and it gives him or her enough information to make some further decisions without me.
Anyway, attempting to share as much as I could with a fairly inexperienced coach, here's the table of contents that resulted:
Preface
GETTING STARTED
Chapter 1 – PRE-SEASON PREP
Chapter 2 – THE PLAN
Chapter 3 – PRINCIPLES OF MOTOR LEARNING
Chapter 4 – ALTERNATIVE TRAINING
Chapter 5 – ABOUT PLAYING POSITIONS
Chapter 6 – The NEHI BUILDING BLOCKS APPROACH to SKILLS
Chapter 7 – BACKGROUND HOCKEY KNOWLEDGE
Chapter 8 – TEAM DEFENSE
Chapter 9 – TEAM OFFENSE
Chapter 10 – FACE-OFFS
Chapter 11 – SPECIAL TEAMS Play
Chapter 12 – Playing THE SCORE, THE CLOCK, and More
Chapter 13 – FINAL TIPS
If you might notice, only Chapters 8, 9, and 10 really have anything to do with teaching a playing system — that's three out of thirteen.  However, I latched onto the eventual title, "How to Teach A Basic Playing System", for what I believed to be two very good reasons…
First, with the hundreds of new or less experienced coaches I've interacted with over 40+ years, most of them really struggled with the X's and O's.  In many instances they hadn't played the game much, or they played somewhere where they hadn't really grasped how a coach goes about putting a team together.
Secondly — and I'd like to hear your arguments when I claim that, a bulk of hockey's most important playing principles have to be intertwined within the playing of X's and O's.  But, hear me out on that one…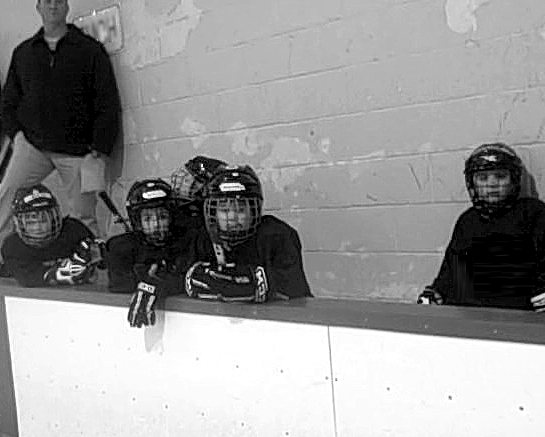 - How do you ever convince players not to bunch-up unless they understand that different players should have different roles?
- Along that same line of thinking, how do you help two kids rushing for the puck decide which should probably keep going, and which should hold back a little?
- How do you ever get across the idea of a "transition sport" and "reading and reacting skills" without explaining how player roles change with each change in puck possession?
- I know that fans in the stands scream, "Backcheck!  Backcheck!"  Still, isn't there a correct way to do that, maybe even based on which zone play is in?
- It just so happens that there are decisions to be checked-off by a puckcarrier as he or she moves up-ice — I mean, when it's right to carry further, when one must pass, and even when the smartest thing to do is to just dump the puck.
- Come to think of it, doesn't the type of dump-in — or the location of that dump — have something to do with a team's X's and O's?
- Whether attacking or defending during rushes, should 1 on 1′s be played differently than 2 on 1′s?  And, if so, doesn't it make sense to teach these within the context of the X's and O's?
- I might also ask whether there are smart ways to position while covering an enemy pointman, and when initially covering in front of your goal.  For, if those are important game playing principles, I'll suggest that they also have to be taught within the context of a team's X's and O's.
- Then, I'm wondering…  Does not moving the puck out of one's own end involve a number of playing principles — from the goaltender helping mates to defensemen moving the puck rightly to forwards getting open in high percentage passing routes?
And, if you get the feeling I might be able to go on from there, rest assured I could probably double or triple the above list.
Of course, there's the chance someone is going to tell me that young kids don't need to know that stuff.  Hmmmmm…  My guess is that the second heckler described above would agree with you.  What he'd likely say is that the next level coach will teach it — mainly because he can't.  Unfortunately, though, what I've seen is that the Mite coaches say that, but then so do the Squirt/Atom coaches.  And before too long, everyone is passing the buck and leaving the real teaching of the game to some poor coach who expected many of those basics to already be ingrained in the kids who come to him.
One thing is for sure, most new coaches could use this book, if only to fill in the gaps in areas of the game they're not totally sure about.  (Actually, I'll never forget one CoachChic.com member — who is a pro coach — telling me that he uses my opinions here as a way of validating a lot of the theories he's developed over the years.)
Oh, and by the way…  My feeling is that several areas of my manual cover semester long courses I took as a Phys Ed and Coaching Major.  Just within Chapter 3 a coach can discover how to create new drills or to distinguish between good drills and not so good ones.  Again, though, take a look at my table of contents, and tell me those aren't all areas a guy or gal running a team through 10-years old should be aware.
All that said, I am sincere in asking for help here…
If you have a better title for my book, I would be extreeeeeeemely grateful if you let me know.  Learning from my earlier mistake, I know now that I have to name it something closer to my real intent — about how to coach a young team, or maybe about things that will help both new coaches and young kids understand the game better.
I would also enjoy a discussion here.  Honest to God, I won't bash anyone who is sincere.  As folks may have noticed in other comment exchanges on this site, I thank folks who can point out an error in my ways.
So again, please do help me with this, either with your argument for deep-sixing this manual to a better name if I decide to put it out there again.
You can file this one under "My Advice to Serious Hockey Coaches".  Said yet another way, I feel one can't be a truly great coach unless he or she is willing to accumulate as much knowledge as possible, and from as many peripheral fields as possible.  In the end, I might even suggest that this is one reason it pays to be a CoachChic.com member.

– Dennis Chighisola
Knowing Lots of Hockey "Facts"
To begin, I used to have a relative who gave me a hard time about knowing lots of "facts".  I think you know where that kind of razzing came from…
My take on the situation was that the relative was too lazy or too disinterested to delve into stuff outside a mindless novel or television program, so her defense mechanism was to lessen the importance of anyone else knowing at least a little about a lot of different topics.
My self-confidence has never been that easy to shake, so all I could ever do was to just shrug and say, "Oh, well…"  Don't get me wrong, because I was at least a bit frustrated each time that relative gave me a zing.  Ya, I was, until…  Until…   Until I ran across a writing that suggested…
"Common sense is enhanced by knowing more and more facts."
 Think about that one, if you will…
Is it possible you and I would be aided with the knowledge that water will dowse a fire, while the idiot would think that any liquid — including gasoline — would achieve the same results?
Ya, I know my example is a bit towards the extreme, but…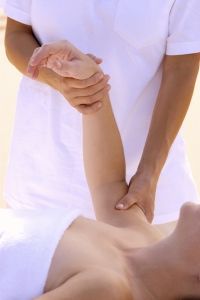 I have always felt that anyone in charge of anything is basically a problem-solver — or at least they should be.  Pick a profession:  mechanic, doctor, dentist, nurse, truck driver, babysitter, talent agent, marketer, salesman, you name it.  Oh, some of their work is almost scripted, or performed almost mindlessly.  However, the truly successful among them is able to perform his or her duties well when something outside the norm arises.  In fact, I'll suggest that those in any given line of work are separated by how well they solve problems.
Think about it…  Your car has a problem that causes a number of mechanics to scratch their heads, and they try all sorts of repairs — that cost you dearly while never solving the problem.  You know that you're dying to run across that one guy who has been around the block a thousand times, and a guy who actually enjoys solving a problem no one else can.
I happened to grow up in a tiny Massachusetts town where there once lived a guy who had worked in some famous race car pits.  Despite the size of our town, he really worked — mostly from his home — in relative anonymity.  Lucky for me, however, that a policeman in town once told me, "You should go see Augie about your car problem."  Ha?  Augie?
Now, understand that a bunch of local garages had already looked at my silver Cadillac, and they hadn't a clue why it had recently begun running so roughly.
After a few minutes of listening to my car and thinking some, my new friend Augie says to me, "I think I know what the problem is, but I need your permission to cut your exhaust pipe in half."  Whaaaaaat?
Long story short…  My car ran like new once Augie replaced one section of pipe.  What he later explained was that my Caddy had two pipes — one inside the other, and the inside ones were famous for collapsing and choking the exhaust and then the engine.   Of course, Augie knew that, but evidently not another mechanic in the town did.  Ya, we might say that Augie knew a lot of little facts relating to cars.
In yet another scenario…  Your child is ill and no doctor yet has been able to pinpoint the problem.  For sure, standard tests are necessary, but you also know that all the standard tests in the world don't always result in an answer.  No, you're dying for the same thing again, a doctor who relishes the chance to solve problems.
Believe it or not, my lady friend just returned from having her car serviced, and she just finished relating to me her new mechanic's guess that her rough running Jeep might be suffering from some bad gasoline.  Well aware of some "facts" when it comes to such things, I agreed, knowing that she just drove over 2000-miles from Canada, and that the roughness started occurring partway along that trip.  The mechanic's — and my — thinking was kinda confirmed, when a guy visiting next door from Canada said that his car is also running roughly.
If there's a knowledgeable automotive type reading this, you're probably wondering exactly what I am right now, as in, "Did the new mechanic change the fuel filter/s?"  Grrrrrrrrrrrrrrrr…  From a glance at my lady friend's bill, it's obvious that he did not!
Okay, so my hockey coaching friends are wondering how I relate all this stuff to your job?  Hmmmmmm…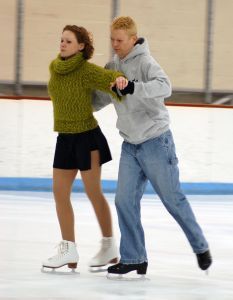 Well, all I can do is explain the route I took, beginning with my earliest days as a coach.  And from the very start, I wanted to know more about "things".  Getting into the physiology of our sport came later.  However, during the earliest days, I wanted to know how the skate sharpening process actually worked, why the local pro shop owner fit pieces of gear certain ways, and so forth.  Over time, I thought it necessary to also know the differences in various skates, because some companies made their boots slightly wider, slightly narrower, with higher or lower arches, etc.
Make no mistake about it, that knowing such things has helped me save some players' careers…
I'll never forget the time a long time student of mine suddenly started experiencing back aches, and I was probably the only coach in the region who could have ultimately reasoned that those problems stemmed from a change in his skates and his skates' radius.
Over the years, I've helped a number of players gain more speed by adjusting the way their skates were sharpened.
And, I have also greatly enhanced my players' stickhandling or shooting with just a slight change to their sticks.
So did I once save a kid because I discovered a faulty piece of protective give, and I swear that he'd have never gone on to play Division I college hockey unless I (or someone) had gotten to the root of that one.
I have bragged for years that I hardly ever have any kids drop out of my Learn-to-skate and Learn-to-play programs.  That's been good for my business, but it's also been good for the youth programs and rinks who later benefited from the hundreds (or likely thousands) of players I've kept sending them.  Of course, some of my success came from using the right drills with those little ones, but a lot of it also had to do with the close watch I kept on the gear that made things either easier or more painful for them.  (My thinking:  some kids quit other programs without their instructors even knowing why those kids never showed again.)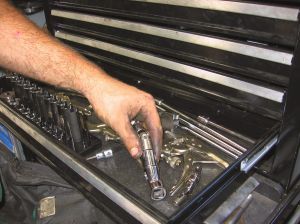 Now, let's return to something I said earlier, in that we'd both like to come across that special mechanic or that special doctor when we really need one.  Guys who can change your oil or sell you new tires are a time a dozen, and so are the men and women who can take your temperature and prescribe a kzillion aspirins.
Geeeeeze, I just remembered…  My late dad was once in the hospital for a bleeding ulcer, and a nurse brought him some aspirins to ease his pain.  When my dad suggested an anticoagulant might not be the best thing for his bleeding, the nurse promptly answered, "Oh, ya!"
Unfortunately, so are the guys and gals who coach hockey teams only a dime a dozen, if they can only fill out roster forms, open and close bench doors, and yell a couple of key hockey phrases.  Borrowing some flashy (but meaningless?) drills also seems easy enough to do when a coach just wants to get by with the bare minimum.
All this said, please appreciate that I'm not trying to bash any of my coaching brothers or sisters.  I am, however, trying to stir you to do the things you know are necessary to being more than just a door opener.
To be honest, I doubt a trip to the rink goes by without at least one of your players experiencing some sort of problem.  With that, I'd like you to be one of the few who recognize it, and I'd like you to also be one of the very few who might then be able to resolve it.  As I hinted above, your ability to do those two things just might be the difference between that kid ultimately quitting, or maybe someday making a name for himself or herself in the game.
Just to remind you…  "Common sense is enhanced by knowing more and more facts."
Personally, I do consider myself an expert when it comes to certain parts of our game.  However, I probably solved more serious problems from just knowing a little — about hockey gear, about how the body works, about what things impact the most in skill development, etc.  And those are all things that you can easily pick up, without the need of a special college degree.  (Actually, I've given you all the highlights of my Physical Education studies within these CoachChic.com pages.)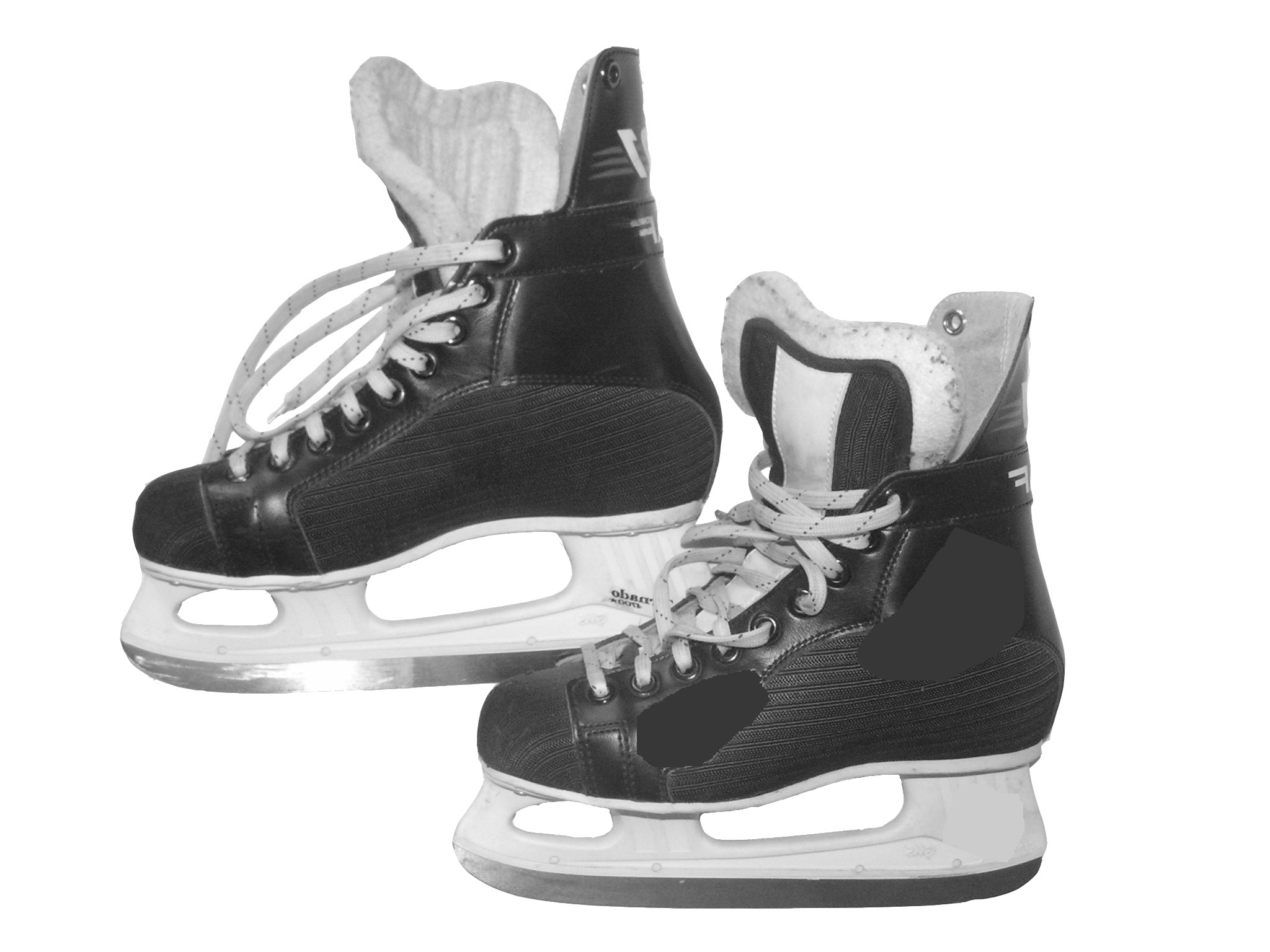 Lastly, I want you to know that I am here for you.  I honestly believe that most of what you need to know when it comes to little known background information is already here within these 600+ pages of articles, videos and audio programs.  And, while some of the content I feel compelled to give you is general in nature (because I can't dare leave any stones unturned), at least one entry per month contains info that you'll never find elsewhere.  Of course, if you ever feel anything is missing, all you need to do is ask me.
With that, I am about to release an article shortly that will tell you all you'll ever need to know about skate sharpening, including stuff I've used to save a bunch of players, beginners to pros.
Ugh…  One of our members asked me about the above, and I cringed a little, mainly because I've been there, too.  For sure, it can be unsettling, but let's see how I do addressing it.
– Dennis Chighisola

When New Players Join a Hockey Team at Mid-season
Just so readers know, a fellow member who coaches a young Mite team out in the southwest wrote me recently with the above problem.  But, let's allow him to tell that story…
"The gold division is made up of teams that were selected to be the best teams from each facility.  The silver division was teams from all of the rinks that were intended to be evenly matched by balancing talent among them (our home rink had 1 gold and 5 silver teams).  After 7 weeks of play, the 6 weakest teams from all the rinks became the bronze division.  Two teams from the gold were not competitive and dropped to silver.  Our team was winning by an average of 15 or so points.  We thought there was a chance to move us up to gold but we stayed put in silver and continue to play teams we have already beat.  Our first challenge came last week when we faced one of the previous gold teams.  We won that game as well but it was much closer (4-3).
Now to my issue – we heard yesterday that we are getting 2 new players…  Those players are 4-5 year olds moving up from the mini-mite development program.  Our concern is that these kids just aren't going to get the touches they need to develop in moving to a team at our level a bronze team makes more sense.  We also already have 11 skaters – moving to 13 limits ice time and touches for everyone, as everyone will continue to get equal shifts. Unfortunately I think our success as coaches is what has put us in this position…
Any suggestions as to how to address this with the hockey director?  I don't think he is likely to go with the reasoning that their skills are more suited to a bronze level of play…  One of the new players was on the ice during our scrimmage yesterday and looked like a deer in the headlights.  When I tried to explain some things to him about where to line up he just couldn't understand – at least he was able to say "coach, I don't understand."  I am just not sure a 4 year old is ready for the level we are at,  we struggle with the 5 year old as it is."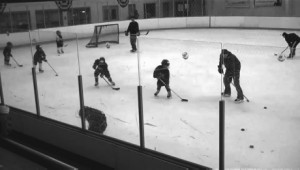 Before our friend ended, he expressed a concern about the new kids also disrupting the chemistry his team has developed to this point in the season.  So…
As I said in the intro, I've been there a few times before.  And at least in my head — without expressing it to anyone else, my feelings were pretty close to what this coach just described.  Not that killing other teams by really lopsided scores should be our aim.  Still, we coaches (and kids) work so hard to get to a given level of play, and then all of a sudden the powers that be want to upset our little apple cart?  (The way it happened to me, more often than not, was that I lost good players to promotions about this time of year, thus sending me and the rest of the team back to Square One.)
Before going on, I have a sneaking suspicion something else might be playing on this new development, as well.  I mean, the fact that a team that was blowing away every opponent didn't get moved up really makes me wonder.  So, is it possible that upset a few of the wrong people?  Could be.  Or, is it even possible the folks who run the league knew the team would be weakened in due time?  Hmmmmmm…
Okay, so let me switch caps for a few secs, and look at things from the other side…  Everyone in an organization should be working for the common good, and I can see it being beneficial to the program to promote some deserving young players.  I can also see the chance that our fellow CoachChic.com member has earned some respect for his ability to work with his kids, and that might be a very positive reason why the hockey director and the parents of the new players want those little ones joining him.
Then, while there might not be much of anything up above to sink ones teeth into, there's one more part of all this that bothers me from a teaching/coaching perspective…
I don't care who he or she is, the best coach in the world can't do anything other than to teach to the middle of his or her group.  If there's a problem with that, someone loses out when the players' skills are far apart, and it's even worse, I'll suggest, when their attention spans and comprehension levels run the gamut.  The ones hurt the most are usually the kids at the two extremes…  Sometimes the drills are slowed for the sake of the lesser players, which hurts the more advanced ones; and usually the drills that challenge the better players leave the lesser ones in the dust.
Lastly, I'm really not sure what to suggest here.  There's quite obviously a lot wrong with what's transpired.  I guess what I'm not sure about is whether this is the kind of situation that calls for a confrontation or taking a stand.  Part of the reason I say that is because two really young ones were maybe promoted too hastily — through no fault of their own, yet they're in line to suffer some disappointment if things are reversed.
With that, I'd love to hear from other members, to see if they have any different feelings.
PS:  Just before I pushed the Publish button on this one, it struck me that one small help in all this is to see if an assistant coach might become responsible just for the team's youngest kids — I mean, sticking right with them, and helping them when they trail the older players.  It could be a current assistant, someone new added to the staff, or even the guy who might take over those kids as their head coach next season (he might like getting a head start with them).
Truth be known, I love so-called "flow drills".  But…
– Dennis Chighisola
Hockey Flow Drills (or not?)
Personally, I have a fairly good collection of flow drills I can fall back on, and I'm always looking for new ones. (Actually, what caused me to write this piece is my just having found another pretty decent one.)  So I want you to know that I basically love using such drills — at times.  And it's the times I'll use them that may separate me from a lot of other coaches.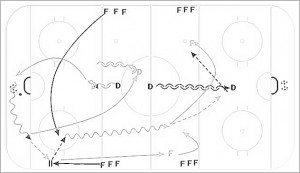 As an aside…  I've done some bashing of Florida youth hockey since arriving down here this spring, and having since had an opportunity to observe some local games and practices.  (Sorry 'bout that.)
No offense intended, but my pretty educated guess is that local youth hockey is just going through the normal growing pains.  I'm sure some coaches down here already "get it", while it'll probably take another generation or two for a lot of good coaches to emerge.
As for the getting it part…  I'm going to suggest that a typical practice should be about coaches teaching and players solving problems, with the players becoming more and more skilled and smarter as time goes along.
Of course, I took that aside so that I might emphasize practice planning and drill design as two major steps towards getting the right things done.  What I've mentioned elsewhere within these pages is that too many youth coaches resort to drills that look good but have little value when it comes to their players' true development.
Ah, yes, true development…  Let's get one thing out of the way this very second…
A player IS going to get better on a steady diet of fancy flow drills.  I mean, an hour of decently paced skating does a player some good, as does the chance to do some stickhandling, passing, receiving, shooting, defending, whatever.  If you think along with me here, though, there's probably not a lot going on that couldn't be done on ones own, out on a pond, wherever.
What I'm getting at — when it comes to drill selection — is that there's more to skill development and the development of hockey smarts than just moving through fancy patterns for a solid hour. Or, paraphrasing an old adage, "Never confuse activity with accomplishment."  Again, just buzzing around and doing a whole bunch of "things" doesn't necessarily mean players are getting a whole lot better than if they were training on their own.
Let me also remind my fellow coaches that there are two main parts to any drill:  1) the scientific side, and 2) the coach's artful approach.  And, make no mistake about it, two coaches running the exact same drill can get vastly different results; it's in how a coach "uses" a drill that makes all the difference in the world.  In general, the determining factors have to do with the way a coach introduces a drill, how the drill is set up, and how the coach interacts with the players during the drill.   And, that interaction especially depends on a coach providing the players constant feedback, so that they perform the drill better or smarter with each next time through the course.
Okay, I may have some readers scratching their heads, wondering how I can say I love flow drills while at the same time kinda criticizing their use.  So…
Sprinkled over my typical practices are a bunch of drills with drastically different aims:
Most of what I do calls for solving my guys' problems, be they skill related, or having to do with game play.  And, for the most part, I can't accomplish such things in a drill that has players and pucks moving in 32 different directions.  No, it's quite likely the drill they need will be worked in a small area, and only focused on one, small segment of their game.  (To be perfectly honest, some of these drills are really boring to watch, yet they are usually more effective than a dozen fancy drills combined.)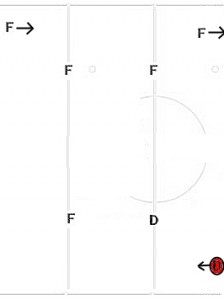 I will sometimes employ a few scaled down versions of flow drills, once again focusing on a particular part of our game. The accompanying sketch shows such a drill.
What's really happening is that my skater in red moves out of a nearby rink corner with a puck, and he exchanges give-and-go passes with the two players in center-ice.  He next takes the second pass, fires a shot on the net in front of him, and then goes to the far corner so he might soon perform the same down the other side of the ice.
For sure, there's some activity going on in this drill, with everyone moving at a decent pace for a length of the ice, and with all the skaters also each passing, receiving and taking a shot before getting a brief rest.  My goalies also get their fair share of shots.
Where is the teaching value to this drill?  Well, I ordinarily station myself in neutral-ice to inspect the give-and-go pass exchanges — of both the skaters and those in stationary positions.
Sometimes I'll have the last attacker stop in front of the net to screen and deflect the next attacker's shot, which means that I could spend time at one end to encourage my guys or to provide some corrections.
With some decent teaching and troubleshooting accomplished through the above two approaches, I might then go to a typical flow drill or two, purely because they do have my players constantly moving, and constantly needing to be on their toes.  This is in stark contrast to the first type of drill I described above, where my main objective was to troubleshoot a hockey problem, and where there's likely to be at least a little standing around as we attempt to get things right.
Just so you know, I can't stand NOT teaching during a given drill, so I am sure to locate myself somewhere within all the confusion of a flow drill — to provide feedback on a specific skill or play.  Still, that's my basic problem with flow drills:  they're so spread out, and there's so much going on, that it's virtually impossible to get a lot of teaching or correction done.  (Watch any team going through such paces, and you'll probably notice coaches just standing back as if they're admiring their players' work.  That might be okay for elite level teams, but it surely doesn't help younger players who need all the help they can get.)
(If you want one of my all-time favorite flow drills, see the Russian Circle Passing drill in the free drill section.  The reason it's one of my favorites?  That drill has the players flying, but there are a number of locations where coaches can interact to enhance the players' skills and thinking.)
Hopefully, with all this, my fellow coaches won't fall into the trap I see engulfing far too many others.  Many of you are limited to a single hour (or 50-minutes) of practice ice per week, and your challenge is to get more accomplished in your time on the ice than your competitors do.
Furthermore, most of us are given in the neighborhood of 30-plus weeks to work with our players, and we're praying they'll be far better in the spring than when they started in the fall.  As I suggested early-on, relying totally on fancy looking flow drills will help your kids get slightly better, while holding very deliberate practices — that include lots of feedback and lots of problem solving — almost guarantees your players will be far better once the season ends.
Not only do I receive some of the best hockey questions here and elsewhere, but the ones I get more often than not give me a chance to share some pretty decent ideas with CoachChic.com members.
– Dennis Chighisola
Designing an "Exciting" Hockey Practice
The question I received most recently came from the coach of a U12 team.  The problem, as he states it, is that the players on his team "… are  bored with the same training sessions…"  So, he goes on to ask, "How can I change them?"
I only wish I had the chance to hold a short back and forth conversation with that coach, because I'd begin by suggesting it seems rather early — about two months into the season? — for kids at any level to become bored with a practice routine.   I guess the quick follow-up to that would be, "Have you used the exact same lesson plan for every single one of your practices so far?"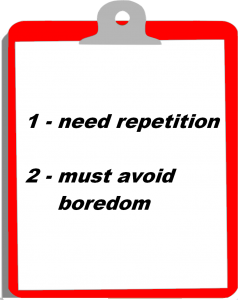 With that, let me remind every member about what I see (and use) as the most important elements to effective teaching/coaching…
1) Repetition is the best teacher, without question.  In other words. athletes need to repeat and repeat correct skill techniques until they become second nature.  They also need to work within the same game playing conditions, over and over again,  in order for the correct decisions to eventually become instinctive during the heat of battle.
2) That said, boredom is the greatest threat to effective teaching/coaching.
For sure, some folks who haven't previously heard me describe the above might be shaking their heads right now, wondering how one balances the two.  But I'm going to suggest, right here and now, that the sensitive balance between drill repetition and boredom can be the difference maker when it comes to effective coaching.
If the coach who initiated this is reading along, he's probably wondering if he should have had a different practice plan every night to this point.   No, that's not what I'm saying.  In fact, using all new drills every night would totally defeat what I've said in Point 1 above.  There has to be consistency from practice to practice.
 Okay, here are some suggestions that should help all youth hockey coaches…
With rare exceptions, all drills should be intended to help with real problems hockey players at your level have, and specific problems your kids are having.
Despite that latter statement, no hockey practice should include mostly drills aimed at stamping out the latest "brush fires".  The reason?  While you're fixing this part and that part of your team's game, the phases of play you're ignoring soon become the new brush fires.
I'm often on a tear here about so-called "vanilla drills", or the kind of drills that look good to the folks in the stands, but either have no real substance, or they're far from appropriate for a given age or skill level.  I say this, just to remind coaches to think long and hard about borrowing drills from elsewhere.
This might also be a time to address the occasion when a coach says to himself or herself, "I have to fix such-and-such tonight."  In other words, the coach saw something go wrong in a recent game, and he or she wants to correct it at the next practice.   (Yes, we're talking a brush fire here.)  There's nothing really wrong with this, if the coach understands the usual consequences.  For, what we'll discover is that probably one guy within the whole squad "gets it" almost immediately.  The rest of the squad — or the mere mortals — will likely need to be subjected to quite a few practices of repetition, if they're ever going to get it at all.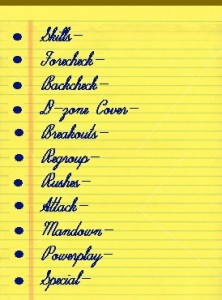 That last point suggests we enter a season with a basic structure for our practices.  Personally, all my practices usually include some individual skill work, some conditioning, then something that helps enhance the following parts of our team play:  forechecking, backchecking, defensive zone coverage, numerical rushes (like 1 on 1′s and 2 on 1′s), breakouts, regroups, attack plays or scoring thrusts, penalty-killing, powerplays, face-offs, and other special game situations (eg, goalie-off situations).
In recent years, I've divided my practices into theme sections, meaning that I'll get my guys thinking defense for a goodly part of a practice, and then I'll switch to having them concentrate on our offense.  I read that suggestion somewhere years ago, it seemed to make some sense, I gave it a try, and I kinda liked it.  I'm not saying that it will work at every level I'll ever coach, but it has so far at most.
Coaches should now see how my practices have some structure, with a pretty good chance that there will be plenty of repetition.  As a matter of fact, I will usually use close to the same lesson plan for the first three practices or so, just so my players get their heads into that structure.  Experienced coaches would also appreciate the fact that things work smoother — and quicker — once players are familiar with a given drill.  I mean, there's usually a need to do a lot of explaining with a new drill.  More familiar drills take less time to set up, which allows us to gradually cram more and more of them into a given practice.
As for change, I do that in a couple of ways…
Just about every drill we coaches know has some sort of variation.  When it comes to skills, there are a kzillion ways to practice something simple, like cross-overs.  And so are there all sorts of different ways to set up a backchecking drill, playing numerical rushes, and so forth.  Sometimes, even changing the starting location of a given drill can make it seem new to a group of players, while each new variation should still reinforce the same skills, playing principles or thinking abilities.  (In other words, the secret to gaining repetition is for the coach to keep providing the same feedback from variation to variation.)
I also borrow (or adapt) a teaching technique from the public schools in these parts, by presenting certain drills in "blocks".  I mean, I will insert a segment on something like agility for a few minutes of each practice over about a 6-practice stretch.  As I rotate that out for a few weeks, I'll bring in something similar for another 6-week stretch.  Other so-called blocks are also being rotated in and out, but beginning and ending on different dates, which means that my practices are in constant change.
Various skill drills, once mastered by themselves, should be combined and practiced together.  Like most practices, I handle things quite differently according to my team's age group or ability level.  Hey, let's face it:  I doubt the local pro team coach is saying to his guys, "Let's work on cross-overs today!"  Yet, you can be sure that skill is more than accommodated at high level practices — during conditioning drills, and during numerous team play drills.
Borrowing from my favorite college coaching course, Principles in Motor Learning, I next introduce the Theory of Part Versus Whole…  The gist of that suggests that perfecting various "parts" of something like a "whole" breakout, will ultimately help that phase of play to be far more efficient.  So, while I might frequently have my guys breaking out of their own end in full units, I will more often have them working to master isolated parts.  (Beginning with a goaltender's tee-ing of the puck for a retreating defenseman, I can probably think of about a dozen ways the puck is moved and/or exchanged on a typical breakout, with each of those representing a single drill.  Over time, those moves and exchanges can be combined to create even more drills.  Adding or eliminating resistance within a given play gives us all the more variations.)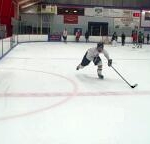 Now, there's a very good reason why I can only talk theory here, and never get too specific.  For, you see, every single team is different, which means their needs are very different.  Moreover, every single team will progress and digress at a different pace from week to week.  Consequently, the need to continually read a team's needs falls directly on the shoulders of the head coach.  I tend to think that ability separates me from a lot of other coaches, and I'm going to suggest that such an ability is going to prove the measure of most coaches who read this right now.
Then — and after just having patted myself on the back —
, I think that every team I've ever coached has at some point during a season "hit a wall".  I mean, they will suddenly show one night for practice and be absolutely "out of it".  I've never seen it coming, but without being able to really describe it, I'll tell you that I can recognize the symptoms almost instantly.  That being the case, I will ditch my lesson plan right on the spot.  I'll quickly think of some crazy things to do, and especially some things that will get the guys laughing, while still busting their butts.
Here's my way of looking at something like this…  I've found it well worthwhile to blow-off a practice, so long as it's on a very rare occasion.  And, although I said I'm blowing it off, that doesn't mean the session won't be beneficial to my guys.
They'll get more than a good workout, and with the fun stuff I'll do — like races and other crazy competitions, a session like I'm hinting at usually even helps my players bond a little more.
Although I don't like to freelance it when it comes to valuable practice time, I have completely ad libbed my routine when caught off balance.  After all the years of doing what I do, I have enough wild ideas in my head to satisfy at least one hour.   Still, other coaches might prepare in advance for the night they think something a little different is in order.  A coach might keep that lesson plan tucked away in his or her skate bag, and he or she might even carry a few extra small gadgets — like some different colored pucks, a crazy bouncing ball, some balloons, or anything else that could bring some smiles to their players' faces.
And, when I said up above that I've found that rare occasion worthwhile, I also mean that my guys have always seemed to come back to the next practices with a vengeance, or with a bunch of newfound enthusiasm.  Do I think that's a fair trade?  At first I wondered, but I've come to know it absolutely is worth it.
Finally, let me speak directly to the coach who initiated this post (or to anyone else who feels their team is already becoming bored)…
Refer back to my earliest notes to design a basic practice outline.
Go with that for a few sessions, and then start making just a couple of changes each week in the ways I described above.  Those changes needn't be exactly the way I do them, but do try to stick with repetition.  Balance that with the need to cover other things, and the need to rotate in variations of the standard drills.
Despite all I've said about vanilla drills, no one ever died from using one on occasion.  Maybe the coach wants to just spice things up, or create lots of movement for a few minutes, and that can be okay.  The idea is for us coaches to not base our teaching on drills that don't do much teaching.
Nor should we feel badly about employing one crazy lesson plan when we know the time is right.  I'd say there's something wrong if a coach sees the need to do something like that more than about twice during a season.  However, when the time is right, the time is right.  As a matter of fact, it might not be a bad idea for the coach who initiated this to run his very next practice in this fashion.  Races and wild games have proven awesome for my teams — again, they get a break from the usual same old, same old; they bust their buns (often times more than in a traditional practice); and they do tend to bond more because their practice teams include combinations other than just best friends, whatever.
Oh, and one last thing…  Players tend to read their coaches, and they tend to feed off their coaches' enthusiasm (or not).  So, while I think I've provided a lot of great ideas for making our practices more exciting, I don't believe a group of players is going to get too, too psyched if their coaches doesn't seem like he's really into the teaching process.
With that, I'm kinda hoping others will chime in here.  My guess is that there are some other great opinions held by members.
The short answer to the above is obviously, "Yes."  Of course, it's possible for any head coach to steal a win for his team.  However, with that established, my long time CoachChic.com friends have to know I have a lot more to say on such a topic.
Actually, this all came up in two ways — from a conversation I had with another very successful hockey coach, that after having watched an on-line basketball coaching webinar earlier in the day.
– Dennis Chighisola
Can A Hockey Coach Steal A Game?
That conversation with the other hockey coach took place on Facebook.  I was wishing my long time friend good luck on his upcoming high school season, and that brought us to bantering back and forth about things we have in common when it comes to coaching philosophy.
Wrongly, I'd say, my friend gives me some credit from the way he views the game.  True, he was an assistant coach with me for a time, but he steered his high school team to a state championship last season purely on his own — and, I might add, in just his first season at the helm.
When we got rolling with the conversation, he made it a point to highlight the great dedication shown by the kids in his high school program, or as he put it, "The commitment to Townie Hockey is second to none."
Then he went on to describe what he was talking about when it comes to commitment…
"A typical day in the life is 90 minutes off ice and 90 minutes on ice with a 10 mile bus ride in between. We breakdown game film and do all our defensive strategies off ice so as to not bring the practices to a screeching halt and can focus on the more fun stuff on ice."
Now, those who have been here for any length of time knows that's a hockey man after my heart.   And, while I love — and totally agree with all the things he's doing for his kids (maybe except for that bus ride —
), I just plain like the fact that he's thinking, or that everything he is doing is for a reason.  So many coaches just take what they're given — like the 90-minutes for on-ice practice, and then they're on their way home.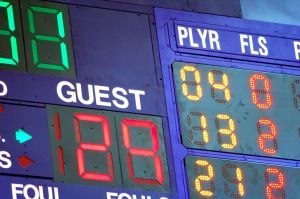 Actually, my old buddy caused me to think some, when he inserted, "I'm a big believer that how goes your forecheck = how goes your game, cuz it's all in the attitude."  Hmmmmmm…  Although I've never quite looked at it that way, I think I'd have to tend to agree.  I recall nights when my teams would hem our opponents in their own end for minutes at a time, and we were usually on our way to a "W".
I got us back to a comparison of how other coaches might do things, offering, "That's the way it ought to be done, but not all coaches can pull it off.  You did it, and my guess is that players and parents will be even more willing to follow your direction this next time around."  Ya, nothing gets folks on your bandwagon quicker than winning, and my sense is that my friend's team will continue to be successful until league opponents manage to get as much accomplished with their players.
My friend went on…  "You know, last year when we turned the corner, and rounded the bend, you could see the light go on upstairs.  And man did they gel!  I was incredibly fortunate to be able to bring on 2 great coaches to work with me.  We had to sell the administration our vision of a high school hockey program and they graciously supported the endeavor. Whereas most high school hockey teams are doing their 2 or 3 or 4 – 50-60 minute skates/week we definitely had a conditioning and skills and team edge on the opposition despite 4 of our 10 skaters and our keeper being freshmen."
Ha!  There you go.  Other teams were doing the customary stuff, and my buddy and his capable assistants were out-teaching them by a country mile.
That's when my other experience of that day kicked in…  "Funny, I told him, "but I was listening to a high level basketball webinar today, and a major point that the speaker was insisting upon was that games are won in the practices."  (I then joked — because my buddy would know, "No kidding!") Knowing the organizer of that webinar, I suggested to him that such a point would likely go over the heads of a lot of coaches, no matter their sport.
I loved my buddy's comeback…  "Coach, you are so right. You manage games. You coach practices."
Please think about that one again, if you would:  You manage games, and you coach (or teach in) practices.
My friend continued…  "Try coaching up a kid during a game like hockey and forget about it:   let me see, he's skating, stickhandling and reading the play simultaneously.  It moves way too fast.  Now stick some thought in his head to worry about.  Anything that was once fluid is gone because he's so focused on that critique."
In contract, he offered, "I throw so much multi tasking and so much pressure on everything we work on (in practice) that gametime is funtime."
With that, I only half-joked, "LOL!  I think I feel a new CoachChic.com article coming on! 
Oh, and seconds later, a young lady seeing our public conversation added, "lol.. and who wouldn't 'Like' this one?!?
For sure, who wouldn't like this one?
Okay, so now for some take-aways from all of this, as far as this old coach is concerned…
1) All of us coaches are going to be given standard practice hours, and those are good enough, if good enough is what you and your players are looking for.  As is written countless times throughout these pages, a ton more can be accomplished by adding some off-ice practices, studying video, doing some chalktalks, etc.
2) I don't think there's any doubt that games are won in practices.  Sure, we coaches can once in awhile steal a point or two from the game bench, but not very often.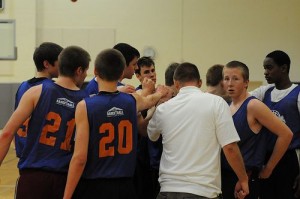 3) Although there are some things that are different when comparing basketball and hockey, there are lots and lots of similarities.  They are both "transition games", with only slightly different rules and slightly different tools to work with.  That said, the coach in that b-ball webinar suggested that every coach should have what he called a "Cheat Sheet".  (Having spilled coffee on his in the past, he suggested it be laminated.)  The idea of that sheet is to have some set plans for the last minute or so in a game, with options depending on the conditions at the time.
Not much different than a hockey bench, I guess things can get crazy in basketball, too — if the game is close and the clock is winding down.  I've kinda done something like that in the past for my older hockey teams — for example, listing my powerplay unit (to include backups), my penalty-killers, and even some ideas for late game face-off plays.  I'd also have plans for our goalie-off unit, should we need it.
 *
If anyone has their own ideas about a hockey Cheat Sheet, please share them below.
I love to learn from you guys, and I'm sure other members would also appreciate it.
I belong to quite a few hockey (or related) groups within social media, including a Facebook group called the Hockey Coaches & Players Drills Forum.  It's a great place to find some new drill ideas, as well as to get involved in some interesting hockey coaching discussions.
What got me typing away here today is a post by group member, Dan P, who expressed his concerns about the inconsistencies he's seeing this season as he coaches a Squirt AA team.  With that, my juices got flowing, and I just knew I had to address this issue with my CoachChic.com friends.
– Dennis Chighisola
Hockey Refereeing Inconsistencies
Getting the ball (or puck) rolling, here's what Dan had to say:
"The long battle of ref consistancy continues!  Coaching my Squirt AA team last weekend (this is still bothering me) one of my smallest, quickest players took a checking penalty.  However, he made the body contact exactly as he was taught. We have been teaching "stick to stick; hips to hands".  The ref said he called the penalty because the player "dropped his shoulder" and he would continue to call every player on our team that did it.  First issue I have with this is that we have followed the guidelines set forth by USA Hockey (from what I have taken from the rule change) that is talked about at every coaching clinic and have gone over the USA Body Checking Rule section on the USA Hockey website.  Do the officials watch the same videos showing what is legal and illegal?  I haven't done an officials clinic in probably 10 years.  Anyone else having similar issues?"
Now, not having been at the game in question — or seen the call, I'm not going to get involved in the exact situation Dan described.  I do, however, see tons of stuff within the above paragraph, that should give us plenty of meat for discussion.
As an aside…  Dan is (rightly) concerned with the refereeing inconsistencies as they affect his kids and his ability to teach them well.  So am I.  As a matter of fact, I'm constantly reminded of an incident I was involved in many years ago whenever this issue rears its ugly head.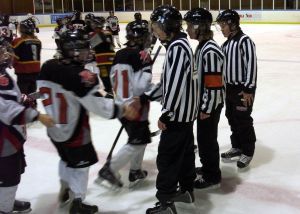 I was actually coaching my old high school team back in the early 1980′s when I found myself — and my players — heading to the dressingroom as frustrated as could be.  Feeling much like Dan, I'd seen several questionable penalties called late in the game, and they had cost us the win.
As we all filed towards the lockerrooms, it suddenly struck me that my kids were going to be asking me a lot of questions.  So I veered from that course, and headed straight for the referees' room.
Now, when the refs made their calls, they knew I was scratching my head over on the game-bench.  Yet, whether purposely or not, they stayed far enough away so that I never could get the answers I was looking for.
In reflection, I probably could have lost my job over what I did next, but I nearly tore the hinges off the ref's room door as I entered, and I was already ranting as the door swung open.  In effect, I told them, "I am a teacher first, and when I go back into my team's room, those kids are going to want answers!"  Man, was I hot.  Thank God, though, that those guys knew me for better times and better manners, and cooler heads did prevail.
I tell that story to suggest that Dan might consider himself lucky that the officials at his game at least spoke to him.  I also tell that — and the next story — in hopes it might actually be helpful to referees out there…
At least a year or so later, I was again coaching my high school team when an odd whistle blew and halted my team's powerplay.  To be honest, I had been slightly distracted talking with a player and hadn't seen the play.  My assistant coach and several players hadn't a clue what the whistle was for, so I tried to ask the ref who made the call.  Of course, that guy moved himself quickly to the face-off circle which starting me seething.  Thankfully, the other ref backed up to our bench — so that few in the arena would notice, and he said just loud enough for me to hear, "Coach, the play was off-side."  I immediately slapped my head, apologized for asking, and added, "I am an idiot!"  (Ya, by his one small gesture, he had diffused a situation that could have easily gotten nasty.)
That ref just happened to be the class of the league, and he'd done games as high as the old World Hockey Association.  What got him to the high levels was a firm knowledge of the rules, a feel for the game, and some common sense.  Enough said?
Now, while you might think I went off on a tangent there, I was really speaking to Dan's main concern, in that we coaches have to go back to our kids and have answers for them.  Oftentimes we can take care of that on our own, but sometimes we need the help of the game officials.
And that brings me to a notion I've had for a good many years…  For, I can't understand for the life of me why refs aren't seen as part of the teaching process when it comes to our game's youngest levels.  Yes, there's a need to act impartially when it comes to tournaments, more competitive levels of play, etc.   On the other hand, I've always fostered that we're-in-this-thing-together approach when I've had refs work in my hockey schools and in certain teaching leagues I've designed.  I'd ask them to look at things that way, I'd sometimes arrange for them to have a brief classroom session with the players, and I asked them to explain everything they could to "our kids".
I'm glad Dan mentioned about the referee adding that, "…he would continue to call every player on our team that did it."  I know a lot of guys who enter younger level games with something in their heads — like it's their pet peeve, or their peeve of the day, and they aren't about to change their minds.
I happen to love the old guy I'm going to speak about now, but we've had our share of friendly arguments…
His "thing" happens to be protecting young goalies.  Is he right?  Ya, I can totally appreciate that.  However, I can't appreciate it to the point where it distorts the game, or causes me to teach the game other than the way I think things ought to be.
I think our first conversation on this topic arose one of the first times he worked a hockey school for me.  He watched how I was teaching my attackers to be aggressive going to the net, and he jumped in with his feelings on protecting the netminder.  Ugh.  I explained that a lot of my kids could ultimately play at some very high levels.  However, if I taught them to back off and not go to the net hard, they were never going to make it beyond rec hockey.
As I said, that guy has been a good friend for a lot of years, so you can imagine that we've had that conversation a kizillion times.  So, I eventually reasoned that I'd continue to teach what I feel is the right way, and just take my chances that a penalty might be called on my kids at least once in awhile.
And that's kinda my suggestion to Dan…  I honestly believe he is teaching the right way, and there's no reason to do anything differently.  Sure, he could monitor the kids' elbows and hands back at practice.  However, he just can't be getting all paranoid about what the next referee's pet peeve might be.  As I do myself, I'd suggest he teach the kids properly, and take a chance that one or two might be called for something a little off the wall from time to time.
As yet another aside…  I sense that refs doing numerous games on a given day can cause some problems.  Oh, I'm not trying to stir things, but…
I've for years had cause to run from one rink to another.  And, I still recall seeing a pair of refs coast one night while doing a Division III high school game in one rink, and then skate their buns off shortly after at another rink while officiating for two of the best high school teams in the state.  Were they resting in the early game with the knowledge that they had their work cut out for them in the later one?  I thought so.
I know that youth leagues schedule their officials in different ways.  However, I've often wondered what effect it has on a ref's psyche when he's gone from a slower game to a faster one, or from a faster one to a really slow one.
For sure, it's impossible for players, coaches or officials to do their jobs to perfection.  Hey, we're all human.  If there's a problem, it's that we're all depending on one another.  Oh, I know we're never likely to get perfection, which suggests to me that that's where good communication skills come into play.
That in mind, I'd suggest a couple of things to Dan…
He might hold a meeting with his players and parents, and explain to them that it will take a little time for there to be consistent calls under the new contact guidelines.  I'd further reason with them that the best thing to do would be to just concern themselves with what the players and coaches can control, and to not be thrown off by an occasional strange penalty.
It wouldn't be a bad idea to remind the kids about that last point each time they head out for another game, "Just relax, play the game the way you've practiced, don't be bothered by an odd penalty, and we'll talk about it all afterwards."
Just prior to this season's earliest games, I might be inclined to talk to the refs about what the kids have been learning in their practices.   With that, I'd ask if they'll be looking for anything in particular, and then I'd even ask for their help or advice once the game is over.
I'd much prefer to field questions related to skill problems, troubles with a team's breakout, or maybe a player's being out of shape.  Trust me on that, that such things are easy for me to deal with.  Trying to solve some other things are for less so, and you can trust me on that one, too.
– Dennis Chighisola
Handling Disruptive Hockey Players
Of course, you have to know that a long time member, Tim T, hit me with one of the latter just this morning.  My difficulty with handling one of "those" kinds of questions isn't so much that it's hard, but that they're usually a matter of philosophy.  And, the problem with discussing philosophy here is that no two humans are built alike, which means that what's comfortable for me isn't necessarily going to be comfortable for another.  Worse yet, I don't believe there can ever be a right or wrong answer when dealing with things that boil down to philosophy.  Still, all that said, let's get on to Tim's problem…
"Our Pee Wee team has a few undisciplined players and it's disruptive in practice and hurts us in games. None of them are bad kids, just things like not coming to the circle when called (would rather shoot a few pucks into the net than come when coach calls), sometimes  two or more talking when I am, not putting forth 100% effort in drills, etc.
I am looking for some tips on how instill the necessary discipline in these players. My challenge is to accomplish this while not letting the entire practice breakdown to the point where our well behaved kids are just standing around while coaches deal with the ones requiring discipline. We have tried using push ups, bag skates and putting players in the penalty box for a short amount of time.
We usually have one head coach (me), one assistant and sometimes one or two parent volunteers on the ice during practice. Any suggestions for how they might best be used? I have been the one running the drills, but am thinking of turning that over to the assistant while I work on the discipline.
Thanks Coach."
Well, Tim, I think anyone passing through here is going to now totally appreciate why I cringe at seeing a question like this one come to my inbox.  I'm tough, though, so let me still give this one a whirl. 
If there's one problem I see here, it's that the season has already begun, and Tim (like any other coach) is already into doing things the way he normally does.  So are the players at this point used to doing whatever it is they do.
As an aside, I have written elsewhere in these pages that coaches should do an end-of-season evaluation — for themselves.  I mean, each coach should make note of all the things that went right or wrong over the season, and then spend a short portion of the off-season considering how to keep the good and how to deal with the not so good.  As I'm also known to suggest, rules announced before the team first takes the ice don't seem personal; it's like they were made for everyone.  On the other hand, try to make a new rule after a player is habitually late (or whatever), and it's seen as extremely personal to that player or that family.
In defense of Tim, this is his first go-round with a traveling team, having only spent last season helping one team, and then only briefly running a house league team with few practices.
Tim should know that I've tried both approaches to meting out punishments during a practice, sometimes nailing just the offending player/s, and sometimes bagging the whole team for the sins of one or two.  And I can admit that I saw no rhyme or reason to either approach sometimes working and sometimes not.
As yet a second aside…  It's been my experience that some of our wayward kids are just normal kids with too much energy or too little attention span.  Those kids I believe we can work with, and bring them back into the fold.  I've also had to deal with some kids with serious learning or behavioral problems, and they are almost never salvageable.
I hate to write that last sentence, but that has been my experience.  If you think about it, at least one of the reasons kids enroll in hockey is because it's a team sport.  As such, however, it requires kids who are willing to blend with the others.  For those who can't, there are individual sports where those types can sometimes excel.
All that said, I really do think it's time for a team meeting, this to include parents as well as players.  (My guess — or my experience — is that the parents who really need to be there will have something better to do.  Grrrrrrrrrr!  Maybe an RSVP would give Tim a better sense of who plans to attend, and maybe it will also give him a chance to persuade the right people to show.)  As hinted at up above, I can't tell Tim to be anyone other than himself.  However, I will suggest a few topics I think need covering…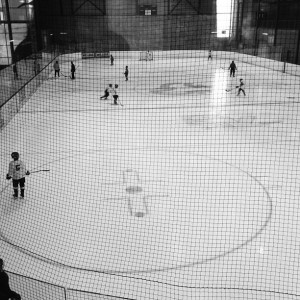 I think the whole thing has to be approached from the aspect of hockey being a team sport, and as such, the actions of one or two impact greatly on all other team members.
It should be noted that the players who are inattentive during practices eat up a great deal of practice time, which in turns cuts into the chance for other kids to learn new things.
It's also been my experience that the kids who don't pay attention in practices really screw up the works in games.  In other words, most of the kids know how to cover face-offs or how you're trying to breakout or forecheck, but those things can't be successful without everyone on the same page.
Tim might open things for discussion concerning how he might handle the practice-time problems — like punishing only those who misbehave or making it a team thing (which usually causes the good kids to grumble at the not so good ones).
Tim might also throw it out to the crowd about how the games will be handled.  And, while I'm not him and he's not me, I might be inclined to briefly sit a kid (or two) for not getting himself ready to play when the time was right:  in the most recent practice.
Then, I know that most youth organizations look for feedback from the past year's coaches when teams are being assembled for the next season.  And I would be up-front with all the families, in that I'm only going to recommend players who are truly deserving.  I might even put a scare into some, suggesting that I'll definitely tell future coaches about the problems given player might present.
Now, I'd like to think that I'm not a mean guy (and most folks who know me would vouch for that).  At the same time, I am all about fairness, and I know I can be tough on a player if his actions seem to be unfair to others.
I'd also like to think that I look to use our game — especially at its younger levels — for the purpose of teaching life's lessons.  And in this regard, I think a coach would be doing the offending player/s a huge disservice by letting the wrong work ethics persist.
Of course, most of the above centers around a yet to be determined meeting, while I know that Tim has a practice coming within a day or so.  Hmmmmmm…  What to do?
Personally, I would not change the way he's been doing things, that to include Tim running the practice and others watching his butt and helping.  If there's anything that can go wrong with that, it's that other guys don't necessarily do a very good job of watching the head coach's back, and some are more a hindrance than help.  And that stuff has to be cured as soon as possible, maybe to include putting a helper or two in charge of watching over the wayward kids.
I would also consider holding a mini-meeting off to the side and before the next practice with the problem kids.  The subject of that gathering might include some of what Tim thinks is necessary from what I listed as possible meeting notes.  Then…  Ya, then…
It's been my observation that kids who stray need company — even support.  So it's likely that the two or three kids who are constantly a distraction hang close together as often as they can.
With that, I would tell them that I don't want to see them near each other during any part of the practice.  Go mix with the other kids, but the instant they're seen together, the pair or threesome (or whatever) are headed off together to do something physical.
If the kids ask why, I'd tell them that I suspect it's only one player who is causing the others to get in trouble, and I'm going to be looking for that one guy.  (Hey, so I tend to lie a little when it comes to solving crazy problems —
!)
Lastly, and finishing as I began, I have to say that handling such problems seems not an exact science.  It's also difficult in such circumstances, because it's not fair for me to put words in Tim's mouth, nor ask him to be me.  And, as everyone probably sees by now, there probably isn't a right or wrong to any of this.  Purely, it's what one guy (or gal) can get to work.
PS:  I think the thing that makes Tim's problem a little more difficult than what some others might face is that he seemingly has to deal with more than one player who is taking the team down.  Handling a solo player with behavioral problems would be far, far easier.
*
I honestly think this post deserves — and is likely to get — lots of feedback and some differences of opinion.  I'm all for that, and I'm betting Tim is, too!

*

Not long after I completed this piece for Tim T, I received another question that I felt fell awfully close to the above (the hockey mom who sent it may not have initially thought so, but I'm hoping she'll hear me out). 
Anyway, not sensing this really required a separate article, allow me to deal with Tina F's question here…
Punished for Being Late to a Game
Actually, that hockey mom did an awesome job of explaining herself and some recent circumstances, so I'll let her introduce the problem…
"Hi Coach,
This weekend my son was benched for the whole first period of his squirt game. The game started at 7:20 am. The kids were told to be there at 6:40. My son arrived at 6:47 and sat the whole period. I was told that a kid squirt level or under cannot be benched for this amount of time. I was also told that in (her son's league) the organization could be fined $500 for benching a kid at this level so long. I have requested a meeting with our club president and would like to have all my ducks in a row. What do you know?
Tina F"
First, I'll suggest that Tina might look a little deeper into that league rule.  It's just my hunch that such a rule would include a few exemptions, maybe like allowing a coach/team to bench a player for reasons having to do with discipline, breaking team rules, what have you.  (My guess is that the rule is in place to ensure all young kids get fair ice-time under normal conditions.)  I'm not guaranteeing that, but I sure would venture to bet something like that is so.
Secondly, I'm going to ask Tina to consider what should be going on within a team lockerroom.  For sure, I can't speak for her son's coach, but I can tell you all the way I think, and how and why I run a team a certain way.  And, I'm kinda hoping that most of this makes perfect sense…
I know that a lot of coaches require their players to be at the rink a specified time prior to the game's official start.  For me, it used to be one hour prior to game-time when working with youth teams (far earlier when I coached my college team), but I changed my mind on the youth team application a few years ago.
As a brief aside here, I always like to remind parents about how they most likely feel as they prepare for an important meeting.  If there's travel involved, they'll surely take into account their vehicle being up for the trip, as well as current weather and traffic conditions.  If there's one thing most adults want to avoid when it comes to something important, it's running in to it in a panic, and knowing that they're just not going to feel right the rest of the way.
That said, parents oftentimes forget that their kids have the same things going on in their minds (or stomachs).  In fact, the higher up I've been able to observe players, the more I've seen them arrive (on their own) hours early.  They like just being there, being able to fiddle with their gear, get themselves totally ready to play, and also bond a bit with their teammates.
And, please don't discount the importance of all I've said in that last sentence.  For example, 10-minutes before game-time is not the time to discover a helmet screw missing or a broken skate lace.  And, whether anyone wants to believe it or not, the kids who arrive early tend to bond with their teammates, while the perpetual late arrivals almost never really do.  (Please trust an old coach on that last one.)
I mentioned earlier that I've abandoned the rule about being at the rink an hour prior to game-time, just so parents of young ones didn't panic on icy roads, whatever.  What I arrived at instead was to ask every player to be completely dressed — and parents gone from the lockerroom — 20-minutes prior to game-time.
Trust me, that I still had some parents push that 20-minutes early thing, rushing into the lockerrom at the last second, and then needing to spread all the gear, tie skates, find the helmet, fish around for the gloves.  I cured that in short order, though, requiring that late players let us know they're at the rink, but then go find another place to dress (I don't care if it's out in the rink runway).
The reason for all this is that those last 20-minutes are "my time"!  It's a time when my players can relax without distraction, and it's a time when I can go over things in preparation for the game.  That's a time when we'll deal with a missing player, some slight changes in the line-up, whatever.  And it's even a time — say in the last 5- to 10-minutes — when everyone can put on their proverbial "game faces".  It is not a time to listen to stories about flat tires, and it's not the time to start looking for Johnny's missing glove.  Again, it is "my time" — a lousy 20-minutes.
Now, as much as I believe the league has some exemptions for that rule about benching players, I'm also suspecting that the coach for Tina's son's team established that rule some time ago — the one that required everyone to be there by 6:40am.  I almost know it wasn't created on the spot, or just this last weekend.  Whether the length of punishment was established ahead of time might be another matter.  Still, from a very old coach's perspective, Tina was wrong, be it one minute late, seven minutes, or an hour.
Maybe Tina and others now know why I switched my requirements the way I did.  Still, very far away games have caused a problem with that 20-minutes early rule, and I might think to make an adjustment to an even earlier time should I return to coach a youth team again.
If Tina might have a complaint, it's probably the length of the punishment assessed her son.  Hmmmmmm…  One period for being late by 7-minutes.  Hmmmmmmmm…  Late is late, though, isn't it?  And, to be honest, I doubt missing just a few shifts would prove much of a deterrent to others sauntering in at any old time.  So, while I'm betting Tina didn't purposely get her son to the game late, my guess is that the length of punishment her boy received surely has gotten the attention of every team member.
Okay, I'm kinda hoping Tina isn't thinking right now that she's sorry she asked me, and I'm surely hoping she's not thinking about sending a pipebomb my way —
.  Really, what I'd like to see from all of this is for Tina to become the world's greatest hockey mom, and for her son to be appreciated by his teammates and coaches.  As I give or entertain references for older players nowadays, one of the best things said about any kid is that he's the first one to the rink and the last to leave.  Coaches like to hear those kinds of things, but so do future employers.
Bottom line — if Tina sees it in her heart…  Scratch the meeting with the President, and tell him you see things differently now.  Next, see if you can get just a minute with the coach.  Apologize to him for being late, and you might even mention that you understand the reason he has rules (and I'm hoping you do by now).  The way I see things, Tina, there is hardly anything to gain should you be found in the right in any of this, but a whole lot more can be gained if you just graciously accept what happened.
*
Once again, I expect that this one should
attract plenty of feedback (but no firebombs — please)!
This topic came about in some recent conversations, because a few young coaches probably envy me landing what might very well be my dream job.  I also think my recent blog post — entitled "I (Also) Had A Dream (or Two)" — sparked some questions about what a dream job might really entail.
No matter, I thought I'd share the following with younger coaches who aspire to someday coach or otherwise work at a relatively high level.
– Dennis Chighisola
So, You Want to Be a Professional Hockey Coach?
I learned very early-on in my coaching career that it truly does matter where you coach, and how much control you have over your own destiny.
I have no idea where my work ethic came from — be it from my Italian heritage or my rather old fashion upbringing.  However, I am a tireless worker when it comes to hockey.  In fact, I don't see myself as extra-bright or extra-quick, but I am willing to out work you until I (or my team) can beat you.
And that's what I meant in my opening remark, about needing some control — or a level playing field — in order to be able to compete within a league.
For example, when coaching in a typical Massachusetts-area high school program, the economics of your town usually determines the number and quality of kids coming to your school from your feeder program.  In non-scholarship college programs, the number of top players you get is too often determined by the school's relative admissions standards, its tuition costs, as well as some other perks (like housing).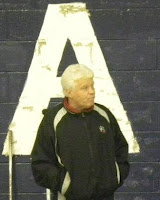 Perhaps now you can appreciate why I feel my latest assignment is more like my dream job.  Oh, each team in our new league will have its own perks, be it the coach's credentials or an extra nice home arena.  Still, the playing field is a lot closer to being even (compared to what I just described above), and my willingness to work extra hard should pay off in this new league.
That said, young aspiring coaches reading this should appreciate the need to pay their dues…
For sure, past playing experiences will help you get a foot in the door — somewhere.  But, that alone, isn't usually going to help you land your dream job.  I've never been sorry about the route I took — working my way upward through youth hockey circles and on to high school and then college coaching, attending advanced symposiums all over the world, and getting my college degree in a related field.  Still, other guys have gotten as far or further by paying their dues in different ways.
And that brings me to a conversation I had just the other day on my front porch with my grandson and his long-time girlfriend…
Anthony Chic aims to someday work in a professional team's front office, and he's thought things out pretty well on his own.  I mean, he's been slowly but surely paying his dues, and he knows he still has a long ways to go with that.
He's made his mark as a goal-scorer and playmaker at every level so far, and he's gained his share of recognition.  And, although I'm not sure he'll take my advice on playing a little pro hockey — at any level — once he finishes his college career, I tend to think that a busted nose and a few more battle scars will let the players he'll soon oversee know that he's been there and done that.
Knowing what he's wanted to do for so long, Anthony will ultimately leave college with his MBA in Sports Management.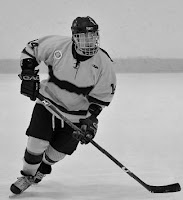 Okay, so that conversation out on the porch…  I'd just finished talking with a couple of guys who had their minds set on someday coaching at a high level, and I raised that point about paying their dues.  Interestingly, one guy was sorta foot-loose and fancy free, while the other was somewhat trapped in his lifestyle.
And that's the point I wanted to get across to Tony C and his girlfriend, for whatever it's worth…  The guy with few ties could pick up in an instant and take any low paying job he thought might help his career, while the other guy was sorta trapped with a wife, kids and a mortgage payment.  (I made the latter point in my blog post, in that I wouldn't have traded my family or home for anything, but those things surely did play into my decisions not to take a couple of interesting hockey coaching jobs halfway around the world.  On the other hand, a guy with no real ties would have probably taken either job in a heartbeat.)
I might lie all the time in telling folks I'm 107-years old, but I am getting up there in age, and I have either seen or experienced plenty.  And the above is what I've taken away from all that…   So, if a young guy wants to someday coach at a high level, he has to have a plan.  Most will have built a playing resume, and most will see the benefits to a related college degree.  From there, however, comes the need to start paying those other dues.
Some unbelievable coaching seminars take place across North America during the summer months, and the higher level ones are great for networking.  If you can manage them, some low paying and seemingly miniscule jobs can still be good stepping stones, as can be an unpaid assistant coaching job.   (I even suggested to my grandson that he ask a local pro scout if he can tag along for a few months.  Scouting can be a lonely job, so he's likely to find a taker.  And, can you just imagine the conversations that would take place on the long drives from rink to rink?)
Lastly, the above might not be an exact how-to.  Frankly, I don't think there's a perfect plan.  Moreover, a lot of luck is involved in landing your dream job, including just being in the right place at the right time.  However, I think the tidbits I've shared above should be extremely helpful.  And, come to think of it, they'll also help keep the aspiring coach or GM networking and likely in some right places.
Long-time CoachChic.com member, Tim T, writes me often, always with a great question or observation.  This time he felt he'd just seen a variation on my Russian Half-stick idea, and I thought I'd share it here with other members.
– Dennis Chighisola

A Variation on My Russian Half-stick
Before getting into this, members might want to review my article and video about the Russian Half-stick.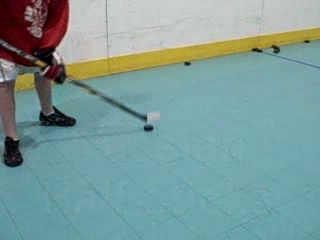 With that, Tim emailed to say that he'd just attended a Philadelphia Flyers practice session.  At one point in the practice, he got to see the powerplay unit work against penalty-killers, and he noticed the shorthanded unit playing with something that looked like my Russian Half-sticks.
If you do recall the purpose of my half-sticks, you probably know that they're intended to encourage good passing and receiving techniques.  So, I suggested to Tim that the Flyers had something else in mind for their penalty-killers…
A lot of hockey coaches try to give a slight advantage to their man-advantage unit, mainly so their plays work, and so they can gain a little confidence in those plays.  The way many of us do this is to have the PK unit switch their sticks, so that they're holding the blade end in their hands with only the smaller butt end down on the ice.  So, what I think the Flyers coaches do is just have their man-down guys play with sticks that have little or no blade on the ice.
As I also suggested to Tim, the penalty-killers could still keep switching their sticks to cover the ever changing passing lanes, but they wouldn't be so lucky as to steal the puck and rag it.
I have my good friend, Seth L, to thank for this entry.
As he explained things, he just coached his first hockey game in 2-years.  And, very much in "Coach Chic-ese" fashion —
, he said that he was excitedly, "Decompressing now & expanding on my notes from the game."
Although his team had lost the game, 7-2, he felt his kids had "outchanced" their opponents by about 3 to 1.
What inspired this post, however, was Seth's seeming frustration with having only a single half sheet of ice for his coming weekly practices.  As he said, "1/2 ice is tough!"
– Dennis Chighisola

Make the Most of Half-ice Hockey Practices
I partly agree with Seth on that one — that half-ice practices can be inhibiting at times.
However, let me share something from a coach who has been fortunate enough to have lots of full-ice practices over 40-years on the job:
Even at times when I owned the entire ice surface, I'm betting that I've spent most of the time in a single zone.  In other words, a majority of my time with older teams is spent on segments of our system — like defensive zone coverage, breakouts, forechecking, powerplay plays in the offensive zone, attack plays, etc.
Sure, there are times when a coach wants to run a series of plays from one zone to the next and to the next.  However, that is something I'm going to address a little later down the page.
As soon as I saw Seth's concern about half-ice practices, I immediately went back to where he mentioned the level he's working with.  Why?  Well…
I think his Bantams are older enough to mentally re-orient themselves with each change in drilling.  I mean, I think kids that age can understand that we were just working in the defensive zone for our breakouts, but now we're going to switch around and work on attacking the offensive zone with some plays.
Littler guys, on the other hand, are a whole 'nother story…  I can imagine that Mites — and maybe even some Squirts/Atoms? — can have some difficulty adjusting to what I just described above.  They may not even understand the terminology yet (as in our being in the "defensive zone"), never mind be able to make the mental shift from one phase of play to another.
Okay, with all that, I do have some ideas that can help with the lack of regular full-ice practice time.  If there's something a coach needs, it's a group of coaches around him or her that is receptive to some new ideas.  Most guys and gals will like what I'll suggest, while I have come across a few (rather lazy ones?) who aren't looking to accomplish more with their own kids.
Confused by all that?  Well, what I'm getting at is that the coach you share the ice with may not be interested in sharing it in different ways, or he or she may need to agree with doing some non-traditional kind of things.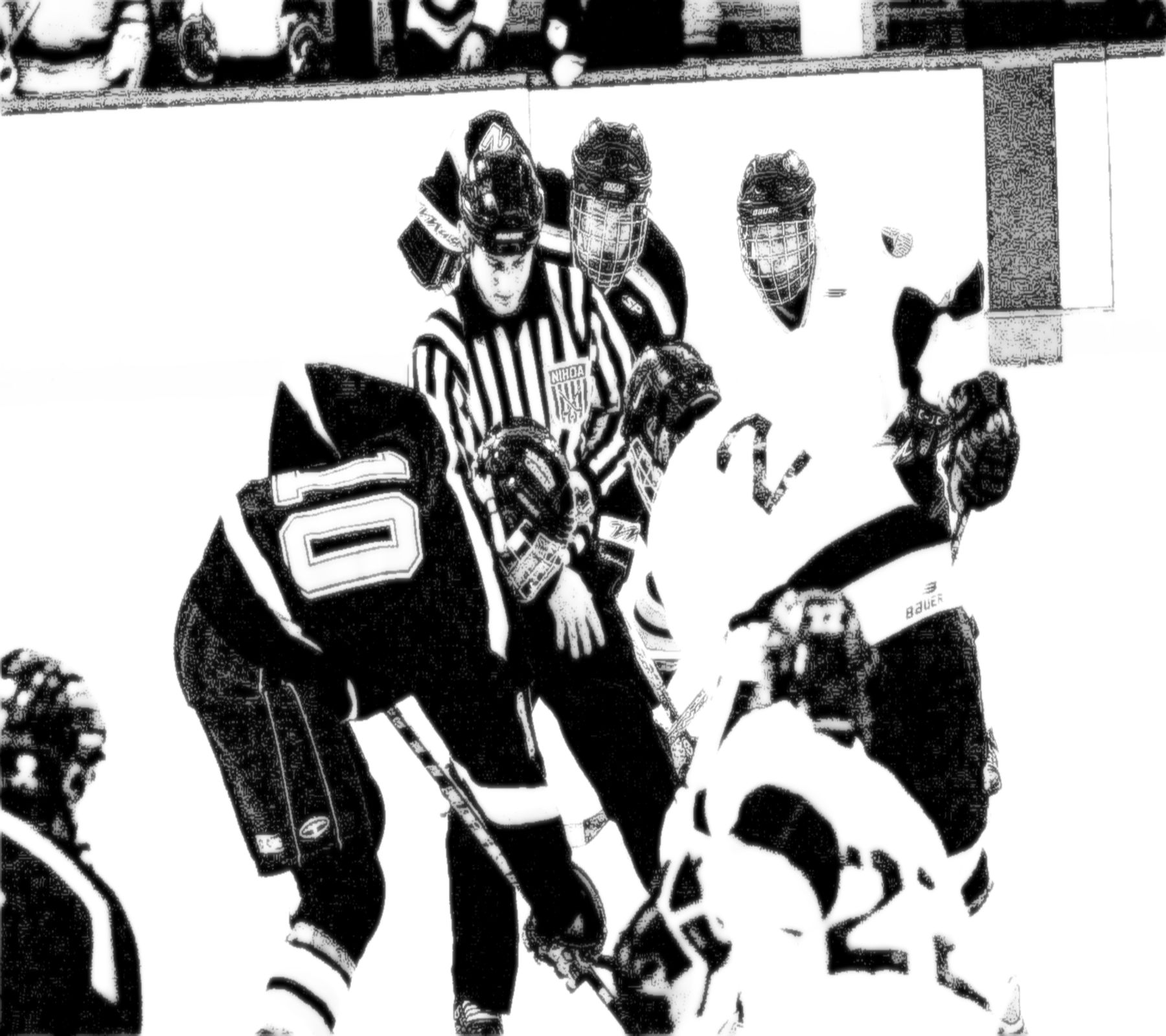 That said, here are some things I've done over the years to overcome the problem with only having a half-sheet of practice ice:
1) Hoping the group before you hasn't torn-up the ice too badly, consider gaining an extra 10-minutes per practice by not having the ice resurfaced.  This doesn't immediately help the half-ice situation, but it does typically gain a team about an extra 300-minutes of practice over a long winter (10-minutes x 30-practices), and it also paves the way for the next ploy.
2) Arrange with the coach of the other team that one remain back in the lockerroom for 10-minutes, while the other gets to go out on the ice early for that amount of full-ice practice.  (I always like to be the one who gets the lockerroom chalktalk time first, so that I can prepare the kids in advance for the way we'll later use the full-ice.)  The two teams switch roles at the end of practice, with one leaving 10-minutes early, and the other staying out on the full sheet.
3)  Although I haven't done this, I've seen other teams split the ice longitudinally, so that units can start an attack from one corner of the ice and finish with an attack on the far net.  Lines or units from the same team stay together and re-form in the corners so that they can continue attacking both nets in waves.  My guess is that with some imagination, the ice could also be split in other ways.
4) If our two teams aren't too different in abilities, I've arranged with another coach to have a brief — say 15-minute long — controlled scrimmage to work on a specific area of team play.  One example might be to have a team attempt to move the puck up-ice, gain the red line for a dump-in, and then try to apply their forecheck.  Sometimes the two coaches want to do different things, but the idea is for one team to sort of dummy for the other for a time, and then for the teams to reverse roles for an equal amount of time.
In closing, I'll suggest that Seth isn't going to have as much difficulty as he thinks coaching his (older) team on half-ice.  Still, there will be times when one or more of the above ideas might help his kids work their plays over the full length of the rink.  (The above measures probably aren't necessary every week, but probably only on occasion.)  Of course, I'm guessing that I've just scratched the surface with my ideas, and I'm hoping some members might having even more good ones.
Talk about a satisfying feeling.   But then, I know this is going to take some explaining.
– Dennis Chighisola
Knowing When Your Hockey Players "Get it"
My AAA Bantam team had about 3-weeks off from games over the recent Christmas through New Years break.  Still, we had our two practices per week, these giving us a chance to polish our act a little in preparation for the rest of our season.
As for the theme of this article, I noticed some things over recent practices that were kinda making me smile a bit.  In actuality, though, these didn't come at times when my guys were executing perfectly; to the contrary, they happened at times when some of our attack plays went slightly awry.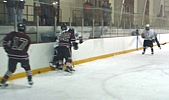 Okay, so as practice wound down tonight, I decided it was time to tell my kids exactly what I'd been seeing, and to even let them know how pleased I was with them.
First, though, a little background to all this…
Personally, I can't imagine why this hadn't hit me a lot of years ago.  However, I think it was about three summers back, when I was working with my NEHI High School Prep team when the idea of my guys "getting it" really struck me.
The squad had a lot of returnees, but we also had a handful of skaters who needed to be indoctrinated in The Old Coach's way of doing things.  And, in particular, the new guys had to gain an idea of what I saw as good passes and good pass receptions.
And, oh, did I beat it into them, hardly ever letting up, and forever reminding them to make firm, flat passes right on their mates' sticks, or to find a way to handle any pass that came even close to their own sticks.
The interesting part came late in our training camp when I noticed one new player muttering to himself a few times during a drill, and then sorta banging his stick on the ice in frustration a few other times.  Hmmmmm…
Starting to get a handle on what I was seeing, I whispered to a nearby assistant that the new guy was finally "getting it".  I mean, he now knew the difference between a good pass and a not so good one, and he was getting a little upset with himself when he made a teammate work a little harder than he should.
Well, almost the same scenario played out tonight.  I mean, I was seeing the same thing happening as my current team went through a series of attacking drills, and I also snuck over to whisper to a current assistant about my belief that this group of kids was finally "getting it".
Actually, I couldn't resist going into our lockerroom after practice and telling my kids how pleased I was with them.  And, as I started to tell the story about my old HS Prep guys showing displeasure with themselves in some passing drills, one of my youngest current players said something to the effect that, "That was me, Coach, huh?"
Ya, he was one of the more noticeable ones out there.  And, while I told him I wasn't thrilled at him banging his stick, I wanted him to know how happy I was that he did finally "get it".
Okay, so why do I make such a big deal out of this seemingly small turn of events?
Really, that's because I think it IS a pretty big deal when our players suddenly do "get it" — and I'm talking about any part of their game we deem important to their overall development.
I'm also encouraging other coaching to stick to their guns when it comes to proper execution, or when it comes to playing principles you feel important.
Then, here's what I consider the biggie, as far as I'm concerned…  For, once a player truly does "get it", I'm going to suggest that it sticks with him or her for the rest of his or her playing days.
Would you believe that a Facebook Fan Page existed in honor of This Old Coach several years before I even joined that popular social media site?  It's the truth.  As I discovered, a bunch of my former hockey students and players who by that time had reached their mid- to late-20′s created a page entitled something like, "Coach Chic says to do everything both ways!" 
  The history behind this is that I have forever harped on my players to discipline themselves, and to make sure they can cut left and right, stop to each side, and perform just about any skill in all the ways possible.  Did my constant reminders to do everything both ways make an impression on my players?  I'm guessing that's so, and I'm guessing it's in the backs of their minds today as a lot of them play in adult leagues or pick-up hours.
That "do everything both ways" principle can actually cause me to laugh in the middle of my Learn-to-play clinics and in the ADM program I work in.  Ya, by the midpoint in a season, those 6- and 7-year old little rascals will often stop me before I can get those words out of my mouth — I mean, they'll all chime in and yell, "Coach, you have to do it both ways!" 
On a more personal level, my son has played about a dozen years of minor pro hockey, and I can hear some of my old, long ago harped upon principles emerge in conversations we have today.  And so can I see the occasional shake of my college hockey playing grandson's head if failed to do something like put a pass exactly where he'd intended.
So again, I'm suggesting that we all — coaches and hockey parents — stick to our guns, keep hammering at those principles we feel important, and never fear sounding like a broken record, because that's the only way our players will someday really "get it".
If you happen to be on LinkedIn — but you haven't engaged in some of their hockey related forums, you really should.  Like many other social media sites, there are plenty of great hockey people to be met there.  And, at least for me, there are a ton of great ideas that can be gleaned from other hockey players, parents and coaches.
With that, I came across a great question there just recently, this submitted by Lance P:
"How many different drills do you think need to be implemented during a hockey season?"
Hmmmmm…  Ya, it is a great question, but one that I felt was going to take a whole lot more work than just a few lines in a forum.  So, I've decided instead to do the topic justice, by addressing it here.

– Dennis Chighisola

How Many Drills Are Needed Over a Long Hockey Season?
The reason I jumped on that question was that I could just envision the answers that would soon roll in.  I mean, I can see come coaches quoting numbers — like 15, 25, 40, 80, whatever.  And I can tell you that none of us would be right if we got hung-up on a number.
What I'm going to suggest instead, is our need to constantly troubleshoot our players' needs, or continuously help them solve problems.
Ironically, I had a brief conversation with a few of my assistant coaches after last night's AAA Bantam practice, not realizing that it actually hints at some of what I'm going to suggest here.
We'd gone through a tough stretch starting the season, so we've only begun making progress after also making some roster changes.  So I was telling my assistants last night that we'd just had the best practice ever, and that we'd begin growing from there onward.
We went back and forth about that for awhile, and then I suggested that a time will come when the kids need a break, and I'll just blow-up my practice plan for a night and do some wild, crazy things instead.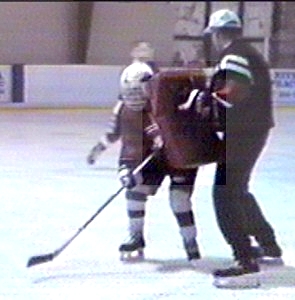 And that brings me back to that statement about the conversation with my coaches providing "hints at some of what I'm going to suggest here."
Picture along with me, that I had a plan for my kids as we entered the past summer.  Picture again how that plan had to change as we entered the fall.   Then, imagine the changes we've gone through once the roster was upgraded.
Moreover, I said that we'd begin growing from last night's practice onward.  There's no specific — or even rough — number of drills that can be estimated for completing that task.  I just have to design a given practice plan according to the way I see my kids' needs on a given night.  And, as I suggested above, there will even be a time when I'll sense that the kids have had enough, and they need something totally off the wall to renew their love of the game.
As an aside…  Some might think that a blown-off practice is a huge waste of ice-time.  But, I'll suggest that there's a far greater danger in not "reading" my players, and not "reacting" to their on-the-spot needs.  And, let me tell you:  I have found that one totally off-the-wall practice, spaced just right in their schedule, can oftentimes make the next couple of months worth of practices all the more productive.  I truly mean that.
Now, I'm going to let CoachChic.com members in on a four-plus step process I use for designing my lessen plans…
1) Here's a checklist I use before I begin drafting things.  In other words, I have this list of areas of play off to the side as I scratch some rough notes on what I'd like to cover:
Skills: skating, puckhandling, passing/receiving, scoring and body-checking
Team Defense: forecheck, backcheck, numerical situations, D-zone coverage
Team Offense: breakouts, regroups, attack plays, numerical situations
Special: face-offs, powerplay, penalty-kill
Now, not that every single one of those things gets covered in every practice.  Of course, a lot of them get combined on various drills.  My real point for scanning that list:  so that I don't forget something important.
2) Long-time members know my penchant for note-taking during games.  Among other purposes, I jot brief messages to myself while a game is in progress for things I'll want to either work on in a practice or discuss with the kids in quieter confines.
For Pre-practice Discussion: As you might realize, some things can't actually be treated in a drill, but they're better handled while either shooting the bull or looking at a re-creation on a greaseboard.  So, since my kids are in tune to meeting for 10- to 15-minutes prior to every practice, I'll jot my planned topics of discussion up in a corner of a given night's lesson plan.
For On-ice Work: I don't attempt to fix everything discovered in the last game during a single practice.  However, I usually can identify one concept that can immediately help the kids, and I'll build a drill around that idea.
3)  At this point, I usually only have a batch of scratches on scrap paper.  I don't get to actually plan the practice until I take a look at the very last on-ice session.  Repetition and continuity are important to the teaching process, ya know.  So, while every practice may be slightly different, a lot must remain constant.  Said yet another way…  I'll use the last practice as kind of an outline for the new one, and then begin slightly changing things.
4)  Very much connected to the last point above, I have for years used something I think school teachers refer to as "blocks" of drills.  In other words, I might use a given drill for something like agility for a stretch of 4- or 5-weeks, and then I'll substitute that with a different drill that still treats the same skill/s.  The idea is to get the most out of a drill, but then stop using it before boredom creeps in.  This same approach — of teaching in blocks — is actually going on in several different parts of my lesson plan, so that both repetition and my concerns for boredom are being dealt with on a nightly basis.
Outside my degree studies in Physical Education & Coaching, I think one of the best lectures I ever attended was by Dave Dryden (I think it was in Montreal, Canada, at the 1980 NHL Coaches Symposium).  There, Dryden suggested not "running around stamping out brushfires."  The gist of that approach suggests that coaches stick to an overall plan, and not constantly ditch that plan for the latest game problem.   As Dryden hinted, if we spend all our time tonight fixing our powerplay,  our breakouts will probably falter in the next game, and so on and so on and so on.    So, even though I do plan some brief time to deal with a few problems my kids have recently had, I never abandon my overall plan in any given practice.
Finally, I hope CoachChic.com members can now see why I think it's pretty difficult to name the number of drills we coaches should use over the length of a season.  Added to all the input I've shared above is the need to constantly up the progressions — or challenges — included in a single drill (which means that one drill evolves into another, and so forth).  Moreover, I can tell you from experience that players will get some things faster than we think they will, while they're going to struggle with some drills or concepts we thought they'd get easily.  And this suggests that we have to constantly make further adjustments to our lesson plans, either slowing things a bit or picking up the pace.
*
Have any further ideas or differences of opinion?  I love to hear both,
so just use the Comments area and let's talk.
I have new member, Gareth, to thank for the inspiration here.
Shortly after he joined CoachChic.com, we connected in a Facebook Chat.  And it was then that he mentioned a want to delve through these pages and "…back up a lot of my thoughts."  As Gareth continued, "I think coaches just need some guidance and confidences to do what they believe…"
And, ooooooh is he ever so right!  A head coach's job is a lonely one in some ways.  I mean, the weight of a team falls on our shoulders, and there are usually few people ready and able to counsel us when we reach various sticking points.  Ha, want to talk about the many who second-guess us?  Well, I'll tell you that we coaches — or at least the good ones — second-guess ourselves even more.
Then, before getting further into this, let me suggest that a parent often feels the same loneliness when his or her youngster meets any sort of crossroad or obstacle.  Oh, the rinks may be filled with opinionated folks.  But, it's still the parent and his or her kid who lives or dies with a final decision.
– Dennis Chighisola

Challenging Hockey's Status Quo
What echoes and echoes from my brief conversation with Gareth is that part about needing the confidence to do what he believes.  Oh, man, have I been there, done that.
Of course, back in the dark ages — when I began coaching, there was little in the way of help.  There weren't even that many hockey textbooks, never mind videos or Internet websites.  Consequently, I second-guessed nearly everything I was doing, skills to X's and O's.
My confidence grew with several events that just plain happened (and I've documented these in more detail elsewhere).  It was at least comforting when one minor league pro player affirmed my beliefs about defending a 2 on 1, and I got all the more psyched when an NHL defenseman suggested I saved his career with a special skating maneuver.  Some years later, I felt on Cloud Nine when my MP Drill Format was selected as one of the best drills at the 1980 NHL Coaches Symposium.
Those things, however exciting, were only little bumps of adrenaline — positive jolts, for sure, but not all that lasting.  No, the lasting boosts in confidence came with something you've probably heard me say before, and it's something you'll hear a lot more about in the near future.  What I'm getting at are what I've come to call "Coach Chic's Rules for Winners".
Here's how that collection came together…
Maybe in my earliest days as a coach, for example, I started seeing something like a turn over in neutral ice really matter.  In other words, we may have been controlling a game, and then a neutral-ice cough-up of the puck resulted in an opposition goal.  Of course, something like that happening just once only causes a coach to shake his or her head.  However, when it happens every few games, I tend to think there's more to it than just a rare mistake.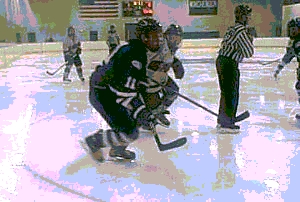 Explaining the problem only briefly, I've come to think that a player just exiting his own zone or just trying to enter the offensive zone has his teammates thinking attack.  I mean, most mates — whether they should be or not — are likely leaning forward and they're not prepared if the puck is suddenly lost.  And off to the races go one or two opponents, walking easily right through our still startled defenders.  Now, I intimated that all our puckcarrier's teammates shouldn't be looking to follow the attack.  However, I do believe in human nature, and I do believe it influences even elite players to do the wrong things at the worst of times.  So again, if our puckcarrier isn't careful near either blue line, there's a good chance of putting us in trouble.
Okay, so I started seeing something like that happening more often than to believe it's just a freakish, once in awhile thing.  And I'm thinking also that it's a principle I need to hammer into the minds of my skaters.
Problem:  I'm maybe a 20-something coach, kinda new on the job, and I'm wondering why I haven't heard any experienced coaches mention this, never mind suggesting a way to deal with it.  Would there be a confidence problem here?  Think again:  20-something, new at coaching, and not hearing far more experienced coaches address it.  Hmmmmmm…
Well, to me, I could only wait so long — and see that kind of mistake happen so often — before I decided I was right.  Damn other coaches; maybe they know about this, maybe they don't.  But, I only needed to see my team get burned so many times before I felt the need deal with it.

Now, I think the last time I checked, there were about twenty-one points listed under my "Rules for Winners".  I don't think you'd find any of them earth shattering.  If you'd be surprised at all, it might be that I've found these kinds of things to be hugely responsible for a team's success.  As a matter of fact, if a player wants to play smartly at a high level, he or she would be helped immensely by knowing and doing those things instinctively.
Notice, though, how much I anguished over that earlier point.  Ya, that kind of internal wrestling took place often during my earliest years — in coaching, and in parenting a young hockey player.  Like many others here, perhaps, I was constantly asking myself, "Am I right?"  Or, "Am I seeing what I think I'm seeing?"
And that brings me back to what Gareth and I both believe when it comes to the value of the CoachChic.com website.
There's little doubt that beginners will find enough information here to bring them quickly to higher levels of knowledge.  Hey, there are currently over 500 posts on everything from tying skates to over-speed training.
But it's the advanced player, parent and coach that Gareth reminds me about.  Ya, all of us need someone to talk with when it comes to troubleshooting a problem.  And we all need someone we can bounce our own ideas off.  Frankly, we've had a number of spirited — but fun — philosophical arguments within the Comments area, but I'm dying for more.  (I learn as much from those as our members do.)
Finally, speaking of learning…  I've found through the years that I've strengthened my beliefs about a given principle just by having to explain it to someone else.  Think about that, and then shoot me your thoughts — on unique skill applications, tactics or strategies.  I'd be loving it!
PS:  Oooops!  Any time you'd like to start a new topic, don't use the Comments area, but instead give that topic a chance to have its own area.  In other words, use the Ask The Coach link up above, and I'll begin the new topic for you.  We can go back and forth through the adjacent Comments boxes after that.
Tonight I talked about the off-ice sessions I'd organized for both of my new teams — the young AA Mites, and the older AAA Bantams.
I haven't completely fixed the quality of the audio yet.  However, I do have some ideas that I promise to try shortly.
– Dennis Chighisola

A Hockey Chat with Coaches – 3
As always, just pressing the arrow below will start the audio playing.
Audio clip: Adobe Flash Player (version 9 or above) is required to play this audio clip. Download the latest version here. You also need to have JavaScript enabled in your browser.
Oh, and since I was rushed to get into the rink this night, I didn't get the chance to thank you for keeping me company on an otherwise boring ride.  So, thanks! 
______________________
Just a reminder…
The Bonus audio is still available when you purchase
"How to Assemble & Teach A Basic Hockey System"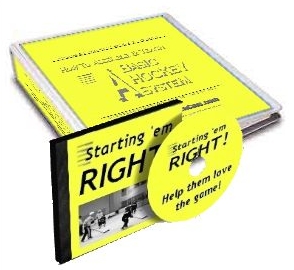 This entry comes about from an article sent me by a really great Twitter friend.  In my estimation, the guy is a real "thinker", which means nearly everything he sends my way causes me to think (sometimes 'til my brain hurts).
The real article was titled "Does Coaching Win Championships?", which dealt mainly with pro level sports, and then ultimately with it's featured team and coach in college lacrosse.  I've changed the subject heading here, because I'd like to share some thoughts as this all relates to hockey, and especially as I believe it applies to youth hockey.
– Dennis Chighisola
PS:  I urge you to read the original article.  It may not (necessarily) apply to you and me.  However, it is one of the most thought-provoking I've read in a long, long time…  Does Coaching Win Championships? By Dean Robinson
Does Coaching Win (Hockey) Championships?
Dean Robinson begins his article suggesting that pro athletes tend to have more influence on a game's outcome than the coach (think Dirk Nowitzki and LeBron James here, maybe a Michael Jordan in years past, the stars who comprised the 1927 New York Yankees, the Islanders and Oilers during different parts of the '80′s).  This isn't to say that coaches don't influence outcomes.  But, as Robinson suggests, their contributions aren't measurable — or there aren't any stats we can go to for comparisons.  True enough?  I'd say so.
That established, I'd like to look at amateur hockey.  And, no, there isn't any way to really measure a given coach's impact on game results.  Sure, we all have our won/loss records, but it's more than likely those numbers are hugely impacted by the players we had available for any given game or season.
Okay, so let's take a look at a graph I've had in my head for a lot of years…

In other words, I'm strongly suggesting that the coach of a Mite team has far great influence over his or her team's record than the coach of a college team.
Oh, before you think I'm suggesting that most Division I college hockey coaches aren't among the cream of the crop, I want you to know that that's not what I'm saying at all.  However, I'll bet most guys at that level will admit that recruiting has the greatest impact on their success.  All the guys and gals at that level know their X's and O's, and modern day DI coaches are also pretty adept at handling "people".  What they need, however, is talent to make their X's and O's produce the right results.  And, that level's most successful coaches have usually been top recruiters.
As an aside here, you might notice that I haven't drawn any vertical lines to specifically separate the influence coaches hold over Mites, Squirts, Pee Wees, etc.  That's because I believe there is a gray area from group to group.  Or, said another way, I'm only suggesting that there's a slight — and hard to specify — difference from level to level.
You might also notice that I haven't drawn anything as "all or nothing".  In other words, maybe there will be a few players we can't dramatically change among the youngest group.  And, for sure, the college level coach will be able to change some of his or her players, if only just a bit.
Now, here's the premise upon which I base my thinking…
The youngest players are by far the most malleable.  I mean, they are wide-eyed and looking to learn, and their bodies are such that kids in that rough age group can be changed within a matter of weeks, and certainly within a matter of months.  That in mind, a really effective "teaching coach" can work near miracles.  And, I'd say that some of his or her game bench ploys can probably work a whole lot more than they would at higher levels
Sadly to say, humans are less changeable as they mature.  So, while I see this starting to become obvious in older Pee Wees and into Bantams, there's a good chance that a high school and college coach pretty much gets what he or she gets.  If you get my drift here, I'm suggesting that older teens and players in their young 20′s have come pretty close to the players they're always going to be.  I'm not saying that they can't get stronger or better conditioned, for example.  But it is very unlikely that the slow, plodding player is suddenly going to become the top skilled guy on an older team.
Not that any coach at any level should stop trying to improve his or her roster, or individual players.  In fact, that's where our tinkering with the X's and O's and working our players harder at the older levels might help us steal a point or two from teams of better skill.  Returning to my premise, though, all our efforts aren't likely going to turn a less skilled team into the better skilled one.
Two final points…
Please don't ever forget what I said in that last paragraph — in that we should never stop trying to help our players improve, and we should never stop trying to gain some sort of advantage over other teams.
What I especially want to emphasize here is the importance of those who oversee development for the youngest teams.  There is no time to relax in that job, because every chance you get with a young group is an opportunity to impact hugely on their future.  And don't take your role as a "teaching coach" lightly.  Oh, I know there are some folks out there who think, "Ah, my players will get that at the next level."  Please get that out of your mind, and — while being patient, plan to cram as much as you can into those young brains and little bodies.
I'm hoping members enjoy this new format attempt — it surely helps me kill two birds with one stone, enabling me to add what I hope to be helpful content while also having you keep me company on an otherwise lonely drive to a rink. 
– Dennis Chighisola

A Hockey Chat with Coaches – 2
In this entry, I hope to share with you yet another way we coaches can arrive at ideas for new drills.  In fact, I outline three or four of them here.  (As an FYI…  I mention in the audio that a few of the quick transition drills are actually quite similar to the way my Multi-Purpose Drill Format works.  So, you might want to review that when you get the chance.)
As promised, I also answer fellow member, Craig Shaw, in this one, as I offer my own personal thoughts on USA Hockey's ADM program.
Like before, the acoustics are great, between my handheld recorder and the noisy SUV.  So, be prepared to maybe wear headphones and adjust the volume.  And, when you're ready, just press the arrow below.
Audio clip: Adobe Flash Player (version 9 or above) is required to play this audio clip. Download the latest version here. You also need to have JavaScript enabled in your browser.
*
Okay, everyone, let me know how you feel about this stuff, huh?
I don't usually like to sell anything within these pages.  At the same time, I'd feel rather badly if I didn't let my favorite hockey people know about something unique, or something that could save them some money.  So, please allow me to do this just once…
– Dennis Chighisola

My New Hockey Coaching Manual
A number of years ago I wrote what I felt was THE definitive manual for coaches of young players, and I titled that "How to Assemble & Teach a Basic Hockey System".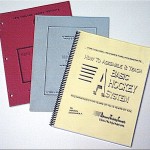 That 72-page book sold awesomely, but the loss of a key office worker ultimately put the sale of hardcopies on hold (mainly because I just didn't have the time to do the physical things involved in the sales and shipping process).  Nor could I take the time to retrain a new office worker.
Let me tell you, though…  That manual was awesome AND THOROUGH.  Hey, if you've come to know me by now, I tend to always act like a teacher, so I undertook the writing of that manual as if I was holding a new coach right by the hand, and telling or showing him or her exactly how a young team should go together.  Again, if you know me, you know I over-explain absolutely everything, just so that the information I share is perfectly clear.
Okay, so the world has changed — a lot — since I first wrote that book.  And mainly I'm talking about the arrival of the Internet.
Now, two recent events got me to thinking about that manual again…
First, I was searching for a way to help the young assistant coach who was about to take-over a team I'd coached this past year.  I mean, I wanted to arm him with all the background information that caused me to decide on a given forecheck for our kids, the whys and wherefores of our breakouts, face-off plays and so forth.  In other words, I wanted to share with him how I think when it comes to putting everything together for a young team.  And then it struck me:  almost everything I could ever tell him about is contained in that earlier written manual, "How to Assemble & Team A Basic Hockey System"!
Yet something else struck me as I thumbed through what I was about to give to my young assistant.  "Hmmmmmm…" I thought, "Even I've gotten away from a few of the important concepts I'd described in there!"  Not only that, but it also hit me that most of that manual is appropriate to what I'll need to do with my new Bantam aged team!  Ya, hockey principles are hockey principles, no matter the level, and I knew that the things I outlined in that book apply to almost all age groups.
Anyway, if you want to know more about my new coach manual, you can go hear:
How to Assemble & Teach A Basic Hockey System
There IS some urgency, because the price will go up in a few days
(that's why I'm tell you about it right now)!

The first discount deadline has passed,
but you can still save by ordering before April 30, 2011.
To be honest, I'm trying to almost give this away right now;
the eventual cost will be $27 by later this spring.

I suppose a lot of folks have been wondering why I polled hockey players and parents about whether their teams use a forecheck (or not).
You can see that and other Polls <= by clicking on that link.
Well, I think it's about time I explained.
– Dennis Chighisola

About That Hockey Forechecking Poll
As it turns out, I suspect that poll is a little out of whack.  I mean, it makes sense to me that most CoachChic.com members (and those who would stop by here) play on teams that actually use a playing system.  On the other hand, I assure you there are far too many teams out there that don't.
I really mean that…  A lot of times — as new kids have joined one of my teams, I've asked them about the system they've been playing on their previous hockey team.  (Hey, it helps if they've played something close to what I'll teach, or it helps me if I know what habits I might have to change.)  But, almost every time I've asked that question of a player, I get the old deer caught in the headlights look, or just a wide open mouth with nothing coming out.
I can't tell you how honest I'm being about this.  In fact, even when I've tried to simplify things for someone like a young teen — maybe asking him what forecheck his old coach used, I'll get something like, "Aaaaaah, aaaaaah, I don't think we had one."
Okay, so why am I making such a big deal out of this?  It's because I feel every team should have some system of play.  (Oh, I might not do it with my 5- and 6-year old beginners, but every team beyond that age has some semblance of a system.)
In general, I'm talking about all of my teams having a way of pressuring their opponents and regaining the puck in our offensive end (in other words, a forecheck).  My older teams may have two ways of checking in the offensive zone — one rather aggressive and the other more conservative.  And so will my players learn to defend in their own end, they'll be taught principles of moving the puck out of their own zone (or executing breakouts), my older teams will learn to "regroup" or counterattack in neutral-ice, and they'll also have a powerplay as well as learn how to kill penalties.  All of my teams will have offensive face-off plays and ways to defend on draws.  Actually, I'd wear-out this keyboard if I went on with the things I show my kids.
The funny thing is, I'm not the kind of coach who gets overly hung-up on the game's X's and O's when I work with youngsters.  However…  Ya, however…  What I discovered in my first years of coaching is that the various parts of a team's system are the best way to teach sound playing principles to developing players.
Teaching the elements of a team's defensive system — from forechecking to backchecking to defensive zone coverage — is the only way to get across the concepts of steering and trapping an enemy puckcarrier, or how to cover an opponent who either does or doesn't possess the puck.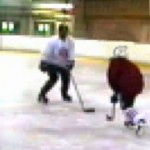 The offensive side of a system helps a coach teach decision-making with the puck, and it also brings to light his or her abilities (or lack there of) to make and catch passes, and so much more.
All that said, I just may be preaching to the choir here (or raising these points to a bunch of coaches who already agree with what I'm saying).  However, I don't want to take the chance that even one member isn't doing this stuff for his or her players.
At last count, I believe there were over 400 posts within CoachChic.com, many of them aimed at helping a coach put together a full playing system.  As I noted earlier, the youngest kids don't need to have anything too technical.  But, they do need a framework within which to learn basic playing principles.  At the other end of the spectrum, older players need even more of the X's and O's, just so they're ready to move to levels where thinking the game is extremely important.
*
Okay, here I go again with something that might be controversial — at least to some.  So, let me have it, or let me know how you really feel.  You know I love it when we get the chance to talk hockey.
This question came-in just recently from the coach of an Atom team.  Hmmmm…
Thankfully it does involve a young team, because it's a whole lot easier to deal with such a situation when the kids are young.  (Frankly, I don't know how I'd answer if I had to pull this off with a Midget or high school team.)
– Dennis Chighisola

Coaching A Losing Hockey Team
First, I'd have to suggest that the coach of a young team do a little soul searching.  I mean, it's one thing to deal with a team that isn't quite skilled enough to compete with their typical opponents, and quite another if the coach just hasn't done his or her job well enough to help the kids compete.  (Sorry to have to say that, guys, but it surely has to be considered.)
Next — with that out of the way, I think it's necessary to arrive at a few acceptable substitutes for winning.
Communication is key here — with the players, as well as with the parents.
As far as those substitutions go, I think the coach is going to have to do some serious "selling", again with both players and parents.
When dealing with young ones, I don't think it would be right to criticize them too much IF a coach knows they're just not up to their opponents.
As for those "substitutions" (for winning), what I'm suggesting is that it might be a good idea for the coach to give his or her young team some other ways to measure their success.  Maybe it could be for the team to collectively allow fewer than x-number of goals against a given opponent.  Or, perhaps it could be that the kids are asked to execute a given part of their team play to a certain degree of satisfaction.
This aside…  Years ago I had a young goaltender who was playing for my team and for his local hometown squad.  He was getting awfully frustrated and wanted to quit the other team, because they were frequently getting blasted — like 10-0.  So, I convinced him to play a separate game for himself…  What I suggested was that he imagine that his own team started each game with something like a 10-goal lead, and that it was his job to take it from there, and hopefully preserve the imaginary win.  And, son of a gun, my goalie and his parents told me it worked!
As I offered earlier, it's also a good idea to present a different way for a losing team's parents to look at things…
This can put an awful lot of pressure on a coach.  Because, what I'm going to suggest is that he or she promise the parents that their kids are going to make slow but sure gains with each passing practice and game.
I know, easier said than done.
If you think about it, however, what parents usually want for their kids is 1) that they feel good about their rink experiences, and 2) that they have a chance of continuing to play after the current season is completed.
So, the main chore — at least to me — is for the coach to keep parents focused on those two things, while also being absolutely sure he or she keeps his or her side of the bargain.
Ya, admitting one has a losing team doesn't take the coach off the hot seat.  In fact there's going to be plenty of pressure on him or her to keep the promises he or she makes — to the players and to the parents.  But, the above approach might at least help everyone get along — and keep smiling — during some very difficult times.
By Dennis Chighisola
I suppose the new USA Hockey ADM program first got me thinking about this topic.  Then again, I guess I have been forced to ponder it a lot of times through my 40-ish years in coaching.
Up front, I want to let you know that I'm currently working in a local version of the ADM, and I can say that I believe I'm seeing some results with the kids in that program.  So, while I might poke a needle at a part of the concept, I am not bashing the overall idea of the program, or the way things are currently going here locally.
My cause to "ponder it (the title topic) a lot of times" over previous years had to do with requests from other coaches to suggest what they ought to be doing with their kids, and that mainly had to do with giving those coaches exact detailed lesson plans for each nightly practice.
Also, as I'll try to describe in the end, the challenges I'm going to outline from here onward have a lot to do with the way I've designed CoachChic.com's unique format.
So, hmmmmmm…  What's my problem with all this?  Well, there is always a problem in "knowing what to do next".  For that very reason, USA Hockey will likely only get to accomplish a percentage of what they'd really like from their new ADM program.   For, you see, it would be impossible for ANYONE — including yours truly — to design a lesson plan in advance that will totally help a far away coach with his or her players.

Okay, as an example of what I'm getting at, let's consider my current High School Prep team…  You probably know from my recent posts that I've had this group since last early June, and that my entire reason for being with them is to help each kid make his own respective high school team.  Of course, I had a plan in place to bring them from June to the end of November.  However, can that plan really be carved in stone?  Not on your life.  Over those many months, individuals and the group will have slight setbacks.  At the same time, they're going to get the hang of some skills, some tactics and some conditioning exercises that really please me.  What I'm getting at, obviously, is my need to constantly adjust things according to what I'm seeing at any given moment.
I'm sure you also know that I'm coaching a young AAA Mite Major team (that also happens to be part of the local ADM).  Unlike the HS Prep team, though, the entire Mite program, their opponents, and even my own players are new to me.  So, I've altered my planning a bit, only designing that little guys' team according to some shorter term goals.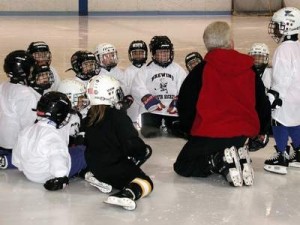 I've also just started my kzillionth year of running a Learn-to-skate/Learn-to-play program.  And, while I have done it for that long, I can tell you that the nature of each new group is slightly different from the year before and the year before.  In other words, while I might enter the first few sessions with an idea of what I want to accomplish with each group, I can't just stick to some old lesson plans I designed 20- or 30-years ago.
So, when it comes to answering the above question — about What To Do Next, I'm going to state firmly:  that's where the REAL coaching/teaching comes into play.
No, there's no formula for any of this.  Instead, as I suggested above in reference to my HS Prep guys, readings have to be taken nearly every time we meet.  And I'm talking about nearly every aspect of the guys' games.
Going back to some younger kids right now (because the examples might be easier to explain)…  The youngsters in my Learn-to-play clinic should be able to get around fairly well as we take to the ice next Sunday morning, with a number of them even being able to travel backwards, and perhaps do some sort of stop.  So I'll run several VERY basic skill drills with them, and I'll be making mental notes on exactly where they are at that time — on things like their forward striding, their cross-overs, their stopping abilities, and their backward skating.  And from those readings I'll design my next week's lesson plan.
Here's the kicker, though…  I can be absolutely sure that this group will do extremely well in given areas, while they will struggle with a few others.   So it's my job to 1) accelerate the teaching where needed, 2) go slower in certain areas, and 3) even take a step backwards to some remedial drills for a few other skills.
And I'm going to suggest that that exact process has to take place every single time we meet as a group.  In fact, that exact process is taking place with my high school guys, it's happening with my AAA Mites, and it's happening with a group of kids I'm currently teaching in a weekly skills class.
Now, although most members are right now thinking they totally understand what I've said to this point, I'm wondering if they (you) realize the dangers in not doing it this way.
For example, can you just imagine how many players will be lost if a set lesson plan was put in place long ago, and then adhered to for the rest of the coming winter?  My guess is that about one third of a given group would progress, while quite a few kids would be totally lost — 1) because we didn't take the occasional backward step when they needed it, or 2) because we didn't accelerate things when that was appropriate.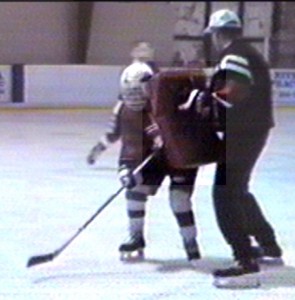 A couple of what I think are cute asides…
I've had a few parents very nicely express some concerns with their kids' games or their skills.
One of my assistant coaches has been around the game for awhile, and he's occasionally expressing some worries about our kids making certain kinds of mistakes.
Another experienced assistant is wishing I'd accelerate an area of the game where his son is concerned.
And in just about every one of those conversations, the parent or coach was dead-on.  I mean, they were right in what they were seeing; it's just that they were usually wrong as to when it might be appropriate to address their concerns.
I hate going off-track on you again, but here's another aside, this one an example to make my point even further…
I'm working on puckhandling skills within the ADM program, and as each differently skilled group rotates to my station, I'm teaching that group according to all I've described above — from reading where they are at a given time, etc.
=>  There are a ton of young parents watching each clinic, and I'm often thinking to myself that a few of the former hockey playing dads are probably wondering why I'm having kids stickhandle without ever mentioning their need to keep the eyes up.
Ha.  My simple answer to that (if I could hang a banner over center-ice) would be, "Everything in its own time and place."  In other words, the stickhandling challenges I'm giving those kids right now are overwhelming enough, so I don't want to complicate matters by tossing an extra challenge their way.  (Down the road, I actually have an easy way to teach eyes up stickhandling.)
Okay, so let's go back to a few of my opening statements…
I suggested that there's at least the probability that any given ADM program might only achieve a percentage of its full potential.  And the key words in that last sentence are "any given ADM program".  In other words, my pretty educated feeling is that each program is going to come closer or further from its true potential according to how well teaching adjustments can be made (ideally on a night-to-night basis).  Let me repeat what I said earlier, though, in that kids ARE going to benefit from the ADM; my worry is just that some will benefit more or less.
Then, let me tell you that the guy or gal who authors a booklet containing perfect lesson plans for an entire season is going to become a millionaire.  Of course, if you're thinking about purchasing something like that, think again.  As you should realize by now, it's virtually impossible to create such a thing.
Oh, well…  I actually have created something like the above — that really does work.  And it's going to be released here someday in the future, when I've had a lot of extra time to get it exactly right.
In the meantime, let's talk about the CoachChic.com format for a few secs…
Most of what you'll find within the current 400 or so postings are the result of my needing to problem-solve.  In many instances I may have given you an exact way to deal with a given challenge, but I'm just as apt to have given members a few observations I've made, thereby allowing you to make some of your own (better founded) decisions.  Yet another thing I've done in hopes of benefiting you is to divide a wealth of information into fairly easy to negotiate categories.   Hopefully then, you can quickly find skating help, puckhandling help, help for goalies, important principles having to do with the offensive side of our game, and so forth.
Finally, if there's one thing I'd like you to come away with here, it's that there is currently no silver bullet, and no one-size-fits-all.  No, I truly believe the best coaching/teaching is done on a day-to-day or night-to-night basis, and it's predicated on really "Knowing What To Do Next".
The above is a question I recently fielded from a hockey coach, and it's a good one.  Actually, I sense it's one of those that I wouldn't have even thought to address without being asked.  (See how valuable your questions and Comments can be?)  So, with that, let's get into…
– Dennis Chighisola

Naming Your Hockey Lines
I almost know that the coach who posed this question did so because he didn't want to designate kids as first-liners, second-lines, and so forth.  Anyway, that's my thinking.  I'd prefer not to give my kids the impression that one line is any better than the other, and I even like them to battle it out to show which unit can be trusted more than the others.
While on that subject, I like to keep a lot of stats that are based on a unit's performance.  (In my case, I like to form 5-player units, but this philosophy also works when evaluating forward lines and defense pairs.)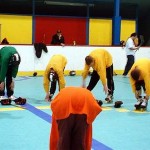 As for my suggestion, it would be to go with colors.  Take my current Mite AAA team, for example…  Three different 5-man units are dressed alike for our practices — in red, blue and yellow.  So, I simply refer to them by their colors.
By the way…  Not every organization can afford extra shirts just for practice sake.  However, I think every family could manage to purchase a t-shirt of a designated color, and these could easily be worn over another jersey.
Up above, my junior high school team wears their color-coded hockey practice jerseys to any practice will include systems work.
No matter which way a team chooses to outfit players and sort them into lines, I'll suggest that the parents be warned ahead of time that colors may be swapped from time to time.  In other words, it's quite possible I'll sometime down the road move a boy from the red unit to the blue, etc.
Okay, that's the way I happen to handle this little challenge — dressing and referring to my players by color-coded units.  Yet, I am going to bet that there's a member or two out there who has an even better idea than mine.  So, since exchanging ideas is just one of the many benefits of CoachChic.com membership, I'd really like to hear from others on this subject.  (Just use the Comment box down below.)
I have a nice young lady to thank for this entry.  For, you see, my video on "Incredible Stickhandling" (plus the bonus video) has made it just about around the world — even to a lady hockey player from the UK.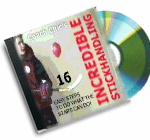 Sometime near when she purchased and downloaded those videos, she expressed concerns to me.  (I think she was praying they work, and she was even hoping they worked quickly enough for her next game — gulp, I hate that kind of pressure!)
Anyway, checking in with her earlier today, just to see how she was doing, I sensed she needed just a little more advice — and maybe some support — to go along with what is in those videos.
– Dennis Chighisola

Hockey Gains Come When You Least Expect Them
Now, I know I could take care of this subject with just one very old and time-worn expression, as in, "Rome wasn't built in a day!"  Ya, that would do it.  But, not really well enough for me (or my young UK friend).
Actually, my brief conversation with her on Facebook earlier today caused me to think back to some times long ago, when I came to sense the title of this post was true, that "hockey gains come when you least expect them".
The most memorable of the events I recalled today had to do with a hockey mom and dad who came to me one day all excited about the play their son had made in a recent game.  Paraphrasing the way they explained it to me, I guess their boy went on a rush, got tripped-up, fell to his knees, he kept stickhandling while down on the ice, ultimately recovered to his feet, and then fired a nice shot into the opposition net (which is kinda my description of a highlight reel goal).
I tell this story because the drill we use for practicing dribbling while on the knees was one of probably 25 I used regularly in my weekly skills clinic.  Again, it was just one of a bunch of drills, and it probably only received about 4-minutes of attention each week.
As an aside…  That particular drill happens to be in my regular collection for a lot of reasons beyond helping a player with the possibility that he or she might fall to the ice and need to keep puck possession.  I mean, it's one of those I group under "asymmetric drills", in that it forces a player to deal with numerous physical challenges at once (a lot like our game demands).  And I also use it to teach puckhandlers to keep adjusting their hands and arms so that their stick-blades stay flat on the ice no matter what posture they're in.
What I'm really getting at by bringing-up this old story is that I had absolutely no clue if and when that young player would ever get to apply that stickhandling-on-the-knees skill in a game.  And I mean that.
Next, I believe I wrote recently about my mom's lifelong want to reduce her body weight. 
  Ya, and knowing her oldest son kinda knows his stuff in that area, she was forever calling me for advice.  However, the problem has always been that mom wanted the weight off NOW.  So she'd starve herself for about 2-days, only to be disappointed when the bathroom scale told her she was the same as before, she'd gained a pound, whatever.  By about her third call to me for help, I told her to hide the dawgoned scale, continue her exercise and diet, and only go by how she was feeling on a given day.  I probably also told her about the building of Rome, or how "gains come when you least expect them".
I had a similar (but less frustrating) exchange with a young hockey playing guy this spring, this having to do with his strength program.  I sensed that he was as concerned about how he looked as how much strength he gained.  However, when he asked whether just sticking with his program — and not worrying about day to day results — was the right approach, I answered, "Absolutely!"  And I can tell you that I went overboard to promise him that, "Gains come when you least expect them."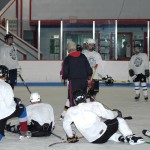 Going back to the kids in my skills courses, no matter the level, I can assure you that even I don't know when the worked on skills will kick-in to their games.  Nor do I know how long it will take for my High School Prep team's powerplay or forecheck to gel.  There just isn't a scientific law for this kind of thing — like it takes 3 practices for high school guys to learn their defensive zone coverage, it takes 4 clinic sessions for my little guys to master their snowplow stops, or it takes 6 sessions at home for my young UK friend to suddenly toast an opponent with an "incredible stickhandling" move.  (Actually, as a coach overseeing these players, I don't have any expectations beyond the fact that those "gains WILL come when we least expect them".)
Oh, another aside did just come to mind here…  For, I do almost every year or so run across a player with unique capabilities.  I mean, there are the rare athletes who can almost immediately incorporate a new skill into their game.  (I once suggested to an 8-year old on a game bench that he might try practicing a new move when he returned home from our tournament.  He was one of those rare ones, though, because seconds later he jumped over the boards, grabbed the puck, and executed that very move right their in the game action.  Wow.)
As for the rest of us (mere mortals?), all that I can absolutely promise is that sticking with a given discipline is going to ultimately achieve the desired results.  Again, there's no time-frame; it's just going to happen when the athlete's mind and body decide so.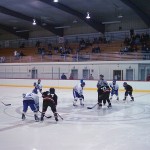 In fact, here's a tip for my far away student…  Actually it comes from my late-dad's bag of coaching tricks (he was a very successful baseball coach).  For, dad always said, "Work hard in practice, and then forget everything you learned when you enter the games."  Of course, baseball and hockey are very different sports.  However, I can buy his idea of removing too much thinking during a game;  it's far better that a player practice and practice and practice, and then allow reactions — or spontaneity — to dictate once the puck is dropped for real.
I'd suggest that she work at home on those "Incredible Stickhandling" exercises, with little concern for when the different skills will creep into her game.  And I'd further suggest that she go to her games to just have fun, to just play on her instincts, and allow nature to take its course.  For, as I've explained to my mom (ugh), to my students and players, and to young athletes who want to get stronger (or better looking), "gains come when you least expect them."  (Keep plugging away, P.A.  You'll be glad you did — in no time.)
***********************************
By the way, I'll shortly explain further about the availability of certain videos for download.  For now, however, here's the promotional video that goes along with the "Incredible Stickhandling" one….
Loading...
And here's a link to where that and a growing list of videos can be purchased…
Within a few days, I'm going to show you some video clips of the training my HS Prep guys are now doing in The MOTION Lab.  That's one of the things I hope you'll see as a benefit here — being able to follow along as I assemble one of my teams.
Of course, if you're not quite dealing with that level, I hope you'll look forward to my telling you about the others I'll be coaching over the coming months — including my college aged grandson (as he preps for a return to school), a special group of middle school kids, a Mighty Mite team out of my winter Learn-to clinics, and then the team I'm going to introduce to you to today.
Yes, as I've joked to a number of folks lately, that I had a weak moment not too long ago, and agreed to coach a cute and talented group of 8-year olds for the local Bridgewater Bandits.
With that as the introduction, let me now share with you some of the thought processes and other things I've done to ready for those young rascals. 
– Dennis Chighisola

Readying for My AAA Mite Hockey Team
By now, a lot of members probably know that I'm not in favor of spring tryouts (you can read my feelings on that subject over at Coach Chic's Hockey Diary).  Oh, I'm not about to join a new organization and immediately overturn the apple cart, so I selected my team a few months back, and I began plotting my course from there.
As is done with most rather young teams, I selected the best little athletes I could, with no regard for playing position.  And, as you can guess, my initial roster showed about 392 centermen (okay, I exaggerate a bit) and no one who claimed to be a blueliner.  Thank God, however, that my new team parents have all offered to do the right thing for everyone's sake, trusting that I'll sort the kids in the best way possible.  (I am pretty good at training defensemen, and I told the parents that.  I also suggested that a youngster's mastering that position might really help him in future tryouts, and this is surely so.)
Last week we had our first off-season practice.  And, while you can be sure I used that session to get some good teaching done, I was also using it to sort through a number of things I personally needed to get accomplished…
For example, it actually matters to me which way a player shoots.  I mean, I usually like to pair lefties and righties on defense, and I like to also have a lefty and righty on each forward line.  Not that this is always do-able.  But, I can hope.  Anyway, I made sure I recorded the way each player handles his stick, just so I could do some doodling with lines and defense pairs back home between sessions.
I also began the task of sorting forwards from defensemen.  Oh, it's not an easy thing to do.  But, our team parents already know that I'm just going to be testing kids at first, and they also know that I'll communicate with them as I get closer and closer to my final decisions.
I'm not sure I can adequately describe the criteria I used to sort the kids position-wise.  I'm sure you realize that there's more than one kind of "D", and it takes all kinds to play the different forward positions.  Still, I had some thoughts — or might I say visions? — of what I was looking for as I did the initial groupings.  And, tops on my needs for defense was/is some strength — in the kids' young bodies, and in their skating posture.  But, more on that stuff as we get into future practices.
For my players' sake, that first session was about laying some groundwork — or a foundation — for the many things we'll want to be able to do down the road.
Now, you've probably heard me say this too many times already.  But, "Passing skills are absolutely horrible among most North American hockey players!"  Oh, I'm not talking about team tactics here.  No, what I'm getting at are the actual skills involved in passing — as in sending firm, flat, spinning passes, and in catching the dawgoned puck if it's anywhere near your stick-blade.  That understood, I had the kids initially fire weighted pucks from a distance of about 8′ off the side boards.  Obviously, this helped the kids two-fold — with their shots, and with the sweeping motion required in passing.  Following that, I had partners station themselves cross-ice from each other, so that they had to sling their passes the width of the rink.  (And, yes, we still used the weighted pucks for that exercise.)
Next, I introduced the concept of steering and trapping an opposing puckcarrier (hey, can we get any more fundamental to the checking game than that?).  I wanted control of the kids' first attempts at this, so I had my volunteer assistants assume positions near a goal line, and I asked each player to make that "bad guy" go one way or the other.  What this entailed, of course, was for my kids to learn how to approach from about a 45-degree angle, thusly taking away one side of the ice and only permitting that mock puckcarrier to have one escape route.  (I hope you appreciate that this is going to be a great skill for all my skaters to ultimately employ — tje forwards needing to do this in our forecheck, and our defensemen needing to trap enemy puckcarriers back in our own end corners.)
Staying with the defensive side of our game, I next matched pairs of kids — facing each other, and I asked one player to move side to side as his partner attempted to mirror those movements.  Again, this shadowing of an opponent is basic to good defense.
We later took the latter drill a step further, this time having one player (without a puck) moving down one side of the ice in a zig-zag manner, with his partner skating backwards and attempting to mirror those movements.  As you can suspect, this drill also gave me the chance to observe some kids I was considering as future "D".
I next reverted to one of my favorite drills — for any age group, having pairs of kids play tag within the end face-off circles.  And again, this kind of reacting to an opponent is going to really help my kids defend against decent opponents.
Let me interject something here, in that I like to stick with a certain theme for a stretch.  And, by that, I mean that I will do a batch of defense-oriented drills for a time, and then I'll later switch to offensive-type ones.  If there's a method to The Old Coach's madness, it's that I sense it's a good thing that the kids "think defensively" for awhile, then switch to ultimately "think offense" for a stretch.
We didn't have to move our lines  at all (after the tag games), with the next drill having pairs of kids playing keepaway with a puck.  And, if you can picture it, this one is great for my young players' offensive and defensive skills.
I next introduced my SMG (you know, the simulated goalie that's a favorite of mine when it comes to encouraging goal-scoring skills).  I first had the kids make some sharp cuts with the puck around some obstacles, finishing with a shot on net.  Then, we followed that with a straight line of obstacles with the kids attempting to make moves on the fake goalie.  And, as usual, I teased the heck out of any youngster who hit the SMG or missed the net!  (In a way, I believe there has to be some reward or slight punishment tied to the results kids achieve on a given drill.  I'm obviously not talking about being mean here.  However, if my little guys tie my slight zingers to their missed goals, I know from experience that I am ultimately going to have 15-skaters who want to bury that biscuit.)
Staying with the offense, I taught the kids a basic pass-receiving maneuver dubbed the "goal line reverse" (you can see that demonstrated and explained in my video on "(Teaching & Troubleshooting) Basic Breakouts".  They did okay, too, which means we'll be able to take that skill to the next level pretty shortly, having them receive passes as they negotiate their routes.
Then, since I almost always over-plan my practices, I had to end there, with two more drills still left on my lesson plan.  (Ugh.)
In summarizing things, here are a couple of tips I want to share with my fellow coaching…
1)  I don't leave much to chance — or to memory, so I list every drill I'm going to do, and I have a pretty good idea of how much time I can spend on it.  (I didn't itemize the allotted times in this first practice, but I likely will once we get into full swing.)

2)  I think my players — no matter their age — enjoy a quick pace, with lots of drills crammed into whatever time we have together.
3)  Most importantly, I don't mess with so-called "vanilla drills", or drills that are more flash than substance.  In other words, I use a drill because it's accomplishing something.
For example, every single drill I noted above is going somewhere.  Said yet another way, it's a small sliver of the challenges my kids will face in their games this fall, and it's most likely being done to lay the foundation for some more complex drills.  Again, no flashy drills that have no real purpose.
4)  I mentioned above that I wanted control in a given drill, and that I accomplished that by having an assistant coach work as the enemy puckcarrier.  I think you can imagine using the opposite approach, with all hell breaking loose if I let two 8-year olds go at each other on that first drill.  Oh, we'll have live match-ups someday down the road; but, right now is a time when we need control of the drill, and the kids focusing on the main challenge.

Well, that's it for now.  I think my little guys are on the road to learning some really good stuff.  And, I look forward to sharing our progress in coming weeks and months.  (Oh, and don't forget that I'll be doing the same with my other teams, too.)
– Dennis Chighisola
PS:  As good as my little group of Bandits should be, we are still without a goaltender.  So, if you know of a local (MA/RI) 8-year old who might be interested in playing for The Old Coach, please email me!

Oooops!  With the above piece now occupying the front page, I don't want members to forget the Webinar I announced a few weeks ago.  Please check that out, and make sure I have your email address for when final details are made available.

*
As always, I look forward to you adding a Comment down below!

If this isn't one of the most frustrating subjects I've tackled here in the past year…  Jeeeeesh…

Actually, member Stirling W raised this issue about a month ago, and I'd promised to deal with it as soon as I could.  Ya, I'd promised.  If there was a problem, though, we hashed over so much stuff on the topic of players taking dives, that I initially had a tough time sorting through it all.




In the end, however, I recalled what Stirling had said when I first asked him if he minded me writing an article on this.  After all, how could I not undertake this project after he offered, "Let's run with it! Our players and future players deserve the chance to put these tools in the toolbox!"




That said, DO let us run with it!




– Dennis Chighisola
Are Hockey Players Being Taught to Dive?
Now, Stirling started by mentioning a conversation he'd recently had with a young Bantam player, with the boy sharing with him that, "…some coaches tell their players to fall down and throw their gloves off if they get hit by a stick or bumped by the other team so they can get a powerplay."  Stirling told me that he was "appalled at that."  Ha, could one blame him?
Actually, I've been well aware of NHL players taking their dives, or faking as if they'd been shot by an elephant gun.  But, no way was I aware of youth coaches advising their kids to do the same.  In fact, with all the kids I deal with over the course of a year, an idea like that has never crossed my mind.  And, frankly, I hope it never does.
As an aside here, I can't much argue with whatever a pro coach wants to do.  Nor can I argue with high level college coaches or maybe even guys who work with juniors.  Oh, I might never do things in the same way they do.  But, I can't really criticize them, and here's why…

Their neck is in the proverbial noose every single night they go to the arena.  I mean, their livelihood is on the line every night, and I have to presume that every single one of them is doing whatever it takes to win, or to just survive.
That said, I think I can speak for Stirling when I say that we are both more about teaching the game than cheating our way to wins.  I think we're both also about sending our young players along to higher levels as well armed as we can possibly make them.
Reverting back to the pros and near-pros again…  I am going to suggest that most of the players at those levels are what they are.  And by that, I mean that (within reason) they're nearly as good as they're ever going to be, and more of their preparation is geared towards playing stronger, harder, longer, etc.  (Said yet another way, by the time they're well into their 20's, they play and fill roles according to the skills they'd brought to that level, and it's unlikely that a certain kind of player is suddenly going to change himself into another type.)
Stirling and I, on the other hand, mostly work with "developing" young players nowadays, or kids who have a chance to greatly change their playing capabilities.  And, might I say, that that's how I also see the role of every single youth hockey coach and clinic director in the world, in that you mainly work with kids who are still malleable enough to change – a lot.
Okay, so let's try a little something here, envisioning a very typical youth hockey game scenario…  One of our players is heading on the attack, and he is winding his way through opponents (in Bobby Orr fashion?), with the far-end goal in mind.  On the way, though, he is partially tripped-up by an enemy defender.  Now, let's freeze that frame, and give our attacker some options:
of course, he could try to right himself, try to keep possession of the puck, and then try continuing on towards the rival net; or,
he could give-in to that I've-been-shot-by-the-elephant-gun thing his coach taught him, take a fall, and then pray that a penalty will be called.
So, I ask you…  Which option would you prefer your son (or daughter) take?  (Geeeeze, I've been a hockey dad, and I'm currently a hockey grandfather, and I can tell you that the choice isn't even close in my mind.  Ya, I don't talk about highlight reel skills here for no reason!)
Actually, you can go through all I've offered here in the way of drilling — for wild skating, puckhandling and scoring drills, and you can also go through what I've posted in The MOTION Lab area.  What you'll find are innumerable ideas for keeping your balance and fighting your way through heaving traffic.  Nowhere within these pages will you find a drill about how to dawgone quit on your way up-ice!  (Chuckling to myself and shaking my head at the same time, all I can envision is hockey turning into an event much like figure skating or gymnastics, whereby judges hold-up big placards saying, "9.6", "9.8", "9.3".  Ugh…)
One other thing here…  It strikes me that asking players to take dives is akin to a youth coach installing something like the "neutral zone trap".  I mean, dictating that our kids take dives turns the game into one of coach-versus-coach, rather than allowing the players to just play to the best of their abilities.
Again, there are levels (up above us) where coaches must attempt to outwit their counterparts — with tight checking systems, line matching, and even half-cheats in order to gain a man advantage.  (Oh, and I have to chuckle once again here, since I haven't seen many Mite, Squirt, Pee Wee or Bantam teams who can even take regular advantage of a powerplay situation.)
Stirling added something else from his conversation with that Bantam player, in that he told the youngster, "That is NOT how to play hockey and NOT how the spirit of the game goes."  (Man, I love that part about the "spirit of the game", 'cause that's something that would likely come out of my mouth if I was in that conversation.)
Stirling also said that the young Bantam made reference to seeing NHL players do it all the time.  Hmmmmm…  That is always a problem for those of us who try to teach the game rightly to developmental aged players.  But my answer is to have a serious talk with my players (you've probably read here about my weekly "bull sessions" at our off-ice practices).  I've done it every season when it comes to the roughhouse play my kids so often see on TV.  And I'll also do it when I see something happen that I think reflects on a team's or player's love of the game or respect for the game.  So, I can see myself soon having a talk with my guys about diving, and I am pretty likely to steal Stirling's line, about playing within "the spirit of the game."
If you like this article by Justin Johnson, and if you think it might benefit your goaltender, feel free to email it to his or her coach.
By Justin Johnson
Performance Coach, Mental Edge
This past fall I traveled across the state of Minnesota conducting goalie coaching clinics for youth hockey associations. During the two-hour sessions I consulted with coaches about ways they can increase the likelihood of their goaltenders having a positive experience in the game of hockey. What I discovered is there are many coaches who are on the right track with their goalies and their development. There are also a few who have trouble communicating with their goalies. Even more struggle with how they should orchestrate practices and games in a way that encourages goaltender development.
In an effort to shed some light on how coaches can set their goalies up for success, I have included four common pitfalls to avoid. My aim is to inform coaches about the ways they harm their goaltenders' mental development, oftentimes without even knowing it!
1.)  Not sure what to say, so say nothing
Issue:
Historically head coaches and their staff have struggled with how to coach, challenge and develop the goaltenders on their team. Many coaches haven't played the position, so they feel paralyzed when trying to address technical information and fundamentals. This lack of goalie know-how, typically leads to frustrating conversations or even an avoidance of conversations because it doesn't land in the coaches' comfort zone.
Advice:
I encourage coaches to make an effort to positively impact every player on the team, including goaltenders. Rather than keep quiet, sit down with your goaltender(s) to learn about what they need to be successful. Many goaltenders, even as young as squirts, know what should have been done differently on goals they gave up. As a coach, ask them what you can do to make practices better to address the situations you are seeing in games. Goalies need to feel a part of the team and process – ignoring them because of your ignorance can shake their trust, confidence and ultimately negatively impact on their experience.
2.)  Pulling the goalie without giving explanation
Issue:
Eventually a game will get out of hand or an off-night will come around where it is in either the team's or the goaltender's best interest to pull him or her from the game. I believe that the pulling of a goalie is a necessary part of the game and one that if done correctly builds character and a winning spirit in an individual. If done incorrectly you may have a disruptive issue that lasts all season, and negatively impacts the mindset of your goaltenders for quite some time. I have witnessed and even been a participant in many ugly pullings, where coaches yell at the goalie on the way to the bench or display incredibly poor body language that sends the wrong message to all watching.
Advice:
When you decide to pull your goaltender, doing so correctly comes down to two items:
Conduct yourself in a calm and professional manner, including body language, by continuing to coach your team in a positive way.
You must not let that goaltender leave the arena without knowing why you pulled him or her and/or how you intend to help them have a better outing next time. (As a side note, I feel it is acceptable to tell the goalie on the bench why you pulled him if it was done to help change team momentum. If it was simply a rough night for the goalie, it is better to discuss that in private after the game.)

3.)  Shouting instructions from the bench
Issue:
Rarely have I seen great coaching advice that makes an immediate impact on a goalie's performance by being yelled from the bench for all to see and hear. Other than encouragement or to signal the goalie to come to the bench, coaches should never yell to a goaltender. The repercussions of yelling include embarrassment, confusion, frustration, and a fear of making mistakes, all of which deter a quality mindset and performances. In other words, whatever gem of advice you may have and result you get, it will be eroded by a mindset that requires the goaltender to play for you rather than themselves and their instinct.
Advice:
If a persistent issue is occurring, there are a number of ways to communicate more effectively. You can wait until there is an intermission, relay the message to a mature player you feel will communicate it to your goalie with the correct tone and message intended, or call a time-out.
4.)  Waiting right before the game to designate the starter
Issue:
Perhaps the most common mistake coaches make without knowing it is waiting to decide or inform which goalie will play. Coaches fail to understand that goaltending is a position that requires a significant amount of preparation. If a goalie does not know, that preparation is undermined, resulting in a less than prepared, less confident goaltender. Coaches have stated they use this tactic to judge who looks best in warm-ups or to make sure both goalies are ready. Both of these tactics are mentally counterproductive and will create negative effects, not only for your goaltenders but also for the rest of the team.
Advice:
I suggest coaches give notice to BOTH goaltenders as to who will be playing a night in advance, if possible, or the morning of the game, at the latest. This should provide plenty of time for your goaltenders to prepare, giving your team the best chance of a quality performance. This is a simple request and one that will be greatly appreciated by your goaltenders.
Remember, if you are good to your goalies they will likely be good to you and your team!
For more information, contact Justin@MentalEdgeNow.com
Again, feel free to email this article to a coach who might benefit from it's great advice.
*
And, as always, we REALLY appreciate your Comments!

By Dennis Chighisola
Okay, you'd better not laugh about this one.  Actually, I introduced my Net Blocks recently just to soften you up for something that's even more unusual.  Yes, the contraption shown below is Old Coach Chic's cart.  (And, no, I'm not homeless, as some of my rink buddies suggest!)
Now, if you'll recall what I said about those Net Blocks, I tend to look for answers that solve problems, and especially if they help me do a better job of teaching/coaching.
That said, let me paint a little picture here…  The other night I pulled into the rink where my team practices on Wednesday nights.  From a couple of hundred yards away, I could see that there had to be a high school hockey game going on in the front rink.  I mean, the parking lot was full, and this was going to mean that I'd have a hard time finding a parking spot very close to the rink.  (At least once per year I tease the rink's manager about getting my own spot, and more times than that I ask if someone will call me a taxi. 
)
Next, appreciate that there's just one main entrance to that place, and I have to pass through the crowded lobby, then through the front rink, until I reach the rink in the back where we'll practice.
By the way…  I've just described conditions at one rink, and I work there at least twice per week.  However, there's yet another I go to even more often, and it's nearly as difficult to negotiate.
Anyway, with that kind of trek in mind, now picture that I STILL want to run the best practice I can.  And this is going to mean I need — at minimum — my usual kzillion pucks, some obstacles for stickhandling around, my fairly large skate bag, my stick, my clipboard, extra practice jerseys, sometimes a big camera with accessories, and oftentimes several other special gadgets.
Now, let me tell you what some guys or gals might do…  They'd likely ditch two-thirds of the pucks, and they'd probably only carry those, their skates and their stick.  As for me, I'm thankful I'm not that way.
No, it seems to me that running a great practice is my first objective.  From there, it's up to me to figure-out how I can pull that off, or how I can get all I need into the rink.  And, the answer, at least for me, is what you see below.
I'm guessing I've been through about three different models of carts over about the past 15-years.  Actually, I have two right now — the bigger one you see above that's kept in my SUV, and a smaller one that collapses and stores easily in the trunk of my car (and I have another complete set-up of gear for the car).  That bigger cart was made for toting golf clubs — and the large wheels make it easier to roll through the snow, while my smaller one is more like the light shopping carts that can be purchased in local department stores.
Just to point-out the things I happen to have in the above cart…  Perhaps you can notice my clipboard (and lesson plan) hanging from the front.  At least one Net Block is dangling close by, and so is there a small bag of extra jerseys hidden from view.  Inside the cart are my foam dots (for puckhandling courses), a bag containing about 80-pucks, and my own bag is on the very top, this containing my skates, gloves, some tools, extra whistles, and lots of small teaching necessities.  I happened to take these photos on the night I was running my team's skills session, so there wasn't the need for a few other teaching accessories.  However, if I needed my greaseboard or Model Rink, they'd easily affix to that cart.
Oh, there might be an option I haven't mentioned here, like storing some gear at the rink.  I do that with my SMG, and sometimes with some other larger gadgets.  However, the stuff I carry in my cart is needed at between three and five different facilities each week.
Finally, a carriage like mine is not for everyone, and I didn't mean to poke fun at anyone who doesn't use something like that.  My real point — as in many other posts — is that some problems need to be solved in order to run the best training sessions possible.  Some such problem solving gadgets are shown in this section — in the Coaches' Corner, while others might been found in From The MOTION Lab.
*
Okay, joking aside, might you have any ideas to add?  You know I look forward to reading your Comments!
I actually asked our good friend, Todd Jacobson, to provide this mid-season report for all of us.  Why at this time?  Well, I just sense that it's about at the midpoint in a season when a coach has a pretty good grasp of the roster, a sense of how things are going — or where they're going, and it's also around this time when he or she might wish, "I shoulda done this," or, "I shoulda done that."




Now, Todd is in about his 5th or 6th season at the helm of his school's program.  And, with that, I'd like member coaches to appreciate just how little he leaves to chance.  I mean, he begins his next year's planning REAL early, he knows exactly how he's going to early-on screen and then assign players to roles, he's planned how lines will be formed and then used, he has a picture in his mind about how his overall program will function (between varsity and JVs), and he has a philosophy — or an approach to his overall season — that he totally believes in.




But, enough from me.  This is some really good stuff!




– Dennis Chighisola
Reflections of a High School Coach
I'd like to start off by saying that anyone who wants to coach high school hockey better be prepared and willing to put more than their fair share of time and effort into it, if he or she really wants to make it work.
I also want to say that I absolutely love it. You have about a 13 week season in which you have to fit in tryouts, scrimmages, regular season games, on ice and off ice practices, team meetings, weight room sessions, and that is only the stuff on the surface.  That list doesn't include all of the administrative work that goes into a successful program.

Believe me, when I say that I start preparing within weeks of one season ending (usually sometime in April). It starts with getting letters out to rinks as I look for quality ice times. It also encompasses numerous league meetings — for scheduling, etc.  I also have to have a balance of practices and games for both the Varsity and JV teams. Then there is the budget and trying to keep the ever skyrocketing prices of ice under control without having to sacrifice the number of practices we'll have.  Next I have to juggle weight room sessions, off ice training, and team meetings into the off days. So, in any given week, our Varsity team will meet about 6 times, and the JVs about 4 times. (As an FYI, we also have a pay to play fee which I have always been totally against.  But to put a quality hockey program on the ice you need money to come from somewhere other than just the school.  So, about 25% of our budget comes from the pay to play fees.)
Getting started we have about 4 days of tryouts (3 on ice and 1 off ice) whereby the coaches are to look for the standouts at both ends of the roster.  In this way, by the second day, we are really looking at a small group of what I call "bubble" players.  Bubble players are the kids who will make the last couple of spots on our Varsity team and be the top players on the JV roster. We also have what we call swing players and JV-plus players. Swing players may be kids who don't see a lot of Varsity game time but can fill in when needed, and they get to practice with the varsity all season long, as well as get plenty of game action on the JV team. The JV-plus players are a few JV kids who we bring up from time to time, for practices and for certain games (so we can maybe get them some much needed varsity experience).
Once tryouts are over, we have about 10 days to get ready for the season opener. I purposely start my Varsity games later than most other teams. This gives me time to get the proper amount of practice on our playing systems. We usually play anywhere from one to three scrimmages during these 10 days.
Typically, line combinations are made quickly, based on a number of criteria I use:
I try to balance my top two lines (that way teams can't focus on one group or the other).
I look for a scorer, a grinder, and a playmaker for my first two lines. (When I talk to other coaches, I hear them say it's tough to play us because we do balance our lines pretty well.)
My third line is usually a defensive minded one.  I look for kids who will hustle and work hard for 35-45 seconds, which provides the necessary rest for our top two lines. Any offense we get from them is a bonus.
I personally like to run 3 lines of forwards and 4 to 6 defensemen. I feel our up tempo style dictates that we roll three lines (and I find that all the successful teams do much the same). The teams who don't usually find themselves tired in the third period usually pull away in the end.
I'm a huge fan of the subliminal (or the "head games" coaches typically play on opposing teams):
We have a dress code for games; whether it is at home or away, we dress appropriately. I always say, "If you dress with class, you play with class."
I also like my team to hit the ice first, regardless of if it's at home or away. I think when you show that you are eager to be out there it sends a message to the other team.
I like to have my players at the rink well beforehand, or at least one hour in advance.
Our players will do some warm up type drills (agility ladders or golf ball stickhandling) to get themselves in a good mindset for the game to come.
Sometimes I will have a team meeting as soon as the kids arrive at the rink, and then I give a pre-game talk just before we go out to the ice.
Most coaches will tell you that the majority of their coaching is done in practice, and then we bench manage and make corrections during games.
My philosophy has always been to scout all of our opponents (I try to see every team within about 2 weeks of when we play them).  But this can be time consuming and difficult to work into any schedule.  However, with a good sized staff of coaches, sometimes we benefit from an assistant skipping a practice to go watch a team that we will be playing soon.
My other key philosophy has been to plan on taking away something another team does well, this in hopes of frustrating them. If I feel we are the stronger team, we work on setting the tone and making the other team adjust to what we do well.
I also believe in playing a quality schedule. We play some of the toughest teams in our state year every year.  So, when we ultimately do qualify for the state tournament, we have earned it.
To give you an idea of where we stand with four weeks to go in the current season, we have 9 games remaining (8 of them at home) and are we're just below the .500 mark.  (Like it or not, we play some very tough teams in the next two weeks.)
I have a saying that, "You can't leave points on the table." And in two games so far this year, we've done just that.  So, now that we've dug ourselves a hole, we need to steal some points from some of the better teams we'll soon play. Last year we left points on the table early in the year, as well, but then knocked off some pretty good teams down the stretch to qualify for the tournament. If there's one thing in our favor, I feel that we usually peak later in the year, which is when you want your team to be clicking on all cylinders. Some teams come out fast and fade.  But I feel the more important the games are later in the year, the better my teams will usually play.
So as we move toward "crunch time", and needing to play some pretty solid hockey against some pretty good teams, we continue to work on the things that we need to tighten up. Positional play within our systems has been a struggle, but we are getting better with every practice. We have a group of kids that work hard on every shift.  There are no superstars, but they're more a collection of kids who have skills that gel well together.  In other words, this year's squad is a real "blue collar" type team. They're definitely the definition of a team, they need each other to be successful, and in the end I know that they will do just that.
Your in Hockey,
Coach J.
*
Now, I'm not about to put words in my young buddy's mouth.  However, if you'll notice how much Todd's "system" means to his team's success, you also might realize how little influence he and most other high school coaches have over their players' individual skills.  But, let me try to explain that better…




I know darned well that Todd works on his player's skills nearly every day.  I know he holds some great practices, both on-ice and off-ice, and that many of these are geared towards enhancing his kids' skating, puck-work, passing, scoring, defending, strength and conditioning.  All that said, it's hard for him — or any other high school coach — to affect huge changes in a player's overall skill capabilities in only 13 or so weeks.




What am I getting at?  It's that high school coaches — for the most part — only get to work with the players as they've arrived.  So, we're thrilled if they've learned highlight reel skills on their way up through the youth hockey ranks, and even more thrilled if they've busted their buns during the very long off-season.  For, once they arrive, the major part of a coach's job is to pull them together into some sort of system.




The reason I've added this particular wrap-up?  I think the onus is really on prospective high school players to prepare well in anticipation of truly competing at that level.  After all, there's a HUGE difference between the 13-weeks the high school coach will have them, and the 39-ish weeks a player has to really prepare.  (But, that's just this old coach's 2-cents worth.)




Unbelievable job, Todd!





– Dennis Chighisola

*

Be a friend:  You know how much we appreciate your Comments!
A note from Dennis Chighisola…
I'm asked to do a lot of these kinds of things.  And, hey, they're good for my business, and they often allow me to share some important ideas.
Anyway, I was just interviewed for the IslesNation Blog, and I truly believe there's something to be learned from this, especially if one is serious about coaching.  Just click the logo below to read that article…
*
As always, you KNOW I appreciate your Comments!
Here's a tip in itself, before I get into introducing you to a handy little gadget for your practices…




Through the years, I may have wanted to use a certain drill (or whatever), but there was something standing in the way.  It could be just a small annoyance, or just about anything discouraging or frustrating enough to prevent me from doing something that is really worthwhile for my kids.




That's a really tough choice, isn't it?  I mean, on the one hand I know a certain drill or exercise is going to help my players, but at the same time running it is going to present a huge headache to me.




Well, I happen to feel that tough choices like those — or the way I choose to handle them — can separate me from a thousand other coaches (and it often does).   In other words, I choose to tackle the problem rather than abandoning a great training idea.




So, with that, let me introduce you to the following problem-solver…




– Dennis Chighisola
Coach Chic's Hockey Net Blocks
Actually, about a decade ago, one of my helpers in a Learn-to-play clinic planted the seeds for this gadget.  (And we're currently using the latest version as waves of young Mighty Mites attack the net in the photo below.)
To set the stage…  We were letting a group of beginner hockey players have a little fun attacking one of my simulated goalies (SMG) and a net.  The problem was that those little guys were filling the net with pucks quicker than my helpers could fish them out.  I'm sure you know the problem, because it happens as often in an Atom or Pee Wee or high school practice as it does in a clinic as I've described.
Anyway, as I muttered that day about there needing to be a better way, one of my on-ice helpers grabbed a pair of pucks, stacked them, and then used that 2″ pile to lift the net up off the ice.  What happened after that, of course, was that quite a few pucks slid under the back of the net and out where they were easy to grab.  I just smiled at that, I thanked the guy for his idea, and then I told him I was going to run with it.
You might appreciate that the two pucks would occasionally be hit by a shot and slide out from under the net.  So, while the idea was a good one, that wasn't really the answer.
Over the next few weeks I tried using a 2″ block of wood to raise the net.  And I ultimately made it a wedge shape so that there would be less surface area exposed to incoming shots.  The problem with wood, as I soon discovered in my older guys' practices, is that it splinters when hit with any sort of real force.
"Okay," I asked myself, "what can I get that already exists, is in a wedge shape, and WILL stand-up against harder shots?"
And the answer was an industrial doorstop.  Yup, these are much larger than the ones found in local department stores (those dainty little ones that are made to look as nice as they are useful).  The industrial ones I found are plenty thick enough to raise the net — close to 2″, and they are constructed from extra durable rubber (they're not pretty maybe, but they are really built to last).  I'm guessing I ordered about 8 or 10 of them, so I could carry several when I needed them, and so that I'd always have some backups in my equipment storage room.
I did have to make a few adjustments over ensuing months, however…
Shown in my (horrible?) sketch below is the thick rubber wedge with a rounded slot cut-out from the top.  I  gouged the top so that the bottom of the net rests into the wedge and fairly well holds it in place.
Keeping track of my new "Net Block" was another matter.  Too often it would get buried deep in a bag of pucks or even get left behind at the rink.  So, I eventually drilled a hole in each wedge to accept a 1/2″ thick rope  about 18″ long.  With this, my gadget is a little more visible or obvious when it comes to picking-up at the end of a session, and the long rope allows me to dangle the wedge for storage (like on my puck bag or on my equipment carriage).  The photo below shows the New Block that is currently hanging on my gear cart…
Finally, I don't think there's any real genius involved in my creation (my clinic helper was the really bright guy), and it's quite possible other coaches will arrive at better ideas (please let me know if you do).  The point I'm trying to make here is that there are solutions to typical training problems, and that to solve a problem is likely to make our jobs easier and the kids' training more productive.  To be perfectly honest, we can get a lot more shots accomplished in less time whenever we employ those Net Blocks.
——————————————————————————-
Update!
I'm always thrilled when I hear that one of our members has put a CoachChic.com idea to good use.  And that was the case when Tim T emailed me recently with a photo of the Net Block he'd just made for his team's practices.
Oho!
I failed to post here that I'd lately been forced to make a pretty big change to the Net Blocks depicted above.
First, let me say that my original design still works with what I'd call a "practice net".  Ya, most of the rinks I work at use various nets, with some being especially saved for games, and some being old and beaten a little and used more often for practices or for times when extra nets are required on the ice.
Anyway, my original Net Blocks still work fine with the older (unadorned?) practice nets, because these don't usually have padding along their bottoms.  On the other hand, there's pretty thick extra padding laced around the base of a newer game net, and therein lies the problem.  I mean, even when one of those nets is lifted by the old kind of Block, the padding tends to sag and stops a lot of pucks from going through.
So, again, since this piece has much to do with problem solving…  What I've done more recently is to use old waterbottles, because they lift the nets a lot higher.  To help them stand up against the rigors of hard shots, I stuffed each bottle with foam, and then I wrapped the outside with yet more foam.  And, as I joked to Tim in my email back to him, I finished the whole thing off with a wrap of (good old) Duct Tape. 
My apologies for not thinking to remind everyone sooner about my latest adaptation.  And I also need to apologize for not having a photo handy at the moment.  But, I promise I'll take a pic tonight, and hopefully I can post that right here by early tomorrow.
*
Now, this entry was inspired by a coach asking for some guidance when it comes to changing on-the-fly.  More specifically, he was wondering if there is a certain age or level when players can be expected to learn this.  So, let me give that a whirl, and let me add as much as I can about making those kinds of changes…




– Dennis Chighisola
Hockey Line Changes
Getting right to that coach's main question here, my feeling is that the time to teach changes on-the-fly has an awful lot to do with a team's overall game awareness.  Said yet another way, I'll suggest that youngsters who have their basic skills under control, and those who are able to understand basic positioning should also be able to learn how to make exchanges while the game is in progress.  So, I'm guessing that decent Squirt or Atom players should be able to learn it.
As an aside…  I asked for some input on this subject, and I received a couple of good suggestions — about things I'd want to be sure to include here.  And first to arrive in my inbox was the suggestion from Mike M, who said, "Do them quickly and often to win games."
Ya, quickly and often, which brings me to the timing of our shifts.
Now, I have to chuckle a bit as I think about how the earliest levels of our game frequently start-out by playing 2-minute buzzer-hockey.  The reason I'm laughing to myself is that an awful lot of kids, parents and even coaches believe that sort of timing should continue through later years, with the players staying out there on the ice for several minutes at a whack.
Of course, watching just one pro or college hockey game should change that impression.  For, teams at the highest levels probably play something closer to 30- or 40-second shifts.  Yup, go out, bust your buns, and then get-off!
When it comes to the timing of shifts, I'd like to insert this personal feeling, as well…  You see, while most folks are (rightly) concerned about the length of time players are out on the ice working, I'm as concerned for the players who are sitting.  This is a three-pronged thing with me…
First, players who are sitting for any length of time are physically cooling-off, and I think this gets worse with the length of time they're off their skates.  So, while there's definitely a need for players to rest and catch their breath, I believe there is a point where time away from the ice becomes a negative.  (Is there a greater chance for injury as players sit for long stretches?  I don't know, but I think this ought to at least be considered.)
Secondly — and this is probably something most members haven't thought about before…  I honestly believe that a player can get mentally out of the game if he or she is away from the action for very long.  In other words, I think there's the real danger that a player can lose his or her focus and intensity during a long stretch away from the ice.  Consequently, I think a coach can keep his or her players more alert by quickly getting them back out there — quickly and often, as Mike M says.
Then, maybe my third point is really a combination of the previous two.  For, I know that players like to stay in a certain kind of rhythm over the course of a period — especially my good players, and it's hard for them to do this unless there's a reasonable sort of rhythm to their shifts.
So again, as Mike M might say, "Do them quickly and often!"
As another sidebar when it comes to keeping my players in the flow of things…  It's always driven me crazy when my team has suddenly taken a string of penalties.  All the above points come into play when that happens, with a number of my guys sitting and getting cold, getting themselves out of the game, mentally, and also getting out of that proverbial rhythm.
Oh, I might add one more thing to the timing of shifts…  I usually like to keep the earliest shifts in a period a little on the short side.  I want to get everybody a quick taste of the action, and I also want to delay the build-up of lactic acid as best I can.  I might lengthen the shifts just a tad in the middle of a period, and then go back to shorter ones as the period winds down.  This approach is really just a personal thing with me, but I've sensed through the years that my players have benefited from it.
Now, as for going about the teaching of line changes, I recommend that members next watch my brief video on "Dumping the Puck".  As you'll see there, the right kinds of dump-ins provide units the "time" to make changes without getting caught shorthanded.
I also believe bench decorum plays a big part in effectively getting changes on-the-fly.  So, I highly suggest these things…
During each period, all defensemen should sit on the defensive end of the bench, while all the forwards sit on the offensive end.  Getting our guys (or gals) even closer to their end of the ice, the next defense pair will sit closest to the defensive zone, and my next forward line sits closest to the offensive zone.
I make it a rule that players who are going out next should keep a very close eye on the man they'll replace.  In other words, the instant a centerman enters the play, the next centerman must keep focus on him (or her).  Why so soon?  The idea is for us to never get caught shorthanded — should a player limp to the bench with an injury, should he discover an equipment problem, whatever.  The point is, unforeseen things can happen seconds into a shift, and the next player up has to immediately notice if or when he's needed.
Then, there's the matter of the actual exchange of personnel…
As much as I like having players go over the boards as they enter the ice, we coaches must take into consideration the height of the boards in comparison to our players.  Under normal circumstances, this probably suggests that those at least below Pee Wees aren't going to be able to make the climb.  However — and believe it or not, I've actually coached at a few rinks where even high school players weren't able to get over the unusually high boards.  That in mind, I think all players should learn to properly enter and exit through the bench doors.  And for more help in this area, I suggest that members refer to my article on "Buzzer Hockey Line Changes".  (Don't let the title fool you; there's valuable information there about older players changing on-the-fly.)
Next, there's the matter of when to change.  And for this, I have the following suggestions…
You'd think that growing-up amid farms would have provided a great atmosphere for a young boy to hone his whistling skills.  Or, perhaps, that the powers that be could have had a course on whistling in my long ago Phys Ed studies.    The truth is, I can't whistle a lick.  If I could, I'd use that as a signal for my guys to change.  Instead, though, I've had to resort to calling-out loudly, "Get a change!  Get a change!"  (Oh, well…)
Now, the lengths of shifts can't be totally dictated by the timing we'd like.  No, conditions for a successful change aren't going to fall exactly every 35-seconds or so.  That said, I'll usually opt for less than the desired time if it looks like going any longer is going to trap my guys out there.  For example, I have to know there's the possibility that a unit heading down-ice on the attack is going to ultimately have to backcheck, and then breakout again in order to get a change on-the-fly.  And, presuming they're not going to have the juice to accomplish all that, I'll probably call for the early change.
I might also call for an early change if a unit has been bogged-down in their own end for an extended period of time.  Hey, it's just better to get fresh legs (and minds) out there, and to give the unit coming-off a little time to regroup.
Of utmost importance is the need for the players on the ice to be absolutely sure the puck is safe before they turn and head-off. I mean, even though they see the puck being dumped, they mustn't head to the bench until they're absolutely sure that it is going to safely get through rival players and land deep in their opponents' end.
Now, despite the fact that the next players up are supposed to be watching the man they'll replace, I also like my players yelling their positions as they come-off.  In other words, as the left winger comes to our bench, he yells, "Left wing!  Left wing!"  I don't know; it's just a safety measure that makes me feel good.
Then, Deb K inspired the next suggestion…  You see, she's not only a youth hockey parent and coach, but she's also a referee.  So it should make sense that she'd joke a bit and offer, "Tell coaches about the changes so refs aren't having to educate from the ice "
Deb's comment in mind, this biggie…  From my perspective most of the "too many men on the ice" penalties are caused by the players who should be coming-off the ice, and these usually come about because the man coming-off either changes his mind or he fools the player who is supposed to replace him.  In other words, the guy coming to the bench gives every indication that he's coming, the new player hops over the boards and onto the ice, and then the player who is supposed to come-off doesn't.  (I don't know of any way to actually practice this key communication, but I surely do beat it to death in conversations with my players.  I mean, I make it a very big deal that guys coming-off shouldn't fool their replacements or change their minds at the last second.)
Finally, if a hockey coach feels that line changes are an important part of his or her team's game, then it should make sense to practice these as often as other plays.  And, once established, it wouldn't hurt to review them on occasion, and to also frequently talk about the principles involved.
*
A lot of things go into proper line changes, and I almost fear I've forgotten a few.  If you think I have, please add a Comment so that this topic is eventually covered as thoroughly as possible!
I know I've mentioned "controlling" drills in the past, but probably haven't explained that very well.  So, I thought I'd take this brief opportunity to tell you why I do this, as well as describe a few of the ways I manage to accomplish it…




– Dennis Chighisola
Controlling Hockey Drills
To begin, I do find it a little difficult to explain exactly what I mean by "controlling" drills.  In a way, there's my want to organize certain drills a little differently than other coaches might, this so I can keep my player's focus on specific skills or techniques, and so that we might positively affect muscle memory.
But, knowing that I still haven't explained myself well, perhaps a few examples will help you far more:
1) One example is the way you so often see me run shooting drills…
The above photos show members of my two NEHI teams staking claim to their own area along the side boards, and armed with a handful of pucks.  We do this at the start of almost all of our off-ice and on-ice practices, and quite often for a good 10- to 15-minutes per practice.  So, how many shots do you think one of my players takes over the course of a season?  My guess is that the number falls somewhere near 5- or 6-thousand.  Ha, little wonder my kids ultimately shoot absolute lasers!
In contrast, just envision the team that practices shooting by having a player circle, collect a pass from someone, and then head towards the net for a shot.  If he or she is on a normal sized roster, that means an individual player probably has to wait for 14 other skaters in order to have a turn.  And that, at least to me, removes the chance for a player to truly develop muscle memory.  If you think about it, there's a good chance that my kids will get somewhere in the order of 20- to 30-shots in the time a player working in the other format gets one or two.  And, when it comes to muscle memory, my kids get to gradually adjust their technique as they take one shot after another.
As an aside…  I use many of the traditional attacking drills, including something like the one I just described.  The difference is that I'll run those kinds of drills for other reasons, or to give my kids the chance to use their newly improved shooting skills in more of a game related context.
2) Just recently I described this drill for enhancing my kids' ability to tap a puck out of the air and towards the goal (or, in this case towards an imaginary goal).  Done in similar fashion to the above described shooting drill, my players are again close to the boards, and pairs have a handful of pucks at their disposal (see the photo below).
Now, here's how I sense other coaches might run this drill…  I know that a lot of them would have someone flip a puck — off their stick — so that an attacker could swipe at it.  Worse yet, it's quite likely that some coaches would have players, one after another, head to the net for their periodic attempt at the play.  (I'm chuckling a bit right now, recalling the player who occasionally asks me why we don't use the nets.  To which I'll answer, "Because we have 30-players here, and only 2 nets!"
)
My method, of course, assures lots of repetition, and it also assures fairly well placed pucks for our attacker to practice on.
3)  Okay, here's something I haven't previously shown you…
In the above photo, one of my hockey school coaches is helping a young defenseman with his 1 on 1 skills.  What the coach is doing is pretending to be the attacker on that 1 on 1.  And, he's controlling everything about the drill, including the most important aspect, skating speed.  (In other words, he's keeping the speed under control so that he can do the following…)
Throughout the course of this drill, my coach is talking to the young blueliner — about controlling the gap between them, about keeping his eyes up (not down towards the puck), about pokechecking technique, about angling, and about so much more.
Of course, I'm sure you can picture how this way of doing things so drastically differs from typical one against one drilling.  Actually, I'll suggest that absolutely nothing is learned if attackers and defenders aren't closely matched.  Moreover, all too often defenders just continue to reinforce the wrong techniques when working at full speed and just trying to survive the drill.
Finally, I don't want members to get me wrong here…  As I intimated above, I use all sorts of really great game related drills in my practices, many of them described or shown throughout CoachChic.com.  However, when it comes to working for repetition — and working on the good kinds of muscle memory, I'll suggest that we coaches really do have to find ways to "control" our drills.
*
Can you help Coach Chic and other members?  Your Comments and additional ideas really do add value to this site!
Okay, this might not seem like the greatest tip in the world.  However, anything that makes our jobs easier has to be worthwhile.




If you think about it, a typical youth coach — working with his or her team on the average of only twice per week for thirty-five winter weeks — is going to tote his or her pucks into and out of a rink at least 70-times.  And, while I travel to rinks close to 5- or 6-times per week, just 70-ish trips would get me to looking for a better way.




– Dennis Chighisola
Carrying Our Hockey Pucks
All right, so I've suggested that toting our pucks around IS a big deal (at least to me).  The reason I feel that way is that they're a part of the "tools of our trade", and it would be pretty awkward to try to run a practice or hold a hockey game without any of those little black (and sometimes little blue) things.
Now, the photo below shows a number of aids, including my rather huge, black practice puck bag.  The reason I need something so large is because I like to carry in the neighborhood of about 70- or 80-pucks, and that thing does the trick.  (I like to figure on at least 3-pucks per skater, which would mean about 45-pucks for a roster of 15-players.  The reason I generally carry more than that is because my high school and junior high kids quite often practice together or on the same ice.)
Why so many?  First, a lot of my drills call for players to use anywhere from 3- to 5-pucks at a time.  Furthermore, I dump all of the pucks on the ice once we hit the ice — and I like them to be spread all around, because I don't want a player to miss more than a couple of seconds without having one on his stick-blade.  Hey, a given drill might be designed for stickhandling, passing or shooting, and I've yet to run a drill called "Look Around The Ice For A Puck"! 
Looking at the photo again, notice my smaller white bucket.  That contains my game pucks.  No, I don't want to continually dig into the big bag — or carry that humongous thing into the games (if I don't have to).  So, I keep about 20 "pre-game pucks" in that bucket, plus a couple of newer one if they're needed for the actual game.
Ah, yes, MY kind of pre-game pucks…  If you'll notice, there's a silver colored puck in the fore.  All my pre-game pucks look like that one — painted silver or while on the sides, and left black on the top and bottom.  Mean coach that I am, I want my older goaltenders to have to REALLY focus when they face warm-up shots.  And, nothing is going to cause them to focus more than dealing with pucks that are VERY difficult to follow.  (Ought to make the games seem easy, huh?)
Then, as for the other colored pucks in that display…  A few years ago a friend and assistant coach of mine returned from his USA Hockey Level 5 training with a cute game that calls for kids to deal with a whole bunch of differently colored pucks at once.  Actually, it's a lot like the games I introduced in "Maybe It's Time for a New Kind of (Hockey) Practice", in that different rules can apply to different pucks.  Anyway, I usually have a handful of those spray painted pucks in the back of my SUV, just in case I want to use them at a given practice.  These, like my other pucks, are contained in a different type of carrier, a small net bag.
Oops, that picture of the blue puck reminded me that this season I'm now carrying around a collection of those, because they're required at my Mighty Mite team's level.   In the beginning I put those in an inexpensive canvas bag.  But, it took only a few weeks for the constant wetting and drying of that canvas to make it fall apart.
And that thing about a bag falling apart (at the very worst time) brings me to one more point…  Most canvas bags won't last long (I've even tried — and ruined — some very heavy duty ones).  My black bag is a heavy vinyl, and it's elevated on heavy plastic feet that keep it up off the ice.  Plastic buckets get brittle in the extreme cold, and they fall apart if hit by a puck.  My game bucket never touches the ice, though, since it goes from the lockerroom (where kids grab their own warm-up puck) to the top of the game bench (where the kids each deposit their own puck later).  As for the little guys' blue pucks?  I think I'm going to get another small bucket for those.  Although it may go on the ice at times, the beginners aren't nearly as apt to break it with an errant puck.
Oh, as for where I've come by these aids…  I stumbled across and purchased about a dozen of those huge bags in the baseball/softball area of a sporting goods store.  (I think they were made for carrying softballs.)  The plastic buckets are free at a local company that makes pastries for area doughnut shops.  I know that some coffee shops also sell them for a dollar or so.  The net bags I use for those odd colored pucks are just small launder bags, and they can be found in any department store.  (I generally buy those by the cartload, because I use them for all kinds of small balls and such, especially up in The MOTION Lab.)
Now, again, to explain myself..  Appreciate that I don't want to have to bring all the different kinds of pucks into a rink if I only need one type.  Nor do I want to have to sort-out pucks from one large container whenever I only need a few.  So, because these ARE part of the tools of my trade, I really do go to at least some small extremes to carry my pucks around as conveniently as possible.
PS:  Talk about the tools of MY trade, wait until you see what I have to show you next!
*
Okay, you know how much I love your feedback (and other members do, too).  So, please add your comments below, and even share with us any ideas you might have in this area!
Now, before coaches of older players see the below photo and think this is all about beginner hockey, I want you to know that I have some very important tidbits to share with advanced folks at the end of this piece. And, while the early part of this IS about teaching little ones, I think those who work with Mites through at least Pee Wees ought to seriously consider slight adaptations to what I'll offer here…

– Dennis Chighisola
Off-ice Hockey Tactical Practice
If you don't know by now — that I'm a huge fan of off-ice training, I guess you never will. I especially like to teach a lot of my playing system away from costly ice-time… I mean, I could talk about things like slot coverage or a given breakout move for a good 20-minutes, and that doesn't require ice.
Actually, I can be a little flip when I hear a coach complain about his lack of practice ice-time, quite frequently answering with, "I'd like to think I could get the job done in a dawgoned closet!"
Okay, maybe not in a closet. But, I surely can teach in a parking lot, in the rink runway, or even in a tiny lockerroom.
Take, for example, my recent need to teach face-off positioning to my very young Mighty Mite team. These kids had never played a game before this past month. So, I encouraged our team parents to have their youngsters watch the "Learn Hockey – with Coach Chic & Chomper" video (a kzillion times).
I next took the team to a lockerroom where a face-off circle had already been drawn on the floor (see the adjacent photo). I've previously mentioned how water-based spray paint can be used on the ice for special marking, while large sticks of chalk prove awesome for marking on the rink's dark colored rubber mats.
Now, please click on the second photo (below) to see a short video of my kids learning to line-up for face-offs. I'd like you to do that now, so you'll have a better sense of what I'm about to explain or describe.
*
Okay, I'm guessing that this is about our 4th time holding such an off-ice session. In the first few it took awhile for the kids to locate the five face-off spots.
Until the day this video was shot, we didn't pay any mind to the names of the positions. (Hey, one small thing at a time.) However, now that it's time to identify those spots, I've decided to stick to just one per week. And – just like I'm doing in the video, I'll be hammering and hammering at just one (actually two terms on this day, "center" and "center-man"). The kids need that, you know –- my repeating the term and their having to constantly say it.  For, only in that way will it become a regular part of their hockey vocabulary.
Notice how I'm also able to slip-in some applicable rules – like only the center being allowed inside the circle, as well as the one about "hash marks" separating opponents.  (The kids learned that from Chomper and me — LOL!)
By the way… You might be startled by my seeming yelling at/to the kids. But, they've learned to giggle when I do that, and not take the gruff voice seriously at all.
As for the future…
Next week I'm going to keep reviewing the center position, and introduce two "wings". Ya, I've thought about that for awhile, and few of these kids know their left from their right. So, I asked our parents to have the kids watch that movie more (that helps with the left/right issue), and to also see if they can teach their kids at home. As I explained to them, "Knowing left from right is going alleviate lots of future frustrations."
So again, I'm just going to ask kids to identify the two wing (or "winger") spots without them having to tell left from right right now. The next week they should be ready to learn where two "defensemen" line-up.
Oh, by the way… Notice our young goaltender in the background of that photo (in a gold jersey). He's positioned there to orient our kids. Knowing he's there, skaters can also tell me that we're attempting to score on an imaginary net located at the opposite end of the ice (or room).
Believe it or not, shortly after the camera was turned-off, I moved the goalie to the other end of the room. Oh, I saw a few blank stares with that — at first. However, within a minute or so the kids were able to line-up facing in the other direction. (Gotta love it, huh?)
FYI… Notice who else is learning the game here. I mean, when we're dealing with very young players, doesn't it make sense that their parents know at least as much about the game as the kids do? You bet!
I hope to later show you some video of the way I teach off-sides to first-time players. My kids don't need to know that for the first few months of their season, but they will need to know down the line. Anyway, what I'll do is draw one line on the floor (per coach), and then have a coach walk with a ball or off-ice puck while a little guy approaches the line with the coach. The coach might delay crossing the line at times, which requires the player to also hold back. At other times the coach will quickly get the ball on-side, allowing the player to enter the imaginary zone.
I'm sure I'll arrive at other ways to teach the game in that dressingroom. So, stand by for more as the weeks go by.
*
Okay, I promised to mention how I've used this method with older kids. Sooooo…
- A few years back I was coaching a springtime Squirt-aged team that received no practice ice. I needed to teach those youngsters some semblance of a team system, so I used my trustworthy chalk and the lockerroom floor to do this. I had the room represent our offensive zone for a few weeks so I could teach a simple forecheck, I used it later to teach defensive zone coverage, and I drew circles to show the kids some basic face-off plays and coverages.
- Another time I was coaching a Pee Wee aged group, and I used a large area outside our pre-game lockerroom to teach my way of covering defensive face-offs. Again, it was on a big circle I'd drawn with chalk.
- Then, believe it or not, I pulled that chalk out countless times when I was coaching in college, mainly to show some adjustments I wanted to make between periods. Oh, I suppose my greaseboard would have satisfied our needs. At the same time, there is something extra beneficial to a player (or players) actually moving through a given play.
Have you done something similarly, or do you have an idea that might expand on the above concepts? We'd all love to hear about them in a Comment!
Our friend Jerry visited The MOTION Lab tonight.  And, while he warmed to do some new stickhandling tricks, something struck me — that I needed to share with him, and also with you…

– Dennis Chighisola
Eyes-up Puckhandling (or Not?)
As Jerry did a little light dribbling in anticipation of learning some new puckhandling tricks, I noticed that he was trying to keep his eyes-up.  Aaaaah, good for him — that he remembers to work on that often.
At the same time, I mentioned to him that I usually have to emphasize or de-emphasize that stuff, depending on what I'm having a player (or players) do.  And that usually depends on where we are with a given puckhandling skill.
For example, if we're working on the beginning level of any given skill, that usually requires total attention.  And my feeling is that a player usually has enough to worry about without taking his or her eyes off the puck or ball.
Of course, the time ultimately comes when I feel a player has pretty much mastered that skill.  And, it's at that time I believe he or she has to start doing it without looking downward.
(Just click-on the photo above to see Jerry working on his ball dribbling while doing a pretty good job of looking out and around.)
Be a friend:  Your worthwhile Comment helps Coach Chic!
What is Consistency?
By Brady Greco, Performance Coach — The Mental Edge
A common performance concept that is rarely taught but always referred to by coaches is playing a more consistent game.  You hear coaches all the time say, "play with more consistency day in and day out."  There is no problem if a coach makes this statement and communicates to the team about what needs to take place in order to become more consistent.  However, the majority of coaches fail to explain in detail what consistency even entails, making it impossible for a player to understand how to become more consistent in their play.
Consistency can be described in the sport's world as a level of quality play over an extended period of time.  Every competitive athlete has experienced a game where they performed very well. In turn, every athlete has encountered what it feels like to perform poorly, making the concept of consistency very tricky.  Here is a checklist of five keys to focus on as an athlete that will help maintain consistency throughout your personal journey as an athlete:
Awareness: Reflect on your performance and determine what areas you did well in and what areas you need to improve upon.
Good Habits: Practice good habits throughout the athletic season.  This means staying disciplined and remembering to do the 'little' things both on and off the athletic field or arena.
Pre-game Routine: For an athlete to become mentally prepared for a game/practice, they must take the proper procedures.  This means an athlete must find a comfortable and effective personal routine they go through on days of games/practice.  Establishing a good pre-game routine will enable an athlete to be prepared mentally which will create a better chance of optimal performance.  Don't be afraid to 'mess around' with your routine if you feel something is not working.
Imagery: Imagine yourself accomplishing the task at hand.  Picture yourself already playing the game and making the right plays in every situation.
Positive Self-Talk: Don't be afraid to talk to yourself.  Tell yourself 'I am the best, I am the best'.  This will create encouraging thoughts to flow through your mind to remain positive.
At the Mental Edge, we can teach you mental toughness skills like these to empower you on your journey as an athlete.  Simply call Dawn to start at 763-439-5246.
Brady
One of my NEHI HS Prep assistant coaches called me the other day with something he'd noticed in some of our closer games.  (Actually, anything that goes wrong tends to only become noticeable when we lose or when a game is close.  Seldom can anything be learned from a lopsided win.)




Both of the points made by Mike H were taken seriously, and they're both worth talking to our players about (over and over and over again).  So, I've done just that this week — going over the following, in anticipation of a really tough game this coming weekend.

– Dennis Chighisola
Preventing Odd-man Rushes
Rightly so, Mike feels our next opponents are really quick at transitioning onto the attack.  And both of his observations had to do with our once-in-awhile tendency to allow quick odd-man rushes towards our goal:
There have been times when our defensemen have headed to their bench before they've made sure the puck was buried fairly deep in our opponents' end.  And that's an absolute must.  What happens a lot of times is that a D gets it into his head that he's going to get off the ice at the first opportunity.  With that, he sorta guesses that the time is right, even when it's not.  Sometimes a teammate's dump-in initially looks good, the defenseman starts off the ice, and then the puck doesn't find its way deep into the zone.  At yet other times a defenseman wrongly thinks a teammate is going to carry the puck safely and deep, and he never follows the puck long enough to ensure that actually happens.  In either case, a turn-over in neutral-ice — or high in the oppositions' zone — provides those opponents the chance for a quick counterattack and a man-advantage rush.
Actually, Mike's second point involves the comments I just made about puckhandlers erring in neutral-ice or at the oppositions' blue line.  But, let me deal with this in two parts…
As I point-out in my video on "Dumping the Puck" (I really suggest you watch this), he absolutely must get the puck all the way through traffic and deep into an offensive corner.
As importantly, puckhandlers must make wise decisions as they carry through neutral-ice.  Headmanning the puck is always the first option, and carrying further would be the second.  As a player carriers, however, he should only do so if resistance is light.  A player should never try to carry when out-manned by the defenders.  No, the wise thing to do then is to dump the puck.
Be a friend:  Your worthwhile Comment helps Coach Chic!
I've just finished a week-long hockey camp with Team NEHI players.  And most of my fellow coaches know what that means…




Most drills need to be explained beforehand, a coach needs to provide constant feedback while the drills are in progress, and then he or she usually needs to offer a brief wrap-up at the completion of each drill.  Of course, this also means competing with the droning sounds of rink machinery, whirring fans and pucks booming off the boards.  So, as you might expect, I've been suffering with some serious hoarseness and a really sore throat since about last Monday night.  Worse yet, my fall/winter season is about to begin, which means that things aren't about to get much better where my voice is concerned.




Obviously, I was thrilled to come across the following video entitled, "Hoarseness:  Save Your Voice".  Then, knowing you likely suffer as much as I in this area, I thought I'd see about making it available to all my coaching brethren.

– Dennis Chighisola
Now, I've said it countless times within the past year, in that one can meet some of the world's best and brightest over on the social media site called Twitter.  CoachChic.com guest writers — like Scott Umberger, Jason Price, Kat Hasenauer and the folks from the Mental Edge — are great examples, as is our current guest contributor, Dr Talli van Sunder.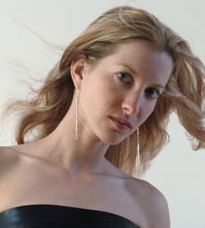 Dr van Sunder is a self proclaimed "health fanatic by passion", but she also possesses the scientific background necessary to provide truly sound advice for her huge following…  Talli is a graduate of the University of Puget Sound in Tacoma, Washington, later adding to her Bachelor's Degree in Chemistry a Doctorate in Physical Therapy.  And, besides sharing awesome advice through a website I'll tell you about a little later, Dr van Sunder is a physical therapist by trade.
Now, here's the advice I'm going to follow for now on.  And, if you like this presentation by Talli, please see below for some other ways she might be able to help us (and even our players)…
Loading...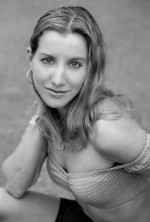 Dr Talli van Sunder runs an awesome website called Being Healthy for Busy People.  (<= Kinda sounds like us ice hockey coaches, huh?)  There you'll find some written advice, some podcasts you might want to download and listen to on the go, as well as other great video presentations.
Talli also welcomes you to contact her with your health related questions… Click to Email Tali
Be a friend:  EVERY worthwhile Comment helps Coach Chic in the search engines!
Although there's still plenty of summer left right now, I feel it's the hockey coach's job to plan far ahead.  For sure we hope our players are doing the same — or doing their off-season training right now.  At the same time, we coaches have to work behind the scenes DURING THE SUMMER MONTHS to ensure a smooth start to the coming season.
I happen to use a lot of aids or gadgets to make my coaching job easier.  And it's during these off-season months that I can relax and do the job rightly.  As a matter of fact, lots of the little things I do are in answer to problems I've spotted in past seasons (and most of them come from the notes I'm constantly taking during the season).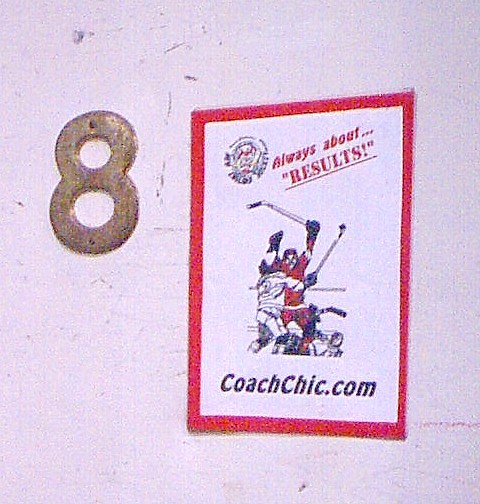 As for the current little helper…  Almost every rink I deal with lately has multiple surfaces.  And, even if my players and parents know which rink we're skating in on a given night, there's always the confusion of which lockerroom we'll be using in that rink.  Ya, if you get my drift, most kids end-up peeking in one dressingroom after another until they discover a familiar face or two.
So, I long ago solved this problem — for my teams, as well as for other teams who wonder the hallways.
What I did was to make the shown sign to be affixed on our lockerroom door.
I first did the artwork on my computer, printed it, then copied that onto a fairly stiff card stock.  (I've often doubled or tripled the thickness of the final sign by just gluing extra cards to the back.)
Most rink lockerroom doors are metal.  So, having saved a bunch of refrigerator magnets (the ones that are always arriving via mail to advertise the local real estate agent, whomever), I glue about four of these on the back.
I next protect both sides of the sign with a clear Contact Paper (or you might have the local print shop laminate yours).
As an FYI…  Magnets actually lose their strength if they're not kept in contact with a metal surface.  So, since I carry a large 3-ring binder to each game (for rosters and other game related materials), I keep an 8.5″ x 11″ sheet of tin in that book upon which I affix the sign for storage.
Sure, this all sounds like a bit of work.  At the same time, it's awesome to be able to walk into a rink, find a lockerroom, and then slap that sign on the door.  My players get used to looking for it soon enough, and I think they like the idea of not having to drift around to find their mates.
Also as an FYI…  The sample shown here is one sign I've used in the past.  Some others have my New England Hockey Institute logo on them, and I've even had some that displayed a brief motivational message — ie, "Enter here with…"
Just a reminder to my coaching friends here…
Don't forget to download this month's members-only free gift.  It's a practice form I use all the time for my weekly team practices.  You can print the PDF file, then make as many copies as you'll need for next season.

As you'll see, spaces are open for you to enter your own information — like the date, the timing of each drill, and any other important notes YOU need to make.  And there's ample room to sketch each drill if that suits your need.
Also don't forget that the form will disappear on August 1, 2009, at which time a new downloadable gift will take its place.  So hurry – get it now!
As I was readying for my team's second on-ice practice of this summer, it struck me that member coaches — and even hockey parents — would like some insight into this.
At the same time, I have a chance to explain an important principle of motor learning, this usually referred to as the Mass versus Distributed Method.
To begin, I generally view the Mass approach to training as having to do with older athletes with longer attention spans.  And I'll usually apply it when a single problem needs to be dealt with.  Perhaps the best example is when I do a private lesson with a player who is at least of high school age.  (Actually, I try to avoid doing one-on-one sessions with younger players.)  In most cases, a parent will call me to ask if I can solve a given skill problem their guy or gal seems to be having.  With that, we'll schedule an hour of ice-time for me to work with that player.  And, although I'll give him or her some mental breaks — and tell them to occasionally head-off and shoot some pucks or whatever, we're able to spend a good portion of our time together working on that one problem area.  If you can appreciate it, the older player is usually able to focus better — and for longer — than a real young one.  So, this Mass approach works okay for that age group.
That said, most players — and especially most young players — tend to do best with a Distributed approach to training.  And, quite simply, this method has me distributing short bouts of work at a given skill over numerous practice sessions.  Said yet another way, this suggests that 10 separate practices at a given skill for 5-minutes per practice will be more effective than if we have the players work at that skill for 50-minutes in a single session.
And this brings me to my planning for tonight's practice…  For, what I'm doing is using our last practice as an outline for the new one.  In other words, I'll begin with exactly what we did last week, and then I'll just make some slight adjustments.  In some instances, I'll ditch a past progression of a skill and move on to the next one.  Sometimes I'll substitute a drill that does close to what another had previously done for the kids.  And, at yet other times, I'll repeat the previous step, and then quickly move on to the next progression.  Not that I'll change every single drill on the list.  No, some will need more work before we move forward.
If you get what I'm attempting here, you'll see that I'm gaining good continuity from practice to practice.  At the same time, each practice should bring my guys from Point A to Point B in a given skill (with the next week hopefully bringing them to Point C).
I hope coaches are also sensing how easy it can actually be to develop lesson plans.  I mean, if we begin with a pretty good one the first night, it's usually fairly simple to just slowly up the ante for the next practice, the next, and the next.
PS:  Having just mentioned the need to first start with a good plan, I promise to provide plenty of help towards that aim as our season nears.
After spending a good part of the other night training players up in The MOTION Lab, Todd Jacobson and I strolled out to the parking lot, doing what we so often do, talking the game and exchanging coaching ideas.
I found it interesting on this night that Todd and I both seem to use a similar technique when communicating with our players.  Not so surprisingly, we totally agreed on the fact that players don't have time to process lots of information while they're attempting to read and react in a frantically played game.  But, what we both do is use very short — probably one or two syllable words — to slightly guide our players.
The way I usually explain it is that I'll call-out a short, unmistakable word to connect with what really is a 10-minute story.  I truly mean that.
What comes to mind immediately are a few of my "Rules for winners".  These so-called rules involve happenings that I feel frequently influence a game's outcome.  (I'm actually planning on giving these away sometime soon as a downloadable Gift.)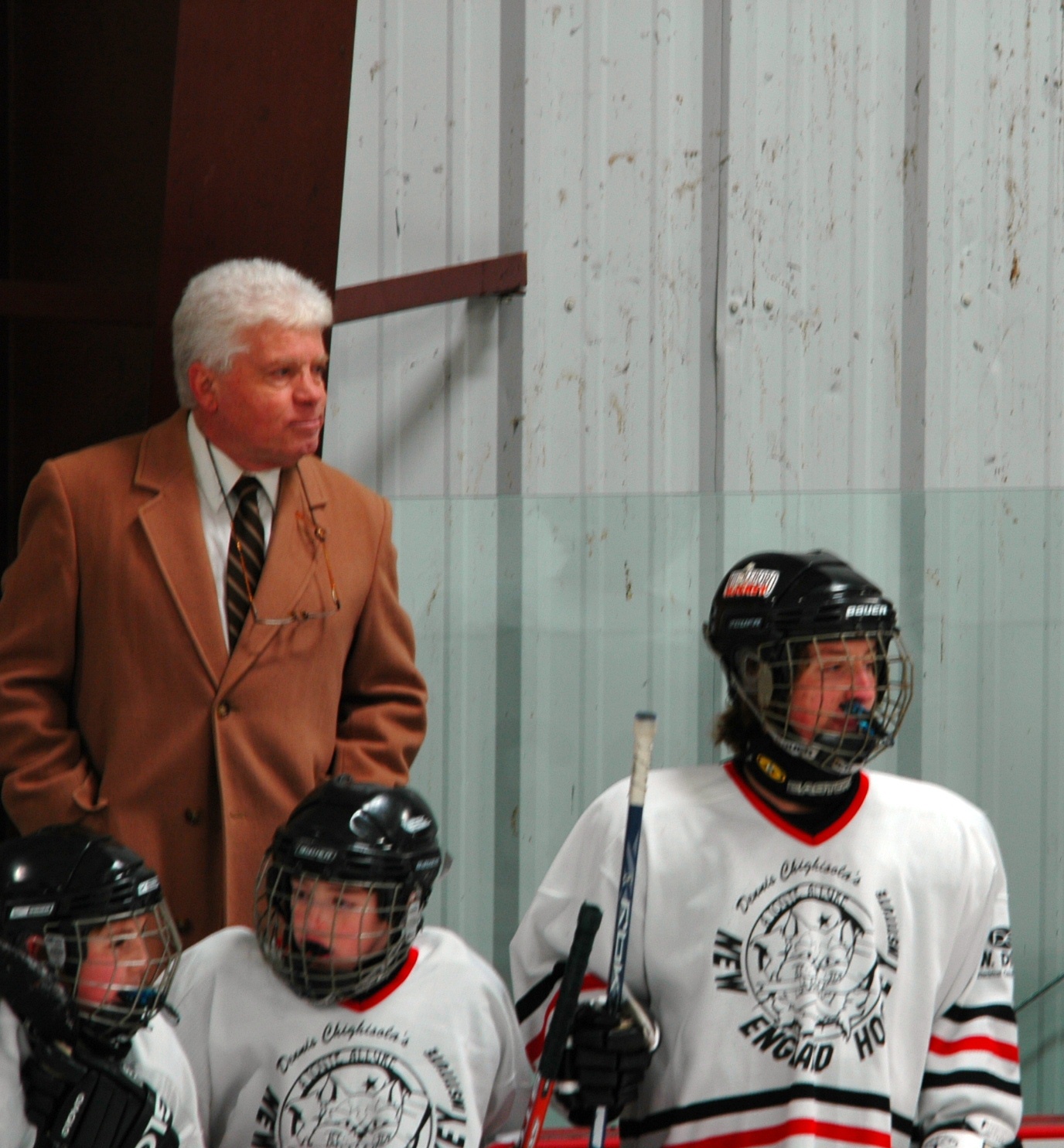 For example, one of these has to do with how quickly (or how slowly) one of my players moves toward an enemy puckcarrier.  I can go into all sorts of examples about winning or losing these 1 on 1 battles, and I go to such lengths to really drive home my point.  In the end, however, I'll get to the main idea, suggesting to my kids that it's "quick pressure" that makes a rival puckcarrier rush his or her play — quite often mishandling the puck, or making a bad pass.
That's what I meant when I said my cues often refer to a 10-minute (or probably longer) story (or stories).  For, as you can imagine, my yelling "Pressure!  Pressure!  Pressure!" during the game action ultimately has a ton of meaning.
Not that I (or Todd) call-out a lot of directions during a game.  But, we do use a few cues that help us communicate pretty well with our players.
Most of my long-time friends and associates know that I stray far outside of hockey for my inspiration.  I guess after so many years in the game, it's hard for me to find a lot new by staying within such a small box.  In much the same way, I've often thought that those far removed from my chosen area of study could borrow a little from what I do, if only for a glimpse outside their own small box.
Actually, the term "bunker" came from my long ago need to do some very serious business and personal lifestyle studies.  I mean, I was once at a point where a lot of work-related and life-altering decisions had to be made, and I needed a place where I could just get away from it all — mentally, really, more than physically.
Thereafter, having realized the benefits of that special atmosphere, I've retreated to my proverbial bunker numerous times when I need to make some hard decisions.  And more recently, I've made this a springtime ritual — for revamping my business direction and slightly changing my hockey training methods.
In my recent radio show (Episode 29), I talked about "blowing-up" my office and my hockey training methods.  Personally, I've noticed that my work changes from year to year, and the spring represents a great time for me to totally rearrange things in the office to reflect those changes.  The fact that a hockey season usually finishes near late-April, the time is right after that to totally re-evaluate my past teaching methods and to design a new direction that combines both the best of the past with some really good new material.
All that said, the following audio and video clips are actually cuts from past radio shows.  They're timely once again, though. since it's spring here in New England, and it's again time to ready my work and life altering "bunker"…
Audio clip: Adobe Flash Player (version 9 or above) is required to play this audio clip. Download the latest version here. You also need to have JavaScript enabled in your browser.
As you should have discovered, I'm not suggesting an exact location for your personal bunker.  Instead, it should be a place where you can feel the creative juices flowing.  I happen to like the ambient sounds of my neighborhood — or the sounds from a crackling fire, but I've found a roaring surf just as relaxing and stimulating. (I don't know about you, but I just can't get into a creative mood while sitting and staring at the four walls in my downtown office.)
You may have also noticed a need to have all my work materials readily available.  Let's face it:  if getting ourselves ready to work is a chore in of itself, we're not likely to look forward to the set-up or pick-up.
Here's just a quick peek at my own humble bunker…
Loading...
This next audio is more hockey specific.  At the same time, you might gain a sense of how collecting data at season's end helps my future planning, as well as how my research gradually starts to impact on those in my charge.  Yes, as I and the CoachChic.com guest writers have been suggesting for awhile now, long-range planning is key to using the next few months to their max.
Audio clip: Adobe Flash Player (version 9 or above) is required to play this audio clip. Download the latest version here. You also need to have JavaScript enabled in your browser.
So, whether for your hockey preparations or for your business, I highly recommend that you think quite a bit about what truly stirs YOUR creative juices.  Then, go about establishing your very own personal "bunker".
Marking the Practice Ice
By Dennis Chighisola
My good friend Joe (known as "Coulter" here at CoachChic.com) mentioned something in a comment some time ago that I promised to eventually address.  So, here goes…
A lot of years ago, I wished I could make markings on the ice.  In my case, I wished I could define an area where a given drill would take place, or even trace a skating path for my guys to move through.
As luck would have it, I mentioned this to a local figure skating instructor, and she told me she and many others in her profession actually used large markers they bought at stationery stores.  I found some, just as she'd said, and they were huge MagicMarker types, with the applicator portion being at least an inch across.
Now, the thing that made these special markers usable on the ice was the fact that they were water-based (not your typical kind of marker).  And they worked awesomely!
If there was a problem, those kinds of markers were hard to find.  So, I frequently bought-out the store when I did locate some.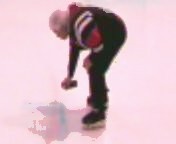 A few years down the road, I had difficulty finding any of those — anywhere.  By this time, Todd Jacobson (our NEHI goalie coach) and I had gotten hooked on using them.  So, in desperation, I started reasoning some things…  What made those markers work on ice was their being water-based.  I further reasoned that I might be able to find some water-based spray paints at the local hardware store.  And, sure enough, Todd and I have been using latex (or water-based) spray paints ever since!
Then, a few things you might want to know about their use…  I've tended to buy red or blue to show well on the ice, although just about any color — other than white — is going to work.  And, lest you think a rink's management will care about your spraying paint on their ice, it's really just superficial — and it usually gets picked-up on the Zamboni's first pass, or scratched-off by lots of skate traffic.  Oh, if there is a problem with this kind of paint, know that it's liable to freeze if left out in your vehicle in extra cold weather.
So, I'd add this to your little bag of coaching tools.  It really can come in handy.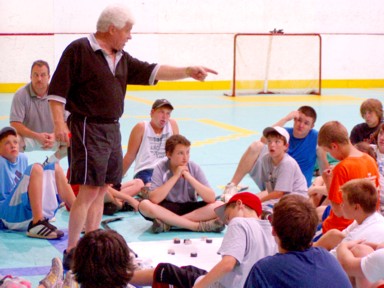 My good friend Scott Umberge inspired this piece, mainly from his comments in reference to "The Artistic Hockey Coach".
Actually, I think Scott was right in the points he was trying to make.  Yet, there might just be another side to this story, especially when it comes to volunteers.
A major aim of the CoachChic.com site is to arm parents and coaches with as much scientific information as possible, and to then share some ideas about artful ways to apply those scientific principles.
In my mind, almost anyone can be a great teacher/coach.  But, as usual, here are a couple of stories that should help make my point…
1) A number of years ago, as I was winding down my talk at a local coaching clinic, an older gentleman posed a pretty good question.  Basically, he was concerned about his age (I'm guessing he was in his late 60′s).  He felt he had plenty of knowledge to share with kids, but he was worried about not being able to skate all that well.
I thought for awhile about that one…  I mean, here's a guy who seems to really care, and he seems to have plenty to offer in the way of knowledge.  And, wouldn't it be a crying shame if these things were lost to the kids in his town?
So, I ultimately suggested to him that I would (God willing) someday be 70-years old, 80-years old, whatever.  And I'd like to think that, even if I could no longer jump barriers and such, I'd still be able to teach the game.
2) Even further back in time, I once visited a friend who was in charge of a youth hockey organization on the outskirts  of Montreal.  His organization had produced many professional players, and a look at my friend's trophy case — and all the photos of current or former NHLers — caused me to think out loud…  "Wow, it must be awesome having some of those guys come back and help teach the next generations."
My Canadian friend wrinkled his nose and shook his head, "No, our best coach doesn't even skate!"
You can imagine my amazement, as my friend went on to explain how his program's AAA Pee Wee coach actually walks on the ice in furry boots.  He went on to explain though, "He is a great organizer and a great teacher!"  And, he added, "His main job isn't to demonstrate.  He can use others for that!"  (Come to think of it, I've seen lots of skills coaches buzz around the ice, wow-ing students and customers with wild moves.  It only takes me a short time to realize they are all "artsy", and their teaching has very little scientific basis.)
Anyway, returning to the year 2009, I need to say again that, "almost anyone can be a great teacher/coach".  I think the Number One qualification is that he or she truly care.  (Please think long and hard about that one, since it goes a long ways towards doing what's right for young players.)  That established, a great teacher/coach would have to gather as much knowledge as possible — he or she will want to be correct about what's being taught, and he or she should build a bag of coaching tricks — or methods for getting the best teaching results.  Then, borrowing from the above described Pee Wee coach, it would also help if one is a great organizer.
Finally, I hope you appreciate that I'm not disagreeing with my friend Scott.  It's just that he was talking about paid coaches, while I want to make sure that any volunteer who wants to make a positive impact with kids should know that's possible.  First, though, you have to care.
Although polling has just gotten underway (and only a few coaches have currently voiced their opinions), I'm already getting an indication of what you'd like to see in future posts.
Skills training and drills will soon be adding up (exponentially) in all the appropriate categories.  And you won't believe what I have planned in the way of organizational help for you next month.  As importantly though, I see where some coaches want ideas for their X's and O's.  And, while it might take me a little time to put that information together, I promise I'll arm you with plenty of ideas in that area (I'm gathering those ideas right now).
Oh, by the way…  Those who are interested in motivational help (besides reading our Mental Training area) are going to love some ideas I'll share a little later this summer (that's the right time to discuss such a topic).
As for anyone who hasn't yet given me his or her opinion, just click here: Poll (or use the tab up at the top of this page).  It only takes a second to pick your favorite topic.
Is it possible for three different coaches to run the same exact drill, yet one coach gets more from that drill than the others? I mean, one coach's players actually learn and improve, while the other two squads don't?  You bet!
To begin, appreciate that there are two sides to a drill — the scientific and the artistic.
Since all the coaches in our sample are running the same drill, we have to assume that the same amount of science is involved.  (After all, science is science, which leaves very little leeway.  Said yet another way, either a drill is scientifically correct or it isn't.)
However, what's likely to be very different is the other side of the equation, or the unique "artistic" approach used by each coach.
It's quite probable that a coach will introduce the drill in his or her own unique manner. Of course, this could include the kinds of tools he or she uses (like a greaseboard or video), but it also has to do with how well each coach explains himself or herself, and it even has to do with how a coach demonstrates and describes what he or she is looking for as acceptable execution.
An artful approach also carries-over to the way coaches observe a given drill, and then how they'll provide feedback during that drill.
As a tip in this area, I don't confine myself to babysitting the front of a line. Hey, I figure my assistants and I are too valuable for that. So, rather than wasting a coach to tell the players when to start a drill, I have each player go on his or her own when the teammate in front reaches a given spot. Then, with the drill underway, I like to station myself right in the middle of the work-area. And, I hardly get a chance to catch my breath as I bark short, quick phrases of feedback to each player as he or she passes by.
Lastly, at the conclusion of a drill, the artful coach often provides a worthwhile wrap-up, informing the players on how they did, and suggesting how they might improve in future practice sessions.
Actually, you should know that the above techniques can be found in most "Principles of Motor Learning' textbooks. They're tried and true ways for getting the most from any type of movement training. Still, I've noticed that most really effective coaches have developed their own artistic teaching methods.  The reason?  Because — differing greatly from the scientific side, ones artistic approach to a drill allows for much creativity.
Every hockey coach has his or her own way of communicating with players who are serving a penalty. Mine just happens to go like this…
I will get my player's attention, and then point towards either the ice or the bench. In other words, I'm signaling whether I want that guy to jump right into the play, or to come to our bench.
However, if I do motion for a player to come to the bench, I'll also tap the side of my head, meaning that I want my guy to use his head as he exits the box.
What do I mean by, "Use your head"? Well, if we're in trouble in our own zone, it's smarter if our man jumps right in to help his shorthanded mates.
Of course, neither do we want that guy to come out of the box and watch an enemy attacker skate past him with the puck.
And, if our player sees an opportunity to hang for a second — for a possible breakaway pass, I'll surely accept that, too!
SPECIAL BONUS ENTRY (the result of a recent member comment)
First, I think it best not to identify the member who sparked this post.  However, from the many years I've traveled the rinks and talked to hockey parents, the following comment could have come from a lot of hockey moms or dads.
Secondly, except for the rare weak moments anyone can have (including This Old Coach), I doubt much of this pertains to current members.  The fact that you're here tells me you care too much, and that you're likely too bright to let yourself slip in the way at least one other coach has.
All that said, here's an excerpt from a comment I received earlier today:
"The other night after a game, the coach of a Pee Wee level team was belittling and badgering his kids so badly that they came off the ice crying.  They had a practice later the same night, and that coach told his players not to bring sticks.  A lot of the kids now want to quit the game all together.  So, I want to know why this guy is a coach?  Half the time he does not show up because of his other kids who are skating elsewhere, or because he has to work.  What a jerk!  So how can anyone blame the kids if they make mistakes in games when they don't really have a coach?"
Phew, do you feel what that parent is feeling?  And, do you feel for those young kids?  (Actually, I kinda burned as I read it, as many of you likely did.)
Well, here are some of my impressions when it comes to the coach in question…
The answer to why that guy is coaching the team?  It's because he wants to have control over it.  He obviously knew ahead of time that he was going to have conflicts, and that he'd have to miss a number of practices and games.  But, to not grab the reins of that team would mean he wouldn't have the say when it comes to line-ups, ice-time, etc. (more specifically, probably, the fear of not controlling where and for how long his own youngster would play).
About the coach telling his players to leave their sticks at home…  My immediate guess is that he'd heard that somewhere else — like at a high school, junior or college practice.  Yes, sometimes the guys and gals who coach at those levels are pretty harsh, or they pretend to be.  And, sometimes — if the ploy isn't over-used, older players will respond to a shock treatment.  But, as you'll notice me saying numerous times within CoachChic.com, an adult must recognize where he or she is.  Or, in this case, I think we'd all agree that 11- and 12-year olds or not ready for belittling, badgering or having to leave their sticks at home!
Furthermore, let's consider the difference between bringing the sticks or leaving them behind.  For, I'm going to suggest that we could get a whole lot more accomplished with a group of Pee Wees by organizing and then running an effective, teaching-oriented practice.  (Darn, it would absolutely kill me to have to waste an hour of practice-time in that way!)
Of course, organizing a good practice would take some time and effort on the part of the head coach.  I have no way of knowing whether the coach in question does that or not.  However, the way he reacted recently suggests that he doesn't.  To know why I think that, please read on…
My dad, an outstanding baseball coach, used to say that, "The guys who have to berate their players usually do so because they're at a loss for what to really say or do."  (God bless my late dad, my best friend.)  What he meant, of course, is that a coach who knows how to teach spends more time providing concrete directions, and a whole lot less time criticizing.  That said, there's seldom an excuse for blaming players for mistakes; the kids' problems most likely stem from a lack of direction, and then from a lack of repetition (doing the right things, over and over again) in practice.
Again, phew…  And again, I doubt anyone who has the dedication to be here needs to be lectured on any of the above.  Still, it's not a bad idea for us to at least think about these things on our way to being even more effective coaches.  So, with that in mind, let me share a few more personal thoughts and  experiences…
A great many years ago I left my game-bench with every intention of reaming my players.  God must have jumped in though, because I was intercepted by the scorekeeper for a time.  Yes, thank God and the scorekeeper, because my emotions changed quite drastically in the 10-minutes that elapsed, and my changed attitude saved me from doing something very, very stupid.
I've been forced to hone my post-game talks all the more in recent years.  You see, our games are almost always followed by a next day practice.  So, I purposely do what God and that long ago scorekeeper did for me, stalling for about 10-minutes before entering a post-game lockeroom.  And during my brief time outside, I gather my thoughts, and then I try to phrase them in a way that encourages my kids to come to practice.  Think along with me, if you will, in that there's no urgency in my/our addressing sensitive issues at that time; even a well deserved blasting could wait a day or so.
As for dads coaching teams…  Hmmm…  The times I've coach my own, I felt the best thing I could do for the young guy would be to teach him sound hockey principles and great skills.  My artificially making him a star on the team wouldn't last a day beyond his playing for me.  What would last, would be the skills and smarts he gained from our practices.  So, that in mind, I now ask my assistant coaches (who usually have a son on our team) to help me run the most efficient practices possible.  Again, what their kids gain there is the only only thing they'll be able carry to future teams.  (Stats don't impress future coaches, nor do championship trophies; what does usually impress are great skills and those hockey smarts.)
Then, I'd like to share with you a little deal I make with my players (and their parents) prior to a season…  I tell them that, "I'll never criticize you, so long as you do what's asked of you."  Of course, that implies things like attending practices regularly, always trying no matter how hard some drills might be, studying extra materials if so asked, behaving properly, etc.  So, in essence, if you do things my way and they don't work out, the results are on my head.
Finally, although I don't want to turn this area into a "he did this" and "she did that", I do think it appropriate that fellow coaches share with us the ways they have positively solved some of the problems noted here.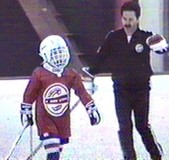 Ever conscious of the way boredom can undermine my teaching, I'm
even extra careful about how often the kids hear my voice…
For example, when I'm coaching a team, my assistants monitor the lockerroom for me until a time when I need to enter with something important to say.  And, for my players' sake, it's as important for me to keep pre- or post-game talks short and sweet.
Even out on the ice — be it with a team or at my hockey school, I have my staff work as closely as possible with the players so that they're intermittently hearing different voices.
Searching for ways to gain more repetition with a given skill (just to avoid doing the same drills over and over again), I especially like substituting "hand passing" — with a beanbag, a ball or a puck — as a way of reinforcing basic passing skills.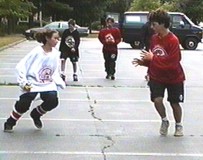 And, the reason I KNOW this form of drilling meets my aims is because I find myself making almost the exact same corrections and comments as when we're doing traditional-type passing drills!
By the way…  Although I usually do this type of drilling away from the ice, it can be done on practice ice, so long as necessary safety precautions are in place so that hand injuries won't likely occur.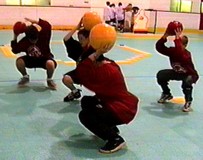 One of the things that has driven me to make my own training devices
is the need to have a lot more than one of each.
I mean, owning only one medicine ball or a single Power Skating Sled
would create long lines as players wait their turns.  Of course, I can
justify having lots of certain gadgets, if they're reasonably priced or if
I'm going to use them enough.  But I won't just scratch a good training idea without first exploring substitute — or even homemade — tools.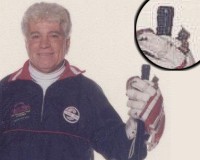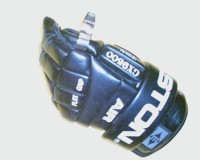 Since about 1975, I've been affixing a referee's whistle to my lower- hand glove.
Trust me: that I can get this kind of whistle to my lips quickly, as opposed to having to fish for one that's dangling from a lanyard.