I've said it often enough, that the circles I travel in help me luck into a ton of things that few others would even know about.  Such was the case with the video found below, since it was posted by a friend within a LinkedIn hockey coaching forum.
Just so members know, I brought coaches from that LinkedIn group into a discussion that began here, surrounding my post entitled "Revisited:  Spotting the Real Goal-scorer Early".  And it was after a lot of other coaches danced around that topic that one introduce the video you are about to see.
With that, this post may or may not be a continuation of the above discussions, but I promise it's going to be loaded with some really worthwhile information.
– Dennis Chighisola
Finding Hockey Diamonds in the Rough
Now, I think the best way to begin things is for you to watch the following video — I'll save my comments or suggestions for later.  And, trust me, that what you are about to see and hear is really, really awesome…
To begin, I'd like to turn the focus of this piece from its main point of emphasis — about finding a diamond in the rough.  For, I believe its theme can truly help us — we parents and coaches — help the player who has the potential to be a hidden gem.
Take, for example, that sprinter featured at the start of the video…  By all rights, he had every reason to quit, given all the obstacles that confronted him on his way to Olympic Gold.  In fact, my guess is that thousands of runners around the world had already quit as they were similarly discouraged.
And that just might be another valuable lesson learned…  I mean, if lots of others are going to drop by the wayside whenever they meet setbacks or obstacles, doesn't that open the door for the few who remain standing?
Actually, right along with that is another look from the bottom up…  In other words, while an athlete might get discouraged at all the roadblocks he encounters, it has to be equally frustrating to look up and see certain others getting some rather enviable advantages or breaks.  That in mind, I like to put things into perspective in my own way, suggesting that, "It only matters who wins in the end."
Yes, I like to turn things around for the sake of the underdogs I work with, and use both the obstacles they face, and the advantages they see others get, as a form of motivation.   And, motivate it usually does.
From here we move on to what the video creator describes as those "3 simple lessons"…
1 – Great talent is not necessarily right talent…  The point made here is that many of the criteria used to measure talent might be faulty.  In other words, if we're wrong in defining the most desirable skills or traits for a given job, we're going to miss the right players, and instead find ourselves saddled with the wrong ones.
Personally, I've seen this happen in hockey, whereby (I believe) the scouts are looking for the wrong kinds of players.  Far be it for me to argue, though.  So, what I do is try to help my players or students to as closely as possible meet the scouts' standards, while still not having my guys lose the abilities that make them unique.
2 – What you see is not necessarily what you get…  Two sprinters were used as examples in this one, with the author of the study suggesting reasons why it might be wiser to select the slightly slower runner.  I have my own story to support this…
I've mentioned at different times here how I also coached baseball (and football) in my earliest years.  And it was at a training seminar for Boston Red Sox scouts where I learned just about the same thing…   As the Sox GM suggested about 40-years ago, his scouts weren't looking for polished or fully developed players, because they were likely close to as good as they'd ever be.  Instead, they sought the rawboned kid who — when fully grown and polished — would most likely far surpass the others.
And this reminds me of yet another theme I've harped on quite a lot over recent years…  For, if you really think about what's being said in this section, it might make sense to you that specializing in hockey at an early age might not be a good idea.  You know I'm not giving you some politically correct nonsense when I suggest that, and you also know that I want my players or students to develop unbelievable individual skills, plus a solid understanding of the game.  Yet, those things can be achieved while still having time to greater develop the player's athleticism and so many other great physical and mental characteristics.
3 – Never over-rate certificates, and never under-rate character…  If you'll recall, the narrator visited an Australian training facility that he could only describe as spartan in nature.  And there he discovered that the owner actually used such conditions to test the character of the athletes in his charge.
Like me, you might have initially wondered what the heck he meant by "certificates".  Pretty shortly, though, I could see that he was echoing something I'm forever preaching.  I mean, I am always warning hockey parents who get hung up on their kids' goals, assists, or goals-against averages, that a player can't take those things with him.  Naw…  No matter where he goes, the amount of ice-time he'll get will be based on what he can do at the moment, and not on his stats from back in Mites or Squirts or whenever.
Now, as for the above described MVP Track and Field Club, that's part of the reason I've filed this under "From The MOTION Lab".  For, with the limited budget I started that with, it couldn't be anything but spartan.  Still, since I did have some pretty expensive gear mixed in with a lot of homemade gadgets, let me share a story that has greatly influenced my feelings on this subject…
Reflecting back on my long ago studies in the former Soviet Union, I can still vividly recall one day observing some gymnastics classes at a school on the fringe of Moscow.  Like I did so often when taking in something new and interesting, I split from the group of other North American coaches to formulate my thoughts.  What fascinated me the most that day was the compassion shown by a few grandfatherly type coaches towards some very young but talented gymnasts.  I couldn't understand the Russian language, mind you, but there was no doubt about the coaches' loving ways, and the smiles they generated from the young ones in their charge.
As I was jotting some notes, I was suddenly distracted by a group of fellow coaches who were evidently paying more attention to the surroundings than the teaching.  And I was hearing things like, "I'd never work under these conditions…  Look at the foggy mirrors, the unpainted floors and walls!"  Well, I lit into the lot of them, suggesting that they missed the real point completely.
To this day, I try to convince players, parents and coaches that, "It's not the equipment that makes you better, but it's the doing — or the work — instead!"
Lastly, early in that video it was suggested that, "The art of talent identification is an extremely tough discipline." Hmmmmmm…  What that suggests to me is that I could be wrong in many of my talent assessments, you — as a hockey parents or coach — could be wrong, and so could lots of others who over- or under-value our kids.
As a matter of fact, having known quite a few college recruiters and NHL scouts, I can tell you that many of them are wrong more often than they're right.  Oh, you won't often notice their talent rating mistakes, because they'll still manage to put together some competitive teams.  However, just look at the number of Hall of Fame players who entered the NHL after not being number one draft picks.
Summing it all up, I'll suggest that we coaches keep an eye on both ends of our rosters — appreciating the players who are currently our stars, while watching carefully for a diamond in the rough.  As for us hockey parents, I think we need to keep those 3 simple lessons in mind, and also never either over-rate or under-sell our own kids.
Over about two decades of writing hockey advice columns for a couple of hardcopy magazines, I used to say that my best work was done when I was really, really ticked.  I mean, every month or so something would really get under my skin and I just couldn't wait to beat my keyboard to death.
Anyway, I'm going to take a deep breath right now, and see if I can use some of my ire to do the current topic some true justice.
– Dennis Chighisola
A New Argument In Hockey:  Concerning "Play" – Part 1
To begin, this topic isn't new.  USA Hockey for the past few seasons has been encouraging their member hockey players to set their skates aside for the off-season months and to get out and play other sports.  They've also modified a popular soccer practice format of "small games" into what most of us now know as "cross-ice games".  I know of a few who ascribe to the idea of lessening the amount of actual instruction at practices, the aim being to let players solve problems on their own.  And so have some others — especially ones with a dozen academic letters trailing their names — suggested something closer to totally unstructured practices.  Thus those quotation marks around the word "play".
Just for the record, I was espousing the idea of kids playing several sports long before USA Hockey ever dreamed of it.  Even though USA Hockey had to have discovered it about the same time I did, I arrived home — in dawgone 1979 — with the old Soviets' concept of breaking a year into four distinct seasons, and I've written here and elsewhere how North American kids could use their post-seasons and off-seasons to play and learn from other sports.  I've also pointed out in depth how the years of specialization in hockey proved to be a failed experiment.

Perhaps you'll find it even more interesting — maybe even humorous — that I was using small area games in the early 1990′s…  Those in the New England area might remember me pulling my 4-wheeler onto a local ice surface trailering miniature boards that were the forerunners to today's foam dividers.  Much like a pro arena's "bull crew", my staff and I would snap those boards together and split the ice into three sections.  The league I ran was for beginners, from about 5- to 7-years old, and it was done so that kids at that stage got to learn and play the game but never leave the ice for their hour long session.  In other words, a pair of lines from each team would travel together and rotate — playing a game in our mini-rink, working on skills in another area, and learning game playing skills (like lining up for face-offs or staying on-side) in the third area.  Again, the kids and their parents had the fun and excitement of a game, but the kids also remained on the ice for their total ice-time, while also learning some necessary skills.
I say all that to suggest that I'm not against all the supposedly new ideas that now circulate, and to even suggest that I pioneered at least some of them.  (Incidentally, one time while taking a break at a World Hockey Summit, I was introduced to a biggie from USA Hockey's headquarters in Colorado Springs.  And when I sheepishly said, "I guess I kinda bash you guys once in awhile in my column," he grinned and countered with, "Ya, I know."  Ya, he knew, because guys at that level have always kept an eye on The Old Coach, and I'm guessing they knew all about the things I was doing — in the late-70′s, through the 80′s and 90′s, and so on.)
One other thing to know before I go further into my tear…  I am forever aware that what might be prescribed for one hockey age group might not be right for another.  So I keep an eye out to especially ensure that those who deal with young kids aren't misled into following advice that doesn't suit them.  One forum I'm involved in with Facebook is awesome, and it features a number of pretty knowledgeable hockey guys.  At the same time, there's another in LinkedIn that seems to be a mixture — of good hockey people, some folks who are sincerely searching for help, a small handful of Johnny One Notes who are either talking to hear themselves talk — mainly hyping their product or service, and a few others who constantly  spout something they've taken out of context from someone who knew what he was talking about.
Just so you know, it's the inexperienced coaches (or parents) I'm most concerned about as I browse those forums.  You see, an elite level coach might be telling readers or video viewers how he has to deal with the game, and his methods may or may not be appropriate for those working with younger levels.  And I have the same concerns when someone jumps into a forum and blabs about something that I know is self-serving, almost knowing that some inexperienced readers are going to take his drivel as gospel.
Okay, what really got me started on this entry was a very sincere question posed in a LinkedIn group, this by the dad of a Pee Wee who wondered if weekly dryland sessions were appropriate for that age group.  Somewhere in his short paragraph was the question of when dryland training was appropriate, as well as if there were any scientific studies published having to do with young kids lifting weights.  So, here's what I wrote:

There are tons of great answers here, all with similar themes.
To be honest, though, I might have suggested "in the womb", or close to it (for when so-called off-ice exercises should begin). I'm not suggesting sport specific training here, but humans are developing many of their most important physical tools — for play or work — right from birth, and the "windows of opportunity" are closing fast on various skills as he or she nears puberty.
For sure, playing a variety of sports can aid in a youngster's physical development. However, since some can help far more than others, it seems a crap shoot to trust the development of necessary basic skills to just these.
That said, Tony, you might get an indication that I'd recommend different types of off-ice practices for all the different age groups, and this is so. It should make sense that the practices would vary drastically, according to the youngsters' ages and their levels of physical development.
In other words, even the youngest kids in your program would benefit from the likes of games of tag, balancing activities, games that require tracking a ball, and rope skipping. Over the next age groups, some of those activities could be blended with a number of body weight exercises (like push-ups, sit-ups, etc).
Then, to answer your question more specifically, I would suggest that the Pee Wee ages are a bit young for real heavy work. At the same time, every human — youngest to oldsters — should have a strong core. I would kinda hope that the people in charge of designing the dryland program for your organization know their stuff. With that — and as I suggested earlier, training would be different for each age group, from Pee Wees to Bantams to Midgets.
PS: Yes, recent studies have shown that youngsters actually benefit from some strength training. These training sessions, however, would include mostly body weight exercises, or work with very little added resistance. (Personally, I have felt for a long time that youngsters should learn "how to lift" rather than actually deal with heavy weights.)
If reference to that PS, I wrote a while ago here about "Strength Training For Young Hockey Players", if you'd care to know more.
Okay, though, did I sound self-serving in my answer to Tony?  I pray I didn't.
However, a day or so later another guy added his opinion to the stream — ugh.  I know the guy, I even like the guy, and I respect his work.  At the same time, because he's basically selling — and profiting from — a single point of view, he too often comes off as a Johnny One Note.  His One Note statement suggested that the kids not practice at all, but instead have only one coach present — for supervision, and that he or she just toss a ball out onto a field and let the kids play.  He ended with something to the effect that we shouldn't turn the kids into robots, and that they need to play.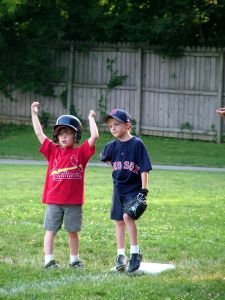 Now, I have to ask you…  Did that guy really answer Tony's question with the same sincerity as it was posed?  Grrrrrr…
Moreover, picture something…  You and I have only one on-ice practice per week, and we think it would be a good idea to give the kids a little more for their money.  Our initial decision would be whether we're going to hold an extra practice or not.  Again, it requires a simple — yes or no — answer.  I don't know about you, but it would never cross my mind to go to all that bother, or to ask the team and their parents to come to something extra, if it was going to be the equivalent of the kids' recess at school.  ???
In effect, the guy was trying to tell anyone who followed that stream that we shouldn't practice at all, but just toss a ball out onto a field and leave the kids alone.
Luckily, knowing the guy, I can take him with a grain of salt.  I can also take what's good from his beliefs while discarding something like the above.  My main concern, however, as I've intimated earlier, is for the guy or gal who might read his entry and take it for the God's honest truth.  In other words, I fear they're likely to run back home and bring nothing but a ball to practice, or hide the kid's stick at home, and tell him to do something else.  And they're not going to even know what impact that had on their kid's game until the youngster has to go to a tryout sometime down the road.
Let me say that another way…  Hardly any of the choices you and I have to make are purely cut and dried, black or white, or all or nothing.  As I said already, that guy has some good ideas, but I'm suggesting that we'd be wrong if we based all our future practice planning on a single sentence or small paragraph of his.
Okay, I have a lot more I'd like to say on this subject, and it's going to take about as much space as this piece.  So, I'm going to leave off here, call it Part 1, and start working on Part 2 for you.
*
PS:  Although I usually save my best advice to be hidden in the members area, I think I'm going to leave this one free to anyone who would like a second opinion.  In fact, I want to go on record with these feelings, and I'm not worried about who gets to see them.  Phew (at least for now).
Most members know this is the time of year when I'm rummaging virtually everywhere for new hockey training and playing ideas.  And, while I've been known to dig through plenty of on-line and off-line manuals, as well as scientific research papers, a site like YouTube.com can prove an equally valuable resource.
In all honesty, I don't like following what other hockey coaches are doing, mainly because most of them still do stuff straight from the '70′s or '80′s.  Still, I will check on them, and maybe borrow something that I can adapt to modern day needs.
Where I get the most inspiration is from checking on what folks in other sports are doing.  Perhaps because of their work environment — amid scientists, the likes of college track, tennis and football coaches are usually on the cutting edge.  But so are many independent martial arts instructors, strength coaches and boxing trainers.
That said, I've several times found the videos offered by Coach Miletto to be of special interest.  Take a look at the one below to see what I mean.
– Dennis Chighisola
Modern Hockey's Frantic Pace
Now, as I've watched the recent Stanley Cup playoffs, I've come to the realization that older generations of players just couldn't have ever kept up the frantic pace played today.  Oh, I believe the greats of the past would still be great today.  But then, they'd have different role models before them and around them, and they'd also have science on their side when it comes to training.
And it's that science I'm really thinking about…  I mean, the National Hockey League guys are unbelievably strong, they are fast, and they're in remarkable shape.  A lot like the Energizer Bunny, they just keep going and going and going.  And, although many within youth hockey aren't yet aware of it, most of these traits are owed to some really, really intense off-season off-ice workouts.
With that, I'd like you to take a look at the following video before I make any further comments…
"Suspension training" — as demonstrated in that video — is something relatively new (at least I've only seen it taken to this level over the past few years).  And, if I'm correct on this, it's sudden rise in popularity probably coincides with our want to enhance our athletes' core strength.  Ya, for sure, anything done hanging from ropes is going to REALLY tax the core muscles.
I might also mention that an athlete's arms and shoulders and back — and even his or her lower body — can be further isolated when hung in this manner.
Okay, now my personal tips, as I consider adding this type of training to The MOTION Lab…
I'd have to study this form of training for quite awhile to decide on how close the above demonstrated routine would help my hockey players.  I'm pretty certain I WOULD make lots of adjustments — in the exercises I select, their duration, intensity, and so forth.  Remember:  we're readying our players for hockey.
For God's sake, be careful when overseeing a program like this.
I'm sure you can search the web to find some fairly expensive suspension devices.  I doubt I'll do that, though.  Naw, I'm more likely to make my own, just as I have numerous other Lab gadgets.  In most instances, I need to make each new contraption fit with the limitations of the Lab, or with a unique way I want to use it.
As I joke often, "New England Hockey (or CoachChic.com) recycles!" 
  In the case of building my own suspension devices, I know I can combine some strong rope and used bicycle inner tubes to get the desired training effects.  Trust me, that the owner of a bicycle shop near you is going to be thrilled that you'll take a box full of old tubes off his hands.
You may not have thought of this before (because I initially hadn't), but tires and tubes come in all sizes and shapes.  So, it's likely you'll have access to long, thin ones, short and fat ones, and several types in between.  It might not be a bad idea to grab a number of each, since you'll want to test them later to match their elasticity with the strength of a given player or group of players.
As you sort through a batch of used tubes, inspect each one carefully for cuts and holes.  (Hey, there was a reason they were discarded.)  I continue to inspect these prior to each use, because there's always the possibility one will start to tear as it's subjected to lots of stress.
When cutting each tube, I usually begin by snipping a few inches to each side of the valve stem.  With that piece gone, what usually remains is a pretty long stretch of rubber.
In closing, one reason I like new gadgets is because of my concerns with the balance between repetition and boredom.  Oh, I love to challenging my older players, and helping them gain the same frantic capabilities their older counterparts now achieve.  And, it's likely I could get this done with a limited amount of gear.  Still, players like change, and they especially like to fight against some new tool they haven't seen much before.  So, while science might suggest that one gadget or another can do the job, we coaches have to remember that it's our artful approach to training that often spells the difference.
*
As always, I'd love to hear your feedback on this subject!
If you don't know what Indian clubs are, I've provided two videos that show one of those in use, as well as a very similar strength training device referred to as a clubbell.  (It appears to me that their use is similar, but I'd love for a member who knows more about this subject to please share your knowledge with me and others.)
Actually, I love finding ways to make new training devices.  First, my students discover that such devices need not be fancy or cost a lot of money in order to enhance their game.  Secondly, homemade gadgets can often be modified to gain new training effects (but, more on that a little later).
– Dennis Chighisola

Making Indian Clubs
This first video shows the basic use of a clubbell…
This next one shows how to make a very similar device to the clubbell, but this one is called an Indian club.  As the guy in this video says, PVC materials are inexpensive, and pretty durable.  Personally, given the option, I usually go for the slightly more expensive grayish material (used for electrical work) versus the sometimes brittle white plastic (used for water or sewerage drains)…
This final video shows how to make a very similar device from metal parts (which are usually as easy to find at your local Home Depot store as the PVC).  At the end of the video, the guy shows how he uses such a training aid.
Now, I mentioned in the start that I like homemade devices — because they can be modified in different ways, and so I might achieve a slightly different training effect.  And, in the case of the two tools shown here, I find it helpful that both can be loaded differently because the screw-off tops allow us access to the inside.
Both of those shown above hold fairly heavy metal tubes to give them greater weight, and it's also suggested that more weight can be added.
However, I've been on a slightly different kick over about the past 2-years…  I like to add water inside a pipe because it moves as the athlete uses it.  Trust me, that this is quite a shock — and quite difficult for the athlete to wrestle with.  And, you may have missed the guy in the middle video suggesting that something like ball bearings can also be used to gain this same training effect.
Lastly, I'm not going to say much more about using either Indian clubs or clubbells — at least right now.  However, I'll suggest that an athlete wiggle these kinds of devices — much like we do our StickWags, so that you can "Put REAL Muscle In Your Hockey Shot".   The idea is to isolate the forearms to put real power in the muscles that flick your hockey stick.  Imagine, though, if we could add the element of a moving weight inside our training gadget.  Aaaaah, I kinda like that idea!
———————————————————————————
As I was doing a little research this morning for my new Hockey BootCamp program, I ran across this unbelievable gadget.  I've already made something similar to this for The MOTION Lab, but I think it would be easier to make a number of ones like this (because it's always nice to have several training devices available).
Oh, by the way…  You don't believe a hockey player would be lean and mean from tossing that sucker around for like 30-seconds (to simulate a shift)?  Ha!
– Dennis Chighisola
Homemade Bulgarian Training Bag
The following was inspired by a Twitter friend and CoachChic.com member.
He wants to provide a shooting and puckhandling area in his garage for his young son, and he initiated the conversation by asking about those (rather expensive?) commercially made "plastic ice" pads.
– Dennis Chighisola

Off-ice Hockey Shooting Practice
For those who have come to know me, you probably already appreciate my thinking in this area.  In a nutshell, I feel that "improving your game is all in the doing".  In other words, it's not the fancy gadget that makes you better, but the actually practice (even if it's with some homemade device, whatever).
So, I immediately suggested something to my friend that probably wouldn't cost him $20, and he could probably have it in place for his boy within an hour or so (instead of waiting for a purchased product to arrive via shipment)…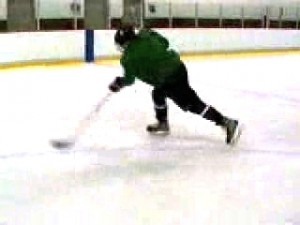 Your local Home Depot (or other building supply store) carries 4′ by 8′ sheets of all sorts.  Most of these are made for paneling walls or other large, flat surfaces.  And, of course, while some have roughened surfaces, some are as smooth as ice.
If you might experience a problem with using this sort of surface for shooting, it might be that the whole rectangle will slide if a lot of pressure is applied across the surface.  In other words, a slapshot might make the board move some, as might a hard wristshot, whereby the shooter really leans on his or her stick.
In answer to this problem, I've usually glued a layer of thin foam to the bottom of the panel (although just placing small squares of foam under the middle and ends of the panel often does the trick).  The main idea is to create somewhat of a non-slip surface under the board to grip against a paved surfaced.
Going back to my original premise, just picture my friend's young lad firing and firing and firing there inside his garage.  Depending on the number of pucks he has available, it's likely he could get in hundreds of shots in a very short time.  And, while those shots add-up, they also add-up to some awesome power and refinement of his movements.
Oh, and here's another tip…  I have large mirrors around The MOTION Lab, these so my students can see themselves during a given exercise, and thereby perfect the movements involved.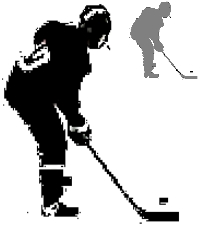 If you can picture it, a player could be dribbling a puck or ball on the above described panel, and he could practice keeping the eyes up by seeing how long he can watch himself in the nearby mirror.
When it's come to working on the slapshot in the Lab, my guys don't even use pucks.  Rather, they face a large mirror, keep their eyes up, and just fire and fire, gradually trying to perfect their movements in that mirror.
Now, the type of mirror I (and the local gyms) use are very expensive.  However, I've used inexpensive (normal breakable) ones at home for my son and grandson.  These have never been situated in the path of a puck, but just off to the side.
So, are you — or the young player in your charge — shooting a couple of hundred pucks each day?  It's possible, you know, and really inexpensive.  Hey, it doesn't require much in the way of cost, since "it's all in the doing"!
I'm lucky if I ever get home from a rink! 
Ya, if I ever get talking to someone interesting — like I did last night after my skills session with the Bridgewater Bandits, someone ought to just get us a table, serve us some coffee, and leave us alone!
– Dennis Chighisola

Talking About the Hockey Skating Stride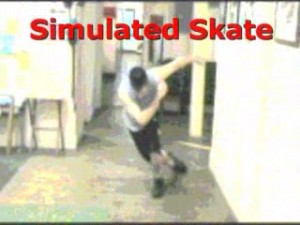 Well, what happened last night was that I got hooked-up with the dad of a young Pee Wee level player from the earlier skills session.  And, what made our conversation fun was that we're both Physical Education guys, he currently coaches a high school football team, and we found it more than interesting to discuss ways the teaching of our two sports relate to each other.
Not that all things are the same when it comes to football and hockey…
For example, I was sharing with him the idea that take-offs would be very different when comparing a running sport with skating.
If you can visualize it, a runner gains absolutely nothing by just turning and taking a step laterally.  No, the best way is to start with a cross-over step.
In contrast, many skating analysts recommend that a hockey player begin with a "T-take-off", or by pushing-off with one foot and gliding with the other.  (Again, visualizing things, I hope you appreciate that a runner can't glide in such a movement, while the skater gains quite a bit.)
As I said before, however, there ARE many similarities in our sports…
I happened to play (eons ago) for one of Massachusetts' top high school football coaches.  So, I'm quite familiar with the expression, "Where your eyes go, you go."  In other words, if a player has his or her head down (a no-no in hockey, anyway), he or she is apt to too easily fall forward — or be pushed downward — during any confrontation.  To my way of thinking, neither does a player have any mobility if his or her head and body weight aren't up and over the feet.
I think gaining stability and leverage during confrontations are also identical in both football and hockey, and my new friend and I further agreed that small, mincing steps are the best way to mirror the movements of an oncoming offensive player.
My football friend did mention something that still has me thinking, and I'm going to continue pondering this for some time to come.  For, he questions the oft used phrase in hockey that suggests you, "Keep your eyes on your man's chest."  Hmmmmm…  What I he believes is that the player's hip-area might be a better area of focus.  Again, hmmmmmm…  So, as I said, I am going to have to think a little more about that one, and perhaps study a little video before passing judgment.
Okay, now to return to the title of this entry.  For, the initial reason for our later extended conversation was my friend's concern for his son's skating stride.  More specifically, his boy tends not to bend his knees, which quite obviously results in rather short forward strides.
From the start, I suggested that I don't like to talk too much about knee bend when it comes to addressing this with a young player.  No, I'd much rather reason with him or her that the hips — or "the tops of the legs" — have to be lowered in order for a skate to be able to reach/extend far outward.  In other words, standing upright, one can hardly reach outward at all; on the other hand, sitting very low brings the tops of the legs down to a point where the foot/skate can reach very far outward.
I also suggested that a lot of players lack the leg strength to comfortably sit in a good skating posture for very long.  And that brought me to recommending an exercise that my new friend was surely familiar with.  Yes, it's an old football exercise, that tends to also serve a hockey player quite well.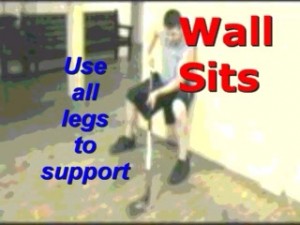 Shown above is a photo grabbed from a video I posted here long ago for Megan (a young lady hockey player who is a CoachChic.com member).  As you can see, the above player is using "all legs" to support himself.
I suggested that my friend have his son try this at home for something like 10-second bouts (or until there is a slight burn in the thighs), to have him rest a little between bouts, and to have him do a number of these to get the legs used to supporting him for longer (and longer?) periods.
Oh, in closing…  I'm always talking here about the "art" and "science" of coaching.  And having the above shown player dribble a ball while performing his WallSits is my "artful" attempt to distract him from the pain of just sitting (or taking his mind off the obvious burning in his legs).
I didn't pick the above title with the idea that every member is aiming towards the NHL.  However, I think everyone here is hoping to enjoy the game more, to have some successes — at his or her own level, and to ultimately feel good about his or her hockey experiences.
That in mind, I happened across this series of videos featuring Steven Stamkos, compliments of Nike Training and YouTube.com.
There's a story being told here, for sure.  However, what I'd like members to do — besides gaining an appreciation for Stamkos' dedication — is to make some mental notes about the exercises he's doing.  Then, just as an FYI…  We actually use most of those training gadgets in The MOTION Lab, outdoors or at our roller hockey facility.
Anyway, enjoy…
– Dennis Chighisola

What It Takes to Make It in Hockey
Video 1
Video 2

Video 3

I have my grandson to thank for finding this video.  (He loves studying — and then copying — the moves of top players, which makes YouTube.com one of his favorite sites.)  My understanding is that the goal scored in the following clip has been hyped by many as "THE Goal of the Year".
Now, before I comment further, I'd like you to watch the video (and probably watch the slow-motion part a number of times to really appreciate how the goal was scored).  A little later, I'll also suggest why I've placed this post under the "From The MOTION Lab" category.
– Dennis Chighisola

Steven Stamkos Incredible Hand Eye Goal versus Ducks (2009-2010)
Okay, by now you should realize that Stamkos batted that puck out of the air as he was sliding along the ice on his back-side.  Hmmmmm…
Oh, and I want to especially insert here the fact that his goal was no accident — no, far from it.  Just watch the video again to see how deliberate Stamkos was it plucking that little black thing into the open net.
Of course, I'm thrilled that mention is made here about the unbelievable degree of hand and eye coordination that was needed to score that goal.  However, perhaps I ought to explain a little more about what I mean by hand and eye coordination…
Number One, a player's stick-blade has to be an extension of him (or her), or he has to be nearly as dexterous with that stick as he would be with a pencil or an eating utensil.
Secondly, we have to realize how many things are going on in Stamkos' world during that 3-second(?) flurry…  I mean, he battled through traffic as he unleashed the initial shot, he fell and slid — most likely with little control in that slide, yet he was able to keep focus on the rebound and ultimately take a successful swipe at it.  Ya, in lots of previous CoachChic.com posts, I and other authors have made mention of that kind of skill — as I call them, "asymmetric" movements.
Okay, so here's my little bit of input…

Throughout this site, you have access to numerous drills that we (especially Todd Jacobson and I) have created for enhancing our players' ability to focus amid chaos, and to deal with more than one physical problem at a time.
In the case of our goaltenders, you'll see them, for example, performing all sorts of physical tasks while they're juggling.  (More recently, we started having our High School Prep goalies juggling while jumping one of those schoolyard gadgets we know as "skip-its".)
My skaters are dribbling several balls at once, or they're doing some sort of footwork challenge (like dealing with a skip-it) while also dribbling a ball.
In each case above, Todd's or my aim is to create the chaotic conditions like those in our crazy game, and we even try to use our imagination to make the practice sessions more difficult than what our kids will face in their games.
Finally, why have I placed this post under the "From The MOTION Lab" heading?  It's because I firmly believe a setting such as our Lab — or at least some off-ice setting — is really the only place you can create the wild conditions I just described above.  Honestly, after 40-years of doing what I do, helter-skelter training — especially because of all the extra gadgets required — is far easier to get accomplished away from the ice.
  As a PS here…  As I was readying to press "Publish", I suddenly thought about the recent exchanges going on here concerning floorball.  And, I know dawgoned well that Craig and Greg or someone else is going to suggest to me that a game such as that will also help create the kind of stick-dexterity I described above.  My answer to them?  Absolutely (and so will lacrosse, field hockey and some other sports).  It's just that we coaches don't have as much control during such games, and the kind of repetition I like with a given skill is really only possible in a practice setting.
*
Have an opinion or further thoughts on this subject?  I'd love you to add your Comment below!
It was fun to recently greet my 2010 New England Hockey Institute HS Prep hockey team, as they returned to The MOTION Lab.  Of course, most players were returnees, while just a few new kids replaced those who had graduated or moved on.
– Dennis Chighisola
My HS Prep Hockey Team Returns to the Lab
Before getting underway, I'm hoping that you've already seen my video series, "You Don't Need Ice!", because I'll be referring to it often as we move into the summer months and then on to the regular season.  (If you haven't yet done so, use the above link and sign-up quickly, because I'll be removing that information as it becomes rather passe.  Also, you'll want to be on my mailing list so you're notified in advance about a few special events I'll be announcing shortly.)
As for my views on the spring and summer, they have a lot to do with how I see the season just completed…  I mean, players have been pretty much beat-up over the long winter — both physically and mentally, which means they need some time to lick their wounds and to clear their minds.  (Come to think of it, don't parents also need a little break after a long, grueling season?)
None of the above means that a player should just veg over the off-season months.  No, some sort of active relaxation is ideal for the spring.  And, for that, I usually suggest my players participate in a spring sport (other than hockey).
By the way, as a coach responsible for the development of a lot players, I really have to pick and choose my own breaks wisely.  So, I'll usually alternate three main areas this time of year — studying or organizing for my players' sake, taking some personal time, as well as working on lots of non-team hockey stuff.  I highly recommend other coaches do something similar.  Or, at the very least, don't wait until the fall to start thinking about your team.  As with many other things, what we get accomplished in advance usually pays huge dividends for a long time to come.
Now, I almost always bring my high school guys into the Lab sometime around the end of May or early in June.  That gives most of them plenty of time away from hockey, or a chance to complete their school and other sport commitments.
As I offer in numerous ways throughout this site, I always have an end-goal for my guys, which includes what I'll call for now a "ready date", the amount of time we have until that date, and a list of skills or qualities I'll want me kids to have under their belts by then.  As for my HS Prep team's ready date, it's the first Monday after Thanksgiving.  That's when all Massachusetts based high school hockey teams are permitted to hold their first tryouts.
So, if you can appreciate what I just suggested, there is absolutely no need for my guys to be at the top of their game — right now, in July, August, September or October.  Oh, they want to be well on their way.  But, there's only one period that truly matters — again, that first Monday after our US Thanksgiving.
That said, our earliest Lab training sessions are VERY low-key.  My aim is to ease the kids back into hockey.  And, I mean that I want to just gradually get them into the physical stuff, while at the same time not yet putting them through any real mental drudgery.  (My players know I'm not easy on them, by any means.  Still, there's a time to push, and this definitely is not the time.)
So, for now, the training mostly about technique.  There's a very good chance my guys' skating mechanics are off.  And, because they most likely had to scramble their butts-off to compete in winter games, they've probably missed the chance to work on new puckhandling moves, passing skills, or scoring plays.  In fact, because their main job was to just do the best they could in games, it's going to ultimately help my kids if I help them re-master a number of their defensive skills.
As for the lesson plan I designed for these earliest Lab sessions, they mostly have to do with "muscle memory".  For new members who don't recognize that term, let me say that, "A player does in a game whatever he or she has done the most to that point."
In other words, if you swing a baseball bat in practice to include a hitch of some sort — and, if you ultimately do that faulty swing more times than you swing correctly, you can be sure that hitch is going to be present when you enter a game.
Then, as a preface to telling you about the drills we used, let me also point-out that I always build a warm-up routine to accomplish a number of things.  Sure, the idea is to warm the body.  However, rather than waste time, I will usually build our warm-ups to include exercises that also teach or enhance some key skills.
With that, here are the drills…
Rope Skipping — The kids begin with light skipping, aimed at warming them a bit, and also encouraging them to develop coordination and lightness on their feet.
Skip Ball Hops — The little gadget we use has several names, but you'll see it used in the video that follows.  I'm chuckling as I write this but, while most of my kids have become accomplished rope skippers, the idea of this very different type of device really challenges their neuro-muscular systems. 
T-cord Simulations — Very shortly, my guys are going to start using the Techni-cords.  However, I developed this rather slo-mo drill as sort of a prerequisite.  In essence, a player practices sitting low, and then moving from one skating posture to another (as in striding from the left to the right), over and over again.  Yup, this is all about muscle memory.
Players actually rotate through the above three drills three times, so that they're fairly warmed as they move into the next drills.
Agility Ladder –  Right now I'm just re-familiarizing my kids with the basic movements.  I'm also demanding that they get back to good technique at this time.  Hey, we can shoot for real fast footwork a little later down the line.
Tumbling Mat Work — I put this one in especially to get my new players familiar with the forward roll (and I spent extra time helping them with this).  As everyone got the hang of it, I had them start tumbling with a stick in their hands.  Still later, I had the boys bring a ball along with them.
Knee Dribble Progressions – My guys actually wear the "Dribble Aids" described in the "You Don't Need Ice!" series, attempting to keep their eyes-up as they dribble.  From there, they lower to either and both knees, and even attempt to keep dribbling as they sit.  Beyond not looking down, the idea of this drill is for the kids to 1) keep their sticks moving as they move their bodies, and 2) keep their stick-blades flat no matter their poster.
3-puck Dribbling Drill — This one was aimed at helping the guys get their "hands" back again.  When you see the video, you'll notice the layout of three pucks pretty much allows for (or encourages) all sorts of movements with the stick.  Then, after a few sessions, I actually extended the kids' reach by moving the pucks further apart, and I made things more difficult by having them balance on small blocks as they dribbled.
Simulated Slap — I had the guys take turns working only on their slapshot motion (no pucks involved).  I asked them to keep their eyes on the nearby mirror, to encourage split vision, and I gradually asked them to work on a quicker and quicker stick.
Okay, it's time to show you the video.  You might have to go back and forth through the drill descriptions and the video clips now and then.  But, I think the combination should give you a pretty good sense of what we've been doing in the Lab lately.  (By the way, failing to get clips of all the drills demonstrated by my current HS Prep players, I found some substitute footage of past students to fill-in.)
Loading...
Weighted Rope Skills –  Oh, talk about screwing-up my guys' neuro-muscular systems…  At the end of their workouts, I had them go back and forth between their regular ropes and ones I've made to be pretty hefty.  If you can sense what's going on — as they go back and forth between the two very differently weighted ropes…  Man, that heavy one just wouldn't come around at the same speed as the normal one. 
I did make one mistake in my pre-planning.  And it only took a brief observation of my newest kids to realize their upper bodies were totally out of sync when the tried the T-coard Simulations.  With that…
Rhythm-bar Training — At the end of the video you'll see that I added some training, again so that my new guys could get the feel of making their skating motion a full body one.
*
As always, I love your feedback — just leave a Comment below.
*
As a follow-up to the above post: Last night started our third week in the Lab, and I've already begun upping the ante.  That's an important principle of motor learning, you know…
Actually, my old Principles of Motor Learning professor really ruined my day one time, when he informed those in his class something to the effect that, "When you can sit back and admire how good your athletes look in a given drill, that drill has out-lived its usefulness."
Ugh!  That was always part of the fun in coaching — admiring how good my guys looked in a drill!
However, the old prof was surely correct.  Once a given level of execution is do-able, growth stops.  Or, said yet another way, once there's no challenge, well…
So, anyway, I added just slight twists to each of the drills I've already outlined above.  As an example, in the one where my kids dribble the ball around the three obstacles, I now have them walking back and forth on three blocks, and I eventually added one of those small air-filled cushions for them to balance on while dribbling.
Again, the idea is to just slightly keep upping that ante, or to just keep making a given drill a hair more difficult.
Of course, as I should have made perfectly clear in my "You Don't Need Ice!" series, each challenge should "transfer" positively to the hockey player's game.
The background to the following conversation actually started several days ago over on my blog, Coach Chic's Hockey Diary*. I encourage you to scan those two articles, and especially the videos contained in the second one.  For your convenience, here are the two article links:




I also mentioned in both articles the fact that the seeds for The MOTION Lab stemmed from my getting to see and gain appreciation for the special sport clubs during my studies in the old Soviet Union.




– Dennis Chighisola




* I might suggest you subscribe to my blog, because it is now a new part of CoachChic.com
A Little History to The MOTION Lab
The following video makes some great points I'd like to build upon after you've heard Dr Yessis' interview.
Once again we can thank YouTube.com and a noted authority for sharing such great advice.  Now, as for that advice…
Near the end of that interview, Dr Yessis makes a pretty strong push for something akin to special sports clubs, as well as using qualified coaches and other specialists to staff them.
However, while he didn't state it directly, my guess is that he'd also suggest that given athletes be guided by a single entity (either by and individual or by a staff).
My reason for raising this point stems from watching a lot of pretty high level hockey programs in my area who don't really do that.  In other words, the instruction is fragmented — between a head coach, a separate staff of skills coaches, and maybe a fitness instructor.
Let me explain that in another way…  A head coach obviously oversees a team during their practices and games.  And I'll suggest that he (or she) is the one person who knows what the kids' strengths and weaknesses are – as individuals and as a group.  From there, his kids report to a weekly skills session where the special coaches seldom have any understanding of what those kids are experiencing in their games.  Sure, some of the generic type drills that are usually run in these sessions might be good for the kids.  However, the skills instructors may never touch upon the kids' true needs.  And I think the same can be said for the strength or fitness instructor, in that he or she probably isn't privy to the players' true needs.
Oh, by the way, I have heard an explanation as to why some organizations like things as I just described.  What they seem to believe is that a "variety" of coaches will serve the kids well.  Hmmmmmm…
That said, about a decade ago I gave some really serious thought to the way I would put my Team NEHI program together.  And, what I decided was that I wanted our skills to fit with the things we were trying to do in our practices and games, and I wanted our dryland and in-line training to support our on-ice practices, skills and games.
Oh, and long-time members should be familiar with my constant note-taking, as well as the way it helps me design my future practices – of any kind.  Of course, I have the luxury of using those notes — three times per week.  On the other hand, part-time skills and fitness coaches never get to take notes about game problems.
If you'd like an example of what I'm talking about here, let's consider the powerplay…  For sure, this requires some special individual skills, and they're not usually the kinds of skills a team can spend LOTS of time on in a traditional practice.  Just to name a few, I might suggest games of keepaway – of all different numerical combinations, shooting off a pass, one-touch passing and saucer passing.  So, my weekly skills deal with these, and I even spend some of our off-ice training time on those skills.
That's not the only reason my way of doing things seems to work better.  For, I am always watching individual players for their unique needs.  Actually, I alluded to this in my article entitled "The Effects of Growth Spurts on Hockey Players".  In that piece I explained how I communicated with those kids and their parents, and I also mentioned a few drills I put into our skills and off-ice sessions to help them through that sometimes difficult period.
So again, if you can see what I mean, my practices are all tied together, with each supporting the others.  And, I'll suggest that the only way that kind of continuity can really take place is if one guy (or gal) oversees the team's development.  Actually, I'm also going to suggest that Dr Yessis' idea about having select players train in some sort of club atmosphere would have this happen – with either an individual or a staff following the development of each player.
As for The MOTION Lab…  I think I built that about 5-years ago.  And, after some experimentation with private students and small groups, I decided to incorporate it into my Team NEHI program.  However, not wanting to overburden my players and their families by adding another training session to their fall and winter schedule, I decided to bring them to the Lab during our off-season.
Now, I might change things a little this coming season, but…  I usually bring the teams into the Lab in late May.  This is the first time the new groups gather, and they'll be with me until either late November (when the high schoolers leave) or late April (when the junior high team's league ends).  The length of time I have them affords me the chance to take a long-range approach – as in, slow and steady wins the race.  That in mind, I use the Lab to start building some of the background skills my kids will need by the time they go to our occasional summer ice-time or to our outdoor sprint and agility sessions.
Once again, though, if you can see what I mean, everything pretty much fits – from the spring Lab to the summer programs to our late summer camp, and then to our fall and winter season.
Then, one final thought…  Every so often I will have a parent within our Team NEHI group who will believe that more is better.  In other words, even though their youngster practices three times per week and plays a weekly game with us, they'll still use what should have been a few let-the-body-rest days to get their kids extra training.  Ugh.  Here we go again with that fragmented kind of training.  And, no matter how good the other trainer might be, it's likely that the best drills in the world aren't going to help the youngster.  In fact, I've seen some pretty good players caught in this, and they've usually come to a near standstill under such conditions.  As often, I've seen some kids with great promise just not fulfill their expectations.
Having lots of posts here in reference to using — and even making — agility ladders, it was just a matter of time before someone would write me about what to do if they don't own their own ladder.  And, as you'll soon see, that's an easy one to answer.




– Dennis Chighisola
What If You Don't Have an Agility Ladder?
Up front, let me tell you that agility ladders can be a pain in the butt to use.  Laughing to myself here, I should point-out that all the great videos we find around the Internet have most likely been edited — a lot.  And that goes for my videos, as well.  I mean, athlete's miss-step plenty when they're first learning, and they frequently get a little tangled in the ladder or at least knock the ladder out of shape.
That said, I use a number of approaches to working on footwork, with most of these depending on the location where my players will work…
For example, there are a lot of places where we need to get our agility work in, and then vanish from that area without a trace.  And for that, it makes sense to just spread a ladder, do our workout, roll it back up, and pack it away.
For another example — this one having to do with agility work in a more permanent location…  I recall numerous hockey (and other sport) parents telling me that they made a ladder for their youngster after having liked the way I work with the one in The MOTION Lab.  Most of those parents told me that they used colored tape to mark-out a ladder on the floor in their basement or den.  I've actually done that myself — using good old duct tape, although I've discovered that older players and a lot of traffic will ultimately scuff the tape and turn-up its edges.  Really, though, most of my tape-jobs have last a few months, at least.
I'll sometimes offer that a family can paint the outline of an agility ladder on their driveway or another paved area.  If there's a caveat here, it's that frequent work on an unforgiving surface can be rather hard on the legs.  Along this line of thinking — about using paint…  I haven't sprayed those on grass, but I do use white, water-based spray paint to mark the field area where my NEHI teams do their off-season sprint workouts.
Then, of course, it is possible to use chalk to outline an agility ladder on the right kind of surface.  If there's a problem here, the chalk isn't likely to stay very long.
Finally, my experimentation in The MOTION Lab has brought me from using a regular agility ladder to a taped one to the painted ladder that now sits in the middle of the Lab.  There are no ropes or rungs to get tangled in, no set-up time required, and the paint stands-up far, far longer than the tape I'd previously tried.  Better yet, our agility ladder is always there (as shown in the above photo), even though we can ignore it most of the time to perform other types of drilling in the same area.
PS:  If I've failed to mention it previously, the standard agility ladder is 18″ wide with the rungs spaced 18″ apart.  But, I see no scientific reason for being exact on those dimensions.
*
Do you have any ideas along these lines?  Have you tried something similar but better?  Please tell us in the Comment area below!
Now, I hope you've had a chance to read my earlier entry on Whole Body Vibration, because — as I said there, it's pretty fascinating stuff.  And, as I also intimated there, it sort of sets the groundwork for how I ultimately arrived at my WakeBoard.  So, please do that if you haven't yet, and then come back and read on…
– Dennis Chighisola
WBV Leads to Coach Chic's "WakeBoard"
Long before I located an affordable Whole  Body Vibration device, I thought to build one — I mean a really high tech and heavy duty one, and one that might accommodate hockey type movements.
So, I called my brother, Lou, a genius when it comes to inventing any kind of electronic or computerized contraption.  We must have gone back and forth on various ideas for at least a half-hour, until he asked me to do something pretty interesting…
"Dennis, just think about the times you've spent fishing out on a small boat," Lou suggested.  "You sat for most of the day, yet you were totally exhausted when you got home!"
True enough, and we laughed about that — about how I often hurt in places where I didn't even know I had muscles! 
I thought long and hard about that over the next few days — about the soreness one gets from being out on a nearby pond.  And I began thinking that the movement of the boat — even in the calmest waters — forces a body to constantly wrestle to hold its position.  I mean, I wouldn't even be thinking about it, but I know that every tiny part of my musculature was working overtime to keep me upright and fairly steady.  (Interestingly, a few days after talking to my brother, I shared the gist of that conversation with a Lab visitor who happens to be the commander of a US Coast Guard ship.  And he pretty much agreed with what I was thinking.)
Next, yet another thing went into my want to create a special gadget…  In studying countless hours of high level hockey play via video, it was quite obvious to me that players are subjected to something pretty similar to what happens in a boat.  In other words, there's this gut-wrenching of core muscles that goes on throughout any individual player's shift — with every learn, cut, stop, and with every bump or wrestle with another player.
Furthermore — and while I'm not downplaying the benefits of traditional lifts — like Olympic ones or squats and presses, I realized that hockey players have to exert tremendous force while in a myriad of less than convenient postures.  Doing my best to say that in another way…  A player might make contact with an opponent while leaning x-number of degrees off his or her best squatting posture, and he or she may need to continue resisting or pushing while rocking from forward to back and from side to side.  Actually, I think the same can be said for a player when he or she attempts to execute a high speed skill — like shooting, passing, pass receiving or making wide moves with the puck.  So again, I know that traditional lifts have proven helpful for hockey players; however, they don't exactly replicate the way our game is played.
In reference to the above, I just had a little fun with some video..  So, clicking on the thumbnail to the right shows one of my former players wrestling with a very light sandbag while some on-ice college players go through their typical on-ice wrestling in the background.  (Okay, the video ain't great, but I was just having some fun.)
The next photo (to the left) shows what I arrived at as a device for mimicking the frequently changing postures a player might deal with in the game action.  If you click on that photo, you'll see a former student in The MOTION Lab moving a 10-lb weight in random patterns.  This is just a basic exercise for work on the WakeBoard, but you might envision the unbelievable full body workout that's taking place here…  I mean, imagine what every leg muscle is going through, not to mention this student's core and upper body muscles.  Ya, it's a lot like being on a boat — his having to constantly wrestle with staying steady and erect.  And, while the weight makes it all the tougher, moving the weight around makes it even more so (and more game related, I'll suggest).
The next photo shows another Lab student using a sandbag.  I'll cover this interesting training tool in another future entry.  However, I will tell you that, as light as the shown sandbag is, it introduces a challenge beyond the barbell plate, mainly because the sand shifts around within the bag as my guy heaves it all around.  Click on the photo to see that student in action with his sandbag, the earlier guy moving the weight again, and then a close-up of the WakeBoard as it rocks with each movement of the athlete.
Then, two final things…
1) I haven't totally satisfied the ways I think the WakeBoard can be used.  To date, the exercises I've shown surely do work (as do a few Todd Jacobson and I have used with our goaltenders).  However, I sense a lot more things can be done atop that awesome unstable surface.
2) Because I want to continually add value to your CoachChic.com membership, I'm going to include the following sketches in hopes you might be able to build your own version of the WakeBoard.  Dimensions aren't critical here; as I'm so often heard to say, "It's the doing that makes a player better!"
*
If you have any questions or ideas concerning my WakeBoard, let's get a conversation going here in the Comments area!
One of the things I've promised you, my valued member, is that I'll do all the long, exhausting research, and then pass my findings on to you.
That said, the following excerpt explains a little side project I've been into for about the past 5 or so years.  It's from an article entitled "History of Whole Body Vibration Technology" (from the website History of Whole Body Vibration Technology).  I'd like you to have a read, because it should introduce you to something that I find absolutely fascinating:
"There's nothing new about the benefits of whole body vibration technology; it's been around for over 47 years.  The world first saw its effectiveness when the Russians started winning all the Gold at the Olympic Games in 1960.  Then, they started keeping their cosmonauts in space longer and longer — eventually, over a year longer than we could.   However, the Russians kept the technology of whole body vibration a secret until after the Berlin Wall came down in November 1989.  Therefore, the world didn't learn the secret to the Russian's superiority at the Olympic Games or in outer space for 30 long years.  It was one of Russia's key sports scientists, Dr. Vladimir Nazarov, by experimenting with a vibration system, who began the research of this technology.   Nazarov was an active sportsman, a member of the Soviet gymnastics team and occupied a chair for sports biomechanics at the State College in Minsk.  Finding his experiment a success, he introduced this technology to competitive sports, ballet, and medicine in the former USSR.  The Russian Space Program continues to use the technology — while the cosmonauts are in space — as physical therapy to help the cosmonauts overcome the considerable decrease of bone mass and muscle tone that they risk during extended periods of weightlessness.  After the fall of the Soviet Union, Nazarov's research on whole body vibration made its way to Europe in the early 1990's…"
Now, the following YouTube video starts out a little corny, but the guest really knows his stuff about WBV benefits and methods.  So give him a minute, and the be prepared to have your eyes opened to what Whole Body Vibration technology promises do…
If you're interested, here are the final two videos in that Youtube series…
I actually stumbled across this rather new (to the Western world) strength training approach long ago, from an unrelated Internet search.  And as I soon discovered, all sorts of Whole Body Vibration (WBV) machines are currently available.  Professional models can go for well over $10,000, these made for heavy duty use in busy sport clubs, etc.  I actually managed to eventually find and purchase a smaller, far less expensive type more suited to individual or small group use.
Now, I'm not really here to promote this form of training; again, I find it fascinating, and I love the workouts I get from my machine.  However, there are as many studies out there downplaying the benefits of WBV as there are supporting it (so it's up to you to decide if it's right for you or your player/s).  Also, while I personally think there's a huge difference — in the way exposure can be governed and in the way settings can be controlled, we're all likely aware of the potential for injuries from overexposure to driving heavy equipment or operating some vibrating machines.
So, why have I posted this particular entry — if I'm not really promoting it?  It's because I needed a way to set the groundwork for my own invention.  For, as you'll soon discover, my "WakeBoard" came about because of an interest in Whole Body Vibration technology.
Look for that article and related videos to appear here very shortly.
Here's a huge (<= SMILE) right off the bat!




Actually, as Jerry Z and I were standing outside my office after a session in The MOTION Lab, I could tell he was amused by my stories about making some of the training devices I use.  So, while I'm preparing to show you a pretty good drill for working on the skating stride in an off-ice setting, why don't I share a few of those "recycling" stories with you.




– Dennis Chighisola
New England Hockey Recycles!
Shortly I'm going to be posting some video clips of Jerry training in the Lab.  In those, you'll see him using an easily made device that really helped him with his striding.  The gist of this article, however, is about some of the devices I use regularly — either in the Lab or out training at the rinks.
Bungee Ropes……….Actually, this whole thing started when Jerry asked me where I got the bungee-like material we used that night.  So, I told him that the late-John Cunniff was a good friend.  For those who don't remember John, he was a former NHL player (for a long time with the Hartford Whalers), and he was later a coach with both the Boston Bruins and several US National Teams.  Anyway, John gave a presentation in the Boston, MA area many years ago, and one of the gadgets he showed was something I believe he said he'd learned about from the Soviets.  In effect, it was a long bungee-type rope anchored at one end and tied around a player's waist at the other.  With that, the player gets to work against the resistance of that large elastic for a time.
Now, a lot like this old coach, John wanted to impress upon all the other coaches in attendance that good training gear doesn't have to cost a lot.  So he passed his bungee apparatus through the audience, pointing out that it was nothing more than a bunch of bicycle tubes strung together.
That was a long time ago, and long before folks were really into recycling such stuff.  What I've discovered in recent years was that my local bicycle shop is thrilled to get rid of as many old tubes as they can (my guess is that they actually have to pay to have discarded materials like that removed).  I still have boxes of these up in the Lab, I give them to my players or students when they visit, and I gave an arm-full to Jerry so that he could continue his training back home.
Tow-trainers, et al………. Talking about recycling rubber products, and about merchants being thrilled to unload such things…  Last month I showed you Jerry working with my version of an off-ice and on-ice sled I dubbed the Tow-trainer (and I also provided plans to build your own in the *Gift section).
Well, a lot like bike shops and those inner tubes, I found that the local automobile service station is just as excited to get rid of old, worn tires.  Yup, just ask, and I'm sure a mechanic will point you towards a pile of them.
By the way, I've used tires for a lot more than as towing devices…  I store a set of very large tires outside our off-ice facility so that my players can twist and heave them — from the left side and the right, as a means of strengthening their shooting muscles (click here and view this article to see what I mean).  In several other areas of this site I've either shown or mentioned my players passing metal or plastic weights so that they get a sense of how to generate good force into their sweeping motion.  However, I have on occasion substituted very small tires (the kind used on small off-road vehicles).  And again, the guys at the local recreational vehicle shop are usually happy to unload a trunk load of those.
Tumbling Mats………. Now, I have a lot of nice, clean tumbling mats in The MOTION Lab.  However, once I decided to have my Team NEHI guys train — indoors and outdoors — at our off-ice practice facility, I also decided to look elsewhere for mats.  No matter where my teams use them, they take quite a beating.  Furthermore, I didn't want to have to cart mats back and forth between the Lab and the athletic club.
So, thinking long and hard, I ultimately decided to ask a local carpeting installer if I might have any padding he was going to toss-out.  And, while I suspect that the thick rubber material left over from their installation projects is more valuable than old tires or tubes, the store manager was great about supplying me a huge section to take home.
What I did from there was to spread the big piece on my lawn, mark it into smaller sections, and then cut it so I have about 8 good sized mats.  Oh, and while I worried about wear and tear on professionally made mats, that original set looks the same today as it did about 5-years ago.
Now, those are the three types of gadgets I mentioned to Jerry the other night, although I'm guessing I own a whole lot more training aids that have been fashioned from recyclable materials.  (I'm sure I'll show more as we use them.)




But, there is one last, HUGELY important point I want to make here, and it's a major reason why I like to use low cost — or no cost — material…  As I've said countless times elsewhere, I hate long lines, and I hate seeing my players standing around waiting their turns at a given station.  So, I need a lot of gadgets to run my kind of workouts.  And, while I might not want to invest in something like 4 or 8 professional sleds, I am willing to spend a warm summer day in my backyard making Tow-trainers (or whatever).




Finally — and I'm guessing my old friend John Cunniff would suggest the same if he was around today, in that, "Fancy gear doesn't make you better; using it does!"




I truly appreciate your Comments!
For those who may have just joined (or just happened by this entry), I strongly urge you to view the YouTube video I dubbed "Studying Alexander Ovechkin".  I've asked members to run (and re-run) goals #4 and #2 there, just to get a sense of how the The Great OV oftentimes balances on one skate as he readies to unleash a shot.




Oh, and as an FYI…  I doubt Ovechkin is the only player to demonstrate the following skills.  I just happened to use him as an example because I tend to spend so much time studying his moves.




– Dennis Chighisola
1) The Skate Wiggle
As I hinted at in my previous notes, I long ago noticed Ovechkin wiggling his left skate as he readied to shoot from the right side of his body.  And as I also noted, I think this can be a huge distraction to a goaltender.
Just think about it:  The goaler attempts to focus on the puck, but there is this extra movement going on (in the corner of his eye) that must be awfully hard to ignore.  How distracting is it?  I'm not sure (and I'd love for some experienced goalie-types to weigh-in on this).  However, aren't we all looking for an edge — no matter how slight?
Now, I actually had more than one motive when I decided to have my team players learn this.  For, as I've noted in numerous other entries when I've talked about shooting, it's a good idea for players to learn how to pull the trigger in all sorts of off balance postures.  So, while the drills I'm going to show in the following videos will likely help some of my better players add something new to their bag of puckhandling and shooting tricks, I'm going to suggest that every one of my kids has enhanced his skills just from practicing so often on one skate.  (I'll have a little more to say on this topic a little later.)
Okay, I've provided the sketch to the lower right just so you might see the basic posture…  The idea is for the shooter to balance on one skate while slightly wiggling the other.
As an aside here…  Last season, when I first introduced this skill, I had my players wiggle the skate opposite their stick (just as I'd seen Ovechkin do).  As I noted above, I felt this was going to cause the most distraction for the goaltender.  However, because I was adding another skill this season, I had my guys try that wiggle with the skate closest to their stick.  You'll see why in awhile, though.
I'd like to share a few more tips here, beyond the actual shooting tricks…  For example, I find certain settings better for my Jr HS and HS Prep players to try new skills.  So, as you'll notice in the videos linked to many of the following photos, we work off-ice a lot (even in The MOTION Lab), and the players also work on their own firing at the side boards (my guys probably get 20-shots to every one they'd have had if they were standing in long lines).  Neither do I allow them to initially shoot on a goaltender when I really want them concentrating on a given skill technique.  (Just click on a photo to see the video.)
*
2) The Kick
In the previous post I promised to show you something even more challenging for the goaltender.  So, here goes…
The accompany sketch shows a player's stick going forward as the leg opposite his stick moves backward.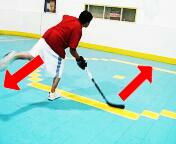 Now, think "equal and opposite reactions" here — as when a sprinter's arms pump forward and backward to aid his leg actions, or when a skater moves the hands, arms and shoulders side to side to help the outward thrust of each skate.
In other words, as the shooter pushes his stick forward, he has to simultaneously kick rearward in order to add some extra umph to that forward stick action.  (Click on the photos below to see some of my guys executing what I've come to call "The Ovechkin Kick".)
By the way…  I noticed in putting together the second video that the young lefty shooter is slightly off in timing his kick with his shot.  Can you see it?  The kick appears to be a little too early to really help his shot.  Knowing the player, though, he will get it with a little more work.
Does the direction of that backward kick matter?  You bet!  As a matter of fact, that's probably been the most difficult thing to convey to my kids.  That kick has to be as close to 180-degrees to the direction of the shot as possible; otherwise a great deal of the force will be lost.
Actually, I've started talking to my guys in terms of feeling the extra power, and I'm often heard to ask them, "Can you feel it?" as I move up and down the line of shooters.
*
3) Combining the Movements
I initially introduced the above two skills separately, and I had players practice them separately.  Ultimately, though — after probably a good month or more of separate drilling, I had the guys combine the moves.
The videos below show my players putting the two tricks together.
By the way…  You'll notice that the kids are usually doing a wiggle first, switching skates and then performing their kicks with the other skate.  That kind of order is just for practice purposes, however.  In reality, I'll want them to do whatever comes naturally once they're in a game.  I also know how an athlete's mind works, and I can assure you that each player will grasp for whatever does come naturally in the heat of battle.  Some will actually dare to string the two moves together, some will want to get the shot-off quicker by going to just the kick, some will wiggle a skate and fire, while some won't dare do anything other than just pull the trigger as fast as they can.  But, for more on this topic, please consider my closing remarks…
*
In summary, I want to re-affirm something I just hinted at, in that individuals will tend to get differing results from an unusual type of skills training.




Over 40-years of working with thousands of athletes, I can tell you that a few special ones will put that new skill into their game almost immediately.  It's just the nature of those very unique beasts.  At the other end of the spectrum, there will always be a few players who will never dare to do anything new in a game setting.




All that said, I'm going to suggest that just working at new skills — like those described above — is going to affect some positive change in every single player.  So, even though those in the lower half of a roster might not dare to purposely pull-off moves like I've just showed, they are going to frequently find themselves balanced on one skate or the other in a game, and they're going be confident about handling the puck or even letting it fly from that posture.

– Dennis Chighisola




Did you know your Comments really help me?  So, please get involved.  Just use the box below to offer your thoughts, questions or suggestions.  And thanks — a bunch!
As if all of our guest writers aren't on the cutting edge when it comes to the science of training, let me tell you that our friend, Craig Shaw, is into some stuff that is really "out there" (in the nicest sense, I mean).  Personally, I love the high-tech electronic gadgets.  But, wait until you read about what Craig's into.  Also, you'll have to read my later notes to discover why this article found it's way into the From The MOTION Lab category.  Oh, and although they're not obvious, there are links to two awesome video down below…

– Dennis Chighisola
The Mental Component: Another Approach to Hockey Training
By Craig Shaw
The mechanical, physical and nutritional components of training get the most focus from coaches and athletic trainers.  These are obviously very important, but up to a certain level of technical ability, athleticism and then the emotional and mental components become at least if not more important.  To paraphrase Coach Chic, "It is the smart hockey player who will get the ice time once the tryouts are over and the season is in full-swing."  As Saul Miller points out in his book Hockey Tough, "once a player reaches a certain level, 90% of his success is related to the mental/emotional side of the game."  Although these statements are debatable, very few would argue that they don't have a lot of truth to them.
Are there ways to improve this aspect of a player's underlying capacity?  Visualization, positive self talk, deep breathing and the like are quite well known and very useful.  Here is another approach which attempts to make the brain a more efficient mechanism:
Neuro-scientists have found that by improving the underlying capacity of timing and rhythm, one can, in fact, 'fine tune' the neuro-pathways of the  brain.  One program that has been used to do this is the Interactive Metronome program.  This program has been around for about ten years and has been used by elite athletic programs around the world, including in all the major professional sports leagues in North America.  Through three to four weeks of training, athletes use this computer program for about twelve hours in total and often make lasting improvements to their processing speed, focus/concentration, balance, reaction time and timing.  For example, professional golfers make significant gains to their golf shot accuracy.
This summer I put two elite hockey players through the program and improvements in the above capacities were noticed by these athletes, their peers and athletic trainers.  In fact, the improvements were so significant that there are plans to drastically expand this part of the training program for many of the hockey players in the Victoria (British Columbia, Canada) area.
The downside is that training usually costs about $80 a session.  But again, the results are lasting: once the pathways are established, they tend to be more-or-less permanent.  Further, reading fluency and other academic gains are common as well.  Parents and teachers report that the athletes seem more mature and emotionally grounded.  Therefore, it can be considered an investment in the future.
A less-expensive approach which may give some similar benefits: the Dance, Dance Revolution video game may be an option.  I am the last person to promote video games, but this one is the exception.  Learning to skip rope and play the drums may also be helpful in this regard.
In short, want to move forward in a part of your game that is usually overlooked by other players?  Consider the mental/emotional aspect.  Those viewing the Interactive Metronome website (www.interactivemetronome.com) will notice that their focus is on helping those with significant physical or developmental issues, but the applications for athletes and students without these kinds of difficulties are also worth noting.
*
Want to see a demonstration video about the Interactive Metronome?  Click here!
And if you'll Click here, you'll see another YouTube video featuring a goalie training with a similar device.
*
Man, talk about cutting edge.  Yet, Craig has provided us some ideas we can use to "fine tune the neuro-pathways of the brain" at home if we don't have access to expensive devices.  (And yes, I did say "we" and "us", because I'm going to see about implementing some of those things myself, most likely in The MOTION Lab.)




Then, this side note…  Years ago, figure skaters used to be required to perform "compulsory figures" in order to move-up in test levels.  Perhaps you used to see them at the rinks, using a huge compass (or "scribe") to inscribe large circles on the ice.  And with those, an individual skater would practice and aim for absolutely perfect skate edge control, tracing the circles, doing pivots, etc.  At the higher levels of testing, I would see judges actually get down on their knees, use a mitten to dust away the snow, and then inspect the ice for a slightest wobble or loss of edge control.  My point here, is that practice sessions required unbelievable concentration or focus leading-up to the tests.  And I DO mean unbelievable.  I tell this story because — similar to what Craig mentioned above, compulsory figures students were known to jump a full grade in their school work after a season of intense on-ice practice at concentration.




By the way…  I'm going to end by teasing my friend here a bit, suggesting to Craig that he rethink his feelings on computer games.  For, while I also once felt they were mind numbing (LOL), I'm going to soon do a post on some very positive things I've seen in that area.




– Dennis Chighisola




Did you know your Comments really help me?  So, please get involved.  Just use the box below to offer your thoughts, questions or suggestions.  Thanks!

A lot of the content this month has to do with being creative, and Todd Jacobson and I have (and will continue to) suggest ways you can solve problems by actually creating new drills.  At the same time, many good drills require some sort of training aid (I've mentioned previously that a lot of pretty good training tools can even be homemade).
Well, what got me started on the current topic was Craig Shaw's awesome article on "How Training Like an Astronaut Can be Beneficial to the Brain".  For, in that piece he mentioned a lot of great little training devices that really CAN help a player improve his or her athleticism — a lot.
But, here's my fear:  It's easy to read an article such as Craig's, drink-in the main idea, then gloss-over some of the other (might I suggest equally important?) particulars.  And in this regard, I'm talking about Craig's mention of rope skipping, juggling, a trampoline, scooters, wobble boards and the likes.  And I'd throw into that mix something like those Bosu aids (or small inflatable disks often used for balance training).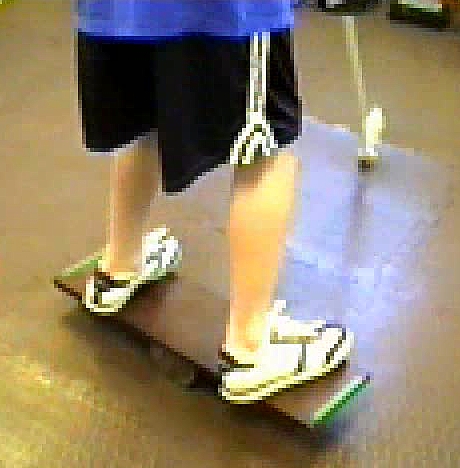 As an aside here, every parent is probably familiar with the oft repeated summertime chant of youngsters, like, "Ma, there's nothing to do!"  And my answer to this is to always have a few gadgets sitting somewhere nearby (these have often been conveniently located in our back hall or at the end of our driveway).  Ease in grabbing something to play with is key here.  Hey, no one, including us adults, wants to spend a half-hour setting something up, only to have less time to play with it.
All that said, I thought I'd just mention how I've come by some of the unique gadgets you'll often seen used in videos or photos taken up at The MOTION Lab…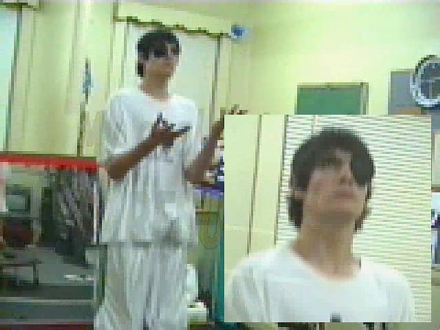 – Of course, jump ropes are inexpensive — or, at least the types I suggest using.  Those made from something like a 3/8″ vinyl will whip through the air pretty quickly.
- So is a container of tennis balls fairly inexpensive.  Actually, the lower the quality, the less bounce you'll get from one that's dropped.  There are even some great tutorials available on-line that make juggling fairly easy to learn.
- In some of the videos from our Lab, you might notice a goaltender hopping and juggling while wearing a patch over one eye.  These eye patches are also readily available — and only a couple of dollars — at most local drugstores.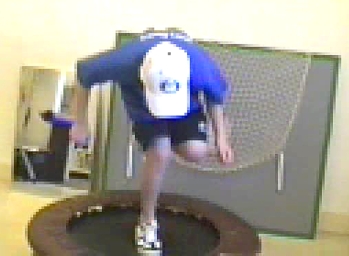 – And would you believe I found our first trampoline at a neighborhood yard sale?  I think it went for about $5.  I later discovered that one of the largest department stores in our area carries pretty decent tramps (so the dad of a Lab student tells me) for a little over $20, and these are available on-line if they're not in stock at the store.
- I know that scooters were a rage when my grandson was about 10-years old, and I still see them frequently offered at low costs in most local department store flyers.  Oh, by the way…  When Anthony was motoring around our neighborhood, I suggested he split his time on that gadget — I mean, thrusting with his left leg as often as with his right.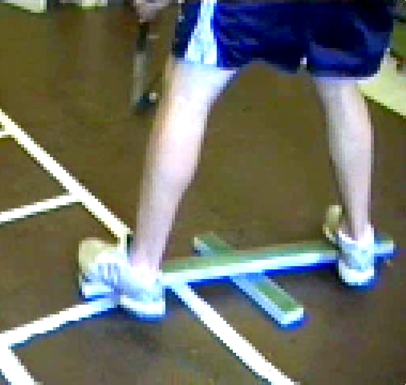 – Wobble boards (or teeters, as I call them)?  You don't need to buy one.  Two crossed 2″ by 4″ boards about 2′ long will do just nicely (and store very easily).  Actually, wait until you see my video on "Chop Stix", whereby I'll show you how to make a batch of great balancing, puckhandling and core strength gadgets from a single $3 hunk of wood. 
- Then, about those Bosu trainers…  They're dawgoned expensive.  However, local department stores carry pretty inexpensive (about 12″ wide by about 2″ deep) inflatable disks that go for about $10 to $12 each.  I have a batch of those in The MOTION Lab, and they're awesome.  But, while you could easily get away with owning one, two disks are all you'd ever really need.
Two final thoughts…
Whether price is an issue with you or not, I like to make it one as I offer this kind of advice.  (I don't ever want a player's chances of improving tied to his or her wallet.)  If there was one thing I took away from my long ago studies in the USSR, it was that those folks were dirt-poor.  Yet, while a lot of their gear was old and worn (not shiny and new like you see in most US gyms), it — and the teaching — was extremely effective.  (I somehow sense my old Moscow friends would smile if they visited my Lab today.)  Anyway, seeing what I did back then caused me to forever after adopt the following sentiments…
Yes, I feel the need to repeat something I've said quite a few times in other prior posts, in that, "It's not really the gadget (or weight set) that makes us better; improved skills and greater athletic qualities come from the way we use them!"
Be a friend:  EVERY worthwhile Comment helps Coach Chic in the search engines!
It gives me great pleasure to introduce yet another awesome guest writer in one Craig Shaw.  Craig has been involved in hockey for over 30-years — as a player, coach and cognitive trainer (or what he calls a "brain trainer"). He has also worked as an educator, counselor and educational therapist specializing in motor skill and cognitive enhancement.  Craig plans on contributing a series of articles explaining what parents and coaches can do to improve some of the underlying motor and mental capacities of their athletes.  (And, lest you think this stuff is just for youngsters, know that Craig is also currently using a very similar approach with elite level hockey players.)
– Dennis Chighisola
How Training Like an Astronaut Can be Beneficial to the Brain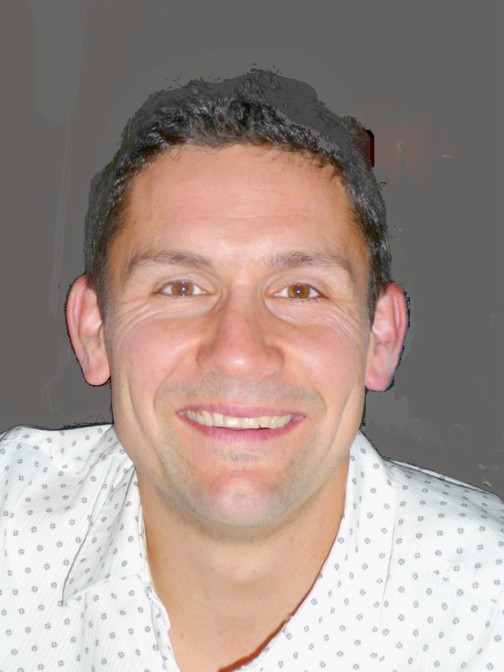 By Craig Shaw
Have you noticed how Coach Chic uses a variety of off-ice techniques to improve balance and coordination, such as trampolines, wobble boards and skipping? These kinds of exercises are consistent with what researchers are finding out about brain development. Studies have shown that rocking, swinging, bouncing and spinning babies not only helps to soothe them, but also enhances their later motor development. In one study babies were spun in swivel chairs in several positions ten repetitions four times a week for a month. These babies showed more advanced motor development than the control group. Likewise seniors who continue work on their balance in such activities as walking, dancing, skating and yoga show slower mental decline as they age.
Why is this? Balance (or the vestibular system in the inner ear) is integral to our ability to control posture, body movement, arousal, eye movements, and sensory integration. In other words, accurate perception, a much-needed ability in the game of hockey I might add, largely comes down to a smooth running vestibular system. And how we perceive the world has a lot to do with healthy brain functioning and emotional stability.
Can this ability be enhanced? It most surely can. Balance is one of the easiest things to train, and our body responds quickly to this training. The types of movements that help to train balance involve changes of movement in space:
Up and down movements – such as jumping, skipping, trampolining or going down a slide.
To and fro – such as running, skating, starting and stopping and swinging.
Centrifugal force – carousels, doing the 'circles' on the ice.
Turning movements of the body – movements used in spinning, dancing, rolling or turning somersaults.
Depth – riding a scooter, skating forward.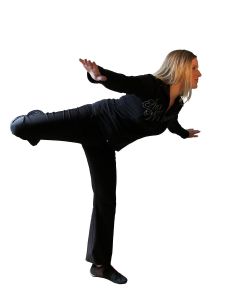 The best ways to develop these abilities is gymnastics (I recommend starting them young), doing activities such as those done in Coach Chic's Motion Lab, and many and varied sports. Activities that require multi-tasking or divided attention, eye tracking and rhythm are particularly good for the vestibular system and the brain in general. Such drills would include juggling, juggling on one foot, juggling on a balance board or a mini-tramp, dribbling while bouncing on a tramp or balancing on a balance board, skipping, skipping while doing mental challenges or singing songs. Standing on one foot with your eyes closed is also effective. (I once worked with a boy who had little confidence in school and came to me for help. I ended up teaching him to juggle on one foot while reciting the Canadian prime ministers in order. When he did this in front of his school, he got a standing ovation! Did that do wonders for his confidence?)
One last thing: now, I have not read any specific studies on this, but it is just an observation that I believe follows some of the ideas that you have just read about. I once traveled to six different middle class elementary schools in Japan to teach them conversational English and Canadian culture. Well, I boiled it down to maple syrup and hockey. Anyway, one school was miles ahead in many ways – ability to learn English, behavior and so on – and I wondered what was different with that school. The only thing I could find was that they had a well-stocked shed holding about 150 unicycles. And did those kids use them! I don't recall seeing any obese kids, and do you think they had good core strength?
Readying to post this unbelievable article, I can't resist the urge to add a little something…
In the "good old days", it was thought that specializing was the best approach to preparing an elite sportsman.  Oh, for sure, so many individual skills must become ingrained in the athlete (for example, skating, puckhandling and shooting in our sport).
At the same time, however, modern day scientists have discovered that certain foundation qualities (like those mentioned by Craig) have a huge bearing on an athlete's ultimate chances at success. Just think about YOUR favorite NHL skater (my guy happens to be the great Ovechkin) or YOUR favorite goaltender…  In nearly every instance, these guys are acrobats on ice, or gymnasts on their skates and with their bodies.  They're not one-dimensional at all.
– Dennis Chighisola
Now, several times long ago I felt like strangling my grandson for yawning as I was talking to him between exercises up in The MOTION Lab.  I mean, that's a little rude, don't you think?  (A few other students have done similarly while up in the Lab.)

On the flip side of that, Anthony Chic is far from a rude young guy.  Naw, Tony C and the others are pretty polite kids, which caused me to think there might be something else at play here.
Actually, a conversation with a hockey parent recently shed at least a glimmer of light on the subject, with that parent suggesting that yawns are my players' way of catching-up with a momentary shortage of oxygen.  Hmmmmm…
Now, I have yet to find anything really definitive on the subject.  However, I have traveled quite a bit through cyberspace in search of answers…
- A number of sites obviously took the safe route, just suggesting to visitors that a frequent yawner ought to seek medical advice.  Okay, I can buy that — being safe, I mean.  At the same time I have found a couple of people who seem to agree with the aforementioned hockey parent.
- As I found offered on the Prevention.com site:
"Some experts believe that a yawn is your body's way of gearing up for energetic or difficult activity. Physiologically, yawning boosts your blood pressure and your heart rate. It's well documented that Olympic athletes often yawn before competition and paratroopers yawn before a jump."
Then, I discovered the following in the forum within the Hypertrophic Cardiomyopathy Association™ Community website:
"…About your yawning while exercising, try taking deep breaths while peddling away on the bike. Obviously you are using up more oxygen than you are currently breathing in, causing you to yawn and take a deep breath. Researchers have found that most people who yawn at the end of the day have triggered that response by slowing down their breathing in preparation for sleep. Your body does not use as much oxygen when sleeping, so your breathing becomes slower and shallower. However, if you are still awake and your blood oxygen level drops, your body tries to adjust it by causing you to yawn…"
By the way…  As I did my brief Internet study, I discovered that my grandson and a few Lab students aren't the only ones who tend to yawn as they exercise.  No, Google listed 552,000 links in answer to my "yawning while exercising" query.  So, quite evidently it's pretty common.
Finally, as a sidebar…  While I joked at the opening — about wanting to strangle Anthony, I never did say a word to him.  My method of dealing with it (or not dealing with it) doesn't point to any genius on my part.  I just wasn't sure about the cause so I decided to leave things alone and just concern myself with the real work at hand (like helping him get stronger, faster, whatever).  You might say I got lucky in that regard.  So might member parents and coaches get lucky if they save their first impressions about a player until a little bit more is known about a given observation.
While a free download-able version of this video is/has been made available in the *Gifts category for the month of August, 2009, this entry will always remain available (although not in a downloadable format).  Still, many of the most popular gifts will be re-released at later dates.  Hey, as always, I want to respond to YOUR needs, YOUR requests.

-– Dennis Chighisola
Slapshot Visualization Video
Members might find it interesting that I've been using "visualization" techniques with my players for better than a decade, even though the value of these is just becoming known to — or appreciated by — the general population.  (Trust me:  There's a lot of science to back-up the validity of visualization.)
In the earliest years I used audio to help my hockey school and team players envision carrying out their positional responsibilities — as goaltenders, defensemen, wingers or centermen.  "Mental imagery" it's called, and this technique has been used by National and Olympic Teams the world over, and it's been used by figure skaters, downhill skiers, weightlifters and numerous other world class athletes.  (By the way…  I hope to someday resurrect my old audio tapes, convert them to digital, and then make them available in the Gifts section.)
In more recent years broader media capabilities have given me the ability to mix both audio and video, this so my students or players can process the audio instructions while also watching a high level player demonstrate a given skill or tactic.  This has worked awesomely with my students in The MOTION Lab, as well as for the benefit of my Team NEHI players.  And I know this added method of training can do wonders for you.
That said, here's your on-line version…
Loading...
As I suggest in the video, watching it — over and over again — is what will make a difference (a HUGE difference).  And if space permits, I advise members to copy the motions seen in the movie.  (For safety purposes, I have had players in the Lab use short stick-shafts for this purpose.  Learning seems to take hold, even though a regular stick and puck aren't present.  That makes sense to me, however, since it's the "motion" we're trying to acquire.)
A number of great videos are included below…
I think it's a good idea for a hockey player to practice his or her shots in a stationary position.  My players do it often, mainly to work on their mechanics.  At the same time, we all know that's not exactly what conditions are like for them during the game action.
No, there's little time to prettily prepare to shoot; actually there's little time to do much of anything except to rip-it when the opportunity arises.
Complicating matters all the more for a wannabe shooter is the fact that he or she seldom gets to pull the trigger in a balanced position.  And, a lot of players even find themselves with a defender or two draped all over them.
So, with those extreme challenges in mind, I've created a number of ways to help my guys be able to fire a hard shot under almost any conditions.  In fact, a number of my more experienced players have scored goals from their knees, from their fannies, or with only their right or left hand gripping the stick.  (My very best long-time players can rip a puck with either hand.)
So, here are some clips of just a few drills I have my guys do in prepping to shoot under any sort of circumstances.  If you can appreciate it, I'm trying to build the players' hand and forearm strength so that they can rocket a shot without having to be anchored or need much leverage…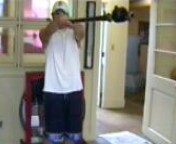 Although my StickWag is guaranteed to put umph into anyone's shot, I more recently came-up with a variation that REALLY burns the forearms and also gets the core muscles.  So, click the following link and take a look at how Up/Down StickWags work.
Long-time members know I like to gain variety in my players' training by borrowing from other sports.  And that was the case with this real hand and forearm burner I'll dub the Baseball Bar Wrestle.  As you'll see in the video, the aim is to tip the heavy bar downward, then resist that downward movement in order to bring the tip back upward.  Again, the idea is to fight — or wrestle — the bar.
Talk about a great idea striking at an odd time…  I was moving some gear in The MOTION Lab a few weeks ago, and I happened to grab a pair of dumbells by their fattest parts.  Just this required more than a little grip strength.  From there I thought, "How about holding the weights in that manner, then wagging them up and down and around, much like we do with the StickWag?"  Ouch!  Take a look at these Dumbell Wags!  (FYI…  After trying it a few times in the manner shown, I now have my players alternate holding their fingers turned upward and downward.)
The last shot strengthening exercise (for now) is sort of a plyometrics one.  Shown below is a photo of a Team NEHI player heaving a tire as far as he can.  In order to get some distance, a player will usually draw it far back first, then come around quickly to really fling it.  And you can imagine the effort that's required of the core muscles, and those involved in initiating a strong wrist shot.  By the way, the Tire Throw would also benefits baseball hitters and throwers, as well as those in other hitting and throwing sports.  (As much as any other exercise shown in these pages, all safety precautions must be taken.)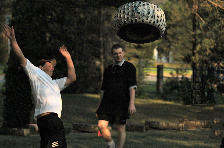 Would you believe…  Right as I was publishing this page, an unbelievable idea came to me for making #2 (the Baseball Bar Wrestle) even more challenging, and a lot more appropriate to what the drill is meant to do.  So, look forward to me making that new piece of gear, taking a few video clips, and showing it to you soon!
As mentioned elsewhere, I've spent a goodly amount of time this spring in my "bunker", researching new training ideas and then planning a course of action for my junior high school and high school players to follow through the coming off-season months.  I'll tell you more about my specific findings and my plans soon.  But for now, let's just think about helping our kids be better in a few areas — hoping they're far more capable next fall than they were when they finished their past hockey seasons.
Now, my kids will be coming into The MOTION Lab next week.  However, even if you don't have a special indoor training facility, I think anyone can improve his or her skills in an off-ice atmosphere.  (Frankly, I've always felt I could improve hockey skills in a dawgoned closet, and I want you to take-on that same attitude.  After all, it isn't the fancy gear or beautiful surroundings that make a player better.  Actually, you should have seen the awful conditions I observed in the old Soviet Union.  It didn't matter though, because those players still got pretty good!)
I tend to approach my off-season outline just as I've broken down the game under the Highlight Reel Skills area — into general skills, skating, puckhandling, passing, receiving, and shooting.  (Oh, we'll have some tactical sessions over the summer — like under our Thinking the Game section, so I'll be sure to let you know more on that in a future post.)
Anyway, here's a rough idea of what I plan for my teams over the next few months:
Not that the above is all we'll do this spring and summer.  Still, parents and coaches and older players should have a pretty good idea about ways to improve hockey skills over the coming months.  And, perhaps the best part is that it should cost little or nothing to do most of these things!
Now, there's nothing to it but to do it!
When I was a kid my dad turned me on to the old strength guru, Charles Atlas.  And, as I recall, Atlas' routines mostly used body-weight exercises or ones performed with commonly available items.  So, when I was trying to think of a way to REALLY develop great hand and forearm strength in my hockey players, I recalled something I'd seen Atlas do.
Picture this, if you will…  The famous strongman grasped a kitchen-type chair by one leg (and far down on the leg), and he proceeded to lift the chair off the floor and then wiggle it a bit.  Now, any of us can easily lift such a chair; the weight isn't all that much.  However, with most of the chair's weight cantilevered out away from Atlas' hand, this method of lifting poses quite a challenge.  In other words, the further away the weight is from the hand, the heavier it feels.
Anyway, I thought for awhile about combining Atlas' idea with a hockey player's specific needs for strength in the hands and forearms, and I soon arrived at something I dubbed the StickWag.
So, take a look at my grandson performing a few "wags", and I'll return below the video to provide a few ideas on making and using your own StickWag device…
Loading...
If you can picture that cantilever concept — whereby the weight is a greater and greater challenge the farther it is from the hands, you should then be able to appreciate how the 10-ish pounds of weight represents quite a chore for Anthony Chic to wiggle around.  In fact, what I'll ask my Lab students to do is to try to isolate their forearm muscles and really make them pop and burn.
Notice also that the movements he is making — wiggling and wagging that weight — are a lot like the forceful movements he has to make in his sweep, backhand and snap shots.
Better yet, while standing still and practicing shooting might be okay for technique work, a real goal-scorer is able to pull the trigger in all sorts of unbalanced positions, or even with a defender draped all over him or her.  Come to think of it, Anthony has scored numerous goals while needing to shoot with only one hand (either the left or the right), and I attribute most of those to his work with the StickWag and another device I'll show you at a later date.
Now, the gadgets I ultimately made for The MOTION Lab are adjustable, so that a weight can be moved either closer in (for ease of lifting) or further away (for a real challenge).  But my initial models were simpler, and easy enough for you to make and use at home.
- For the earliest StickWags, I took a stick-shaft, put nails through the end of it, and then I sunk that end — with the nails — into a large juice can filled with concrete.  Of course, you might want to adjust the weight (or size of the can) according to the intended user's strength.  And the user could move his or her hands up and down the shaft to make the wagging exercises easier or harder (but always aiming to move the weight further and further away).
- I later made another — adjustable — model.  For this one, I again used an old stick, and I drilled holes along the shaft to accommodate pegs.  I next found a barbell weight with a hole large enough so that it could fit on and slide up and down the shaft. With that, I could set the weight at a certain distance, and then hold it in place with a peg inserted just above and just below.
When doing explosive type movements, it's a good idea to work at maximum intensity for only a brief time (maybe 10- to 12-seconds of wagging).  Hockey players might rest twice as long (maybe 30-seconds) before performing another set.
Oh, and one final point — and something you should ultimately come to appreciate about me…  I happen to believe that a kzillion dollar device doesn't make a player better; what does make him or her better is the use of whatever means are available.  So, whether wiggling and wagging a chair or an old shaft and juice can, it's the doing that's going to put REAL muscle into a hockey player's shot!
I just created what I think is an awesome entry about my "Think 'n Skate" program.  If there was one difficulty with that, it was arriving at the right category to place it in.
Yes, it is about Mental Training, and it's also about a player's ability to Think The Game.  But so does it have to do with General Skills.  And, I also mention near the end of that post that I plan on soon implementing that form of training in The MOTION Lab this spring.
Anyway, I wanted to let you know that I did finally list it — and an accompanying video — under Mental Training and Thinking The Game.  Have a look, huh?  It can really help an intermediate to advanced player!
Now, hear me out here, because I'm just wondering about something, and I'm hoping I can get some other opinions on the following…
To begin, a few seasons ago I had a young player who demonstrated a ton of physical shortcomings — I'm talking some serious motor-skill problems, and mostly things that I suspected as genetic.  (It's also quite possible that for some unknown reasons he missed-out on certain critical periods in motor learning.)
As an FYI, I would say he was 12, 13 and 14-years old during the years I worked with him.
Actually, over those 3 seasons, the boy, his parents and I managed to lop-off a number of coordination issues, with most of the lad's gains made at home and in my off-ice training center, The MOTION Lab.
As examples of the things I had him work on…  He rope-skipped a ton (as do all of my players), and I had him do lots of balancing and proprioception work, especially on inflatable disks, on a teeter-totter, and on a mini-trampoline.  To improve his sport vision, I had him wear an eye patch over one eye at a time — while catching a ball and bouncing on the mini-tramp, while doing some simple juggling movements, and while dribbling a ball or puck on the trampoline.  Again, we made some nice headway in those areas.
However, there was always one thing that truly bothered me, it was something I wasn't quite sure about at the time, but it's something I'm thinking very, very seriously about right now.
That boy, like lots of others I regularly see, seemed to have a serious problem with his strength.  Not that he was small or really weak (actually, he was decent sized for his age).  But it was more like he — or his body — didn't really know how to generate strength or deal with the slightest resistance.  (I can still see his legs tremble as he did some pretty simple exercises.)
So, what I'm wondering about right now is whether a very basic weightlifting program might benefit such kids (or maybe all kids).  Not that my aim would be to have them lift seriously, or to put on added muscle.
To understand what I'm getting at, perhaps adult members could envision a time when they readied to lift something rather heavy — be it a barbell in the gym, or a piece of furniture or equipment at home or at work.  Picture what you initially did…  You likely adjusted your body position and your grip, and you likely did that a number of times before you felt ready to give that heavy weight a serious try.  To me, there's some learning going on there — as we adjust and re-adjust to the expected resistance.
Can you appreciate what I'm getting at here?  I mean, I have a sense that younger athletes would gain by just learning to address resistance, be it in the form of a very lightly loaded half-squat movement, in a few Olympic lifts, or in some other full-body movements.  Again, I wouldn't be aiming to make the kids bigger or stronger, and I probably wouldn't use anything heavier than an empty bar.  But it is that sense of addressing some resistance — and learning to adjust the grip and posture — that I think might help a lot (if not all) young athletes.
All that said, I would love to hear other opinions (especially if we have some members who are truly knowledgeable in this area).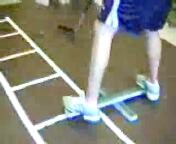 Unfortunately, there are as many bad training devices out there on the market as there are good ones.  And, by bad I mean that some gadgets aren't scientifically based — they're more hype than anything else, and there's even the chance that they can be detrimental to effective hockey play.
Just briefly touching upon the scientific side of things (for now)…  I hope you appreciate that there are specific principles that govern the enhancement of a quality like speed (see The First Rules in Speed Training for a few tips).  Hey, go against those principles and there's a likelihood you're going to produce slowness rather than the intended result.  So are there specific mechanics that go into a movement like hockey skating, which means that a given training aid must enhance or encourage those mechanics in order for a player to ultimately play better.  My main point here:  that a training gadget must truly help accomplish what it's advertised to do.  (Hopefully, I'll be arming you with enough scientific and biomechanical information along the way so that you can make these sorts of judgments on your own.  And, if ever you need advice in this area, don't be shy about asking The Old Coach for help.)
Also, I'm frequently heard saying that, "Training aids don't make you better; using them does!"  As an example, $2000 worth of weightlifting equipment doesn't make anyone stronger IF it's left gathering cobwebs in a basement corner.  No, the idea is to use that gear.  (As the off-season months approach, I promise to provide you plenty of solid scientific advice on strength development.)
Then, perhaps stating the obvious…  I also have to emphasize the importance of using a given training device properly.  Considering the weightlifting gear, as an example, I'm sure you'll appreciate that greater strength gains (not to mention safety) should be achieved if that gear is used in the right manner, and in agreement with appropriate scientific principles.
As hinted at in last month's entry, I've found a lot of training aids really excite my students and players.  For example, you ought to see how antsy kids get at the prospects of having their shots measured with a radar gun.  And I've seen them get just as psyched to race with a speed chute or any one of the other contraptions I use in similar fashion.  So, I might be inclined to use a given gadget solely because it excites my players.  I mean — even if it's not all that useful for better hockey play, and so long as I only use it on rare occasions, I might employ a fun-type gadget just for the sake of exciting my players.
Throughout this website you're going to frequently hear me refer to the conflict between repetition and boredom.  For, while repetition is surely the best teacher, it can sometimes lead to boredom.  And, to me, boredom IS the greatest threat to effective teaching.
Off-ice training is just one of several notable alternatives to on-ice training…  In other words, the amount of work performed on-ice in a given skill could be at least doubled in extra off-ice sessions.  And, just because that work is done within different surroundings, there's the likelihood that a player will feel refreshed from the extra training rather than bored.
The use of different types of training aids can further excite a player…  Actually, I've noticed my students oftentimes fighting to get to the fronts of lines in attempts to battle a given gadget.  And, this sort of enthusiasm is VERY good when it comes to the repetition versus boredom issue.  Additionally, since there are frequently several kinds of training aids that can be used to deal with the same skill attributes, gear can be rotated to attain even more positive repetition.
So, my point this month (and going hand in hand with last month's video):  varying training venues and training tools usually brings about more gains than if all the training took place on the ice.
The following video has had plenty of exposure over the past few years (as you might guess from the old CoachChic.com logo).  I think it's THAT important for players, parents and coaches to have a sense of its subject:  mainly that some hockey training can actually be more effective when done away from the ice.
So, have a look, please (and I wouldn't mind your comments or arguments on what some might see as a controversial subject)…
Loading...
The following presentation isn't meant as an advertisement.  At the same time, it IS a combination of two  (hastily spliced together) videos I frequently send to local customers who express interest in extra work on either a skater's or a goaltender's skills.  In a way, the two videos are about gym workouts for hockey players.
Among the points I hope you'll gain from this:
I hear an awful lot of complaining — from parents, and especially from coaches — about the shortage of available practice ice-time.  I understand that, and I frequently find myself faced with the same dilemma.  However, I usually quickly get over my sulking about a given problem, and get on with some sort of resolution.  Of course, my answer — when it comes to dealing with the high costs or availability of extra ice-time — is OFF-ice training.
I wanted to show the opening section for each of my Lab promo videos, this so I could unveil to you what I've dubbed "Training Terms for a New Millennium".  In most instances there's a lot of science behind a given term, so I plan on addressing or explaining each of these — within this section and in the area set aside for General Skills.
Continuing with the idea expressed in the first bullet…  I've always felt that some practice is better than no practice at all.  And, I've even joked that, "Minus ideal conditions, I could still get the job done — in a dawgoned closet, if need be!"  So, laughing at myself here a bit, my point is that The MOTION Lab probably isn't much larger than the space you have available at your home.  In fact, over coming months, I'll show you some unbelievably effective drills that can be done within very limited space.
Although special training equipment isn't always required for off-ice training, there are probably more gadgets available for this purpose than for on-ice use.  Actually, as you watch this video, notice how many training aids seem to be homemade.  The truth is, many of them are.  So, look for future entries in this area to include gear ideas, as well as how you might make your own.
Hoping this video helps you gain a sense of how much can be accomplished away from the ice; again, this section will include lots and lots of gym workouts for hockey players…
Loading...