I joined a new hockey group on LinkedIn the other day, and the first thing I found there was a poll asking the above question.  In other words, the administrator wanted to know if members thought it was a better idea to hold the ceremonial handshake before each hockey game, as opposed to after. 
With that, would you expect me to think anywhere but outside ye olde box?  Ha…  Hardly.
– Dennis Chighisola
Hockey Handshakes: Before or After the Game?
Ya, outside the box…
Actually, before I could click — to make my decision known, I realized I had drastically different thoughts when it comes to various age groups.  For sure, I'm as traditional as any fan, in that I love the handshakes that take place at the end of a Stanley Cup series.  That's a rather moving scene, if you ask me.
That out of the way, I quickly began thinking about youth hockey games — from the older kids down to the youngest.  And that caused me to view things quite differently — as I said on LinkedIn:  viewing this topic in a "perfect world".  (Oh, I also mentioned to the administrator that I felt an article coming on —
)
Right, me and that perfect world again…  Still, if you'll humor me for awhile, let's take a look at our game, starting with its beginner stages…
I actually suggested to that LinkedIn group that I'd like to see the handshakes take place both before and after each game featuring 5- and 6-year olds.  Think about it:  The kids get to do a face-to-face with their supposed opponents before each game, then they later get to let their opponents know that they appreciated the contest.
Better yet, what do you think about two teams of very young ones actually dressing together prior to a game?  And, in my perfect world, I might even assign each player a "buddy" from the opposing team to dress with, so they could get to somewhat know one another prior to "doing battle".  Would that make the following game take on a different meaning?  I tend to think so.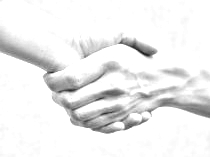 Still better yet, I'd recommend highly that the game officials also engage in the handshaking tradition, especially prior to each one of the games.  Think about what I'm hinting at here…  The little ones would quickly realize that the guys in stripes are actually friendly sorts — and maybe not the surly judges seen too frequently in other venues; while the refs just might get to see the kids in a different light, and thereby realize they're dealing with mere babes.
Then, for extra measure…  During the few seasons I worked within USA Hockey's ADM program, it was actually necessary for two teams to share dressingrooms (because six teams would be playing — cross-ice — on a single sheet of ice).  The interesting part for me was in getting to know the coaches I and my staff would be working with during at least one of the upcoming games.  Still better was when I had to act as the host for the other 5 visiting teams, and actually get around to meet and assist all the other head coaches.  In most instances, I got a chance to like my counterparts beforehand (or I at least got to understand why the rare one seemed a jerk —
).
Okay, if you're starting to think along with me on this stuff — and starting to see some benefits to what I'm suggesting, I have kind of a tricky question for you:  If you believe this would be a good idea for 5- and 6-year old games, what would you think its effects would be with 7- and 8-year olds?  And, if you think that might also be a good thing, just when — or at what age — do you believe kids would stop reaping the benefits of such a process?
Two last things…
I've been doing what I do for over 40-years, and I've written for hockey audiences — on-line and for hardcopy magazines — for a good many of those years.  And, believe it or not, a lot of my seeming off-the-wall ideas ultimately found their way into North American youth hockey.  In some instances, I saw it happen; in yet other instances, higher-ups in our game told me (sometimes through clenched teeth —
) that they were listening.
Truly, some of what I'm proposing may seem a little bit of a stretch.  However, I'd truly like to know what fellow hockey folks are thinking as they finish this, and I'd especially like to hear from those who have opposing views.  After all, how else can I learn?
I'm breaking with tradition a bit here, as I place this entry under A Coach's Notebook.  However, I hope that will makes sense in a few minutes.
Next, I know that my article titles don't always make a lot of sense — at first, and the above one most likely has my faithful friends scratching their heads.  Still, as you'll also soon discover, I couldn't have chosen a better one for the topic at hand.
– Dennis Chighisola

Plant a Tree — for Hockey
Actually, it was something I read months ago that still haunts me today.  So, without further adieu, here's how I remember it…
"Plant a tree today that you know you'll never get to enjoy the shade from."
Want to read that again — to let it sink in, because I surely read it and read it until I got the true meaning.
Now, I'm probably a lot older than most CoachChic.com members, so something like that doesn't exactly hit home as quickly or as deeply with those of you who are 30-somethings or 40-somethings.
Don't let me get morbid on you, though —
, because I'm at least planning on staying around to haunt you — through my 60′s, 70′s, 80′s and maybe even my 90′s.
Haven't connected the abov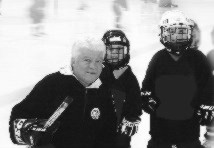 e saying to hockey yet?  Well, the idea of "planting a tree" is something I really associate with teaching a young player well.  I mean, it's about giving him or her such a great foundation that there's a chance for that kid (or group of kids) to play at higher levels years from now.
What gives the above advice true meaning — at least to me, is that there's a good chance I won't get to see how a lot of my tree planting (or early skill development) works with the kids currently in my charge.  At the same time, I'm urging my fellow coaches — while likely eons younger — to still see their work in the same way.
Let me share yet another something I ran across recently, in this case sort of the motto for a successful business type I tend to follow rather closely.  The guy tells a story about recovering from a near fatal auto accident, about thanking his lucky stars he survived, and then about promising himself to constantly go through the remainder of his life asking…
"Did I live?
Did I love?
Did I matter?
Don't see the connection to that and hockey either?  Well, the "Did I love?" part is kind of important in my relationship to the hockey folks I meet and ultimately get to know.  However, it's the one about really mattering — or, in the end, having mattered — that grips me quite strongly.
Ya, I'm helping a hockey dad with a current problem, and I'm hoping my advice matters.  Or I might be guiding a player through a difficult skill sequence and I'm also hoping the way I did things really mattered to him or her in the end.
With that, the scope of my work is pretty broad, and I probably feel those kinds of obligations with a wider audience than you.  I mean, I feel the slight pressures of needing to matter with my team each year, with the kids in the clinics I run, with my many social media friends (on Twitter, Facebook, Google+ and elsewhere), and with you and other CoachChic.com member coaches.  Ya, I know you're depending on me for good advice, or for the right answers to your questions.  And I'm not satisfied unless I sense I'm doing the job — for you, or for the young players entrusted to me.
And don't take that last phrase lightly — a lot is being entrusted to me and to you.  So, with your current hockey season likely winding down, perhaps you can salt the gist of this piece away for when you're making your off-season plans.   Try to remember that you're planting trees, some of which you'll never get to enjoy the shade from.  And, most especially, consider the great feeling you'll derive from sensing that your work really, really matters.
Okay, that title wasn't meant to make me sound like a genius.  (Actually, I had to choose something like that to help this subject reach the search engines.)
Really, though, I wanted to share a couple of thoughts with readers, these having to do with a few things that crossed my mind during a recent 3 on 3 league I work with.
– Dennis Chighisola

The Need for a Hockey Coach to Think on His Skates
The number of young (mainly 5- to 7-year old) skaters who frequent our current 3 on 3 cross-ice program dictates that we have two games going at the same time.  Actually, so does the difference in the various ages and skill levels require us to split the kids.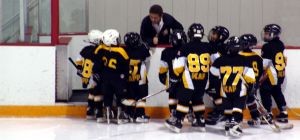 No matter the number of skaters, though, we seldom have enough young goaltenders to man four nets.  So, we usually resort to filling one or two vacant goaler spots with a few old automobile tires.
Such was the case recently, when the group I was overseeing needed a pair of tires in one net while a goaltender did man the other goal.
Perhaps you can imagine the problem already, with kids having an advantage in shooting on the small tires.  That started happening right from the beginning, with some goals being scored from far, far down the ice.  Oh, what to do?
Trying to think of a way to level the playing field, I noticed that a blue line crossed in front of the somewhat empty net, maybe almost 2′ out.  And, after thinking for a moment, I decided to introduce a new rule to our game…
I stopped action at the next buzzer, and announced to the kids that, "In order for a goal to count, the puck must be carried across that blue line."  Insert some groaning by a couple of little snipers. 
  (Just so you know, I always have teams switch ends halfway through each game.  So, the other team would ultimately be faced with a similar challenge.)
Now, our game happens to call for great skills, game playing knowledge, as well as the ability to solve problems.  And as players mature, they're also challenged to keep various things in their heads as they skate — like the game-time, the score, the latest strategies that their coach wants employed, etc.   So, my impromptu rule was going to help these little guys get a head start on learning to skate and think at the same time.
Oh, trust me, that a number of kids forgot themselves, and they were shocked when I announced, "No goal!"  Little by little, however, they all ultimately got the hang of it.
It wasn't until the game was winding down that something else struck me…
I've mentioned elsewhere in these pages that even elite level players can have so-called "brain freezes".  And in this regard I'm thinking about the times I've seen my high school or college players take icing calls on attempted dump-ins, when just another step or so would have brought them across the red line and made the dump legal.
What I'm getting at is a certain "ice awareness", or the ability to know where one is on the ice.  Totally by accident, really, I'd instituted a challenge into our 3 on 3 game that forced the kids to not only think, but they had to also be overly aware of where they were and where they had to shoot from in order to have a goal count.
Lastly, if you've come to know me at all, you probably know that these little revelations aren't going to end with that one game.  Naw, I see that one teaching moment being just the first of many I'm going to want to try in future 3 on 3 games.
Ya know, even after 40-ish years of doing what I do, I still sometimes have difficulty defining the uniqueness of my style — or how my approach to the game tends to be different from most others.
Sometimes reality hits from out of the blue, though, maybe even as I read an article like the following.
– Dennis Chighisola

The Need to Compete!
The article I'm referring to now is about Sweden's new-look hockey model paying dividends.
As many others have been doing over recent years, the Swedes began looking deeply into the changes needed at their developmental levels to remain among the world's elite hockey-producing nations.
"It wasn't too long ago the Swedish Ice Hockey Association was forced to come to grips with the fact its educational and developmental methods had become outdated."  The Swedes knew they had to make changes in their education system, their coaching, and especially, attitude.  And they're now believing their ability to improve those areas "… at an early age has played a vital role" in accomplishing their goals."
Also like a lot of other hockey playing countries, the Swedish hierarchy noticed a point in their history when their players weren't keeping up with others.  "Realizing this fact, Sweden's director of youth development, Tommy Boustedt, initiated a Commission of Inquiry on junior hockey in Sweden in 2002. The meeting included 120 people, including junior coaches, club executives and scouts. The professionals were broken down into groups, some working with coaching and education, others critiquing player development."
"Everyone came up with ideas on how we could change our hockey," Boustedt told NHL.com.  "Some of the important things we learned were that we had to revise the demands on the coaches and educate much better.  Our education material was old-fashioned … it was built by way of the old Swedish style and the old European style."
"Boustedt and his group also reached out for the advice of many of the game's finest Swedish players…"
"The No. 1 reason they provided us was the leadership they had growing up," Boustedt said. "They all said they had great coaching.  That being said, we had to raise the quality at the youth and junior coaching levels."
My personal take-away from that article was the Swedes' huge improvement in coaching, bottom to the top.  And as Devils' goalie Johan Hedberg noticed about fellow Swedes currently playing in the NHL, "The education level for coaching from a young age to the junior ranks is really, really high.  I think that has a lot to do with there's a lot of young guys coming in now and being as prepared as they are.  They're getting great teaching from an early age."
Ah, yes, "from an early age".
As I hinted at earlier, the Swedes also began paying more attention to the demands of competing in the current day game, and especially those things they'd need to do better to be successful in the NHL.  Major among these was to improve play around the net and in the corners.
As for my "Aha!" moment, well…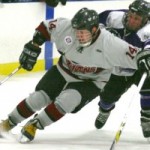 "If you want to be on the elite level, you have to compete in everything you do from the beginning," Boustedt said. "The best competitor ever was Peter Forsberg. If we could take Peter Forsberg's mind and put it into all our talented players that would be perfect. Being competitive is more important than skating fast or shooting hard.
"Let's face it, the word 'compete' was obsolete in this country — we haven't been in a war in 200 years and we have a classic social democratic system that built this society, and to 'compete' has historically been a bad word."
Today, having that competitive spirit in everything associated with Swedish hockey is what has changed most, according to Boustedt.
"The word 'compete' is a good word again in Swedish hockey," he said. "Our message to the kids is what they need to do to become an elite hockey player. It has to do with hockey skills and tactics and all types of physical training. We have psychologists speaking to the kids, explaining what they should and shouldn't do."
"North Americans are very competitive, they go to the net, crash and are good along the boards," Boustedt said. "(North Americans) can body check and take a body check … areas where we have been very soft before, but that we're now incorporating into our development. The area we need to get even stronger, though, is in shooting and goal scoring."
Ya, my "Aha!" moment…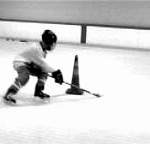 Without doubt, the need to "compete" is vital to being successful in our game.  Every critical moment that takes place in a hockey game represents a competition between small groups of players — 1 versus 1, 2 on 1, 2 against 2, etc.
And that brings me to the way I usually develop my drills, as well as the countless posts I've offered within these pages having to do with skill progressions.
As if members don't already know, I like to begin with progressions that one of my social media friends would call "easy peasy" —
.  I want them to be do-able, not threatening in the least, and even great confidence boosters.  Thereafter, though, I'm very gradually attempting to make my drill progressions come closer and closer to what it's really like to play the game.
You'll even see the above happening if you scan through my three "Must-do Skating Drills" videos…  Kids laugh like crazy as they attempt the drills demonstrated in the Beginners' video, while there are some pretty touch challenges offered in the most Advanced one.
Over the early part of this winter, I've probably overdone the mention of two simple drills I see as key to a hockey player's ability to "compete".  What I'm getting at, of course, is isolated games of Tag and similarly isolated games of Keepaway.  In essence, the skills those games enhance ARE the basis for being successful in match-ups like the 1 versus 1, 2 on 1, 2 against 2, etc.  Come to think of it, those drills increase resistance as the players mature.  In other words, using it on some nights provides the challenges two Mites give each other, while on other nights a pair of Bantams provide a very different level of challenge.
However, those drills are only the tip of the ice berg.  I mean, every single skill we can think of should have its own system of progressions — from easily do-able confidence builders to wild and maybe even more-difficult-than-the-actual-game type drills.
And that brings me back to the chance to better define what I do.  Hmmmmm…
For sure, the idea of helping players to better "compete" is one of them.  Still, I don't rush to accomplish that.  No, I'm very, very careful — or methodical — about bringing kids along slowly, mainly because their confidence — and even their love of the game — depends on it.
All this said, any of the posts here that explain my inner feelings are really intended for other coaches (or even member parents).  In other words, I want to share my feelings, so that you may begin to formulate more of your own.  You don't necessarily have to think exactly as I do.  However, I really would consider incorporating more and more drills within your progressions that have players "competing" in practices, much like they need to do to succeed in their games.
Before I get underway here, I think I ought to remind members about the entries I make under this category, A Coach's Notebook…
Number One, I'm a notorious note-taker, for reasons you can discover in this category's first post.
Number Two, I don't share these with the idea of embarrassing my kids (or others surrounding the team).  My real hope is to share with you the way I view game action, and the things I tend to deem important.  In a way, I'd really like to get older players, coaches and parents at least thinking about the topics I've chosen to highlight.
Number Three, the list of observations I made today are specific to older kids, or older youth hockey players who'd I'd like to get playing and thinking like the high school-ers they'll be fairly soon.  Pretty shortly I'll do a similar recap of a AA Mite game.
– Dennis Chighisola

Coach Chic's First AAA Bantam Game
Oddly, the first concern I jotted down resulted in our opponents' last goal, and it was also the only negative I raised after the game in our post-game lockerroom.
Very early on, I noticed that my guys weren't covering face-offs properly in our zone.  This isn't a skill thing at all, but purely a matter of remembering where to line-up, and what to do.  Late in the game one rival sniper fired a point-blank shot past our goaltender without a soul from our team being near him.
After the game, I reminded everyone that:  1) our goaltender is the first guy in charge in this situation, since he has the most to lose; and, 2) our centerman has to be responsible for also looking around to make sure everyone is where he needs to be.
Okay, this note wasn't about my kids, but to me, instead…
Our home rink has two different surfaces — and they ARE different.  One is a pretty large (regulation) surface, while the other is quite small.
As is always the case, the distance from blue-lines to the goal-lines has to be constant, but where the smaller rink loses is in the neutral zone area and behind the nets.
Adding an even greater coaching challenge is the fact that our bench is almost completely inside the offensive zone during the second period.  So, think about that…
My defensemen have moved to their defensive end door — which puts them just about on the blue line, while my forwards were stationed where they customarily go — at the offensive end door.
And, ugh…  If you can envision the problem, it's barely possible for my forwards to change on the fly quickly.  They are going to step into the offensive zone, and they're going to be off-side on a dump-in unless they wait for the puck to enter the zone.  Stated another way, it's going to be a long skate for my forwards who are trying to get off the ice, and my forwards are always going to be late in trying to apply their forecheck.  (Did I say, "Ugh" yet?)
I'm certainly going to think on this one further, and I'm also going to toss it out to a few guys I know who may have dealt with such conditions before.  At the same time, I would love for us to have a discussion right here (in the Comments area) in hopes a member might think of something I haven't.
Our first few games have been at arenas where the penalty boxes were right next to our bench.  So there wasn't much problem with communicating with a guy in the box.  However, it struck me that I'd better later refresh my kids on the hand signals I'll use when the sin bin is located across the ice…
As I've done since, I showed the kids how I'll be pretty animated in my directions — pointing either down towards our bench or out towards the ice.  Those should let them know that I want them with me or to get right into the action.  However, with the signal for them to come to the bench, I will always follow that with several animated points to my head.   What does that mean?  It means that 1) I do want them to ultimately get to our bench, but that I also 2) don't want them passing on a chance for a quick breakaway pass, or 3) the need to stop an enemy puckcarrier skating in his path.  In other words, "I want you here, but use your head as you exit the box!"
My last couple of notes had to do with things I'll want to work on in our next practices.
I noticed our defensemen were a little weak with their forward passes, so I'm going to install a drill that has them skating backwards while passing.  This is the best drill I know for teaching them how to gain strength in an unbalanced posture.
I've also noticed that my kids could use a little more physical toughness — along the boards and in the corners.  Hey, they're still young, so that might not be so surprising.  So, in subsequent practices I'm going to use some basic body-checking drills, and put them in other drill situations where they have to compete a little more vigorously.
Well, I take lots of drives to rinks, some short ones, some VERY long.  And I've thought often about using that drive-time to chat with fellow coaches (as well as parents and older players).
With that, let me try something new, in hopes you like it.
– Dennis Chighisola

A Hockey Chat with Coaches – 1
Acoustics in my SUV — especially along the pot-hole dotted roads of New England — aren't necessarily conducive to recording a guy's voice (and a raspy voice at that).   Also, there were times during this particular drive when I had to turn on my windshield wipers, which added to the noise.  So, a set of headphones and a little volume adjustment might be necessary to hear my first attempt at this.  (I sense I can do better in future recordings.)
As for the theme, it's about the AA Mite team I'm starting to ready for next season.  Still, as I try to emphasize at the start the recording, you should attempt to listen in a way in which you might be able to read between the lines and apply my current line of thinking to your specific age group.
Okay, when you're ready, just click on the arrow below…
Audio clip: Adobe Flash Player (version 9 or above) is required to play this audio clip. Download the latest version here. You also need to have JavaScript enabled in your browser.
As promised, here are a couple of links I mentioned in that recording…
- Most CoachChic.com members live very far from where my latest course is being offered, so I'm not trying to push that here.  What I would like to do is tell you how my skating invention came about, plus give you a slight sense of what it can do.  (This might actually give you some ideas you can use without an R-bar.)  So, click here if you're at all interested:   Skater's Rhythm-bar
- Something I would sincerely push is my newly released coaching manual, especially written for coaches of young players.  I'm using this manual's outline to ready the team I talk about up above, while I'm also going to use it as a reminder so I don't forget a thing as I prepare for my AAA Bantams.  So, take a look, and you can even download a free chapter on teaching:  How to Assemble & Teach a Basic Hockey System
*
Oh, please don't forget to let me know if you like this idea of recording on my many rink drives.
And, for sure, I'd love to read your Comments on the topics discussed in this one.
One of the reasons I like to take game notes is because certain things — or certain situations — only arise once in a blue moon.  Such is the case with the following occurrence (at least where young players are concerned)…
– Dennis Chighisola
Hockey's Empty-netter
As you might have guessed, the empty-net situation just arose — this late in my young AAA Mite Major's season.  That's right, it happened for the first time in our very last regular season game.
Okay, there's the chance that a few members might stop reading here, because they think I'm going to be talking about Mite hockey.  Ha, hardly.  I've had plenty of high school players screw-up this situation, and even a few college players.  Moreover, a "brain freeze" at the older levels just might cause worse problems than my young kids experienced.  (So, please DO read on…)
Now, I thought it was good that one of my young defensemen actually noticed that our opponents' goaltender had been pulled.  However, psyched at the chance to aim for the open net down at the far end, he fired his shot from inside our zone.
Whistle!  Icing!  Face-off back in our end!  (Gulp!)
Well, perhaps the gulp is a little strong, because most of our opponents — being only 8-years old — aren't likely to take advantage of that face-off in front of our goal, or even the extra attacker.
And that's the point I was hinting at above, when I suggested that mistakes at older levels can cause us far greater problems than my young kids were about to experience.  Ya, the older guys are likely to have a decent face-off play arranged for such circumstances, and they are more than likely going to make very good use of their extra attacker.  So, my suggestion — if you work with older players:  be absolutely sure they're aware of the following.
I made sure that my young kids understood the consequences of taking an icing call at that point in a game.  In other words, there's a penalty of sorts involved, with the face-off being brought all the way back to our end, in front our goal.  Oh, I did encourage the kids to take pop-shots at that wide-open net (we were having fun with a 2-goal advantage), but I reminded them that they had to gain the red line before taking a shot.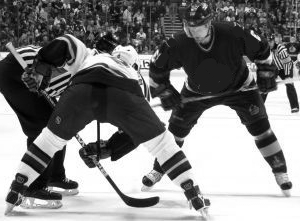 I might add here my personal approach on something like this…  I mean, I give my kids a sense of the "penalty" involved in their carelessly throwing the puck from their own side of the ice.  In most instances, young ones don't put much stock in face-off locations.  Hey, to them, a draw is something they just have to endure before they're able to get on with the play. 
So again, I explain it in a way that has them understanding a little better the consequences of certain actions.  And, when it comes to the play in question, I try to draw a comparison between that face-off in our end versus their playing with the puck in our opponents' zone for (perhaps) the remainder of the game.
Lastly, the reason I take my game notes is so that I can remember to deal with certain things at a later date.  In the case of the above situation, it doesn't necessitate a new drill.  But, it does call for our discussing this at a coming practice or in a pre-playoff game lockerroom.
*
A bonus idea for coaches of older players…
In situations where a team's school or organization owns the rink, players are often allowed to stay on the ice after a formal practice has concluded.  That's when the really good players work on so-called "little things".  And, I've observed quite a few guys finish their free time by trying to send pucks the length of the ice into a far net.
At other times, I've seen coaches finish their practices with some sort of fun competition based on hitting that far away net.
And, as I'm often known to quip in many of my skill related posts…  When you see something pretty nifty take place in a hockey game, there's a good chance a player has actually practiced it hundreds (or even thousands) of times.
*
I wanted to get this post up kinda quickly for you.  At the same time, it bothered me that I was too soon supplanting the previous one — about that important tryout tip.  So, please don't fail to read that one if you haven't already.
If there's a difference between my coaching schedule and those of most members, it's that my high school guys started way back in June only to leave me shortly, while my youngest teams are just getting underway now-ish.
However, the slightly different timing of our programs aside, I'm hoping the following observations will still help a lot of you.
– Dennis Chighisola
Recent Hockey Game Notes
My HS Prep Team
We had a nightmarish problem with our high school league this fall…  We'd been set for nearly a decade in the very same, very convenient game schedule, when all of a sudden the league folded.  That made it necessary for me to at least try to piece together some games, mostly as a means of checking a few things.  (If you've come to know me by now, you know that our numerous practices are far more important to me than the games.)
Going back to last spring, I've chronicled our conditioning and speed work for you, with a lot of the sample videos especially showing my guys working off-ice.  As I so often suggest, a lot more can usually be accomplished away from the ice, partly because of the equipment we can only use in that venue.
That's not to say that these qualities aren't being enhanced on the ice — far from it.  But, rather than doing very much of the traditional sprinting up and down the rink's length, I look to work my kids' conditioning over the course of a long practice.  In other words, the accumulation of fast paced drills over an hour can really do the trick.  Then, at practice's end, I'll usually do something I refer to as "The Finisher".  And by that, I mean a drill that tends to finish the kids off, or deplete their energy pretty much to the max.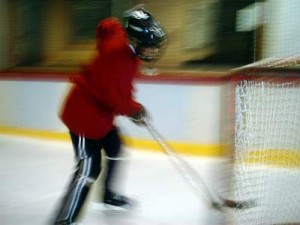 Anyway, what I really want to share with you today has to do with my players' abilities to bounce back after a pretty tough workout…  You see, we had a game the other night, this played with a rather short roster.  So, when my guys reported to The MOTION Lab the next night — for one of their weekly off-ice workouts, I asked each how they felt that morning (or that "morning after").  If you can appreciate it, the out-of-shape guy is going to be really, really sore.  But, my guys — to the young man — said they felt fine.  Aaaaah…  I just love it when a plan works.
I might also mention here about my teaching plan for a given night…  Oh, I surely DO stick to an overall plan — this I've mentioned countless times within these pages.  At the same time, I want the luxury of reacting to the kids' needs on any given night.  So, in this regard, I really adjusted the Lab training to go along with the fact that this was the day after a tough game, as well as the fact that we had another game scheduled for two nights later.  What I did then, was mainly aimed at getting my guys to sweat some — to stay active, and to work a little on some skills.  Again, keeping them active was going to be a huge benefit, while beating on them would have been hugely counterproductive.
Finally, our game schedule is complete now, while my guys still have a little more than a week to go before their respective high school tryouts.  Ironically, I know players in this particular age group — soon facing those high school tryouts — have at least three options:
- I discovered recently that the teams we'd placed over the past few weeks are now done.  In other words, with still at least 10-days to go until tryouts, there is nothing for them.  Hmmmmmm…
- Next week — the week before high school tryouts — is a time when the unsuspecting public is going to be fleeced by a number of local high school coaches.  Ya, I'm sorry to have to say that, but…  What will be offered at nearly every local rink will be something called a "high school conditioning camp" (or something close to that).  Now, I have to ask you:  Can a player actually get into top condition in a single week?  Hardly.  In fact, I'd fear that a player attending such a program might just leave his or her best right there on the week-before practice ice.
- My guys are going to stay with me until it's time for them to head-off to their school teams.  My main aim during our last week together is to keep the kids sharp, to keep-up with their conditioning (somewhat), to protect them from potential bumps or bruises, and to generally send them off feeling rather loosey-goosey.  Ya, in contrast to the previous method, I want to send my kids to their tryouts feeling as healthy as they can be.
My AAA Mite Major Team

Although my young guys have been together since last spring, our schedule has been a little fragmented.  We had some random off-season practice (both on-ice and off-ice, these detailed in some previous posts).  My kids have skated three times per week as part of an ADM program, and we've gotten an odd extra full-ice practice together on occasion.
That said, I had no doubt my kids would match well (or better than) most opponents when it came to individual skills.  And this proved so, as we won the fall 3 versus 3 league.  How we'd do in a full-ice game — owing to our limited full-ice practice time — was still to be seen.
Ugh…  We had our first full-ice game last weekend, and the results weren't anything near our 3 on 3 play.  No, we lost, 6-3, to a team we had beaten (usually handily) over the fall months.
Was it the change in format that made the difference?  Oh, I'm not the type who jumps to those kinds of conclusions — not after just one game.  However, as I always do, I took the some detailed notes from that first full-ice game…
- First — of all things, our first game in this format was almost highlighted by a number of players being away with older brothers at a distant tournament.  I guess this wasn't much that could have been done about this, but the conflict surely did come at a wrong time.  Not only was our bench short, but all the lines that had worked together for months were pretty much fragmented.  Oh, well…  I guess it'll be a long winter, and things will be back to normal for most of the remaining games.
- We do a set warm-up prior to every practice and game, this being two fold — 1) to warm the kids, and 2) to give them hundreds (or probably thousands) of repetitions at some very good skill drills.  In other words, performing those over the entire fall and winter is going to really change the kids.  (As an FYI here…  I gradually change those drills as the kids master certain ones.)  Anyway, while the four things I have the kids do will easily fit into the provided 3-minutes of pre-game time, I will have to help the kids pace the drills a bit better.
- I've worked quite a few times on backchecking with this groups, but I made a note that I should revert to a standard drill that should help the kids further in this regard.  I like to "shut down" opponents, but that wasn't really a feasible tactic with all our rather chaotic 3 versus 3 games.  Actually, the drill I have in mind is shown in our Drills section as the "Backchecking Drill (1/2 Ice)".
- Understandably, some of our young defensemen had difficulty keeping pucks inside the offensive zone.  Again, it's understandable.  So, I'll make sure I build some drilling in on that, much like I mention in the earliest part of "Following a Defenseman Through His/Her Defensive Duties".
- Actually, my kids didn't do badly dealing with the off-sides rule for the first time.  Ironically, a difficulty I spotted last Sunday was something even older guys struggle with — as in a puckcarrier not hurrying to attain the offensive blueline.  (In other words, a rush is far too often going to be whistled for an off-side if the puckcarrier dilly-dallies with the puck prior to reaching the blueline.)  So, about all I can think to do with this is to organize plenty of rushes while also pressing our puckcarriers to hurry to puck on-side.
- Line changes not being the same in our many previous 3 on 3 games, I've failed to prepare my kids beyond the basics.  Oh, we have worked on "5 off, 5 on".  However, I did NOT prepare my kids for getting an extra skater on the ice for a delayed penalty call.  In this regard, I will have my "next center up" be prepared to take the place of our goaltender on this play.  (Understand that there isn't time for a coach to search the bench for a capable player, so I usually designate a position I feel is fairly strong.)
- Now, I'm going to group a number of our overall problem on one thing I can only surmise…  I mean, some of my defensemen were absent when it came to guarding their net, while far too many of our rushes gained little because puckcarriers took shots from the worst spots possible.  So, what is it I suspect?  Hmmmmm…  If I had to bet, it would be that a lot of the conversation on the way to our game had to do with parents prodding "young Johnny" to score a batch of goals.  Well, what would you think if you saw some D constantly skate the puck up-ice while a host of teammates were far ahead?  And, what would you think if you saw a number of young attackers take shots from a bad angle while a teammate sat in front of the enemy goal?  Oh, you might chock it up to the new game conditions, but we handled those situations unbelievably in all of our 3 on 3 games (where conditions were all the more difficult).  Ya, parents likely put more emphasis on this one game, it being our first on the large surface.  But, we are in for a long season if they teach the game — from home, in the car, wherever.
Okay, as I intimated earlier, I'm not about to change my whole approach based on one game, and especially one loss.  However, since a loss is usually a lot more telling than a win (where it's harder to notice mistakes), I absolutely WILL make some practice adjustments over coming weeks.
Already I've had my kids work on 2-man rushes on-goal, and this is ultimately going to build towards 3-man rushes.  Darn, but we need to ultimately let the best located player take the shot.
Whether real or imagined, I think I do have to communicate with my parents when it comes to coaching their kids behind the scenes.  As Dr LaVoi and I explain in the post (and video) entitled "Up the Boards, Johnny!", there are some dangers involved in their doing this.
I could have chosen a lot of different titles for this entry, and I also could have placed it under a number of different categories on this site.
However, while the awesome little homemade gadget I'm about to show you is very narrowly focused — or it suits only a very narrow need, it's the overall theme that I really want to get across — to hockey players, coaches and parents.

That overall theme, of course, is our need to constantly attempt to solve hockey training problems.  So, with that, let me address that subject, and then let me show you that neat little gadget it took me a few minutes to invent, and not much longer to actually make.
– Dennis Chighisola

Solving Hockey Training Problems

Okay, nearly every day or night at a rink raises some sort of hockey training challenge (and on most occasions you and I just might notice a whole lot more than one problem).
As an aside here…  I have a brother who is a pretty shrewd businessman and he's also an inventor of note.  And his favorite line whenever we get to talking business is, "The most important thing is to ask the right question."  In other words, instead of doing as most of us do — running around searching for answers, he believes that isolating the REAL question — or the real problem at hand — is key.  After that, all the answers just tend to roll on out.
Okay, so on several occasions over the past few weeks, I've had cause to mention to different people that, "The defenseman's defense of a 1 on 1 is perhaps the most difficult skill for any hockey player to master."
Ya, I said that to one of the dads on my HS Prep team, because he seemed frustrated at times watching his boy work against a lone attacker.
Then, I also found myself sharing those same feelings with the young coach who works with our Mite AAA blueliners.
Of course, in each instance it was pretty easy for me to isolate the most significant problem with any of my guys' 1 on 1 play…  I'm even sure anyone who reads this — no matter his or her experience level — will appreciate it when I say that most defensemen get lured into taking their eyes off the attacker's body and ultimately look down at the puck.
As yet another aside, let me tell you that I've gathered plenty of video footage showing future NHL Hall of Famers getting torched on a 1 against 1 (and there's a video within this site showing the awesome Pronger getting undressed by Bergeron).  So, the problem isn't one of youth, inexperience, whatever.  It is, I'll suggest, a matter of practice and discipline.
Still, while I've stated the overall problem so far, that simply doesn't help you or I, the above noted dad, my assistant coach, or any of my players.
What I did discover, however, is that I frequently mentioned the main problem in my conversations with the dad and my assistant.  And it wasn't until a recent drive home from a Mite AAA practice that the real question hit me right between the eyes.
"WHY is it that defensemen look down at the puck?"
Again, I'm asking "WHY".
And my answer is that it's because players get away with it far too often.  I mean, they look downward and poke the puck, and manage to stop the rush far too often in that very faulty fashion.  And, the best young defenders — or the craftier ones — tend to get away with this technique more than lesser players.  Anyway, the fact that anyone gets away with this tends to reinforce that approach.  But, let me come back to that part of the discussion a little later.
Still trying to refine this whole matter a bit more, I arrived at the idea that the puck itself is a huge distraction as defensemen try to practice their 1 on 1′s.  However, to remove the puck from the drill wouldn't make sense (which is a discussion for another time).
If you're thinking it would be a good idea to make our defenders practice this area without their sticks, I'll suggest it's a very bad idea.  Our "D" can't steer his or her man without a stick.  Nor can our defender practice poke-checks (while keeping the eyes up).  Worse yet, attacking forwards take huge liberties under such circumstances, and these tend to totally ruin the purpose of the drill.
Okay, so what I arrived at was the need to remove the chance for a defender to steal the puck while not actually removing the puck from our drills.  (Got you scratching your head, huh?)  In other words, I wanted my kids to be able to play everything as usual, but they had to know that lunging and stealing the puck was not an option.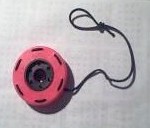 So, to the left is my answer to all that.  There's a puck, it's going to be right there and present within every play, but you better know that my "D" can't steal it if it's attached to the attacker's stick by the little bungee rope.
I put this contraption together rather hastily, using a few available roller pucks and some handy thin bungee.  (Regular twine might be okay, but I wanted the bungee to stretch and then grab fairly snugly over the stick's shaft.)  Down the road, I might take the time to drill into a batch of regulation pucks; or, I might just spray paint these black to make them look a little more realistic.
Now, I promised earlier to come back to that thing about crafty players getting to reinforce the wrong techniques by stealing pucks from less skilled attackers.  And to do this, I need to remind you about something you'll often hear me say, in that, "The more times we do something a given way, the more that becomes they way we'll do it under pressure." And mainly, what I'm getting at is practice-time — or should I say, the right (or wrong) kind of practice time.
In all honesty, I think I'm going to relax and let the chips fall where they may in our future games.  However, what I'm going to do is have my young defenders work against the above noted gadgets hundreds and hundreds of times during the coming winter's practices.  I don't think it's going to take long for even the youngest among them to realize that he can't steal the puck.  That accomplished,  us coaches will be able to steer him/them towards the few important things they should be focusing on.
Okay, so let's get back to the process here, or the title theme, about solving hockey training problems…
I don't think it took any genius for me to realize the problem, and I don't think the above shown gadget is going to make anyone forget Thomas Edison. Yet, why is it I can almost bet there won't be a coach within the league I'll coach in who will use any sort of extra measures to help his defensemen in their 1 on 1 play?
I'll venture to guess…  First, some of them won't even notice their "D" have a problem (and almost all "D" do).  Even if they ultimately figure-out their kids are getting burned on 1 on 1′s, there's a likelihood that most coaches won't recognize the real problem (or the real question).  And, unless that kind of thought process is used, it's highly doubtful anyone will be gracing local practices with anything as simple of my bungee puck arrangement.  You, on the other hand, as a CoachChic.com member, now know how to go about solving a lot more problems than the one I've described here. 
*
As always, I'm dying for your input.  So, let me know your thoughts on this, huh?

I don't normally do something like this, but I've come close to using the same article both here and over in Coach Chic's Hockey Diary.  For the most part, the difference is that I used photos over on the other site, while I'm including videos for my special CoachChic.com members.
That said, here we go…
– Dennis Chighisola

Mites & Squirts Can Change Real Fast!
Just click on any of the snapshots below
to see a video of that drill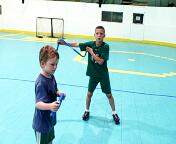 Yes, as the title suggests, "mite and squirt hockey players sure can change pretty quickly".  Or, as I like to say, "Their young minds and bodies are just so malleable."
Okay, right now I'm thinking about the young ones who reported to my first-time Mite & Squirt Summer Hockey School.  And, despite the way I opened this essay, I'm wondering why I was so pleasingly surprised at the progress my students made, even by the end of the very first day?  ???  I truly mean that; I was almost shocked.
Well, as a tip for other coaches and parents who like to help their youngsters, I think the following explains a little about why those little tykes progressed so fast:
I might be old(ish), but I am definitely not stuck in the dark ages.  Naw, I analyze the game through my own pretty experienced eyes, and I incorporate what I discover along with what I know about motor learning and other sciences.
Connected to the above point, I like to do MEANINGFUL drills, and I stay clear of the "vanilla types" that tend to look good but have almost no value.  (Youth practices — and even many so-called "powerskating courses" — are loaded with these.)
Expounding more on those two points, I've always had a knack for recognizing an important skill, and then developing a series of easily do-able steps (or progressions) to get a player from where he or she is to where they need to be.
Okay, enough blabbering (although I did want to share with other coaches and hockey parents the things that go into developing MEANINGFUL lesson plans).
With that, I thought I'd give my faithful readers a little glimpse of at least some of what took place last week…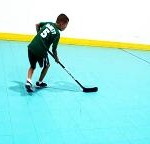 As I so often do, I began each session with shooting.  Kids today just don't shoot enough, and most of them are far behind the generations I've previously worked with.  So, we just shoot and shoot and shoot.  (Oh, in the adjacent photo one of my young students is shooting a weighted puck.  And, due to that resistance, notice how he's working to get his strength into the shot.  Yes!)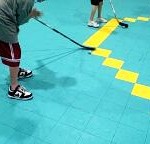 In another segment, we're working on a number of puckhandling moves.  In this case, my student is executing a "wide dribble", something that is really handy to pull on a defender or a goaltender.  (Yes, later in the session we practiced making that move against my SMG, or simulated goaler.)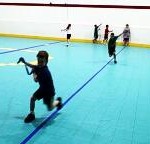 Part of my surprise at the kids' progress was how well they actually took to my Skater's Rhythm-bar, an invention of mine that smooths the skating motion and also adds power.  It usually takes awhile for young ones to grasp the concepts of the R-bar.  However, notice these demonstrators looking pretty dawgoned good for about 8-years old!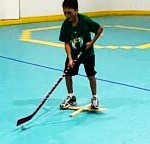 I invented a group of stickhandling and athletic-type exercises built around using a batch of short sections of wood, and I ultimately dubbed that routine "Chop Stix".  Here, one of my students is doing a nice job of handling the golf ball while also dealing with his balance on those stix.  Notice that his posture is much like what he'll have to deal with in our crazy game.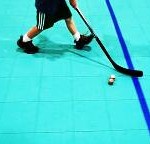 Continuing with the puckhandling (a biggie with me), each of my kids spent time attempting to dribble 2 golf balls at a time around the floor.  This is a REALLY tricky skill, because those balls scatter fairly erratically.  Still, within a week or so, I sense they'll all be able to handle 3-balls!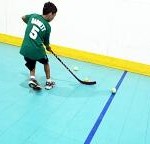 Here I've asked the kids to play a little game by paddling 2 or 3 tennis balls off the side boards.  (This youngster has progressed to where I've allowed him to try 3-balls!)  As I joked to one dad near rink-side, "It's no accident when a player quickly reacts and bangs home a rebound!"  Yes, it can be practiced, and that's what we're doing here.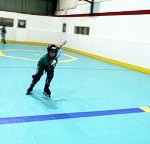 We practiced with the R-bars in numerous ways during the segment when we didn't wear in-lines.  However, with plenty of repetitions under their belt, the entire class looked pretty good in their striding once they put their skates on. 
Just click on any of the above snapshots to see a video of that drill

Well, that's it for a peek inside my Mite & Squirt School.  I'll try to add more photos and write-ups as we go along.  And, I'll also show and tell about when we eventually make the transition from the Lakeville, MA off-ice facility to the ice in Bridgewater, MA.
Oh, one last thing…  I'd like you to either scan or think about the drills I showed up there, and consider how many of them are really better being introduced off-ice.  That's how I feel, anyway.  On that floor, the kids can experiment and take their time with a skill.  a little later on I'm going to suggest that they fly once we get to the ice.
– Dennis Chighisola
A Later Entry
Subtitle: Even I Can Learn (at 105-years old — LOL)!
The third meeting of that school last night caused me to reflect all the more this morning on what I'd said above.  And, right now, what I'm suspecting is that there might be something magical in the twice-per-week sessions incorporated in this hockey school.
Oh, I'm not calling myself a genius here; frankly, I may have lucked-into something.
You see, I think there have to be two main components to a program in order to achieve some positive results…
First, there has to be enough closeness in those sessions so that there's a tendency for proper muscle memory to take hold.  In other words, the mind and body has to remember a given movement, and sort of build upon it.  (I guess what I'm trying to suggest is that a fair amount of closeness of a next session allows a player to pick-up where he or she left-off, while a long gap in there might cause him or her to waste a lot of the next session just trying to recall how the right movement feels.)
Secondly — and with all due regard for the first statement, I think there has to be enough time-off between sessions so that a player feels refreshed and excited again.  For, excitement is going to stir far more growth than is boredom.
Oh, and in case you're wondering, I spaced our twice-per-week sessions on Tuesdays and Thursdays to extend for about 6-weeks.  That leaves 4-days away from training leading-up to the Tuesdays — where we might lose a little on point one above, but gain some from point number two.  We only have a day-off leading to the Thursday sessions, which means we should gain greatly from point one, and perhaps lose just a little from point two.
Then, thinking about what I just said, doesn't it make sense that I henceforth adjust my future lesson plans just slightly?  I mean, I think it'll be wise for me to use Tuesdays as sort of a catch-up day (since we had a longer time-off), and I can look to go faster and to make some changes in our routine on Thursdays (because we'd only trained 2-days earlier).
Then, referring back to my subtitle…  I'm kinda glad I'm the way that I am — still learning at this stage of the game, I mean. 
*
As always, I invite (and really enjoy) your Comments!
Some After Hockey Practice Observations
By Dennis Chighisola
Well, I suspect this might be one of the shortest posts I'll ever write here (which might make some of you very happy — LOL).
Truthfully, though, while this is going to be brief, I suspect that the subject is as meaningful as it gets.  It's not going to be about skills or strategies, by the way.  However, if we can all achieve what I'm about to suggest, a youngster is bound to become highly skilled and smart in the end.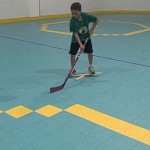 Okay, so my little band of Mites and Squirts spent a pretty fast paced 90-minutes doing 16 drills (some of which had several components).  So, I'm talking about them really hopping at something like a new drill every 5-minutes.  (As I frequently do, I joked with several parents at rink-side about there being no extra charge for the kids falling asleep early tonight.)
Oh, I forgot to mention that we're currently in the off-ice phase of this school, so we're doing all sorts of skill oriented things — in gym clothes and in in-line gear — at a nearby roller hockey rink.
Anyway, with the fear of another rental group coming on right after our prescribed end-time, I ultimately (about 5-minutes late) announced to the kids that that was it.
Right. 
  Only a few kids left immediately, and a few more trickled off as their parents pressed them.  Still, a batch remained for quite awhile, and three young ones stayed (about an extra 20-minutes, or) until their parents couldn't wait any longer.
Ya, those three…  They organized a little game in one zone and around one net, and they were having an absolute ball 'til the very end.
If you haven't guessed by now, the point I want to make is that just about all of the kids in my current class have to really love the game.  I mean, just think about it, their wanting to keep at it after all I'd put them through.  (Actually, I had to also make that point to the remaining parents, in that they'll want to nurture that, and try to ensure that their kids remain loving it for years to come.)
Did I have a hand in this?  Aaaaaw, I don't know.  I do try to use fun and challenging drills, and well as interesting training gadgets.  And I do approach most of my younger kids' clinics in a really lighthearted manner.  However, I'm guessing the parents of those kids are doing more than their part.  In fact, I'm guessing they have more say in this matter than I ever will.
*
As always I look forward to your Comments (down below)!
As always, I warn folks involved at our game's higher levels not to take something like the following too lightly — I mean, just because my examples happen to involve some young players.  As I'll ultimately suggest, learning should never stop, no matter the age or experience level.
With that…  I can't believe I (at least in a way) missed jotting this note during yesterday's Mighty Mite hockey game.  It's not like a big deal wasn't made out of it.  Thankfully, though, good friend Michael G reminded me in an email this morning.  Yes, one of my little guys broke his stick in yesterday's game, and I'm now going to explain to my friends here why I think it's necessary for hockey coaches AND PARENTS to make note of such events.
– Dennis Chighisola
The Broken Hockey Stick (and More)
**
**
Now, I've mentioned elsewhere here about our need to spot so-called "teaching moments".  And, to me, such moments usually involve some important event that doesn't happen often enough to get covered in practices.  Let me give you an example, though…
**
**
When my buddy Anthony Chic was a Mite B, his team played in an exciting holiday tournament at a nearby rink.  A critical point in one of the earliest tourney games was when one of Tony C's teammates closed his hand on a puck in their crease, with this resulting in a penalty shot for the opponents.  Okay, no big deal, right?**
Well, maybe you saw this coming, but…  A few days later, in the game which was to decide the team's chance to move-on in tournament play, the very same thing happened.  I mean, a different defenseman on Anthony's team once again smothered a puck in the crease, and the deciding goal was scored on the ensuing penalty shot.  (Ugh!)**
Hmmmmmm…  Now, one might think that all of the kids who witnessed the penalty days earlier would have remembered the consequences.  Ya, one might think.  But, the fact of the matter is, not all 6- and 7-year olds are noticing — or totally understanding — what's going on at such a time.**
The rest of that "Hmmmmmm-thing" is that we now know our team's coach did not use that earlier event as a wonderful teaching opportunity.  (Worse yet, I have to wonder if he ever used the second occurrence to explain what happened to his kids.  ???)
Okay, so yesterday we had that youngster break his stick during the game action.  In a panic, he rushed to the bench, both portions of the stick still in hand.  Since we're allowed to be on the ice during these Instructional League games, an assistant coach and I both rushed to tell him, "Drop it!  Drop it!"
With that, we might have been able to convey to a few kids the message about it (playing with a broken stick) being a penalty.  But, how many kids really understood that in the craziness of the game?  And, I'd be willing to bet that most of the kids who were involved in the action at that time didn't even witness what took place.
So, here's the big deal, as far as I'm concerned…  There were 20-ish kids involved our game yesterday, and probably 30-something playing in those long ago tournament games.  And, since two great teaching moments were missed for the sake of quite a few kids, I'm going to suggest that those kids are (or were) left in jeopardy of committing the same rule infractions sometime down the road, maybe even during a very critical game situation.  And, is it going to make some young player feel pretty badly if he or she gets nailed for such a violation?  I'm thinking that's so.
Now, at the higher levels I'm going to suggest that the consequences are all the greater.  I've seen players benched by their high school or college coach for taking needless penalties.  As a matter of fact, many higher level associations have officials visit member schools during the pre-season, just to talk to the players (and coaches) about recent rule changes.  Ya, they think it's that important.
Okay, so what should we parents and coaches do about all this?
For sure, I and my fellow coaches have to grab those teaching moments and make the most of them.  A long winter schedule usually provides us a number of these, no matter our level of competition.  In each instance, we want to pick a time or method when every single player can be in on the conversation (which means the team bench is hardly the place to handle these things).  As for me, I think I'm going to compose an email that will direct my Mighty Mite parents to this article, and I'll also put a link on our team website.
As an aside here…  There will always be a difference in the ways we each communicate with our teams.  When it comes to my two older groups (ages about 12- to 18-years), I can usually present the information directly to my players.  However, if we're talking about very young kids, it might not be a bad idea to share our advice with both the players and their parents.
Then, as for the beauty of Mike G's email…  He did something very much like I've always done for my son or grandson, in that he took advantage of that teaching moment as a parent.  I was absolutely sure Anthony Chic wasn't going to close his glove on a puck in the crease immediately after we saw it happen the first time.  And Mike did the same for his little guy.  As he explained it to me, he'd read some bedtime stories to his son last night.  Then, as Mike wrote, "I started to talk briefly about the fun we had skating today…"  Of course, the broken stick issue arose during their conversation, with his little 4-year old actually telling dad exactly what he should do if he breaks a stick. 
This final aside has to do with my sneaking suspicions about why such a young player was/is so sharp…  Oh, I'm sure it helps that Mike played a lot, and that he still plays.  I'm guessing the little tyke has already seen his share of games — watching his dad, or those on TV (yes, a "hockey house" probably has games on the tube more than most others).  Yet, I suspect that the most impactful thing is that they talked often about the game already.  And this causes me to further surmise that numerous little bull sessions have encouraged him — even at 4-years old — to think the game.  So, while Mike ended his email by saying his son "sometimes can surprise me…", I'm going to suggest that perhaps his growing hockey smarts shouldn't be so surprising at all!
Now, those parents who haven't played much (or any) hockey can take heart in the fact that you can still help your very young one with his or her game.  All you have to do, I'll suggest, is to just stay a hair ahead of him or her in your hockey knowledge.  There's certainly plenty of information available at your local library and on the Internet.  And, I happen to know that's why a number of folks spend a lot of time here at CoachChic.com.  And remember, you can always ask for my help whenever you need it.
*
You know how much I enjoy your feedback.  So, please DO add a Comment below!
The other night I had to use an extremely conservative forecheck against a pretty strong opponent.  The X's and O's of that is a story for another time.




I sensed we had to be very good at a few other things in order for my kids to execute that new forecheck well.  And, while good dump-ins were going to be needed, there was something about those dump-ins that had to be done even better.




What you'll soon discover is that we needed dumps and some clearing passes to travel rather fast or go hard around the boards.  So, the following is going to show you how I've managed to start making my kids aware of certain things having to do with this particular ploy.




– Dennis Chighisola
Hard Around the Boards (and Dump-ins)
Now, I think a lot of coaches take things for granted.  In other words, they might (or might not) notice their players doing some things wrong in games, but they never think to design or search for a drill that will correct those problems.  In a lot of instances, coaches might think players will just "get it" when they get older (or whatever).
By the way, remembering the things I need to help my players with is a huge reason why I take frequent notes.  And this particular area of CoachChic.com is mainly available to you because of the fact that I take so many.
Anyway, that new system needed really good dump-ins (and so does our powerplay entry), and we also needed some unique help getting the puck out of our zone.
I actually started the teaching process by gathering my Team NEHI players so that they could see our off-ice rink just about as it's shown in the photo to the right.  I then started explaining some things that others might take for granted, or things they might think their kids will ultimately solve on their own.
(Here I go chuckling to myself as I so often do, but…)  It seems that a lot of players don't think much about the angle in which their dumps have to hit the boards in order to gain speed and travel a good distance.  So I started talking in extremes at first, asking the kids what will happen to a puck if we shoot it directly at the boards (or at an angle perpendicular to the side boards, as in #1 below).  Of course, the puck will pretty much die right there, or it's surely not going to travel around the boards.  Then, pointing my stick as if it was an arrow, I asked them what would happen to pucks that hit at angles of something like 5-degrees (as in #2), 10-degrees, maybe 50-degrees, and so forth.  What I was doing was trying to convince them that shots closer to the perpendicular weren't going to travel far, and that shots coming closer to parallel to the boards were going to assist them (with #3 and #4 getting closer to the ideal).  Actually, there is an angle — close to parallel to the boards — whereby the puck seems to whip through the corner and even pick-up speed.
Did I really need to go into such detail before taking on my intended drills?  Yes, I did.  For, while a few players might have understood already the above concepts, I knew a number of them didn't.  Besides, I never leave anything to chance, and I don't take much for granted.  Furthermore, I am not about to leave players in my charge to fend for themselves (at least when I can help it).
Now, as you might notice in the first video (click on the photo below), you'll see that I placed all of my kids on the side that put their sticks close to the boards (lefties on the left side, righties on the right).  From this positioning, it's easier for them to get their drives close to parallel to the boards, and easier is what I'm always looking for in a new drill.  (By the way, I just noticed from re-watching these videos that a number of the kids put their heads down or gave some other indication when they erred.  I think that's good, at least in this case.)  So, take a look at the video and see how some of my youngest players did.
After they got a handle on the first drill, I had lefties and righties switch sides.  I once again preceded the next drill with a short discussion, this time explaining how it might be a little more difficult now for them to get their dump-ins parallel to the boards.  Take a look to see how they did (by clicking on the photo below).
In case you wanted to know, we need our powerplay dump-ins — and the dumps for our new forecheck — to go all the way around the boards and partway up the other side boards.  But I also wanted to clear the puck from our end with very hard passes behind our net and perhaps even out of the zone on the other side.  And this had me altering the above drill as show in the video below (just click on that photo to see it).
If there's a message in all this, it's that we need to find ways to explain and then practice the many "little things" that go into making competent and confident players.  We can't take anything for granted, and we can't let anything go while the kids are in our charge.
*
You know how much I enjoy your feedback.  So, please DO add a Comment below!
During my very first year in coaching, I lost my best player for an important tournament game.  Oh, he wasn't out injured, he wasn't home sick in bed, and his parents' car didn't break-down on the way to the game.  No, it was something more common than any of those things that robbed us of our top scorer.  "Murphy's Law" is what did us in that day, and I swore it would never put my team in a hole again.

– Dennis Chighisola
Dealing with "Murphy's Law"
Okay, so here's what happened on a frigid February morning nearly 40-years ago…  My team was assembled in their lockerroom awaiting their march down the corridor for the start of an exciting holiday tournament.  As the players arose from their seats, one of my guys slightly stumbled and evidently stepped onto some bare concrete.  I thought nothing of it at first, but a few seconds into our pre-game warm-ups we discovered that an edge had been completely stripped from that player's skate-blade.  (As I recall, he couldn't cut to his right without the skate going out from under him.)  Believe it or not, the rink's pro shop wasn't yet open.  And, believe it or not, this was a time when few coaches or players thought to carry a skate-stone.  And, of course, this was long before the advent of small, handheld skate sharpeners.  So, just by a stroke of luck, and because we were unprepared for such an occurrence, our team lost one of the most dangerous scorers in the region.
Now, I'm sure you know the gist of Murphy's Law, which basically states that, "If anything can go wrong, it will!"  Still, what you might not know is "Coach Chic's Law", in that, "I only need something to happen once before I find an answer to it!"
So, how many times has Murphy's Law struck me — or one of my players?  Let me count the ways…  A missing helmet screw, a missing mouth piece, a missing neck guard, a missing cup, a broken goalie pad strap, a missing chin strap, a missing…
True to Coach Chic's Law, however, I learned from the first crisis and pretty much assured myself and my team that at least THAT crisis wouldn't bite us again.  In other words, every time some little — or large — problem arose, I found a way to deal with it should it ever happen again.  In most instances, that meant adding another tool or small piece of gear to a collection that I ultimately dubbed my "Murphy's Law Kit".
You can imagine the things that are now in my kit box (shown in the two adjacent photos)…
first aid needs

skate-stone (several)

scissors

pliers

flathead screwdriver

phillips screwdriver

awl

file

sandpaper

Swiss Army knife (with various tools within)

helmet screws

matches or lighter

extra skate laces

tape (various kinds)

new mouthpiece

neck guard

goalie strap

chin strap

pieces of foam

pieces of leather

several glues
Actually, I'll oftentimes see a strap or other small item left in a rink parking lot or wherever, and I'll consider whether that might come-in handy sometime when Murphy thinks he's going to get me again.  And I'll do the same thing when discarding sports equipment from home, or when tossing out some old hockey gear from my NEHI equipment room.  In each case I'll ask myself, "Can something here bail me out in an emergency?  (Sure, call me a packrat if you must.  But, I can't tell you how many times I've gotten a player back into action when Murphy's Law wanted to send him to the bleacher!)
In more recent years, I've been fortunate to receive a lot of little Swiss Army like gadgets as Christmas stocking stuffers or as gifts.  As a matter of fact, I have one beauty of a tool that straps conveniently on the shoulder strap of my skate bag, and that thing is always getting used to tighten some clinic kid's helmet or facemask.
Is a hockey coach the only one who needs a Murphy's Law Kit?  Aaaah, far from it.
A number of years ago — when my grandson started going off to the rinks on his own, we thought it a good idea to set him up with a smaller version of my kit.  A small, unbreakable box it was, stuffed with a stone, some extra helmet screws, an extra pair of laces, and a few tools that would help him in a pinch.  Oh, that tool kit has evolved over the years, but it could always be found in his hockey equipment bag — during his high school career, at prep school, at several showcase tournaments, and now at college.  And I'll suggest other players gather together odds and ends to form their own Murphy's Law Kit.
As a matter of fact, I don't think it's a bad idea for hockey parents to carry something like that kit, even if it's just safely stashed in the car trunk for when Murphy rears his ugly head.
Finally, I'm thinking that the contents of a fully stocked Murphy's Law Kit would prove valuable to members.  Ya, imagine if thousands of us put our heads together and kept adding to the list.  So, if you'll add your ideas in the Comments section below, I'll find a way to keep our running list somewhere available for all of us to see (and maybe print-out).  Deal?
*
Please add any ideas you might have for our Murphy's Law Kit in the Comments area below!
Today's entry is just sort of a muse on my part…




You see, besides being an incessant not-taker, I also clip and save a lot of little bits of information from the nightly newspaper or from other on-line sources.  These usually contain ideas I either want to explore more for my coaching, or they're on subjects I might like to comment on here at CoachChic.com.




Such is the case with a news clipping that just fell from my notebook…  It's a beauty, as you'll discover, and something I'd at least like for you to ponder.




– Dennis Chighisola
On Lopsided Hockey Scores
Okay, hold onto your hat as I tell you the headline on an article I long ago clipped from the local Brockton (MA) Enterprise newspaper.  For, it reads:
"An 82-0 score… in hockey"
Yup, you read that right!  And the article begins by saying, "With more goals than minutes in the game, Slovakia's women's ice hockey team claimed an amazing 82-0 victory over Bulgaria in Olympic qualifying."  It further states that Slovakia outshot their opponents — yikes, 139-0!
Now, I know you and I are going to have very different views on that game's outcome.  I mean, I can image you being outraged that a team would pound on another squad like that, especially if you're from North America.  Ya, it only seems that we in North Americans get bothered by lopsided scores — I mean, as if a team is trying to run-it-up.  On the other hand, I've noticed a lot of really out of whack scores abroad (although none probably as bad as that one), and I don't think I ever got the sense that the losers felt insulted.
That said, let me offer some thoughts of my own here…
To begin, I thought the idea of a game was for two teams to go out and play to the very best of their abilities.  ???  And, if that's the case, why should one feel insulted by that game's outcome?  Again, it's just two teams playing as hard and as skilled as they can.  From there, you win some and you lose some, and you sometimes either win or lose by a wide margin.
Oh, I suppose that we could enter a game with the idea that we're only going to play our best if we're evenly matched or inferior to the other team.  (Wanna read that one again?)  But, somehow that just doesn't sound right (does it?).  In a way, however, that seems to be the North American mentality:  Only play your best if the game is close or if you're losing.
If you think about it, a team (or at least a youth hockey team) practices all week to ready for an opponent.  And, pretty likely their hope is to beat the other team with the skills and tactics they've learned to that point.  So, what a downer it is — or would seem to be — if a team discovers that it has to play other than it's very best.  In a way, it almost seems a waste of time (as in, how can we NOT score today?).
Actually, my sentiments are very much like the Slovakian coach, Miroslav Karafiat, who is quoted as saying, "We took it as training."  Yup, there is nothing better for a team than to get to practice against just a slightly less than equal amount of resistance.  We coaches do this all the time in our practices (perhaps having a shorthanded group play with their sticks reversed so that our powerplay unit's plays work a little easier than usual).  It's one way to build confidence in what our players are trying to learn.
Now, I'm not saying that there aren't times when a lopsided game isn't badly mishandled by the stronger team's coach or individual players.  For sure, they can do or say or act in ways that are degrading to the losing side.  But, to be upset because the stronger team keeps playing hard doesn't seem right to me.
As a matter of fact, many years ago I tried doing off-the-wall things in an attempt to not run-up a score.  And, I ended-up discovering several problems with this…
First, an opponent can be all the more embarrassed if the superior team overtly tries to hold back on the attack.  Secondly, I've actually seen some of my teams have difficulty getting untracked in subsequent games after I've made them do some odd-ball things.  Thirdly, there is a huge danger in players getting hurt when they're too relaxed, or not playing with full intensity.  (I think pro teams in most sports feel the same about this one, so they oftentimes pull their regulars at some point.  Of course, I don't think it would be fair — or even possible — to bench a youth team's best players once a game gets out of hand.)
Of course, it's my hope that no member takes me wrongly about all this.  I usually hate being on either end of a lopsided game.  However, if we've come to play, we ought to let the kids do it to the best of their abilities.
Actually, I've experienced both sides of this as a coach over the past two weeks…  In our big win, I looked for my kids to polish certain areas of their game in preparation for more difficult opponents.  In the one where we got trounced, I used a goodly number of our mistakes (or shortcomings) as "teaching moments", and I also gathered a boat-load of notes from which to help my kids further at coming practices.
*
Okay, no fairs sending firebombs to my NEHI PO Box! 
  At the same time, I really would like to hear your impressions on this topic!
Although I'll show you some of my Team NEHI guys working at the drill I eventually created, the inspiration for that drill came from watching my babies (or my little Mighty Mite team).




Oh, you know how I am about taking notes — especially during games.  Well, I'm doing the same at our weekly instructional league contests, and I'm going to gradually fill you in on the things I've observed there.




That said, here's the first problem I noted…

– Dennis Chighisola
I Need to Quicken My Players' Shots!
My little guys came-out smoking in our very first game, with plenty of action around the opponents' net.  If there was a problem, they didn't score nearly enough goals for all the swipes they had at loose pucks.
I wrestled for quite awhile trying to solve that, and one version I arrived at will be shown in the accompanying video.  What I'd like to do beforehand, though, is give you a little insight into what I was thinking…
I'm sure you'll appreciate how chaotic it can be out in front of the net:  Oops, there's a puck; oops, then it's gone!  Ya, one second a player has the chance to bat the puck home, the next second that opportunity has vanished.  And it's recreating typical game situations (like that) that makes a drill worthwhile (or not).  So, how could I make my players feel that kind of urgency?
Actually, I'm experimenting with a couple of variations right now, and I'll soon let you know how I feel about each approach.  For the time being, however, here's what I'm experimenting with:
The drill shown in the accompanying video (click on the above photo to watch) has three players in a nearby line each tossing a puck softly to the slot.  As you can see, the forward in front of the net attempts to pull the trigger — three times — as quickly as possible.  If you'll notice something wrong in this video, my hope was that the pucks would all arrive at close to the same time — to make the forward out front really scramble.  Didn't happen. 

  (Honestly, I think I can do better than that drill.)

I tried something differently with my little Mighty Mites, this time having a coach drop three pucks from his hand and into the crease area.  This is a little harder to administer, but I think it comes a lot closer to the problem I was seeing in our games.

I tried yet another version of that second drill, this time have two offensive players battle to see which could score the most goals from the number dumped into the crease area.  Again, trying to keep a supply of pucks on hand to keep the drill going was a pain.  But, I think this drill comes a lot closer to recreating the urgency of a game.
Now, while I always enjoy your Comments to a post, this time I'm hoping some members might even have a better idea than mine!  (Ya, help!!!)
Actually, the above statement would be true if we were talking about academics, our chosen field of work, a hobby, you name it.

– Dennis Chighisola
In fairness, I have to begin by saying that this topic was brought about by an email I just received this morning from a CoachChic.com member.  I'm thankful this guy is with us, because he comments often and thusly provides me a lot of food for thought.
In that email, my friend was saying how his youngster had felt really good about himself upon leaving the rink each time over recent weeks, and that this excited him so much that he wanted to do more hockey related things back home.  That's not so hard to understand, is it?  After all, we humans avoid pain as best we can, and we gravitate towards things that make us feel good about ourselves.  Again, there shouldn't be any big surprises about that.
Ironically, I've been working on several projects recently…  I have an on-ice puckhandling course starting locally in a few weeks, my Learn-to-skate/Learn-to-play clinics begin in early October, and I'm also working on a new video that will appear on this site's new sales page (ya, I hate that "Oops, you're not a member?" page — LOL).
The irony comes with the fact that all I really want to talk to customers about is confidence — be it for my clinics or in the promotion of this site.  I mean, that is absolutely everything.  Every guru who has ever lived has said it in one way or another, and that's also a key principle in The Bible, in The Secret and in The Law of Attraction.
As this relates to my clinics — and even that new sales page…  I hope long-time members have gotten the sense that the drills and slow, deliberate progressions I offer here are all about confidence.  A player does a given skill progression to the point of mastering it, and he or she is sure to feel good about taking-on the next challenge.  And so it should go, from beginner all the way up to elite execution.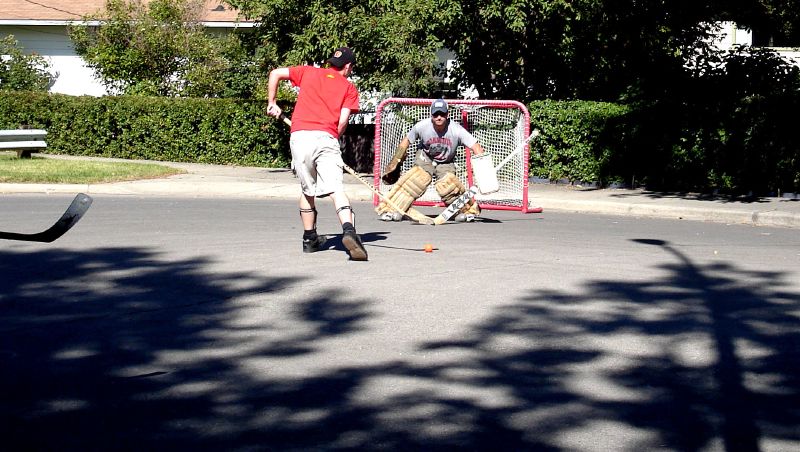 Okay, but now back to my main premise…  My CoachChic.com friend said that his young guy left the rink psyched.  With that, the boy went home to seemingly find ways to continue that feeling.  That's gonna happen, you know.  The player who is loving the game finds a stick and ball at home and experiments, maybe even reliving some of the recent rink excitement.  In the case of my friend's boy, he also found a way to spend plenty of time on his in-lines.
This in mind, here are a few suggestions for member parents and coaches…
First and foremost, appreciate that YOU have the most say in whether your kids have either good or bad experiences at the rink.
For example, I know some parents get hung-up on a team's designation (like it sounds better to the guys at work if you tell 'em your kid plays on a AAA team).  However, I'll suggest that the player who is going to be in the lower two-thirds of that high level roster is NOT going to be able to truly execute many of the things he or she would like.  In fact, a lot of kids on any given team will play in what I call "panic mode", because nearly everything they attempt to do is rushed by the superior talent around them.  Many, in fact, won't be able to skate 2′ without coughing-up the puck or throwing it away in a panic.  Oh, I know, I'm being a bit rough on some of you by saying this.  But, I feel my lot in life is to offer you the best advice I can.  So, I'm just suggesting that some serious thought has to be given to where a youngster plays for close to 9-months out of the year.
For my next point, let me take you to a rink lobby some 15-ish years ago…  I'm walking into the rink to teach a clinic, and I'm greeted by a whole bunch of my former Learn-to-play students as they're leaving their game ice.  The kids are smiling and waving to me, and I had to believe they'd just done pretty well.  Once the kids disappeared to their lockerroom, however, I discovered a very different story from the group's parents and coaches.  Those little guys had actually been beaten by a score of about 17-0, with the grown-ups looking and sounding all down in the dumps.  Again, the kids — not yet influenced by the adults, are laughing and seemingly excited at having just played.  The reason I tell this story?  It's because some of those youngsters were likely allowed to continue feeling good about that hockey experience on the ride home and thereafter, while others were probably going to be told how badly things went.  My personal answer to this is to suggest that I'm a better "spin doctor" than all those professional politicians you see on TV.  I see a little guy take a tumble in one of my clinics and I rush to tell him, "Awesome fall!" — just as he's deciding whether to cry or not.  And I can usually think of something positive to say to my team, even when they've had bad night.  Hey, I want them eagerly coming to practice in a few days, so there appears no other choice but to give them a reason to do that.  And that's what I'm suggesting here:  Be a spin doctor yourself, and give your own player or players reasons to feel good about the last hockey experience.
Now here's the best reason for doing some of the things I've suggest here…  No matter how a youngster feels about himself or herself, there's going to be what I refer to as a snowballing effect — with the enthused kid improving all the more between trips to the rink, and the less excited kid likely going backward.  And it keeps rolling that way, with the gaps often widening over time.  As a matter of fact, that's what I meant in the title up top, in that "hockey success breeds more hockey success"!
Please don't forget to help The Old Coach by leaving a Comment (below)!
An introductory note from Coach Chic…




Well, after a long off-season of training, my two NEHI teams have been gearing-up recently for the starts of their new playing seasons.  As a matter of fact, my HS Prep guys opened tonight with a pretty convincing 12-2 win.




So, you'd think I'd be thrilled, huh?  Well, so you'd think…




Actually, I believe it's good for my guys that I'm seldom satisfied with any game, no matter the outcome.  And I'm almost always able to find a number of things that need fixing, or that need at least a little more work.




Now, I'm likely to later cover a lot of the following in far greater detail.  (In other words, if it's a skating problem I'm mentioning here, for example, I'm probably going to show you in the Skating section how I ultimately solved that.)  For now, however, I'd at least like to touch upon the things I think need addressing with my older team.  I don't doubt member coaches, parents and older players will find a few things that'll also help them (sorta like some food for thought)…



The purpose of my High School Prep team is to ready 17 young guys for their respective high school seasons.  All my kids are headed to different schools, and they range in needs from trying to make their school team to wanting to really excel wherever they're going.
In Massachusetts, school hockey doesn't begin until the Monday after our US Thanksgiving.  So, that's my goal — to have the kids ready on that big day.  And I try to convince them (and sometimes their parents) that our common goal is to have everyone totally ready on November 30 of this year.
What I'm getting at is that nothing but development matters to me until that day arrives.  And, in a way, this takes a great deal of pressure off me and my players.  Oh, I'm intense when it comes to my kids working and learning.  But we should all know that they can't take their autumn game scores or stats with them when they head to tryouts.
So, I started by sharing this philosophy just so you understand the rather patient approach I'm going to be taking with the following topics.
*
I have my own to-do list as I prepare for games.  And the first game of each new season has a longer list than most others.
I print-up a batch of nice roster sheets so that I don't have to waste time scratching them out for each new game.  That's on a smart drive, too, just in case I have to make roster changes at any point during the season.
A one-time deal has me bringing new game socks and our game jerseys to the first game.  (Thank God I have a family who will care for the jerseys from now until season's end!)
I tote a small plastic bucket (adorned with our logo), this carrying about 20 special pucks meant just for our pre-game warm-ups.  Each year I paint these a little differently, with this season's pucks remaining black around the sides, but sprayed silver on tops and bottoms.  The goalies hate these (LOL), but those pucks sure do make them focus.  Inside that bucket are also a few tennis balls for my goalers to juggle and do other pre-game work with.
I carry a large loose-leaf book that contains my rosters, official papers, emergency telephone lists and then small items — like chalk, pencils, clear tape, notepaper, small sticky-pads for my game notes, and the likes.
Inside the above book is my team's lockerroom door sign (as described in the Coaches' Corner).
Then, there's what I refer to as my "Murphy's Law Kit"!  Ya, "stuff" happens when we least expect it, so I've collected a ton of odds and ends to bail my kids — if they forget a neckguard, if they strip an edge, if they lose a helmet screw, etc.  Oh, and all the typical first aid items are also in the box.
So, how did yours truly do on HIS opening night prep?  Geeeeeeeze, I left the dawgoned game socks back in the office.  (Grrrrrrr…)
*
I asked the guys to report a little early for this first game.  Unbeknownst to the players, I wanted them to relax as they readied for the first game, and I also wanted some extra time to go over a few important things…
After having a quick administrative discussion — like how the jerseys should be collected at game's end, how we'd operate in the lockerroom, etc., I went into bench decorum.
Of course, my defensemen sit on the defensive end of the bench, with our forwards stationed closer to the offensive zone.

I also pointed-out that I want the next guy up at a given position ALWAYS keeping an eye on the man he'll replace.

The kids and I next established in a brief discussion which player might be the most important on line changes — the one leaving the ice, or the one entering the play.  From there, I told my guys that they must clear the way for those trying to get onto the ice.  Ya, if you can just picture players getting tangled in a doorway while a team plays shorthanded…  Ugh.

I told my guys that I wanted them to only concentrate on a few parts of their game.  I think things come together better when we do it this way.  So, I asked them to mainly focus on our primary forecheck, and to also try to make effective dump-ins.  Hey, if you think about it, solving just those two things over the first few weeks will make it easier for us to gradually add other key elements of our system.
*
We have a neatly timed pre-game warm-up routine I'll also tell you more about soon.  Of course, things looked pretty ugly and were poorly timed during our first real try at it.  Perhaps more importantly, I sensed my guys had lost their focus on one drill, and poor focus means the kids are learning and reinforcing poor techniques rather than the right ones.
*
During this game, a new situation arose that needed dealing with…  A penalty killer should have what's referred to as a "strong stick" in his or her own zone.  In other words, if my players get their stick-blade on a puck back in our defensive zone, the puck has to be sent out of the zone (and hopefully HARD down the ice).  Actually, I tell my guys I want pucks to hit the far-end boards.
*
Early in the game, a number of my guys came-off the ice with our opponents lugging the puck towards our net.  (Ha.  Oh no you don't!)  The time to change-up is when the puck is buried safely in the offensive zone.
*
I thought our goaler played well on this night.  At the same time, I think a few of his difficulties weren't his fault; they're mine.  And I have to help him fix them.  So, in one instance I wrote a note to myself that I want to create a drill that forces the boy to fight for pucks in scrambles around the crease.  (A lot like the new guys who hadn't learned with their former teams how to change properly, I think my goalie had been let-down by his past coaches, since he seemingly never learned to really handle the puck — either passing it, setting-up dump-ins for teammates, or tying-up loose pucks.  Oh, our goaltending coach and I have helped him with these things during the off-season.  But, there's still lots more work to do — for his sake.)
*
Then, there was one awesome play I just have to discuss with all of my guys as soon as I get the chance…  One of my defensemen was coming back towards our end with an enemy puckcarrier close by, and with another attacker trailing not far behind (sort of a 2 on 1).  A lot of backchecking forwards would have wrongly headed towards the puckcarrier, figuring that's how they could best help their teammate.  My backchecker, however, immediately grabbed the open trailer, which allowed my D to confidently handle the puckcarrier.  Aaaaah, awesome.
*
In closing, know that the game bench is a crazy place, in that there are lots of things for players and coaches to deal with.  Add to that the fact that players are coming and going — on line changes, and it's virtually impossible for a coach to truly discuss many of the above points with all of his or her players.  For those reasons, I hold a once-per-week "discussion session" where we're able to really relax and study the notes I've taken at the last game.  There's no screaming or yelling or embarrassing players in these sessions.  Instead, for example, I might begin this coming week's get-together with something like, "What do you guys think might be the best time to change-up?"  As I hope you'll appreciate, I'm encouraging at least a two-way discussion here (and hoping a bunch of kids will chime-in), mainly because I think the information sticks better when players help solve a given problem.




As you should notice, there won't be a shortage of things to work on during our next three practices.  Actually, a lot of the difficulties we had tonight might even spawn a few new drills.




Did you know that your Comments help Coach Chic — big time?
It must have been about 2- or 3-years ago when one of my Team NEHI assistants described something he'd seen on a newscast.  I guess the sports segment showed some clips of our local NHL hockey team, and then it highlighted the team's new coach.  As my friend excitedly explained, the guy was being lauded by his players, mainly because of the way he made practices fun and interesting.  And I guess that pro coach was also credited with inventing a number of his own drills, including one my assistant saw and marveled at.




Now, I'm taking this all in, and I'm sort of smiling on the inside (hey, maybe I was even grinning on the outside).  No matter, I ultimately shared with my assistant the fact that I create drills all the time.  (More recently I've stated that I probably invent pretty close to a drill per week, although sometimes it's only a drill per month.)




What I think really amazed my friend was the fact that anyone could just up and design a new drill — be it that NHL guy, yours truly, or anyone else.




Anyway, we were interrupted before too long, so I had to leave-off with a simple enough question, "Where do you think drills come from?"




That, of course, gives you and me a place to begin.  And, it also provides the opportunity for some spin-off examples this month, most notably in an entry whereby Todd Jacobson explains some drills he's currently using with our Team NEHI goaltenders.




– Dennis Chighisola
Now, from this old coach's perspective, new drill ideas frequently come about because there's a problem.  Said yet another way, a new drill can be created to solve a difficulty one of our players — or most of our team — is experiencing.
New drills are also often devised to enhance a given individual skill.  In other words, we might invent a new skating drill because it will enhance that area for a player (or numerous players), and we could do the same to help him, her or them to be better puckhandlers, passers, receivers, shooters, checkers, etc.
For sure, long-time members know that I find a huge benefit to borrowing from other sports.  So, for example, I might study what high level sprint coaches are doing with their athletes, and subsequently adapt a drill or two that translates well to my guys' work on skating speed.  I've further helped my players by borrowing footwork drills or ball handling drills from other team sports, I've found some tactical or strategy ideas in other sports that actually work well in hockey, and I've discovered plenty of conditioning or competitive type drills that are useful and appropriate for my use (so long as they meet the demands placed on ice hockey players).
I'm especially on the look-out for new training aid ideas.  Let's face it:  Players love pitting their efforts against gadgets, and they'll often go above and beyond their normal practice pace just to beat one.  Of course, cost is a factor with these — for all of us.  So, while I might purchase some training devices, I might be able to arrive at a homemade version that does the trick nicely, or I might be able to borrow from just the main concept of a great tool to achieve fairly similar training effects in another way.  (That might be the case with the first drill Todd introduces this month.)
An improvement in team play skills frequently calls for the use of an important principle of motor learning known as the Whole:Part Method (and so can this method be used to break-down and improve a rather complex individual skill).  As with other technical terms I use within these pages, have no fear; I'll make it simple enough for anyone to understand…
A good example of this technique might be the breaking-down of a basic breakout play.  And in this example, the breakout represents our Whole.  Of course, something like passes exchanged — perhaps from a defenseman to a near winger to a centerman — will either work or not work, depending on execution.  So, this important motor learning principle suggests that each of the small Parts of a breakout could be practiced, vastly improved, and then put back together into a more efficient Whole.  That was the basis for my video on Basic Breakouts.  However, as you'll notice in that video, I've gone quite a bit deeper, focusing on the goalie's involvement and in his or her handling of the puck, a defenseman's moves with a puck to avoid a forechecker, improved pass-receiving routes by the forwards, etc.  And one could get deeper and deeper into each tiny element of that play.  In fact, a coach (player or parent) could view just one of those examples as a Whole, break it down into smaller Parts, perfect those Parts, and then put them back together into a more proficient Whole.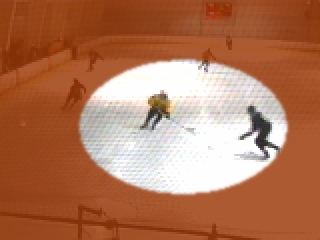 Now, I'll tell you how I often arrive at some of my new drill ideas — actually applying the about principle…
Please click-on this link for A New Hockey Drill Idea, then look over my shoulder to see a segment of video I've isolated on, or the Part I'm running over and over again.
As you might notice, the breakout is actually botched, and a defensive player coming down the middle intercepts the pass.
Something struck me about that play, causing me to make a drill out of the interception and the immediate problem faced by the puckcarrier.  In other words, he grabs the puck, and then quickly finds a defender right in his face.  (If you need to watch the video a number of times to see what I'm getting at, please do so.  Can you see how constantly re-running a short segment does sort of look like a drill?)
And that's the new drill I'm going to soon put into my practices…  I'm going to place a line of forwards out near their offensive blue line, and I'm going to have another line of defenders ready off to one side.  As a coach tosses a free puck out in the vicinity of the first forward, he'll quickly be pressured by the first guy in the defenders' line.  To me, this is something that happens in a game, or something my puckcarriers frequently have to deal with.  So, why not practice it?
Oh, by the way…  I can already see potential for progressions to this drill.  As happened in the video, the guy who intercepted the pass was quickly joined by a teammate.  So, I'll eventually do the same in the next step to this drill, having a second forward exit the line to — as quickly as possible — join the attack.
Just as an FYI here…  I honestly did just create this drill as I was preparing the current entry for you.  I grabbed the first game footage I could find, I ran it a number of times, and that interception kept jumping out at me.
Now, this entry happens to introduce two things I'd like to continue for awhile here at CoachChic.com.




The ability to open some of our videos in a new window is going to help me rush certain information to you.  In other words, rather than needing to spend the hours required to put an audio soundtrack to short clips that require only brief explanations, I can quickly shoot the video, upload it to a post for you to see, and do my explaining via the nearby text.  (Let me know if this works or doesn't work for you, but the ability to do this is likely to mean tons more video for you.)




Finally, I know lots of members want me to do ALL of the work for them, including showing them EXACTLY how a drill should be run.  Oh, I'll continue to do plenty of that.  At the same time, though, I sense I'm arming you all the more if I explain and show how you might either design your own drills, or slightly adapt other drills to better suit your specific needs.  (No, none of us are likely dealing with the exact same problems or talents, so it's helpful that we have a sense of how to create some of our own drills.)  So, over coming days, weeks and months, look for more ideas in this area.  I'm getting psyched! 




– Dennis Chighisola
This entry is really sort of a follow-up to an earlier post, RESPECTING Young Hockey Players.  And I also want to pose a few questions to members at the very end.
Now, as you might recall, I talked some about my fun approach to training in that earlier piece.  And, although I didn't mention my work with older players very much, I need to say right now that most of our more advanced level work (or work with older kids) should also end-up being enjoyable to those in our charge.
That said, a major part of my year-round work involves coaching — and actually guiding the development of — two NEHI teams.  One group is of junior high school age, the other made-up of high school-ers.
For a number of reasons, I have to slightly adjust my ways with them — due to their ages, their general age-specific personalities (if you know what I mean), and because of their presumed aims in the game.  And in reference to the latter, each is assumed to be dreaming of making a high school team someday, and they ultimately want to do really well at that level.
So — as I jokingly refer to it, I'll sometimes have to wear my "high school coach's hat".  I mean, if you think about it, athletes don't only succeed by having great skills and hockey smarts.  No, each team candidate is a whole package, with yet another key ingredient being the way they handle themselves emotionally.  (Just ask Shaun Goodsell and his Mental Edge staff if that one isn't so.)
Anyway, at different times during our practices and games, I'll put on that high school coach's hat and grump and grumble a little.  I actually warn the kids about it, even telling them, "I love you guys, so I'm preparing you as best I can for what's ahead, even if it comes-off sounding mean."
Oh, and by the way…  Sometimes I have to fake it — not really being upset with them at all, but instead wanting to ensure they're going to be able to deal with the mix of positives and negatives that are sure to be thrown their way down the road.
As for the subject of "doing the right thing"…  Don't you know that I slightly "lost it" at practice the other night, only hours after I'd sent-in the earlier referenced article.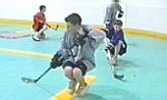 What had happened was that a lot of my long-time players were acting a little too comfortable as we drilled.  They are senior members of the group, they know a lot of what's coming in some of the basic drills, and they were half-listening or half-working as the practice went along.  More than anything, I worried that they were showing our new team members the wrong way to apply themselves in a practice.
So, at some point I began turning the screws on them.  And I sorta nailed the offenders for anything and everything they did wrong.  Ya, I got their attention — and that of the new guys, too.
Still, comes the time to end practice, and I'm thinking about a few things…  To a kid, they love the game.  I mean, they are all great kids, and they really are into getting better.  And, here they are at a "voluntary" practice on a warm summer night, while some other kids aren't even there to work on their game.  If you get my drift, I'm thinking that — while the whipping was necessary, I couldn't send a single player home wishing he hadn't come.  Make sense to you?
And that caused me to gather everyone together at the very end of practice, to sit everyone in a circle, and to rehash the events of the night.
As close as I can recall, I said, "Hey, I need to explain a few things to you guys…  I think you guys know I love you, and I only do things that will help you in the end.  You also know I love teaching the game.  So, if there are things going on that prevent me from teaching, I'm going to let you know about it."
Oh, I'm sure I said more than that over about 5-minutes, but that was the gist of it.  No way was I apologizing for holding their feet to the fire.  At the same time, however, I wanted to ensure future practices ran as they should, and I also wanted to give those kids reasons to come back for future practices.
So, my questions — to older players, parents and other coaches…  How do you feel about a coach holding his or her players' feet to the proverbial fire?  And, how do you feel about explaining oneself as I did?  Further, since I will at least once or twice per year tell my players that I made a coaching mistake (or whatever), how do you feel about that?
Although this post SEEMS like it's entirely geared toward very young skaters, I'd like those who deal with older guys and gals to please drink-in the gist of it.  I'll have a further comment for you at the very end.

– Dennis Chighisola
Okay, I'm not going to go and get toooooo scientific on you.  At the same time I do want to first make you aware of a study just released in this Tuesday's (7/14/09′s) issue of the journal Child Development.
The reason I cite this is because I did quite some time ago make reference to certain beliefs in my earliest posts that dealt with "Critical Periods in Motor Learning".  (The two entries should have frightened those dealing with very young athletes into appreciating the fact that certain windows of opportunity arise during a human's earliest years, and that once those periods pass, learning given skills can be very difficult, if not impossible.)
Anyway, researchers in the Netherlands now say they've found evidence that fetuses have short-term memory of sounds by about the 30th week of pregnancy, and that they develop a long-term memory of sound after that.
Again, I'm not going to get overly scientific here (you can Google this and related studies if you have further interest).  And I'm not going to suggest to you that we should all start preparing prenatals for careers in hockey (or any other sport).
What I do want members to appreciate is that learning begins very early in a human's life, and that some learning even begins prior to birth.
Then, beyond all I've said in my earlier two entries (and several others), there's yet another thing on my mind this morning…
You see, while I think all very young kids are adorable, I'm sometimes turned-off by coaches of very young ones who overdo it in reference to their kids' "cuteness" (or whatever).
What really troubles me about this?  It's that such coaches can oftentimes use that cuteness as a reason — or an excuse — not to teach the kids in their charge.  And, in my mind, they fail to R-E-S-P-E-C-T their young players' abilities — and maybe their wants — to truly learn more.  Yes, I believe little ones WANT to learn.
Now, I hate to bash other coaches, and that's not really my intent here.  What I feel the need to do, however, is to ask them not to accept that cuteness as a reason not to have a plan.  Yes, we coaches — and parents — want to see our players gradually move from Point A to Point B over a given span, and there's nothing to say that we shouldn't be aiming for Points C and D.  That, to me, is respecting our players, or respecting their abilities to learn.
All that said, let me suggest that both parents and coaches combine the best of both worlds…  If you get the chance to watch my video on "Must-do Skating Drills for Beginners", you might notice that I keep that cuteness-thing very much in mind.  I mean, I do my fun-loving Mr Rogers routine, and I keep my kids laughing throughout a clinic.  What the kids don't realize — and there's no need for them to really know it — is that I have a very serious, scientifically-based lesson plan in place.  Actually, I'm betting my kids sense that I respect them (as I take them closer to Points E and F?).  Yet, I pull it off without any pressures whatsoever.
Finally, the rest of this site is aimed at helping anyone — in this case, parents and coaches — design a training routine based on the very latest in science and the art of teaching.  All that information is worthless, though, unless we first have a certain kind of respect for our youngsters' abilities to learn.
PS:  Although this entry appears aimed at very young players, I'd like coaches of older guys and gals to think seriously about that respect-issue.  Yes, most older players also have a burning desire to learn more.
Just a little daydreaming today, or a little bit of the old coach's philosophy.  Not everyone is going to agree with this.  Still, you probably ought to give the gist of this some serious thought, and maybe adapt it a little to your own parenting or coaching approach.
– Dennis Chighisola
Now, older CoachChic.com members might remember the above as the title to a hit song made popular by Peggy Lee.  In that song she talks about finally achieving or experiencing certain things that always seemed so — I don't know — glamorous, perhaps?  Each time, however, she'd come to the conclusion that the something special wasn't all it was cracked-up to be.  Or, as the title goes — from when she did finally attain something, "Is that all there is?"
Actually, I often jokingly use that phrase with family and friends.  But I also tend to keep it in mind as I deal with young hockey players.
For example, by now, you probably know that I'm not in favor of off-season games.  That wasn't always the case, though.  No, as I dealt with earlier generations I dragged my teams all over the place, and I had my players skating numerous times per week.
During the winter months, we'd play in tournaments all over creation — throughout New England and to two Canadian provinces.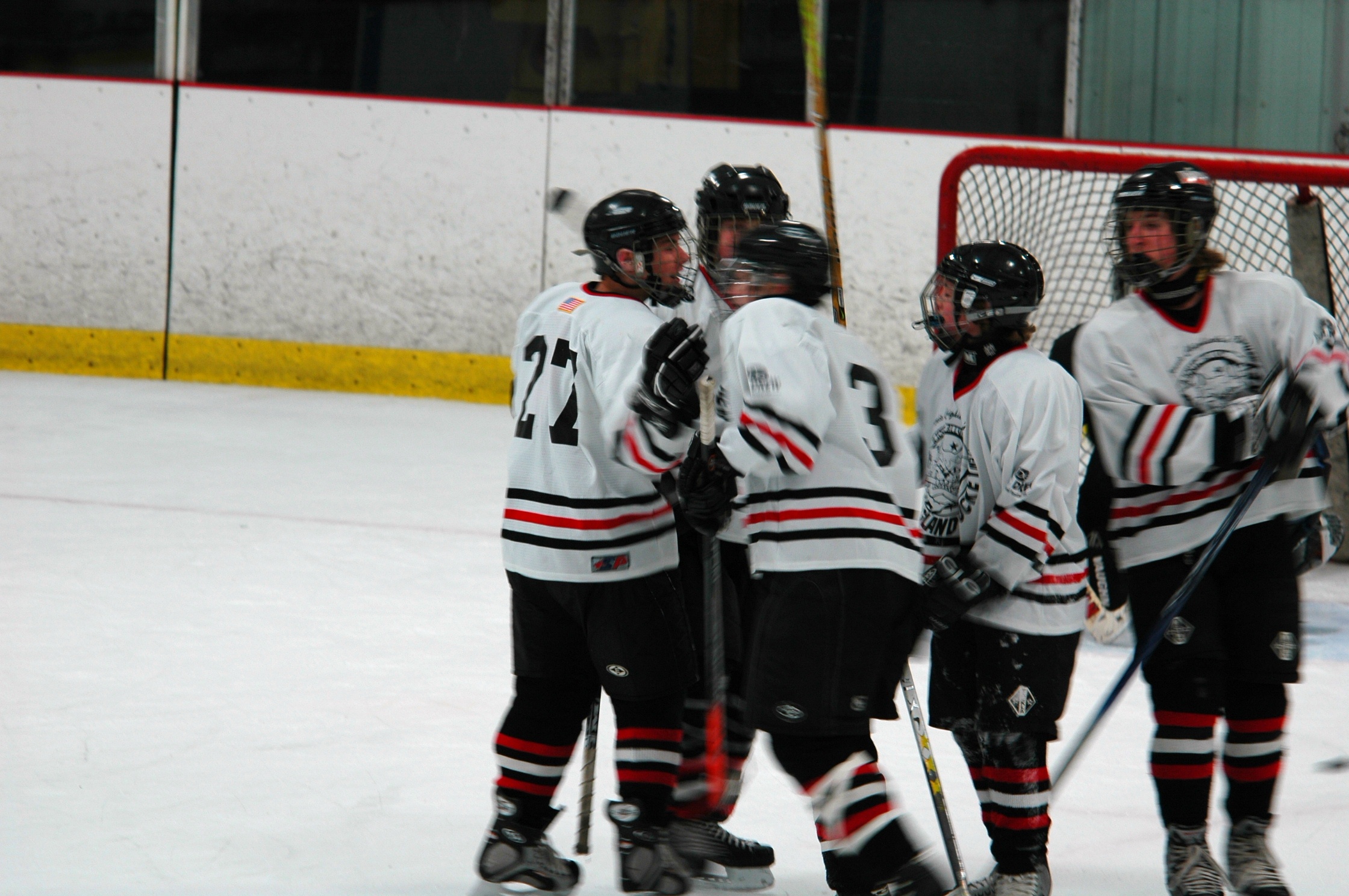 Of course, some of those experiences were good for my kids.  But then…  But then…
But then, I heard an interesting interview with a Division I college coach.  Because it was long ago, I'll have to paraphrase it as best I can…  His main concern had to do with the difficulty coaches at that level were having with motivating their players.  Or, as he explained, "By the time we get them, they've already played a hundred of the most important games of their lives!"  (Again, I know I don't have the words exactly right.  But, his point is right-on.)
Among the things that comment made me think about?
How about coaching in a Canadian tournament that had me (an adult) as juiced as I'd ever been?  I mean, even back in the 70s there were pro-like theatrics — with lights, loud music and all sorts of recognition for the players and coaches.  I'm talking excitement here — to the max.
And how about this (adult) coach being so up-tight for a kids' tournament game that he heaved on his front lawn upon returning from the rink?
And I also have to think about what had to be — and still is — going on at home with families who are engaged in games like I've just described.  Are the parents prepping their kids in every way, possibly giving those kids the sense that "This is THE most important game of your life!"?
Don't get me wrong.  I understand the reasons tournaments are held, and I even appreciate the efforts folks make to organize such great events.
At the same time, I've worried in recent years whether kids reared in the above circumstances can get as excited as they should be when they get to skate their first varsity high school game.  That should be a big deal, you know.  And so should it be considered a very big deal if a young guy or gal gets to play at the junior or college level.
Then, yet another related matter…  In my audio program "A Lot of Things Change As Players Get Older", I make the point that more serious — and sometimes painful — preparations go into playing at the higher levels.  And in order to really attack tough workouts, a young guy or gal needs to have some serious desire or motivation.  One of my concerns, if you haven't guessed it, is that a player might be completely spent before he or she reaches that level.
Combining these two points, perhaps you'll at least appreciate my hopes that the next (and maybe the next and the next) goal seems a worthwhile one to an athlete.  And I'm thinking that's less likely if he or she has already experienced "the heights", and maybe even asked himself or herself already, "Is that all there is?"
Finally, you'd probably like to ask me how I can espouse so much year-round training while at the same time suggesting we back-off a bit in some ways.  In answer to that, however, I'll suggest that protecting a player's love of the game is a really tricky proposition.  I mean, there's a delicate balance required between making sure a player is totally capable and feeling good about himself or herself, while at the same time holding back a bit so that he or she still wants a little more.
I always attempt to attribute found material to its rightful source.  The problem with the following information is that I discovered it well over a year ago, I jotted some notes to myself, and I just never thought to record where I found it.  At the time, I probably didn't think I'd be sharing the material with others.  That said, my apologies to whomever did create this list, and I'd surely like to give credit where due if it's ultimately possible.

– Dennis Chighisola

Now, if you've come to know me at all, you probably know I'm into checklists.  I just don't trust myself except to have my faithful list of things to do.
And, when it comes to overseeing the athletic development of my players, I find the following list prevents me from missing a single physical quality:
Flexibility
Balance
Quickness/Agility
Speed
Power
Strength
Endurance
As you browse that list, notice that all entries point to qualities we'd like to see in our skaters and our goaltenders.
Picture the ideal goaler:  flexible, under control, quick as a cat, powerful in moving from position to position, strong in crease wrestling matches, and able to endure a long game while carrying all that heavy gear around.
Also envision a quality skater:  free in movements, able to recover when slightly knocked-off the skates, quick and agile in all four directions, speedy on straight-aways, strong in one-on-one tussles, and able to keep going at full tilt through the last shifts of a game.
If you'll notice, a lot of these qualities also help a hockey player avoid injuries, in particular flexibility, strength and endurance.
So, since we — as coaches, parents or older players — are always looking for some guidance when it comes to readying for a game, I offer the above as a truly awesome checklist.
Actually, this thought first struck me a good 15- or 20-years ago.  I'm thinking back with a smile now, to a night in my hotel room, engaged in a heated (but fun) discussion with a handful of Canadian hockey coaches.  We were all coaching against each other in an Ontario-based tournament at the time, and I was listening intently to the various philosophies being tossed around by my contemporaries that night.
Now, there wasn't a single thing said over our couple of hours of arguing (again, all in good fun).  No, it was more what I heard from between-the-lines that caused me to consider the following…
What I started to piece together, once my guests left, was that higher-ups in their game really didn't care how many players dropped by the wayside; they were ultimately going to get the cream-of-the-crop, no matter what.  Said yet another way…  They really only cared about the survivors.  Oh, I know isn't an easy concept to convey.  But, let me at least give it a try…
In a way, a Canadian junior coach is going to get his pick of the best players out there.  This sense I have isn't confined to Canadian coaches, however, since I feel the same can be said about USA-based Division I college coaches — in that they are going to get their picks of the cream, year after year, no matter how many youngsters quit on their way up the hockey ladder.  If you think about it, all things remain fairly equal as the junior or DI coaches comb the available talent pool — in that they get the best of any group, be it a weak one or a strong one.  And they compete against other teams that are making their picks from the same exact pool.
Oh, please don't get me wrong here, or believe that I think the higher-ups are evil or intentionally uncaring.  That's not my point.  What I am trying to say is that they have no real stake in whether your little girl or boy — or mine — quits the game at 8-years old, 10, whenever.  (By the way, I suspect the two National Teams have very different feelings on this subject — in that they likely live or die on the available talent pool, because their teams have to go out and compete against the Russians, Czechs, Swedes, etc.)
More on my point…  The discussions we had that night in my hotel room really only planted the seeds of that premise.  But it was bolstered further over subsequent years — in my travels all over the hockey world (at numerous US and Canadian seminars).
Frankly, I'd shake my head at times as I heard certain things from the lecturers, oftentimes thinking to myself, "Wrong!  Wrong!  Wrong!"  And I meant wrong because what a high level coach said was going to cause of lot of younger kids to drop by the wayside, or because the guest speaker didn't have a clue about teaching principles or motor learning.
All this said, I'm not really into bashing people.  And I personally like a lot of the higher level guys I've met or even worked with.
Actually, this subject just arose in a telephone conversation I recently had with a Chicago-area youth coach.  And, after bantering about this and several related topics, I eventually arrived at the only answer I have at the moment.  I mean, it appears that more of the responsibility for youth development lies on my shoulders (and those of my contemporaries) than anyone else in North America.  Guys like yours truly (and probably a dozen others across the continent) are in this thing for the long-haul, and we're accessible to the public — some of us almost instantly.  (Try to reach a junior or college coach for a follow-up question or for an answer to why their methods failed.)  Each of us knows our respective areas — probably better than the higher-ups, and our businesses and reputations hang on our abilities to do the job.
Then, for the third and final time, those higher-ups are mostly good guys (and gals).  And they surely know their stuff when it comes to their level.  If there's a problem, it's that few — if any — have ever taken a player from beginner or intermediate status to elite level play.  No, their jobs begin once someone else has helped a youngster reach junior or DI capabilities.
Early this past season I noticed a lot of my new players didn't have a clue about screening and deflecting out in front of the goal.  I couldn't blame them, I guess, in that not a lot of attention is usually paid to this skill where they came from.
One of my pet peeves is to see a youngster stand off to the side of the goal with his stick-blade held out in front of the rival goaltender.  I mean, think along with me here…  The goaler obviously has clear view of a distant shot if our forward is camped-out off to the side of the net.  And, at levels beyond about Mites or Atoms, the goalie dares enough to come-out towards the shot to smother anything that's deflected off a stick as I've just described.
That said, here are a couple of important keys to more effectively screening the opposing goaltender, and possibly deflecting the puck past him or her…
A forward should position with his/her butt towards the rival goaler. Stationed at mid-net and in front of the goalie, our forward has a chance to reach any shot that isn't too far beyond either net-post.
The forward should then point all three blades — both skates and the stick-blade — directly at the location of the puck.  (Hey, we'll take a goal if it nicks either of those three blades!)  The forward often has to re-position (for example, as the puck is passed from one point to the other, again always pointing the three blades towards wherever the puck might be).
With the stick-blade pointed directly in-line with the incoming shot, the forward only wants to nick the puck slightly with a side of the stick, thusly only redirecting its course very slightly.  (A lot of young players will allow the puck to hit flat on their blade, which usually kills the force of the puck and prevents it from continuing towards the goal.)
Now, after you see this brief video of some NEHI junior high school kids working at these skills, I'll have a few more comments…
Loading...
You may have noticed that there were a few sample drills where we had only one forward working out in front of the net.  That's the way I initially designed the drill.  However, what I discovered was that during such a set-up our goaltenders were coming far out and smothering the deflections.
In a way, I think that's a slightly unrealistic move for a goalie during real game action (there are usually other things going on that prevent him from coming out THAT far).  At the same time, I didn't want to just order my goaltenders to remain back in the net.  So, what I ultimately did was to have the player who just completed the screen & deflect to go to a backdoor position, thereby at least keeping our goalies a little more honest.
By the way…  It think scoring goals on screens and deflections is matter of both skill and luck.  At the same time, I believe the more a player practices and fine tunes these skills, the luckier he or she gets.
Now, I wouldn't say this is a critical issue but, it still gives me the chance to share a little bit about my mentality, especially when it comes to beginners…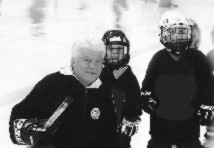 You see, ever since I began running Learn-to-skate clinics (a kzillion years ago), I've realized that the tiny ones can't stay focused for very long.  So, after about every two or three "tricks" (drills to us older folks), I give my babies "free time".  This might only be for a minute or two, but to very young minds it probably seems like an eternity.
When I first started doing that free time thing, I noticed another huge benefit, in that the kids often did even more than in the drills — like chasing a buddy, experimenting with a favorite skill they've learned, whatever.
In other words, that free time is valuable, as both a mental break for the kids, and as a chance for them to experiment some.  And it's a necessary part of what I'm trying to accomplish.
So, what have I seen happen lately — when we've taken free time with pucks on the ice?  Instead of allowing the kids to do their own thing, a few dads who act as helpers have grabbed students (often their own kids), and started having passes with them.
Okay, I partly smile and think about the bonding that is probably the dads' true aims.  At the same time, however, I think the guys are robbing those little ones of some valuable time to not be under a grown-up's control.
Recently, some of my junior high school players haven't been as aggressive around the net as they really should to be. And, let's face it, all hockey players need to be physically (and mentally?) tough in that area — including forwards, defensemen and even goaltenders. .
The remedy calls for creating isolated small group battles in a practice setting. (So, I use tons of drills for this, and I'll describe some of those elsewhere in this site.)
The gist of each slot toughness drill involves matching a forward against a defenseman, and then introducing a puck in some manner. If you can picture it, the forward has to really stick his or her nose in to fight for the puck, the defenseman has to battle for position and try to control the attacker's stick, and the goaler has to try to wade his or her way through that battle to either stop a shot or to grab the loose puck.
I was noticing lately that some of my youngest and newest players were being thrown around out on the ice as if they were rag dolls. On yet other occasions, the same kids were losing the battles — and toppling over — each time they had a collision.
Now, I've discovered through the years that certain players don't instinctively adjust their skating posture according to circumstances. I mean, a player can move in just about any posture when he or she is in open-ice; however, once he or she moves into traffic, that posture has to become far stronger, far more stable.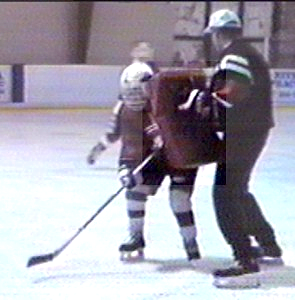 Two main things go into a stronger, more stable stance:
a wide base (or spreading the skates);
a low center of gravity (or sitting low).
A lack of passing strength isn't only common to defensemen but, it's with my younger blueliners that it usually jumps right out at me…
Before going on, let me suggest that very firm, flat passes are best for advancing the puck out of our own zone. And, from my point of view, I'd rather an extra hard pass go for icing than to have a soft pass intercepted.
Now, one of the problems I've seen with my D's passing comes about when they're in an unbalanced posture. In other words, they have the strength to pass firmly with the feet spread and planted, but they get nothing on their passes if they have to send them while balanced on one skate, or while having to lean in one direction or another.
The difficulty stems from some young players not yet having learned to get leverage through their stick-blades. So I have my defensemen work in pairs — off-ice and on-ice — passing light weights over a fair distance. That resistance against their stick initially forces them to search for a way to generate strength. Then, once they've gotten a feel for that, I make the drill a little tougher… What I do is have them pass while kneeling on one or both knees, or I even have them pass while sitting down.
The idea of those last two drills is to take away the players' ability to use their legs. Or, said another way, they're forced to generate power with just their core muscles and their upper body. Understand that the idea of these drills isn't to actually make my players stronger; the idea is to teach them how to generate substancial force through their sticks while in some unbalanced postures.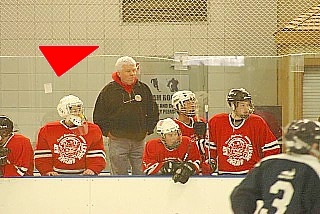 The red arrow in the photo to the left points to my sticky-style sheet for gathering notes during game action.
Anyone who knows me knows that I'm an incessant note-taker.  First, I don't trust anything to memory.  Secondly, the times I'm jotting notes to myself are hardly ever the right times to address whatever I've recorded.  So, I need those little memos — for a lot of reasons…
As a coach, the game-bench is not the greatest place to really discuss something important.  Oh, sure, I can briefly talk to a player if he was involved in a noteworthy play, and I might even be able to spread the word to a few guys within ear-shot.  But again, it's not the place to have a meaningful conversation.
I'm no different as a hockey parent…  For example, as I've watched my grandson, Anthony, play through recent years, I've also kept a pencil and small notepad available in my pocket.  I take notes a little more subtly as a parent (my aim isn't to appear obnoxious in front of other parents or his coaches).  And, since Anthony reached high school level, I've hardly ever discussed my notes with him during the season.  Naw, he belongs to another coach in-season.  At the same time though, those notes have always come in handy once that schedule is over, giving us plenty of fodder for the off-season months.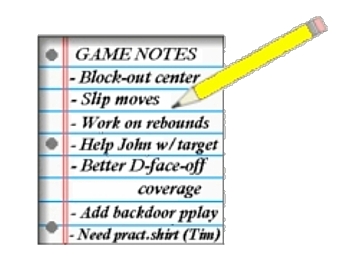 So, whether you're a coach or a parent, I highly recommend jotting notes when you see something worthy.  Hey, don't trust those things to memory.  And, consider using them as ideas for a time when they can be addressed accordingly. If you're an adult player, you might want to record a few notes immediately after playing a game, or while watching a televised game.  For sure, we all need ideas for when we have the time to work on our game.
*
If you think my approach is a little (or a lot) outside the box, wait until you see
my scientific approach to all our game's skills and tactics…  Click here to gain one month's
access to over 600 articles, videos and audio programs — for just $1.00.