Rebound Control Drill
Contributor: Seth Dussault, MA, USA
Drill Category: Shooting, Screening, Deflecting, Rebounding, Defending Slot and Goaltending
Rebound Control Drill

*
Drill Description:
Thinking about most drills — the ones that aren't expressly designed for
goalkeepers often aren't very helpful for them. When most drills involve
the goalkeeper, it's only to stop an initial shot, and nothing else, but
what's just as important as making the initial save is getting in the
habit controlling where rebounds go. Too often, drills designed for
forwards will allow goalies to leave ugly rebounds. Why not design a drill
that helps forwards and defensemen work on important skills and forces the
goalkeeper to do the same all at once?
To that end, this simple drill will help goalies with rebound control as
well as two other important skills, seeing through screens and dealing
with deflections. At the same time, it will help your forwards with
attacking rebounds and creating tips and deflections, and your defensemen
with protecting the crease in such situations. I call this the "Rebound
Control Drill."
Set up your goalie in his/her crease with two forwards at the top as well
as a defenseman. Everyone else should be set up in an arc around the
offensive zone, with one puck each. (see diagram of set-up below)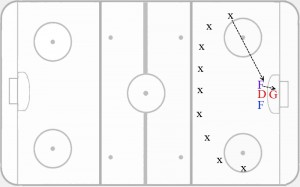 Now, as with a normal warm up shooting drill, the players will shoot one
at a time. However, we have bodies in front this time. The forward nearest
the puck will attempt to tip the shot, and both will go after rebounds if
there are any. The defenseman's job is to prevent the forwards from
grabbing the rebound if a bad one does come back. Once the puck has been
knocked out of the front of the crease, reset and the next player shoots.
Repeat until everyone has shot.
What you'll hopefully find is that the goalie will learn to either put the
rebound out of reach of the players in front (i.e. deflect it to the
corner) or catch the puck, rather than kick a rebound out into the middle
where a second chance can be had. If you do this at both ends of the rink
and have four or five shooters per end, you can rotate through and have
everyone work on defending and attacking pretty quickly.
No video is available for this drill.