Should Young Hockey Players Be Paid to Score Goals?
With the youth hockey season now underway in many parts of the world, I think this might be a good time to revisit something I see as an age old problem, not only in hockey, but in other team sports, as well.
– Dennis Chighisola
Should Young Hockey Players Be Paid to Score Goals?
Although I'm going to relate this topic to a couple of stories from recent generations, I seem to recall parents offering their kids bribes going back to my childhood, and most certainly to my son's earliest years in the game, a good 40-years ago.  (I'll return to my use of that term, "bribe", in a little while.)
I can't tell you how many times I've been in a lockerroom following a youth hockey game, when I've seen dads (or especially dads) peel off bills from their wad, much to the satisfaction of their own child, and oftentimes to the chagrin of nearby parents and players.  Ya, before we even get into other ways this practice affects a youngster and his or her team, maybe parents who've done this suddenly have a different perspective on how they might be perceived by those around them.
Aaaaaah, yes, the "team"…  For those who might just be getting into hockey, and don't really appreciate the game's niceties, perhaps he or she should realize that players of all ages have numerous responsibilities during a game…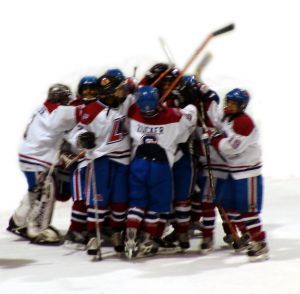 Even when I've coached a young team, I've talked to my kids at practices and showed them how we should perform various plays.  I've also always reminded them later — in the pre-game lockerroom, and again at different times from the game bench — about the way to play our game rightly.
In other words, players of all ages have responsibilities as a game goes on and, because ours is a team sport, the fulfillment of our duties — or the lack thereof — usually impact on those around us.
I'm shaking my head right now, as I recall a player from about a decade ago…
As a young teen defenseman, I initially thought he had some real potential.  With his great individual skills, I suspected he was going to be a high school star, and I even thought he'd be able to go on further.  That, however, was my first impression; within a few months, I was wondering if he really had the head to play at a very high level.  I mean, at times, he would do some really, really dumb things.
Of course, I love potential in young kids.  So, I'd work with him often, especially in the area of decision making.  I thought he was the kind of "D" who was capable of running our offense and our powerplay — his skills were that good.  And, because my program was all about development, I figured the boy's future coaches were going to love a skilled player who could also think the game.
Ugh.  As it turned out, the boy's dad had other plans.  Believe it or not, the son was 14-years old, and his dad was still paying him for each goal he scored.  Remember, that I was frequently scratching my head wondering what was going on in that kid's noggin'.  And it took another team parent to clue me in on what was really happening.  Oh, the dad swore up and down that he wasn't paying his son for goals, but the boy ultimately told me it was so.  (Nice, huh, that the dad would lie in front of his kid?)
Needless to say, the boy eventually disappeared from the hockey scene.  I think he did fairly well as a high school player, but he didn't come close to achieving what I thought he could.
Was the simple act of being paid for goals what did him in?  Naw, I wouldn't say so.  What I think was his undoing was the fact that he never really got a chance to concentrate on the right things, as many of his teammates were.
As I said in the start, players are being asked to do a lot of things on the ice that parents can't be totally aware of.  Worse yet, most parents don't really appreciate all the thinking — or reading and reacting — their youngsters have to do in the heat of battle.  And, there is absolutely no room in a player's thought processes for extraneous pressures.
To carry that one a little further…  A player moving up-ice with the puck has to assess all that's happening in front of him or her, and then make the right choice — whether to pass, keep carrying, or maybe dump the puck.  On something like a 2 on 1 rush, the player with the puck should ultimately make the right decision when it comes to which guy or gal should get the shot.  And similar decisions have to be made as a pointman attempts to either (wrongly) go for the long distance goal, or (rightly) try to put a low shot into traffic in front of the net.  So again, can you appreciate the internal wrestling a kid is experiencing, between making the right play or pleasing his or her parent?
Of course, while the above story suggests ways both a team and an individual player can be thrown off their game, let me share this one, if only as food for thought…
When my grandson was about 5-years old, that thing about other dads paying their kids for goals reared its ugly head in his team's post-game lockerroom.  Yup, there was a dad — not quietly — flashing the green.
My guess is that most other families had to deal with this the same as I, as in answering our own youngster's plea, "Why can't I get five dollars for scoring a goal?"  (Have I said, "Ugh!" yet?)
When young Anthony hit me with that one, I had to do some long, hard thinking — well, maybe it wasn't all that hard…
What I eventually did was ask if he got a thrill when he scored a goal.  Thank God, he did.  Actually, even in the team's practices, I noticed he couldn't leave a puck hanging near a crease without whacking it home.  And, should he miss the first time, he'd go back and whack it again, until that little black thing found its rightful resting place.
Anyway, once Tony C acknowledged that it did excite him to score, I suggested that that's all the reason in the world to do it, and to keep playing the game.  For, somewhere in there, I think I also told him that, "If you don't get psyched when you score a goal, maybe you ought to give up hockey and look for something else."
To be honest, I haven't a clue if our brief discussion had anything to do with my grandson being a top scorer to this day (right up through college for now).  It may have helped some, although I recall that he still wasn't happy with my explanation at the time.
Lastly, that thing about the bribe…
I can almost appreciate a parent wanting to reward his or her youngster for the very first goal.  In a way, it's a milestone, and it's something a lot of folks want to get out of the way.  (I watched a televised MLB game yesterday,  and a big deal was made out of a young rookie achieving his first Major League home run.)  As a teaching coach, I can also see dangling a carrot out in front of a young one as incentive, then praying that little guy or gal will love the feeling of burying the biscuit.
On the other hand, I've suspected on too many occasions that the hockey parent teased his or her youngster for very selfish reasons.  And the more one does that — beyond the first goal, the more it looks like a bribe to me — as in, "Come on, son (or daughter), give your dad (or mom) something to brag about at work tomorrow!"  What would cause the dad of a 14-year old AAA player to keep it going?  Hmmmmmmm…
As with a lot of philosophical discussions here, you can take what I say with a grain of salt.  Are the ramifications of paying a youngster for scoring goals real?  I firmly believe so.  Is there a better way to handle things than I did?  I firmly believe that's possible, too.  So, if you've managed to solve what I see as an age old problem, perhaps you can share that below with other members.