Q: An Arizona-based hockey mom writes seeking some oft requested advice…  She says that her boy has been complaining about his skates a lot lately, and that he's even cried at times because his feet hurt so badly.  Then, noting that the current skates are hand-me-downs from a cousin, she asks for advice in the purchase of her son's first pair of new hockey skates.
A: Not that there is a single piece of UNimportant hockey gear, but…  If I had to prioritize equipment purchases, I'd allot the majority of my budget to 1) good quality, properly-fit skates and 2) a safe helmet and mask assembly.  Thereafter, go with used or hand-me-down stuff.  (As an FYI, my next focus would be on those articles of equipment that can either slow or help quicken hand and foot movements.)
Now, passion for the rink is paramount to any player's growth.  I mean, it's essential that he or she really look forward to getting to their next practice or game.  However, as this hockey mom is discovering, skates can have a huge bearing on a youngster's comfort and enjoyment during the learning process.  They'll even affect a beginner's ability to execute various movements and to thusly gain the confidence to take-on far greater challenges.
So, starting with the initial problem, let me bet my house on the likelihood that my young Arizona friend's skates are either too small or they are being tied improperly.  I'll deal with the first point shortly, but let me initially explain the skate-tying process…
Appreciate that nothing — I said nothing — can be done to overcome skate-boots that are either broken-down or too large.  Additional support can't be found in extra pairs of socks.  And, pulling the laces too tightly over the arch-area will likely cause pain in of itself, and also cut-off blood flow to the toes.  This in mind, the lowest eyelets should only be tied like sneakers or dress shoes.  Just about all of a skate's support is found in the boot's ankle-area.  So, it's essential to seat the heel all the way back into the boot, and then snug-up about the top three eyelets so that the leather (or whatever) is pulled firmly around the ankle.  Don't wrap excess lacing around the ankle, but instead tie a double-bow or acquire the correct length laces.
As for proper fitting, appreciate that we can't feel through the toe of a skate as we might shoes or sneakers.  So, it's necessary to reverse the measuring procedure…  Remove most of the lacing so that the tongue of the boot can be pulled all the way forward.  Next, have the player slide his or her foot all the way forward until the toes hit the end of the boot.  This done, measure the excess space left between the player's heel and the back of the boot.  To derive the most support and feel from the boot, this excess space should be no more than about the width of a pencil.
Then, on socks and growth…  Fitting might be done while the player is wearing thin sport-hose.  As growth occurs, the thickness of the socks might be reduced.  (FYI…  A lot of my advanced players have worn women's knee-highs — for a lot of reasons.  And, a great many advanced players prefer making themselves feel "one with the boot" by going barefoot.)
Finally, I'm guessing something within the above helps that hockey mom solve her lad's problem.  Still, if she or her husband has a related question or needs clarification, I invite them to email me directly.  Good luck!
I can't tell you how psyched I am to kick-off this section.  We're going to explore some really interesting training concepts here, and I can't wait to show you some drills that are sure to quickly elevate any intermediate level player's game.
For example, I have an awesome video planned for next month; it's something I created a few years ago, and it's aimed at teaching young players how to be goal-scorers.  I think you're going to love it, but there's some stuff I feel compelled to explain beforehand…
As I'll tell you in that video, I've worked with guys right through to pros.  Yet, even though I know all sorts of high level tricks, I don't show them to my younger students.
As an example, I'm thinking right now about one trick a pretty nifty professional player once shared with me.  However, the interesting thing about that trick is that it would only work against a really experienced goaltender.
What I'm getting at is that the exact same move that pro described would hardly ever work in youth hockey.  And, I'm betting it wouldn't even work at the high school level.  The reason?  It's because elite goalers tend to think differently than younger ones.  Appreciate that the challenges they face in games are far different than those experienced by their younger counterparts.
So, why waste time teaching these kinds of things to younger players, especially when they have plenty of more important problems to worry about?
As a matter of fact, I want to remind my good friends to heed some of the advice covered in earlier posts…  For example, don't forget to stick with a slow, methodical approach to each skill's progressions.  Don't forget that jumping ahead on progressions is sure to cause a player at least some frustration.  And, I'm sure we'll agree that confidence suffers when a player becomes frustrated.  Yes, in a way, the frustrated player is feeling that he or she is not good enough.
All that said, here's what I'm really getting at today…  A Mite is basically competing against other Mites.  And, so is a Pee Wee competing against other Pee Wees.  So the secret to helping a player feel REALLY good is to help him or her succeed against their own age group.  Plain and simple.
In fact, I think that last suggestion — about just competing against the current age group — makes the whole thing easier to focus upon, and subsequently very do-able.
Now, looking ahead to next month, I promise a video that is going to really simplify goal-scoring — for any decently skilled youngster in about the 8- to 12-year old age range.  I'll suggest that learning just 3 basic moves will get a player through traffic and to the net.  Then, once at the net, I'll provide a couple of great ideas for beating a goaltender IN THAT AGE CATEGORY.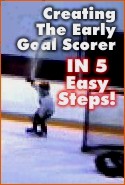 Finally, as you get to know me, you'll likely appreciate that there's little I do without good reason.  Said yet another way, I'm hoping you really dwell on the points I've made today, because this line of thinking is truly going to help as we move forward.
Coming next month… Creating The Early Goal-scorer – In 5 Easy Step!