Yet Another Way to Avoid Icing
While watching an older level youth hockey game, a player on the team that trailed by 3-goals attempted to dump the puck.  Unfortunately, a whistle followed, with the ensuing face-off — for icing — being held down deep in the offending team's zone.  That said, don't take the following lightly, since I noticed some of my college players making the same mistake years ago…
What I'm really getting at here is the need for players to know where they are on the ice.  Or, as in the case of the above described players, I'm talking about 1) realizing that you're only a step or two from the red line, and 2) realizing that just a little more effort could have resulted in an effective dump-in and no icing infraction.
As a PS…  I often wonder — when something like the above happens in a game, if the coaches make note of it and later go over it with all of their players.  That's my suggestion to other coaches.  And, if you're a parent of a player making any of the mistakes found under "Thinking The Game", I'd make it a point to discuss them with him or her.  Oh, and by the way…  Those "little things" I see happening in a game are the reason I long ago started jotting the problems you'll often find here or in "A Coach's Notebook".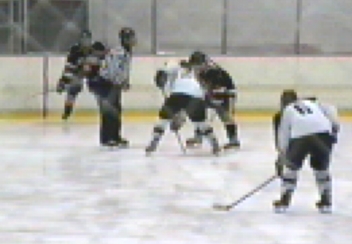 There are some very good reasons we might accept an occasional defensive zone face-off.  However, neither this month's or November's are really worthy of putting our net in jeopardy.